Chocolate Cayenne Cookies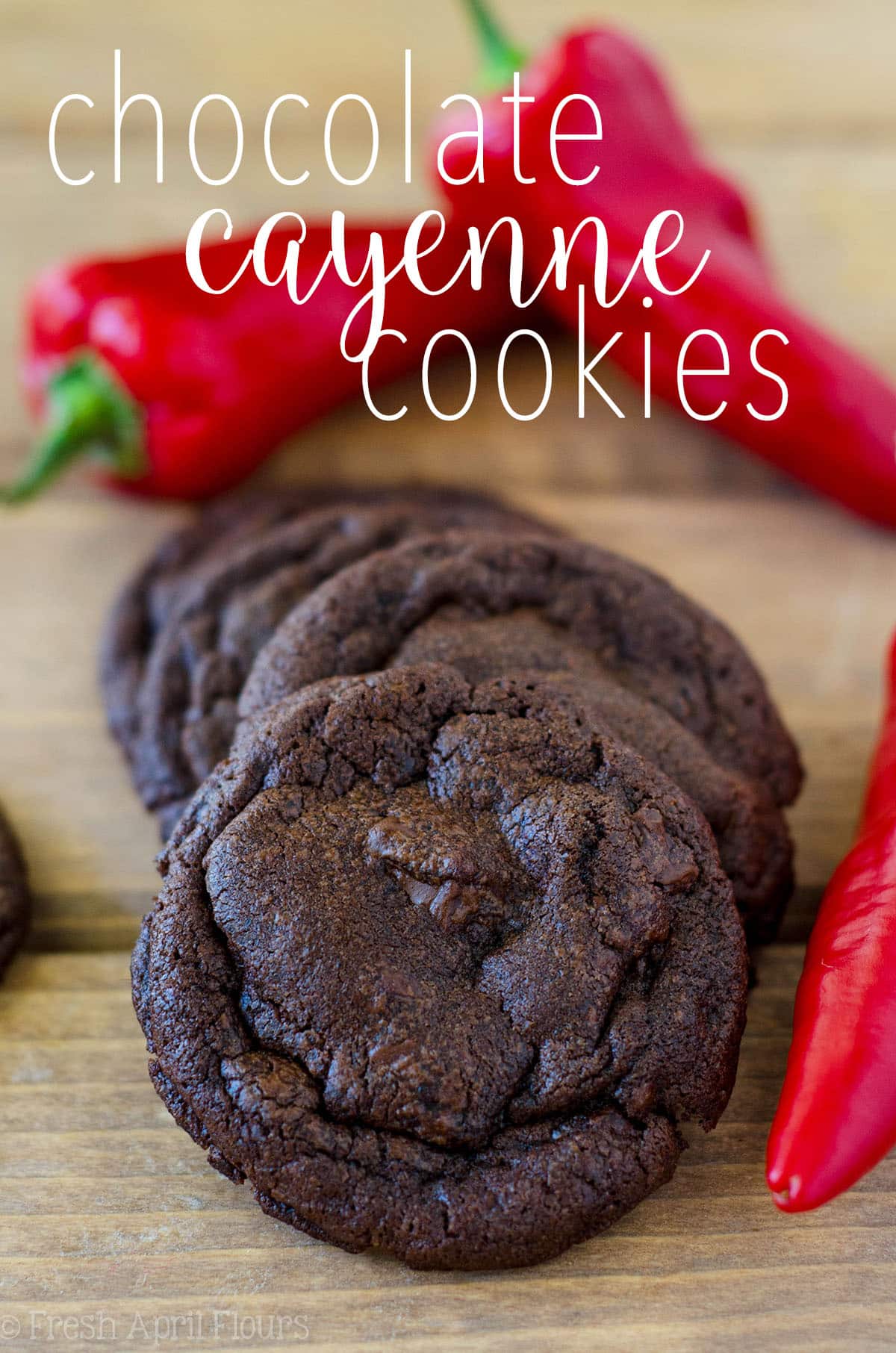 As an Amazon Associate, I earn from qualifying purchases. Read the full disclosure here.
Rich and decadent chocolate cookies spiced with the subtle flavors of cayenne and cinnamon. The perfect cookie for warming your belly and your tastebuds!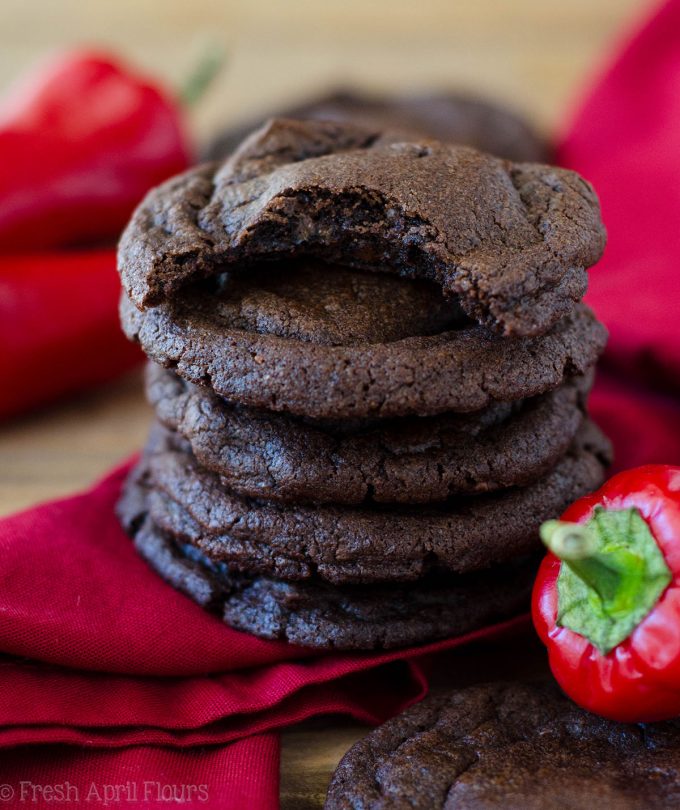 Happy December 1st! And happy COOKIE PARTY! I have been itching for this day since last year's cookie explosion ended. Cookie nerd here, hi. I just can't help it. I love me some cookies and holiday cheer. Put the two together and you've got one magical party.
Not only is today the first day of my own cookie party, but it's also the first day of Rodelle's cookie party. I've been working with Rodelle since this past summer, and they have been so great to me.
My baking cabinet is full of the most wonderful array of baking extracts, vanilla beans, vanilla paste, and, today's featured ingredient, Dutch processed cocoa (I'll get to that in a bit).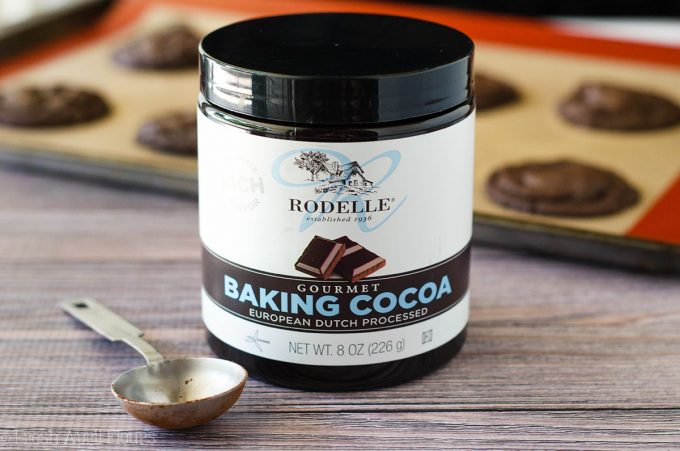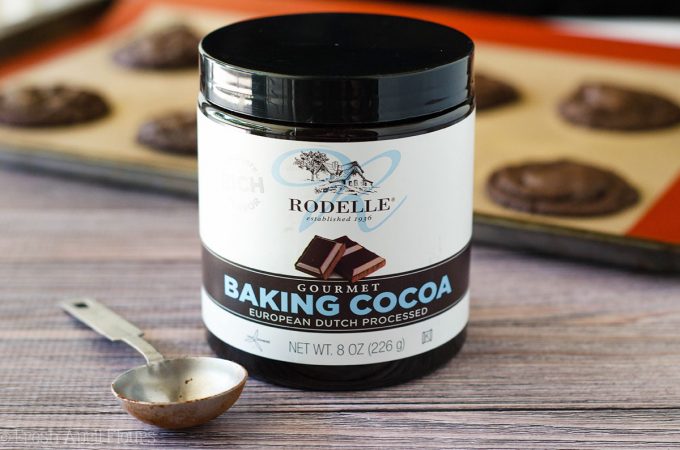 Some of Rodelle's other brand ambassadors are in on this big cookie party too, so when you're done here, be sure to check out some of the other amazing cookies my fellow bakers have coming out of their ovens this month!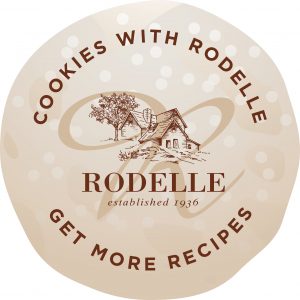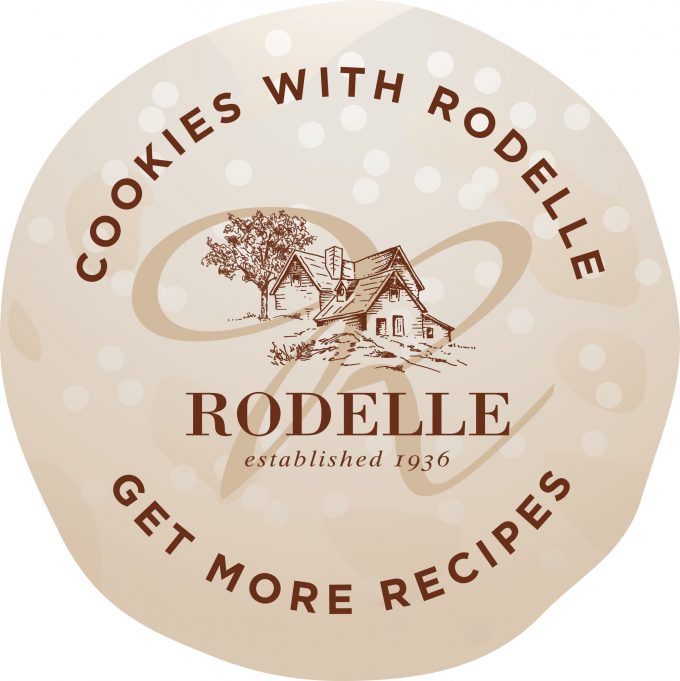 Now, onto spicy chocolate cookie business.
These cookies started out as something completely different, but that's just how cookies go sometimes in my kitchen. I have an extensive collection of cookie recipes on my blog, but I don't really have any serious chocolate based cookies (except this oldie but goodie recipe, brownie cookies).
What do I mean by this? I mean cookies that are made with not only cocoa powder, but also chopped chocolate.
When Rodelle sent me some Dutch processed cocoa to try, I knew where I needed to put my cookie energy. A rich, decadent, super chocolatey cookie is what I was after.
WHAT IS DUTCH PROCESSED COCOA POWDER?
If you're not familiar with Dutch processed cocoa, you might be unaware that it's something completely different than natural cocoa powder.
While natural cocoa powder is acidic and very bitter, Dutched cocoa powder has been neutralized, which boasts a smooth, mellow flavor. It's also very dark, which brings a deep chocolate "look" to baked goods.
Fun fact: it's actually what gives Oreos their signature almost black color.
Since I was going for rich, decadent chocolate cookies, Dutched cocoa was the way to go.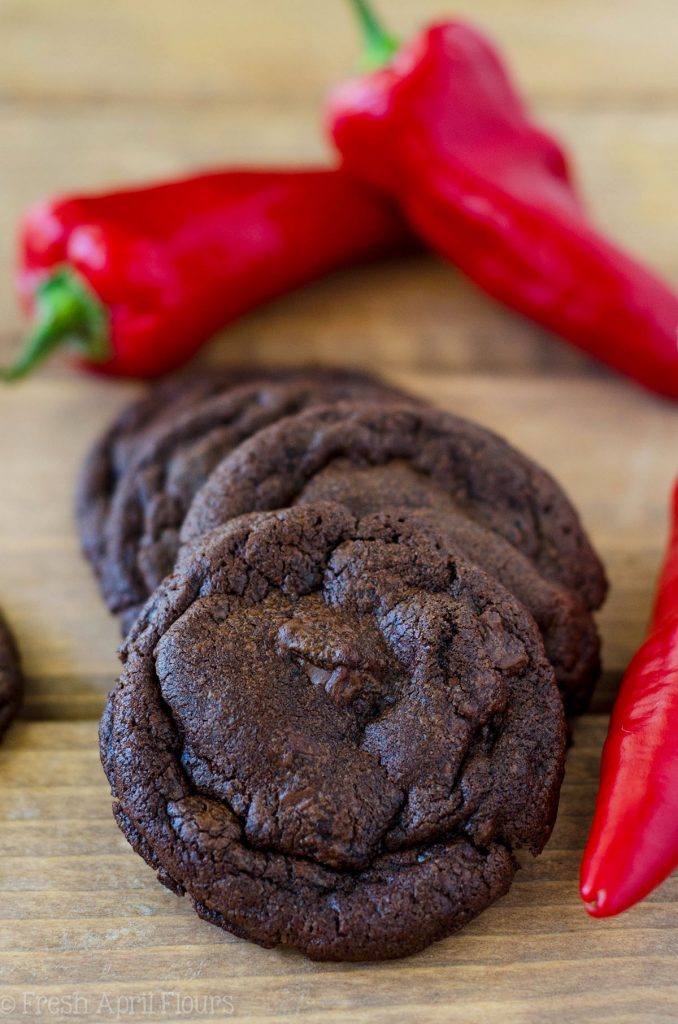 The original cookie I made was a basic chocolate chunk cookie, which was great! But I wanted something fancier for Rodelle, and I wanted something holiday-ish. So I jazzed them up with cinnamon and nutmeg (spices of the season), and cayenne pepper.
Yes, you read that right– cayenne pepper.
I couldn't resist. There is something so tasty about chocolate + heat, especially when the weather outside is chilly.
The batter for these cookies is very simple, but there are a few things to keep in mind. For one, you're going to want to be careful about the amount of cayenne pepper you use. I made these twice, once with 3/4 teaspoon and another with 1/2 teaspoon.
What I liked about the ones with more cayenne pepper was that they definitely had more heat. What I didn't love about them was that I lost some of the cinnamon and nutmeg notes to the heat.
They were, however, really really good. But I'm a heat lover!
Matt is not as much of a heat lover, and he preferred the dialed back cayenne pepper. Spice at your own risk here, cookie bakers!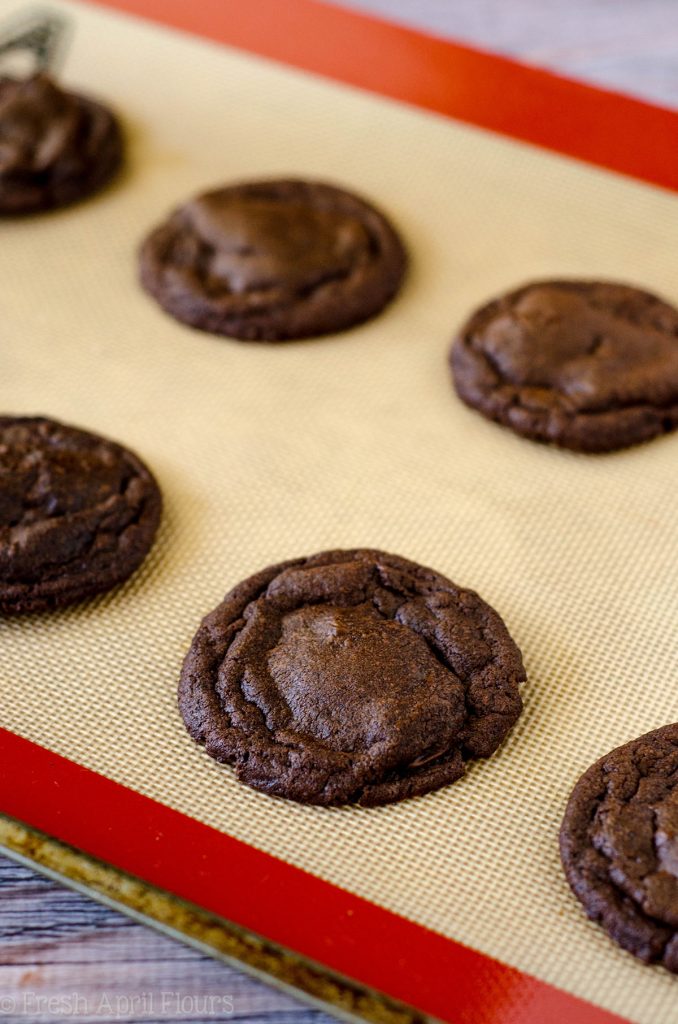 You're also going to need to chill this batter, but just for one hour. That's more than enough time to head to the gym for a quick workout so that when you get back to bake all of these tasty cookies, you won't feel as bad about eating all of them right up.
I mean… Wait… The goal of the 12 Days of Christmas Cookies is to shaaaare the wealth. Welp, better make a double batch!
These cookies are super soft and chewy, and the flavors marry together over time, so the longer they sit, the better they get. That's my kind of cookie!
Rich, sweet, decadent chocolate plus melty chunks of chocolate, the bite of cinnamon, the nuttiness of the nutmeg, and the subtle heat from the cayenne will make this cookie an absolute show-stopper on any cookie platter this holiday season.
And YOU can whip these up at home with your own Dutch processed cocoa from Rodelle!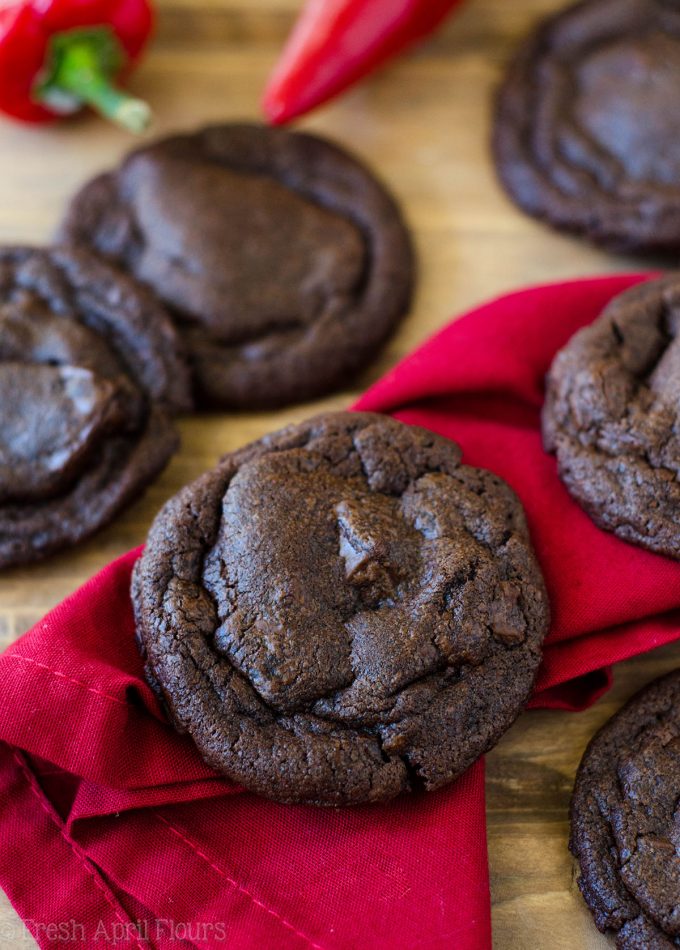 Happy baking, and thanks for helping me kick of 2016's 12 Days of Christmas Cookies! We're going all the way up to December 22nd– are you ready??
Chocolate Cayenne Cookies
Rich and decadent chocolate cookies spiced with the subtle flavors of cayenne and cinnamon. The perfect cookie for warming your belly and your tastebuds!
Servings:
2
dozen cookies
Ingredients
1 and 1/4

cups

all purpose flour

be sure to measure properly

1/4

cup

+ 2 Tablespoons Rodelle Dutch processed cocoa

1/2

teaspoon

baking soda

1/4

teaspoon

salt

1/2

teaspoon

ground cayenne pepper

3/4 teaspoon if you're feeling really spicy!

1/2

teaspoon

ground cinnamon

1/4

teaspoon

ground nutmeg

1/2

cup

unsalted butter

at room temperature

1

cup

granulated sugar

1

large egg

1

teaspoon

vanilla extract

4

ounces

semi-sweet chocolate

chopped
Instructions
In a medium bowl, whisk together flour, cocoa, baking soda, salt, cayenne pepper, cinnamon, and nutmeg. Set aside.

In a large bowl with a handheld mixer or the bowl of a stand mixer fitted with the paddle attachment, cream the butter and sugar on medium-high speed until light and fluffy (approximately 2-3 minutes). Turn the mixer speed down to medium, add the egg and vanilla, and beat again until combined.

With the mixer on low, slowly add flour mixture and beat until just combined. Add the chocolate chunks and continue mixing until evenly dispersed. Cover dough and refrigerate for at least 1 hour and up to 3 days.

When you are ready to bake the cookies, line a large baking sheet with parchment paper or a silicone baking mat. Set aside. Preheat oven to 350ºF.

Using a cookie scoop (I use this #50 cookie scoop for all of my standard size cookies), roll the dough into balls and place on prepared baking sheet. Bake for 8-10 minutes, or until edges are set and center is no longer shiny. Remove from oven and allow to cool on baking sheet for 5 minutes before transferring to a wire rack to cool completely. Cookies stay fresh covered at room temperature up to 1 week. Baked cookies can be frozen, up to 2 months. Rolled cookie dough can be frozen, up to 3 months. Place on baking sheet and add 1-2 minutes to baking time.
Nutrition Disclosure
All nutritional values are approximate and provided to the reader as a courtesy. Changing ingredients and/or quantities will alter the estimated nutritional calculations.
Rodelle provided me with the ingredients to make this recipe. Thanks for working with me, Rodelle!