Chocolate Caramel Thumbprint Cookies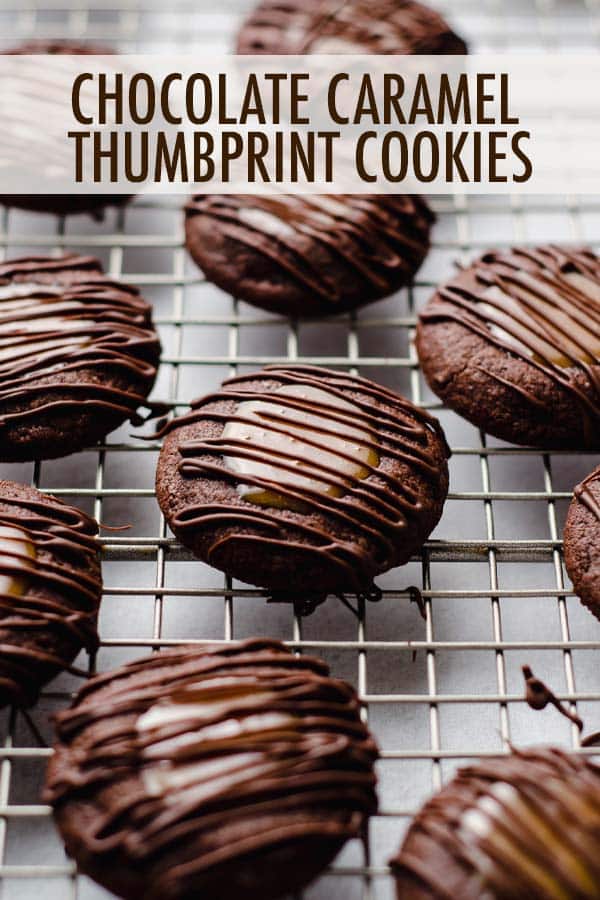 As an Amazon Associate, I earn from qualifying purchases. Read the full disclosure here.
Rich, chocolatey thumbprint cookies filled with a soft and gooey salted caramel and topped off with a simple chocolate drizzle.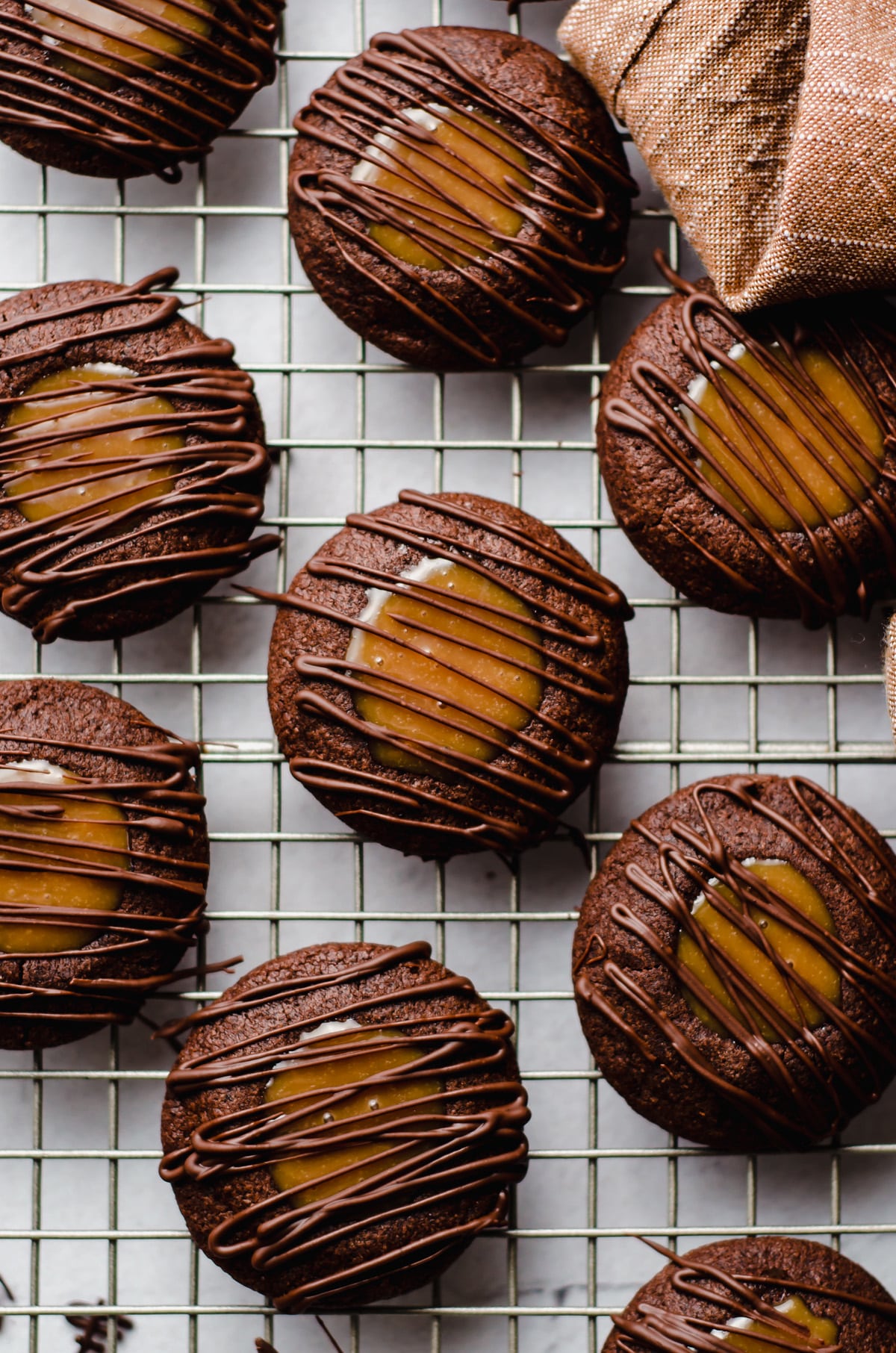 I. Love. Making. Cookies.
It's part of why I do an annual 12 Days of Cookies, part of why I share so many cookies in my Insta feed, and part of why I can rarely put my finger on my exact favorite cookie recipe.
These chocolate caramel thumbprint cookies, though? They are quite the contender for the #1 spot (competing seriously with my chewy oatmeal raisin cookies).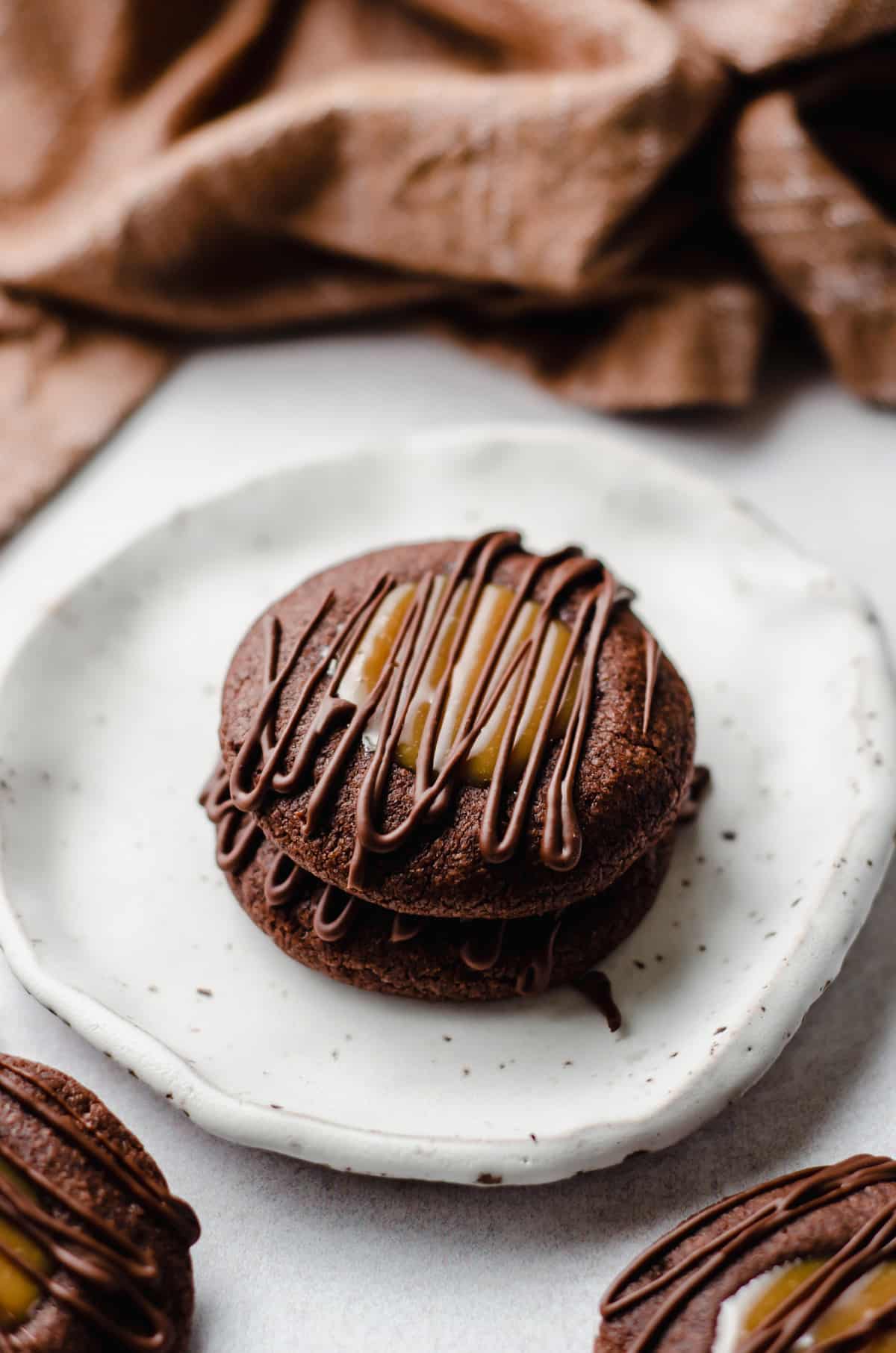 Let me tell you a little about where this idea for this came from.
It came from the Girl Scouts.
GIRL SCOUT COOKIE DISAPPOINTMENT
Yes, that's right, those cute little kiddos who sell boxes of cookies for way overpriced but you can't help but buy them because GIRL SCOUT COOKIES and not doing so would be sacrilege.
In 2022, they came out with a cookie called Adventurefuls (here you can see what it looks like) which was described as "indulgent brownie-inspired cookies topped with caramel flavored crème with a hint of sea salt."
I ordered these cookies with excitement because this caramel chocolate cookie sounded right up my alley and I was excited to try a chocolate thumbprint (the thumbprints I usually make are vanilla/butter based).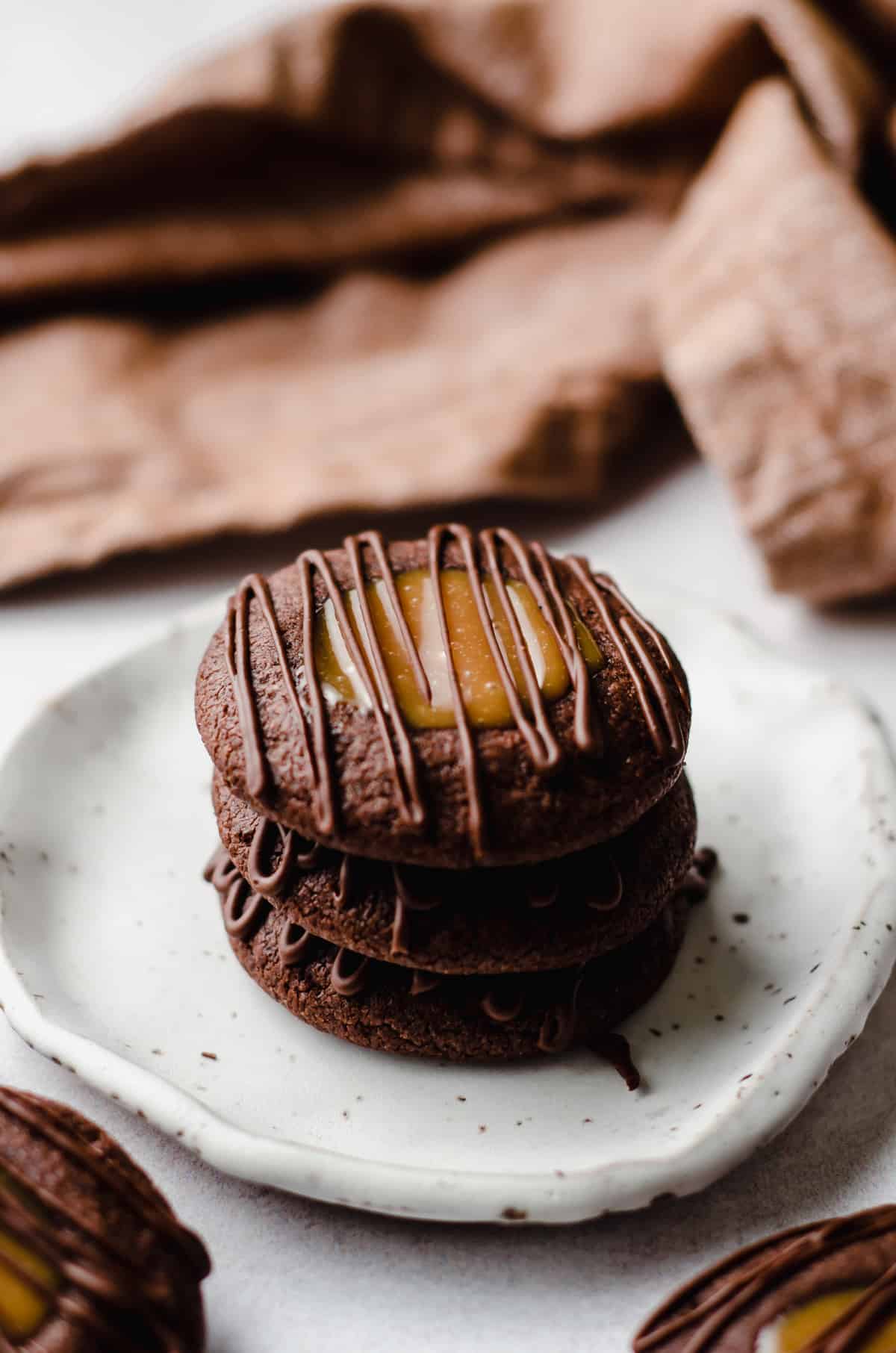 When I got them, I was so disappointed. They were crunchy, not very chocolatey, and the caramel in the center was hard. There was a chocolate drizzle on top, but it was sort of melded into the whole cookie instead of this fun texture situation on top.
In hindsight, I get it– they have to be able to package up a cookie in a box without getting caramel goo all over the place. The theory was great, but the execution wasn't, so I decided to take matters into my own hands.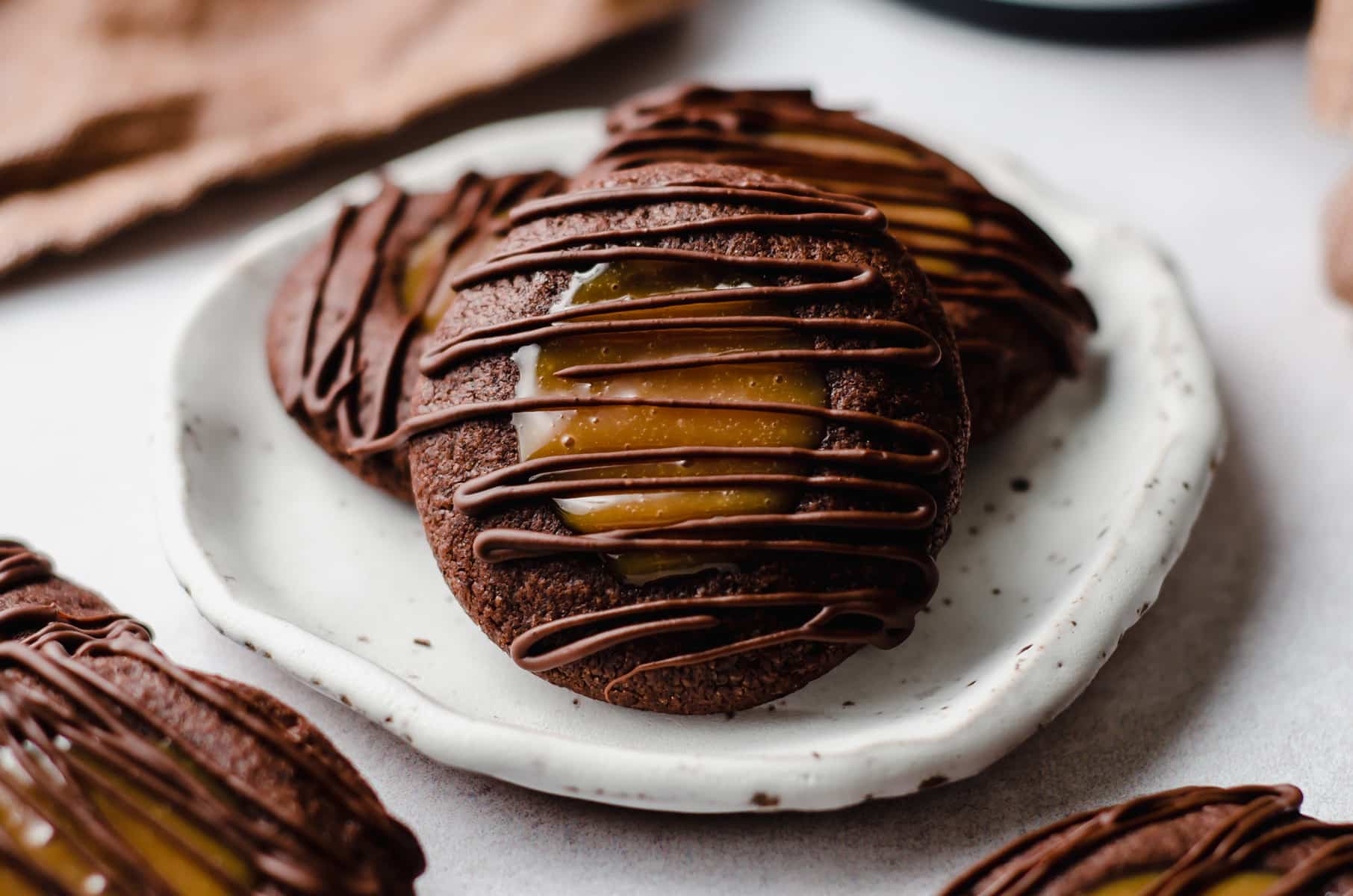 INGREDIENTS
These salted caramel thumbprint cookies are simple, and while they do take a little more time than traditional cookies since they are a thumbprint, the ingredient list is simple and the method is broken down into three separate events to achieve the perfect cookie.
CHOCOLATE COOKIE
The ingredients you'll need for the chocolate thumbprint cookies include all-purpose flour, salt, baking powder, unsalted butter, white and brown sugar, one egg yolk, and some vanilla extract.
The chocolatey portion? We're getting that with one of my very favorite baking ingredients: Dutch processed cocoa powder. And more specifically, Rodelle brand.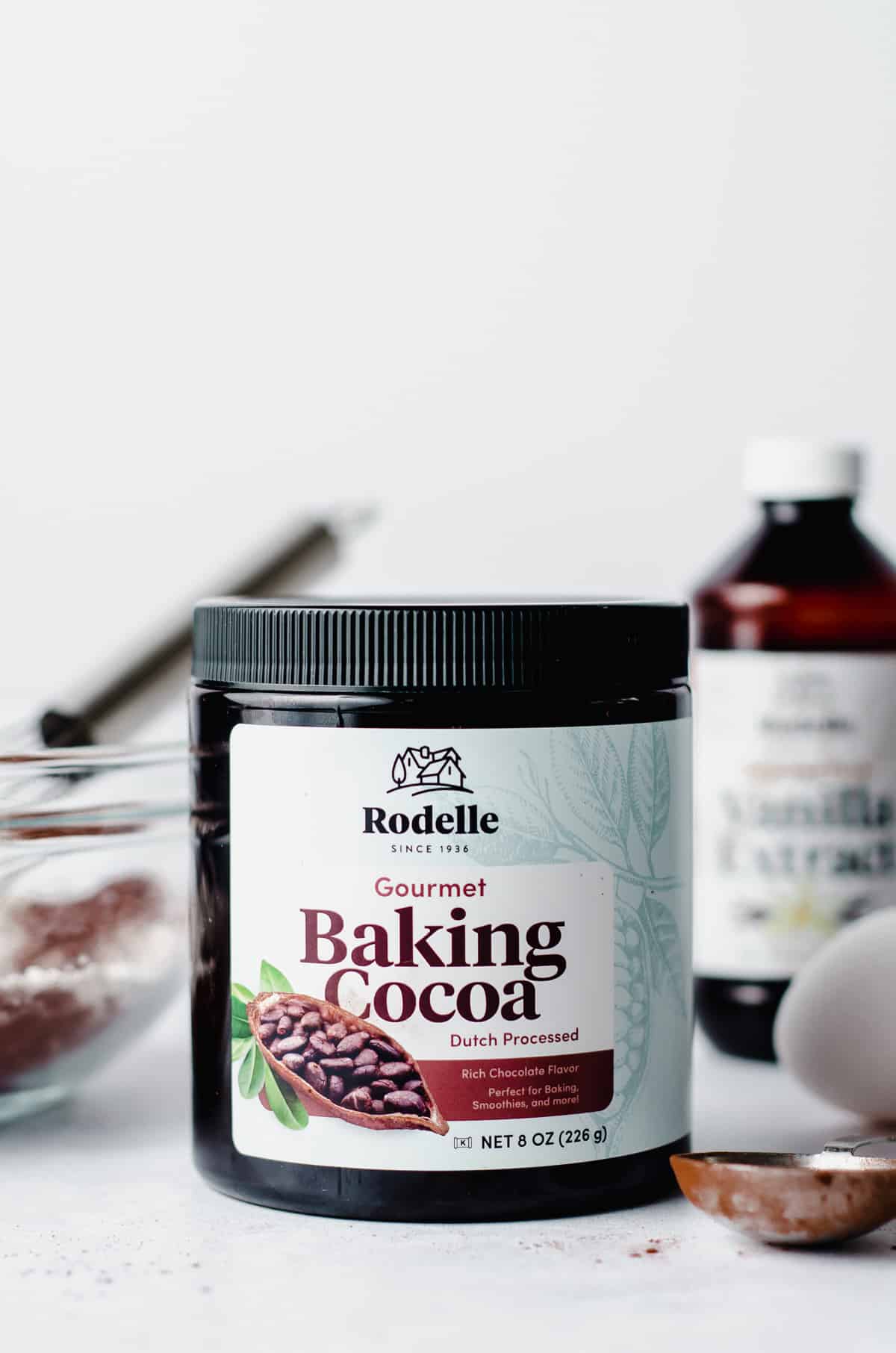 My favorite brand of gourmet Dutch processed baking cocoa (and a lot of other baking ingredients) is Rodelle, as they embody exactly what it means to be "fair trade," working directly with vanilla famers in Madagascar to source their vanilla beans and other crops for their baking products. I have been working with them since 2016 and they are my go-to for almond extract and anything vanilla.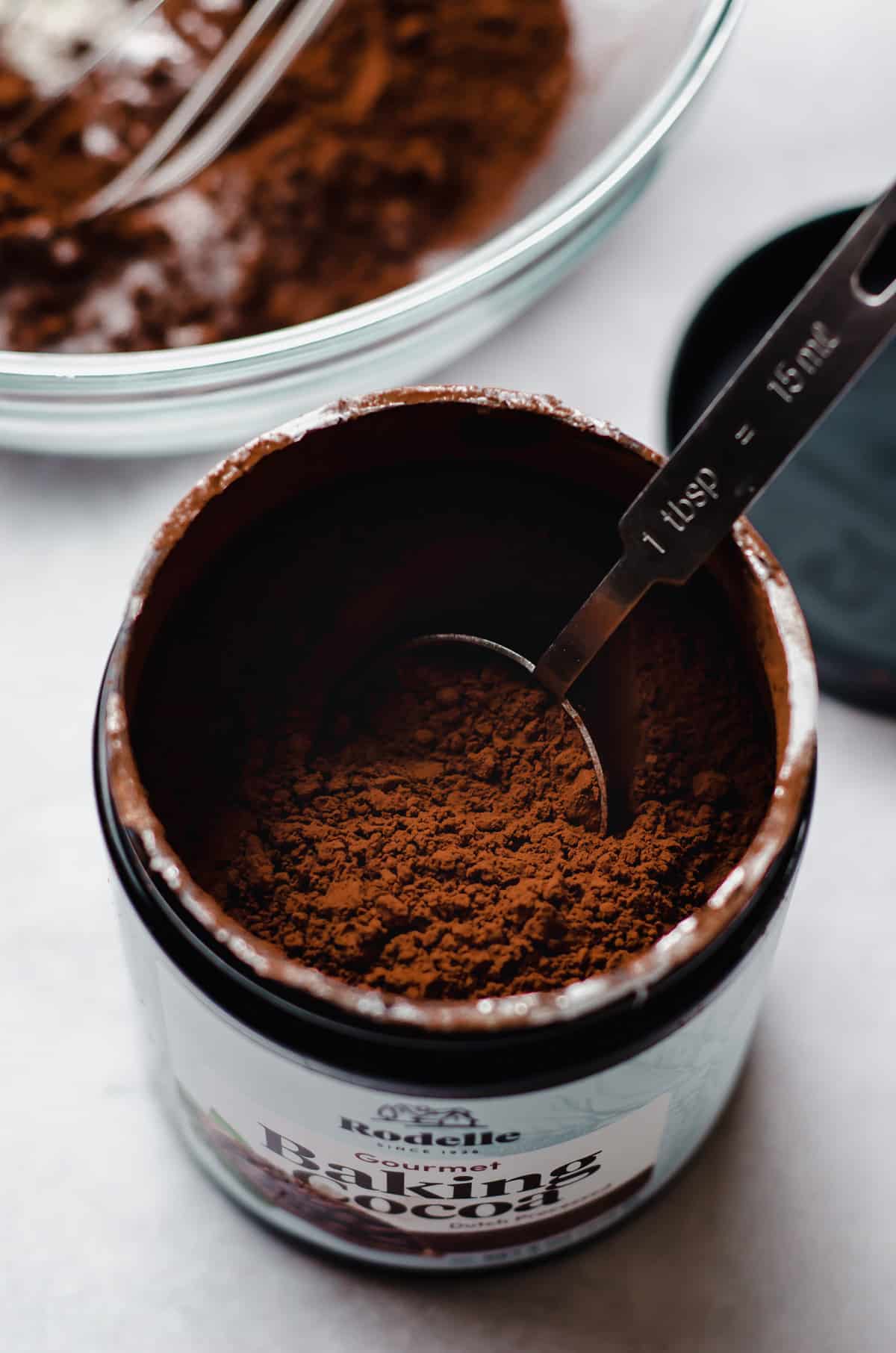 The particular unsweetened cocoa powder I used in this chocolate caramel thumbprint cookie recipe is Rodelle's Gourmet Baking Cocoa. You can use that link to find Rodelle products near you!
SALTED CARAMEL FILLING
To turn these chocolate thumbprints into salted caramel chocolate thumbprint cookies, we're actually not making salted caramel sauce from scratch like I normally would. Nope!
In this case, we're using pre-made caramels you can purchase at the store. I used Werther's soft caramels, but you can also use their chewy caramels. We'll talk about that in a minute and there are also notes in the recipe card that will help guide you with your ingredient and amount selection.
The other ingredients for the caramel filling are simple: milk and salt. These are salted caramel cookies, after all.
CHOCOLATE DRIZZLE
The finishing touch on these cookies is a simple chocolate drizzle. You can do this with semi-sweet or dark baking chocolate or chocolate chips. Either will work just fine so just use what you have available.
HOW TO MAKE CHOCOLATE CARAMEL THUMBPRINTS
Thumbprints are a pretty simple cookie to prepare, but they have a bit more hands-on time than traditional cookies.
MAKE THE DOUGH
You'll start by combining your dry ingredients so they're ready to add to your wet ingredient base.
Then, cream together the softened butter and sugars. To this, you'll add some vanilla extract and just one egg yolk. These cookies have a rich and dense chocolate flavor and texture due to the elimination of the egg white.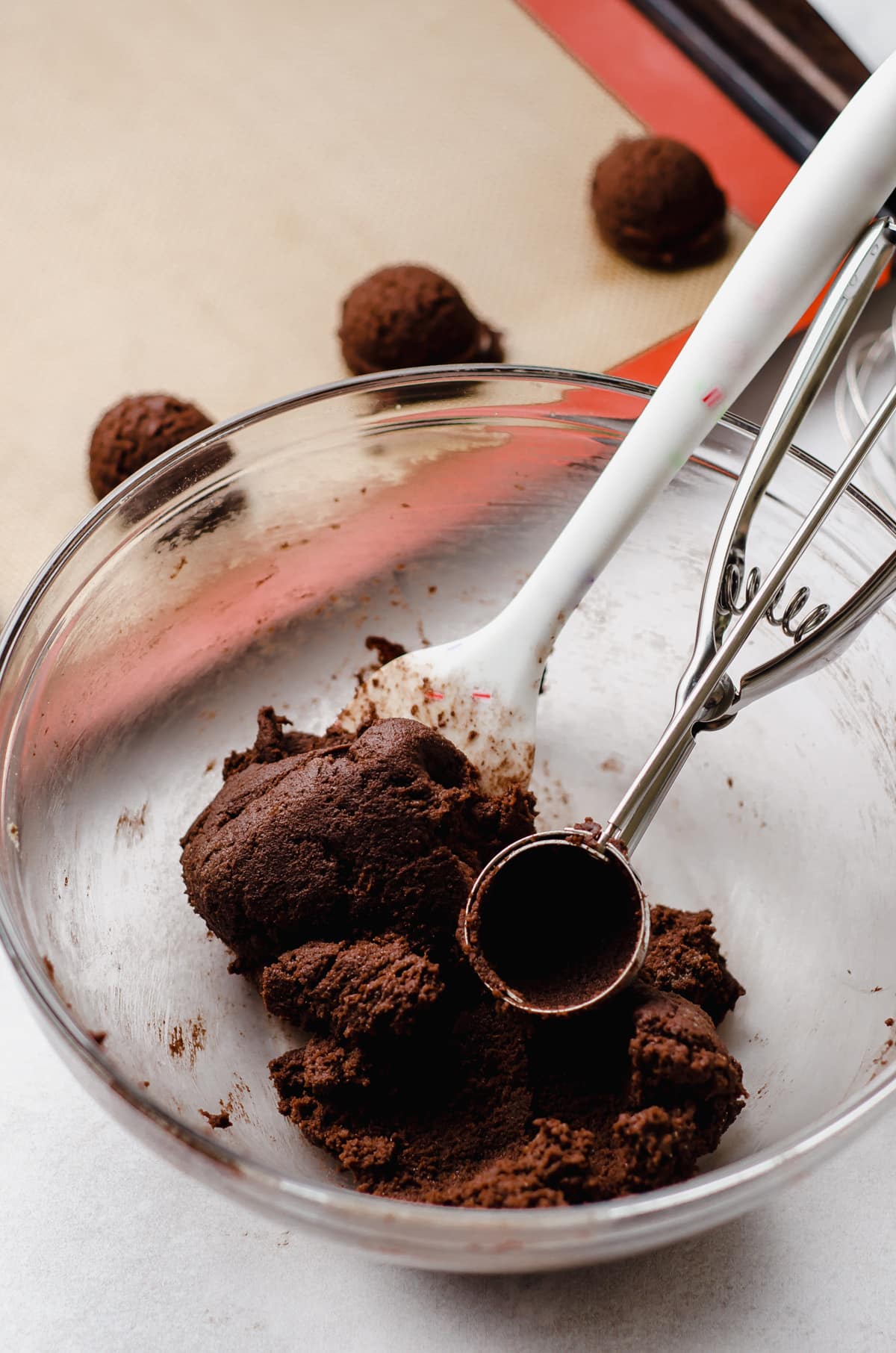 Once your dough is together, you'll portion it out onto baking sheets with a cookie scoop. I always use this #50 cookie scoop for my cookie dough, and it worked perfectly for these easy caramel thumbprint cookies.
When your dough is portioned out, you'll smooth out the batter by rolling each cookie dough mound into a ball with your hands.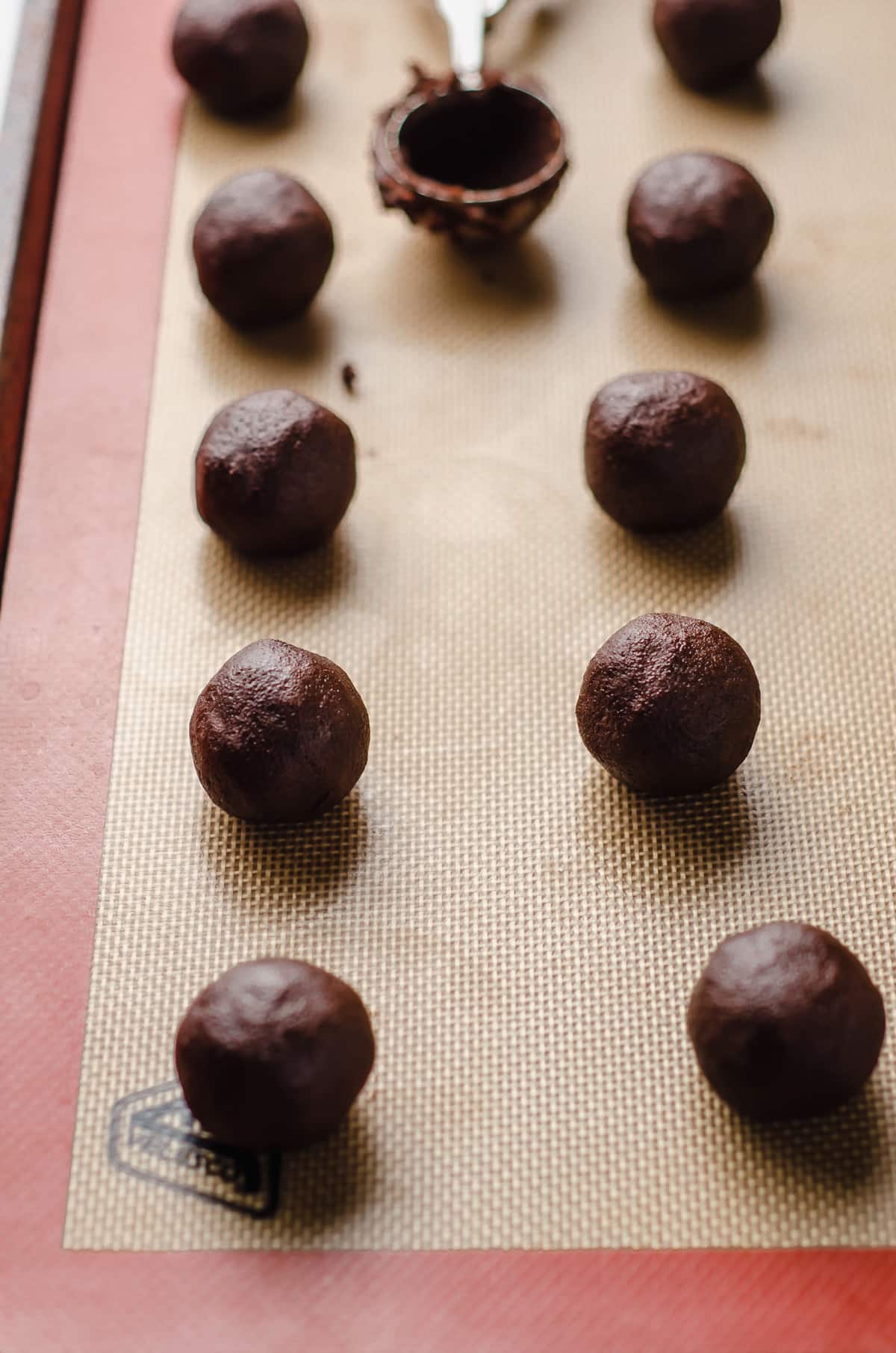 MAKE WELLS IN EACH COOKIE DOUGH BALL
Next, press a ¼ teaspoon measure into the tops of each ball of dough which will create the well for the caramel filling.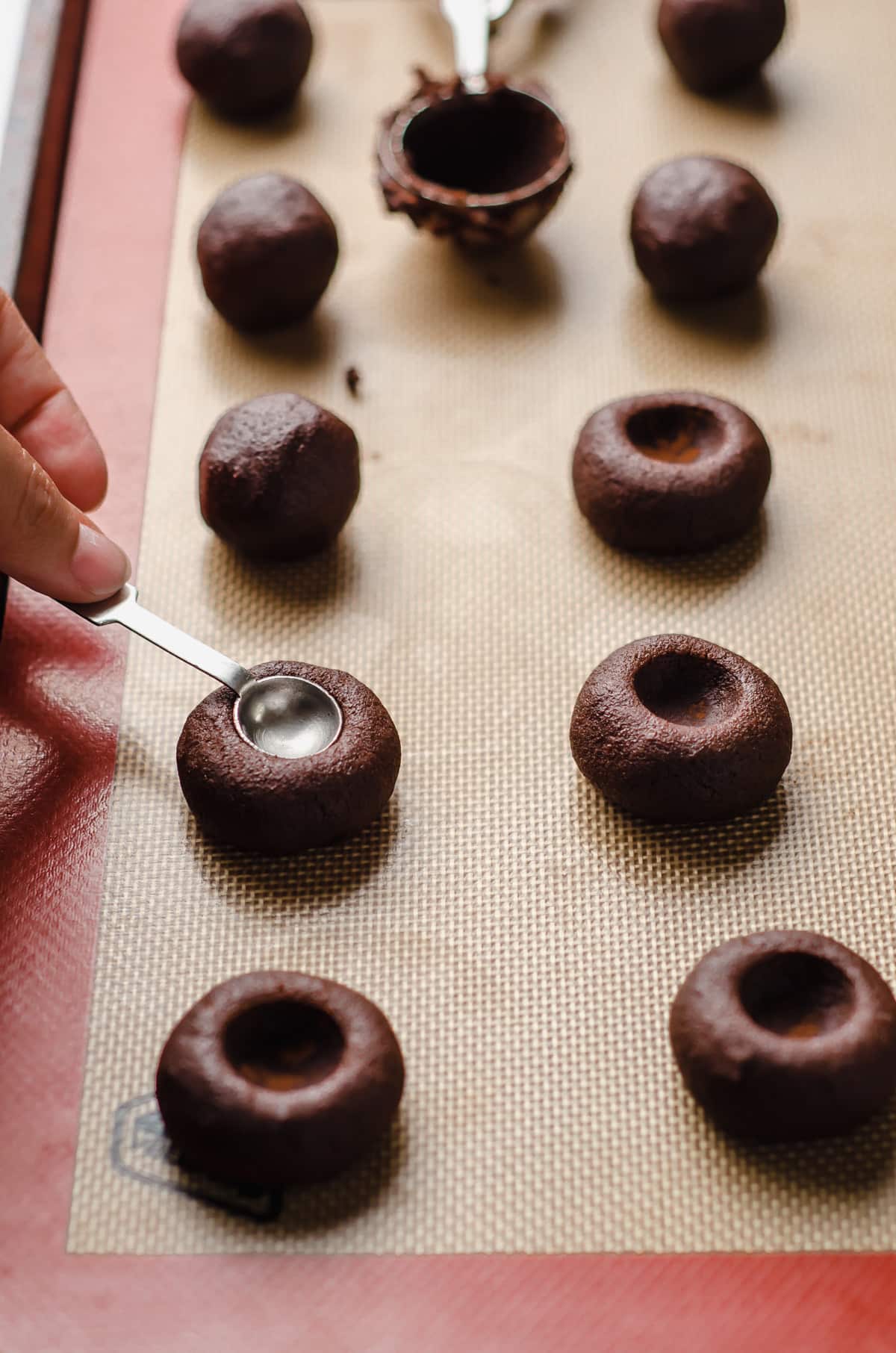 If you're having an issue with the teaspoon measure sticking, dip it into some additional cocoa powder. This extra cocoa powder will prevent the spoon from sticking and then absorb into the cookie dough in the oven, so don't worry if it looks like there's cocoa powder on the surface.
CHILL THE SHAPED COOKIE DOUGH
After you've made wells in all of the cookie dough balls, you'll chill the cookie dough on the baking sheets to solidify the butter and maintain the thumbprint shape. The cookie dough only needs 1 hour to chill, but can be chilled longer if you'd like to prepare them more ahead of time.
If you're going to be chilling the cookie dough more than a couple hours, cover with foil or a kitchen towel to prevent the cookie dough from drying out.
BAKE THE COOKIES
Once your cookie dough is thoroughly chilled, bake for 9-11 minutes, though I found 10 minutes to be the very sweetest spot.
The cookies will spread a little bit and will have flattened slightly. In fact, some of the wells may have lost their shape, but fear not! This is totally fine and normal and we have a remedy.
RE-SHAPE THE WELLS
While your cookies are still hot, use the same ¼ teaspoon measure to re-shape the wells.
You likely won't need any additional cocoa powder this time, since the cookie dough will be quite buttery, but work quickly and carefully to get the walls of those wells nice and strong again.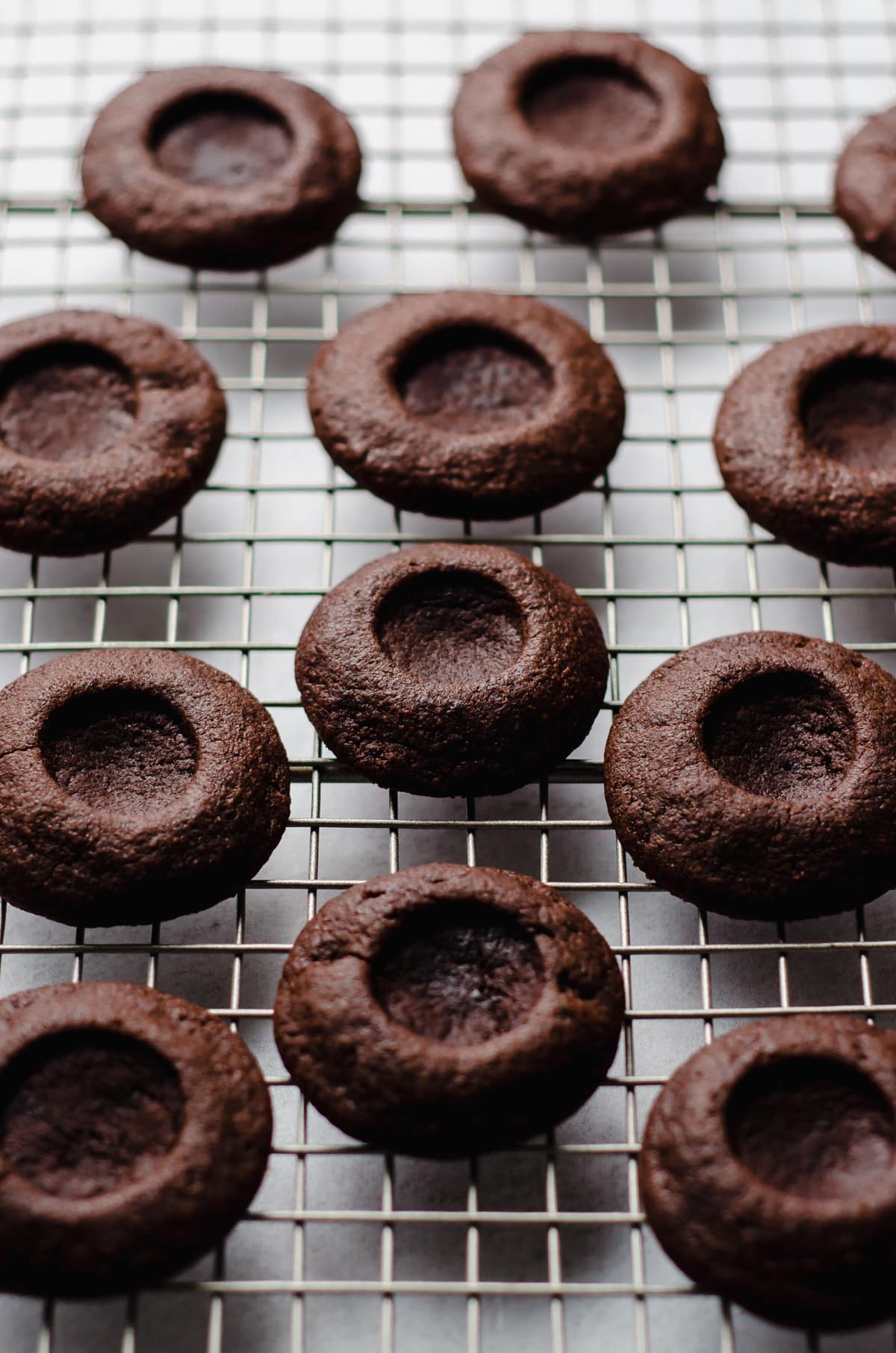 Again, press gently, because you don't want to crack the cookies. The hot cookies are pretty forgiving, so don't overthink it. Just work through them one at a time.
FILL THE COOLED COOKIES WITH CARAMEL
Once you're ready to fill the cookies, you'll unwrap all of your caramels.
Put all of your caramels into a bowl with a spout (I like to use my glass measuring cup) then add some milk starting with 2 teaspoons for now.
You'll also add a little salt, because remember, these are salted chocolate caramel cookies. As in… Extra yum!
Remember when I said you can use any kind of soft or chewy caramel you can find? After you've microwaved your caramels + milk + salt, stir the mixture and decide whether or not you can pour it.
You likely will be able to, but if the mixture is still too stiff, add another ½ of a teaspoon of milk. You want the mixture to be pourable but not totally liquid. Think of the viscosity of molasses. Slow moving and gooey is what we're going for.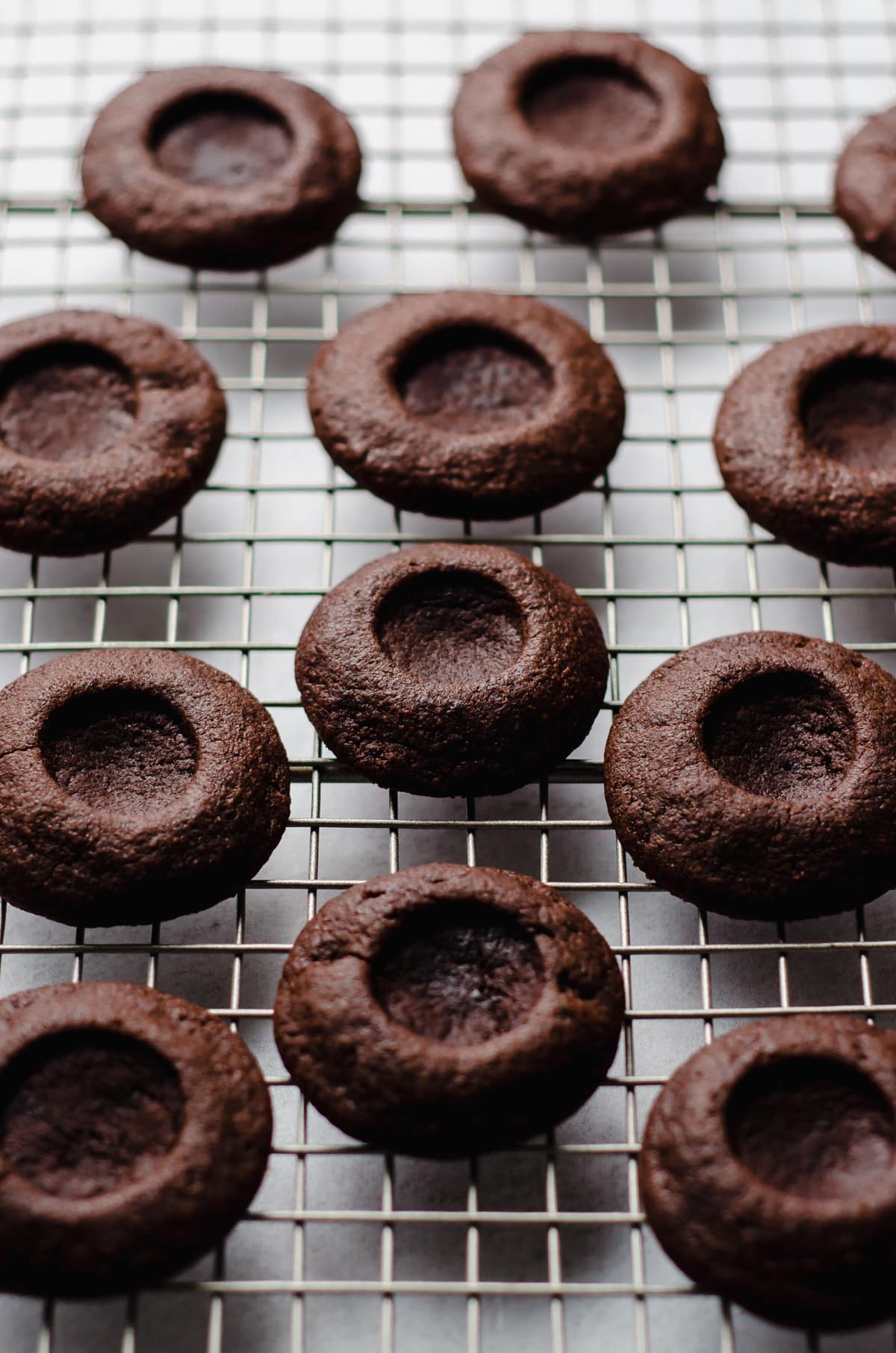 Then, it's just a matter of pouring the caramel into the wells! Sounds simple enough, right?
It is, but pour with care. Nice and slow and a little at a time. Use a measuring spoon or a tablespoon if you're worried about the caramel moving too quickly and making a mess.
DRIZZLE WITH CHOCOLATE
Allow the caramel to set up, then put the finishing touch on your chocolate caramel thumbprint cookies with a simple chocolate drizzle.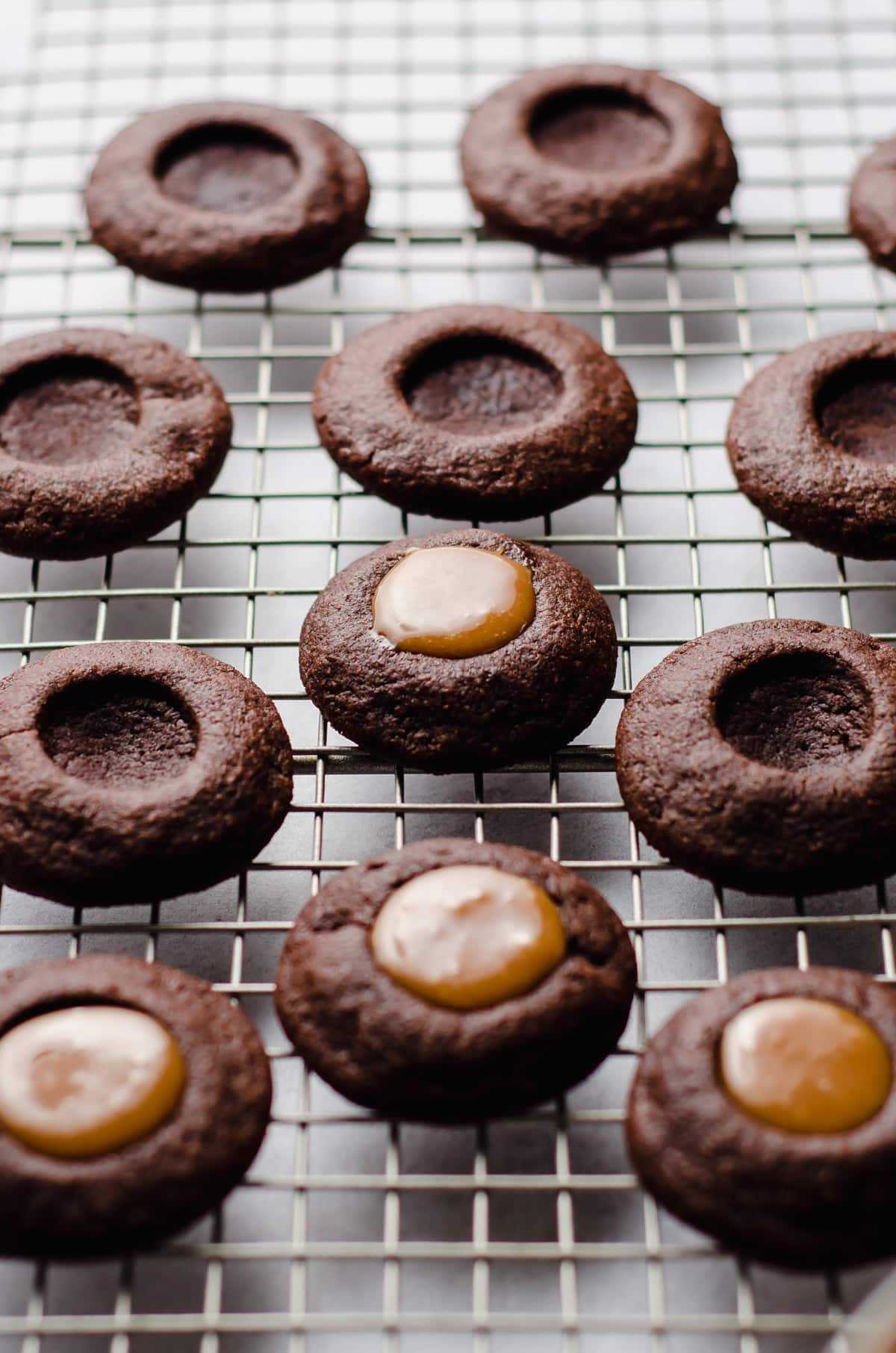 The caramel won't completely harden, but it will stiffen and set up. That's when you'll want to drizzle the chocolate.
HOW TO STORE THESE COOKIES
While I do love these cookies and appreciate how gooey they are, they are not a great stacking cookie (ask me how I know). They do much better to be served lying flat on a plate or platter, because any extended tilt will cause the soft caramel to spill out of the well.
Of course, when it comes to eating, these cookies are terrific and the gooey caramel center complements that rich chocolate flavor so well. My neighbors and I enjoyed these on the driveway one afternoon and had a lot of fun seeing who could get the best caramel pull.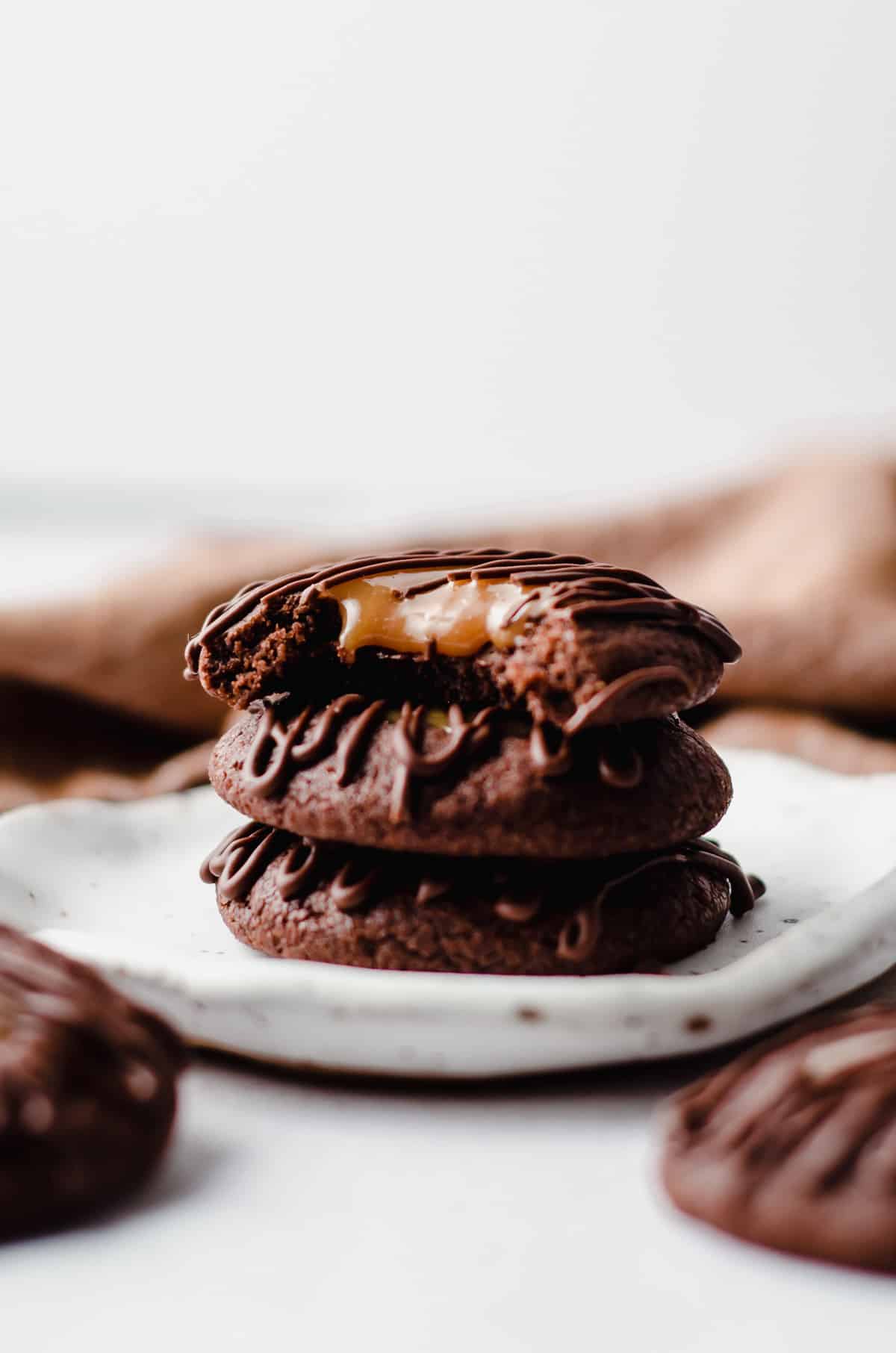 Honestly, I do have to thank the Girl Scouts for giving me this idea, but I'll take all the credit for making a copycat that is a bajillion times (accurate calculation) better than the original. I hope you'll give these better-than-the-(Girl Scout)box cookies a try the next time you're looking to satisfy that chocolate + caramel flavor combo!
FAQ
Here is a list of commonly asked questions about chocolate caramel thumbprint cookies.
DO I HAVE TO USE CARAMEL CANDY FOR THE THUMBPRINT WELLS?
No, you do not! You are welcome to use my recipe for salted caramel sauce and use that to fill the cookies instead. Just know that the filling will be a little looser than the one made from caramel candies, but the method of filling the cookies will be the same.
WHY DO MY THUMBPRINT COOKIES CRACK?
To avoid cracking, roll the balls of dough into very smooth balls, and gently press down with the measuring spoon to create each well. If the cookie dough cracks before baking, press the dough back together with your fingers before chilling.
Can't get enough of chocolate and caramel? Try some of these favorites from my recipe collection: Butterfinger poke cake, salted caramel brownies, and peanut butter Rolo cookies.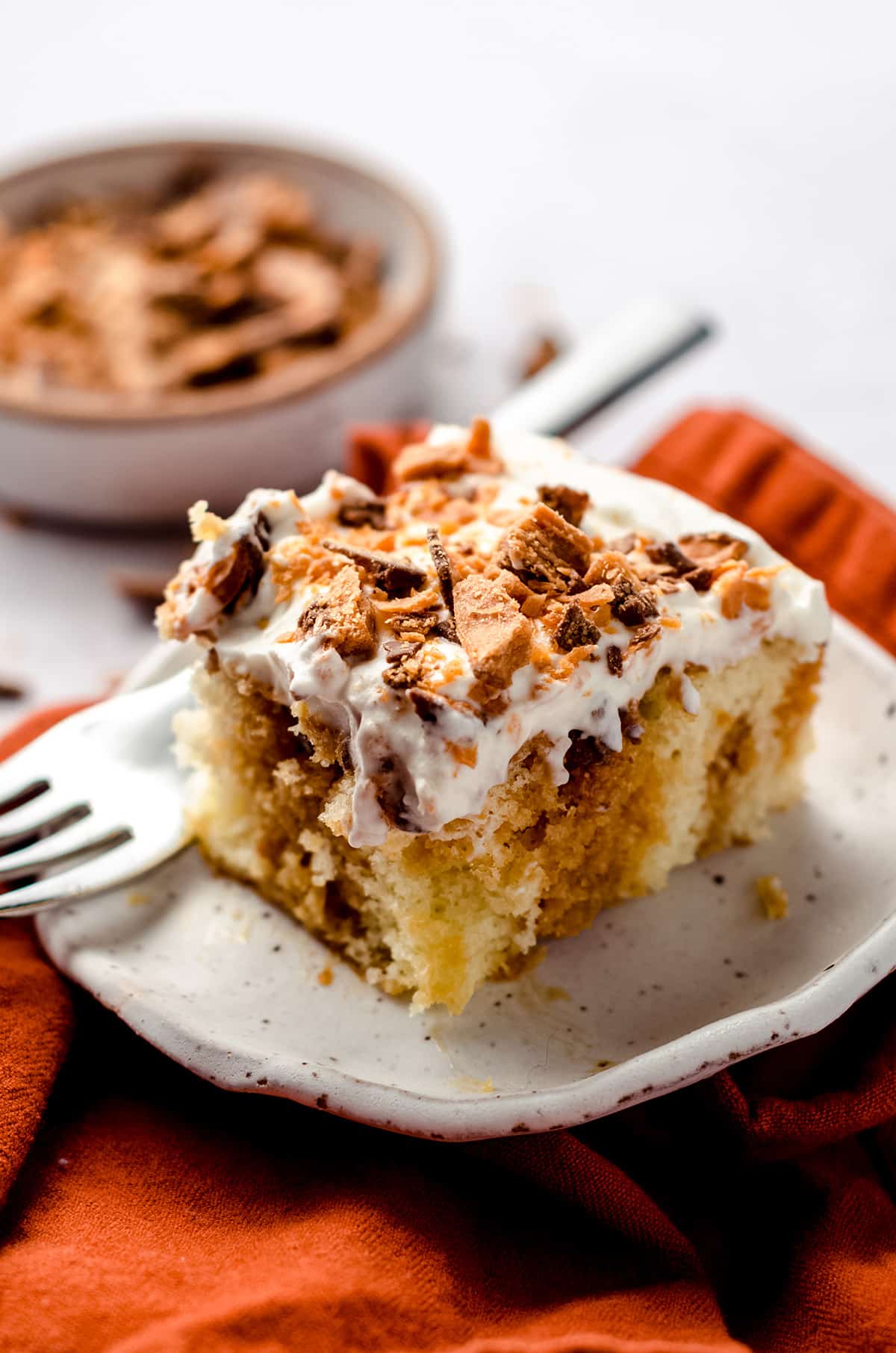 Chocolate Caramel Thumbprint Cookies Recipe
Rich, chocolatey thumbprint cookies filled with a soft and gooey salted caramel and topped off with a simple chocolate drizzle.
Ingredients
CHOCOLATE COOKIE
¾

cup

(90g) all-purpose flour be sure to measure properly

¼

cup

Rodelle Gourmet Cocoa Powder Dutch processed1

¼

teaspoon

salt

¼

teaspoon

baking powder

6

Tablespoons

(85g) unsalted butter

softened to room temperature

¾

cup

(150g) firmly packed light brown sugar

2

Tablespoons

(25g) granulated sugar

1

egg yolk

at room temperature

1

teaspoon

vanilla extract
CARAMEL FILLING
1

bag

chewy caramels2

2 to 3

teaspoons

milk

¼

teaspoon

salt
CHOCOLATE DRIZZLE
2

ounces

(57g) semi-sweet chocolate or semi-sweet chocolate chips
Instructions
CHOCOLATE COOKIES
Line two large baking sheets with parchment paper or silicone baking mats and set aside.

Whisk together the flour, Dutch processed cocoa powder, salt, and baking powder in a medium size bowl. Set aside.

In the bowl of a stand mixer fitted with the paddle attachment or a medium size bowl with a handheld electric mixer, cream together the butter and both sugars on medium high speed until light and fluffy, about 2-3 minutes. Add the egg yolk and the vanilla then beat again until completely combined. Scrape down the sides of the bowl as necessary.

Turn the mixer speed to low, then slowly add the dry ingredients, mixing until just combined.

Using a cookie scoop (I use this #50 cookie scoop for all of my standard size cookies), drop mounds of cookie dough onto the prepared baking sheets until you have used up all of the dough.

Using a ¼ teaspoon measure, gently press down on the tops of the dough balls to create an indent. If the spoon is sticking to the dough, dip it into some cocoa powder. Once all of the cookie dough balls have been indented, chill in the refrigerator for at least 1 hour and up to 3 days. If you are chilling them for longer than 1 hour, cover them so the dough doesn't dry out. You can also chill them on a large plate or platter if you don't have enough room in the refrigerator for 2 large baking sheets. You can then transfer them from the plate or platter to the prepared baking sheets.

When you are ready to bake the cookies, preheat the oven to 350ºF (177ºC). Bake the cookies no more than 8 to a baking sheet for 9 to 11 minutes (10 minutes worked best for me and my oven) until the edges are set.

Remove the cookies from the oven, then press down gently again with the ¼ teaspoon measure to re-shape the wells while the cookies are still hot. Allow the cookies to cool for at least 5 minutes on the baking sheet before transferring to a cooling rack to cool completely before filling with caramel.
CARAMEL FILLING
In a small bowl with a spout (preferably a glass measuring cup with a spout), combine the unwrapped caramels, 2 teaspoons of milk, and salt. Melt in the microwave on HIGH for 30 seconds, stir, then continue to microwave in 15 second intervals, stirring after each, until you have a smooth, pourable mixture. Add an additional ½ teaspoon of milk if you need to thin it out more.

While the caramel is still very warm, slowly and carefully fill each chocolate cookie, taking care not to overfill the wells. The caramel will spread to the edges, so only fill it about halfway before adding more to fill to the brim. Allow the caramel to set before drizzling with chocolate.
CHOCOLATE DRIZZLE
When the caramel has set, melt the chocolate in a small bowl, then transfer to a piping bag fitted with a small round tip, a cookie decorating bottle, or a zip top bag with the corner snipped off to drizzle chocolate over the top. You could also do more of a haphazard drizzle just using a spoon.

Allow chocolate to harden before serving. Do not stack cookies, but store in an airtight container at room temperature. If you need to stack them, place a piece of wax or parchment paper between layers. Un-filled cookies freeze well, up to 3 months. Do not freeze filled cookies. Allow to thaw at room temperature then fill.
Notes
Dutch processed cocoa powder: Rodelle is my preferred brand of Dutch processed cocoa powder. You can use any brand you like, just make sure it's Dutch processed.
Caramels: I used Werther's brand chewy caramels. You can use soft or chewy caramels, just don't use hard candies. You'll want about 18 caramels total. You can also use homemade caramel sauce, just know the filling will be a lot looser. The method for filling the cookies is the same.
Chocolate cookie base from In Bloom Bakery
Nutrition Disclosure
All nutritional values are approximate and provided to the reader as a courtesy. Changing ingredients and/or quantities will alter the estimated nutritional calculations.
Serving:
1
cookie
|
Calories:
153
kcal
|
Carbohydrates:
26
g
|
Protein:
2
g
|
Fat:
5
g
|
Saturated Fat:
3
g
|
Polyunsaturated Fat:
1
g
|
Monounsaturated Fat:
1
g
|
Trans Fat:
0.2
g
|
Cholesterol:
22
mg
|
Sodium:
109
mg
|
Potassium:
70
mg
|
Fiber:
1
g
|
Sugar:
20
g
|
Vitamin A:
138
IU
|
Vitamin C:
0.1
mg
|
Calcium:
36
mg
|
Iron:
1
mg