Peanut Butter Rolo Cookies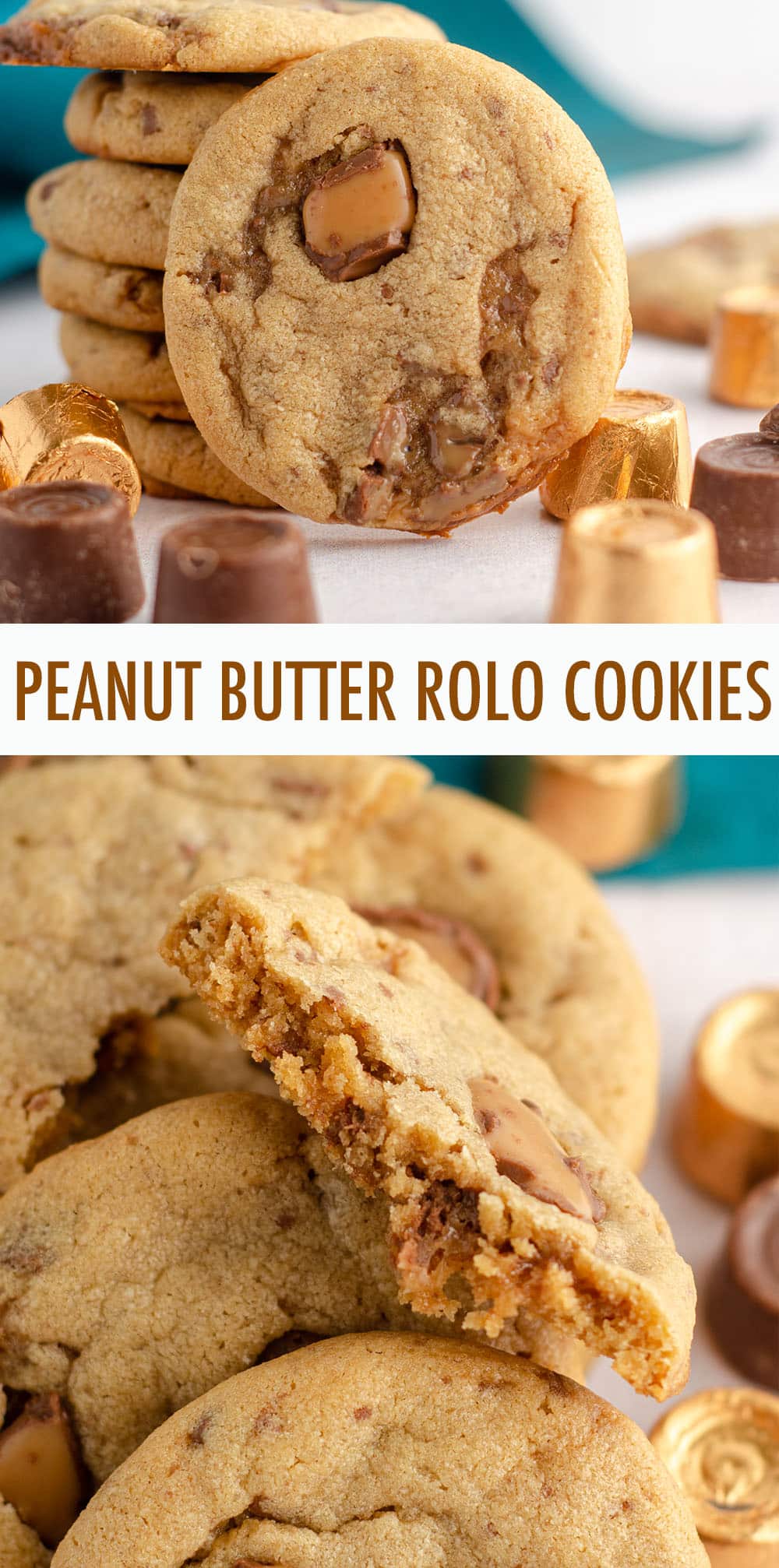 As an Amazon Associate, I earn from qualifying purchases. Read the full disclosure here.
Soft and chewy peanut butter cookies filled with chopped Rolos.
If you're confused by the name of these cookies that appears in the parenthesis, we'll get there. If you're not confused by it, welcome, my fellow HIMYM fan. I already like ya a little bit more!
First things first:
Ok, so about the parenthetical name of these cookies… If you're a How I Met Your Mother fan, you're likely familiar with the sumbitches scene, but if not, here's a little vine I found. Don't worry, no spoilers. Promise!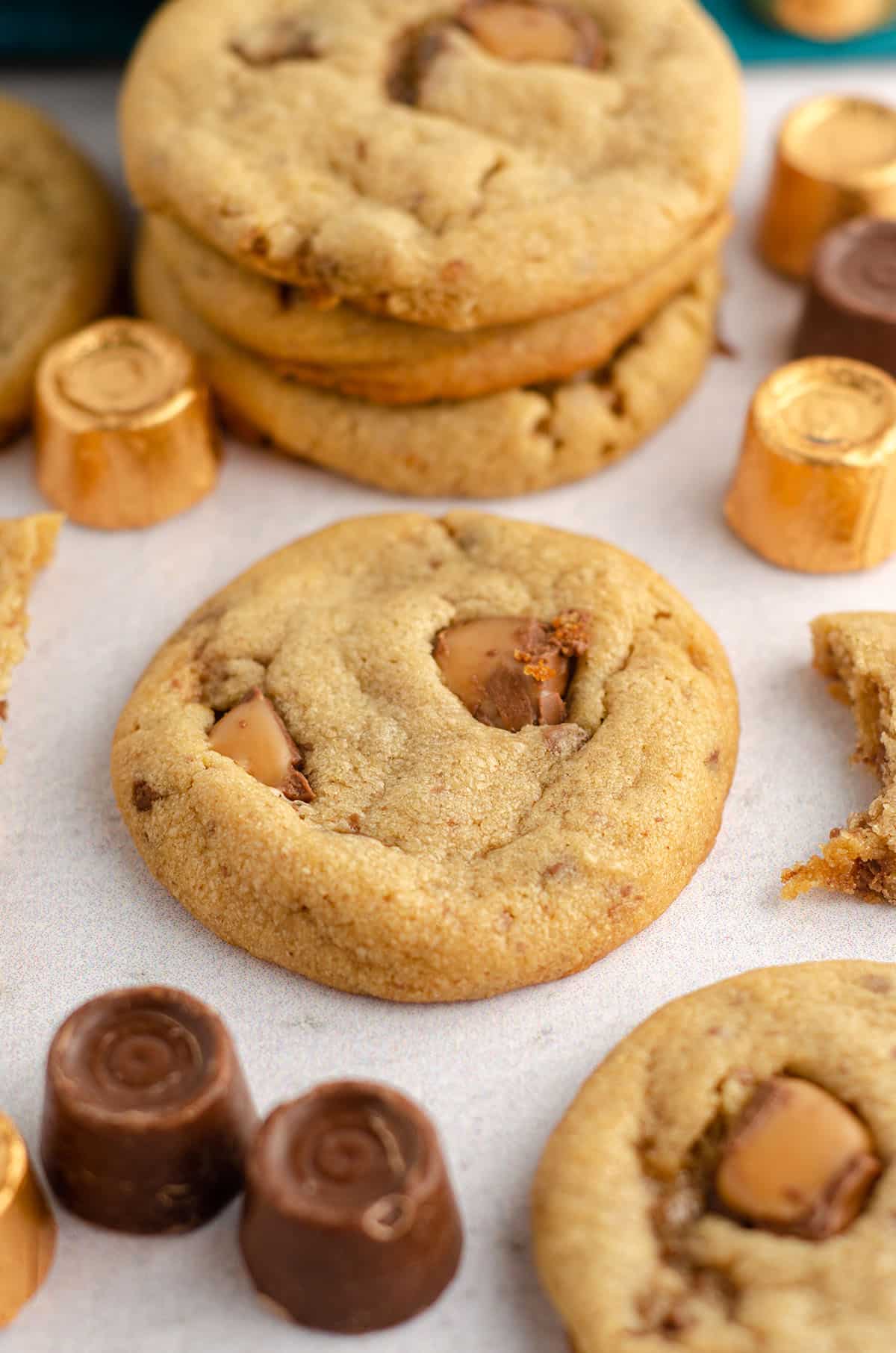 I watched HIMYM one summer while Matt spent a lot of time away from home for work and I absolutely loved it.
I watched it again the following spring and it was even better than the first time around, and I remembered that when I watched it the first time, I wanted to make "sumbitches" because they sounded so good: chocolate, peanut butter, and caramel?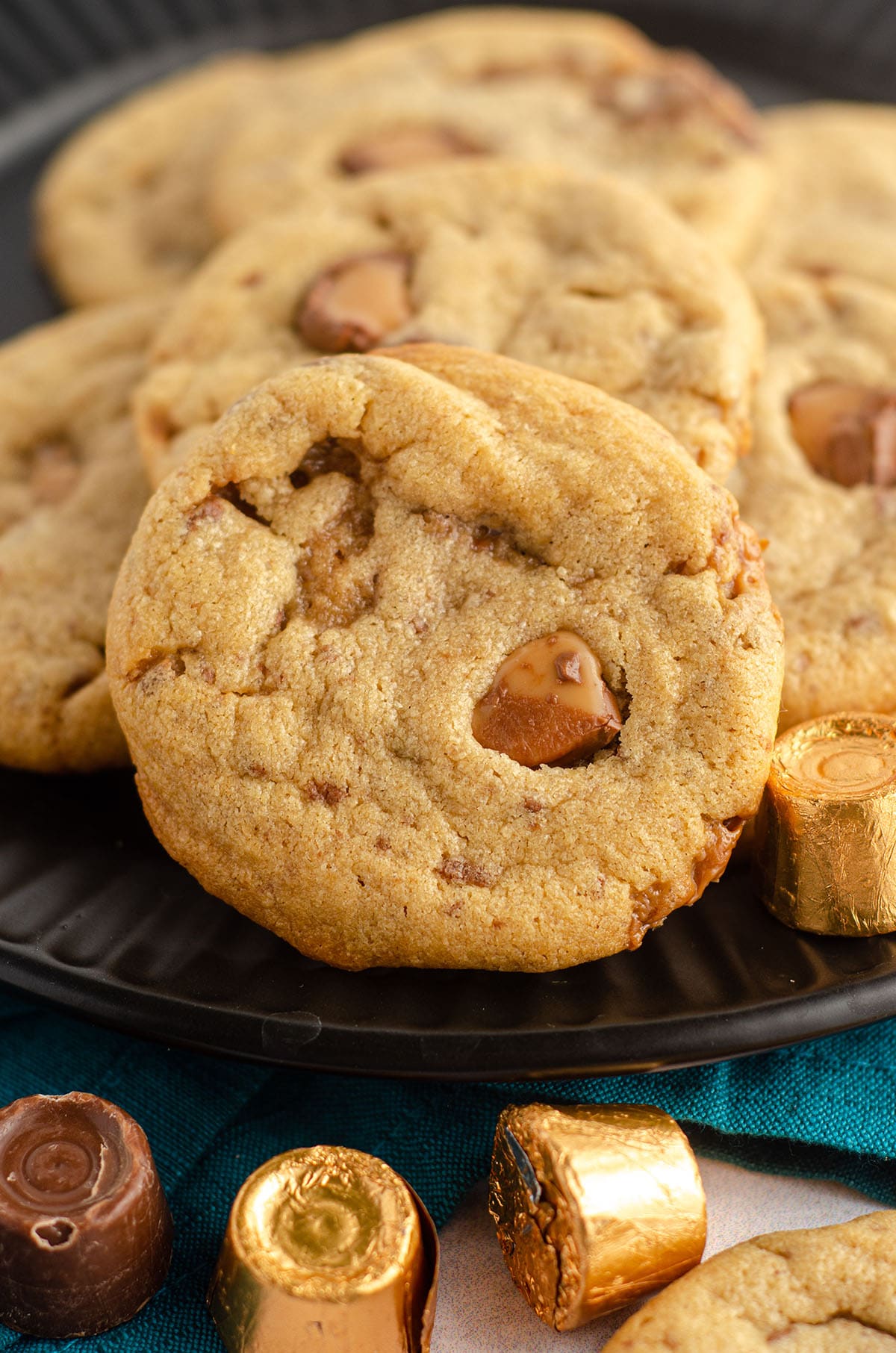 I mean how can you go wrong with that combo?
The show never says more than just the flavors that are in the cookies, and I've gotten a lot of traffic to this post from folks also looking for "sumbitches cookie recipe," so I had to use a bit of my imagination as how to best construct these cookies when I first brought them to fruition.
So of course, I did what any bloggy baker does and stuck with a base cookie that I knew was a tried and true recipe.
I took the peanut butter cookie base from my peanut butter blossoms (which I also use for my ultimate peanut butter cookies) and tossed chopped Rolos in them.
Boom. Done.
Why try making something new when you've got a trusty friend to turn to who you know won't let you down?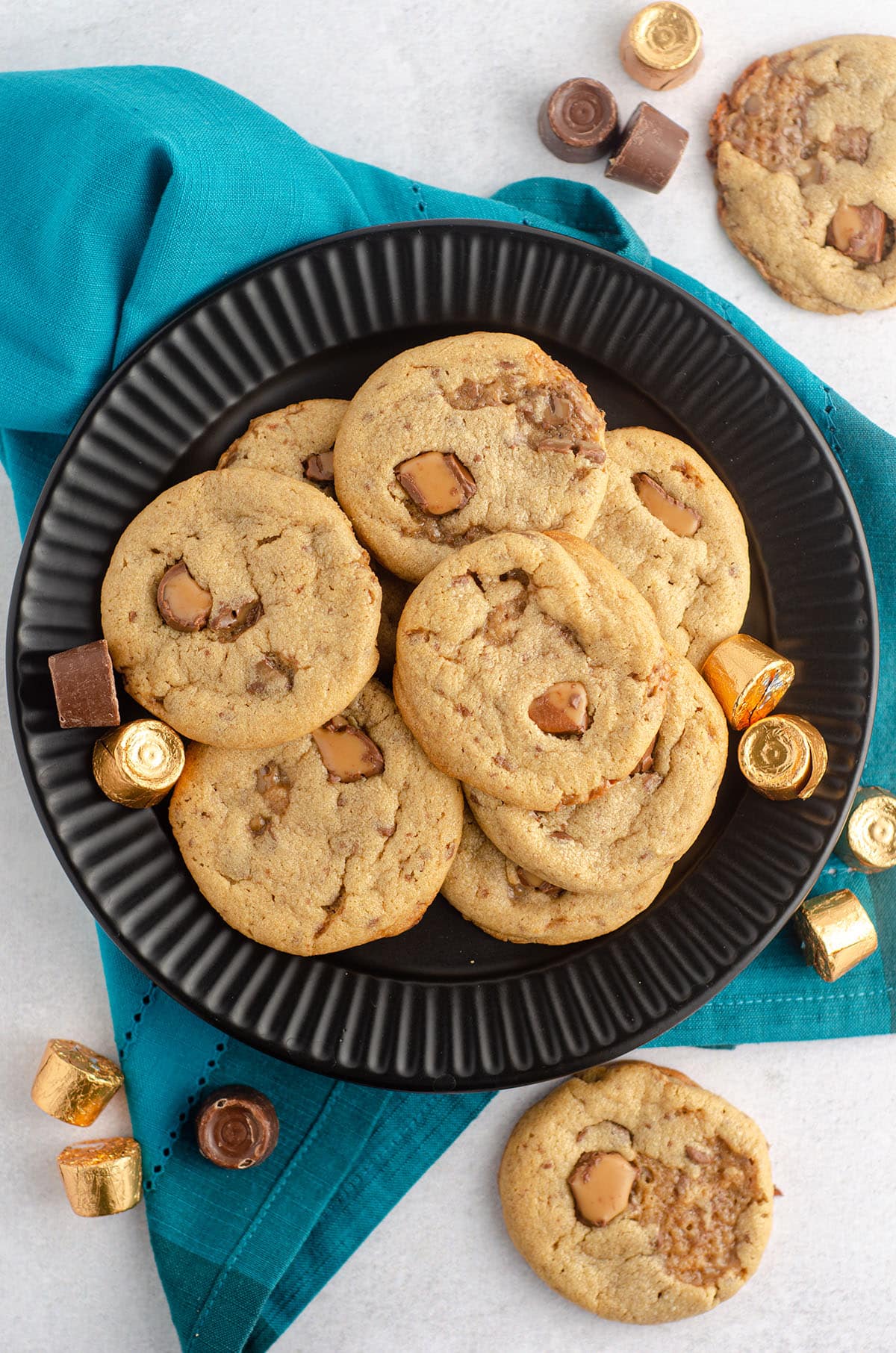 These cookies have existed on my blog since 2016, but I figured the best time to recreate them was during this year's edition of FAF's 12 Days of Christmas Cookies, and so I could refer to my super popular Instagram reel about how to get picture perfect cookies!
You can find my SIMPLE tips and tricks in that reel right here.
The base for these peanut butter caramel cookies is so simple. I use a combination of brown and white sugar to keep the sweetness rich and the moisture high. I use almost an entire cup of creamy peanut butter (the sweet stuff, not natural) to amp up the peanut butter flavor.
There is no shortage of it in these bad boys!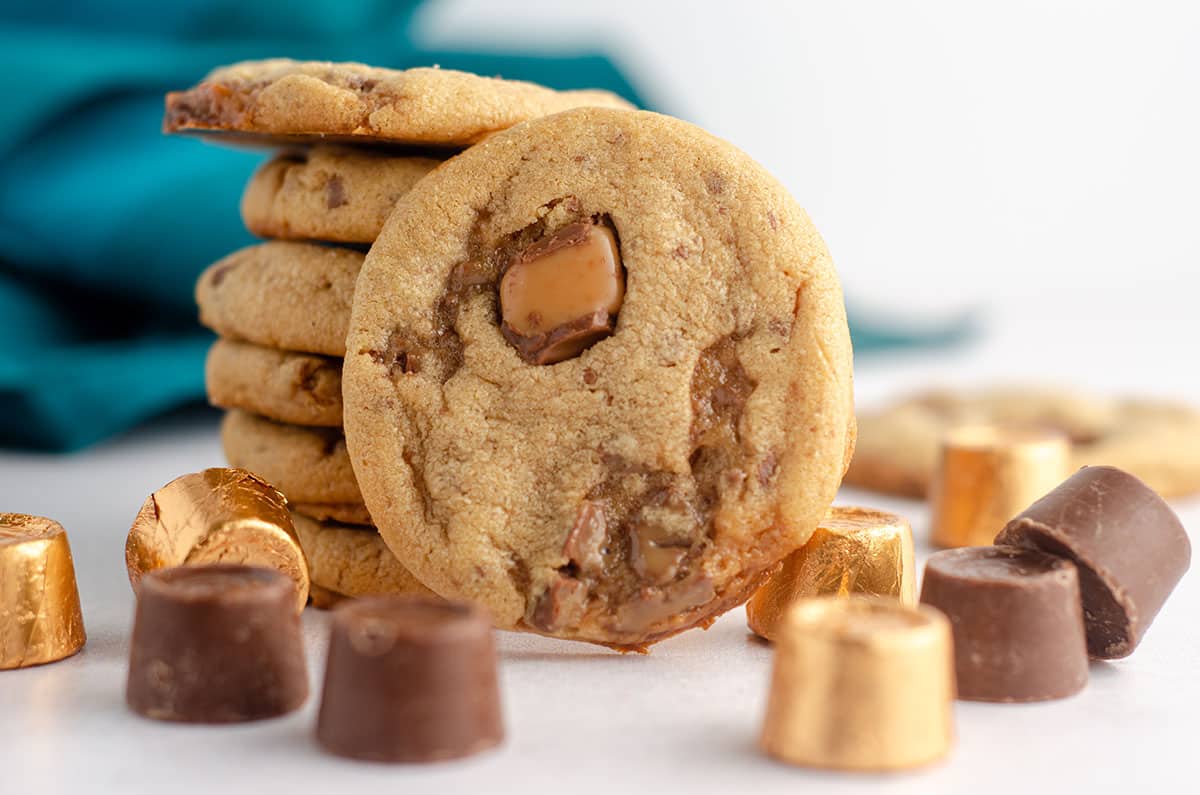 Then, of course, lots of chopped Rolos. I used 24 individual candies, cut into quarters and then roughly chopped as a whole collection.
Now these cookies may not be the most beautiful ones you've ever made, but I assure you, that matters very little. You'll find a lot of spreading and misshaping of the cookies. This is all completely ok and totally normal. Use my Instagram reel to help you!
My other best tip for these cookies, and any cookies that tend to spread a lot, is to roll the cookie dough into tall balls. This encourages the cookies to bake down first before baking out. It's a really helpful technique!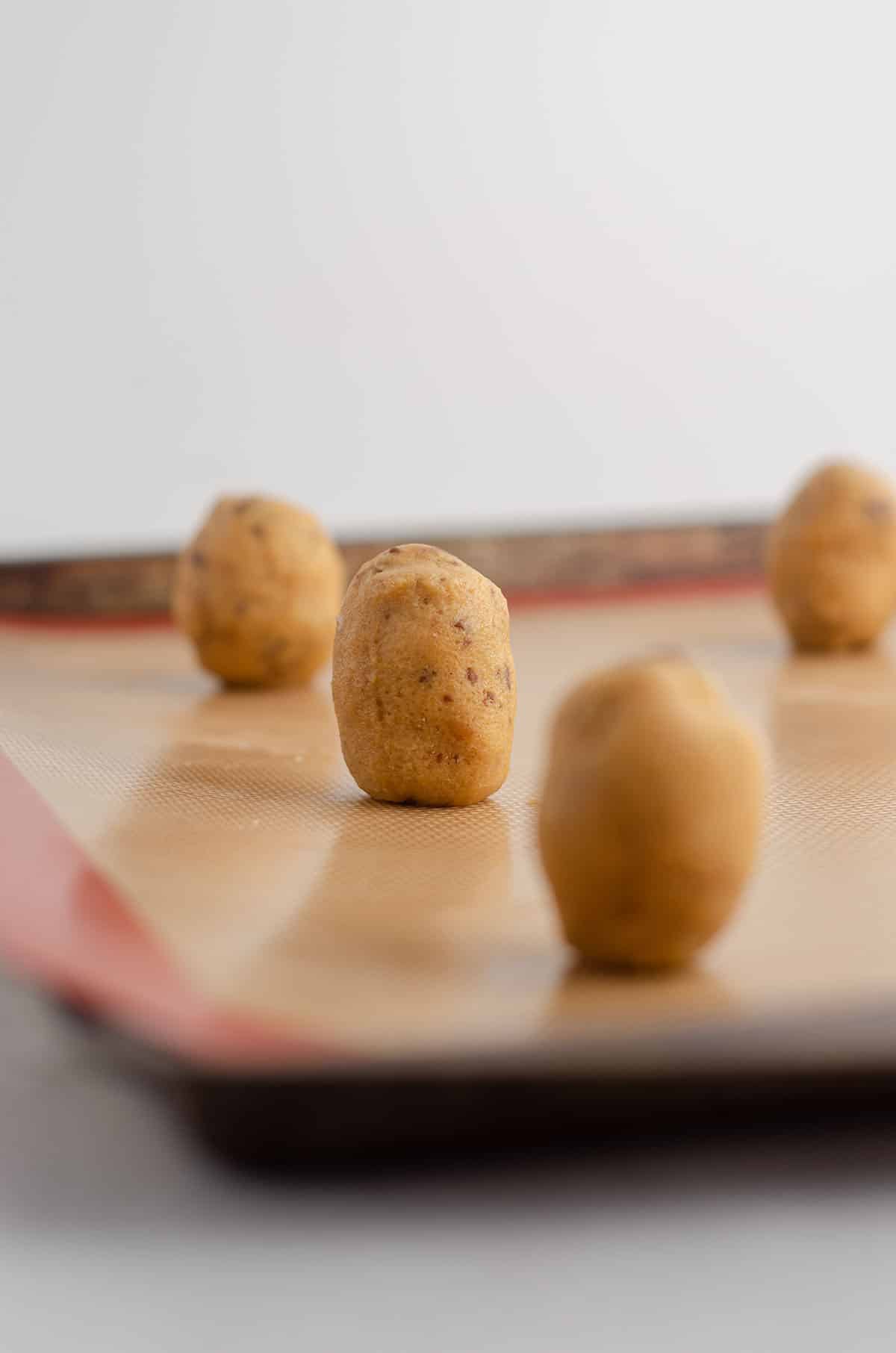 The gooey nature of the cookies (thanks to the caramel) adds to the spreadability of the cookie dough, but it also brings something magical to the cookie jar: crispy and chewy pieces of caramelized caramel (is that a thing?).
To make sure your cookies stay together and don't completely fall apart, you'll allow them to cool on the baking sheet for at least 10 minutes.
It will be hard to wait that long– believe me– but you'll thank me when your cookies don't wind up in a billion pieces because you transferred them too soon (#learnedthehardway).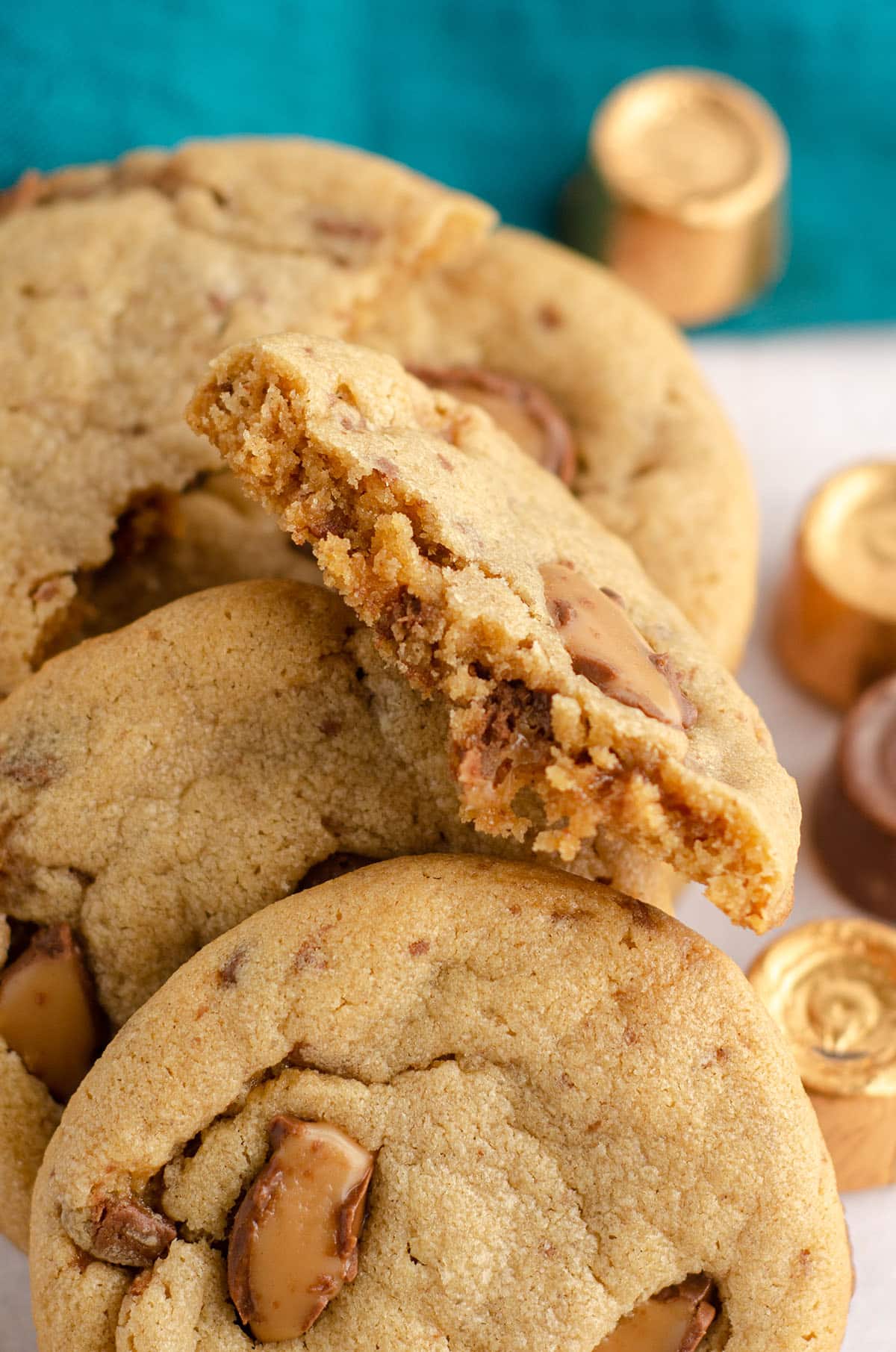 Soft and chewy peanut butter cookies filled with sticky, chocolatey, gooey caramel bits are just what your cookie baking needs next.
Whether you're a fan of the show or not, let's all please take a moment to thank HIMYM for planting this idea in my head so the world can benefit from such a delightful little treat.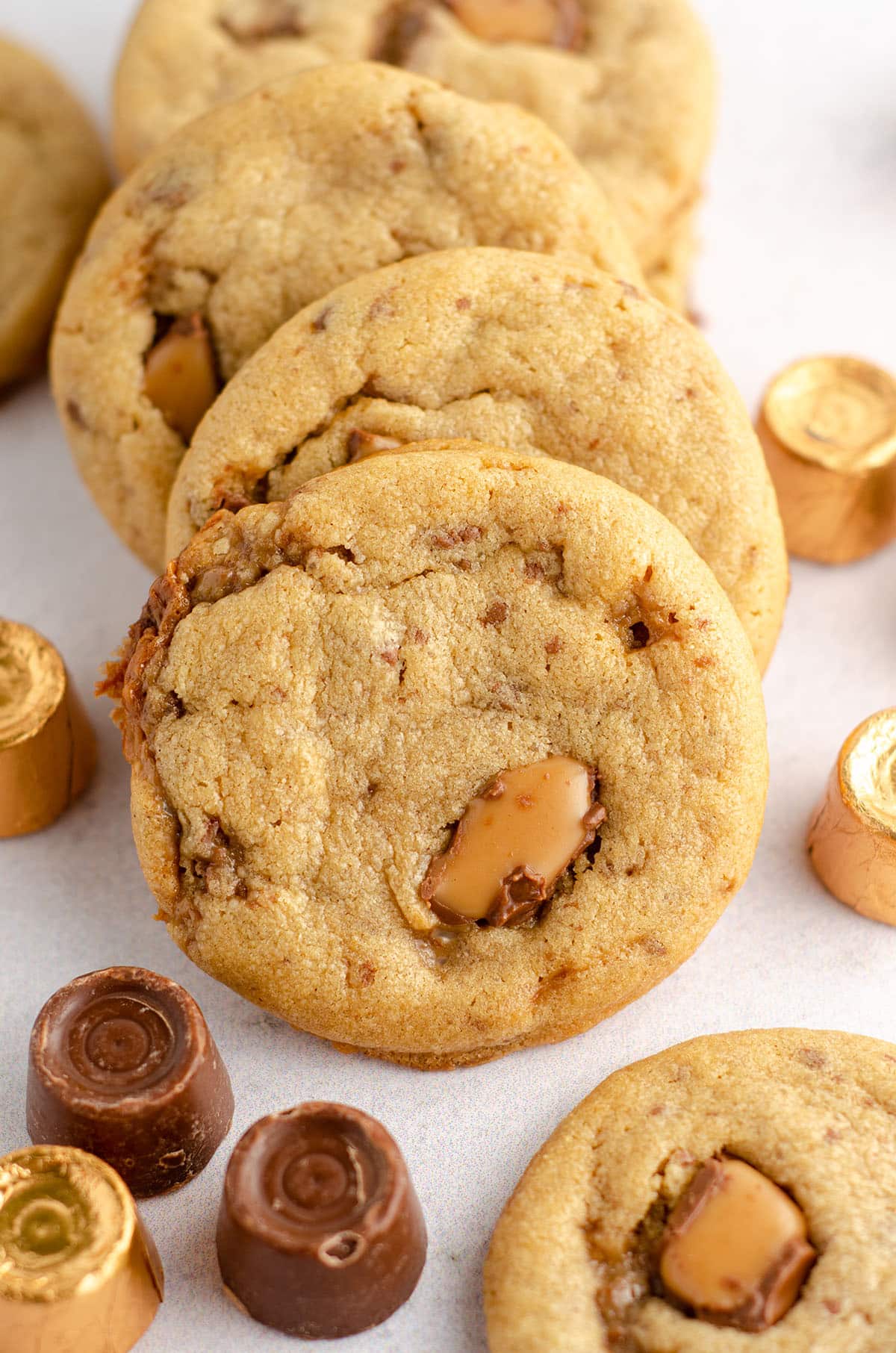 Plus, it was totally Sally approved, and that should say a lot!
Peanut Butter Rolo Cookies
Soft and chewy peanut butter cookies filled with chopped Rolos.
Servings:
2
dozen cookies
Ingredients
1 and ¼

cup

(150g) all-purpose flour be sure to measure properly

½

teaspoon

baking soda

½

teaspoon

salt

½

cup

(113g) unsalted butter

softened to room temperature

½

cup

(100g) granulated sugar

¼

cup

(50g) firmly packed brown sugar

¾

cup

(180g) creamy peanut butter

not natural style

1

large egg

1

teaspoon

vanilla extract

24

Rolos

chopped
Instructions
In a medium size bowl, whisk together the flour, baking soda, and salt. Set aside.

In a large bowl with a handheld mixer or the bowl of a stand mixer fitted with the paddle attachment, cream together the butter, granulated sugar, and brown sugar on medium speed until light and fluffy (approximately 3 minutes).

Add the peanut butter and beat again on medium speed until combined, scraping down the sides and bottom of the bowl as necessary. Add the egg and vanilla and beat again until completely combined.

Turn the speed down to low and slowly add the flour mixture until dough forms. Remove bowl from the mixer and fold in chopped Rolos with a spatula until evenly dispersed. Cover the bowl with plastic wrap and chill in the refrigerator at least 45 minutes or up to 2 days.

When you are ready to bake the cookies, preheat oven to 350ºF (177ºC). Line a baking sheet with parchment paper or a silicone baking mat. Using a cookie scoop (I use this #50 cookie scoop for all of my standard size cookies), roll chilled dough into tall balls with your hands (see photo in above text for reference), and place on baking sheet. Allow room for spreading. I bake 8 cookies per baking sheet. Chill cookie dough while not in use.

Bake cookies for 12-14 minutes, or until cookies just start to brown on the sides. Cookies may have become misshapen because of "oozing" caramel pieces. This is ok. Refer to my Instagram reel for my trick for shaping cookies after they come out of the oven. Allow cookies to cool on baking sheet at least 10 minutes before transferring to cooling rack to cool completely. If cookies are still fragile when you go to move them, allow to cool a few more minutes. Cookies will stay fresh covered tightly at room temperature up to one week. Baked cookies freeze well, as does unbaked rolled dough (up to 2 months). Do not thaw and add an extra minute to baking time.
Nutrition Disclosure
All nutritional values are approximate and provided to the reader as a courtesy. Changing ingredients and/or quantities will alter the estimated nutritional calculations.