Homemade French Vanilla Coffee Creamer
As an Amazon Associate, I earn from qualifying purchases. Read the full disclosure here.
You only need 3 ingredients for this all-natural, chemical free, and 100% homemade coffee creamer.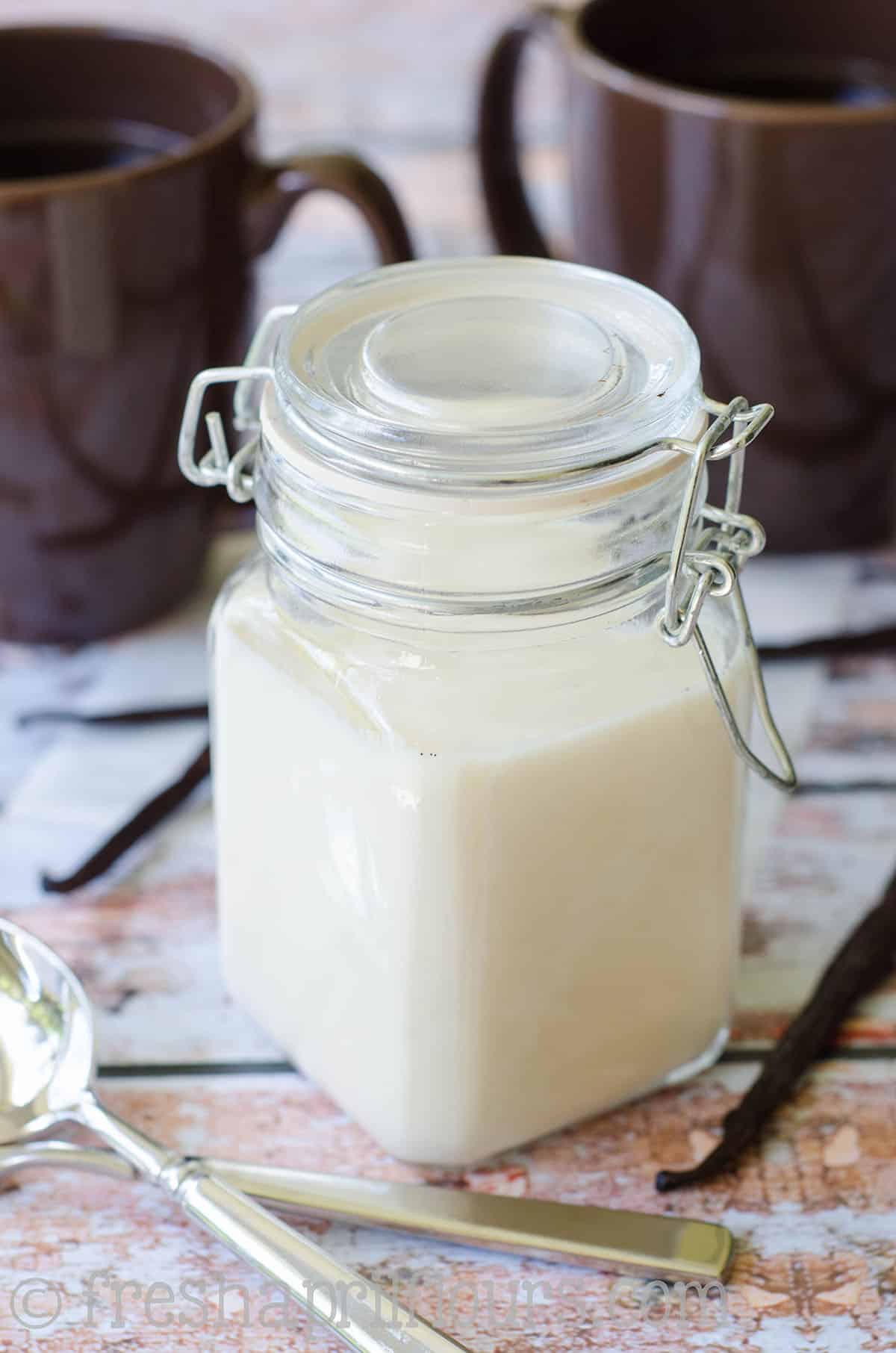 It's about time for another coffee creamer in the FAF repertoire, don't you agree? I have had readers begging for a French vanilla coffee creamer ever since I first debuted my pumpkin spice and peppermint mocha creamers, so I thought it would be the perfect time to try my hand at this flavor since I recently got a new batch of vanilla beans to make these amazing vanilla bean cupcakes (<– try those).
Also, I love coffee. Do I mention that too much?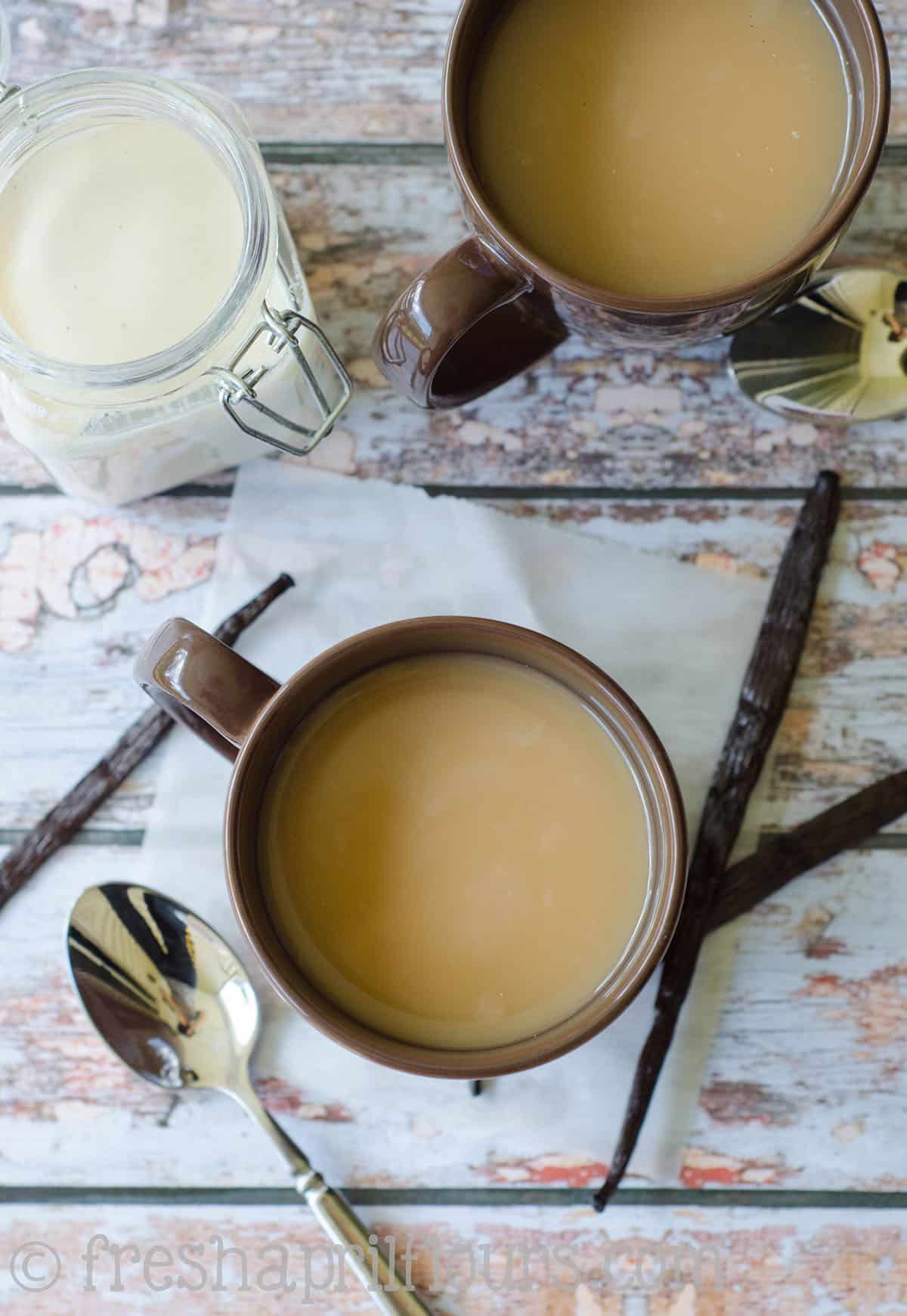 Making homemade coffee creamers is one of my favorite things to do. Why? First of all, have you ever looked at the list of ingredients on your commercial coffee creamer?
Don't.
Unless you use this kind, like we often do, because it's a little bit scary. All kinds of chemicals and artificial flavors… Yuck.
I don't want any of that in my coffee, so when I make my own creamer, I can use wholesome ingredients. Plus, it's just so darn easy! Easy is the way we like our recipes around here.
If you've made either of my creamers before, you know I begin both of them by making a simple syrup that I flavor with spices and other ingredients.
While this French vanilla creamer does feature a simple syrup to finish it up, I started this particular batch the same way I started my vanilla bean cupcakes: by steeping 2 vanilla beans in some half-and-half (you may also use cream, dairy milk, non-dairy milk, or whatever you enjoy in your coffee).
I thought this would be the best way to get vanilla flavor all up in my creamer without adding any additional flavoring (like vanilla extract). Turns out it was an amazing idea, and now I just want to steep vanilla beans in half-and-half all the live long day and use vanilla infused cream in everything.
Welcome to my weird baking life.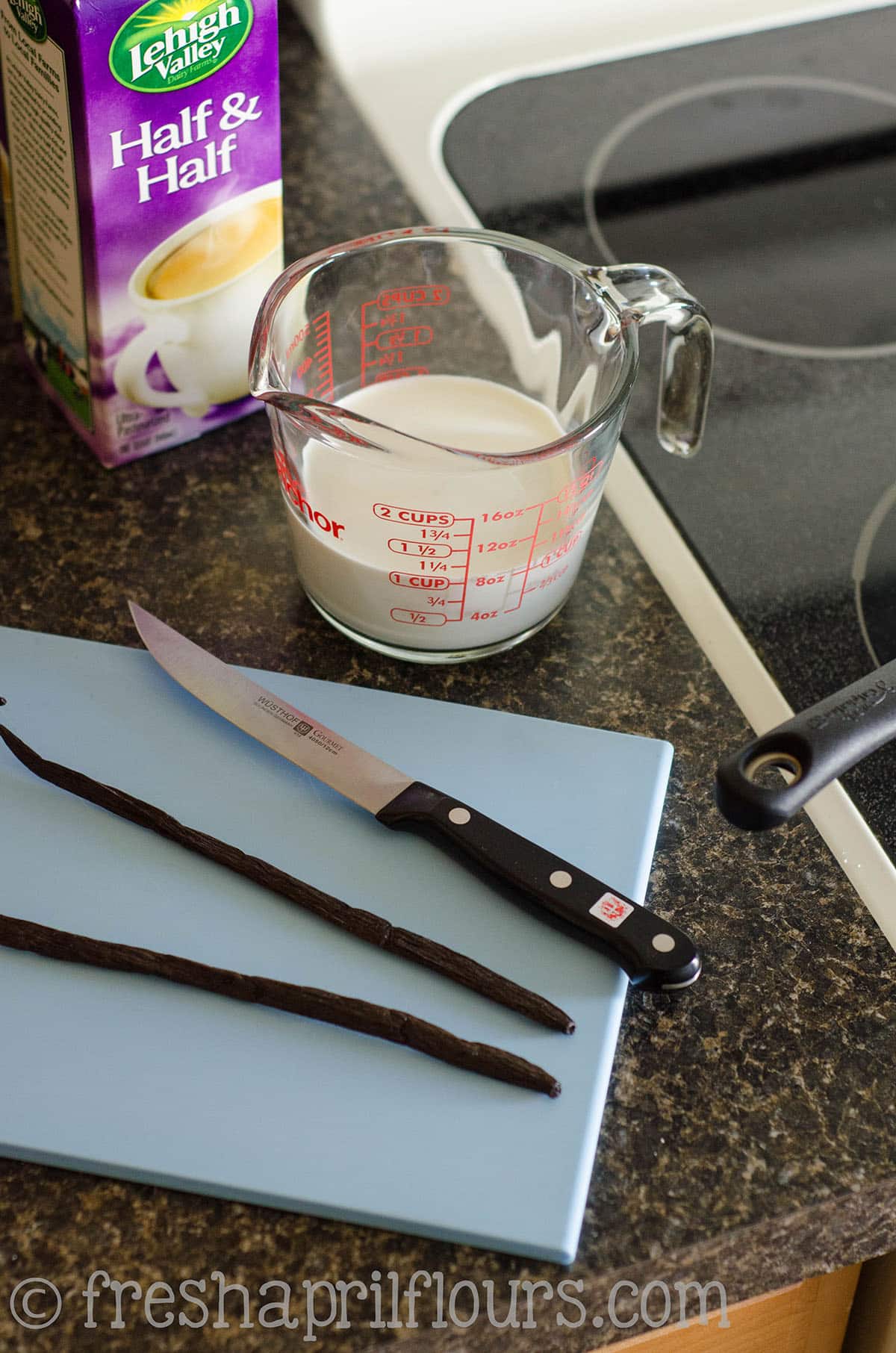 If you're not familiar with how to prepare vanilla beans for steeping, it's so simple.
STEEPING VANILLA BEANS IS SIMPLE
Start by putting your half-and-half into a small saucepan so you have somewhere to put the beans. Then, using a sharp knife, snip off the ends of the bean. Next, very carefully but pressing down hard, slide the blade down the bean long ways.
You should be able to go the whole way through the bean. If you don't, slice through it again.
Lastly, use the knife to scrape out the vanilla beans and put them right into your saucepan along with the pods you just scraped. Easy!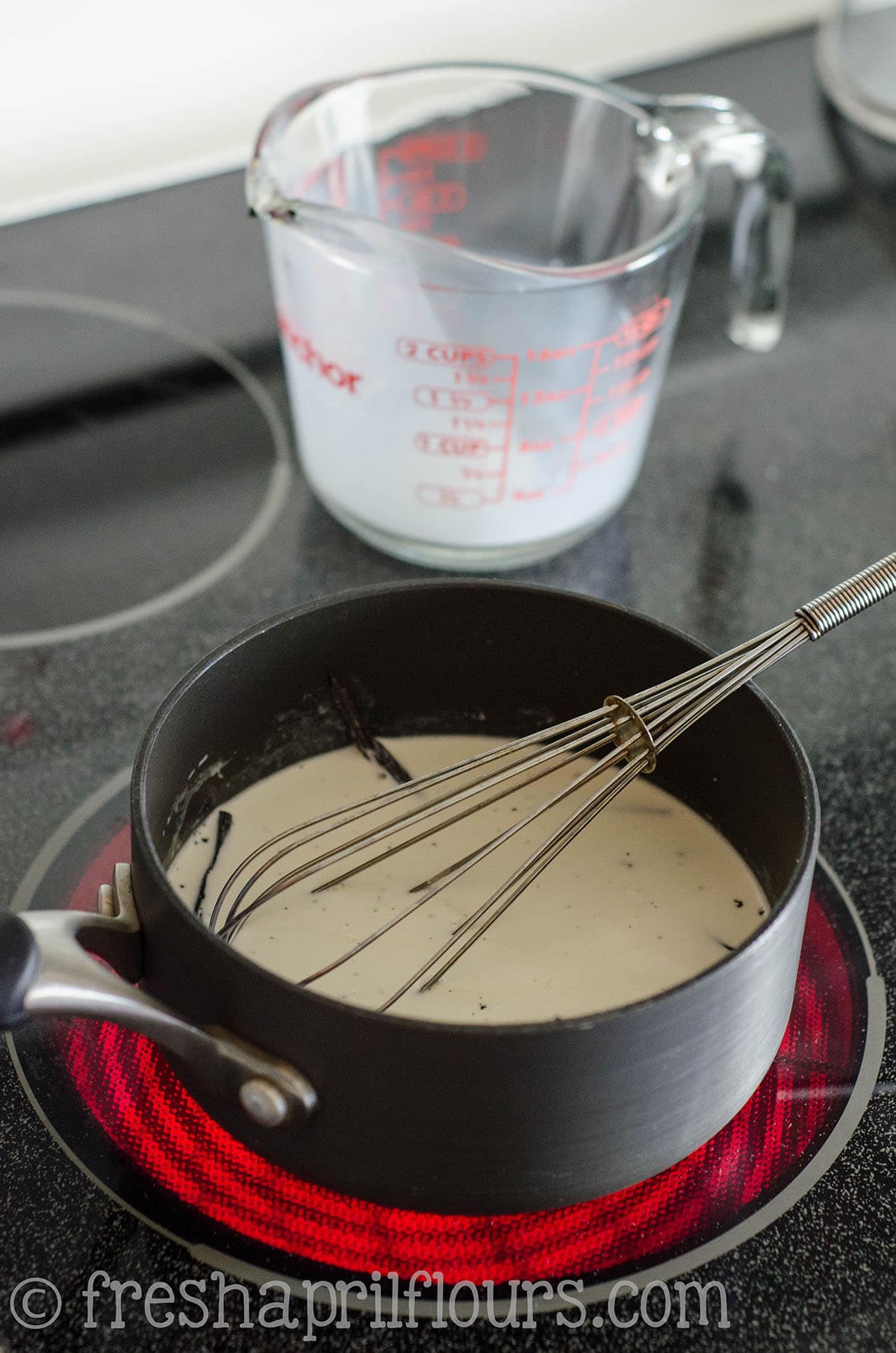 You'll heat this liquid + vanilla beans/pods just until it starts steaming. Once it's steaming, turn off the heat and allow the saucepan to remain on the burner for at least 30 minutes.
After the 30 minutes, fish the bean pods out with a fork or tongs and strain the creamer through a fine mesh screen fitted with cheesecloth or a coffee filter.
You can use this vanilla infused cream as is, or you can combine it with a simple syrup to make a true "coffee creamer."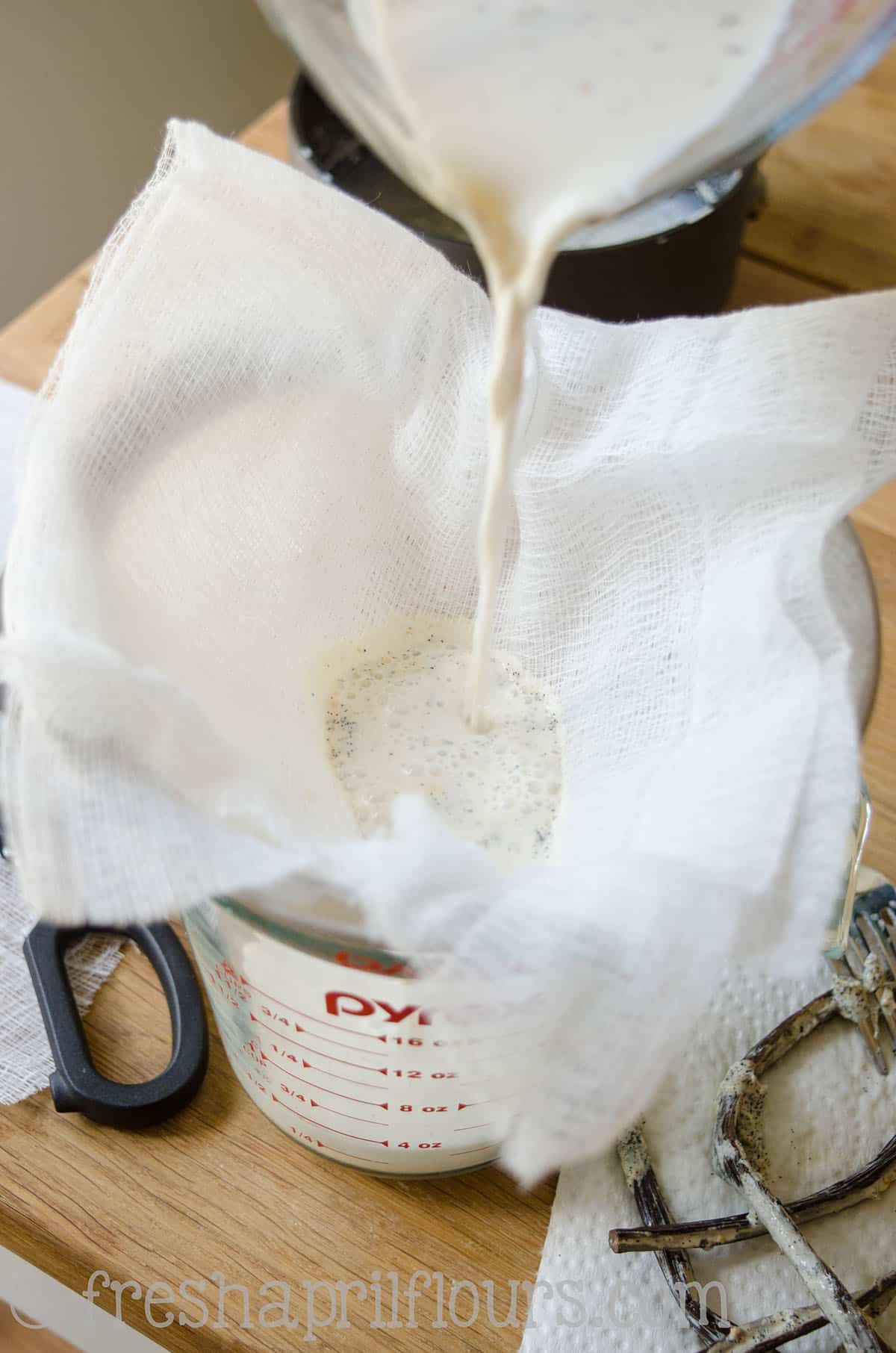 To make the simple syrup, all you need is equal parts water and granulated sugar. This mixture gets heated in a small saucepan until all of the sugar is dissolved. Simple, yes? It was named so appropriately.
Combine your vanilla infused liquid and the simple syrup into a vessel you can keep in the fridge (and easily pour from!) and you are on your way to your next amazingly delicious cup of coffee, without all of the added junk you find on the shelf at the grocery store.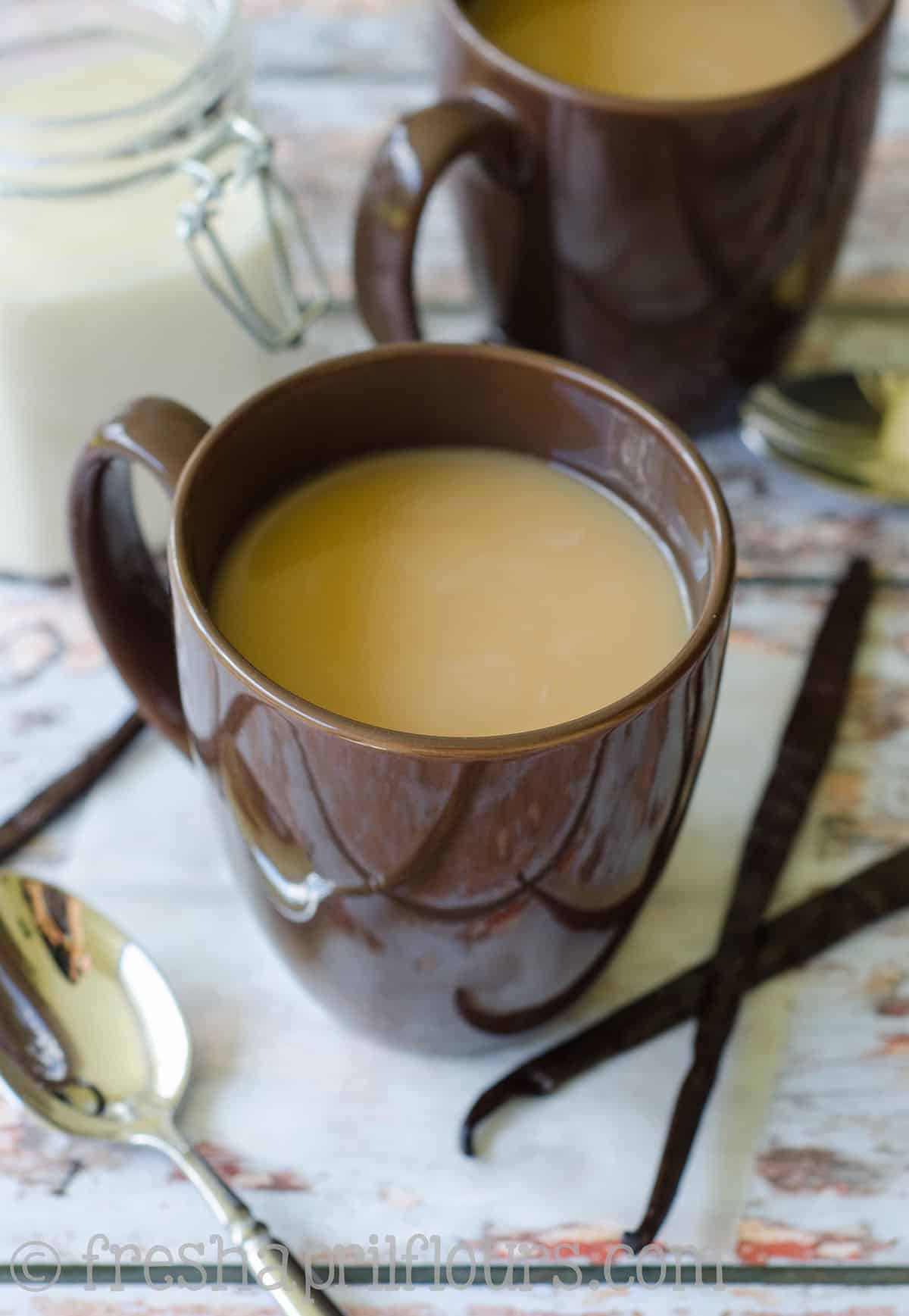 Awesome, right?
I am seriously in love with making my own coffee creamer. It's so easy, much cheaper than anything I can buy, and I know exactly what's in it. Plus, if I want more vanilla flavor next time, I can just add another bean to my half-and-half. Customization is a huge plus in recipes.
Coffee lover like me? Try all of these coffee, coffee creamer, or coffee-inspired recipes next: cappuccino cookies, how to cold brew coffee, coffee rolls, coffee brownies, gingerbread coffee creamer, pumpkin spice coffee creamer, and peppermint mocha coffee creamer.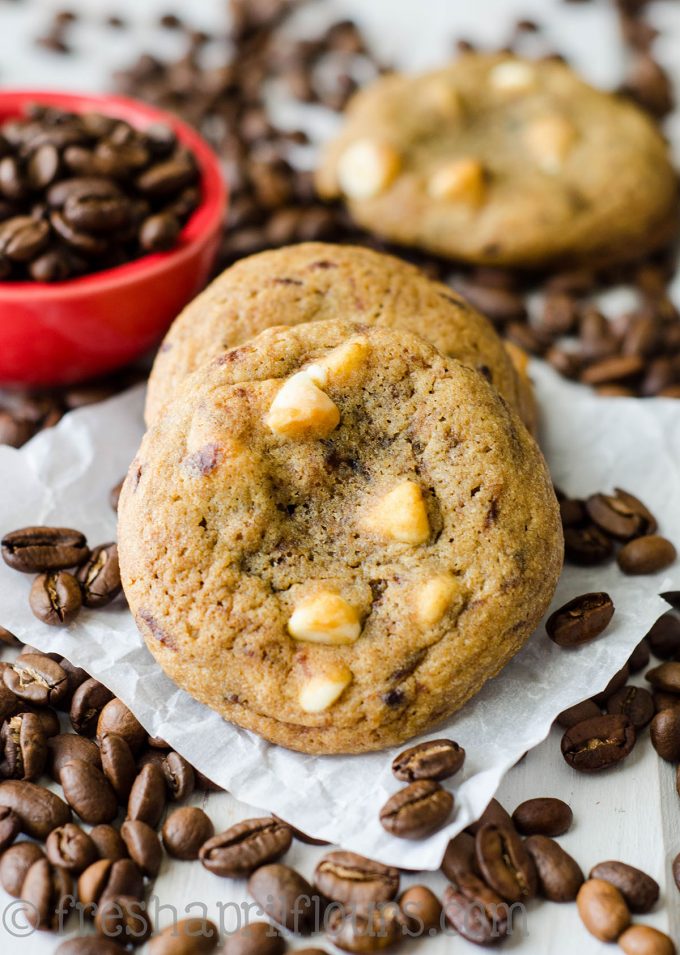 Homemade French Vanilla Coffee Creamer
You only need 3 ingredients for this all-natural, chemical free, and 100% homemade coffee creamer.
Servings:
1
cup of creamer
Ingredients
1

cup

half-and-half

or cream, milk, non-dairy milk, etc.

2

whole vanilla beans

split and de-seeded

1/4

cup

+ 2 Tablespoons granulated sugar

1/4

cup

+ 2 Tablespoons water
Instructions
Pour the half-and-half (or whatever liquid you prefer in your coffee) into a small saucepan. Set aside.

Using a sharp knife, split the vanilla beans in half, scrape out the seeds, and put everything into the saucepan with your half-and-half.

Heat over low heat until mixture just starts to steam. Turn off the burner but leave the saucepan on the burner while it cools. Allow beans to steep for 30 minutes.

After the 30 minutes, remove the pods with a fork or tongs. Strain the vanilla infused half-and-half through a fine mesh screen fitted with cheesecloth or a coffee filter. Set aside.

In a small saucepan over medium heat, combine granulated sugar and water and heat until sugar is just dissolved, about 2-3 minutes. Remove from heat and combine with vanilla infused half-and-half in a vessel you can easily pour from. Stir until combined. Store in a covered container in the refrigerator and use within 2 weeks, shaking well before using.
Nutrition Disclosure
All nutritional values are approximate and provided to the reader as a courtesy. Changing ingredients and/or quantities will alter the estimated nutritional calculations.