Pumpkin Spice Coffee Creamer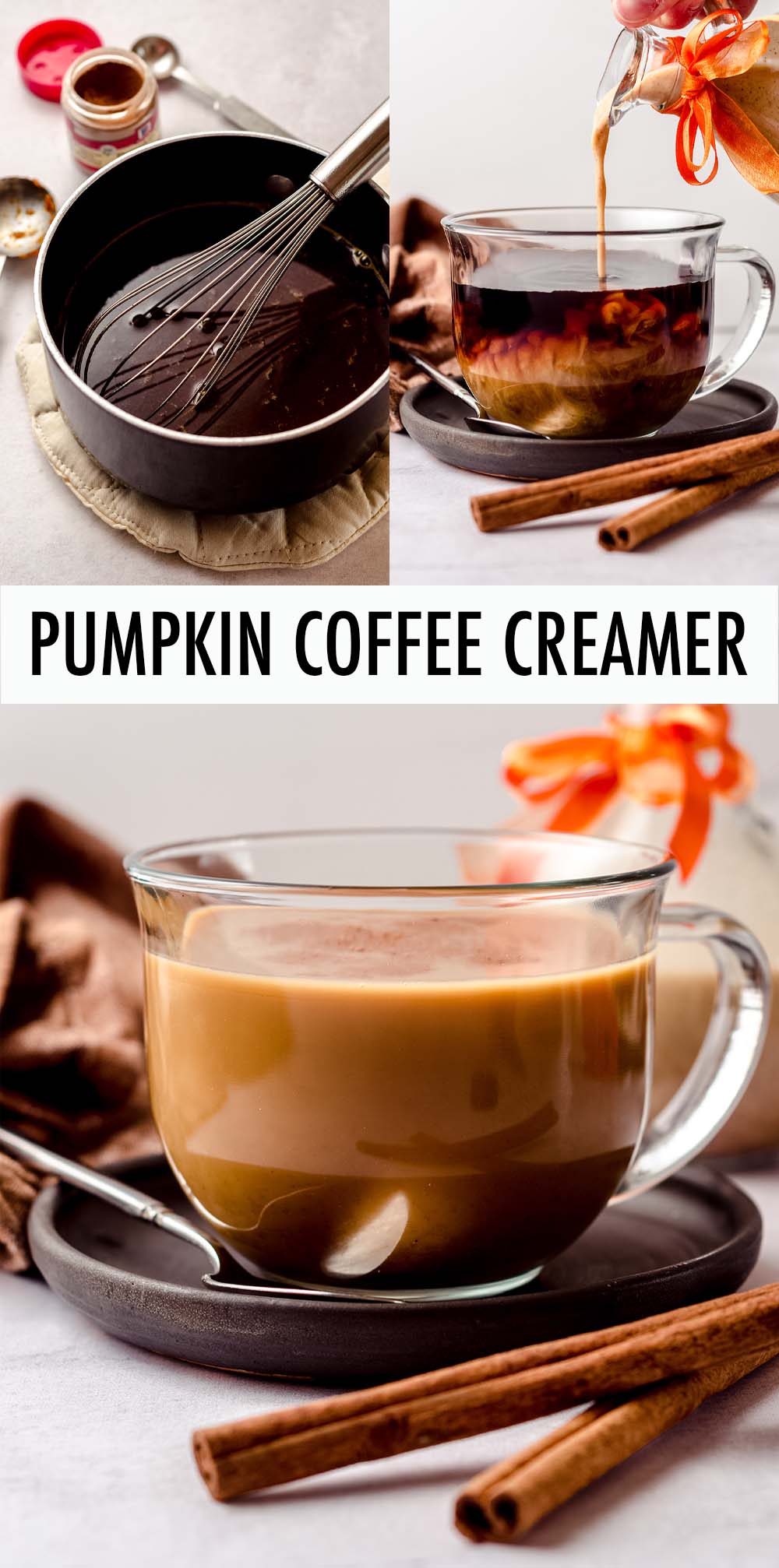 As an Amazon Associate, I earn from qualifying purchases. Read the full disclosure here.
You only need 4 ingredients to make your own pumpkin spice coffee creamer. In just 5 minutes you can be enjoying an all-natural, chemical-free pumpkin flavored cup of coffee! This recipe can easily be made with non-dairy milk.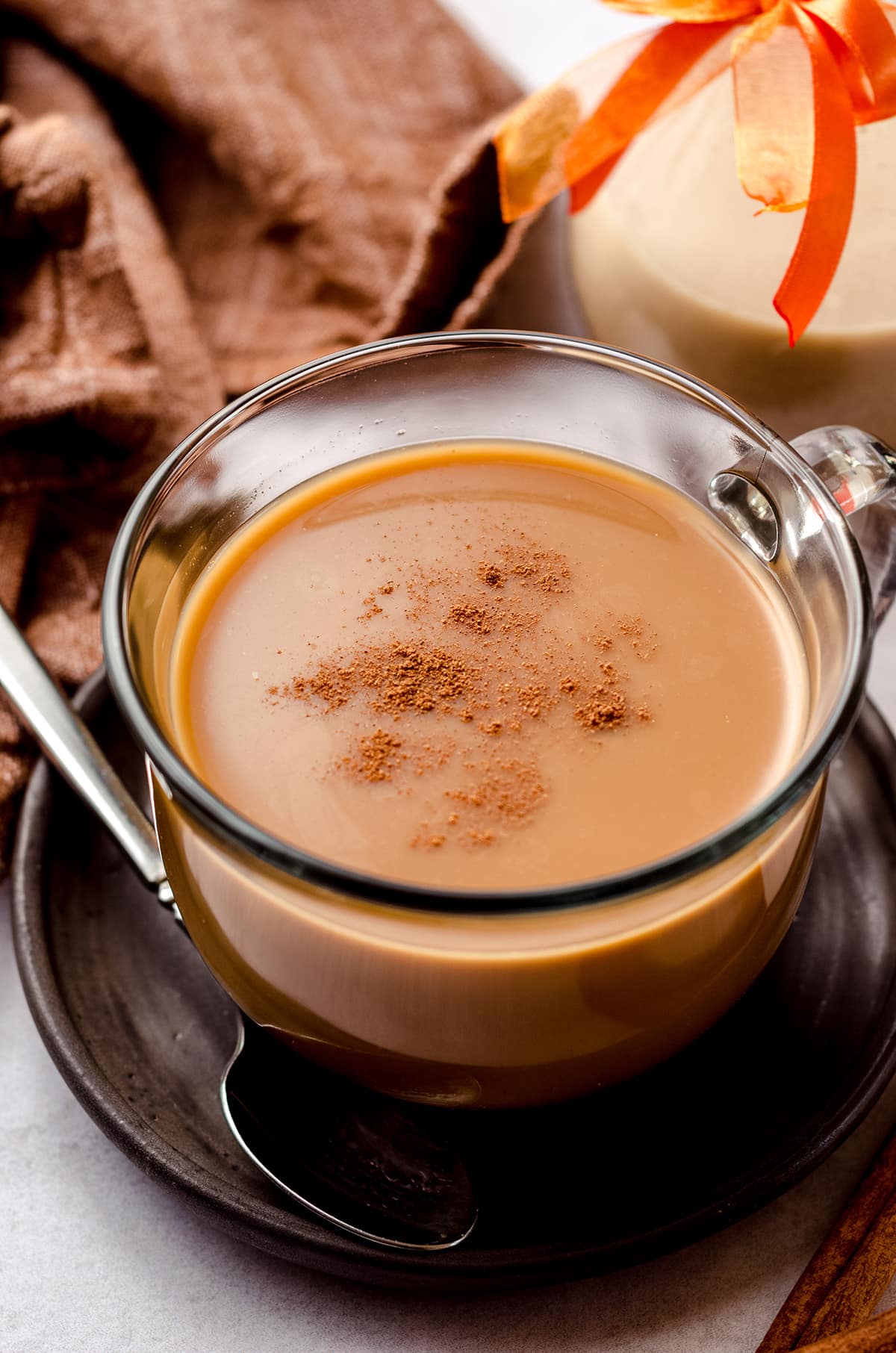 This coffee creamer recipe has lived on my site since early on in my career of providing recipes with strangers. I first shared it in the fall of 2014 and folks LOVED IT.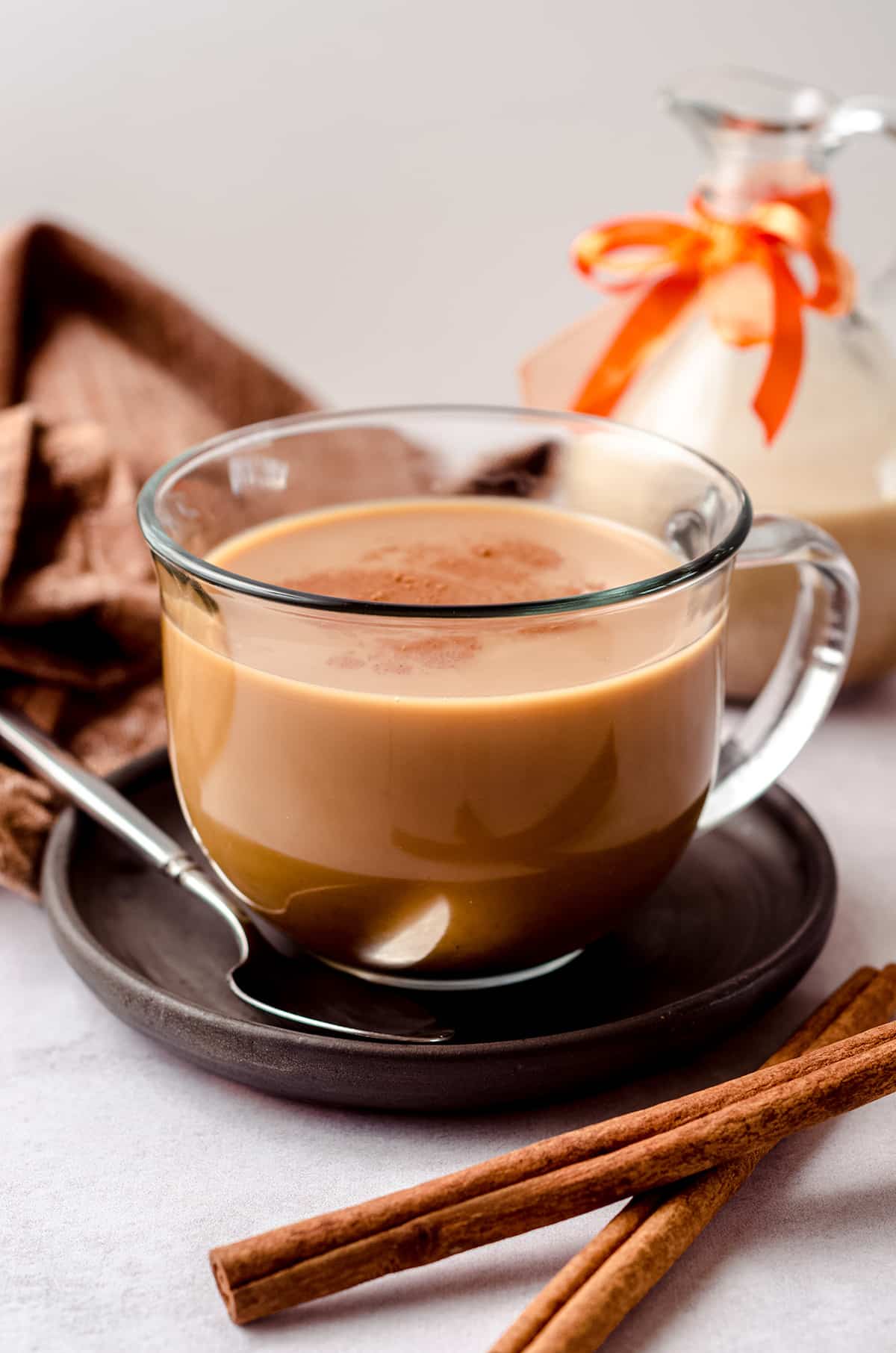 They loved it so much, in fact, that I found a steady flow of traffic to this recipe year round every year that followed. As in, all year long, people are looking to get their hands on a pumpkin spice creamer recipe because it doesn't actually hit store shelves until August (which is still pretty early, I think).
In fact, I have had people find this pumpkin creamer by searching, literally, for "when does pumpkin spice coffee creamer come out" in the dog days of summer.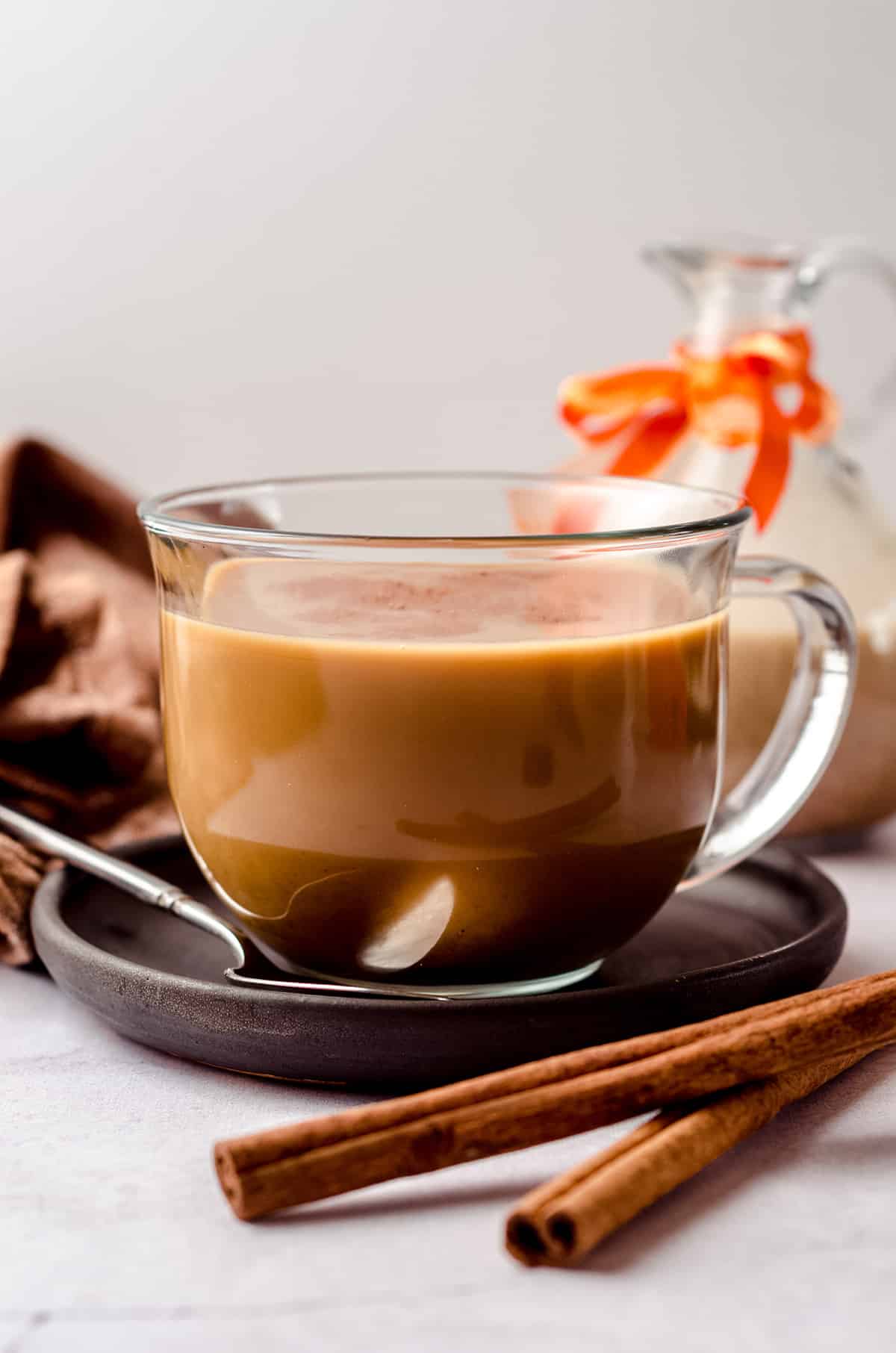 It turns out, people would probably order a pumpkin spice latte in July if they could.
Funny enough, I find people looking for my homemade peppermint mocha coffee creamer year round, too. So why not just get all the seasonal coffee creamer recipes whenever we want? Thank you, internet recipe makers (you're welcome).
INGREDIENTS
The list of ingredients for this homemade pumpkin coffee creamer is short. Like, super short. It's just 4 ingredients + water (does that count as 5?), and you likely have most of them on hand already.
You will need a can of real pumpkin puree, which you can usually find all year long, so stock up in the off-season in case it's in short supply from September to December!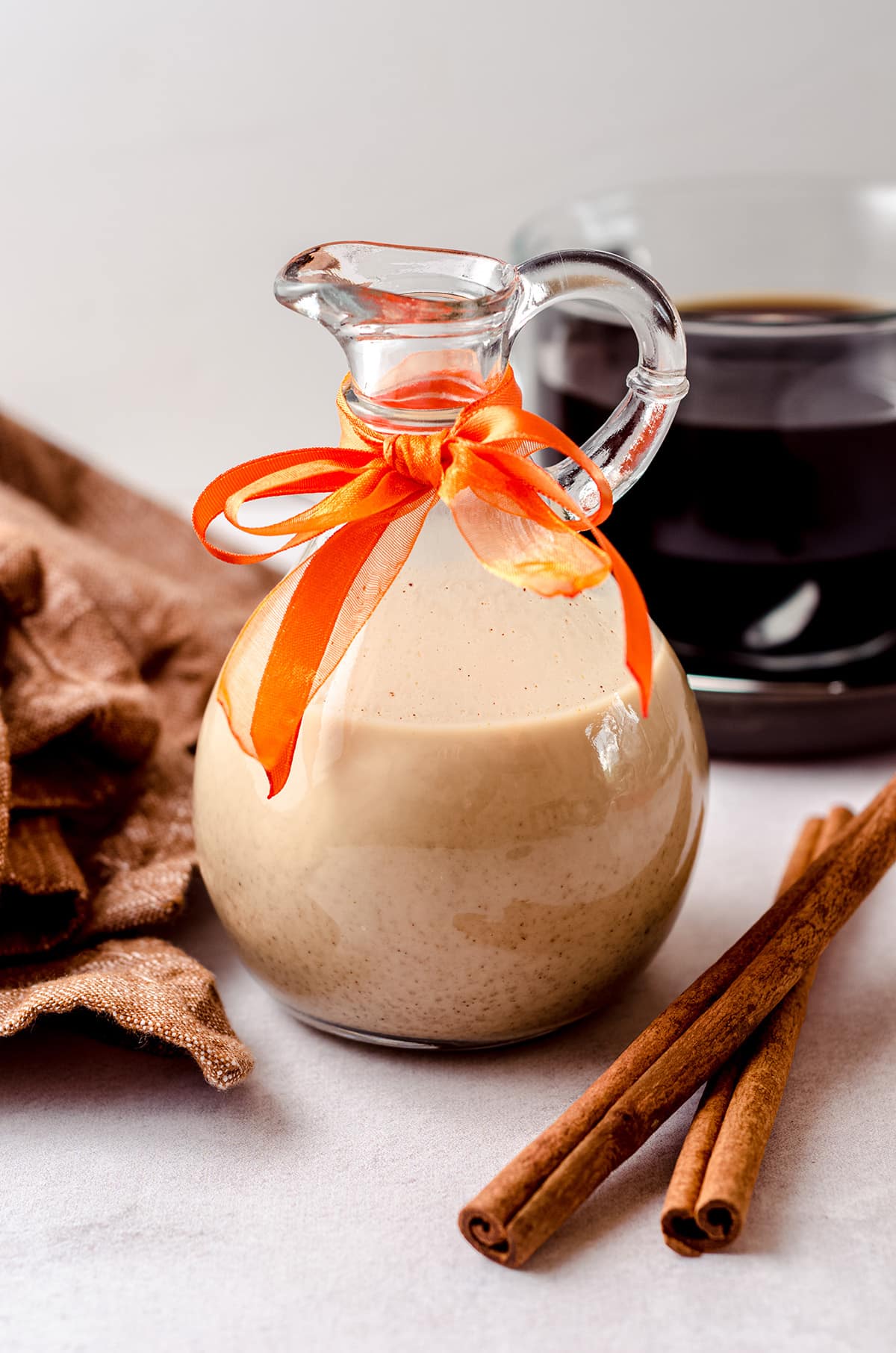 Alongside your pumpkin puree, you will need brown sugar, pumpkin pie spice, and half-and-half. You can also use heavy cream, almond milk, oat milk, soy milk, whatever kind of milk you want!
Whatever you like in your coffee goes well in homemade coffee creamer, so choose your preference.
HOW TO MAKE PUMPKIN SPICE CREAMER
Coffee creamer is made up of two parts: a flavored simple syrup and a dairy/creamy component.
The simple syrup is made of brown sugar for that rich sweetness we love in fall flavors that we will heat to dissolve in water. But remember we're flavoring that simple syrup with pumpkin?
Yes, the pumpkin puree and pumpkin pie spice go in a saucepan, too.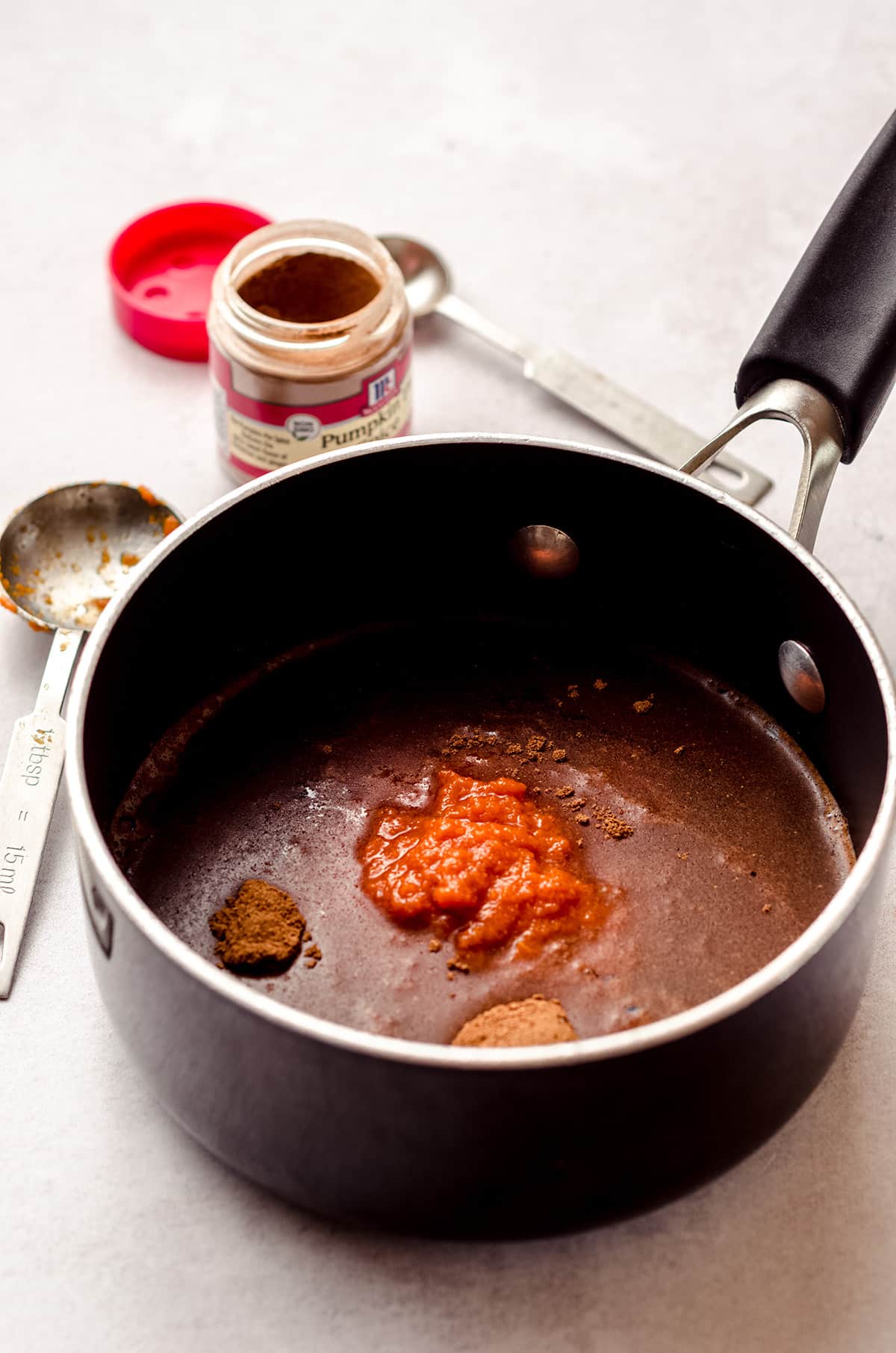 You'll mix all 4 of these things together, bring it to a boil, and then let it cool off for a few minutes.
You can either keep this as is, which would be a pure pumpkin simple syrup, but I like to go for gold and turn it into a pumpkin creamer for coffee right on the spot.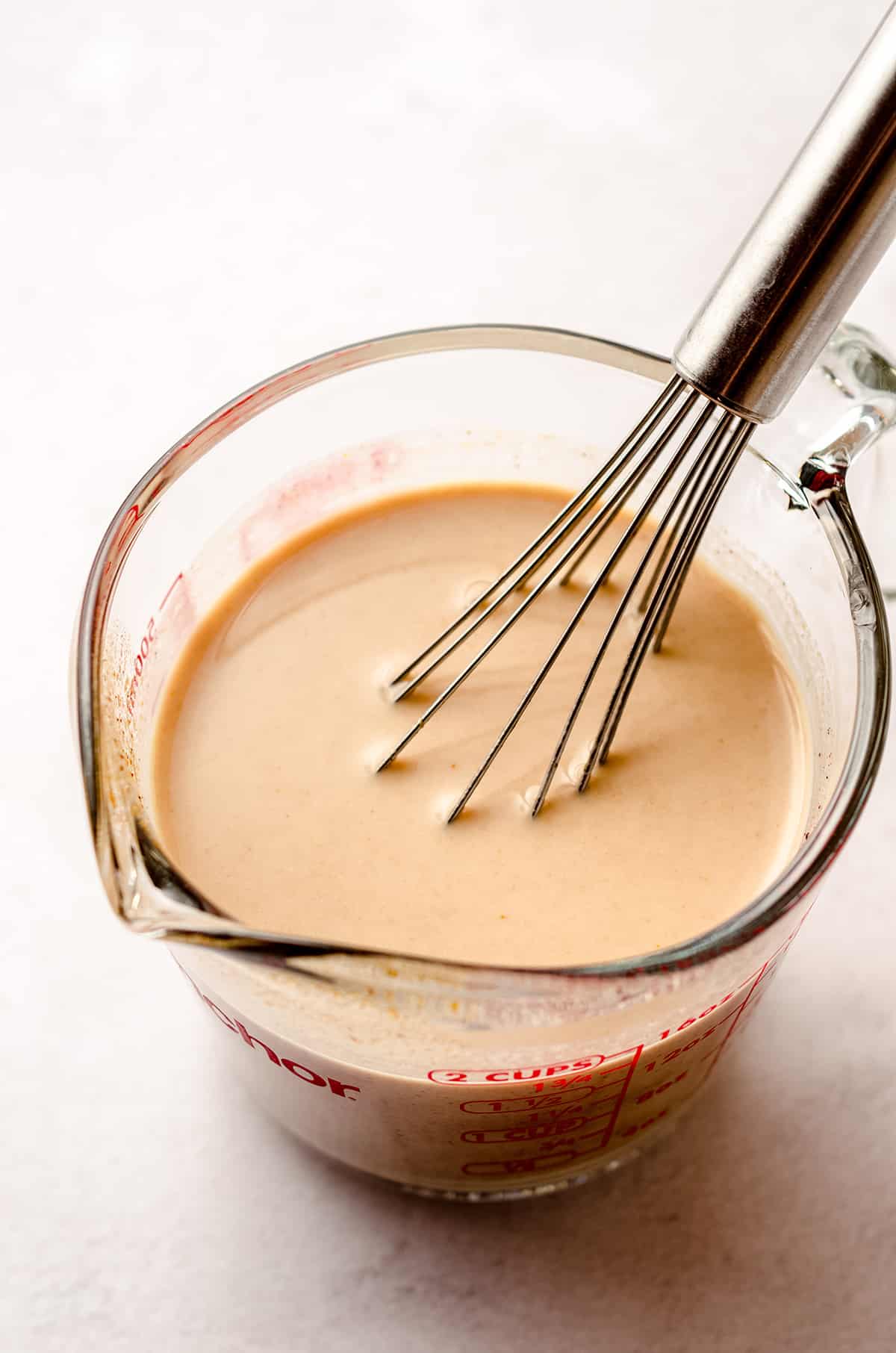 When I first developed this pumpkin creamer recipe, I tried a few different ratios of syrup to milk and I found that 1:1 was perfect for my liking. You may want more or less, or as I mentioned, you can just leave your syrup the way it is and add it as a standalone flavoring.
SHAKE OR STIR BEFORE USING
Whatever your preference (standalone syrup or creamer), just be aware that you'll have to shake or stir it up before you use it.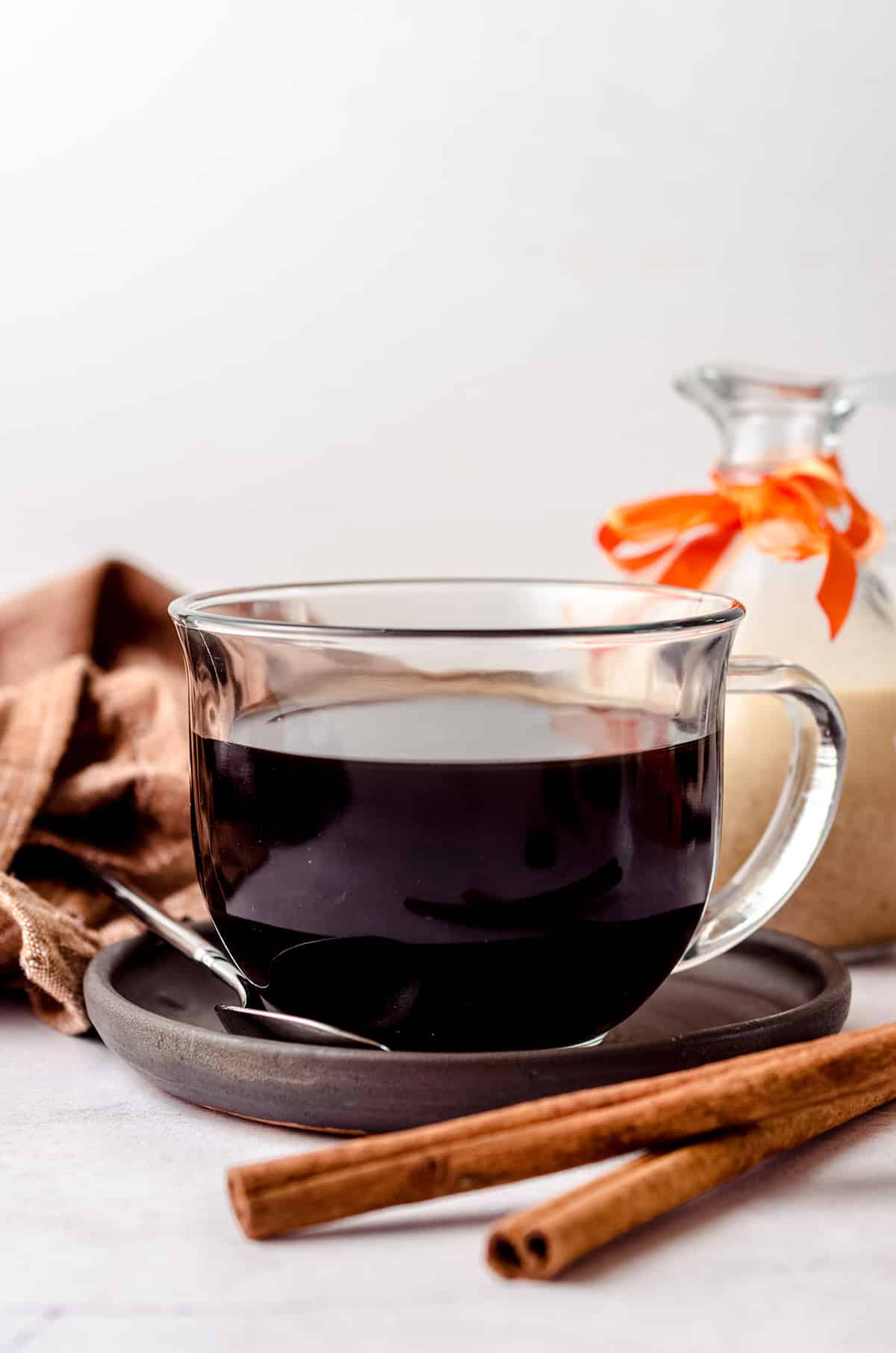 Since this is an all-natural concoction, there will be some separation.
Commercial creamers have emulsifiers to keep everything smooth. That's the one downside to this homemade method, but I assure you, you will love having homemade pumpkin spice creamer on hand whenever you want it!
WHAT CAN I DO WITH LEFTOVER PUMPKIN PUREE?
Since this pumpkin spice creamer only uses 2 Tablespoons of pumpkin puree, you will have quite a bit leftover.
My favorite way to store leftover pumpkin, if you aren't able to use it up within a week or so before it goes bad in the fridge, is to throw it into a zip top bag, freeze it flat, and then use it as needed for any pumpkin recipe I'm making in the future.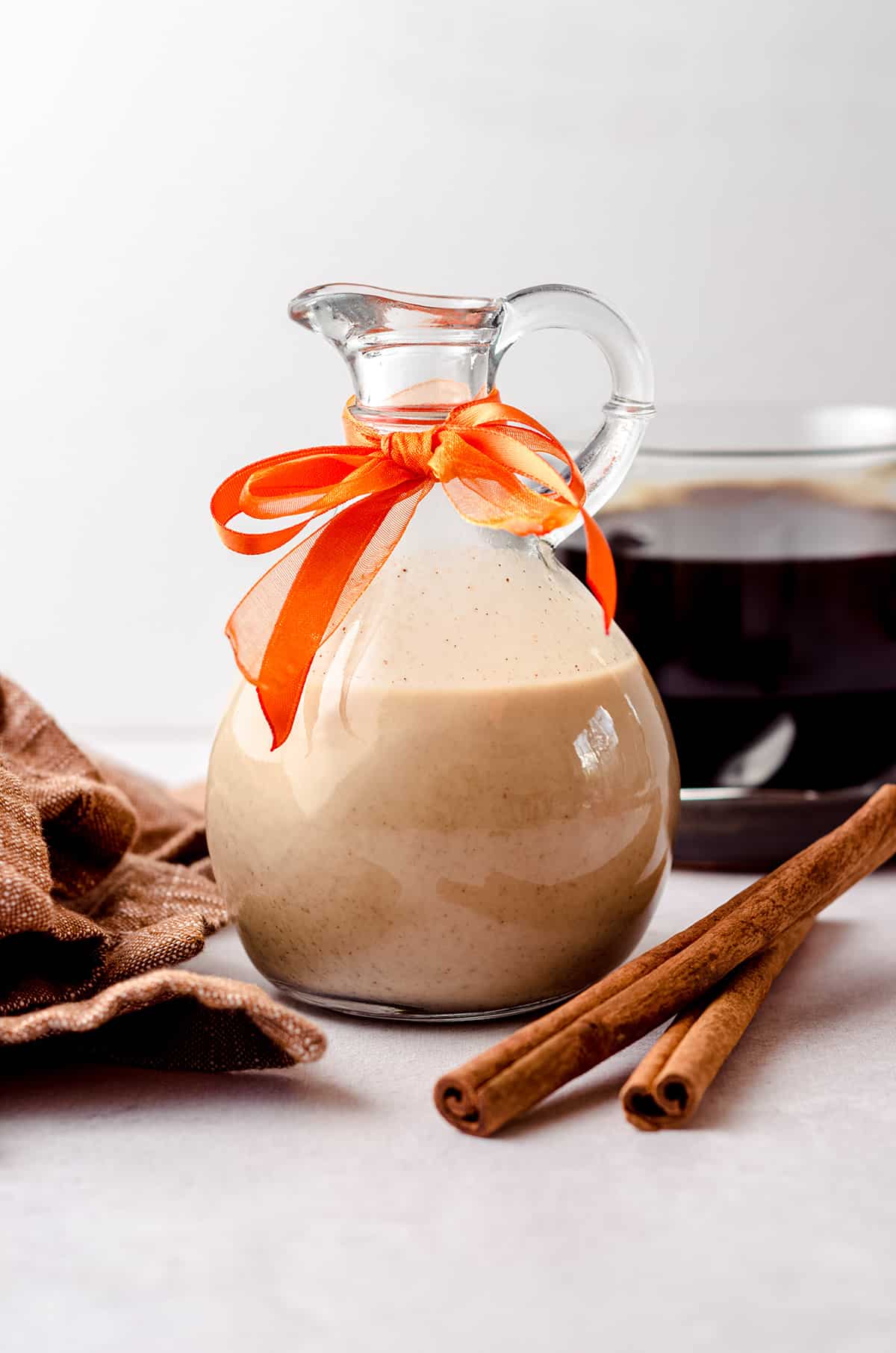 If you're looking to use that pumpkin puree right away, though, consider some of my favorite pumpkin recipes to enjoy alongside your new homemade pumpkin spice coffee. You know, any time of the year you want.
MORE RECIPES USING PUMPKIN PUREE
Consider making my pumpkin pie smoothie, pumpkin ice cream, pumpkin streusel muffins, pumpkin spice cookies, or any of the other pumpkin recipes that live on my site.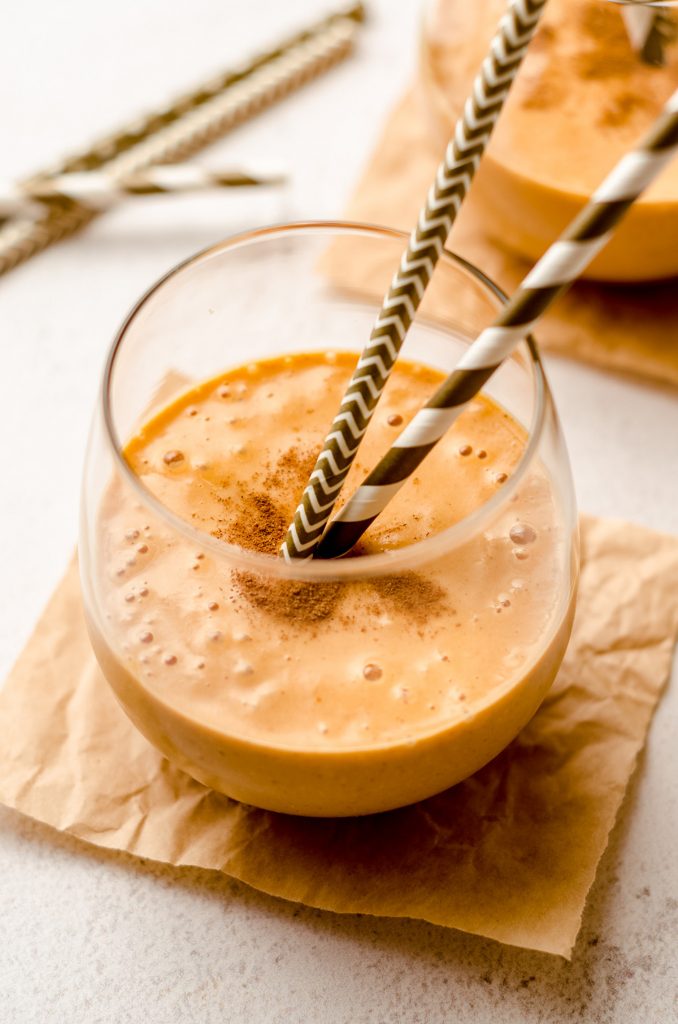 If you love this coffee creamer recipe, you'll enjoy my others: French vanilla coffee creamer and peppermint mocha coffee creamer.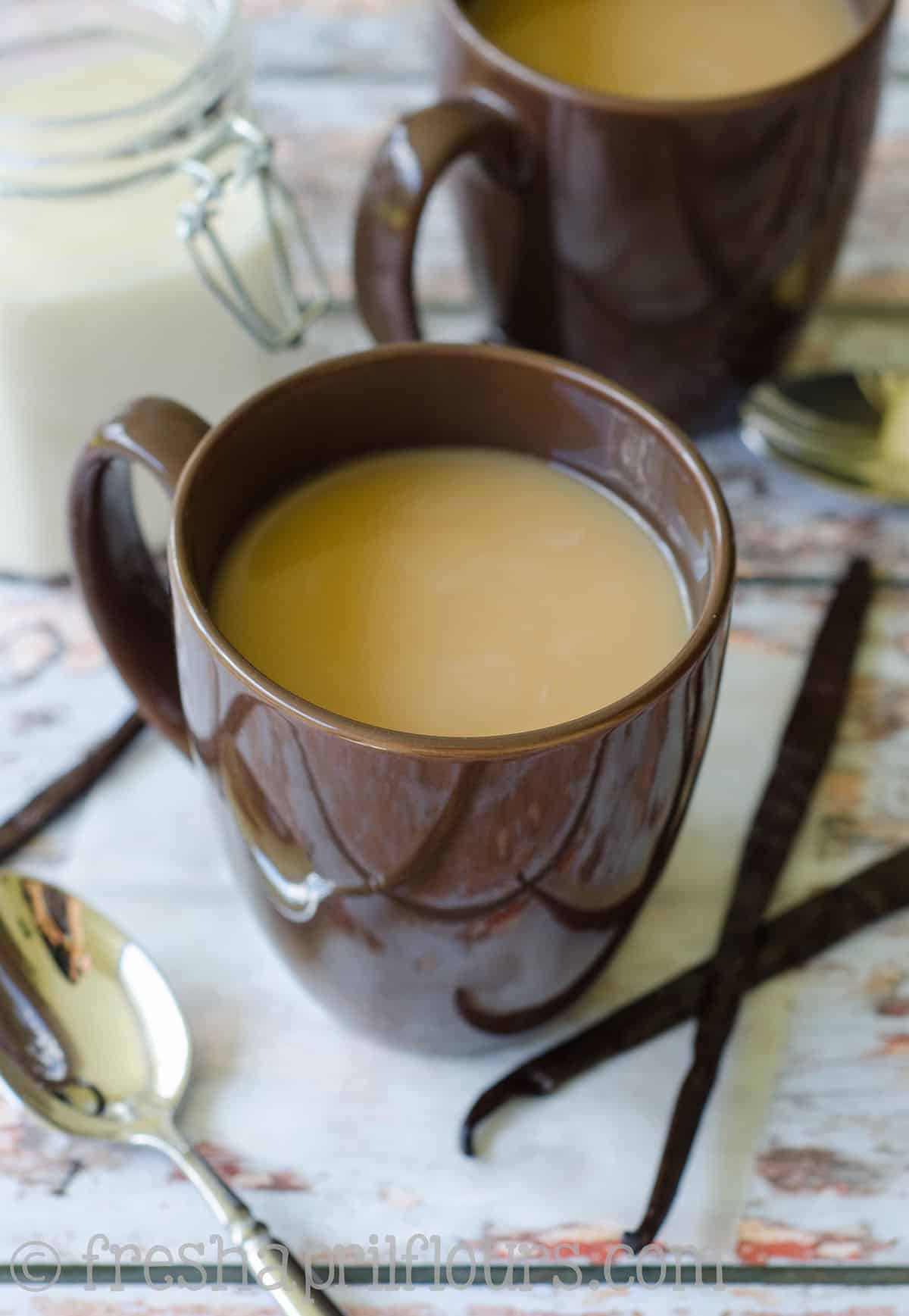 Pumpkin Spice Coffee Creamer
You only need 4 ingredients to make your own pumpkin spice coffee creamer. In just 5 minutes you can be enjoying an all-natural, chemical-free pumpkin flavored cup of coffee! This recipe can easily be made with non-dairy milk.
Ingredients
½

cup

(100g) firmly packed brown sugar

light or dark

½

cup

(120mL) water

2

Tablespoons

pumpkin purée1

1

teaspoon

pumpkin pie spice

½

cup

(120mL) half-and-half

or non-dairy milk
Instructions
In a small saucepan over medium heat, whisk together the brown sugar, water, pumpkin, and pumpkin pie spice. Bring to a boil and remove from heat. Allow to cool for a few minutes.

Add half-and-half to a ratio of your liking. I prefer a 1:1 ratio. You may also leave the syrup as a standalone flavoring. Store in a covered container in the refrigerator and use within 2 weeks.
Notes
Pumpkin: I always measure pumpkin purée with measuring cups as the moisture content can wildly change the weight measurements, depending on the brand.
Nutrition Disclosure
All nutritional values are approximate and provided to the reader as a courtesy. Changing ingredients and/or quantities will alter the estimated nutritional calculations.