Pumpkin Spice Cookies (Easy!)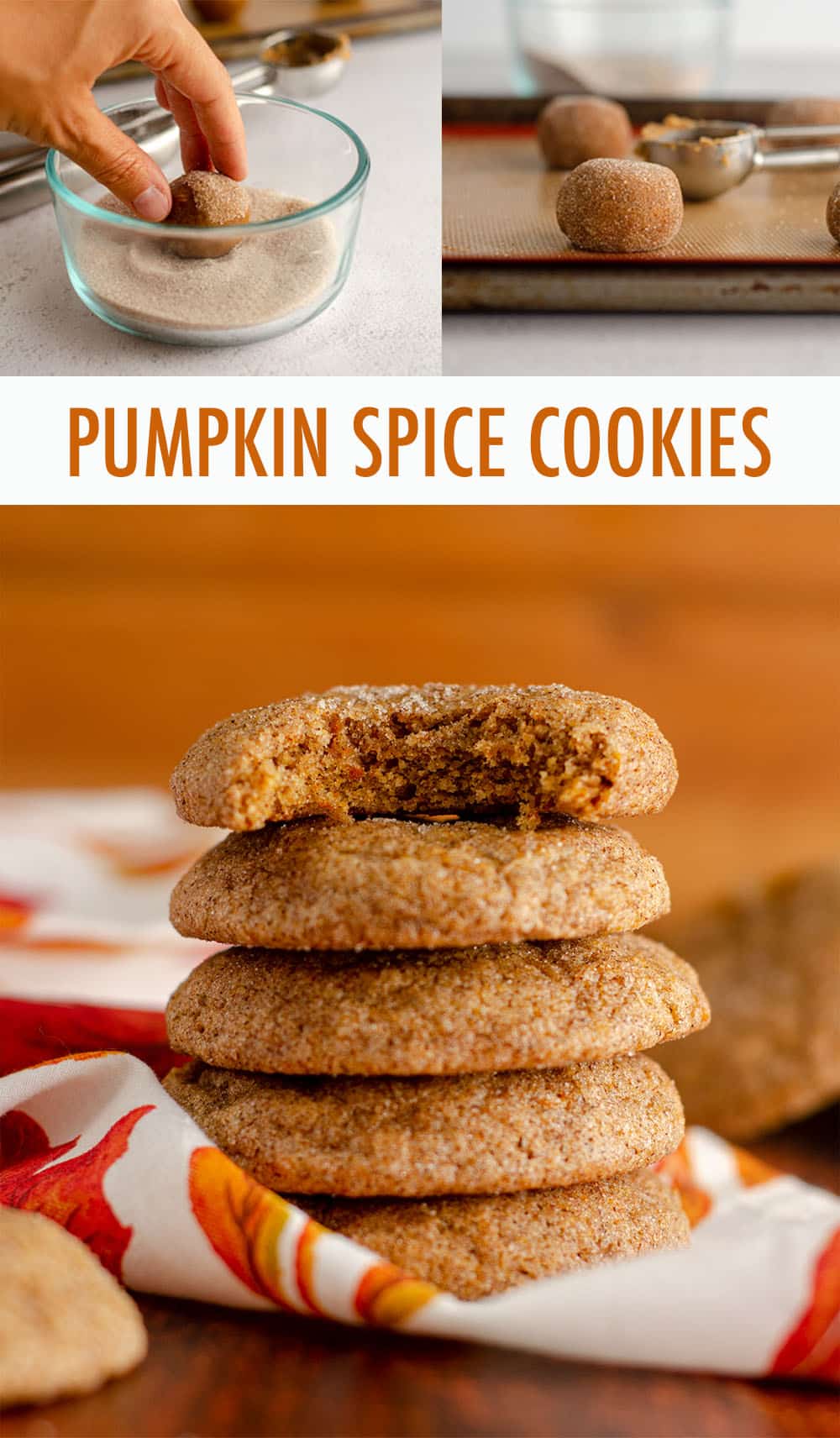 As an Amazon Associate, I earn from qualifying purchases. Read the full disclosure here.
These eggless chewy pumpkin spice cookies are like a pumpkin snickerdoodle, coated in a spiced cinnamon sugar with a perfectly soft and chewy interior bursting with pumpkin flavor.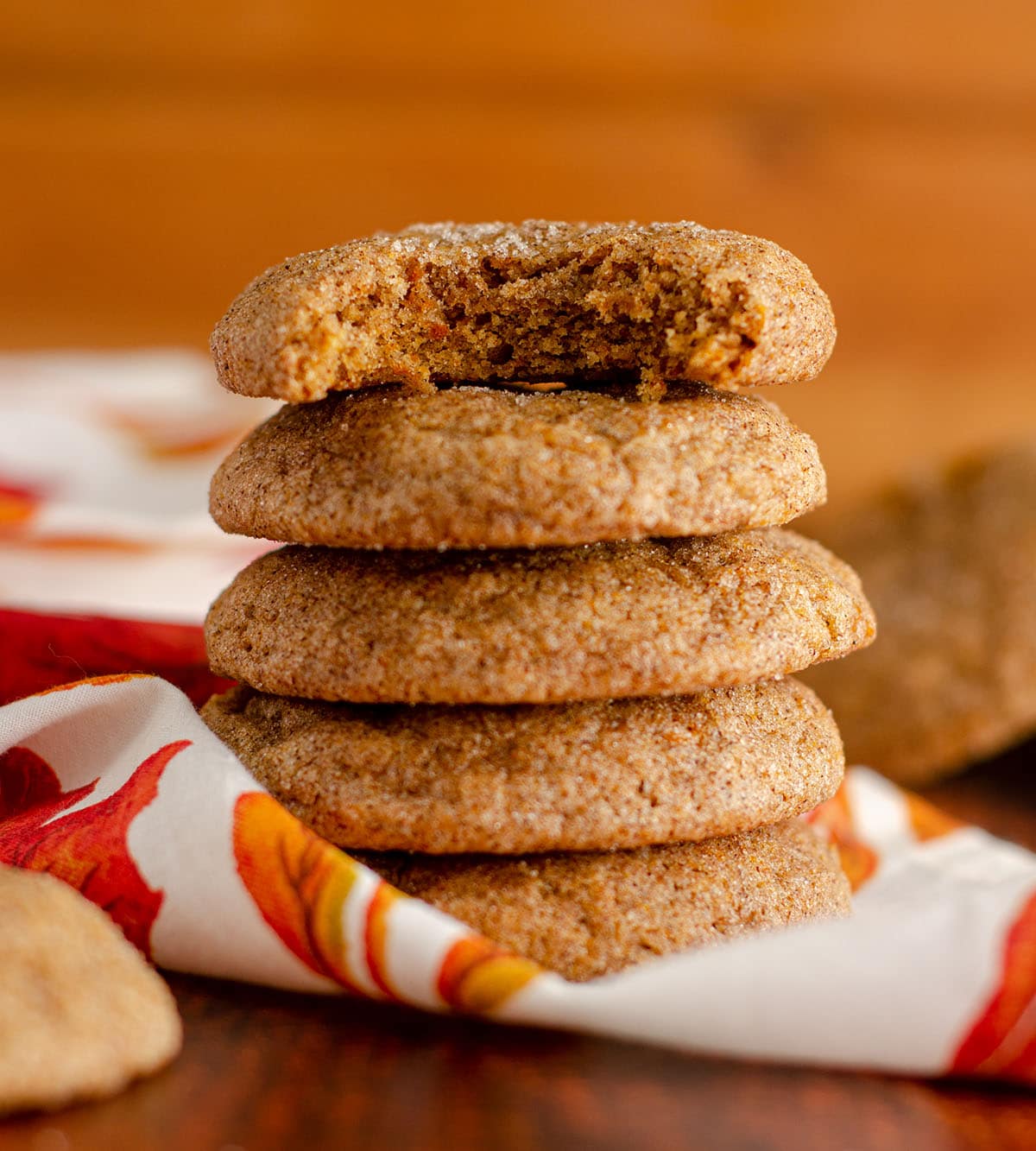 You know what there aren't enough of in the baking world? Pumpkin COOKIES.
Throughout my years of blogging, I have been no stranger to the pumpkin craze of September through November. If you take a look at my pumpkin archives, we've got things from cake to granola to bread and even savory biscuits and dog treats.
While I do have pumpkin biscotti, pumpkin spice sugar cookies, and pumpkin oatmeal cookies, what I always felt was missing was a pumpkin cookie that was soft and chewy and FULL of pumpkin, rather than one that was either simply spiced with pumpkin pie spice or one that took on a cakey texture due to the added moisture from actual pumpkin.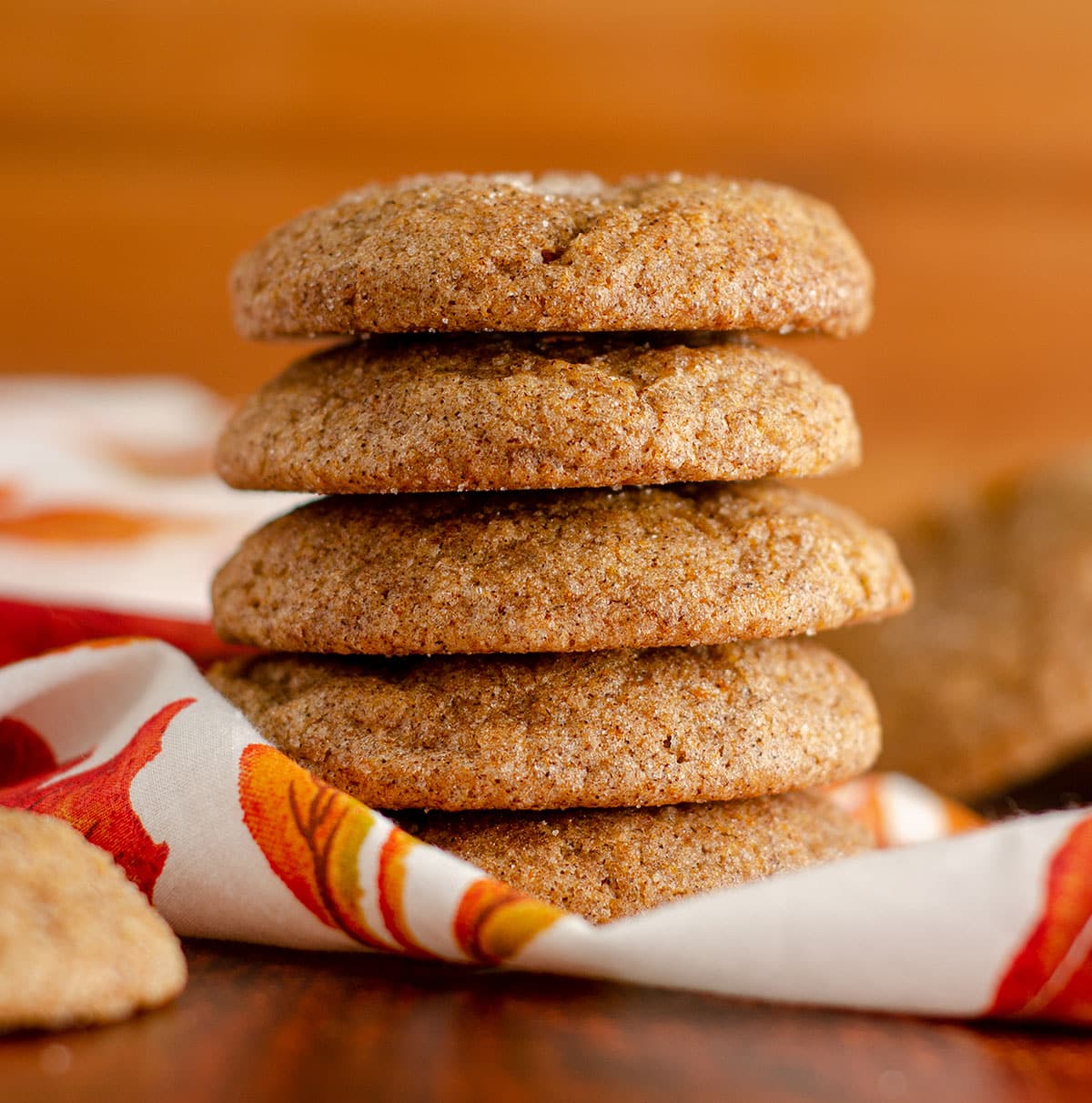 What makes these Pumpkin Spice Cookies Work
I thought long and hard about how to achieve a chewy cookie that used actual pumpkin puree and decided to do some experimenting with my go-to snickerdoodle cookie recipe, and settled on a cookie that is, by default, eggless.
By removing the egg and also melting the butter, as opposed to just softening it, we remove a significant amount of moisture, leaving behind the perfect spot for pumpkin to shine.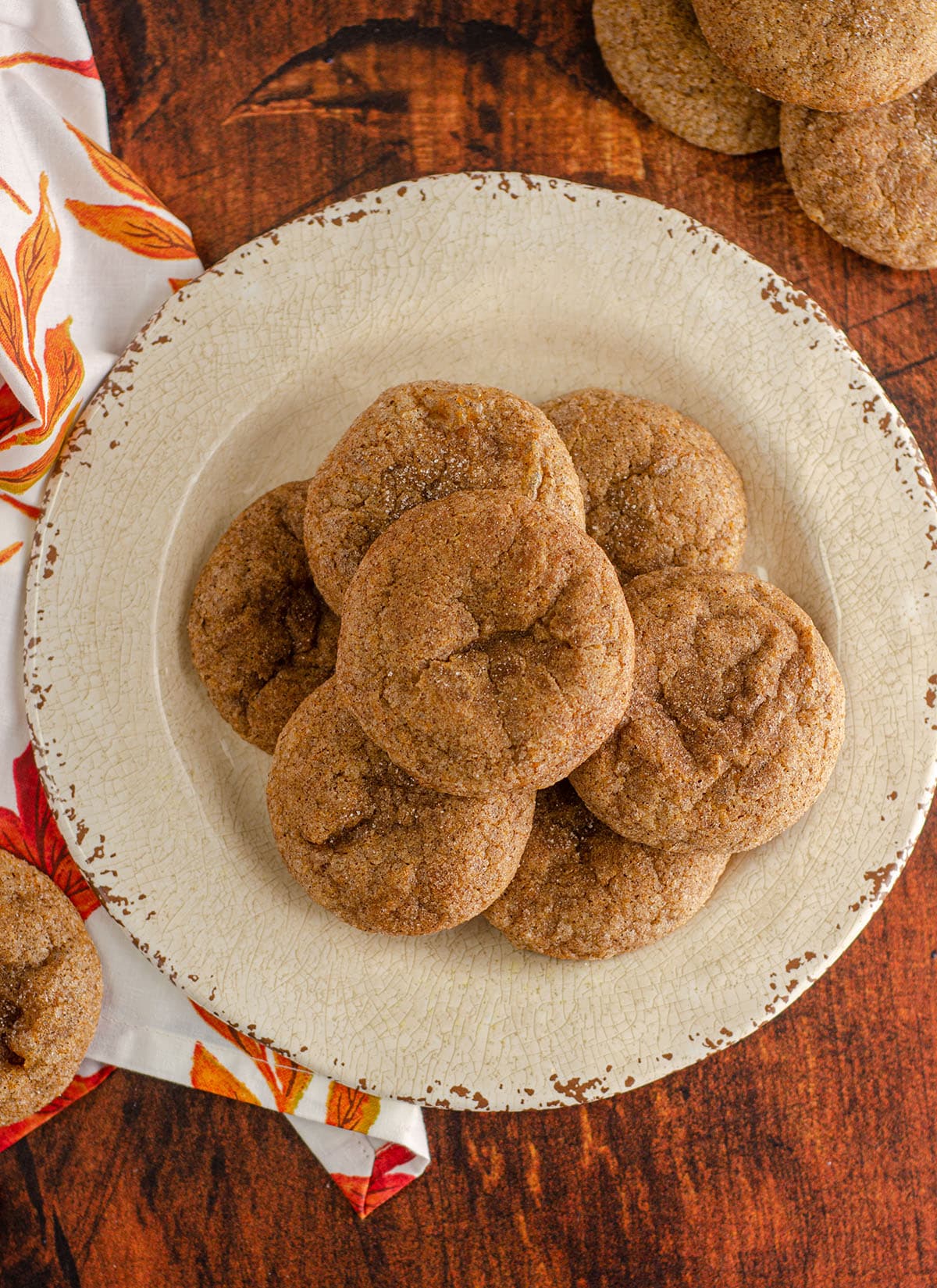 Pumpkin Spice Cookie Ingredients
For these pumpkin spice cookies, you will need:
all-purpose flour
salt
baking powder
baking soda
ground cinnamon
pumpkin pie spice
unsalted butter
brown sugar
granulated sugar
vanilla extract
pumpkin puree
A NOTE ABOUT PUMPKIN PUREE
You'll want to use canned pumpkin for these cookies. This is not the same as pumpkin pie filling.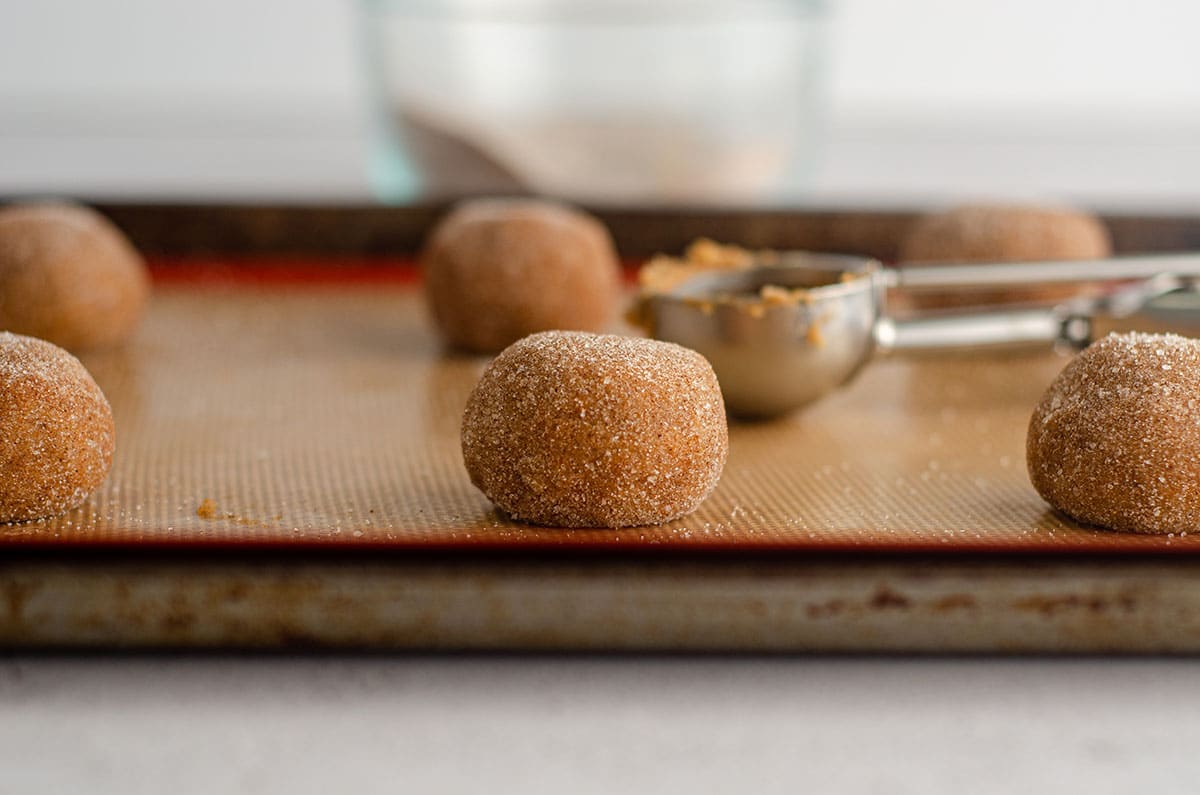 WHAT IF I DON'T HAVE PUMPKIN PIE SPICE?
If you don't have pumpkin pie spice, can't find it, or simply don't feel like purchasing yet another spice, you can absolutely make your own substitution.
Pumpkin Pie Spice Seasoning Substitute
You'll need a total of 1 and ½ teaspoons of pumpkin pie spice, so toss together ¾ teaspoon of ground cinnamon, ½ teaspoon of ground ginger, and ¼ teaspoon ground nutmeg to make up for it.
How to make Pumpkin Spice Cookies
Make the Dough
Another thing I didn't want these cookies to be was anything similar to a pumpkin whoopie pie. There is a time and place for those, but as a solid, stand-alone cookie, that place wasn't here.
The cookie dough that I settled on gave me some pause at first, I will say. It was much wetter than I anticipated it being, because my snickerdoodle dough is more or less the texture you expect in a cookie dough, but I carried on and refrigerated it anyway.
Refrigerate
I wound up leaving my cookie dough in the fridge for nearly 24 hours, but it should be fully chilled after 1 hour and ready to work with.
Roll in Sugar, Cinnamon, & Pumpkin Spice Mixture
Just like a classic snickerdoodle recipe, this recipe for pumpkin spice cookies comes with a sugar/cinnamon/pumpkin pie spice coating. It's exactly what I put on my snickerdoodles, just with a little touch of pumpkin pie spice.
Each ball of cookie dough gets a generous dunk in the sugar + cinnamon + pumpkin pie spice. This makes for one excellent outer coating, if I do say so myself.
Cook
If you're in the market for a pumpkin spice cookie recipe that will bring you all the chewy texture you've probably not gotten from many cookie recipes in the past, this is your cookie, for sure!
The edges are just a touch crisp, and that sugar/cinnamon/pumpkin pie spice coating is the perfect door to the soft interior that is just loaded with authentic pumpkin flavor.
In true taste-testing form, I tried many (many) of these cookies at various times post-baking. Right out of the oven, they are divine. But they truly got better, chewier, and had even better flavor as a handful of days went on.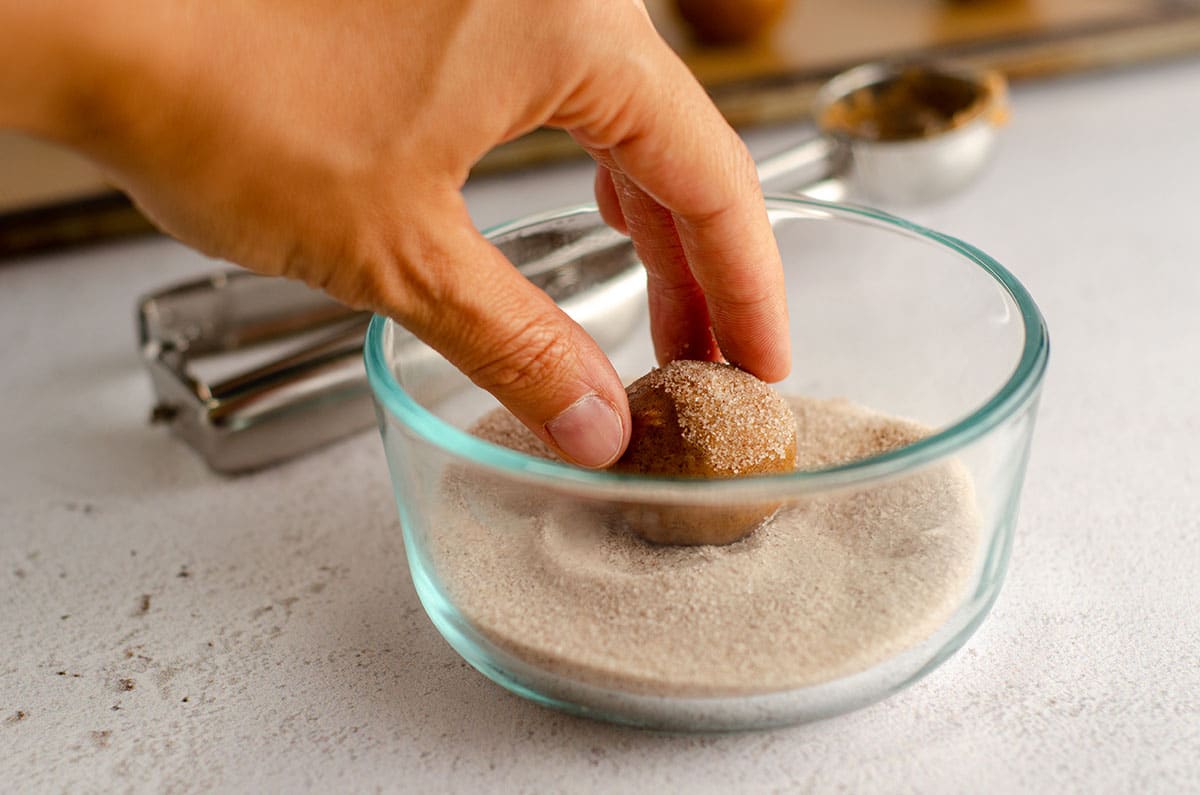 Tips for Easy Pumpkin Spice Cookies
I think the only thing that could make these pumpkin cookies even better would be to slather some maple cinnamon cream cheese frosting on one and smooshing it together with another for a fall cookie sandwich situation.
I mean, if you're going to do that, please go ahead and invite me over for a taste test. I will definitely travel far and wide for that.
While I always advise measuring ingredients by weight, when it comes to pumpkin, I always measure with a measuring cup. In my experience, depending on the brand, the moisture content can wildly change the weight measurements.
When rolling cookie dough ball in the spices, be sure to get every surface covered. I even like to sprinkle an extra little pile of spices on top of the cookie dough ball to make sure the tops of the cookies are super flavorful!
Storing this Pumpkin Spice Cookie Recipe
I'll be honest, though, I don't know what they taste like past 3 days, because these were all gone pretty darn quickly. Oops!
Cookie dough can be chilled in the refrigerator for up to 3 days, but at minimum 1 hour. This makes it a great cookie dough to make ahead of time so you can bake them when you are ready to eat or serve them.
You can freeze unbaked cookie dough, but do not roll in the spiced sugar coating beforehand. Freeze in rolled balls, then thaw in the refrigerator before rolling into spices and baking.
Pumpkin Spice Cookie FAQs
Why are my pumpkin cookies sticky after baking?
It is likely you used too much pumpkin in your recipe. Be sure you measure the pumpkin with a measuring cup.
How does pumpkin affect baking?
Pumpkin brings a lot of moisture to baked goods, which is why you can see this recipe does not include any eggs.
Should pumpkin cookie dough be chilled before baking?
Always follow the recipe in front of you, but in a lot of cases with cookies, the dough can usually benefit from chilling before baking to maintain shape.
How do you intensify pumpkin flavor?
You can enhance the flavor of pumpkin in baked goods by using pumpkin pie spice or even pumpkin pie extract.
Why is canned pumpkin better to use in baking?
Canned pumpkin is made specifically to be used in baking. Sometimes people will make their own pumpkin puree to replace the need to buy a can. If you're worried about ingredients from store-bought ingredients, always check to make sure your canned pumpkin doesn't include any ingredients you don't want to use.
Is 100% canned pumpkin the same as pumpkin puree?
Canned pumpkin and pumpkin puree are the same thing, but in my experience, canned pumpkin is more consistent in texture and moisture content than homemade puree. It also has a more vibrant orange color.
More Pumpkin Spice Recipes to try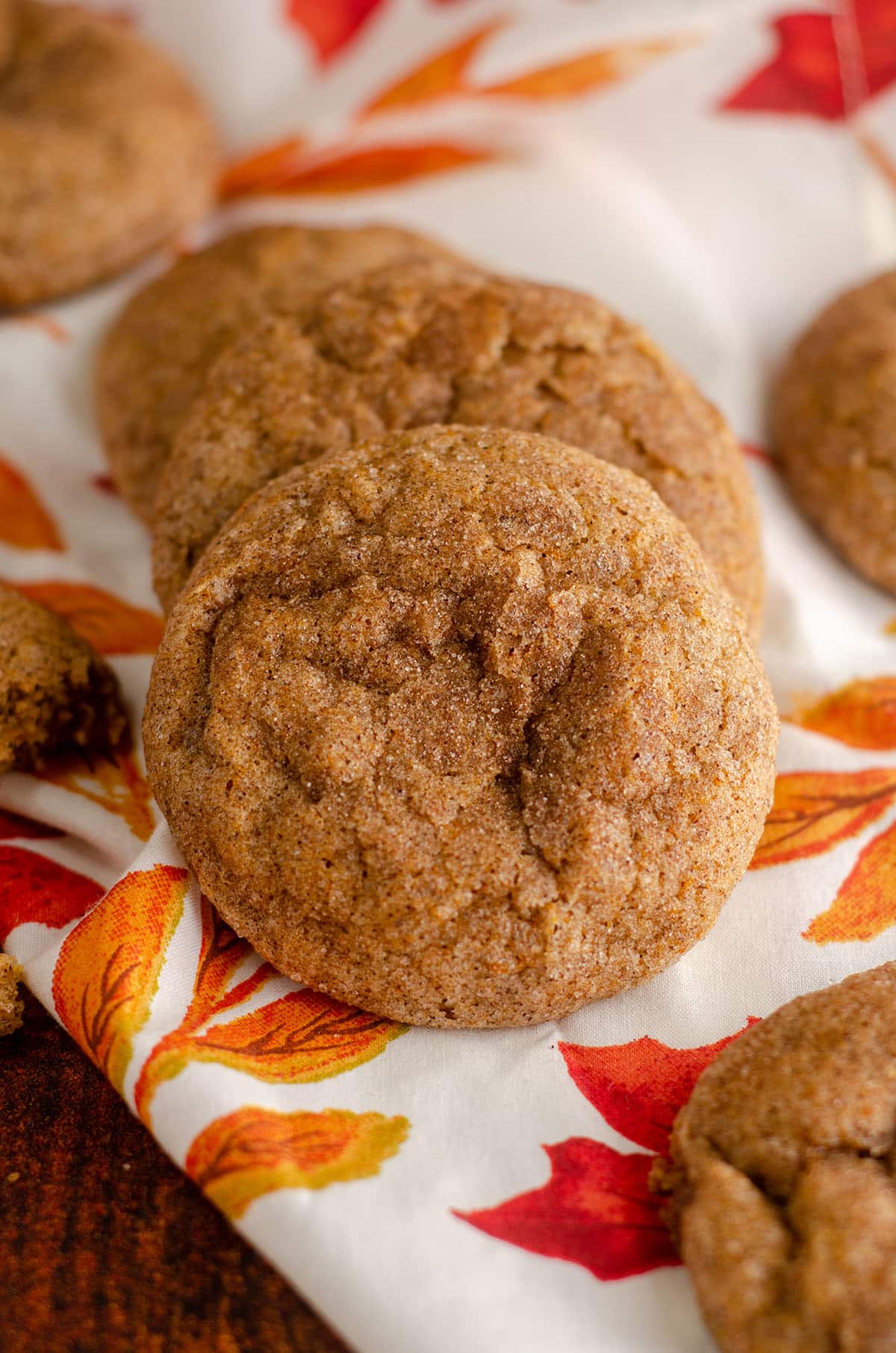 Pumpkin Spice Cookie Recipe
These eggless chewy pumpkin spice cookies are like a pumpkin snickerdoodle, coated in a spiced cinnamon sugar with a perfectly soft and chewy interior bursting with pumpkin flavor.
Ingredients
1 and ½

cups

(180g) all-purpose flour be sure to measure properly

¼

teaspoon

salt

¼

teaspoon

baking powder

¼

teaspoon

baking soda

2 and ½

teaspoons

ground cinnamon

divided

1 and ½

teaspoons

pumpkin pie spice

divided

½

cup

(113g) unsalted butter

melted and allowed to cool

¼

cup

(50g) firmly packed brown sugar

1

cup

(200g) granulated sugar

divided

¼

teaspoon

vanilla extract

6

Tablespoons

pumpkin puree1
Instructions
In a large bowl, whisk together the flour, salt, baking powder, baking soda, 2 teaspoons cinnamon, and 1 teaspoon of pumpkin pie spice. Set aside.

In a medium bowl, whisk together the cooled melted butter, brown sugar, and ½ cup of the granulated sugar until smooth, then whisk in the vanilla and pumpkin puree until smooth.

Pour the wet ingredients into the dry ingredients and mix together with a large spatula until everything is combined. Cover the dough and chill in the refrigerator for at least 1 hour, or up to 3 days.

When you are ready to bake the cookies, remove the dough from the refrigerator. Preheat the oven to 350°F (177°C). Line two large baking sheets with parchment paper or silicone baking mats. Set aside.

Combine the remaining ½ cup of granulated sugar, ½ teaspoon of cinnamon, and ½ teaspoon pumpkin pie spice. Stir or whisk together until uniform in color. Set aside.

Roll the dough into balls, about 1 Tablespoon in size (I use this #50 cookie scoop for all of my standard size cookies). Roll each of the dough balls generously in the sugar/cinnamon/pumpkin pie spice mixture and place on prepared baking sheet.

Bake the cookies for 11-13 minutes or until the edges are just set. Cookies will look very soft and under-baked. Remove from the oven and allow cookies to cool on the baking sheet for at least 5 minutes before transferring to a wire rack to cool completely. Store leftovers covered at room temperature, up to 5 days. Baked cookies freeze well, up to 3 months. Thaw in refrigerator or at room temperature.
Notes
Pumpkin: I always measure pumpkin purée with measuring cups as the moisture content can wildly change the weight measurements, depending on the brand.
Nutrition Disclosure
All nutritional values are approximate and provided to the reader as a courtesy. Changing ingredients and/or quantities will alter the estimated nutritional calculations.
Serving:
1
cookie
|
Calories:
127
kcal
|
Carbohydrates:
21
g
|
Protein:
1
g
|
Fat:
5
g
|
Saturated Fat:
3
g
|
Polyunsaturated Fat:
0.2
g
|
Monounsaturated Fat:
1
g
|
Trans Fat:
0.2
g
|
Cholesterol:
12
mg
|
Sodium:
50
mg
|
Potassium:
27
mg
|
Fiber:
1
g
|
Sugar:
13
g
|
Vitamin A:
843
IU
|
Vitamin C:
0.2
mg
|
Calcium:
13
mg
|
Iron:
1
mg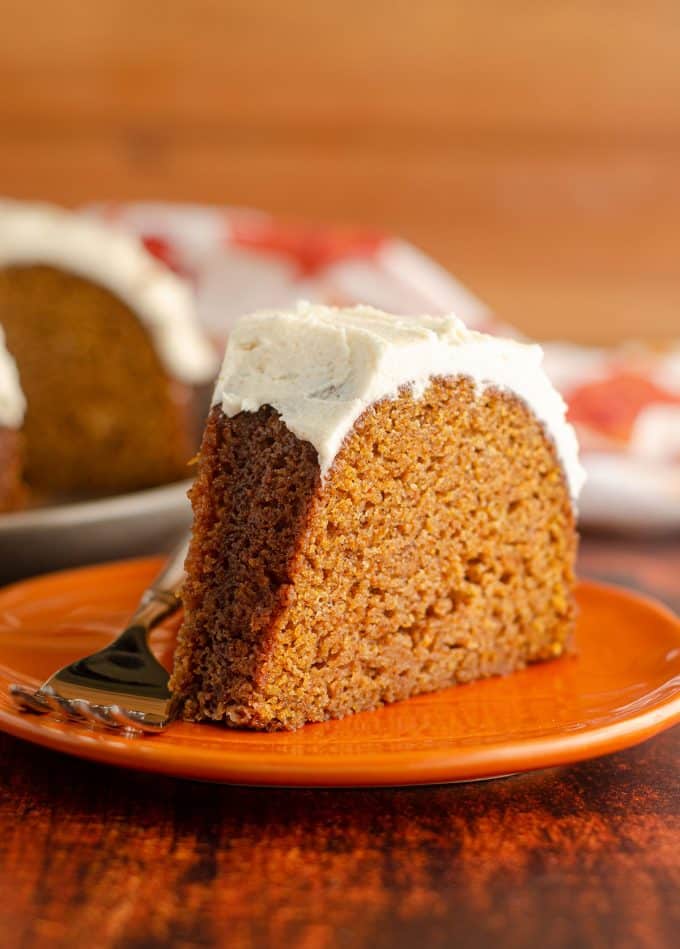 Love pumpkin? Let my pumpkin bundt cake (above) or no bake pumpkin icebox cake (below) be your next stops!