As an Amazon Associate I earn from qualifying purchases.
Hearty quinoa patties, jam packed with vegetables and protein. Gluten-free and vegetarian friendly!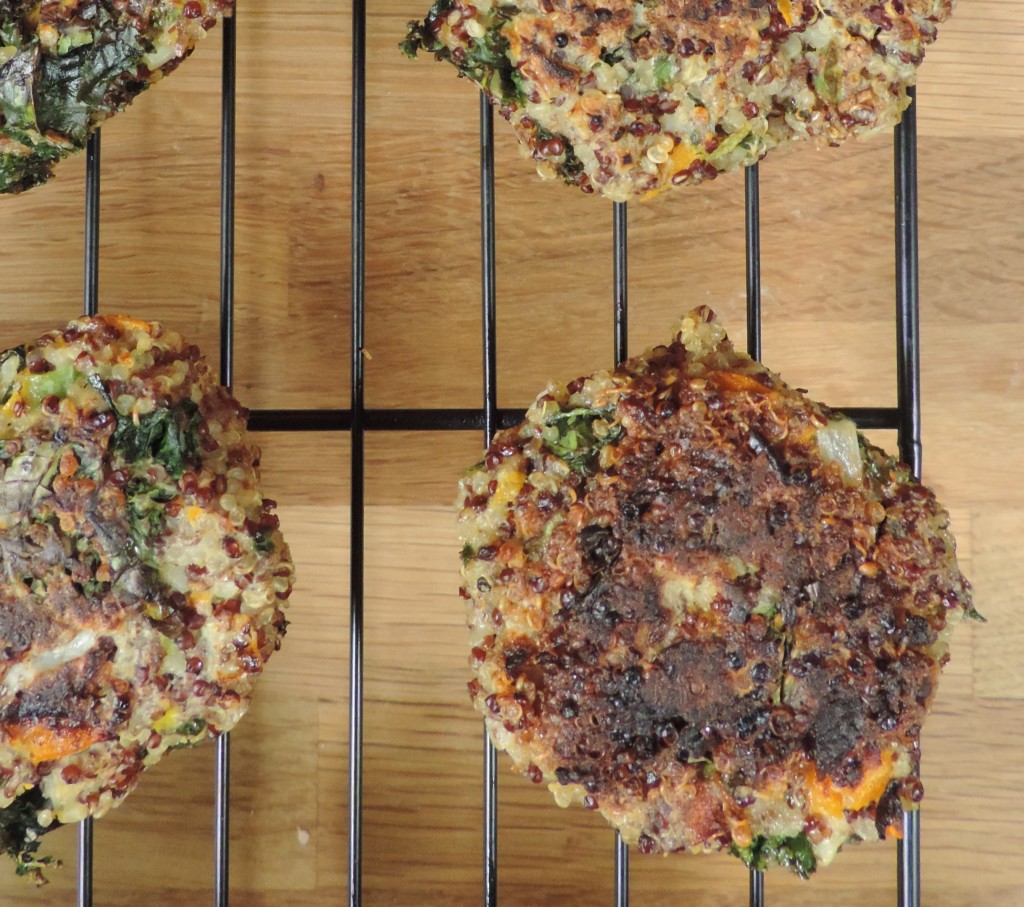 I recently got into quinoa. And by recently, I mean last week. As someone who lives in a pretty healthy household, you would think we would have been there done that by now. But we hadn't.
Here's why: I had no idea how to cook it, and the cook in my house had no interest in figuring it out either. It wasn't until I started noticing more and more among the dozens of food blogs I follow that quinoa was getting all up in everyone's everything.
So I went for it. I found the quinoa section of Wegman's, got thoroughly overwhelmed by the several different varieties that were available to me, and decided on the red kind. I flipped the package over to find that it is SO EASY TO MAKE!
WHAT?!
Where did I ever get the idea it was hard to make? Did someone somewhere lead me to believe this? Probably not. It was probably one of those things I fabricated in my own head as an excuse to continue not to be the cook around here (believe me– I'm terrible. I can't even make eggs that well).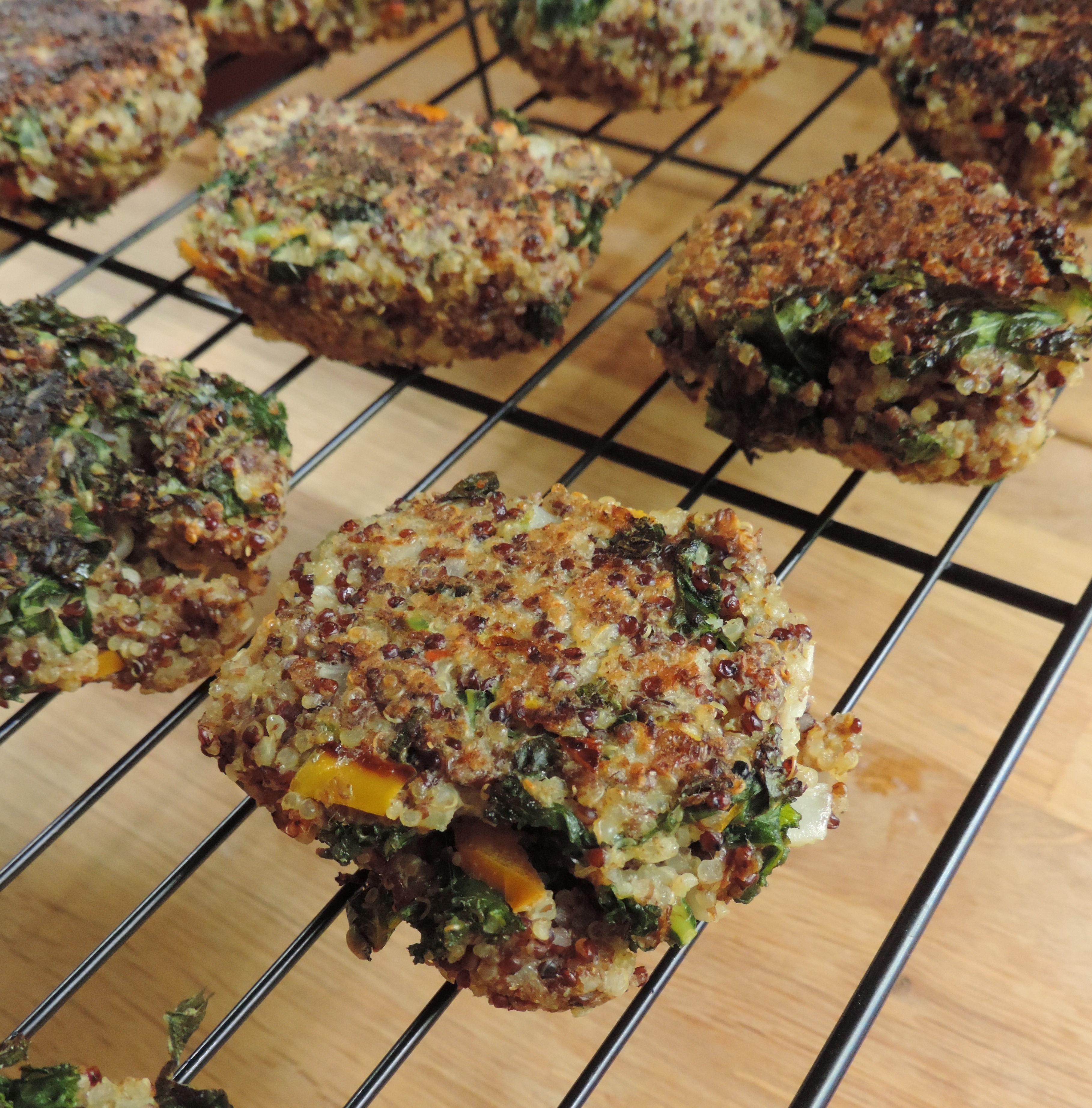 I cooked up this red quinoa, as per the ridiculously easy directions (but omitting salt), and I was pleasantly surprised that I really enjoyed the taste. Normally, our weekly dinners consist of a meat, a vegetable(s), and brown rice. No, we don't really get tired of it, so we don't change it up a lot. But I will tell you what… I might not ever eat rice again!
While I enjoy it, by itself it's nothing to write home about. But quinoa? Oh geez, that nutty taste and slightly chewy texture is just a really delicious way to enjoy some grains and protein. After my first taste, I knew I had to make something that I had my eye on for a few weeks.
I came across a quinoa patty recipe on one of my favorite blogs (Sally's Baking Addiction), and it led me to look for recipes similar to it. I found all kinds of add ins and binding agents I could use, but most of the recipes I found included bread crumbs.
Now, I really love bread. A lot. But I try to consume it as little as possible, simply because we are fairly carb-conscious around here. I remembered my darling chef of a husband has used ground flax seed to make meatballs and salmon cakes, so I figured, why not here too?
It turns out that was a great decision! Not only does it work well, but it also makes the recipe gluten free by default!
The recipe I have here has a lot of wiggle room. I chose peppers as my vegetable simply because that's what we had in the fridge. I also chose sharp white cheddar cheese because it's my favorite, and also what we had on hand. Use whatever combinations you want, just keep the amounts the same.
I've seen carrots, celery, zucchini, and mushrooms among my quinoa patty research, so use your favorites! I also suggest using your favorite spice (I used Mrs. Dash's lemon pepper).
For these patties, I used a blend of red and white quinoa. I found I prefer the taste of the red better– to me, it just has a deeper flavor. I also liked the colors that were coming through with not only my color quadfecta (whaaaat?) peppers, but also the different speckles of quinoa. Use whatever kind you prefer.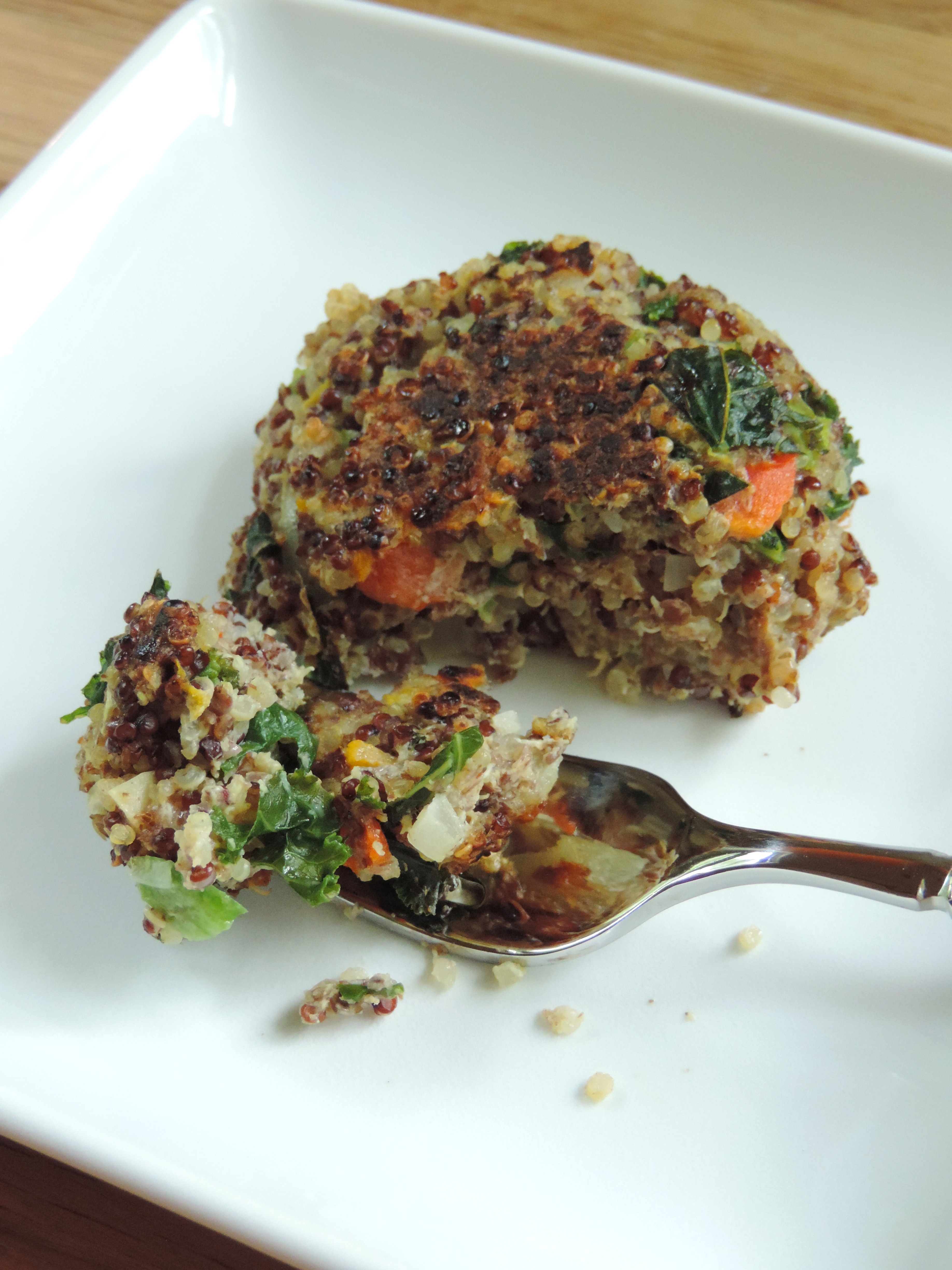 Start by cooking your quinoa, following the directions on your box. You'll need 2 and 2/3 cups of cooked quinoa, so start with about 1 cup dry quinoa.
If you don't mind having a lot leftover, make as much as you want.
While your quinoa cooks, chop up your vegetables (I actually put mine in the food processor to make sure they were nice and small) and garlic, and shred your cheese. You can most certainly use pre-shredded cheese, but the creamiest cheese is definitely fresh off the block.
This is also the point at which I steamed my kale. I pulled the leafy parts off of two large leaves to get about a cup of steamed kale. Tear it up, wash it, throw some water in a pan with your kale, and cover the pan with a lid.
I steamed my kale for about 10 minutes, stirring it around with a spatula every few minutes, and then drained off the water. It should be a rich, dark green color when it's finished, and you should be able to chop through it easily.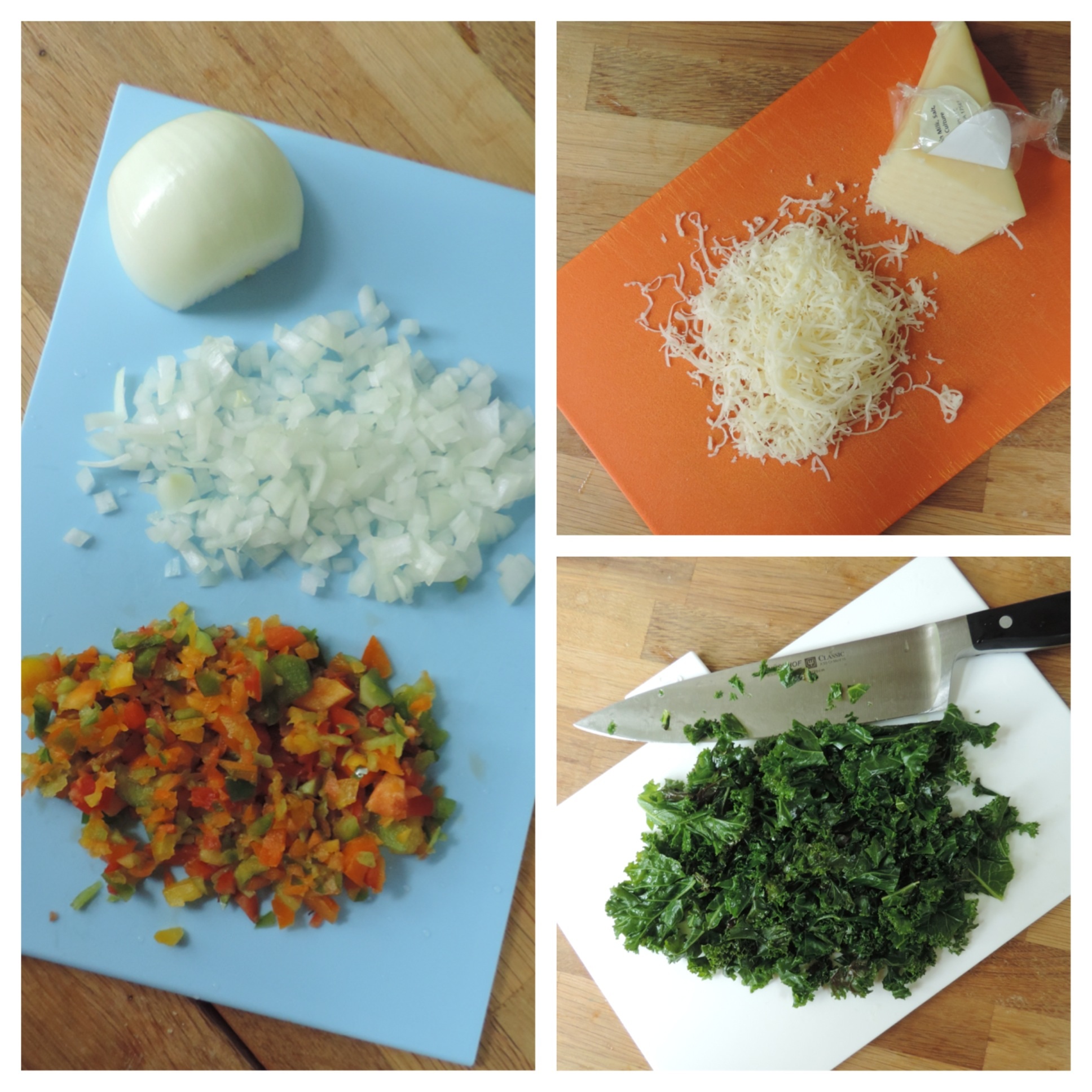 Once you have all of your wet ingredients combined, you'll need your binding agent. If you're going to use breadcrumbs instead of ground flaxseed, start with 3/4 cup and work your way up to 1 cup if necessary.
The texture of your mixture should be sticky, but not so sticky that you can't pull it off of your hands once you form the patty.
Add more ground flaxseed or cooked quinoa if they're too wet, and add a few drops of water if they're too dry.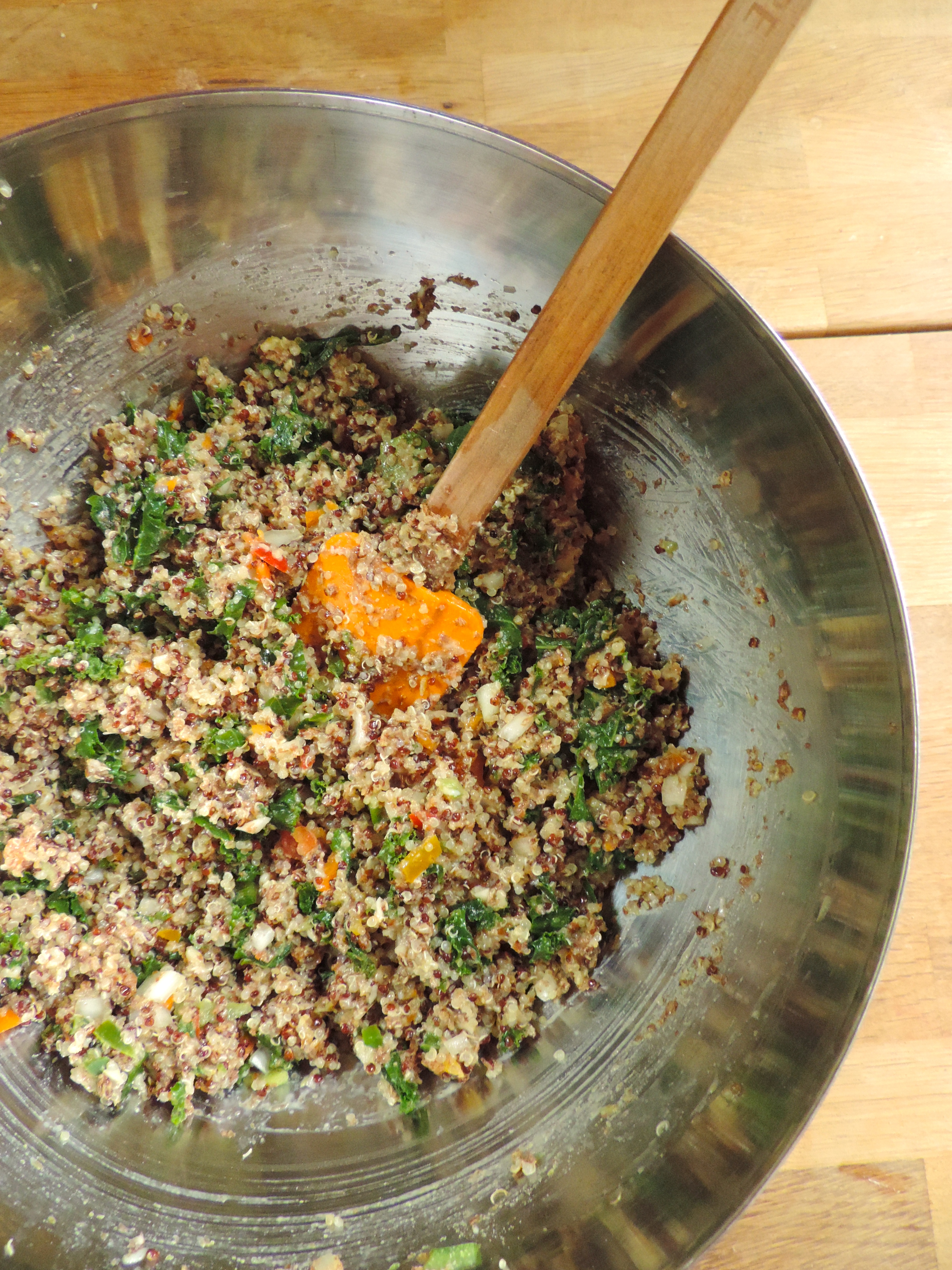 A quick heat up of your pan with some olive oil and about 5-7 minutes per side of each patty. That's it! Quick and easy. These babies can be kept in an airtight container in the fridge for a week.
Frozen, they will last you about a month. All they need is about 30 seconds in the microwave to be reheated (or, try them cold).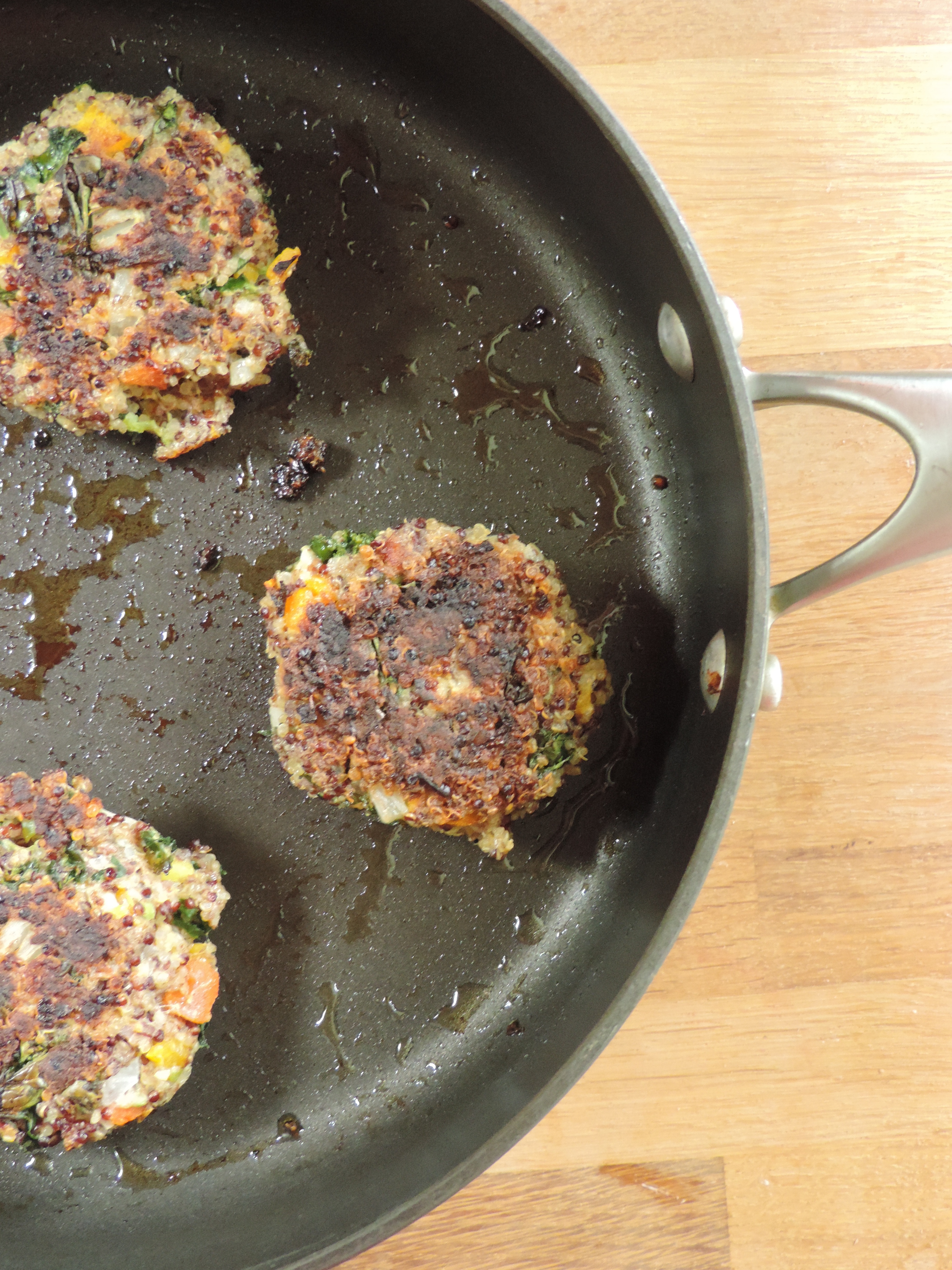 Eat on salad, in a sandwich, with avocado, with Tabasco/hot sauce, or my favorite, with both of the latter suggestions (chipotle Tabasco, to be specific).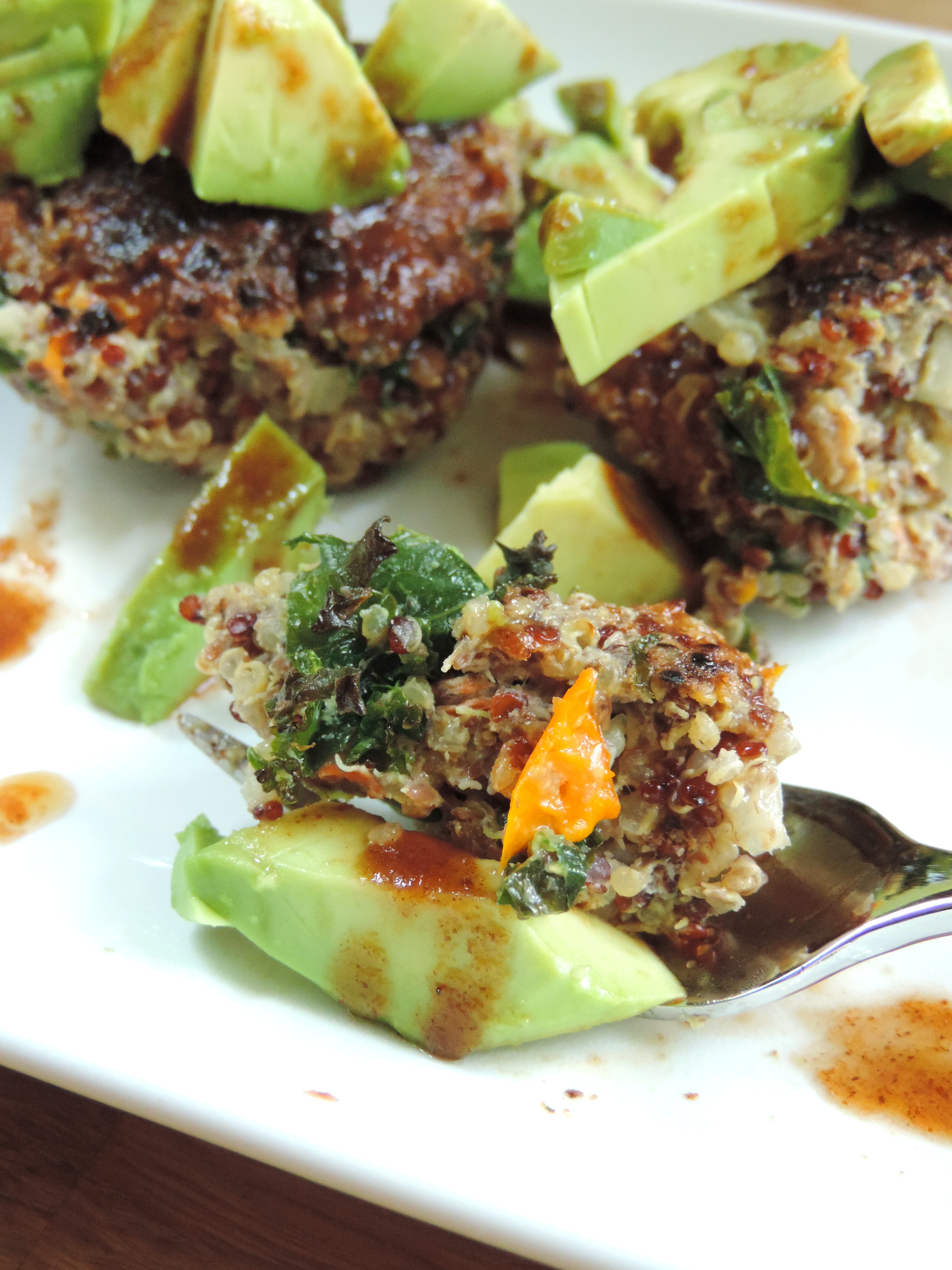 Crunchy, flavorful, and jam packed with all kinds of nutrients.
As written, this recipe produces 12-2.5oz patties each with
160 calories
9g of fat (2.5g saturated)
3.9g of fiber
<1g of sugar
and 7.6g of protein!
Enter the world of quinoa if you haven't yet… We will make you a believer!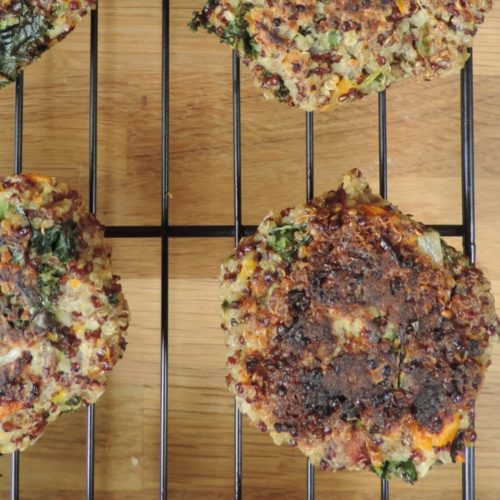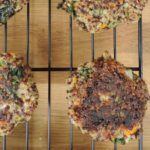 Print Recipe
Quinoa, Kale, and Flaxseed Patties
Hearty quinoa patties, jam packed with vegetables and protein. Gluten-free and vegetarian friendly!
Ingredients
2 and 2/3

cups

cooked quinoa

4

large eggs

beaten

1/2

teaspoon

salt

1/4

teaspoon

lemon pepper seasoning*

1

cup

steamed kale

chopped

1/2

small white onion

chopped

1/3

cup

fresh sharp white cheddar cheese

grated

3

cloves

garlic

finely chopped

1

cup

ground flaxseed

3/4 cup if using bread crumbs

1/2

cup

finely chopped bell peppers

olive oil

as needed
Instructions
Combine the cooked quinoa, eggs, salt, and seasoning in a large bowl. Stir in steamed kale, onion, cheese, and garlic. Add chopped vegetables and ground flaxseed and stir to combine everything completely. Allow mixture to sit for about 10 minutes to absorb moisture.

Form into 12 patties. Each will be about 2 and 1/2 ounces.

Heat a bit of olive oil in a large skillet over medium-low heat. Add 4 to 5 patties to the skillet at a time, and cook for 5 to 7 minutes, or until underside is dark brown.

Carefully flip patties with a spatula and cook other side for an additional 5 to 7 minutes, or until dark brown. Remove from skillet, allow to cool on a cooling rack.

Cook remaining patties, adding additional oil to the pan as needed. Serve warm or cold. Cooked patties can be kept in the refrigerator in an airtight container up to 1 week, or in the freezer for 1 month. Reheat as needed in the microwave.
More healthy, gluten free recipes!