Quinoa, Kale, and Flaxseed Patties
As an Amazon Associate, I earn from qualifying purchases. Read the full disclosure here.
Hearty quinoa patties, jam packed with vegetables and protein. Gluten-free and vegetarian friendly!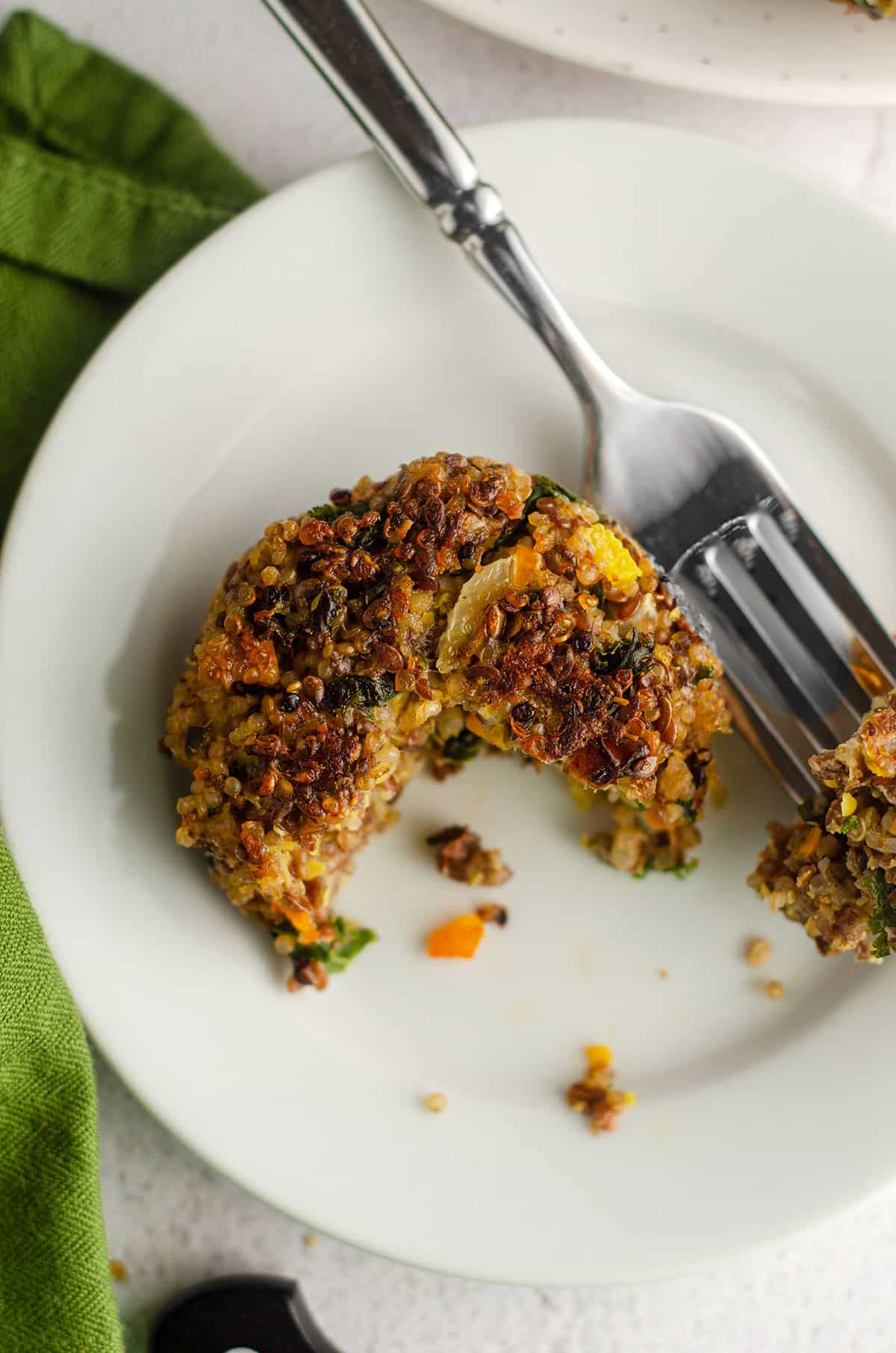 When I first published this recipe back in 2014, quinoa was just really becoming a "thing." Can you believe it?
I mean, it may have been a "thing" for longer than that, but for whatever reason, I had it in my mind that quinoa was some strange food that was hard to make and I didn't know what else you could do with it other than eat it straight up.
Since then, we've all watched quinoa become a super food and in some instances, we've seen it replace rice.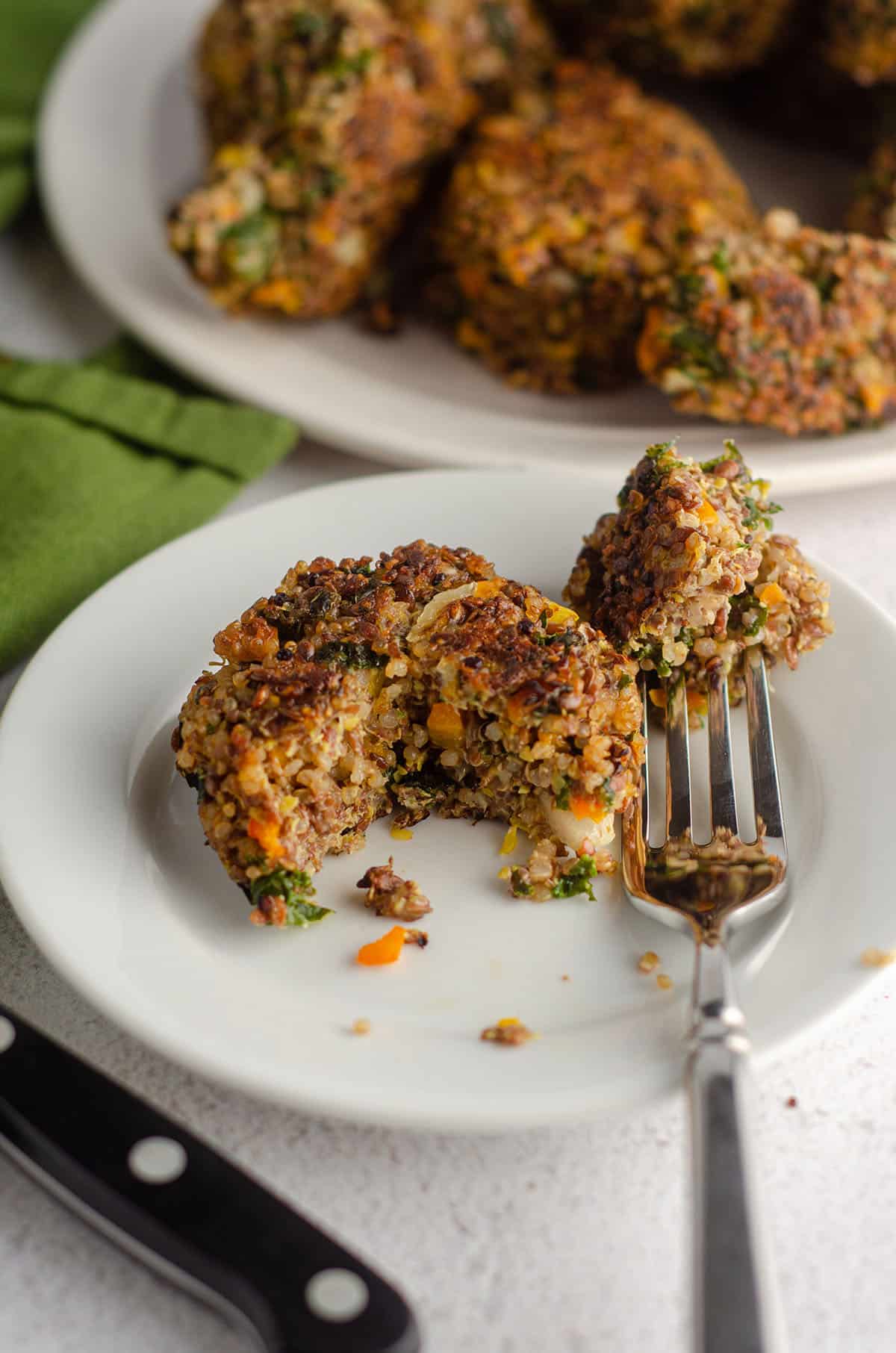 Not only that, but I have managed to put quinoa into the following recipes:
•apple, quinoa, and almond kale salad
•apple quinoa granola
•cheesy enchilada quinoa casserole
•buffalo chicken stuffed peppers
•black bean veggie burgers
When I first tried quinoa all those years ago, I was pleasantly surprised by the nutty taste and slightly chewy texture. It has since become one of my favorite (and most delicious!) ways to enjoy some grains and protein.
Since originally publishing these crispy quinoa cakes, I've made them a handful of times, and they are always a hit.
This most recent time, I shared some with our gluten free neighbor and then stashed 6 away in the freezer to thaw when we returned from our week at the beach.
Those 6 lasted for exactly 2 days. All consumed by me personally. No regrets.
As the recipe implies, you'll be adding steamed kale to your quinoa patties, which is something I like to do before I start anything (or while I cook the quinoa).
HOW TO STEAM KALE
Pull the leafy parts off of 5 to 7 large leaves of raw kale. Tear it up, wash it, throw some water in a pan with your kale, and cover the pan with a lid.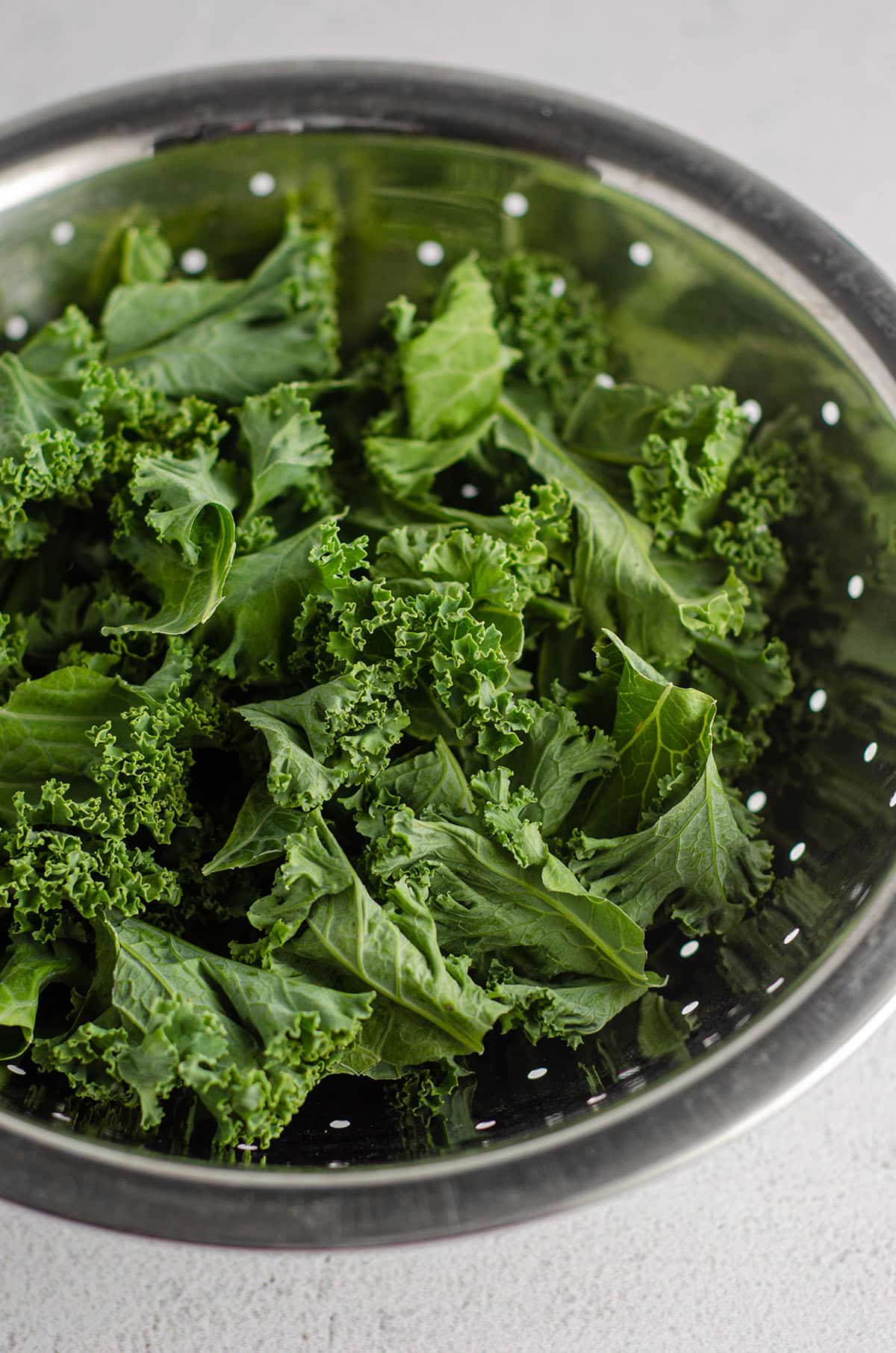 Stir the kale around with a spatula every couple of minutes, and after about 10 minutes, it should be pretty wilted. Drain off the water, and then pat it dry. It should be a rich, dark green color when it's finished, and you'll be able to chop through it easily.
USE GROUND FLAXSEED AS THE BINDING AGENT FOR ADDED PROTEIN
I haven't really messed with the recipe after all of these years, and I never feel like it needs much changing. I originally used flaxseed as my binding agent, because we prefer to use that in place of breadcrumbs (like in these gluten free meatballs), and I love the added protein.
I have not tried it with breadcrumbs, though I imagine things would be totally fine with that sub. Let me know if you try it!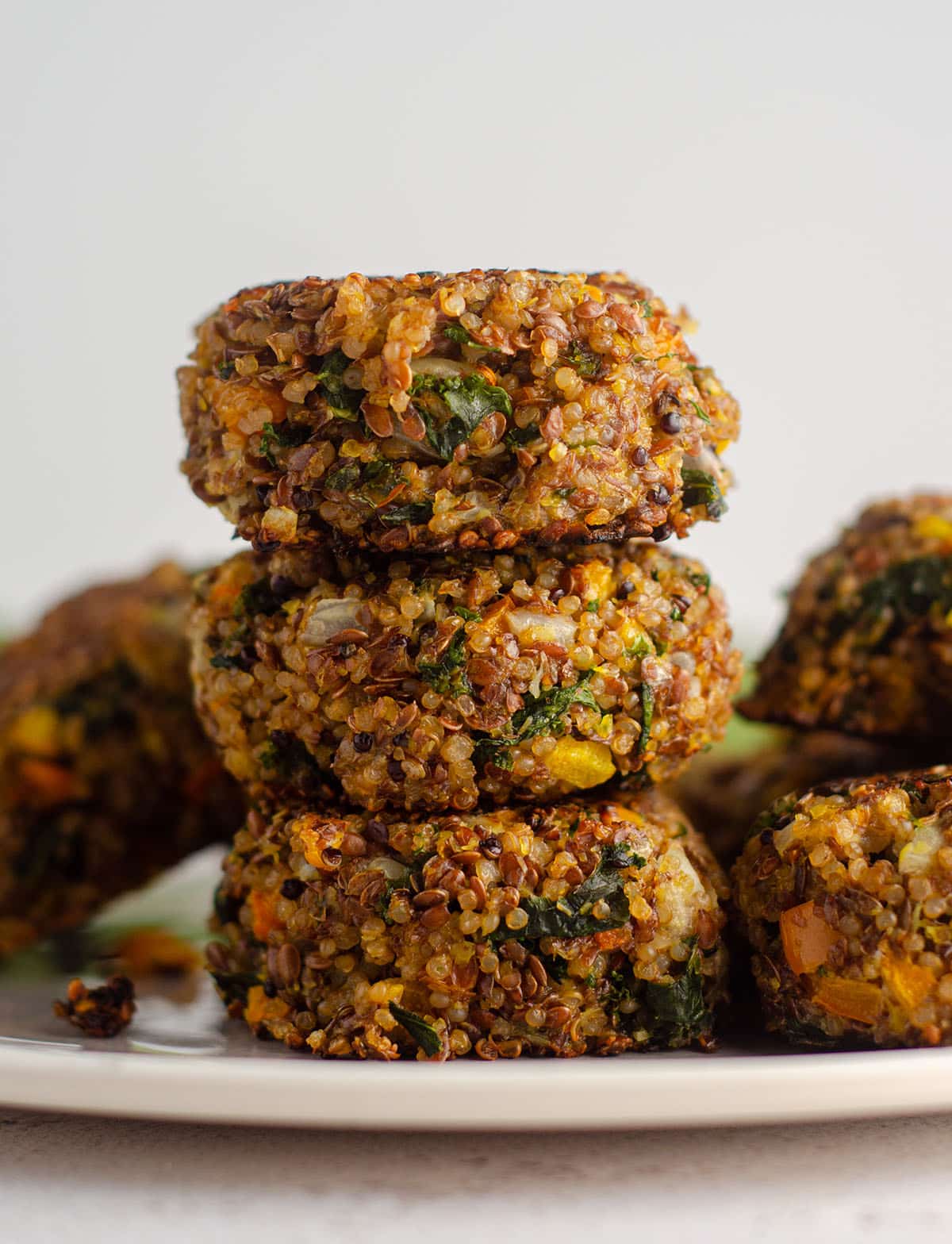 The recipe I have here has a lot of wiggle room. I like to use peppers as my vegetable simply because I like their flavor and they're easy to throw into the food processor to make them nice and small.
I typically use red, orange, or yellow bell peppers for prettier color, but green also work just fine.
I also chose sharp white cheddar cheese because it's my favorite and I like the flavor it adds to the quinoa patties. Use whatever vegetable (like broccoli, carrots, zucchini, mushrooms) and cheese combinations you want, just keep the amounts the same.
I add just a tiny bit of spice for flavor. I like to use one without salt, and typically reach for lemon pepper, garlic herb, or burger mix-in.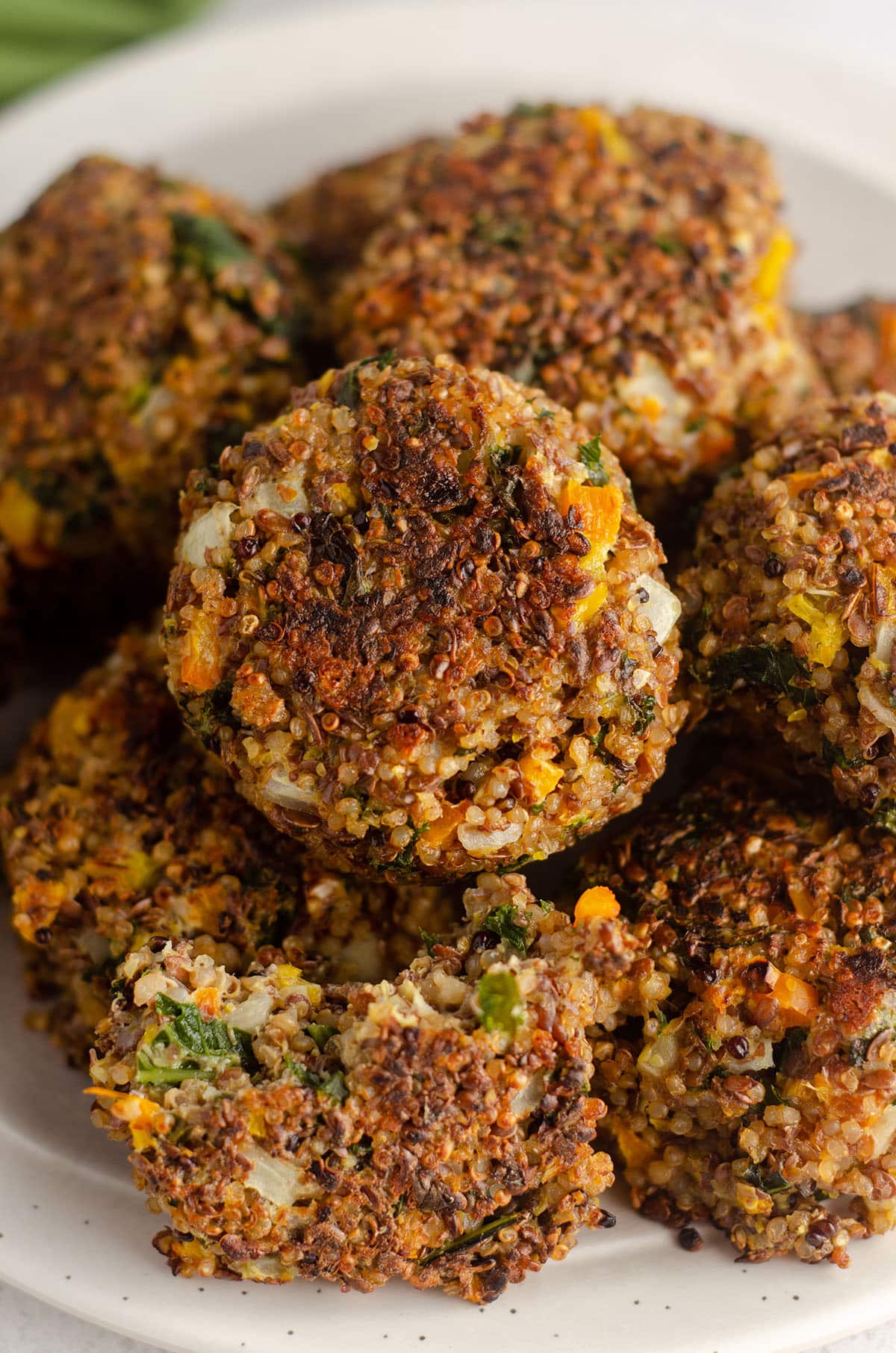 As far as the actual quinoa goes, I like to use a blend of red and white quinoa. I typically prefer the taste of red better, but I like the way the white quinoa looks. It honestly does not matter one bit.
You'll start your quinoa patties with already cooked quinoa (just follow the directions on your box). You'll need 2 and 2/3 cups of cooked quinoa, so start with about 1 cup dry quinoa.
If you don't mind having a lot of quinoa leftover, make as much as you want.
While the quinoa cooks, you can prep your vegetables. I like to put mine, along with the garlic, in the food processor to make sure they are nice and small and garlic.
If you're using cheese off the block, this is when you'd shred that, too. Pre-shredded is obviously completely fine, I just like off-the-block the best for maximum creaminess!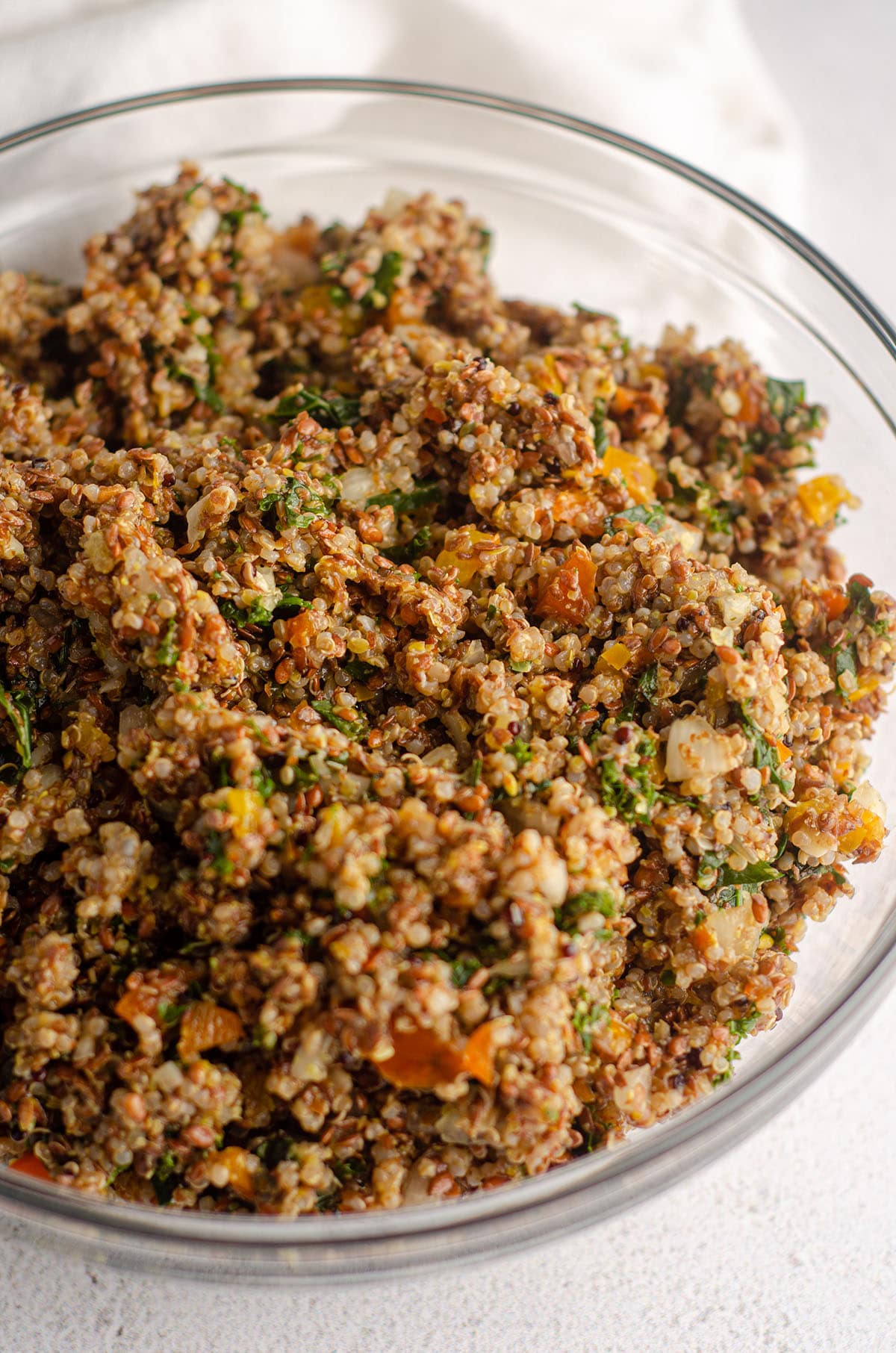 Once you have all of your wet ingredients combined (the quinoa + veggies + kale + cheese + eggs), you'll need your flaxseed. When all mixed together, the texture of your mixture should be sticky, but not so sticky that you can't pull it off of your hands once you form the patty.
Add more ground flaxseed or cooked quinoa if they're too wet, and add a few drops of water if they're too dry.
Want to make these quinoa cakes vegan? Use an egg substitute and your favorite vegan cheese!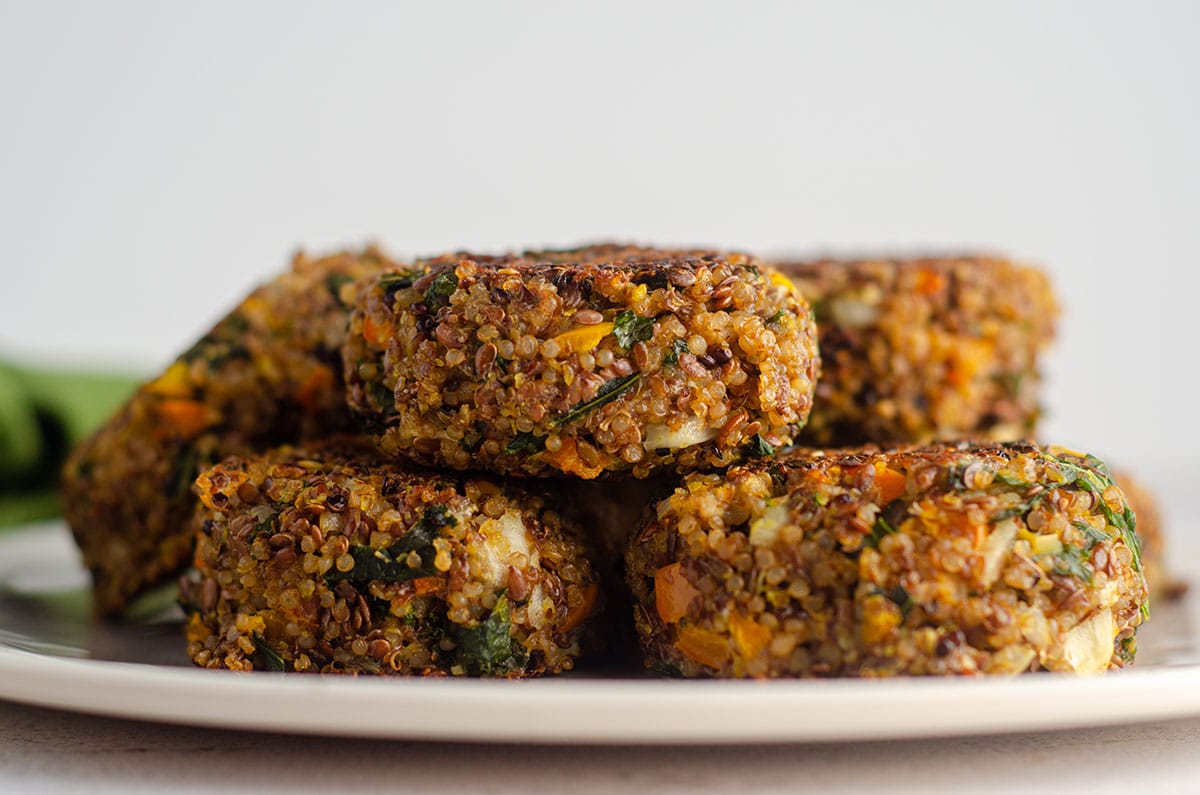 HOW TO COOK YOUR QUINOA PATTIES
A quick heat up of your pan with some olive oil and about 4-6 minutes per side of each patty. That's it! Quick and easy. These babies can be kept in an airtight container in the fridge for a week.
CAN YOU FREEZE QUINOA CAKES?
YES!
These crispy quinoa patties freeze beautifully. Thaw them in the refrigerator and then reheat them in the microwave as needed. You can also try them cold. I personally like to re-crispify them in the toaster oven, which makes them good as new.
Eat on salad, in a sandwich, with Tabasco/hot sauce, or my favorite, with a little bit of ranch dressing. Honestly, there is no bad way to enjoy a quinoa patty.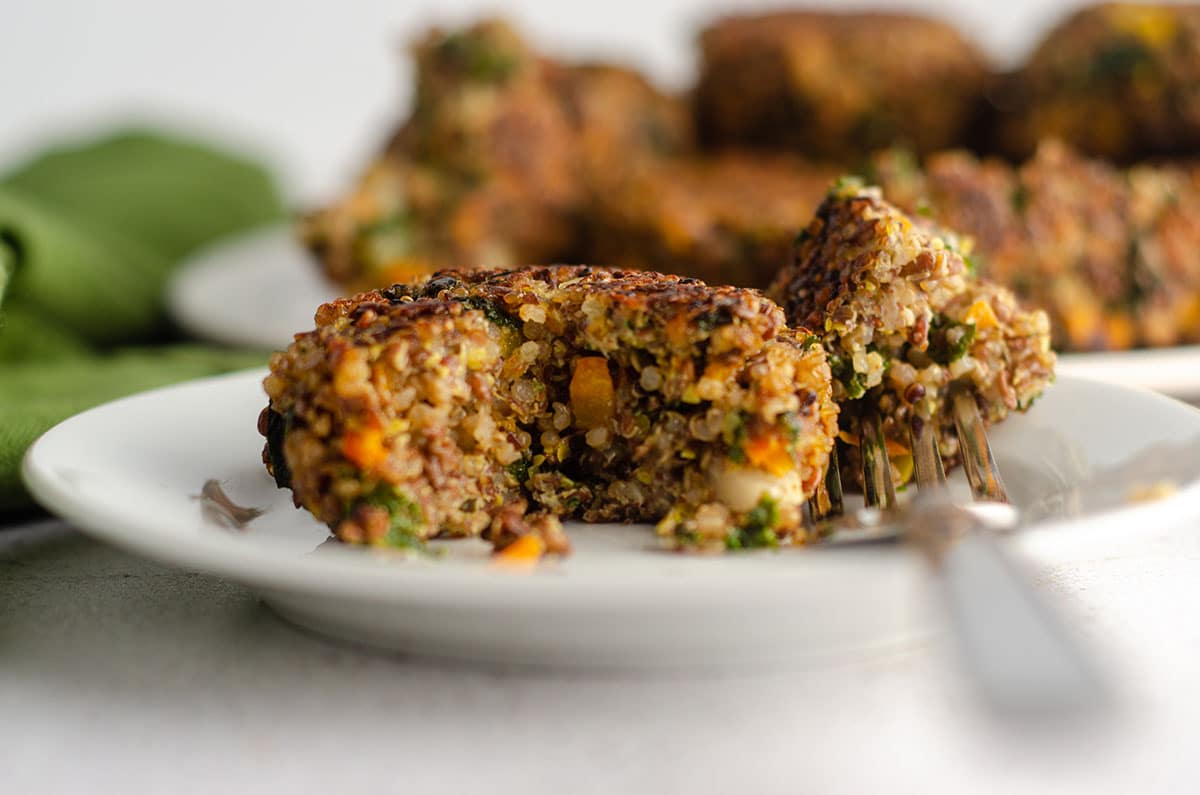 Enter the world of quinoa-as-not-just-a-side if you haven't yet… We will make you a believer!
Quinoa, Kale, and Flaxseed Patties
Hearty quinoa patties, jam packed with vegetables and protein. Gluten-free and vegetarian friendly!
Ingredients
2

cups

(40g) packed raw kale

6-8 leaves

2 and ⅔

cups

(492g) cooked quinoa1

4

large eggs

beaten

½

teaspoon

salt

¼

teaspoon

desired seasoning2

½

yellow or white onion finely chopped3

1

ounce

(30g) shredded cheese

any flavor

3

cloves

garlic

minced

1

cup

(96g) ground flaxseed

1

bell pepper finely chopped3
olive oil

as needed
Instructions
Heat a large skillet over medium heat. Pour in about ⅓ cup of water, then cover and allow kale to steam. Be sure to stir or move around frequently to prevent burning.

When kale is dark green and tender, pour off any residual liquid and set aside to cool, then finely chop.

Combine the cooked quinoa, eggs, salt, and seasoning in a large bowl. Stir in steamed chopped kale, onion, cheese, and garlic. Add chopped bell peppers and ground flaxseed and stir until everything is combined. Allow mixture to sit for about 10 minutes to absorb moisture.

Form mixture into 12 patties. Each will be about 2 and ½ ounces.

Heat a bit of olive oil in a large skillet over medium-low heat. Add 4 to 5 patties to the skillet at a time, and cook for 4-6 minutes, or until underside is dark brown.

Carefully flip patties with a spatula and cook other side for an additional 4-6 minutes, or until dark brown. Remove from skillet and allow to cool on a cooling rack.

Cook remaining patties, adding additional oil to the pan as needed. Serve warm or cold. Cooked patties can be kept in the refrigerator in an airtight container up to 5 days, or in the freezer for 1 month. Reheat as needed in the microwave.
Notes
Quinoa: this is 1 cup of dry quinoa.
Seasoning: use a salt-free seasoning. I like Mrs. Dash or McCormick, something like garlic & herb or lemon pepper.
Vegetables: I like to coarsely chop or dice and then pulse in a food processor a few times to make sure they're finely chopped.
Nutrition Disclosure
All nutritional values are approximate and provided to the reader as a courtesy. Changing ingredients and/or quantities will alter the estimated nutritional calculations.