Cheese Tortellini Salad Recipe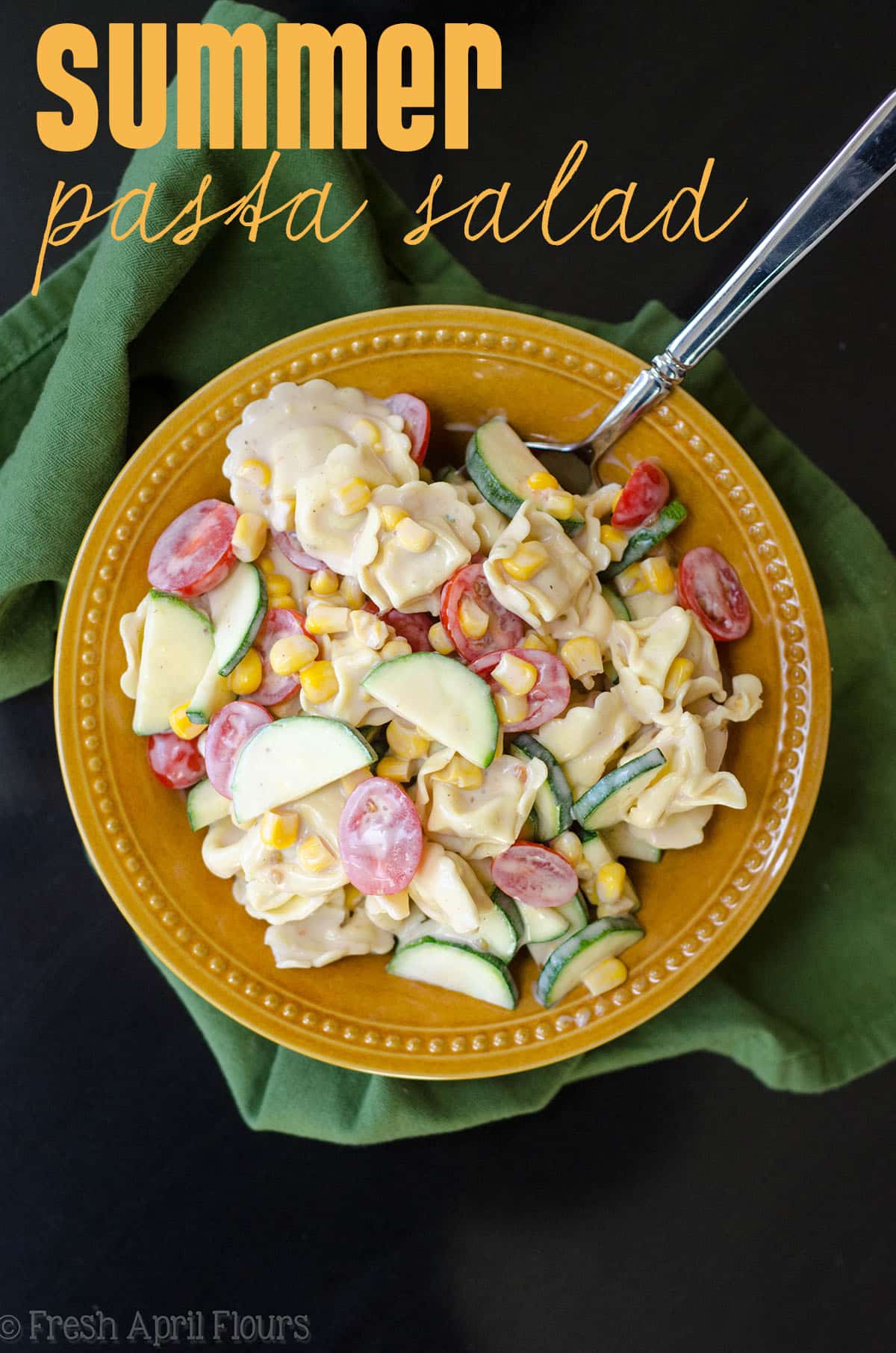 As an Amazon Associate, I earn from qualifying purchases. Read the full disclosure here.
A lightly creamy tortellini pasta salad filled with summer's best vegetables.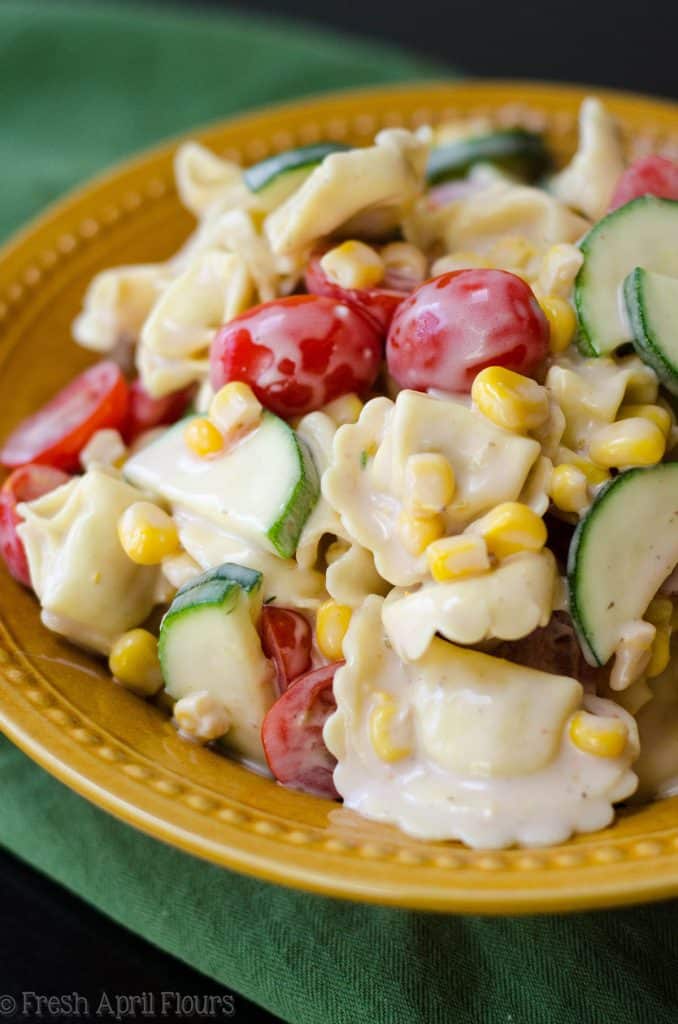 Cold Tortellini Salad: Perfect for Summer!
Ah, summer.
The best time of year for food, don't you agree?
I mean, fall is my favorite for tastes (duh), but summer is full of fruits and vegetables and they're all CHEAP. Which is great for the belly, the body, and the wallet.
What's your favorite summer produce? We, the toddler especially, are loving blueberries and watermelon in this house. I was enjoying asparagus but the baby was getting very gassy, so I've stopped that for now and have been so sad since.
Thank goodness for zucchini, tomatoes, and green beans still rocking my veggie world. I'll see you again someday, 'spargus, my dear friend.
So until then, I've been obsessed with this summer pasta salad and plan to be for the rest of the summer because OMG ALL THE BEST SUMMER VEGGIES and pasta! I mean, what's not to love?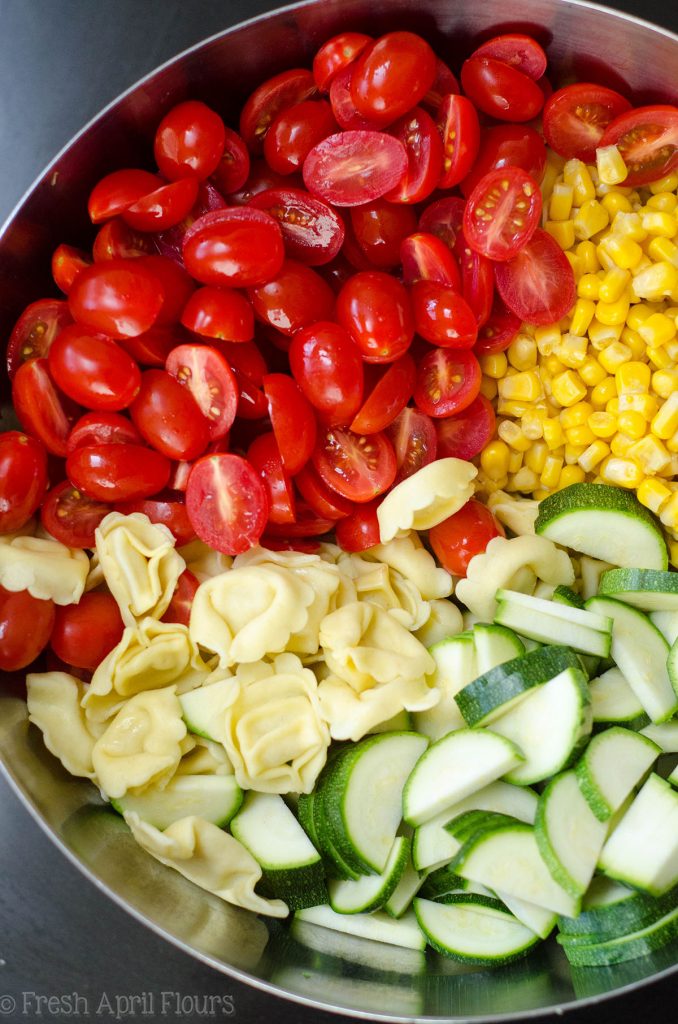 What makes this Tortellini Salad so great?
I first whipped this pasta salad up right before I had baby #2. I was hungry all the time and I basically polished off the whole batch (like 1.5lbs of salad) myself.
Of course, the toddler ate some, because helloooo, tortellini, but the majority of this pasta salad was consumed by me and my fetus.
I'm surprised he didn't come out looking like a tomato.
Cheese Tortellini Pasta Salad ingredients
So what exactly is in this pasta salad and what makes it different from other pasta salads you might want to throw together for your summer gathering?
Well, obviously we've got pasta, but tortellini (!!), so there's a little extra somethingsomething for the tastebuds. Use your favorite– I used cheese, but there's nothing wrong with a meat option, if you'd prefer that.
The veggies you'll use are grape or cherry tomatoes, sliced zucchini, and corn. I used canned corn, but if you can cut it fresh off the cob, that would obviously be ideal.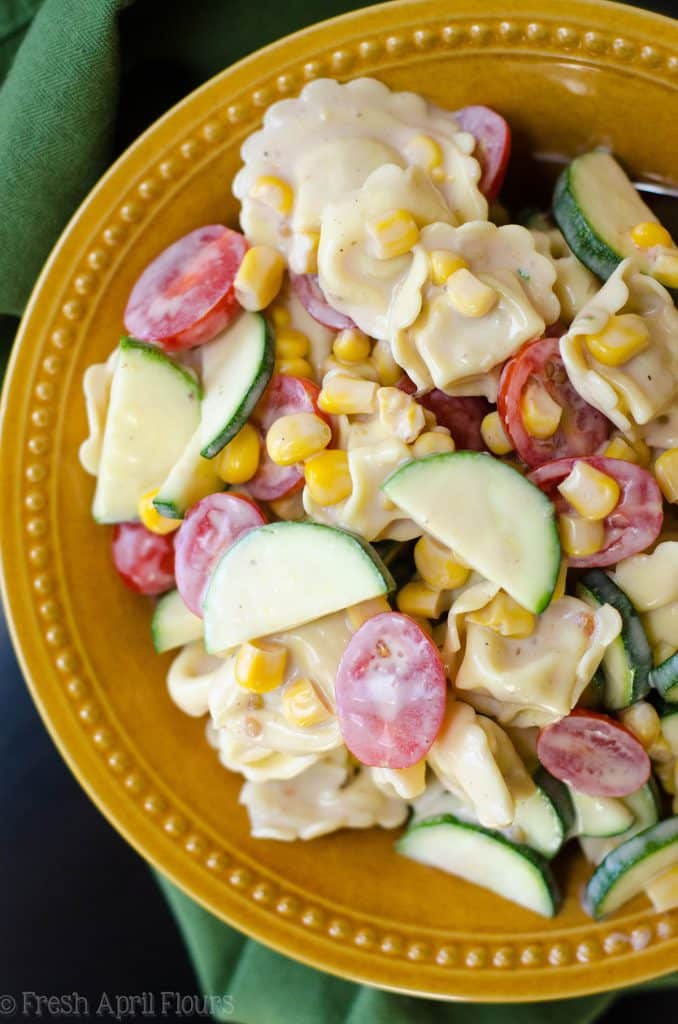 As for the dressing, we're working with a creamy dressing, but it's light.
A CREAMY BUT STILL LIGHT DRESSING SEALS THE DEAL
You'll use a little mayo for flavor, but the rest of the creaminess comes from plain Greek yogurt. A little extra flavor comes from some balsamic vinaigrette while adding some tartness, so you're left with a creamy dressing that has a little bite to go up against all those sweet and crunchy veggies.
It's really a great combo that I wasn't sure would work at first, but I'm glad I mixed and taste tested before finding the perfect ratio of flavors. Plus, nothing too heavy that will weigh you down or make you feel all gross outside at a summer picnic.
Summer pasta salad perfection!
Tortellini Salad substitutions and additions
This is the way our family prefers to prepare this pasta salad, but if any of the vegetables don't align with your preferences, you can certainly make substitutions. Consider bell pepper, another color of squash, different tomatoes, or any of your other favorite summer vegetables. You can also use tortelloni, but know that the bites will be much bigger.
Tortellini Salad Recipe tips
CUT THE RECIPE IN HALF FOR A SMALLER CROWD
A word of advice: this recipes makes a lot of pasta salad. If you're looking to make something for a smaller crowd, I urge you to cut the recipe in half.
How to serve Cheese Tortellini Salad
This cheese tortellini salad is best served chilled as a side dish or a meal on its own. Feel free to add grated Parmesan cheese or cubed or shredded cheese if you want another element to it.
How to store this Tortellini Pasta Salad Recipe
Leftovers only stay fresh for about 4 days, so keep that in mind when you're considering how much might get eaten and how much you'd be left with.
Of course, this summer pasta salad was a hit in our house, so chances are you won't be left with too much, but be aware… This recipe is not for the faint of pasta heart!
Tortellini Salad Recipe FAQs
Should I rinse tortellini after cooking? You do not need to rinse your tortellini after cooking, but if you want to prepare your pasta ahead of time, I usually rinse it in cold water and toss it in some olive oil so it doesn't stick together.
What is the cooking time for tortellini? Tortellini does not take long to cook at all. Be sure to check the package for your specific brand and size of tortellini, but it should take anywhere from about 3-6 minutes.
How do you keep tortellini from getting soggy? Be sure not to overcook tortellini, as it does not have a very long cook time.
If you're looking for something different to serve at your next BBQ or picnic, this is it. It's the best way to showcase some summer veggies without having to turn on an oven or stove, and you kill 2 birds with 1 stone because what summer gathering is complete without some pasta salad??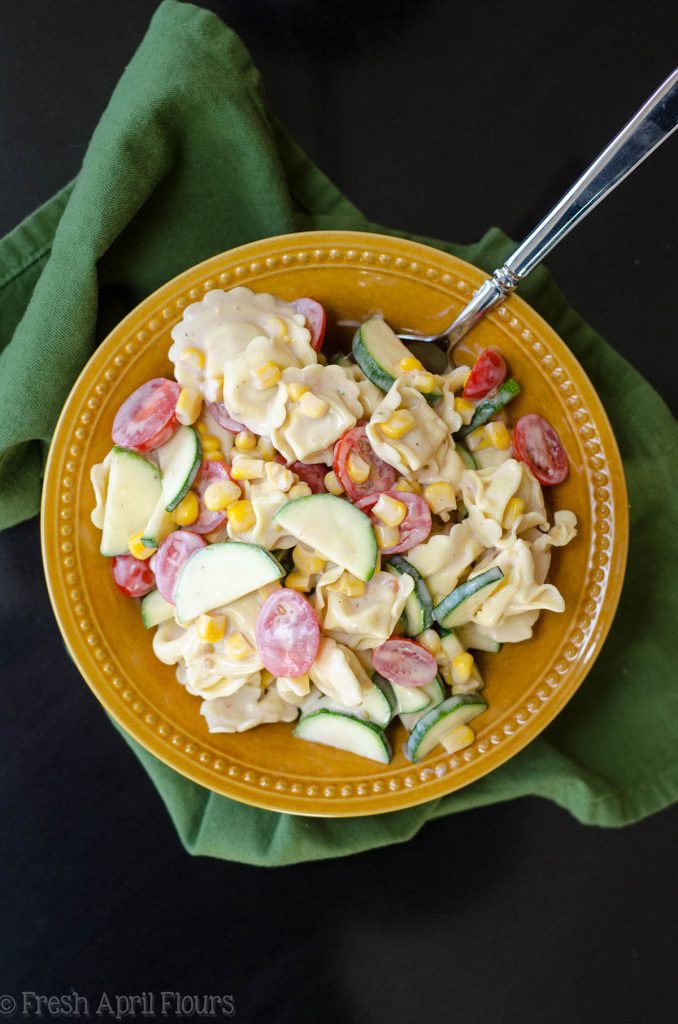 Oh, and don't limit this pasta salad to summer! If you're willing to pay a little extra for some tomatoes and zucchini in the off season, there's no reason you can't serve this at any kind of gathering.
Cold Tortellini Salad
A lightly creamy tortellini pasta salad filled with summer's best vegetables.
Ingredients
8 to 10

ounces

cooked cheese tortellini

8

ounce s

cherry or grape tomatoes

quartered (about 1 and ½ cups)

1

small zucchini

halved and sliced

1

cup

corn

drained

2

Tablespoons

mayonnaise

¼

cup

Greek yogurt

3

Tablespoons

balsamic vinaigrette dressing

½

teaspoon

salt
Instructions
Cook the pasta in salted water according to the directions on the package. Drain and set aside to cool.

In a large bowl, combine the tomatoes, zucchini, and corn. When the pasta is cool, add it to the bowl and toss together until everything is combined. Set aside.

In a small bowl, whisk together the mayonnaise, yogurt, and balsamic vinaigrette. Pour the dressing over the pasta and vegetables and stir gently until everything is coated. Taste and add salt as needed. Chill in the refrigerator at least 4 hours before serving. Store leftovers in the refrigerator covered tightly up to 4 days.
Nutrition Disclosure
All nutritional values are approximate and provided to the reader as a courtesy. Changing ingredients and/or quantities will alter the estimated nutritional calculations.