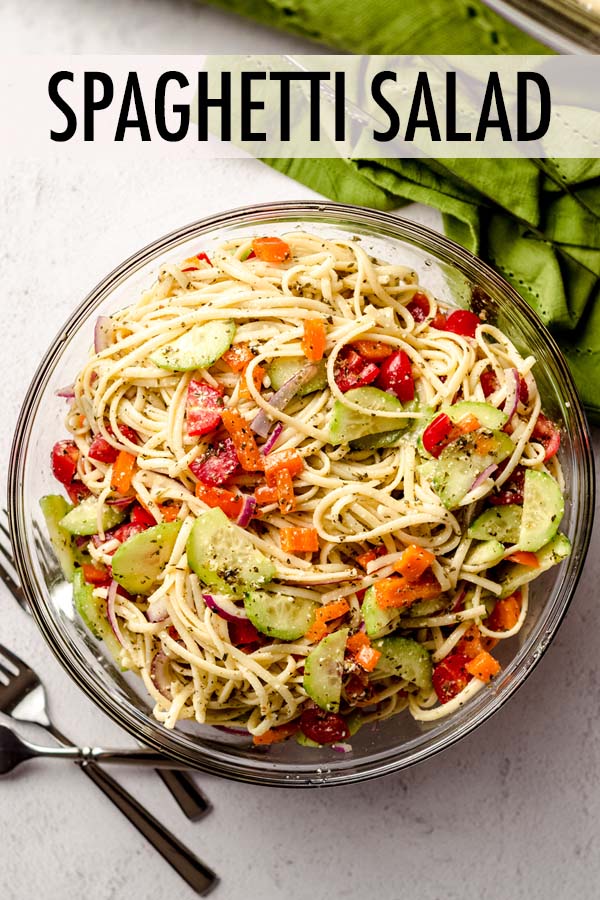 As an Amazon Associate, I earn from qualifying purchases. Read the full disclosure here.
Filled with fresh, crunchy vegetables and dressed in perfectly seasoned Italian dressing, this spaghetti salad recipe is a great replacement for a non-traditional pasta salad recipe.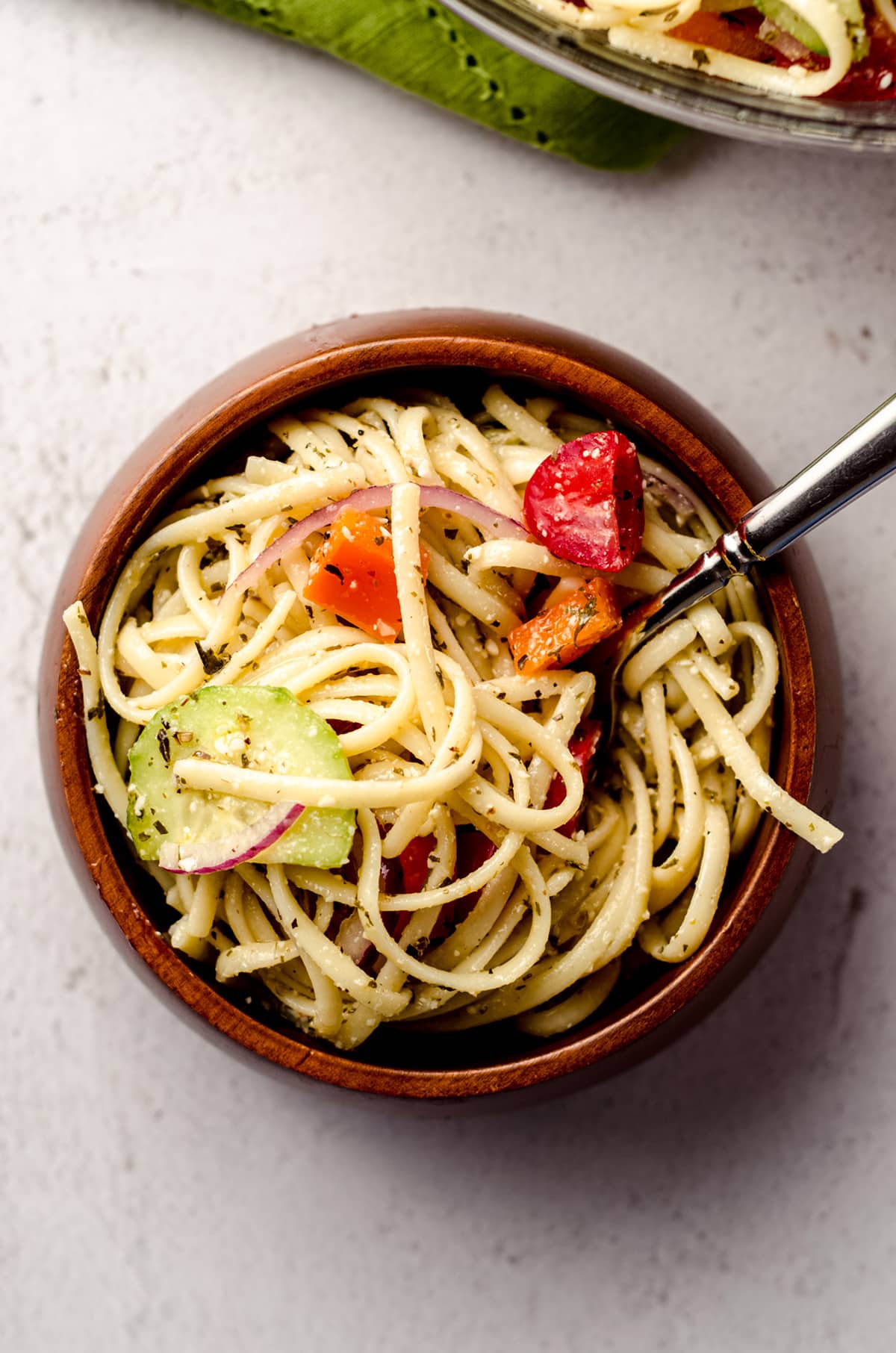 With the arrival of warmer weather comes a natural shift in dinner prep, baking, and all things kitchen related. Even those with air conditioning tend to bake a little less often, and look for some cool and fresh meal ideas for their nightly dinner menus.
With all of the amazing produce available in the grocery store (not to mention cheap compared to the rest of the year!), it's essential to make the best use of it and try out some veggie-packed recipes while we still can.
This cold spaghetti salad recipe is filled with seasonal veggies like bright, colorful cherry tomatoes, refreshing cucumber, crisp bell pepper, and flavorful red onion. It's tossed in an Italian vinaigrette dressing and, well, served cold.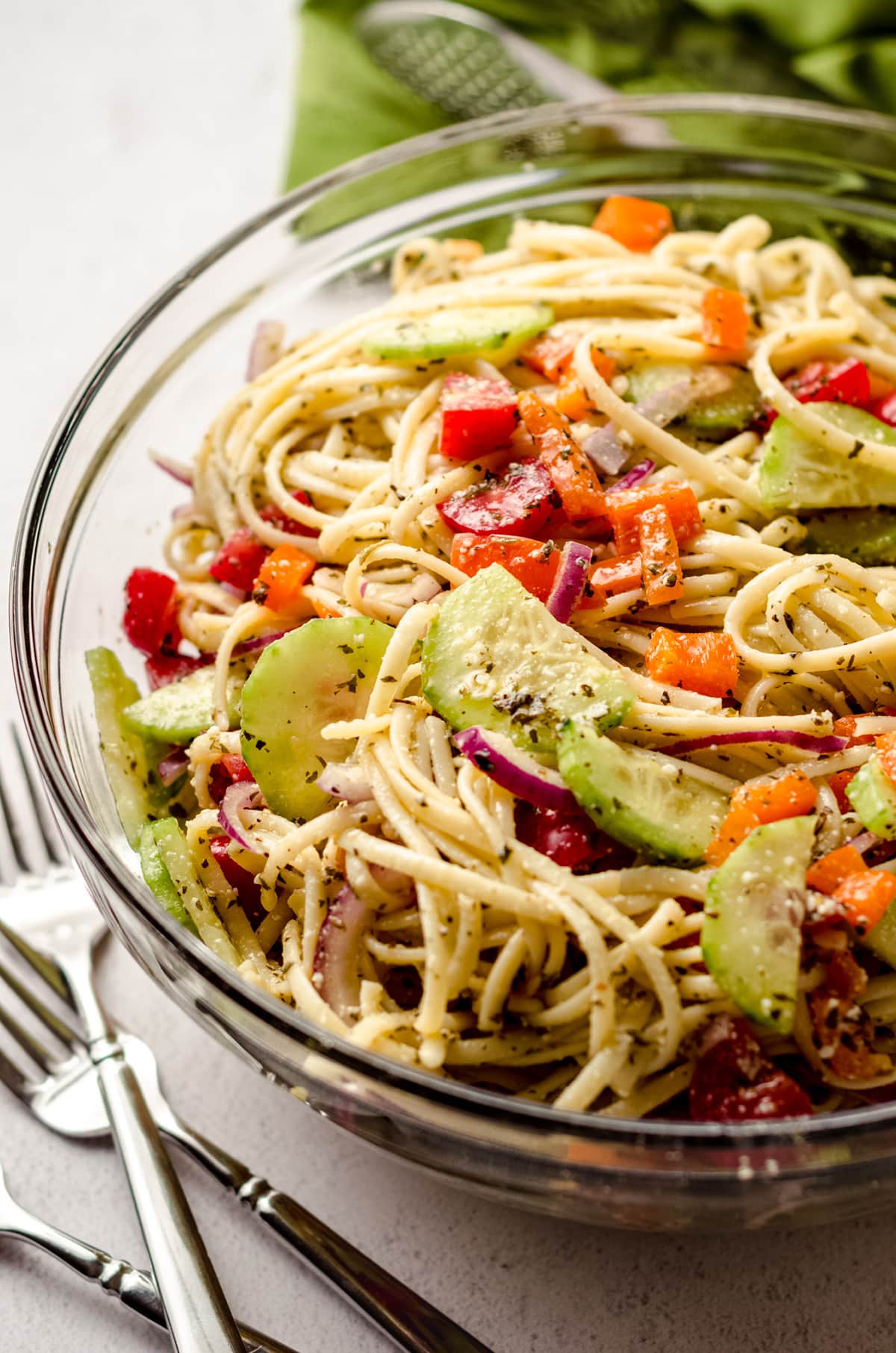 If you're looking for more fun and delicious ways to incorporate veggies into your meals, I have SO many savory recipes that will help you do just that. A few of my favorites include Instant Pot chicken and vegetable stir fry, taco zucchini boats, zucchini ravioli, and buffalo cauliflower tacos.
NON-TRADITIONAL PASTA SALAD
This spaghetti salad recipe is NOT your Mama's pasta salad. And believe me, I don't mean to shoot down your mama's recipe, because I have had some amazing cold pasta salads in my day. I just mean it to say that this is a non-traditional pasta salad.
Most pasta salad recipes use smaller shapes, normally a creamy mayo based dressing, and maybe some finely chopped onions or celery. This spaghetti salad recipe is loaded with fresh vegetables, coated with a vinaigrette-based dressing, and uses spaghetti noodles in place of bowties or elbow macaroni.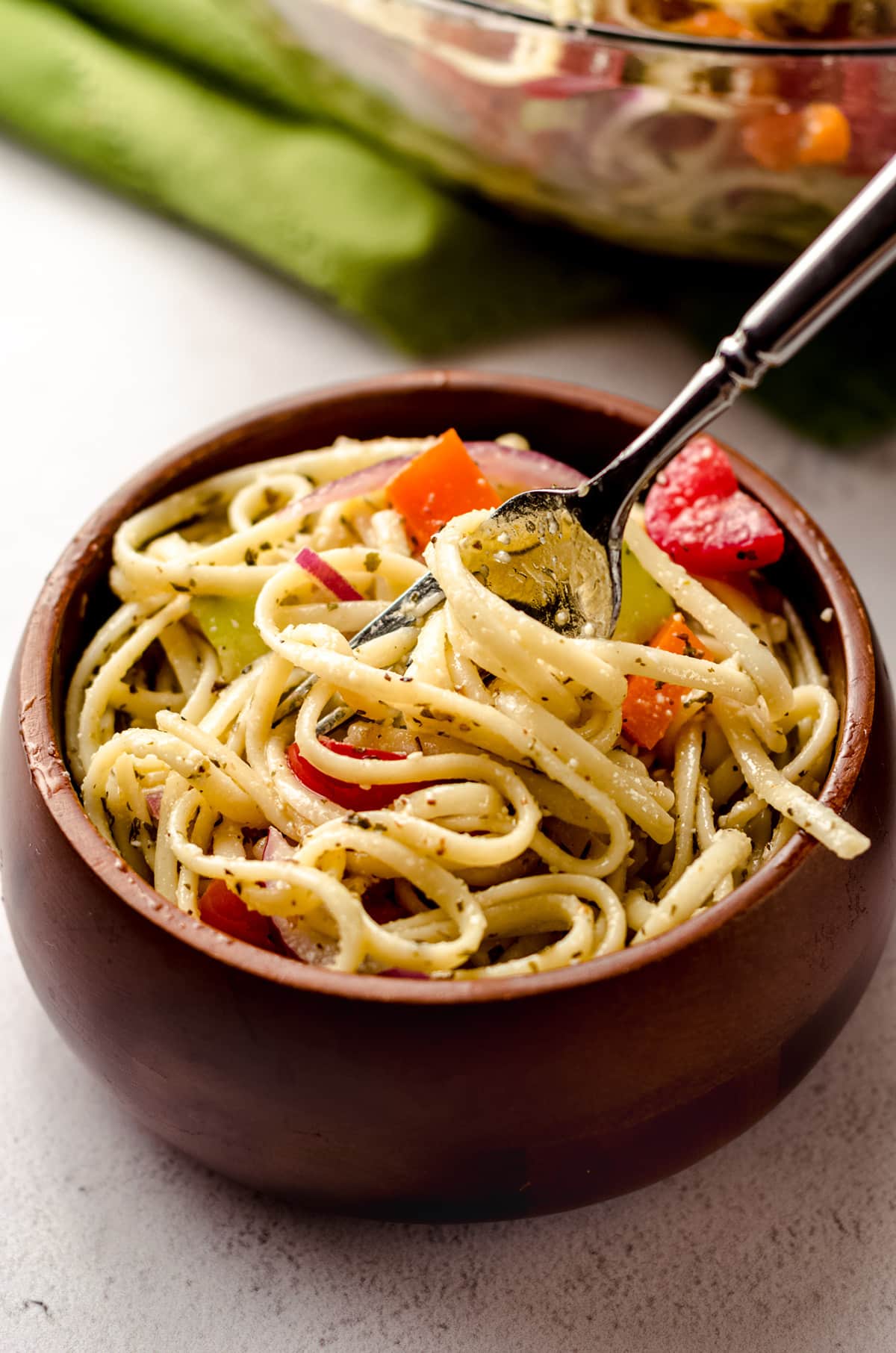 It's fresh, flavorful, and fun to eat!
Slurping up those long, thin, and tender spaghetti noodles brings out a special kind of joy that one can only acquire from… Well… Slurping spaghetti noodles! All of the fun of a bowl of spaghetti, but in a fresh and light summer salad. What more can you ask for?
If you're preparing this cold spaghetti salad for a BBQ or summer picnic, you might want to try a few more of my cold salad recipes. Why not try my summer pasta salad? Or maybe something lighter like zesty cucumber salad or lightened-up chicken salad?
And if you like it spicy, you'll fall in love with buffalo blue salad. Extra blue cheese for me, please!
INGREDIENTS
There are three different components to this Italian spaghetti salad recipe: the vegetables, the dressing, and the pasta. They all come together to make an amazing and easy side dish that is perfect for potlucks, meal prep, or serving to guests.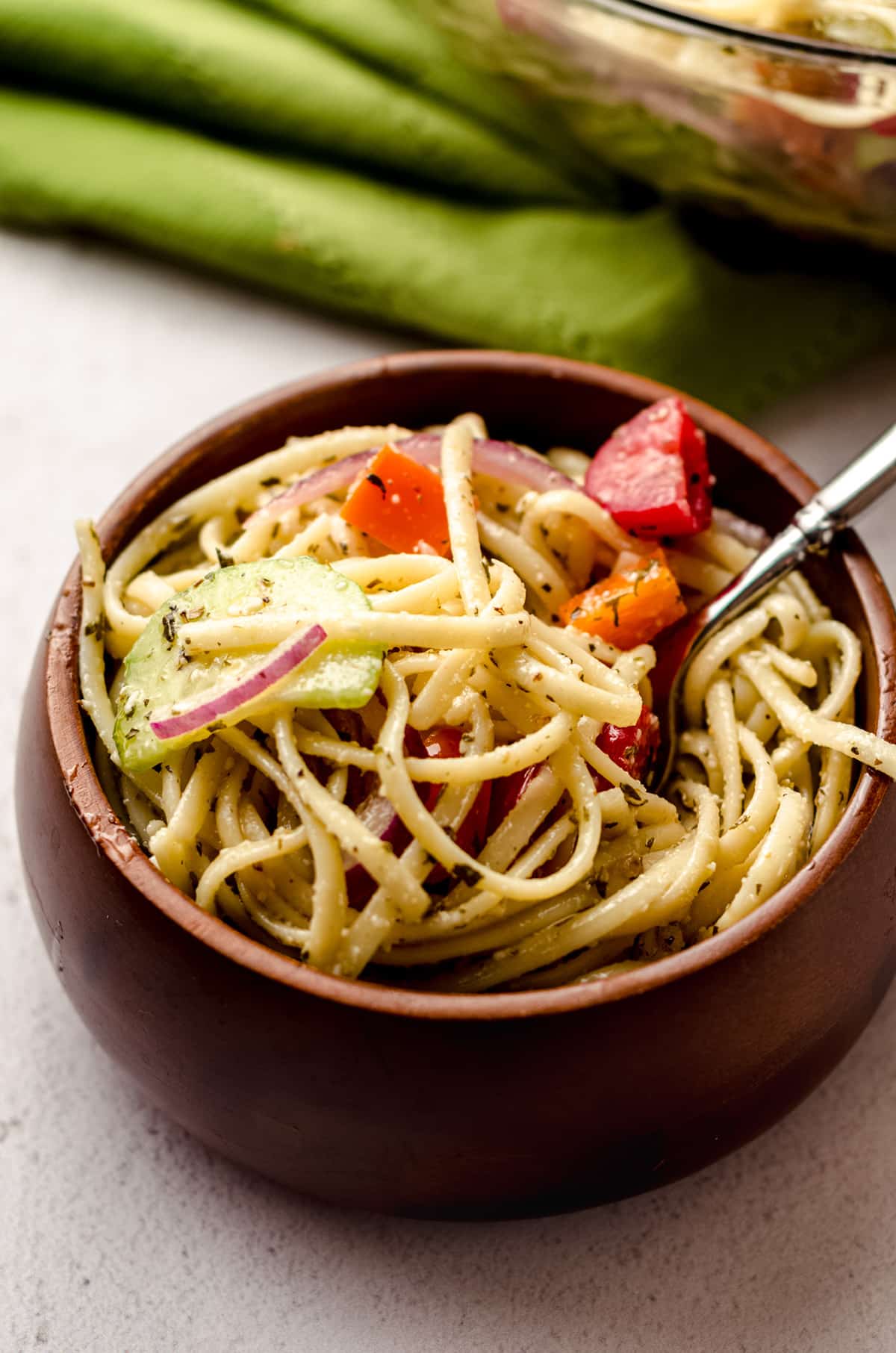 For the vegetables, we use some pretty simple veggies that tend to make frequent appearances in Italian inspired dishes. This includes cherry tomatoes, bell pepper, cucumber, and red onion.
Then, for the dressing we add some prepared Italian dressing (homemade, but store bought is fine too!), and a touch of Parmesan cheese. Because what isn't improved by some good ol' Parmesan?
The bulk of this easy recipe is made up of delicious, tender, and chilled spaghetti noodles. This is a non-traditional pasta salad option, as most pasta salads make use of smaller shapes. Spaghetti is fun, simple, and easy to find.
HOW TO MAKE SPAGHETTI SALAD
This pasta salad recipe is SO simple to make, and it can even be made in advance. In fact, it's at its best when it has had a chance to chill for a day, so this is pretty much the ultimate summer side dish.
From start to finish, you're looking at about 20 minutes, including veggie prep, so that's a pretty quick and easy recipe if there ever was one!
PREPARE THE VEGETABLES
To make this spaghetti salad as easy to assemble as possible, I like to get started by preparing all of my veggies before cooking the pasta or making the dressing.
Chopping veggies can be kind of tedious, but I like to put on a good podcast or some music and just relax while I do this otherwise monotonous task.
In all honesty though, this pasta salad recipe doesn't require as much chopping as other recipes. Since we're focusing on just a few options– cherry tomatoes, bell pepper, cucumber, and red onion– it probably won't take any more than 10 minutes.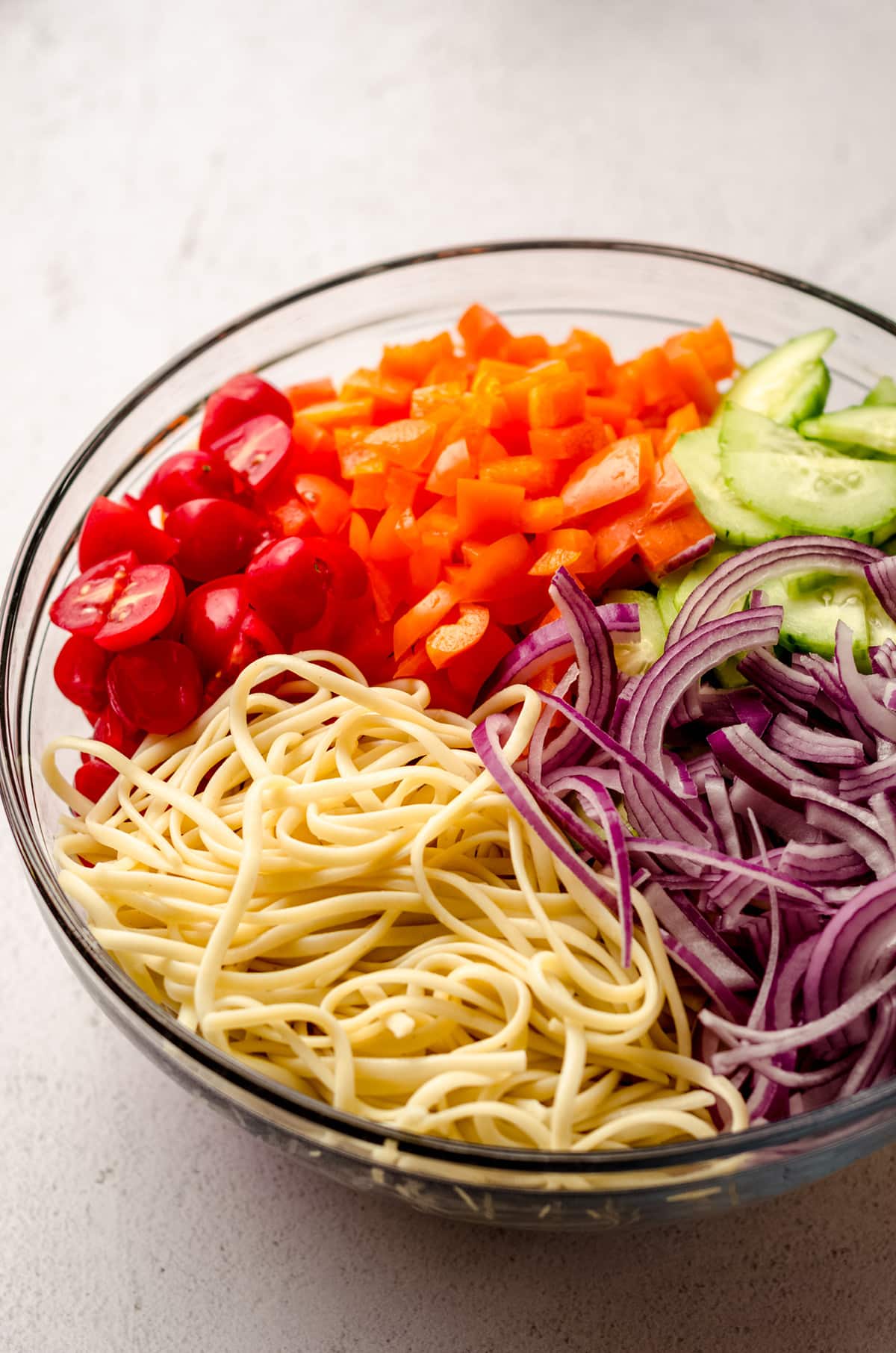 Start off by quartering about a pint of cherry tomatoes, and set those aside. Then, chop a bell pepper (color of your choice), and slice (or chop) a single small red onion. Finally, halve a whole cucumber, and then cut the halves into slices.
Now, go ahead and set all the chopped vegetables aside, and get started on the other elements: the homemade Italian dressing and the cooked and cooled spaghetti noodles.
PREPARE THE HOMEMADE ITALIAN DRESSING (OR USE STORE BOUGHT)
One of the things that I love the most about this easy cold spaghetti salad is that there is no special mixture of oils, vinegars, and seasoning to combine. It uses just plain ol' Italian dressing, which makes it the easiest recipe on earth!
I like to use my homemade Italian dressing (also super easy, since it's just olive oil, white wine vinegar, some Parmesan cheese, and a bunch of dried herbs and spices you probably have on hand).
And while store bought packets and dressings are super easy, the homemade stuff can be really simple too. As a quick dressing hack I just add all of the ingredients to a mason jar, add a lid, and give it a good shake. It's just as easy as preparing one of the store bought packets, but tastes WAY better.
Whatever route you go, you're going to love adding Italian dressing to this spaghetti salad recipe. It's bright, herby, and the perfect balance for an Italian spaghetti salad.
COOK THE PASTA
We've all made spaghetti noodles before, right? Well, making this spaghetti salad with Italian dressing is as easy as chopping some veggies and cooking some spaghetti. With just a few added steps, your pasta will be prepared to be served cold without any clumping of the noodles together.
Cook your spaghetti according to the package directions, or just until al dente. Then, drain the noodles in a colander in the sink and rinse with cold water. Toss the pasta with tongs or your clean hands to help ensure all of the pasta is rinsed thoroughly.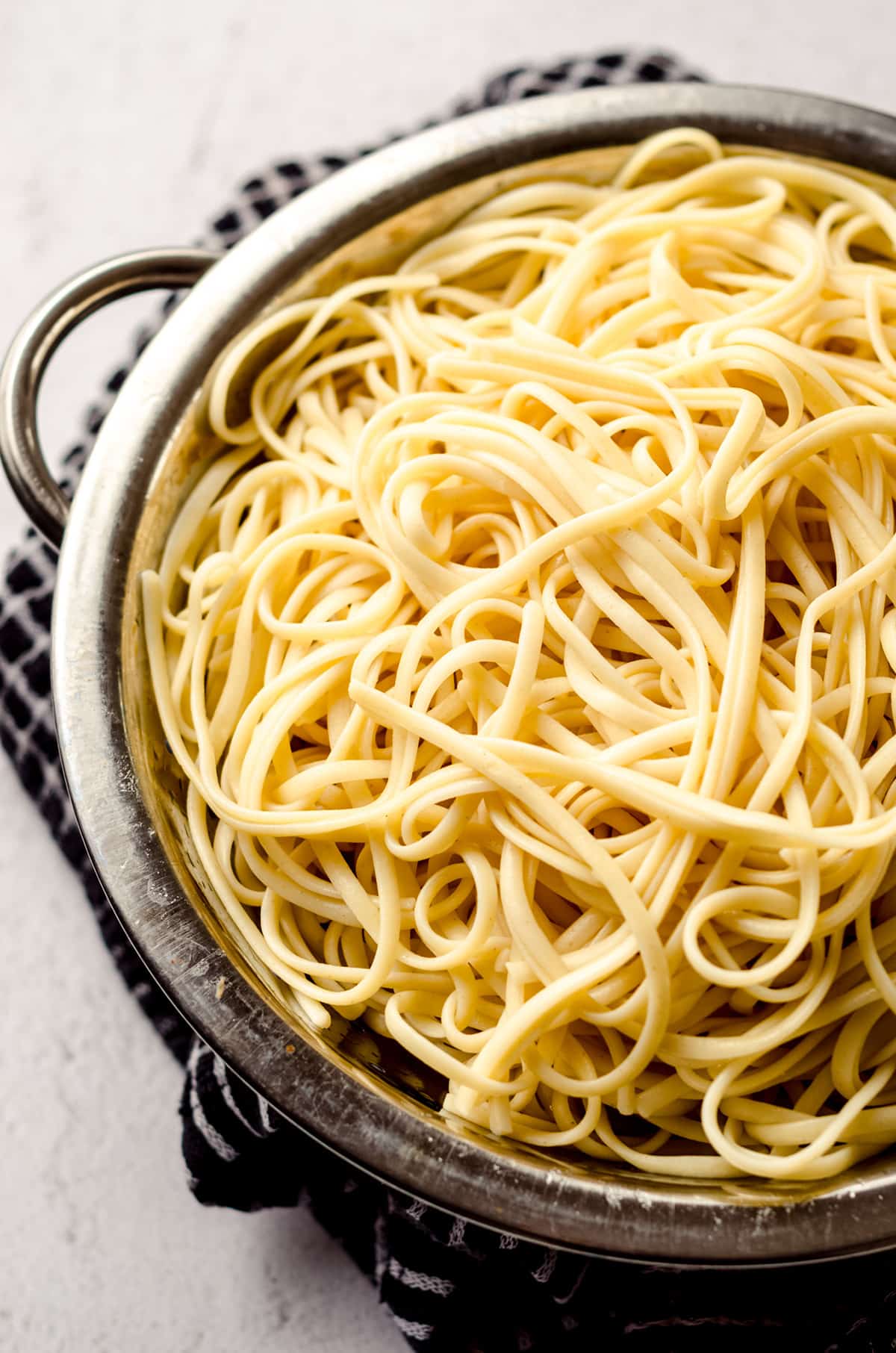 Rinsing your spaghetti with cold water is a crucial step that actually removes any excess starch. This starch is what causes your pasta to clump together as it cools.
It's super important to rinse when you're making pasta salad, as you want each of the noodles to be free to wiggle around and get coated in the delicious dressing.
Add your drained and rinsed pasta to a large mixing bowl and set aside.
MIX IT ALL TOGETHER
Once you have your veggies chopped, pasta drained, and Italian dressing made, you're ready to bring it all together.
Add the quartered cherry tomatoes, chopped bell pepper, cucumber, red onion, Parmesan cheese, and Italian dressing to the bowl of cooled spaghetti noodles. Stir everything together to mix the ingredients thoroughly, using a pair of tongs if needed.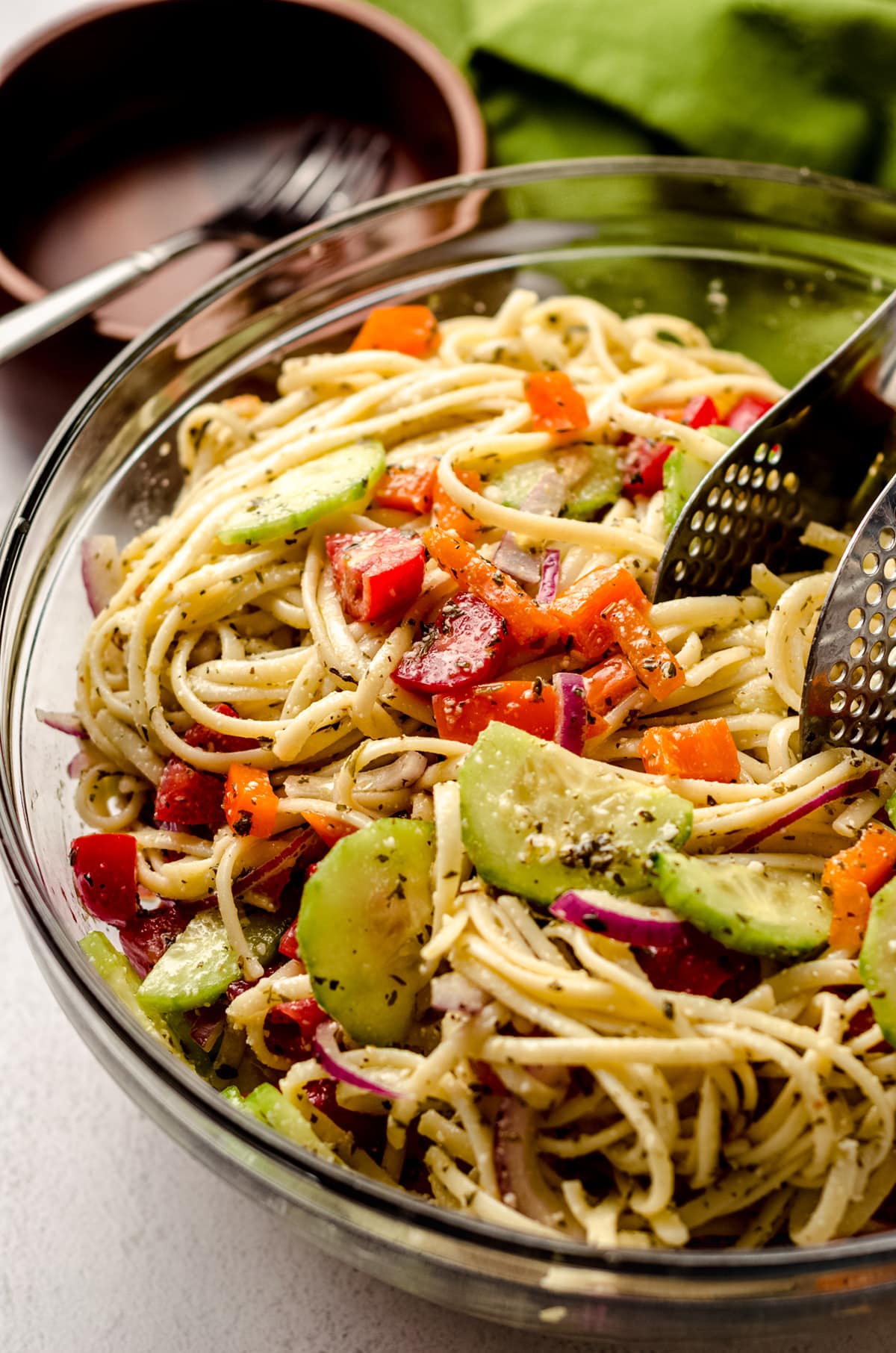 Now you're ready to serve up your pasta salad, or you can store it in the fridge for later. Your spaghetti salad is best chilled, so I do recommend chilling it for at least a few hours (but a day is best) before serving if at all possible.
CAN I MAKE THIS AHEAD OF TIME?
One of my favorite things about pasta salads in general (and this non-traditional pasta salad in particular) is that they can be made in advance. Since they are served cold, it's easy to make them ahead of time for serving at a later date.
The one caveat is that the vegetables in this cold spaghetti salad can release quite a bit of liquid. It's not a big problem though, since it tends to settle in the bottom of the bowl. Just give it a good stir before serving and you should be totally fine. You can keep it in the fridge in a tightly covered bowl or container for up to 4 days.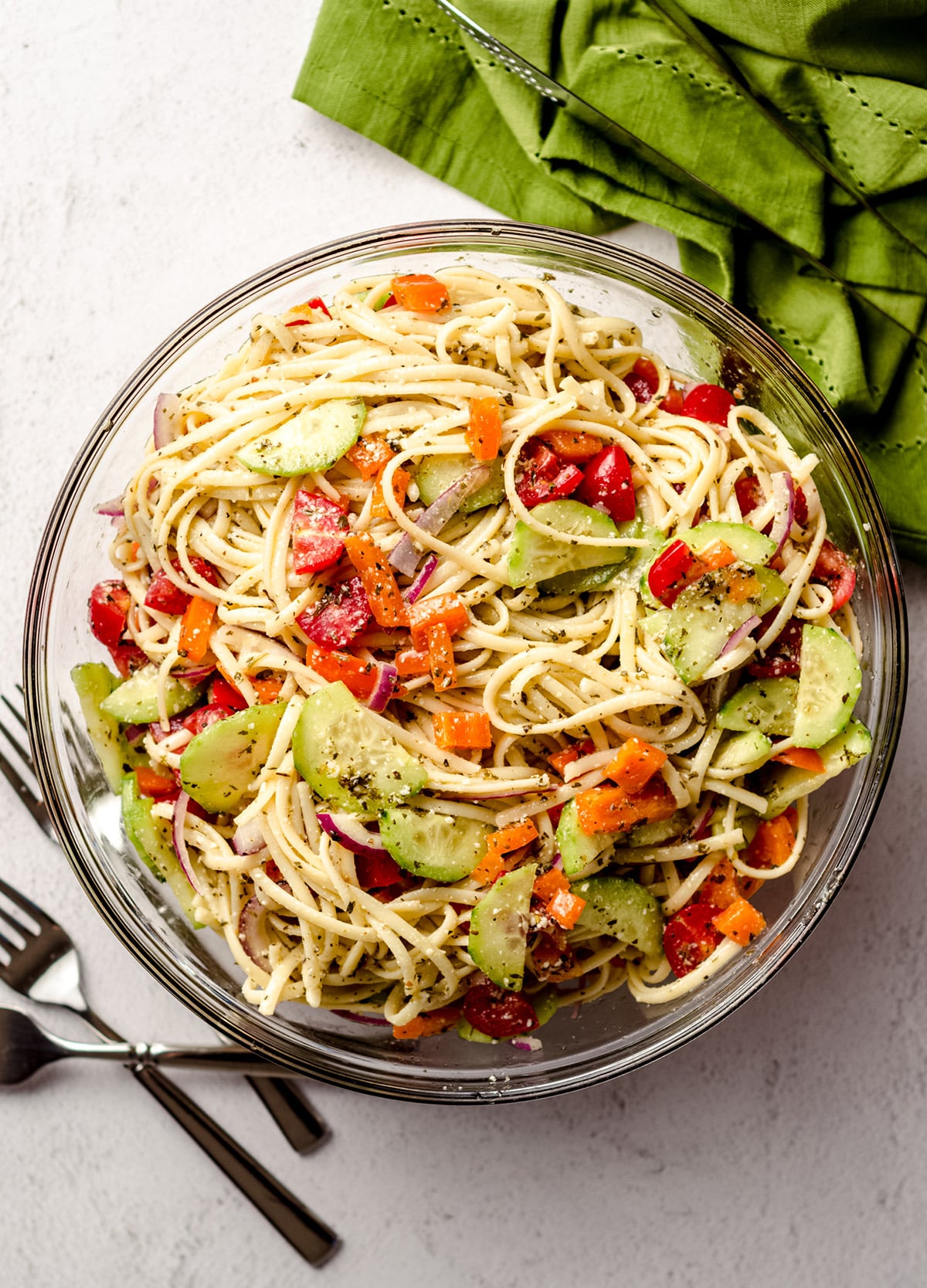 Another option is to prepare the pasta by cooking, draining and rinsing ahead of time, as well as the dressing. Then, the night before you plan to serve the pasta salad add in the chopped veggies and toss everything together super well. This gives you that freshly made taste, without all the prep on the day of serving.
CAN I CHANGE UP THE VEGETABLES?
Of course you can change up the vegetables! When it comes to pasta salad, you can totally get creative and do whatever makes your heart beat a little faster.
I like to stick to veggies that are typically associated with a big pot of spaghetti sauce, but feel free to add whatever flavors you like best. If you're up for it, I think some olives would be SO good tossed into the mix, too.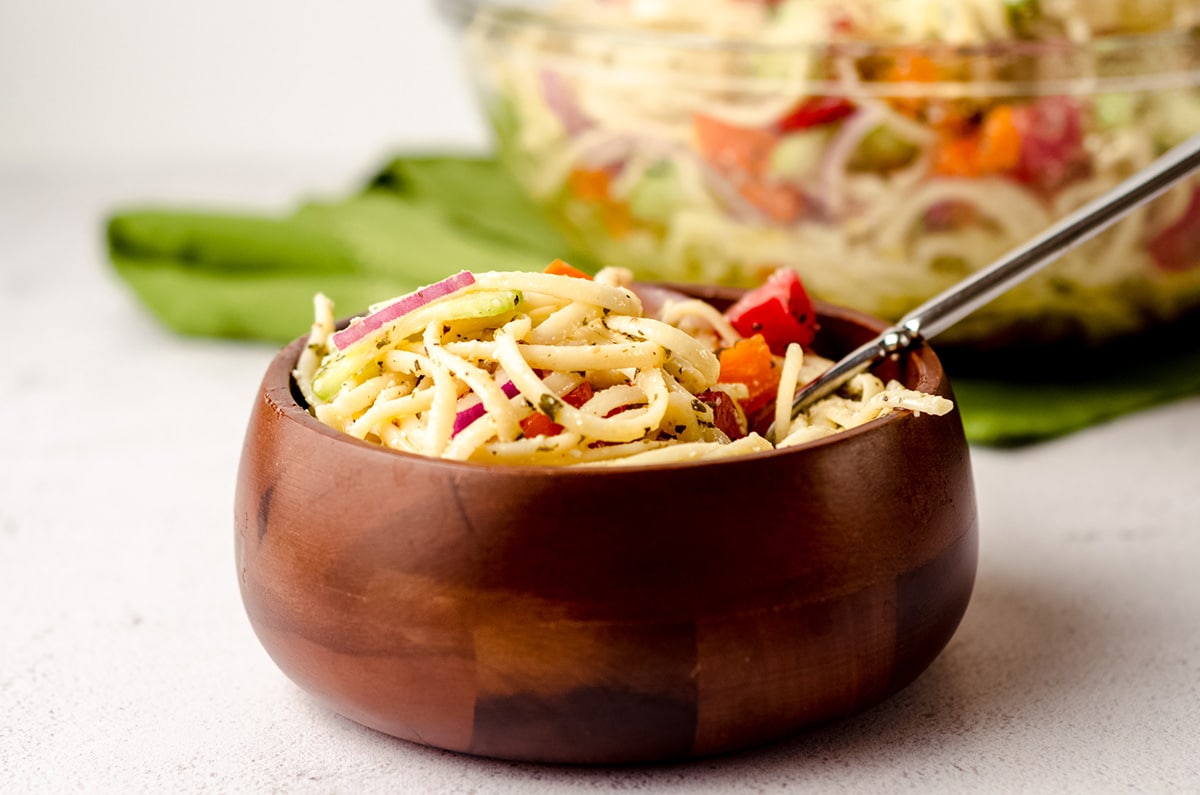 CAN I ADD MEAT OR CHEESE?
If you're going to add meat to your recipe for spaghetti salad, I highly recommend mini pepperoni. You could also do chopped traditional Italian meats like prosciutto, mortadella, and salami.
Whatever you choose, you want to make sure it is bite size. Big hunks of meat in a cold pasta salad are just a no go (and spaghetti noodles don't hang onto chunks the same way traditional noodles for pasta salad do).
If you want to, you could also add some alternative cheese options into the mix. Just omit the Parmesan cheese and add a cubed or shredded cheese of your choice. Bocconcini, feta, cheddar, and mozzarella are all tasty options.
Now that you've tried this amazing and simple spaghetti salad with crunchy veggies, you're probably looking for some warm weather mains to go with it, right? I've got you covered.
Some of my favorite savory main courses include: baked turkey and cheese sliders, Nashville style shredded hot chicken, crustless caprese quiche, and the forever favorite sheet pan pizza.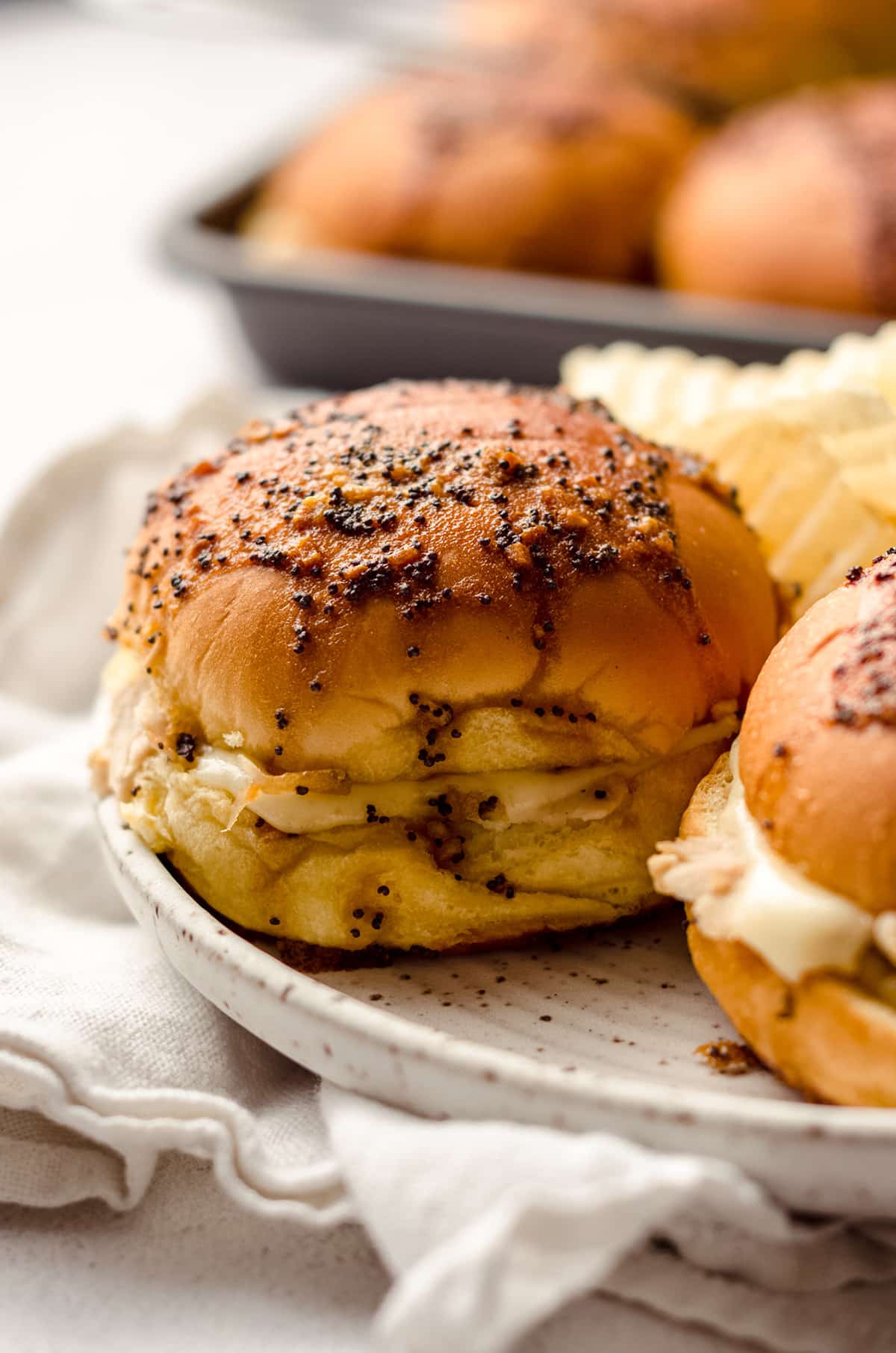 Spaghetti Salad
Filled with fresh, crunchy vegetables and dressed in perfectly seasoned Italian dressing, this spaghetti salad recipe is a great replacement for a non-traditional pasta salad recipe.
Ingredients
16

ounces

(454g) spaghetti

1

cup

quartered cherry tomatoes

about 16 tomatoes; a little over half of a pint

1

bell pepper

chopped

1

cucumber

sliced and halved

1

small

red onion

thinly sliced or chopped (your preference)

⅓

cup

(90g) grated Parmesan cheese

2

cups (16 ounces)

homemade Italian salad dressing

store bought is fine
Instructions
Cook the spaghetti according to the directions on the package. Drain noodles and rinse with cold water. Place pasta in an extra large mixing bowl and set aside.

Add the quartered cherry tomatoes, chopped bell pepper, sliced and quartered cucumber, prepared red onion, Parmesan cheese, and Italian dressing to the bowl. Stir to mix ingredients well.

Spaghetti salad is best served chilled, but can also be served immediately. Flavors intensify after a day. Store leftovers covered in the refrigerator up to 4 days. Liquid may settle to the bottom as spaghetti salad sits, so stir well before serving from the refrigerator.
Notes
Substitutions: feel free to change up any ingredients you don't like.
Make it dairy free/vegan: if you want to keep this dairy free/vegan, you can use nutritional yeast in place of the Parmesan cheese or leave it out completely. Be sure to use a dairy free/vegan Italian dressing.
Add meat or cheese: if you want to add a meat, I highly recommend mini pepperoni. If you want to add cheese, omit the grated Parmesan, and add cubed or shredded cheese of your choice.
Nutrition Disclosure
All nutritional values are approximate and provided to the reader as a courtesy. Changing ingredients and/or quantities will alter the estimated nutritional calculations.
Serving:
1
serving
|
Calories:
193
kcal
|
Carbohydrates:
37
g
|
Protein:
5
g
|
Fat:
1
g
|
Saturated Fat:
0.4
g
|
Polyunsaturated Fat:
0.2
g
|
Monounsaturated Fat:
0.2
g
|
Cholesterol:
2
mg
|
Sodium:
3138
mg
|
Potassium:
139
mg
|
Fiber:
1
g
|
Sugar:
2
g
|
Vitamin A:
310
IU
|
Vitamin C:
13
mg
|
Calcium:
30
mg
|
Iron:
1
mg