Instant Pot Chicken and Vegetable Stir Fry

As an Amazon Associate, I earn from qualifying purchases. Read the full disclosure here.
A quick and easy version of "stir fry," no pan or stovetop required! Sticky and dense noodles, tender chicken, and crunchy vegetables, ready in about 20 minutes!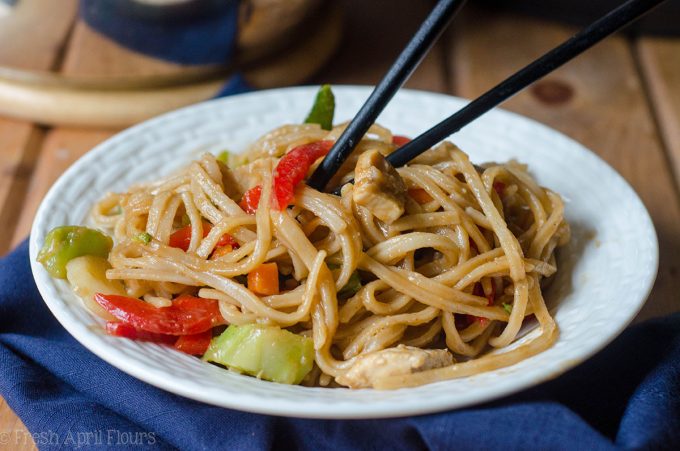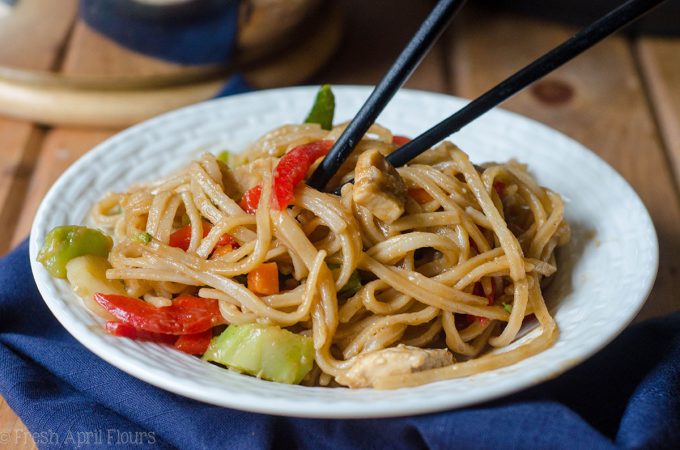 Holy moly, this month has been a whirlwind at our house! I haven't shared a NEW recipe with you in 3 weeks because moving completely kicked our butts.
Anyone else hate moving but then forget why you hate moving?
It's the unpacking. The unpacking is the absolute worst because now you have one million things to put in one million new places and you wind up rearranging things several times before you find their Goldilocks spot and even then, it needs a bit more time…
Right?
Not to mention, we went from 1100sqft to about 1500sqft + a basement so now we have all the space in the world, an extra bedroom, hardwood floors (who knew picking out an area rug was so hard??), and more windows than we know what to do with, so we've been hanging curtains, assembling furniture, and rearranging rooms left and right, and we don't even actually have anything hung on the walls yet.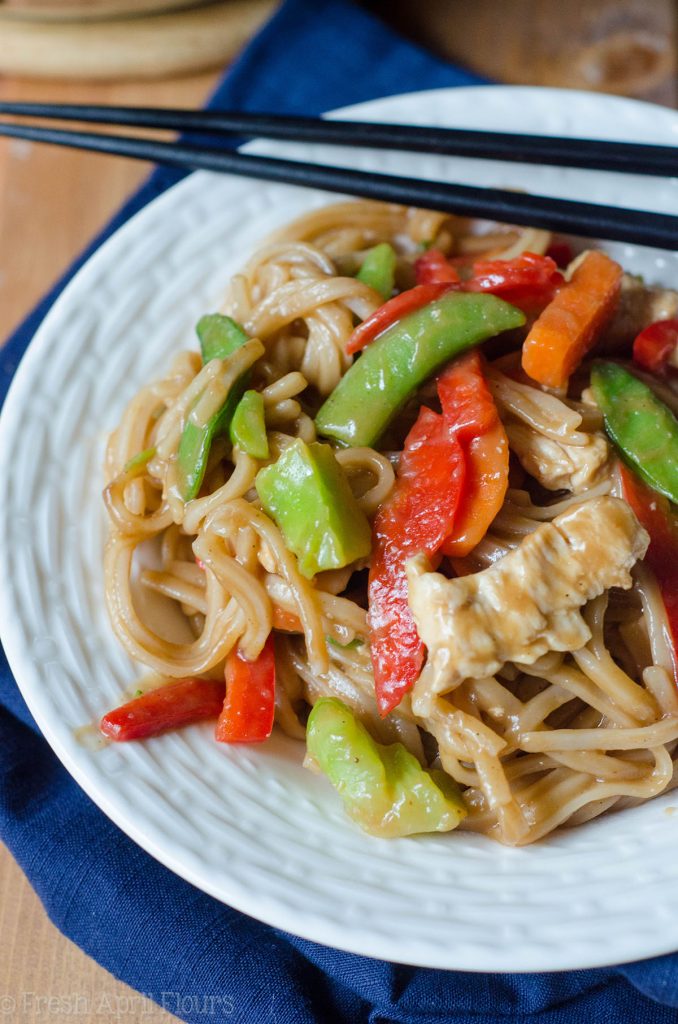 Add in nesting + a toddler to entertain through all of this and you're looking at WE ARE SLEEPY and still trying to find everything we "know was in that box with that _____." Thank goodness I know exactly where my InstantPot is, because MAMA'S GOTTA EAT.
My Instant Pot saved us in the few weeks before we moved. It allowed us to prep some things (yes, we had plenty of steel cut oats and HB eggs for breakfasts and snacks) and also keep most of our cookware packed up. I
made a couple random meals I found around the web (this GEM from my bloggy friend Monica– I turned it into an Instant Pot recipe pretty easily) and thus my Instant Pot single-handedly allowed us to keep eating while living a shambly life for a bit.
This was one of those recipes that I just sort of winged. Wung?
((What the heck is the past tense of that? Someone get me the real answer.))
I took some notes on things I have read in my Instant Pot FB group (yep, that's a real thing) and used some experimentation to get to this end product, and it was SO GOOD that I had to make it again and photograph it for the blog.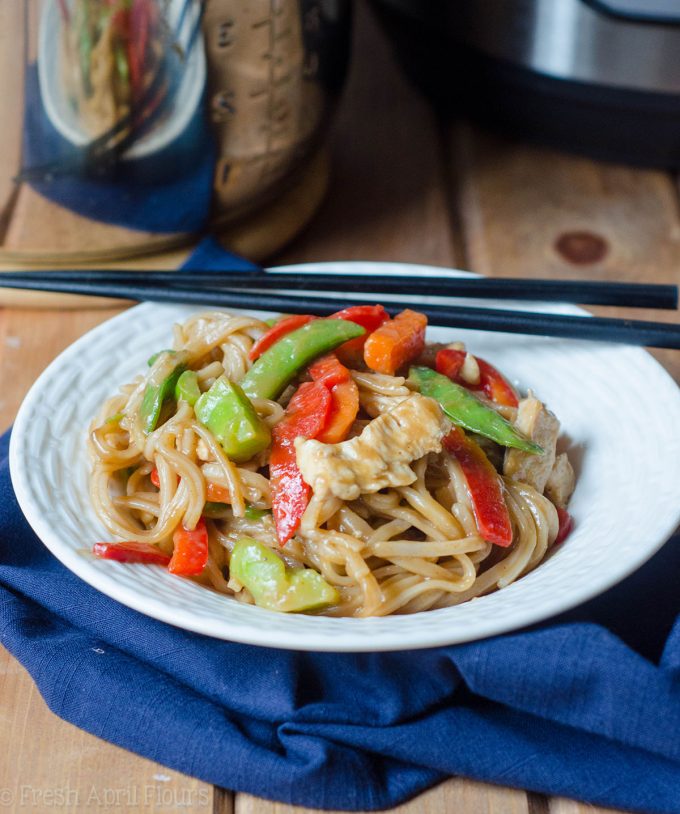 Listen up: if you own an Instant Pot and you're into stir fry, this is a must have recipe.
STIR FRY WITHOUT THE FRYING
So while this is obviously not a traditional stir fry as you're not using a wok or large pan to "fry" anything, it's got all the things that you'd find in said stir fry.
We've got a scratch stir fry sauce made from water, soy sauce, olive oil, white vinegar, and a touch of brown sugar.
Spices include fresh garlic and a little chili powder. For the meat, chicken, obviously, and the veggies? Whatever you're feeling.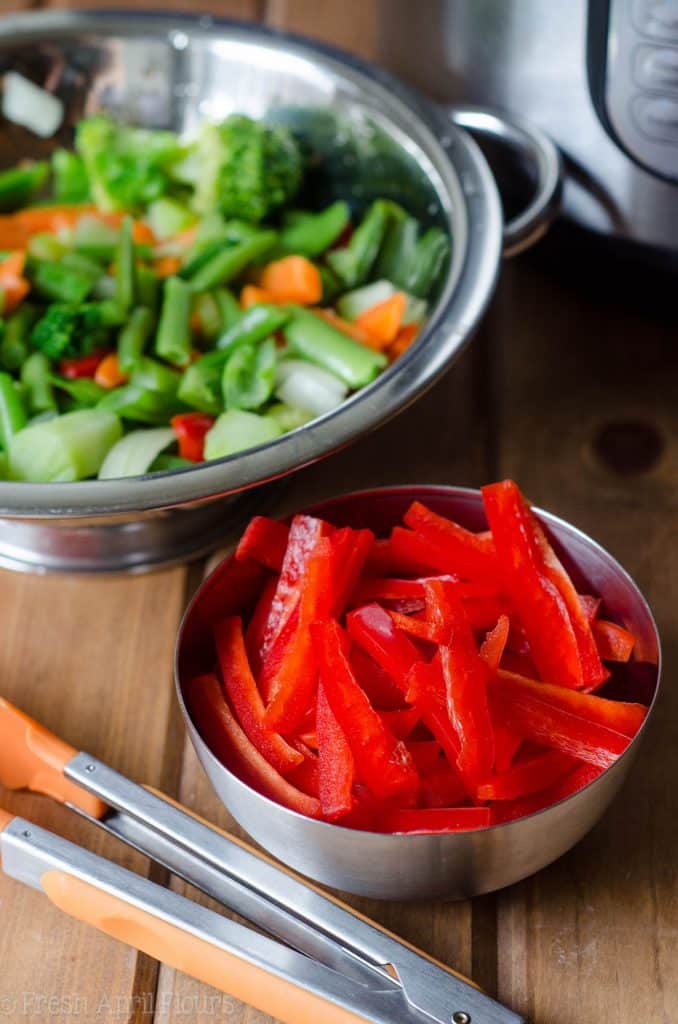 "STIR FRY MIX" MAKES THIS MEGA EASY…
I love the "stir fry mix" that our grocery store carries that includes broccoli, carrots, onions, water chestnuts, sugar snap peas, and red pepper.
However, I feel there aren't nearly enough bell peppers in the mix, so I actually added my own pepper in addition to the mix. Sliced thinly, because we aren't actually cooking these veggies.
…BUT VEGGIES GO IN AT THE END
I learned the (very very) hard way the first time I made this that the veggies got super mushy in the Instant Pot. Adding them in at the end while the meat and noodles are still hot was key in par cooking everything and maintaining the crunch factor. Texture perfection!
The rest of the ingredients?
Thinly sliced chicken and uncooked rice noodles. And yes– this really does cook chicken pieces in 3 minutes. I know because I've done this a handful of times over the last few weeks.
Just trust the process and put the thought out of your head that your chicken will go from raw to cooked in 3 minutes. I would not steer you wrong on chicken here, folks!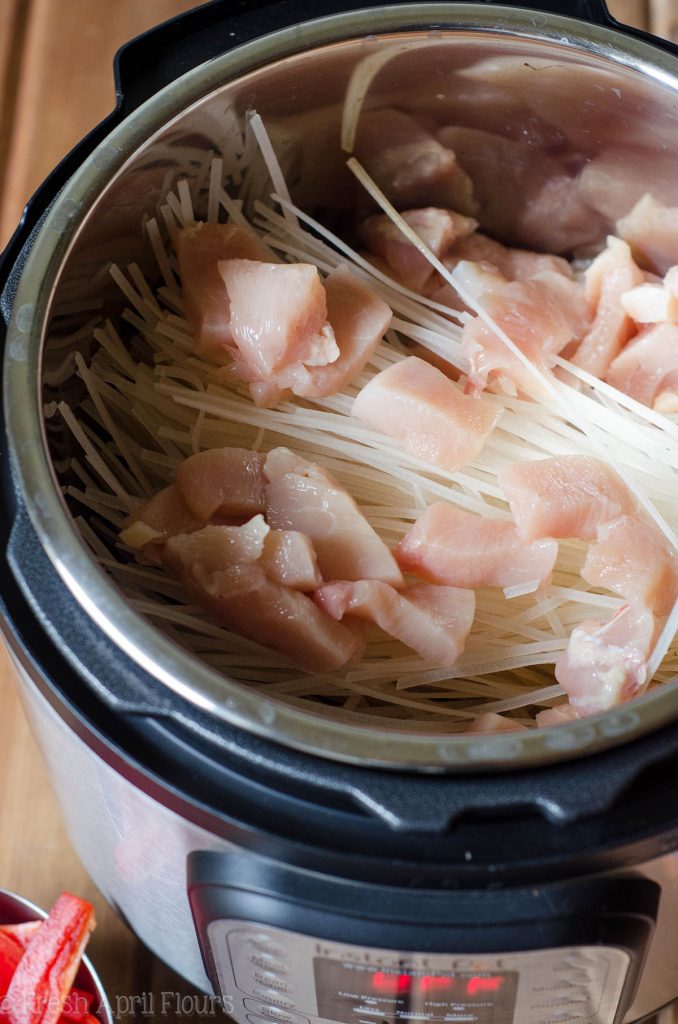 INSTANT POT NOODLE SCIENCE
Now I do have to admit one thing… And here's where some science is going to kick in. Because we're doing noodles in the Instant Pot, we aren't giving the starches a chance to "wash" off. The starch is going to stick right on these noodles like white on rice.
They. Are. Sticky. But also…
They. Are. Wonderful.
If you're looking for soft and silky noodles, the Instant Pot is not where you get them. It's just not going to happen.
You will add a bit of water after the cooking process to help thin out that starch, but it's not really going anywhere. But this is not a bad thing at all.
Think sticky rice– all the taste and texture with a little something extra. Plus, it took you 3 minutes to cook everything and you didn't have to stand over the stove to get dinner done.
Worth it? I think so.
Oh. AND. Not only was this toddler approved, it lasted us so many meals. I'm pretty sure Matt and I both were able to have it for lunch 3 or 4 times the week we also had it for Sunday dinner. This is a meal to feed a family, for sure!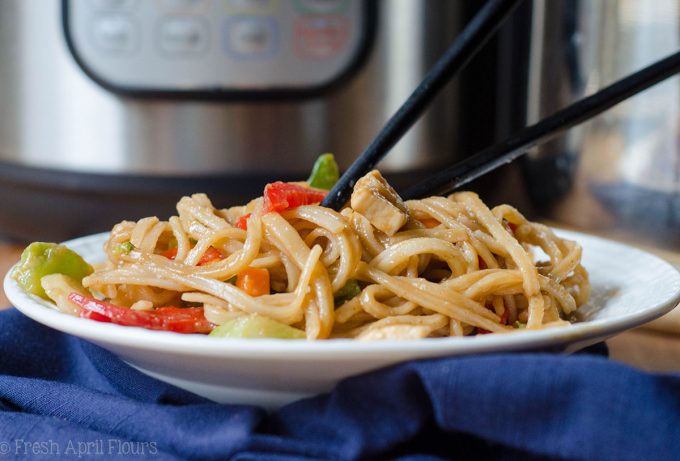 Seriously, I'm so excited for you to try this. Make it ASAP and report back, please?
Instant Pot Chicken and Vegetable Stir Fry
A quick and easy version of "stir fry," no pan or stovetop required! Sticky and dense noodles, tender chicken, and crunchy vegetables, ready in about 20 minutes!
Ingredients
2

cups

+ 3/4 cups water

divided

1/3

cup

soy sauce

1 and 1/2

Tablespoons

olive oil

2

Tablespoons

distilled white vinegar

1

Tablespoon

brown sugar

1

clove

garlic

minced

1/2

teaspoon

chili powder

8

oz

rice noodles

uncooked

1

pound

raw white meat chicken

small dice1

1

bell pepper

thinly sliced

1

bag

(1 pound) frozen stir fry vegetables

thawed2
Instructions
In a small bowl, whisk together 2 cups of the water (set aside 3/4 cup for the end), soy sauce, olive oil, vinegar, and brown sugar. Pour the mixture into the Instant Pot. Add the garlic and chili powder and give the mixture another quick whisk. Add the noodles and chicken.

Put the lid on your Instant Pot and make sure the lever is pointed to "sealing." Press "manual," and use the "+" or "-" button to set the timer to 3 minutes. It will take about 10 minutes for your Instant Pot to come to pressure.

When the timer beeps, immediately and carefully release the steam. When it stops hissing, carefully remove the lid. Using oven mits, remove the inner pot from the Instant Pot.

Add the raw bell pepper, stir fry vegetables, and additional 3/4 cup of water. Using tongs or a large spatula, stir everything together, being sure to get the noodles from the bottom of the pot into the mix. Serve immediately. Leftovers can be kept in the refrigerator, covered tightly, up to 5 days. Add a little water to each portion before reheating (about a Tablespoon).
Notes
It is imperative your chicken is cut into fairly small pieces in order to cook in the 3 minutes. See photo above for what I did.
Alternatively, you can cut your own vegetables to make 1 pound. I suggest broccoli, carrots, water chestnuts, sugar snap peas, and onion. Be advised, you will need to cook all of these vegetables before using them.
Nutrition Disclosure
All nutritional values are approximate and provided to the reader as a courtesy. Changing ingredients and/or quantities will alter the estimated nutritional calculations.