Instant Pot Steel Cut Oatmeal

As an Amazon Associate, I earn from qualifying purchases. Read the full disclosure here.
Everything you love about steel cut oats WITHOUT all the time it takes to cook them on the stove. Soft and fluffy and ready for all of your favorite add-ins!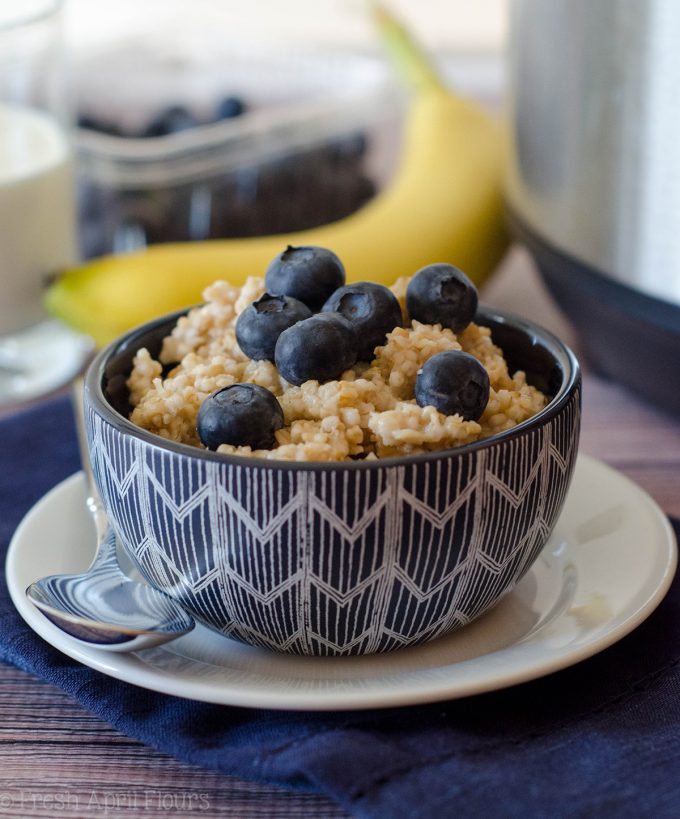 Know what I loveeee? Steel cut oats.
Know what I don't love one bit? The time it takes to cook steel cut oats on the stove.
Tell me you feel me.
Before I discovered that making my steel cut oats in the Instant Pot was a lifesaver, I probably haven't had steel cut oats since I was pregnant with our first son. Who is, if you recall, 19 months old now.
And even then, I'm not sure how late in my pregnancy I was still patient enough to wait 20 minutes for my oats to be ready, so it's likely it had been like 2+ years since I've had steel cut oats and that's just a darn shame.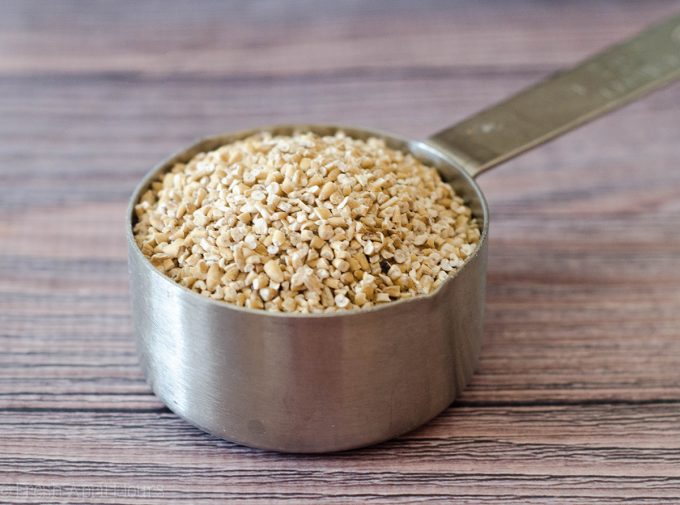 HOW ARE STEEL CUT OATS DIFFERENT FROM OTHER OATS?
Now, if you're asking yourself "what are steel cut oats?" or maybe you know what they are but you've never tried them before, let me tell you… They are the best kind of oats out there.
To put it simply, all oats start from the same place, as a groat. Groats are processed in a couple different ways– either by cutting or rolling. You'll notice "old fashioned" oats sometimes referred to as "rolled oats," and these are the same thing.
Instant or quick oats are the most processed (rolled) and they are super fine, lending to their "instant" name– they cook super fast!
We've used both old fashioned/rolled oats and instant/quick oats around these parts, but today is the first time we're confessing our love for steel cut oats because THANK GOODNESS my Instant Pot has brought them back into my life.
Ahh, the Instant Pot. Saving me once again from the struggle bus (at least in this area of my life).
While all of these oats have the same nutritional content because they are all exactly the same thing, they do not, however, share all of the same qualities.
Since steel cut oats are less processed than other oats, they boast a lower glycemic index, making them a better choice for people with diabetes, and those who suffer from occasional hanger.
Yes, that's right, steel cut oats may help you stay fuller longer, and in a pregnant mama's world, that's a big fat BONUS.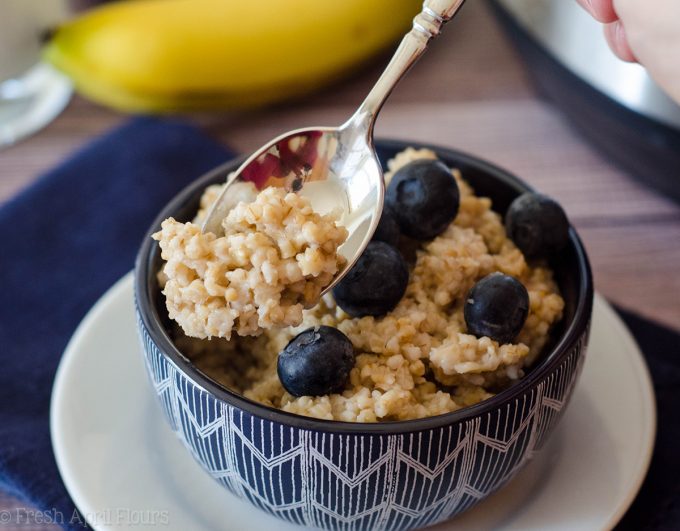 SUPER SIMPLE: JUST ADD WATER
So how do we do this steel cut oats in the Instant Pot business?
With… Water.
Previously, I would make my steel cut oats on the stove with milk (almond or cows) and just about always wind up with scorched milk, an overflowing pot, and usually inconsistency with the texture of my oats in the end.
NOT TODAY, folks!
Using water in your Instant Pot to make your steel cut oats can and will still yield a light and fluffy oat, nowhere near hard and crunchy, and you can absolutely add in some milk later when you eat it if you're missing out on the creaminess.
I, for one, will sacrifice initial creaminess for ease of cooking and consistent consistency, but that's just me.
Just 1 and 1/2 cups of steel cut oats, 3 cups of water, 10 minutes of cooking, and about 12 minutes of natural pressure release, you will be met with theeee fluffiest steel cut oats this side of your Instant Pot has ever seen!
Oh, after you stir them up.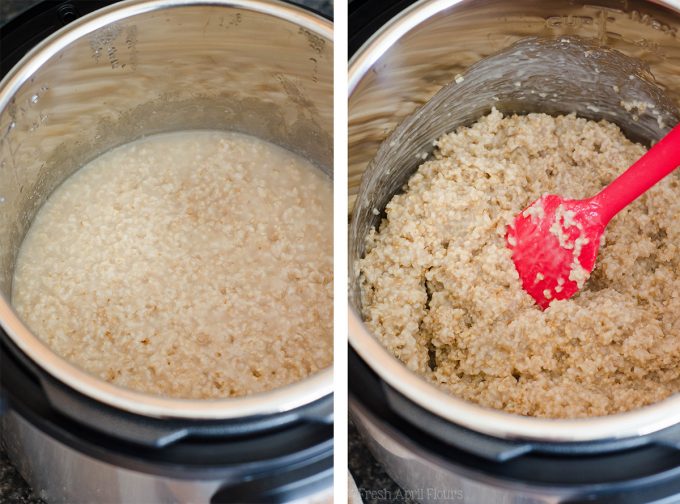 I'll be honest, when I lifted the lid for the first time, I was so bummed. Definitely not what I was picturing. But a good ole stir with a spatula had my steel cut oats looking fab and tasting great, with the most perfect texture I could have hoped for.
And better yet (!!!!), I didn't have to slave over my stove all morning to get them, and I was left with enough oats to last me for breakfasts all week.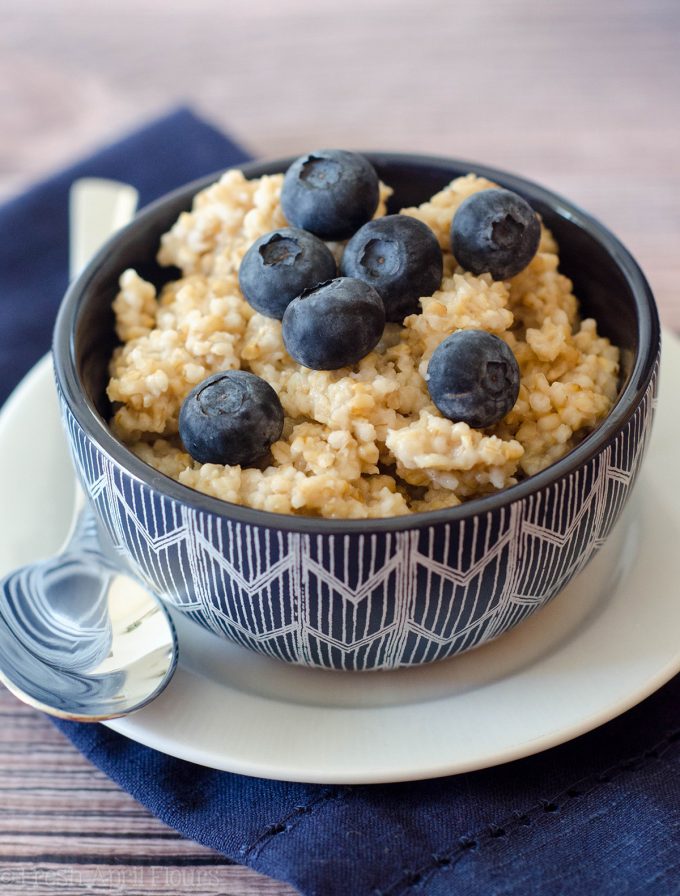 LOTS OF STAYING POWER!
Actually, the best part was the toddler GOBBLED them up. With a little sliced banana, some natural peanut butter, and a splash of whole milk, that kid was stuffed to the rafters at breakfast and barely ate any lunch! Staying time, remember? This is important!
So if you're down with the Instant Pot, come on over to this side where we now have a standing batch of steel cut oats in the fridge. It's so much better over here!
AND, if you're not into the Instant Pot, my girl Leah from Grain Changer can help you out with perfect steel cut oats in your slow cooker for some overnight steel cut oats!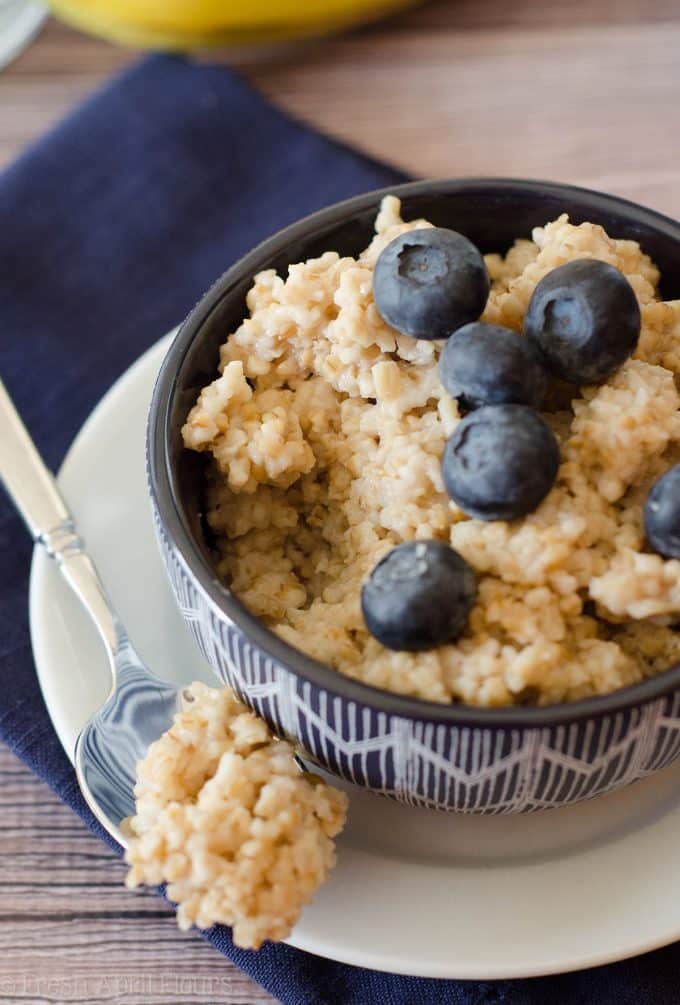 All hail alternative steel cut oat cooking! We thank you for your service and love you dearly.
Instant Pot Steel Cut Oatmeal
Everything you love about steel cut oats WITHOUT all the time it takes to cook them on the stove. Soft and fluffy and ready for all of your favorite add-ins!
Ingredients
1 and 1/2

cups

steel cut oats

3

cups

water
Instructions
Place the steel cut oats and water into your Instant Pot. Attach and secure the lid and turn the knob to "sealing."

Press "manual" and use the "-" or "+" button to set the timer to 10 minutes. It will take about 8 minutes for your Instant Pot to come to pressure, at which point, the timer will count down your 10 minutes.

When the timer beeps, allow the Instant Pot to release pressure naturally, about 10-12 minutes, then carefully switch the knob to "venting." When the vent is done hissing, remove the lid, and stir the oats with a large spatula or wooden spoon. Serve immediately, adding milk/cream/more water to thin the texture (if desired) and your favorite toppings. Leftovers stay fresh in a sealed container in the refrigerator up to 5 days.
Nutrition Disclosure
All nutritional values are approximate and provided to the reader as a courtesy. Changing ingredients and/or quantities will alter the estimated nutritional calculations.