Sheet Pan Homemade Pizza with Store Bought Dough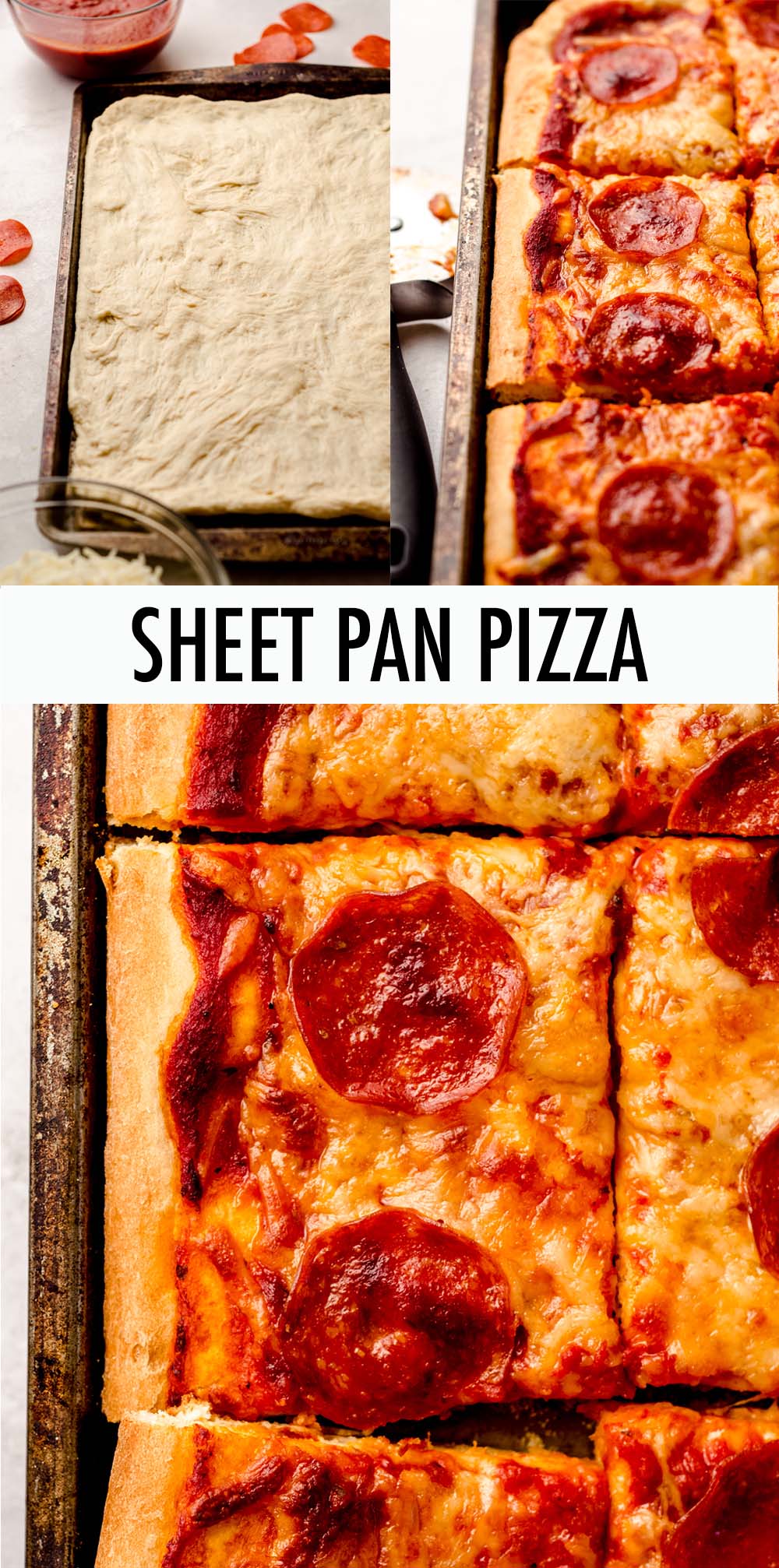 As an Amazon Associate, I earn from qualifying purchases. Read the full disclosure here.
No pizza stone needed! Make delicious homemade pizza with this easy sheet pan pizza recipe. Use pre-made pizza dough or use my favorite homemade pizza dough recipe and any toppings you like.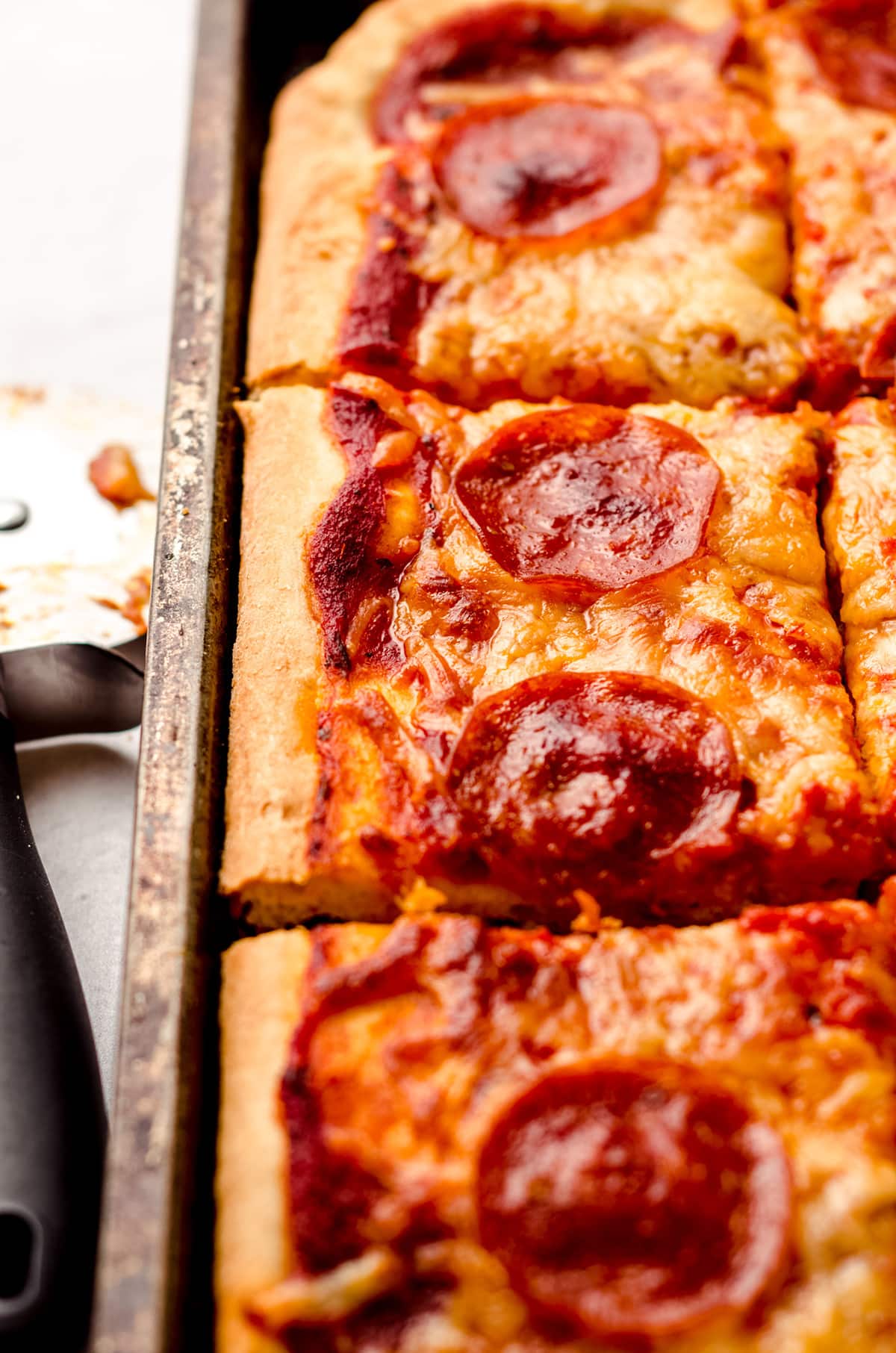 I don't know if you got the memo, but pizza is kind of a big deal. Not only is it pretty much everyone's favorite food, but it has basically claimed Friday nights for countless homes across the world. Friday night is officially pizza night, and I try my best to work it in when I can.
Often, that means a call to the local pizza joint, and waiting the alleged 30 minutes for it to arrive on your doorstep.
Except its Friday, and so everyone in a 10 mile radius has the exact same thought, and now that 30 minutes is 90 minutes, and by the time the dang thing arrives, everyone is hangry and it just becomes a situation.
What if I told you that you can have a fresh, homemade sheet pan pizza in less time than it will take for it to actually get delivered? And probably even less if you use a few quick-start ingredients like a pre-made pizza crust.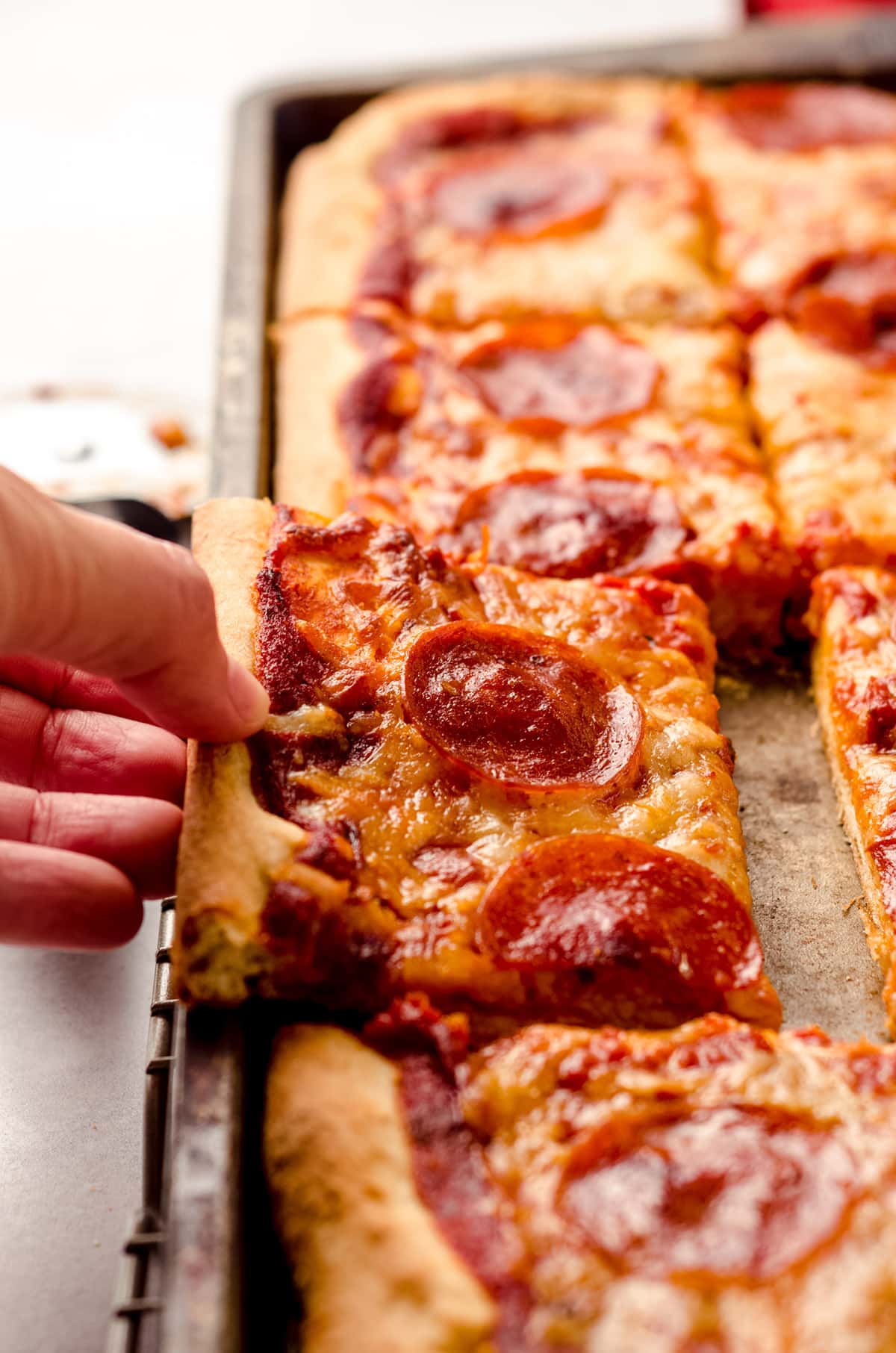 You'd probably say I was crazy, but I promise you that you have have a hot, bubbly, and delicious sheet pan pizza on your table in just 45 minutes. Don't believe me? Keep reading.
Oh, and if you love simple recipes that the whole family can enjoy, I highly recommend that you try a few of my easy meal ideas. My personal tortilla pizzas are always a hit, as are these baked turkey and cheese sliders, this baked taco casserole, and my Nashville style shredded hot chicken. Just to name a few!
Homemade Pan Pizza Ingredients
The truly beautiful thing about this sheet pan pizza recipe is how few ingredients are involved.
When you think about the high cost of getting take out pizza, you figure it must be really hard to make, right?
And while there is certainly an artisan style pizza that requires A LOT of work, and a lot of technique, your standard takeout pizza is pretty simple.
We have a crispy, yeasty crust, topped with a smooth tomato-based sauce, sprinkled with shredded mozzarella cheese, and dotted with your favorite pizza toppings.
How hard can that be to recreate at home?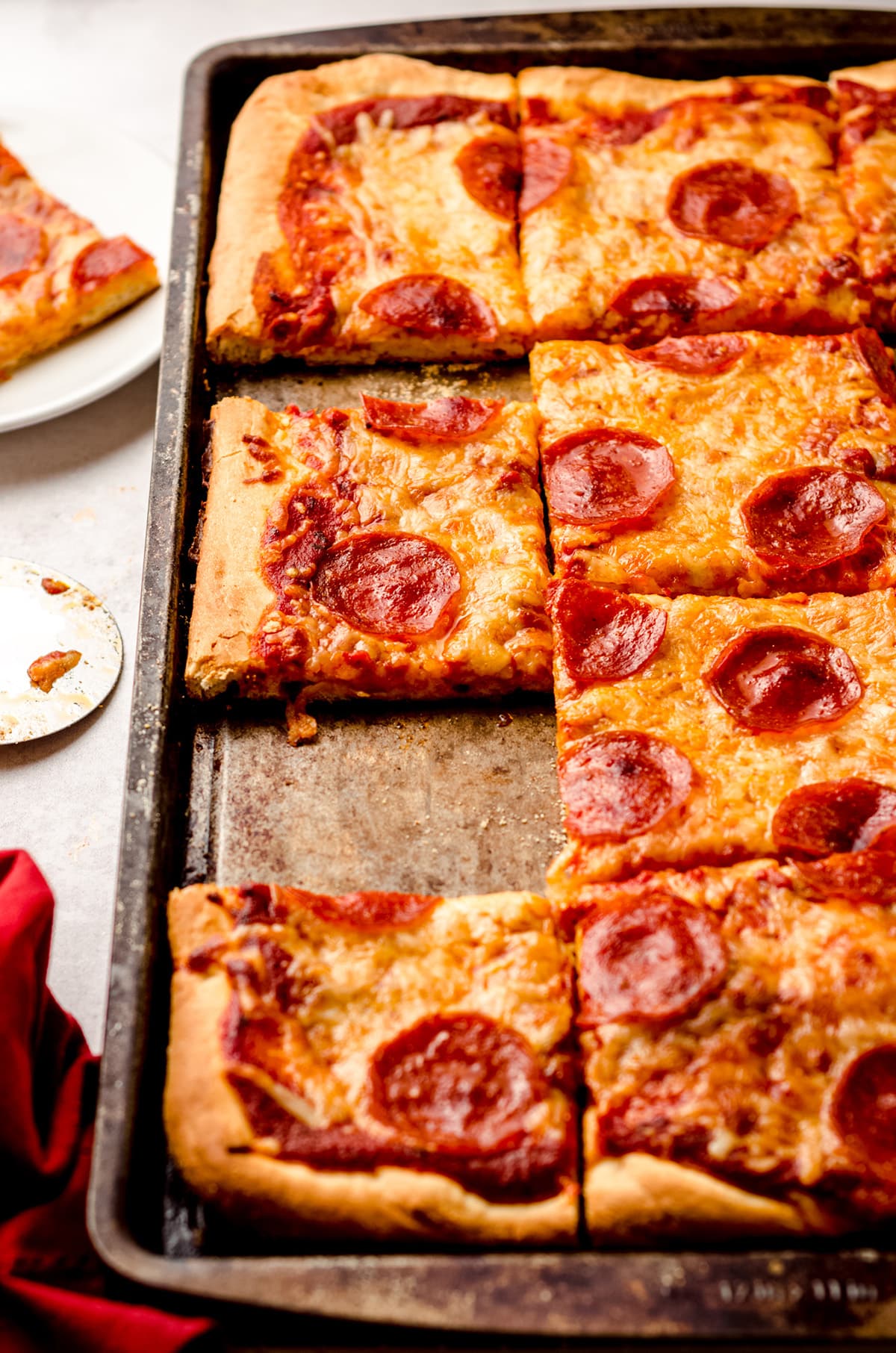 The answer is, of course, not very hard at all. While you can certainly make your crust and pizza sauce from scratch, you don't have to. If you use store-bought versions, you're looking at a 10-15 minute prep time.
Can it get any easier than that?
You might be pleasantly surprised how quickly a from-scratch pizza dough can be made, too. The secret is choosing the right recipe. What's that recipe, you ask? Well, I've got you covered (I mean, duh).
For this sheet pan pizza recipe, you will need:
NO RISE HOMEMADE PIZZA DOUGH
One of the biggest obstacles when it comes to homemade pizza is the rising time of the dough, but I've got a few solutions to that problem!
One of the options is my homemade pizza dough, of course. Not only is it shockingly simple to make, but it is a no rise recipe. Yes, you read that right! A yeast based pizza dough that requires no rising time.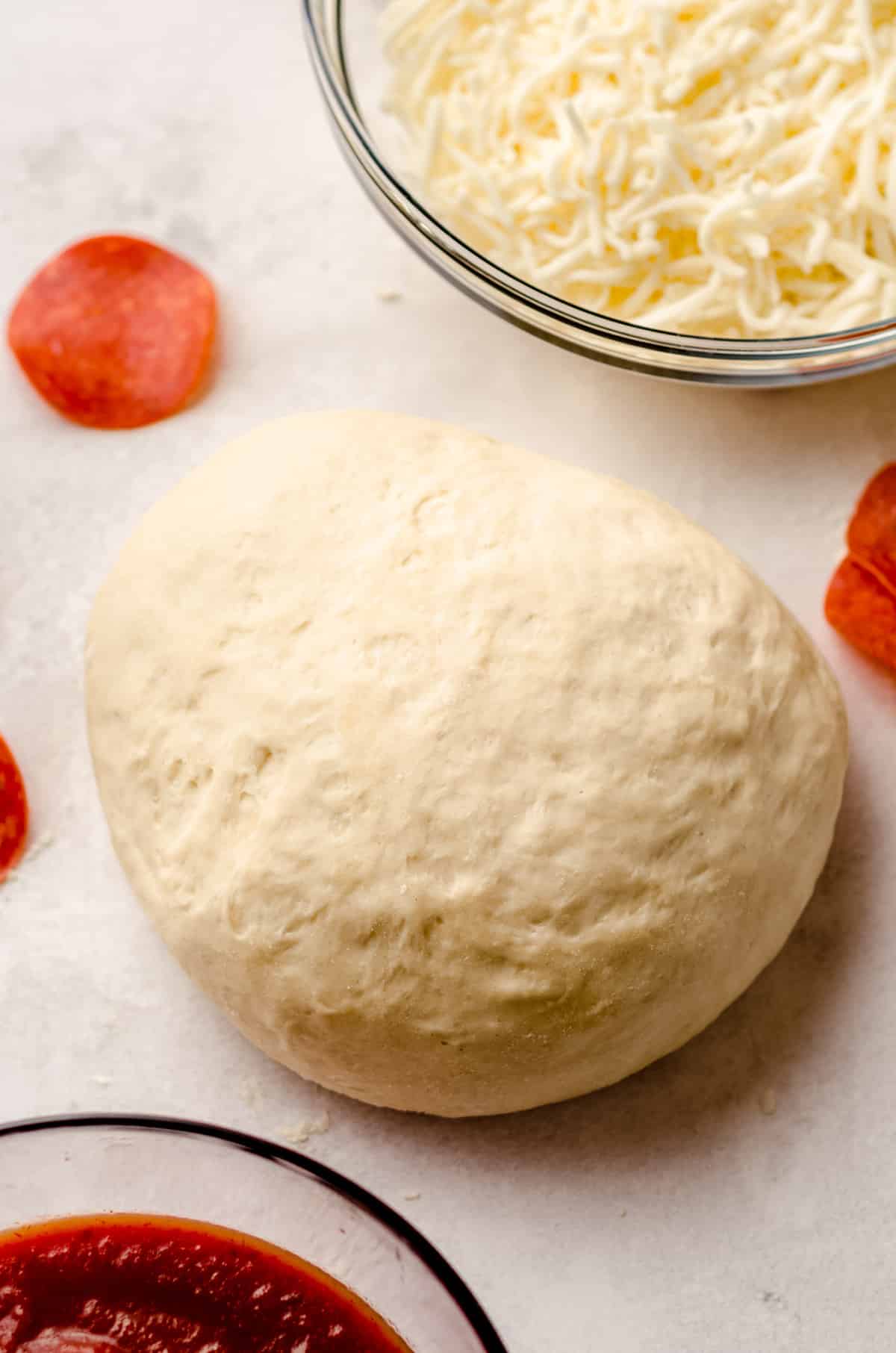 What sorcery is this?? I know. I didn't believe it until I tried it.
But thanks to a quick proofing, as well as allowing the dough to rest after kneading, our yeast can do its thing in the oven.
Since pizza dough doesn't need the same lift that something like a loaf of sandwich bread does, it doesn't need that double rise time that a lot of yeast based recipes require.
Instead, it gets all the lift it needs from the heat of the oven and the short resting time before being shaped.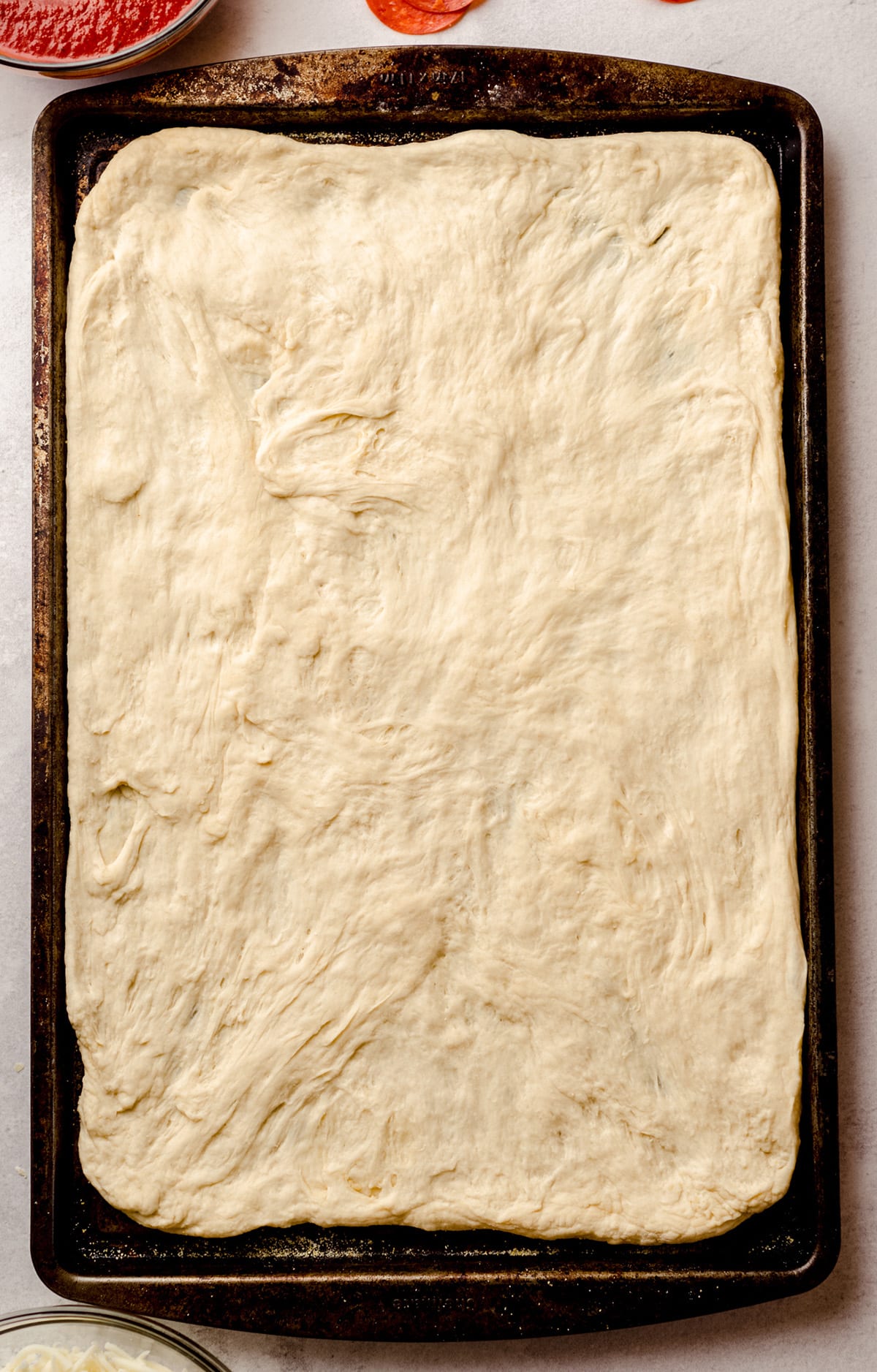 All you need to make this basic homemade pizza dough is flour, warm water, yeast, sugar, olive oil, salt, and cornmeal for dusting. I'm willing to bet you have every single one of those ingredients in your pantry right now!
USING STORE BOUGHT PIZZA DOUGH
If you're really not feeling the whole homemade dough thing, that's totally ok. I promised you options, and I'm going to give you options. Instead of using the homemade dough, you can just use your favorite store-bought pizza dough.
You can use a frozen dough ball that you thaw and shape, or even a can of the roll-out pizza dough that you find in the refrigerated section. These cans of dough are super convenient, since they come already pre-rolled. All you have to do is stretch it to the size of the sheet pan. No rolling pin or fancy dough tossing tricks needed.
But to be fair, you don't really need those things for my pizza dough either. Just saying!
PIZZA TOPPINGS
The real creativity with this sheet pan pizza comes into play when it's time to add the toppings. There are endless flavor combinations that you can try to make the perfect homemade pizza.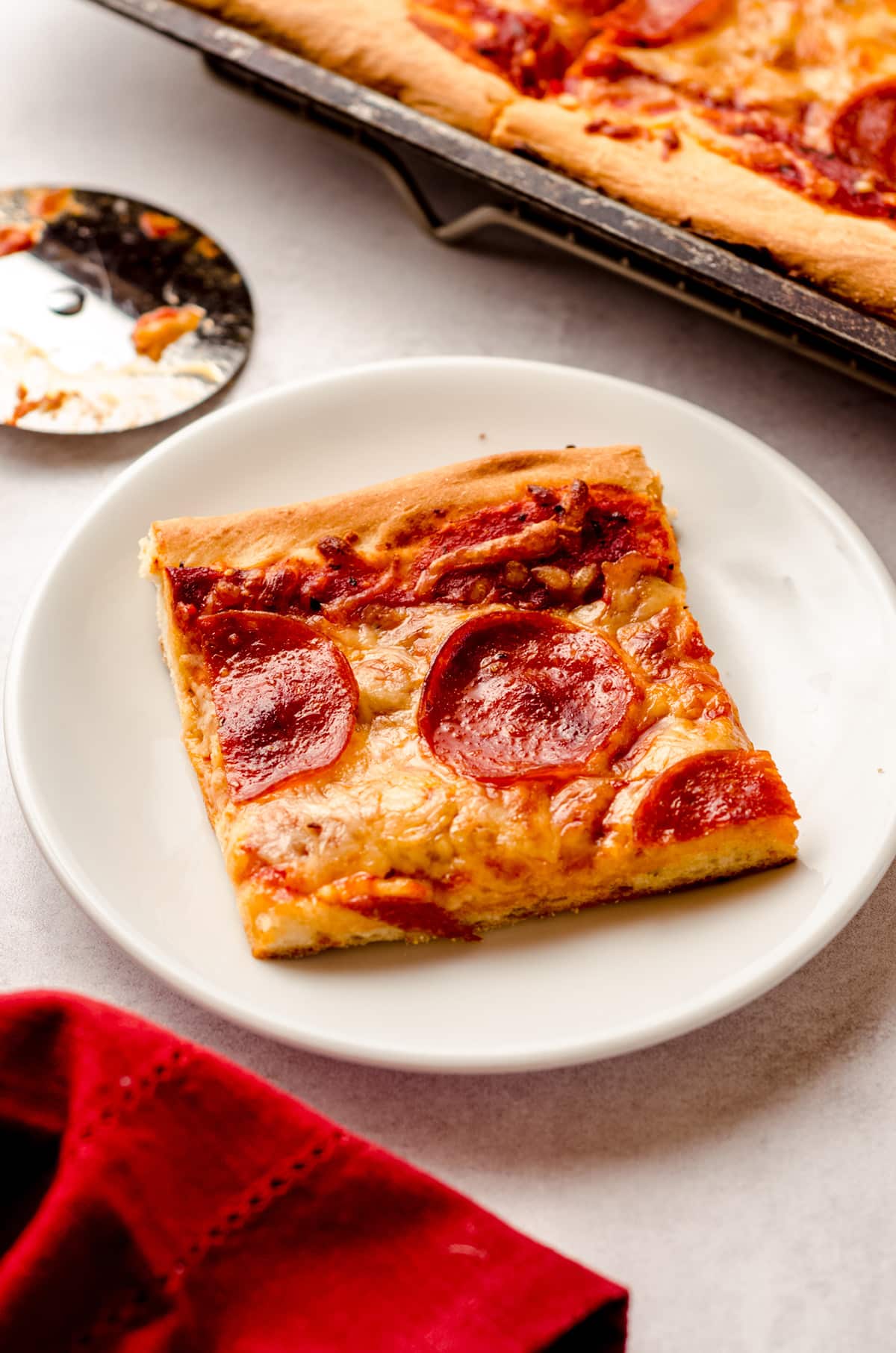 Of course, you have the classic pepperoni and cheese, but you can expand and add whatever your heart desires!
Love bacon? Throw it on!
Adore mushrooms? Go for it!
Crave pineapple chunks? Well, you could certainly find some opposition to that idea, but help yourself if that's what you like best.
My favorite thing about homemade pizza is having some fun with the toppings, and inviting everyone to make their own creations. It's easy to divide the pizza in half or even quarters, and let each person pick their favorite toppings.
It's not often that you can please every eater with a single dish, but this sheet pan pizza recipe makes it easy.
How to make Sheet Pan Pizza with Store Bought Dough
Once you've decided whether you want to use a homemade dough, or a store bought dough, you're ready to get started.
Just prepare your homemade dough according to the recipe instructions, or remove your store-bought dough from the packaging. Set that aside while you get everything straightened away.
Once your dough is prepped, move one of your oven racks to the lowest position in your oven. This will make sure your crust gets nice and crispy.
Once the oven rack is in place, preheat the oven to 450°F (232ºC). You really want your oven to be nice and hot once the pizza is ready to go in. That helps cook your crust rapidly, which prevents the sauce from making the top layer of dough soggy.
SHAPING THE DOUGH
Prep a large sheet pan (13″ x 18″) by sprinkling some cornmeal all over the surface. This will give you that classic pizza place texture, and it has the bonus feature of preventing the dough from sticking to the pan.
You'll use your hands to pat your dough into the size of your sheet pan. Start off by flattening it with the palm of your hand, and just patting it into a flat rectangle, pressing the dough from the middle outwards.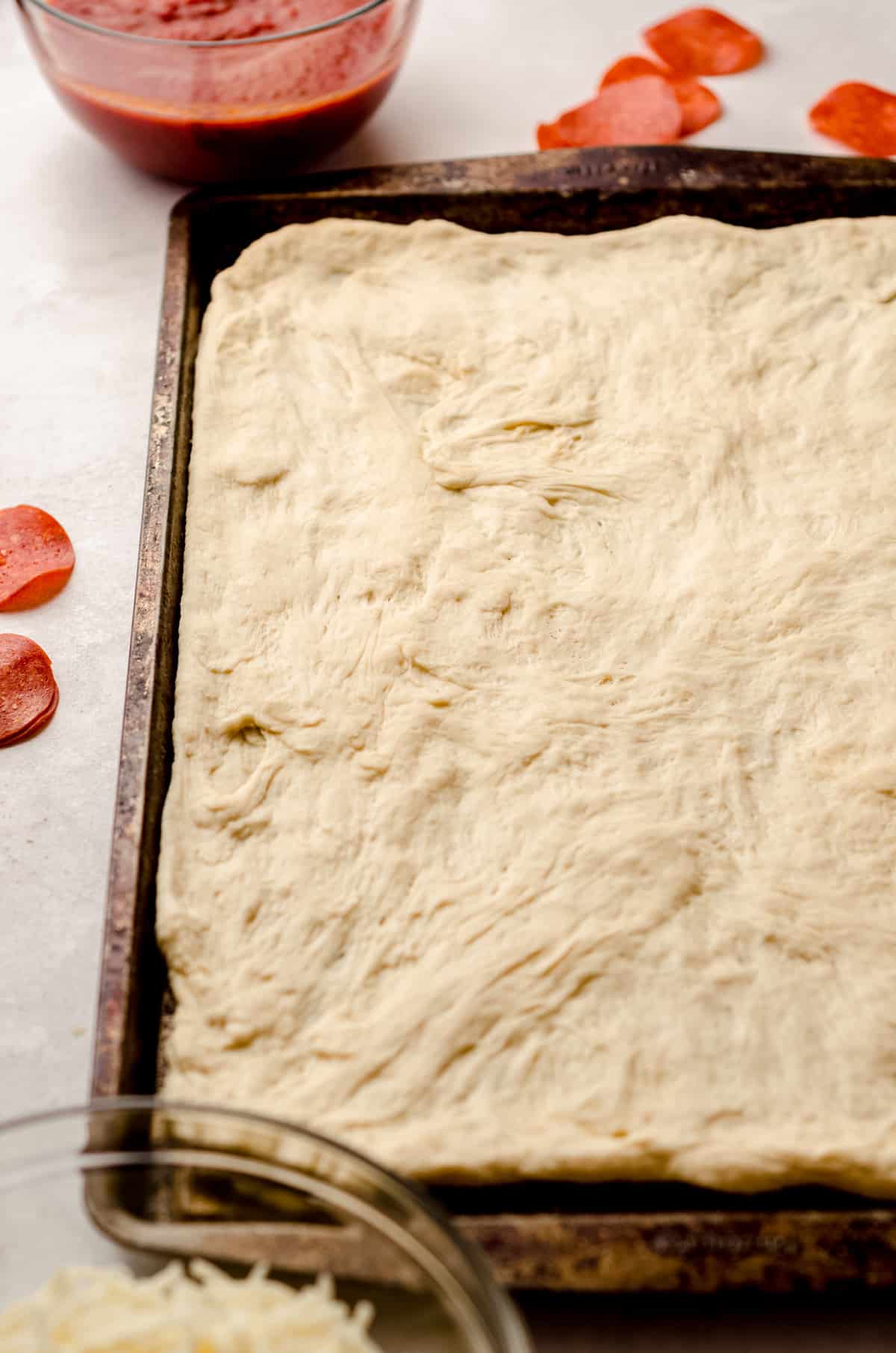 If your dough is too stretchy and keeps springing back on you, just let it rest for 5 minutes or so, and then come back and continue shaping.
If you're using a store bought dough that rolls out into a thin layer, just spread it out so that it fits the size of your sheet pan. You can do this with a rolling pin, or just with your hands.
BAKING THE PIZZA
Once your pizza dough is formed to the sheet pan, score the dough all over with the tines of a fork. This will help your crust bake up evenly, and help give a crispier crust.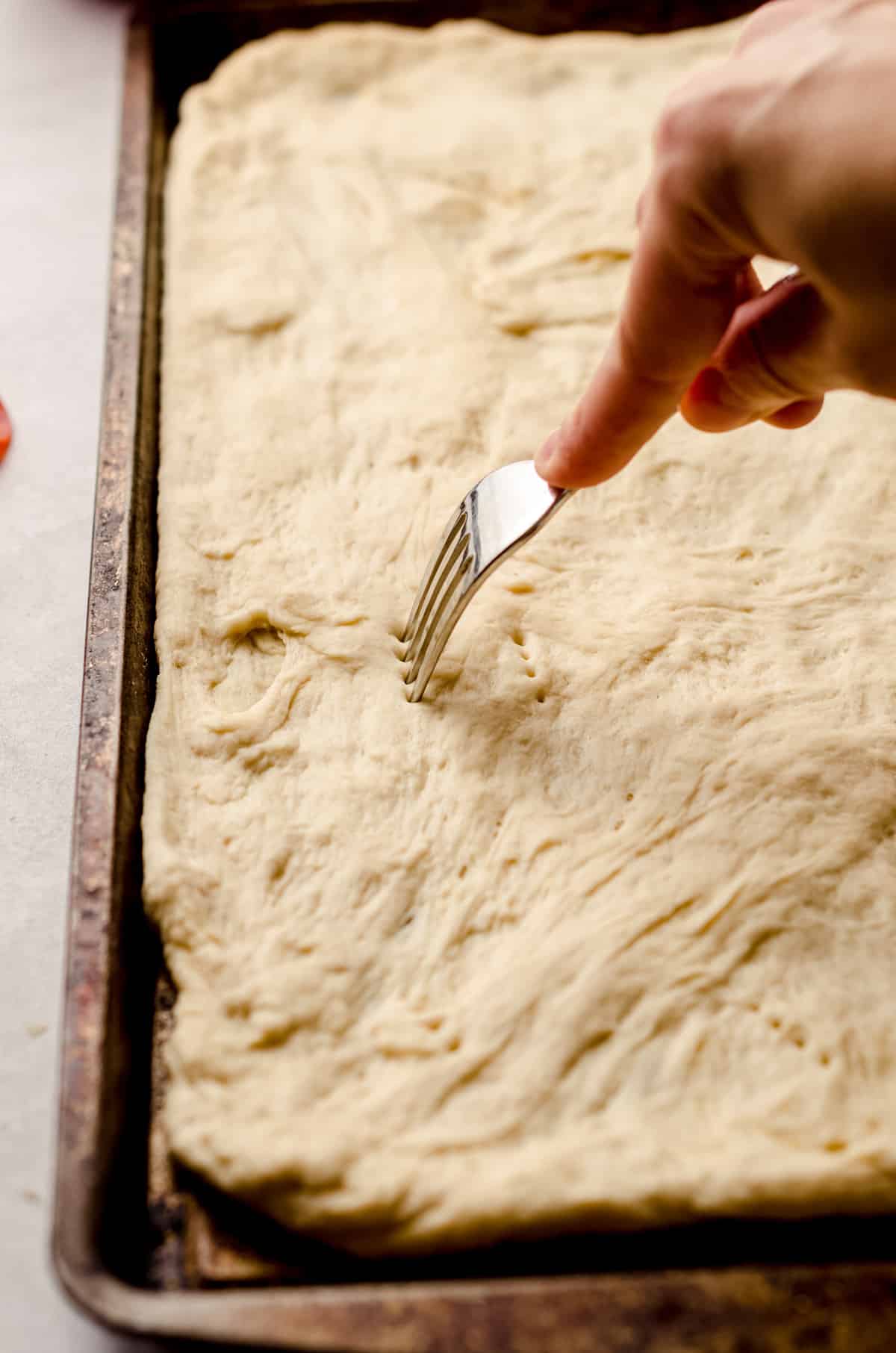 Pre-bake your pizza for 10 minutes. Then, remove from the oven and score again with your fork. Then add the sauce and cheese.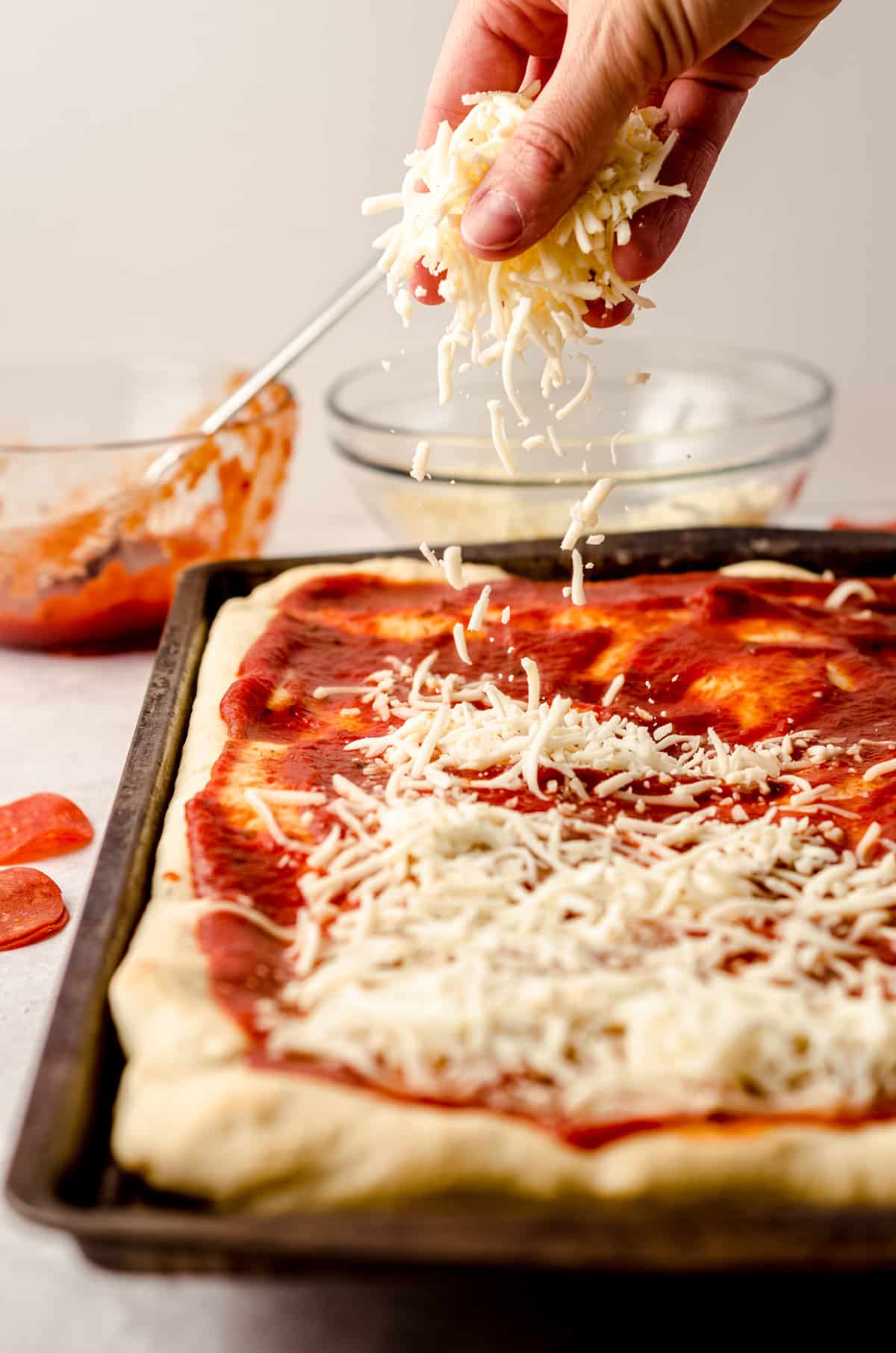 Add your favorite toppings, and bake for an additional 15 minutes, OR until the cheese has melted and the crust is browned lightly.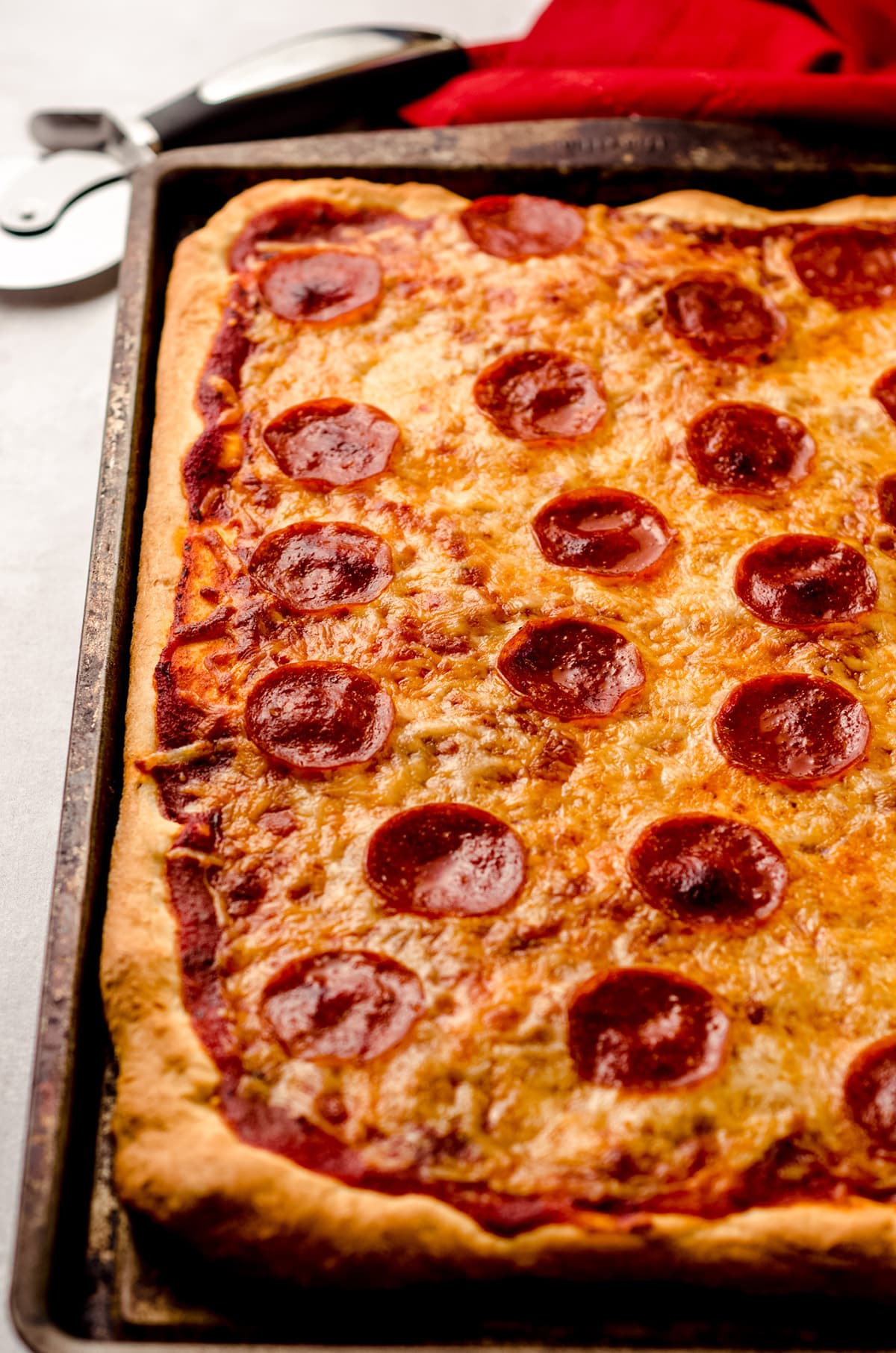 Make sure to let it cool for 5 minutes or so before slicing. Slicing your pizza right out of the oven will cause the cheese and toppings to shift around, so it's best to wait for the everything to cool down just a bit first.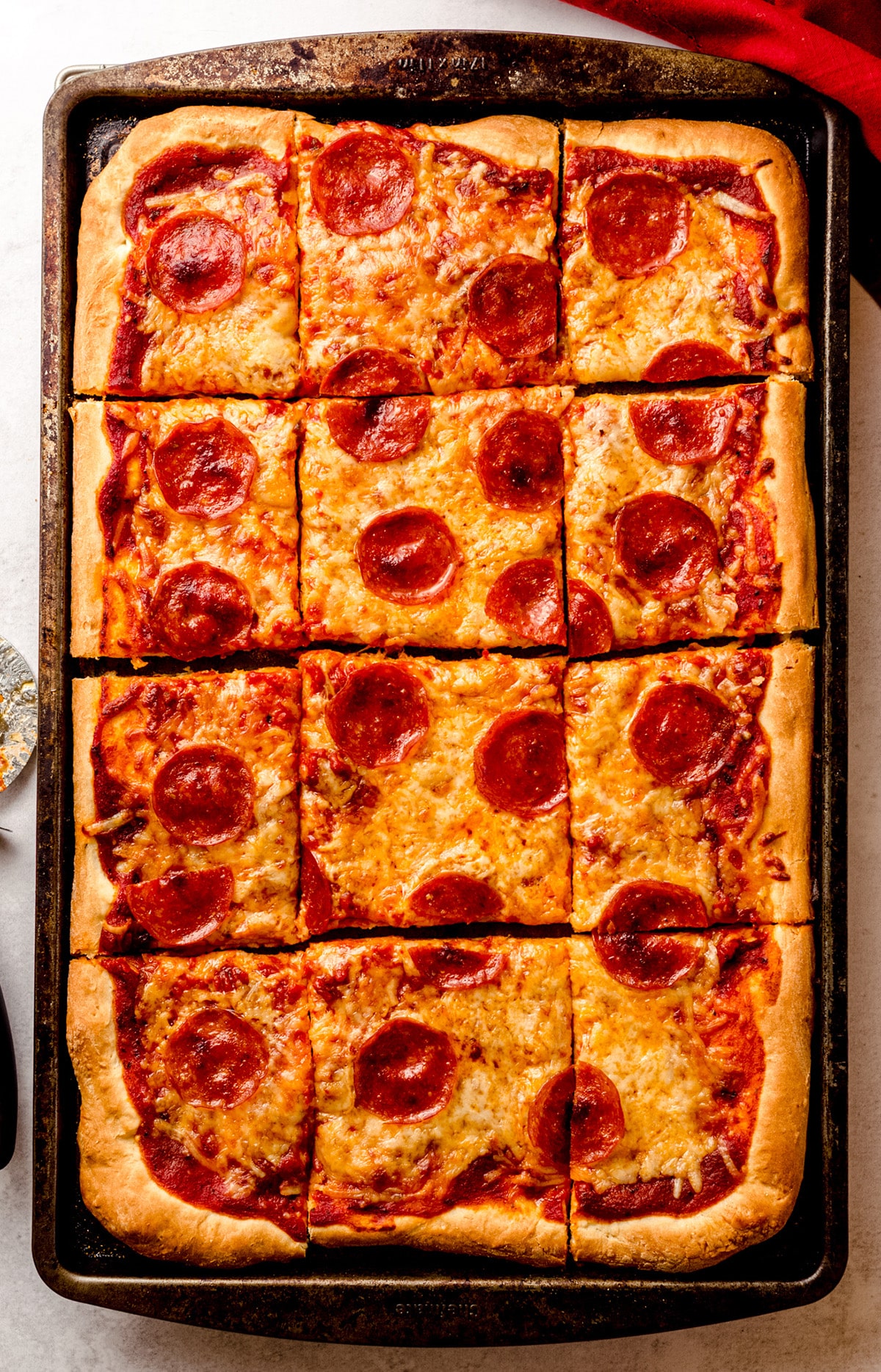 Tips for making Crispy Sheet Pizza
If you like your homemade pizza nice and crispy, I've got some tips for getting a crisp crust every single time!
Score the dough: use your fork to score the dough BEFORE the pre-bake, as well as just before adding the toppings.
Lowest rack: set your rack to the lowest possible setting in the oven. This allows your crust to bake up quickly, and gives it a chance to get nice and crispy while the toppings and cheese get all hot and bubbly.
Bake directly on the rack: If you like your pizza really crispy, I highly recommend the added step of baking the pizza directly on the rack. After the pre-bake is completed and you've added sauce, cheese, and the toppings of your choice, shift the pizza directly onto the baking rack. The easiest way to do this is to use a large spatula to lift one of the short sides of the pizza off of the sheet pan and then slide the pizza off of it and onto the oven rack. Use the spatula to move pizza into place and continue baking.
Reheating method: the best way to keep your leftover pizza crisp is to reheat it in the toaster oven. While the microwave may be quick and easy, using the toaster oven will give you the ultimate crispy leftover pizza. Trust me, you'll be glad you took the extra time!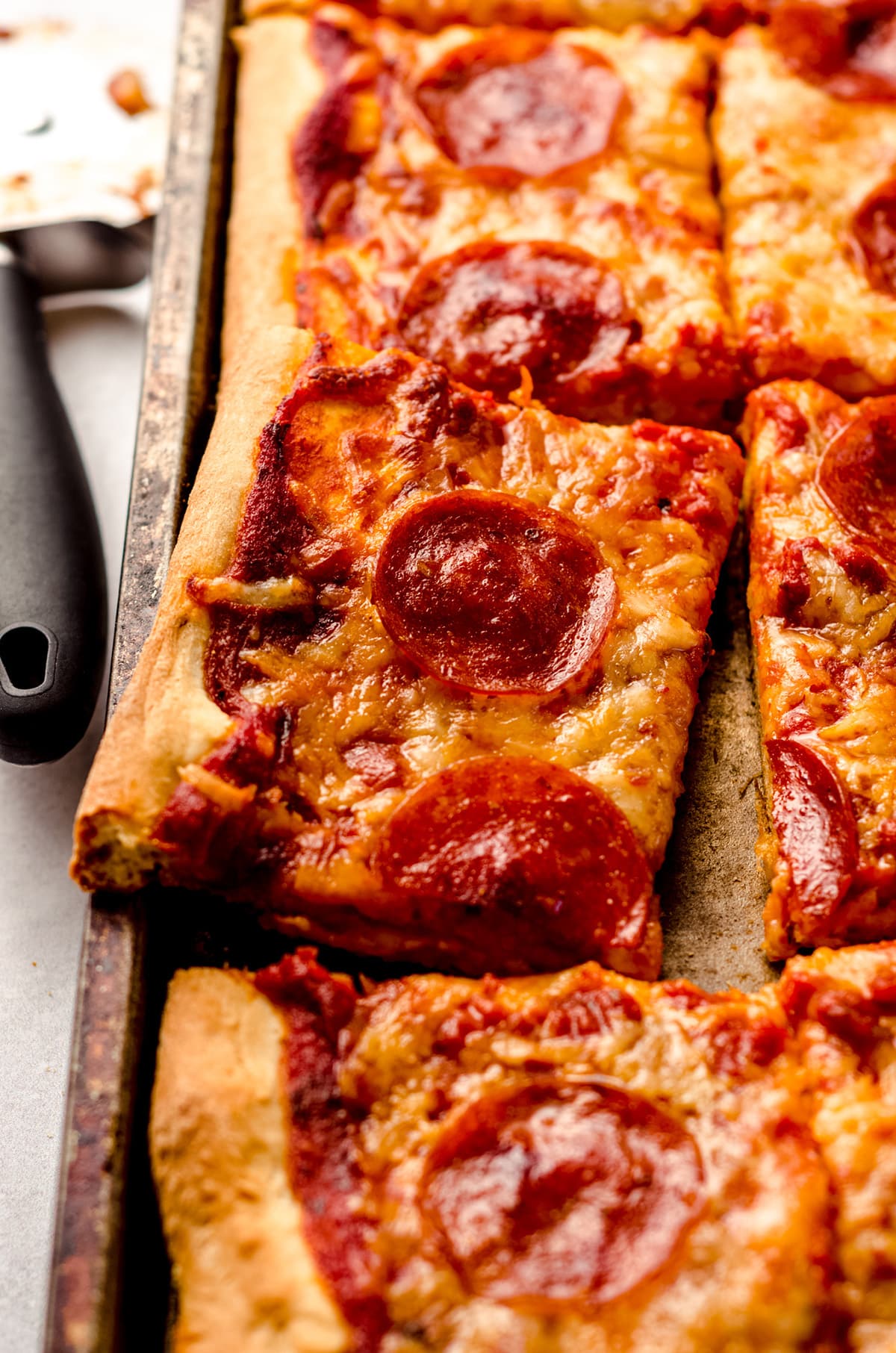 Can this Pan Pizza Recipe be made ahead of time?
You can absolutely make your sheet pan pizza ahead of time, but it may look a little different than you might think.
I would recommend that you do one of two things: prep all the components of the pizza ahead of time, OR prepare the pizza crust right up to the pre-bake stage, and then store for later use.
Prepping the components individually is probably the most straight forward approach, and it will definitely save you time when it comes time to actually pull everything together.
Basically, just grab your sheet pan pizza dough, sauce, shredded cheese, and all of your choices of toppings. Stash those items in the fridge in airtight containers, and break it all out when it's time to throw down.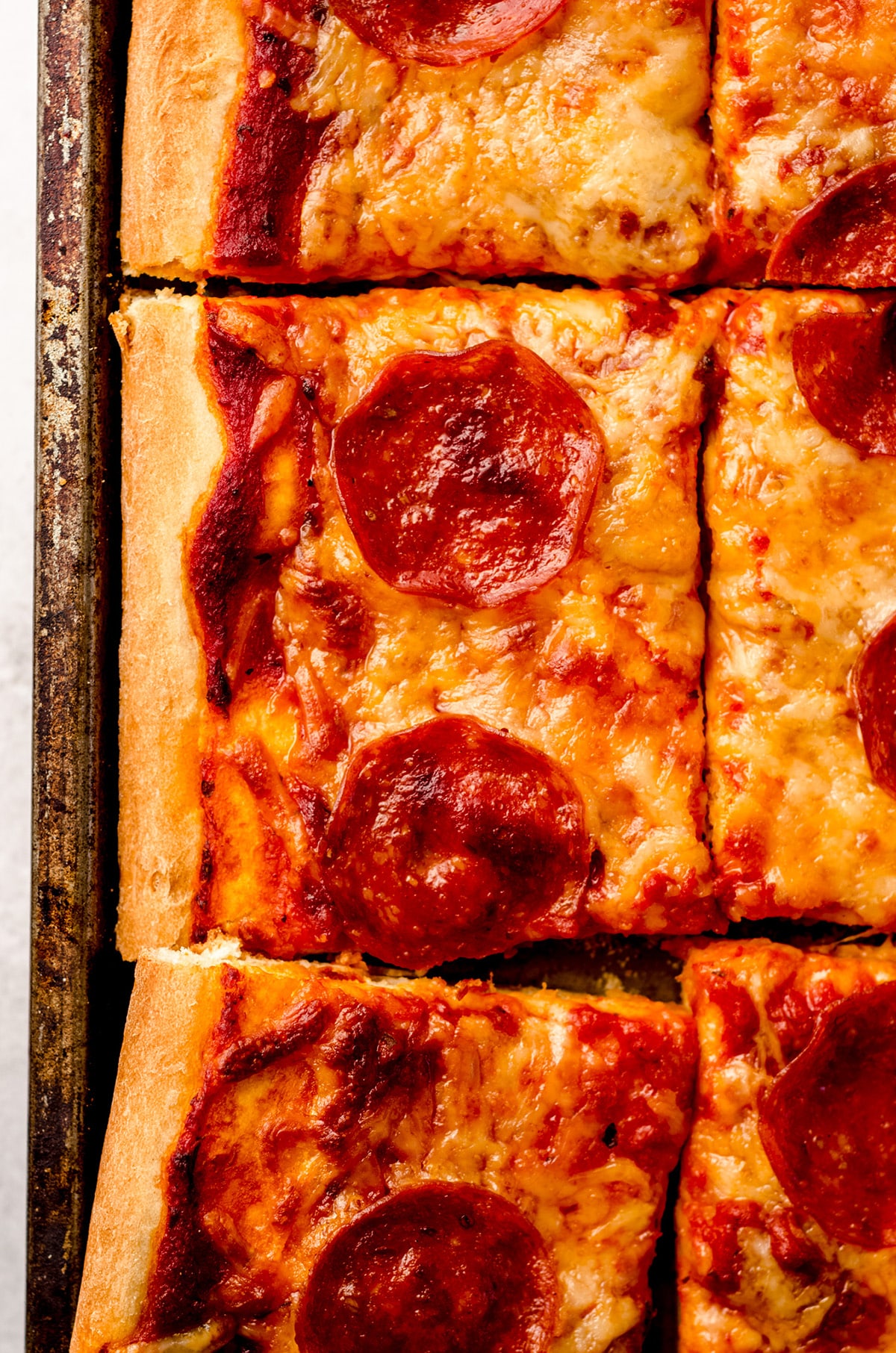 Alternatively, if you want to have some of the baking already taken care of, there's an option for that too. I would recommend completing up to the pre-bake stage of the dough, and allowing it to cool on the baking sheet to room temperature.
Once the pre-baked crust is cool, add the sauce, cheese, and toppings and store in the fridge for 6-8 hours. Alternatively, to keep that sheet pan pizza crust nice and crispy, you could just store the pre-baked crust and add everything else when its time to bake.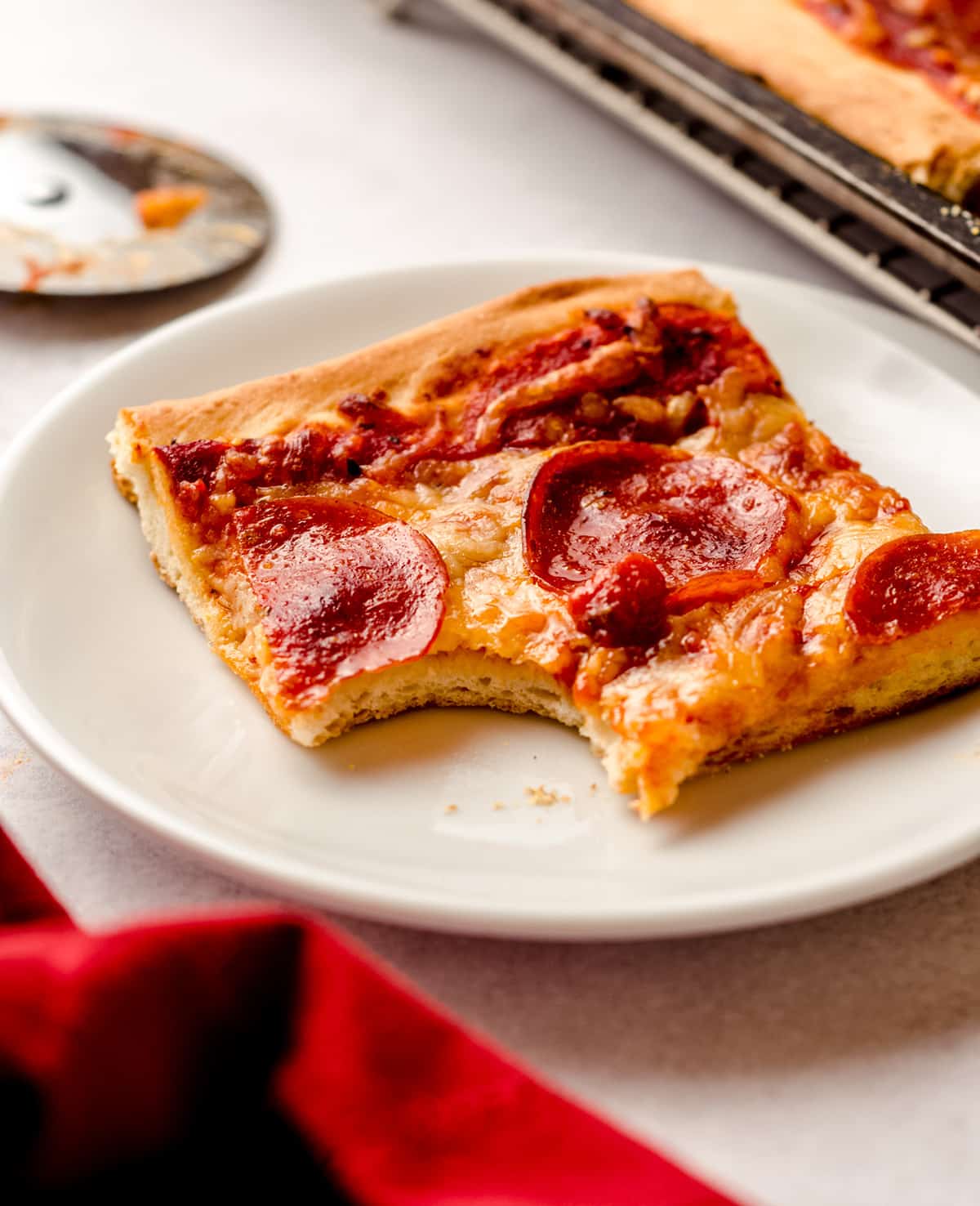 A third option would be to completely bake the pizza and reheat it when the time comes to serve it, but everyone knows there is nothing like freshly baked pizza, right?
Frozen Homemade Pizza with Store Bought Dough
If you really want to make Friday night pizza night super easy, fun, and convenient, you could totally make a homemade frozen pizza early in the week OR even in batches when you have a spare bit of time to do some freezer meal prep.
To make a homemade frozen pizza, all you have to do is pre-bake the crust and allow it to cool to room temperature. Then, layer on the sauce, cheese, and toppings.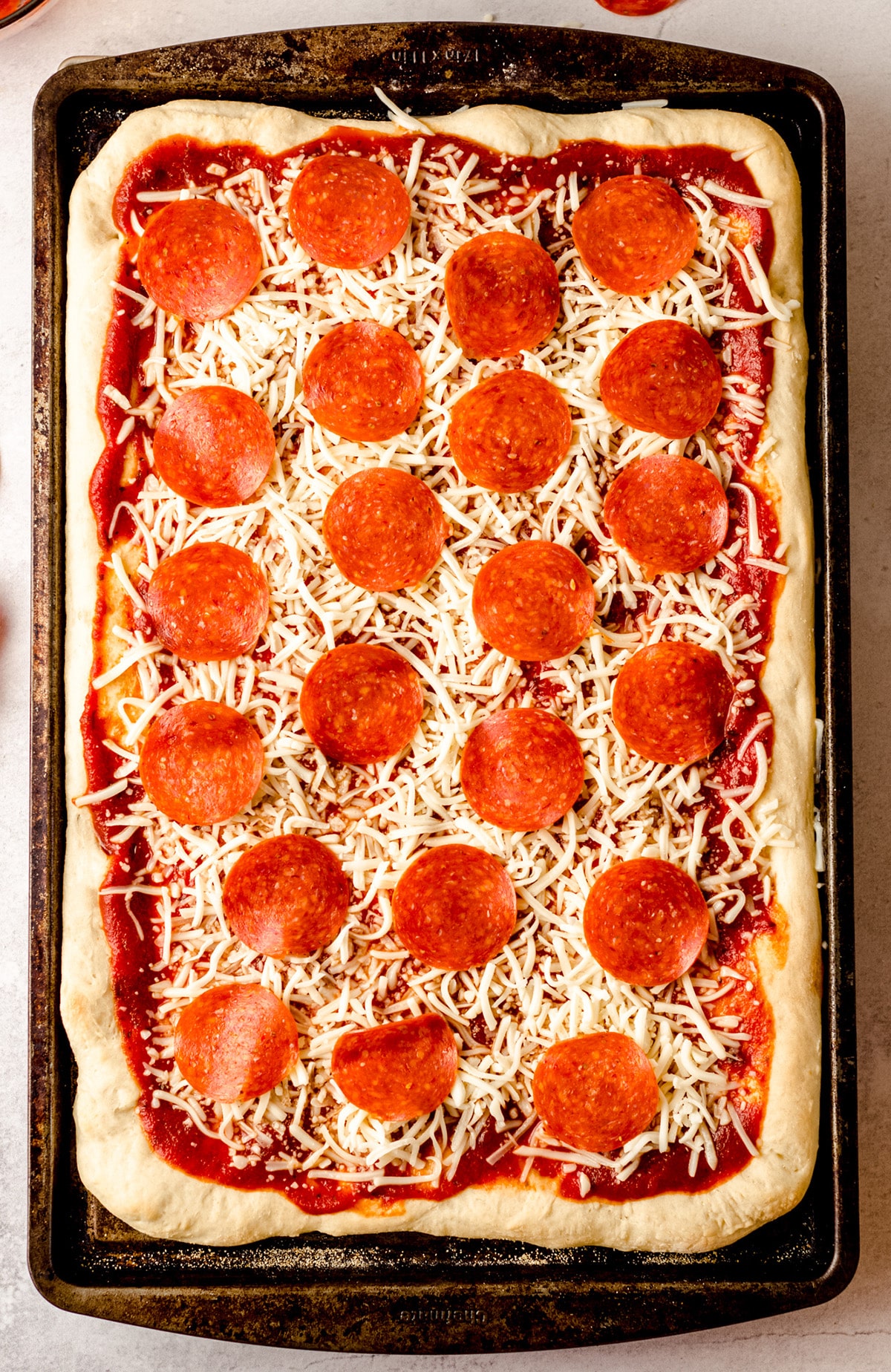 Place your prepared pizza in the freezer and freeze on the sheet pan until hard. Once the pizza is completely frozen, wrap in several layers of plastic wrap and freeze for up to 2 months.
When you're ready to enjoy your homemade frozen pizza, bake it for 16-18 minutes at 450­°F (232ºC), or until hot and bubbly.
Now that you've shared in my pizza obsession with me a little bit, you have to check out my favorite pizza recipes if you love pizza, too: skillet pizza dip, 5 minute personal tortilla pizza, and my pizza pull apart bread.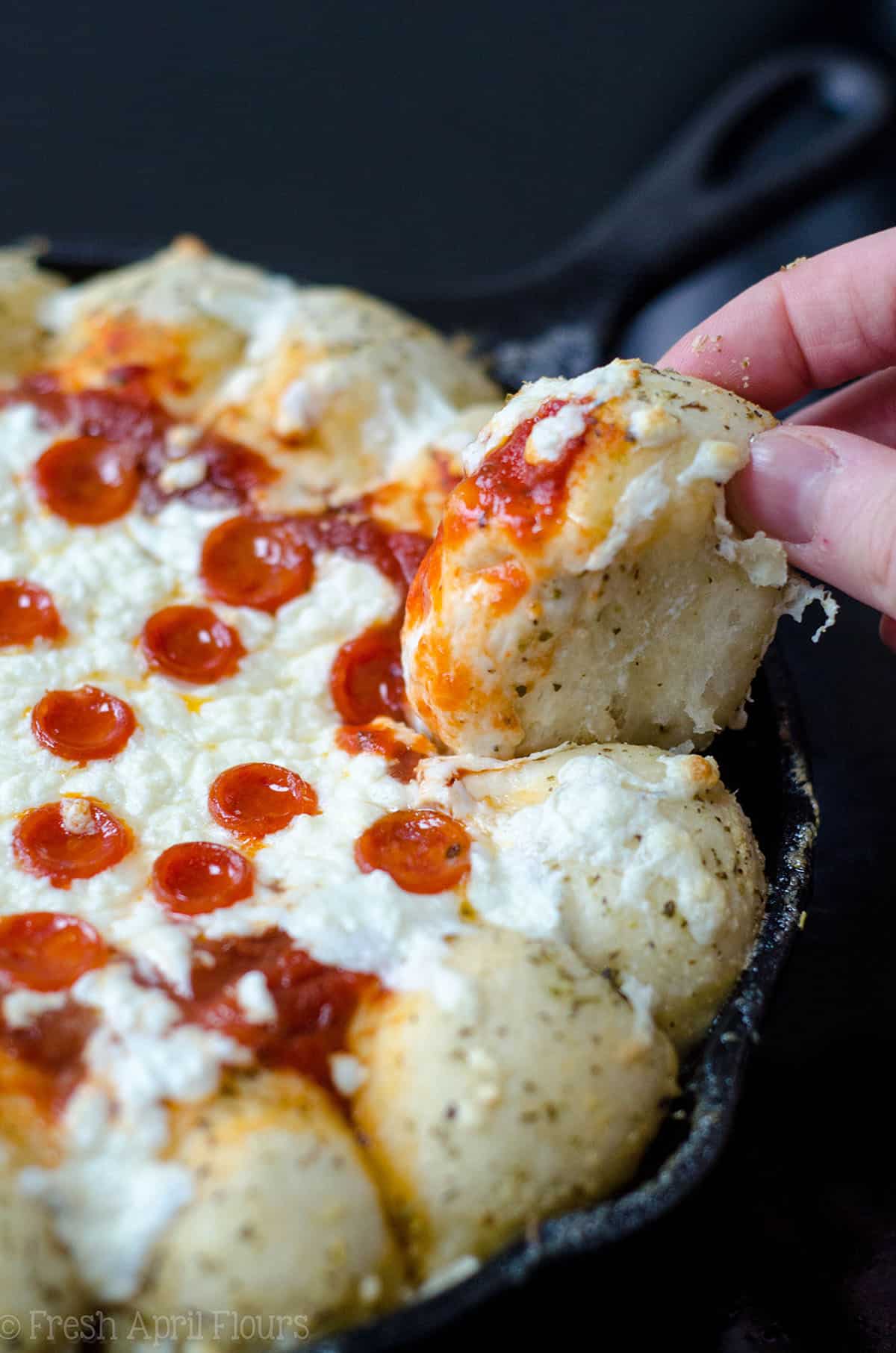 Homemade Pan Pizza with Store Bought Dough
No pizza stone needed! Make delicious homemade pizza with this easy sheet pan pizza recipe. Use pre-made pizza dough or use my favorite homemade pizza dough recipe and any toppings you like.
Ingredients
1 pound

(454g) store-bought or

homemade pizza dough

1 and ½

cups

(378g) pizza sauce1

1 and ½

cups

(168g) shredded mozzarella cheese1
toppings of your choice
Instructions
Prepare a homemade pizza dough or remove store-bought pizza dough from packaging. Set aside.

Place an oven rack at the lowest position. Preheat oven to 450ºF (232ºC).

Lightly dust a large sheet pan (13" x 18") with cornmeal. Set aside.

Use your hands to pat and flatten your dough and start shaping it to the size of your sheet pan. Transfer the dough to the prepared sheet pan, then finish shaping it. If dough is too stretchy and not keeping its shape, allow to rest for 5 minutes then continue shaping.

Score the dough with a fork, then place crust in the oven to pre-bake for 10 minutes. Remove from the oven, score again, then spread sauce, cheese, and toppings as desired. Bake for an additional 15 minutes2 or until cheese has melted and crust is browned to your liking.
Notes
Sauce and cheese: these are the amounts that worked for us. Feel free to increase or decrease amounts to your liking.
Bake time: if you want to insure the bottom of your pizza is extra crispy, after 10 minutes of the second bake, carefully transfer nearly fully baked pizza from baking sheet onto the oven rack so the bottom crust is exposed. Use a large spatula to lift one of the short sides of the pizza off of the sheet pan and then slide the pizza off of it and onto the oven rack. Use spatula to move pizza into place.
To make a frozen pizza: follow the recipe through almost the entire recipe, stopping before the final bake. Freeze on sheet pan until hard, then wrap tightly and freeze up to 2 months. Bake frozen for 16-18 minutes.
Nutrition Disclosure
All nutritional values are approximate and provided to the reader as a courtesy. Changing ingredients and/or quantities will alter the estimated nutritional calculations.
Serving:
1
slice
|
Calories:
50
kcal
|
Carbohydrates:
2
g
|
Protein:
3
g
|
Fat:
3
g
|
Saturated Fat:
2
g
|
Polyunsaturated Fat:
0.1
g
|
Monounsaturated Fat:
1
g
|
Cholesterol:
11
mg
|
Sodium:
234
mg
|
Potassium:
102
mg
|
Fiber:
0.5
g
|
Sugar:
1
g
|
Vitamin A:
227
IU
|
Vitamin C:
2
mg
|
Calcium:
75
mg
|
Iron:
0.4
mg