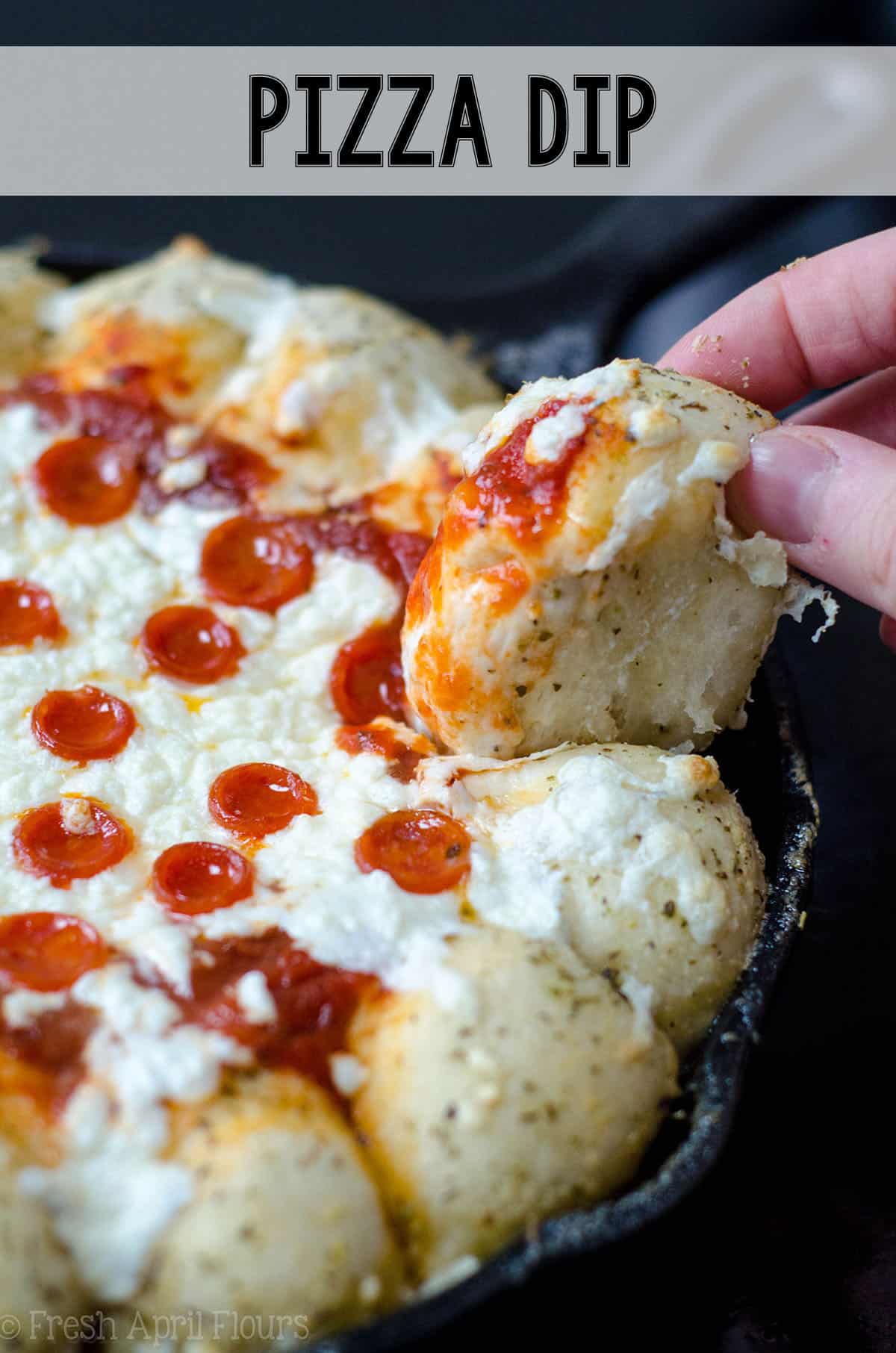 As an Amazon Associate, I earn from qualifying purchases. Read the full disclosure here.
Ditch the delivery and prepare your pizza in a skillet with built-in bread! Also includes directions for omitting the rolls.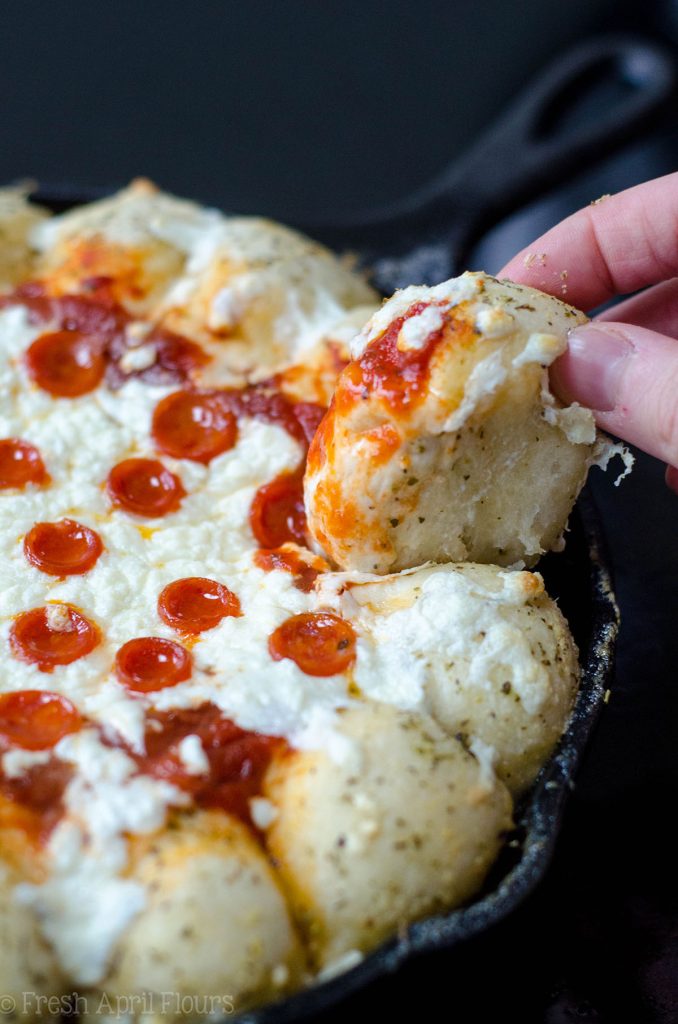 When it comes to pizza, I'm not sure there's a single person I know who doesn't like it. I do know people who prefer white pizza to traditional pizza, and even folks who prefer more of a tomato pie than a slice with cheese, but really… Who doesn't like pizza??
Do those people exist??
Can I talk to them?
Can I get the slices they don't want to eat?
Today we're taking pizza to a whole new level. No rolling of any dough, no flipping said rolled-out dough into the air, no trying to find a brick oven to bake your pizza in because that's the only way to do it… None of that!
All you need today is a skillet. And if you're not feeling a skillet, a baking dish will also work just fine.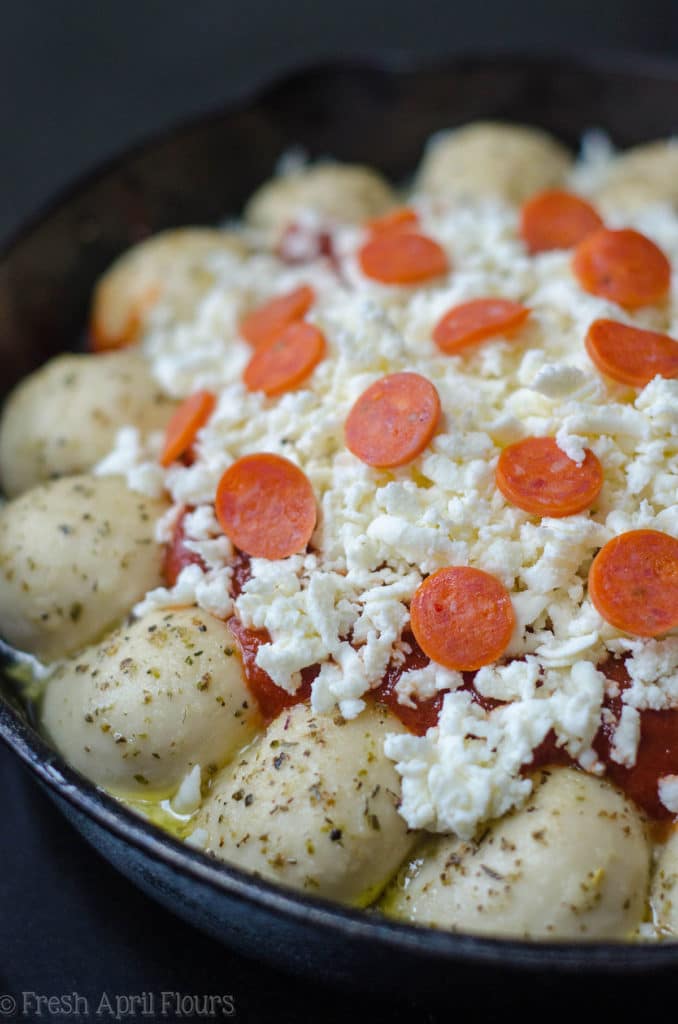 So about this pizza dip that comes with its own dippers: this is life-changing, friends. Life. Changing. And while this whole setup looks complicated and time-consuming, I promise you that it is not. It is downright easy as (pizza) pie.
FROZEN DINNER ROLLS MAKE THIS RECIPE QUICK
The key to beginning this pizza dip is frozen dinner rolls. Did you know these are a thing? Go to the frozen section of your grocery store. In the bread section, you'll find all kinds of frozen balls of dough.
You can also find frozen pizza dough, which you might also want to try for this recipe.
You could also use refrigerated dough that comes in a tube. WHATEVER YOU WANT.
My point is, this dip comes with dippers built right in. That's an all star dip if I've ever seen one.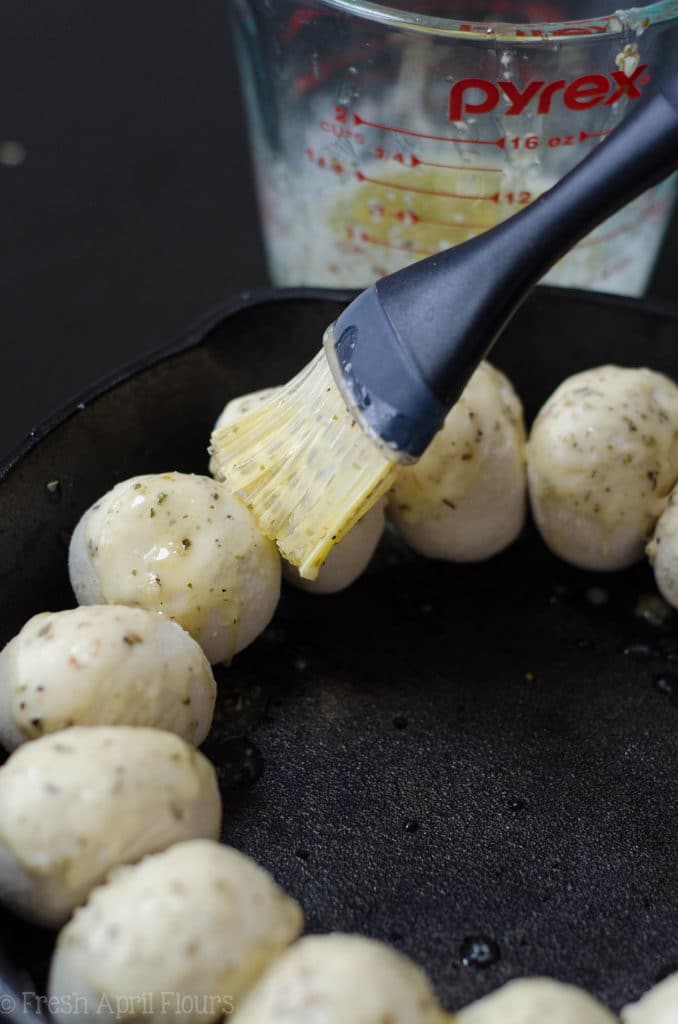 The cool part about this dip is that you can start with frozen rolls. They just need to sit out in the skillet for about 15 minutes before you brush them with seasoned butter (garlic powder + Italian seasoning) and pre-bake them for 20 minutes.
While they're baking, you can prepare the rest of the dip.
We'll make a base cheese layer with cream cheese and mozzarella. It will have a similar taste to ricotta, but it stands up much better in the melty state.
Other components to the layers: pizza sauce, more mozzarella, and some pepperoni slices (obviously optional).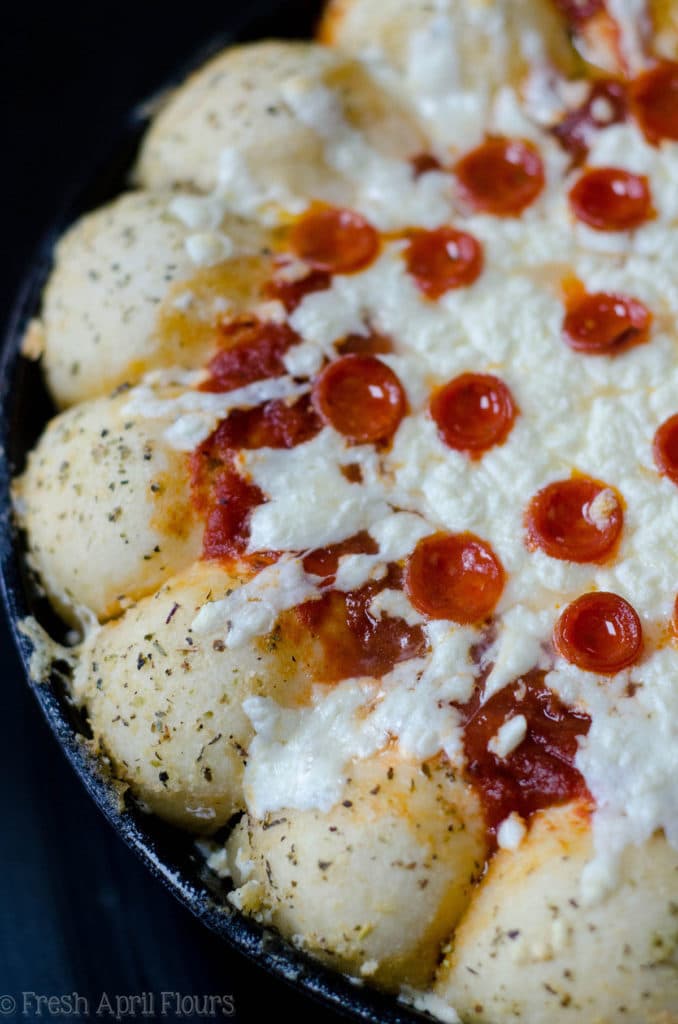 Once the rolls are pre-baked, it goes pizza sauce, cream cheese mixture, more pizza sauce, shredded mozzarella, pepperoni slices, BOOM. Bake for another 20-25 minutes, at which point your rolls should be done and the pizza dip will be nice and bubbly.
JUST LOOK AT IT.
NO SKILLET? NO PROBLEM!
You don't have to make this pizza dip in a skillet if you don't want to!
Simply follow the instructions in an 8″ or 9″ baking dish– round or square will do just fine.
OMIT THE ROLLS
You can also just completely leave the rolls out of it and make them on the side, or use something else entirely to dip.
It's truly versatile and the only thing you really need to know is that this dip is out of this world and you need it. Regardless of what it's dipped with or without.
Hands down.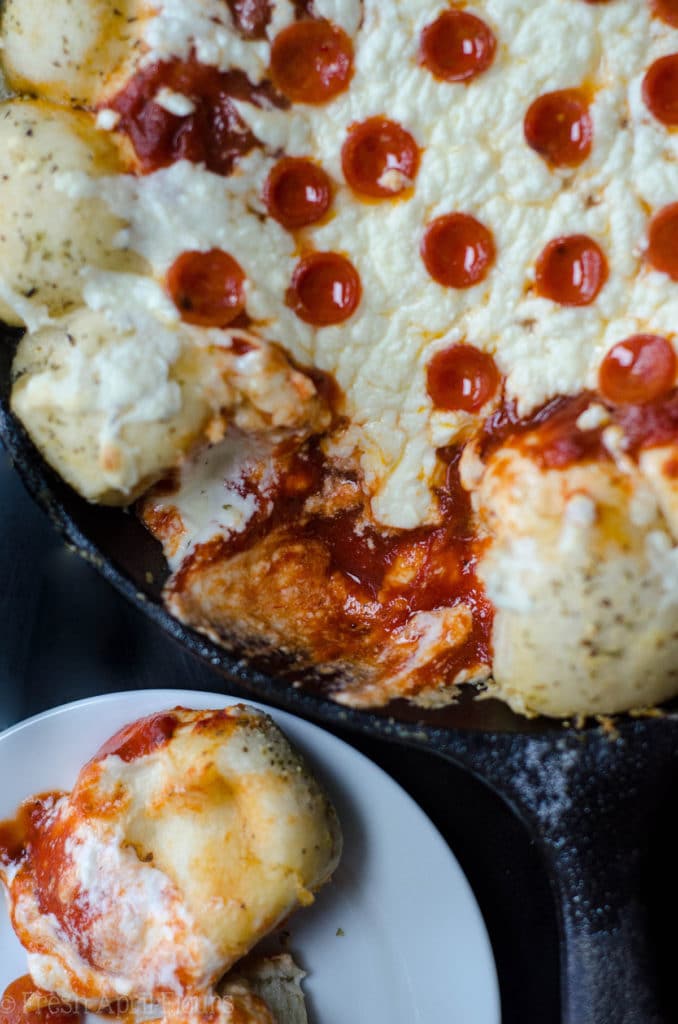 We served this dip at Matt's gym holiday party this past weekend and it was gone before Matt even got a taste of it. The toddler AND infant both enjoyed a hunk of bread with sauce and cheese and all things yummy all over it with lunch, so I'm sure we will be making it again soon in order for dad to get a proper taste.
Also… Pizza dip. Who wouldn't want more of that?
Skillet Pizza Dip
Ditch the delivery and prepare your pizza in a skillet with built-in bread! Also includes directions for omitting the rolls.
Ingredients
1

package frozen dinner rolls

12 to 16 rolls

4

Tablespoons

unsalted butter

melted

1/2

teaspoon

garlic powder

1/2

teaspoon

Italian seasoning

8

ounces

cream cheese

softened to room temperature

8

ounces

shredded mozzarella cheese

divided (about 2 cups)

3/4

cup

pizza sauce

divided

mini pepperoni slices
Instructions
Preheat the oven to 400ºF.

Line the outer rim of a large (8-10") cast iron skillet with 12 to 16 balls of dough, leaving the center open. Allow rolls to thaw for 15 minutes while you prepare the rest of the dip.

In a small bowl, combine the melted butter, garlic powder, and Italian seasoning. Stir together to combine. Set aside.

In a large bowl with a handheld mixer or the bowl of a stand mixer fitted with the paddle attachment. beat the cream cheese on medium-high speed until smooth. Add half of the mozzarella cheese (about 1 cup) and beat again until combined. Set aside.

Brush the rolls with seasoned butter. Bake buttered rolls for 20 minutes.

Remove rolls from the oven and pour 1/4 cup of the pizza sauce into the bottom of the skillet. Pour the cream cheese mixture on top of the sauce and gently spread evenly with a large spatula. Cover cream cheese mixture with remaining 1/2 cup of pizza sauce, followed by the remaining 1 cup of mozzarella cheese, and finishing with the pepperoni slices.

Bake the dip for 20-25 minutes until cheese is bubbly and rolls are golden brown. Allow to cool for 15 minutes before serving. To store leftovers, remove rolls from the skillet and store separately from dip in the refrigerator up to 5 days.
Notes
You can also prepare this dip without the bread. Simply omit directions involving the rolls and use an 8" round baking dish.
Nutrition Disclosure
All nutritional values are approximate and provided to the reader as a courtesy. Changing ingredients and/or quantities will alter the estimated nutritional calculations.