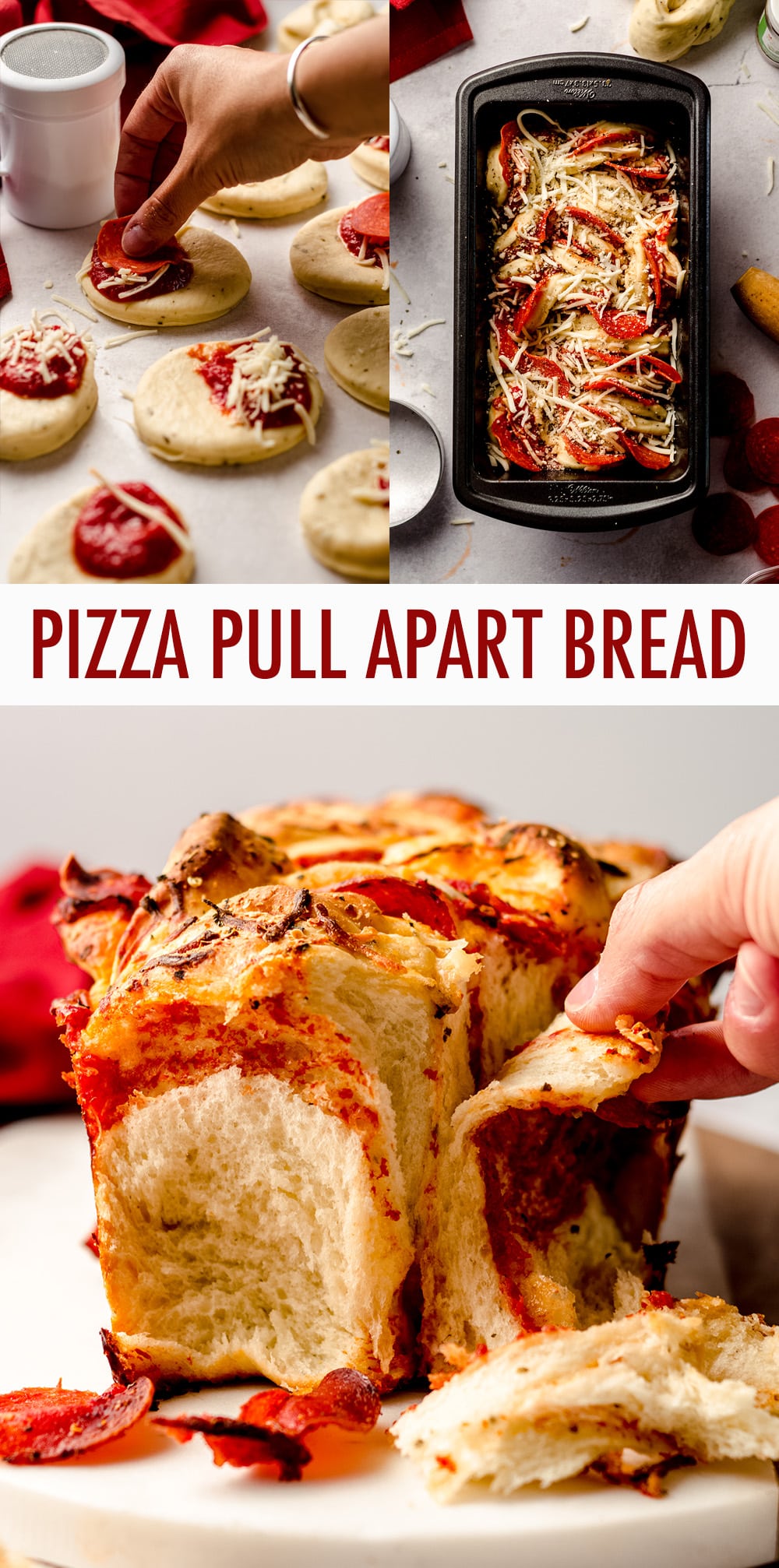 As an Amazon Associate, I earn from qualifying purchases. Read the full disclosure here.
A simple loaf of yeast bread made with layers of pizza sauce, shredded cheese, and pepperoni. A fun twist on traditional pizza and easy to transport!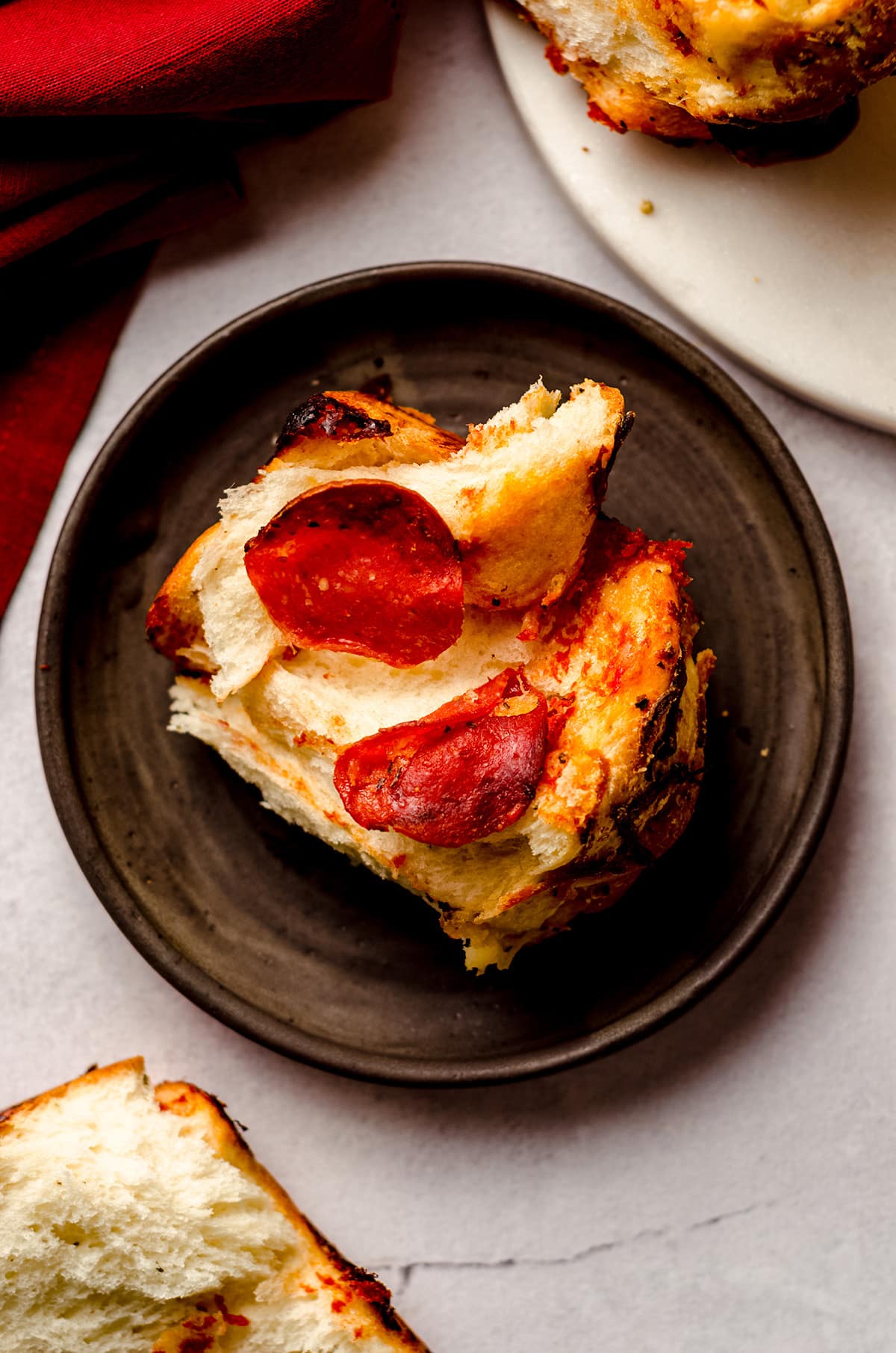 When it comes to pizza, are you a snob or no?
I recently had this discussion with my fellow mom neighbors. I tend to lean into "coffee snob" world as well as "scratch brownie snob" world, but when it comes to fries and pizza, I'll eat pretty much anything.
If it's got crust, sauce, and cheese, I'm into it. It's rare that I won't eat pizza, even if it's what others might deem subpar.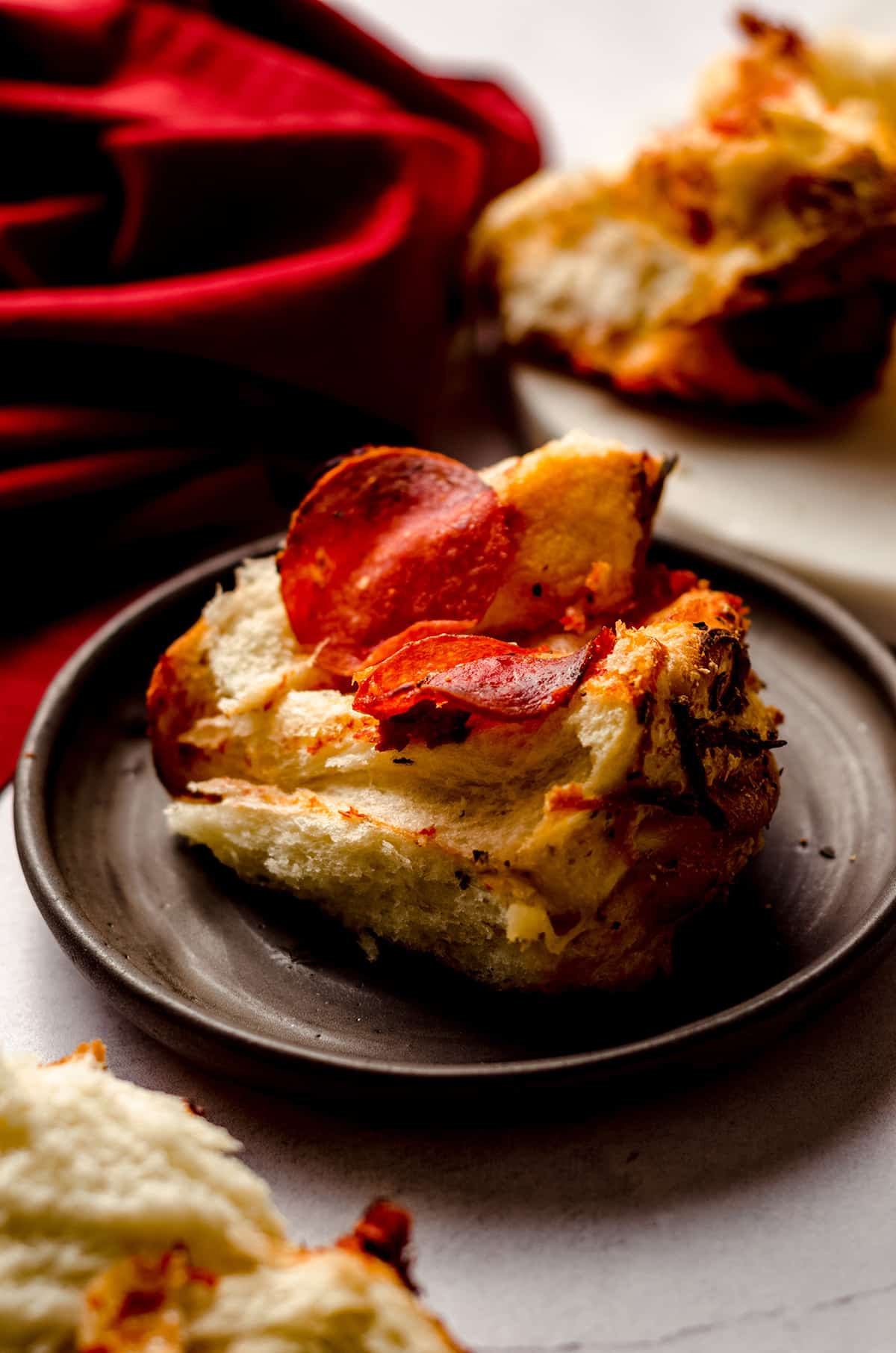 I also tend to occasionally be a "bread snob," typically encouraging you to try out yeast bread from scratch, and you'll find manyyyy yeast breads around my blog, including today's super fun pull apart pizza bread.
A few years ago, I ventured into the pull apart bread world with my pesto pull apart bread. That one was a giant hit in our house and it tends to become popular among readers in the summer, thanks to an abundance of basil which = homemade pesto which = pesto pull apart bread.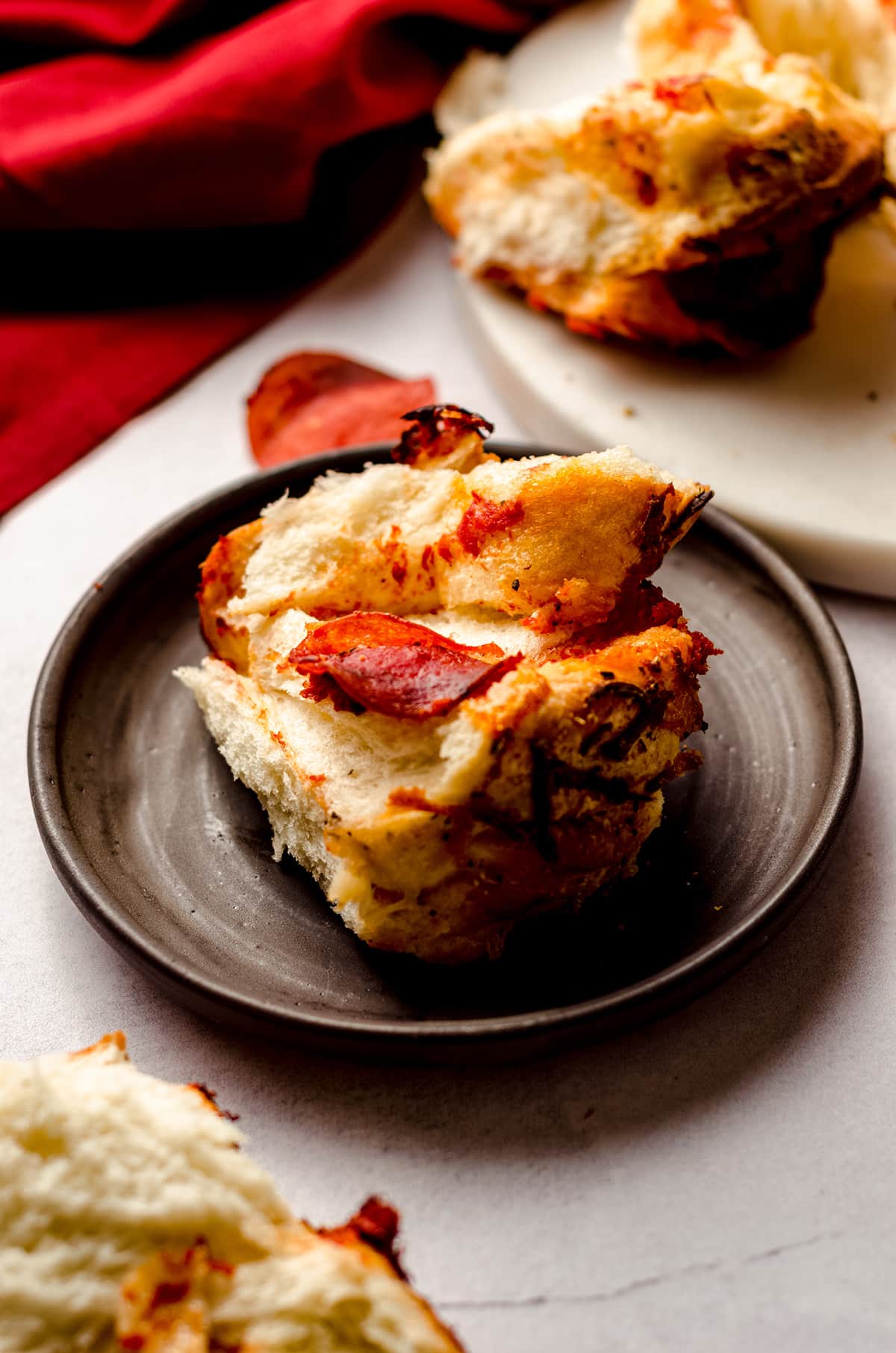 I'd been wanting to whip up a savory pull apart bread, and after that chat about pizza with the neighbors, I knew that a pizza bread recipe was next up on my kitchen adventures.
What I love to keep as a common denominator in my yeast breads is a simple base. You'll see that pesto pull apart bread is quite similar to my Italian anise bread, which is not too far off from my cinnamon roll dough.
A yeast bread base doesn't have to be complicated each and every time, and you can do a lot with add-ins, seasonings, and even just changing up whether the butter is melted or simply softened.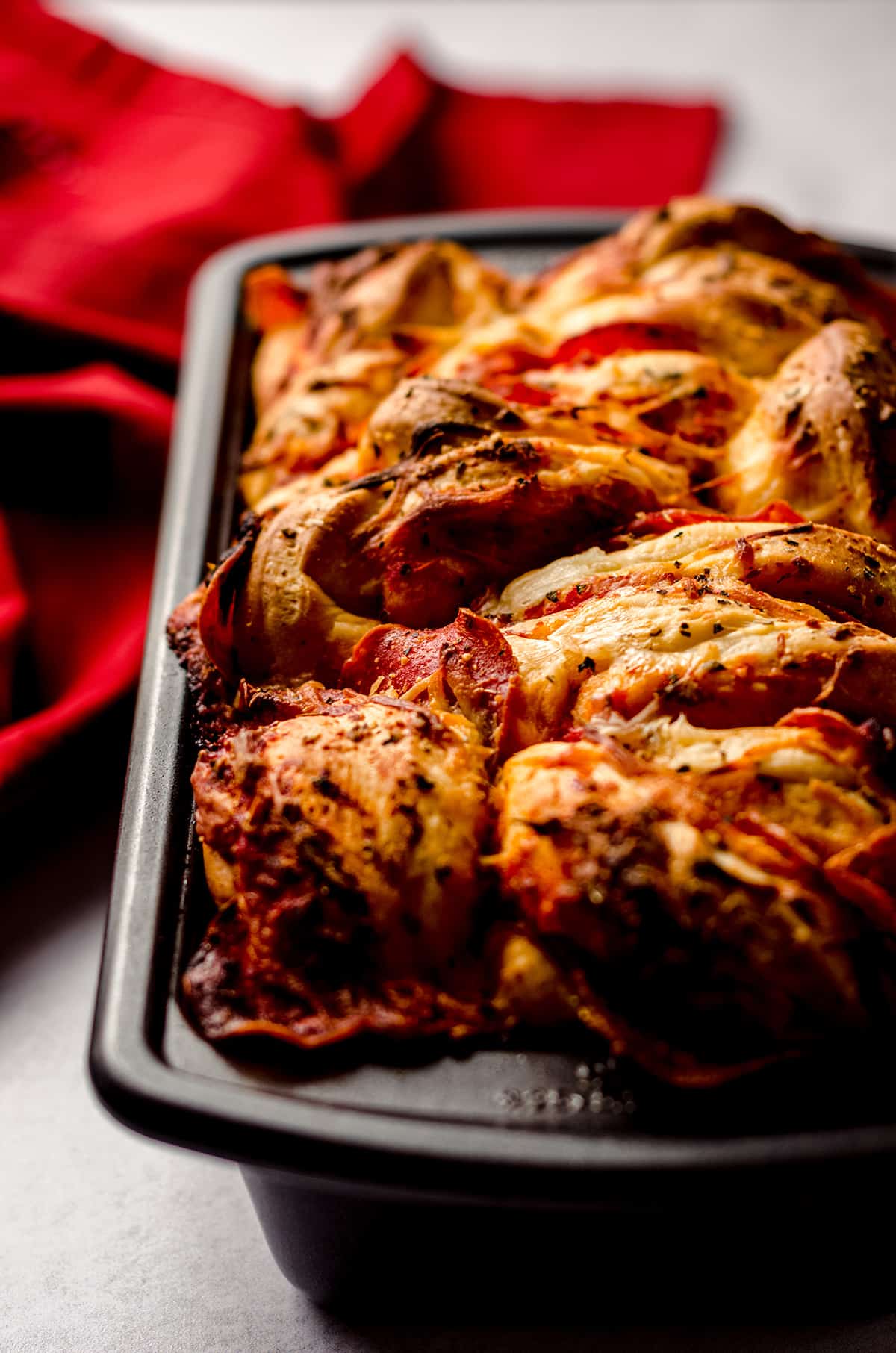 WHY NOT USE PIZZA DOUGH FOR PIZZA PULL APART BREAD?
Pizza dough tends to yield more of a light and airy texture. For pizza, it's all about the toppings, and if the crust is too thick, you're basically just left with a thick, slightly sauced/cheesed slice of bread.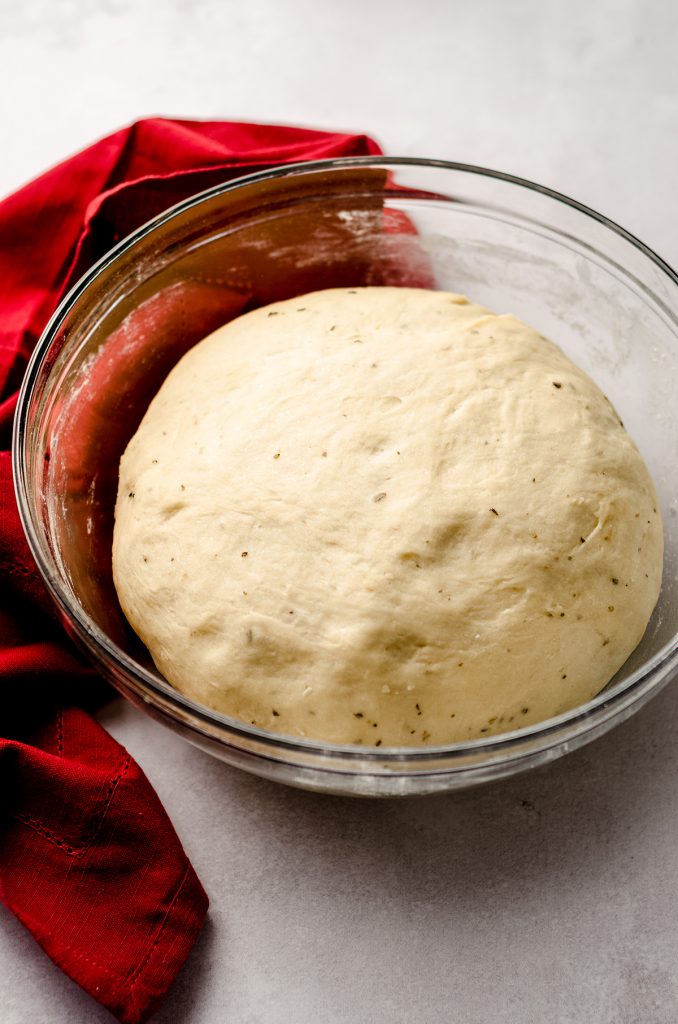 That light and airy dough is not what I want to go with in a loaf of yeast bread.
The yeast bread dough we use here is fluffy, but it's denser than pizza dough. It has lots of nooks and crannies that get filled with pizza sauce, pepperoni, and cheese.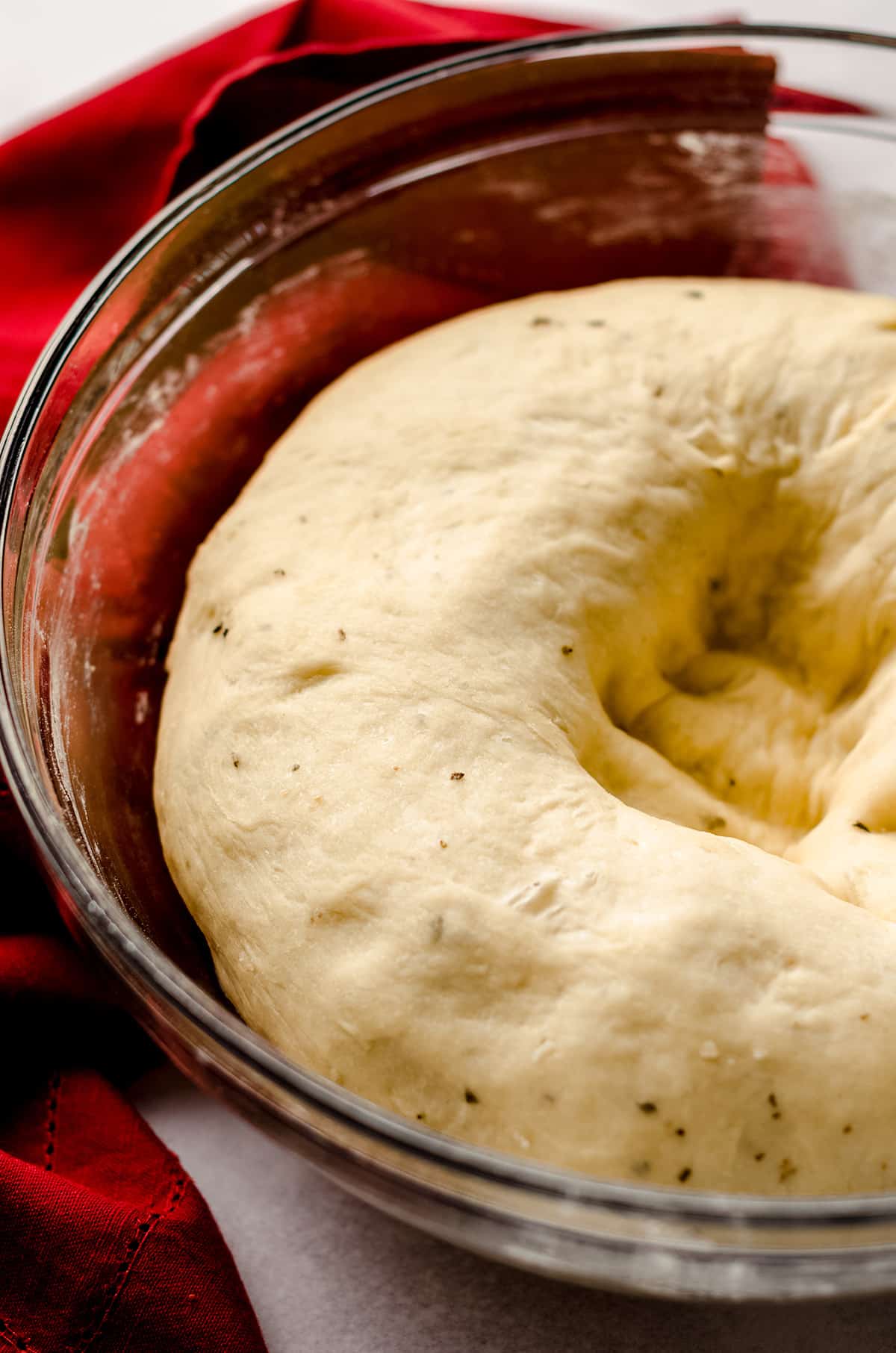 It's like pillowy pizza bread. You can get down with that, yes? And I don't mean for sleeping… I mean for lunch. But hey, you do you.
HOW TO MAKE PIZZA PULL APART BREAD
The method here is simple. Once you've tackled the yeast bread dough portion of all of this, the method of preparation for the "pull apart" situation is nothing to be intimidated by.
You'll roll your dough out into a large shape– circle, rectangle, whatever– you just want to maximize surface area and be able to cut out a bunch of circles that are about ½" thick.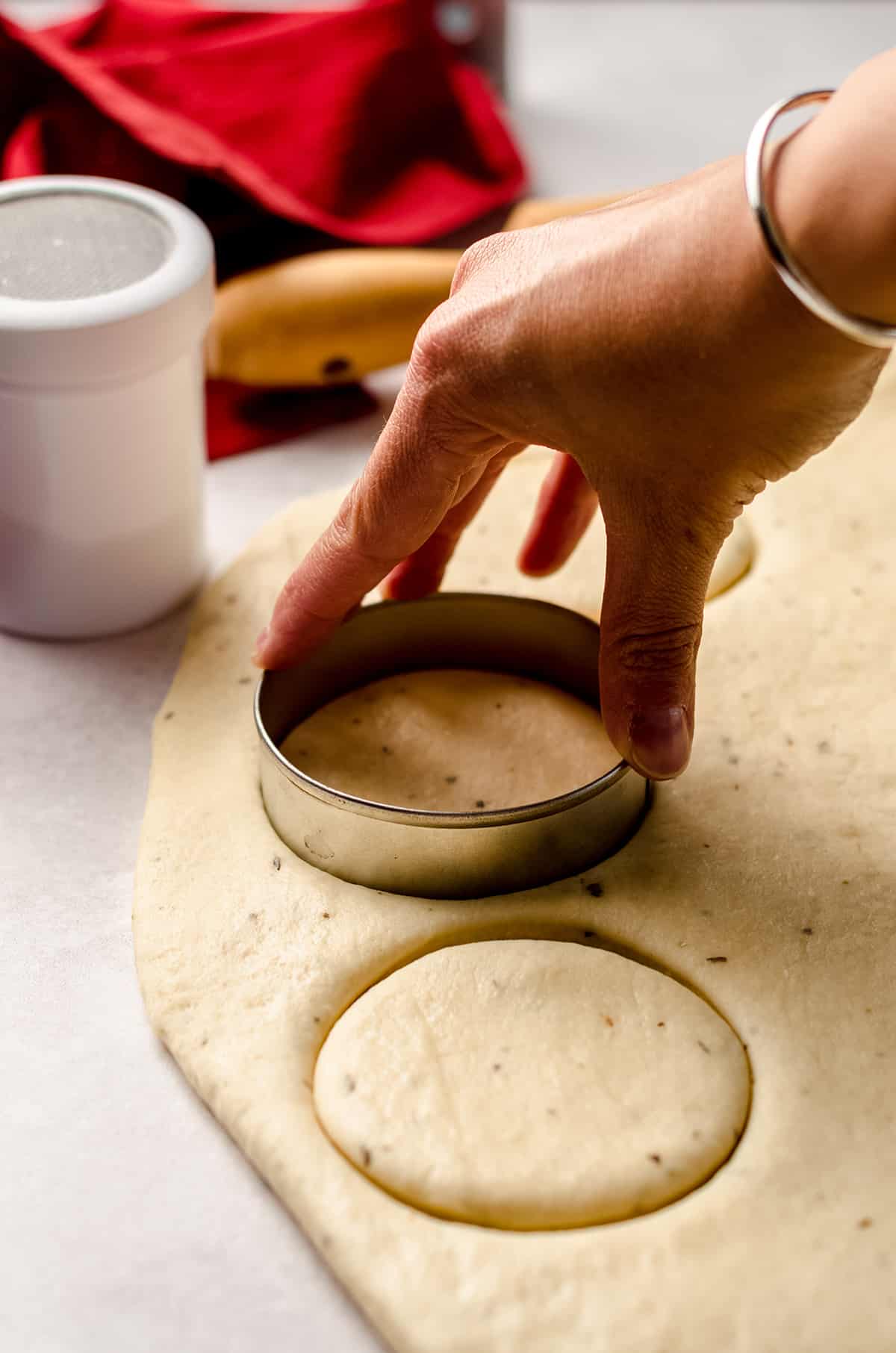 You're looking to get about 12-14 circles of dough out of what you have, and I have notes in the bottom of the recipe for what to do with the leftover dough.
After you've cut out all of your circles, you'll top half of them with sauce, shredded mozzarella, and a slice of pepperoni (you can do two if you'd like!).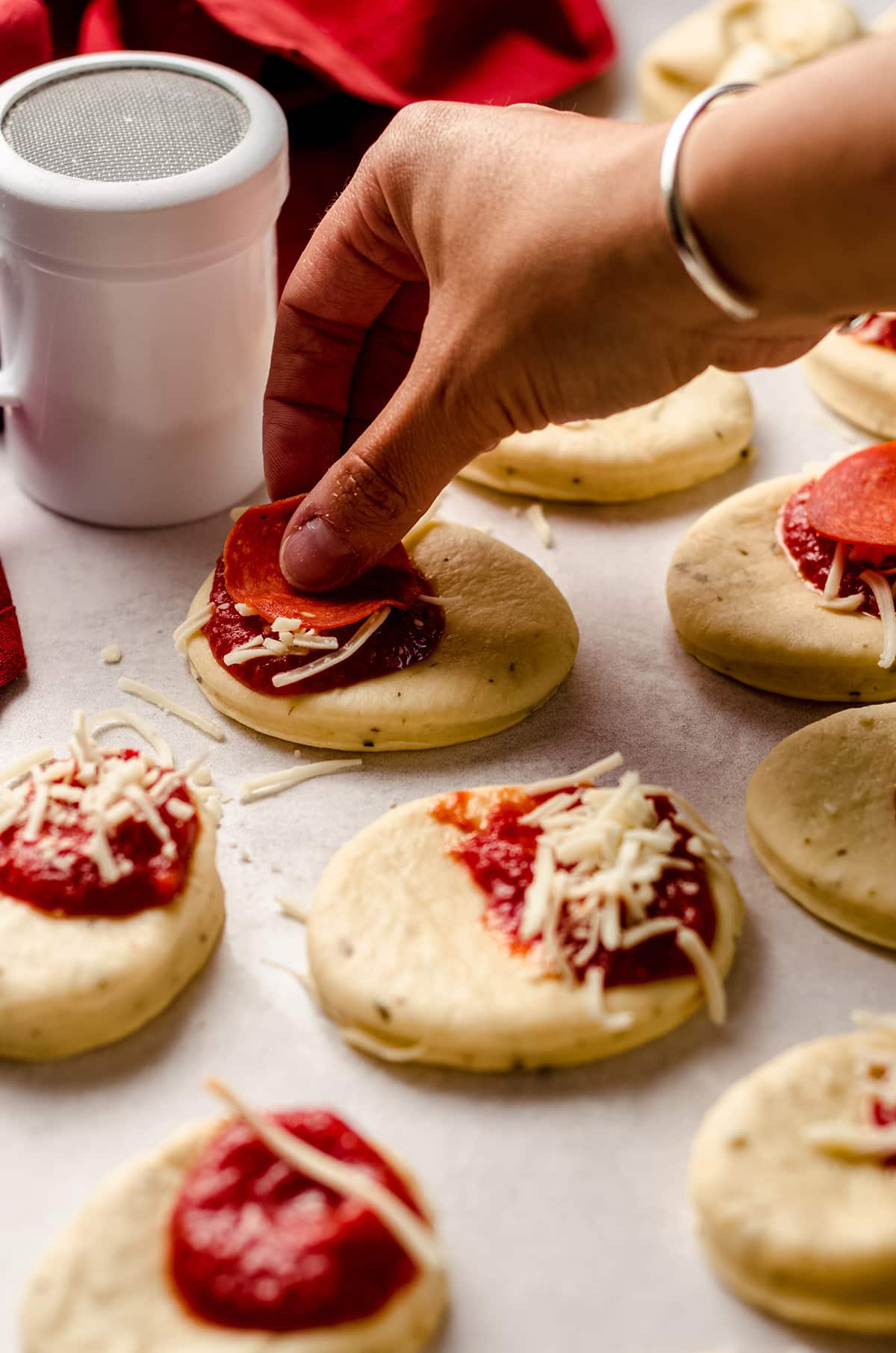 Fold each disc in half, and then layer them upright into a prepared loaf pan, folded side down. You'll have, like, pizza tacos, open side up.
Layer them in, however you'd like, filling all the spaces with little pizza tacos, and even tucking some into the sides.
After all of your discs are in, you can tuck a few more slices of pepperoni in there, then drizzle with olive oil, some grated Parmesan cheese, more Italian seasoning, and some additional shredded mozzarella.
You'll be left with a beautiful pepperoni and mozzarella pull apart bread, ready for the oven and ready to make your house smell amaaaaaazing.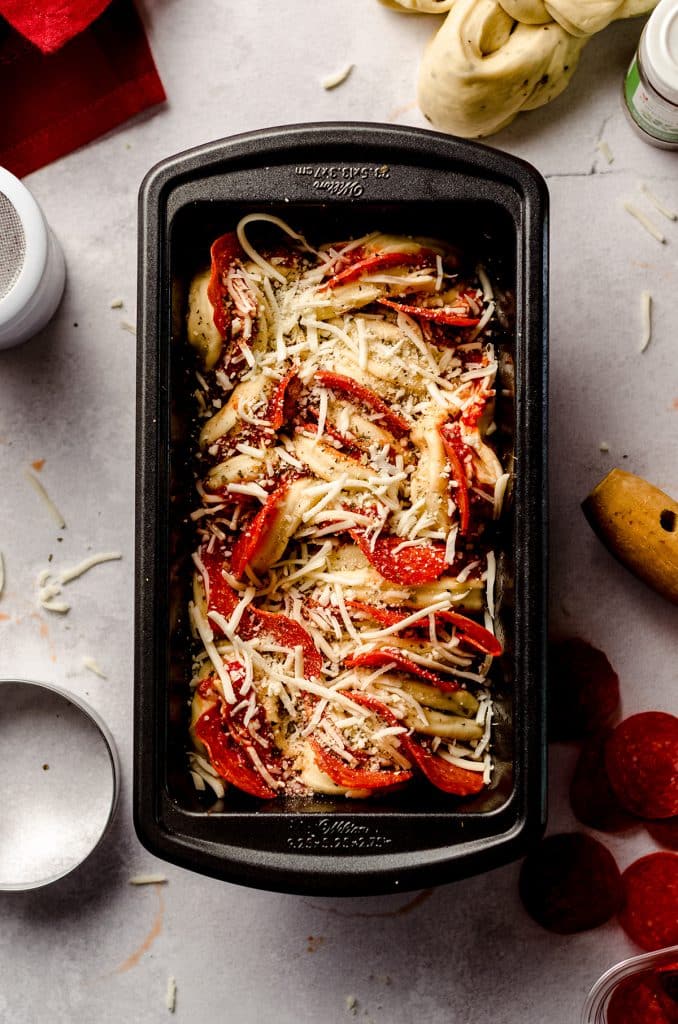 After about 40 minutes, your loaf will be done, nice and toasted on top and jam packed with pizza goodies on the inside.
Allow it to cool in the loaf pan for a bit, then let it cool some more on a wire rack. We started eating this pull apart pepperoni pizza bread while it was still warm, and we actually dipped it into additional pizza sauce. But it's just as good at room temperature, or warmed up as needed.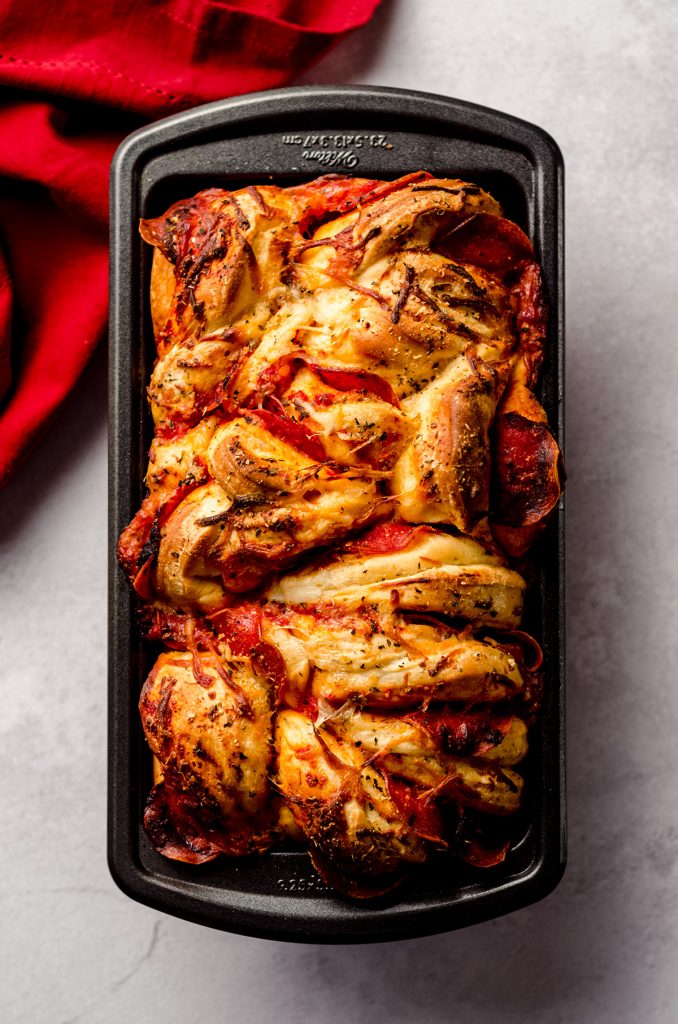 The fun part about a pull apart recipe is that no two servings are alike, and each bite is like a jazzy combo of a perfectly soft yeast bread and a not-exactly slice of pizza. It's like the best of both bread and pizza world. And a creative way to serve pizza at a gathering.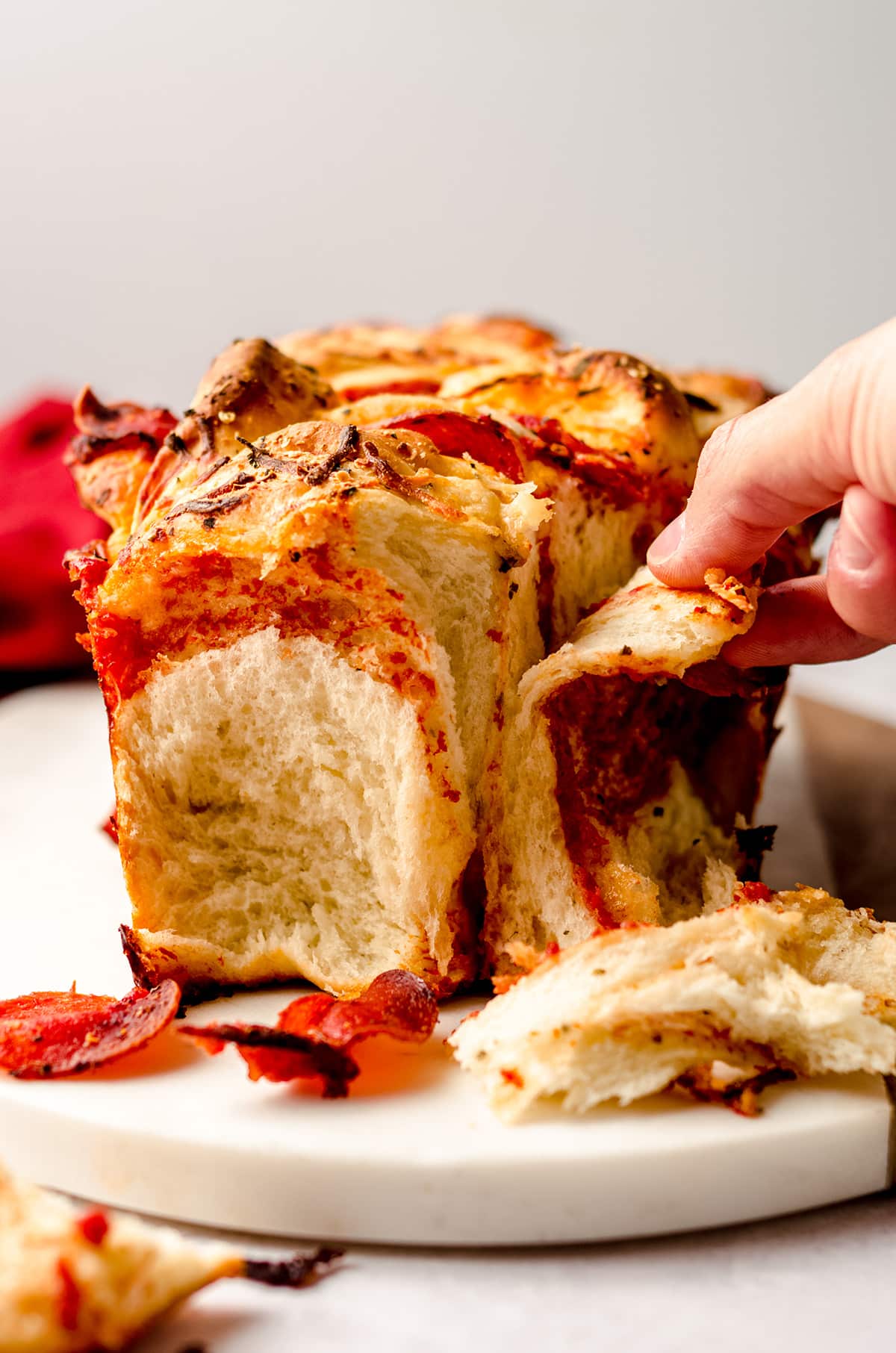 My other favorite thing about this easy pull apart pizza bread is that it transports so easily and requires no cardboard box!
Our kids loved this pull apart pizza loaf, too, which always brings something up a notch on the "awesome" scale for us.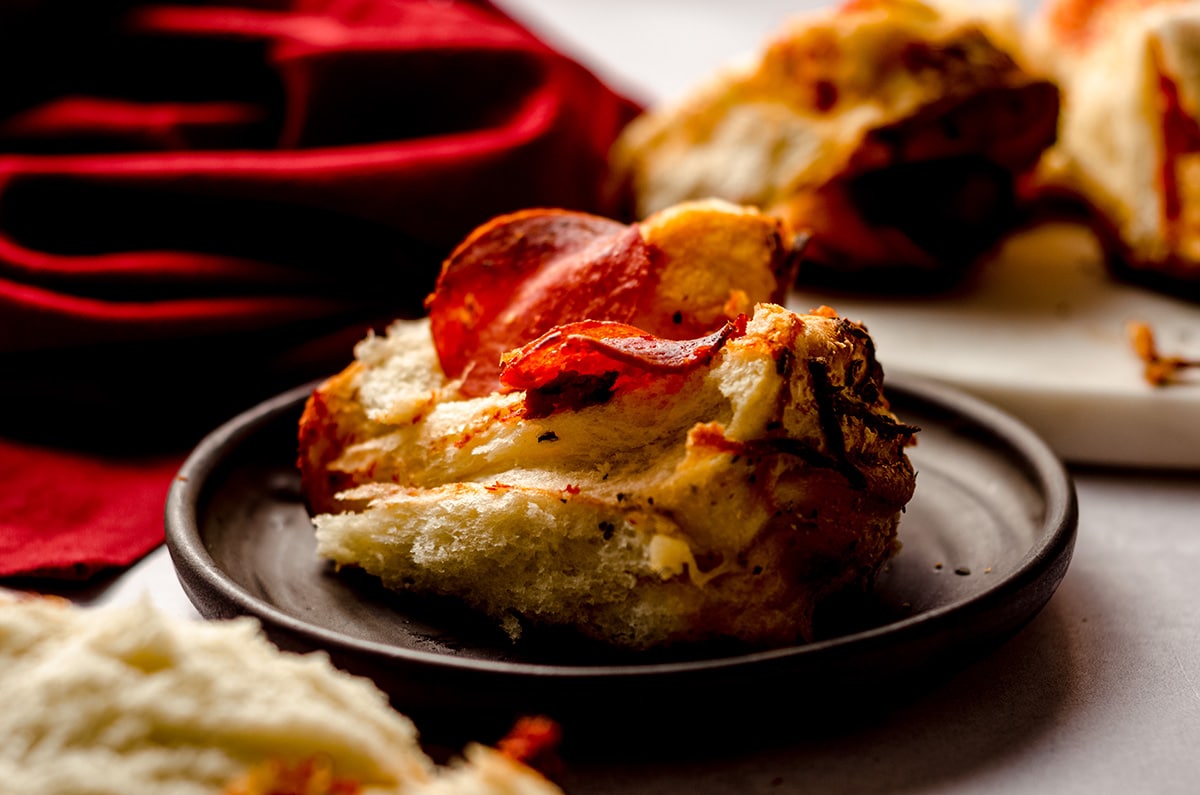 Plus, how can you resist that cheesy, seasoned, golden brown top that leads to that pillow soft interior?? It's just too good to pass up!
Pizza Pull Apart Bread
A simple loaf of yeast bread made with layers of pizza sauce, shredded cheese, and pepperoni. A fun twist on traditional pizza and easy to transport!
Ingredients
¼

cup

(60mL) warm water

2 and ¼

teaspoons

(7g) active dry yeast

or 1 packet

1

cup

(240mL) warm milk

I prefer whole

2

Tablespoons

(30g) granulated sugar

1 and ½

teaspoons

salt

2

teaspoons

Italian seasoning

divided

½

teaspoon

garlic powder

¼

cup

(57g) unsalted butter

melted

2

large eggs

at room temperature

4 and ½

cups

(540g) all-purpose flour be sure to measure properly

½

cup

(113g) pizza sauce

½

cup

(56g) shredded mozzarella

5

ounces

thinly sliced pepperoni

1

Tablespoon

(15mL) olive oil

3

Tablespoons

(17g) grated Parmesan cheese
Instructions
Sprinkle the yeast over warm water. The best way to test the temperature of your water is to take it from the tap and run your wrist in the stream. If you can't feel the temperature of the water, it's perfect. Stir yeast in with a fork until it is dissolved and set aside.

In a large mixing bowl or the bowl of a stand mixer, blend the milk, sugar, salt, 1 teaspoon of Italian seasoning, and garlic powder with a wooden spoon or a spatula. Stir in the butter, eggs, and yeast mixture.

Gradually stir in the flour. If you are using a stand mixer, use your dough hook. If mixing by hand, continue to use a wooden spoon or spatula. Add flour until your dough is soft enough to handle, usually when it can easily pull away from the sides of your bowl.

Turn out dough on a lightly floured surface and knead until smooth and elastic. You may need to add the last cup or so of flour by hand. Your dough should feel like PlayDoh to the touch and "snap" when you pull it apart.

Spray or wipe your bowl with olive oil and place the dough ball into the bottom of the bowl. Flip the dough ball over to coat the top, and then cover the bowl with a lid or towel and place in a warm environment. I like to heat my oven to 200ºF (93ºC), turn it off, then leave the door cracked with the bowl inside. Allow dough to rise until double in size, about 90 minutes.

After dough has doubled, punch down the dough and turn out onto a lightly floured surface. Roll dough to about ½" thickness and, using a biscuit cutter, the rim of a glass, or a circular cookie cutter approximately 4" in diameter to cut circles of dough. Re-roll dough until you have about 12-14 circles. Save the remaining dough and refer to notes1 for what to do with it.

Spray a loaf pan with non-stick spray. Set aside.

Spread about ½ Tablespoon of pizza sauce, a sprinkle with shredded mozzarella, and one slice of pepperoni on half of each disc. Fold each disc in half, and place folded side down in the prepared loaf pan. Continue with each disc until all of the discs are in the pan, moving things around if necessary. Do not worry about aesthetics.

Drizzle olive oil on top, then sprinkle grated Parmesan and remaining Italian seasoning on top. I sprinkled a little extra shredded mozzarella on top, too. Cover loaf with a clean kitchen towel and allow to rise at room temperature for about 30-45 minutes.

When you are ready to bake the bread, set the rack to the middle position in the oven and preheat it to 350ºF (177ºC). Bake the loaf for 40-45 minutes or until the top is golden brown. Allow to cool on a wire cooling rack at least 15 minutes before turning out and serving. Loaf can be served warm or room temperature, and we enjoyed ours with additional pizza sauce for dipping. Leftovers stay fresh, covered tightly in the refrigerator, up to 5 days. Loaf freezes well, up to 3 months. Wrap tightly. Thaw in refrigerator overnight.
Notes
Leftover dough: roll or shape the dough into about

½

" thick circle (it does not have to be perfect). Brush with olive oil, add seasoning if you'd like (such as garlic powder, onion powder, Italian seasoning, etc), a sprinkle of cheese, and bake at 350ºF (177ºC) for about 15-20 minutes until golden brown.
Nutrition Disclosure
All nutritional values are approximate and provided to the reader as a courtesy. Changing ingredients and/or quantities will alter the estimated nutritional calculations.
Serving:
1
serving
|
Calories:
335
kcal
|
Carbohydrates:
41
g
|
Protein:
11
g
|
Fat:
14
g
|
Saturated Fat:
6
g
|
Polyunsaturated Fat:
1
g
|
Monounsaturated Fat:
5
g
|
Trans Fat:
0.4
g
|
Cholesterol:
56
mg
|
Sodium:
598
mg
|
Potassium:
188
mg
|
Fiber:
2
g
|
Sugar:
4
g
|
Vitamin A:
284
IU
|
Vitamin C:
1
mg
|
Calcium:
82
mg
|
Iron:
3
mg
And if you're really into pizza in different forms, you've got to try my skillet pizza dip next!