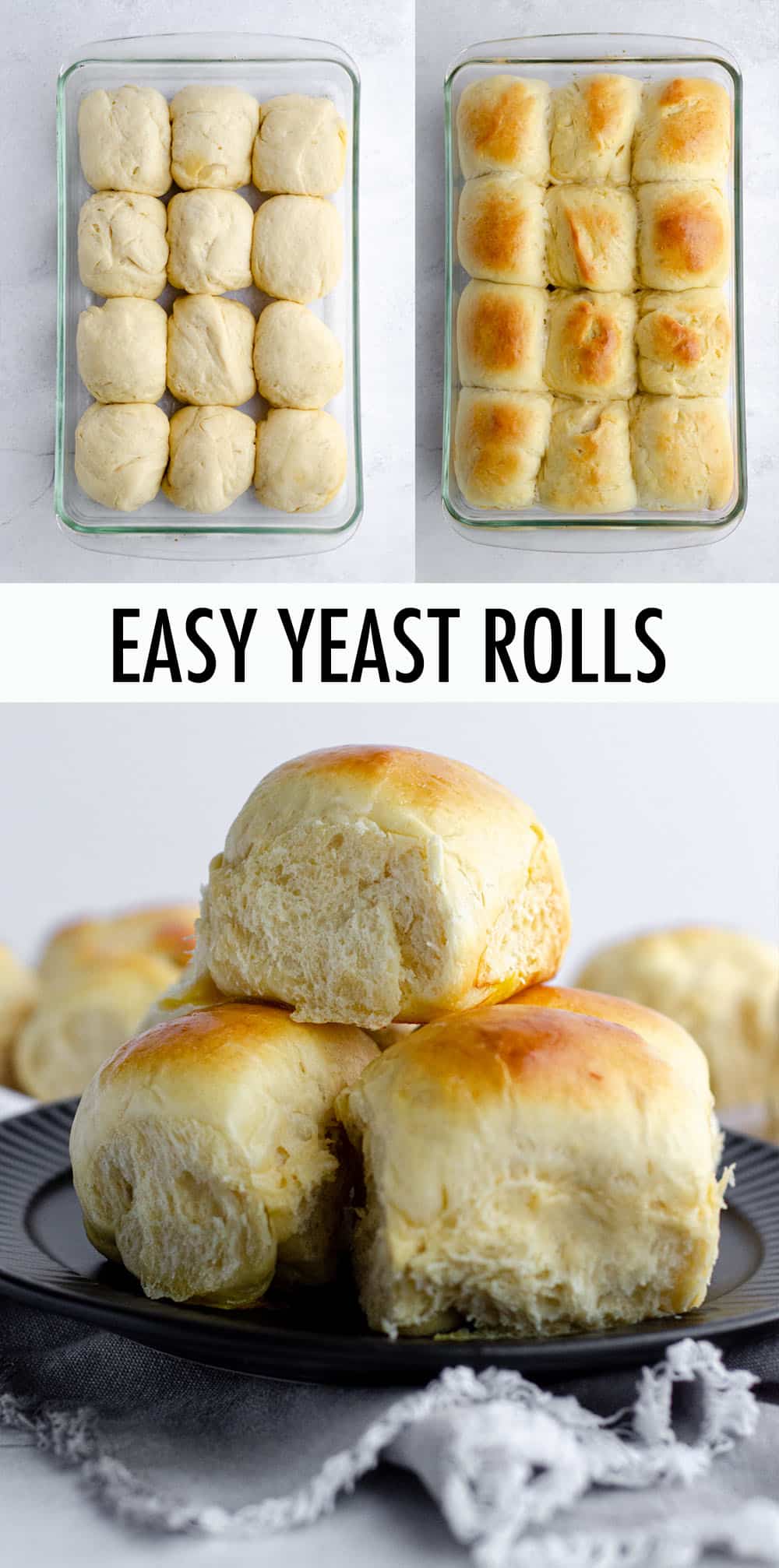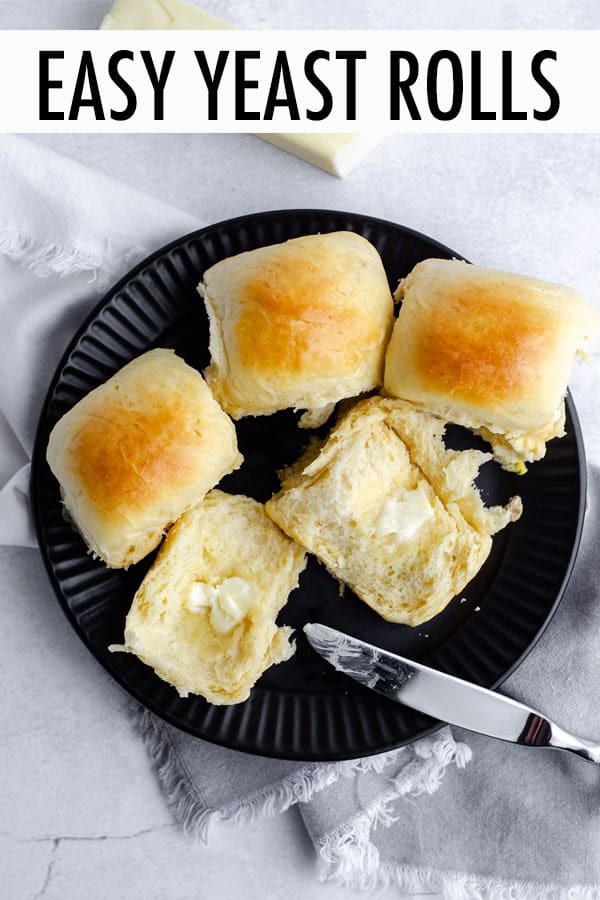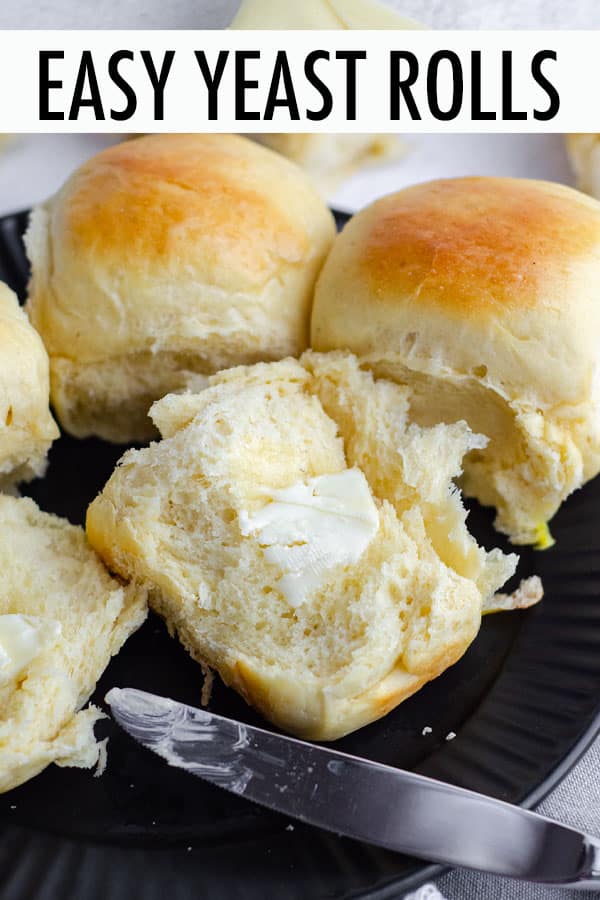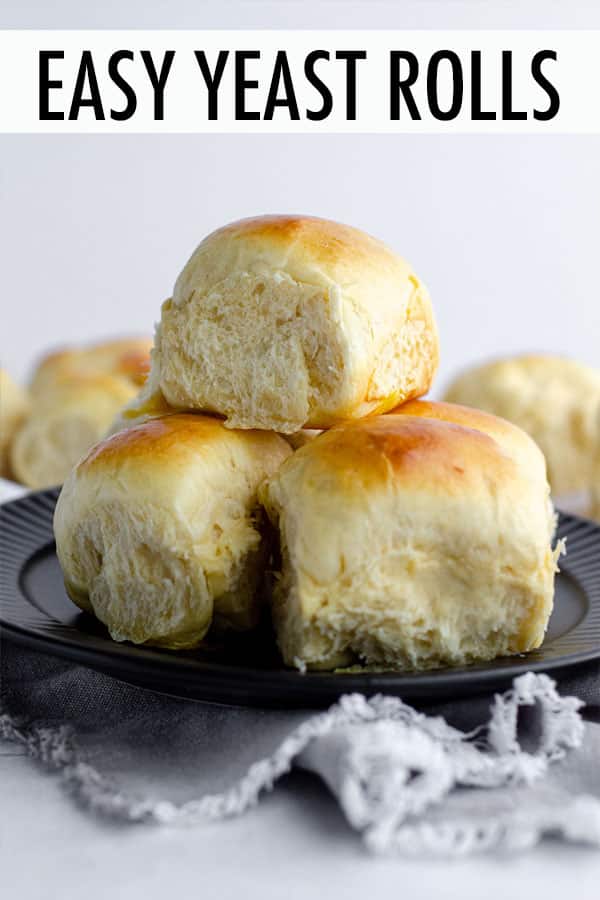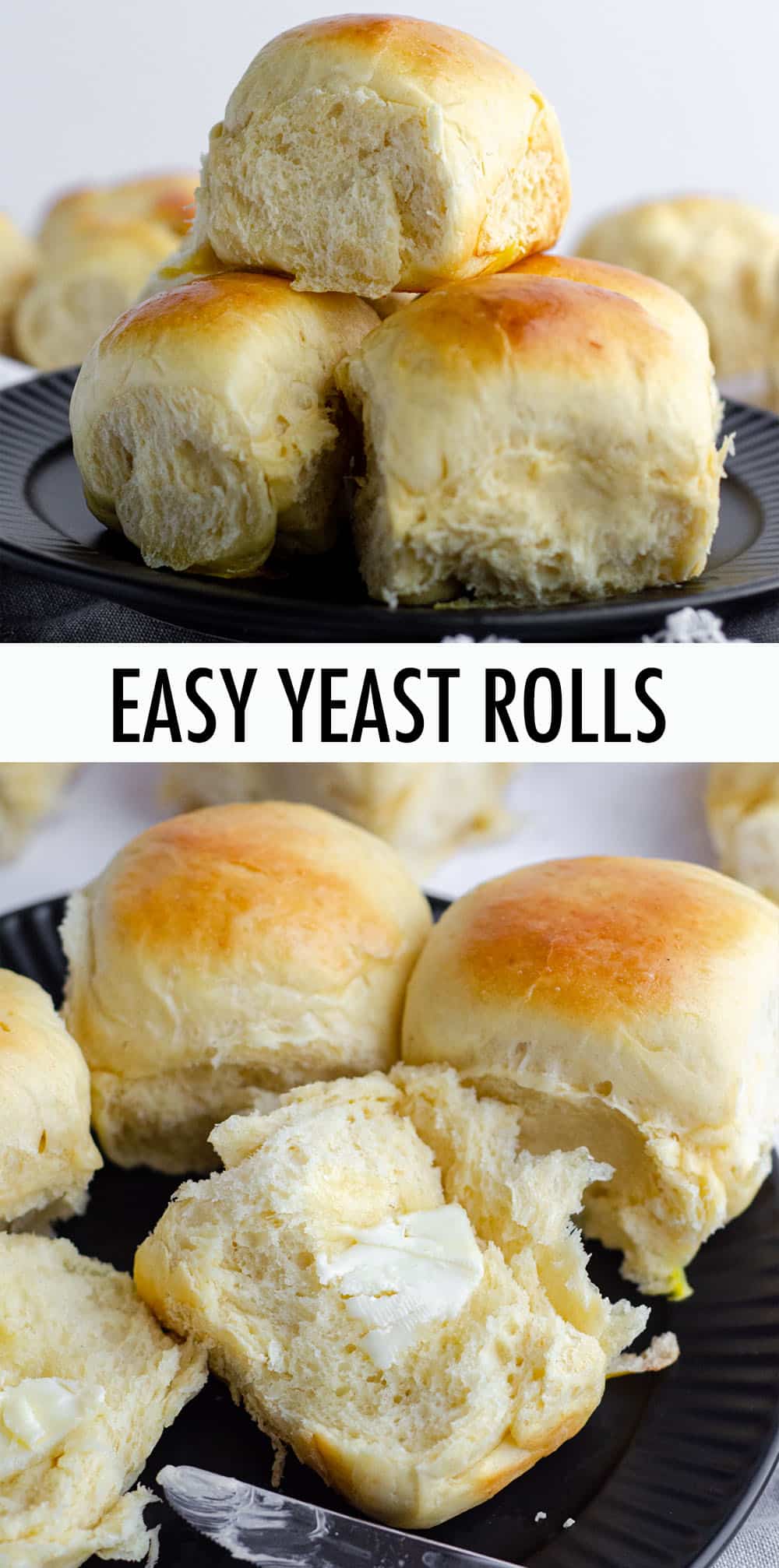 As an Amazon Associate, I earn from qualifying purchases. Read the full disclosure here.
These easy yeast rolls are made with simple ingredients and are perfect for yeast bread beginners. This recipe results in soft, pillowy rolls that can be made ahead of time and allowed to rest overnight in the refrigerator or baked right away.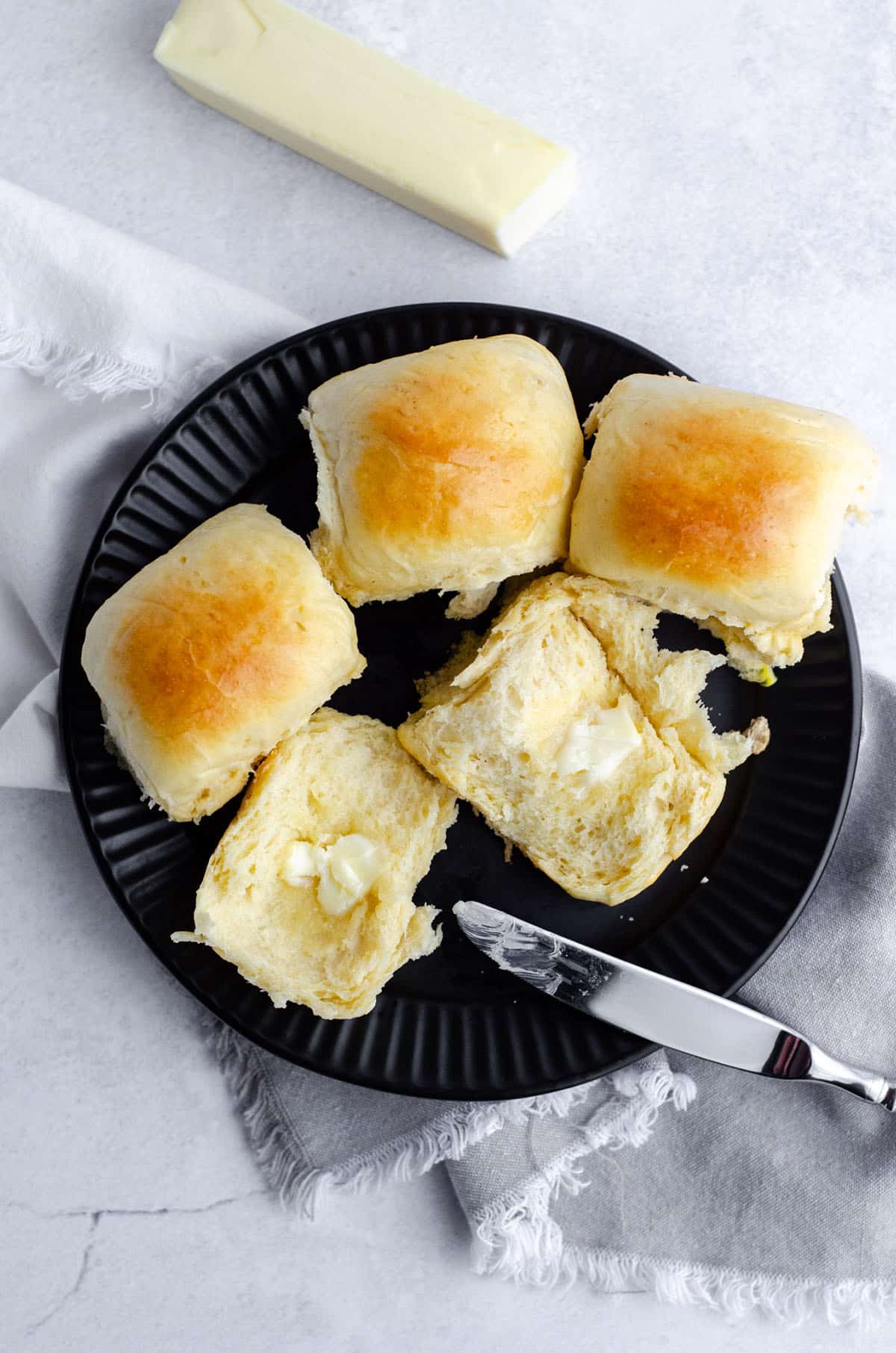 If there's one thing I want you to be able to make well as a home baker, it's bread. Whether it's sandwich bread, a fun anise-filled bread for a holiday, or a fancy babka, knowing how to make bread from scratch with yeast is very useful skill to acquire.
While I have a bunch of yeast bread recipes on my site, these amazingly simple dinner rolls reign supreme when it comes to recipes I like to steer folks to when they're intimidated by tackling their first yeast bread.
Since I haven't always been a "yeast bread is NBD" kind of baker, I totally get that yeast bread is often scary to someone who has never done it before. But the more I do it, the more I realize how resilient and forgiving bread is.
And I've never actually truly ruined it.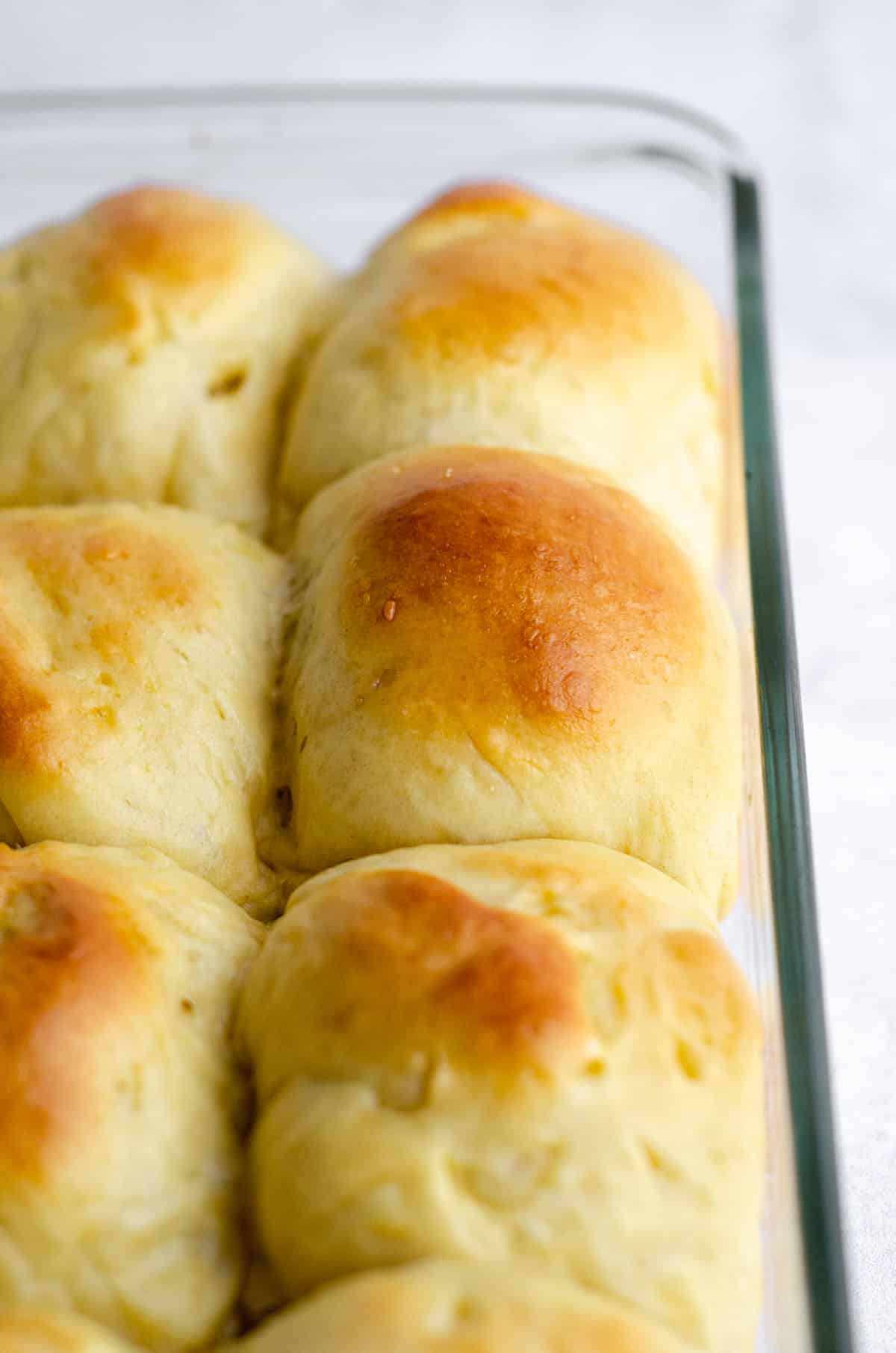 Many years ago, I went to my parents' house to learn how to make my grandmother's Easter bread. I set aside a day to learn, and once my mom showed me the ropes, I said… "THAT'S IT?"
Yep, that's it. I was so intimidated for seemingly no reason.
While I do agree it can seem like a lot of work up front and that working with yeast is finicky or hard to manage, I truly believe it's much easier than most people assume it to be, and these homemade yeast rolls are one of the easier yeast bread recipes I've published on my site.
I do have to give a mega shoutout, first, to the blogger who inspired these and how that came about.
In 2019, I went to a blogging conference and, by happenstance, arranged a "blind date" roommate connection via a Facebook group.
Kristin (aka Baker Bettie) was looking for a roommate, and I was going solo, so we hooked up as roomies. Some might call us crazy, but it worked out in our favor and she and I clicked pretty easily right from the start.
I learned quickly that Kristin is the bread queen! She loves bread making, hosts bread baking workshops in her hometown, and has several bread baking series on her YouTube channel.
In fact, if you follow me on Insta, you might know that in January 2020, I started my own sourdough starter (it was as if my subconscious knew…).
My starter was under the direction of Kristin's tutorial that I grew a beautiful starter, and her no-knead sourdough loaf has produced many amaaaazing loaves of sourdough bread in our house over the years.
Because of Kristin's awesome direction, I decided to use her make ahead yeast rolls, because an easy yeast rolls recipe was something I had been itching to publish on FAF for a long time.
Her recipe was easy to follow and resulted in perfectly pillowy dinner rolls, even with my changing things around to fit my preferences when it comes to bread-making.
These easy yeast roll recipe is very straight-forward. You'll get the dough together, allow it to rise, and then forming and shaping the rolls is actually very simple.
But let's start with the basics.
INGREDIENTS
While you'll need yeast, of course, you'll also need a few other ingredients.
We'll use milk for a creamy, fatty base (I prefer whole) and granulated sugar to activate the yeast.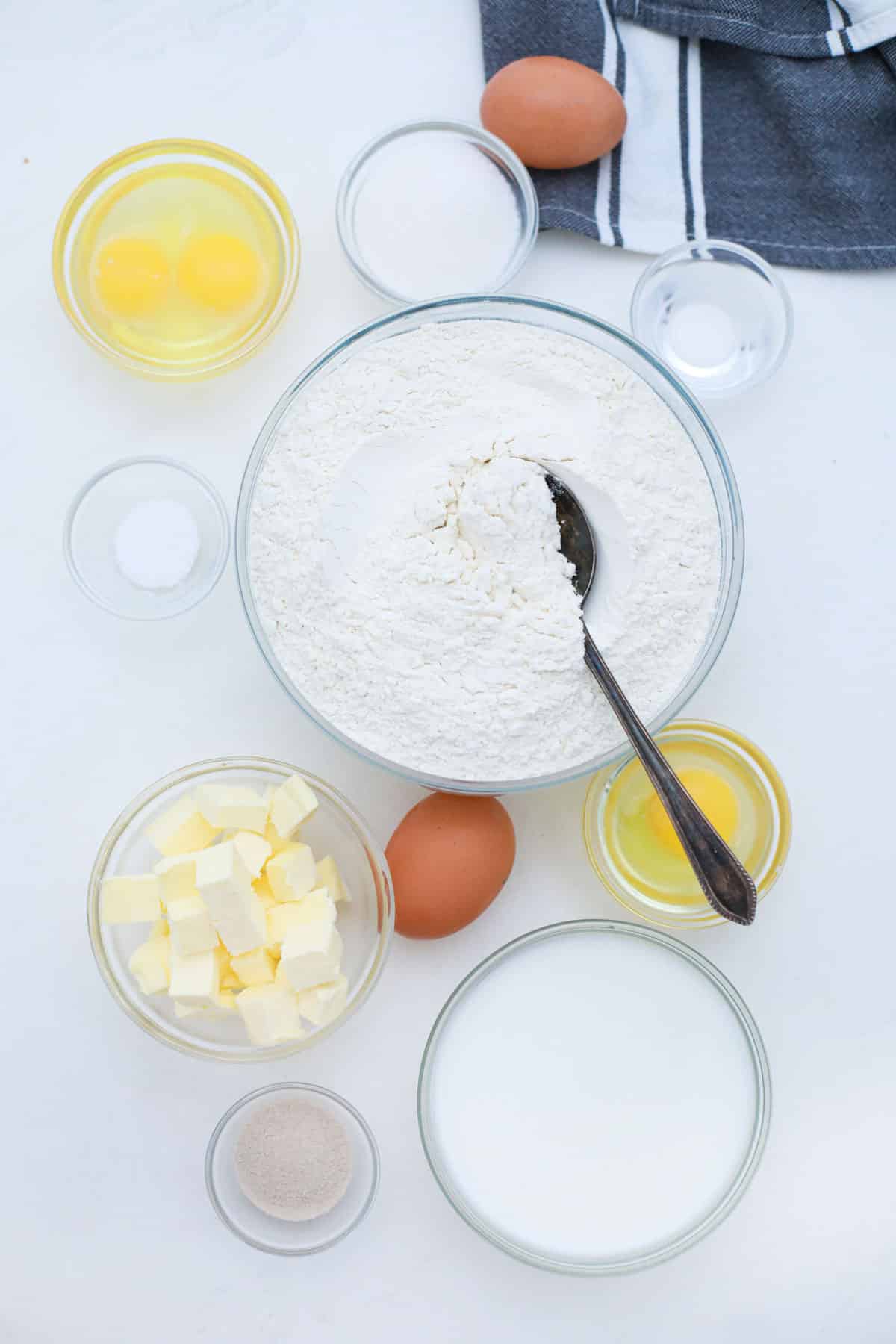 We'll also use some melted unsalted butter, two eggs, some salt, and then all purpose flour.
That's it! Only 7 ingredients, and another egg for an egg wash. I told you this was an easy recipe for yeast rolls.
HOW TO MAKE YEAST ROLLS
Like all yeast bread recipes, we'll start by activating and testing the activity of the yeast. Add it to warm milk with some sugar. It's ready to use when it's nice and bubbly/foamy.
Then, combine the butter, eggs, and salt until combined.
Lastly, you'll add the yeast mixture and flour and start to bring the dough together.
KNEAD THE DOUGH
You'll only need to knead this dough for about 5 minutes until it becomes soft and is ready for its first rise.
When the dough is smooth and elastic, you'll put it in an oiled bowl, cover it, and allow it to rise for about 1 hour.
HOW TO SHAPE DINNER ROLLS
Once the dough is risen, punch it down, then turn it out onto a floured surface.
I find it easiest to gather all of the dough and roll/shape it into a log that is 12″ long. And yes, I use a tape measure and a kitchen scale to make sure this is exact.
I then cut my log into twelve 1″ sections, press each into a small square, and then pull each corner into the center to make a little bread pouch.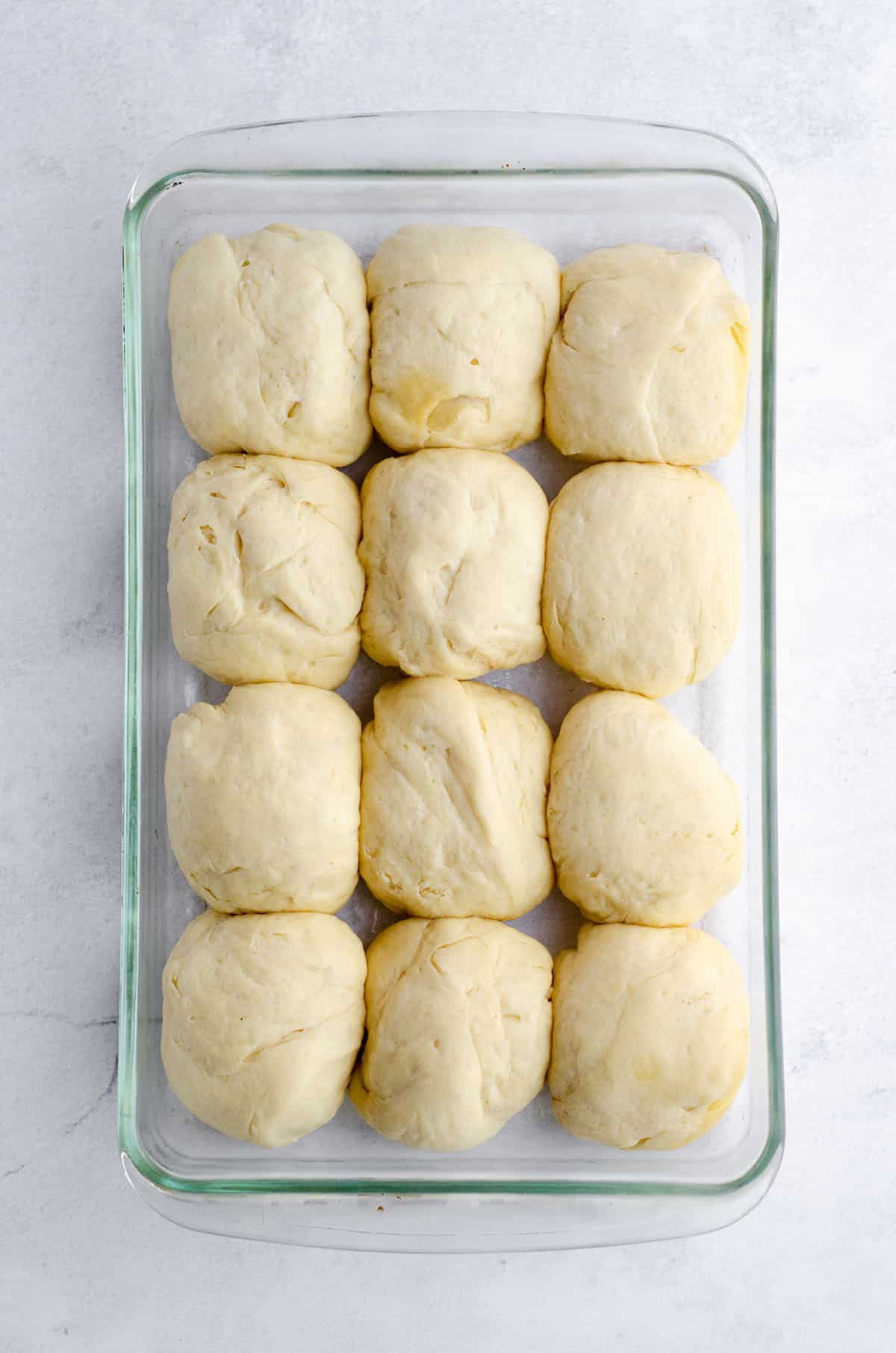 Perfectly shaped soft dinner rolls, just like that!
ALLOW TO RISE AGAIN OR CHILL TO RISE AND BAKE LATER
Once all of the rolls are in the pan, you have the option of allowing them to rise in the refrigerator to bake at a later time or at room temperature to bake after their second rise.
You can think of the fridge as a "pause" button any time you're making bread. The active yeast will rest and pause its activity, and while it isn't indefinite, you can leave these rolls in the fridge to rest for up to 18 hours.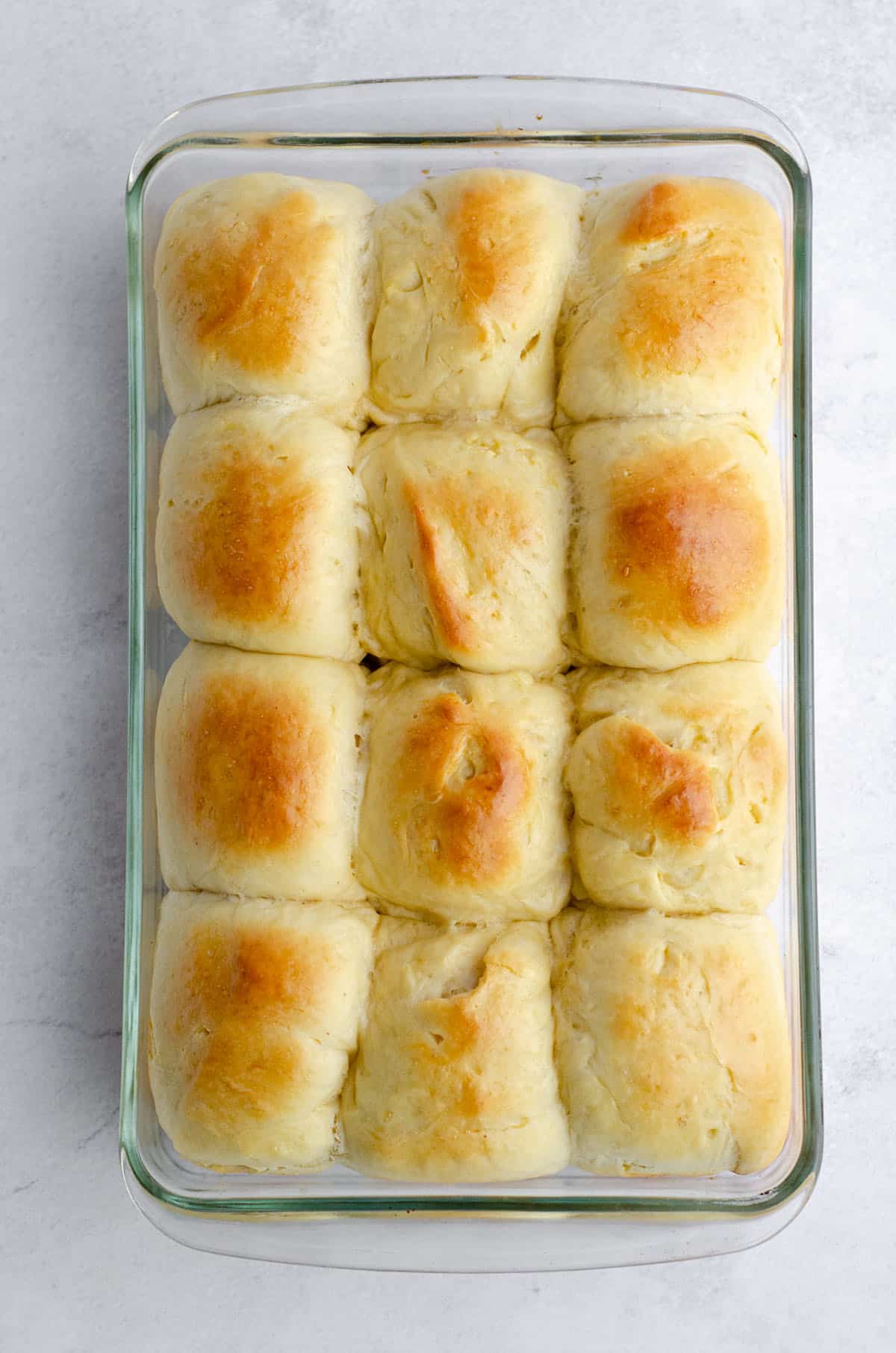 Regardless of when you bake them, they'll get a simple egg wash before they go into the oven, and once they're done, they're ready to eat!
This is a great dinner roll recipe for a day when you would rather just do the work the night before and bake your homemade dinner rolls right before, well, dinner.
Or a holiday where you can prep one more thing ahead of time to reduce the amount of work you have to do on the actual holiday.
We love these homemade rolls spread with my cinnamon honey butter, but we also use them for sandwiches which are always extra good (because of the homemade bread love, of course).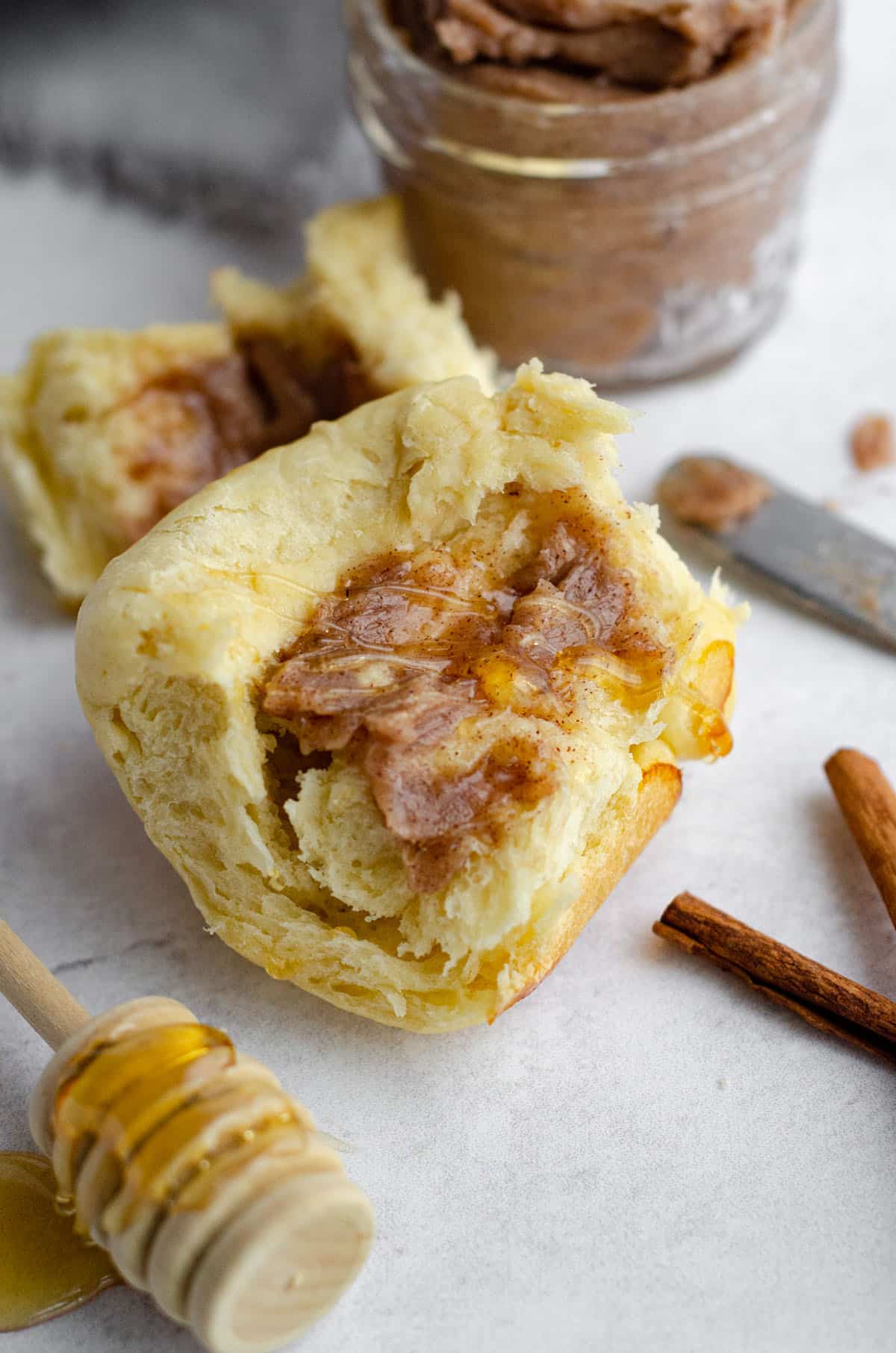 The kids even allow them for PB&J, which is crazy, because they typically are pretty picky about the fancy whole grain bread that we usually get for them. Pshh… Bread snobs.
This is the perfect bread roll recipe for a quick and easy alternative to store-bought slider rolls or dinner rolls. We utilizing this recipe again and again all year long, especially in summer for burgers on the grill and as we host holidays in the later part of the year.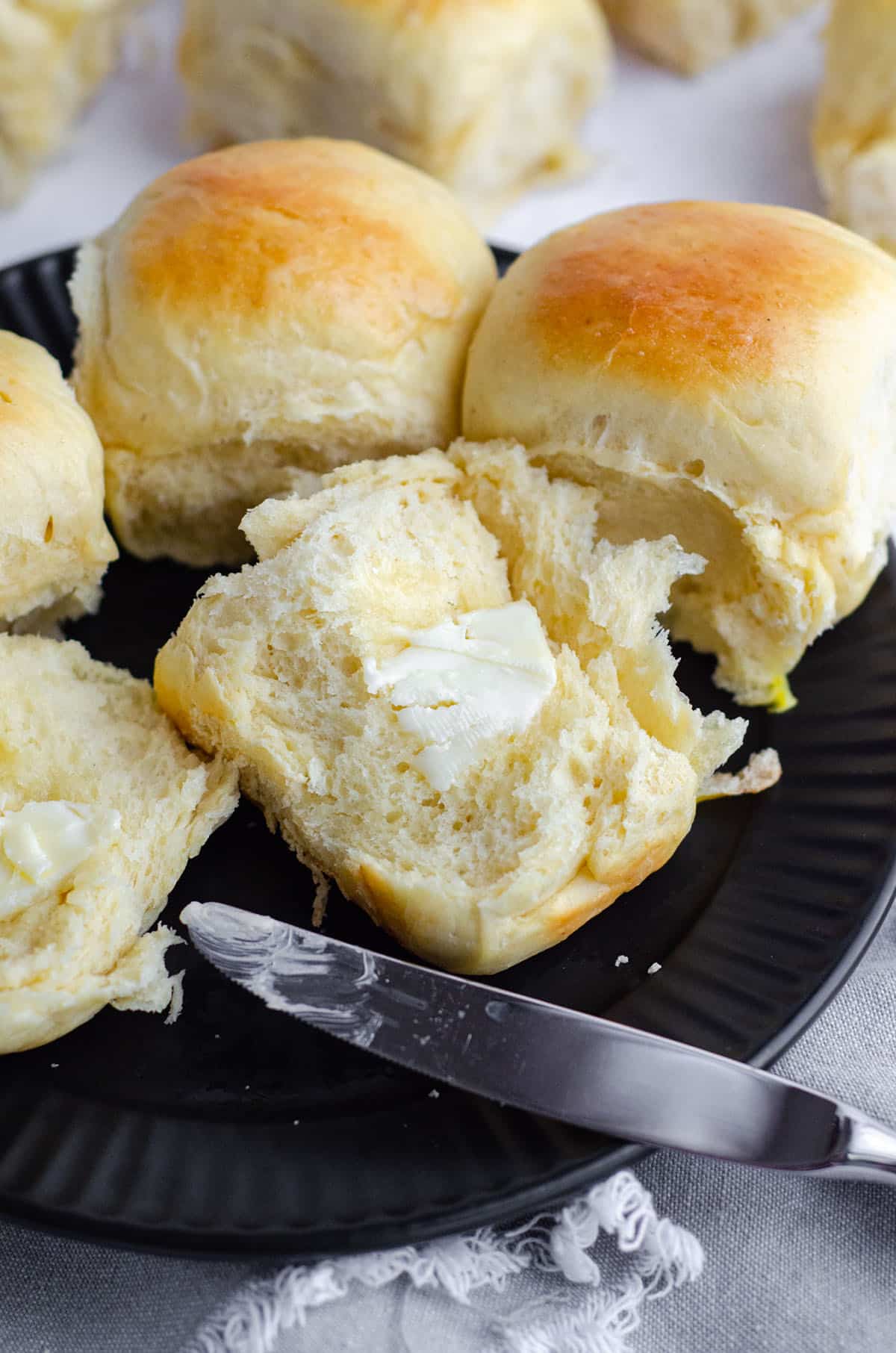 If you're a yeast bread beginner or even a pro, this is definitely one to stick in your recipe collection as a go-to. I know you'll love the taste and texture, and if yeast is plentiful in your kitchen right now, I say go for gold with these never fail yeast rolls!
Love homemade bread? Use these sliders with my baked turkey and cheese sliders or make your own hot dog buns!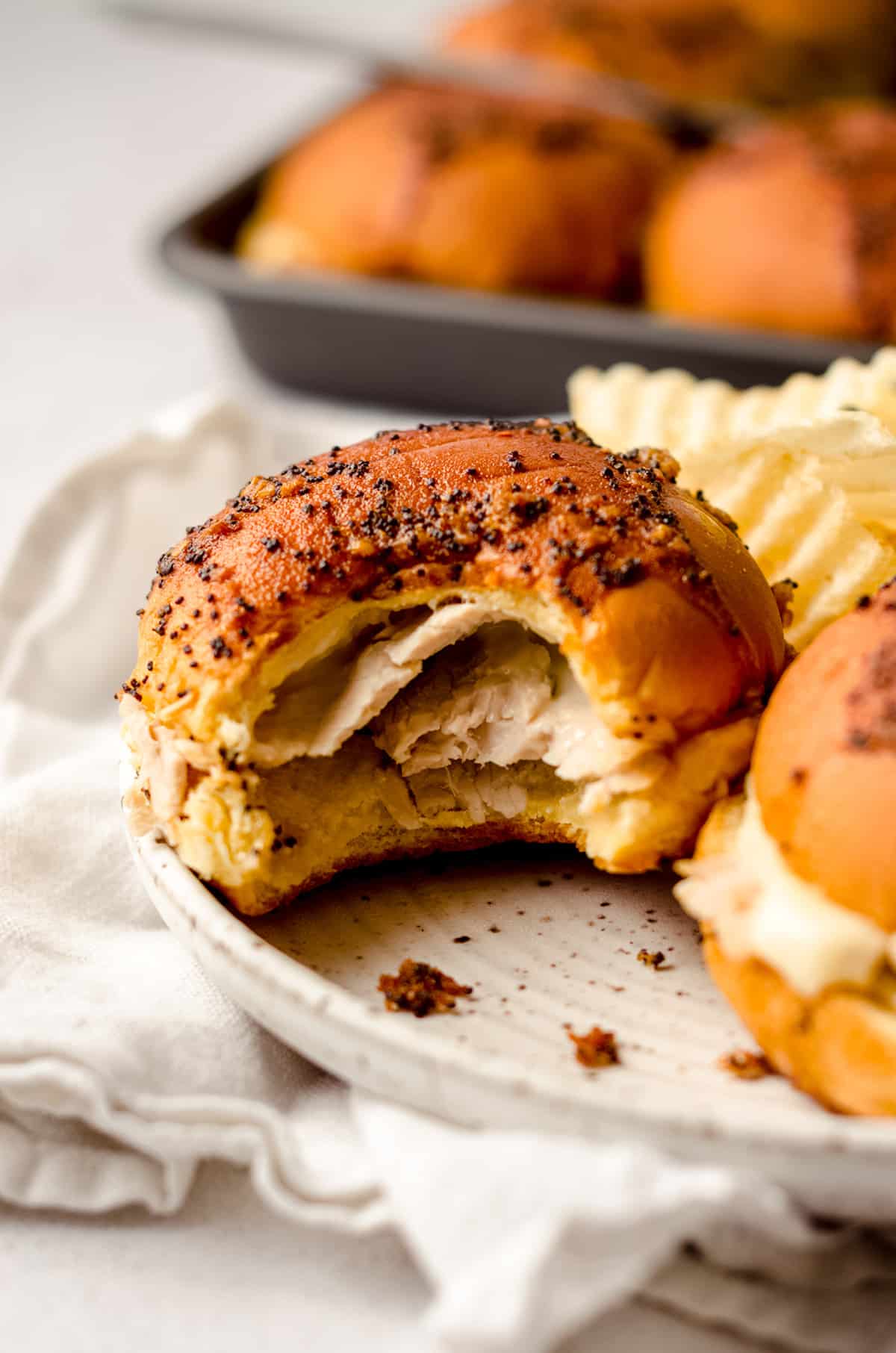 SOME OTHER SLIDER FILLINGS TO GO ON YOUR YEAST ROLLS
Easy Yeast Rolls
These easy yeast rolls are made with simple ingredients and are perfect for yeast bread beginners. This recipe results in soft, pillowy rolls that can be made ahead of time and allowed to rest overnight in the refrigerator or baked right away.
Ingredients
1

cup

(240mL) warm milk

I prefer whole

3

Tablespoons

(38g) granulated sugar

2 and ¼

teaspoons

(7g) dry active yeast (or one package)

not instant or rapid rise

6

Tablespoons

(85g) unsalted butter

melted

2

large eggs

room temperature

1 and ¼

teaspoon

salt

4 and ½

cups

(540g) all-purpose flour be sure to measure properly

1

large egg1

1

Tablespoon

water
Instructions
Pour the sugar into the warm milk, then sprinkle the yeast over the sugar. Stir together and allow to sit for 5 minutes to proof.

Once the yeast is proofed, stir together the melted butter, eggs, and salt in a medium size bowl. Add the flour and proofed yeast mixture and stir until a soft dough forms.

Turn the dough out onto a lightly floured surface, and knead the dough by hand for about 5 minutes until it is smooth and elastic. Alternatively, you can knead the dough in a stand mixer fitted with a dough hook.

Place the dough in an oiled bowl, turning it over to coat, then cover with a kitchen towel and allow to rise until doubled in size, about 1 hour.

After dough has risen, punch down the dough to deflate, then turn dough out onto a lightly floured surface. Pat the dough into a 12" long rectangle or log, then cut into 12 equal pieces.

Spray a 9" x 13" baking dish with nonstick spray. Set aside.

Shape each piece of dough into a ball by patting the dough into a small square, then pulling each corner into the center to create a pouch. Pinch the corners together to make a seal. Place formed roll into the prepared pan, spacing them out evenly (4 rows of 3).

Cover the rolls with a kitchen towel and allow to rise at room temperature for 1 hour.

Arrange a rack in the middle of the oven, then preheat the oven to 375ºF (190ºC). Whisk together the egg and water, then brush the rolls with the egg wash. Bake rolls for 25-30 minutes, or until golden brown on top. Rolls freeze well, up to 3 months. Thaw in refrigerator overnight.
Notes
Egg wash: I have also brushed these rolls with melted butter before baking and then again after baking for an extra buttery taste. Omit egg wash and use 4 Tablespoons of melted butter.
To make ahead:

lay plastic wrap directly on the shaped rolls and refrigerate up to 18 hours. Remove from the refrigerator 2 hours before you want to serve them. Let them rise at room temperature for 1 and ½ hours before baking them, then proceed with step 9.

Halve this recipe: this recipe halves beautifully. Roll into a 6″ log instead of 12″ and cut into 6 pieces. Rise and bake times are the same, though you may need a smaller pan (I usually use a pie plate for 6 rolls).
Nutritional information: all nutritional values are approximate.
Adapted from Baker Bettie
Serving:
1
roll
|
Calories:
268
kcal
|
Carbohydrates:
41
g
|
Protein:
8
g
|
Fat:
8
g
|
Saturated Fat:
4
g
|
Polyunsaturated Fat:
1
g
|
Monounsaturated Fat:
2
g
|
Trans Fat:
0.2
g
|
Cholesterol:
58
mg
|
Sodium:
268
mg
|
Potassium:
120
mg
|
Fiber:
2
g
|
Sugar:
4
g
|
Vitamin A:
275
IU
|
Vitamin C:
0.1
mg
|
Calcium:
41
mg
|
Iron:
2
mg