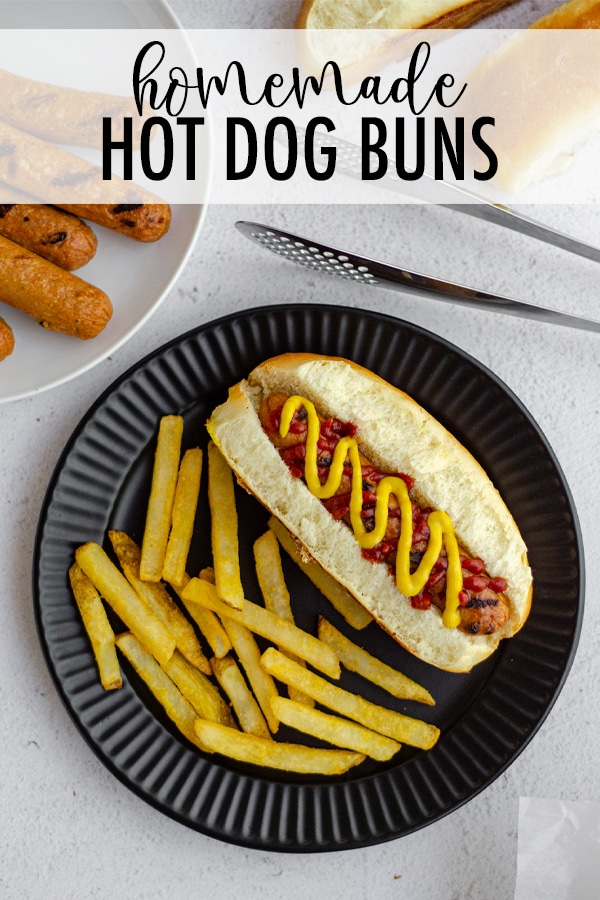 As an Amazon Associate, I earn from qualifying purchases. Read the full disclosure here.
These easy homemade hot dog buns will be a new favorite addition to your cookout. This recipe makes 10, so you'll never be stuck with 2 extra buns ever again!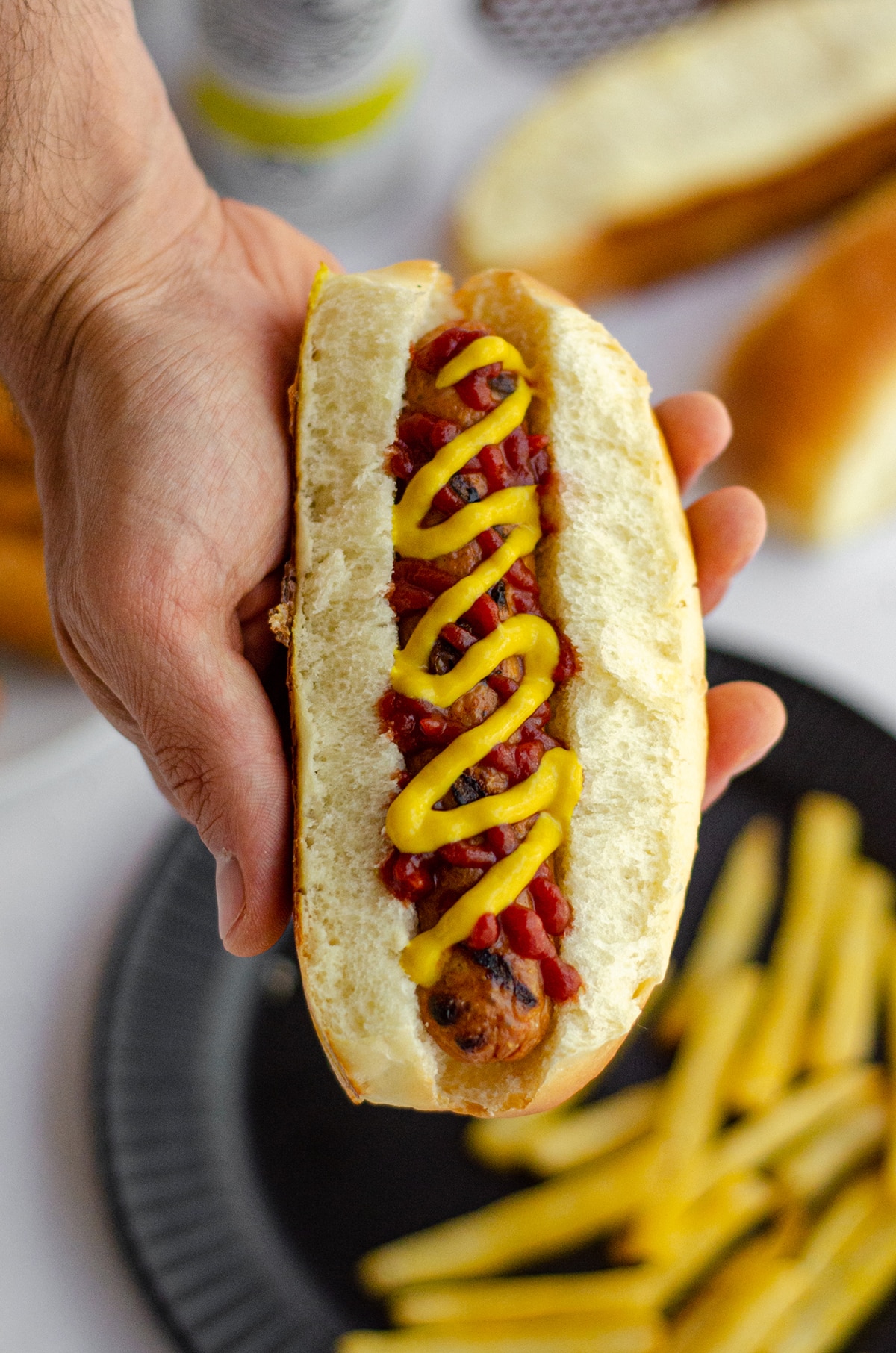 What "makes" summer for you? Is it a food? A destination? An event? Maybe it's a combination of a few things?
For me, personally, my summer is not made without
1) a trip to the beach (before kids, we frequented OCNJ, where Matt's grandparents live– now we go to OBX!)
2) a hot dog fresh off the grill
Now, don't get me wrong… While one major trip to the beach is sufficient (though I've never turned down subsequent ones!), one grilled hot dog is NOT enough.
I prefer a few. One at a grad party, a couple at a 4th of July cookout, one at a Phillies game… The list goes on.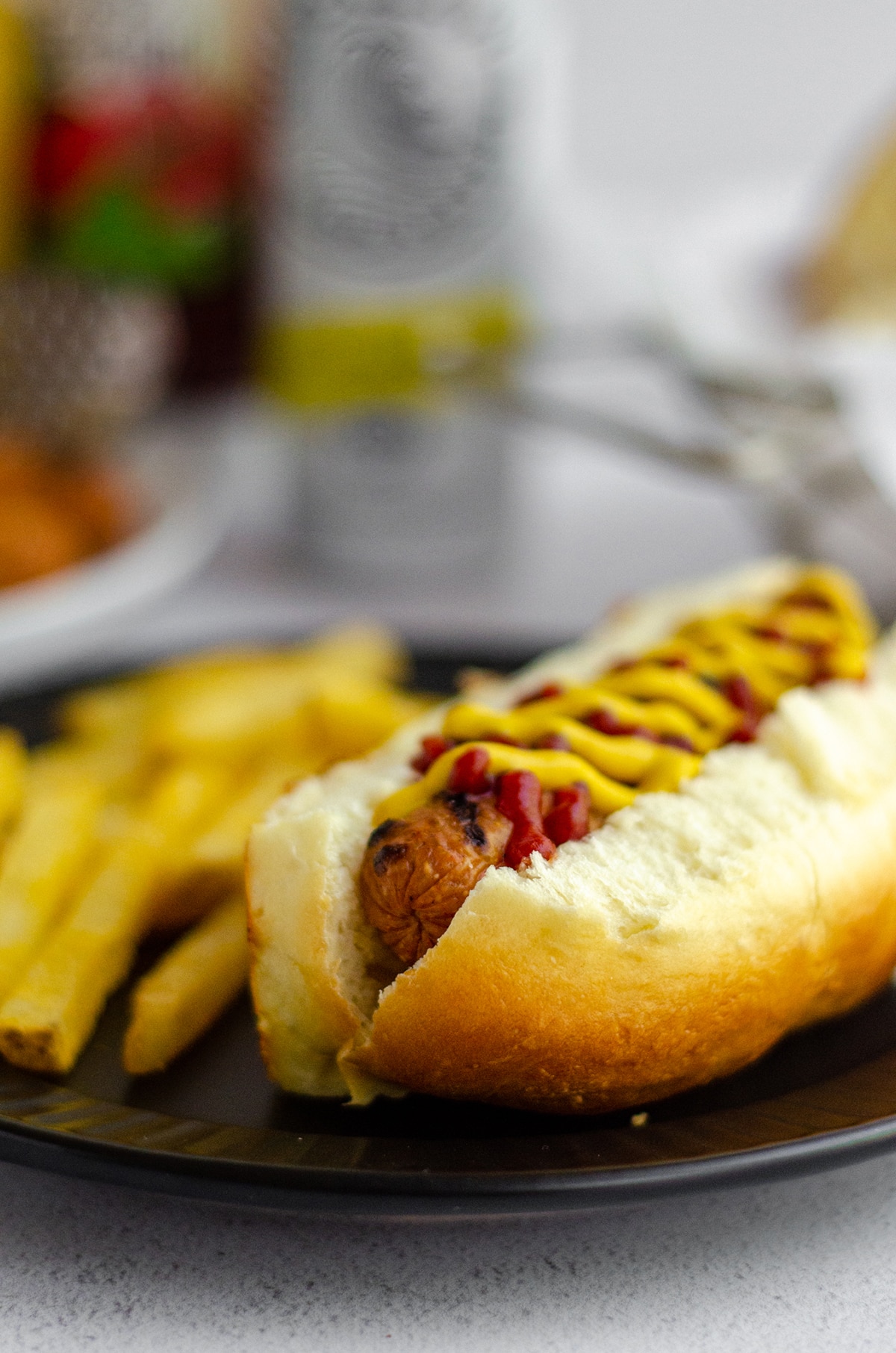 Give. Me. All. The. Grilled. Hot dogs.
We've been doing some really fabulous meal prepping in the last month. And (!!!), we also got a gas grill for the first time ever in our adulthood. So we've been firing that thing up on Sunday mornings and preparing meat, veggies, and sometimes potatoes to eat for the week.
Last week, Matt came home with some chicken hot dogs, but he didn't bring home any hot dog buns.
Why? Because packs of dogs and packs of buns never contain the same amount.
This is a super annoying thing, isn't it?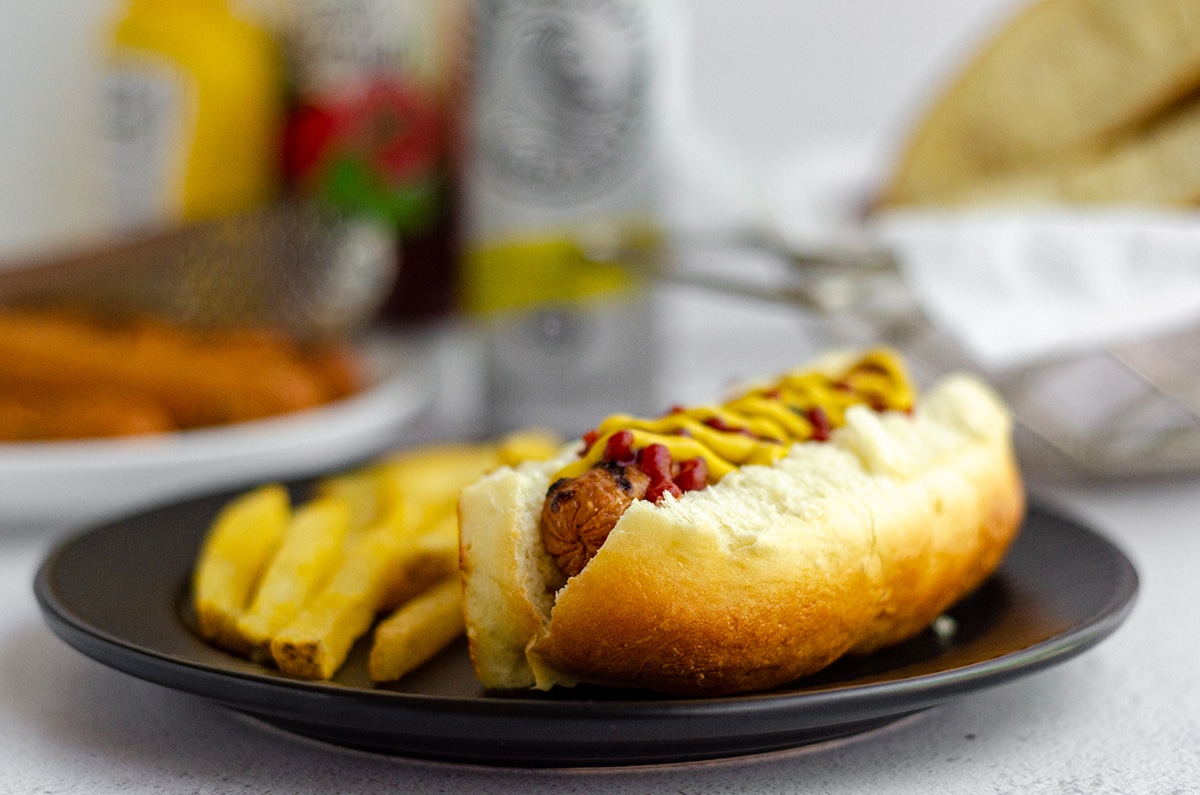 You're either forced to buy two packs of buns or have a handful of buns leftover. I mean, is it the worst thing? No. But it sure doesn't make any sense.
His exact words to me were "I thought you probably had a homemade hot dog buns recipe somewhere in your head."
Umm, yes, dear husband. I do. Or at least I can throw one together based on what I know about yeast bread.
It turns out that a little of this white sandwich bread recipe and my easy yeast rolls recipe was the perfect combination of ingredients and method to produce 10 soft and better-than-the-bag hot dog buns.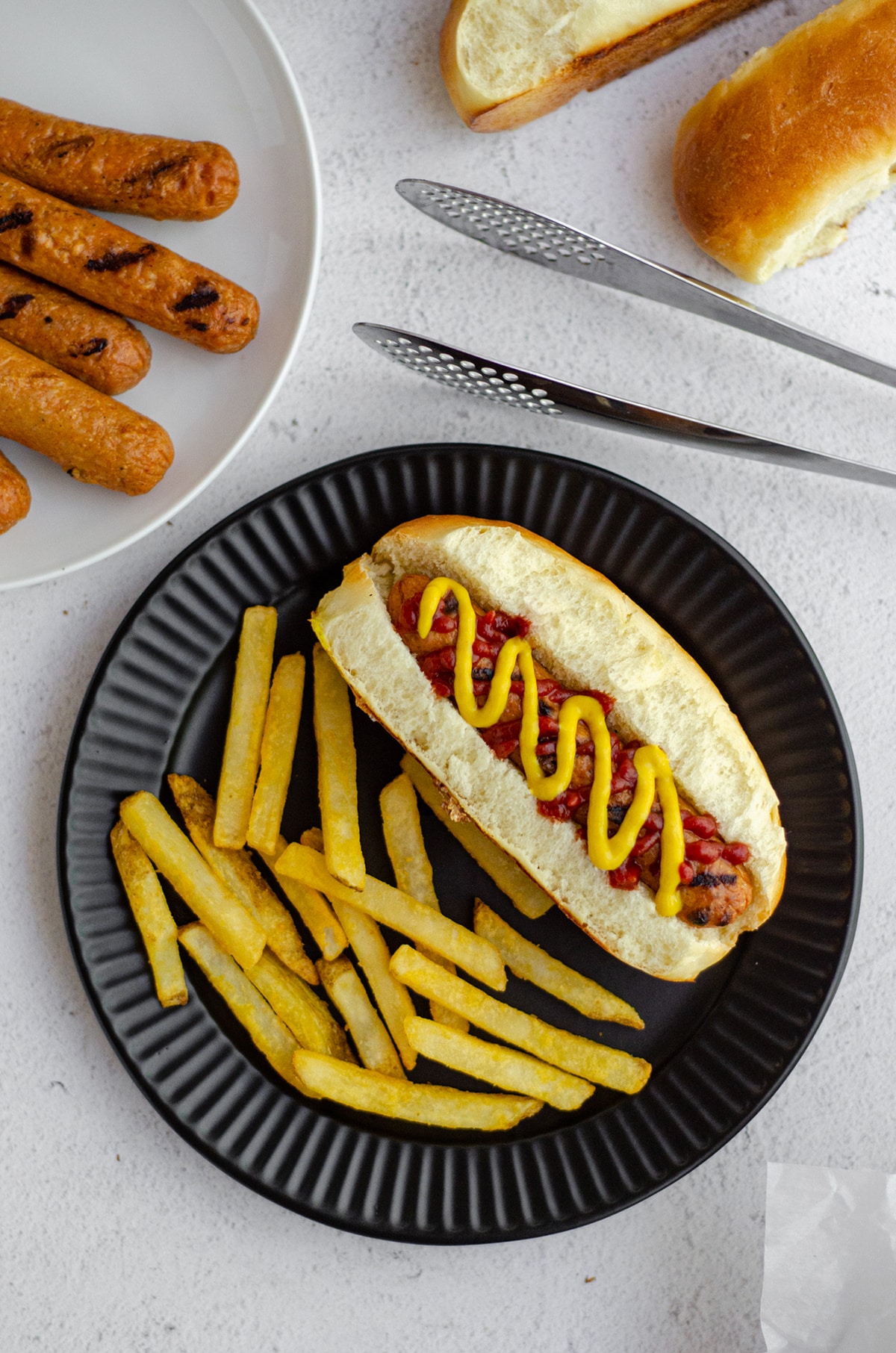 While the method for bringing these hot dog buns to fruition is, of course, not as quick as buying a bag of buns, I must say that the quality we found in these homemade guys was enough to make the whole hot dog experience top notch.
The dough is simple: yeast, a little sugar to activate the yeast and bring just a touch of sweetness to the buns, flour (bread or all-purpose is fine here), some melted butter for flavor and fat, and an egg for "glue" and more fat/structure for the buns.
Nothing fancy there!
Once the dough goes through its first rise, it will need a second rise in the shaped state. This is the fun part.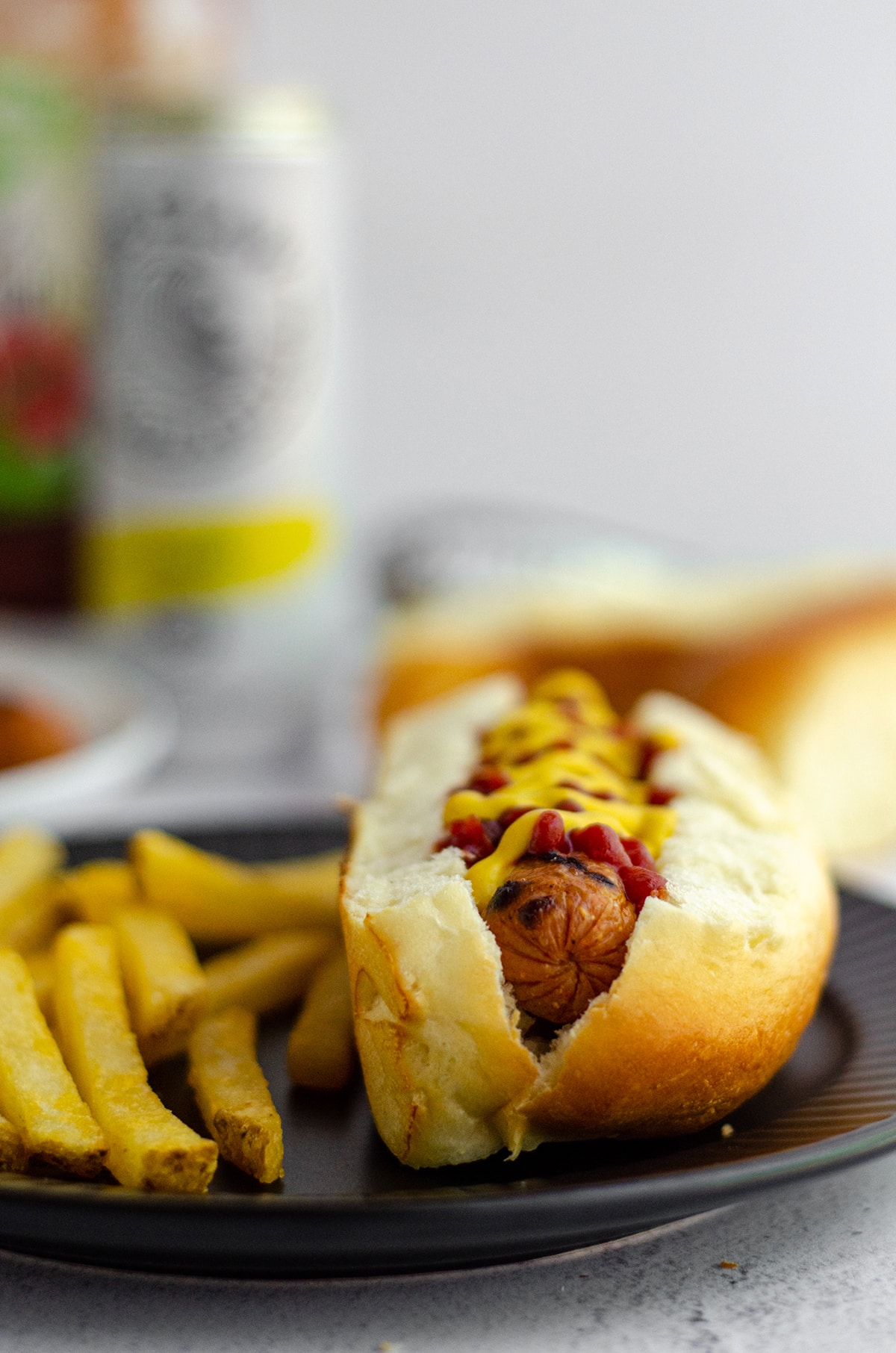 You'll split your dough into 10 equal pieces. I measured my dough on a kitchen scale, then divided that by 10 to determine how much each portion should weigh.
Mine were 74g each.
Once they're split, they'll rest for about 10-15 minutes.
You want to rest the dough so that the gluten can relax a bit. If you start shaping the dough right away, you'll find it's pretty stretchy but goes back to where it wants to be fairly quickly.
If we let the gluten relax, the gluten strands become a bit more willing to go where we want them to go.
HOW TO SHAPE HOT DOG BUNS
You'll flatten the dough into a rectangle, about 5″ long by 3-4″ wide.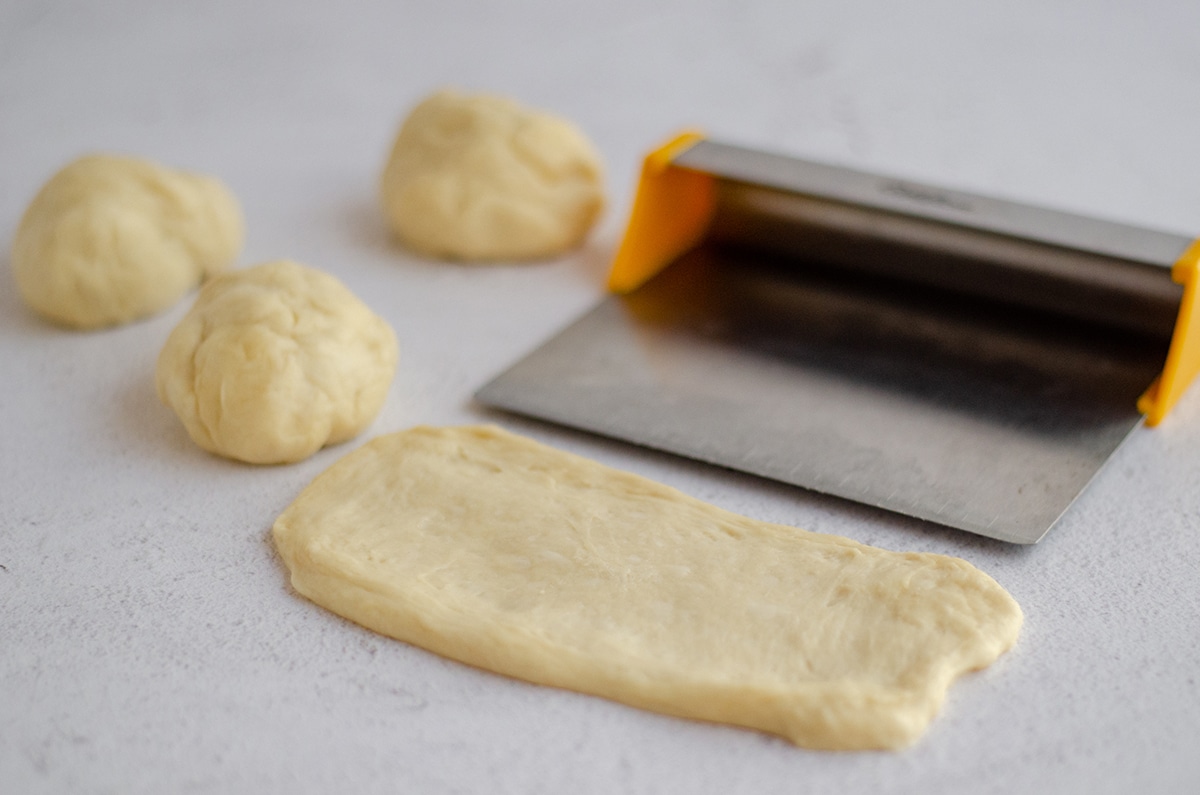 Hint: I like to use a graduated bench scraper for this part. The scraper can cut dough, help with kneading, move dough around, and… Measure!
Roll it up into a cylinder, and then tuck the ends under the roll.
You'll have logs that are about 4″ in length.
Don't worry if the middle of the log is sinking below the height of the tucked ends. It will gain some air in the next rise and produce beautifully proportioned hot dog buns.
Fun Fact:
This dough can also be made into hamburger buns. To make these– instead of flattening the dough into rectangles, simply flatten into discs 3.5-4″ in diameter.
They'll do a second rise on a baking sheet, where you can keep them touching, or keep them separated.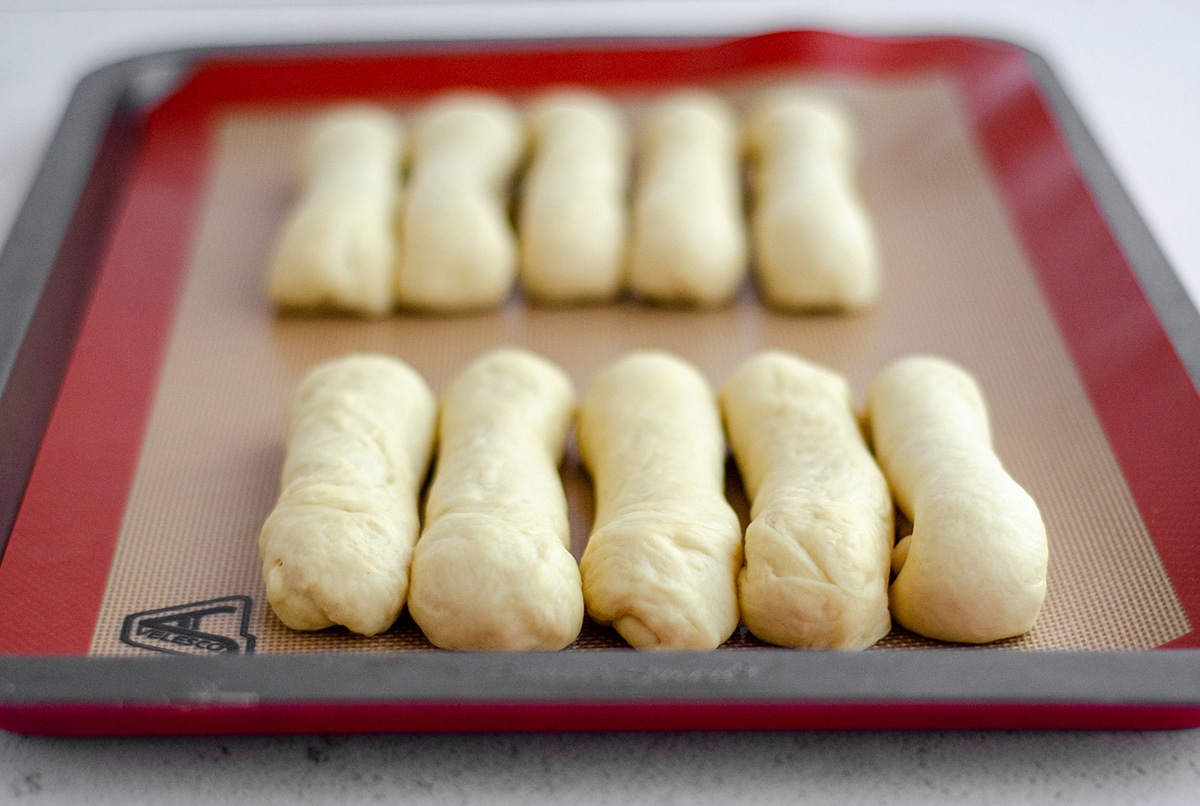 I chose to keep them touching, and they squished together even more after rising.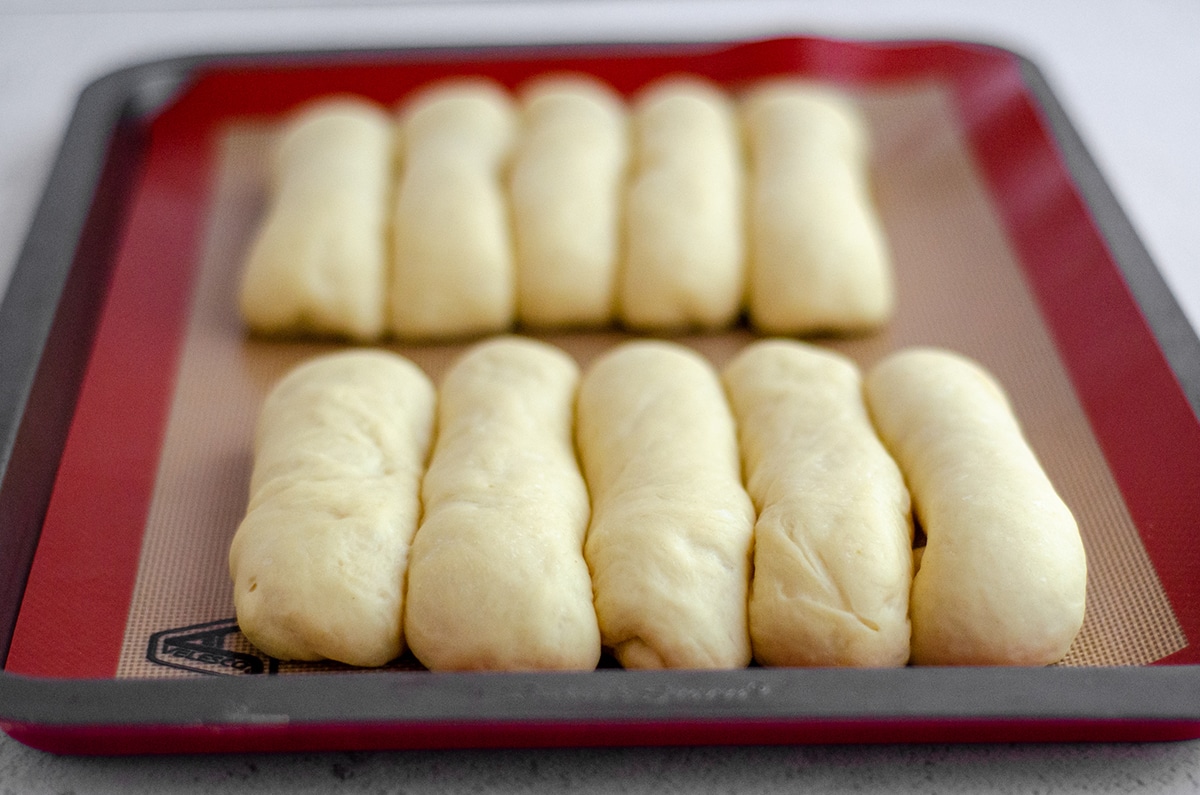 The advantage to keeping them touching is that you get a "pull apart" style of buns after they're all baked. This is great for transporting or, you know, just more fun.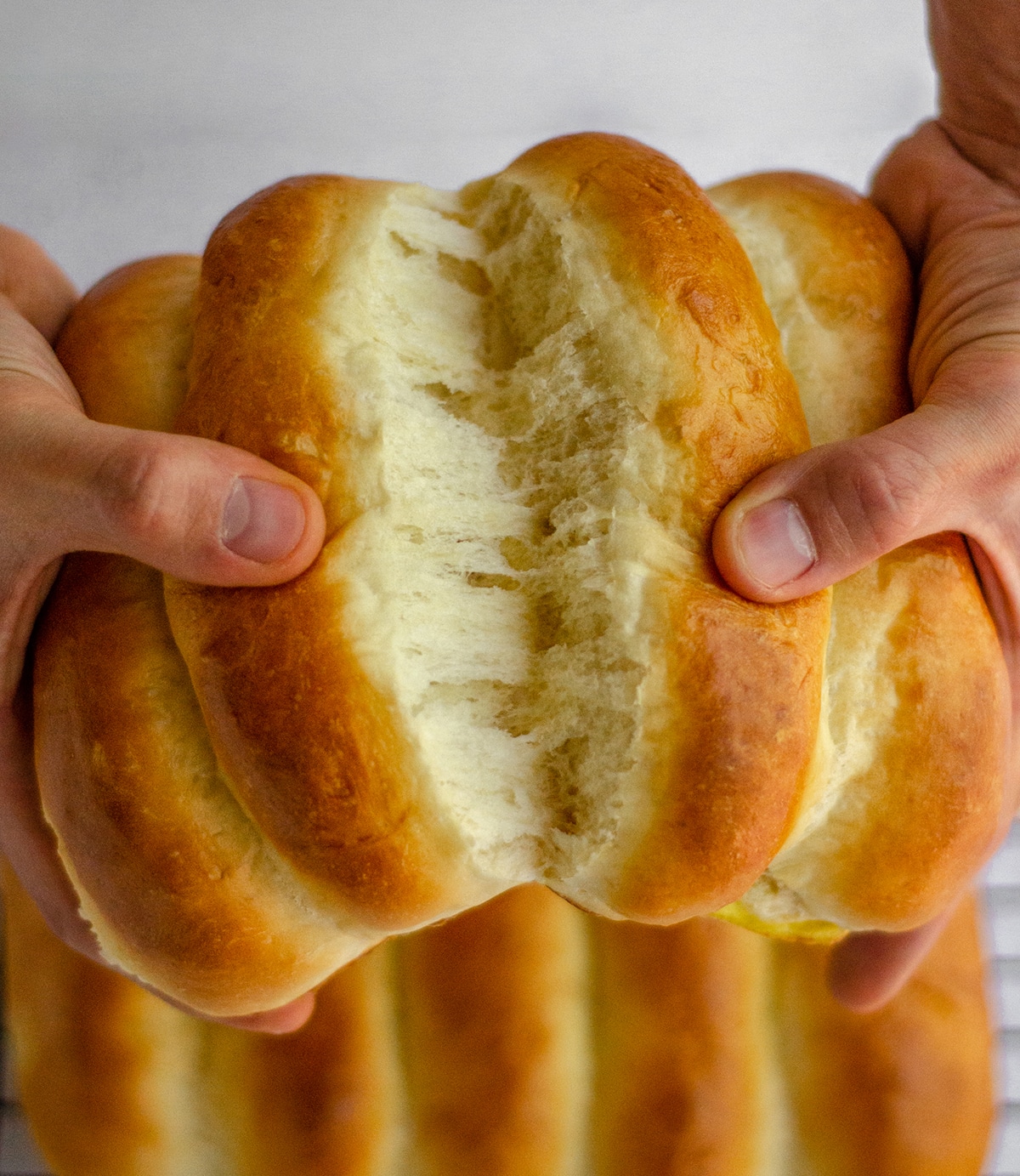 After the second rise, you'll add an egg wash to your buns. If you feel so inclined, sprinkle with some seeds (like sesame or poppy) for some extra pizzaz or texture.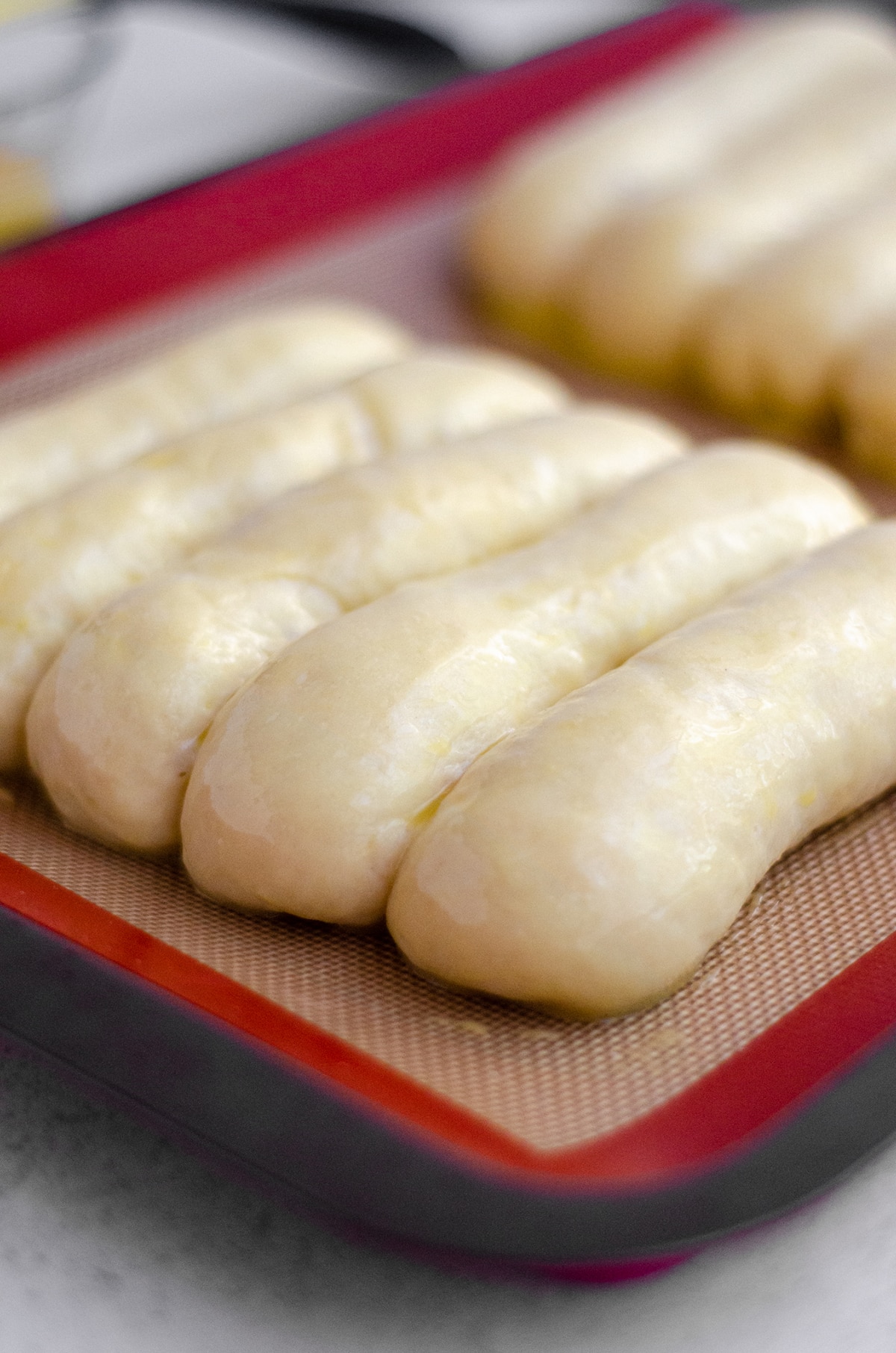 The buns only take about 20 minutes, and then they're ready to use.
We ate hot dogs on our freshly baked buns right away (as in, this exact hot dog was devoured by me almost immediately after snapping this photo).
I usually wait to eat whatever it is I've made until everything is cleaned up, but this one couldn't wait!
A little ketchup, mustard, some relish, and a slightly toasted bun? Ohhh, yes. Those were two tasty lunches we had that week!
I'll be honest and say that we actually only used 4 dogs with rolls– we passed 2 onto our neighbors for lunch one day (nothing but compliments!) and the other 4 we used as hoagie rolls and breakfast hash rolls (with scrambled eggs, sausage, and grilled peppers).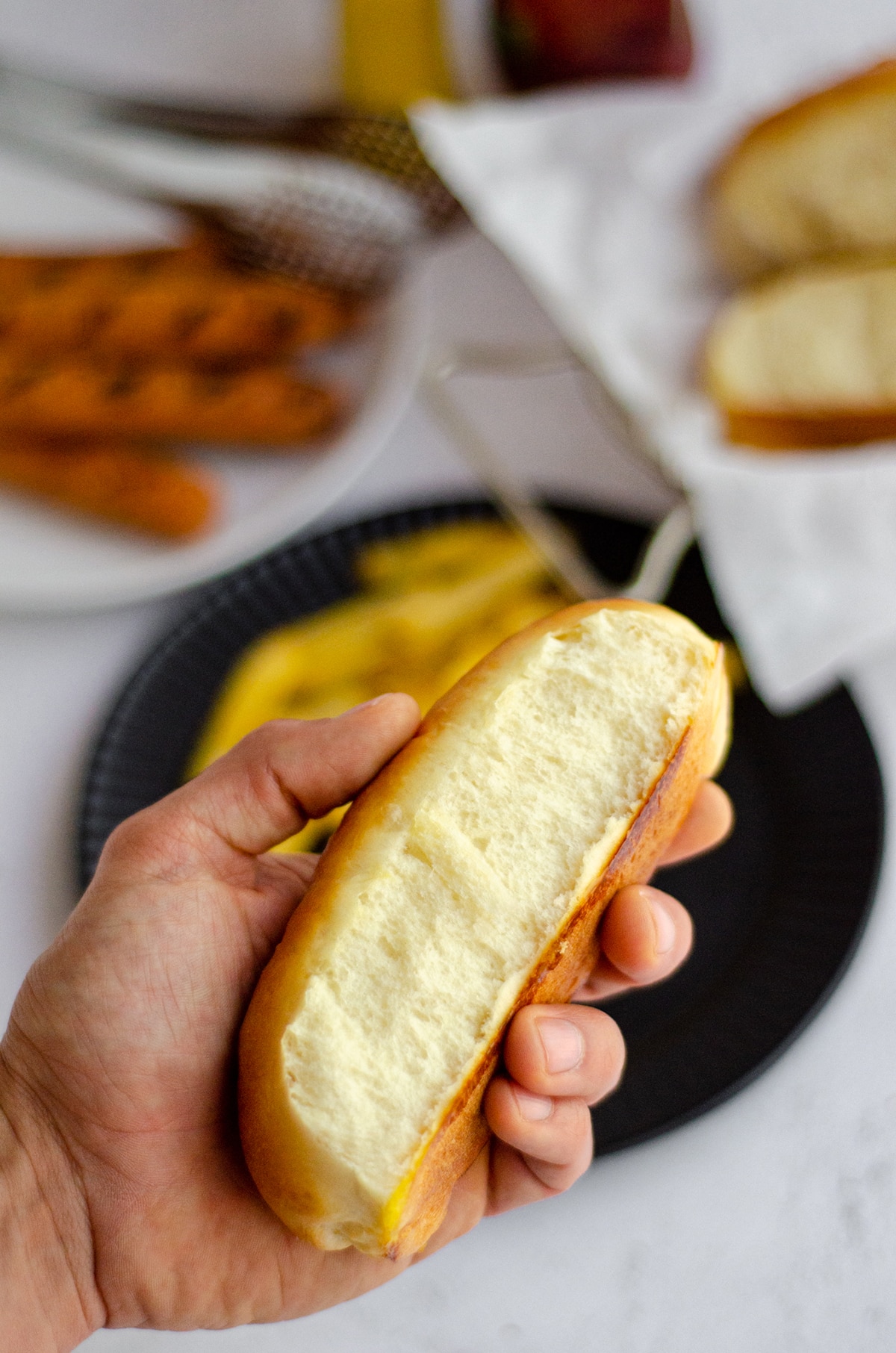 They were a hit with anything we put on them, which was nice because we didn't feel like we were using a hot dog bun as a last resort for a sandwich. Which is just a sad sandwich.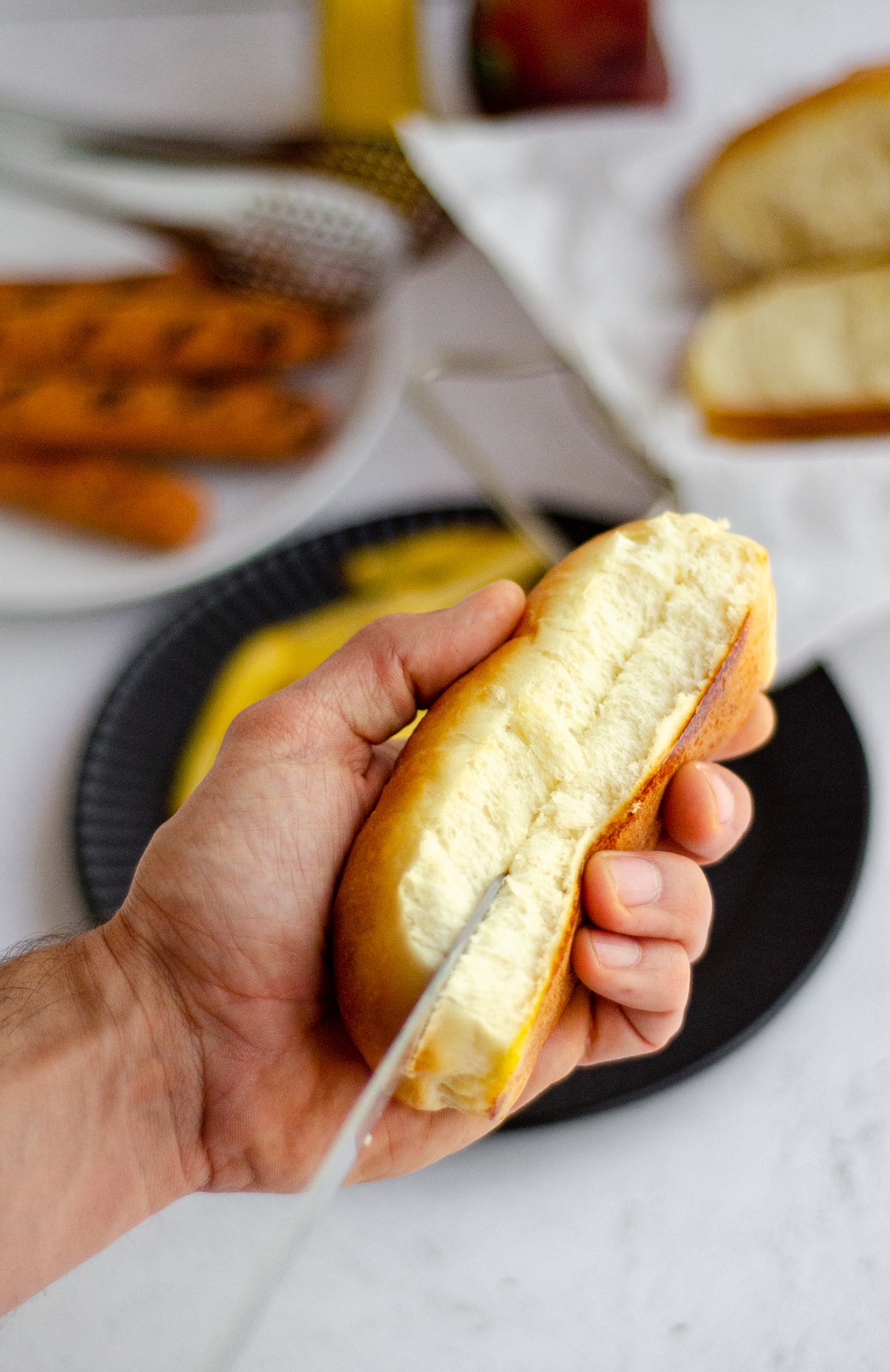 These hot dog buns are almost too nice to use with a hot dog, but it's nice to have a quality hunk of bread next to your super tasty hot dog, rather than a thin, squishy one that almost disappears with each bite.
I know bread from scratch can sometimes feel like a chore, but these homemade buns really did take the taste and entire experience to a whole new level. And really very truly, it was nice to find a solution to the "too many buns, not enough dogs" dilemma.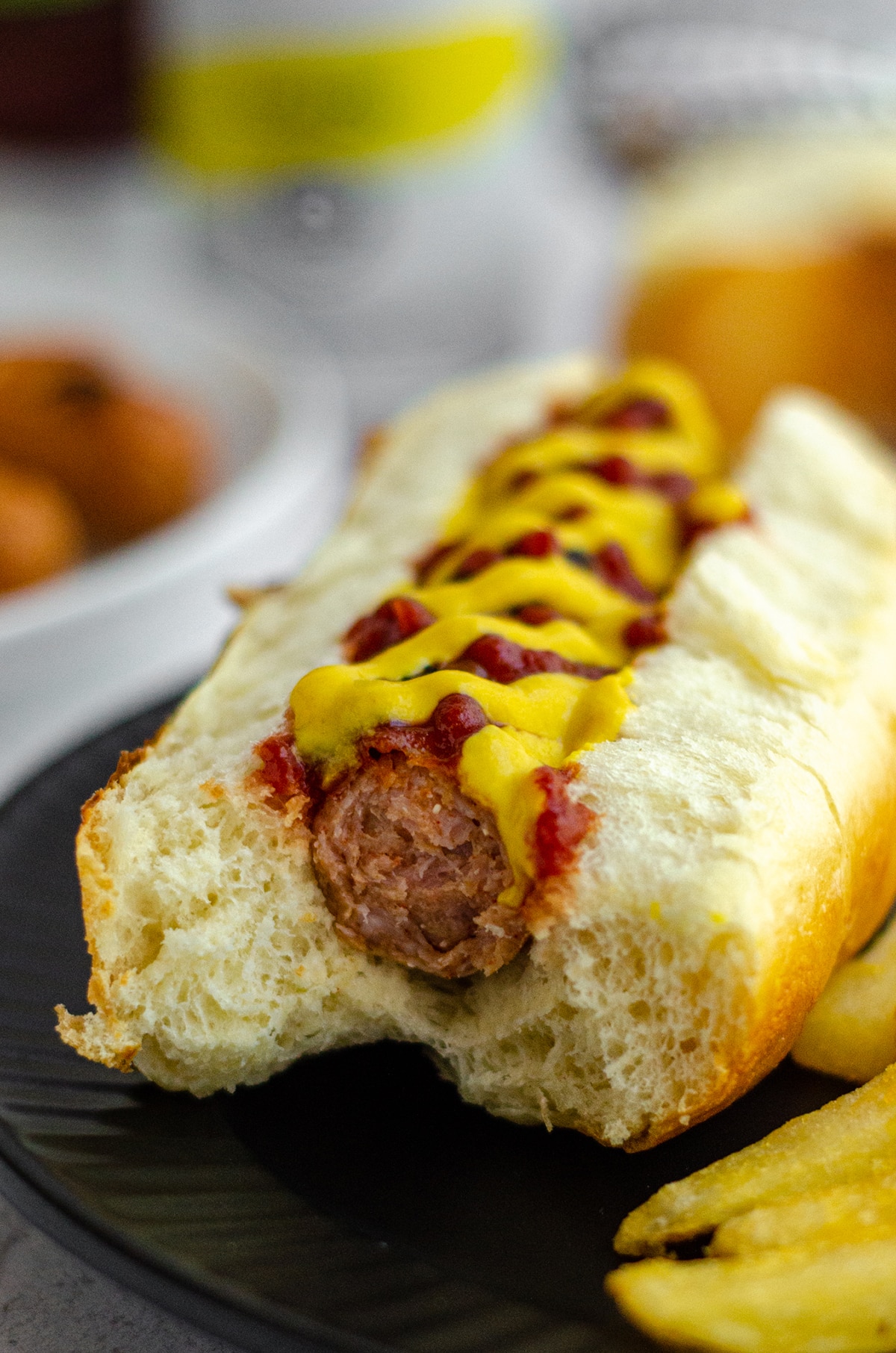 So who's inviting us over to grill some dogs? We'll totally bring all the buns and turn you into a believer so you can make your own!
Homemade Hot Dog Buns
These easy homemade hot dog buns will be a new favorite addition to your cookout. This recipe makes 10, so you'll never be stuck with 2 extra buns ever again!
Ingredients
¼

cup

(60g) warm water

1

Tablespoon

(12g) granulated sugar

1

packet

(7g) active dry yeast

or 2 and ¼ teaspoons

¾

cups

(180mL) warm milk

1

Tablespoon

(14g) unsalted butter

melted

1

large egg

lightly beaten

1

teaspoon

salt

3 to 3 and ½

cups

(360-420g) all-purpose or (381-445g) bread flour be sure to measure properly
egg wash: 1 egg beaten with 1 teaspoon water
Instructions
Pour the warm water into a large bowl, or into the bowl of a stand mixer fitted with the dough hook. Pour the sugar and yeast into the water and whisk with a fork to combine. Allow to rest 5-10 minutes to activate.

When the yeast is active, whisk in the milk, butter, egg, and salt and mix to combine.

Gradually add the flour, about ½ cup at a time, to the mixture until the dough begins to pull away from the sides of the bowl. The dough should feel stable like PlayDoh but may be a tiny bit sticky. This is ok.

Turn the dough out onto a lightly floured surface, then knead the dough until you have a smooth, elastic dough. You might want to use a bench scraper to help you knead the dough, since it will be a little loose and maybe slightly sticky.

Knead until you have a smooth, elastic dough. Because this dough is so slack, you may find that a bowl scraper or bench knife can be helpful in scooping up the dough and folding it over on itself.

Put the dough into an oiled bowl, turning and flipping to coat. Cover with a kitchen towel and allow to rise in a warm environment until about double in size, approximately 1 hour.

Punch the dough down, then turn out onto your work surface. Divide the dough into 10 equal pieces (I like to weigh my dough on a kitchen scale, divide by how many portions I need, then tear off chunks and push them together). Shape each piece into a ball and allow to rest for 10-15 minutes to relax the gluten. Meanwhile, line a large baking sheet with parchment paper or a silicone baking mat.

Flatten each ball into a rectangle approximately 5" in length and 3-4" in width (I like to use my graduated bench scraper again for this). Starting with the longer side, roll each rectangle up into a cylinder, then tuck the ends under and pinch to seal. For hamburger buns, flatten the balls into discs about 3.5-4" in diameter. Place shaped buns on prepared baking sheet. You can keep them separate or allow them to touch, creating "pull apart" style buns.

Cover baking sheet with a kitchen towel and allow buns to rise a second time, about 1 hour.

Preheat the oven to 400°F (204ºC). When oven is ready, lightly brush the tops of the buns with the egg wash. If you want to add seeds or seasoning, add them now, then bake the buns for 20-25 minutes.

When the buns are finished, remove them from the baking sheet to cool on a wire rack to prevent them from getting soggy. Slice and use as soon as they're cool, or store them at room temperature up to 4 days. Buns freeze well, up to 3 months. Thaw in refrigerator or at room temperature.
Nutrition Disclosure
All nutritional values are approximate and provided to the reader as a courtesy. Changing ingredients and/or quantities will alter the estimated nutritional calculations.
Serving:
1
bun
|
Calories:
192
kcal
|
Carbohydrates:
34
g
|
Protein:
7
g
|
Fat:
3
g
|
Saturated Fat:
1
g
|
Polyunsaturated Fat:
0.5
g
|
Monounsaturated Fat:
1
g
|
Trans Fat:
0.05
g
|
Cholesterol:
22
mg
|
Sodium:
247
mg
|
Potassium:
84
mg
|
Fiber:
1
g
|
Sugar:
2
g
|
Vitamin A:
89
IU
|
Vitamin C:
0.002
mg
|
Calcium:
32
mg
|
Iron:
0.5
mg