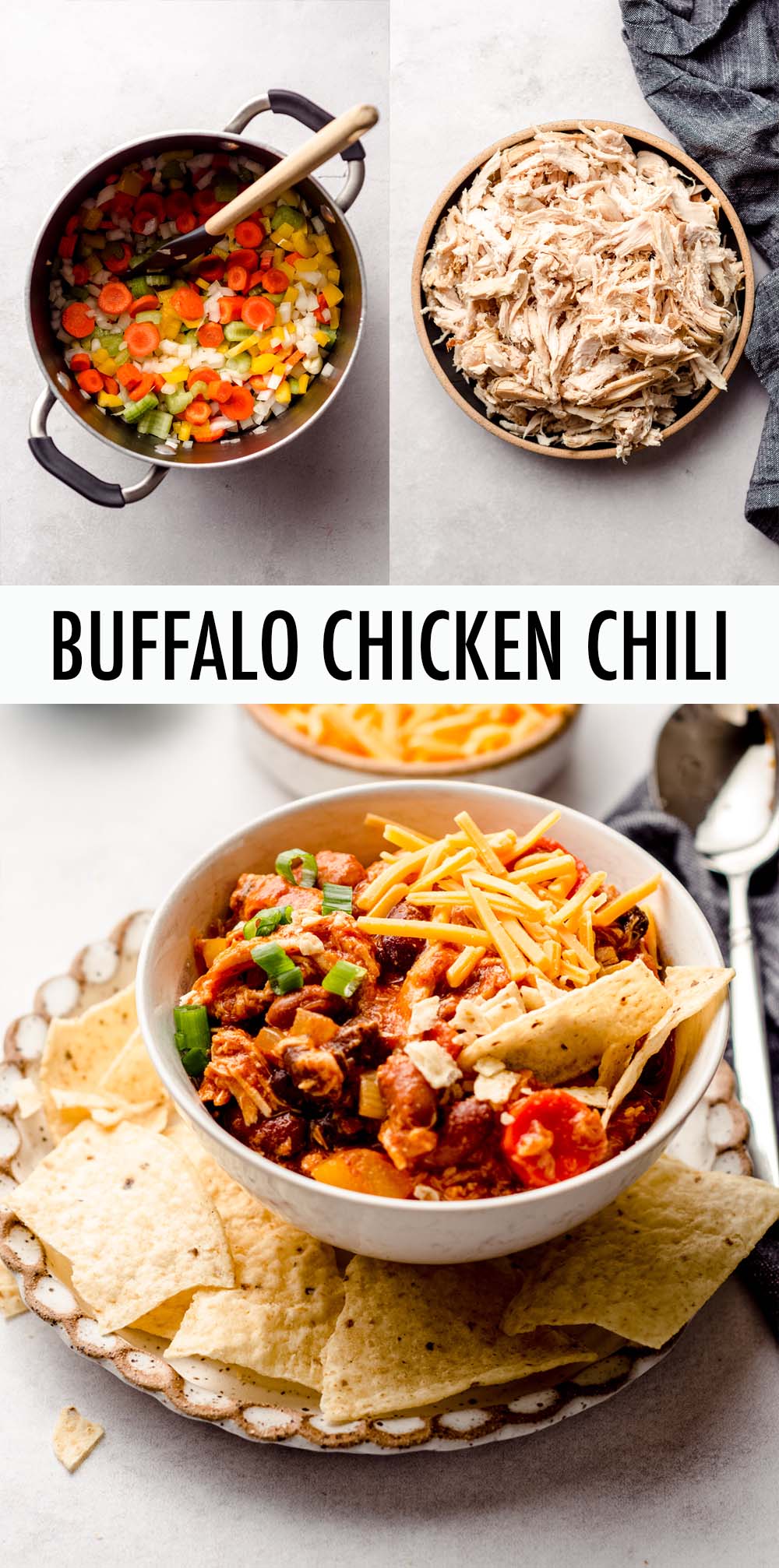 As an Amazon Associate, I earn from qualifying purchases. Read the full disclosure here.
This award-winning buffalo chicken chili recipe uses a zesty blend of Mexican spices, shredded chicken, lots of vegetables, and a hefty dose of hot sauce to create a non-traditional chili perfect for cold weather cooking.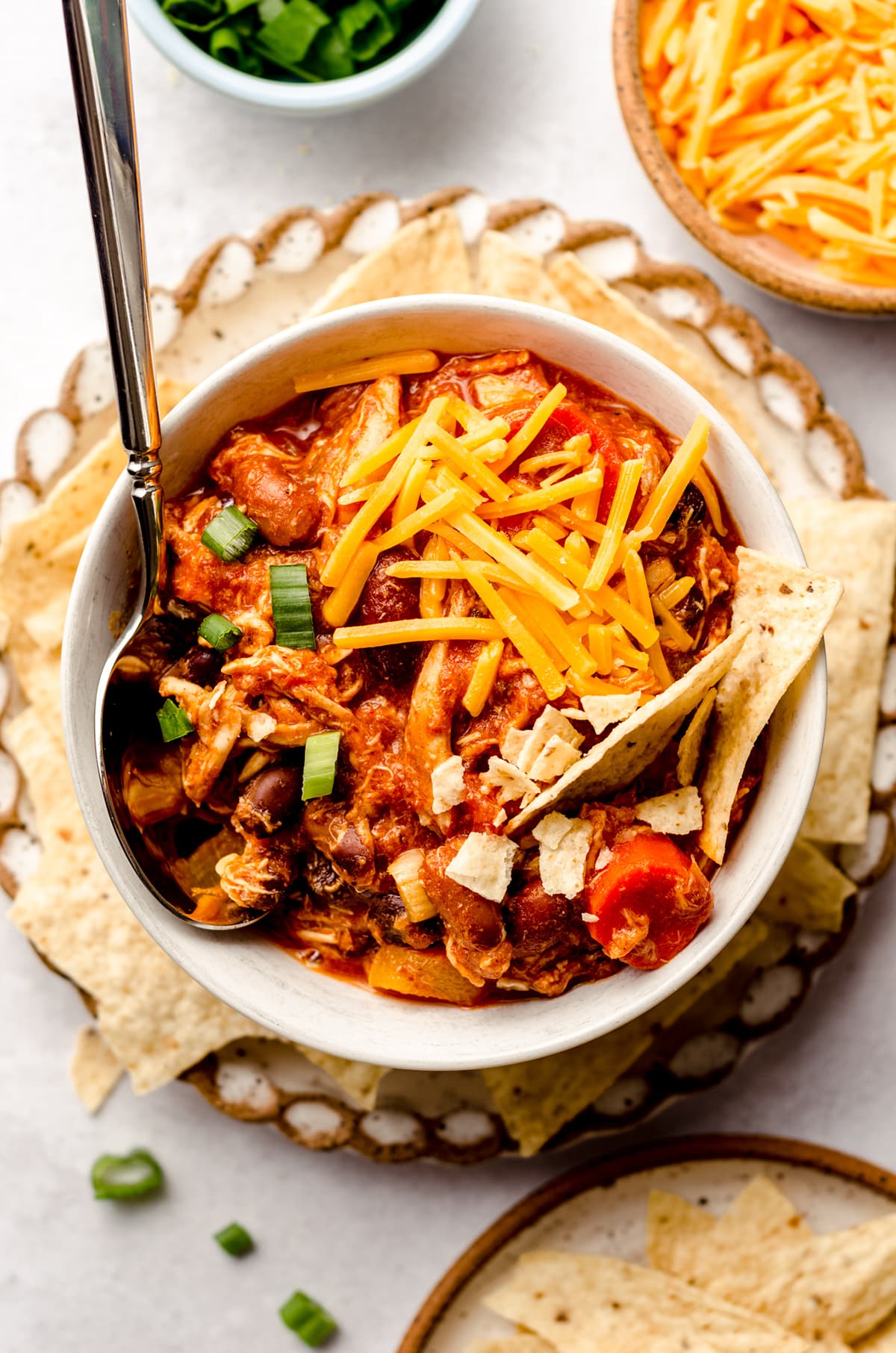 Here's the thing… I have never been much of a cook. In the 4 years I lived by myself after college, I had macaroni and cheese a lot, because cooking just doesn't come naturally to me. I need a recipe and specific measurements. Baking is my jam (obviously, you know this).
My husband Matt? He can throw a bunch of ingredients together and turn them into an amazing meal. If he let me do that, he would find himself ordering pizza while I was throwing away whatever it is I attempted to make.
I've been trying to get better over the years, but my best cooking is anything that requires one pot or casserole dish (looking at you, baked ziti and baked taco casserole).
I don't mind chopping vegetables and prepping spices if there is a way to combine all of them so that I can't really screw up.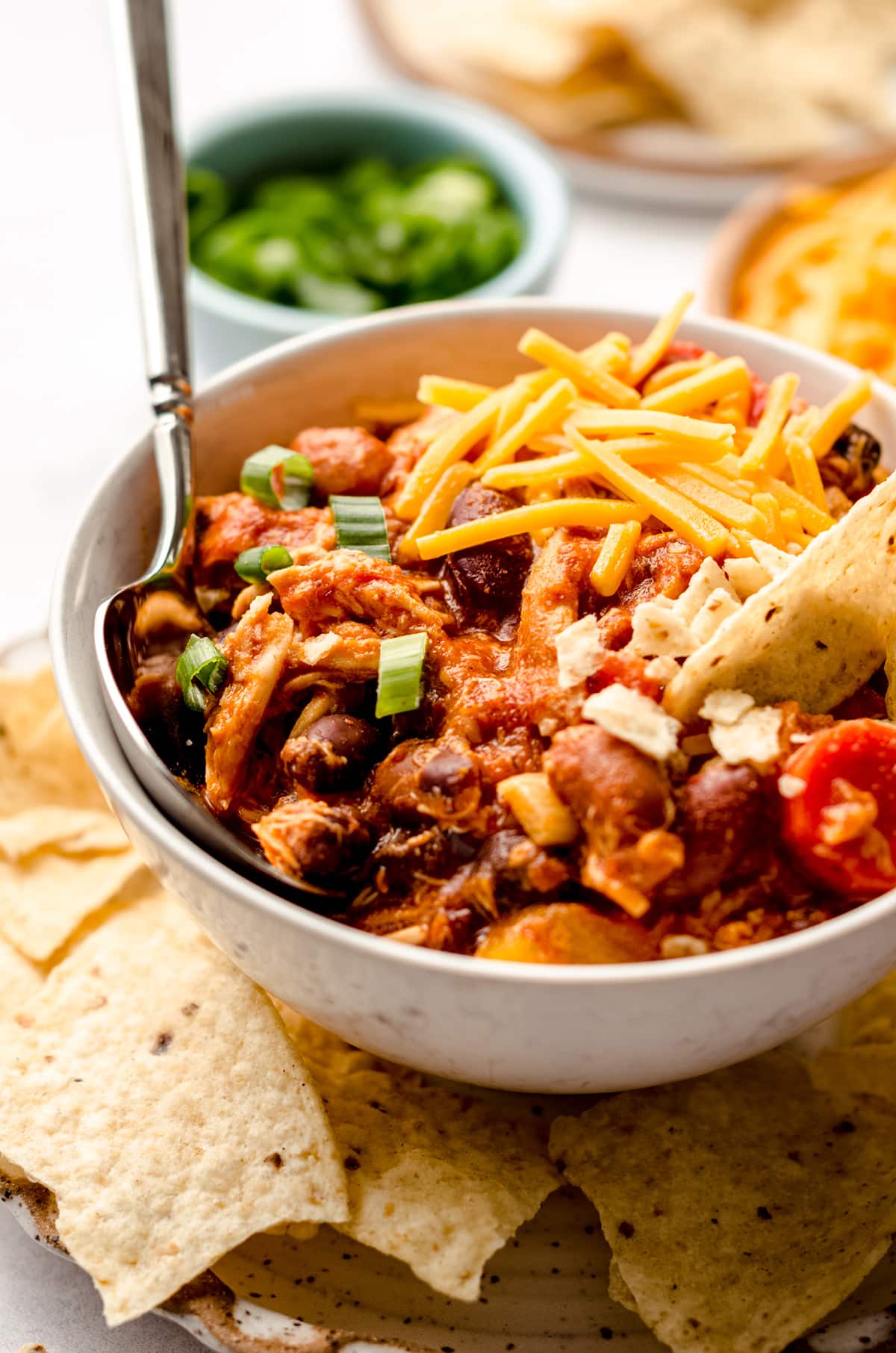 That's what this buffalo chicken chili is all about: some prepping that takes a bit of time, but the actual "cooking" involved is quite simple and incredibly customizable.
INGREDIENTS
The ingredient list for this chili is a little long, but it's simple. Everything is either vegetables, spices, or things that come in a can or a jar.
THE VEGETABLES
The veggies I like to use in this chili are carrots, celery, bell pepper, onion, and garlic.
Don't like carrots? No problem. Leave them out and double up on celery.
Don't like celery? No problem. Leave them out and add another bell pepper.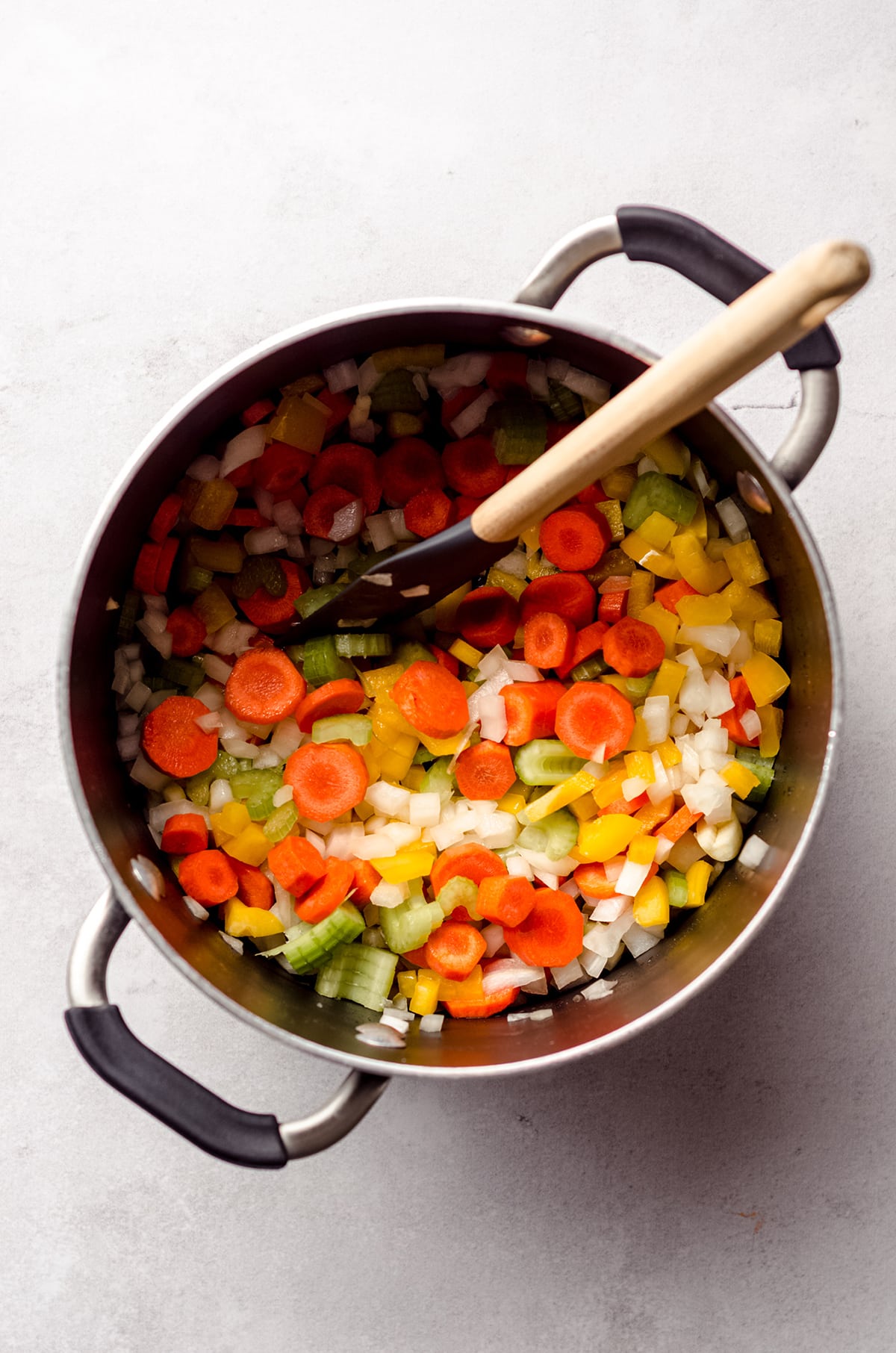 Sometimes I even throw in some corn if we have some. It adds a delicious, sweet crunch.
I prefer white, yellow, or sweet vidalia onion, but you can use red if you like.
Are you getting the picture? Your chili, your choices.
THE SPICES
You only need 3 basic spices here: chili powder, cumin, and paprika.
We typically have smoked paprika on hand, so I like to use that when we have it. If you don't like that much heat or don't have smoked, regular paprika is totally fine.
THE BEANS
We're also using 3 basic beans– kidney, black, and chili.
Again, if you don't like kidney or black beans, you can absolutely leave one out and just double up on the other type.
The only beans I urge you not to leave out are the chili beans. While you'll drain and rinse your kidney and black beans, you'll leave the chili beans in their sauce. The zesty sauce is essential to the flavor of your chili!
THE SAUCE/HEAT
Alongside the chili beans, we get our additional liquid and heat from 3 more key ingredients– red sauce (just no Italian flavored– I typically choose a plain marinara), a can of diced tomatoes with chiles, and hot sauce.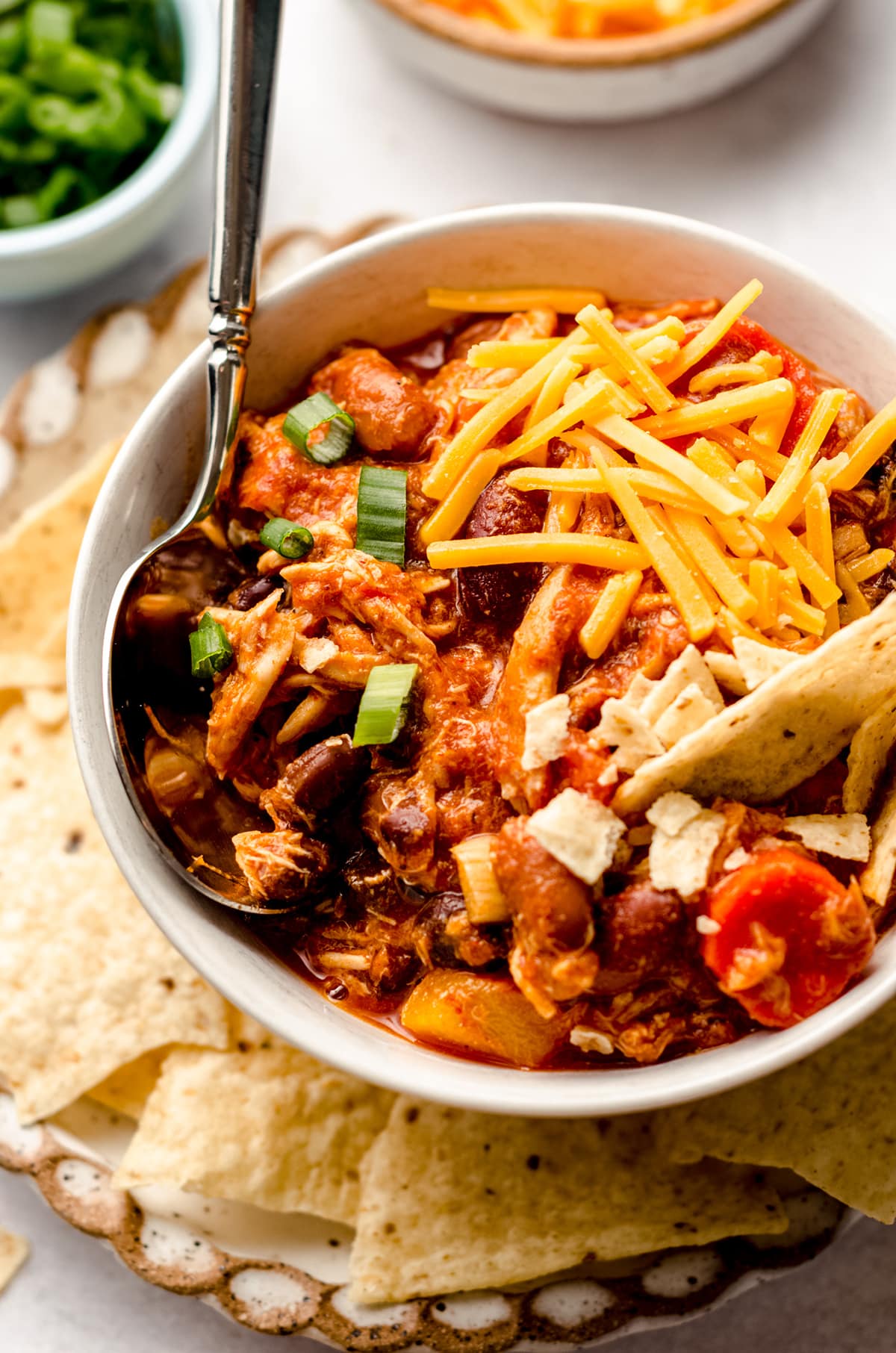 For the hot sauce, I prefer a buffalo wing hot sauce as opposed to traditional hot sauce, but I have used both and they both yield the same delicious buffalo chicken chili flavor.
THE CHICKEN
The chicken is probably the most inconsistent ingredient I use in this chili. Sometimes I bake plain chicken (with a little salt and pepper, of course), other times, I boil it and leave it plain.
Sometimes, I roast my chicken rubbed with garlic, but most times, I use a whole rotisserie chicken from the grocery store.
While using a rotisserie chicken is certainly the easiest route, I usually end up with only about 1 and ½ pounds of chicken once I've picked through the carcass (<– there's a word I never thought I would use on my site!).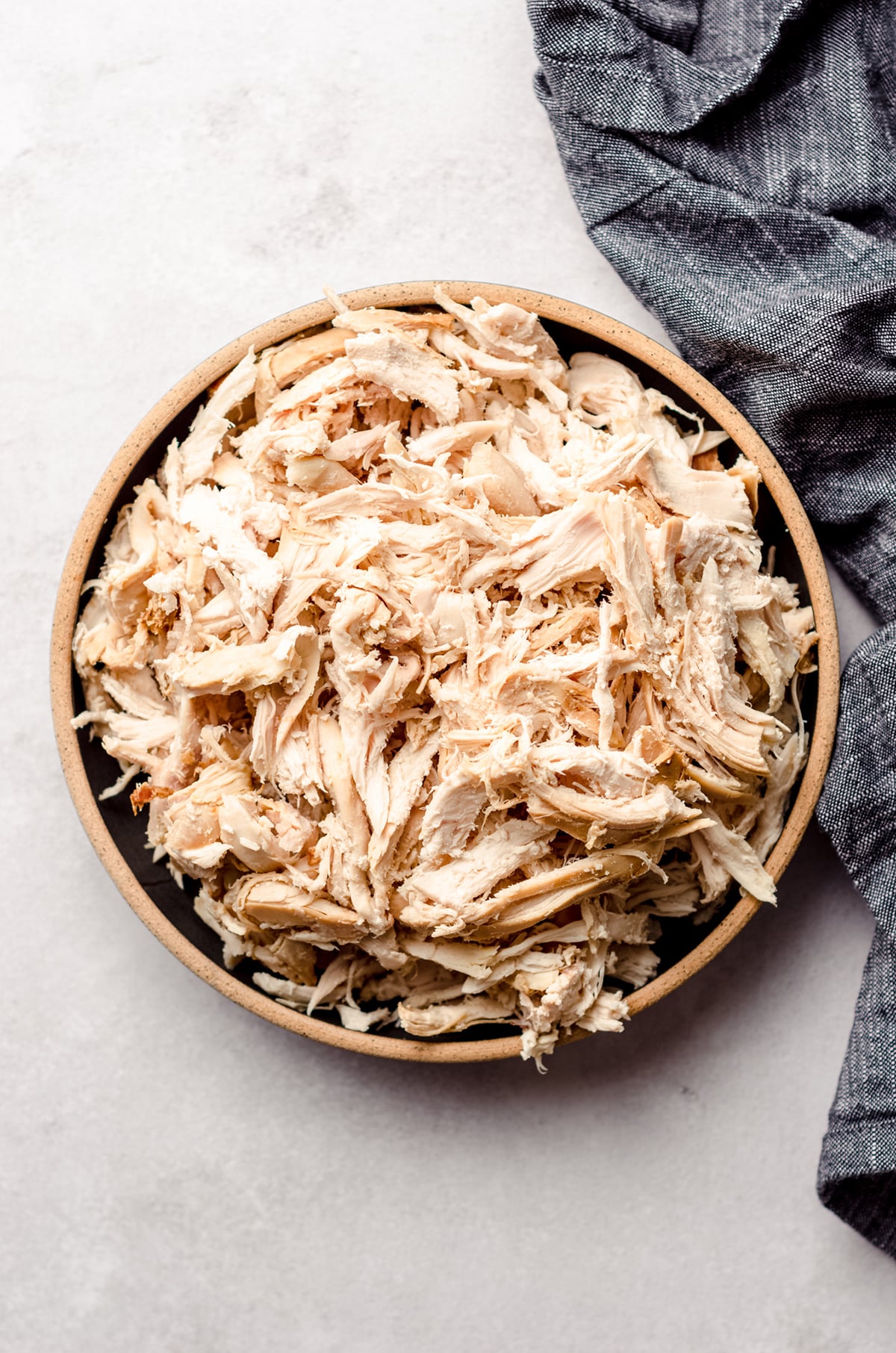 If I bake, roast, or boil my chicken, I typically end up using between 2 and 2 and ½ pounds of chicken, which I shred with my KitchenAid stand mixer (<– if you're not doing this, you need to start. It'll change your life for serious!).
This is all personal preference and dependent on what's available to me. Just be sure to grab a plain rotisserie chicken and not a pre-seasoned one (our grocery store carries a lemon pepper and Italian rotisserie chicken) if you're going that direction.
HOW TO MAKE BUFFALO CHICKEN CHILI
The process for this chili is really simple.
The most labor-intensive part of this chili is preparing all of the vegetables. It typically takes me about 15-20 minutes to get this done, and after that, it's just a lot of opening cans and jars and pouring.
A quick sauté of the vegetables gets them started down the "tender" path, and you'll also add in the spices to the vegetables to get everything nice and activated.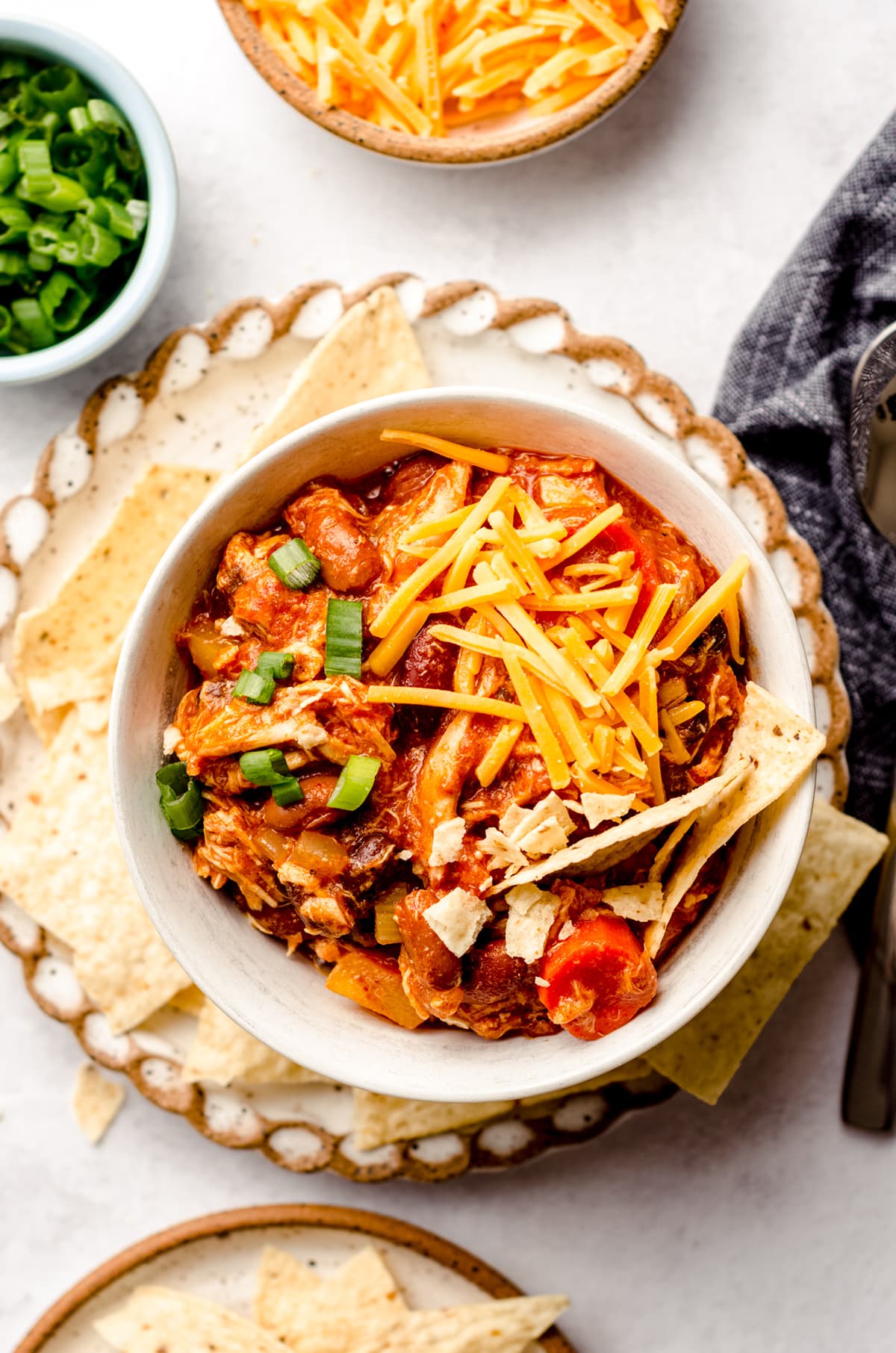 After your veggies are tender and fragrant, it's just a matter of throwing everything else into the pot.
Wham bam, thank you, ma'am.
PREP THE VEGETABLES AND CHICKEN AHEAD OF TIME
As I mentioned, preparing the vegetables takes quite some time. If you're also picking apart a rotisserie chicken, this can add substantial prep time to the whole thing.
Whenever I make this buffalo chicken chili, I chop my veggies and prepare my chicken either the night before or morning of the day I want to cook it.
All in all, it takes close to 30-40 minutes to do veggies + rotisserie chicken, so keep that in mind if you're trying to get this on the table for dinner. Planning ahead makes all the difference!
STOVETOP OR SLOW COOKER
The good news about this chili is that no matter how you prefer to cook it, the process looks the same. It only needs about 1 hour of simmering to be ready to eat, and that simmering can be done in a large pot on the stove or a slow cooker.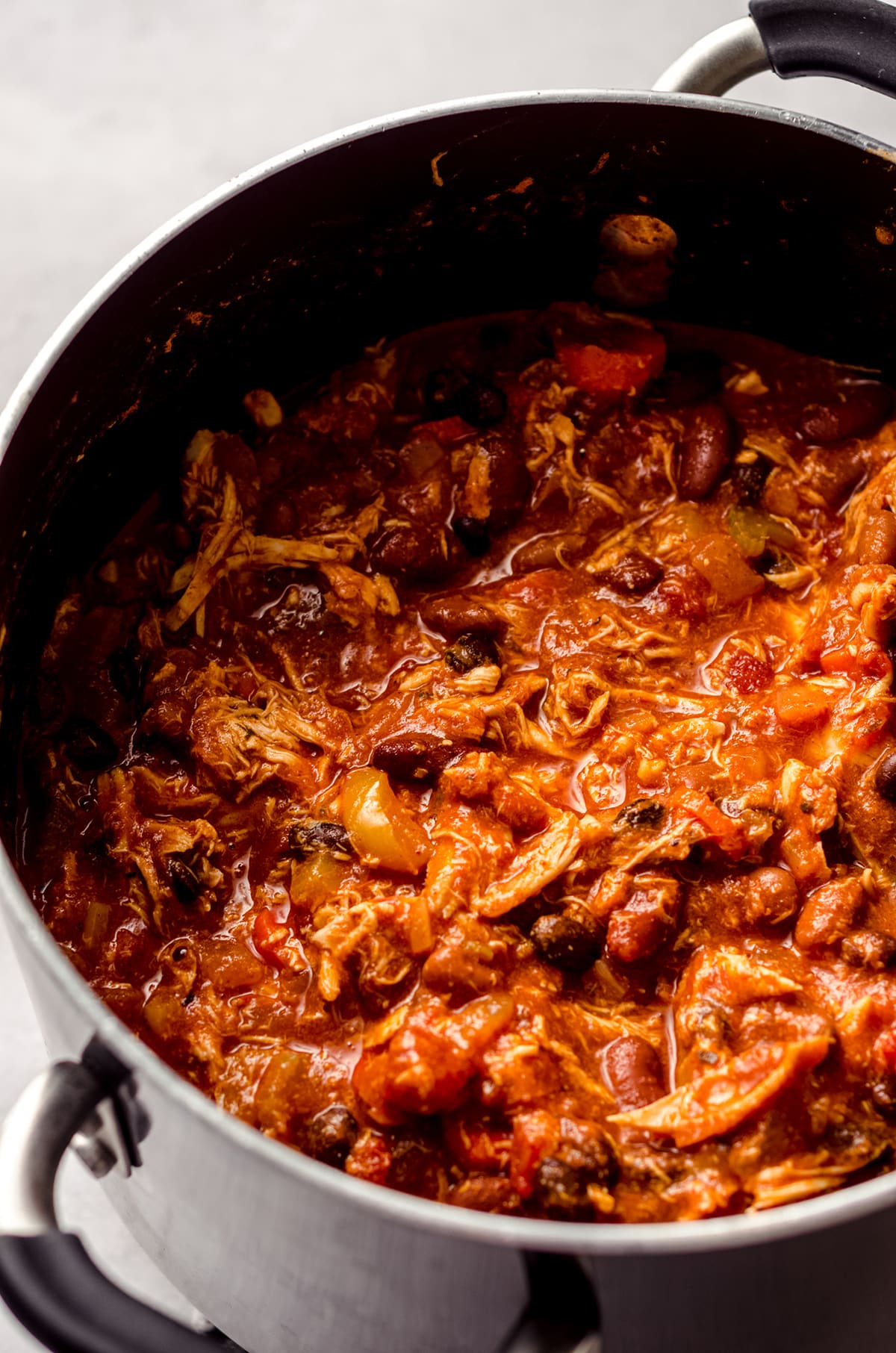 It's important to note, though, that if you're using a slow cooker, you'll need to cook your veggies and spices in a saucepan before adding them to the slow cooker. This will dirty one additional dish as compared to the stovetop method, so choose whichever method appeals to you more.
THIS BUFFALO CHICKEN CHILI HAS WON AN AWARD!
This easy buffalo chicken chili has been in my cooking repertoire for as long as I've been an adult. It was one of the first recipes I acquired from a co-worker and adapted to my own tastes, flavors, and specifications.
When my former work held a chili cook-off during one summer picnic, I decided that this recipe for buffalo chicken chili had to get into that contest.
It won by a landslide, and it was among 9 other chili recipes up for contest, some of which were really delicious contenders. From that day on, I've called this my award-winning chili, which it totally earned and I'm confident is likely the best buffalo chicken chili recipes you'll find out there!
What I loved most about this chili as someone who lived alone, though, was that I could make it, split the batch in half, freeze part of it, and have just the right amount for myself to eat for a few days.
Honestly, this is the best buffalo chicken chili for a wide array of folks– it can cater to both someone who lives alone and enjoys leftovers as well as a family who needs a quick weeknight meal (and maybe some leftovers for lunch!).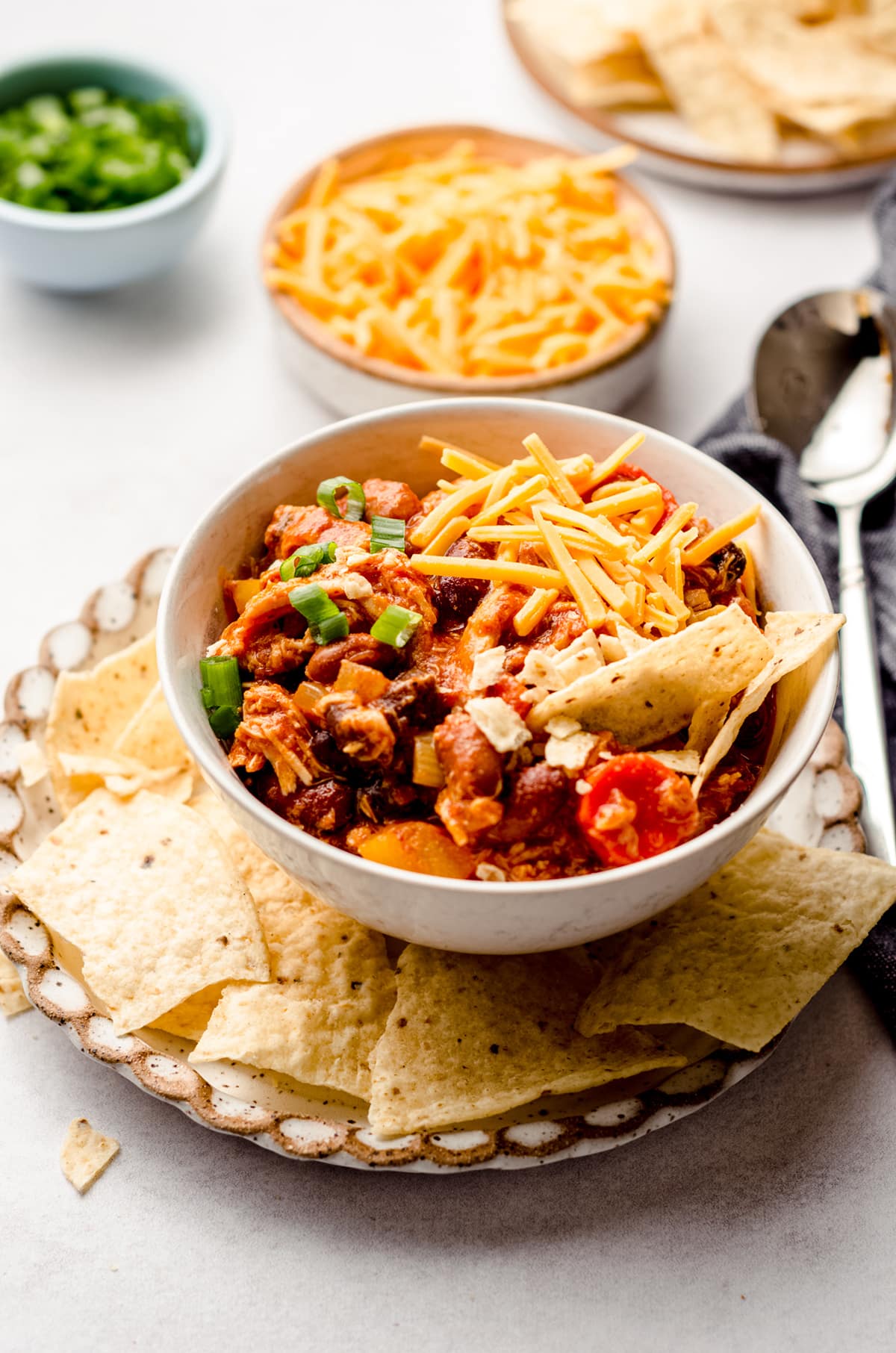 WHY I LOVE THIS CHILI
What I love the most about this chili is that it's different. Chili is typically made either with beef or simply no meat at all, and while those ways are both certainly winners in my book, shredded chicken just takes my chili to a whole different level.
I'm a huge buffalo chicken lover, so the more ways I can get it into my mouth, the better (see below for some of my best buffalo recipes).
Additionally, my buffalo chicken chili is thick, hearty, and full of heat without lacking flavor. Too many times, spicy dishes are just… Spice. No flavor.
There is none of that going on here. You'll find all of the flavor you'd expect from chili kicked up a notch with hot sauce and paired with crunchy, seasoned vegetables (because YES– the carrots especially still have plenty of texture, so you don't have to worry about mushy carrots here!).
TOPPINGS FOR BUFFALO CHICKEN CHILI
Since I've been eating this chili for over a decade, I've had my fair share of toppings.
Personal favorites: shredded cheddar, sour cream, crushed tortilla chips, avocado slices, crumbled feta or blue cheese, and chopped scallions. So many options!
Oh, and don't forget a batch of my skillet cornbread.
And you can even use this buffalo chicken chili as a dip, so the chip topping becomes the vehicle for consuming. How serendipitous!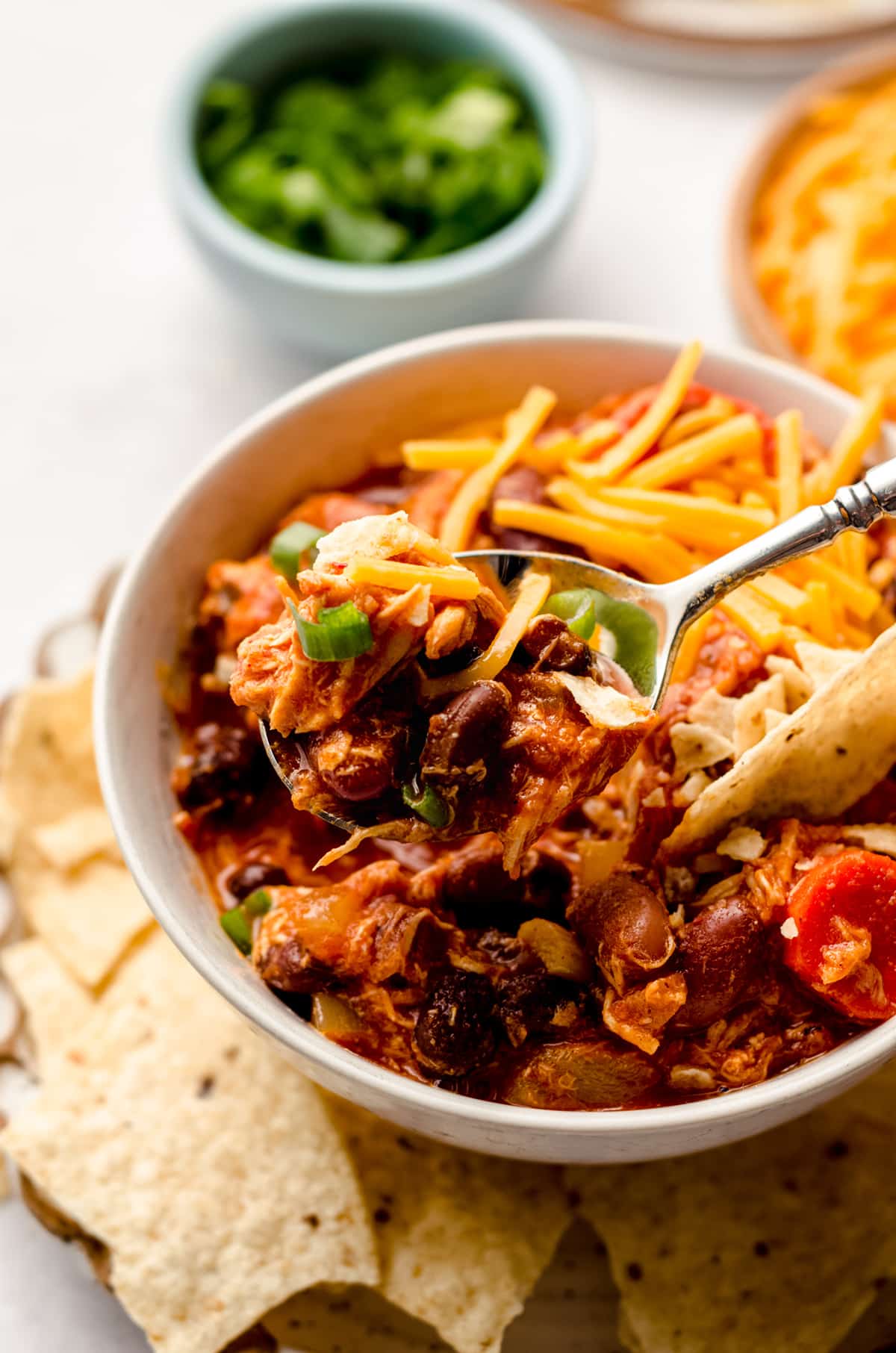 Whatever you decide to add to your buffalo chicken chili or however you decide to eat it, I'm sure you'll agree that this flavor combination is a winner (award-winner, perhaps!) and the surefire cure any winter blues or spice up a weeknight menu.
Besides… If I can cook this, so can you. It's too easy not to try.
Some of my favorite buffalo and buffalo chicken recipes: buffalo cauliflower tacos, buffalo chicken dip, creamy buffalo hummus, and buffalo chicken stuffed peppers.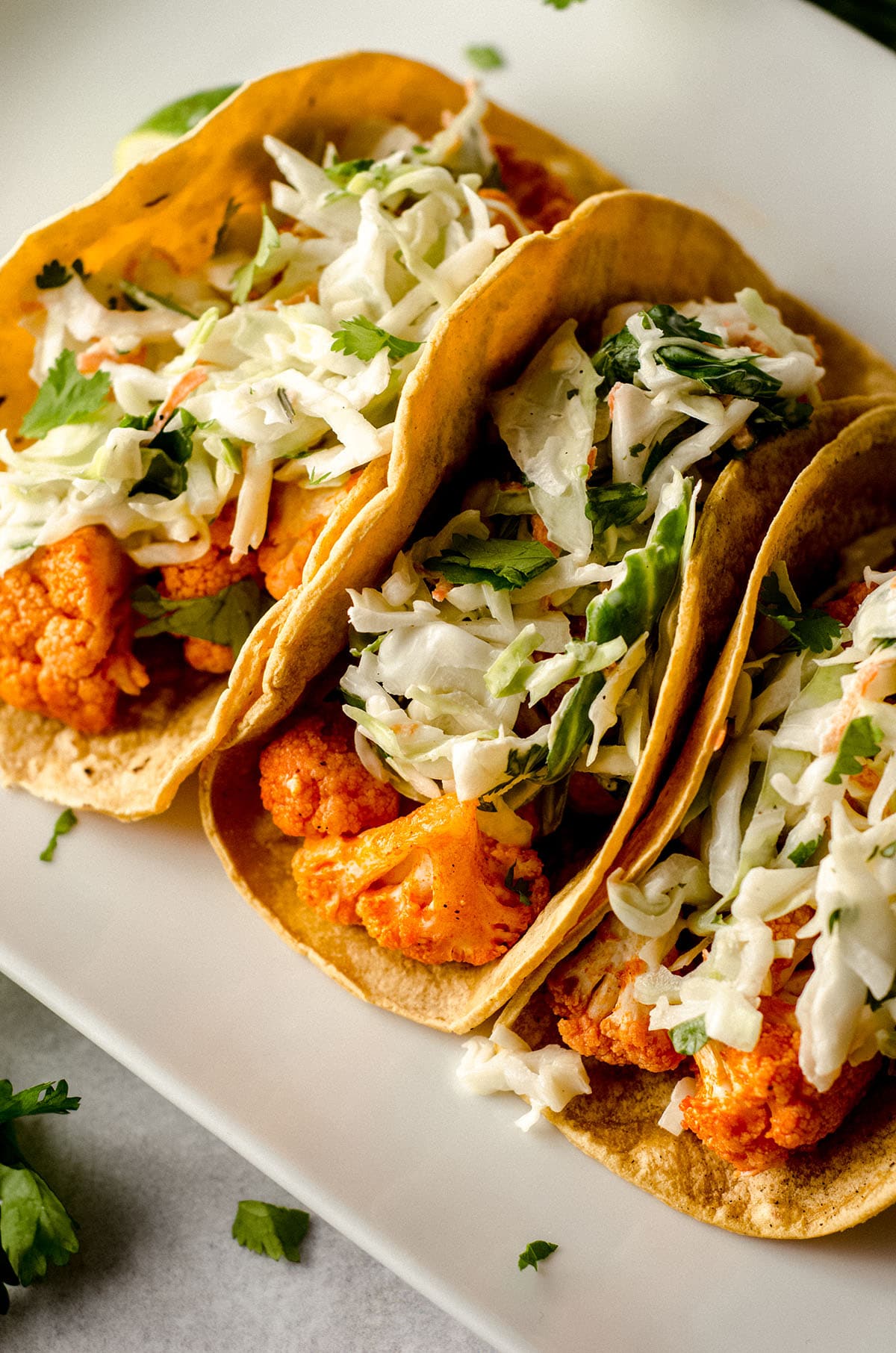 Buffalo Chicken Chili
This award-winning buffalo chicken chili recipe uses a zesty blend of Mexican spices, shredded chicken, lots of vegetables, and a hefty dose of hot sauce to create a non-traditional chili perfect for cold weather cooking.
Ingredients
1

Tablespoon

(15mL) olive oil

3-4

cloves

garlic

chopped

3-4

large stalks of celery

sliced

2-3

large carrots

sliced

1

large bell pepper

any color, chopped

1

large onion chopped (I prefer white or sweet Vidalia)

5

Tablespoons

chili powder

2

Tablespoons

ground cumin

1

Tablespoon

paprika1

½

cup

(120mL) hot sauce

1

jar

(709g) tomato sauce

not Italian flavored/spiced

1-15

ounce can

(425g) diced tomatoes with green chiles

do not drain

1-15

ounce can

(425g) kidney beans

drained and rinsed

1-15

ounce can

(425g) black beans

drained and rinsed

1-15

ounce can

(425g) chili beans

in sauce

2-3

cups

shredded cooked chicken2

approximately 1-2 pounds

salt and pepper

to taste
Instructions
Heat the olive oil in a large (at least 4 quarts) pot or dutch oven over medium heat. Add the garlic, celery, carrot, pepper, and onion and sauté for approximately 5-7 minutes, or as long as it takes for vegetables to sweat out some juices and become tender.

Add the chili powder, cumin, and paprika and stir until vegetables are coated.

Carefully pour in hot sauce, tomato sauce, diced tomatoes, and all 3 kinds of beans and stir until completely combined. Add chicken and stir to distribute. Taste the chili and add salt, pepper, and/or more spices to your liking.

Turn heat down to low and allow chili to simmer for at least 1 hour. You can also cook the veggies and spices in a saucepan and then add everything to a slow cooker. Cook on low for 1 hour. Add water any time you think the chili is too thick for your liking. Chili may be served immediately (don't forget the cornbread!), but I find it has the best flavor after it sits in the refrigerator overnight. Allow to cool completely before refrigerating. Top with your favorite chili toppings or use as a dip. Leftovers may be kept in the refrigerator up to 1 week. Chili freezes well, up to 3 months.
Notes
Paprika: I prefer smoked paprika, but plain is fine.
Chicken: I recommend using a rotisserie chicken. You may also prepare chicken (breast or thighs) the way you prefer and shred it after it is cooked. Consider shredding the chicken ahead of time to save yourself some prep time.
Recipe adapted from My Bizzy Kitchen
Nutrition Disclosure
All nutritional values are approximate and provided to the reader as a courtesy. Changing ingredients and/or quantities will alter the estimated nutritional calculations.