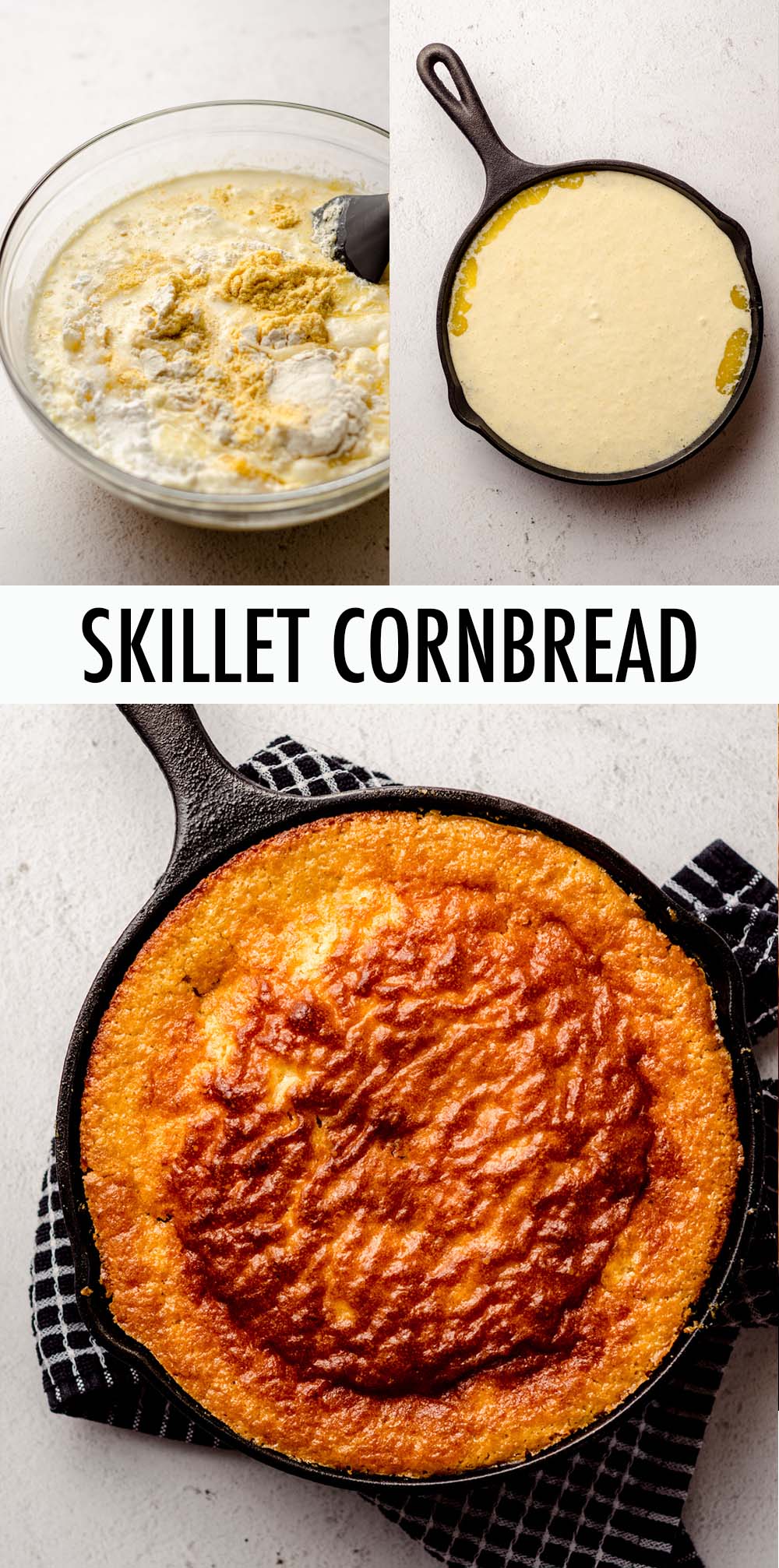 As an Amazon Associate, I earn from qualifying purchases. Read the full disclosure here.
This cast iron skillet cornbread is perfect for serving up with your favorite Southern inspired meals. Crunchy and buttery on the outside, and perfectly moist on the inside. You'll never want to make it any other way ever again!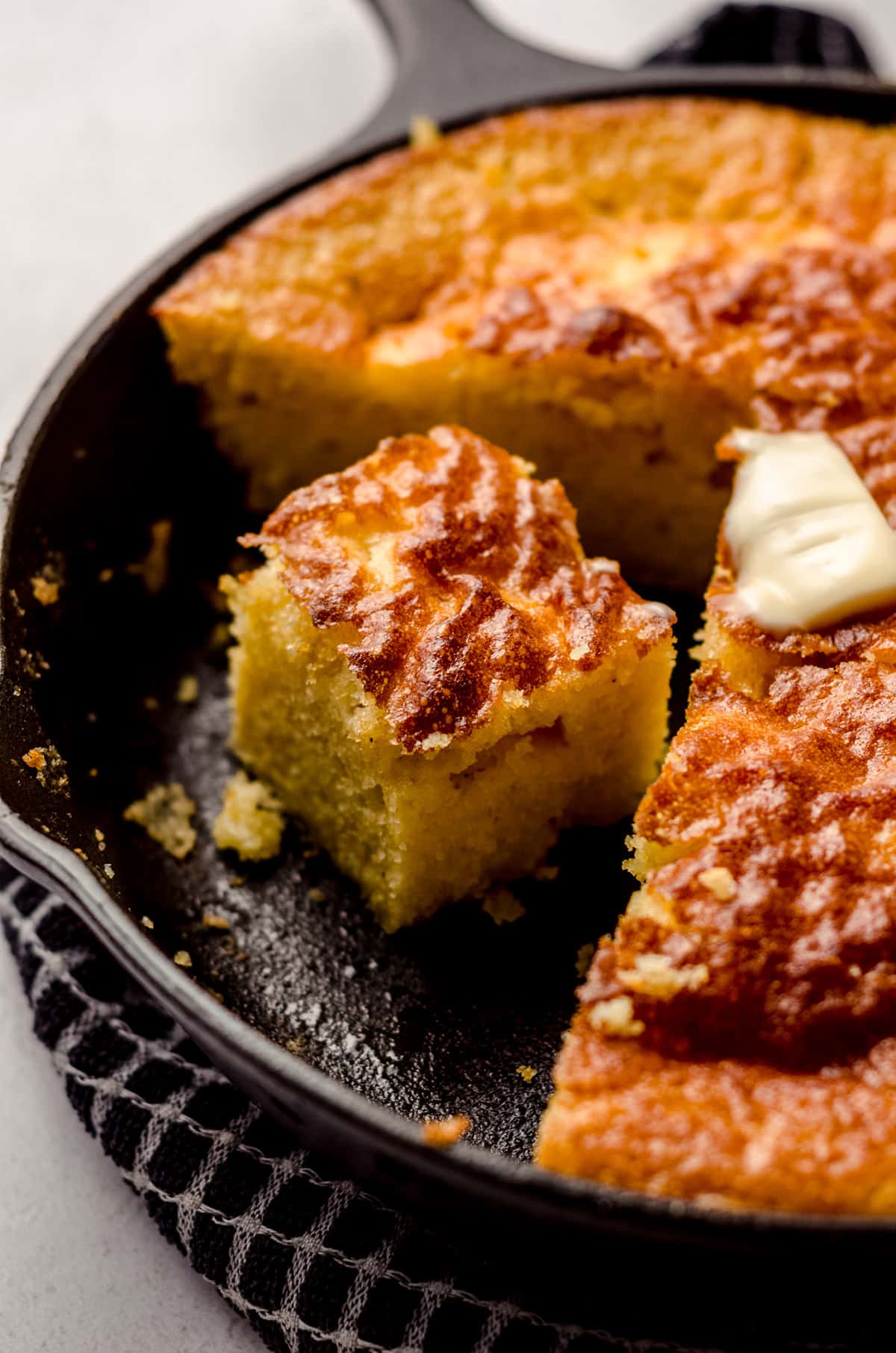 Who doesn't love a sizzling hot skillet of fresh and delicious cornbread? This classic old fashioned food is ALWAYS welcome in my kitchen, how about you?
This recipe for skillet cornbread comes straight from my MIL. She has graced my kitchen with her classic banana bread recipe as well as my ever-popular Russian tea cakes.
Over the years of eating her fabulous cornbread, I've turned to baking it in my own kitchen and adapted it to many different pans, sizes of batches, and with all different kinds of varied ingredients. I've even tried making it a little "healthier," but quickly realized that is not worth it at all and full steam ahead is the only way I like my homemade cornbread.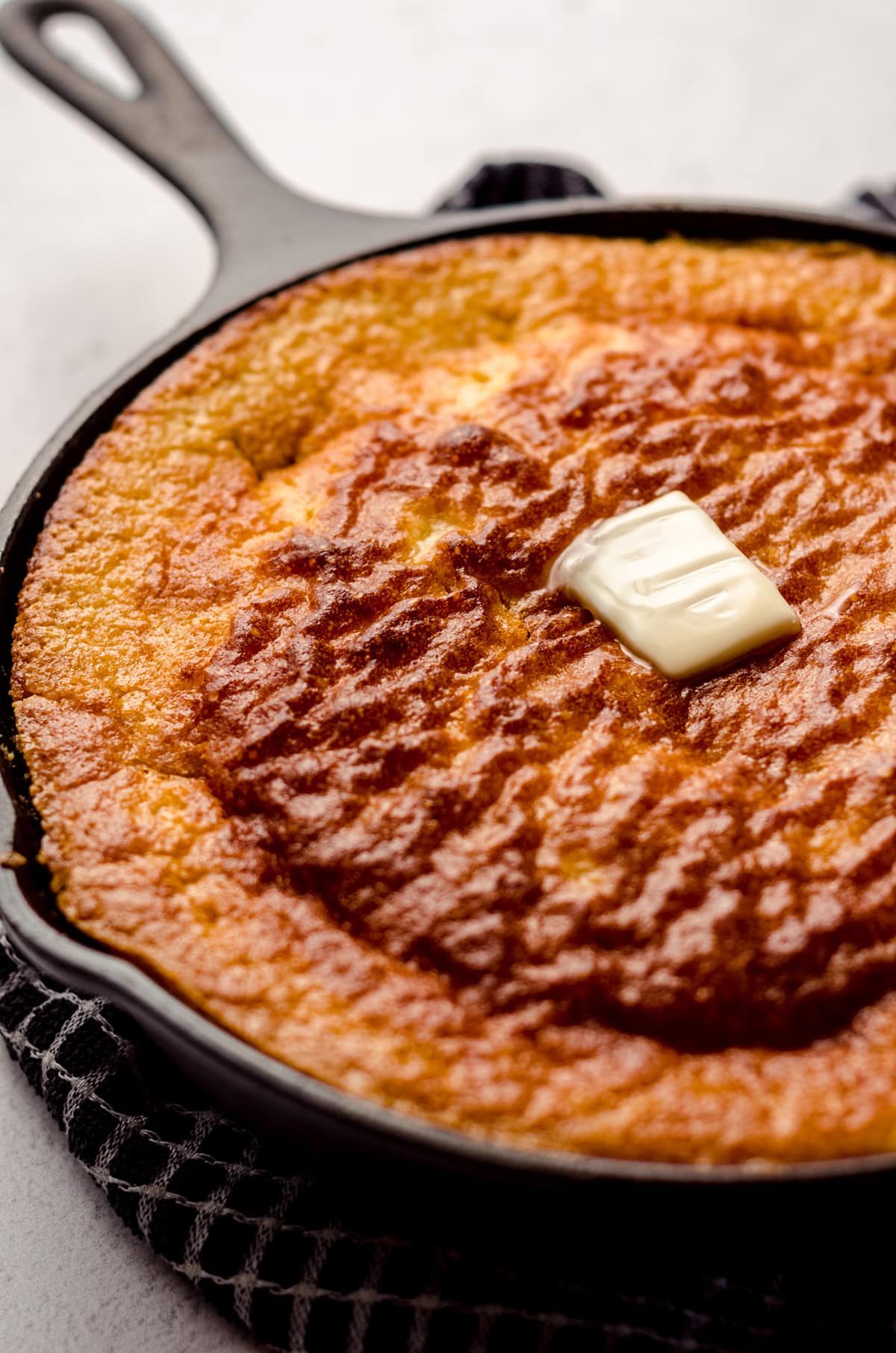 I'm going to be showing you how to make my MIL's most delicious, most versatile (we'll get to that part!), and simplest skillet cornbread you'll ever make. This is not a fussy recipe, which means you don't have to worry about the temperature of the eggs, or how soft the butter is. If that's not true comfort food, I don't know what is.
This is a Southern inspired recipe, but I can't claim 100% authenticity because helloooo, lifelong Pennsylvania resident and also, this cast iron cornbread recipe does include [gasp!] sugar. Apparently this is a very controversial subject when it comes to cornbread, I've come to learn.
I like to stay away from the controversy, but I do like my cornbread just a little sweet. Is that a crime? If so, lock me up and throw away the key, because I'm going in for a big slice of this slightly sweetened cornbread that's great with a little butter or honey (or or or try my cinnamon honey butter!)… Your preference, of course.
Is Cornbread Better in a Cast Iron Skillet?
Absolutely, yes!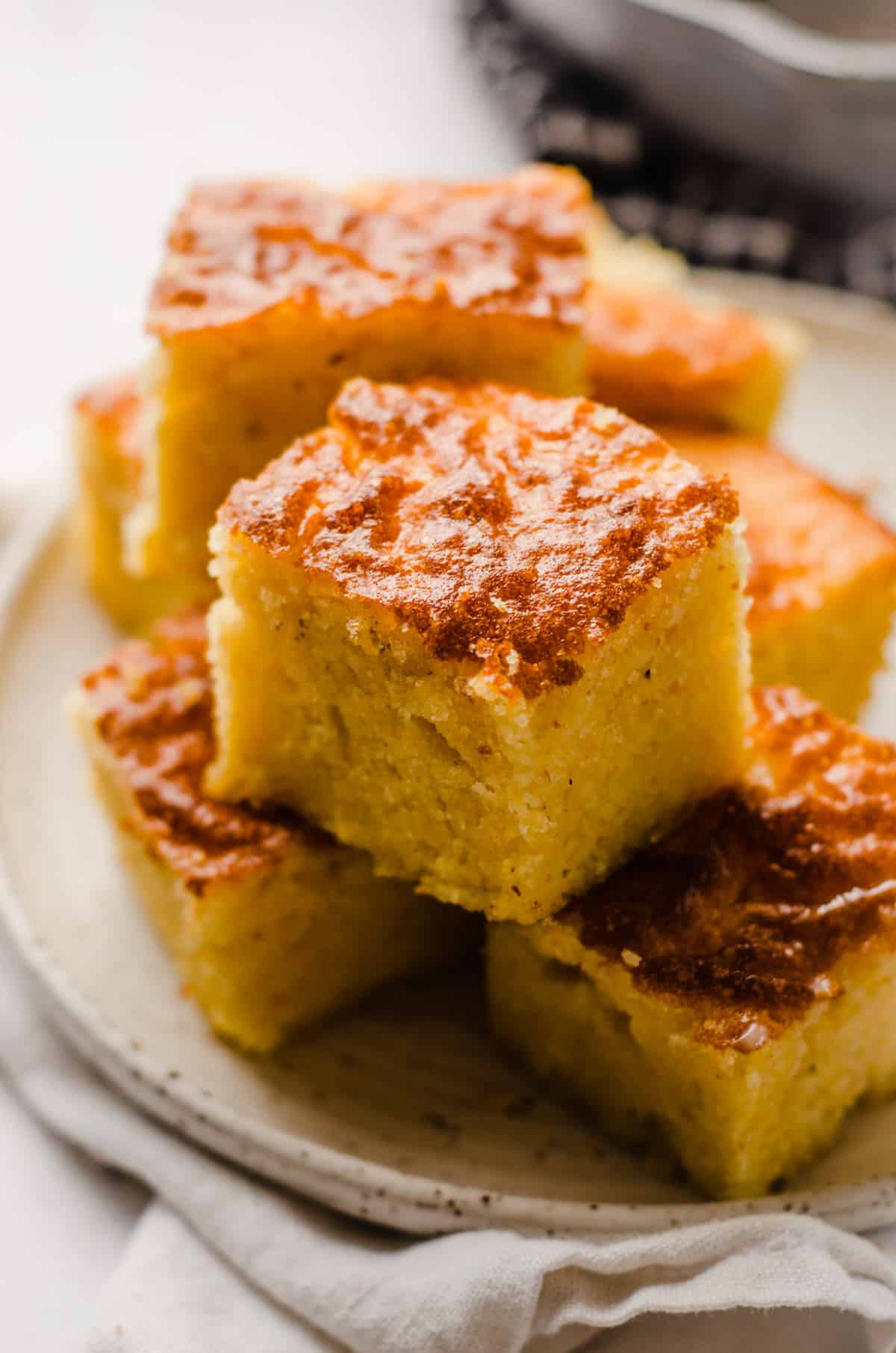 Cast iron skillets heat evenly, and retain their heat way better than a standard stainless steel skillet. This makes for a deliciously crispy crust, and perfect results every single time.
That being said, if you don't have a cast iron skillet, no worries! You can totally make this in an 8 or 9″ square or round baking pan or even a 9″ x 13″ baking pan.
If you're into doubling this recipe, I highly suggest going that 9″ x 13″ route, and there are plenty of notes in the recipe regarding bake times and sizes of pans (I told you it was versatile!).
Your homemade cornbread will still be delicious, but it just won't have that signature crispy outer crust of a classic skillet cornbread.
What About Buttermilk?
While many cornbread recipes call for buttermilk, I've developed this ultra versatile skillet cornbread recipe without buttermilk, however, you can absolutely use buttermilk if your cornbread-loving heart desires (here's how I make my own homemade buttermilk, if you're interested).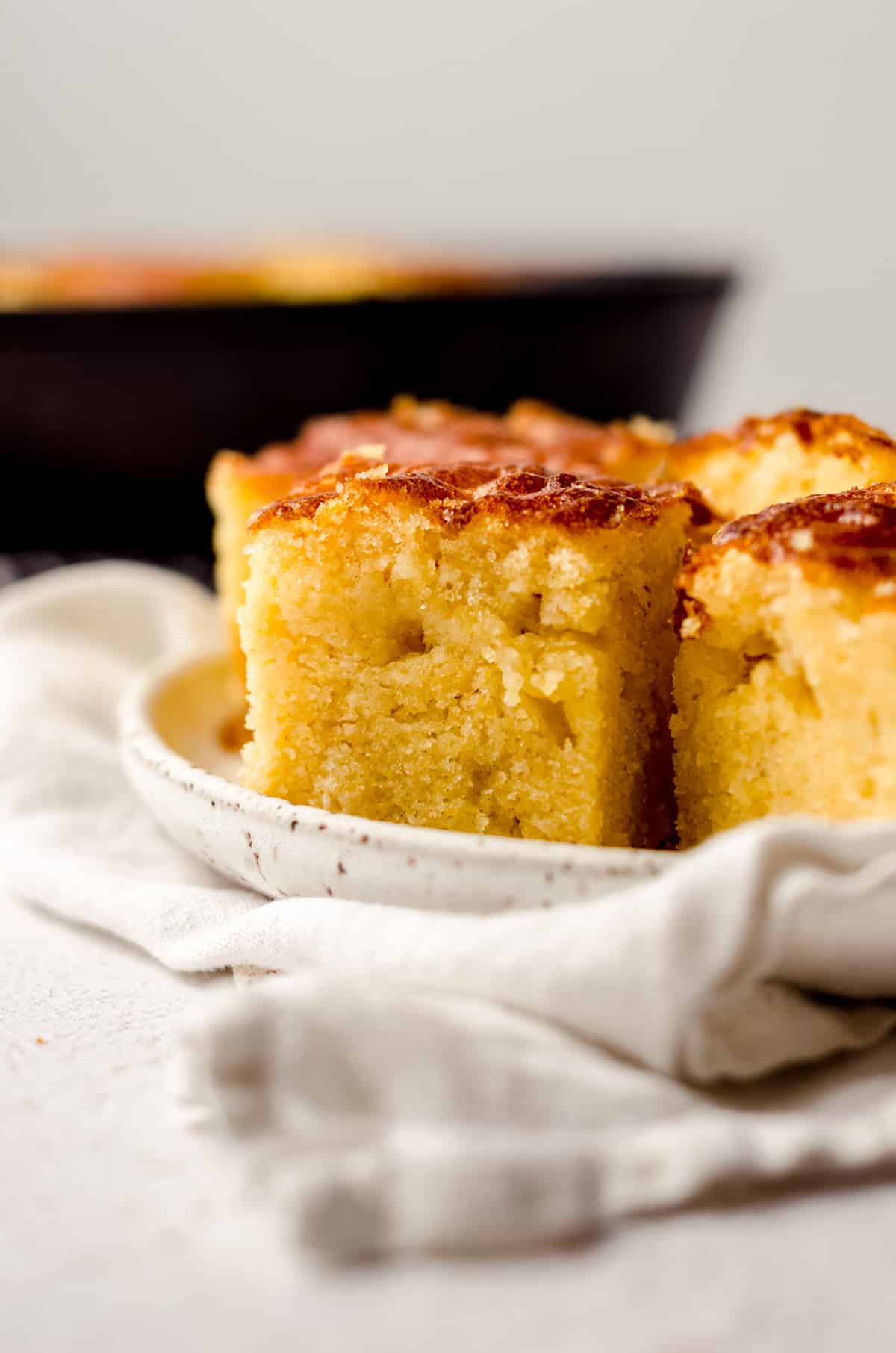 In fact, you can use whatever milk you happen to have on hand!
I've made this recipe with many variations of milk, and they've all come out absolutely delicious. I've even used non-dairy milks with great success! There are plenty of notes in the recipe regarding the milk situation as well, so check that out. You may even be able to avoid a trip to the grocery store (spoiler alert: the original recipe calls for evaporated milk, and I have also used heavy cream).
This skillet cornbread recipe is super forgiving, so feel free to make substitutions when it comes to the milk portion of the recipe with the notes I've included.
Ingredients
All you'll need are some basic staples to make this Southern classic.
For your dry ingredients, gather together some yellow cornmeal, all purpose flour, sugar, baking powder, and salt.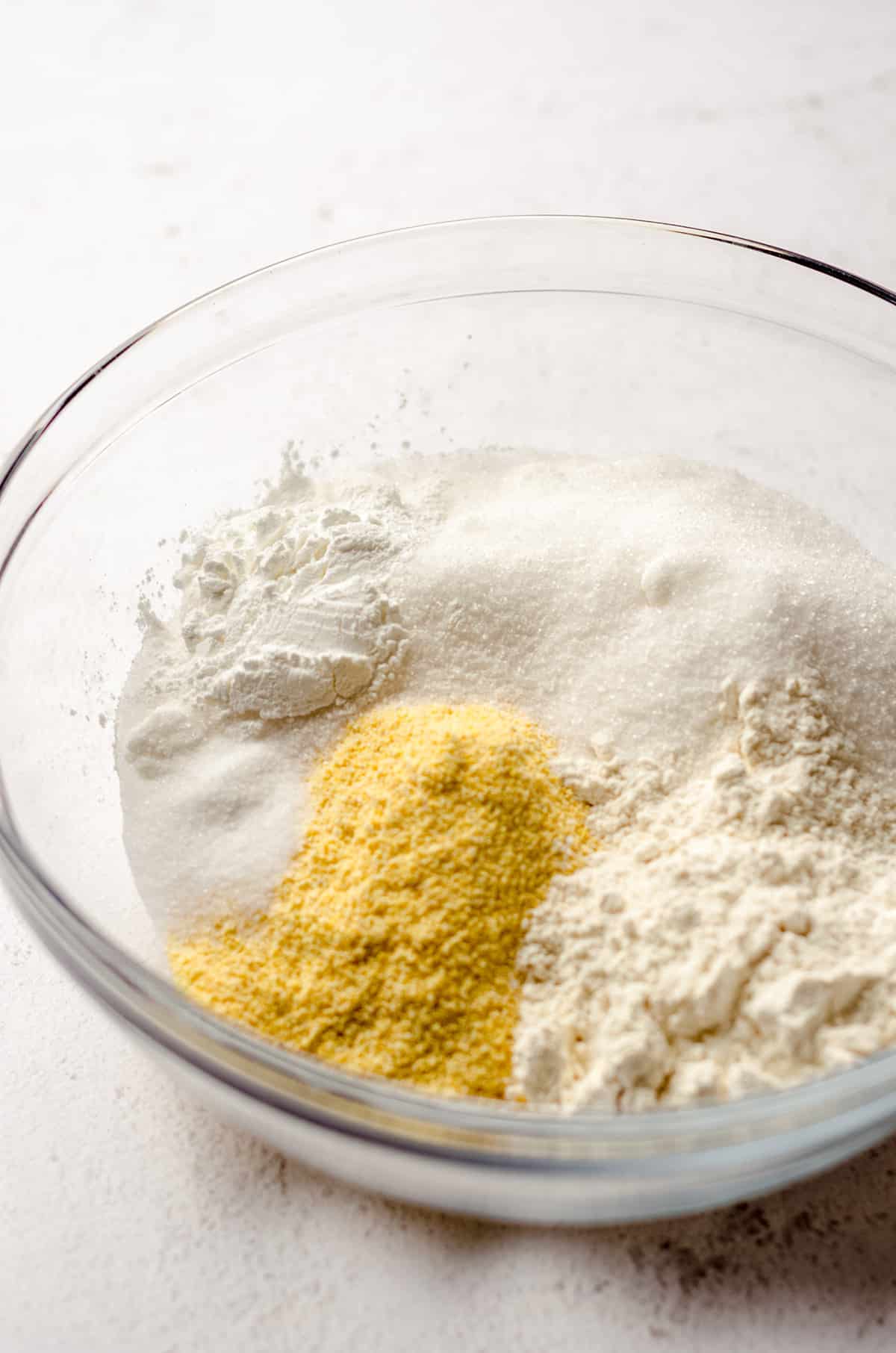 For your wet ingredients, you'll need some melted butter, milk (whatever kind it is you choose), and 2 large eggs.
See? Totally simple!
How to Make Skillet Cornbread
The key to an AMAZING skillet cornbread is, you guessed it, the skillet!
For this recipe, you'll need an 8 or 9″ cast iron skillet. Cast iron skillets make for a crisp, crunchy outer crust that just can't be duplicated.
To get started, you're going to want to preheat your oven nice and toasty to 400ºF (204ºC). Pour 5 tablespoons of the melted butter into the cast iron skillet and set it aside for now.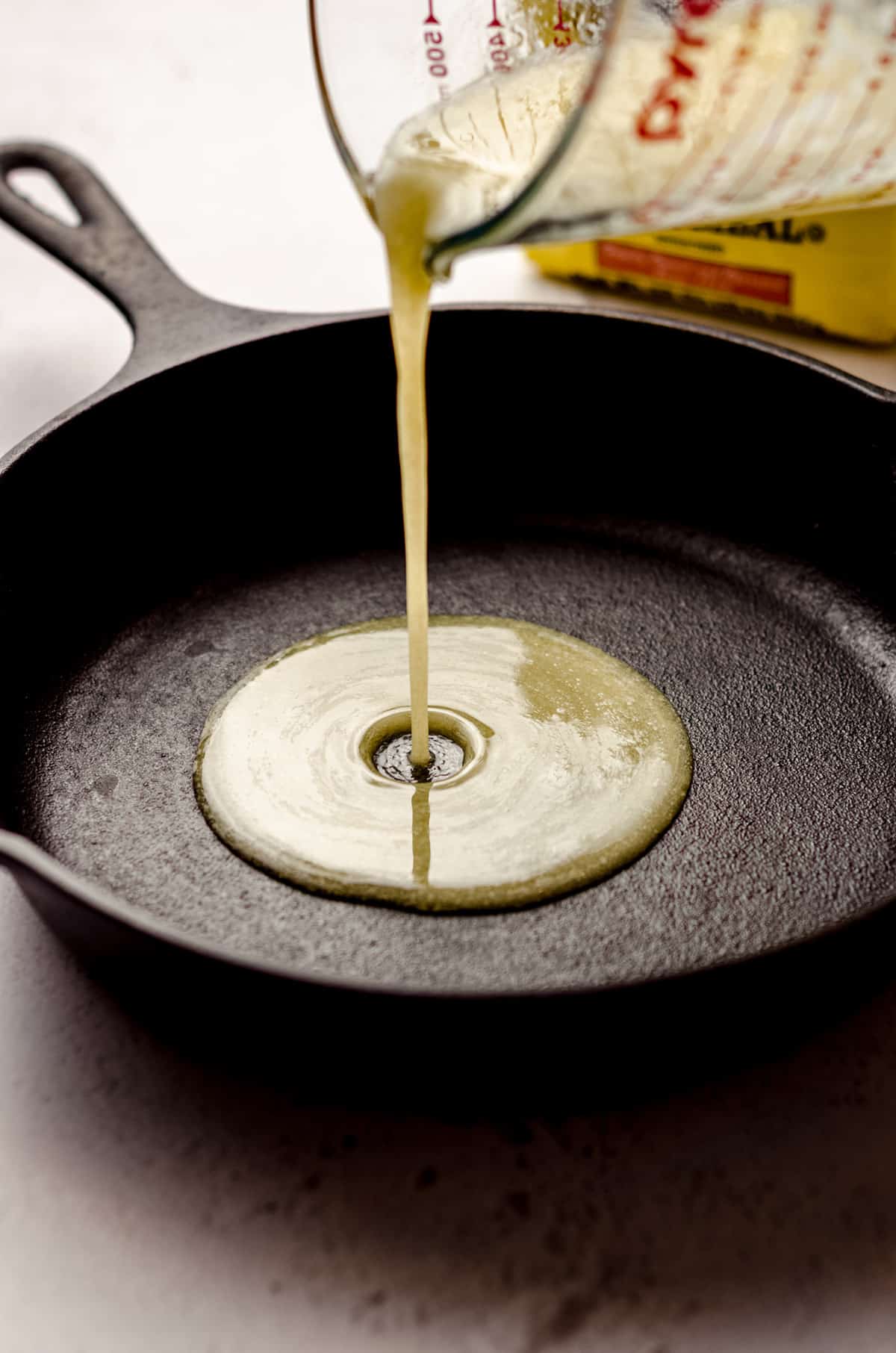 Now, it's time to mix up the batter.
Grab a large bowl and whisk together your dry ingredients (cornmeal, all purpose flour, sugar, baking powder, and salt).
Once that is combined well, add in the remaining 5 tablespoons of melted butter, the milk, and the lightly beaten eggs.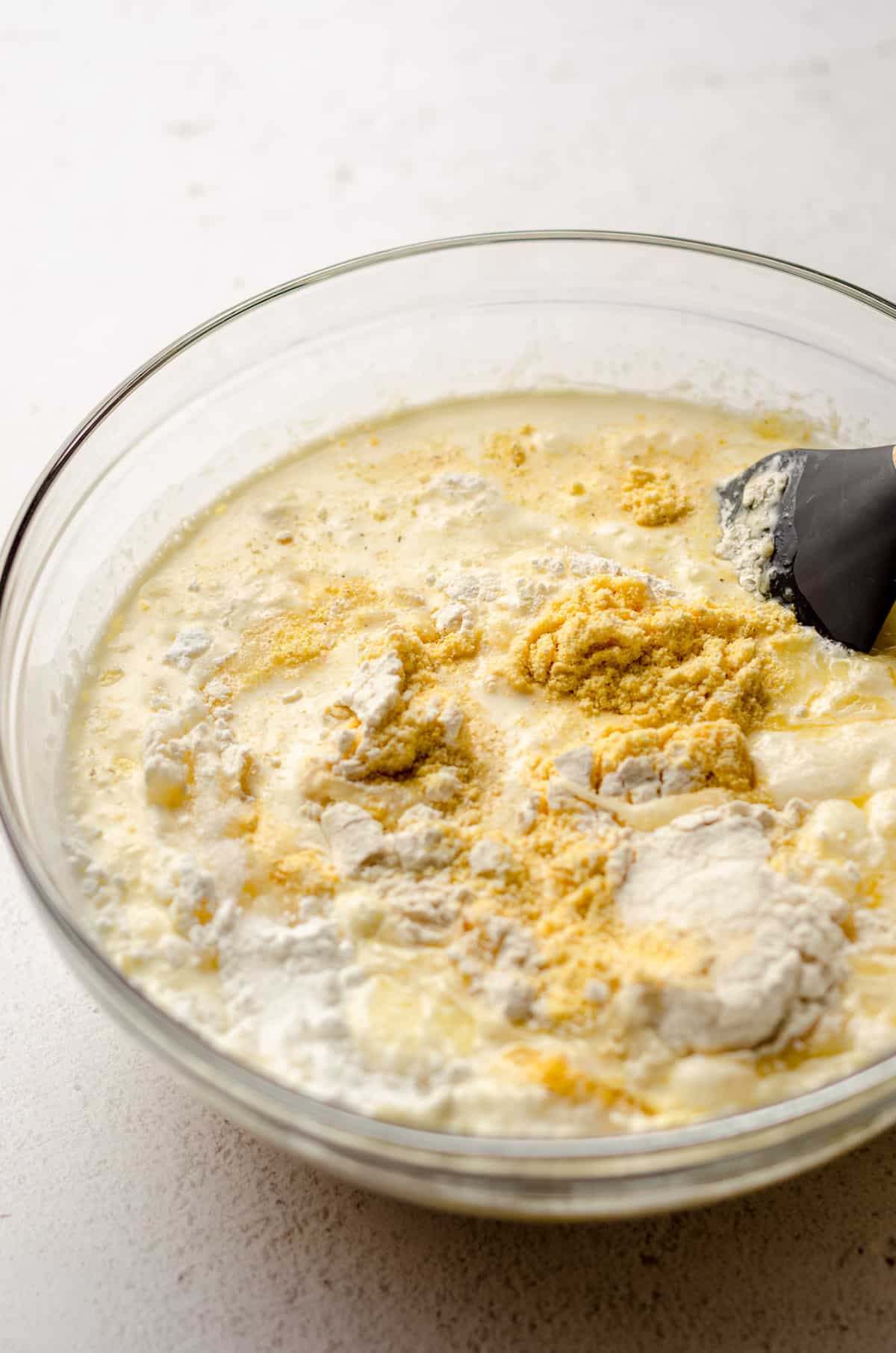 Stir JUST until the batter comes together and all the dry ingredients are moistened. Do your best to press out any large pockets of flour while also being very careful to not overmix the batter, as that can make your skillet cornbread quite dense! A light touch is all that is needed.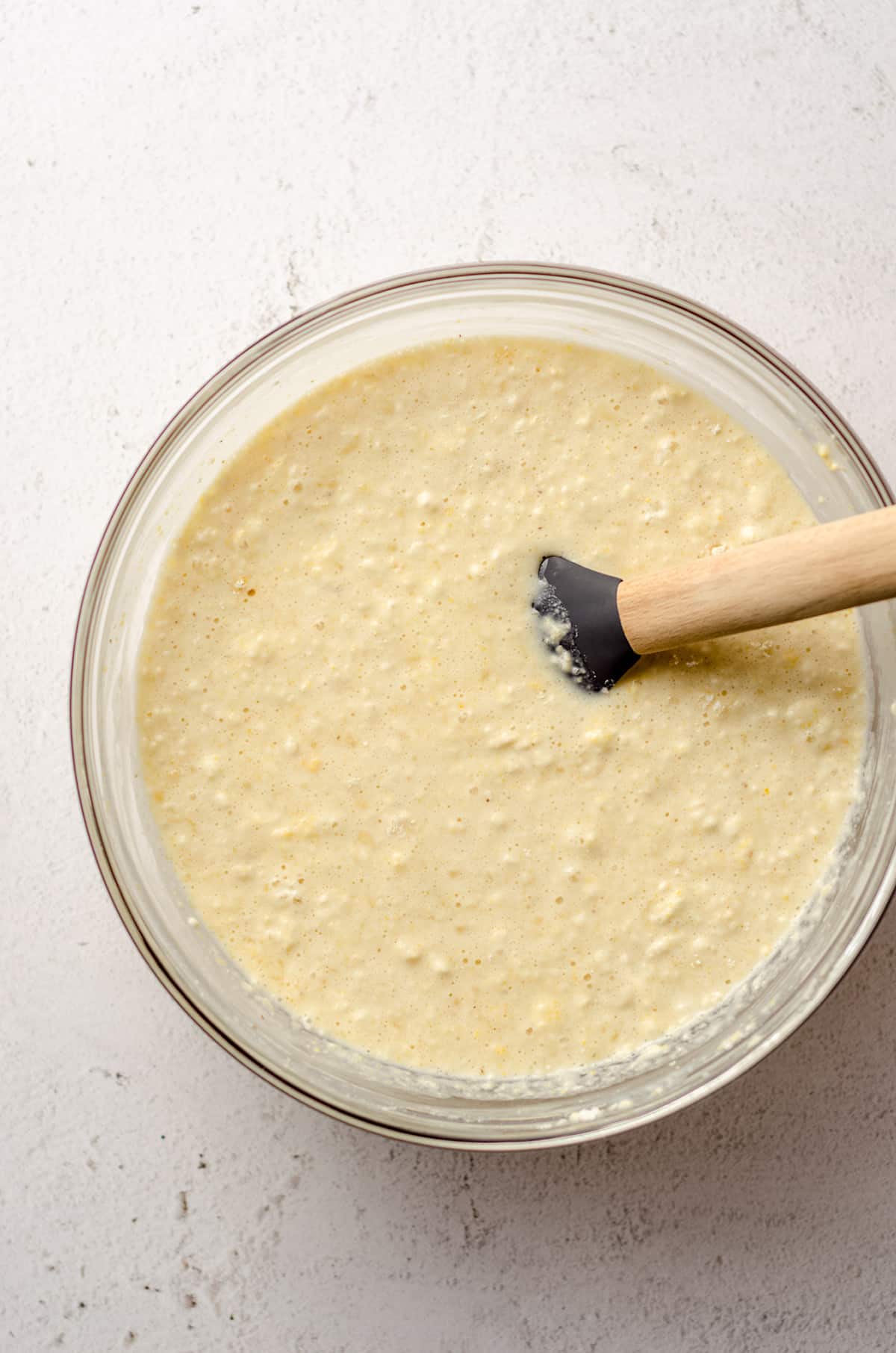 Time to Bake
Then, go ahead and pour that batter into your prepared cast iron skillet. Bake for 38-40 minutes, or until a toothpick inserted into the middle comes out with moist crumbs.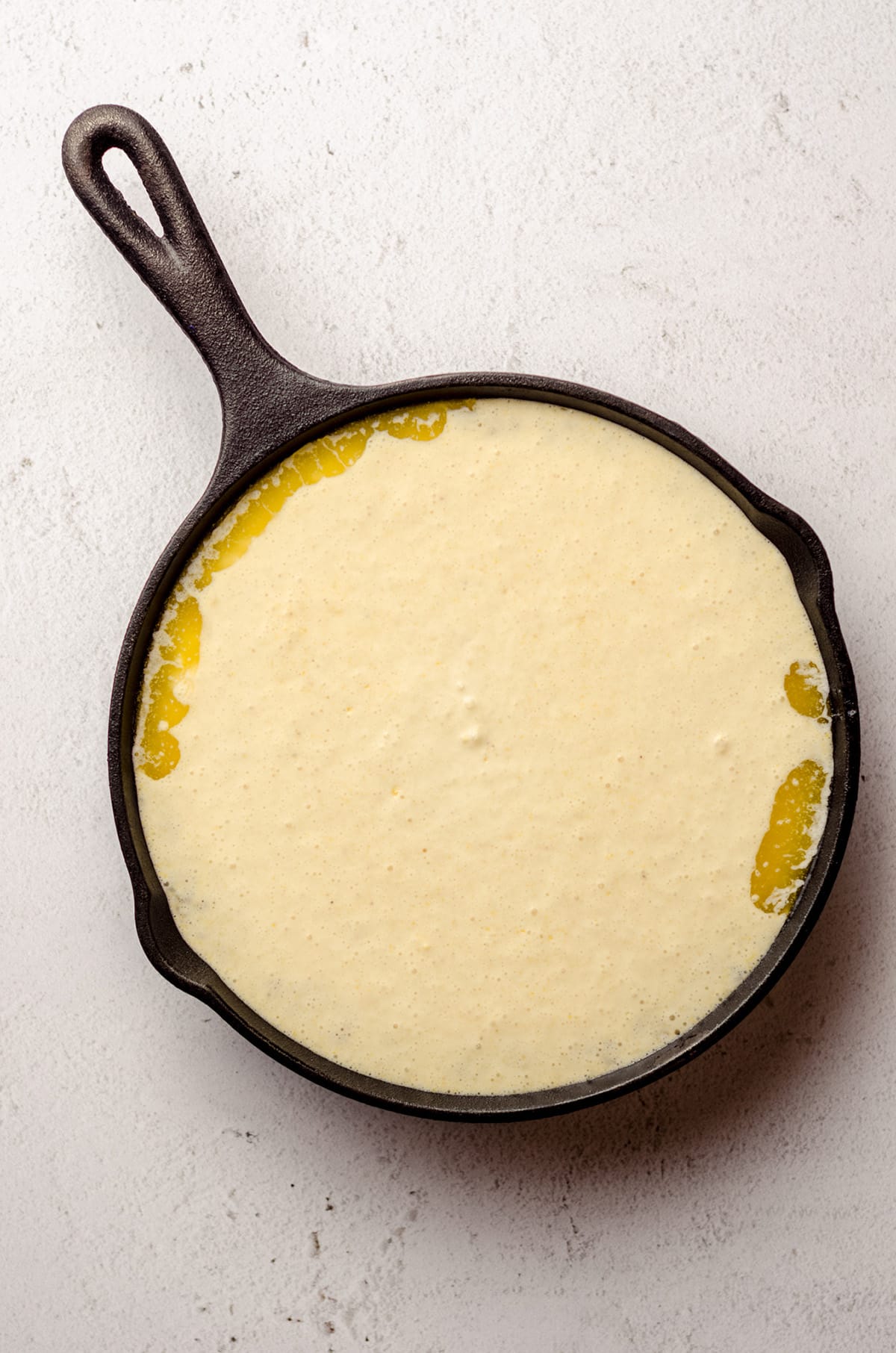 Remove your skillet cornbread from the oven and place on a heatproof surface. Let it cool for about 15 minutes before slicing and serving.
Storage
This cornbread is so delicious, I'm not entirely sure you'll have any leftovers, but just in case you do, here are some storage tips for you!
Store your leftovers in a covered container for up to 5 days at room temperature. If you want to store your skillet cornbread for longer, you can easily refrigerate or freeze it.
This homemade cornbread freezes really well, and will last up to 3 months in the freezer if stored properly. Once you're ready to enjoy it, just thaw it at room temperature for a few hours before serving. I like to toast slices in the toaster oven or under the broiler a bit if it's been refrigerated or frozen.
Why Does my Cornbread Stick to my Cast Iron Skillet?
If you have a very well seasoned skillet, you shouldn't have any problems with your cornbread sticking. If you have a fairly new skillet, your foods may have a tendency to stick more often. The solution is butter. ALWAYS butter! Well, any fat will do, but butter just tastes delicious, am I right?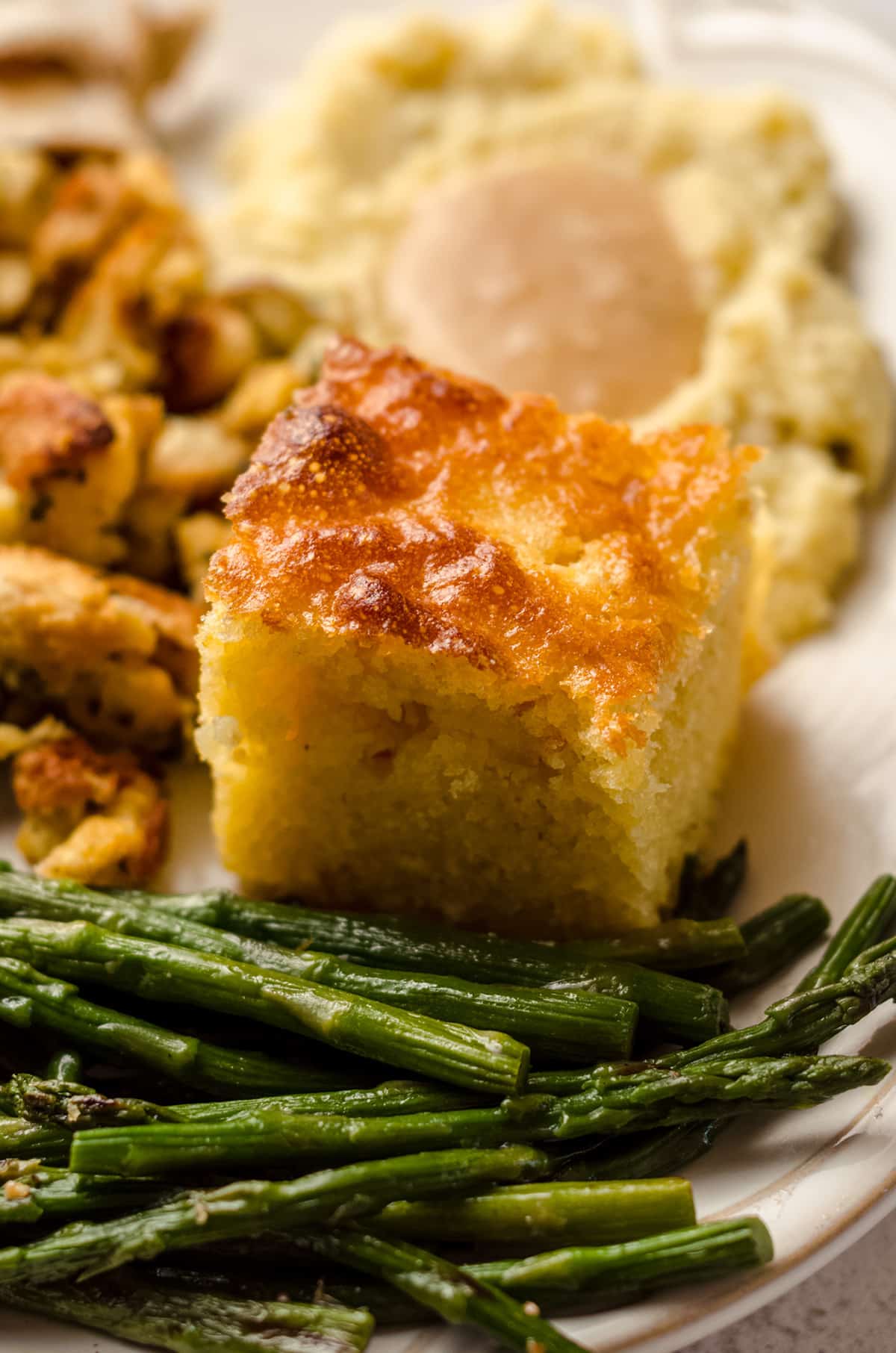 This skillet cornbread recipe reserves 5 tablespoons of butter just for the cast iron skillet, and this is plenty to give that crispy outer crust and prevent your cornbread from sticking.
If you still have problems with your skillet sticking after using ample amounts of fats and oils, you may want to try preheating the skillet before adding the batter. This works like a charm for those newer skillets that tend to stick.
Honestly, this homemade cornbread recipe is so good, I'd venture to say you can plan your main dish around it.
So don't miss out on the opportunity to make up a batch of my Nashville style shredded hot chicken! Another Southern inspired recipe with BIG flavor. It pairs perfectly with some coleslaw, a big fluffy bun, and a big slice of this crispy skillet cornbread!
Orrrr my buffalo chicken chili. Yes, make some of that, too.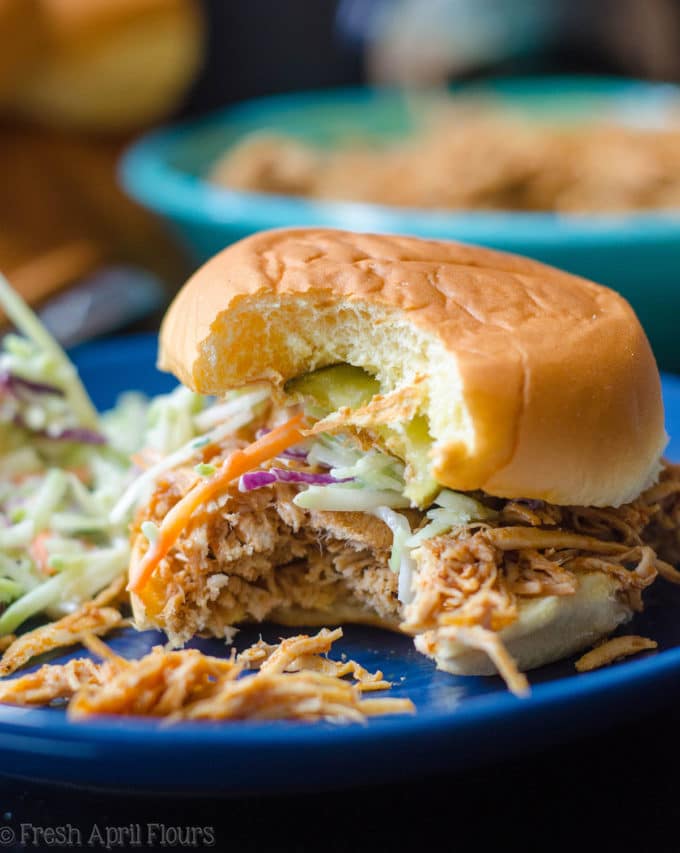 I think you'll be pleased with how simple, easy, and tasty this cornbread is, and let's all give a high five to my fab MIL for bringing it to us. An amazing husband, awesome BILs, and delish recipes. I think I hit the jackpot with her!
More skillet recipes from me– skillet Nutella cookie cake, skillet pizza dip, and maple pecan goat cheese skillet apple crisp.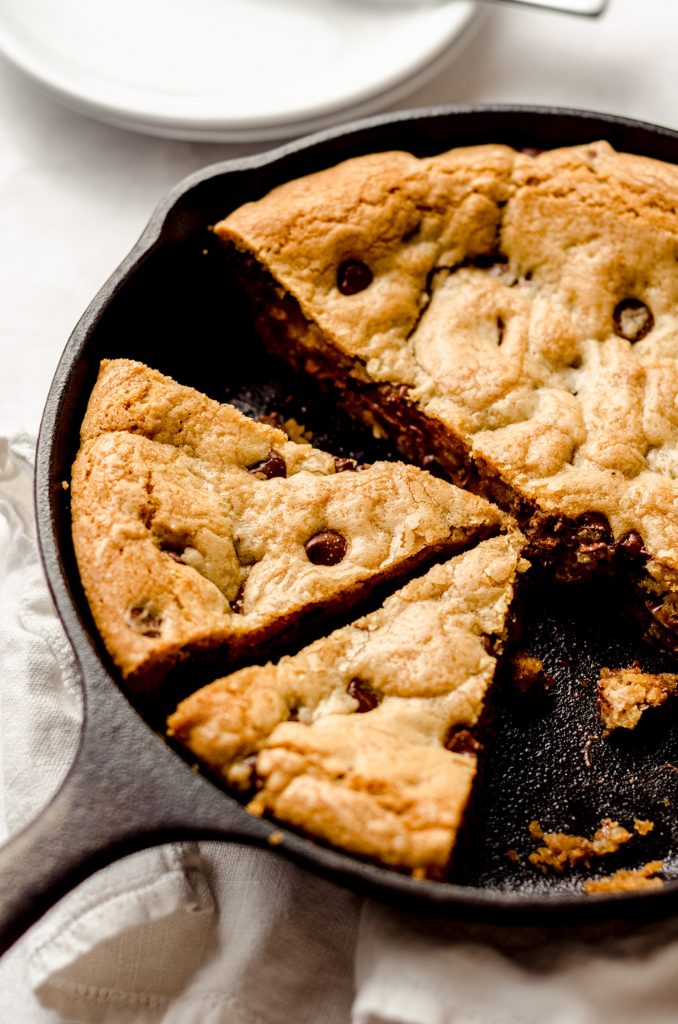 Skillet Cornbread
This cast iron skillet cornbread is perfect for serving up with your favorite Southern inspired meals. Crunchy and buttery on the outside, and perfectly moist on the inside. You'll never want to make it any other way ever again!
Ingredients
10

Tablespoons

(142g) unsalted butter

melted and divided

1

cup

(120g) yellow cornmeal

1

cup

(120g) all-purpose flour be sure to measure properly

⅔

cup

(132g) granulated sugar

1

Tablespoon

baking powder

1

teaspoon

salt

2

cups

(480mL) milk1

any

2

large eggs

lightly beaten
Instructions
Preheat the oven to 400ºF (204ºC). Pour 5 Tablespoons of the melted butter into an 8" or 9" cast iron skillet2,3. Set aside.

In a large bowl, whisk together the cornmeal, flour, sugar, baking powder, and salt. Add the remaining 5 Tablespoons of melted butter, the milk, and the lightly beaten eggs, then stir gently until batter just comes together.

Pour the batter into the prepared skillet, then bake for 38-40 minutes or until the top is nicely browned and a toothpick inserted in the center comes out with moist crumbs. Remove from the oven and allow to cool at least 15 minutes before slicing and serving. Store leftovers at room temperature up to 5 days. Cornbread freezes well, up to 3 months. Thaw at room temperature.
Notes
Milk: my original recipe calls for 12 ounces of evaporated milk and 4 ounces of water. I have made this with many different combinations of milk and water such as how it was originally written and also 2 cups of regular milk, 1 cup of heavy cream and 1 cup of water, and I have also used non-dairy milk. The recipe is very forgiving and can accommodate whatever milk you have or want to use.
Cast iron skillet: this can also be made in an 8″ or 9″ square or round baking pan. Bake time is the same.
Make in a 9″ x 13″ dish: this can also be baked in a 9″ x 13″ dish. The squares will be a little shorter than 1″ tall. Bake time is 18-22 minutes.
To double this recipe: bake in a 9″ x 13″ baking dish. Bake time is 26-30 minutes.
Nutrition Disclosure
All nutritional values are approximate and provided to the reader as a courtesy. Changing ingredients and/or quantities will alter the estimated nutritional calculations.
Serving:
1
serving
|
Calories:
167
kcal
|
Carbohydrates:
21
g
|
Protein:
3
g
|
Fat:
8
g
|
Saturated Fat:
5
g
|
Polyunsaturated Fat:
1
g
|
Monounsaturated Fat:
2
g
|
Trans Fat:
0.3
g
|
Cholesterol:
38
mg
|
Sodium:
219
mg
|
Potassium:
85
mg
|
Fiber:
1
g
|
Sugar:
9
g
|
Vitamin A:
265
IU
|
Calcium:
79
mg
|
Iron:
1
mg
If cornbread is on your Thanksgiving list, round out the rest of your sides with these staples.
Instant Pot garlic mashed potatoes, spiced cranberry sauce, easy yeast rolls, pumpkin pie, and whipped cream!