Traditional Bread Stuffing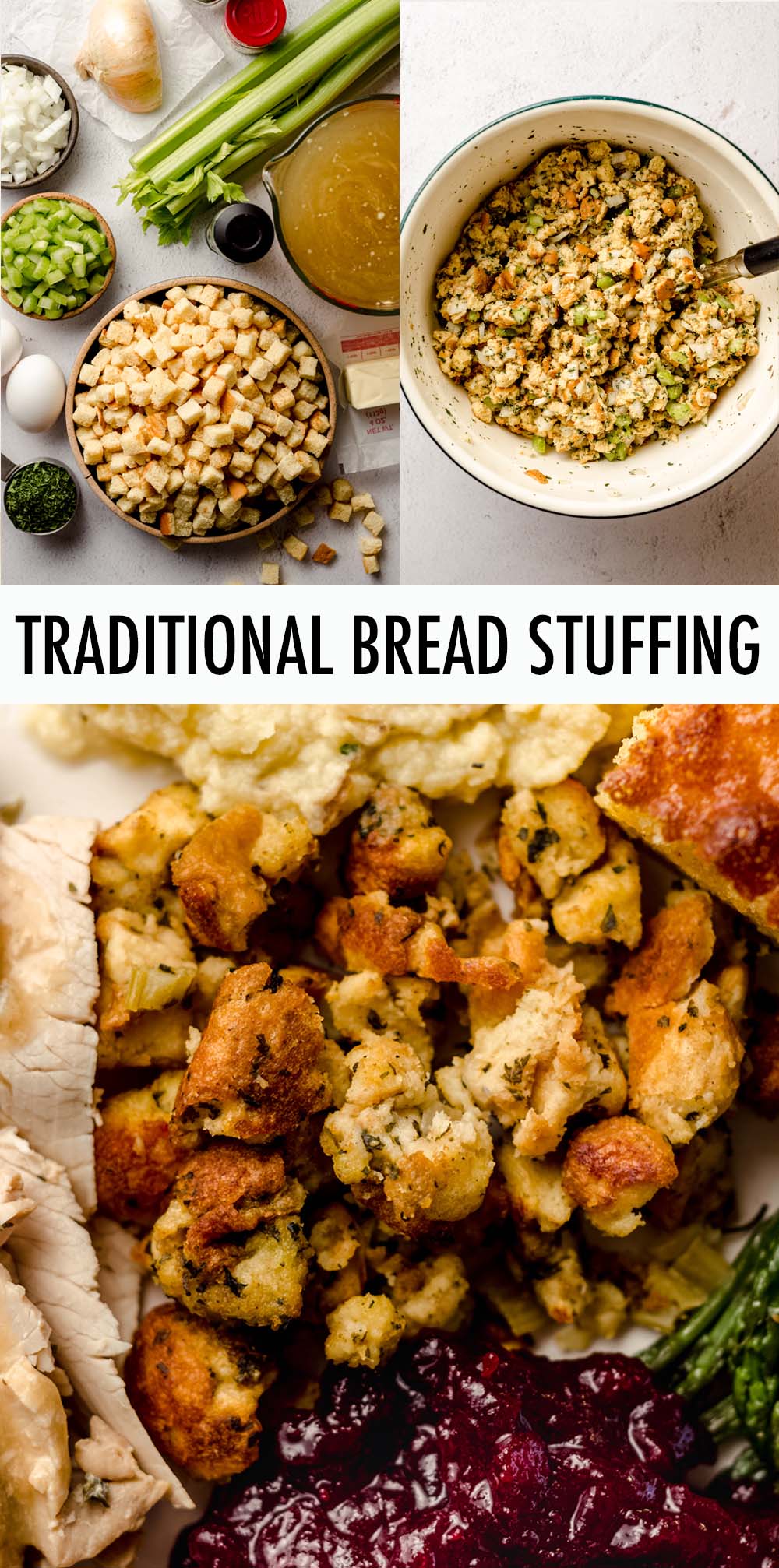 As an Amazon Associate, I earn from qualifying purchases. Read the full disclosure here.
Loaded with flavorful vegetables and the perfect herbs to complement your dish, this classic bread stuffing will go great at your Thanksgiving feast or any meal you'd like to pair with an easy stuffing recipe.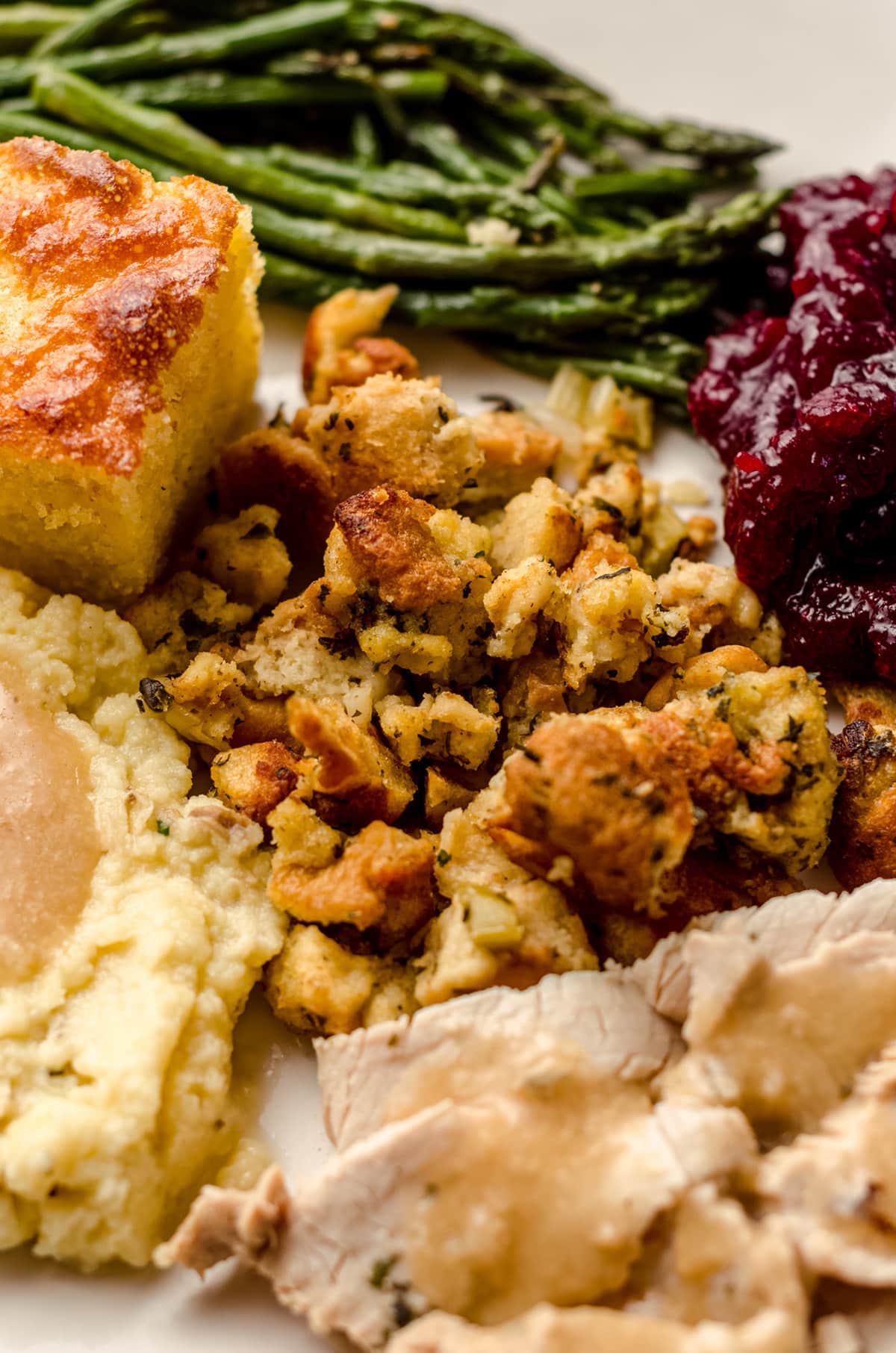 It's officially official, friends. That wonderful holiday that's all about eating and spending time with family and friends and being so gosh darn thankful for everything we have that we must eat and drink until our eyes fall out is right around the corner.
Right? Isn't that how it works?
I don't know about you and your holiday plans, but ours have changed significantly since we had kids. Prior to children, or what we like to call The B.K. times, we always spent Thanksgiving with Matt's family and it was a 30 person ordeal.
PLUS, my parents would come too, so we knocked out two birds with one stone and didn't have to go all over the place to spend time with everyone we wanted to see.
Don't get me wrong, it was so much fun, but it was always an insane day, preceded by an equally insane week.
Several days of prepping, cooking, and baking things ahead of time, keeping things outside in the cold garage or in every nook and cranny of every fridge and freezer in the house, and just generally spending all of our energy on one day.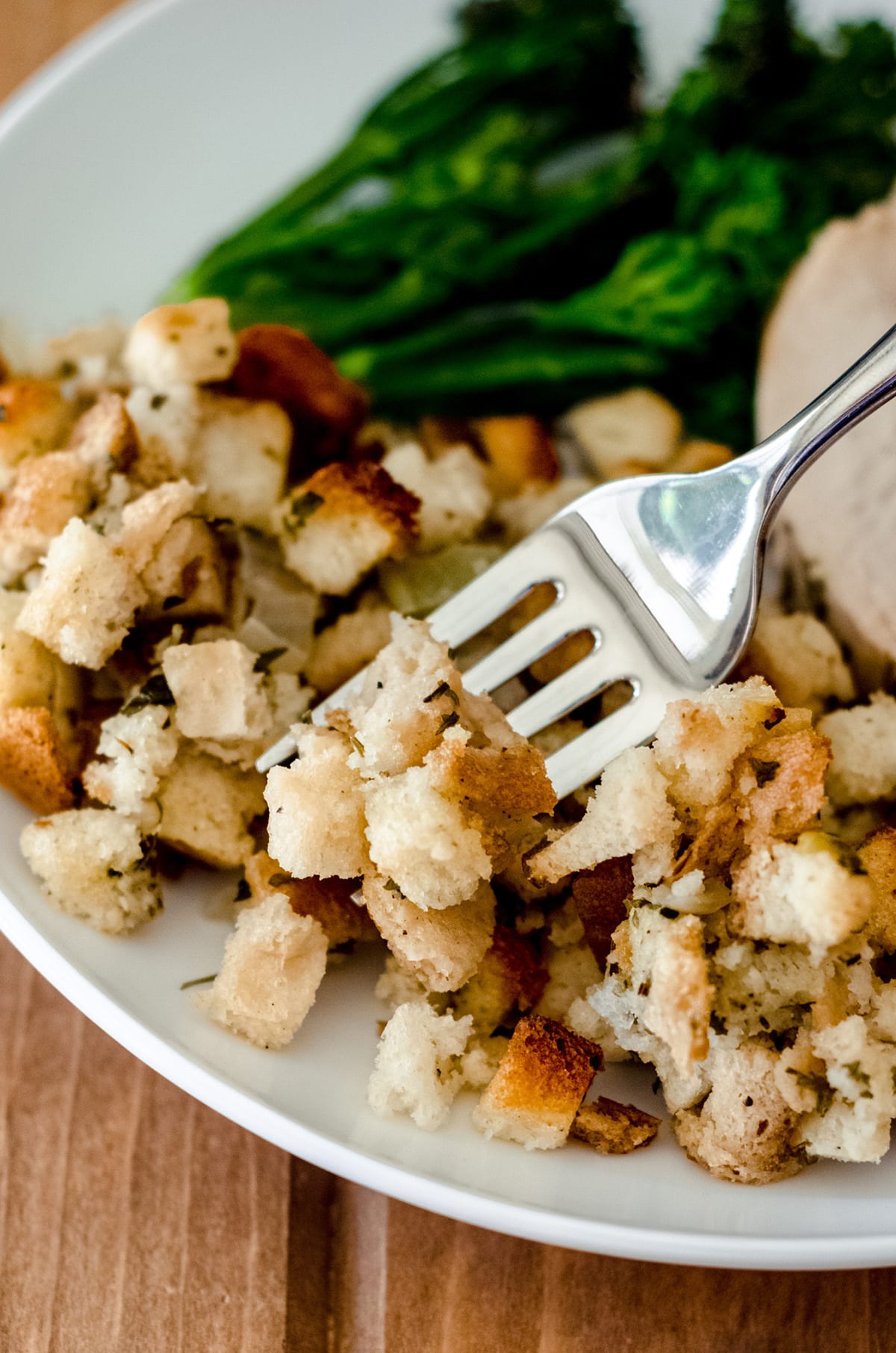 A few years ago, Matt's parents said "we're going on a cruise, see ya!" and they ditched us and the 30 people party and had their Thanksgiving dinner on a boat. And you know what? I don't blame them one bit.
That year, I was newly pregnant with our first kiddo and my dad had just started chemo for his lung cancer (hey, longggg story very short, he's cancer free and doing AMAZING!), so we were down for a chill holiday.
We had just my parents over for dinner, and then we had a handful of friends over in the evening for drinks and dessert. It was casual, it didn't involve a ton of running around, and it was great!
Since then, we have hosted Thanksgiving with our now two kids and anyone else who likes to join us.
You can say we've become pros at preparing everything and having it all on the table nearly stress-free and with time to actually spend with our guests.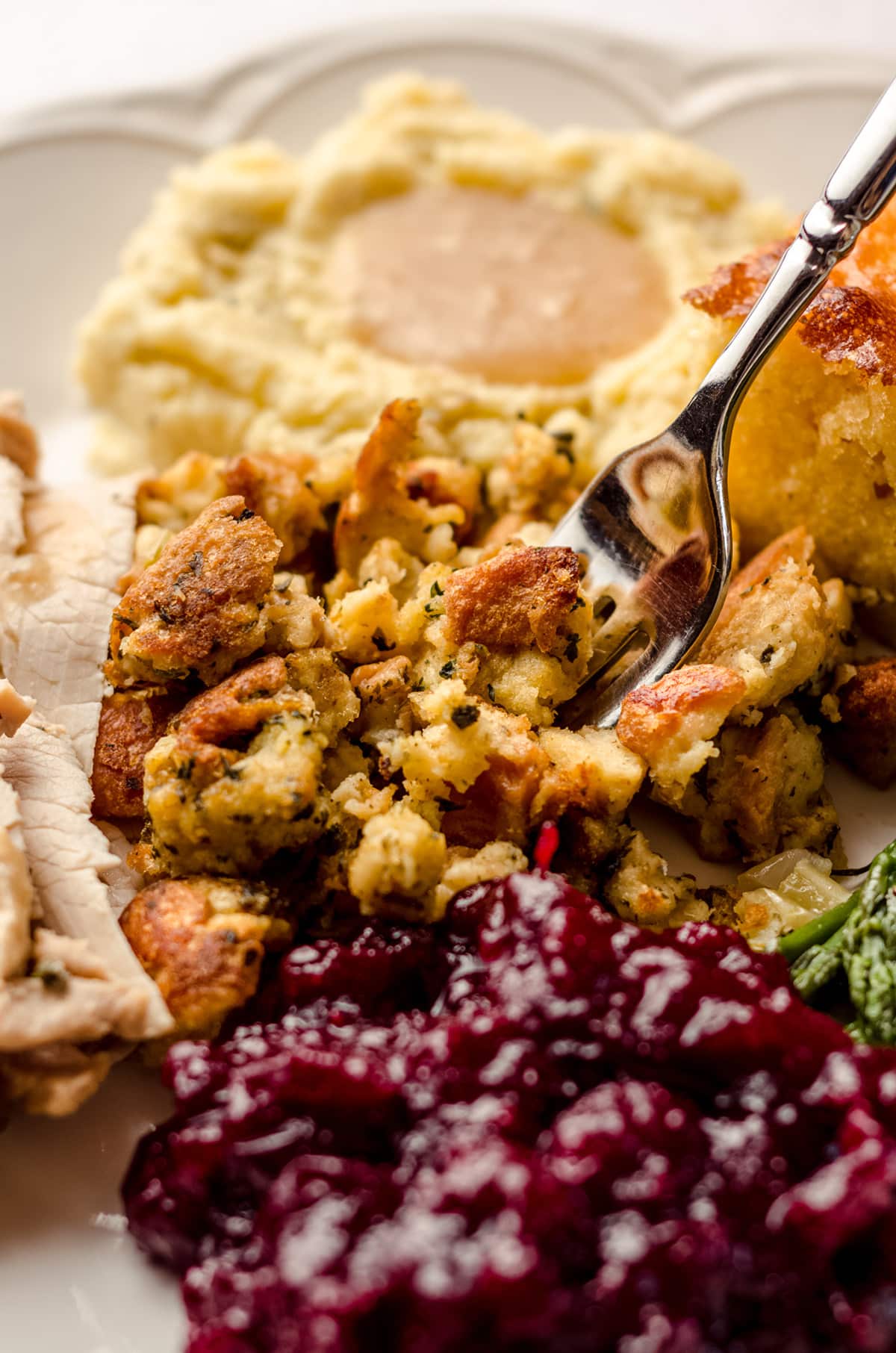 Make no mistake, we still have a bit of prepping to do, but it's nowhere near what it used to be. Our menu usually includes:
•roasted turkey breast from our local grocery store that we don't have to cook all day nor actually carve
•Instant Pot garlic mashed potatoes (takes up zero space on the stove!)
•canned cranberry sauce (because of course)
•homemade spiced cranberry sauce* (the by-product of this amazing winter sangria* that also make an appearance)
•some easy yeast rolls*
•a skillet full of homemade cornbread
•some sort of green vegetable
•whatever various 12 Days of Christmas Cookies I've made over the last couple months and stuck in the freezer* (SCORE)
•mandatory classic pumpkin pie* and chocolate chip pecan pie
And then… The star of the show… This traditional bread stuffing.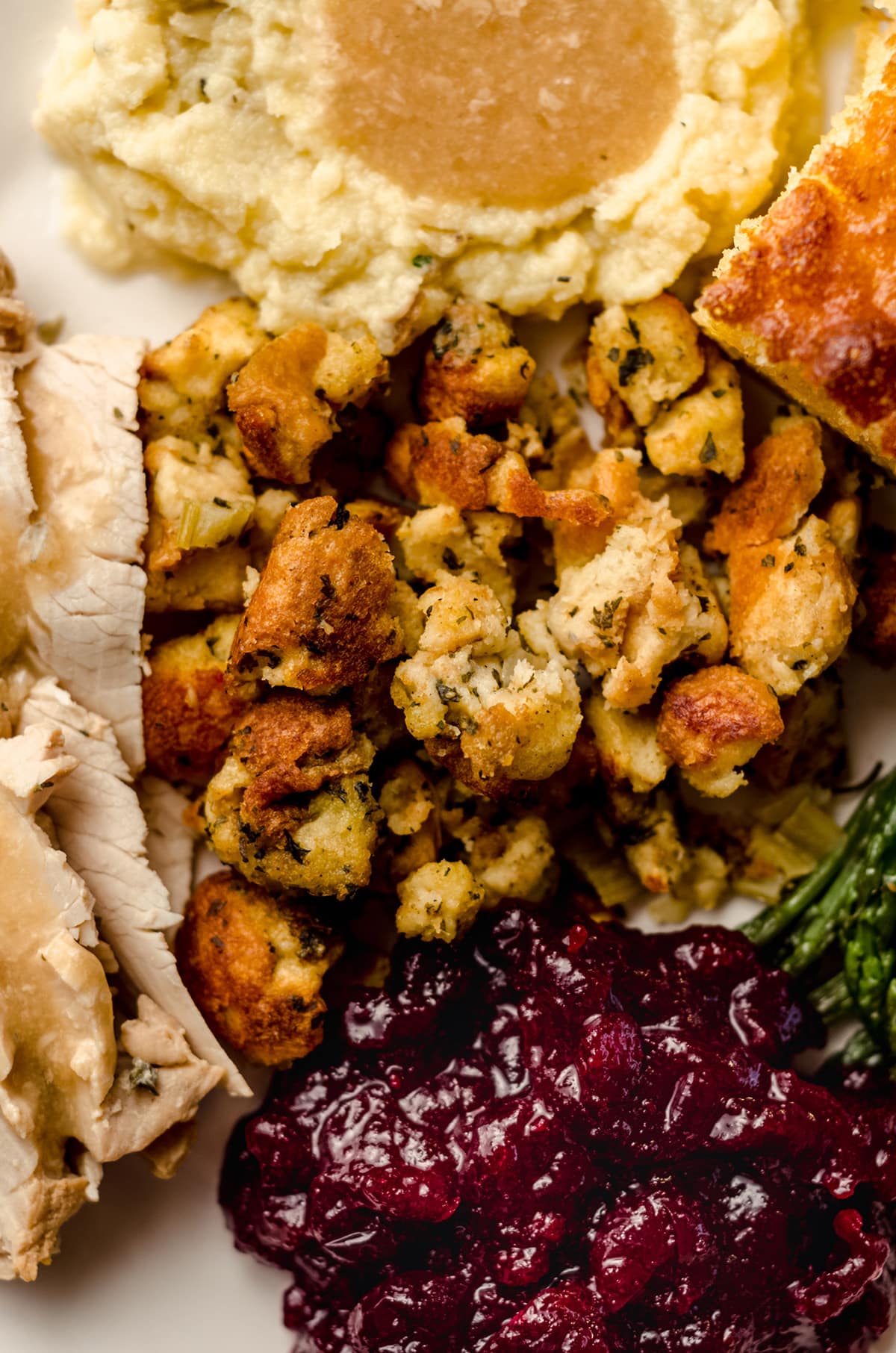 What? The star of your show isn't the stuffing (or bread dressing, as I've come to learn it can also be called)? Because GIMME ALL THE STUFFING. ALL OF IT.
*Check it out— all of these items are made ahead of time and either kept refrigerated or frozen and then baked on demand, or made earlier in the day and kept warm until needed. Do it this way and you're bound to never go back to starting from scratch the morning of!
WHY I LIKE THIS RECIPE FOR BREAD STUFFING
How do you like your bread stuffing for turkey? Do you prefer a traditional stuffing recipe? A sausage one? With or without corn? With fruit or no fruit? Maybe cornbread stuffing? Tell me. I love talking about carbs.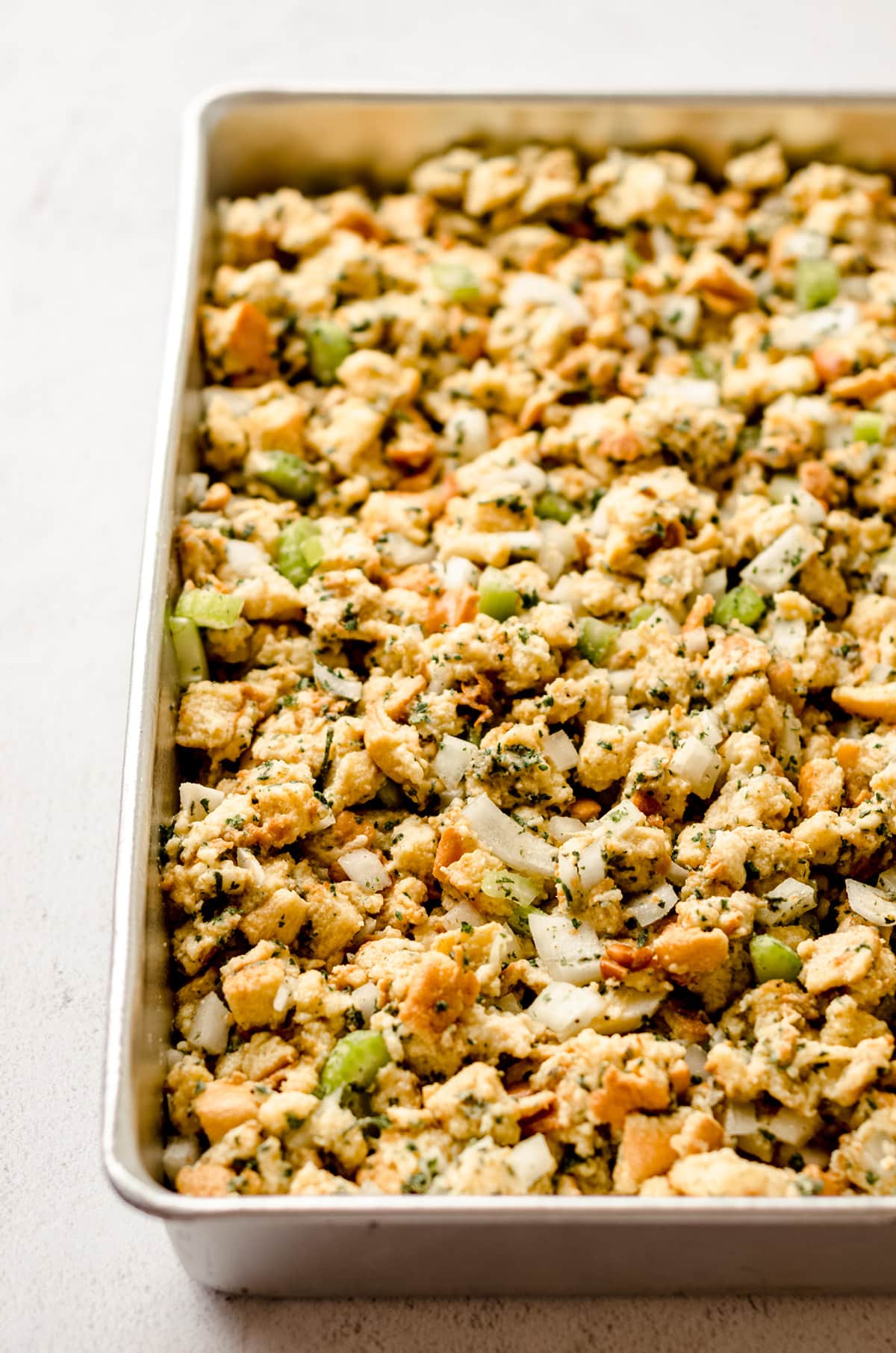 I have always been and probably always will be all about the traditional stuffing, and this classic stuffing recipe from Cook's Illustrated has morphed over the years in our house to be the turkey stuffing recipe I have for you here.
It's well-liked by everyone, can easily be made vegetarian with the use of vegetable stock, and if you have to, you can make this stuffing with bread you've staled on your own (this can include white bread, French bread, sourdough bread, dry bread cubes, whatever kind of bread you want– see recipe notes for specifics about the bread).
BREAD STUFFING INGREDIENTS
Classic dried bread cubes, butter, celery, onion, herbs, and chicken broth or chicken stock is all you need for this moist bread stuffing. The recipe itself is very basic, but make no mistake, it does not skimp on flavor, presentation, sturdiness, or everything Thanksgiving.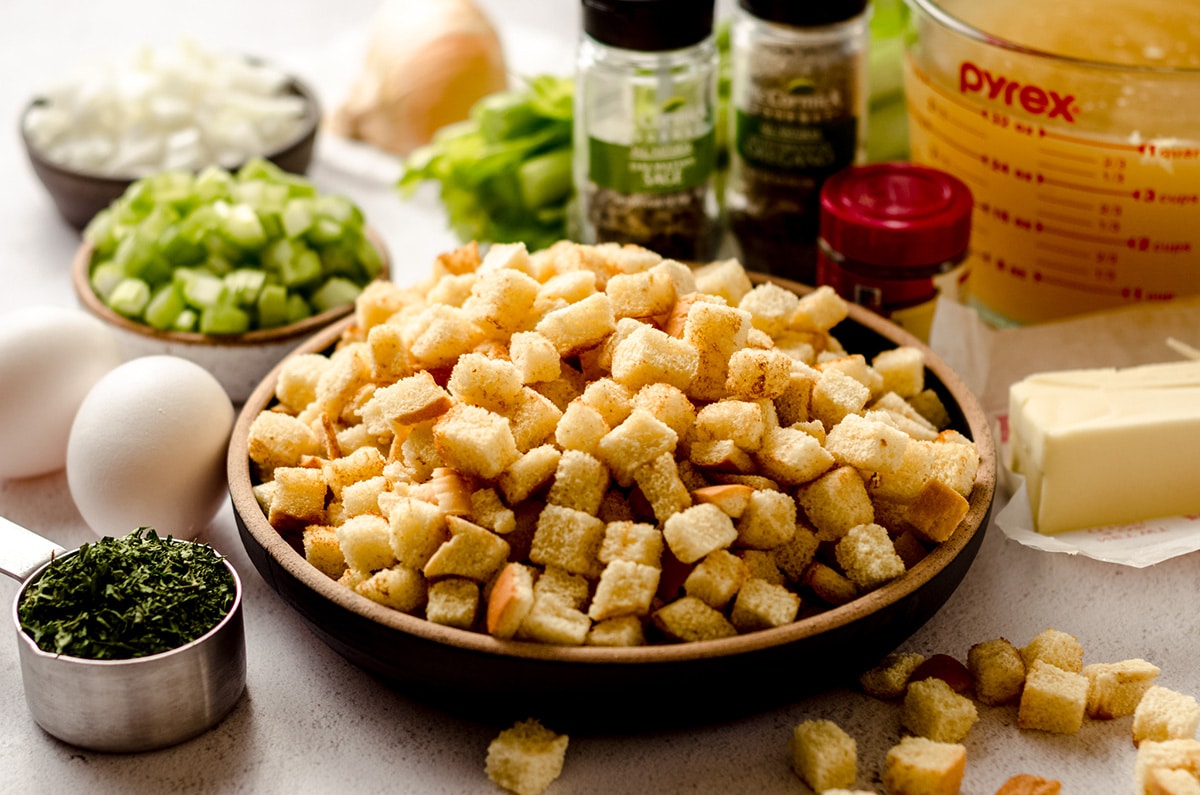 And you know, you can totally eat stuffing any time of year, because WHY NOT, RIGHT? This homemade stuffing recipe pairs nicely with most meats.
HOW TO MAKE BREAD STUFFING
While this homemade bread stuffing recipe is very easy, it does require a little bit of stovetop time, which is why I like to make it ahead of time (more on that in a bit).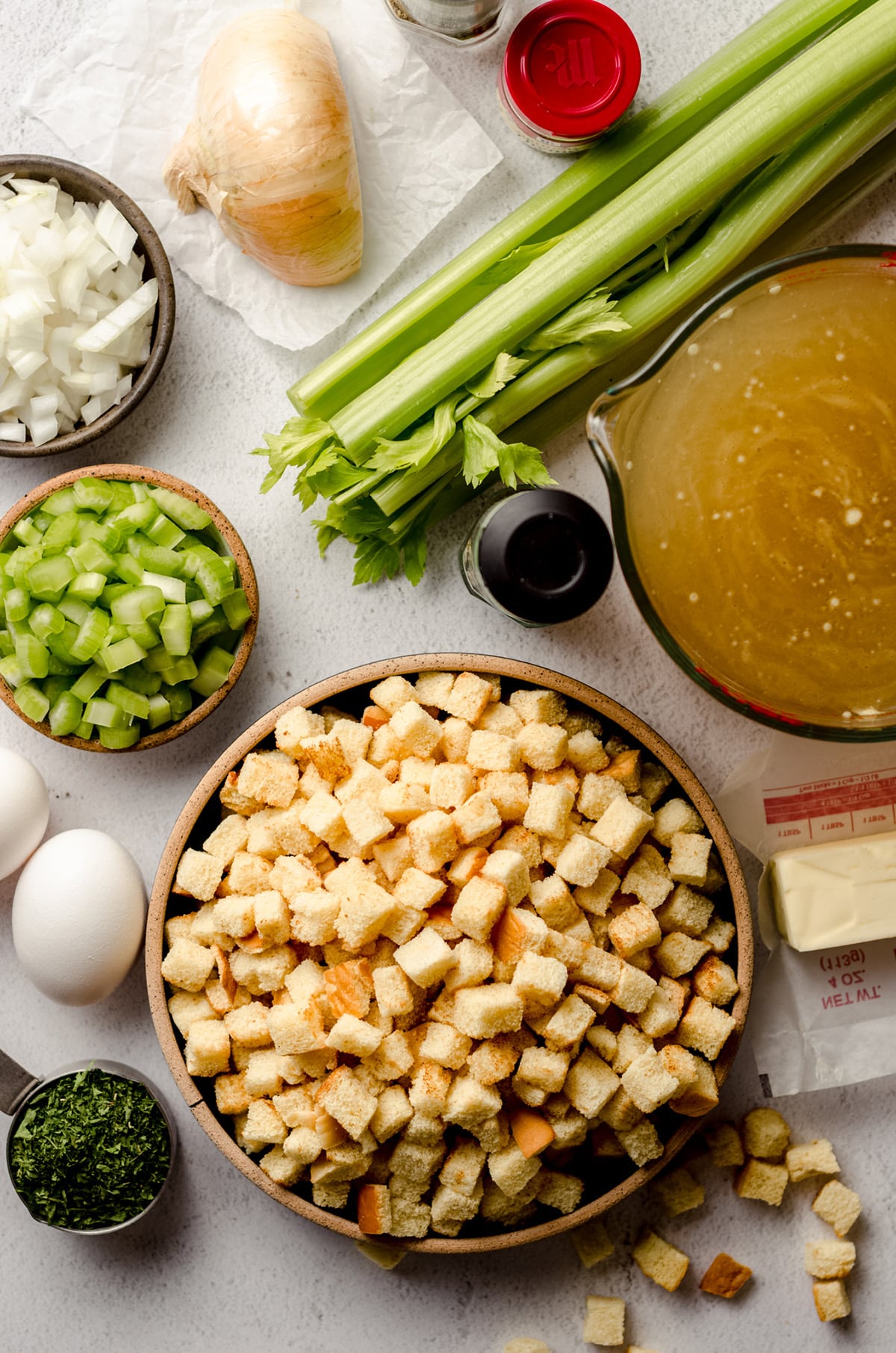 You'll melt the butter and cook the veggies and herbs in the butter just to get things going. From there, it's just a matter of combining everything in a large bowl and then baking it. So easy.
PUT THIS THANKSGIVING STUFFING TOGETHER AHEAD OF TIME
What I love about this recipe for traditional stuffing is that it can (and probably should) be assembled up to 24 hours in advance. I've taken to getting it together the night before Thanksgiving and then popping it in the oven while the turkey finishes up.
It takes about an hour to bake, so if you time things right and find the space, you can get this bad boy finished just in time for that bird to get carved and served and everyone is happy about that happening at the same time.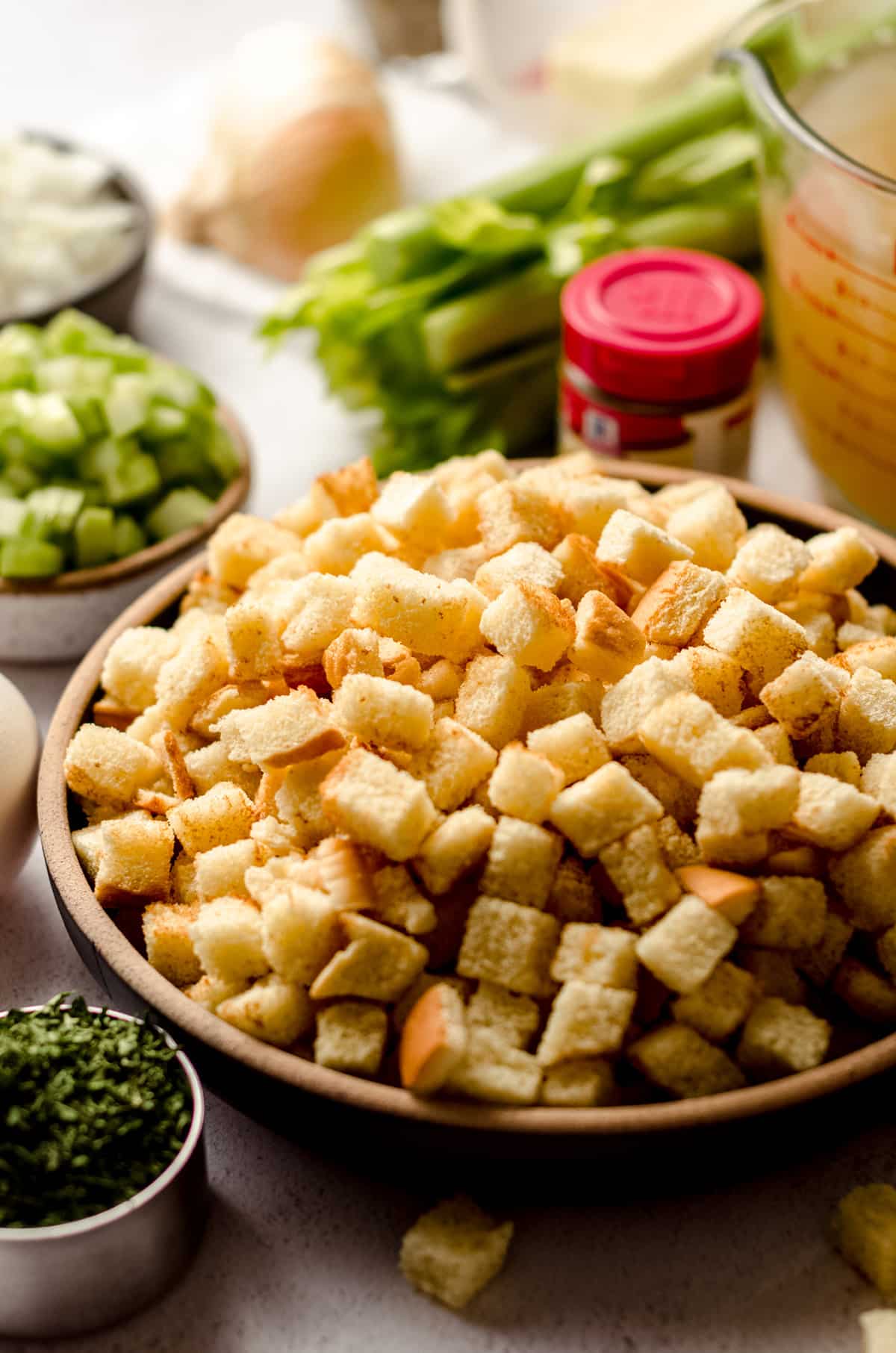 Plus, assembling ahead of time allows all those veggies and herbs to get all up in each other's business and create the greatest flavor and the best stuffing recipe to accompany all those tasty sides that make Thanksgiving the best holiday ever.
If you can't or would rather not prepare this easy bread stuffing that close to actual turkey day, there are plenty of freezing options in the recipe below.
Nothing fancy, no frills about it, and sure to please all those who gather at your table this holiday season. Whether you're celebrating with 2 people or 40 people, make it a great one and remember all that you are thankful for.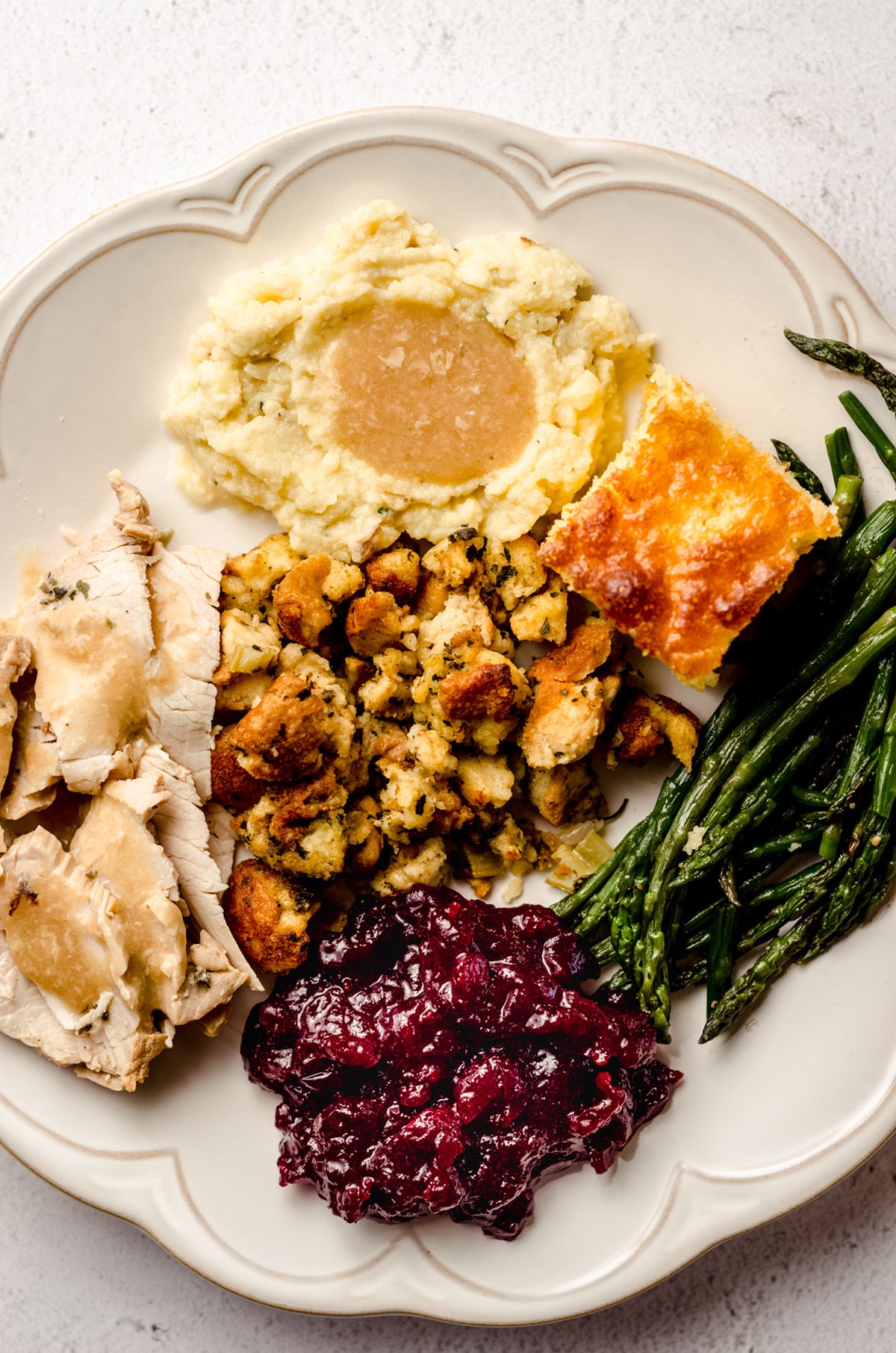 Including all the stuffing.
Round out the rest of your Thanksgiving sides!
Instant Pot garlic mashed potatoes, spiced cranberry sauce, easy yeast rolls, pumpkin pie, sweet potato crunch, and whipped cream!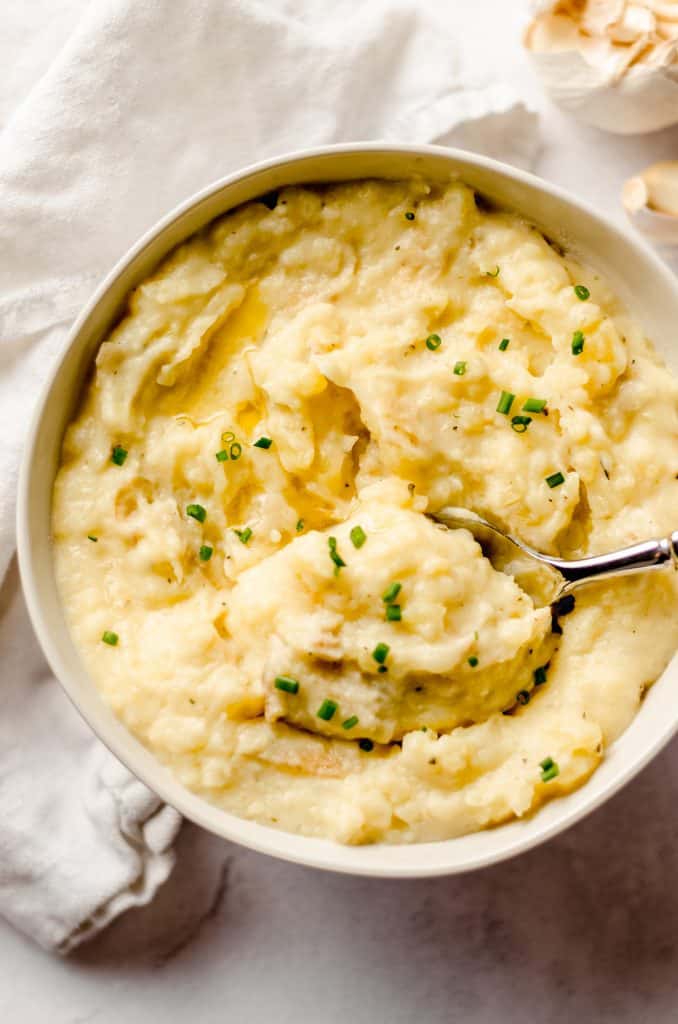 Traditional Bread Stuffing
Loaded with flavorful vegetables and the perfect herbs to complement your dish, this classic bread stuffing will go great at your Thanksgiving feast or any meal you'd like to pair with an easy stuffing recipe.
Ingredients
24

ounces

(680) plain dried bread cubes1

½

cup

(113g) unsalted butter

3

medium stalks of celery

chopped

1

medium onion

chopped

¼

cup

(15g) dried parsley leaves

1 and ½

teaspoons

dried sage

1 and ½

teaspoons

dried thyme

½

teaspoon

dried oregano

32

ounces

(907mL) chicken broth or chicken stock2

2

large eggs

lightly beaten

1

teaspoon

salt

1

teaspoon

ground black pepper
Instructions
Preheat oven to 400ºF (204ºC). Lightly spray a 9" x 13" casserole dish with non-stick spray. Set aside.

Place the bread crumbs in a very large mixing bowl. Set aside.

In a large skillet over medium heat, melt the butter. Add the celery and onion and cook, stirring occasionally, until softened (about 8-10 minutes). Add the parsley, sage, thyme, and oregano, and continue to cook until fragrant (about 1 minute). Transfer to a very large mixing bowl.

Add the melted butter, vegetable, and herbs mixture to the bread cubes. Add the chicken stock, eggs, salt, and pepper, and stir with a rubber spatula to distribute until everything is coated and distributed evenly.

Pour the coated bread cubes into the prepared casserole dish. Cover with foil and bake for 25 minutes. Remove the foil and continue baking until golden brown, about 25-30 more minutes. Allow to sit for 15 minutes before serving.

Made ahead3: this stuffing can be assembled and wrapped tightly with plastic wrap and kept in the refrigerator up to 24 hours before baking. When you are ready to bake the stuffing, allow the stuffing to sit at room temperature for about 20 minutes. Remove the plastic wrap and proceed with baking directions.
Notes
Bread cubes: you can also stale your own bread cubes. Cut your own bread into small cubes, then leave out on the counter overnight.
Chicken broth or stock: this is personal preference or whatever you can find. Chicken stock tends to have a more flavorful taste and heartier mouthfeel, but I find it doesn't matter too much in this stuffing recipe.
Make ahead: I have also frozen completely baked stuffing, thawed, and baked covered at 200ºF (93ºC) until heated through (about 25-30 minutes). You can also freeze unbaked stuffing up to 3 months. Bake frozen and add 5-10 minutes to the initial bake time.
Inspired by
Cook's Illustrated
Nutrition Disclosure
All nutritional values are approximate and provided to the reader as a courtesy. Changing ingredients and/or quantities will alter the estimated nutritional calculations.
Serving:
1
serving
|
Calories:
243
kcal
|
Carbohydrates:
29
g
|
Protein:
8
g
|
Fat:
11
g
|
Saturated Fat:
6
g
|
Polyunsaturated Fat:
1
g
|
Monounsaturated Fat:
3
g
|
Trans Fat:
0.3
g
|
Cholesterol:
49
mg
|
Sodium:
756
mg
|
Potassium:
133
mg
|
Fiber:
3
g
|
Sugar:
4
g
|
Vitamin A:
396
IU
|
Vitamin C:
3
mg
|
Calcium:
89
mg
|
Iron:
3
mg
Don't forget to make some turkey and cheese sliders with your leftover turkey!