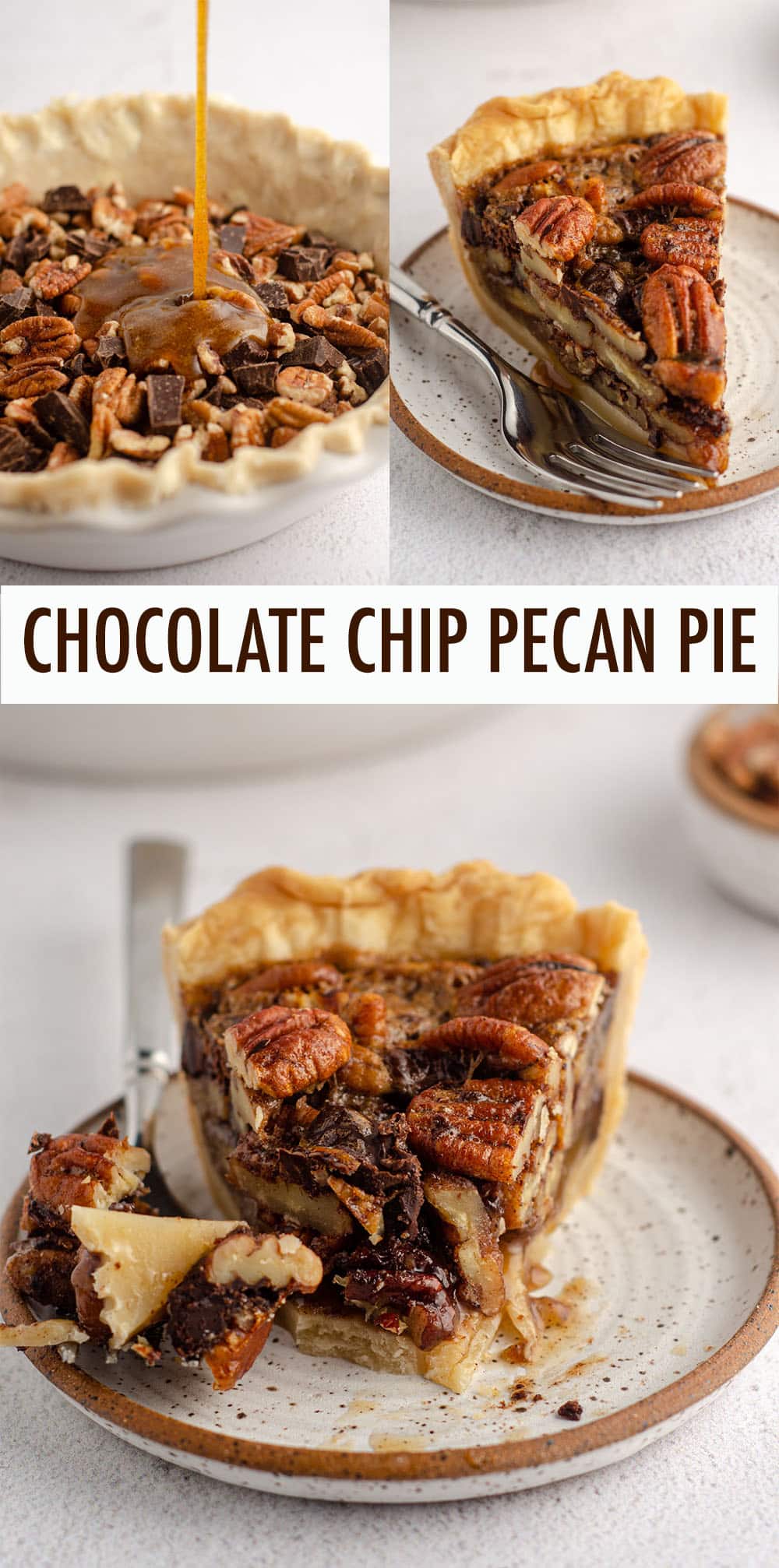 As an Amazon Associate, I earn from qualifying purchases. Read the full disclosure here.
Traditional pecan pie gets a chocolate overhaul with chocolate chips and/or chopped chocolate. This sweet and salty combo is perfect with a scoop of ice cream or a dollop of whipped cream.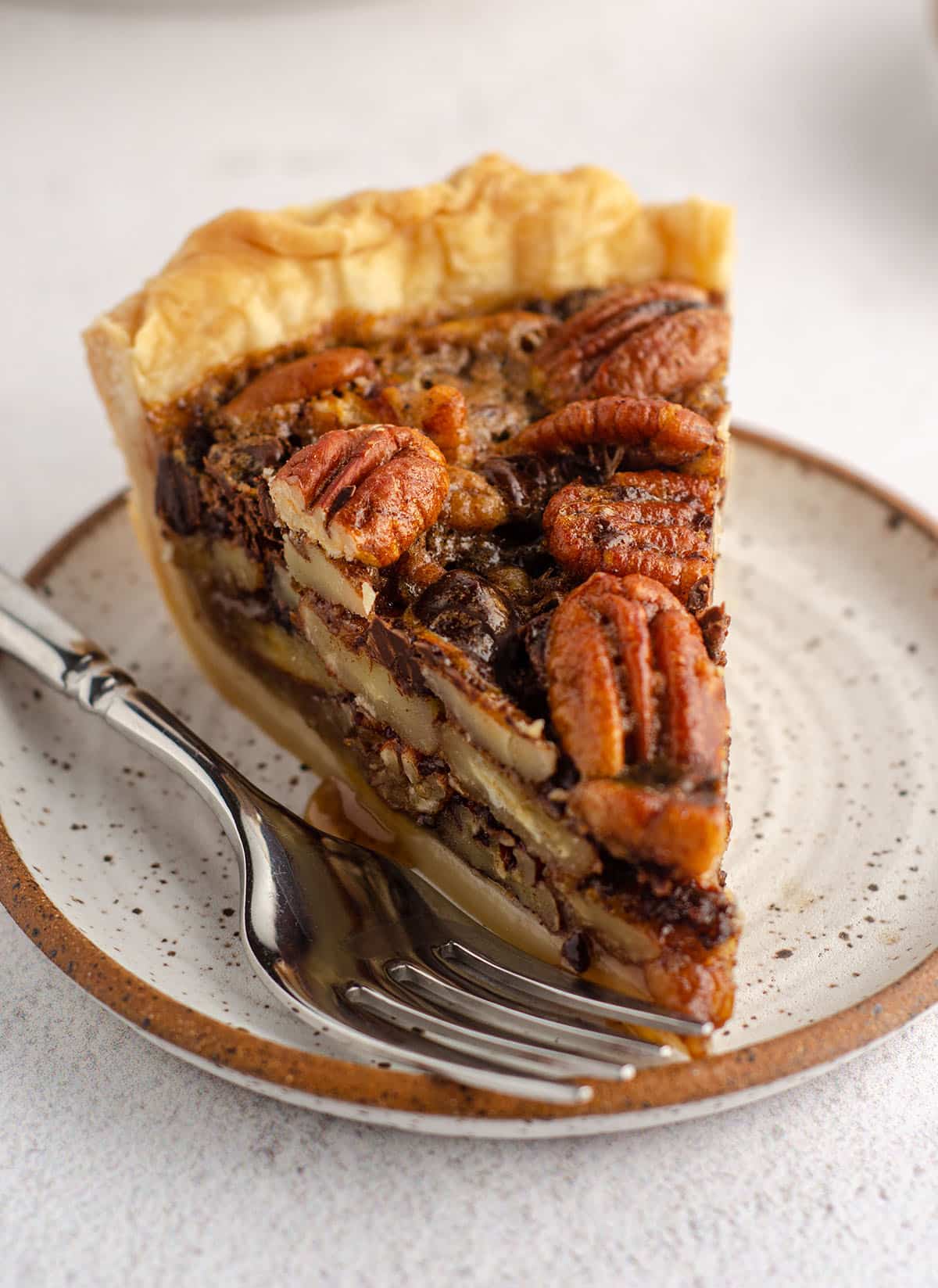 Just in time to finalize your Thanksgiving spread or start thinking about your Christmas menu, today I'm sharing my new favorite pie recipe with you in the form of chocolate chip pecan pie.
And by "new favorite" I mean, it will be on the same plate as my classic pumpkin pie, both of which are tucked away in the freezer to pull out for our mini-Thanksgiving celebration this year (just 6 of us), and I can't even wait, because I truly cannot decide which pie I love more.
I have long been a pie non-lover, save for my annual pumpkin pie, but the truth is it's mostly because I've never quite been "wowed" by a pie and they usually take a bit of time to put together, which is one major qualm I have with them.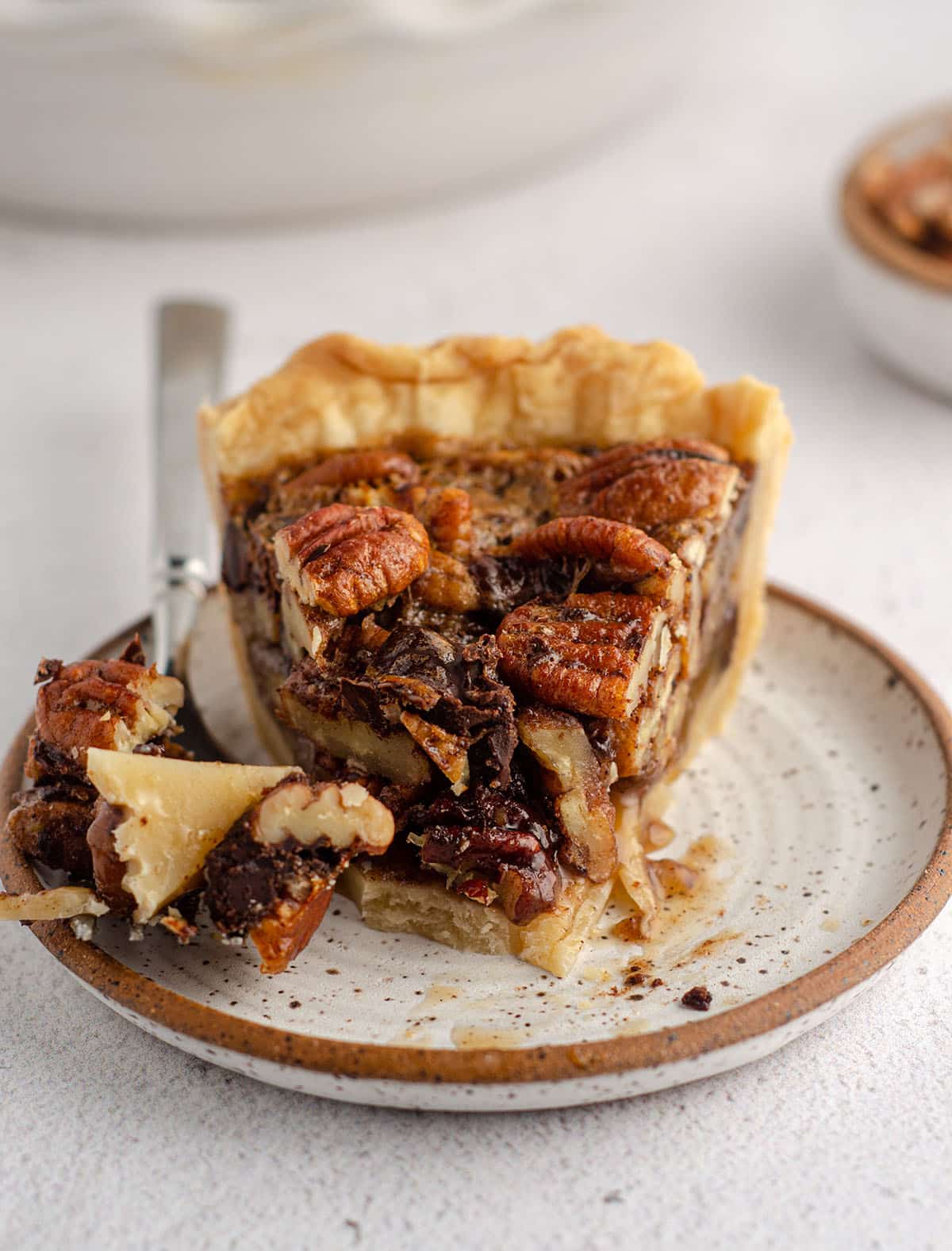 This pie, however, was born out of the convenience of already having a disc of my favorite homemade pie crust in the freezer, a bunch of pecans I had to use up (leftover from the haul I got when I made this praline ice cream), and an overwhelming request from my Insta crew to put together a pecan pie.
And not just any pecan pie… Chocolate pecan pie. No joke, you all were that specific.
A few months ago when I was finalizing the rest of my editorial calendar for this year, I asked you all what kind of pie you wanted to see. I didn't even offer any suggestions, I just let the suggestions come through.
Very seriously and truly, 75% of you requested some form of pecan pie, with an enormous lean toward "chocolate" as a descriptor.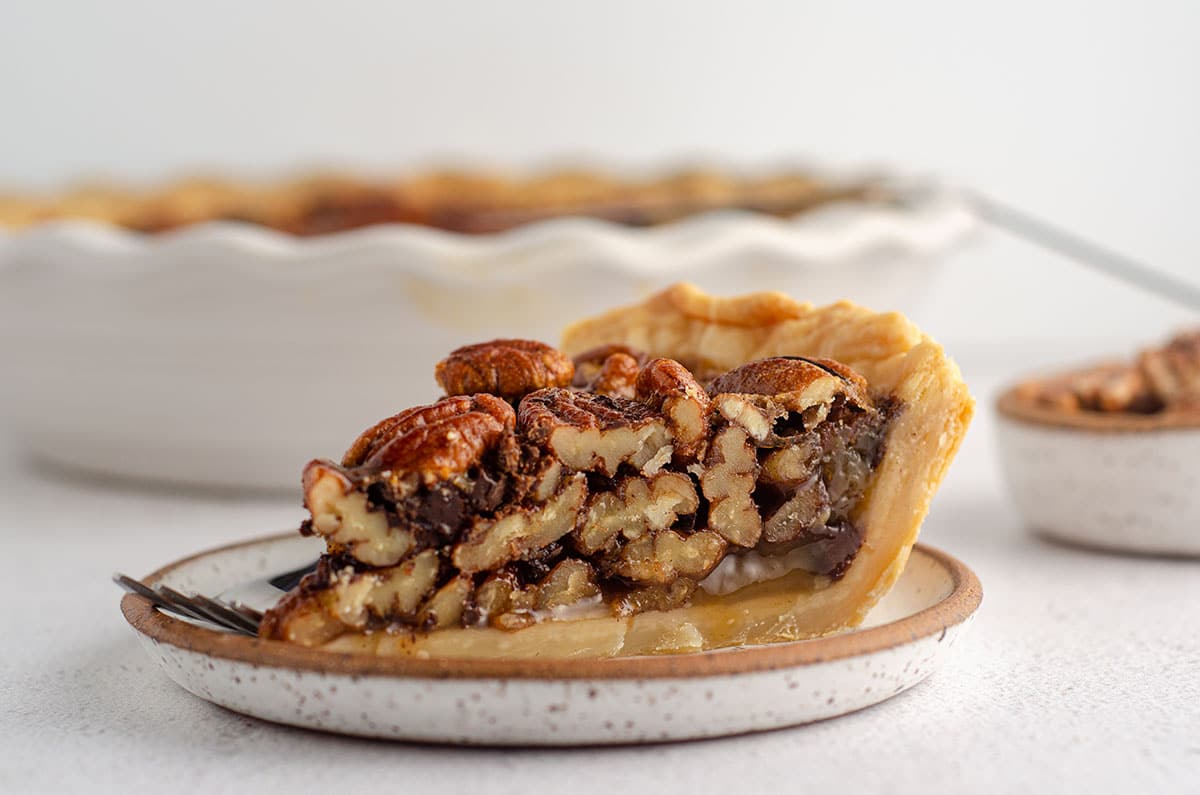 I wondered "what? Is this really a thing?" when the suggestions were rolling in, but then started to think "I bet that's super delish!" the more I thought of it.
Sure enough, it was a spectacular combo, and I wound up making this pie 3 times in October– twice for testing and additional time as a gift for a neighbor.
And I am legit having daydreams about pulling the slices out of the freezer for Thanksgiving, because this chocolate chip pecan pie is frankly one of a kind!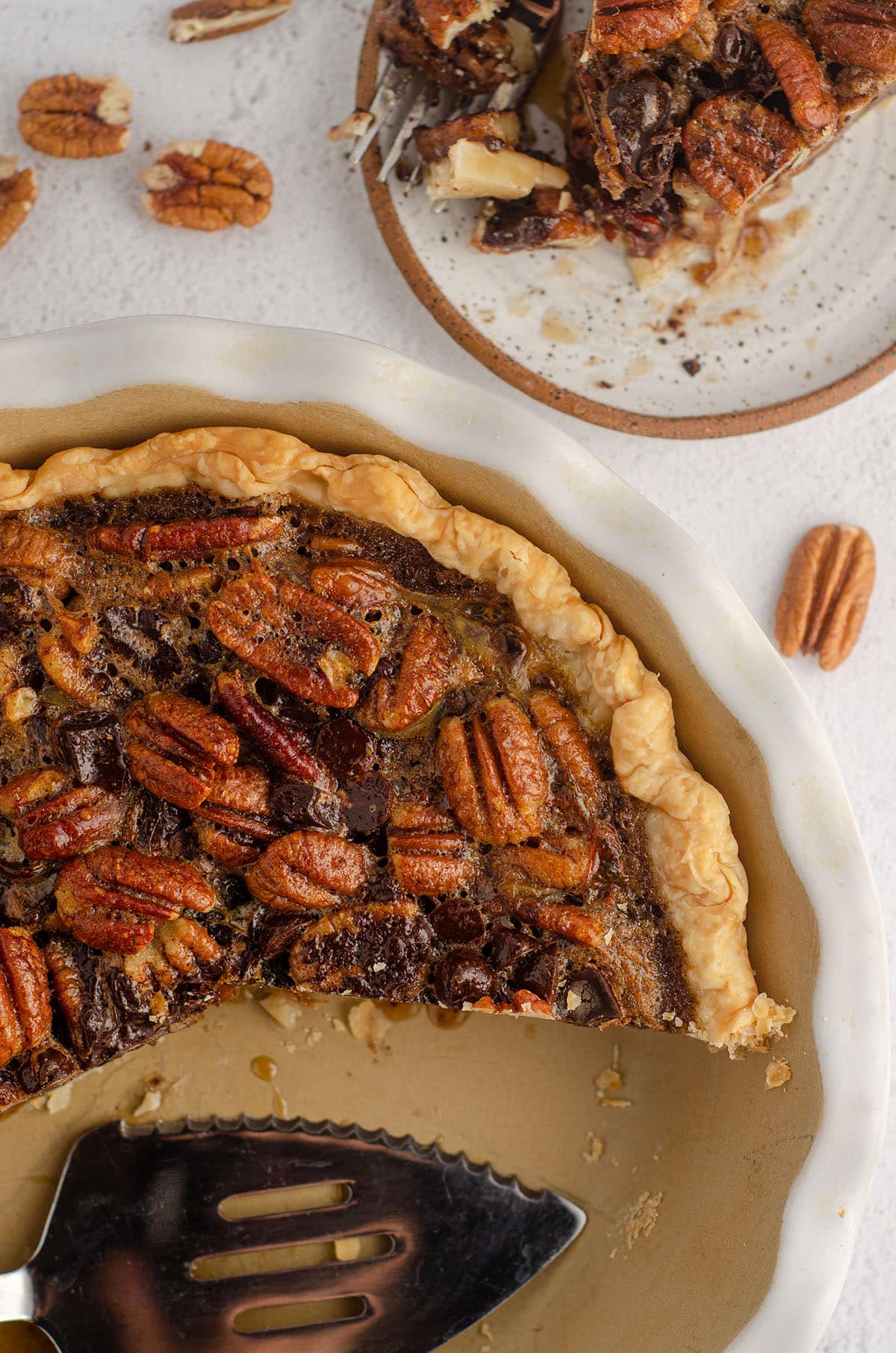 Before I got to work on actually putting a pie together, I did do a little bit of research. My only experience with pecan pie has been eating it, and I've only had experience baking pecan pie tarts.
I knew that scaling up to a larger pie required a bit more baking science, so I discovered that a pretty big component of pecan pie is corn syrup.
And there's much more to it than just a simple ingredient.
WHY DO WE USE CORN SYRUP FOR PECAN PIE?
When sugar is heated, it crystallizes. This creates chunks and bits of sugar if there isn't anything else (like a liquid) for the sugar to dissolve into.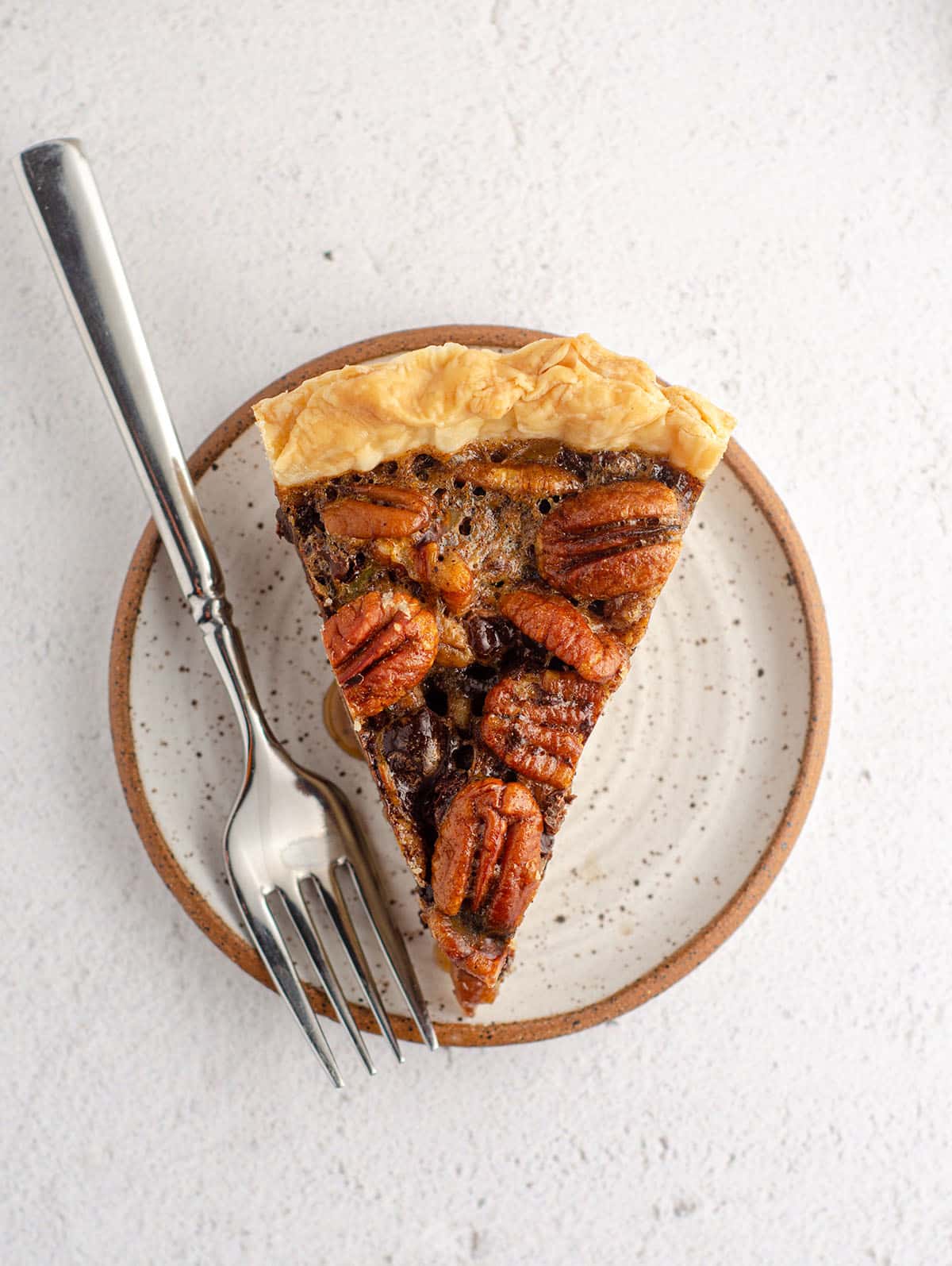 Corn syrup, then, takes over the sweetness in liquid form but without the crystallization, because it inhibits the sugars from forming large chunks.
There is, of course, a sugar element, in the form of brown sugar (which is full of the deep sweetness we prefer over white granulated sugar), and we spice things up a bit with the addition of cinnamon.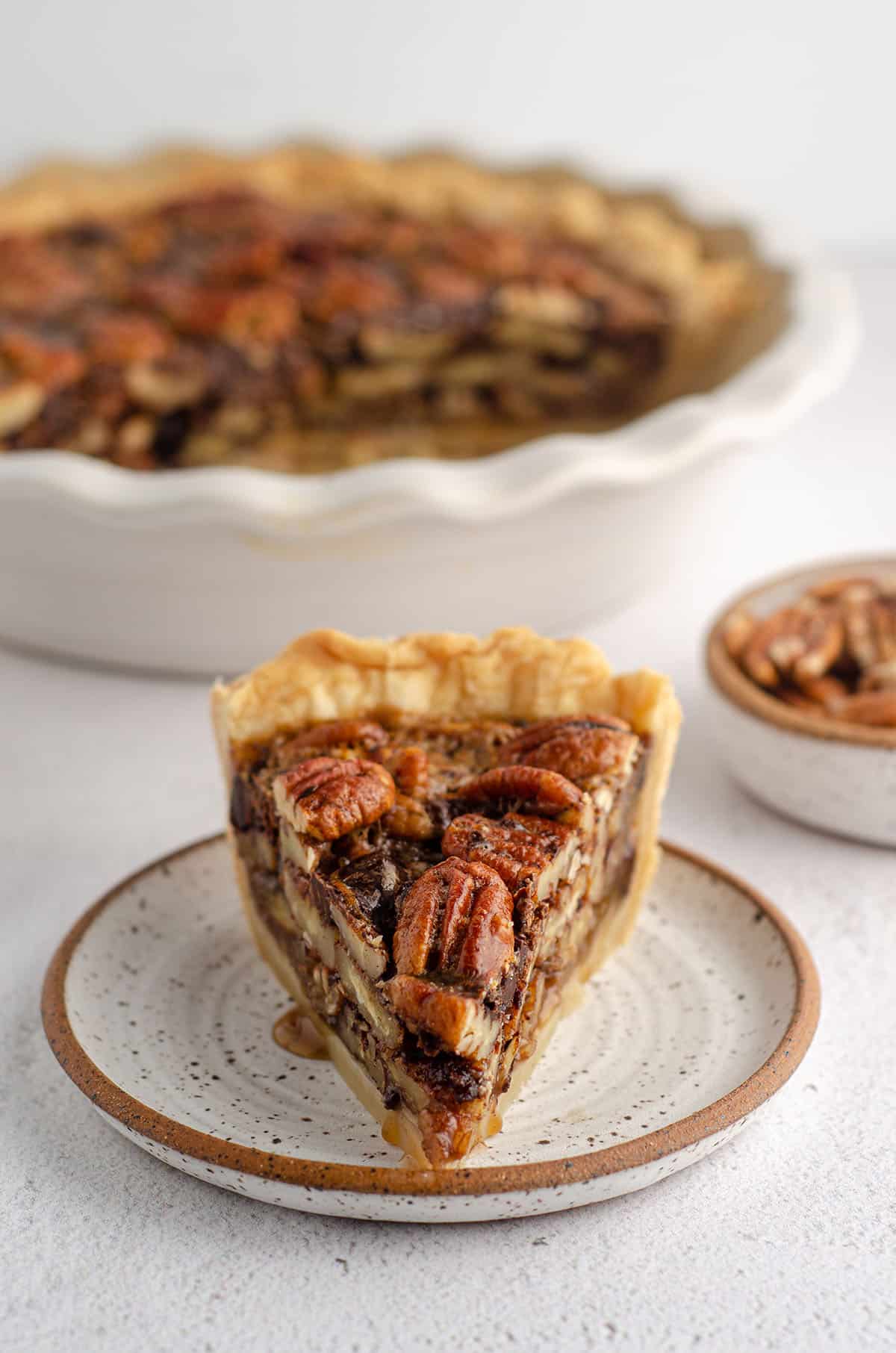 I opt for orange zest in my pecan pie tarts, and I also use it in my classic pumpkin pie, but for this chocolate chip pecan pie, I let the chocolate and pecans do the flavoring, and the cinnamon just adds a little warmth to the flavor.
The nice part about a nut-filled pie is that it takes over the "toasty" element completely by default when it bakes in the oven, so no worries about pre-toasting anything.
And!! There's no blind baking of the crust, so it's quite simple after the crust is in the pie plate and the filling is all mixed up.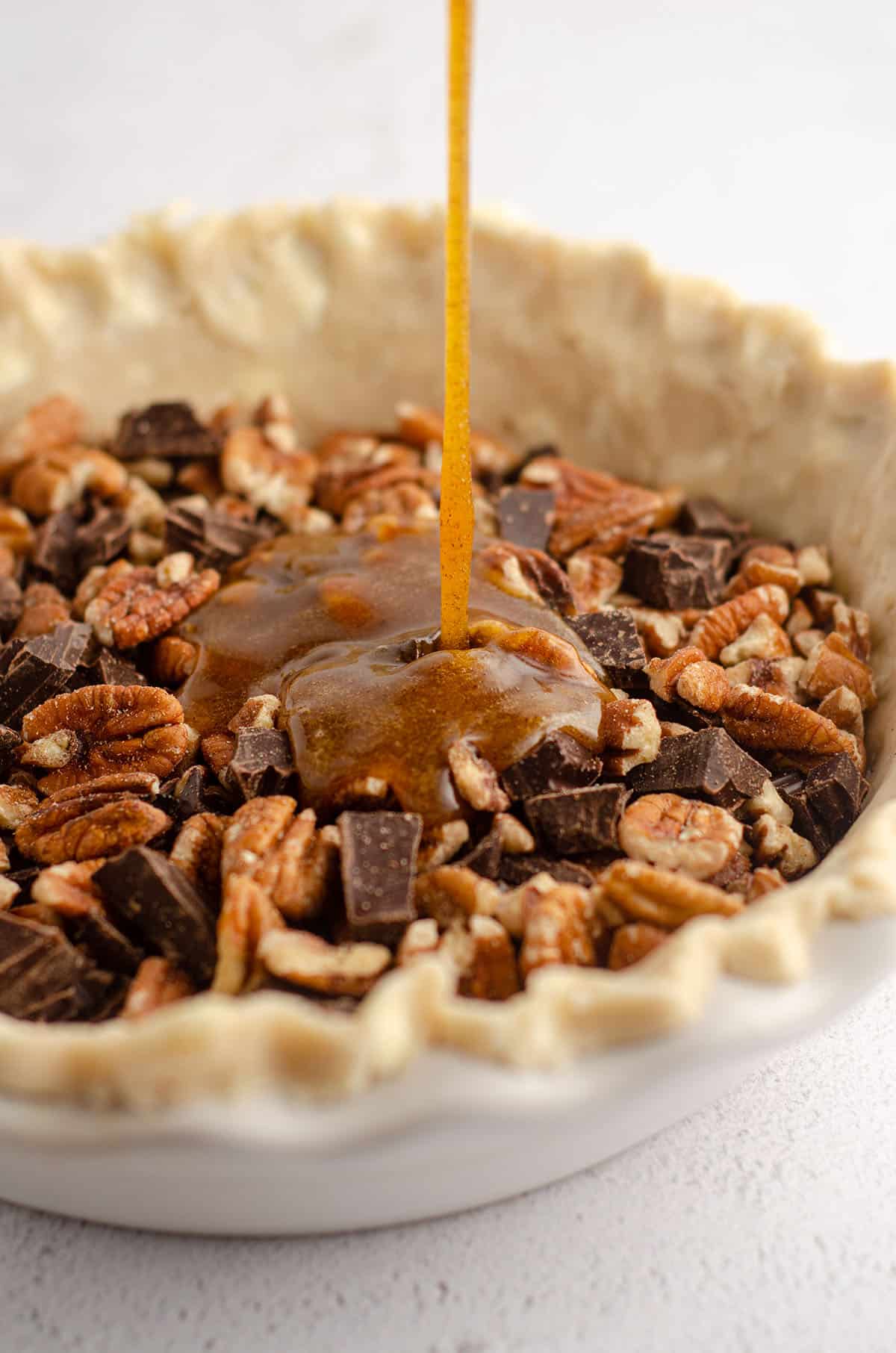 This pie bakes for quite some time– at least 1 hour. The first time I made this pie, I had no idea what I was looking for, and my "failed pie" was really a result of just not baking it long enough.
HOW DO YOU KNOW WHEN PECAN PIE IS DONE?
Since sticking a toothpick into the center won't really show you much (this is a "wet" pie until it's cool), you'll have to use other methods of determining doneness.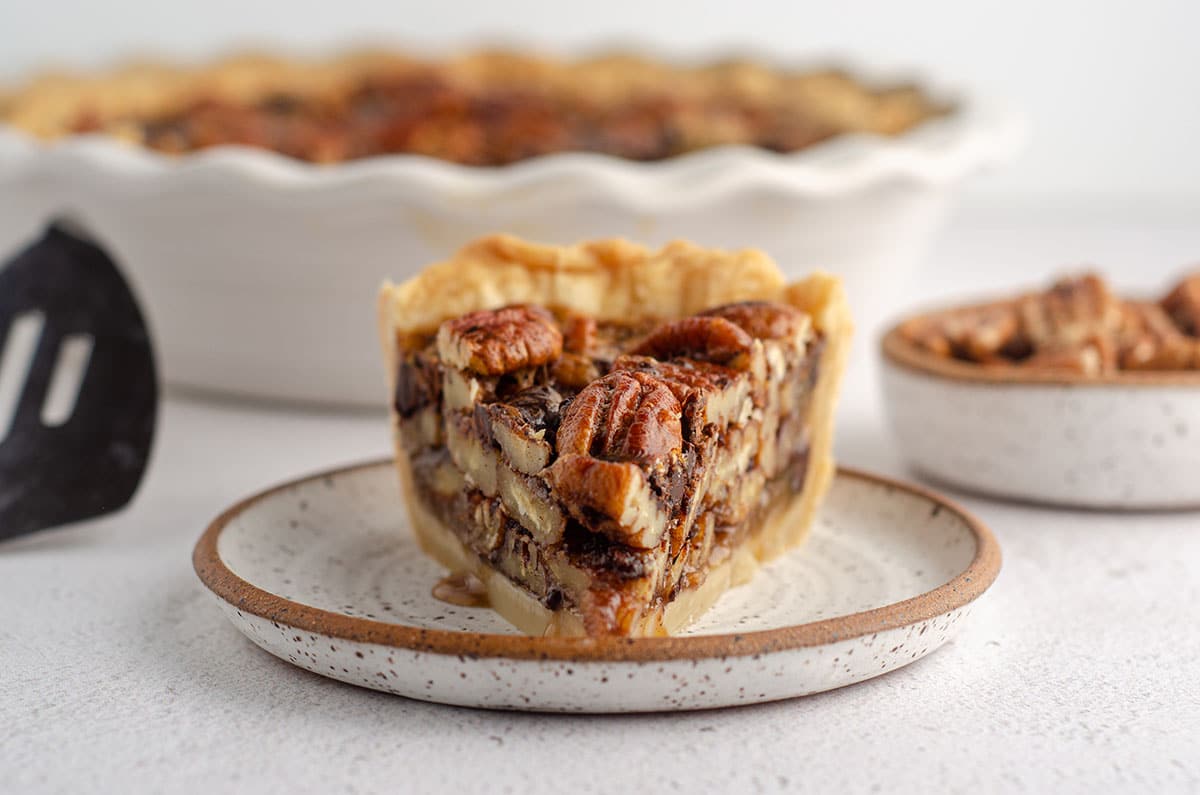 The best way to assess whether or not your pie is done is to gently jiggle the pie plate. The filling should not move much, if at all, and if it does, the filling is not quite set yet.
True doneness of this pie occurs when the corn syrup and eggs have completely set and the filling is solid.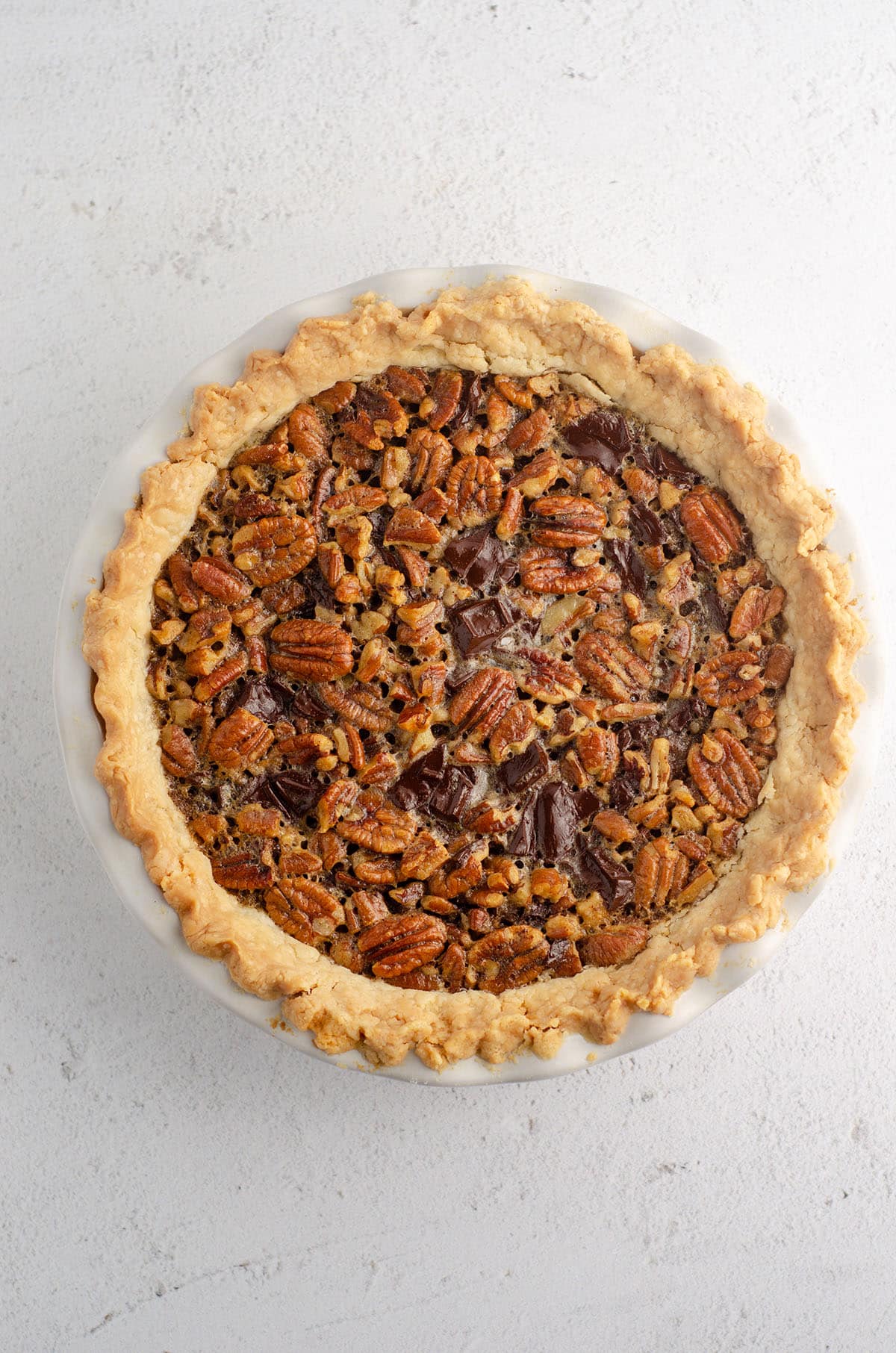 It will firm up as it cools, but look for that solid filling before removing and allowing it to start the cooling process.
We enjoyed this pie a few ways– warmed up, in a bowl cold with ice cream, and with whipped cream (both warm and cold).
There is no bad way to eat this chocolate chip pecan pie, and I can promise you that if you're a pecan pie lover, adding in some sweet and smooth chocolate will take your next slice to the a whole new pie level.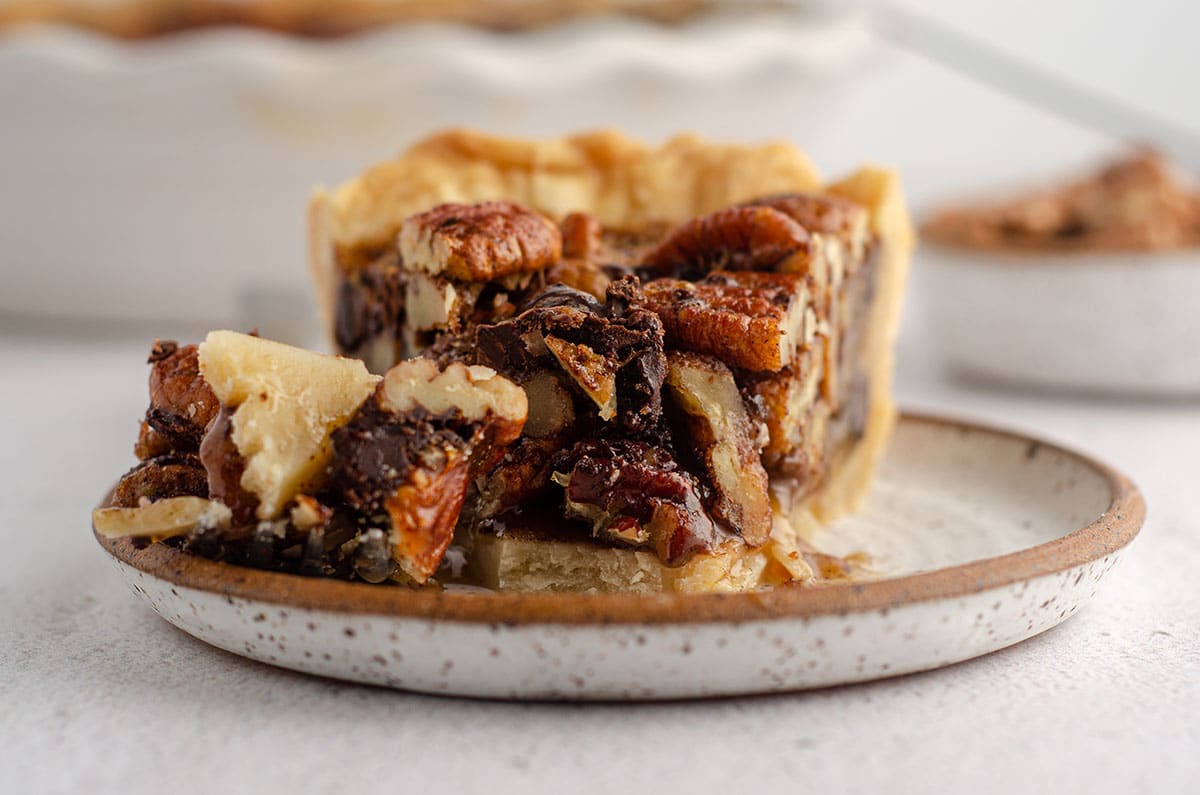 Thank you all for your request for chocolate pecan pie! I will definitely listen to you all more often (and make sure you follow me on Instagram so you can be part of surveys in the future).
Get More Nutty Recipes

We share Recipes From Our Dinner Table! Join our group and share your recipes, too! While you're at it, join our Pinterest board, too!
Chocolate Chip Pecan Pie
Traditional pecan pie gets a chocolate overhaul with chocolate chips and/or chopped chocolate. This sweet and salty combo is perfect with a scoop of ice cream or a dollop of whipped cream.
Ingredients
2 and ¾

cups

(300g) shelled pecans2

4

ounces

(113g) semi-sweet chocolate chips or chopped bar chocolate3

¼

cup

(57g) unsalted butter

melted and allowed to cool

3

large eggs

room temperature

¾

cup

(180mL) corn syrup4

⅔

cup

(130g) firmly packed brown sugar

2

teaspoons

vanilla extract

¾

teaspoon

ground cinnamon

¾

teaspoon

salt
Instructions
Prepare my homemade pie crust recipe through step 6, or begin with a store-bought pie crust.

When your pie crust is thoroughly chilled and ready to use, adjust the oven rack to just below the center rack position. Preheat the oven to 350°F (177°C).

Prepare the pie dough: on a floured work surface, roll out one of the discs of chilled dough, turning the dough about a quarter turn after every few rolls, until you have a circle approximately 12" in diameter. Place the rolled dough into a 9-inch pie dish, tuck it in with your fingers, and flute or crimp the edges of the crust.

Spread the pecans evenly inside pie crust and sprinkle the chocolate chips or chopped chocolate evenly on top. Set aside.

In a large bowl, whisk together the the butter, eggs, corn syrup, brown sugar, vanilla, cinnamon, and salt. The mixture will be thick but very smooth. When everything is combined, pour the filling evenly over the pecans and chocolate chips.

Bake the pie for 60-70 minutes, or until the crust is lightly browned and the filling is set (it should not move when you gently move the pie plate). If desired, you can place a pie shield on top of the pie or tent the whole pie with foil to prevent the crust from browning too quickly. Remove pie from the oven and place on a wire rack to cool completely. The pie filling will settle and firm up as it cools.

Slice and serve pie warm, at room temperature, or chilled. Serve with ice cream or homemade whipped cream, if desired. Leftovers can be covered and left at room temperature for 2 days or in the refrigerator up to 5 days. Baked pie freezes well, up to 3 months. Thaw overnight in the refrigerator then allow to come to room temperature before serving (or serve cold).
Notes
Homemade pie crust: my recipe makes a double pie crust. You can freeze the second pie crust, or just halve the recipe. Pie dough can also be made up to 5 days in advance and sit wrapped tightly in the refrigerator until you are ready to use it.
Shelled pecans: these can be whole or pieces. I like to use a combination of both.
Chocolate chips or bar chocolate: I like a mix of chopped chocolate and chocolate chips (2 ounces of each).
Corn syrup: light or dark is fine.
Make ahead: this is a great recipe to make ahead of time. Combine all of the filling ingredients (omitting the pecans and chocolate) up to 1 day ahead of time. Cover tightly and store in the refrigerator until you are ready to assemble the pie.
Nutrition Disclosure
All nutritional values are approximate and provided to the reader as a courtesy. Changing ingredients and/or quantities will alter the estimated nutritional calculations.
Serving:
1
slice
|
Calories:
555
kcal
|
Carbohydrates:
55
g
|
Protein:
6
g
|
Fat:
37
g
|
Saturated Fat:
9
g
|
Polyunsaturated Fat:
8
g
|
Monounsaturated Fat:
18
g
|
Trans Fat:
0.3
g
|
Cholesterol:
77
mg
|
Sodium:
269
mg
|
Potassium:
271
mg
|
Fiber:
5
g
|
Sugar:
49
g
|
Vitamin A:
293
IU
|
Vitamin C:
0.4
mg
|
Calcium:
65
mg
|
Iron:
2
mg