As an Amazon Associate, I earn from qualifying purchases. Read the full disclosure here.
Bite-size pie tarts made with my favorite homemade pie crust and a soft and crispy pecan pie filling.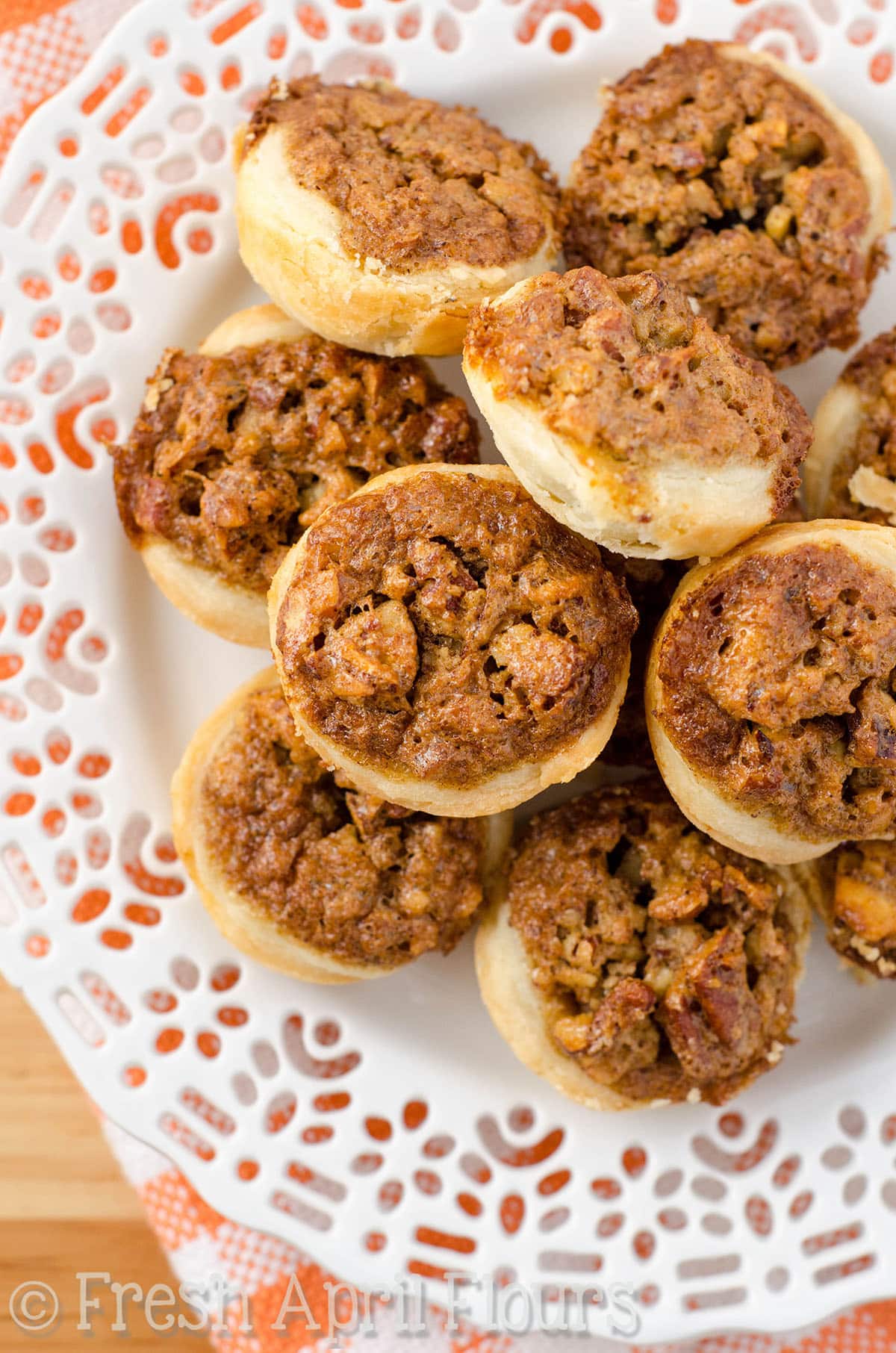 Welcome to day #7 of my cookie party! How are you doing? Have you made any yet? Do you think I'm just really crazy? It's ok, you can. I'm a little over halfway done with my cookie recipes. There's no turning back from crazy cookie town now!
I'm kicking off the third week of my cookie recipes with a cookie that has always been so intriguing and equally terrifying to me. It seemed like a lot of work for not a lot of gain.
But once I sunk my teeth into my first homemade pecan pie tart, it was immediately worth the work. And honestly, the work isn't all that awful!
Remember when I shared my favorite homemade pie crust with you back in November? Well, I'm bringing it back.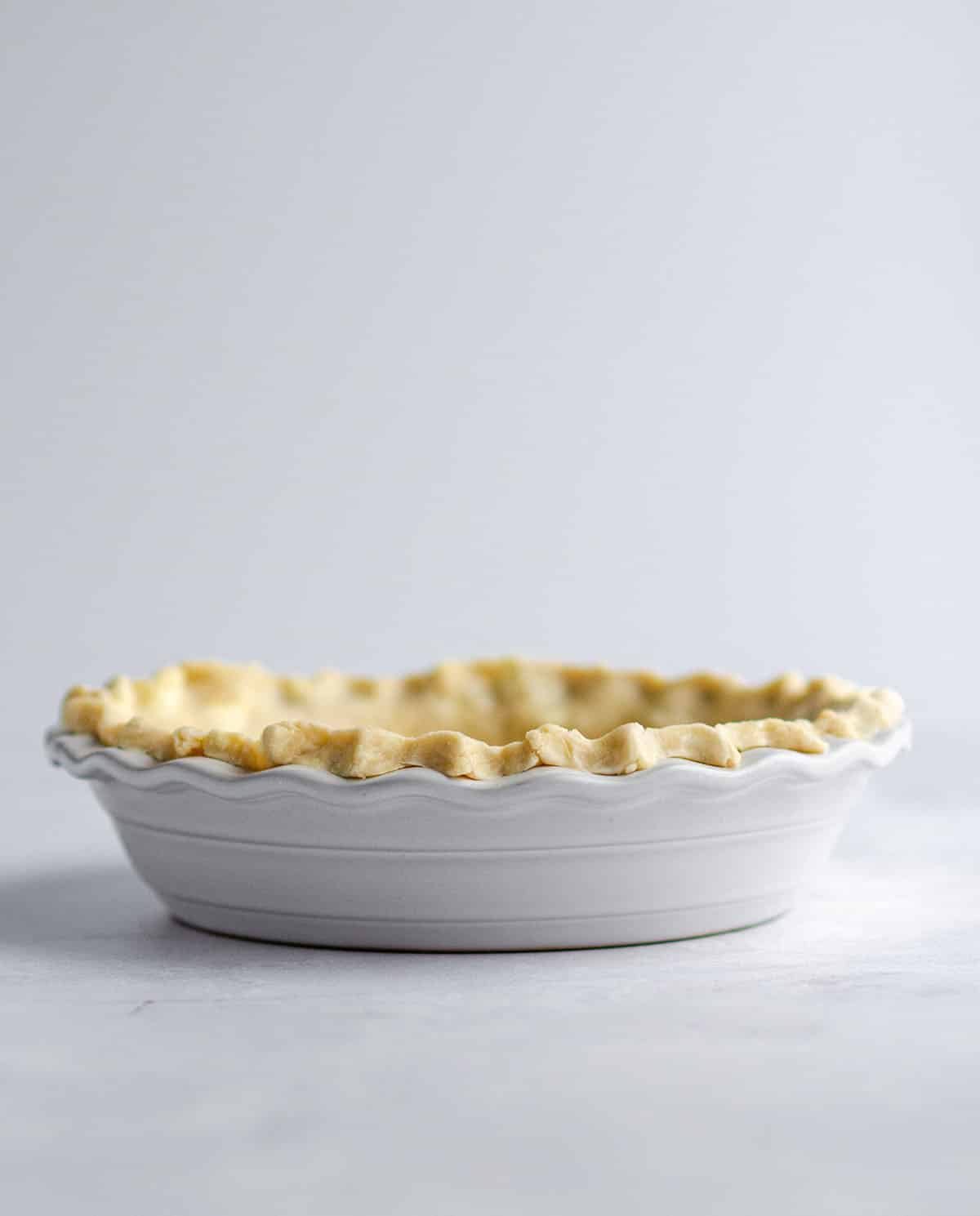 Like I say in that post, I don't really love pie. But pie crust is a whole different animal when done right, and it can be used for so many different purposes. Like these cookies!
You can certainly use store bought pie crust for these cute little pecan pie tarts, but I promise you, my pie crust is worth learning how to make. If you have a favorite of your own, feel free to use it!
Making the pie crust and creating each individual tart's crust is the hardest part of this recipe. So… If you can handle rolling and cutting and shaping with your fingers, you can handle these cookies. This is a great recipe for little helpers!
So let's get started.
Make your favorite pie crust recipe, or start with pre-made pie crust, and roll it out into a large circle, about 12″ in diameter.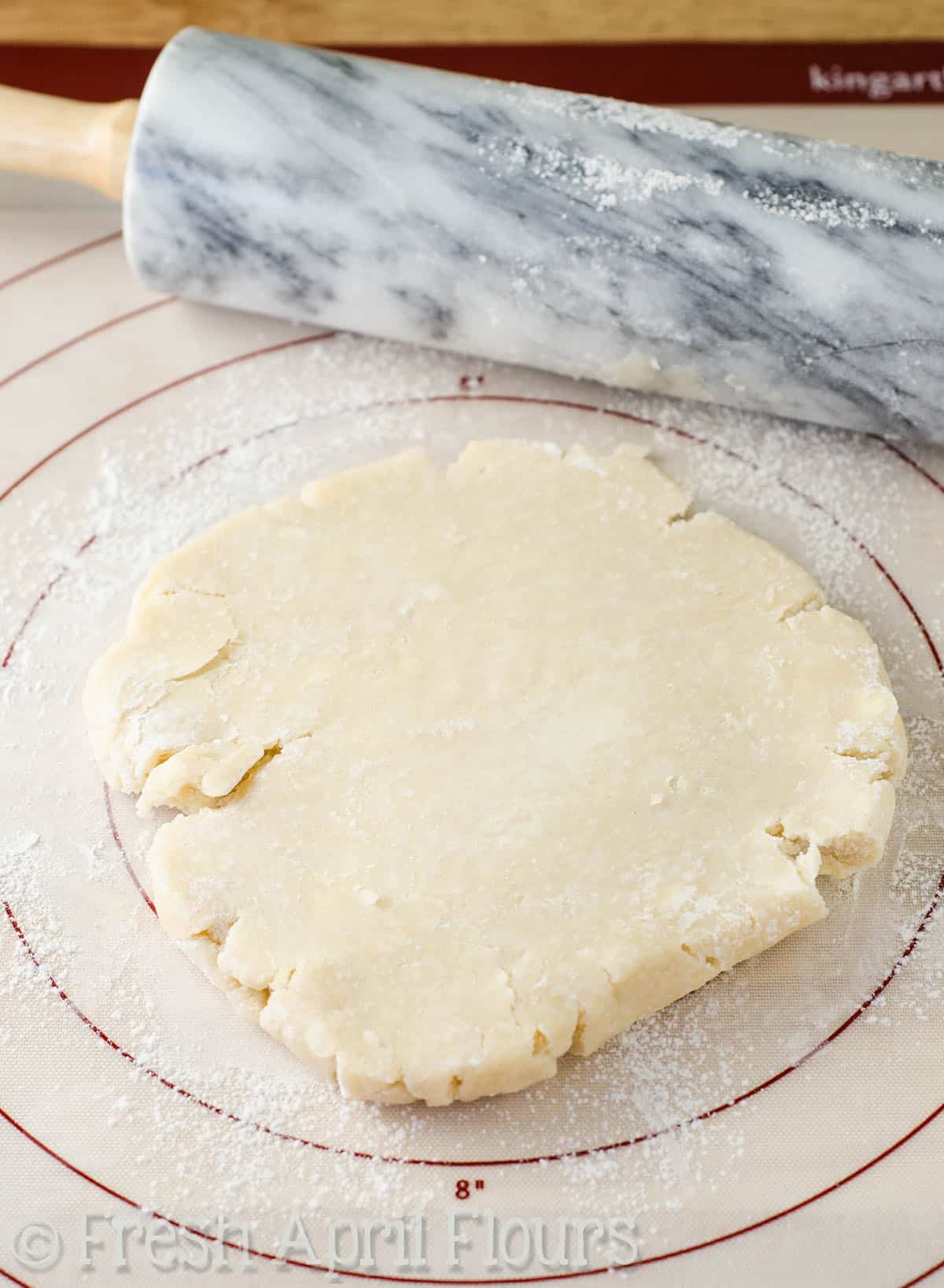 Use a 2 and 1/2″ cookie cutter to cut circles out of the dough. If you don't have a cookie cutter, any glass or cup that is about 2 and 1/2″ in diameter will work just fine. Re-roll dough until you have used all of it.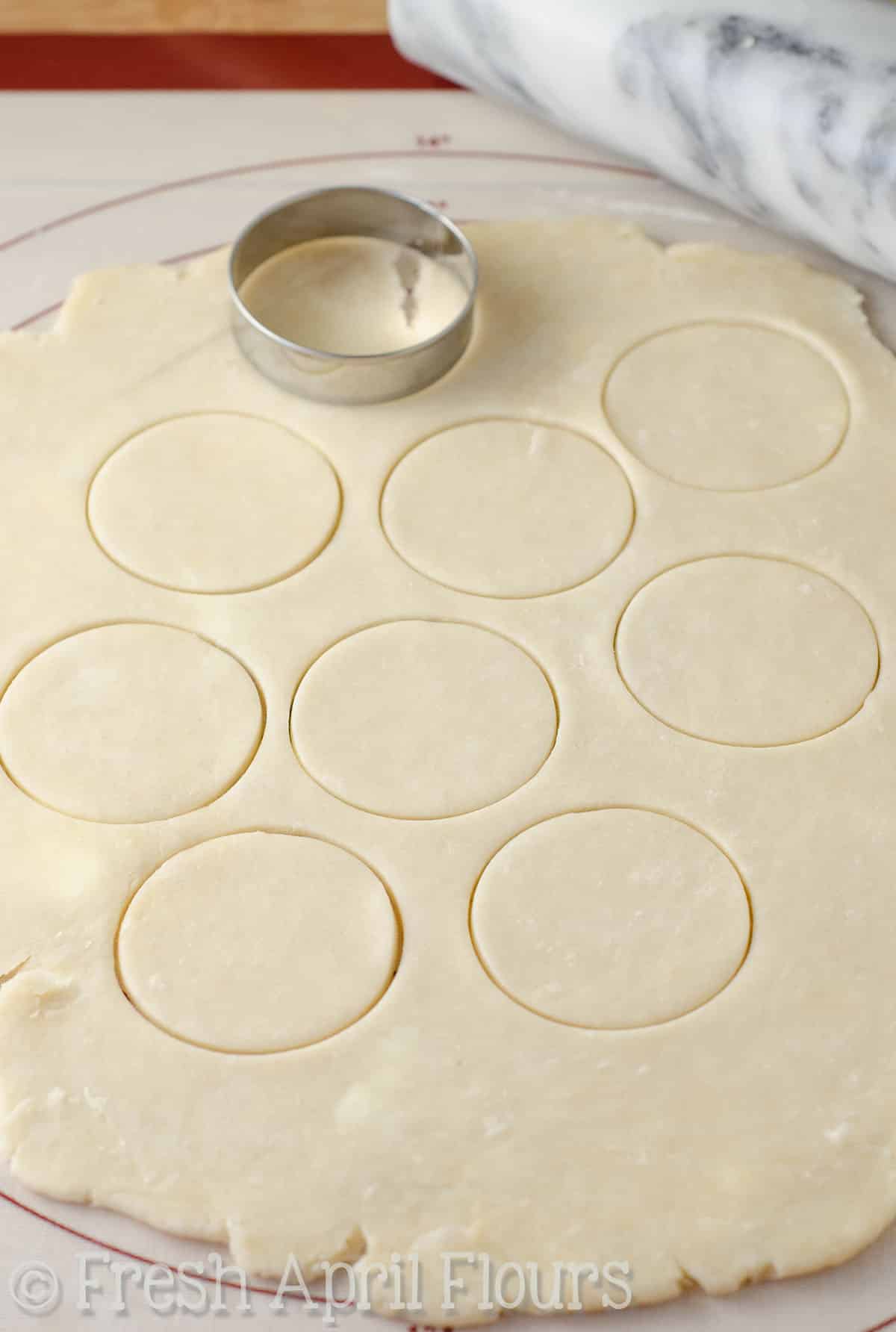 Place a circle in each well of a 24-count mini-muffin pan. Feel free to get your fingers all over the crusts to press them into the bottoms and up the sides of the wells.
If you melt some of the butter, this is completely ok, because you'll then chill the pan for at least 20 minutes. This will help firm up the crust.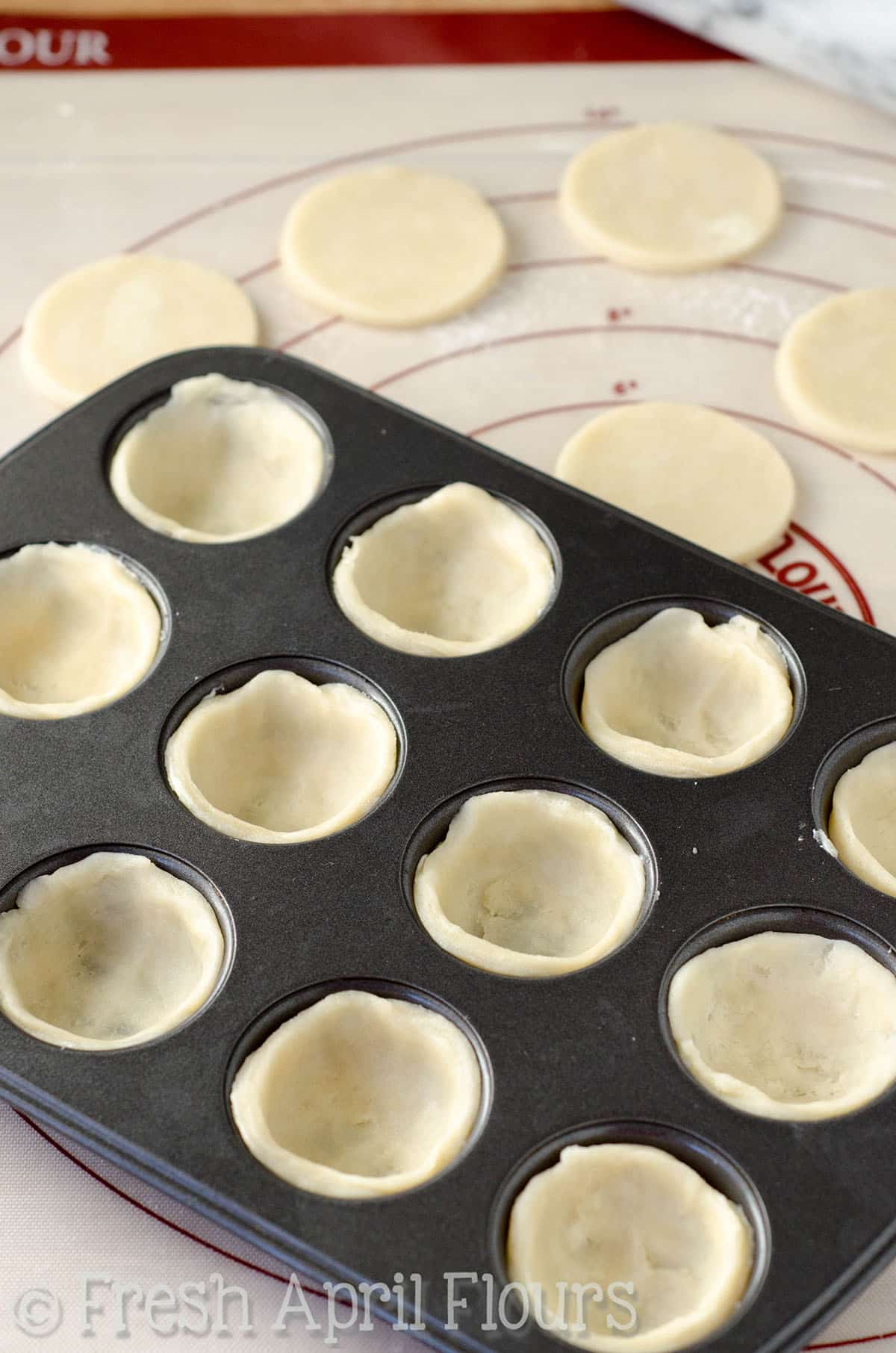 You can either make your filling while the crusts bake, or you can make the filling while the crusts pre-bake in the oven for only about 6 minutes.
This will help bake the crusts so they aren't soggy on the bottoms when they're sitting in the oven with all that gooey filling sitting on top.
Fill the crusts, and bake!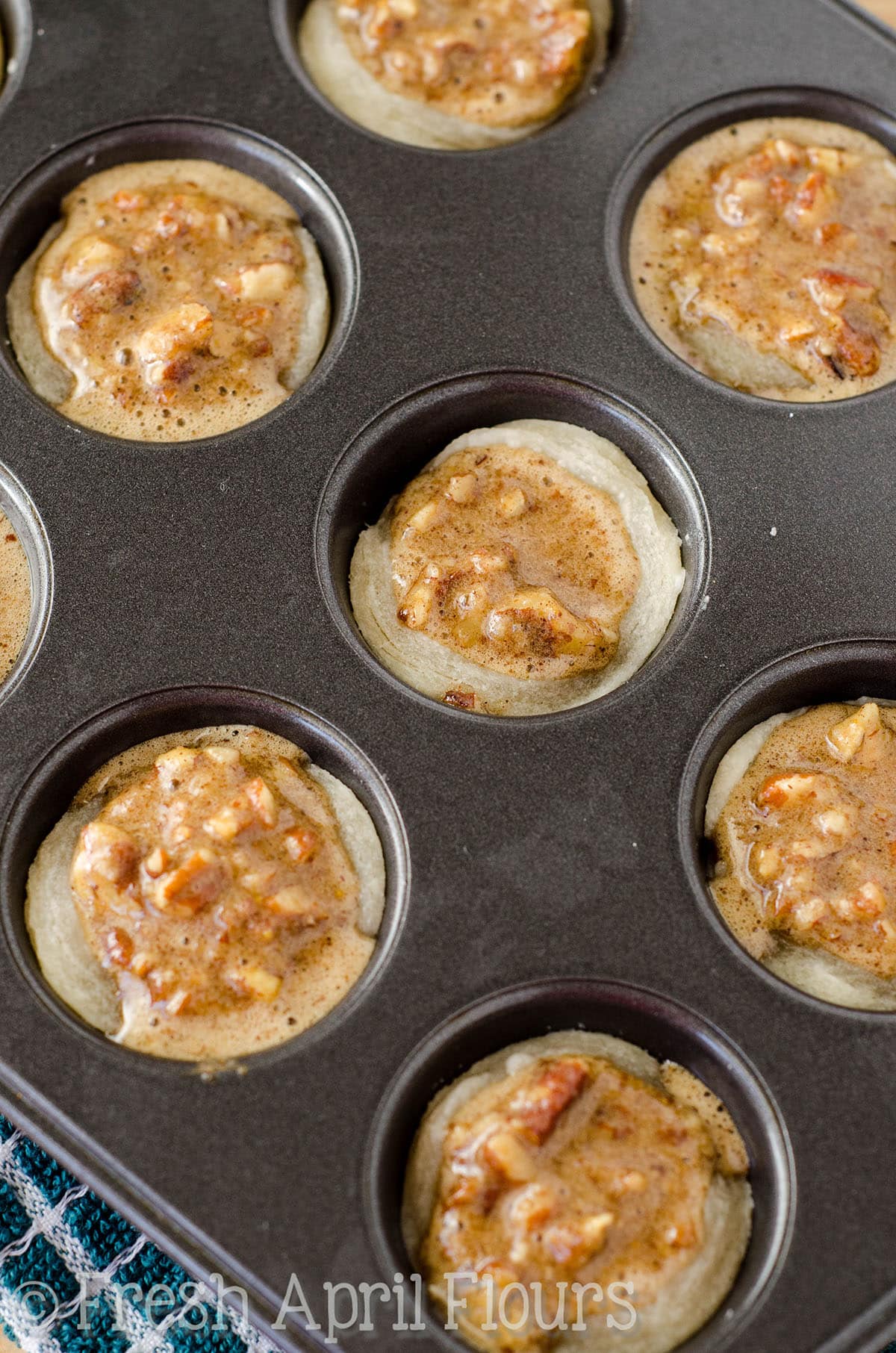 Mine took exactly 15 minutes to finish. You do not want to over bake these pecan pie tarts, because all you'll be left with is a dry filling. Baking just the right amount of time ensures the filling stays soft and crispy, not crunchy and burned.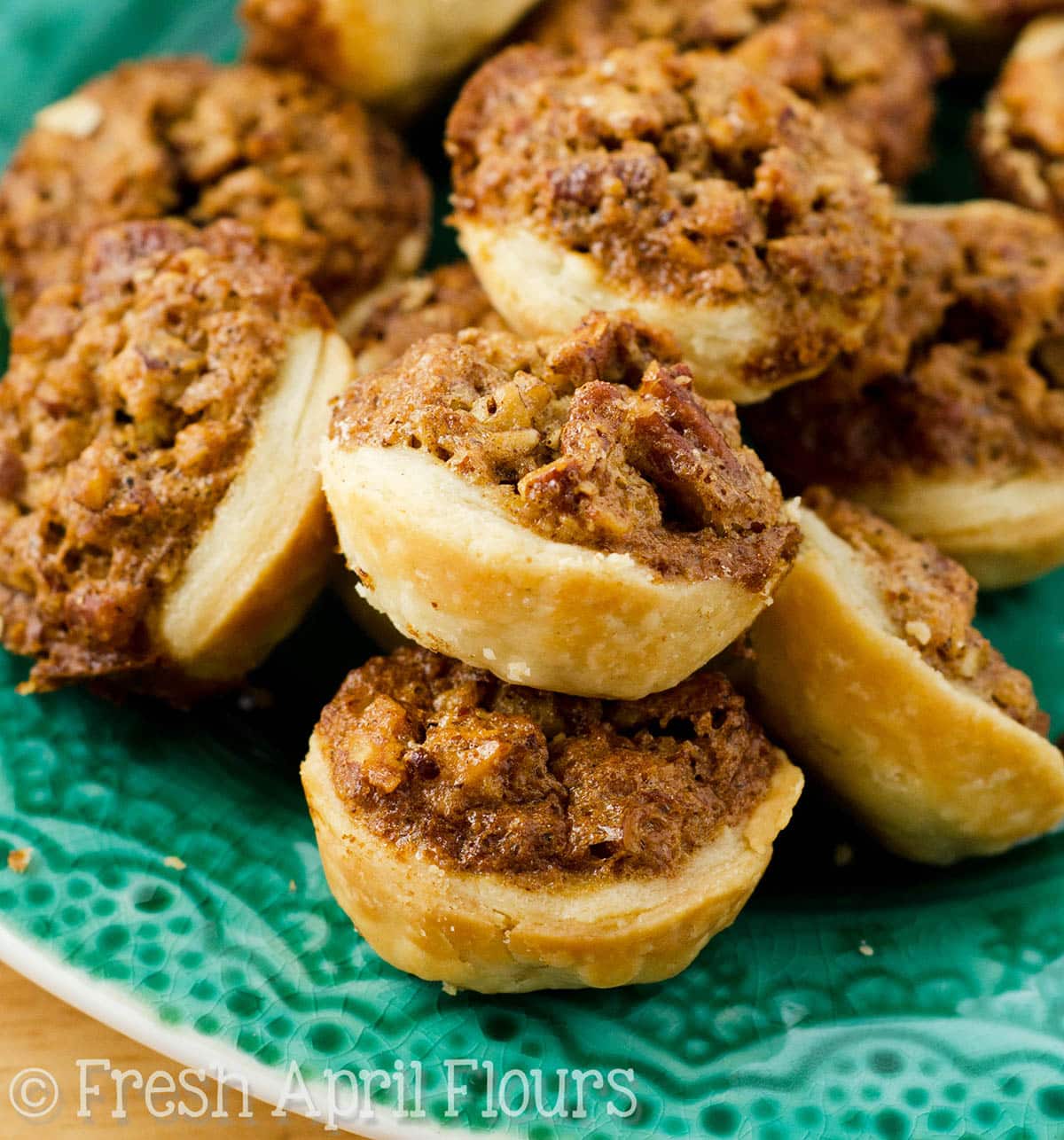 These little pie tarts are the perfect cookie for cookie trays. They also travel well to parties and last quite awhile stored properly. My FIL likes to dust his with powdered sugar, so feel free to do that if you're so inclined!
The homemade pie crusts really give these mini pecan pies something to write home about. Plus, you can totally have the enjoyment of pecan pie without making a whole dang pie.
Although I am a huge fan of pecan pie, sometimes you just want a little bite when there's so many other goodies going on around the dessert table.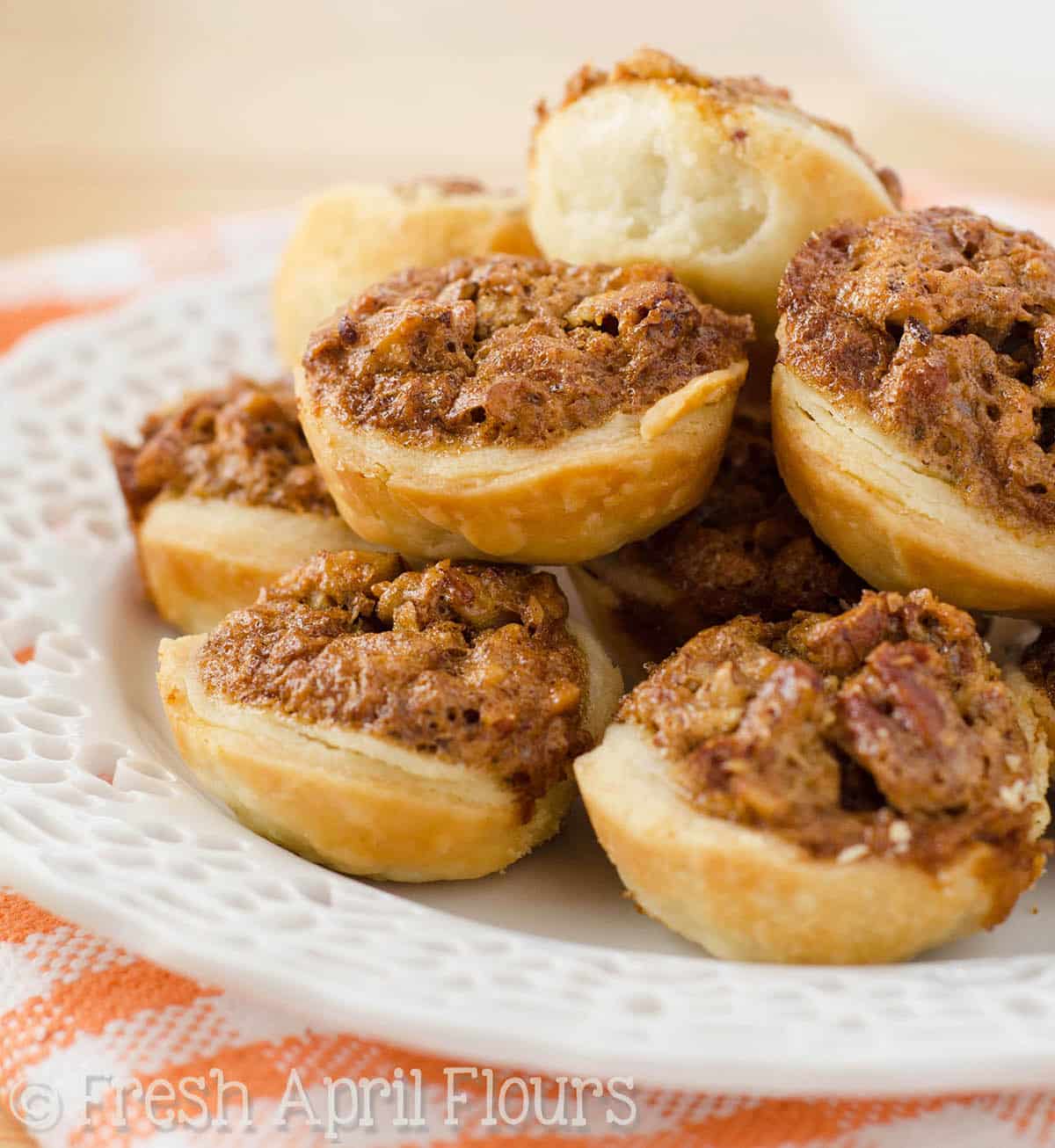 You'll notice the list of ingredients includes orange zest. I beg of you… Do not leave it out. I use jarred (found in the spice aisle), but you may also use fresh.
I learned this trick from my grandmother (whose recipe I spoke about up there that needs pie crust– see her honey walnut cookie sticks recipe) and it takes the nutty pecan flavor to a whole different level.
The zing of the zest (say what?!) complement the brown sugary pecan filling that is surrounded by buttery, flaky pie crust. There is so(oooo) much flavor packed into each one of these little pie tarts that I bet you'll have a hard time eating just one.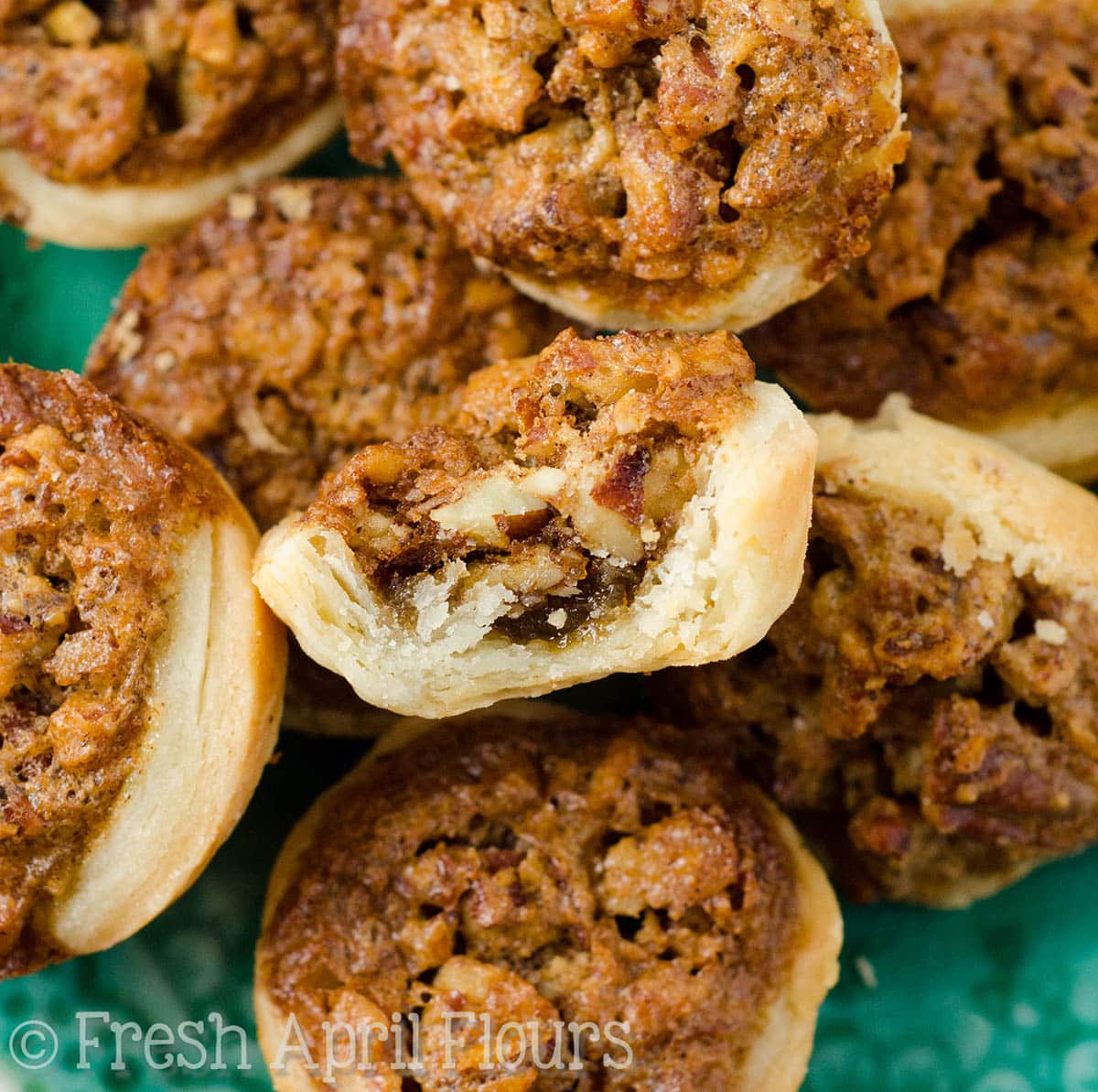 Do not be intimidated– these are easy. And you'll thank me later when you're licking sticky pecan pie filling off of your cookie lovin' fingers!
If you love pecans, you're going to love these recipes featuring this delicious and buttery nut: sweet potato crunch, gluten free apple crisp, pecan chocolate chip cookies, almond flour pecan sandies, Bananas Foster cake, and chocolate chip pecan pie.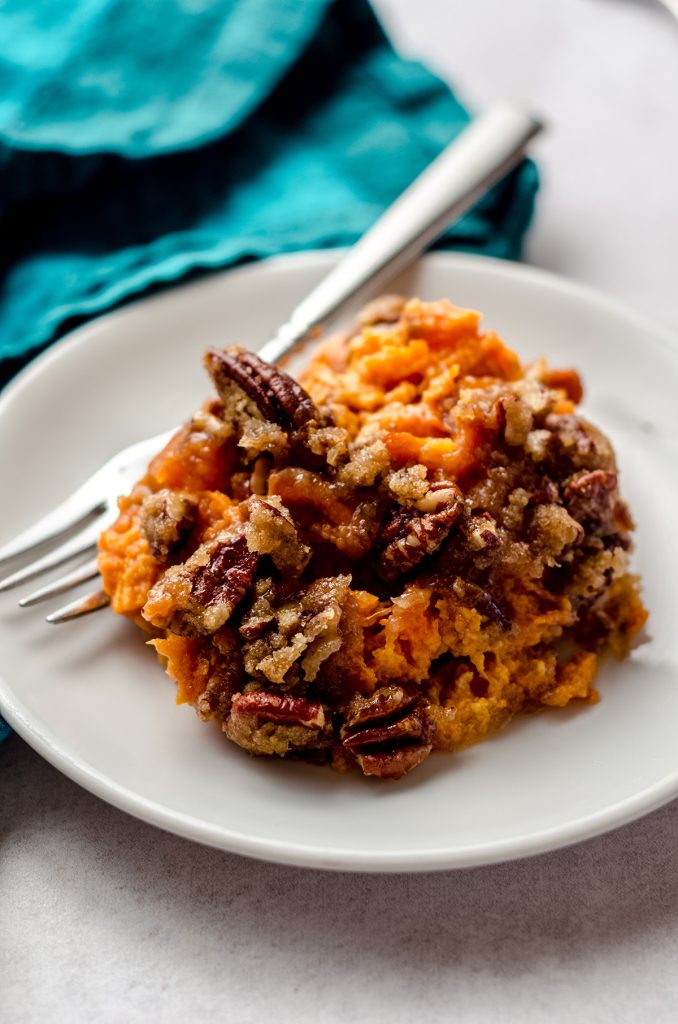 Pecan Pie Tarts
Bite-size pie tarts made with my favorite homemade pie crust and a soft and crispy pecan pie filling.
Ingredients
½

recipe

homemade pie crust

2

Tablespoons

(28g) unsalted butter

½

cup

(100g) firmly packed light (or dark) brown sugar

1

large egg

1

teaspoon

vanilla extract

½

teaspoon

ground cinnamon

¼

teaspoon

orange zest

I use jarred, you may use fresh

¼

teaspoon

salt

⅛

teaspoon

ground nutmeg

¾

cup

(82g) chopped pecans

approximately 3 ounces
Instructions
Prepare the homemade pie crust. When it is thoroughly chilled, place the dough onto a floured work surface and roll into a large circle (approximately 12" in diameter and about 1/4" thickness).

Using a 2 and 1/2" cookie cutter, cut smaller circles from your large circle of dough. If you don't have a cookie cutter this size, a metal 1/3 cup measuring cup or any cup or glass that is 2 and 1/2" in diameter will work fine. Re-roll dough scraps until you have used all of the dough, working quickly to ensure the butter in the dough doesn't get too warm.

Place each dough circle into the wells of a 24-count mini muffin pan. Press the dough flat into the bottom of the well and up the sides. The mini crusts do not have to go the whole way up the side, but should go most of the way. Chill the pan in the refrigerator for at least 20 minutes.

When your mini muffin pan is done chilling, preheat the oven to 350ºF (177ºC). Pre-bake the mini crusts for 6 minutes. This will ensure the bottoms do not become soggy when they are filled. Prepare the filling while the crusts bake.

To make the filling, melt the butter in a small bowl in the microwave and allow it to cool for a few minutes. In a medium size bowl, whisk together the brown sugar, egg, vanilla, orange zest, cinnamon, salt, ad nutmeg. Add the melted butter, whisk again, then stir in the chopped pecans with a large spoon or spatula.

When crusts are pre-baked, remove from the oven and fill each crust with 1 teaspoon of pecan pie filling.

Bake tarts for 14-16 minutes or until the crusts just begin to brown. Be careful not to over bake the tarts, as this could make them hard and burned instead of soft and slightly crispy. If some filling spills out, this is ok. Remove from oven and allow to cool in the pan until you are able to handle them. Once cool enough to handle, transfer to a wire rack to cool completely. Pecan pie tarts stay fresh in an airtight container up to 4 days or in the refrigerator up to one week. Baked tarts can be frozen up to 3 months. Thaw in refrigerator.
Notes
As stated in the pie crust recipe, the crust can be prepared ahead of time. You may also prepare the filling ahead of time. Store covered in the refrigerator up to one day.
Recipe inspired by Alton Brown's Bourbon Pecan Pie
Nutrition Disclosure
All nutritional values are approximate and provided to the reader as a courtesy. Changing ingredients and/or quantities will alter the estimated nutritional calculations.