As an Amazon Associate I earn from qualifying purchases.

Don't let the "mini" part fool you– these bite-size peppers are packed with tons of flavor!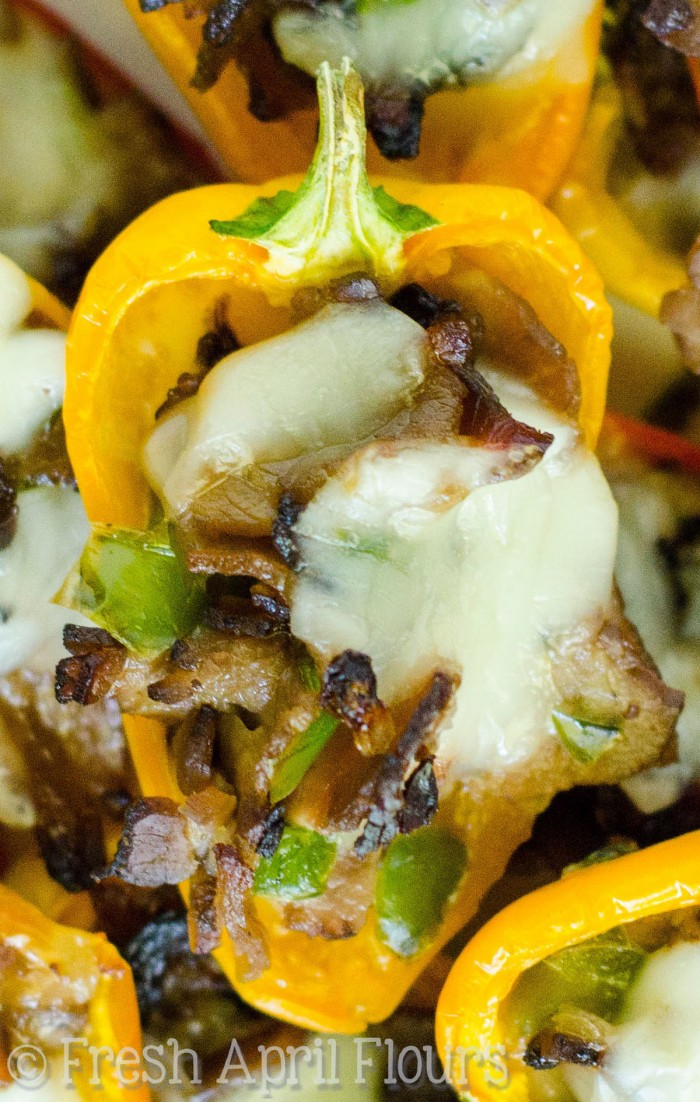 Before I say anything at all, you need a Philly cheesesteak lesson. Did you know you needed to know anything special? If you're a local, a frequent visitor, or have even visited Philly a handful of times, you're probably familiar with what I'm about to teach you. If you're wondering what the HECKKKK is going on here, listen (read?) up.
First of all, if you ask a regular Philly cheesesteak connoisseur where you can get the best cheesesteak, you will likely hear one of two or three places. There are plenty of places to get one in Philly, but locals and regular have their favorites, and the competition and following get pretty serious.
To save myself, I won't pick a side. I will say… We've tried a few, and we have our favorite.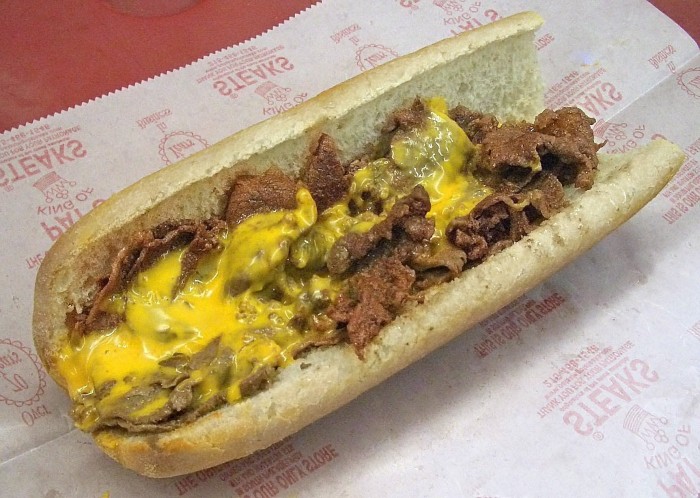 (photo via Wikipedia)
There is actually a right and wrong way to order a cheesesteak in Philly. Of course, you've got your standard roll with steak, but then there are several add-ins you can choose from.
First of all, a cheesesteak is not a cheesesteak without cheese (umm, duh), but some people (the crazy ones??) choose not to get cheese. Fine. Let those people be crazy.
For the rest of us, the "classic" cheese is Cheez Whiz (not kidding), but you can also choose to have your cheesesteak with American or provolone cheese. Pick the cheese you like, we will come back to this part.
Next up: fried onions. Do you want 'em or not? Easy to distinguish without even saying the word "onion." If you want onions, you'll order your cheesesteak "with," and if you don't want them, it's "without." It's as simple as that.
So, we come to the final product. The standard verbiage for ordering is this formula: [number of cheesesteaks] + [type of cheese] + [with/without].
For the April family, the order would be "one Whiz without" and "one provolone with." Then we split, and everyone is happy!
Are you still with me?
Ok, now let's get to the whole point of today's recipe!
My friend Leah posted these amazinggggg and adorable little Chorizo and Quinoa Stuffed Mini Peppers a few weeks ago, and ever since then, I was dying to create something like them and also try cooking something I'd never cooked before!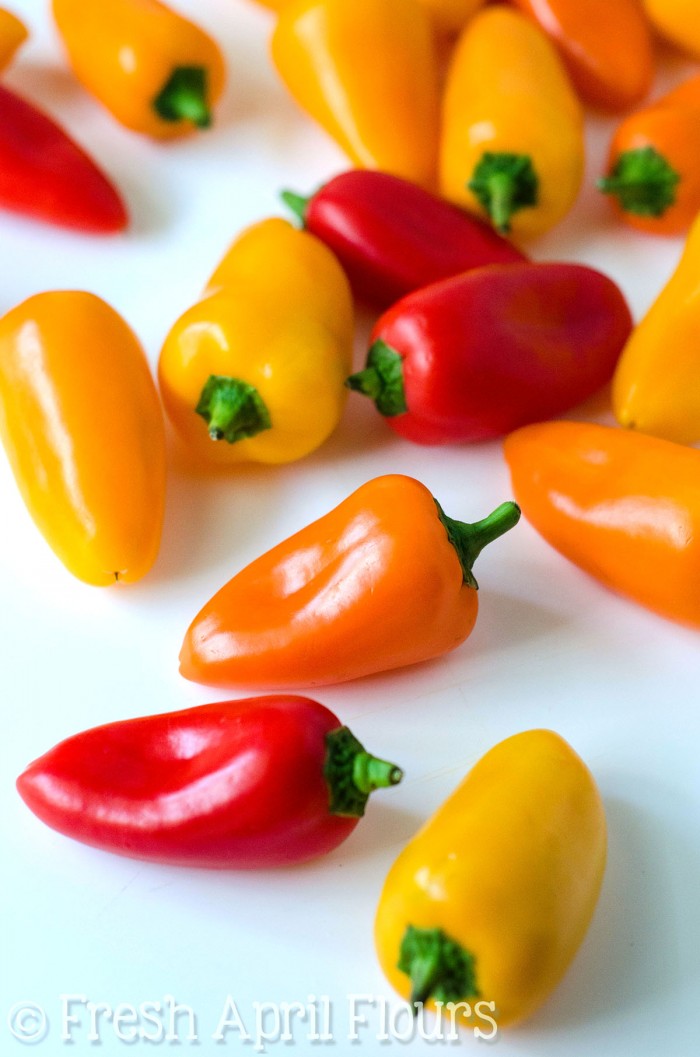 I decided to do a little twist on Leah's recipe as a nod to the City of Brotherly Love, a city we enjoy visiting for sporting events and special dinners and whose skyline graces our road trips often.
Aaaaand whose airport we fly out of, like, every time we fly. As residents of a "suburb of Philadelphia," we have had our fair share of authentic cheesesteaks.
Now… If you peek at my recipe, you'll see I don't use Cheez Whiz.
There are a couple reasons:
1)it's super gooey and I wasn't sure how it would fare on these peppers and
2) I didn't want a jar of Cheez Whiz leftover in the fridge.
Sorrynotsorry, Philadelphia.
Cheez Whiz is not something I can just throw into a recipe to use it up. I settled on provolone.
You'll also see I added some green bell pepper and mushrooms. I didn't mention it in my mini-lesson, but you can also get these add-ins on your cheesesteak depending on where you go. Also, they both bring a ton of flavor to these little bite size cuties.
Although these stuffed peppers take a bit of time to put together, the work itself is not hard. PLUS! You can do a lot of work ahead of time. See my notes in the recipe about this.
You'll start by getting your filling ready. I made the mistake of getting the filling ready right before I was ready to stuff my peppers, and I burned my fingers on hot hot steak. Best to make it first and prep the peppers while it cools.
A bit of olive oil, finely diced onion, green bell pepper, and mushrooms go in first, and then you'll add your steak and cook for just a few more minutes to get the veggie mixture flavor all over everything.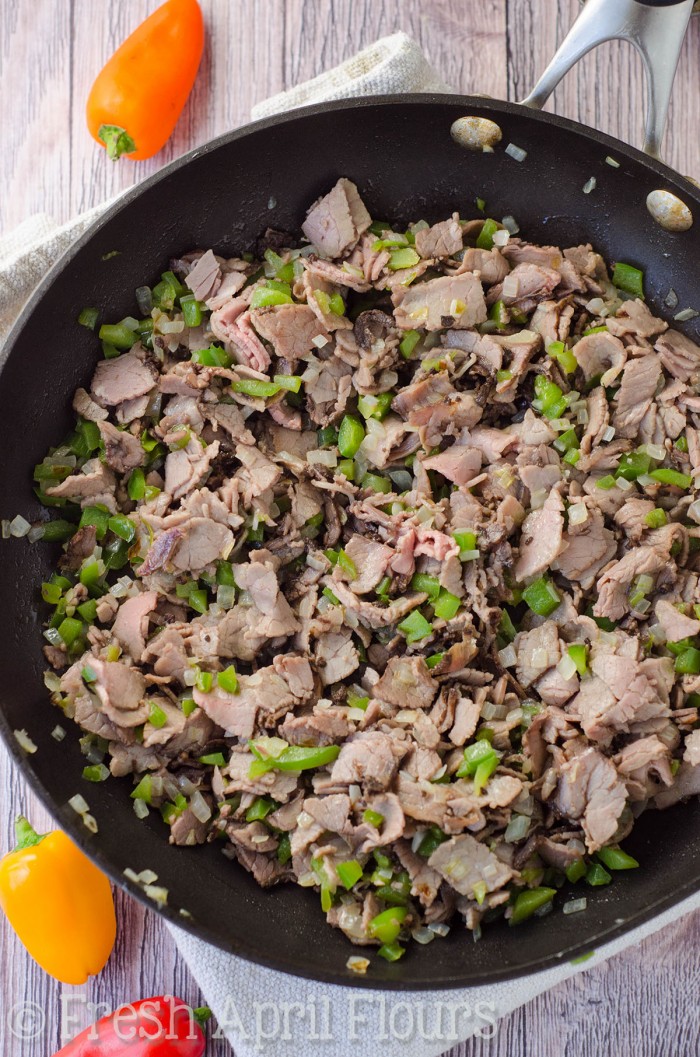 I used top round sirloin and chopped it up pretty small.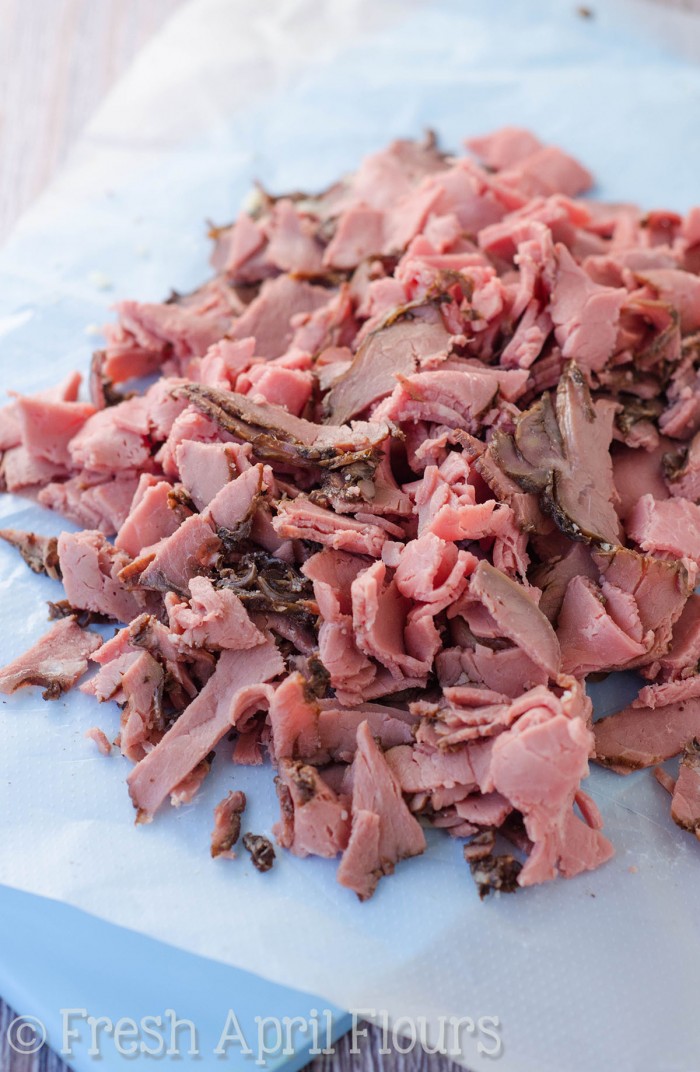 As you cool your filling, you'll prep your peppers. This is the most time-consuming part of the whole process, but it's not as awful as it sounds. Mini peppers are so cute, and each time you find yourself annoyed by the fact that it feels like you have 847 more peppers to clean out, remind yourself how cute they are (cute food is the best food).
It took me about 10-15 minutes to cut all 24 peppers and scrape out the seeds. The good news is, since these peppers are so small (and remember, CUTE), they don't really have too much going on inside of them as far as seeds and white parts. I was able to use my fingers to pull most of the "stuff" out.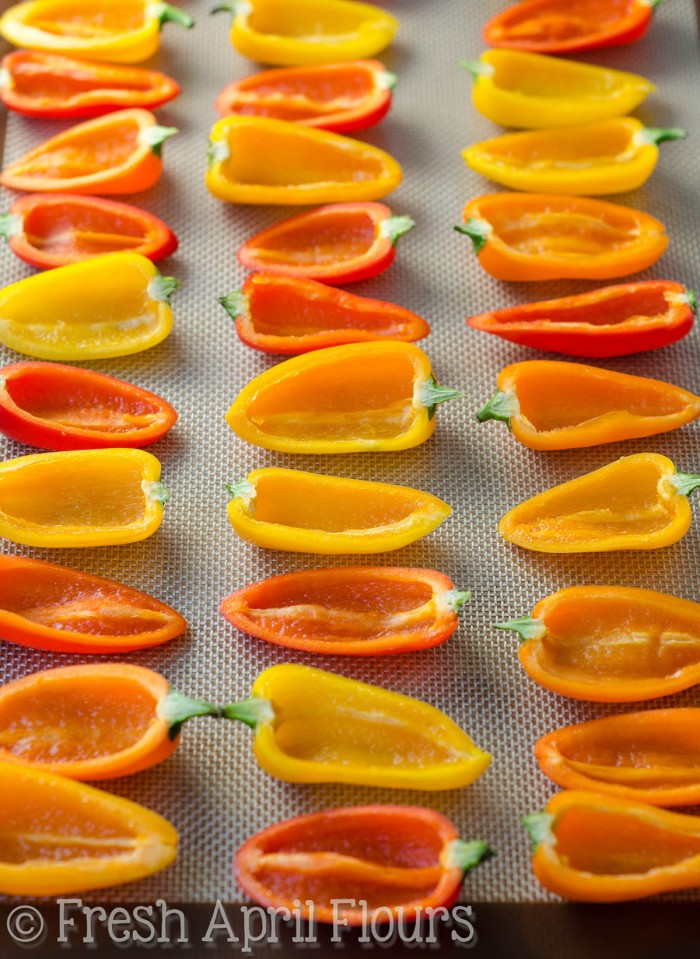 I chose to layer some cheese in the bottom of each of my peppers. And I actually chopped my own cheese because provolone apparently doesn't come shredded.
Why? Why is this?
If you can find shredded provolone in your grocery store, please tell me. I would like to know it actually exists in the world. Until then, chopping to resemble shredded worked just fine for me.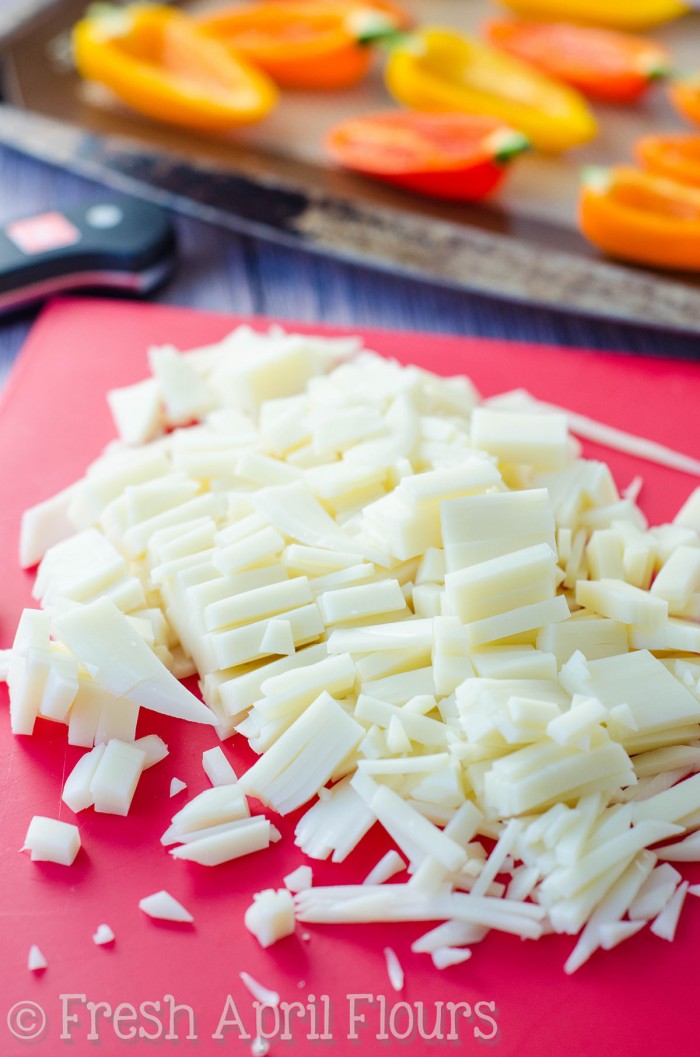 Once the cheese is in, stuff the peppers with a heaping pinch of (cooled) filling. And I mean STUFF. Jam it in there. These aren't Philly cheesesteak filled mini peppers. They're stuffed peppers. Be generous!
You can actually stop right here and bake them later, or go ahead and keep the party rolling.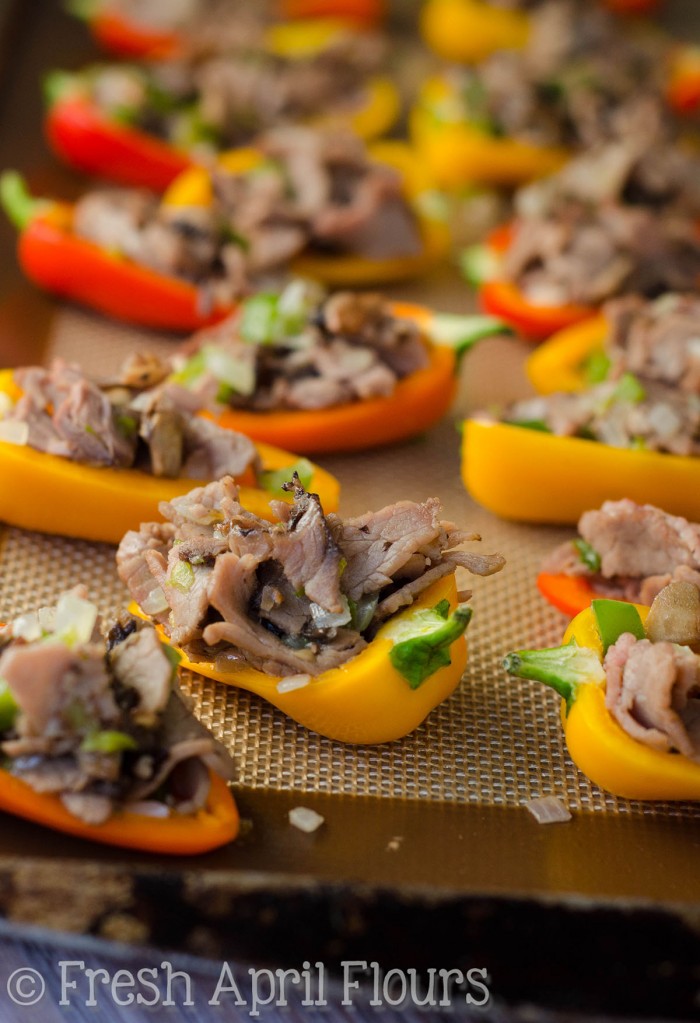 They'll bake for 20 minutes, get another generous sprinkle of cheese right on top, and bake for another 5 minutes until the cheese is nice and melty.
Mmmm… Melty cheese. My ♥ loveeee ♥ language. I really wish I could eat cheese alldayerryday.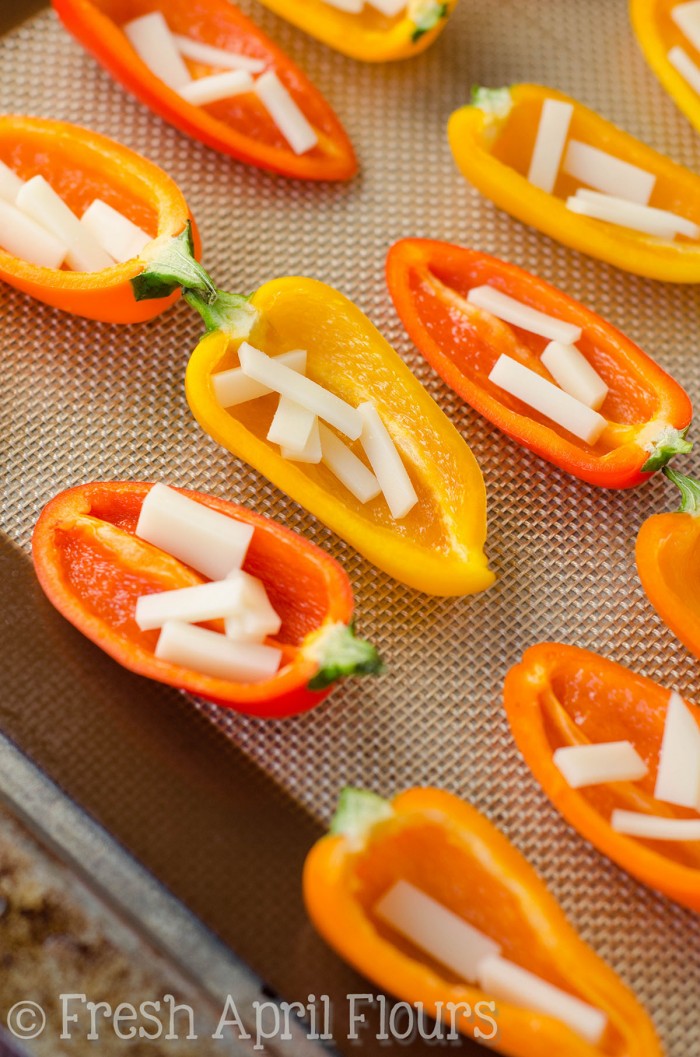 Oh. Sorry. Back to peppers.
Uhh… Guys? These little peppers are so so so good. I had pretty high expectations for them for some reason, and after my first bite, those expectations were not only met but exceeded times 100. I had a really hard time refraining from taste testing, and I know that the mouse in my house Matt did as well, because there were definitely a few missing when I grabbed the tray from the fridge before we headed to a cookout.
And the cookout? These peppers were met with rave reviews. They were gone before I had time to really tell people what they were!
My favorite part about these peppers is of course the dreamy melty cheese, but more than that? The crispy edges of the steak that add the slightest savory crunch to each bite.
The flavor of the peppers, onions, and mushrooms really come through, but not so much that any one flavor overpowers the others. Each bite is the perfect marriage of steak and veggies and the cheese really seals the deal, as cheese normally does.
If you're looking for something to wow party guests or just something different to serve or bring with you to a cookout, these little peppers are it. You'll be surprised how easy they are and how much flavor is packed into such a tiny little package.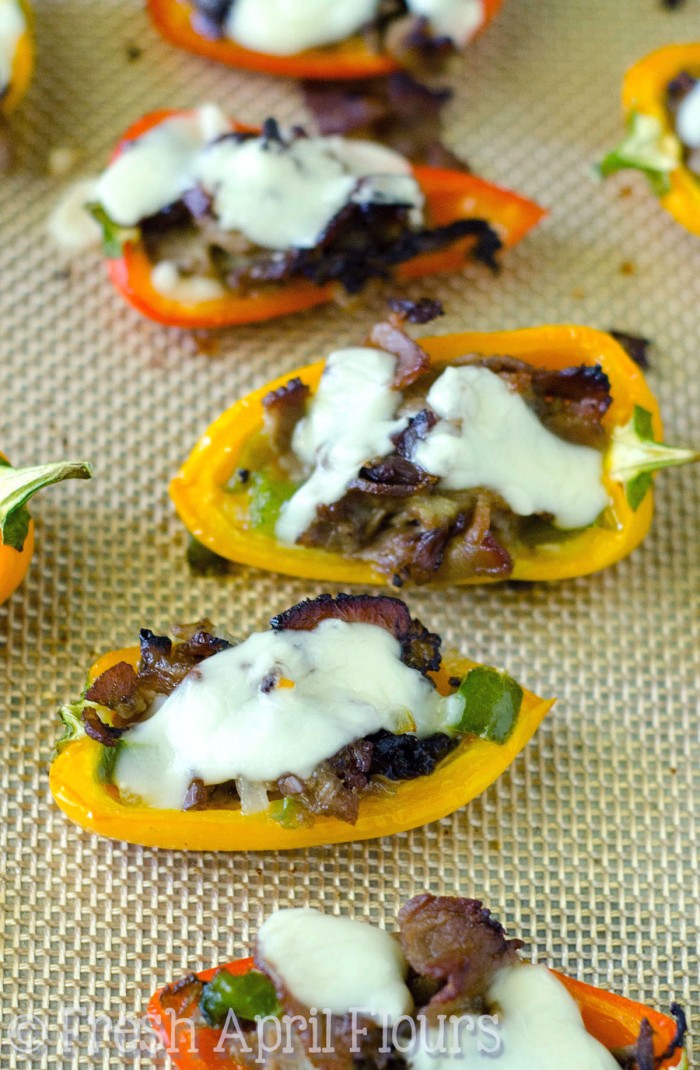 Plus, ordering a stuffed pepper is way less complicated than ordering a cheesesteak. "I'll take the whole tray!" Easy enough, right?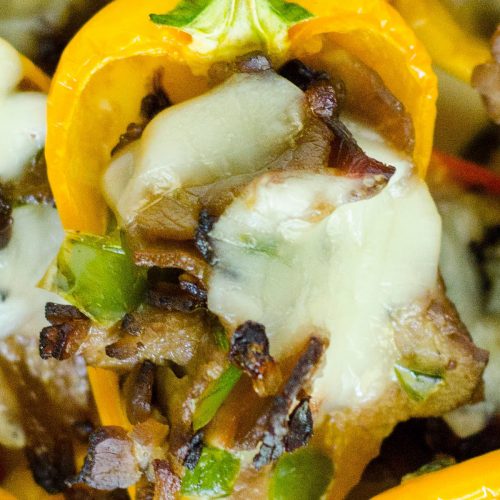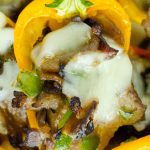 Print Recipe
Philly Cheesesteak Stuffed Mini Peppers
Don't let the "mini" part fool you-- these bite-size peppers are packed with tons of flavor!
Servings:
48
stuffed pepper halves
Ingredients
1

Tablespoon

olive oil

1/2

of a medium onion

small dice (approximately 1/2 cup)

1/2

of a green bell pepper

small dice (approximately 3/4 cup)

2 and 1/2

ounces

mushrooms

small dice1 (approximately 1 cup)

8

ounces

top round sirloin beef

chopped

24

mini sweet peppers

1 and 1/2

cups

shredded cheese2
Instructions
Add the olive oil to a large skillet over medium-high heat. Add onion, bell pepper, and mushrooms and cook for 5-6 minutes, stirring frequently, or until tender. Add the chopped beef and cook an additional 2-3 minutes. Set aside and allow to cool.

Preheat the oven to 375ºF. Line a large baking sheet with foil, parchment, or a silicone baking mat. Cut each pepper in half, lengthwise, and remove the seeds and veins. Lay each pepper on the baking sheet, cut side up. Sprinkle a bit of cheese in the bottom of each pepper. Using your fingers, stuff a large pinch of the steak filling into each pepper (I only had about 1/4 cup of the filling leftover when I was done stuffing my peppers). Make ahead tip: stop here and cover peppers tightly. Keep in the refrigerator until ready to bake, up to 2 days.

Bake the peppers for 20 minutes. Remove from oven, sprinkle some cheese on the top of each pepper, and bake an additional 5 minutes. Stuffed peppers are best served immediately. Peppers can be kept in refrigerator covered up to 2 days. Reheat in a 250ºF oven for 10 minutes.
Notes
I used Baby Bella
I used provolone
Recipe adapted from Grain Changer
Check out more of my savory and healthier recipes!