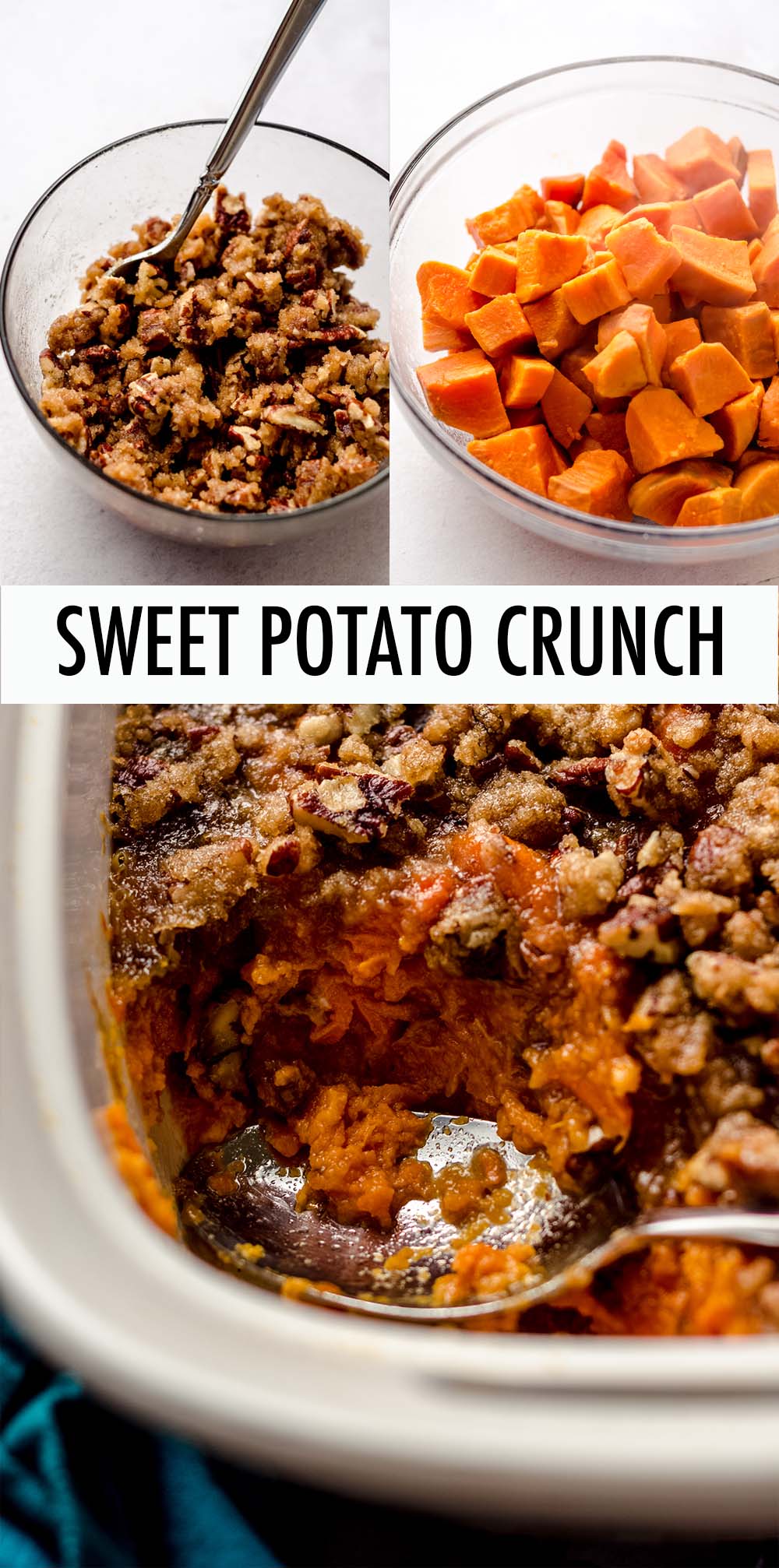 As an Amazon Associate, I earn from qualifying purchases. Read the full disclosure here.
This easy sweet potato casserole is full of sweet and buttery mashed sweet potatoes and topped with a sweet, salty, and crunchy pecan topping.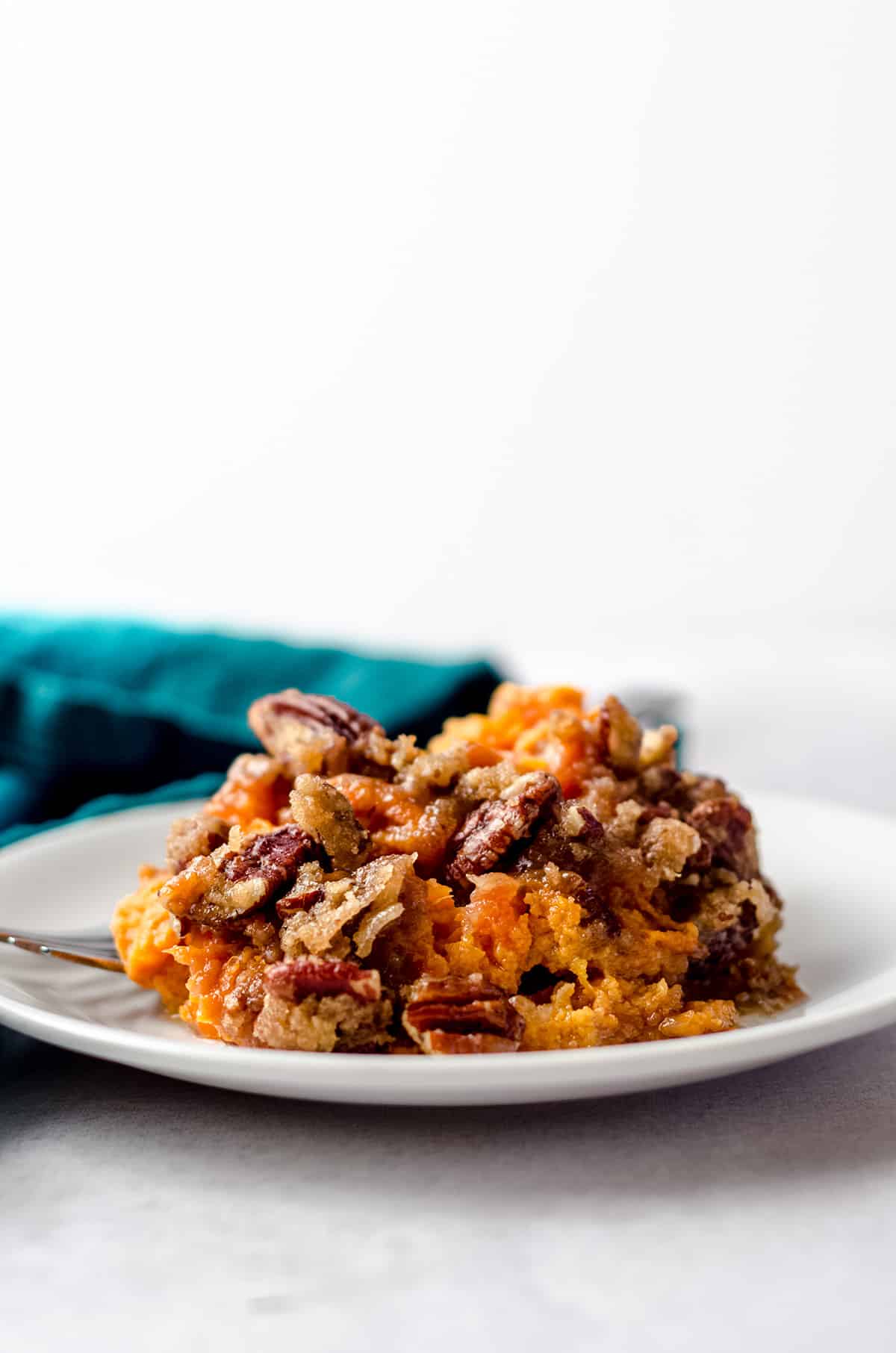 One of the things I love so much about creating recipes is that I get to take part in something that is so incredibly powerful. Even though some naysayers might say "it's just food," I would have to disagree.
Food connects us to traditions, memories, times, places, and even people. It's such an integral part of our experiences, and I have to say: I'm so thrilled that I get to be a part of that.
Take the classic sweet potato casserole– what immediately comes to mind? For me, that's Thanksgiving dinner. In fact, I'm willing to bet that it's the same for most of you.
Sweet potato casserole just tastes like Thanksgiving, and I would argue even more so than cranberry sauce, traditional mashed potatoes, or even the turkey itself. It's a long-standing tradition for many of us in America, and it has spread to many other countries.
Everyone has their own spin on it, but it most often consists of a creamy sweet potato layer with either a buttery pecan topping, a mini marshmallow topping, or some combination of the two.
I am always looking for recipes that are considered *staples* at holidays to add to my recipe collection here at FAF, and last year, I grabbed this sweet potato casserole recipe from my friend Andy because his wife Anne declared this was a serious family favorite and the perfect side dish addition to their Thanksgiving table every year.
How could I NOT ask for it?!
The recipe came to me written in traditional "not organized like a recipe" form, as most family recipe formats go, but I was able to piece it together with some modifications suggested to me to create an unbeatable sweet potato mash with a pecan crunch topping that will surely become a staple for you if you are even remotely a fan of sweet potatoes.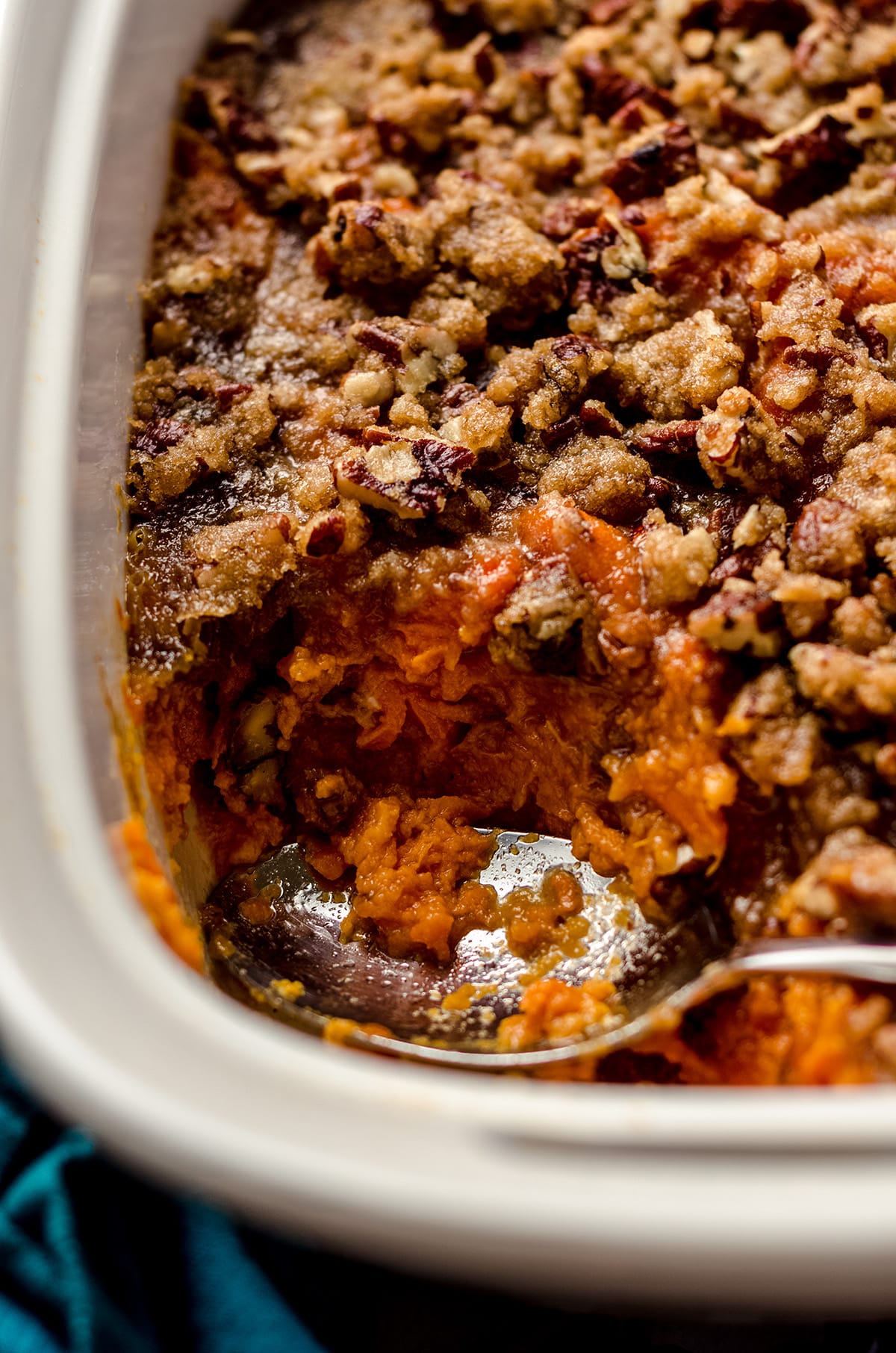 My version is strictly the pecan-topped variety, but I make sure to bring all the goodies to really give the pecans a crunchy, candied effect. Hence the recipe title: sweet potato crunch.
The wonderful thing about this sweet potato crunch recipe is that it doesn't have to be made just on Thanksgiving day (although I would be absolutely honored if you included it on your menu).
It's really the ultimate fall flavor side dish, being both a vegetable and a dessert after all. I mean, who can argue with that?
If you're looking for more fall-inspired recipes, perhaps for including on your Thanksgiving menu, you know I've got you covered!
First off, I have my recipe for classic pumpkin pie, which I've been making for years now. Second, a from-scratch recipe for spiced cranberry sauce. And finally, a fluffy and fragrant recipe for sourdough cinnamon rolls. They are absolutely perfect for a special Thanksgiving breakfast (and if you don't have a sourdough starter on hand, you could always try my coffee cinnamon rolls).
INGREDIENTS
One of the things you're going to love the most about this sweet potato recipe is how simple the ingredients are. As long as you have some pecans and some sweet potatoes, you should probably have everything you need in your pantry and fridge.
The recipe really has two elements: the pecan topping, and the sweet potato filling.
PECAN TOPPING
The thing that puts the "crunch" in sweet potato crunch is the decadent, buttery, brown sugar-y pecan topping. But you wanna know what the best part is? It's super simple to make!
All you need is some brown sugar, a bit of all-purpose flour (oat or almond works, too, to keep it gluten free), some melted butter, a touch of salt, and some coarsely chopped pecans.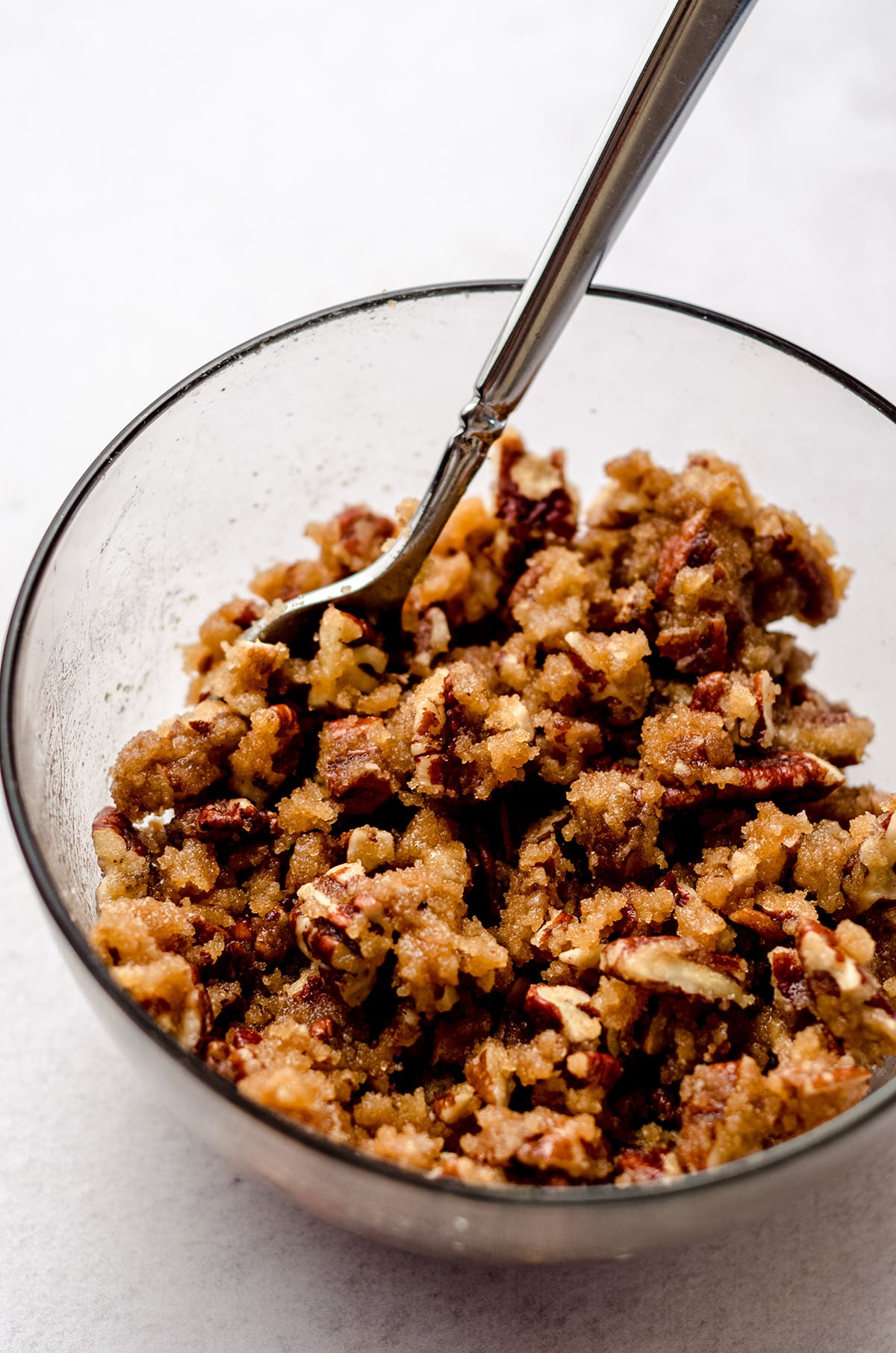 Toss it all together, and what do you get? The most amazing topping for a sweet potato casserole ever. Period. Finito.
See my candied almonds if you're absolutely drooling at the thought of candied nuts. You're welcome.
SWEET POTATO FILLING
Not to be outdone by the buttery pecan topping, the creamy sweet potato filling can hold its own!
The base layer is made with mashed sweet potatoes, granulated sugar, more melted butter (because why not?), vanilla, salt, and a few eggs to give it the perfect texture. Not only is it delicious, but it's simple too!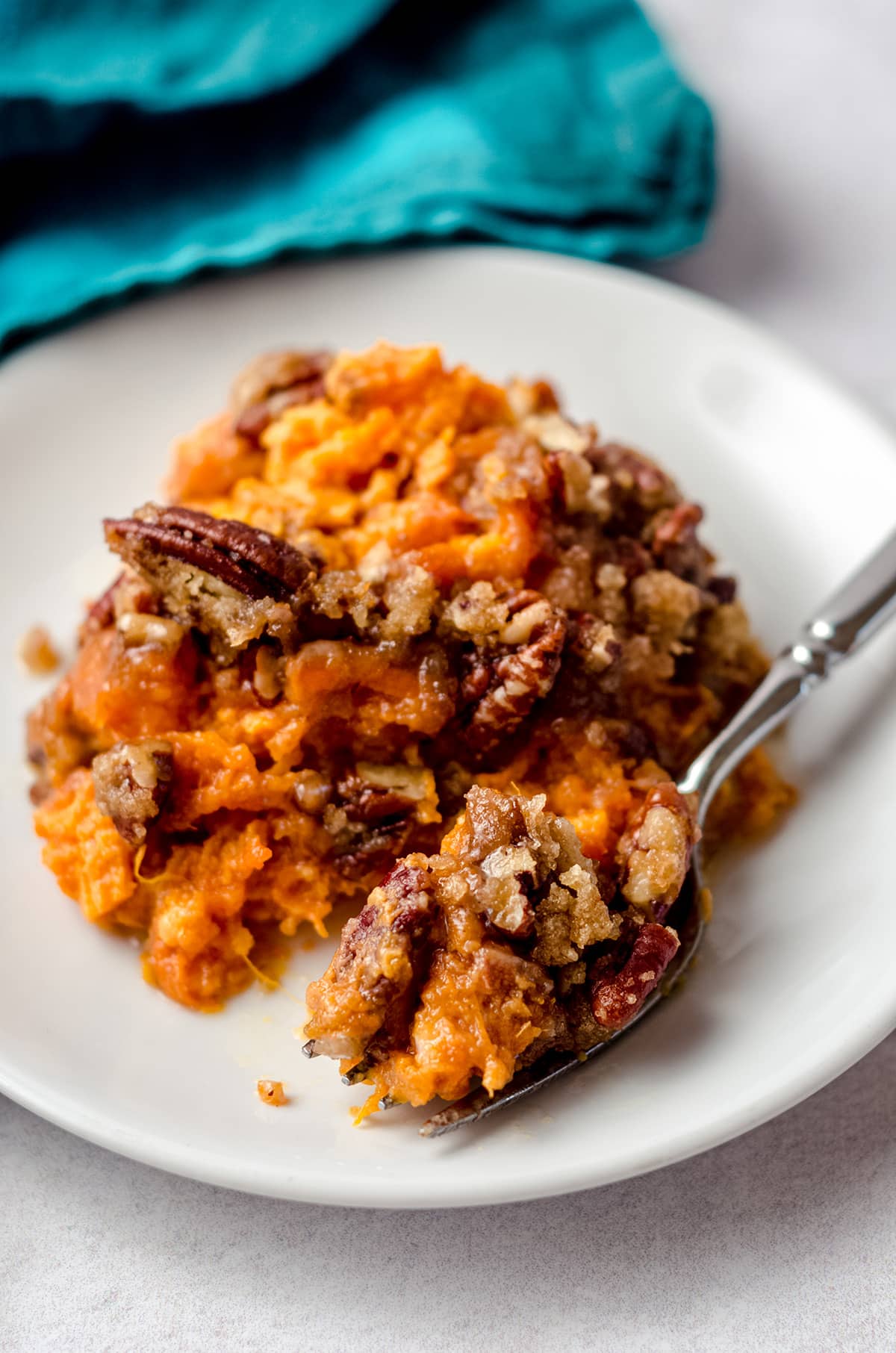 In order to get the right yield of mashed sweet potatoes, you'll need about 4 large sweet potatoes that measure about 4 heaping cups once peeled and cubed. This should give you enough once mashed to form a firm-ish base layer.
HOW TO MAKE SWEET POTATO CRUNCH CASSEROLE
Ok, before we get started on the sweet and delicious stuff, let's talk casserole dishes. This sweet potato casserole with pecans can easily fit into an 8″ or 9″ square baking pan.
In my opinion, this gives the perfect thickness for the creamy sweet potato layer, and the perfect ratio of crunchy pecan topping to each serving.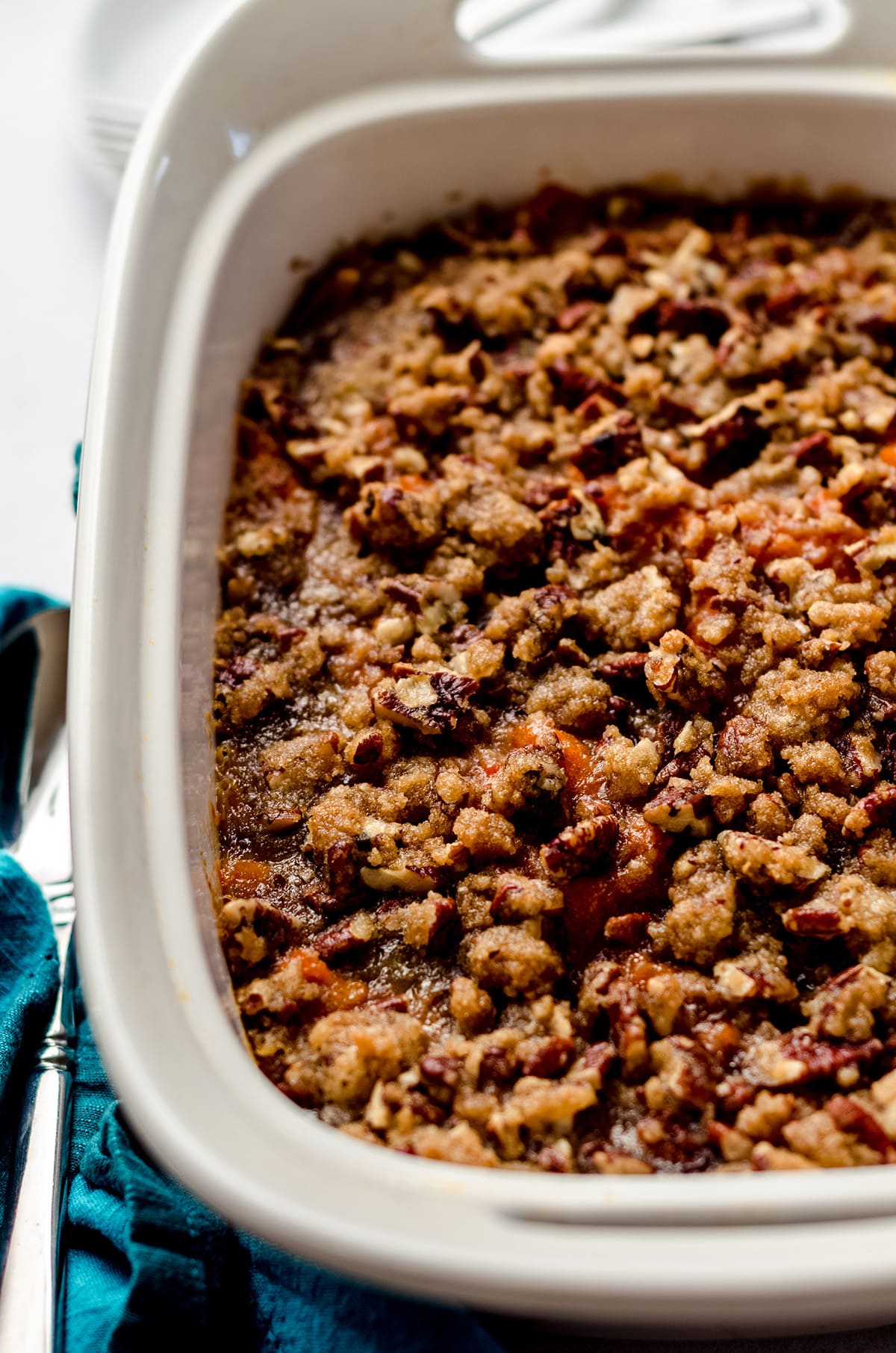 If you want to, you can spread it out into a 9×13 pan, but the layer of sweet potatoes will be on the thin side. Of course, you can double the recipe and place it in a 9×13 pan, but just make sure it's a deep dish style so it can accommodate all of the filling and topping with a little bit of room to spare.
Once you've selected what size dish you want to use, spray it with nonstick cooking spray, preheat the oven to 350ºF (177ºC), and set the dish aside while you prepare the filling and topping for this decadent sweet potato crunch casserole.
PREPARE THE POTATOES
In order to make the base for the sweet potato casserole, you'll need to first cook the fresh sweet potatoes. Cooking and mashing the sweet potatoes makes for a creamy, fluffy filling that will have you coming back for more!
To do that, you're going to want to peel the sweet potatoes and cut them into 1-2″ chunks.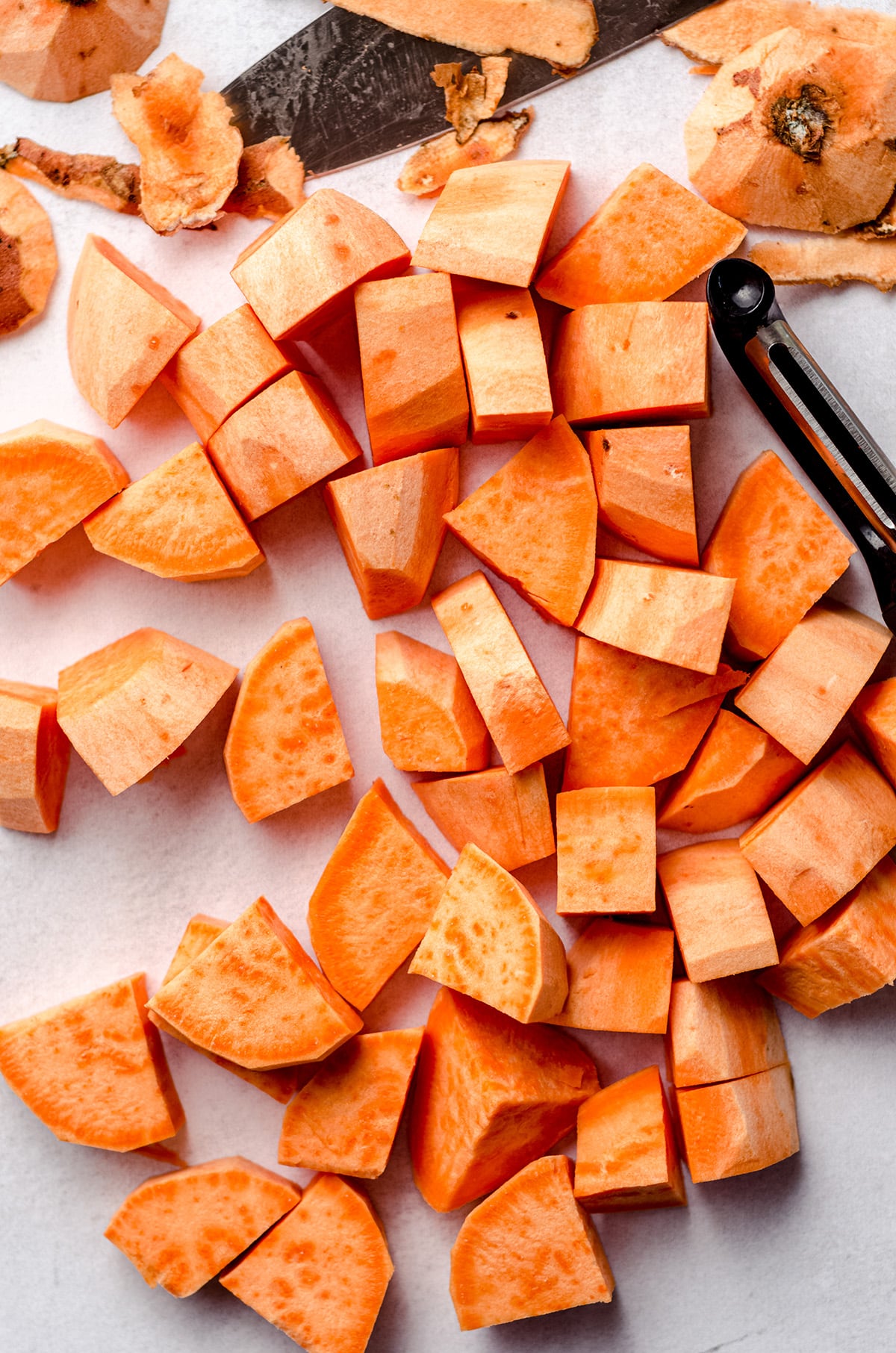 Then you're going to want to fill a large pot of water about halfway with water and bring to a boil. Once the water reaches a boil, add the cubes and allow to cook for 15-20 minutes, or until the pieces are easily pierced with a fork.
Drain the cooked sweet potatoes and allow them to cool for about 15 minutes while you prepare the crunchy pecan topping.
MAKE THE PECAN TOPPING
Making the crunchy pecan topping is super simple. All you have to do is add the brown sugar, flour, melted butter, and salt to a medium-sized bowl and toss everything together with a fork until well combined.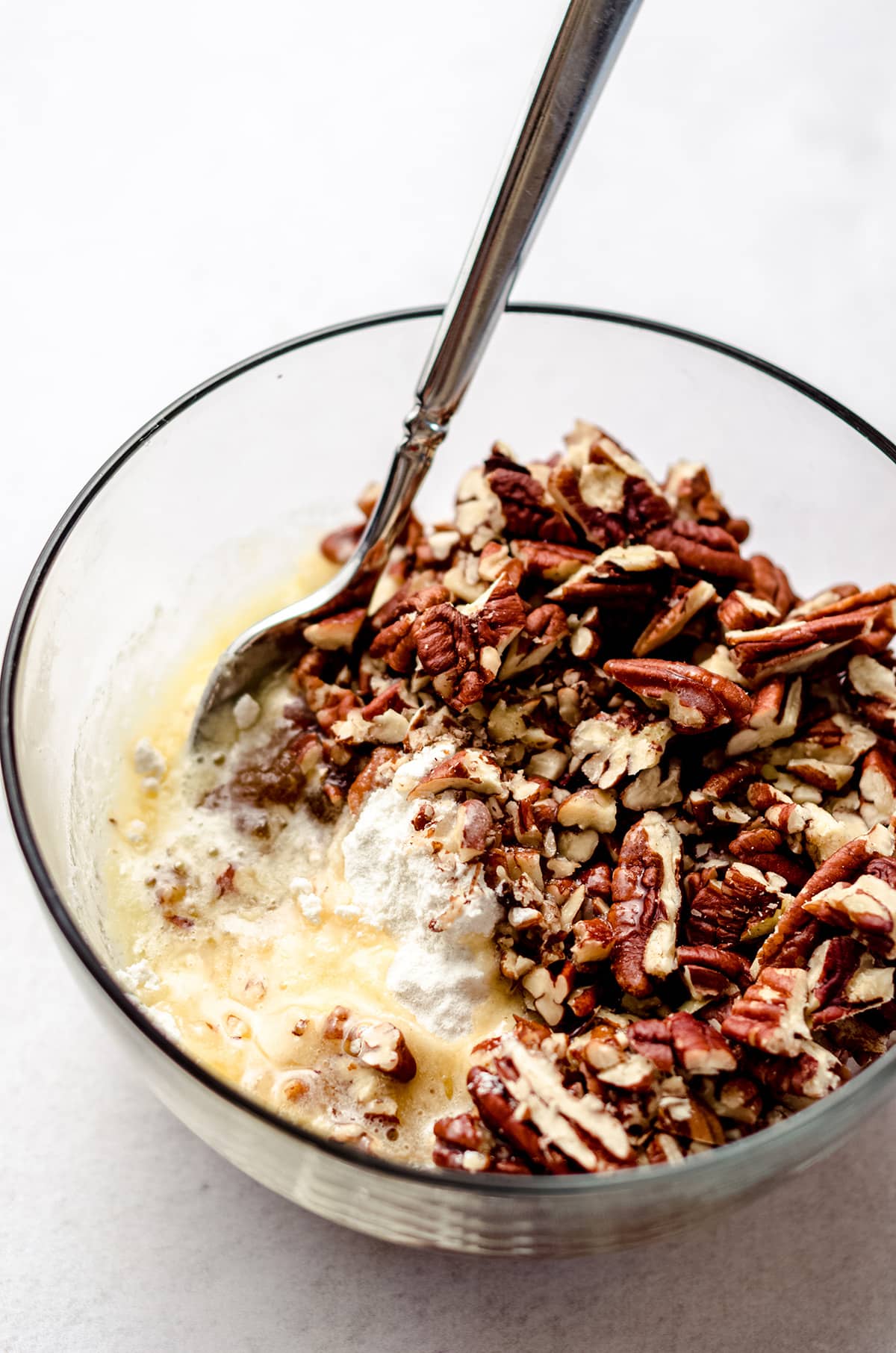 Then go ahead and add the chopped pecans, stirring until the pecans are thoroughly coated. Set the bowl aside, but don't worry, we're coming back for it in just a few minutes.
ASSEMBLE AND BAKE
Once your sweet potatoes have had the chance to cool, you're ready to mash them. How you like your sweet potato casserole is greatly a matter of taste, and so your level of mashing may vary based on the texture you would like your casserole to have.
You see, I like to keep some larger chunks of sweet potatoes, so I like to use a good ol' fork. If you like super silky and creamy sweet potatoes, try using a handheld electric mixer or a standard potato masher to get a smooth consistency.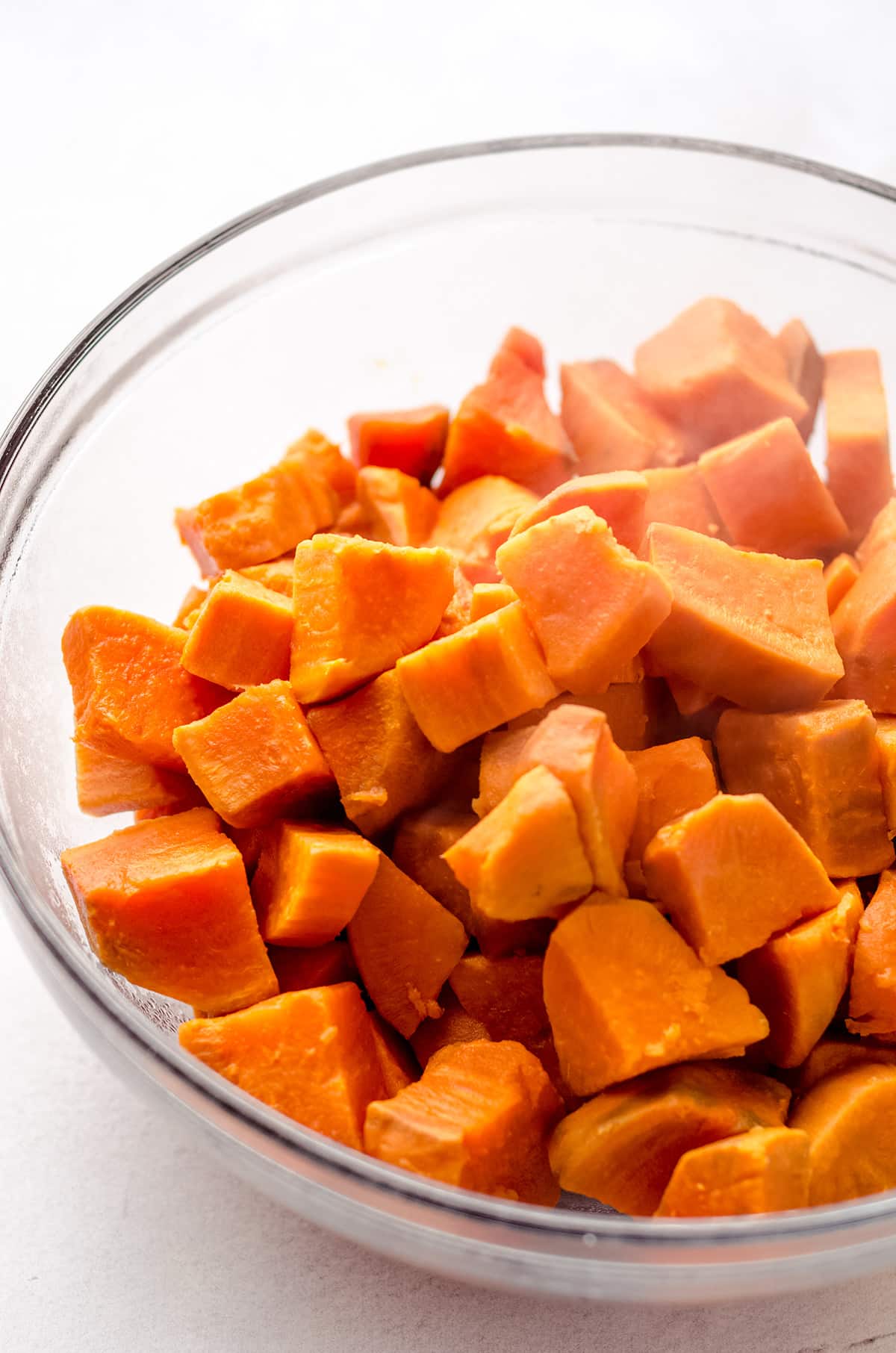 Once you've mashed your sweet potatoes according to your preferred texture (again, team chunky over here), it's time to add in the ingredients that really give it that classic sweet potato casserole experience. And if you're wondering if I'm talking about butter, the answer is yes.
But I'm not just talking butter. We're also talking sugar, eggs, vanilla, and salt, too. This combination of ingredients gives it a decadent flavor and texture that is more dessert than "casserole" but if you promise not to tell, I promise I won't either.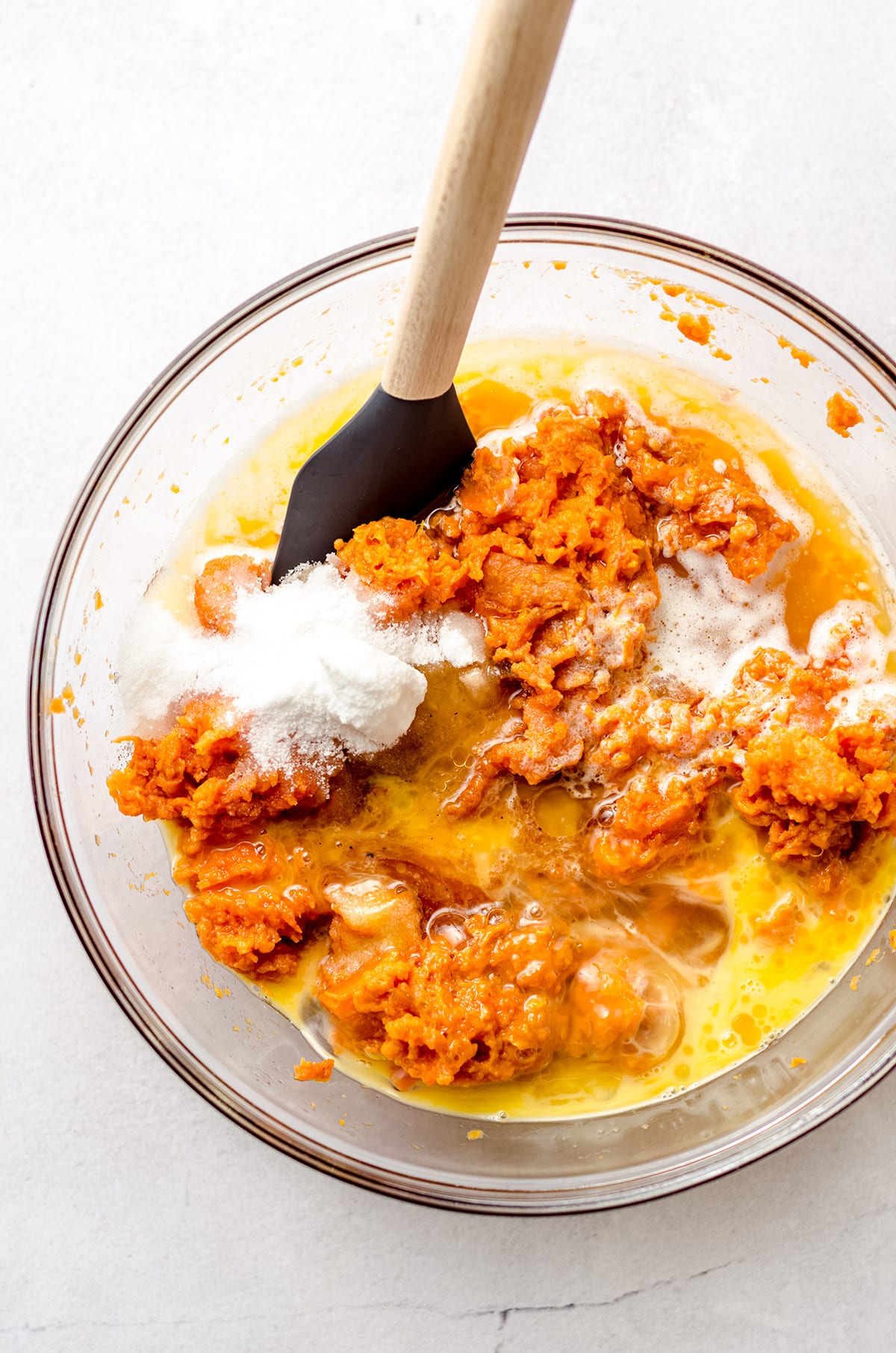 Stir the sweet potato with the butter, sugar, eggs, vanilla, and salt until well combined. Then pour it into the prepared baking dish.
Finally, it's time to add what could arguably be the best part: the amazing pecan topping. It's buttery, it's nutty, it's sweet, and it's the perfect way to finish off this sweet potato crunch casserole.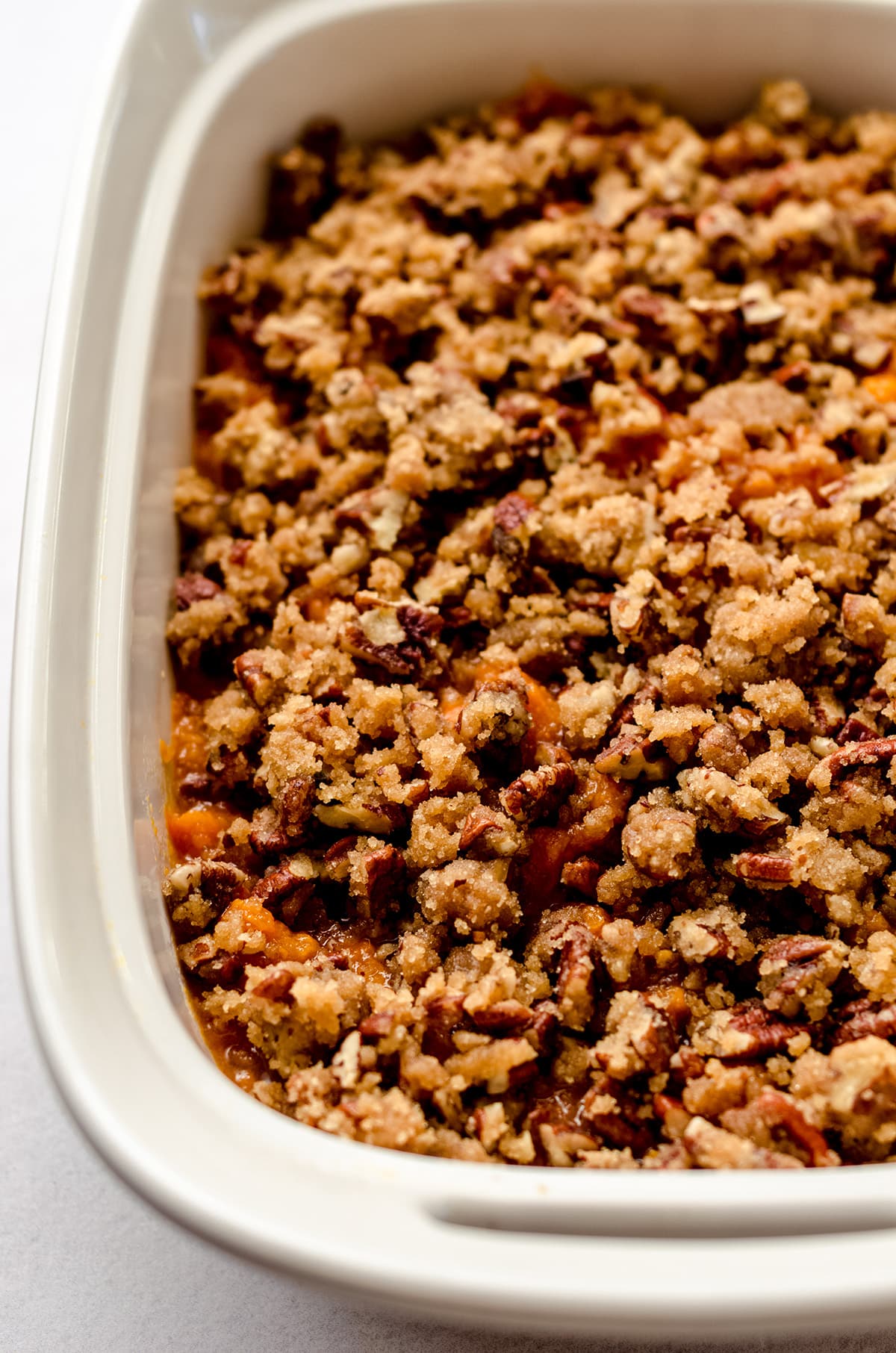 Sprinkle the pecan topping right on top of the sweet potato mixture, making sure to spread them out as evenly as possible. But like with all things, don't agonize about perfection too much. Trying to find the scoop with the largest amount of pecans is kind of the whole point, right?
Stick the unbaked sweet potato casserole with pecans into the oven and bake for 30-35 minutes, or until warmed through with toasty pecans.
Once the sweet potato crunch is out of the oven, allow it to cool slightly before serving. This prevents the scoops from spreading out too much both in the dish and on the plate.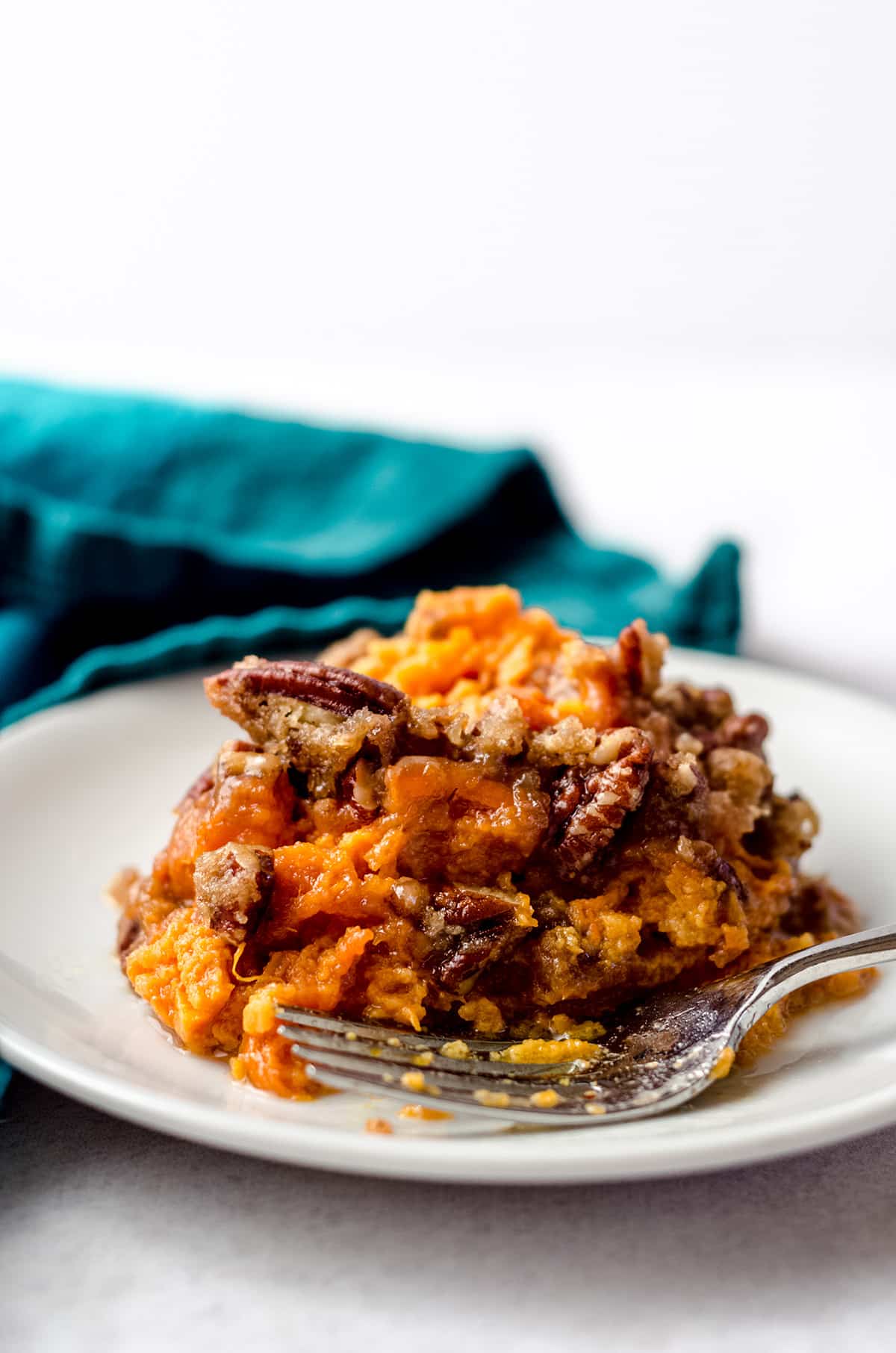 Store any leftovers tightly covered in the fridge for up to 4 days. It's important that you allow the casserole to cool completely before wrapping since any condensation formed will settle into the casserole and make it wet. The pecan topping will lose its crunch in storage, but will still be absolutely fine to eat!
If you prefer to freeze it, the baked casserole freezes really well for up to 3 months. Just thaw it overnight in the refrigerator and then bake at 200ºF (93ºF) until warmed through.
CAN I MAKE THIS AHEAD OF TIME?
Speaking of freezing, you may be wondering if you can make sweet potato casserole ahead of time. The answer is yes! This sweet potato crunch makes a great make-ahead Thanksgiving side dish. Don't you just love when that happens?
I recommend freezing the sweet potato casserole unbaked, just up until the part before adding the pecan topping and freezing for up to 3 months. Then, once you're ready to serve, thaw in the refrigerator overnight, top with the pecan mixture, and proceed with the original baking instructions.
You may be wondering why I didn't include the pecan topping in the freezing instructions. That's because in my experience if you freeze the pecans resting on top of a moist filling, they absorb some of the liquid and they never get that crunch back (even after baking). For this reason, it's just better to mix up the topping the day of baking.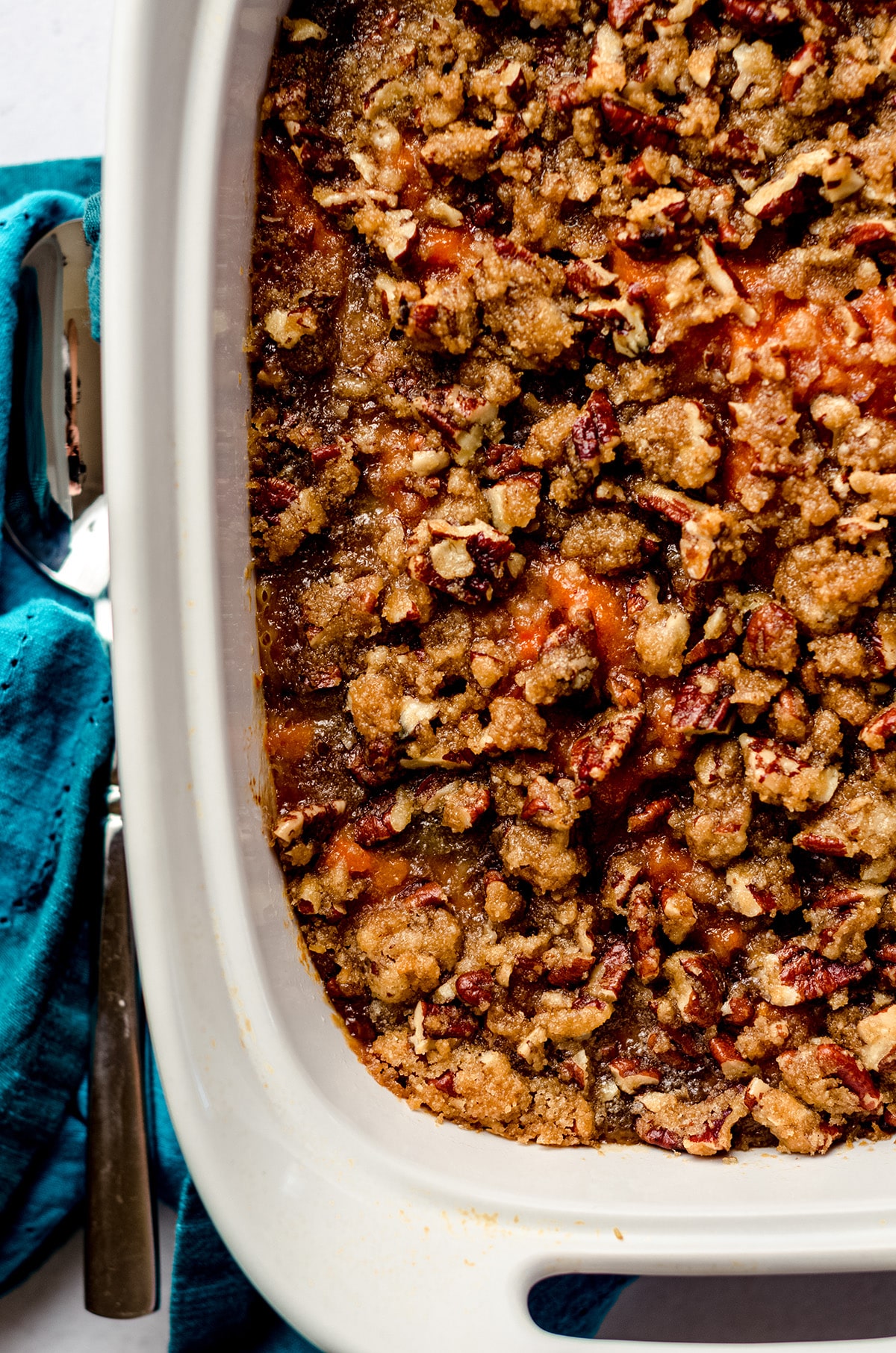 If you don't want to freeze the casserole, but rather just make it a few days ahead (like for Thanksgiving dinner), you can absolutely do that too! As with freezing, leave off the pecan topping until just before baking, and keep it tightly wrapped in the fridge.
Then when you're ready to bake it, just sprinkle it with the topping, place it in the oven, and follow the original baking instructions. Easy peasy!
MAKE IT GLUTEN AND DAIRY FREE
Good news! If you want to make this already amazing recipe gluten and dairy free, the swaps are incredibly simple. I've personally tested this recipe with both oat and almond flour, as well as dairy-free butter and the results were just as good as the original.
If you need to make these swaps, go ahead knowing you'll get delicious results.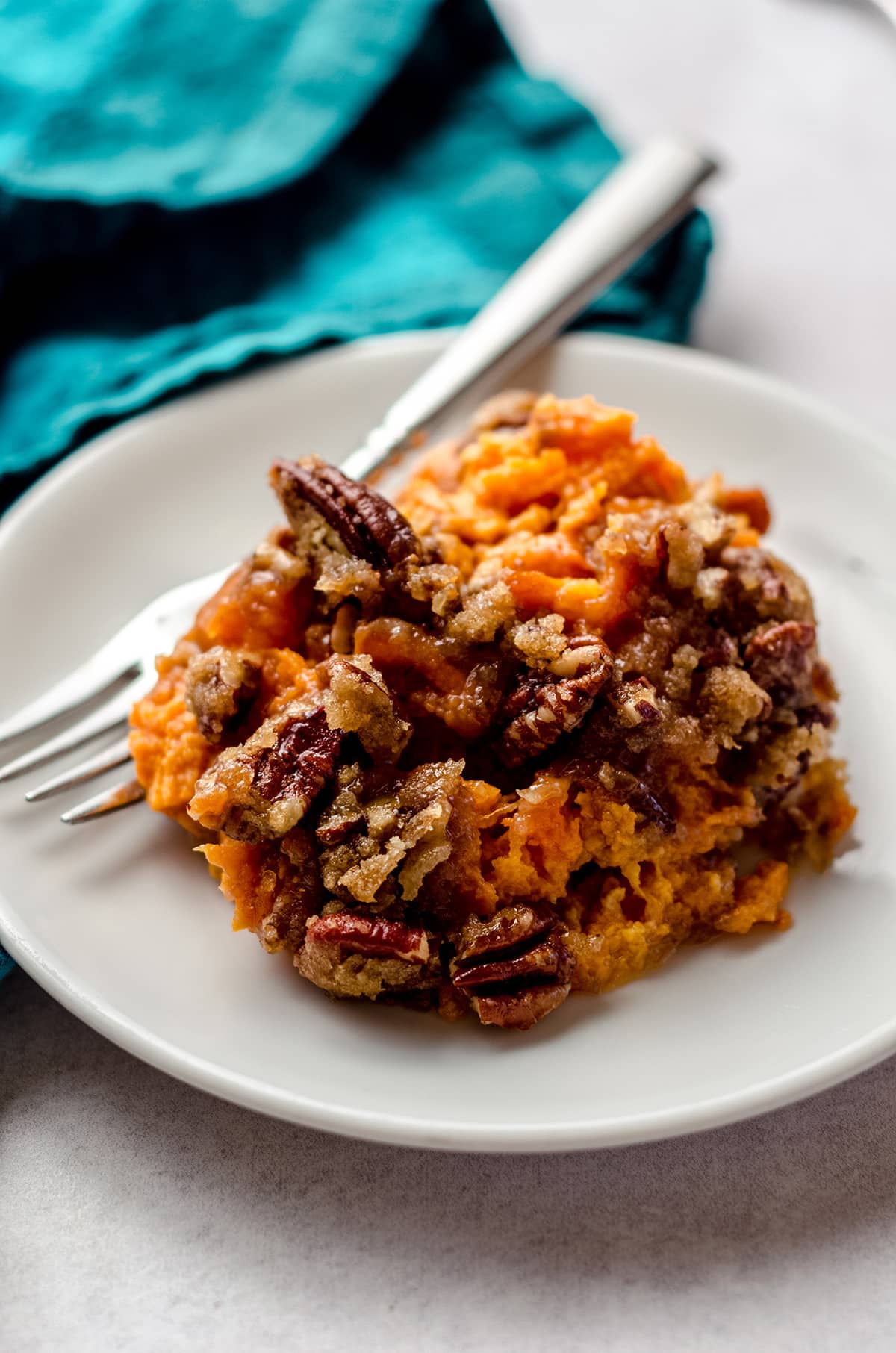 There is something about the humble pecan (do you pronounce it puh-kahn or pee-kan?) that touches my heart, and I don't know if it was because it was in so many holiday recipes growing up, or if it's just because it's delicious.
Either way, I highly recommend you try a few of my favorite recipes featuring this Southern tree nut. First, I have to offer up these adorable pecan pie tarts. Then, I introduce to you my chocolate chip pecan pie (a twist on the classic!), and finally these crunchy (yet chewy) pecan chocolate chip cookies.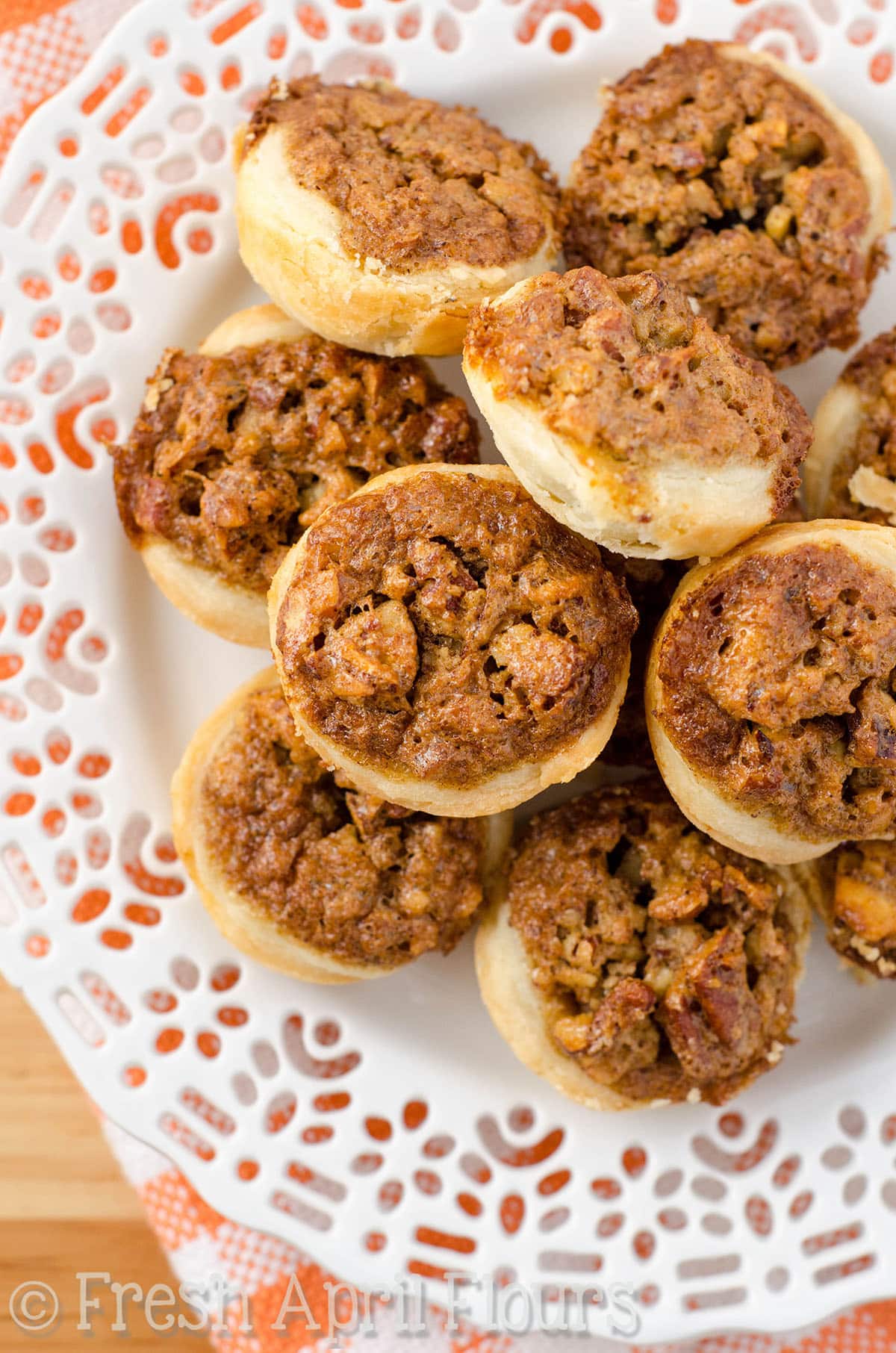 Round out the rest of your Thanksgiving sides: traditional bread stuffing, easy yeast rolls, Instant Pot garlic mashed potatoes, pumpkin pie, spiced cranberry sauce, and whipped cream!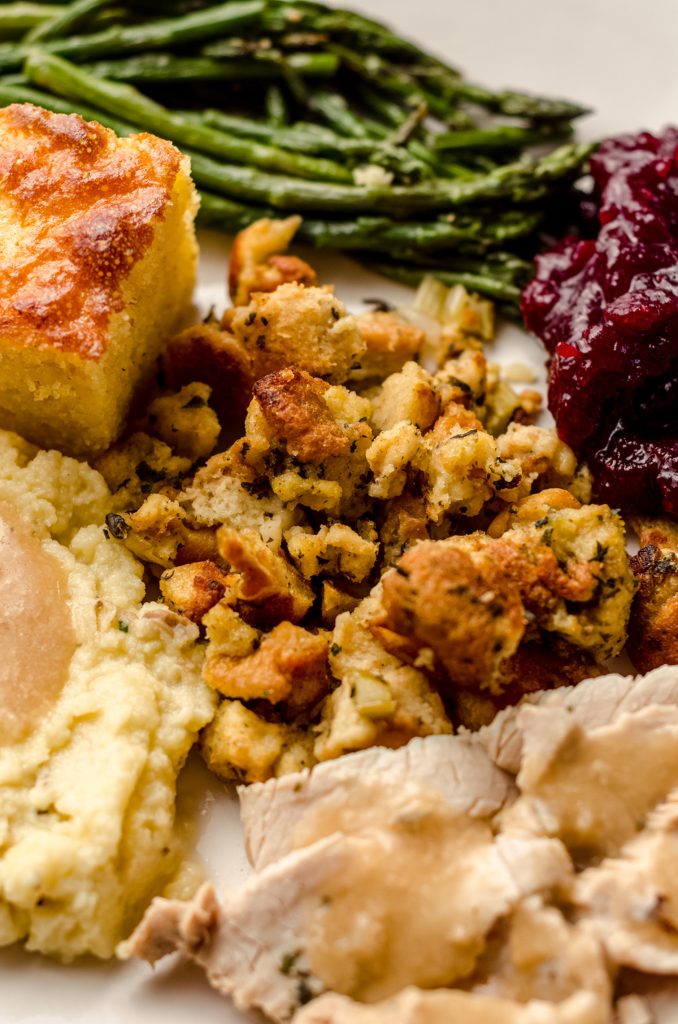 Sweet Potato Crunch Recipe
This easy sweet potato casserole is full of sweet and buttery mashed sweet potatoes and topped with a sweet, salty, and crunchy pecan topping.
Ingredients
PECAN TOPPING
½

cup

(100g) firmly packed light brown sugar

¼

cup

(30g) all-purpose flour

¼

cup

(57g) unsalted butter

melted

¼

teaspoon

salt

¾

cup

(90g) pecans

coarsely chopped
SWEET POTATO FILLING
4

medium

sweet potatoes

⅓

cup

(67g) granulated sugar

⅓

cup

(75g) unsalted butter

melted

2

large eggs

beaten

2

teaspoons

vanilla extract

1

teaspoon

salt
Instructions
Preheat the oven to 350ºF (177ºC).

Spray a casserole dish2 with nonstick spray. Set aside.
PECAN TOPPING
In a medium size bowl, combine the brown sugar, flour, melted butter, and salt. Toss with a fork to combine.

Add the chopped pecans, then stir again until everything is thoroughly combined. Set aside.
SWEET POTATO FILLING
Peel the sweet potatoes, then cut into 1-2" chunks.

Bring a large pot of water to boiling, add the cut sweet potatoes, then boil for 15-20 minutes, or until sweet potato chunks are fork-tender. Drain and allow to cool for 15 minutes.

When the sweet potatoes have cooled a bit, you are going to mash them. You can use the large pot you boiled them in or transfer them to a large bowl. Mash cooked sweet potatoes with a handheld electric mixer, a potato masher, or, if they're soft enough, with a large fork. I like to keep some larger chunks of sweet potatoes in my casserole, but mash to your desired consistency.

Once your sweet potatoes1 are mashed, add the granulated sugar, melted butter, eggs, vanilla extract, and salt. Stir to combine.

Pour the sweet potato mixture into the prepared baking dish. Sprinkle the pecan topping evenly over the top of the sweet potatoes, then bake the casserole for 30-35 minutes. Allow to cool slightly before serving. Store leftovers covered tightly in the refrigerator up to 4 days. Pecans will lose their crunch, but still be totally fine to eat. Baked casserole freezes well, up to 3 months. Thaw in the refrigerator then bake in a 200ºF (93ºC) oven until warmed through.

Make ahead: prepare casserole through adding the pecan topping, then freeze for up to 3 months. Thaw in the refrigerator, then proceed with baking instructions. I highly recommend leaving off the pecan topping before freezing and adding it just before baking it to preserve the crunch of the pecans. You can also prepare this casserole up to 2 days in advance and store in the refrigerator until ready to bake. Again, I encourage you to leave off the pecan topping until just before baking, but you can add it whenever makes sense for your preparation, if needed.
Notes
Sweet potatoes: you're looking for about 4 heaping cups of sweet potatoes for this casserole.
Casserole dish: I used a rectangular 2 quart casserole dish, but this could easily fit in an 8″ or 9″ square baking pan. If you would like to use a 9″ x 13″ baking dish, the layer of sweet potatoes will just be on the thinner side.
Make gluten and/or dairy free: this recipe has been tested with oat and almond flour as well as dairy free butter without issue.
Nutrition Disclosure
All nutritional values are approximate and provided to the reader as a courtesy. Changing ingredients and/or quantities will alter the estimated nutritional calculations.
Serving:
1
serving
|
Calories:
318
kcal
|
Carbohydrates:
39
g
|
Protein:
4
g
|
Fat:
17
g
|
Saturated Fat:
8
g
|
Polyunsaturated Fat:
2
g
|
Monounsaturated Fat:
6
g
|
Trans Fat:
0.4
g
|
Cholesterol:
61
mg
|
Sodium:
358
mg
|
Potassium:
370
mg
|
Fiber:
4
g
|
Sugar:
22
g
|
Vitamin A:
13208
IU
|
Vitamin C:
2
mg
|
Calcium:
50
mg
|
Iron:
1
mg