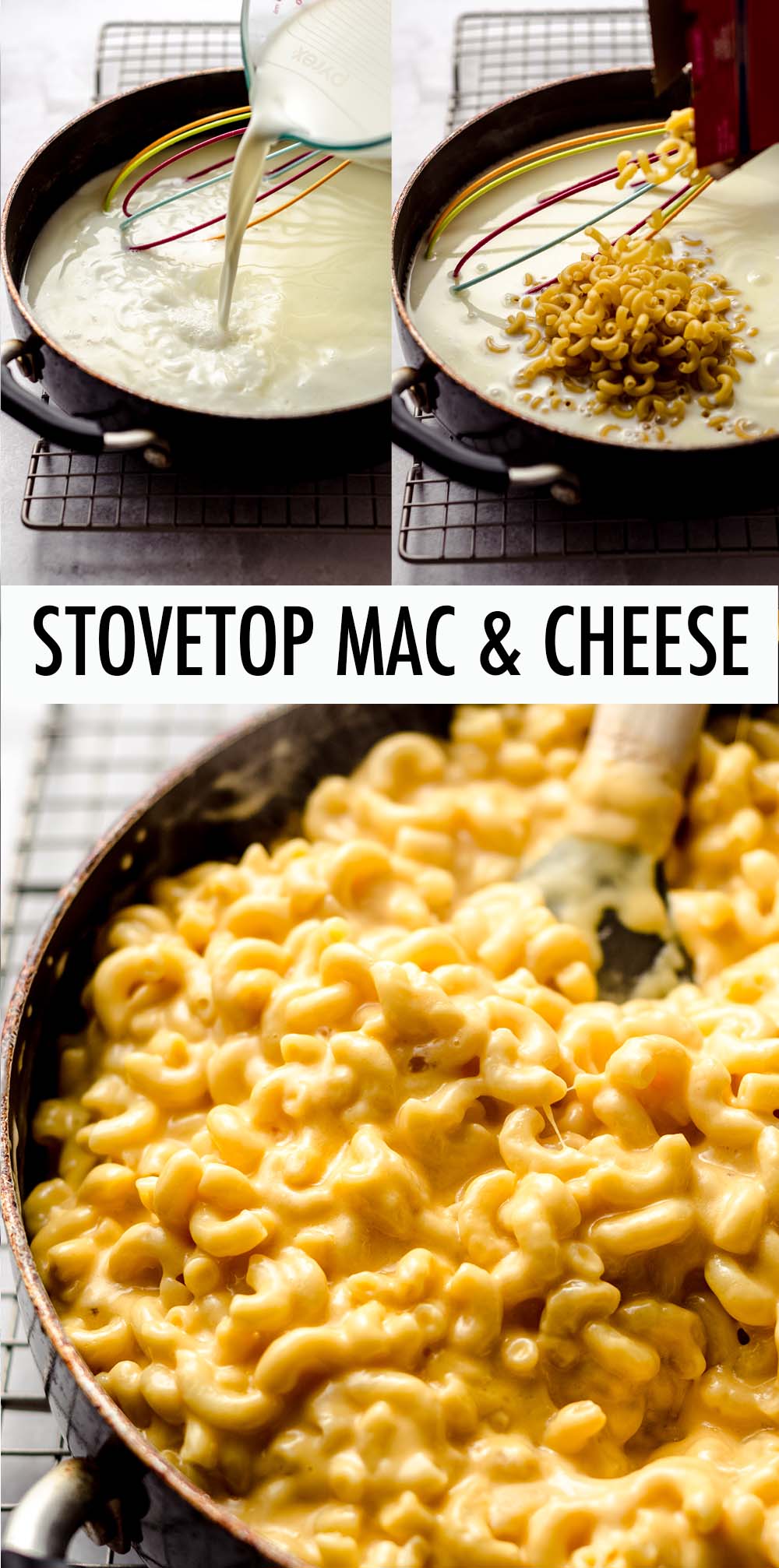 As an Amazon Associate, I earn from qualifying purchases. Read the full disclosure here.
This easy mac and cheese recipe is made completely on the stovetop and without any odd ingredients. Have your side dish or main course on the table in under 30 minutes!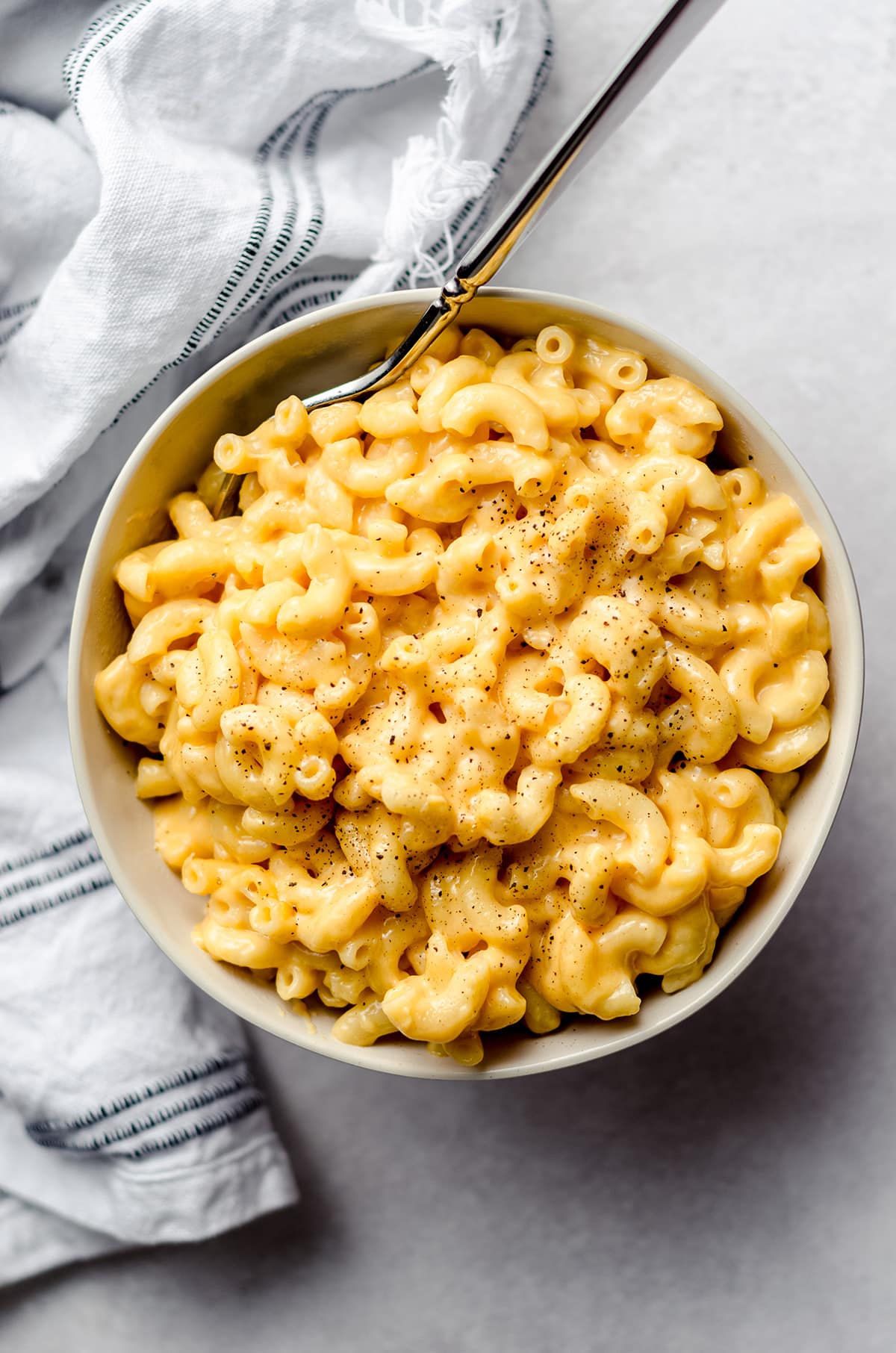 When it comes to foods that are deeply personal, mac and cheese floats pretty close to the top of the list. Perhaps only outranked by cornbread and biscuits, this classic comfort food is one that we often hold near and dear to our hearts.
I mean, what's not to love? Tender macaroni noodles encased in a creamy, cheesy sauce, served warm and ready to eat without any fussy flavors or textures. It's a food that's always safe, always there, and always delicious.
This recipe for stovetop mac and cheese is easy, cheesy (obviously), and as comforting as any bowl of mac and cheese would be – whether it be boxed, or topped in mounds of fancy cheeses.
But what it offers is all the simplicity of a box of macaroni cheese, with that from-scratch and homemade flavor of more complicated recipes. It's ready in far less than 30 minutes and provides all the comforting creaminess you want from a bowl of this childhood classic.
WHY THIS RECIPE?
I set out on a mission this year to create a creamy stovetop mac and cheese recipe that had several requirements. First, it needed to be really easy. Second, it had to be as simple as boxed mac and cheese. And lastly, it had to make sense for busy weeknights and very possibly not involve an oven.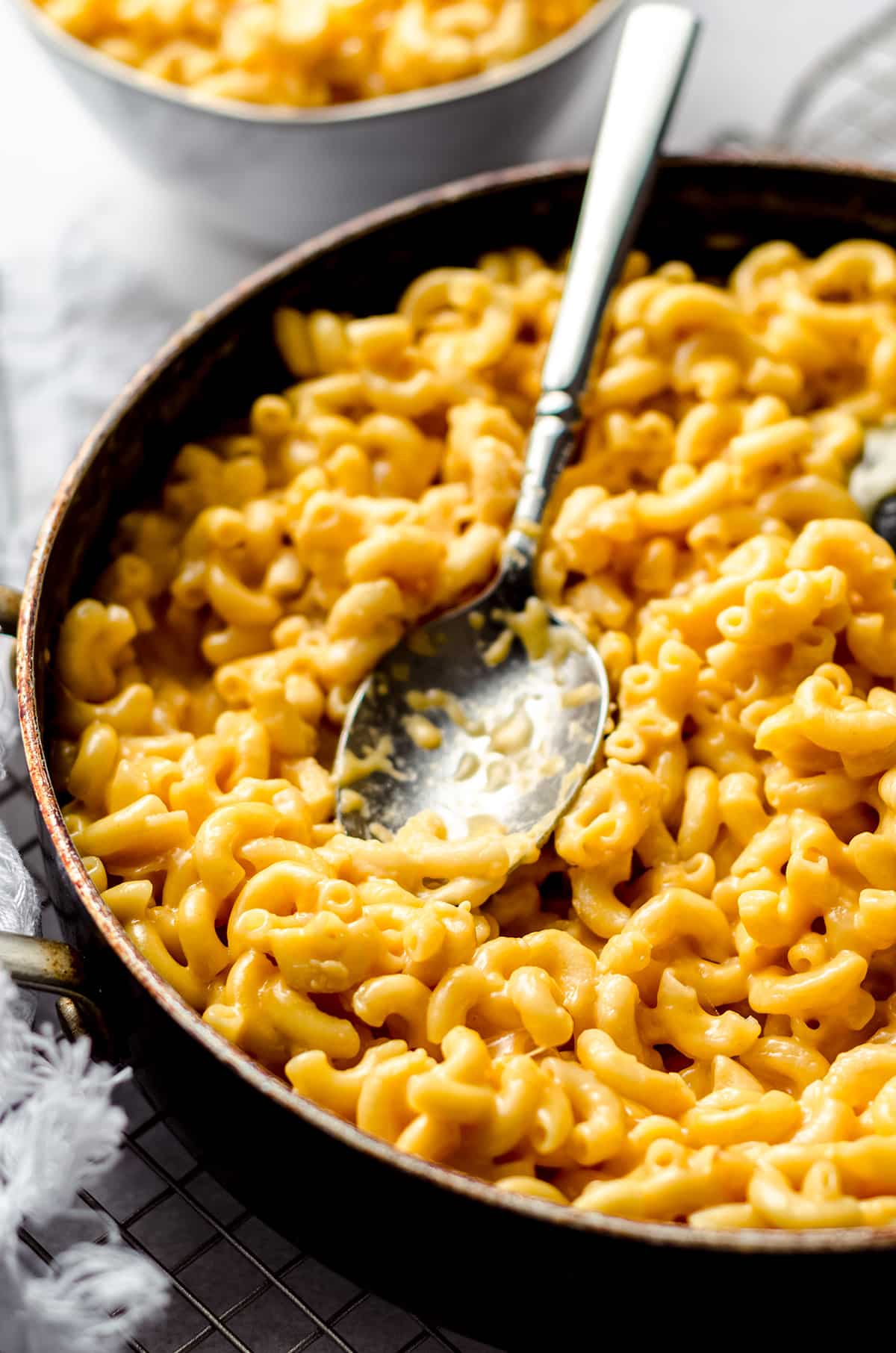 Because so many of my readers want the same for their recipes.
I asked my Insta followers for their favorite, go-to, ultimate comfort food, best cheesy homemade recipe for mac and cheese. I pilfered through all of the recipes from grandma, Alton Brown, Paula Deen, someone's great aunt, and church elders, and you know what? I found a lot of weird stuff.
Strange ingredients, odd methods, things that were just not on my list of "must haves" for the best stovetop mac and cheese recipe for my readers.
So I got to testing, made several batches of stovetop macaroni and cheese. Want to know what I learned? That you can have a really incredible classic mac and cheese without ground mustard, hot sauce, heavy cream, Velveeta, bread crumbs, tomatoes, ground nutmeg, sour cream, dijon mustard, or cayenne pepper.
Yes, these were all actual ingredients in actual recipes I got from folks who said they were musts.
And listen… There is nothing wrong with any mac and cheese recipe that has one, some, or all of these ingredients in it. But the perfect recipe, to me, means I don't need to go to the store and I definitely won't wind up with a spice I'll never use again.
So, my friends… Here it is! My favorite recipe for mac and cheese, made completely on the stovetop that the whole family will enjoy (yes, I even tested it on some picky eaters)!
INGREDIENTS
One of the best things about this easy stovetop mac and cheese is the ingredients. The list is pretty short, and can easily be made with items you probably already have on hand.
While so many homemade macaroni and cheese recipes are delicious and decadent, there are very few that address the need for simplicity.
If I'm reaching for a box of mac and cheese in the cupboard, it's because I want something my kids will eat without coaxing and something that is ready in less than 20 minutes.
This recipe for stovetop mac and cheese speaks to those issues since it can be prepared in one pot, is a no-drain recipe, and doesn't require any additional steps or strange ingredients.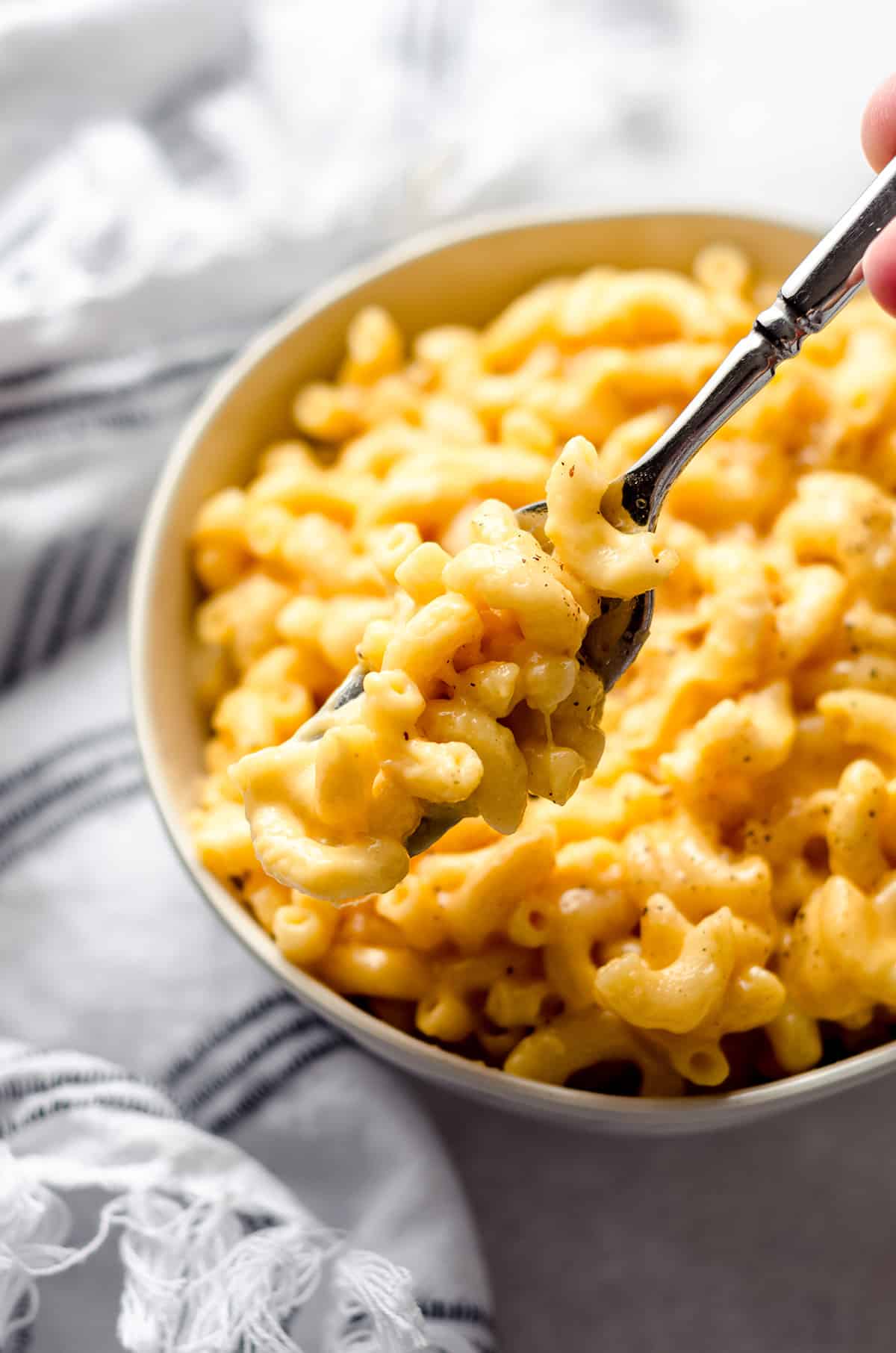 All you need is butter, flour, water, milk, seasonings (salt, garlic powder, onion powder), elbow macaroni, and shredded cheese. See what I'm talking about?
What you get is all of the convenience of a box, but made from scratch using real ingredients you keep on hand. I think that sounds like a delicious (and easy) compromise, don't you?
CAN I USE PRE-SHREDDED CHEESE?
If you're making homemade mac and cheese, I highly recommend using cheese that you shred yourself off of the block. It doesn't take a whole lot of extra time, and I promise the results are worth it.
Store-bought pre-shredded cheeses contain anti-caking additives, which prevent them from melting completely smooth, giving the finished sauce a grainy texture. For this reason, I recommend shredding your own sharp cheddar cheese.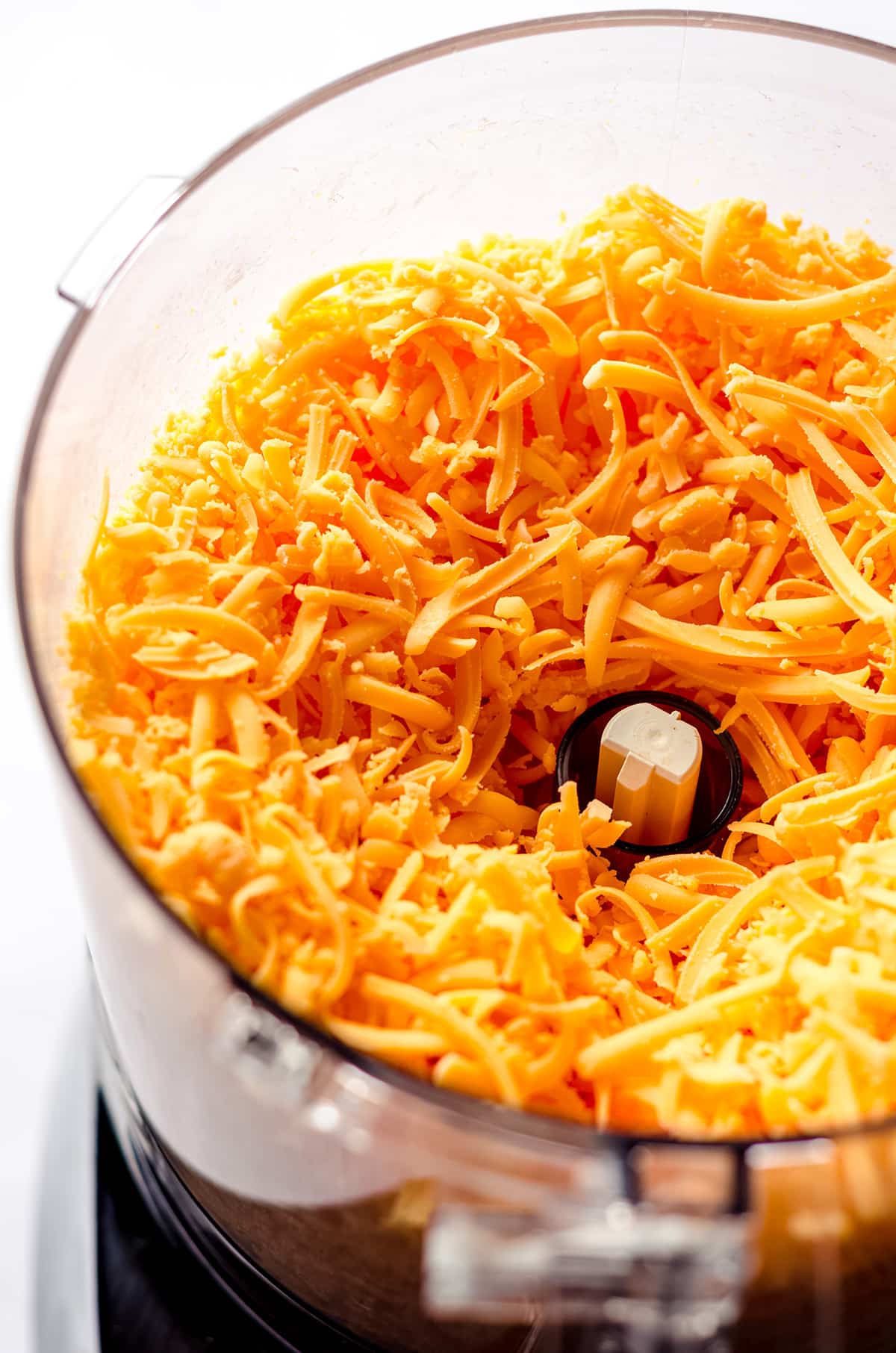 As a time-saving tip, try using your food processor!
Mine comes with a shredding plate, making shredding cheese a total cinch – and most of the parts can go in the dishwasher. You can even shred your cheese in large amounts, portioning it into zipper bags and stashing it in the freezer for later use.
HOW TO MAKE STOVETOP MAC AND CHEESE
You're going to love how simple this recipe is. The hardest part is pronouncing "roux" correctly (spoiler alert: it's pronounced "roo").
MAKE A ROUX
Like so many good, classic comfort foods, this stovetop mac and cheese recipe starts with a roux. If you've never made one before, you might be kind of intimidated, but I promise it's super simple!
To make your roux, add a large pot (or a deep saucepan) over medium heat. Add the butter once the pot is hot, and swirl to coat.
Once the butter is fully melted (and starting to sizzle a bit), add the flour and whisk until combined.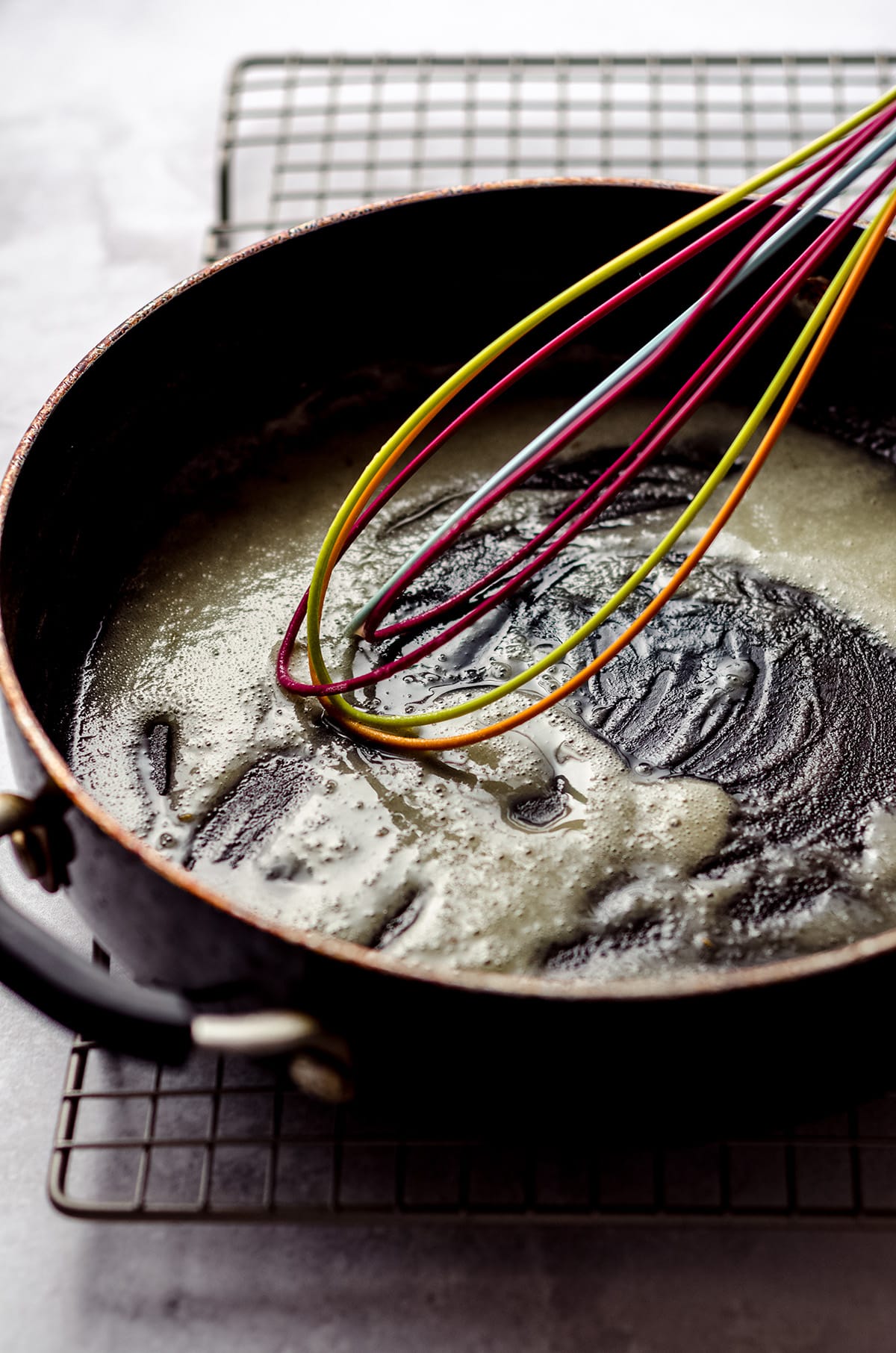 Allow it to cook for a minute or so, whisking pretty much constantly to prevent burning. You're just trying to eliminate any raw flour taste, which really doesn't take that long to do.
ADD THE LIQUID
Then add in the water (2 cups) and whisk until completely smooth, ensuring to whisk out any lumps. Once the water is fully incorporated, add in the milk and whisk again until the sauce is lump-free.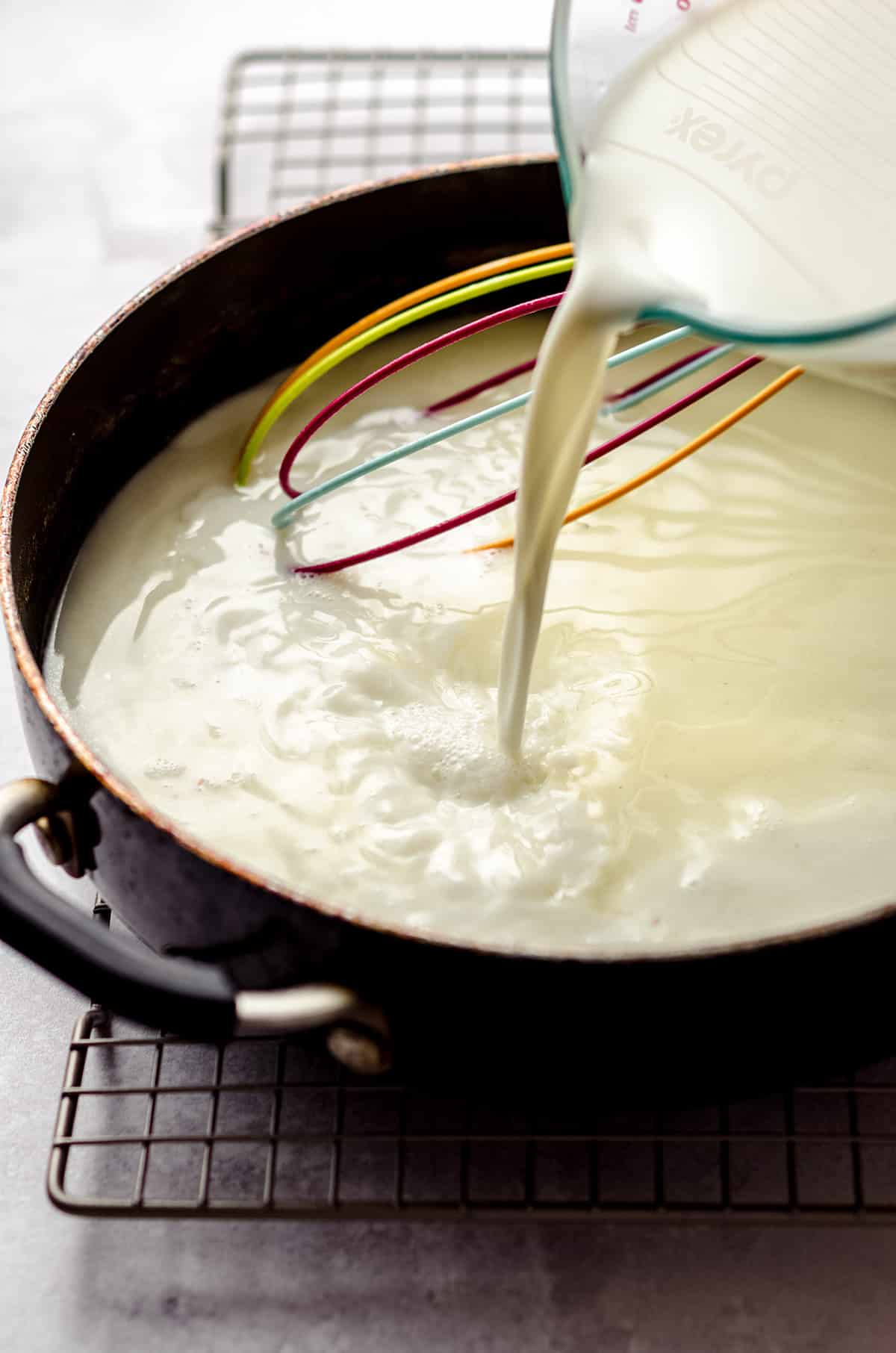 Then add in the salt, garlic powder, and onion powder to season the creamy base, and whisk until everything is well combined and smooth.
If this looks kind of watery right now, no worries! Unlike many mac and cheese recipes, this one is a no-drain recipe, meaning the noodles are going to cook right in with the sauce. So that water we added in earlier? Yep, that's for cooking the macaroni!
ADD THE UNCOOKED NOODLES
Once all of the liquid and seasonings have been added to the initial roux, add the macaroni elbows and increase the heat to bring the mixture to a boil.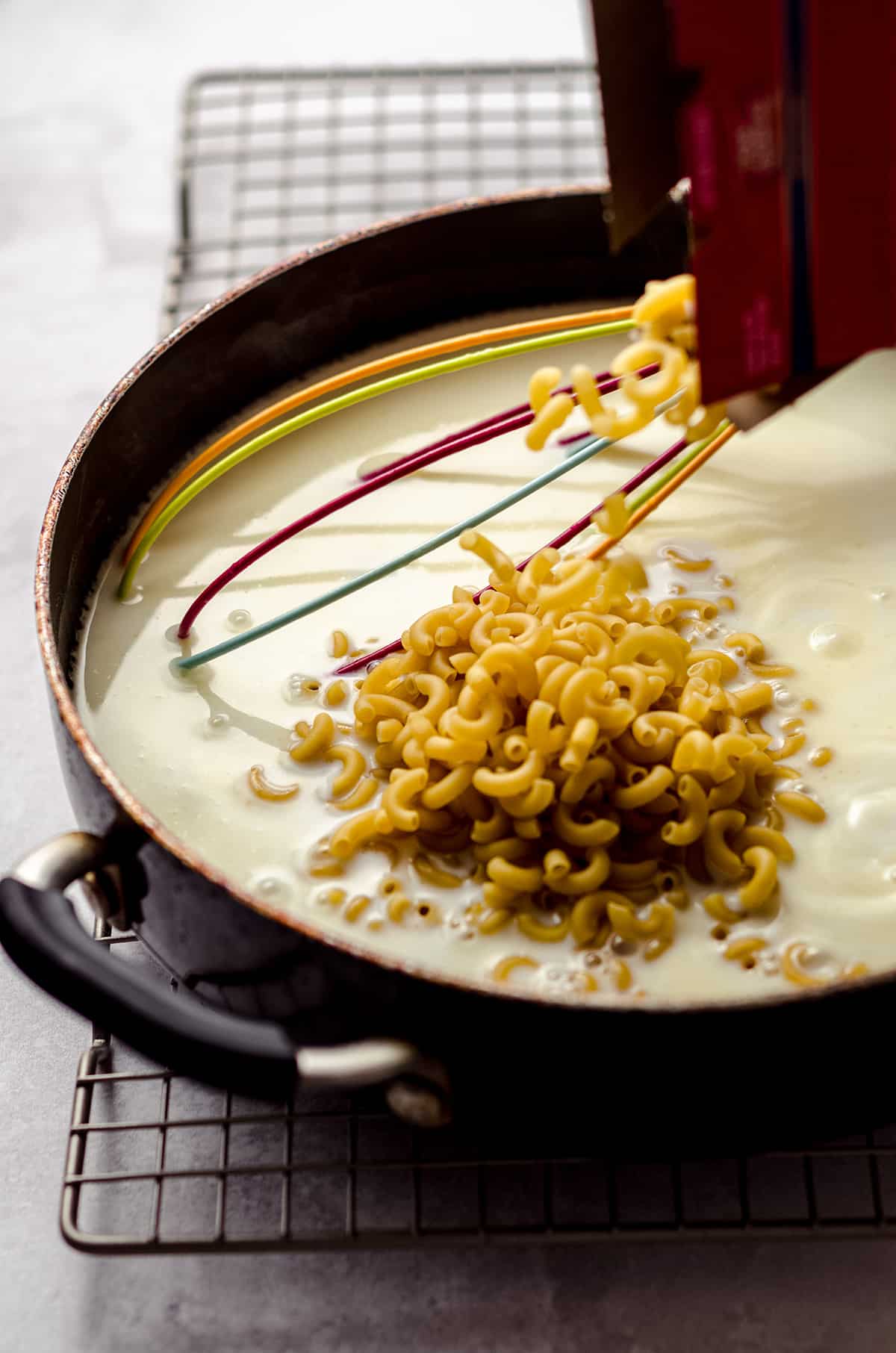 As soon as a boil has been reached, immediately turn down the heat to just a simmer. Stir constantly, maintaining at a simmer for 6 minutes, or until the noodles are at your desired level of doneness and tenderness (I like mine on the al dente side).
It's SO important to maintain a simmer here, avoiding both going too low with the temperature, or too high with the temperature.
If the heat is too high, the liquid will evaporate more quickly than it can be absorbed by the macaroni, resulting in your mac and cheese being underdone.
If the heat is too low, not enough liquid will evaporate and it will be on the soupy side. So for the best results, adjust the temperature as needed to maintain a true simmer.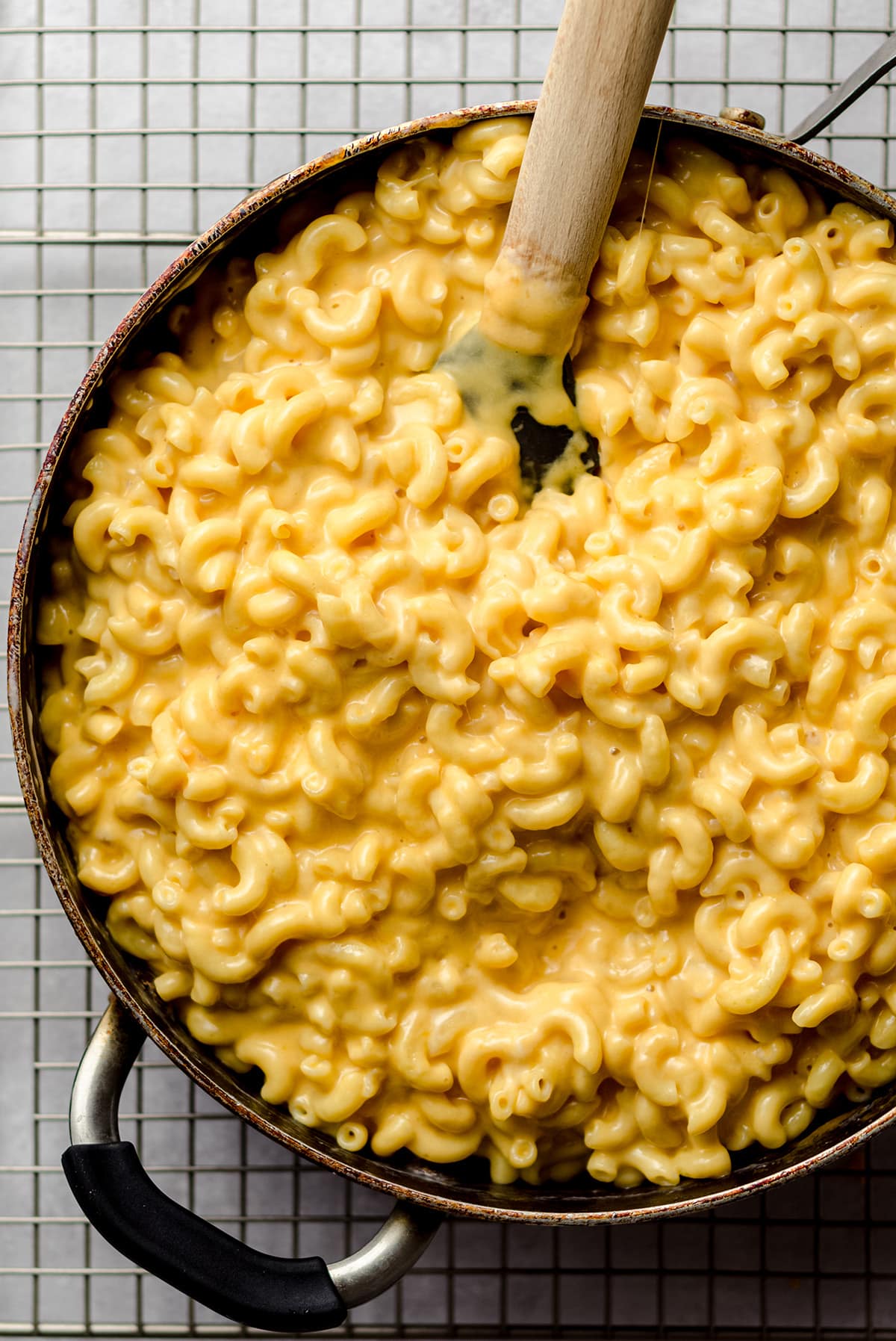 If you find that there is too much liquid left after the noodles are completely cooked, you can easily remove some of the liquid. Just keep in mind that the macaroni will absorb some of the liquid as it cools, thickening the sauce up.
ADD THE CHEESE
Once your noodles are cooked to your liking, reduce the heat to low and add in 4 cups of shredded cheddar cheese (feel free to use a combination of cheeses you like– remembering to shred off the block, if you can!) stirring it until it melts into a smooth, creamy sauce.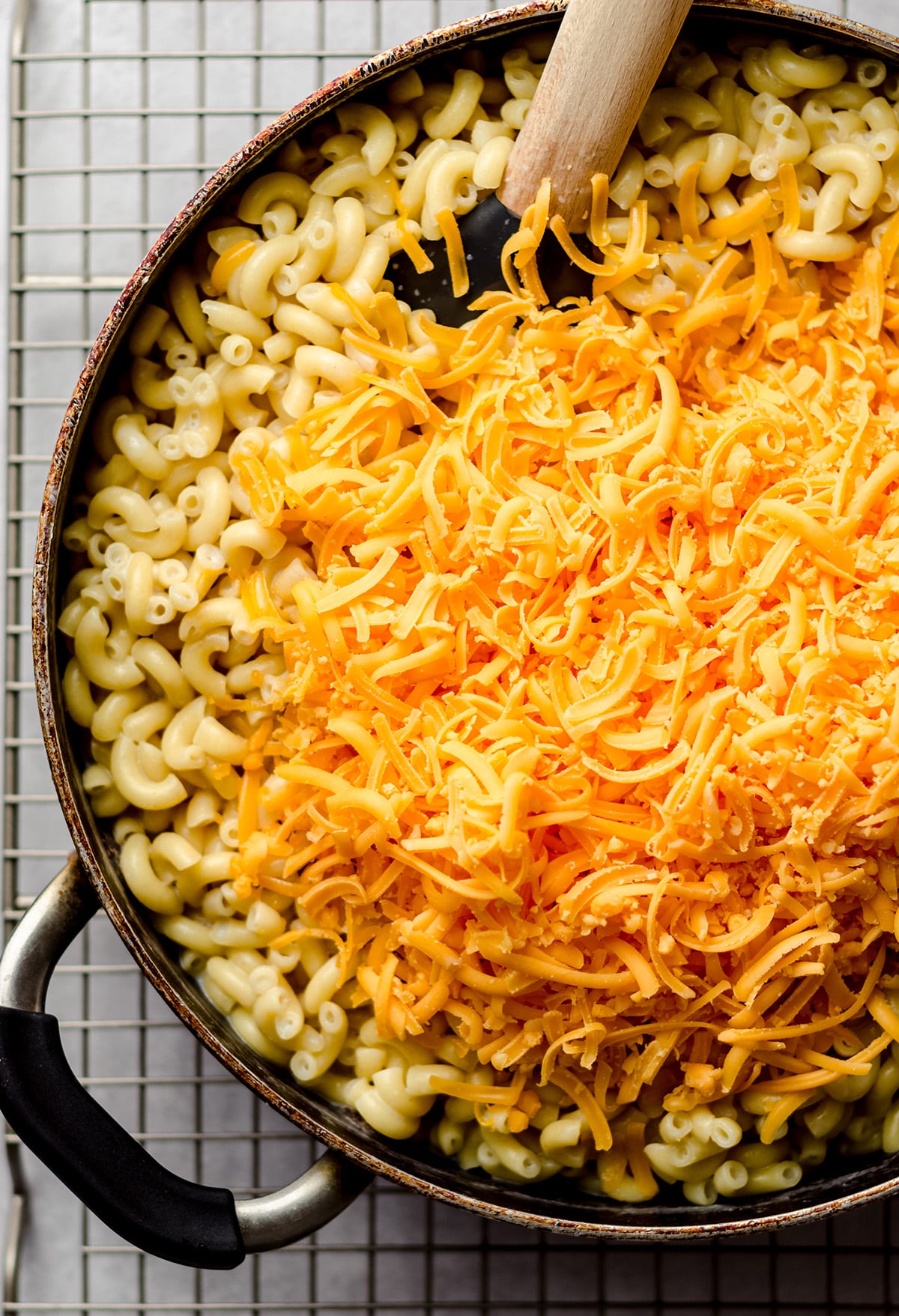 Once the sauce is creamy and uniform, scoop the mac and cheese into bowls and serve immediately. Top with additional shredded cheese if you like, but personally? I find this recipe has more than enough cheesy goodness all on its own.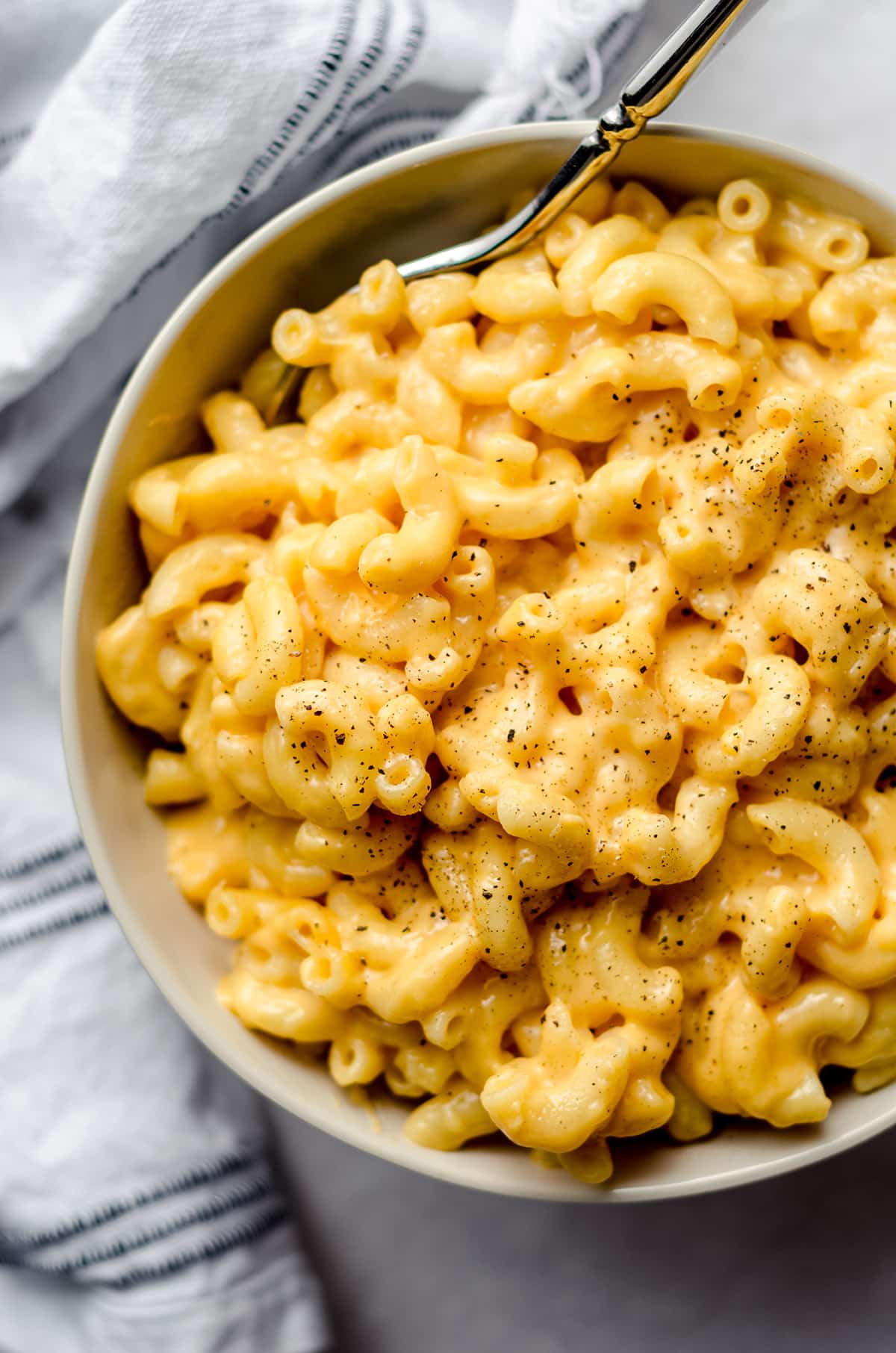 If you have kids and they are anything like mine, they are going to be totally obsessed with this and you will likely have zero leftovers.
How is it that kids can only manage approximately one floret of broccoli, but endless amounts of mac and cheese? If you find out the answer, let me know because I'm still wondering how it's possible!
But if you do have leftovers, you can store them tightly covered in the refrigerator for up to about 5 days. I like to reheat it with a touch of water or milk since pasta tends to be a bit dry after storing it in the refrigerator.
If you want to, you can even freeze any leftovers. Place them in freezer containers or bags and freeze them for up to 3 months. Then just thaw in the refrigerator before reheating and serving.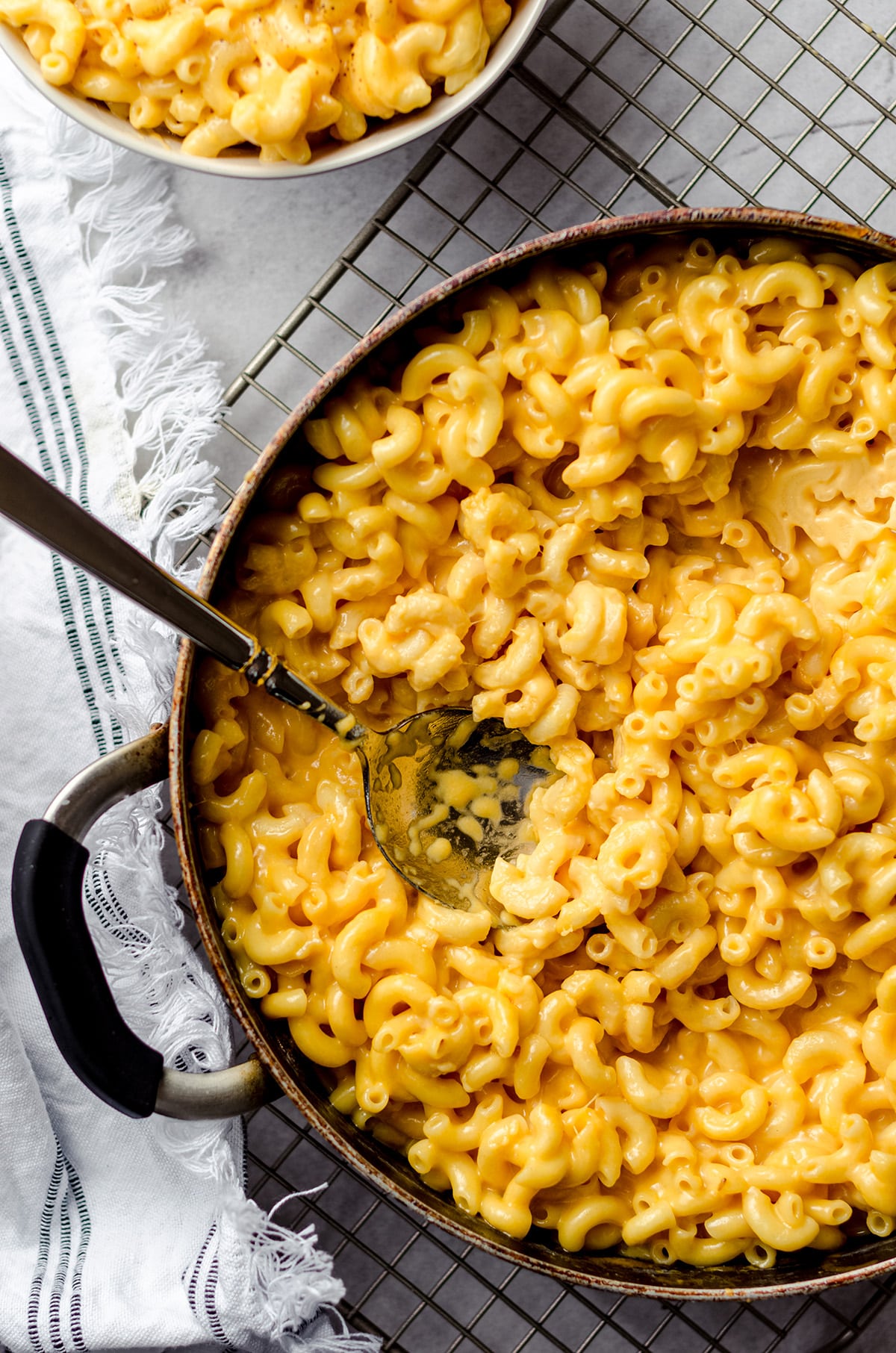 CAN I MAKE THIS AHEAD OF TIME?
If you want to make stovetop mac and cheese ahead of time, you totally can! I do prefer the taste and texture of fresh, but it's still super delicious when reheated.
You can choose to make it up in advance and store it in the fridge (for up to 5 days), or in the freezer (up to 3 months) and reheat it once you're ready to serve. As I mentioned earlier, adding a bit of water or milk prevents it from being on the dry side.
Alternatively, you can prepare it and transfer it to a casserole dish. Then, when you're ready to serve you can top it with buttered breadcrumbs and bake it in the oven like you would a casserole-style version of macaroni and cheese. Totally up to you and your preferences.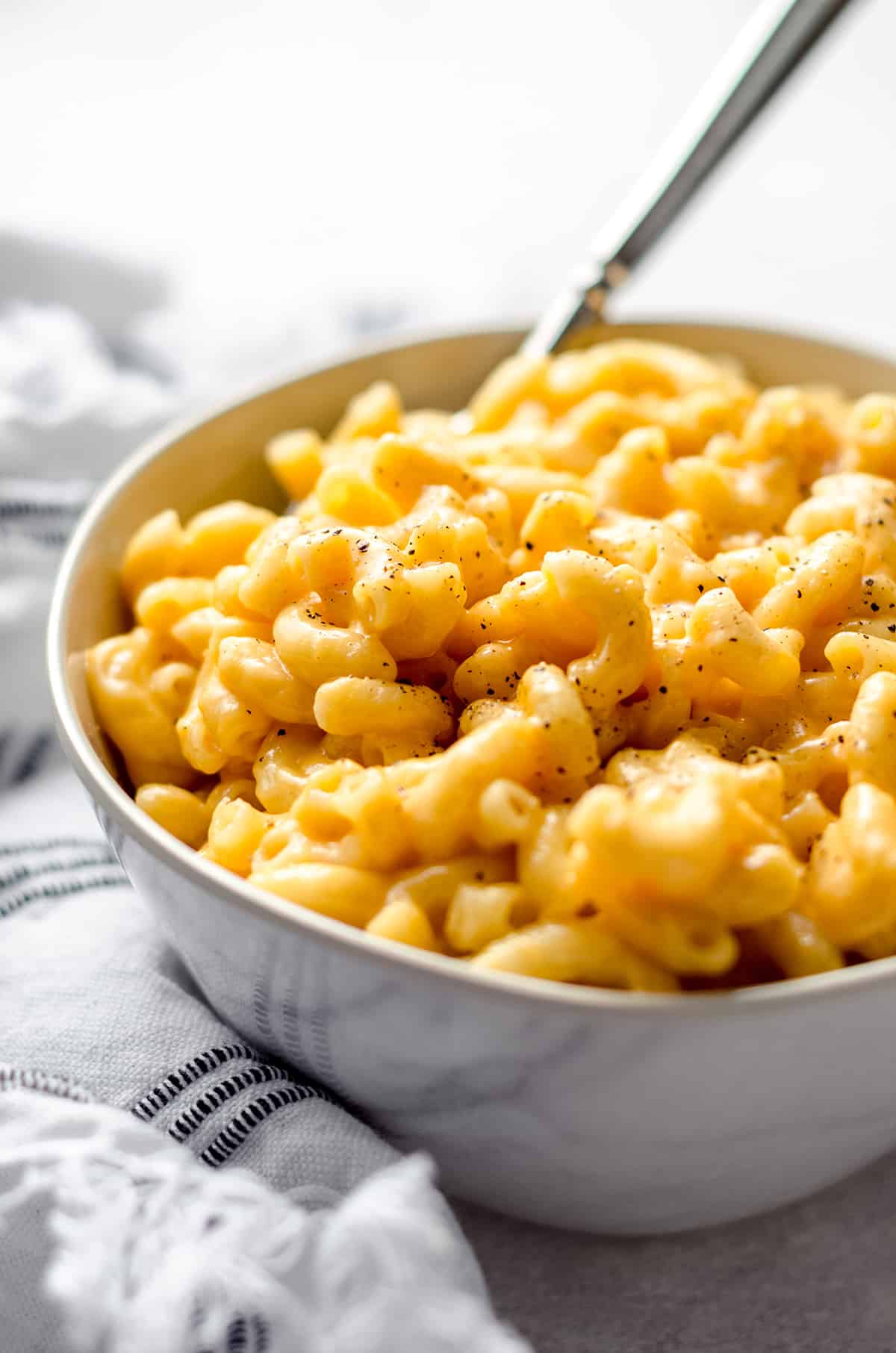 If you're looking for more quick, easy, comforting meals that also happen to be kid-friendly, I've got you covered. This popular recipe for tortilla pizza is always one I keep in my back pocket, ready for when pizza cravings suddenly hit.
I also love making easy sheet pan meals like these sheet pan quesadillas, or a homemade sheet pan pizza (yes, we love pizza, but who doesn't!?). Another favorite is having breakfast for dinner, giving my make-ahead breakfast casserole time to shine.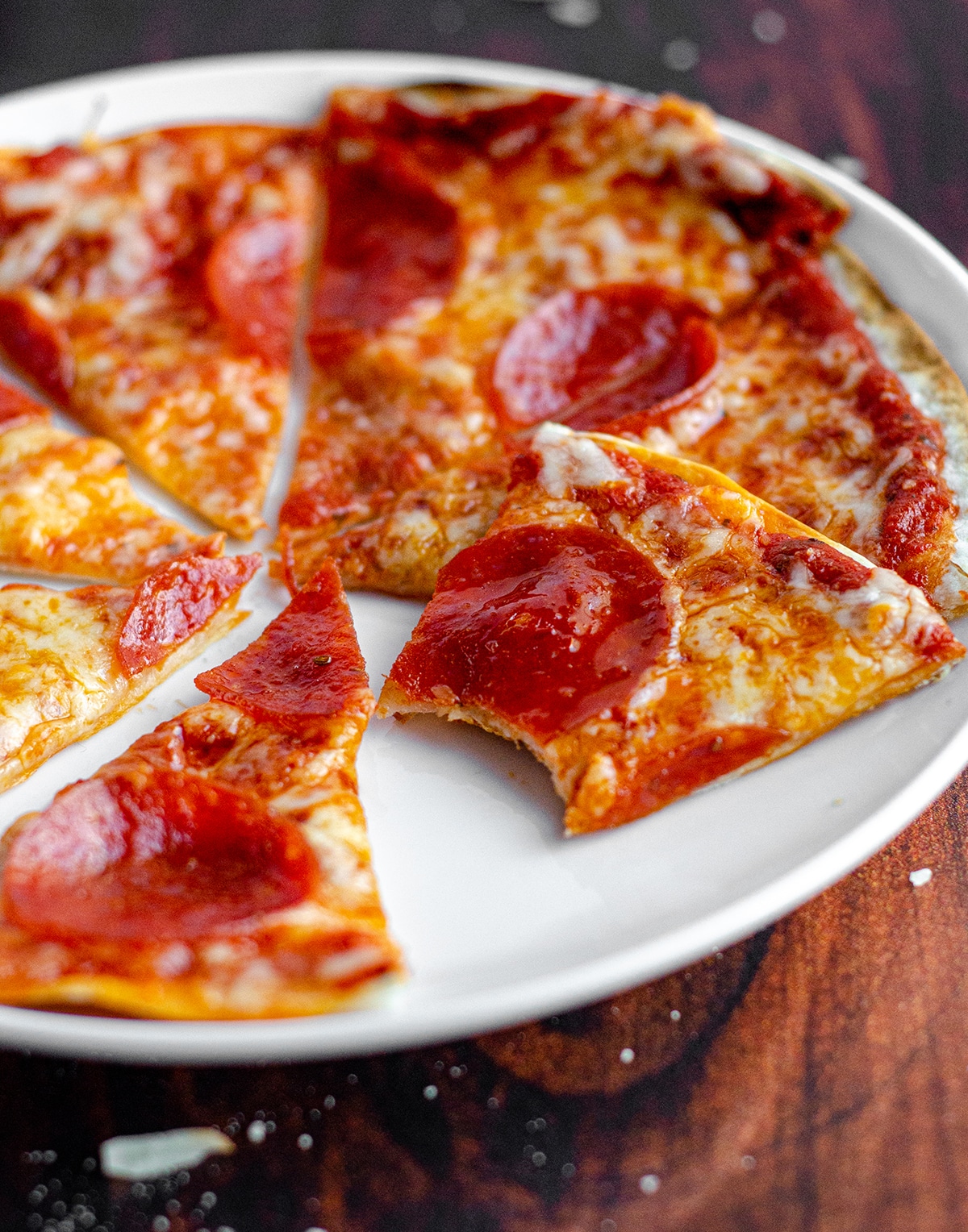 Easy Stovetop Mac and Cheese Recipe
This easy mac and cheese recipe is made completely on the stovetop and without any odd ingredients. Have your side dish or main course on the table in under 30 minutes!
Ingredients
2

Tablespoon

(28g) unsalted butter

2

Tablespoons

(15g) all-purpose flour

2

cups

(480mL) water

4

cups

(960mL) milk

I prefer whole

1

teaspoon

salt

¼

teaspoon

garlic powder

¼

teaspoon

onion powder

1

pound

(454g) elbow macaroni

uncooked

4

cups

(452g) shredded cheddar cheese1
Instructions
In a large pot or deep saucepan, melt the butter over medium heat. Add the flour, then whisk until combined.

Add the water and whisk mixture until smooth. Add the milk and whisk again until everything is combined.

Add the salt, garlic powder, and onion powder and whisk one more time until combined.

Add the uncooked macaroni elbows then increase the heat to bring the mixture to a boil. Immediately turn down the heat and simmer2 the mixture while stirring constantly for 6 minutes, or until the noodles are at desired tenderness.

Reduce the heat to low, then stir in the shredded cheese until smooth. Serve immediately. Store leftovers covered tightly in the refrigerator up to 5 days. Mac and cheese freezes well, up to 3 months. Thaw in the refrigerator.
Notes
Shredded cheese: I highly recommend shredding cheese off the block for this mac and cheese recipe. Pre-shredded cheese has anti-caking additives on it that inhibit melting completely smooth.
Simmer: it's imperative the heat isn't too high so that the liquid evaporates too quickly. Adjust the temperature as needed. You can always remove some of the liquid after the noodles are completely cooked if you think it's too wet. Keep in mind, though, that the noodles will absorb moisture as they sit.
Nutrition Disclosure
All nutritional values are approximate and provided to the reader as a courtesy. Changing ingredients and/or quantities will alter the estimated nutritional calculations.
Serving:
1
serving
|
Calories:
364
kcal
|
Carbohydrates:
34
g
|
Protein:
17
g
|
Fat:
18
g
|
Saturated Fat:
10
g
|
Polyunsaturated Fat:
1
g
|
Monounsaturated Fat:
4
g
|
Trans Fat:
0.1
g
|
Cholesterol:
52
mg
|
Sodium:
476
mg
|
Potassium:
238
mg
|
Fiber:
1
g
|
Sugar:
5
g
|
Vitamin A:
568
IU
|
Vitamin C:
0.01
mg
|
Calcium:
377
mg
|
Iron:
1
mg