Make Ahead Breakfast Casserole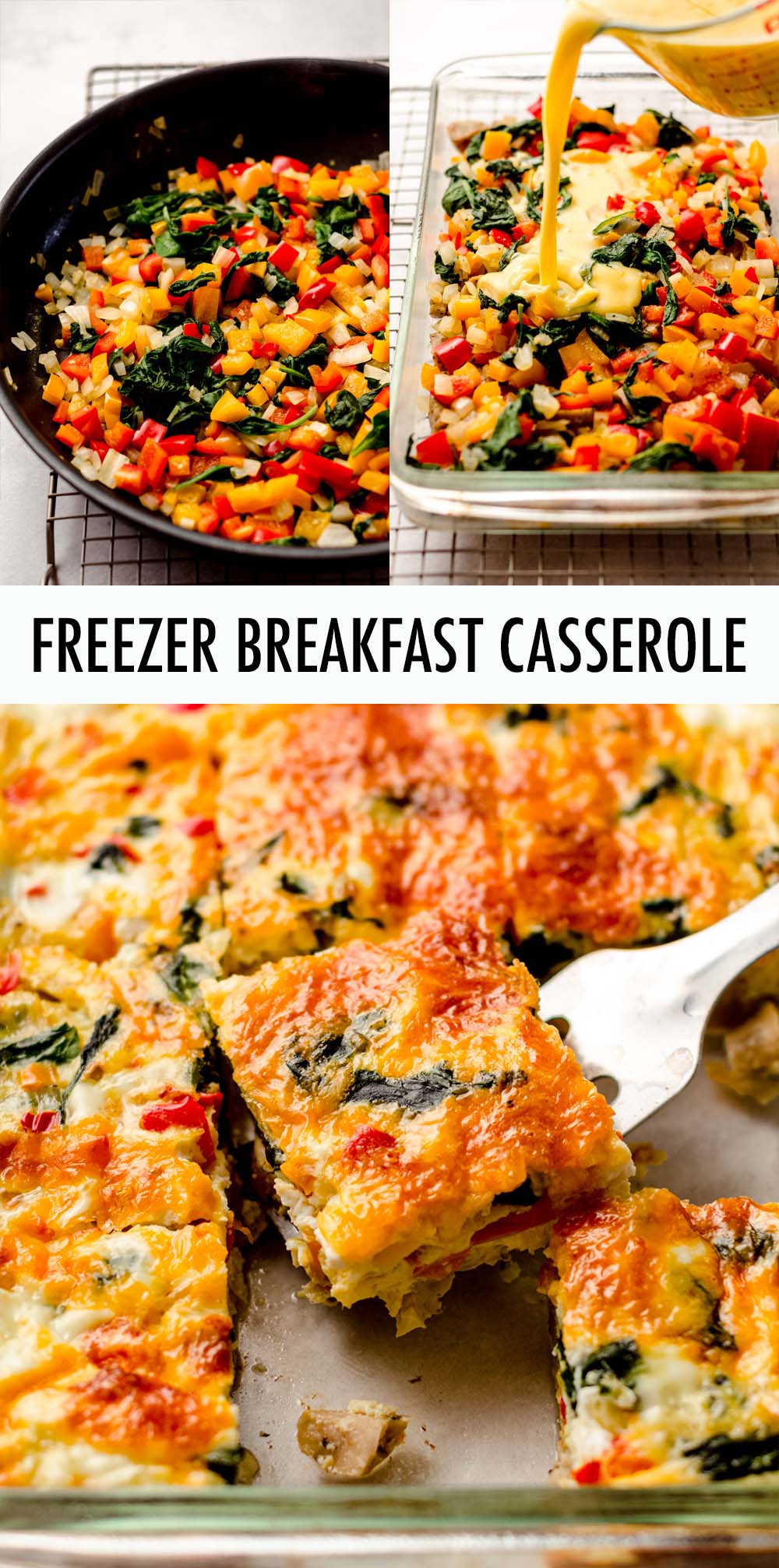 As an Amazon Associate, I earn from qualifying purchases. Read the full disclosure here.
This overnight sausage, vegetable, and egg casserole can be baked right away, made up to a day in advance, or frozen for easy entertaining. Completely customizable and great for feeding a crowd!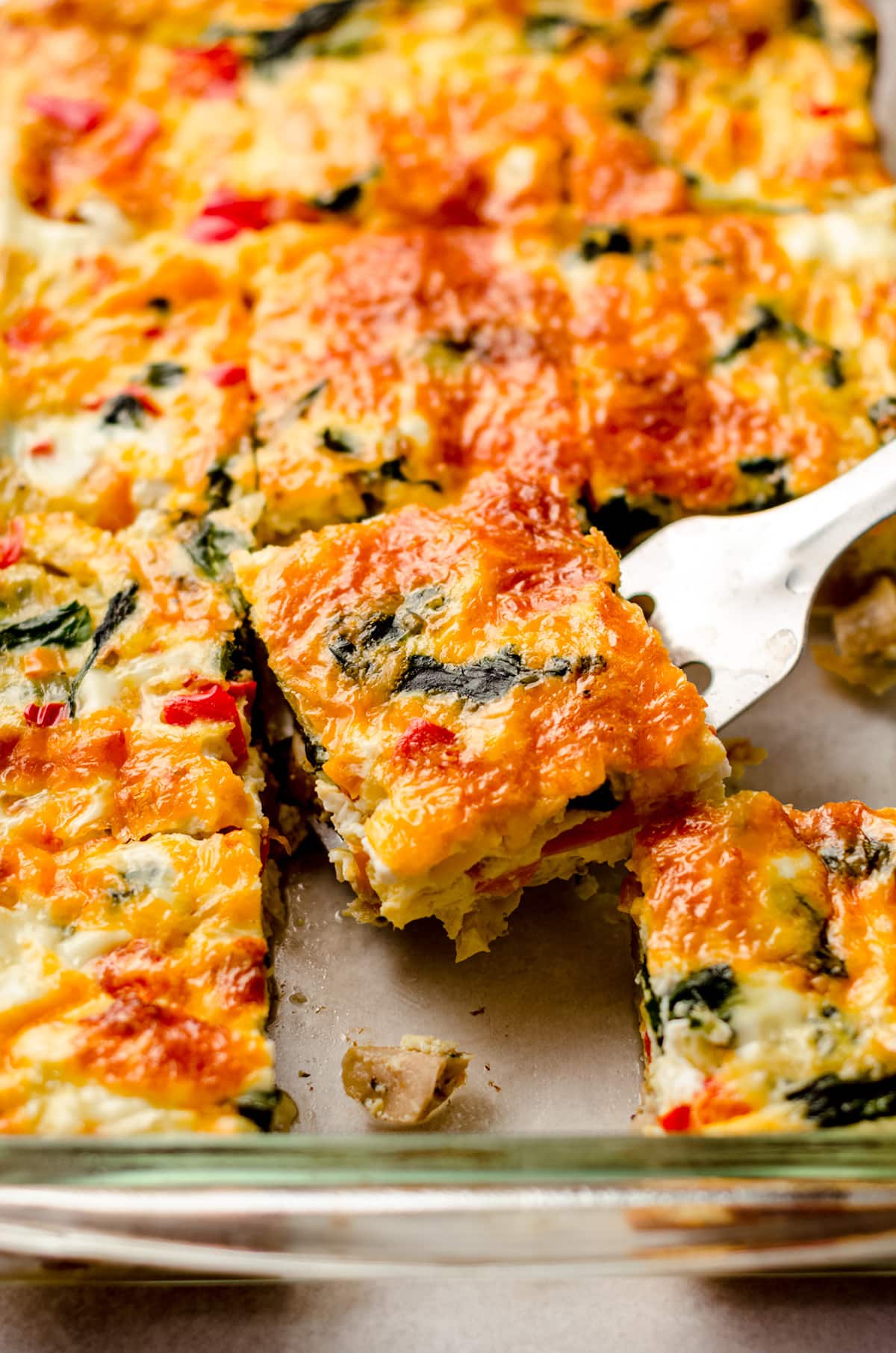 Maybe this is your first time stumbling upon this easy breakfast casserole, or maybe you've been here a time (or seven) before. Whatever brings you here, know that this is one of my most tried and true recipes and you are not going to leave disappointed!
Many years ago, when we had our first son, I filled my site with make ahead recipes recipes that were simultaneously filling our refrigerator and freezer. I made so many muffins, a double batch of buffalo chicken chili, an overnight French toast casserole, and had this make ahead breakfast casserole on repeat so many times that summer.
That kiddo is now in school, and this is still the best breakfast casserole recipe I have that graces our oven at nearly every holiday, is often handed over to a family with a new baby, and has proved to be a reader favorite (you can see how many 5 star reviews it has!).
THE ADVANTAGE OF A MAKE AHEAD MEAL
I think everyone's definition of a "make ahead meal" is different. Some folks might mean you can prepare ahead of time and bake on demand, others might be looking for something that you can prepare and then freeze in its pre-baked state or its post-baked state.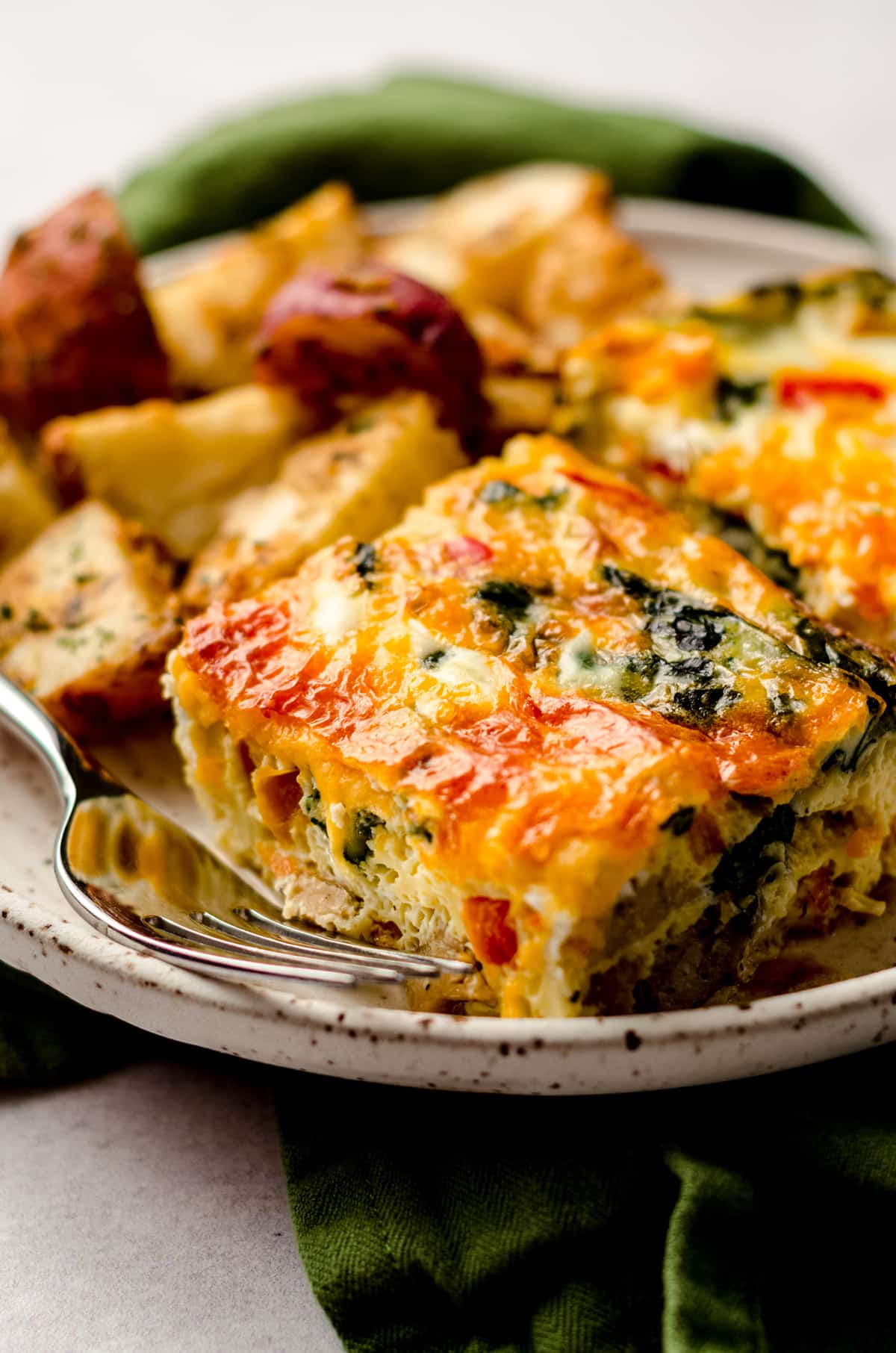 But guess what? You don't have to decide exactly what "make ahead meal" means to you when it comes to this super simple breakfast casserole, because it can be made in any of those manners, and I'll explain the best way to prepare it for each of these instances.
So basically, you can make this breakfast casserole to freeze ahead of your event, to hand off to someone else to freeze and pull out when they need it, or my favorite, guests coming for brunch on Sunday morning that you'd like to actually spend some time with and not have your back on while you prepare food in the kitchen.
This is also a great easy sausage casserole for kids who wake up early on Christmas and want presents and something for their bellies all at one time (and likely at dark thirty in the morning when all you'd like to do is keep sleeping).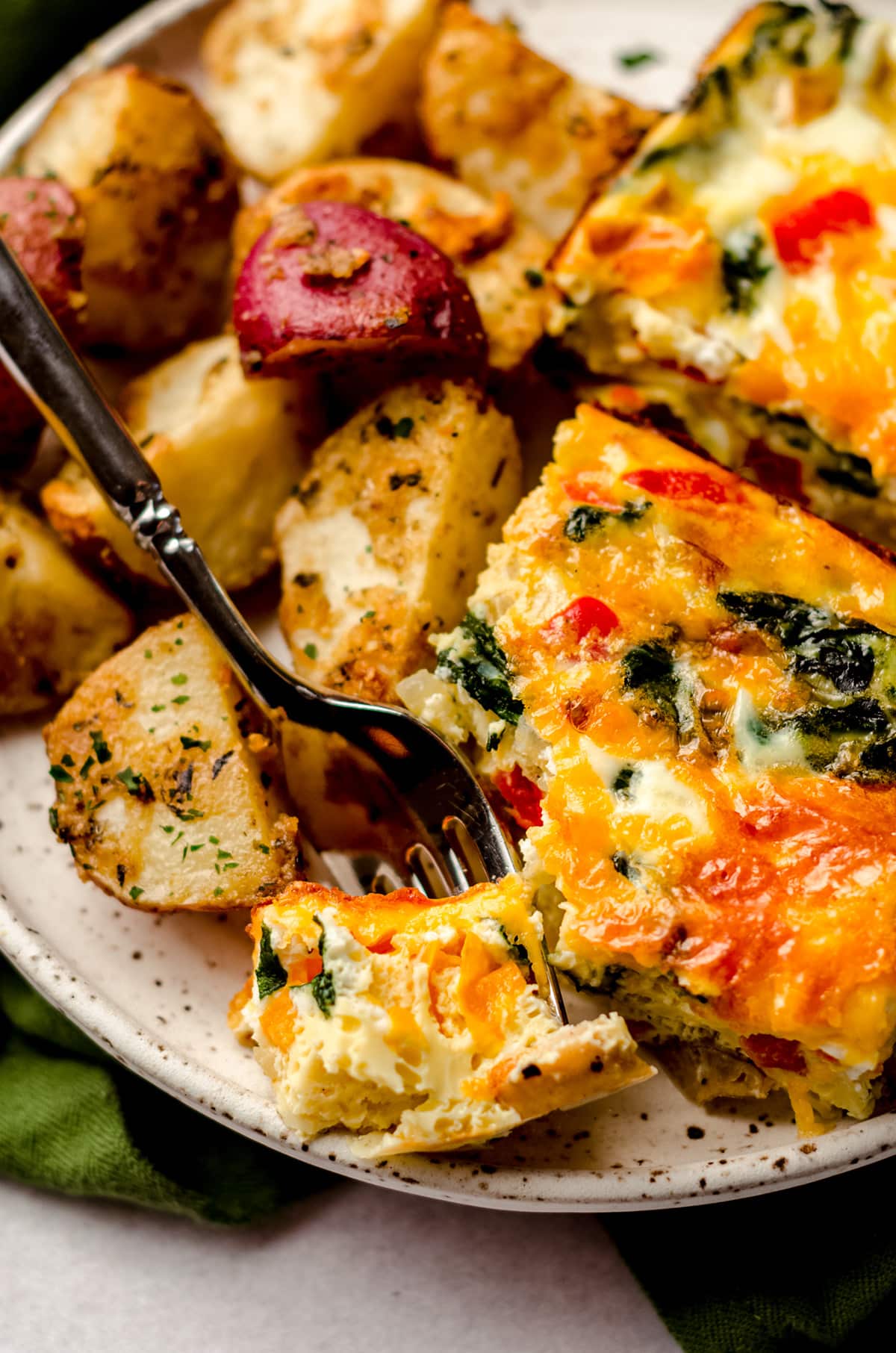 And it's seriously perfect for a family with a newborn baby who now runs the show and only allows their parents a little bit of time to do something at one time, forcing them to walk away from something at any given time and rendering said parents unable to do anything start to finish in one sitting.
(Yeah, we've been there.)
So that's what this freezable breakfast casserole is all about.
Our favorite overnight breakfast dish that comes together in about 15-20 minutes, can bake right away or sit in the fridge for up to 24 hours, and then bakes for 45 minutes right before you're ready to eat it.
That's only 1 hour of hands-on time that can spread out over 24 of them. See how this make ahead business is so handy?
INGREDIENTS
For this freezer friendly breakfast casserole, you need a base protein (we typically choose sausage, but you can use ham or bacon), some vegetables like spinach, bell peppers, and an onion, some garlic for flavor, and then eggs, milk, and shredded cheese for the egg custard portion of the casserole.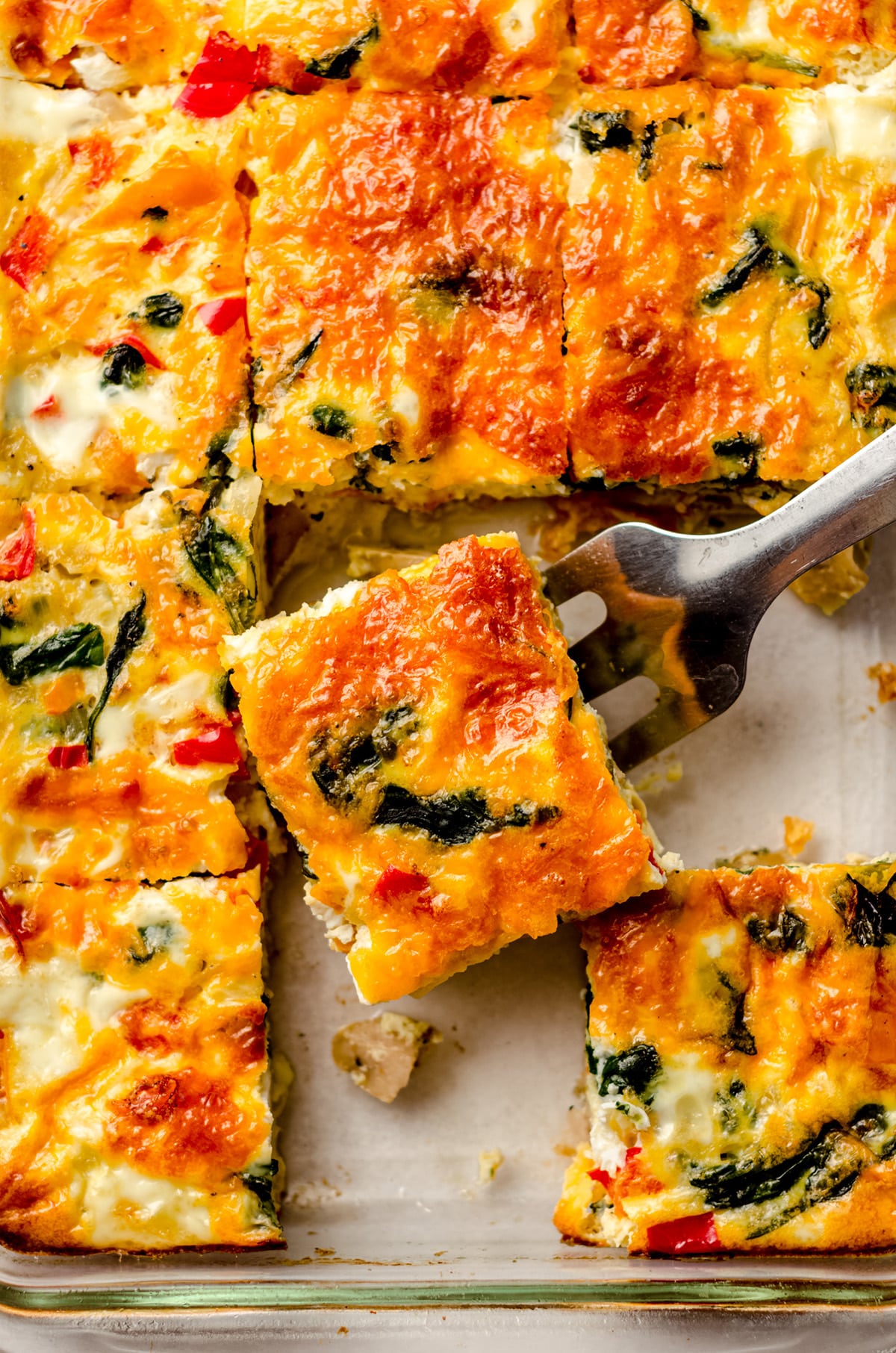 Vegetarian? Leave out the meat completely. Replace it with another veggie, or not. It's totally up to you. This overnight breakfast casserole is completely customizable.
After all, this is your breakfast. You do you, friend.
HOW TO MAKE THIS BREAKFAST CASSEROLE EVEN QUICKER
Another tip to speed up the process: start with fully cooked meat. This is especially helpful if you're using something like leftover ground beef from the week or even something like a ham or rotisserie chicken. But if you're going the sausage route like I did, we like to buy fully cooked chicken sausage.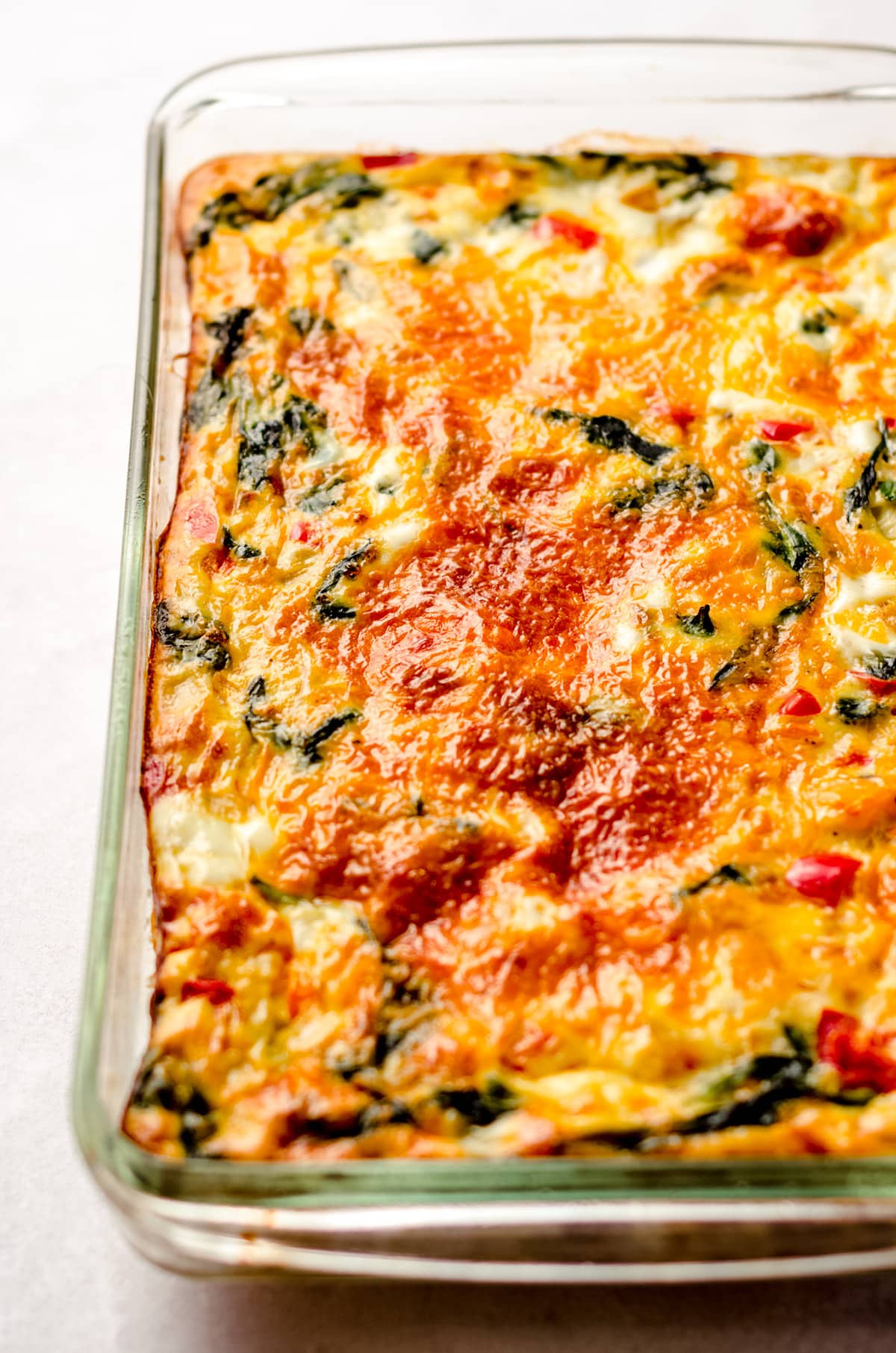 It's one of our favorite meats to eat during the week, and adding it to this breakfast casserole takes the ease of this dish over the top!
ASSEMBLE THE CASSEROLE
To get this breakfast casserole that can be frozen started, begin by cooking or browning the meat. When it's finished, put it right into your casserole dish.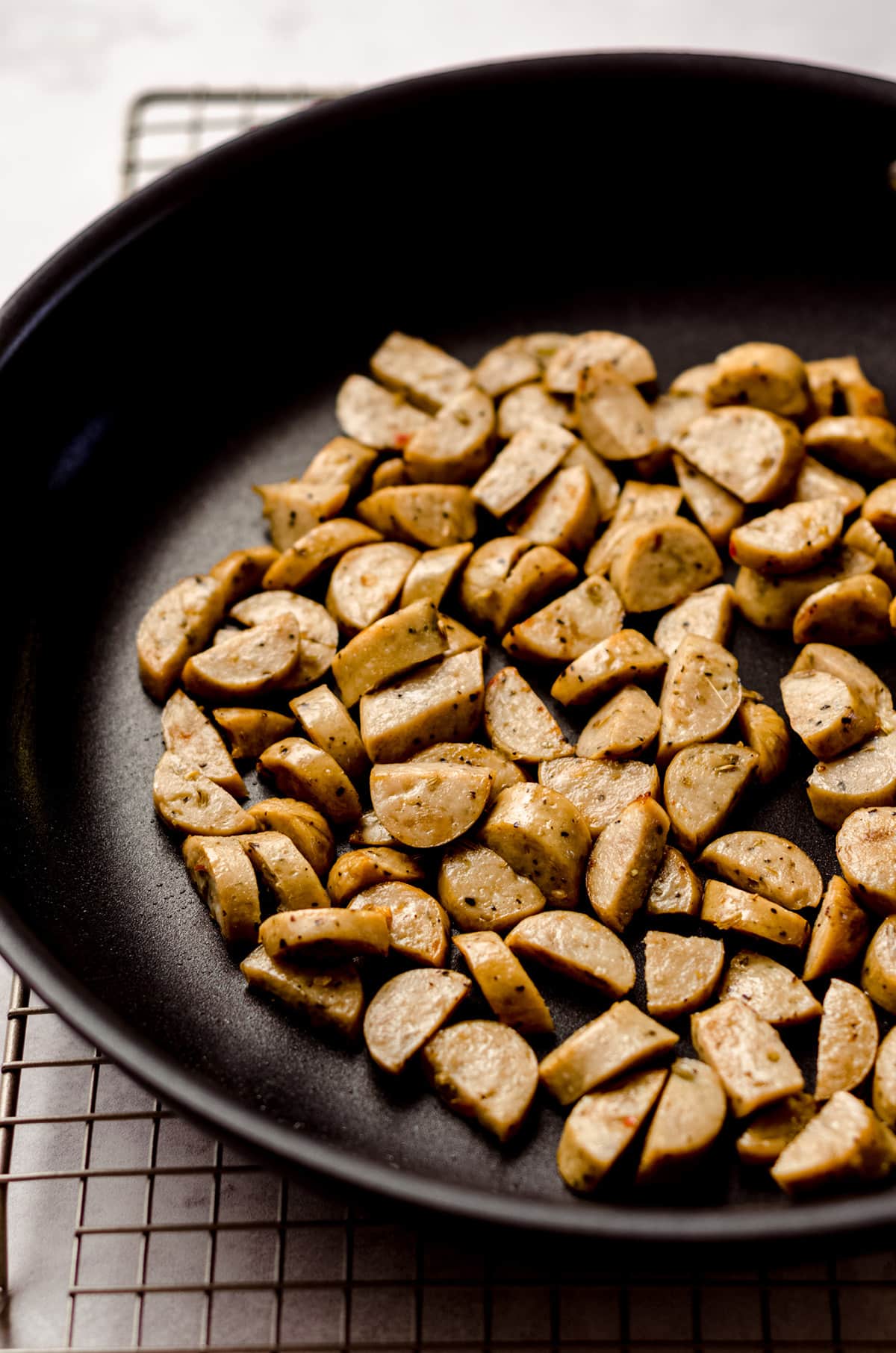 Cook up the vegetables and wilt the spinach, then add those to the dish with the meat.
Next, mix up the egg custard and pour it evenly over the meat/veggies. Bonus: this breakfast casserole features 12 whole eggs. No leftover egg whites or partial cartons of eggs here!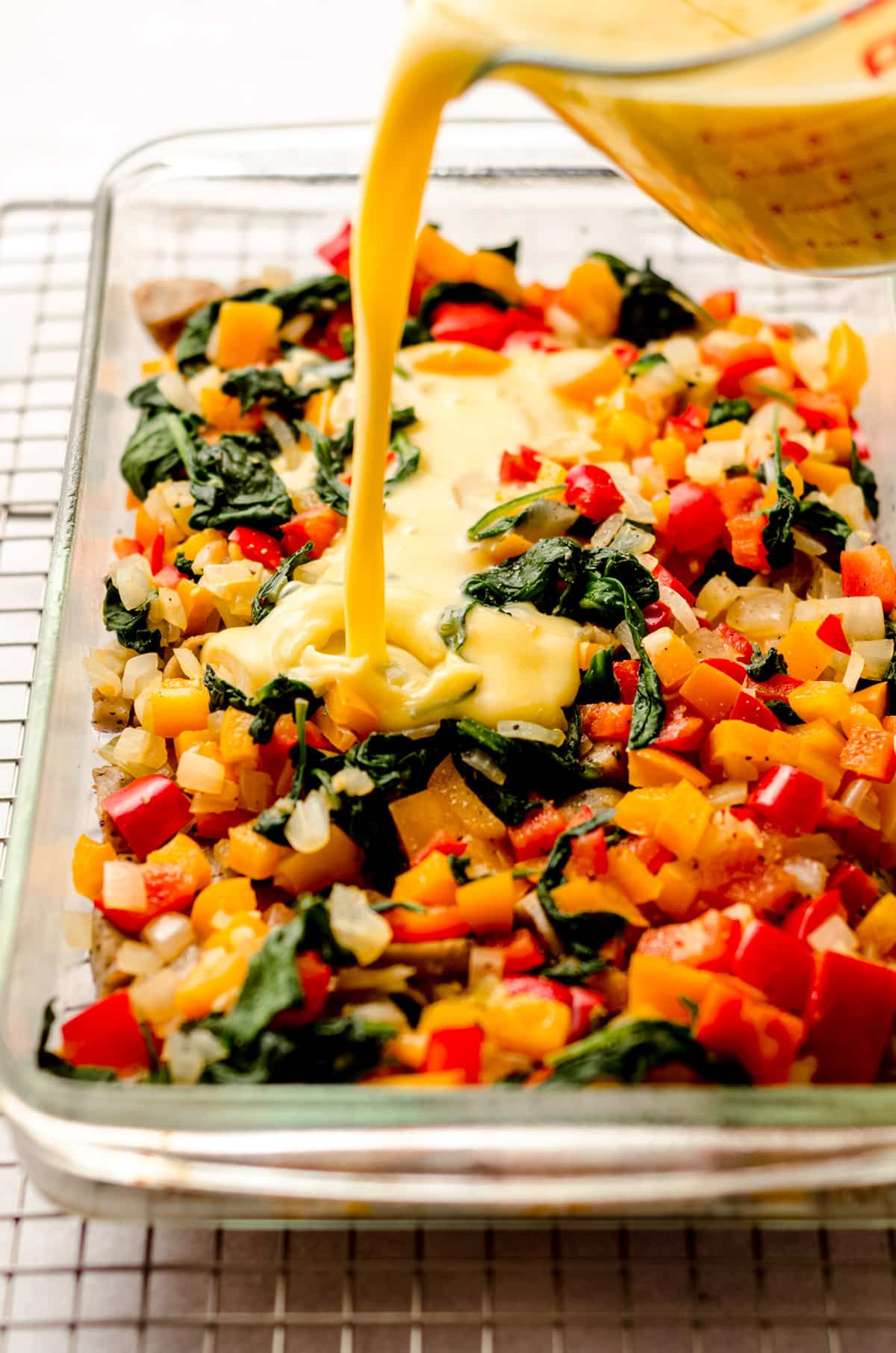 If you'd prefer not to use a whole dozen, you could definitely get away with 10, or simply replace some whole eggs with egg whites instead. Like I said earlier: customizable. This recipe is not set completely in stone. It's not cake! Although cake for breakfast… Hmm…
Ok, I'm getting distracted.
Sprinkle some extra cheese on top, then it's ready to either bake right away, sit in the fridge until you want to bake it, or go right into the freezer to pull out to bake another time.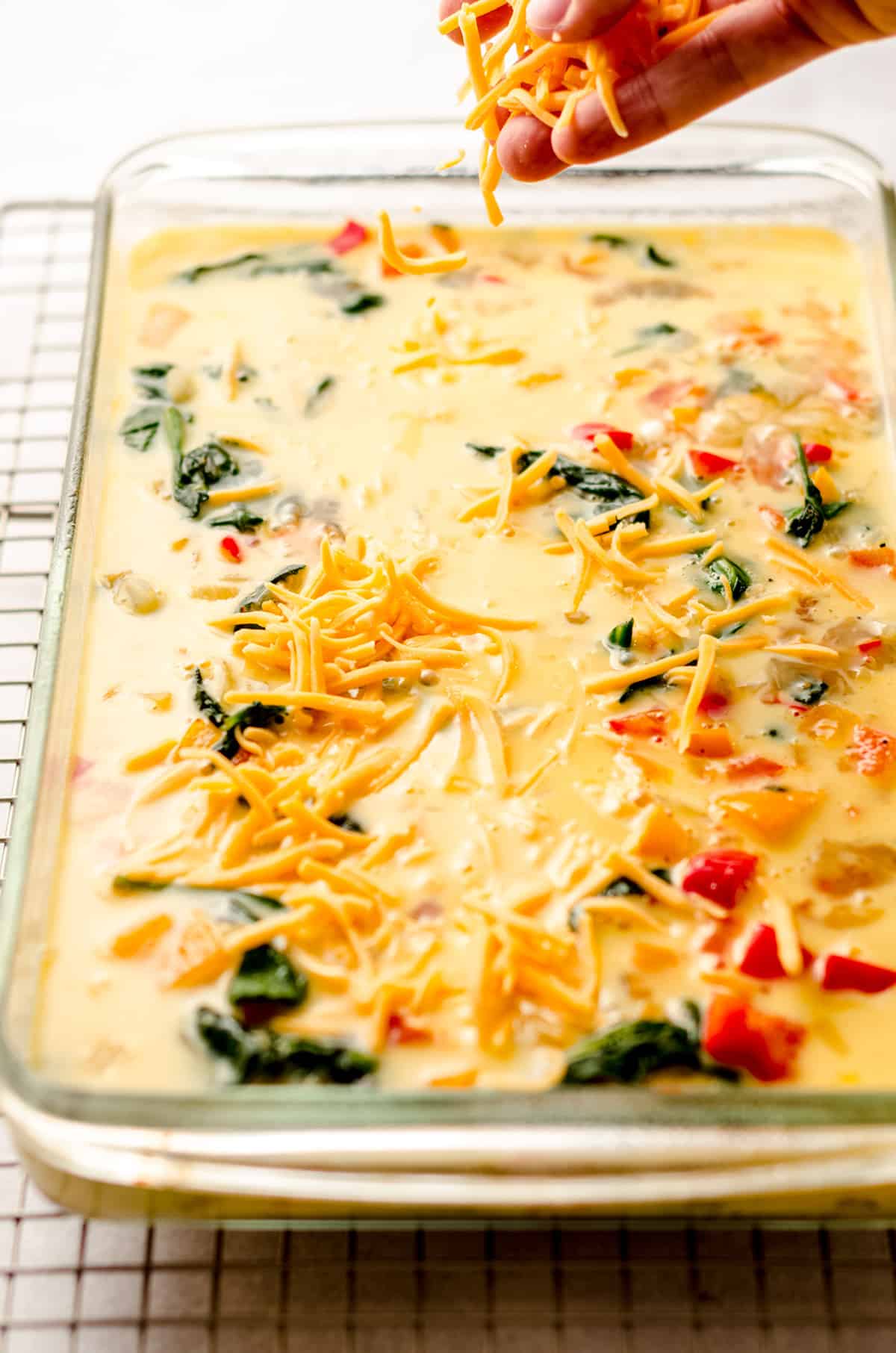 Voilà. Easy sausage breakfast casserole overnight in the fridge = super tasty sausage breakfast casserole in the morning in my mouth.
Don't get me wrong, my quiches are some of my favorite meals to make, but this one has extra protein (meat) built right in. One stop shopping breakfast. More reasons to love this make ahead recipe.
Pssst… Check out those crispy edges!!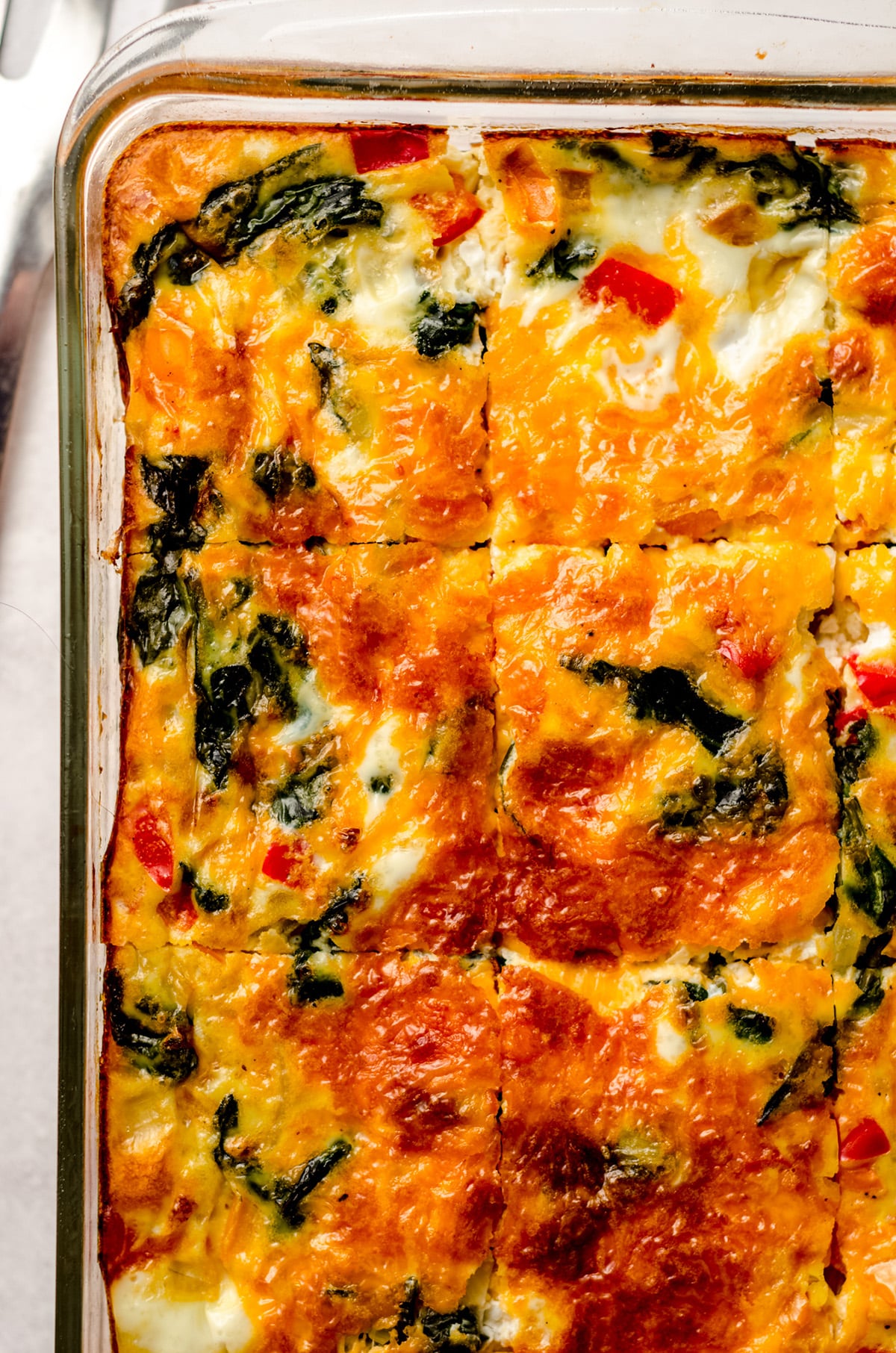 This dish is typically kid, parent, adult, and picky eater approved. The first time we took this healthy breakfast casserole to someone's house, we were visiting friends with a (then) 2 year old and he ate it right up.
Not without getting bell pepper chunks on his face (adorable), but most of it got in his belly which means I'm pretty sure he enjoyed it a lot.
Quick, easy, enjoyable hot, cold, or even room temperature… It's so versatile and a great way to have a meal ready when you're high on hunger and short on time. It's also the most very perfect breakfast casserole for a crowd. Tuck it away for the holidays!
CAN I FREEZE AN EGG CASSEROLE?
Yes! If you're looking for a freezer breakfast casserole to eat at another time, this recipe is still for you!
To make ahead/freeze this casserole: you can freeze unbaked casserole up to 2 months. Cover very tightly with plastic wrap and foil. Thaw overnight in the refrigerator and continue with step 5 in the recipe (which is baking it).
I have a feeling your upcoming holidays and busy weekday mornings will feature a lot of this make ahead freezer breakfast casserole. It shows up in our rotation at least every few months and is heavily visited by readers on Mother's Day, Easter, Thanksgiving, and Christmas Eve.
All those folks can't be wrong. Add this to your collection of easy freezable breakfast casserole recipes and check one (or more!) things off your to-do list the next time you know you'll be short on time!
Or, you know, just want to spend more time enjoying a holiday with your family instead of in the kitchen.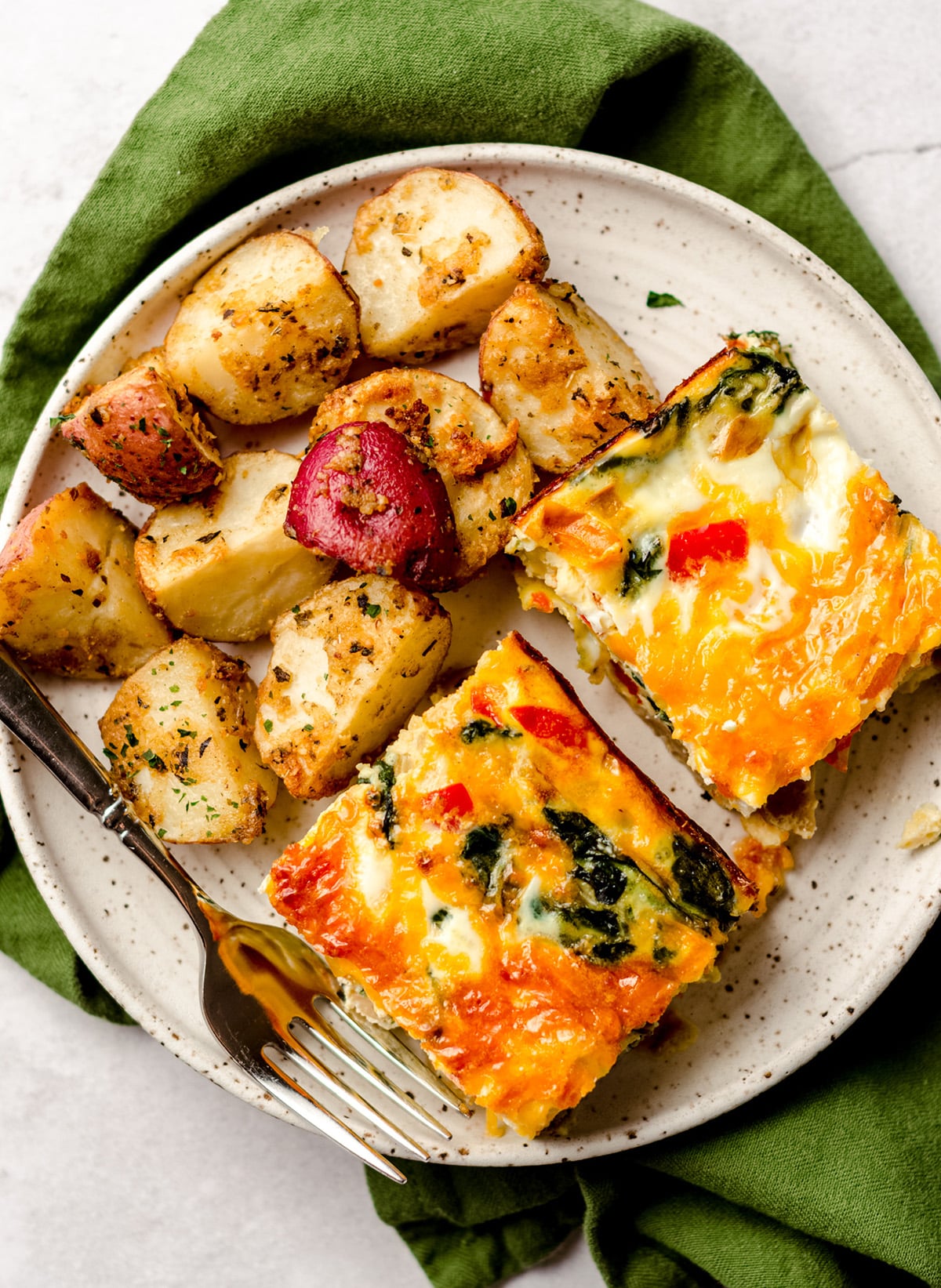 And don't sleep on the opportunity to pair this egg casserole with my favorite herbed potatoes that are perfect as a breakfast, brunch, lunch, or dinner side! You won't regret it!
More Make Ahead Holiday Meals

We share Recipes From Our Dinner Table! Join our group and share your recipes, too! While you're at it, join our Pinterest board, too!
More Favorites from Fresh April Flours
Make Ahead Breakfast Casserole
This overnight sausage, vegetable, and egg casserole can be baked right away, made up to a day in advance, or frozen for easy entertaining. Completely customizable and great for feeding a crowd!
Ingredients
10 to 12

ounces

(280-340g) sausage casing removed1
olive oil2

2

cloves

of garlic

minced

3

cups

(90g) fresh spinach

2

large bell peppers

diced

½

medium yellow onion

diced

salt and pepper

to taste

12

large eggs

½

cup

(120g) milk

any

½

cup

(56g) shredded cheese

any flavor; divided
Instructions
Spray a 7 x 11" or 9 x 13" casserole dish with non-stick spray. Set aside. If you are going to bake this casserole immediately, preheat the oven to 375ºF (191ªC).

In a large skillet over medium heat, brown the sausage. If you are using fully cooked sausage, you may skip this step. I like to brown my sausage just a little bit, even if it is already fully cooked. Spoon the browned sausage evenly into prepared casserole dish. Set aside.

Add a little olive oil to the same large skillet (I often skip this since there is some grease left from the sausage). Sauté the garlic, spinach, peppers, and onion until vegetables are tender and spinach is wilted, about 6-7 minutes. Season with salt and pepper during the last minute or so.

Remove from heat and add the cooked vegetable mixture to the sausage in the prepared casserole dish and roughly stir together to distribute mixture evenly. Set aside.

In a medium size bowl, whisk together the eggs, milk, and ¼ cup of the shredded cheese. Pour egg mixture evenly over sausage and vegetable mixture. Sprinkle with remaining ¼ cup of shredded cheese and a little more salt and pepper. You can either bake breakfast casserole immediately or cover the dish with plastic wrap or foil and refrigerate for up to 24 hours to bake later.

When you are ready to bake the casserole: if you haven't already, preheat the oven to 375ºF (191ºC). Then, bake casserole for approximately 45 minutes or until edges start to brown. Allow to cool at least 15 minutes before serving. Store leftovers in the refrigerator up to 5 days. Reheat individual servings in the microwave as needed. Baked casserole may be frozen, up to 2 months. Thaw in refrigerator overnight and bake at 350ºF (177ºC) for about 20 minutes or until heated through.

To freeze this casserole: you can freeze unbaked casserole up to 2 months. Cover very tightly with plastic wrap and foil. Thaw overnight in the refrigerator and continue with step 6.
Notes
Sausage: I typically use fully cooked sausage. You are welcome to use whatever kind of sausage you like. Consider using ground beef, ground turkey, chicken, or any leftover meat you need to use up.

Vegetarians:

feel free to leave out the meat completely. Consider adding an extra vegetable in its place.
Olive oil: if you are browning meat, you can just use the oil leftover in the pan for the vegetables.
Nutrition Disclosure
All nutritional values are approximate and provided to the reader as a courtesy. Changing ingredients and/or quantities will alter the estimated nutritional calculations.
Serving:
10
servings
|
Calories:
197
kcal
|
Carbohydrates:
4
g
|
Protein:
13
g
|
Fat:
14
g
|
Saturated Fat:
5
g
|
Polyunsaturated Fat:
2
g
|
Monounsaturated Fat:
6
g
|
Trans Fat:
0.1
g
|
Cholesterol:
223
mg
|
Sodium:
303
mg
|
Potassium:
277
mg
|
Fiber:
1
g
|
Sugar:
2
g
|
Vitamin A:
1953
IU
|
Vitamin C:
34
mg
|
Calcium:
88
mg
|
Iron:
2
mg