Roasted Baby Red Potatoes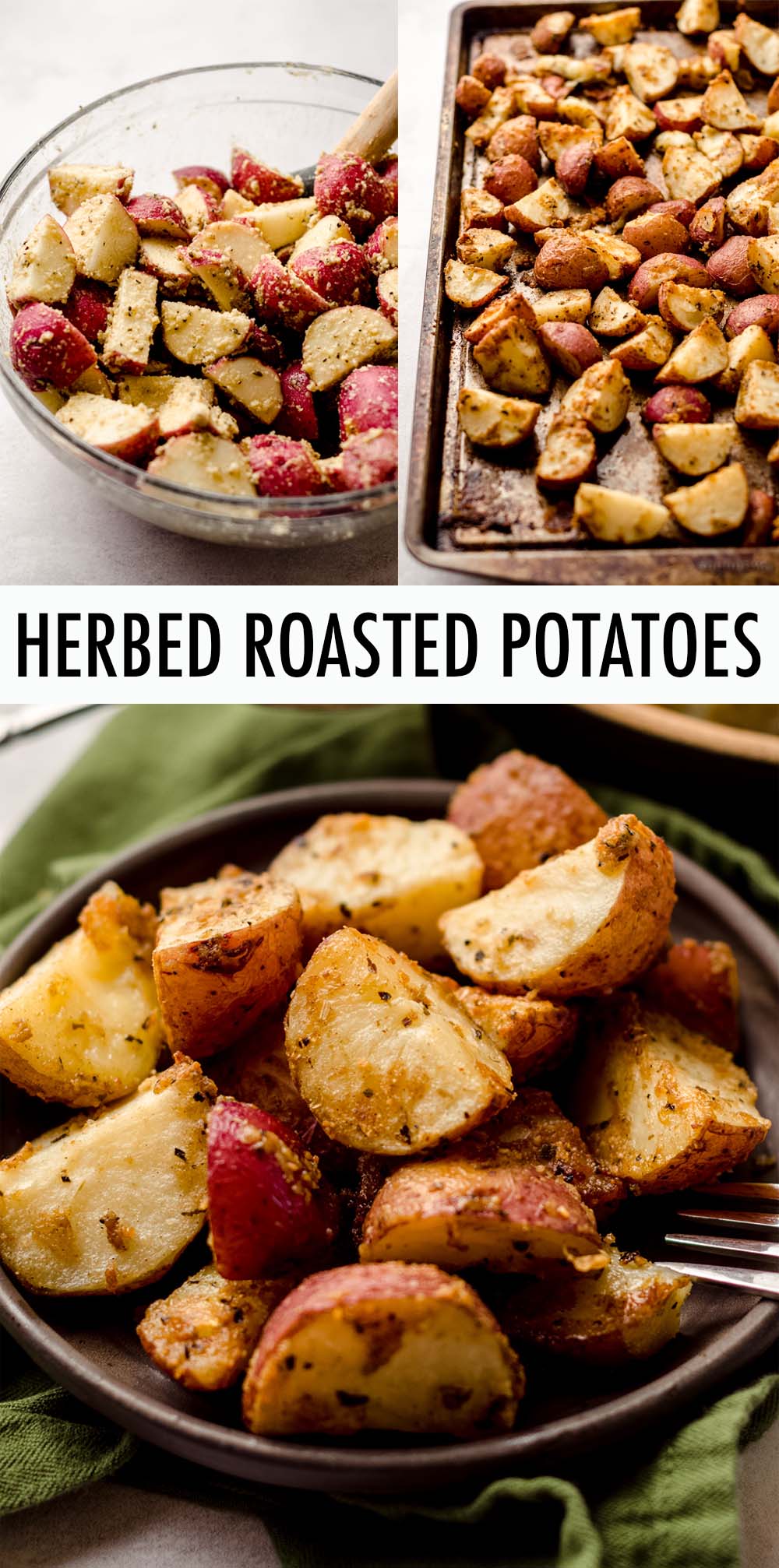 As an Amazon Associate, I earn from qualifying purchases. Read the full disclosure here.
A quick and easy recipe for crisp and flavorful baby red potatoes that go well with any meal of the day.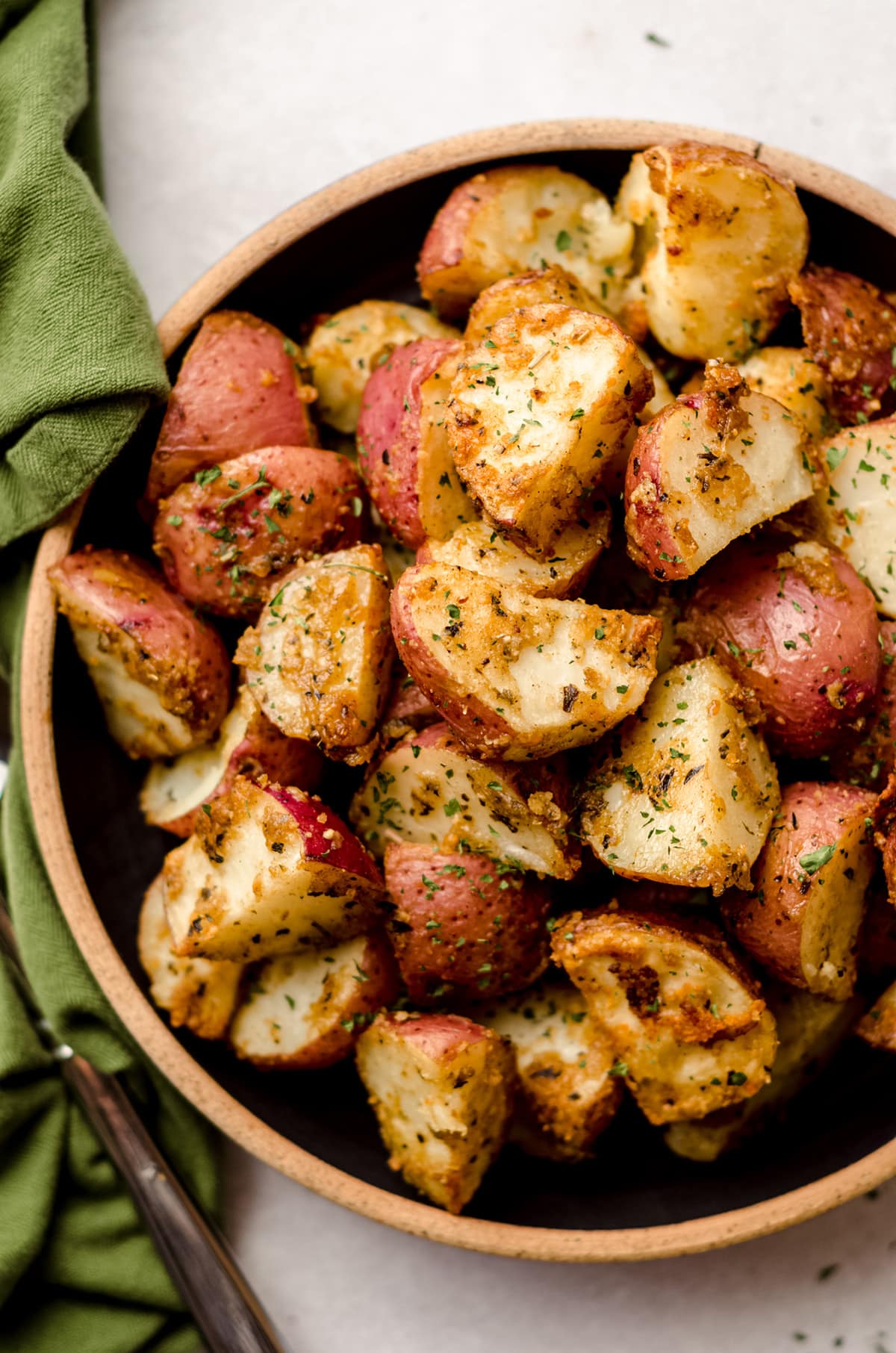 These Oven Roasted Red Potatoes just about broke Instagram!
If you follow me on Instagram, you know that I post a lot of sneak peaks, teasers, and behind the scenes stuff alongside sharing my regular content (and if you don't follow me, what are you doing? I'm @freshaprilflours).
You're very likely to see recipes that I'm working on, my messy kitchen, typically some kids helping me and "helping" me, and the occasional session of photo editing.
I'll usually get a few DMs from some of you who are excited for what's coming or eager to hear more about what ingredients I'm working with, but I don't know that I've ever had so many people DM me back about a recipe than I did when a video of these roasted herbed potatoes showed up on my story.
Potatoes.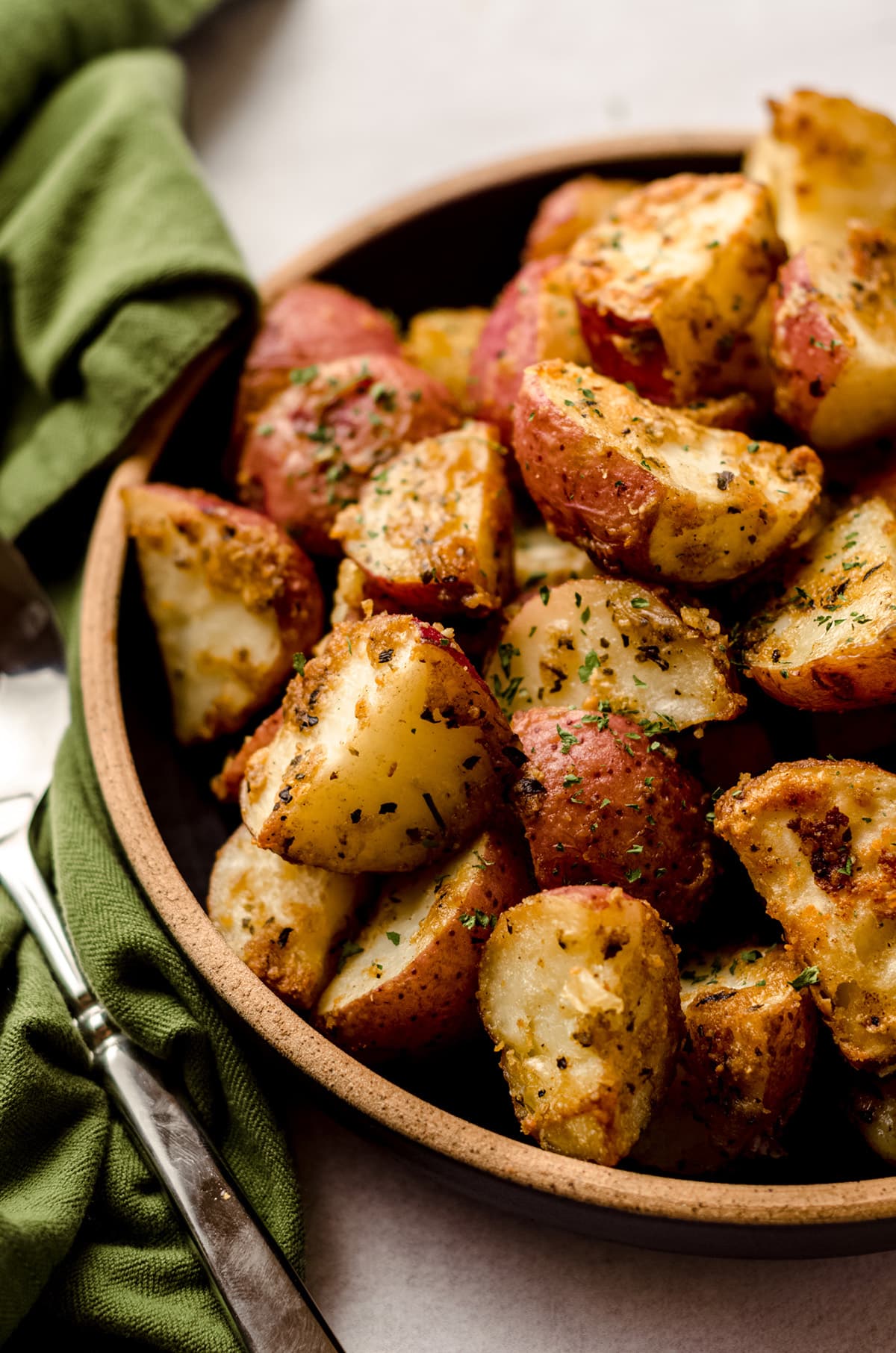 Friends, I had no idea you were such potato people.
Don't get me wrong, I am a big fan of potatoes, especially ones that taste really good and are crispy and flavorful and coated in all kinds of tasty things, but honestly… I've put cakes and cookies and donuts and PIZZA on my stories, and whenever I share these potatoes, they almost always generate a high level of excitement.
Roasted baby potatoes must be all of your love languages or something. Right?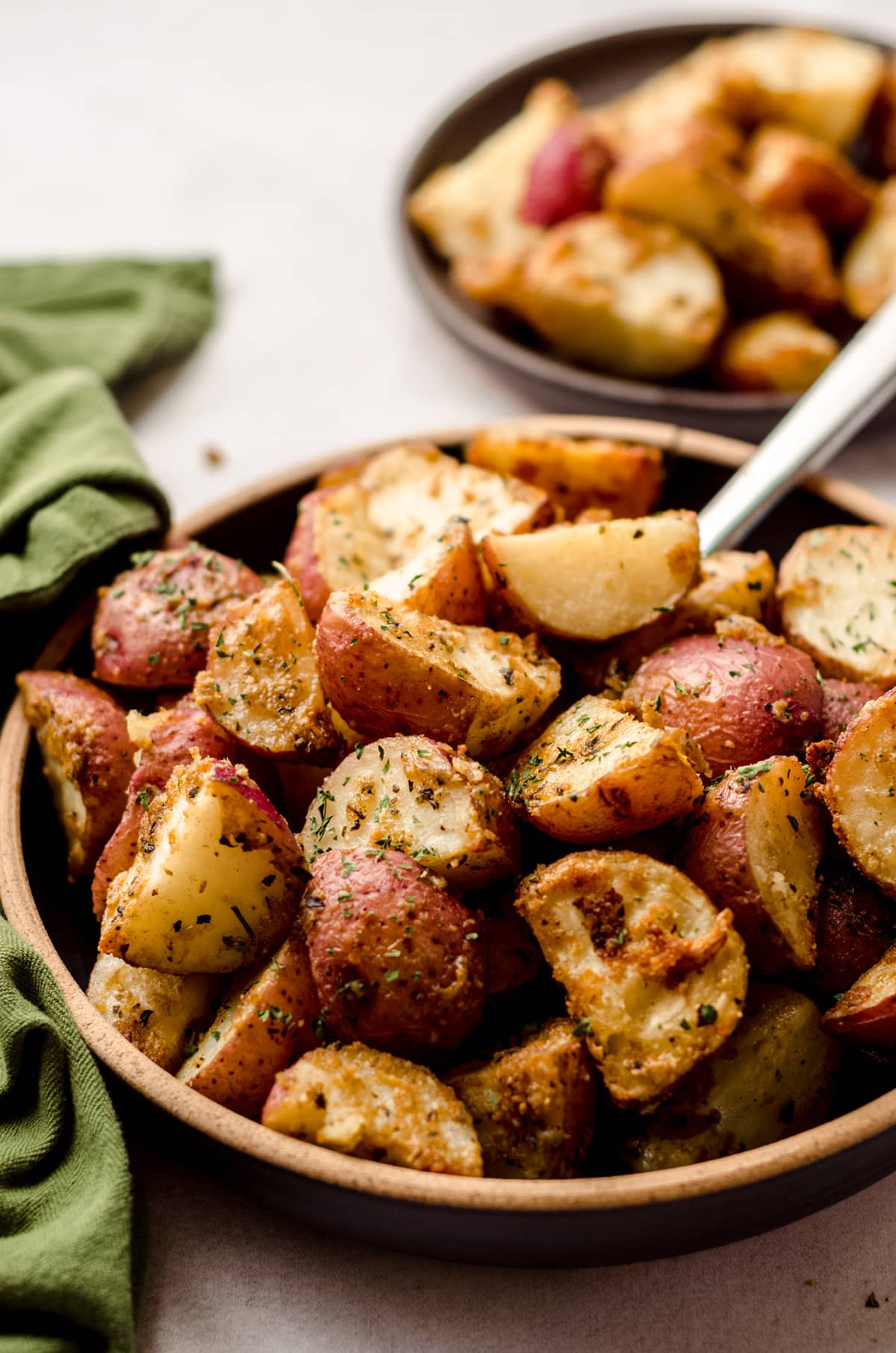 Hey… Whatever, friends. Let's breakfast/brunch/side dish together, shall we?
---
Red Bliss Potatoes ingredients
First of all, these herbed potatoes are e-a-s-y peasy. The list of ingredients might look intimidating, but it's really not bad at all. It's just a lot of spices that blend together to make the perfect complement of flavors to that crispy Parmesan coating (<– ohhh, mama!).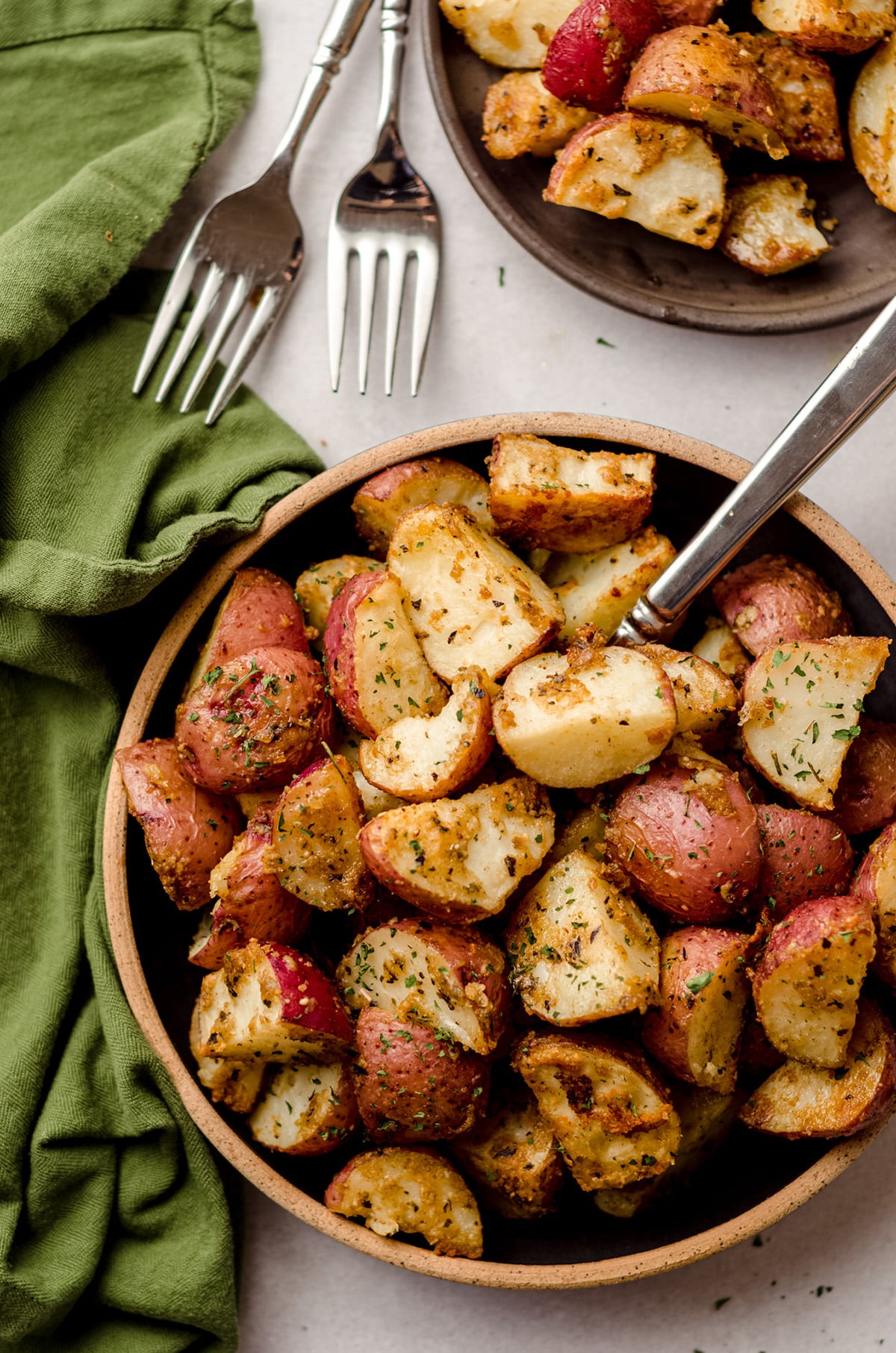 Trust me when I say you need all of them. You (and your tastebuds!) will thank me later!
RED POTATOES: baby red potatoes also work just fine. No matter which you choose, you need 3 pounds of potatoes.
OIL & HERBS: these easy oven roasted potatoes get all of their flavor from simple ingredients: olive oil, garlic, thyme, oregano, and basil.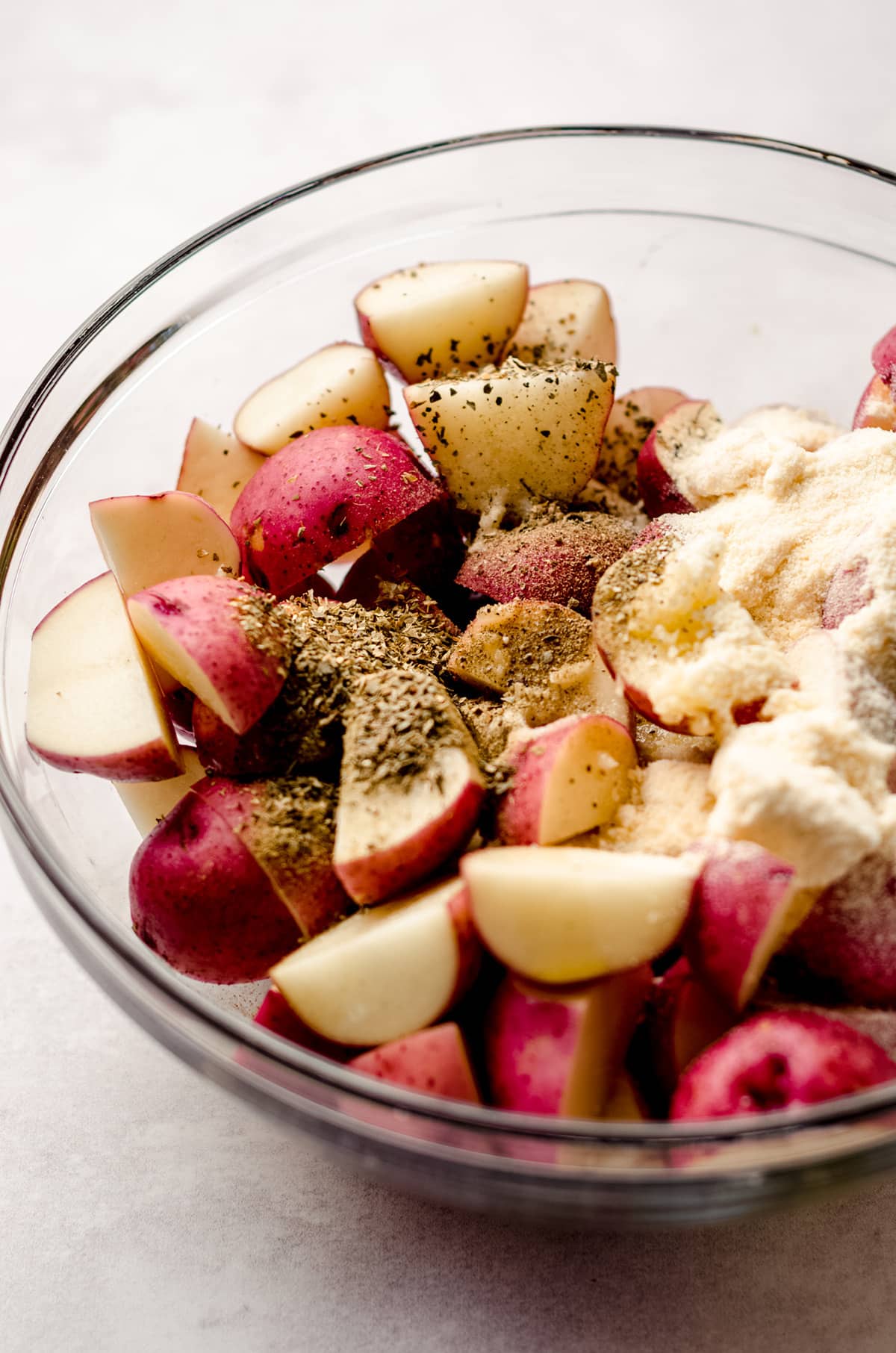 GRATED PARMESAN: while the cheese makes an incredible, crunchy exterior, you can keep these herb roasted potatoes vegan by leaving it out or even trying nutritional yeast.
FRESH OR DRIED PARSLEY: a sprinkle of parsley before serving is totally optional, mostly for garnish, and a bit for some extra flavor. That one is up to you!
WHAT OIL SHOULD I ROAST POTATOES IN?
You can roast your potatoes in any oil that you prefer. I like to use olive oil for the complementary taste, but you can really use any oil that you like. Keep in mind that this recipe has only been tested with olive oil, so the smoke point of another oil may affect the recipe method differently.
How to make the best Roasted Red Potatoes Recipe
STEP #1
The most labor intensive part of this recipe is cutting up the potatoes to roast. And I think that you, dear reader, are completely competent in completing this task.
STEP #2
After the potatoes are cut, it's just a matter of tossing them in that glorious herb blend (with that little bit of olive oil, to make it stick, of course).
STEP #3
Spread everything on a large baking sheet, and get to baking!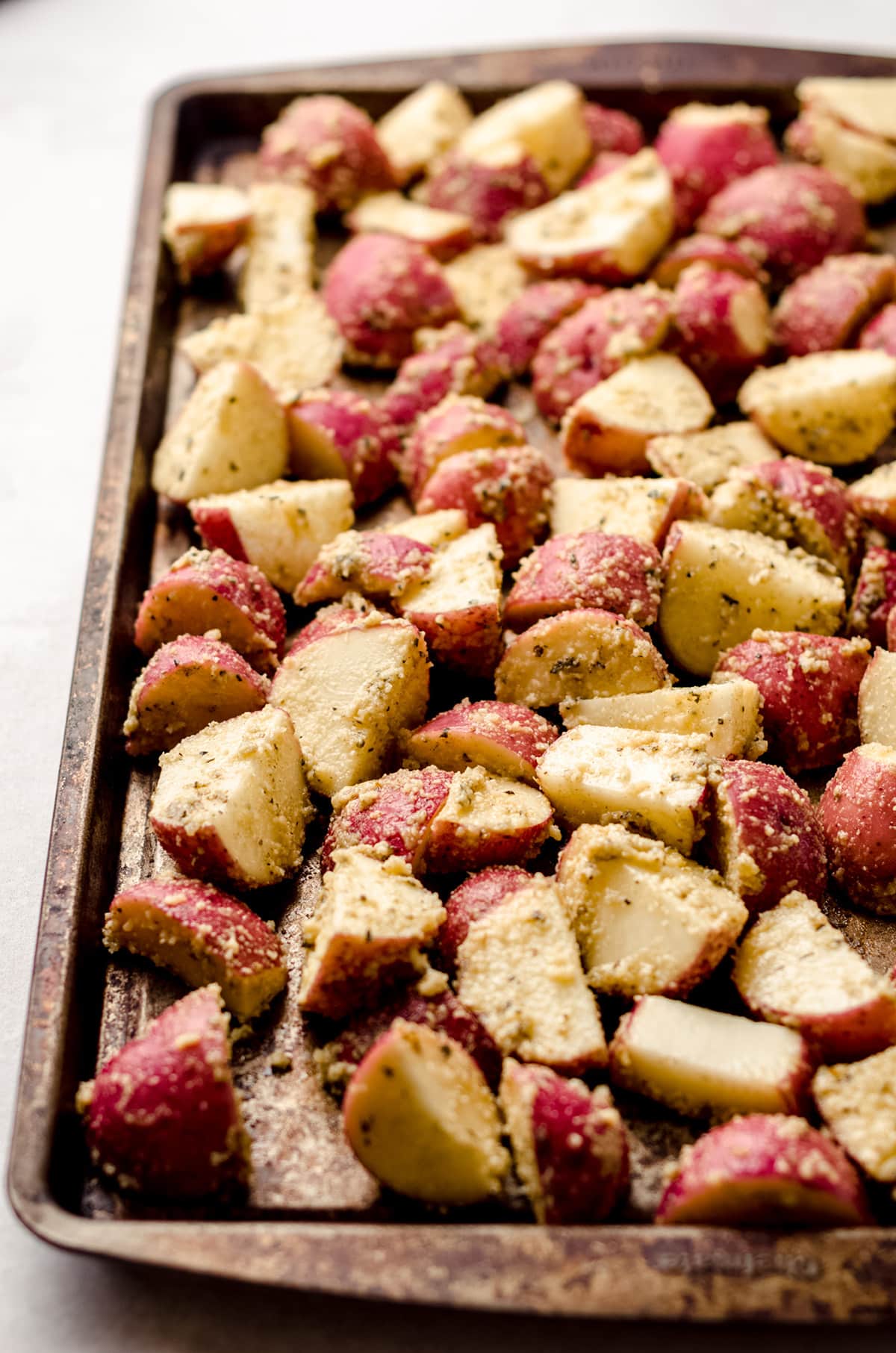 STEP #4
Roasting potatoes in the oven is simple, but it does require a little attention. The potatoes will need about 50 to 55 minutes to achieve maximum crispness, and you'll need to push them around every 15 minutes to ensure even browning.
These potatoes are kind of like granola, where a little more hands on time while it bakes yields the best end result for your mouth.
You can certainly bake these longer than 50ish minutes if you feel they're not as brown as you'd like them. You know better than anyone else how you enjoy your oven roasted potatoes. You do you, friend.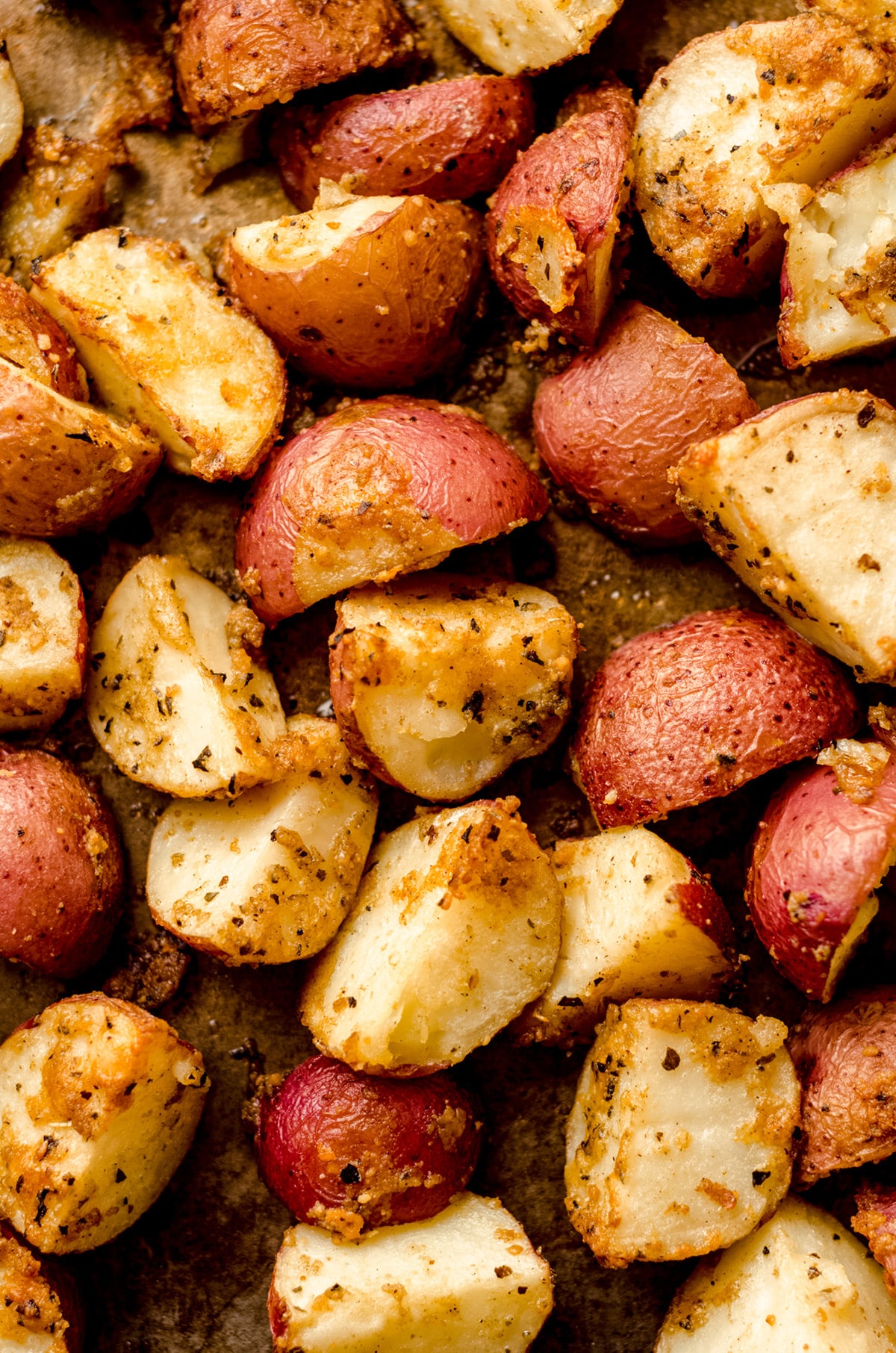 After they're perfectly browned, these tasty taters go wonderfully with breakfast.
Also brunch.
Also as a snack.
And of course, with dinner.
They're basically just a "red potato side dish" for any meal you deem in need of a dish of roasted baby red potatoes on the side of it.
HOW TO MAKE THESE ROASTED BABY RED POTATOES IN THE AIR FRYER
If you'd like to do your herbed potatoes air fryer style, reduce the temperature to 350ºF (177ºC) and bake for about 40 minutes, turning every 10 minutes.
How to serve these Herb Roasted Potatoes
Needless to say, I have made these roasted oven potatoes countless times over my years as a recipe blogger, and almost every time I make them, we wind up eating them with nearly every meal for a couple days.
My favorite, though? With my freezer breakfast casserole.
These herb roasted potatoes are so versatile, and we've eaten them at all meals of the day. Consider them as a breakfast side for my make ahead breakfast casserole, Instant Pot egg bites, cheesy vegetable quiche, crustless caprese quiche, asparagus quiche, breakfast enchilada bake, or breakfast tacos.
As a lunch or dinner side, serve these potatoes alongside Philly cheesesteak stuffed peppers, buffalo chicken stuffed peppers, or Greek yogurt chicken salad.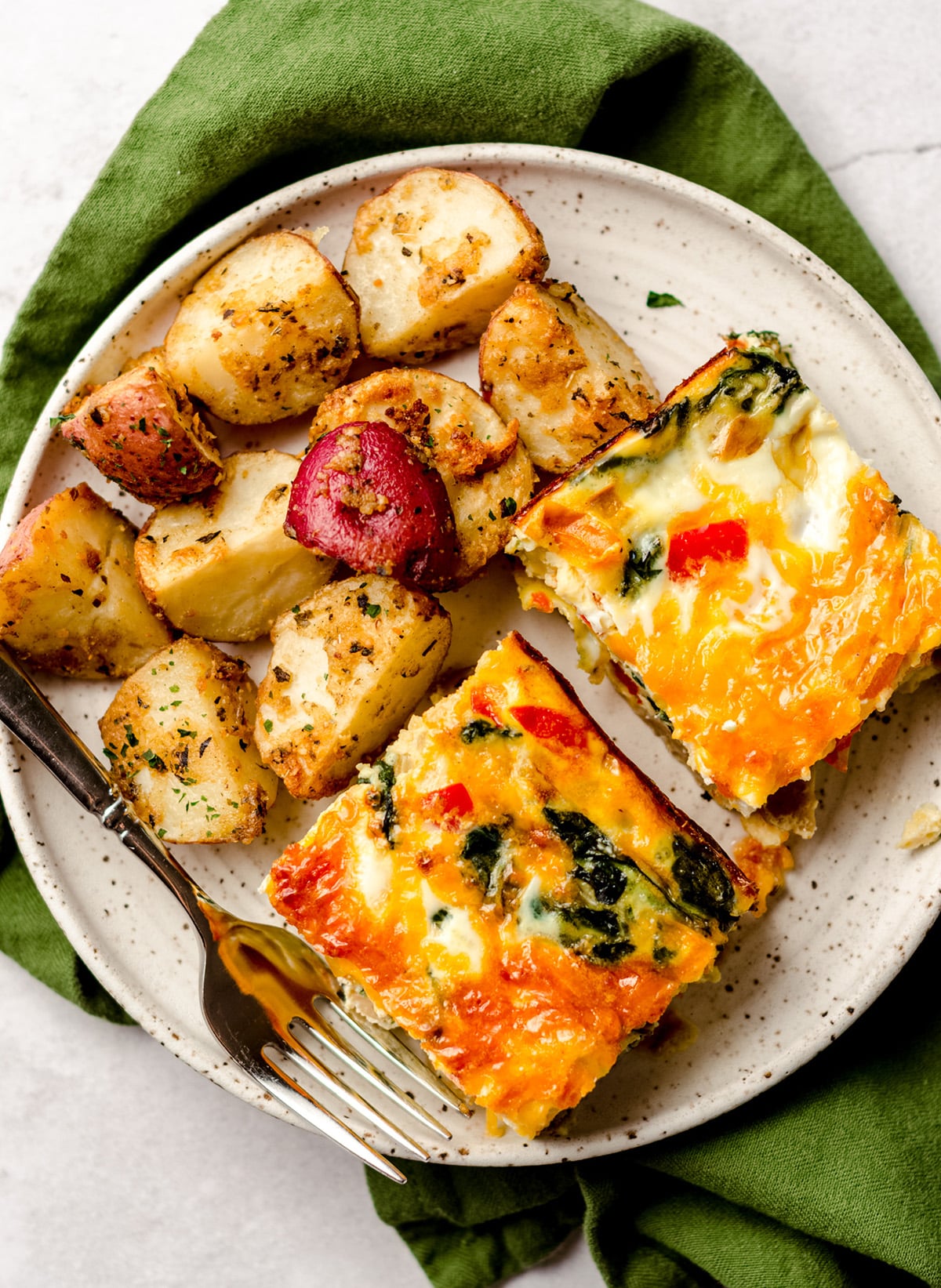 I'm telling you what… I might realize now why you all got so excited about a red potatoes recipe.
These roasted herbed red potatoes will become a staple in your kitchen after you try them, I'm sure of it. Perfect for feeding a crowd while entertaining, great to bring to a pot luck (reheating directions included in the recipe!), and a quick and easy way to add a side dish to dinner.
I sure do love me some versatile recipes, and this is one that can help you out for any meal you're planning. And just for the record, these potatoes were totally kid approved, so go ahead and feed the whole fam!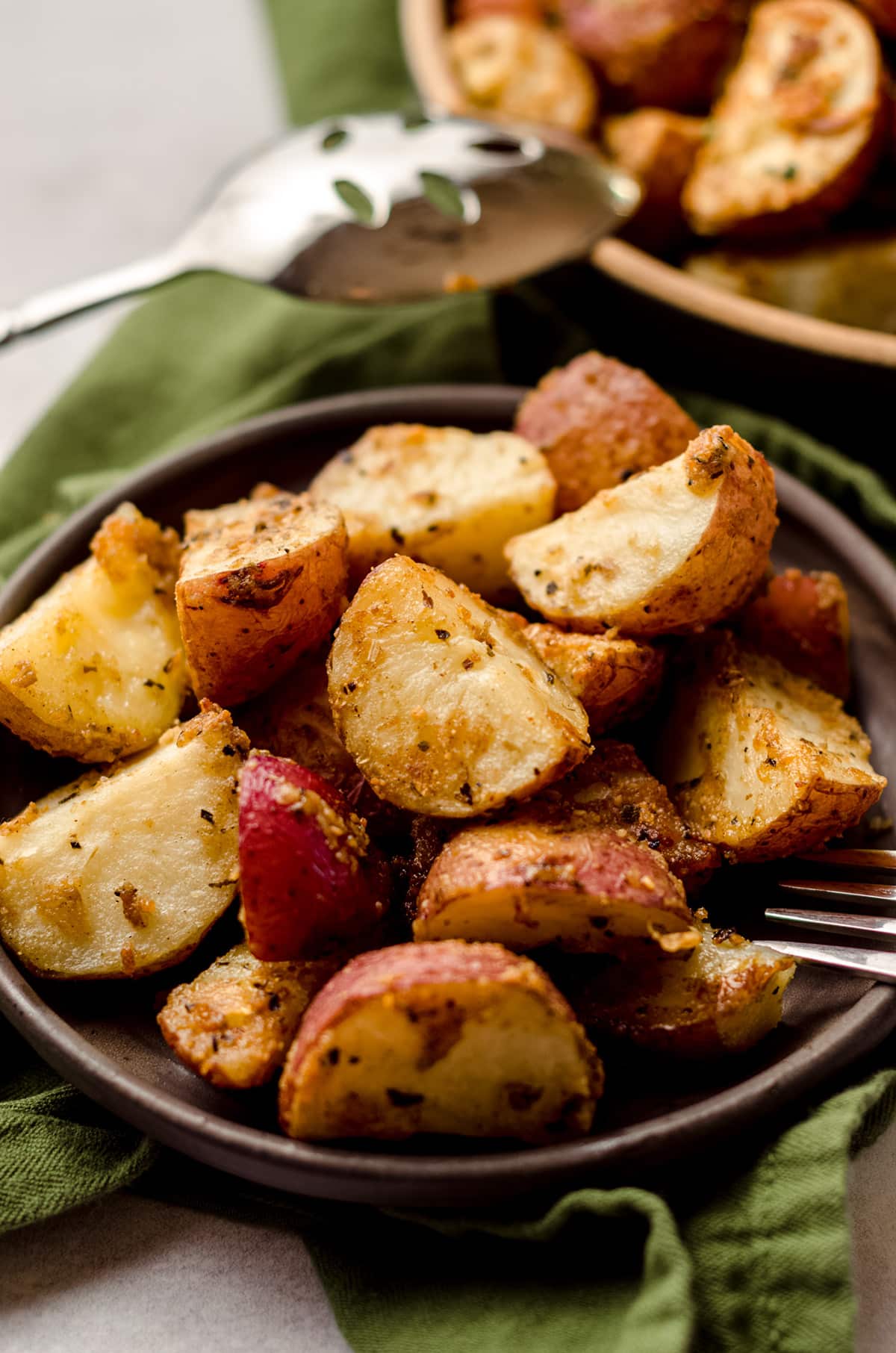 Just don't say I didn't warn you about possibly wanting to double the recipe (<– official warning), and a little bird once told me these herby potatoes go well with Thanksgiving, too!
Oven Roasted Red Potatoes
A quick and easy recipe for crisp and flavorful baby red potatoes that go well with any meal of the day.
Ingredients
3

pounds

(1360g) baby red bliss potatoes

washed and halved (quartered if potatoes are on the medium/large side)

3

Tablespoons

(45mL) olive oil

6

cloves

of garlic

minced

1

teaspoon

salt

1

teaspoon

dried thyme

½

teaspoon

black pepper

½

teaspoon

dried oregano

½

teaspoon

dried basil

½

cup

(45g) grated Parmesan cheese

3

Tablespoons

dried or fresh (and finely chopped) parsley

optional; for garnish
Instructions
Preheat the oven to 400ºF (204ºC). Grease a large baking sheet with non-stick spray or olive oil. Set aside.

In a large bowl, toss together all of the ingredients except the parsley until potatoes are evenly coated. Pour coated potatoes onto prepared baking sheet, spreading them out as evenly as possible.

Bake for 45-55 minutes, turning every 15 minutes with a spatula, until browned and crisp. Sprinkle with fresh or dried parsley before serving, if desired. Potatoes are best served immediately, but will stay fresh in an airtight container in the refrigerator up to 3 days. Reheat in the microwave as needed, or reheat on baking sheet or large casserole dish, covered, in a 300ºF (149ºC) oven for 10-15 minutes or until heated through.

Air fryer instructions: reduce oven temperature to 350ºF (177ºC) and bake for about 40 minutes, turning every 10 minutes.
Nutrition Disclosure
All nutritional values are approximate and provided to the reader as a courtesy. Changing ingredients and/or quantities will alter the estimated nutritional calculations.
Serving:
1
serving
|
Calories:
195
kcal
|
Carbohydrates:
28
g
|
Protein:
6
g
|
Fat:
7
g
|
Saturated Fat:
2
g
|
Polyunsaturated Fat:
1
g
|
Monounsaturated Fat:
4
g
|
Cholesterol:
4
mg
|
Sodium:
423
mg
|
Potassium:
803
mg
|
Fiber:
3
g
|
Sugar:
2
g
|
Vitamin A:
195
IU
|
Vitamin C:
17
mg
|
Calcium:
104
mg
|
Iron:
2
mg