As an Amazon Associate, I earn from qualifying purchases. Read the full disclosure here.
Easy spiced donuts get a generous dunk in a spiced sugar coating for some extra pep in each bite.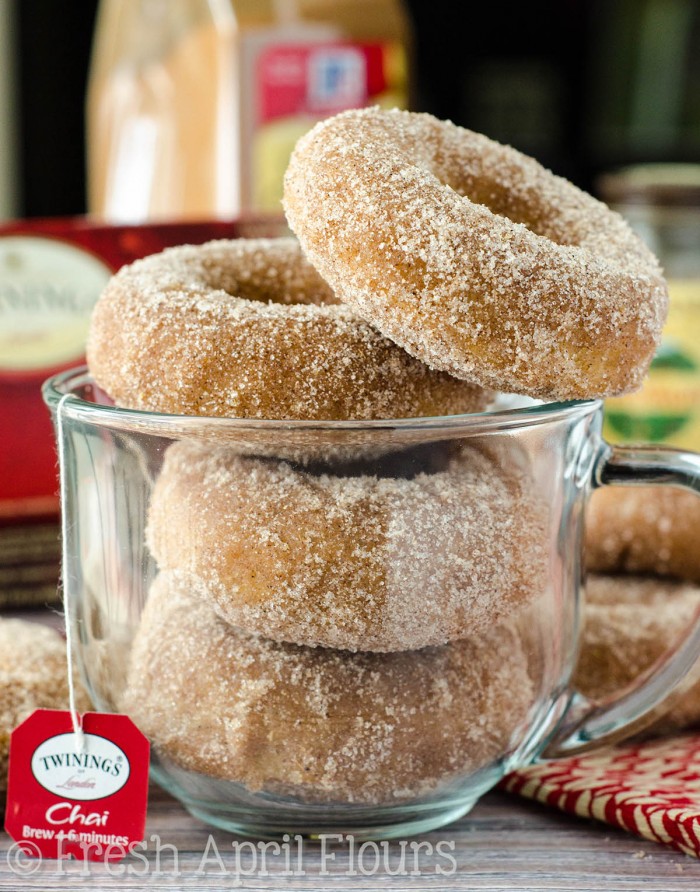 Remember a couple weeks ago when I threw a little virtual baby shower with my friends Amy and Leah for our friend Cate? Well, I'm at it again. This time with a whole slew of other fabulous bloggers.
And we're celebrating with all things donuts, because, well, Cate loooooves donuts. Can we blame her? Not one bit.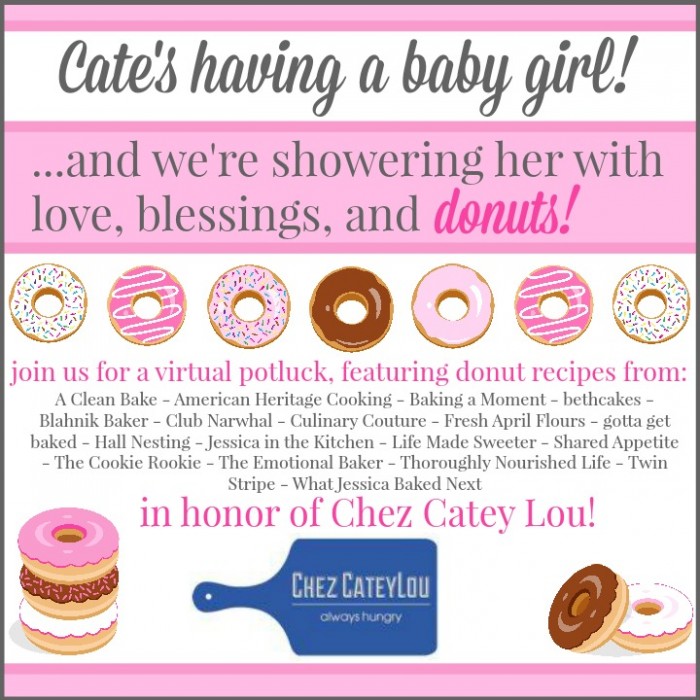 Cate and I became bloggy buddies back in the summer of 2014 when she tweeted about my blueberry lemon pie bars. I tweeted back or something like that, and the rest is history!
Cate and I actually got to meet up in person this past summer, and she was just the sweetest. We went out for lunch and talked about so much that I'm surprised we were able to finish our lunches.
As of late, we've been texting back and forth about pregnancy things and snapping each other working out/belly pics. It's fun to have her to connect with despite our geographical distance.
Cate lives in NYC and her in-laws live about 20 minutes from us, so we are hoping that Baby ChezCateyLou brings Cate and her husband to our area more often once she's born!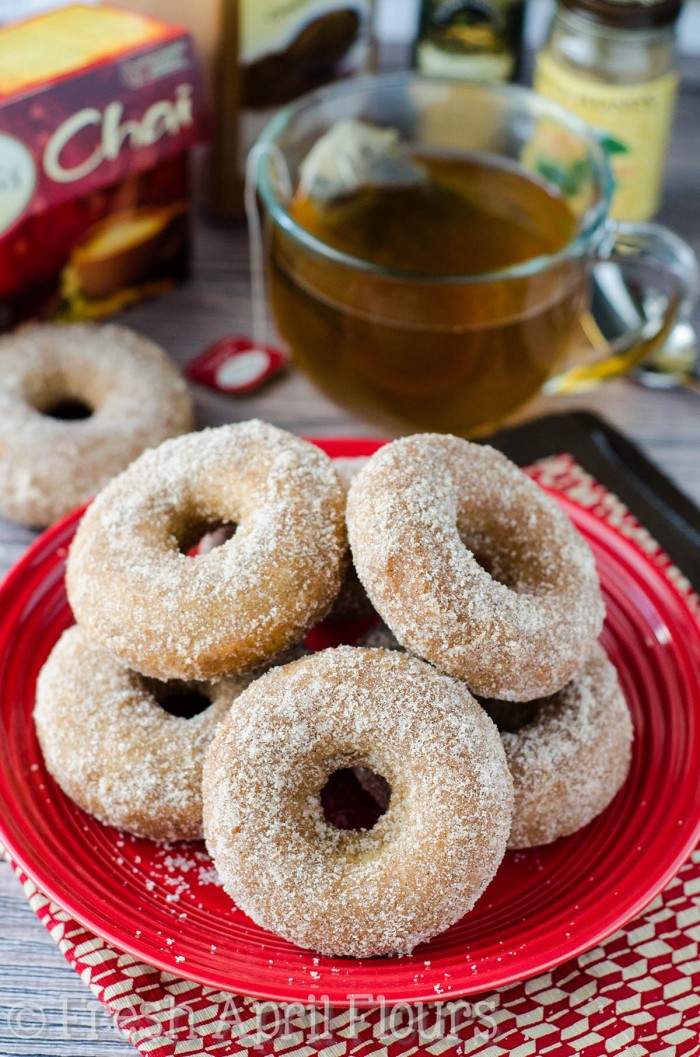 So let's get down to donut business, because I know you're dying to hear about these utterly sugary and spicy confectionary treats that I've been dangling in front of your face while I chat about how much I love my bloggy friends.
Friends and donuts. That's what life is all about. Right?
If you're a regular reader of mine, you know my love for chai (specifically cardamom!) runs deep. I am such a sucker for that spicy combination of cinnamon, cardamom, and ginger, in fact, that yes, I do have a chai puppy chow recipe in my cookbook. It was one of our favorites during the taste testing process!
If you've been here before, you know I'm no stranger to baked donuts either. We've made a funfetti version and a red velvet version, and today, we're getting all spiced up for breakfast. And we're also getting cinnamon/cardamom/ginger-sugar e-v-e-r-y-w-h-e-r-e. Yes. Everywhere.
Just ask my camera lens… Oops.
Baked donuts come together so easily. You've got your standard dry ingredients (flour, leavener, spices), and then we've got a few ingredients to ensure maximum moisture: brown sugar, milk, and Greek yogurt.
Greek yogurt, especially, brings so much moisture to baked goods while also adding structure and dialing back the fat content (as opposed to using a ton of butter or oil).
Baked donut batter is essentially the same as cupcake/muffin batter, but baking it in a donut pan makes it donut-y (technical term) and therefore, you can eat it for breakfast. #truestory
Here comes the best part… After you bake your donuts, each one gets a dunk in melted butter (I know, so healthy) and then a generous coating of a mixture of granulated sugar, cinnamon, cardamom, and ginger.
I know, I know… These aren't the healthiest choice for breakfast, but eat one with some eggs and lots of other protein, and call it balance.
Besides, we're celebrating, ok?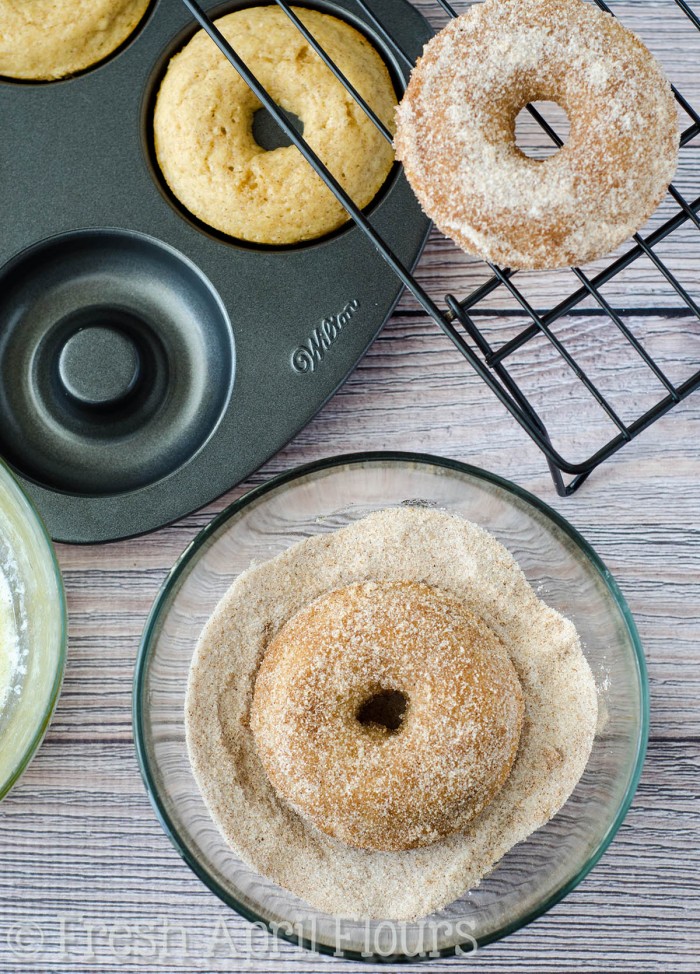 So, uh, we went gaga over these donuts. Serious, straight up heart-eye emoji business.
To be fair to all parts of this delightful little donut, we tried a naked donut and decided we could just stop right there. The donut itself is so so good. It's not overly sweet, and it's perfectly spiced to give you all the warm feels of a steamy cup of chai tea. Add the spiced sugar coating?
Now we're talking one sweet and spicy donut.
I would even venture to say you could probably get away with only coating one side of your donut with melted butter/spiced sugar, but that's far less fun than sugar the wholeeeee way around every bite.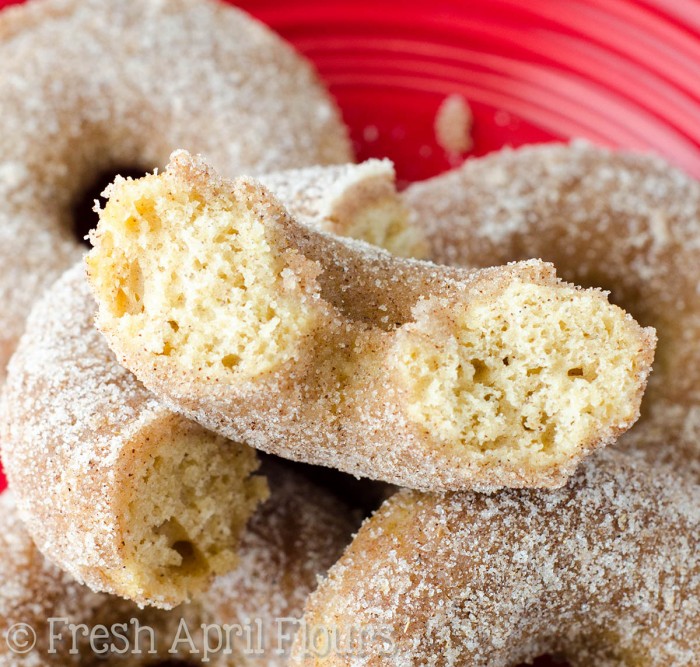 These donuts are best enjoyed on the day they're made, but we definitely enjoyed one together on day 3 (Valentine's Day) and it was still just as tasty. Plus, if you zap one in the microwave for 3-4 seconds, it takes the donut love to a whole new level of enjoyment.
Guys. This may be my new favorite donut. Soft and tender bites full of spice and a literally melt-in-your-mouth coating to start out each delectable nibble. Oh, and dipped in coffee? Don't even get me started! You know I love my dunking!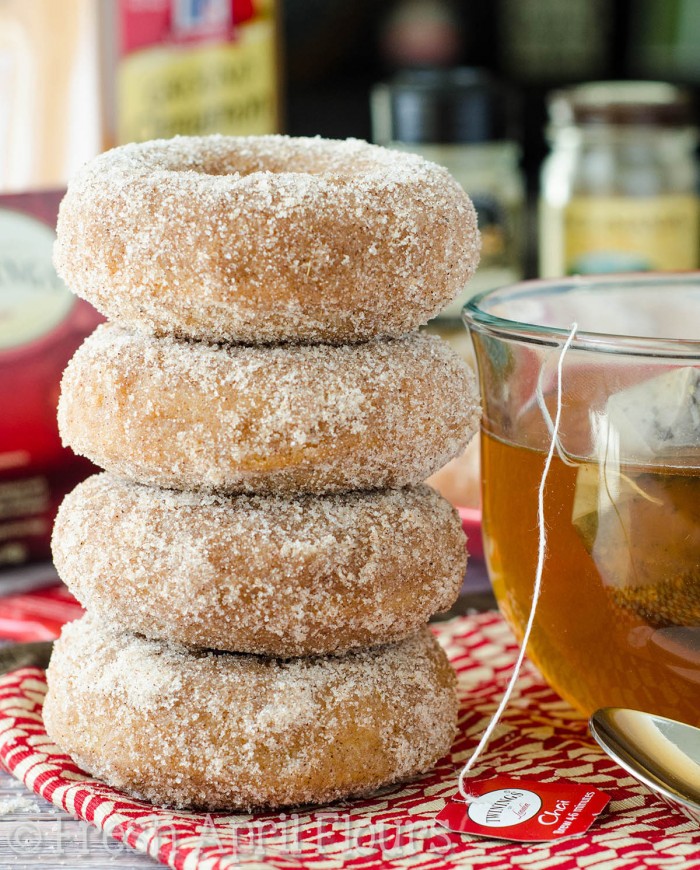 And if chai donuts aren't tickling your fancy, check out plenty of other donut recipes from the other lovely bloggers who are helping celebrate Cate today:
Baked Dark Chocolate Strawberry Donuts – Club Narwhal
Baked Lemon Donuts – What Jessica Baked Next
Biscoff Donuts – Baking a Moment
Chocolate Cake S'mores Donuts – Jessica in the Kitchen
Chocolate Pretzel Donuts – The Emotional Baker
Coconut Matcha Donuts with White Chocolate Glaze – Blahnik Baker
Coffee and Donuts Breakfast Bake – The Cookie Rookie
Doughnut Tiramisu – bethcakes
GF Lemon Donuts with Raspberry Glaze – Thoroughly Nourished Life
Maple Glazed Donut Holes – Hall Nesting
Old Fashioned Sour Cream Cake Donuts – American Heritage Cooking
Paleo Chocolate Frosted Donuts – A Clean Bake
Raspberry Jam Filled Cupcakes – gotta get baked
Sausage, Egg, and Cheese Donut Breakfast Sandwich – Shared Appetite
Strawberry Margarita Oreo Donuts – Life Made Sweeter
Baked Mini Samoa Donuts – Culinary Couture
Donut Holes with Sweet Strawberry Dipping Sauce – Twin Stripe
Hol(e)y donut party.
Baked Chai Donuts
Easy spiced donuts get a generous dunk in a spiced sugar coating for some extra pep in each bite.
Ingredients
DONUTS
1

cup

flour

be sure to measure properly

1

teaspoon

baking powder

1/2

teaspoon

ground cinnamon

1/2

teaspoon

ground cardamom

1/4

teaspoon

ground ginger

¼

teaspoon

salt

⅓

cup

firmly packed light brown sugar

1

large egg

2

Tablespoons

butter

melted

¼

cup

milk

any

¼

cup

plain yogurt

regular, Greek, or any fat content

1

teaspoon

vanilla extract
SPICED SUGAR COATING
3/4

cup

granulated sugar

1

teaspoon

ground cinnamon

1/2

teaspoon

ground cardamom

1/4

teaspoon

ground ginger

1/2

cup

(1 stick) unsalted butter

melted
Instructions
Preheat oven to 350ºF.

Spray a

donut pan

with non-stick spray and set aside.
DONUTS
In a medium size bowl, whisk together flour, baking powder, cinnamon, cardamom, ginger, salt, and brown sugar. Set aside.

In a small bowl, whisk together egg, butter, milk, yogurt, and vanilla extract until smooth. Pour wet ingredients into dry ingredients and blend until just combined, being careful not to over mix.

Transfer batter to a large zip top bag, snip the corner off, and pipe batter evenly into donut wells, filling them ⅔ to ¾ full. You may also use a spoon.

Bake for 10-12 minutes or until edges just start to brown. Cool on a wire rack until they are cool enough to handle before dipping in glaze.
SPICED SUGAR COATING
In a small bowl (wide and shallow enough to dip your donuts into), combine the sugar, cinnamon, cardamom, and ginger. Toss together until thoroughly mixed. Set aside.

Melt the butter in a small bowl (wide and shallow enough to dip your donuts into). Dip each donut in the butter, coating all surfaces. Then, place buttered donut in the spiced sugar coating, flipping a couple times to coat all surfaces. Transfer to wire rack to cool until ready to serve. Donuts are best enjoyed the day they are made, but will stay fresh covered tightly at room temperature up to 2 days. Donuts freeze well, up to 2 months. Thaw in refrigerator overnight. Reheat in the microwave as needed.
Nutrition Disclosure
All nutritional values are approximate and provided to the reader as a courtesy. Changing ingredients and/or quantities will alter the estimated nutritional calculations.
Check out all of my breakfast recipes!