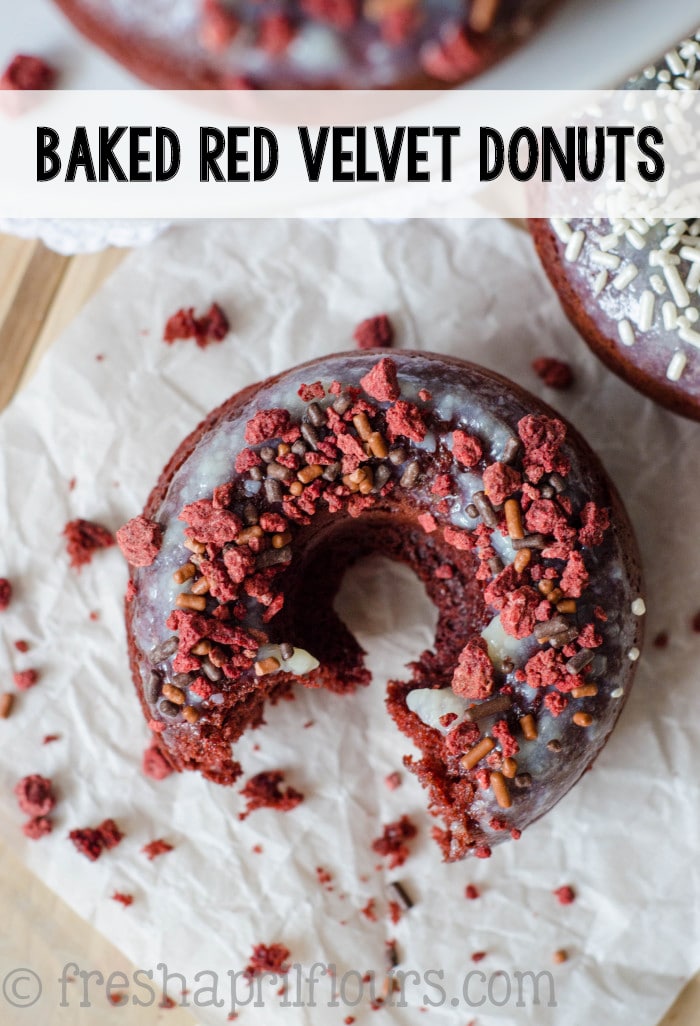 As an Amazon Associate, I earn from qualifying purchases. Read the full disclosure here.
Fluffy, lightly sweetened and delicately tangy baked red velvet donuts topped with cream cheese glaze.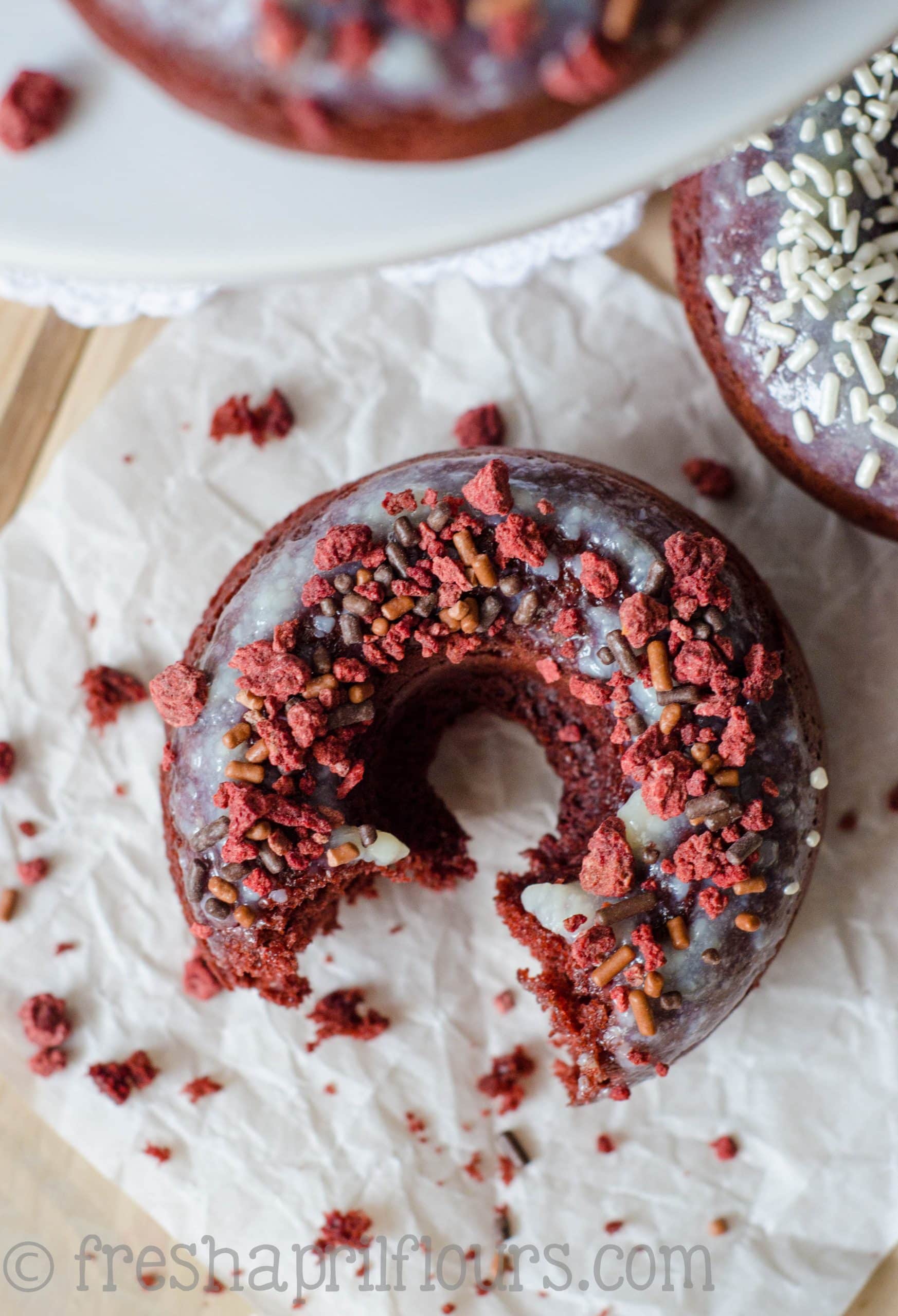 I've brought you baked donuts before, and they were delicious (have you made them?), but this particular baked donut is about to blow your mind because of two simple words…
Red. Velvet.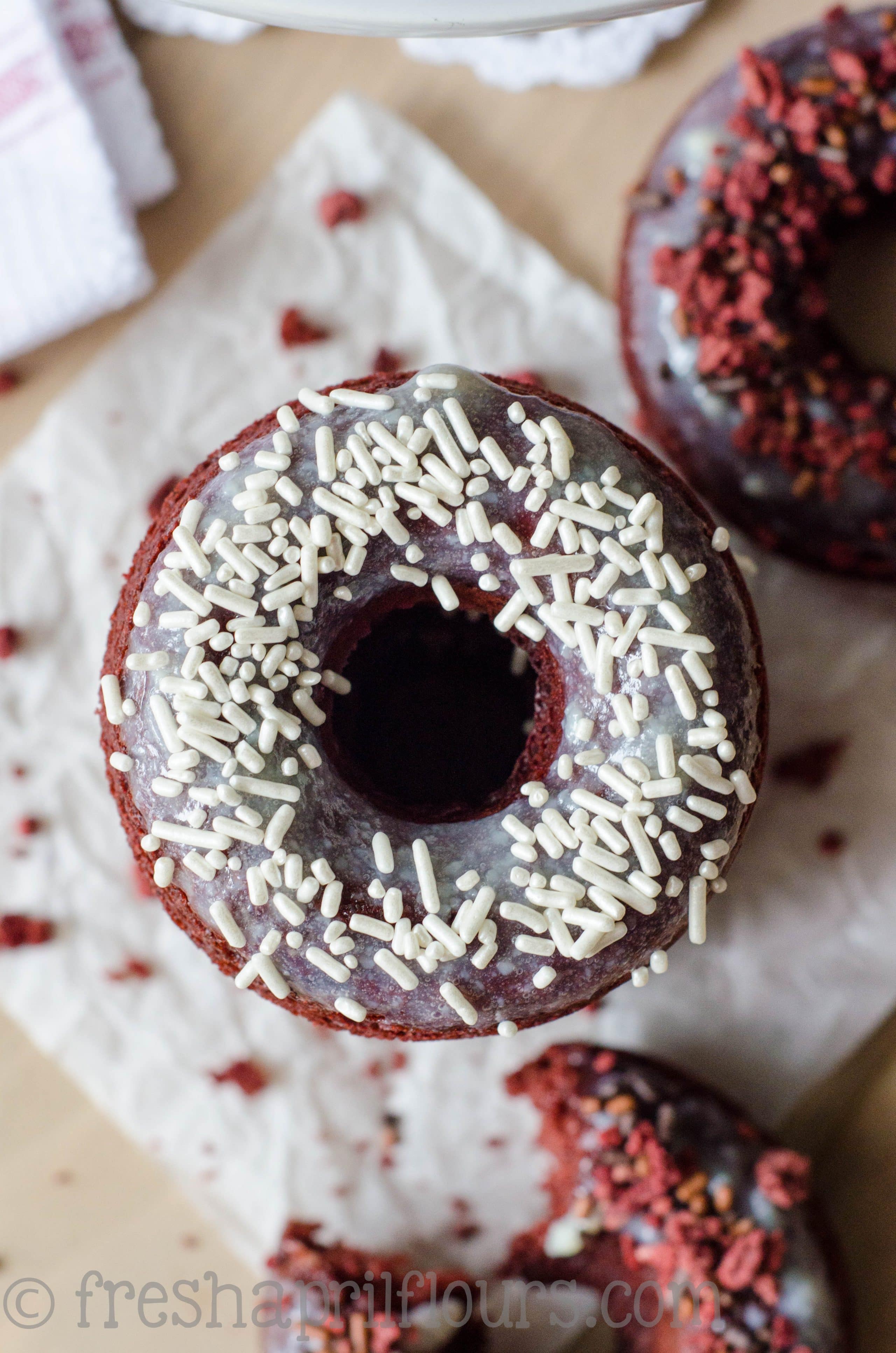 Are you a red velvet fan? I hope so, because this is not the only red velvet treat I'll be sharing with you this week (or for the rest of time, really! Here are all of my red velvet recipes!).
I can't believe it's taken me this long (almost a year of blogging) to get some red velvet all up in something, but I figured with Valentine's Day right around the corner, this was the perfect time. Let's get messy…
Red velvet is no joke. Its flavor leaves you wondering: is it chocolate? Is it vanilla? Is this what velvet tastes like?
No, none of those is true.
Red velvet, though it contains a bit of unsweetened cocoa powder, is not a chocolate flavor. It's considered a buttermilk cake, which when combined with vinegar and baking soda, gives the cake its signature flavor.
See my red velvet cupcake recipe, and here's that same recipe turned into black velvet layer cake.
While there is a hint of chocolate flavor that you'll catch on your tongue, red velvet has a flavor like no other. It's lightly sweet and just a tad tangy. It's one of my favorites. And one time, while I was still doing custom cakes/cupcakes, I made 130 of them.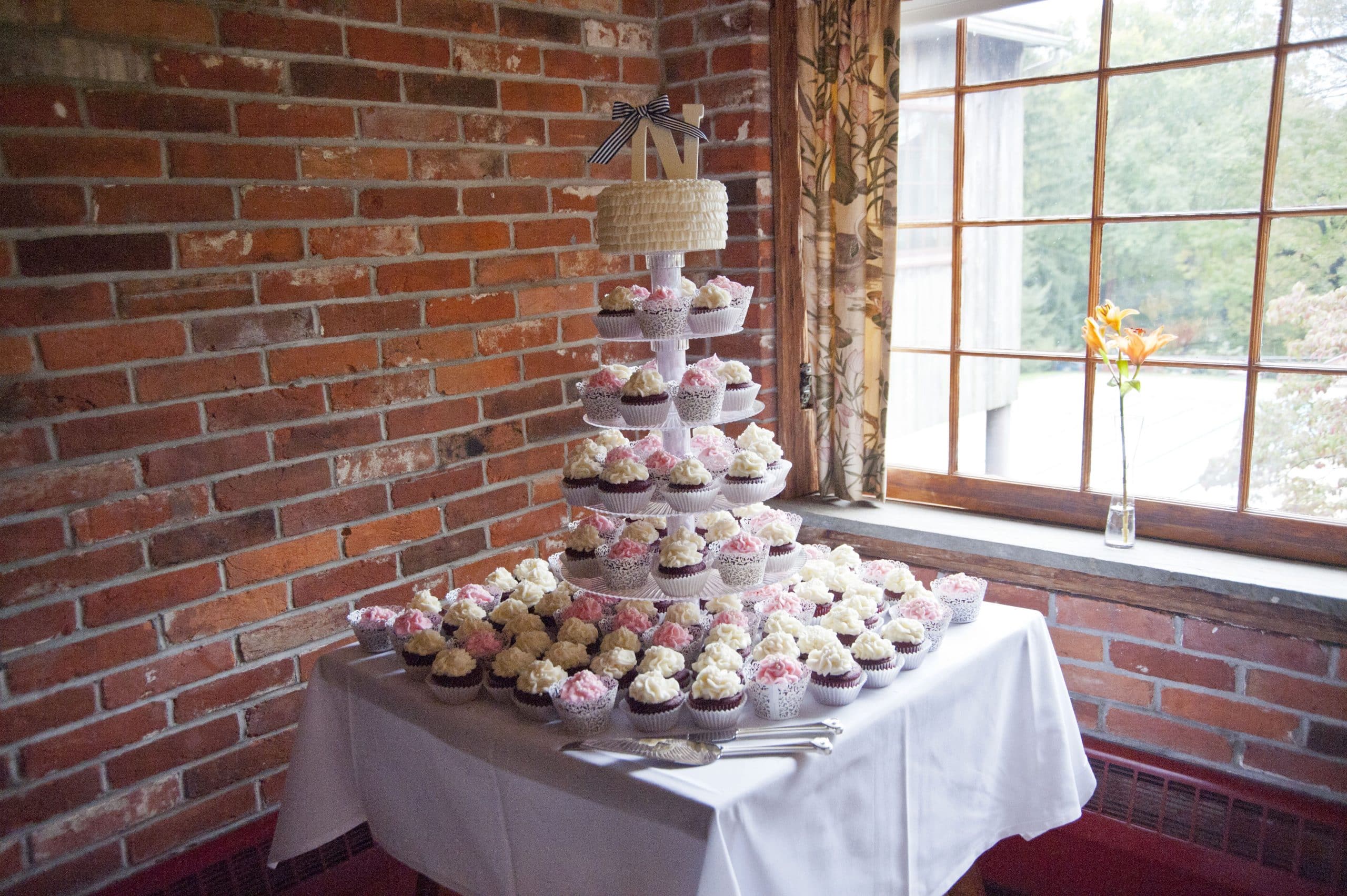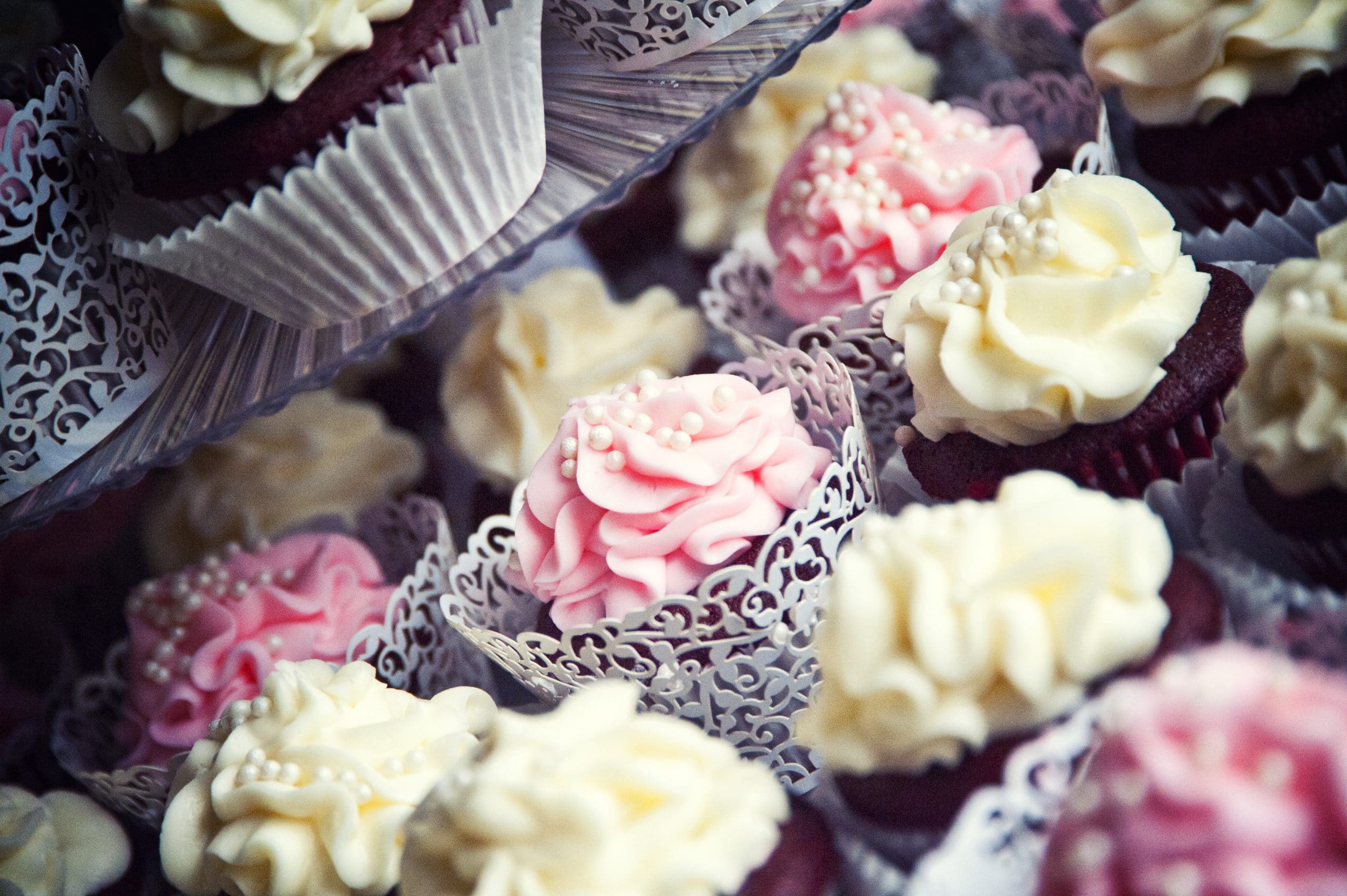 Photo credit to Jim Coarse, my website designer and the artist behind our wonderful engagement photos.
That required a lot of red food coloring… Which is how I ended up with one of these guys.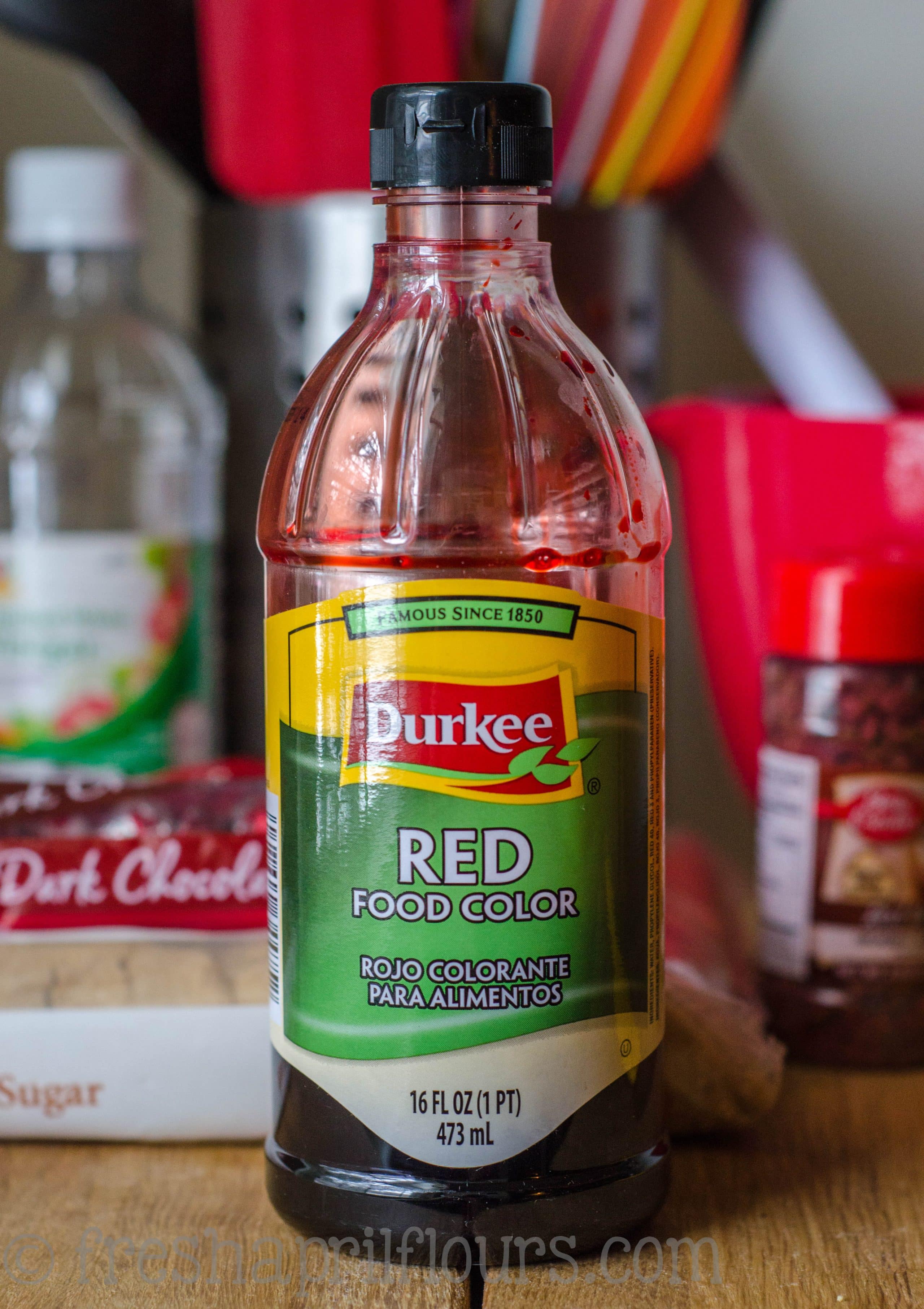 [Thank you, Amazon!]
Anyway, back to why you're here… Baked donuts. Cakey donuts, in fact… Also known as "excuse to eat cake for breakfast." You're welcome.
My baked funfetti donuts begin with all-purpose flour, which is all well and good for that recipe, but for my red velvet version, I wanted to give the donuts a bit more of a "cakey" texture. Red velvet can end up dense and dry when done poorly, so I wanted to keep things light.
I achieved this by adding just a touch of cornstarch to the flour, and I found it to give me exactly the result I was looking for. If you don't have cornstarch, although I encourage you to get some, just use regular all-purpose flour (1 cup). You could also use cake flour (also 1 cup) if that's something you keep on hand.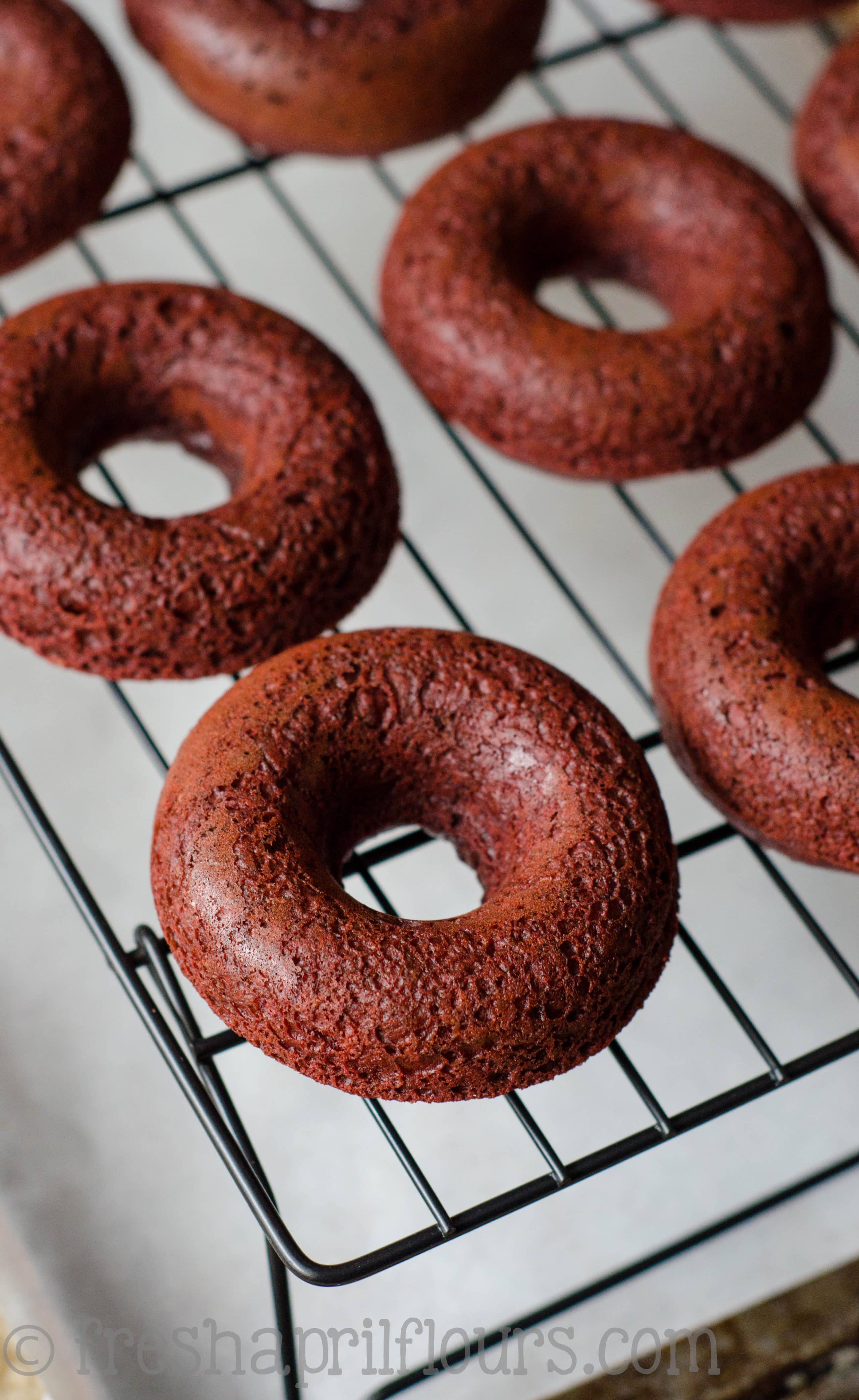 Your dry ingredients are pretty basic, but the wet ingredients are where things get interesting. You're going to be using buttermilk, and although I've said before that you can make your own, I'm requiring it for this recipe (consider making these cinnamon crunch scones with your leftover buttermilk).
You're also going to be using distilled white vinegar. No, you won't be able to taste it, promise. The vinegar reacts with the baking soda to give the cake some extra lift. Between the buttermilk and the vinegar, the baking soda gets all kinds of activated and keeps things light in your red velvet batter.
Don't forget about that cornstarch lightening things up as well. Lift = fluff = yay.
Once your batter is prepared, you'll transfer it all to a large zip-top plastic bag, snip off the end, and pipe the donut wells about 2/3 to 3/4 of the way full. They'll puff up a great deal, so don't overfill them.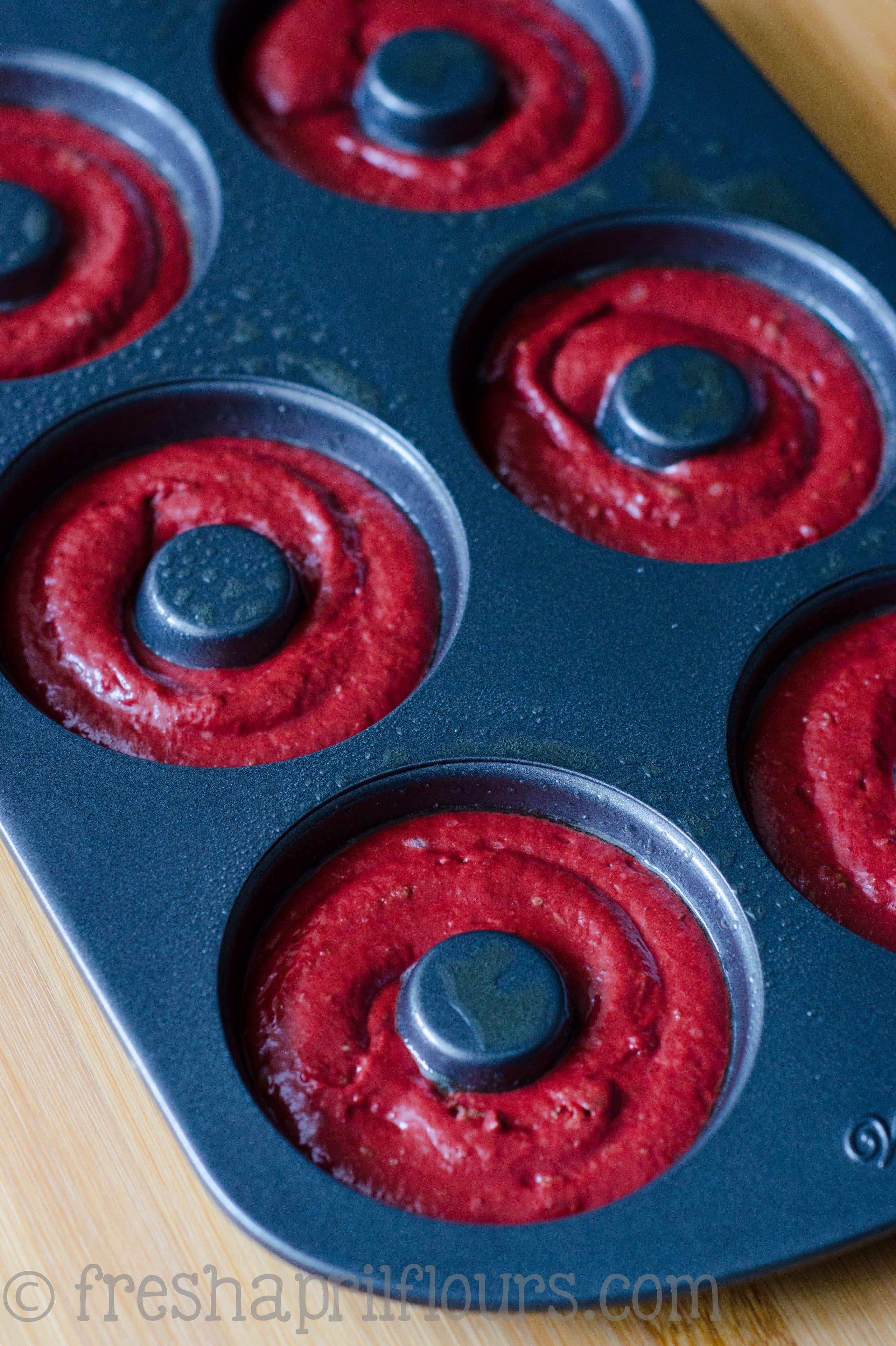 Once the donuts are completely cool, top them however you like. I'm not a huge glaze fan, so I went light on my cream cheese glaze. I pretty much just use glaze as a vehicle for sprinkles. If you're really into glaze, be my guest and load it up! If you prefer not to use a cream cheese glaze and just want plain vanilla, consider using the crackly glaze from my funfetti donuts.
I used two kinds of sprinkles, but Betty's red velvet cake ones were… Perfection.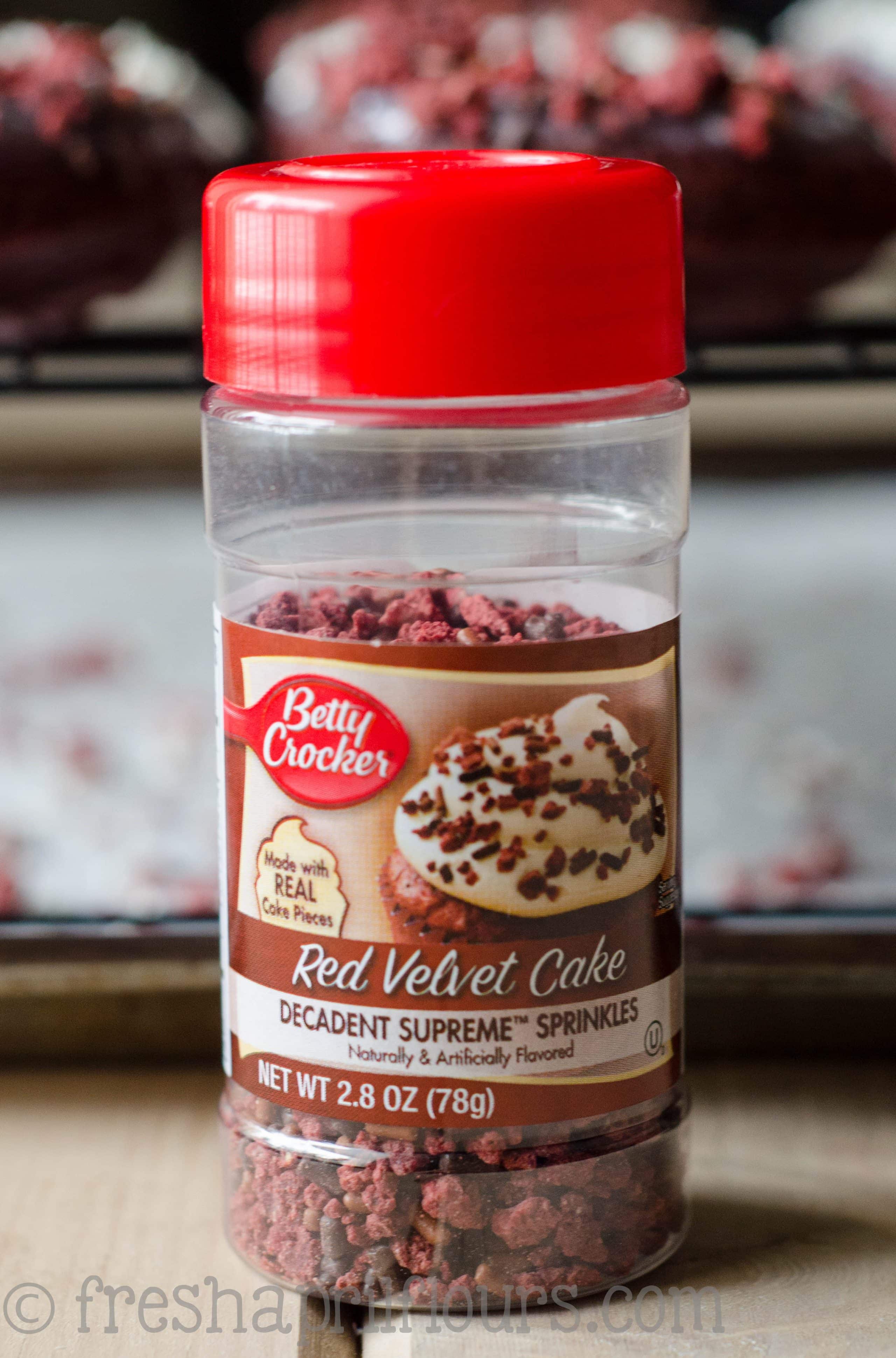 You could also just sprinkle powdered sugar on top of your donuts and forego the glaze altogether… But then… How would you make your sprinkles stick? 🙂
These fluffy, lightly sweetened and delicately tangy baked red velvet donuts topped with cream cheese glaze are the the perfect treat for Valentine's Day breakfast! Or… Any time, really. Red velvet everyday, if you please (and I think you should).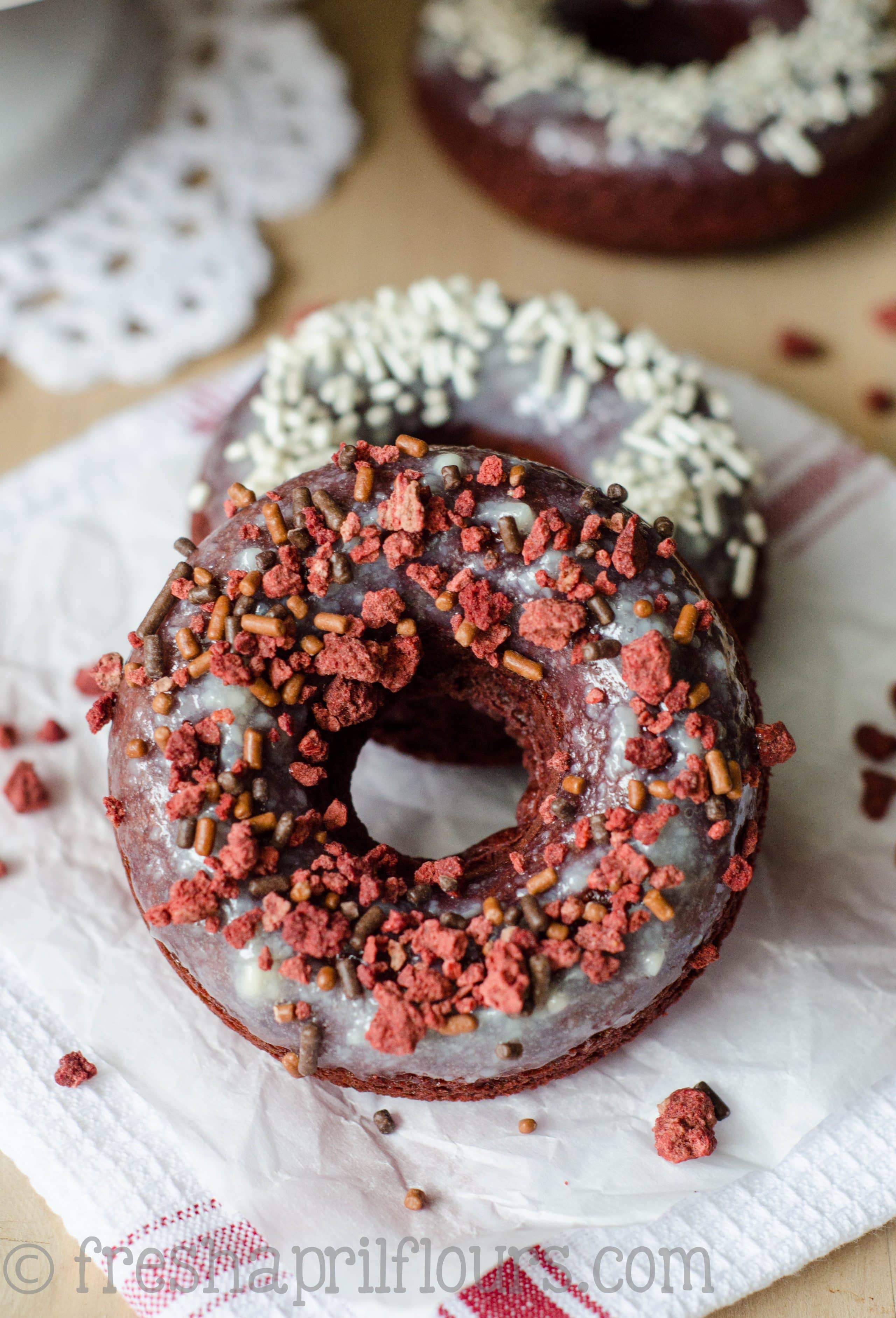 You're gonna love 'em.
Check out my plethora of more red velvet recipes: red velvet bundt cake, red velvet lava cakes, red velvet puppy chow, red velvet brownies, and red velvet crinkle cookies.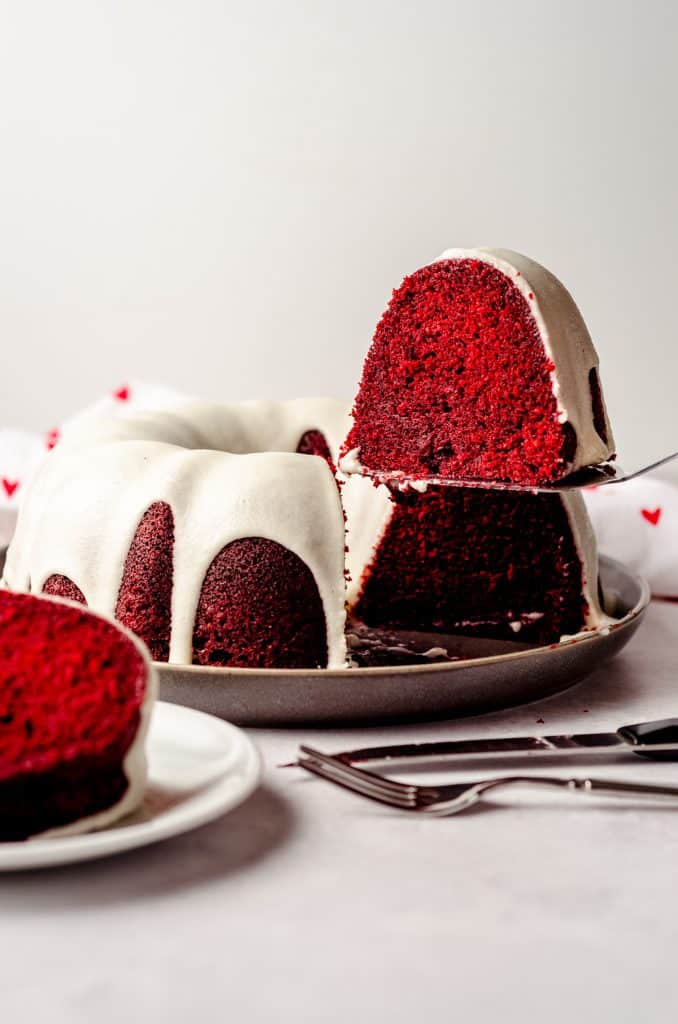 Baked Red Velvet Donuts
Fluffy, lightly sweetened and delicately tangy baked red velvet donuts topped with cream cheese glaze.
Ingredients
FOR THE DONUTS
3/4

cup

+ 2 Tablespoons all-purpose flour1 be sure to measure properly

1

Tablespoon

cornstarch

1

teaspoon

baking powder

1/4

teaspoon

salt

2 and 1/2

Tablespoons

unsweetened cocoa powder

1/3

cup

granulated sugar

1

egg

2

Tablespoons

unsalted butter

melted and cooled

1/3

cup

+ 1 Tablespoon buttermilk2

1

teaspoon

red food coloring

1/2

teaspoon

distilled white vinegar3

1/2

teaspoon

baking soda

1

teaspoon

vanilla extract
FOR THE CREAM CHEESE GLAZE
2

Tablespoons

cream cheese

softened to room temperature

1/2

cup

powdered sugar

1/2

teaspoon

vanilla extract

2

Tablespoons

buttermilk
Instructions
Preheat oven to 350ºF.

Spray a donut pan with non-stick spray and set aside.
FOR THE DONUTS
In a medium size bowl, whisk together flour, cornstarch, baking powder, salt, cocoa powder, and sugar. Set aside.

In a smal bowl, whisk together egg, butter, buttermilk, and red food coloring until smooth. Pour wet ingredients into dry ingredients and blend until just combined, being careful not to over mix.

In a small prep bowl or a measuring cup (at least 1/4 cup), combine vinegar and baking soda. Mixture will bubble quite a bit. Add vanilla extract and stir to combine. Add this mixture to your batter and stir until everything is incorporated, being careful, again, not to over mix.

Transfer batter to a large zip top bag, snip the corner off, and pipe batter evenly into donut wells, filling them ⅔ to ¾ full. You may also use a spoon.

Bake for 9 minutes or until donuts spring back when you touch them. Cool completely on a wire rack before dipping in glaze.
FOR THE CREAM CHEESE GLAZE
Combine ingredients in a bowl that will accommodate dunking donuts and whisk until smooth. Add more buttermilk 1 teaspoon at a time if you would like it runnier. Add more powdered sugar to firm it up. Dunk donuts into glaze one by one. Transfer to wire rack over a baking sheet or wax paper to catch glaze drippings. If you prefer a crackly plain vanilla glaze, use this recipe.

Dunk donuts as many times as you wish until glaze is gone. Decorate with sprinkles, leave plain, or dust with powdered sugar. Donuts taste the freshest the same day they are baked, but can be stored covered at room temperature up to 2 days.
Notes
You may use 1 full cup of all-purpose flour. Please note your donuts will not be as "cakey" as they would if you cut it with cornstarch. Alternatively, you may use 1 cup of cake flour and forego the cornstarch as well.
NO SUBSTITUTIONS. Buttermilk is essential for authentic red velvet flavor.
You may also use apple cider vinegar.
Nutrition Disclosure
All nutritional values are approximate and provided to the reader as a courtesy. Changing ingredients and/or quantities will alter the estimated nutritional calculations.