Cinnamon Scones (With Cinnamon Chips)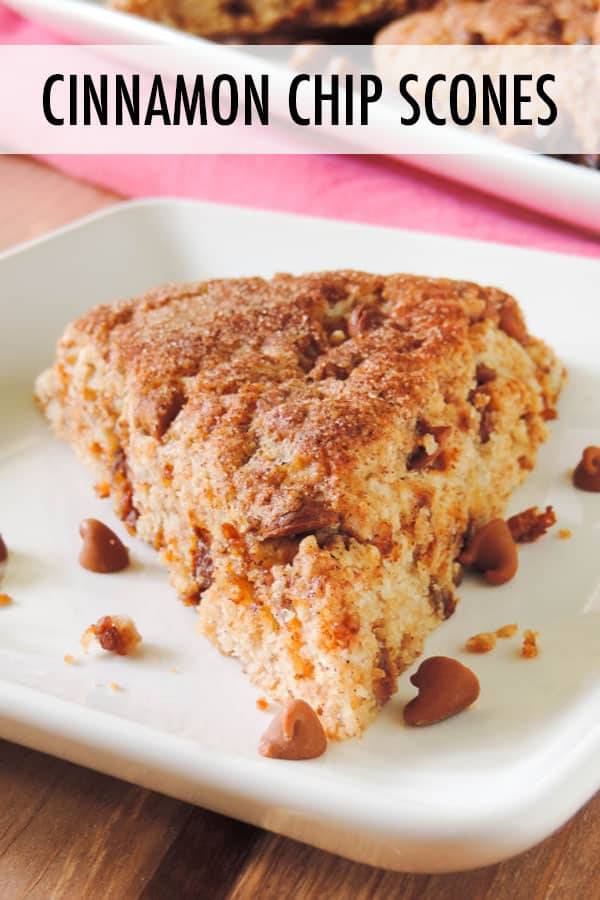 As an Amazon Associate, I earn from qualifying purchases. Read the full disclosure here.
Buttery, flaky, and tender scones that are full of sweet cinnamon flavor. The sweet crunch on top is the best part!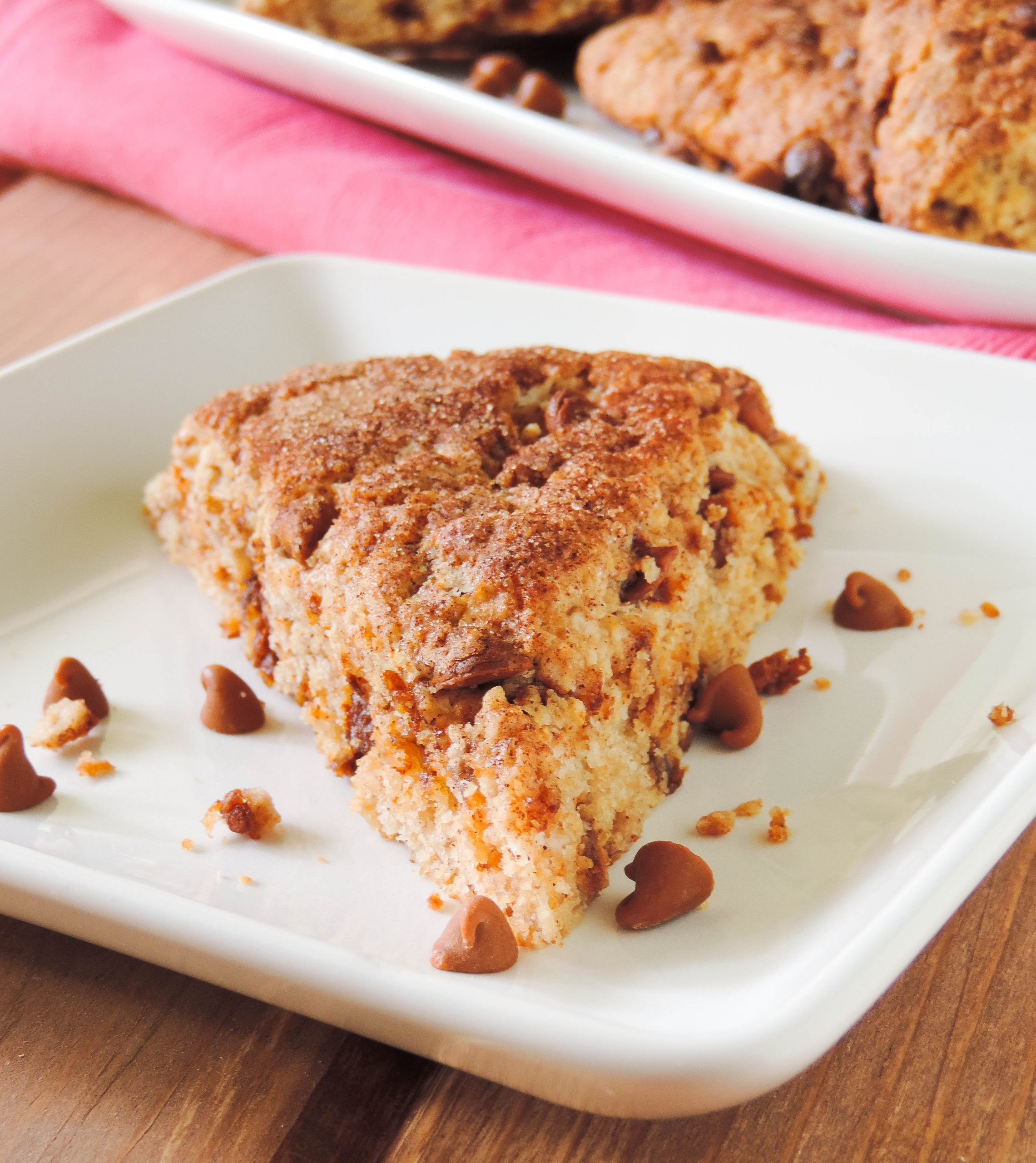 Forget everything you think you know about scones. Right now. All of it. Just throw it out the window.
If you're one of those people who thinks scones are too hard, too bland, and too dry, I'm going to change your mind quickly about all of that.
Up until I started making American scones myself, I would totally agree with all of those descriptions.
It wasn't until I saw a recipe for Meyer lemon-raspberry scones from Brown Eyed Baker that I realized scones could be full of flavor, oh-so-moist, and best of all sweet, and that's how this recipe for cinnamon scones was born.
BRITISH SCONES VS AMERICAN SCONES
I actually did a little research and found that scones, in the British sense, are pretty bland. Those Brits load them up with butter or jam and that solves all of the problems.
Here in America? That just doesn't fly.
Nope, we need to have all those goodies inside the scone, because who the heck wants those extra steps when butter and sugar and cinnamon are involved?
If you want to spread some goodness, you might as well just eat plain bread… And what's the fun in that?
INGREDIENTS
For these cinnamon crunch scones, we have a bunch of very simple, very familiar ingredients.
You'll need flour, both white and brown sugars, baking powder, salt, ground cinnamon, frozen butter, buttermilk, an egg, and cinnamon chips.
Now, a note about the cinnamon baking chips: they can be very difficult to find.
I usually find them at Walmart or Target in the fall/winter, and you can sometimes find them on Amazon. If you can't find them at all, you can omit and still be left with delicious cinnamon scones! But if you can find them, let's continue with them.
HOW TO MAKE CINNAMON SCONES
Let's go over a couple things to make sure we're on the same scone page and you get these easy cinnamon chip scones done perfectly.
USE FROZEN BUTTER FOR FLUFFINESS
First of all, you'll want to use frozen butter, for the same reasons you want to use frozen butter when you make pie crust: when the frozen butter melts in the oven, it creates pockets of steam that keep the scones light and airy on the inside.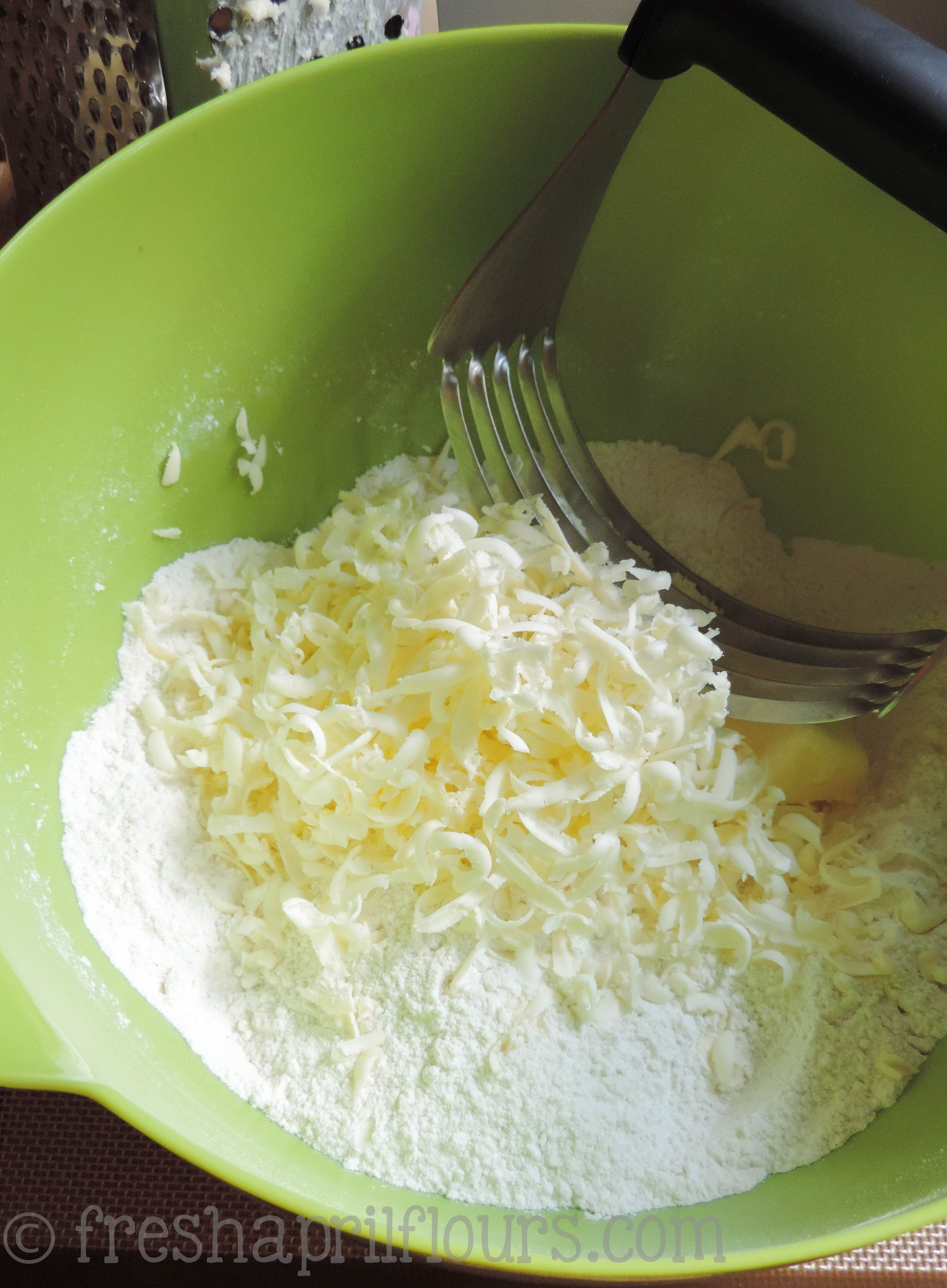 I freeze my butter for at least 30 minutes. You'll want to grate the butter into your dry ingredients quickly with a cheese grater.
Once your butter is in, you're going to cut it in with a pastry blender. If you don't have a pastry blender, get one. It will change your baking life!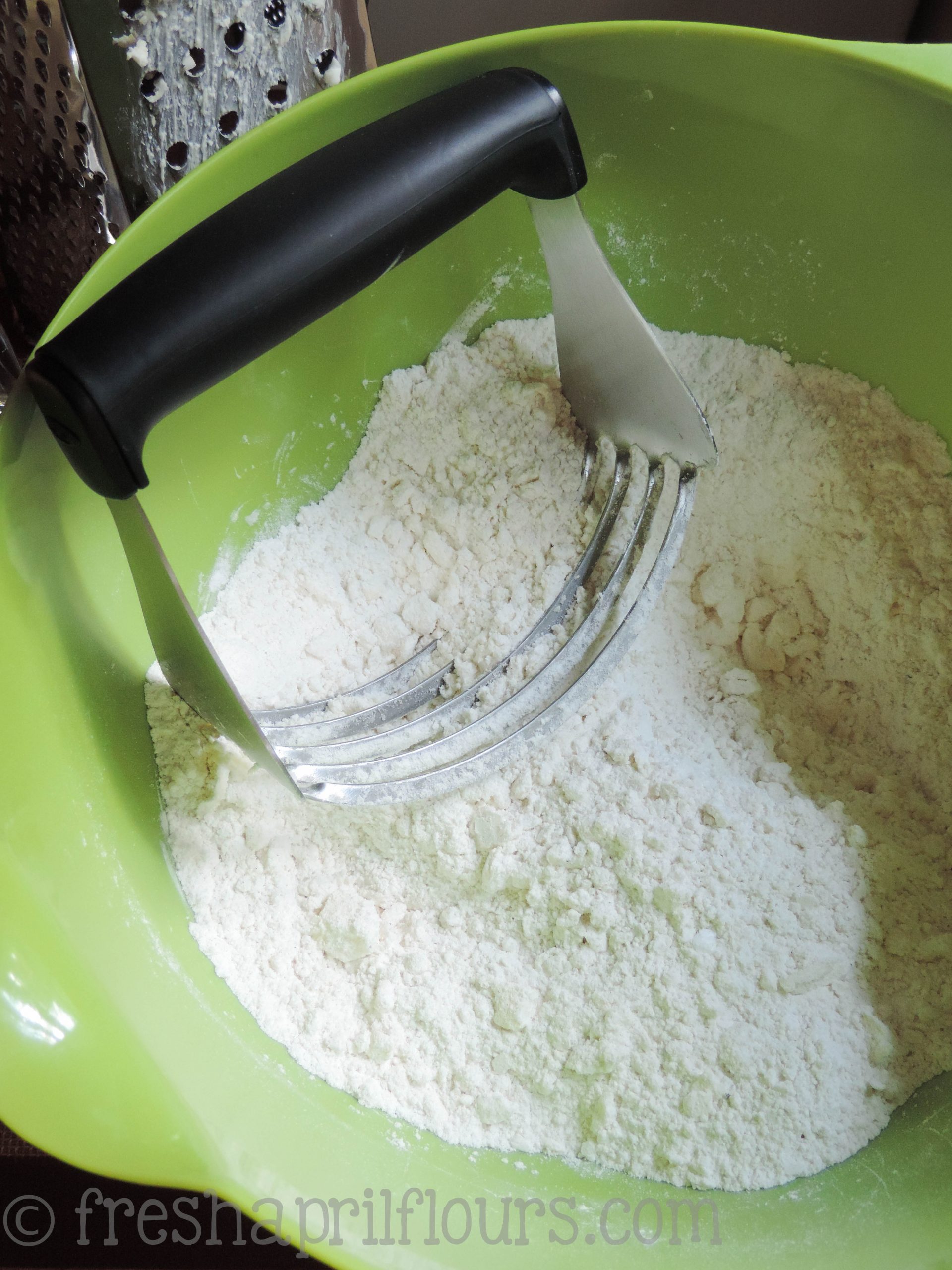 In the meantime, use a fork or two knives. Cut it in until it resembles coarse crumbs.
Then, it's time for your liquids: one egg and a half a cup of buttermilk.
BUTTERMILK MAKES SCONES EXTRA MOIST
The buttermilk makes these scones so moist and it's imperative to this recipe. If you don't have buttermilk, make your own!
See my post about how to make your own buttermilk.
Once the liquids are in, mix as little as possible. You don't want to overwork the gluten in your dough, otherwise your scones will end up dense and tough. That's a sco-no (oh boy).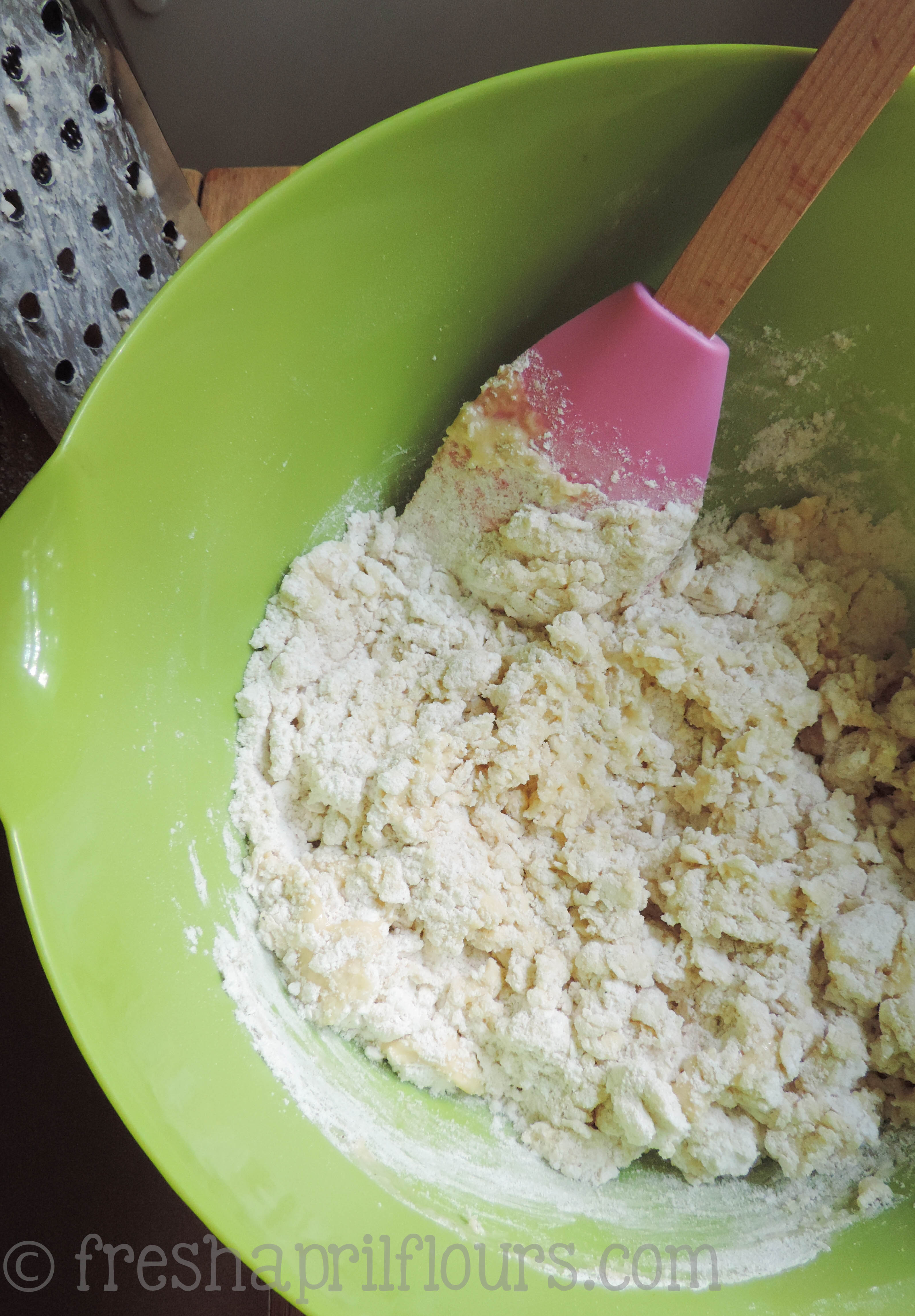 When your dry ingredients have just moistened, carefully stir in your cinnamon chips. I actually like to use my hands for this step so I can be sure I'm being delicate with everything.
SHAPE THE SCONE DOUGH
When your chips are fully mixed, you'll dump everything out onto a silicone baking mat or parchment paper and form it all into a uniform disc about 8″ in diameter.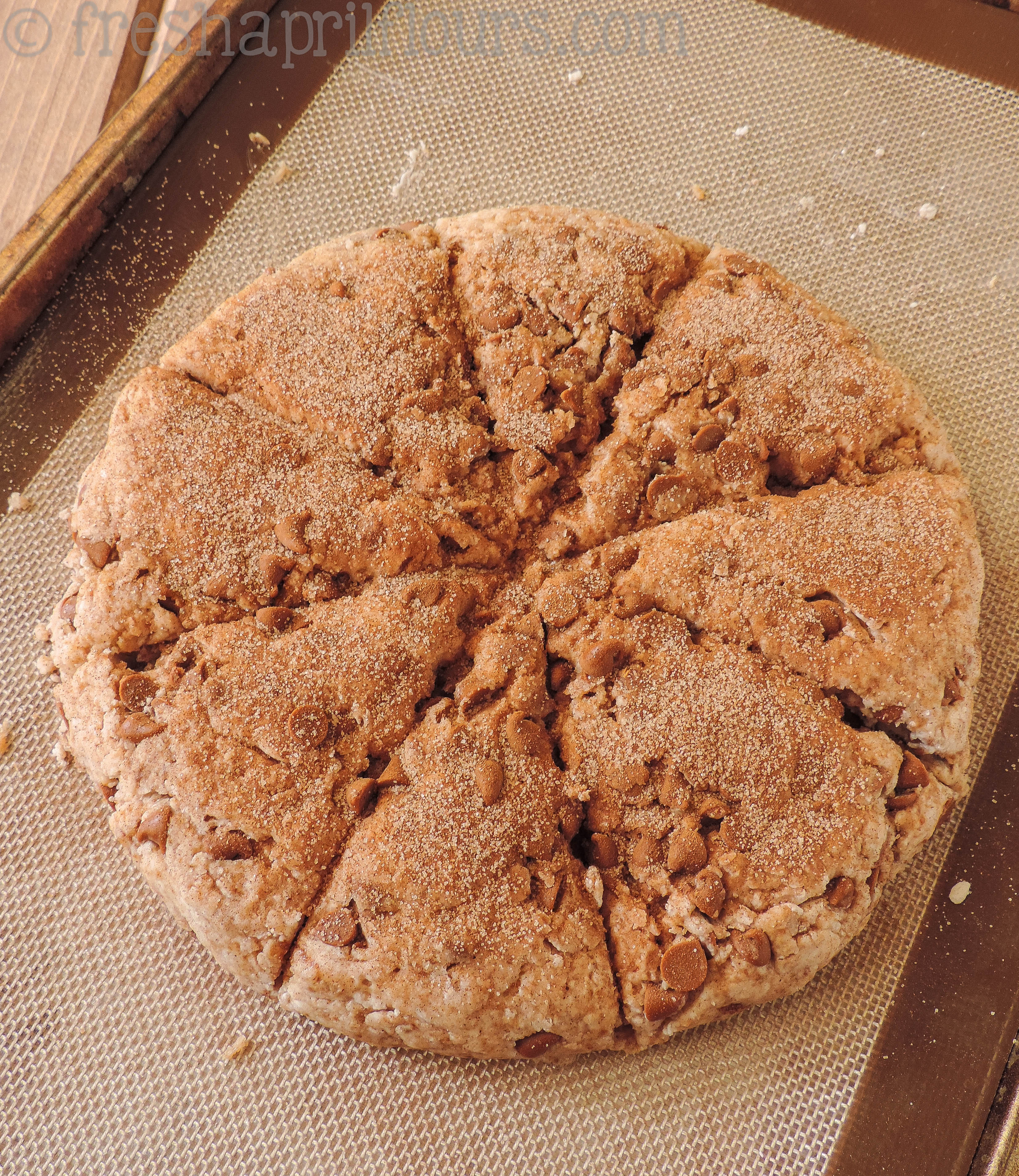 I use my bench scraper to use as a guide since it is 8″ long and what I use to cut my dough into the individual triangles.
If you don't have something like this, use the sharpest knife you own, being careful not to tear your mat or the parchment sitting under your dough.
Once your disc is cut, sprinkle generously with a mix of cinnamon and sugar. This is where your crunchy top comes in– the high heat of the oven melts the sugar crystals and puts this beautiful, crispy layer of sweet and spicy right on top of your scone.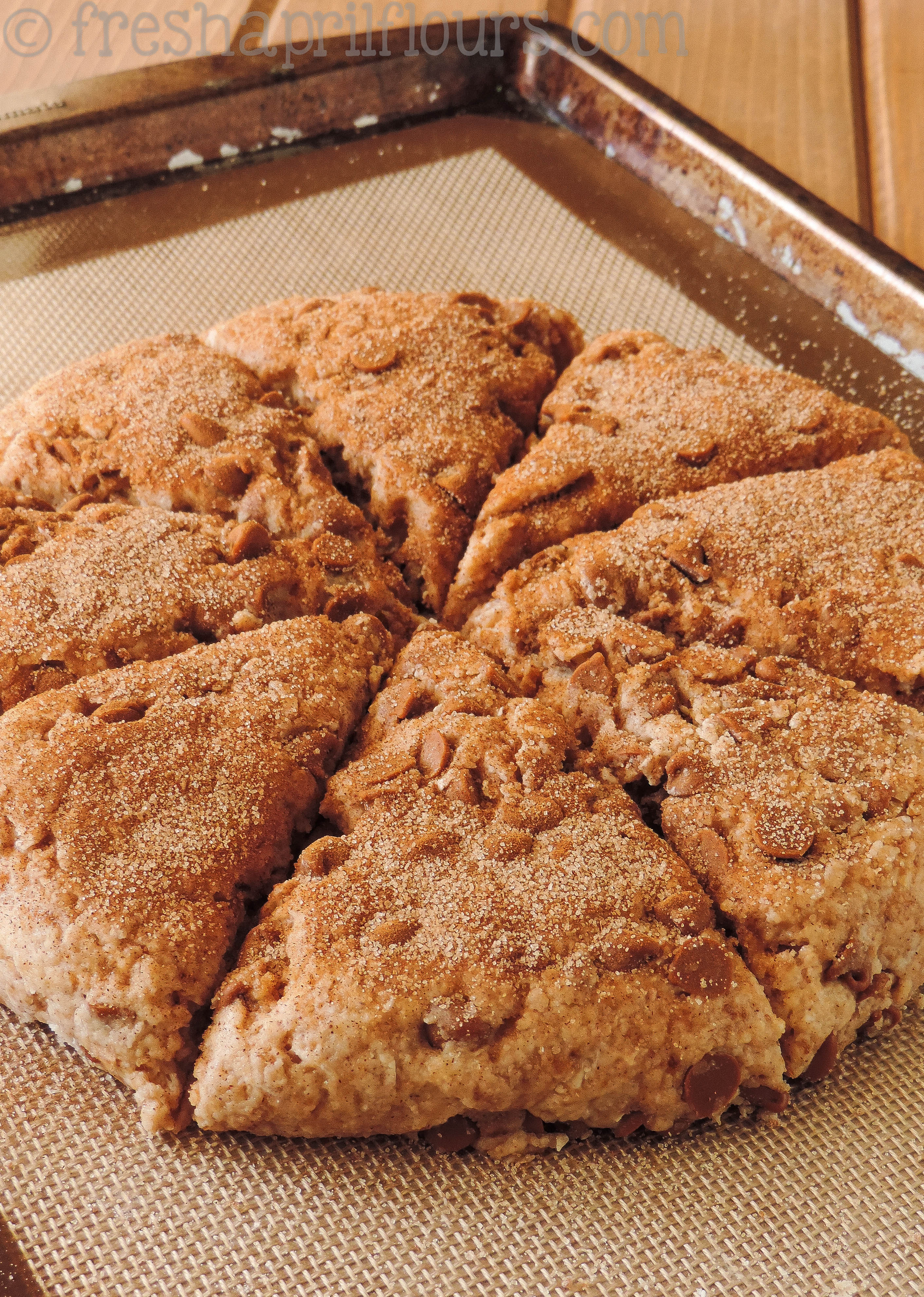 Once you sink your teeth through this crunchy layer, the inside will melt.in.your.mouth! It's buttery, light, and tender, and every bite is full of luscious little cinnamon chips.
These scones are reminiscent of muffins, but a little more dense. They go perfectly with a cup of coffee, and are best served fresh from the oven.
If you're having guests over for breakfast or brunch, this cinnamon scone recipe goes from ingredients in your pantry to the table in under 40 minutes.
That's enough time to shake the sleepies out, spend 20 minutes sniffing the amazing aroma billowing from the kitchen, and prepare your palate for the scone that will change all opinions you thought you had about scones forever… Just remember to pop your butter in the freezer the night before!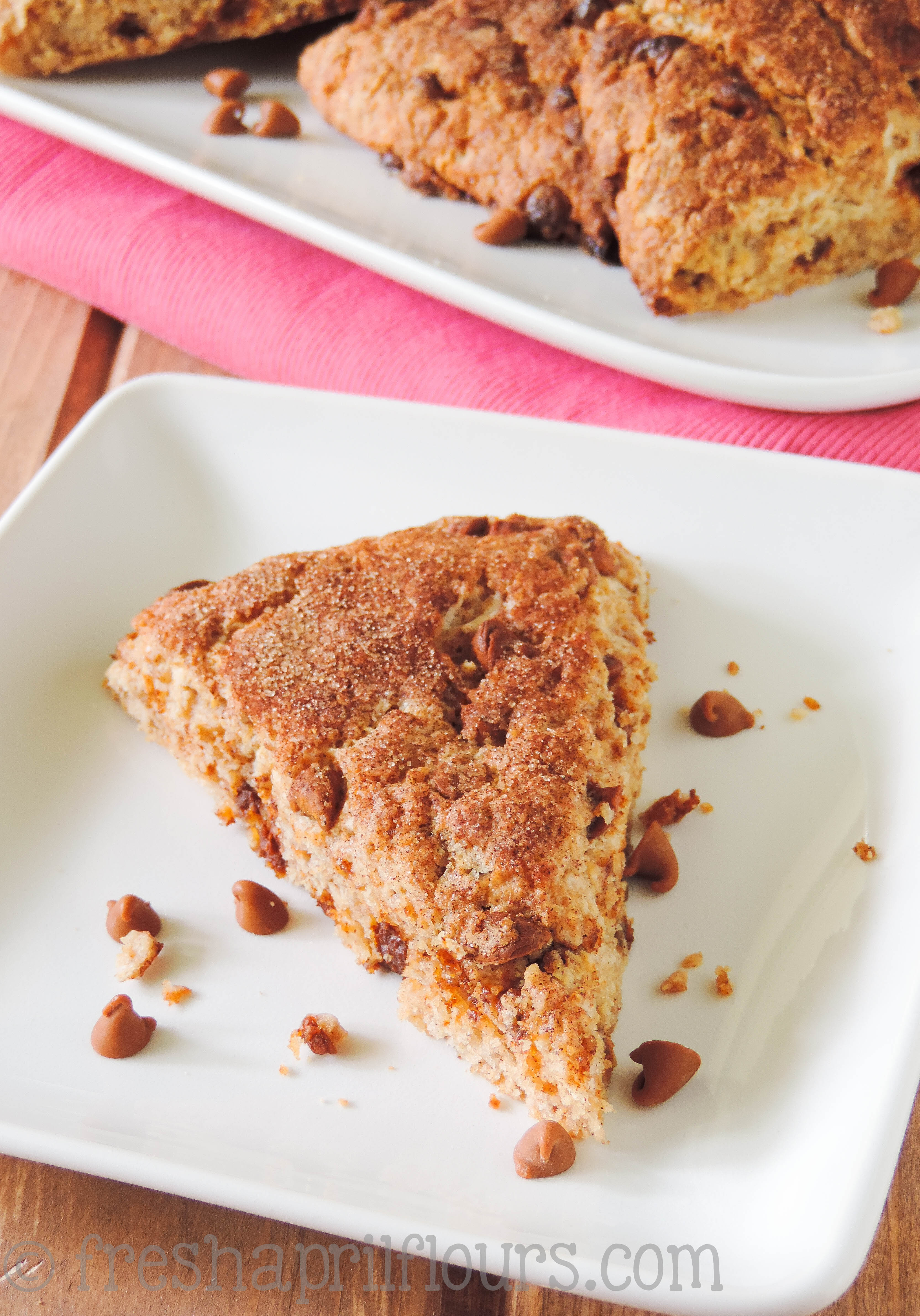 Most importantly, don't invite too many brunch guests over, because you're going to find them very hard to share!
Love scones? Try more of my scone recipes: apple scones or orange poppy seed scones.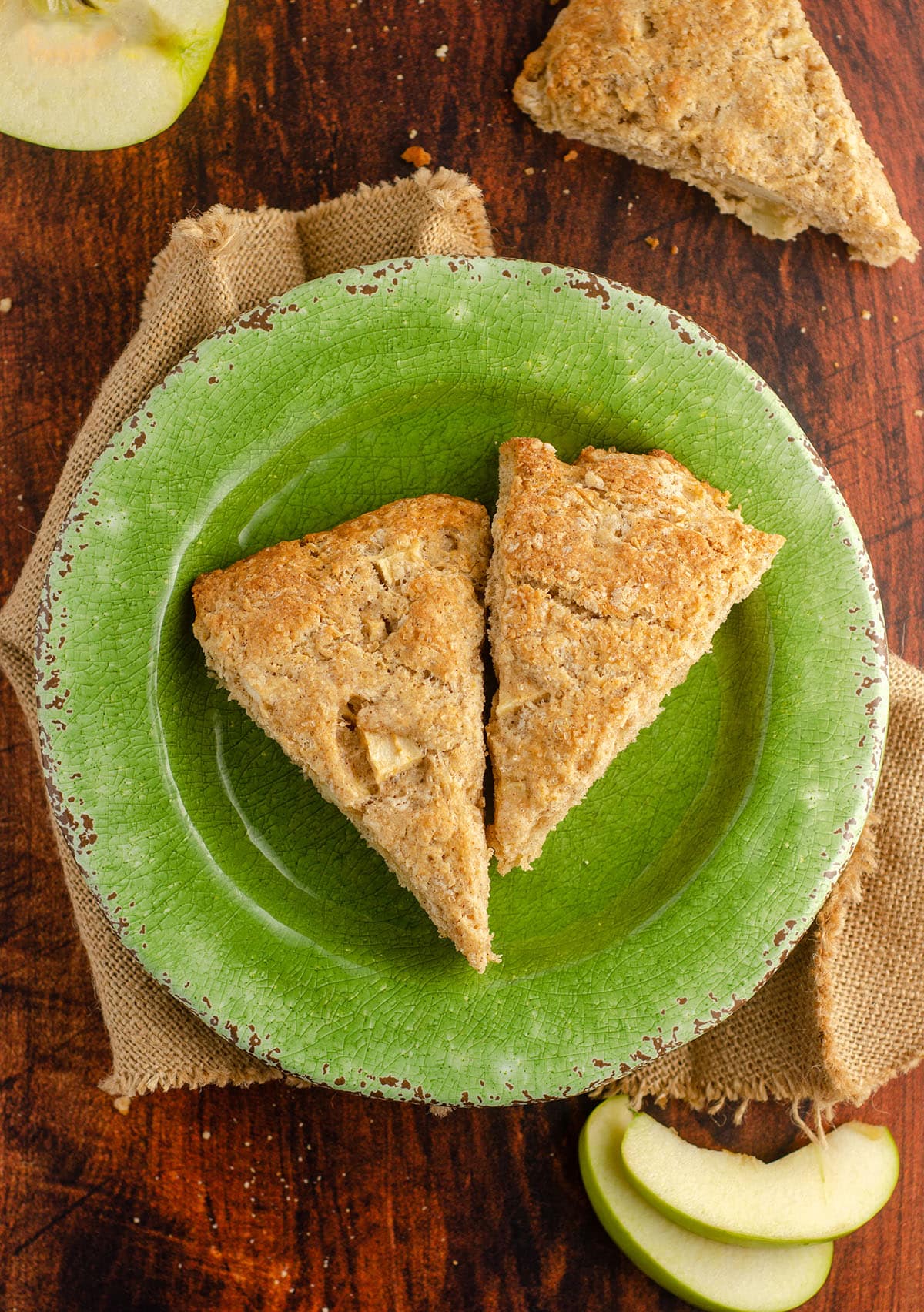 Cinnamon Scones Recipe
Buttery, flaky, and tender scones that are full of sweet cinnamon flavor. The sweet crunch on top is the best part!
Ingredients
2 and ¼

cups

(270g) all-purpose flour be sure to measure properly

¼

cup

+ 1 Tablespoon (63g) granulated sugar

divided

¼

cup

(50g) firmly packed light or dark brown sugar

2 and ½

teaspoons

baking powder

½

teaspoon

salt

2

teaspoons

ground cinnamon

divided

6

Tablespoons

(85g) unsalted butter

frozen

½

cup (120mL)

buttermilk

1

large egg

1

cup

(120g) mini cinnamon chips1
Instructions
Preheat the oven to 400ºF (204ºC). Line a large baking sheet with a silicone baking mat or parchment paper. Set aside.

In a large bowl, whisk together the flour, ¼ cup (50g) of the granulated sugar, brown sugar, baking powder, salt, and 1 teaspoon of the ground cinnamon.

Quickly grate the frozen butter into the flour mixture.

Using a pastry blender, a fork, or two knives, blend the butter into the flour until it resembles coarse crumbs. Set aside.

In a small bowl, whisk together the buttermilk and the egg. Pour this mixture evenly over the flour/butter mixture and blend together with a spatula until everything is just moist. Gently fold in the mini cinnamon chips, using your hands if necessary.

With your hands, form the dough into a ball and transfer it to the prepared baking sheet. Press ball into an 8" disc and cut into 8 equal triangles with a sharp knife or bench scraper2. Sprinkle with a mix of remaining granulated sugar and ground cinnamon.

Bake scones for 22-24 minutes or until edges start to brown. Remove from oven and allow to cool on baking sheet for a few minutes. Scones are best served immediately, but will stay fresh in an airtight container at room temperature for 2 days. Scones may be frozen up to 3 months. Defrost at room temperature and warm to preference before enjoying.
Notes
Mini cinnamon chips: these can be really difficult to find, even during fall/winter seasons. I usually find them at Walmart or Target in the fall/winter, and you can sometimes find them on Amazon. If you can't find them at all, you can omit and still be left with delicious cinnamon scones!
Bench scraper: a bench scraper is my favorite way to cut scone dough.
Inspired by Brown Eyed Baker
Nutrition Disclosure
All nutritional values are approximate and provided to the reader as a courtesy. Changing ingredients and/or quantities will alter the estimated nutritional calculations.
.