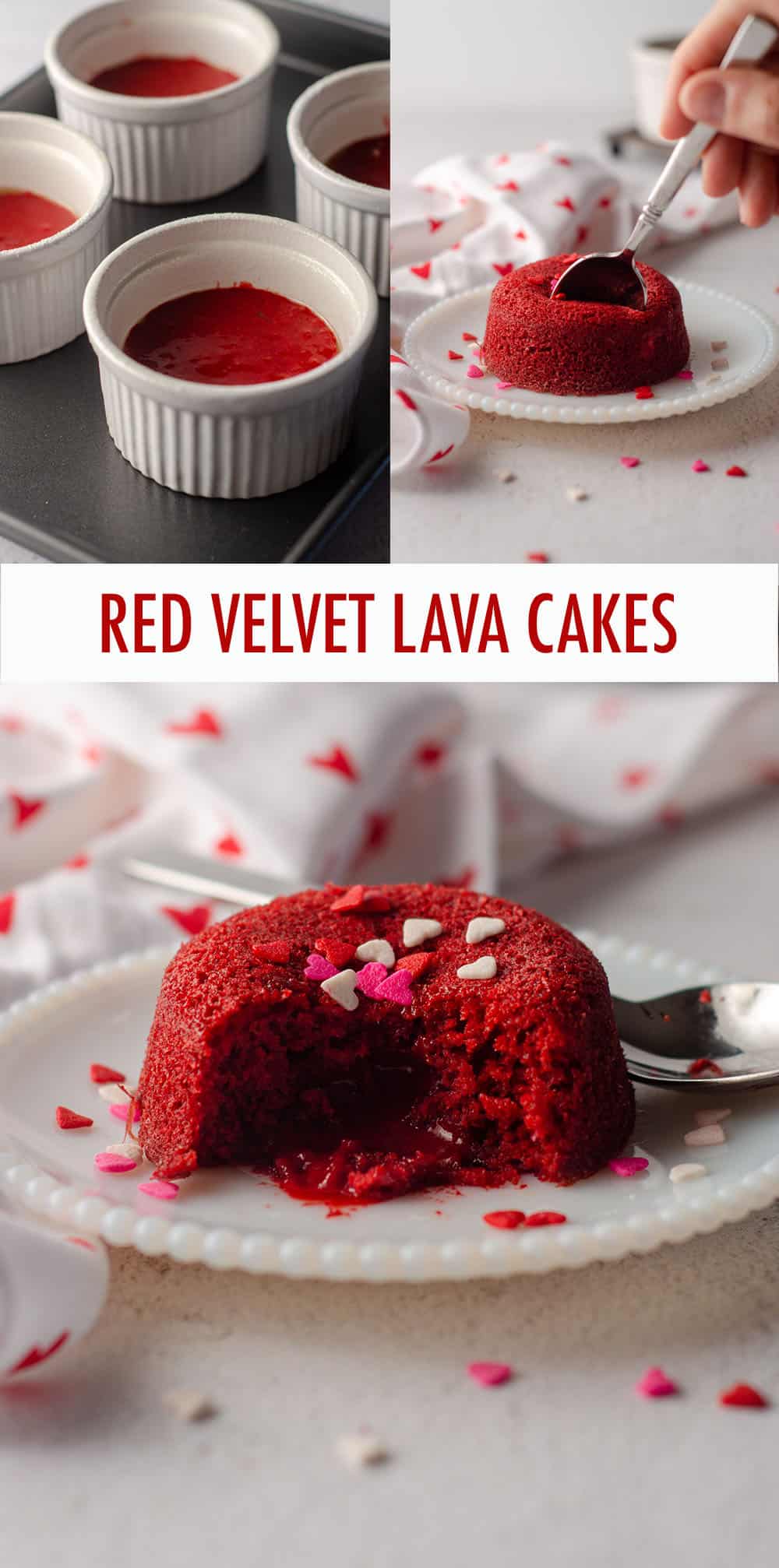 As an Amazon Associate, I earn from qualifying purchases. Read the full disclosure here.
Molten lava cakes made easily from red velvet cake mix are perfect for your Valentine's Day dessert. Recipe makes 4 cakes in ramekins or 6 cakes in a cupcake pan.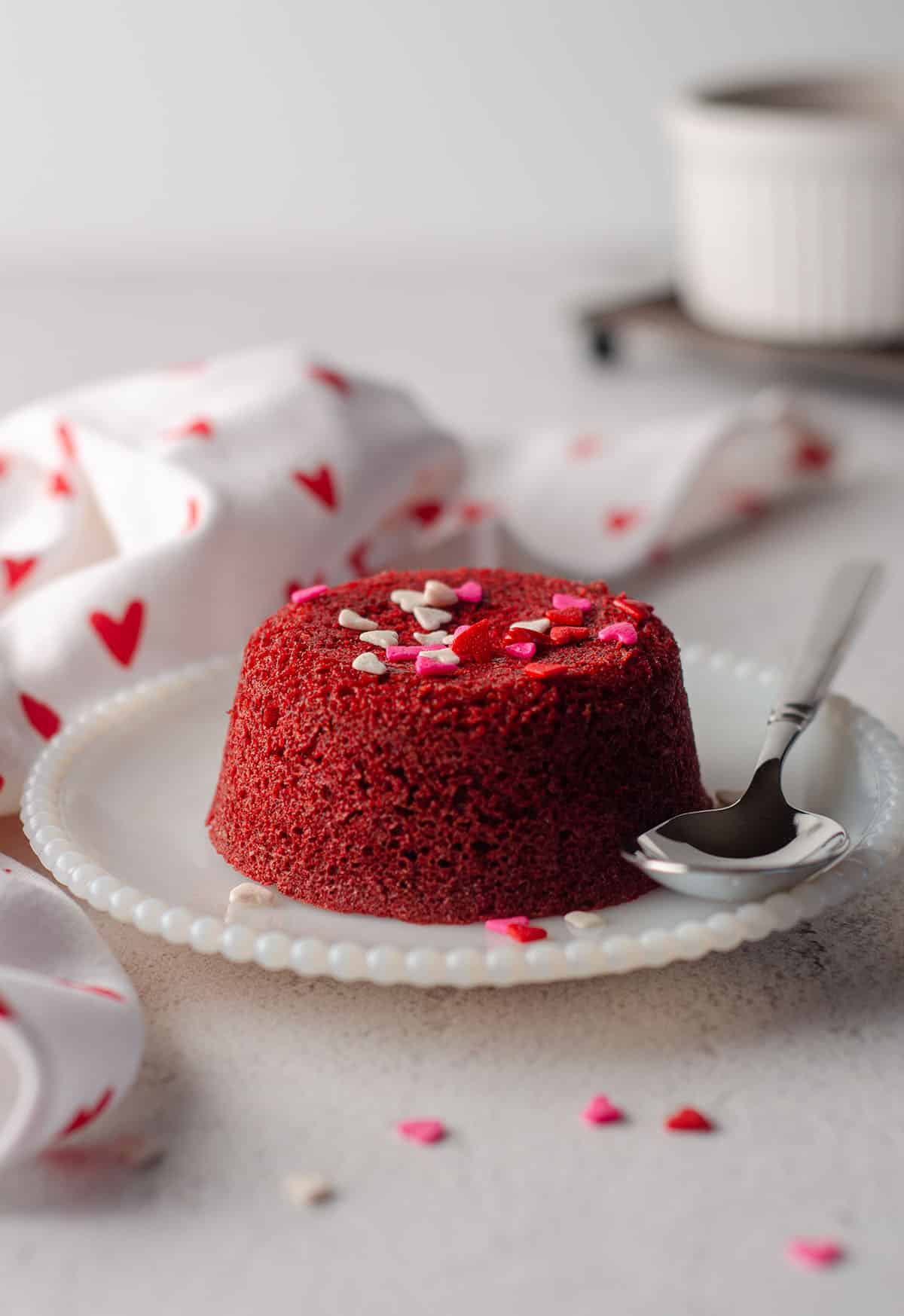 Another February, another round of red velvet treats, yeah? Because it just makes sense.
While we don't typically make any big thing out of Valentine's Day, since having kids, we are all about the heart shaped sprinkles, fun desserts, red/pink outfits, and red velvet treats.
And while I do pride myself on a fabulous red velvet cupcake recipe as well as a black velvet layer cake recipe (swap the black food coloring for red food coloring and you've got yourself red velvet cake), both made from scratch, there is totally a time and place for red velvet cake mix, and that place is here today.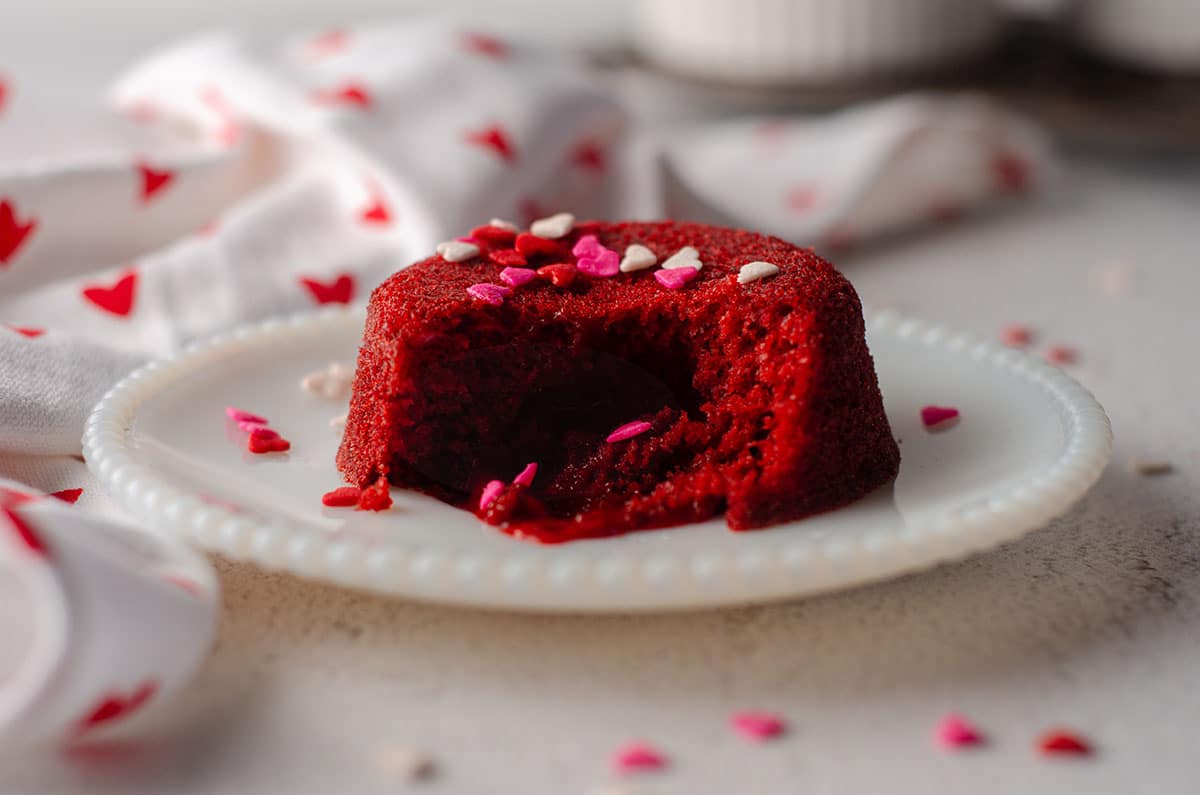 Last year, I published a few red velvet recipes on my blog: two cookies (a red velvet crinkle cookie and a red velvet blossom), red velvet brownies, and red velvet puppy chow.
While both of those cookies and the brownies were made completely from scratch, I used red velvet cake mix to coat that puppy chow, because sometimes, that's what works best.
See also my red velvet pancakes, red velvet Rice Krispies treats, and red velvet biscotti if you're looking to use some of your leftover red velvet cake mix.
WHAT IS A LAVA CAKE?
So you might be asking… What exactly is a lava cake?
I don't know about you, but when I think of lava cakes, I think of being on a Carnival cruise.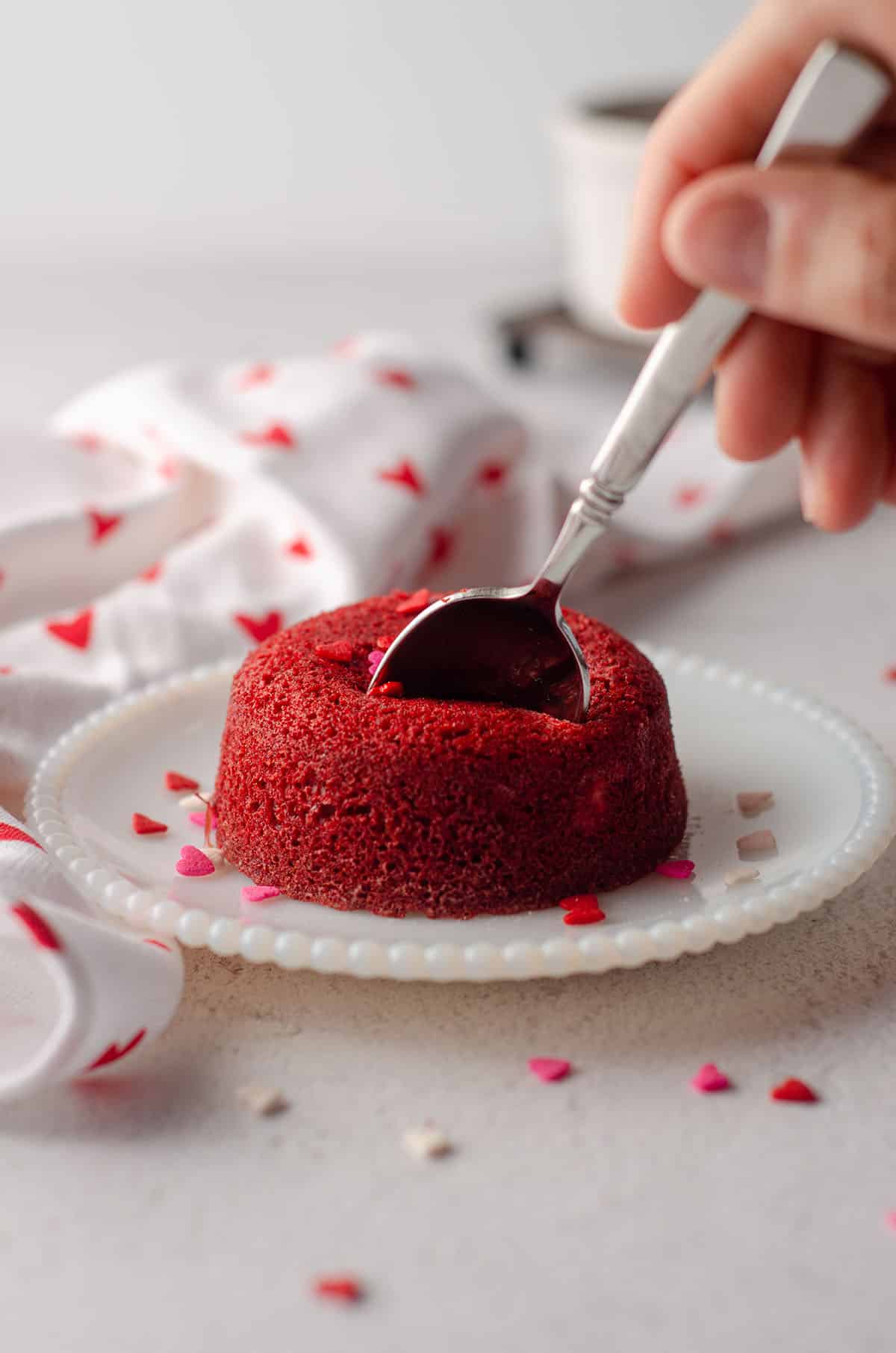 I'm positive I have had a lava cake prior to the first cruise we ever took in 2010, but I know that on that cruise is the first time I have ever eaten one lava cake per evening as dessert.
THEY ARE SO GOOD.
A lava cake is simply a small cake, usually individually portioned, that is literally raw in the center, so it comes out like lava when you dig into it with a utensil.
IS IT SAFE TO EAT LAVA CAKES?
And now you may be wondering… If it's raw, is it still safe to eat?
Yes. It is safe to eat.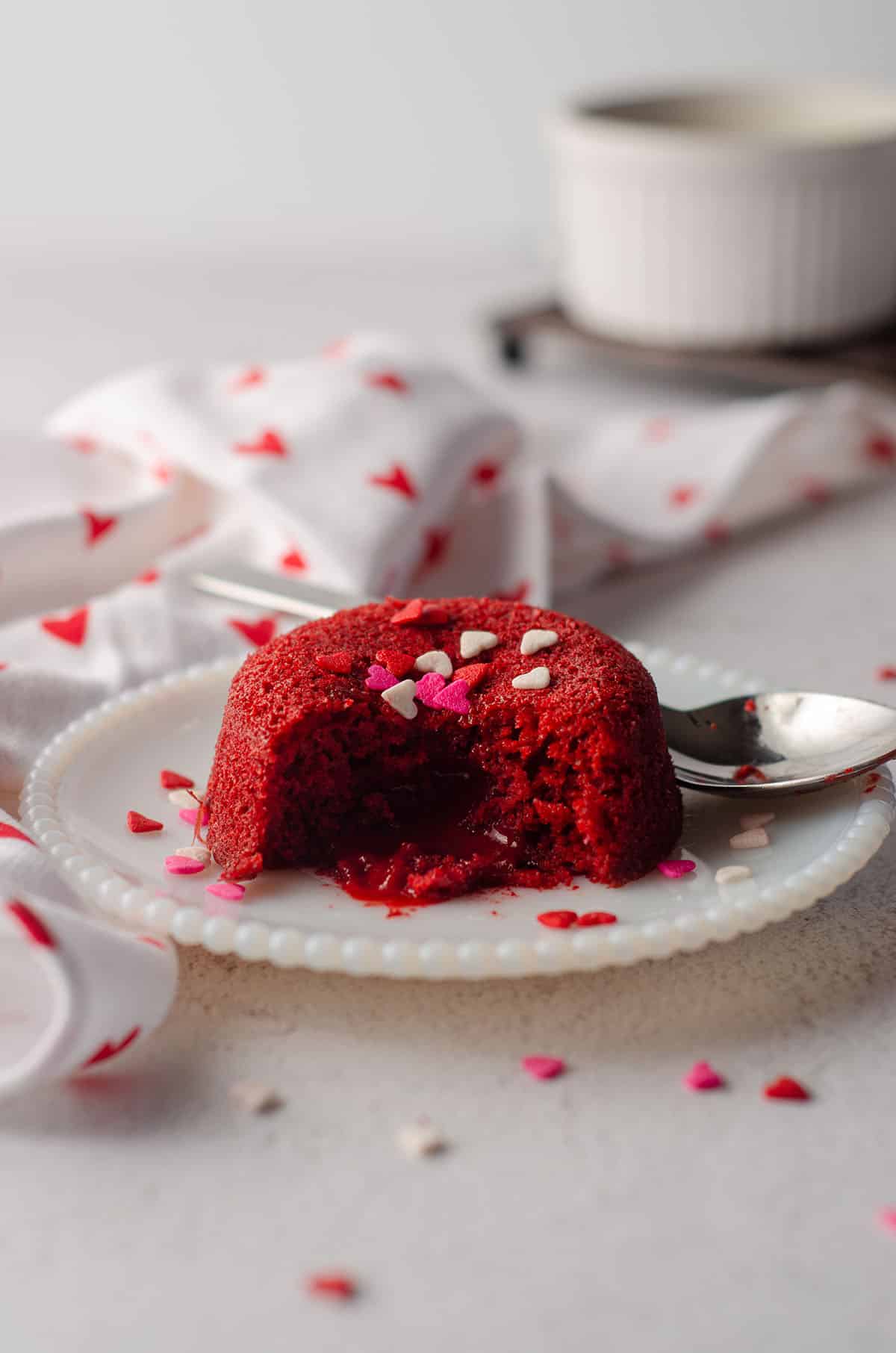 While we are definitely concerned about safely consuming egg, we also have to concern ourselves with the safety of consuming raw flour.
If you recall from my cookie dough brownies, we discussed the importance of heat-treating flour to kill off any bacteria that may reside from the wheat sitting in fields.
We heat treat flour to 165ºF (74ºC), and we can be worry free about eggs at 160ºF (71ºC).
Thus, we bake our red velvet molten lava cake in a ramekin (or cupcake pan!) at a very high heat. This high temperature allows the outside of the lava cake to firm up quickly to create a vessel for the raw batter inside.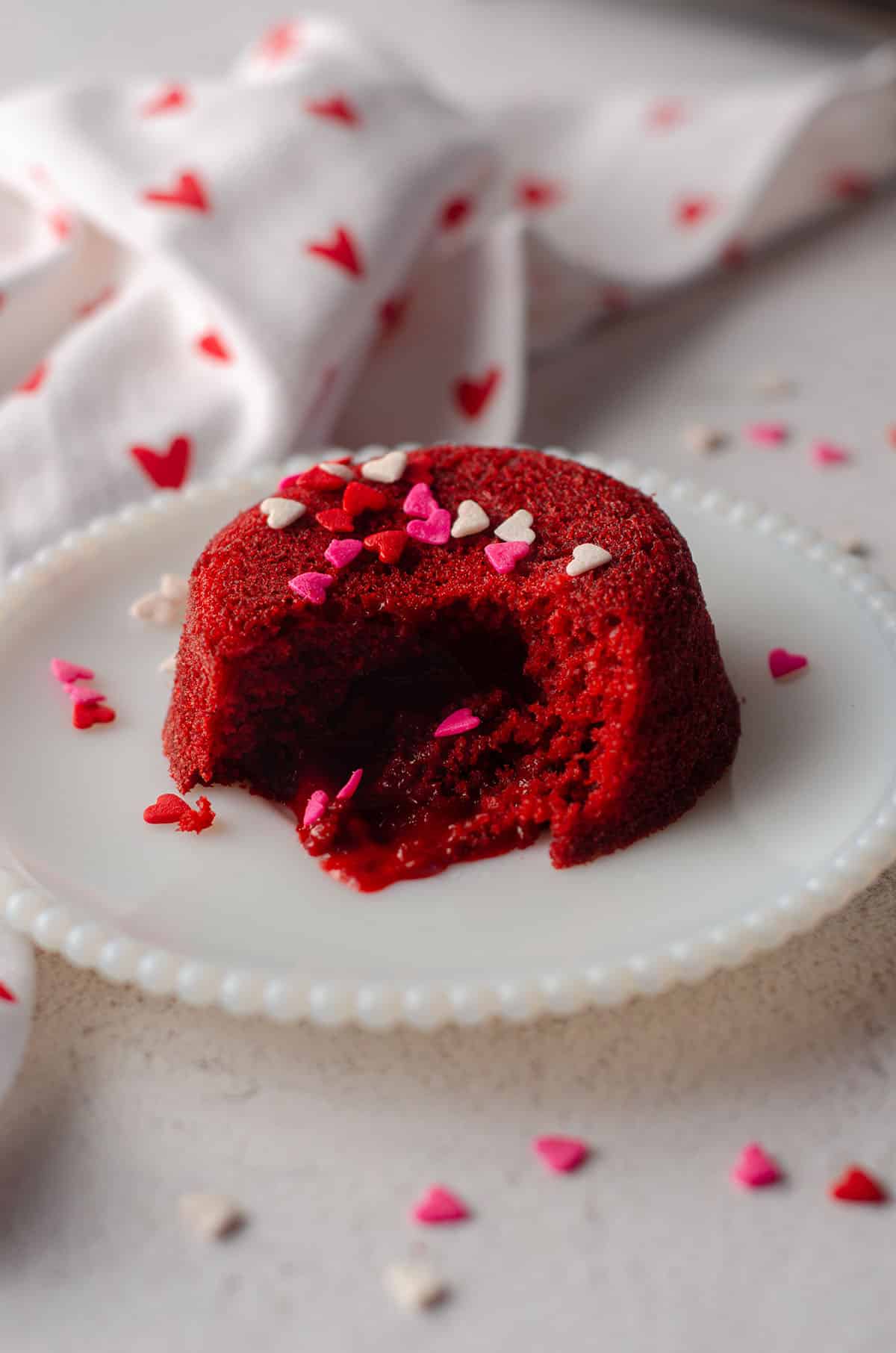 But because we're heating these cakes in such a small portion and at such a high temperature, we can be assured the internal temperature of our cake is at least 165ºF (74ºC) for safety.
Of course, you are welcome to test the internal temperature of your cakes before serving them– I did!
HOW TO MAKE RED VELVET LAVA CAKES
Because we're using red velvet cake mix, the recipe for these molten red velvet cake cuties remains super simple. All you'll add is water, an egg, and some vegetable oil.
Crazy simple. No red food dye, no vinegar, just straightforward ingredients.
The recipe as written will give you 4 individual cakes made in 6oz ramekins, but if you don't have ramekins, you'll get 6 smaller cupcake size lava cakes.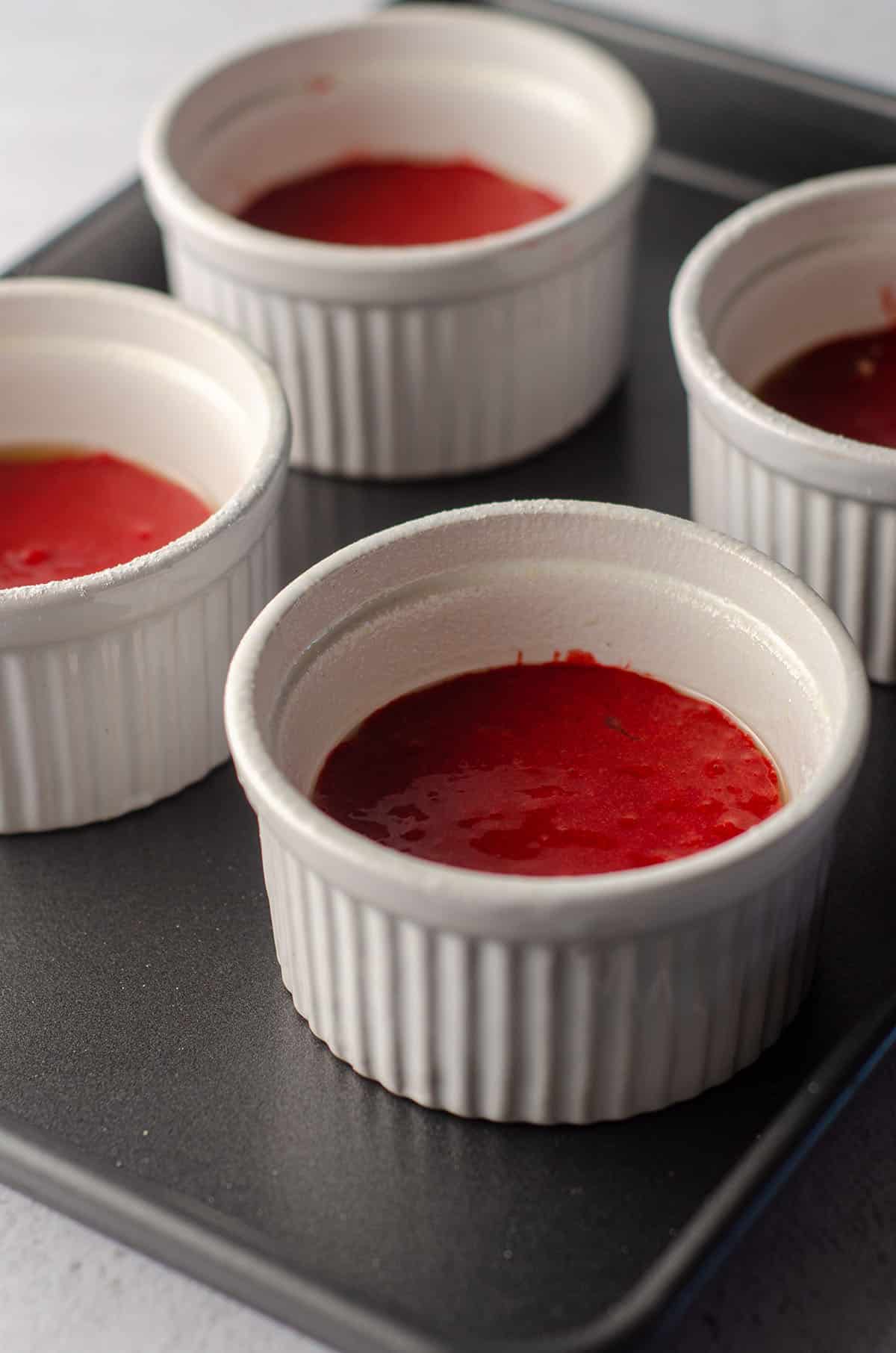 Grease and flour the ramekins or the wells, split the batter evenly, then bake for just 9 minutes (5 minutes for cupcakes).
Once they're out of the oven, allow them to rest for just a minute before serving.
HOW TO SERVE RED VELVET LAVA CAKES

Here's the slightly tricky part: being careful not to burn yourself, invert a plate onto the top of a ramekin. Then, using oven mitts on both hands, flip the ramekin over. The lava cake should slip right out!
If you went the cupcake pan route, you can just carefully lift each one out with a spoon, or get a plate or serving platter large enough to flip out all 6 of the red velvet lava cupcakes onto.
And if that all sounds like too much for you, you can always opt for just using the ramekin as a bowl and dig in right away.
There's no wrong way to do this.
I tested this recipe a few times, so I was able to test lots of toppings for them. Our favorites were sprinkles (always), chocolate sauce, whipped cream, and ice cream.
Other topping suggestions are cream cheese icing, chocolate chips, or a dusting of powdered sugar.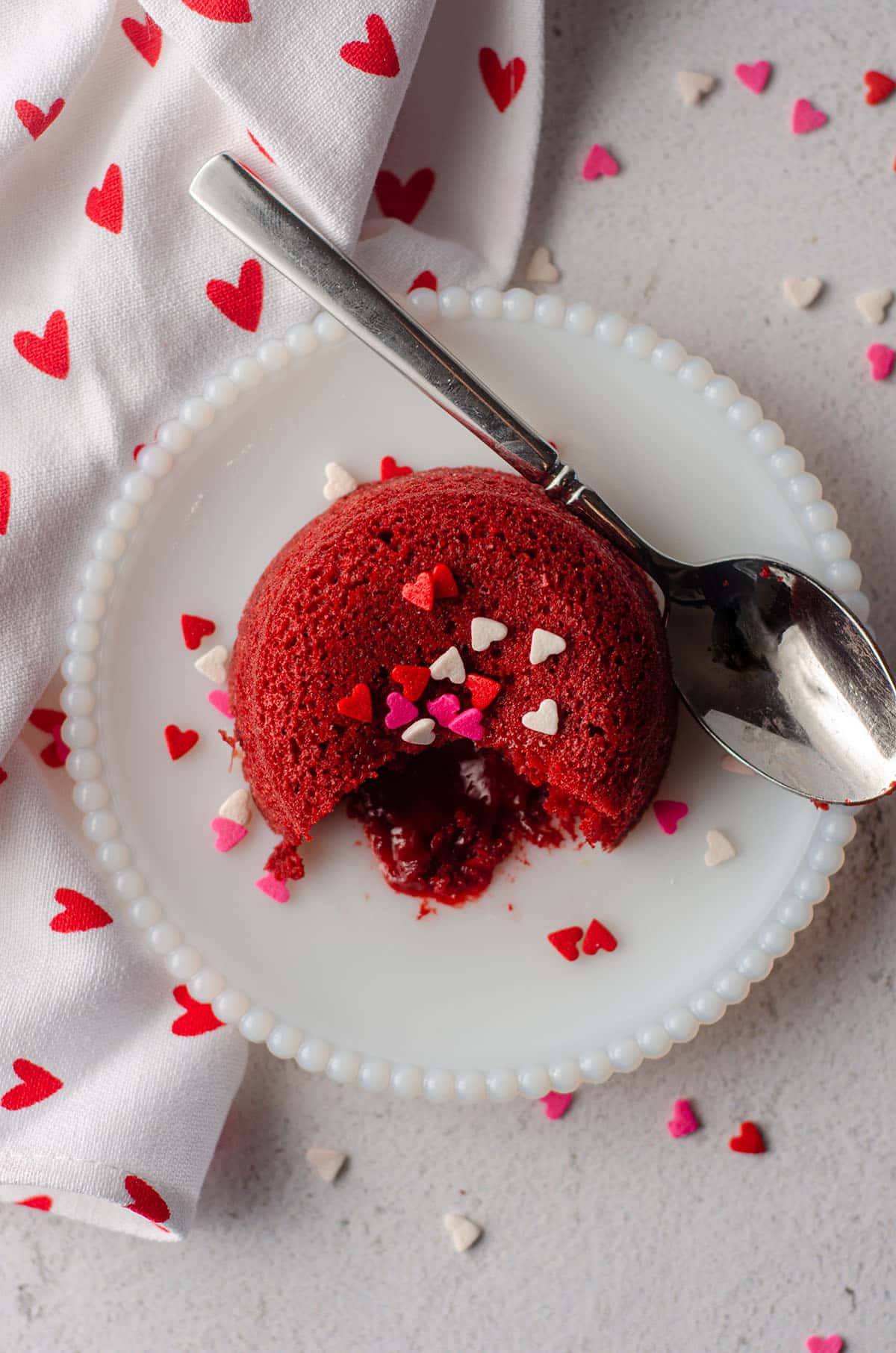 I hope you'll give these a try for this year's Valentine's Day celebration– I can't wait to see your red velvet molten cakes on Insta as you share them with your Quaranteam!
Red Velvet Lava Cakes
Molten lava cakes made easily from red velvet cake mix are perfect for your Valentine's Day dessert. Recipe makes 4 cakes in ramekins or 6 cakes in a cupcake pan.
Ingredients
¾

cup

(106g) red velvet cake mix

¼

cup

(60mL) water

1

large egg

1 and ¼

Tablespoons

(18g) vegetable oil
Instructions
Preheat the oven to 425ºF (218ºC). Grease and flour four 6oz ramekins or six wells of a cupcake pan (no need to use liners). Set aside.

In a small bowl, stir together the cake mix, water, egg, and vegetable oil with a spatula until smooth. Pour the batter evenly into the prepared ramekins (about ¼ cup of batter in each) or cupcake wells (about 2 and ½ Tablespoons in each).

Place the ramekins on a baking sheet and bake lava cakes for 9-10 minutes or 5-6 mins for a cupcake pan. Allow cakes to cool for 1 minute, then invert a plate on top of each ramekin and flip over (use an oven mitt– the ramekins will be very hot). If using a cupcake pan, either scoop cakes out with a spoon, or invert a plate or serving platter large enough to accommodate all of your cakes.

Add desired toppings1 and serve lava cakes immediately. Leftovers can be kept in the refrigerator, covered, up to 3 days. Warm in the microwave for 10-15 seconds before serving. Lava cakes freeze well, up to 3 months. Allow to cool completely before freezing, Thaw in refrigerator overnight and warm in microwave before serving.
Nutrition Disclosure
All nutritional values are approximate and provided to the reader as a courtesy. Changing ingredients and/or quantities will alter the estimated nutritional calculations.
Serving:
1
lava cake
|
Calories:
150
kcal
|
Carbohydrates:
17
g
|
Protein:
3
g
|
Fat:
9
g
|
Saturated Fat:
2
g
|
Polyunsaturated Fat:
4
g
|
Monounsaturated Fat:
3
g
|
Trans Fat:
0.03
g
|
Cholesterol:
41
mg
|
Sodium:
202
mg
|
Potassium:
89
mg
|
Fiber:
1
g
|
Sugar:
9
g
|
Vitamin A:
60
IU
|
Calcium:
40
mg
|
Iron:
1
mg