Red Velvet Rice Krispies Treats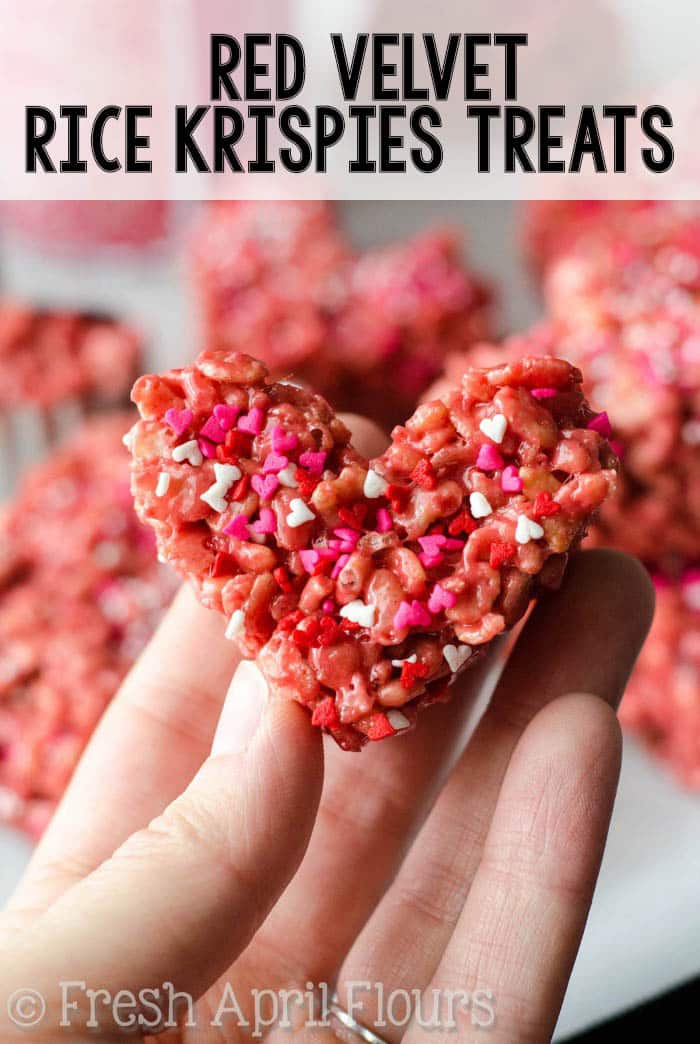 As an Amazon Associate, I earn from qualifying purchases. Read the full disclosure here.
Easy Rice Krispies treats made with red velvet cake mix. Perfect for your Valentine!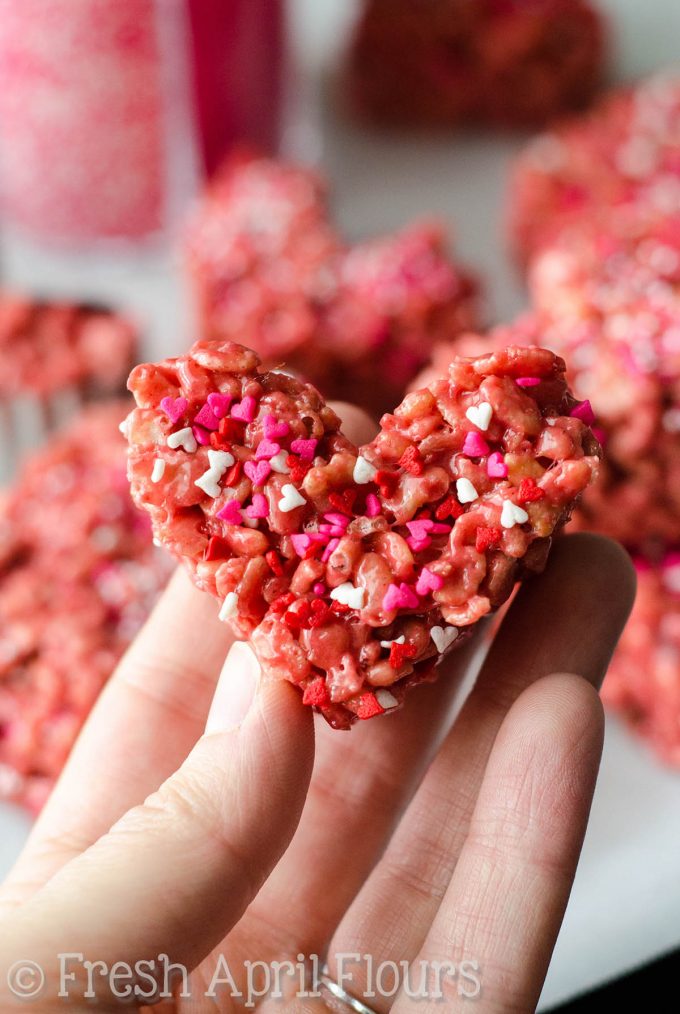 So you know how when there's a blizzard, you load up on lots of food and make sure you have enough eggs and milk and, in our case, cheese, pickles, and fresh produce? But then you make red velvet Rice Krispies treats and eat them all literally in one day between the two of you?
Tell me we aren't alone.
This actually happened, folks. The entire batch. Down the hatch. They lasted about 12 hours. And they were the best damn decision we made that day. Aside from the pickles and cheese, of course.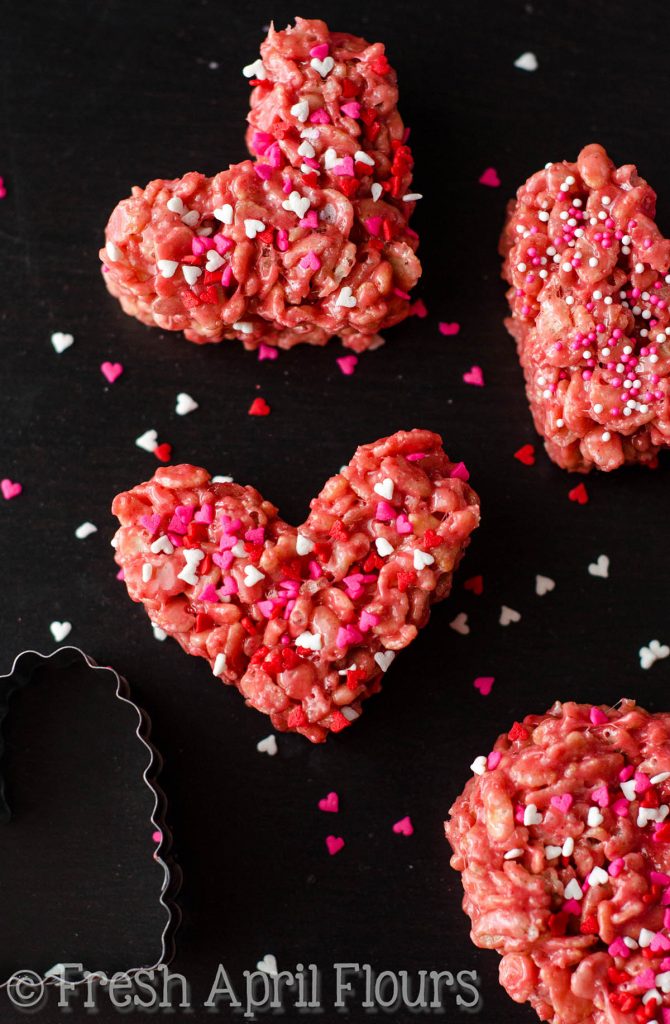 But can you blame us?! We couldn't go anywhere, the batch was staring us in the face every time we walked into the kitchen, and we only really went into 3 rooms the whole day we were stuck inside.
Don't get me wrong, we were super productive (baking, taking/editing photographs, editing content, working on our fitness, working on our clients), but those RKTs. MAN. They sure know how to make you want to eat them.
And you'll totally understand when you make them with the leftover red velvet cake mix from your pancake adventure. They're just too easy! Which is good for me, because I can talk a little less about them and more about WHY I'm bringing you this recipe today.
My bloggy friend Cate of Chez CateyLou is having a baby girl in March! Yay! So I've gotten together with a couple other blogger friends to celebrate with all things PINK.
On the menu, we've got:
Raspberry Bark from Leah @ Grain Changer
Midnight Chocolate Raspberry Cake for Two from Amy @ Thoroughly Nourished Life
Hooray for little girls! We are all so excited for you, Cate!
So let's talk about how these little magical treats can happen in your kitchen.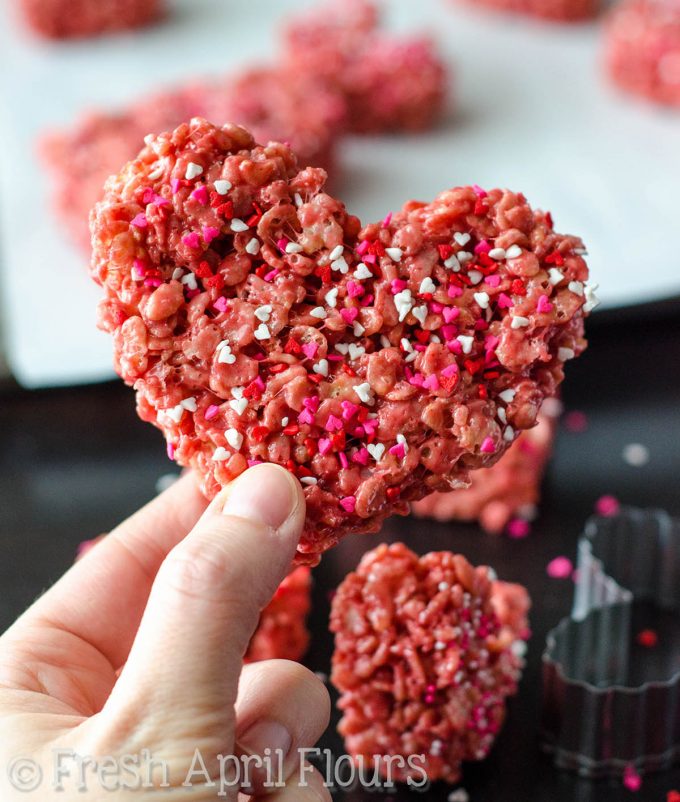 Surely you've made RKTs before. If you've been a reader of mine for awhile, you've seen them in various forms… Pumpkin spice, gingerbread, and even as a big huge fail in 2014. All you need are Rice Krispies (or any other crispy rice cereal), butter, mini marshmallows, and just 1/2 a cup of your red velvet cake mix! Oh, and Valentine's Day sprinkles, duh.
It's simple: melt the butter, add the marshmallows, stir in the cake mix, and add the cereal. Stir to coat completely, then you have two options… You can either put it all into your mouth immediately a 7×11″ baking pan or do what I did and smoosh the warm cereal mixture into heart cookie cutters!
I highly advise the cookie cutter route. Look how cute!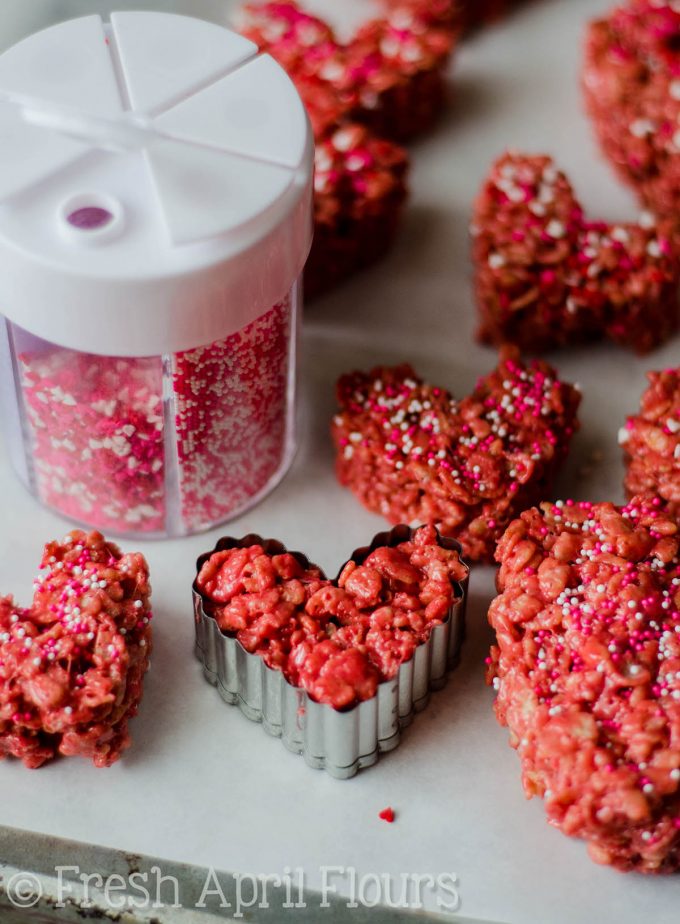 The only thing you'll need to know about the cookie cutters is that you should spray your fingers and the cutter (or cutters) you're using every few treats to make sure nothing gets too sticky.
You'll also have to work a little quickly to make sure the cereal stays fairly warm. Don't worry– no need to rush. But surely don't dilly dally!
Once you've filled your cutter by gently pressing the mixture into it (if you push too hard, your treats will wind up dense and hard), you can pop it out and let it cool on a parchment lined baking sheet!
You can add the sprinkles while the treats are in the cutters or right after you pop them out. Either way is fine, just make sure the treats are still warm when you do so the sprinkles stick!
These red velvet Rice Krispies treats are perfect for the Valentine's Day holiday, but you can certainly make them all year round. And I highly suggest making them if you have any impending blizzards on your schedule.
RKTs are now absolutely on our blizzard must-have list.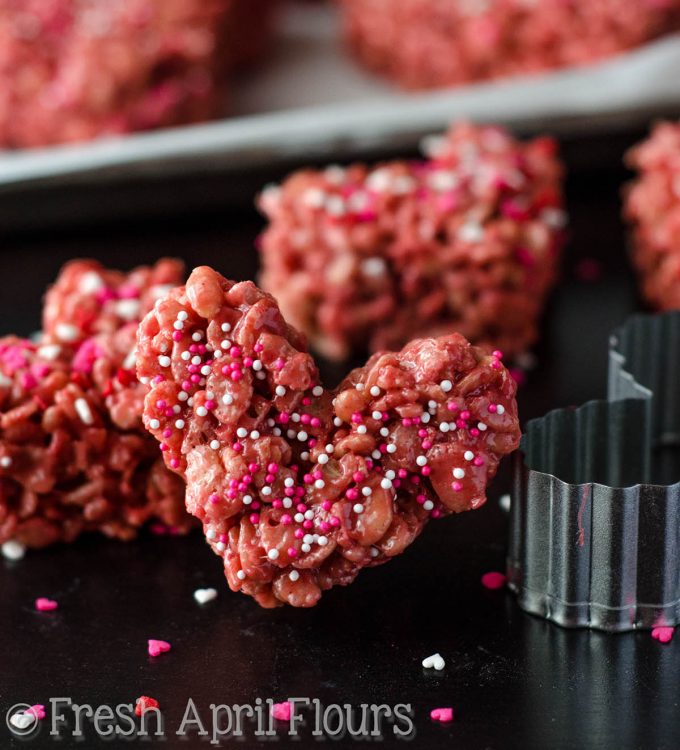 Not too sweet, not too red-velvety, and a great way to celebrate your Valentine or a beautiful baby girl! Congratulations, Cate! Can't wait to hear she's arrived!
Red Velvet Rice Krispies Treats
Easy Rice Krispies treats made with red velvet cake mix. Perfect for your Valentine!
Ingredients
1/4

cup

unsalted butter

10

oz

mini-marshmallows

1/2

cup

red velvet cake mix

5

cups

Rice Krispies

or other crispy rice cereal

Valentine's Day sprinkles

optional
Instructions
Line a large baking sheet with parchment paper or a silicone baking mat. Spray heart shaped cookie cutters OR a 7x11" baking dish with non-stick spray. Set everything aside.

In a large saucepan, melt butter over low heat. Add marshmallows and stir until completely melted. Remove from heat. Stir in the red velvet cake mix. Add Rice Krispies cereal and stir until well-coated.

Gently press warm cereal mixture into heart shaped cutters (or prepared pan) with oiled or buttered hands. Do not force mixture in, otherwise your treats will wind up hard and crunchy. Add sprinkles, if desired, and gently press sprinkles into tops of treats. Remove from cutter and place on parchment to cool completely. If you put your treats into a pan, allow to cool completely before cutting into desired shapes. Store treats in an airtight container up to one week.
Nutrition Disclosure
All nutritional values are approximate and provided to the reader as a courtesy. Changing ingredients and/or quantities will alter the estimated nutritional calculations.
Another use for your red velvet cake mix? Red Velvet Pancakes!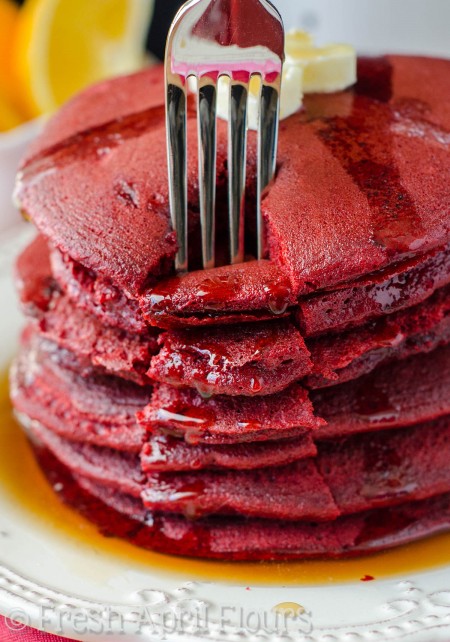 If you'd prefer to make your red velvet treats from scratch, step right up to some Red Velvet Crinkle Blossoms…