Red Velvet Cake Mix Pancakes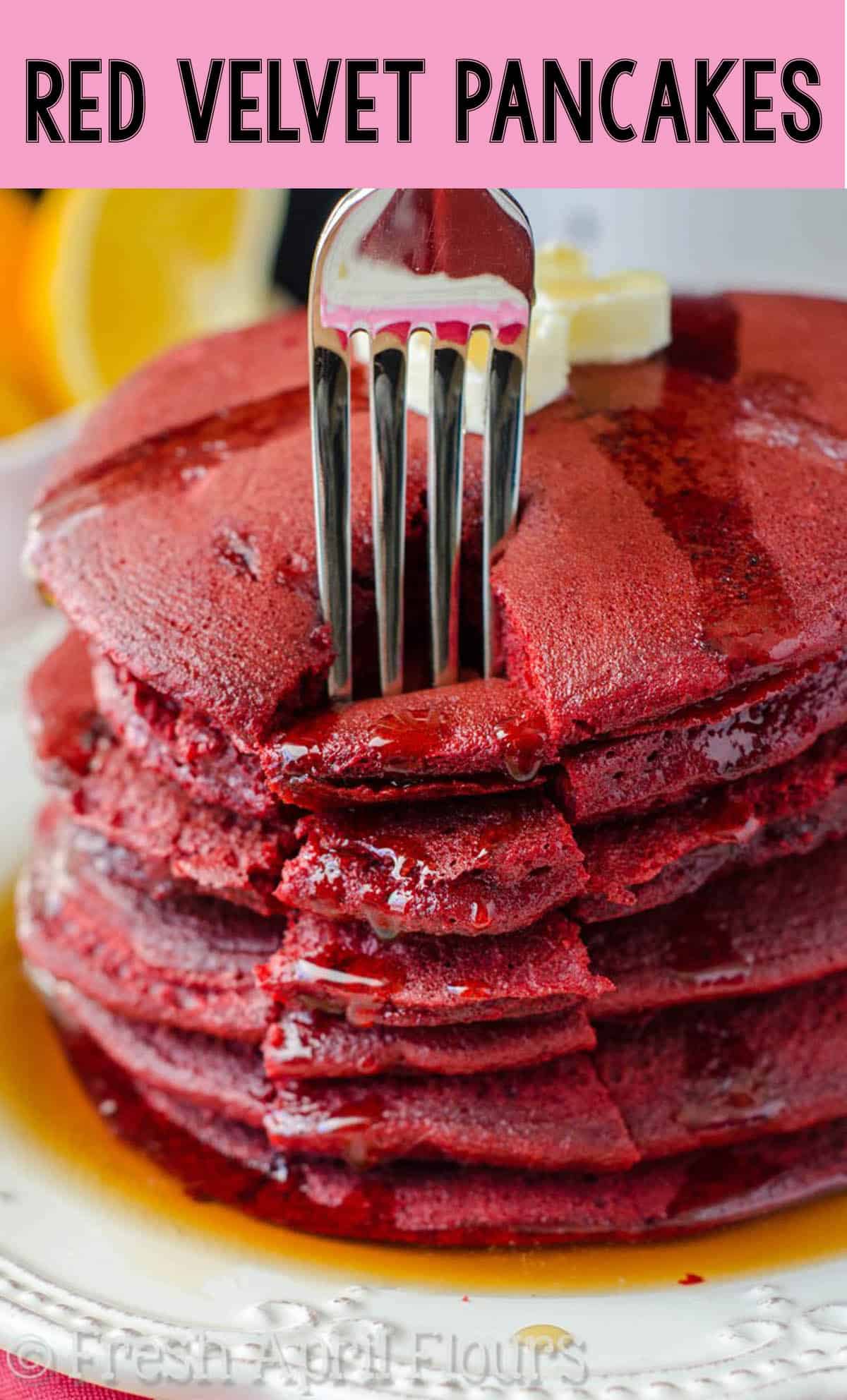 As an Amazon Associate, I earn from qualifying purchases. Read the full disclosure here.
Light and fluffy pancakes made easily with red velvet cake mix. Ready in no time so you can enjoy Valentine's Day breakfast with your sweetie!
Happy February! It's time for all things hearts and love and Cupid and RED VELVET.
Ok… Maybe not for the entire month, but at least today and next week on the blog.
So here's the thing: last year I was all about red velvet baked goods from scratch. ALL about it. See these cookies and these donuts. And normally, I am a super snob about boxed cake mix, as I explained here with my cake batter dip and evidenced here with my chocolate layer cake.
But sometimes… Sometimes when
1) you know you have a weekend ahead of you with incredible light for food photography because of
2) an impending blizzard (aka grocery stores are insaneeeee crazy town) combined with
3) dwindling patience for extensive kitchen experimentation, you have to make a decision.
And last week, folks, that decision was to take the easy way out and utilize the dreaded boxed cake mix.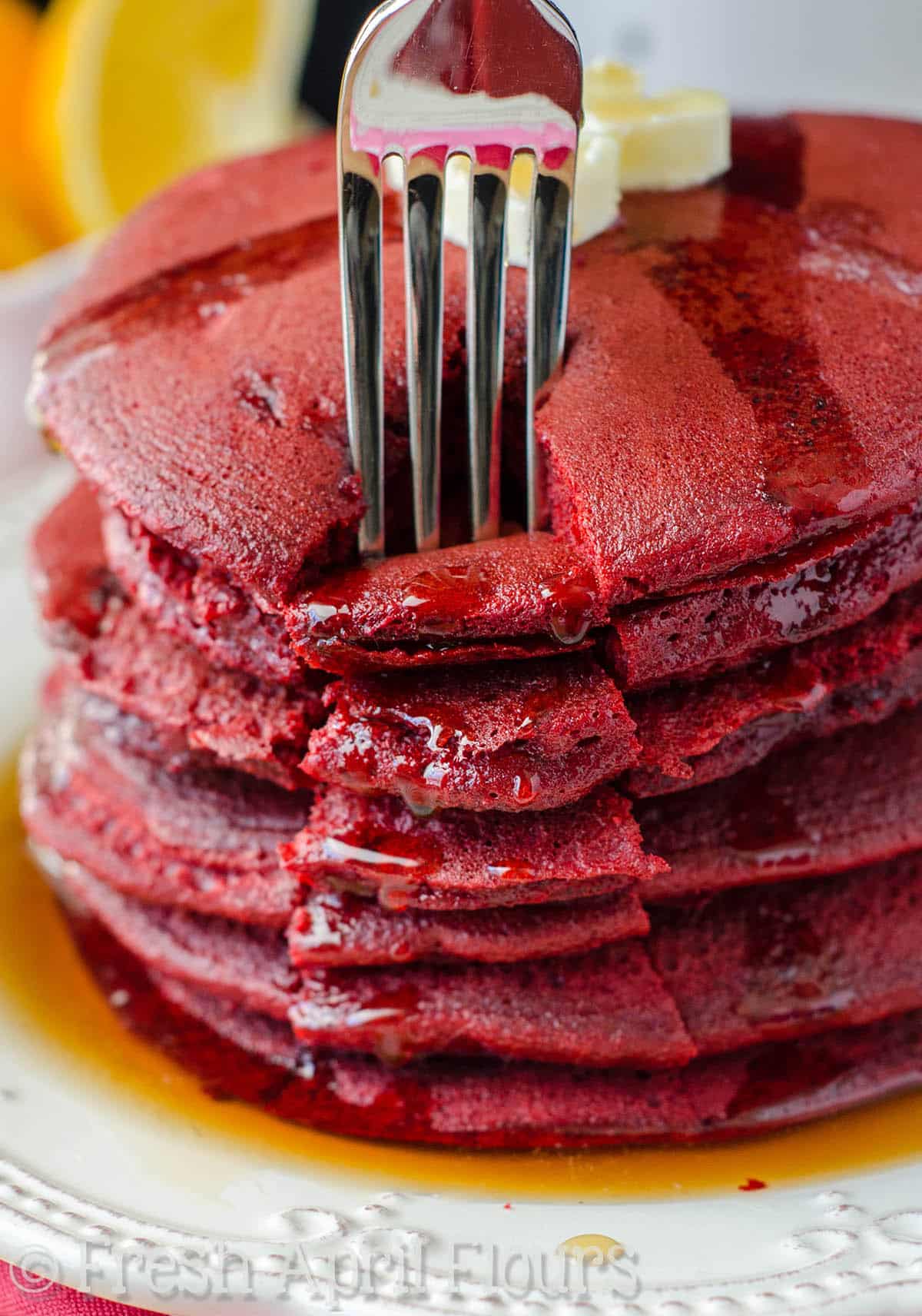 But hey, this does 2 great things for all of us! For one thing, it allowed me to get 2 different recipes out of one box of mix and also, you'll love how incredibly easy these recipes are.
Not that my red velvet cookies or donuts from scratch are all that difficult, but working with a ton of red food coloring can sometimes be a daunting task. And leave your kitchen looking like a crime scene.
So here we have it: breakfast for your sweetie on Valentine's Day. And it could not be simpler.
If you have a box of red velvet cake mix in your pantry, you definitely have the ingredients to make these red velvet pancakes right now.
A couple eggs, some milk (any kind will do!), a little vegetable oil, and a touch of vanilla extract.
Oh… And some pure maple syrup and some butter for the cherry on top. Heart shaped butter pats totally optional, but… OMG. How adorbs!!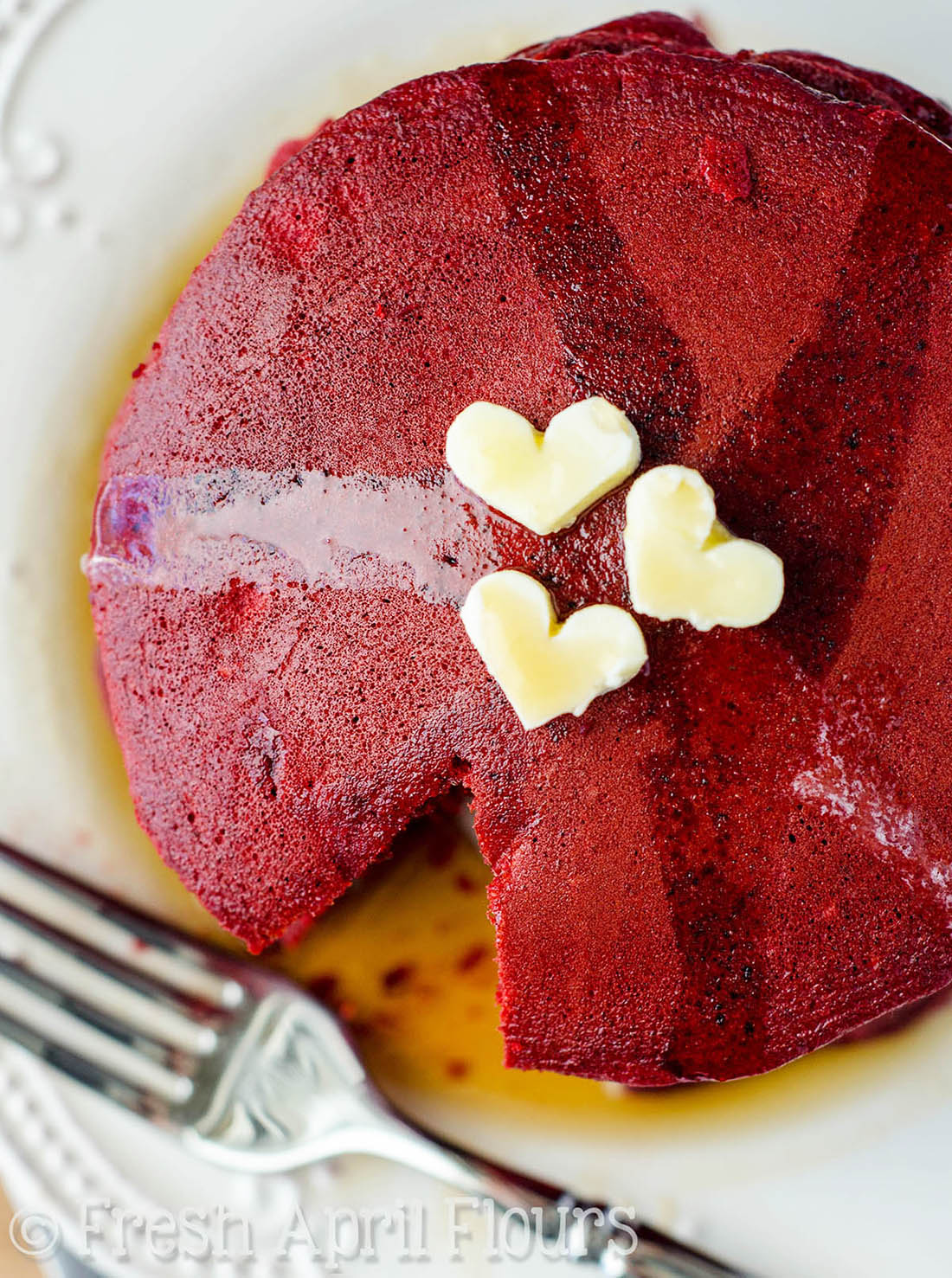 The only thing you need to know about cooking these pancakes is that we have always had terrible luck cooking pancakes with a buttered pan. Butter burns super easily, which can prove to be a problem when cooking pancakes.
If your batter isn't the perfect consistency, your butter can burn before the inside of your pancake is fully cooked. We have the best results with coconut oil (and no, it doesn't taste like coconut, I promise!), but whatever you normally use is totally fine.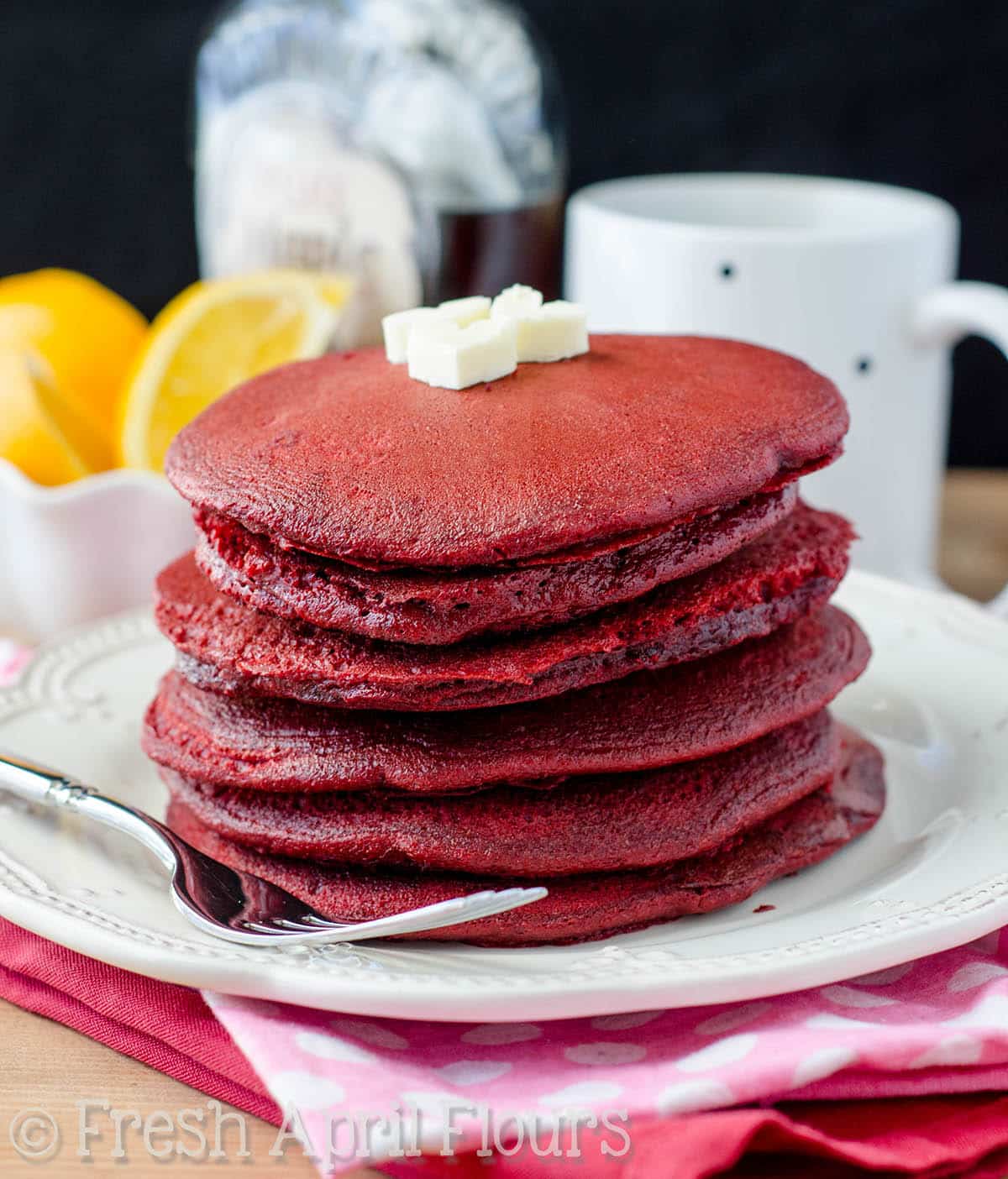 Do you know what to look for when cooking pancakes?
Before you flip, check for set edges and bubbles on the surface that pop and stay popped. If they fill back in with batter, the pancakes are not ready to flip yet! You can always peek under one side of the pancake before you flip, just to make sure.
And yes, we burned a few of our pancakes before we got them all right. And yes, they taste just as good. Don't worry if you're not perfect right off the bat. Sometimes it takes a couple pancakes to get the right feel for the temperature and the time!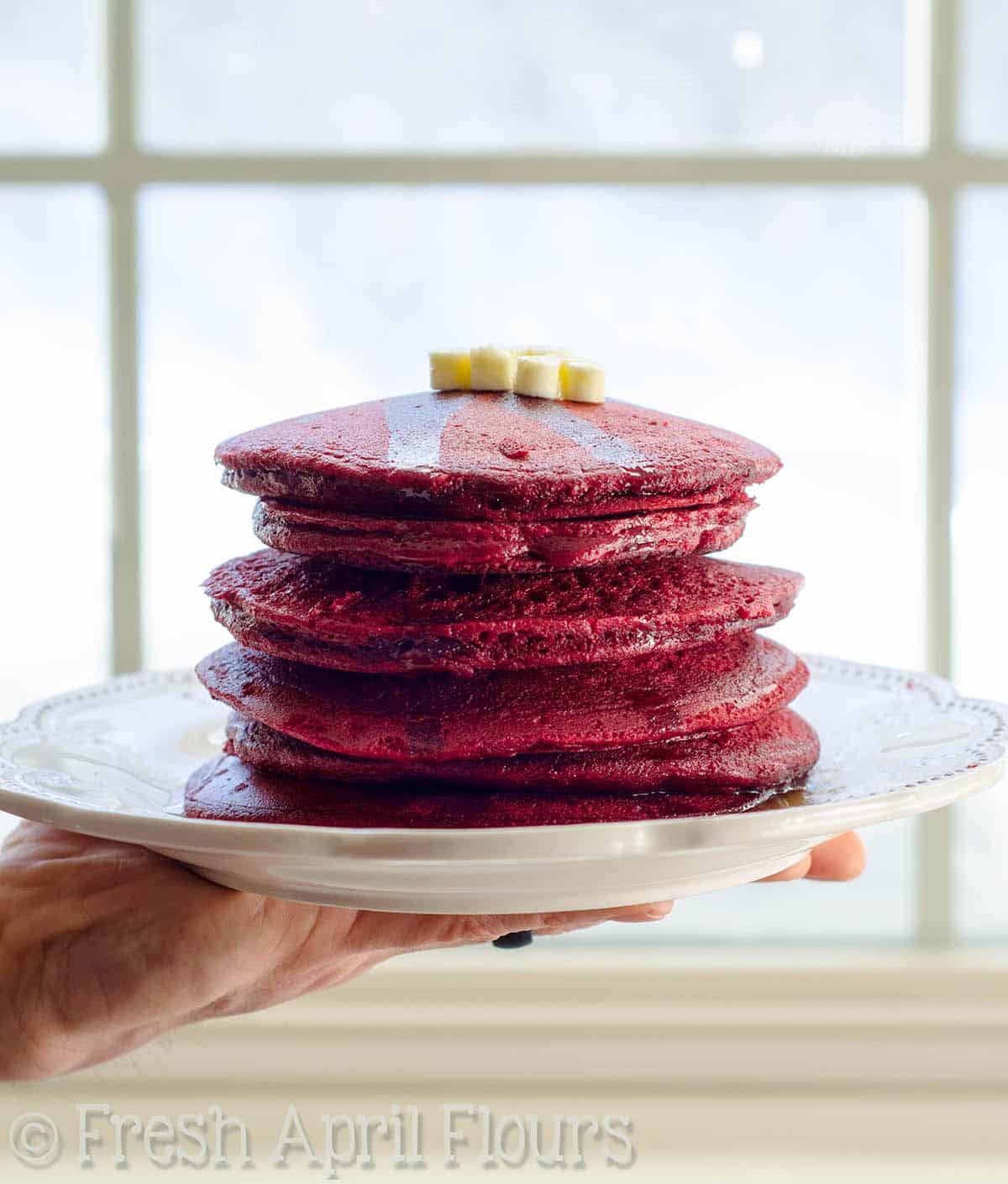 One thing is for sure… These pancakes were an absolute hit on our snowy morning. The best part about photographing drippy pancakes is that you basically have to eat them right away.
We were itching to dig into this stack, and every last crumb was gone within minutes.
Whether or not your Valentine's Day is snowy, there's something so cozy about cuddling up with your sweetie for a special breakfast, especially if you don't get to enjoy that particular time together on the reg.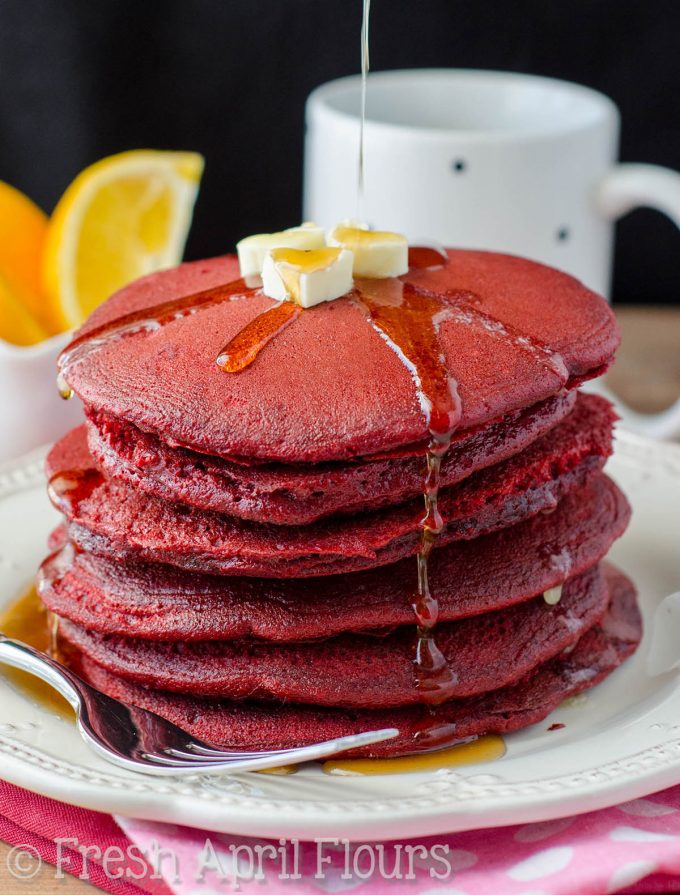 So treat-yo-self and your Valentine(s) with some soft and fluffy pancakes perfect for celebrating love!
Love red velvet? Me, too. Check out any of these red velvet recipes next (both with a box mix and from scratch): red velvet cookies with cream cheese frosting, red velvet bundt cake, red velvet lava cakes, red velvet brownies, and red velvet Rice Krispies treats.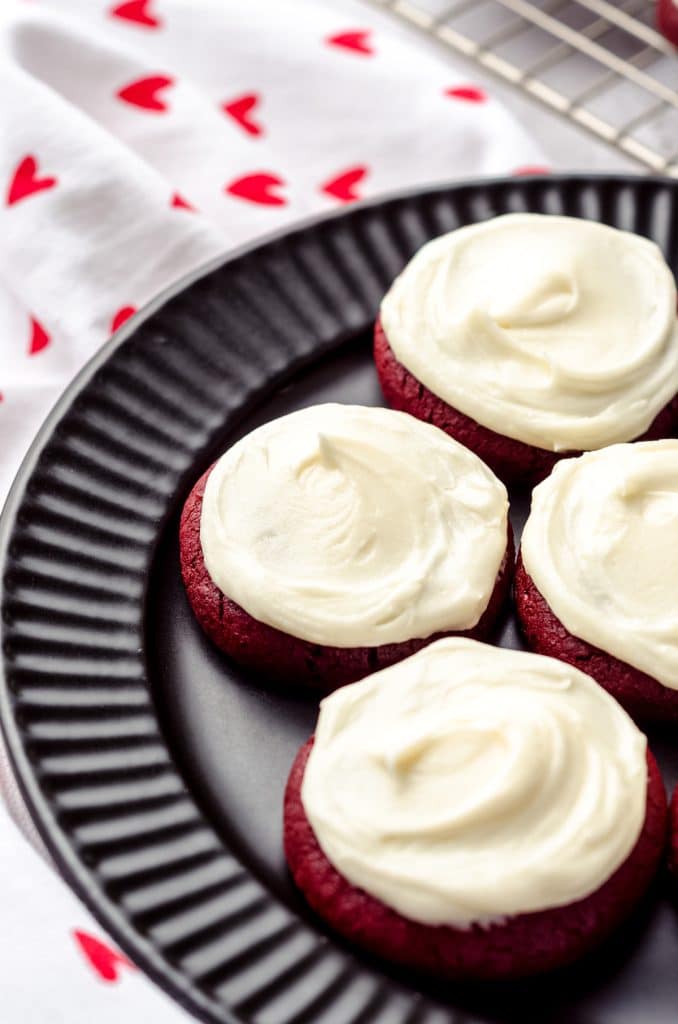 Red Velvet Cake Mix Pancakes
Light and fluffy pancakes made easily with red velvet cake mix. Ready in no time so you can enjoy Valentine's Day breakfast with your sweetie!
Servings:
10
large pancakes
Ingredients
2

cups

red velvet cake mix

2

large eggs

2/3

cup

milk

any

2

Tablespoons

vegetable oil

1/2

teaspoon

vanilla extract
Instructions
Place the red velvet cake mix in a large bowl. Set aside.

In a small bowl, whisk together the eggs, milk, vegetable oil, and vanilla extract. Pour the wet ingredients into the cake mix and whisk again until ingredients are just combined. If there are lumps, that is ok. Don't over mix the batter, as it could make your pancakes dry and tough.

Heat a griddle or skillet over medium-low heat. Coat generously with butter, vegetable oil, or my preference, coconut oil. Once hot, drop 1/4 cup of batter onto the skillet. Cook until the edges look set and bubbles begin to form on the sides. Using a large spatula, flip the pancake quickly and cook on the other side until cooked through. Coat griddle/skillet again with choice of fat for each pancake.

Pancakes are best served immediately with butter and maple syrup or dusted with powdered sugar. Pancakes can be reheated in the microwave as needed or kept warm in a 200ºF oven until all pancakes are ready to serve. Leftover pancakes can be kept in the refrigerator, wrapped tightly in plastic wrap, up to 3 days. Pancakes can be frozen, up to 2 months. Reheat as desired.
Nutrition Disclosure
All nutritional values are approximate and provided to the reader as a courtesy. Changing ingredients and/or quantities will alter the estimated nutritional calculations.