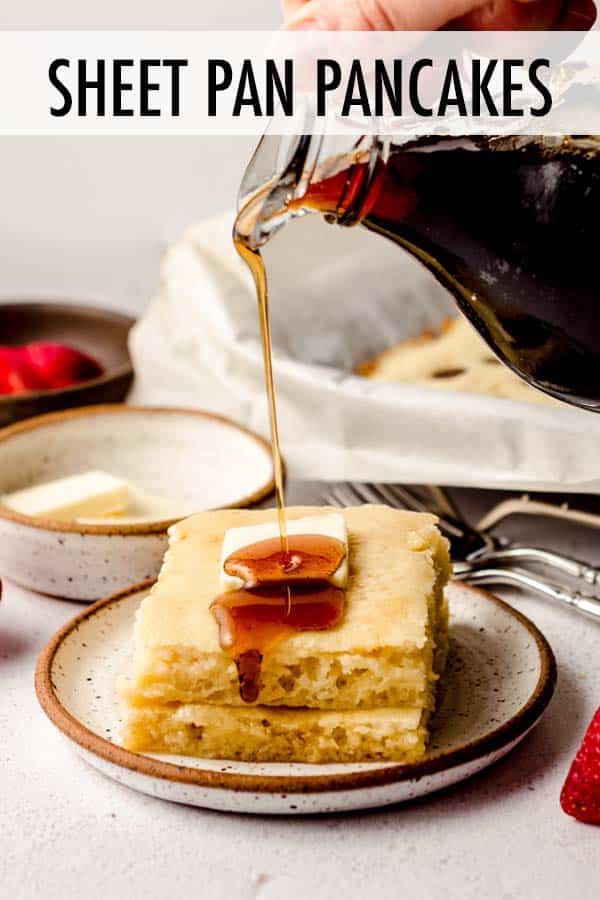 As an Amazon Associate, I earn from qualifying purchases. Read the full disclosure here.
Whip up some light and fluffy pancakes without standing over a skillet! Make your next batch of pancakes in the oven with these simple and easy sheet pan pancakes.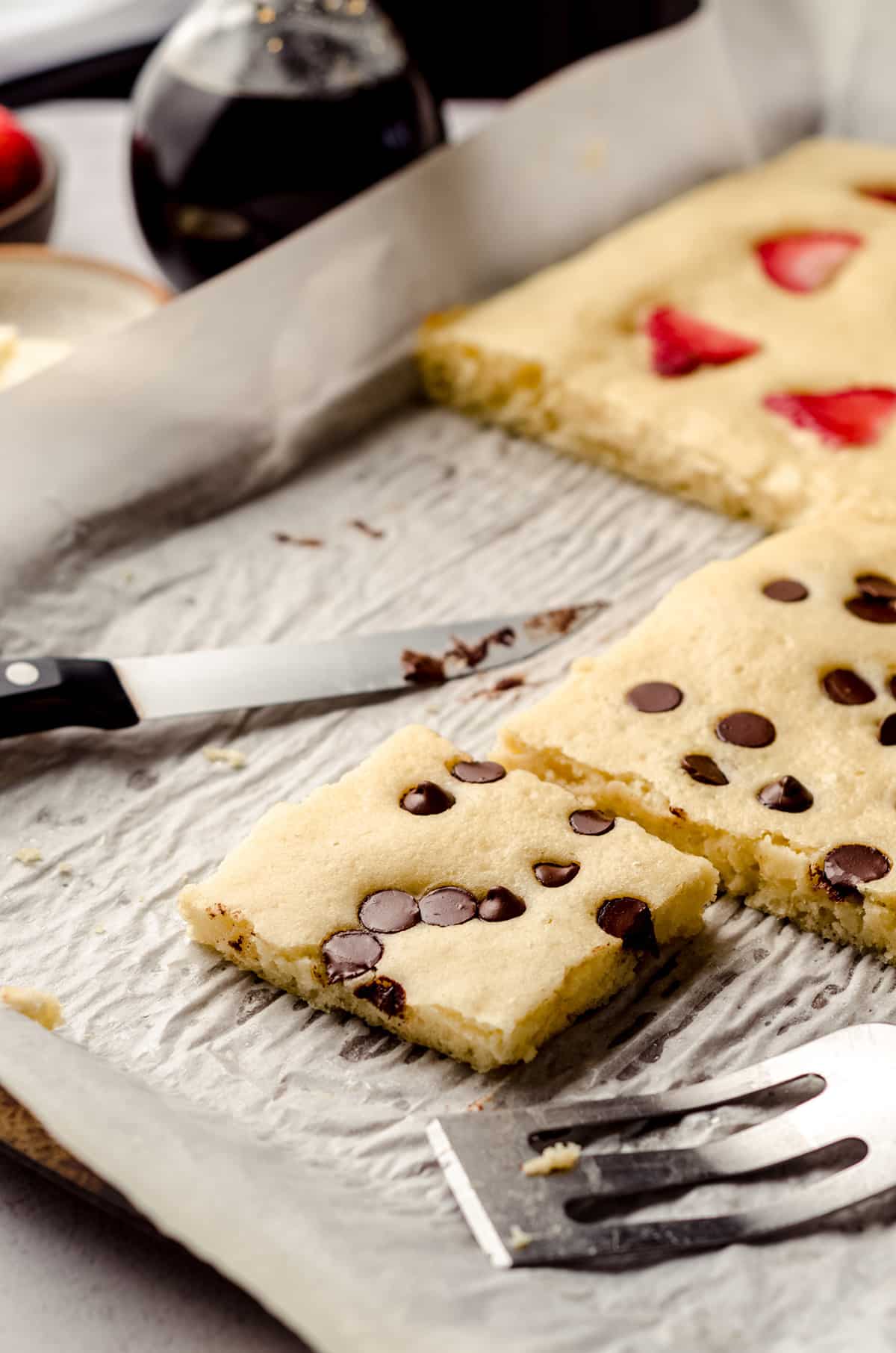 While it's true that I mostly focus on traditional baked goodies like cakes, cookies, and all things funfetti, I have a special place in my heart reserved just for breakfast foods.
You know, the kind of breakfast foods you make on a slow Saturday morning, or on the first day of vacation, OR maybe not even for breakfast at all. Maybe it's brunch, or maybe it's dinner. That's the beauty of breakfast foods: they really have no limits.
These sheet pan pancakes are fluffy, airy, and super easy to make. They've transformed my breakfast game, making it possible to have a fun and special breakfast (or dinner, if I'm being totally honest!) any day of the week.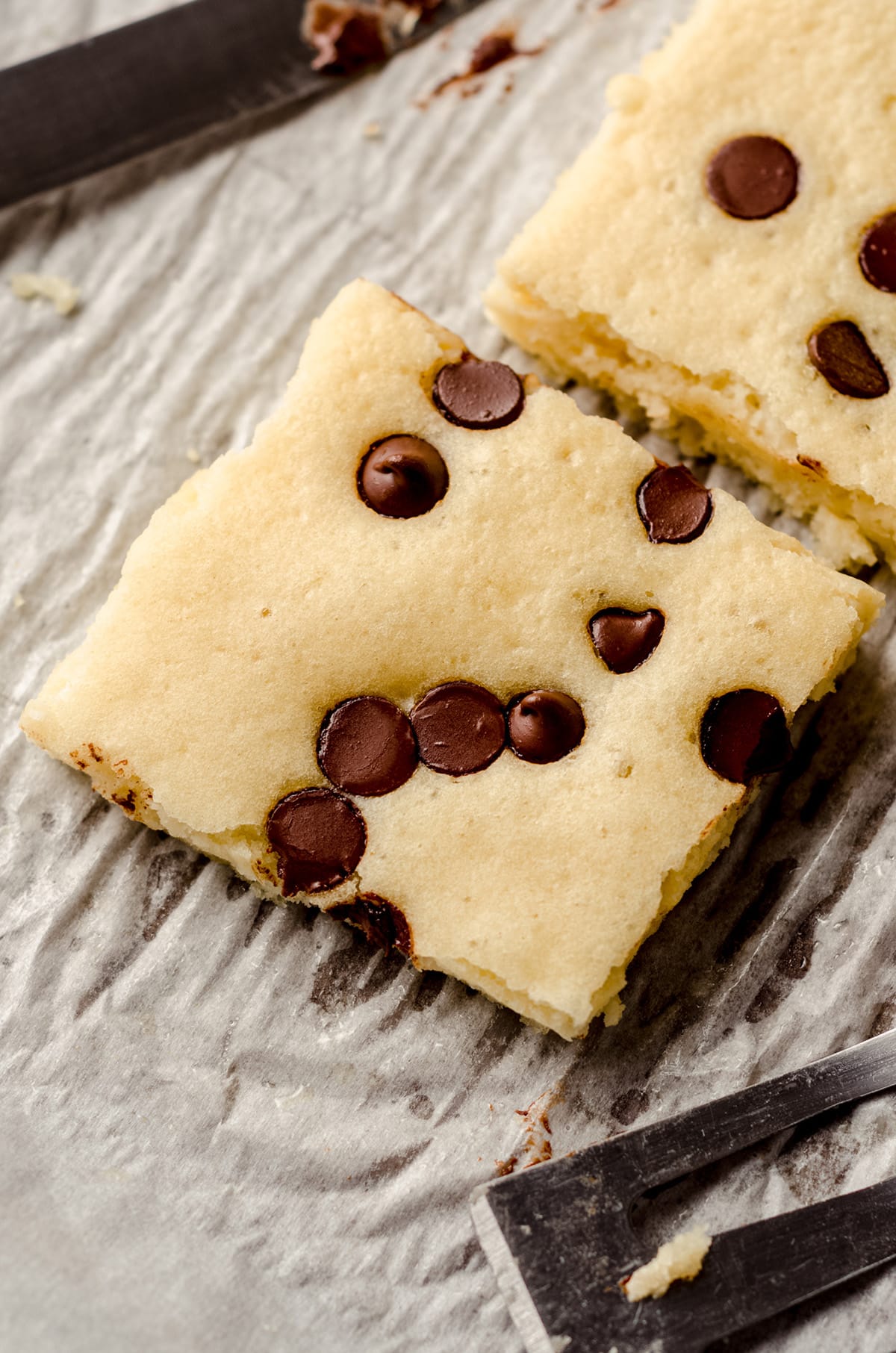 Did you know you could make a pancake in the oven? No more standing over a skillet, endlessly flipping pancakes, while trying to manage all the other things that come along with a busy morning.
But do you know what the absolute best part is? You can customize your pancakes with all kinds of toppings and mix-ins.
Everything from chocolate chips, to sliced strawberries, and even candy can be sprinkled on top of your sheet pan pancakes. You can even split the pan up to allow everyone their very own section to explore their creativity and satisfy their cravings. See? Breakfast is fun.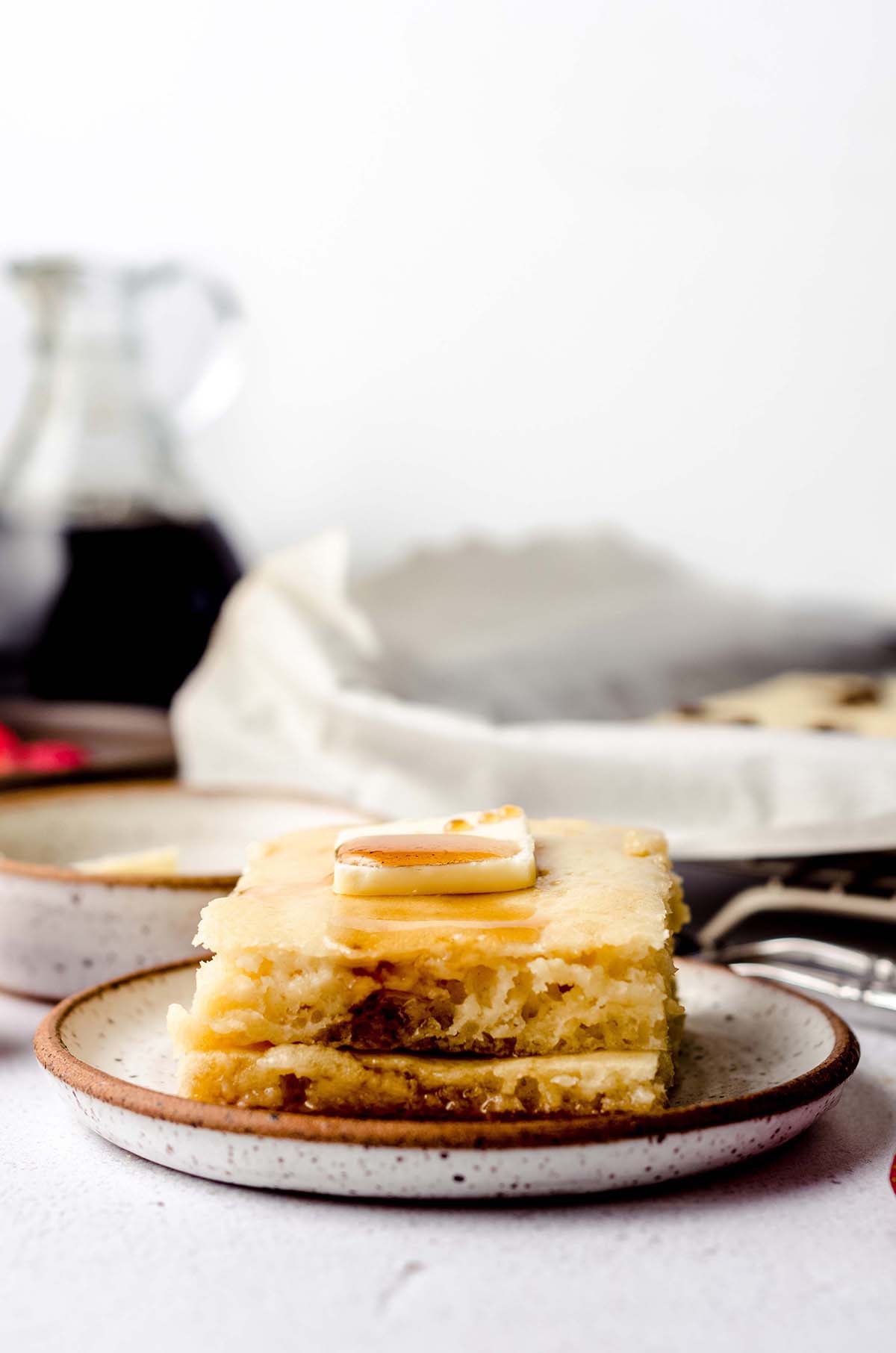 If you're loving the idea of making your pancakes in a sheet pan, I'm sure you'll love my ever-expanding collection of sheet pan recipes.
If you're looking for something to satisfy that sweet tooth, you have to try my recipes for ice cream sheet cake, vanilla sheet cake, funfetti sheet cake, and of course, Texas sheet cake.
And don't worry, if you love all things savory, I've got you covered with with my crave-worthy sheet pan pizza too (homemade pizza crust included!).
WHAT ARE SHEET PAN PANCAKES?
Sheet pan pancakes are the easiest possible way to make a big batch of pancakes. No flipping required!
Making your pancakes in a sheet pan is great for a family style breakfast, big events, or even for making ahead and freezing as stacks of pancake squares. They are pretty awesome, if I do say so myself!
And while I love a stack of fluffy, round pancakes, I think I'm a sheet pan convert.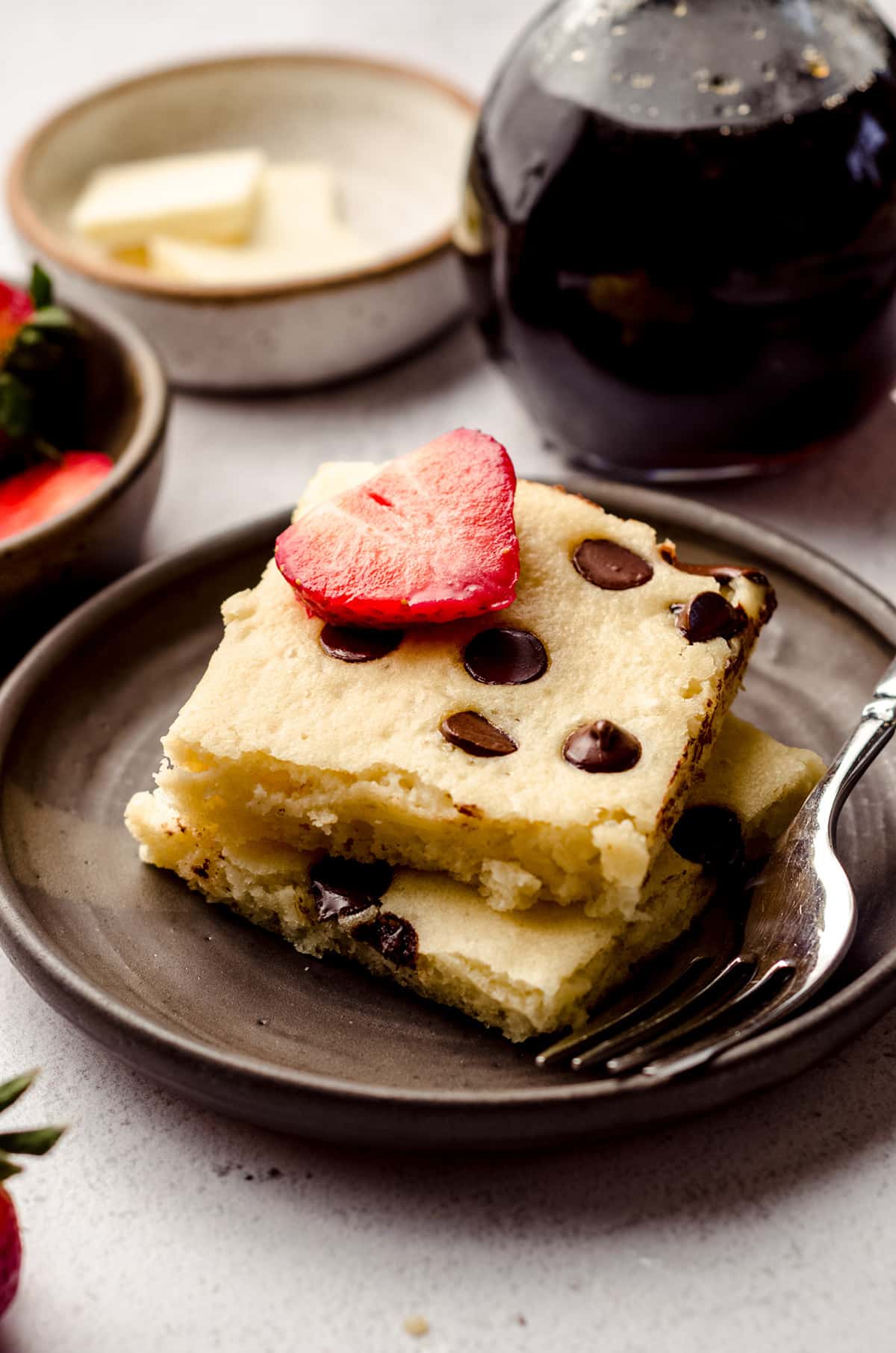 These pancakes are made from a basic buttermilk pancake batter, and then poured into a rimmed baking sheet. If you want to add a fun element to your pancakes, feel free to add sprinkles, chocolate chips, nuts, or fruit into the batter (or you could totally eat them plain with plenty of maple syrup and butter).
Once everything is ready to go, they are then baked in the oven to golden, fluffy perfection. No skillet and no flipping needed.
I know! Totally simple, right?
INGREDIENTS
While you could probably use a store bought pancake mix, I wouldn't recommend it. You're already saving so much hands on time with using a sheet pan, it only makes sense to do the batter from scratch.
For my buttermilk pancake batter, I like to use pretty basic ingredients: butter, flour, sugar, baking powder, salt, eggs, buttermilk, and vanilla extract. See? Easy!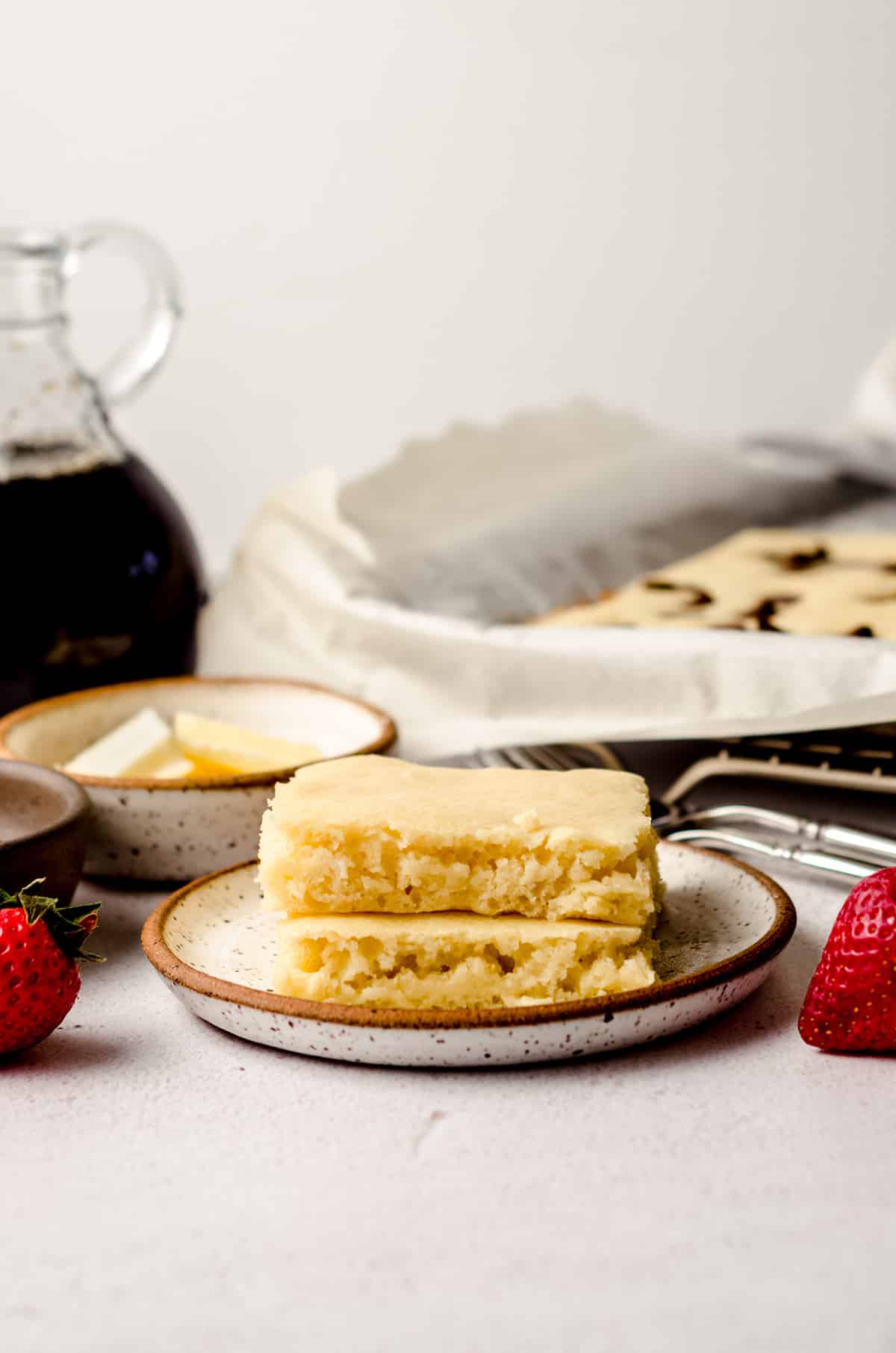 And before you ask, yes, I do recommend you use real buttermilk. BUT if you don't have it on hand, or you can't find it, no worries! Just use my easy homemade buttermilk recipe, which makes a great stand in for the real stuff. All you'll need is milk + vinegar (or lemon juice).
HOW TO MAKE SHEET PAN PANCAKES
There are really just two elements to these super easy sheet pan pancakes: batter + mix ins. For the ultimate light and fluffy pancakes, I'll show you how to whip your egg whites and fold them into the batter.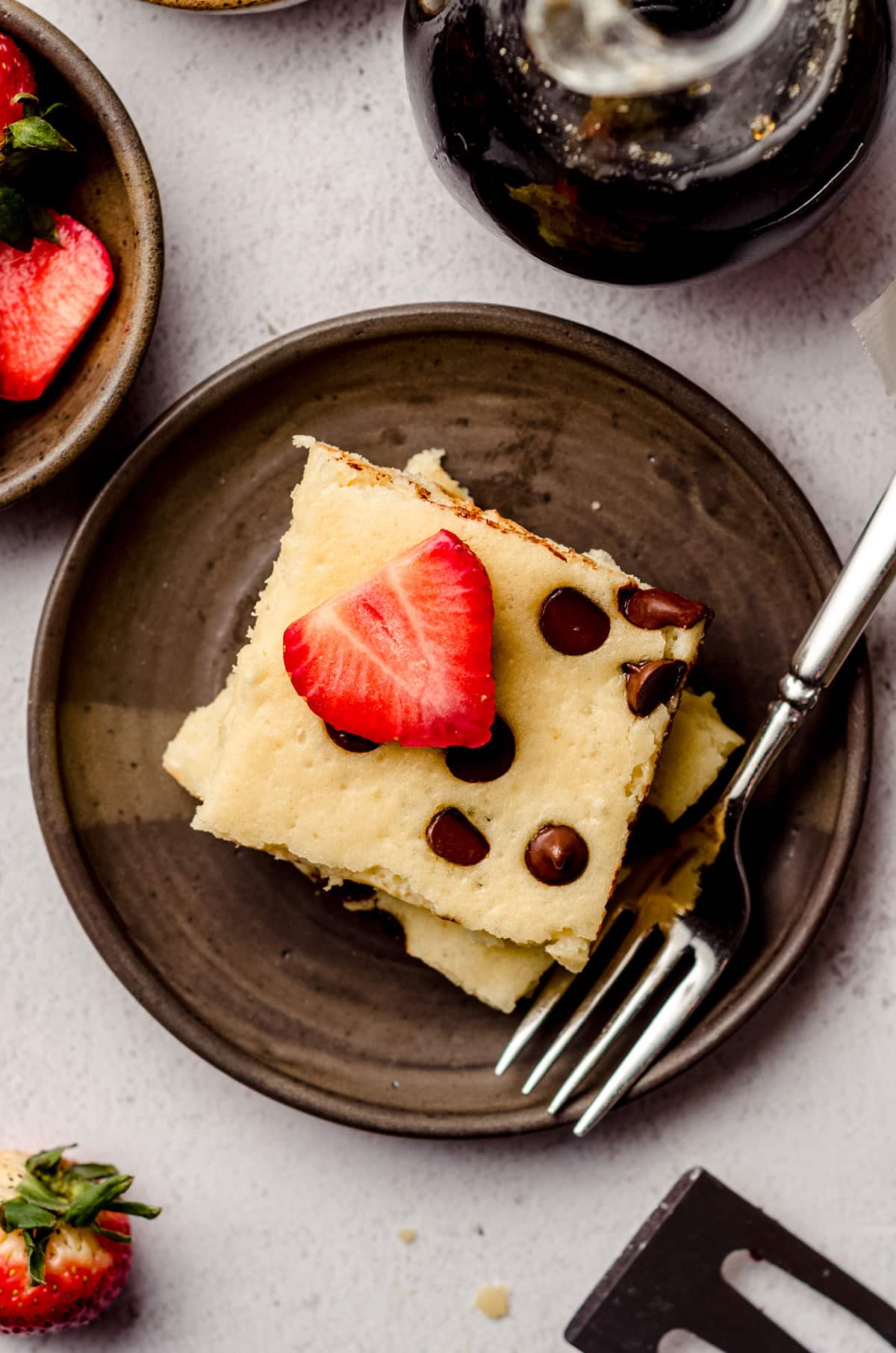 Then we'll get to the good stuff: what you add to your pancakes to give them that special and unique touch.
To get started, go ahead and preheat your oven to 425­°F (218ºC) and line a large sheet pan with parchment paper and 2 Tablespoons of melted butter.
BASIC BUTTERMILK PANCAKE BATTER
The first step is to make the buttermilk pancake batter. Start off by adding your flour, sugar, baking powder, and salt to a big bowl and giving it a good whisk. Set this aside.
In a medium bowl, add 4 tablespoons of melted butter, the beaten egg yolks, buttermilk, and vanilla. Whisk everything together until it's smooth and well combined.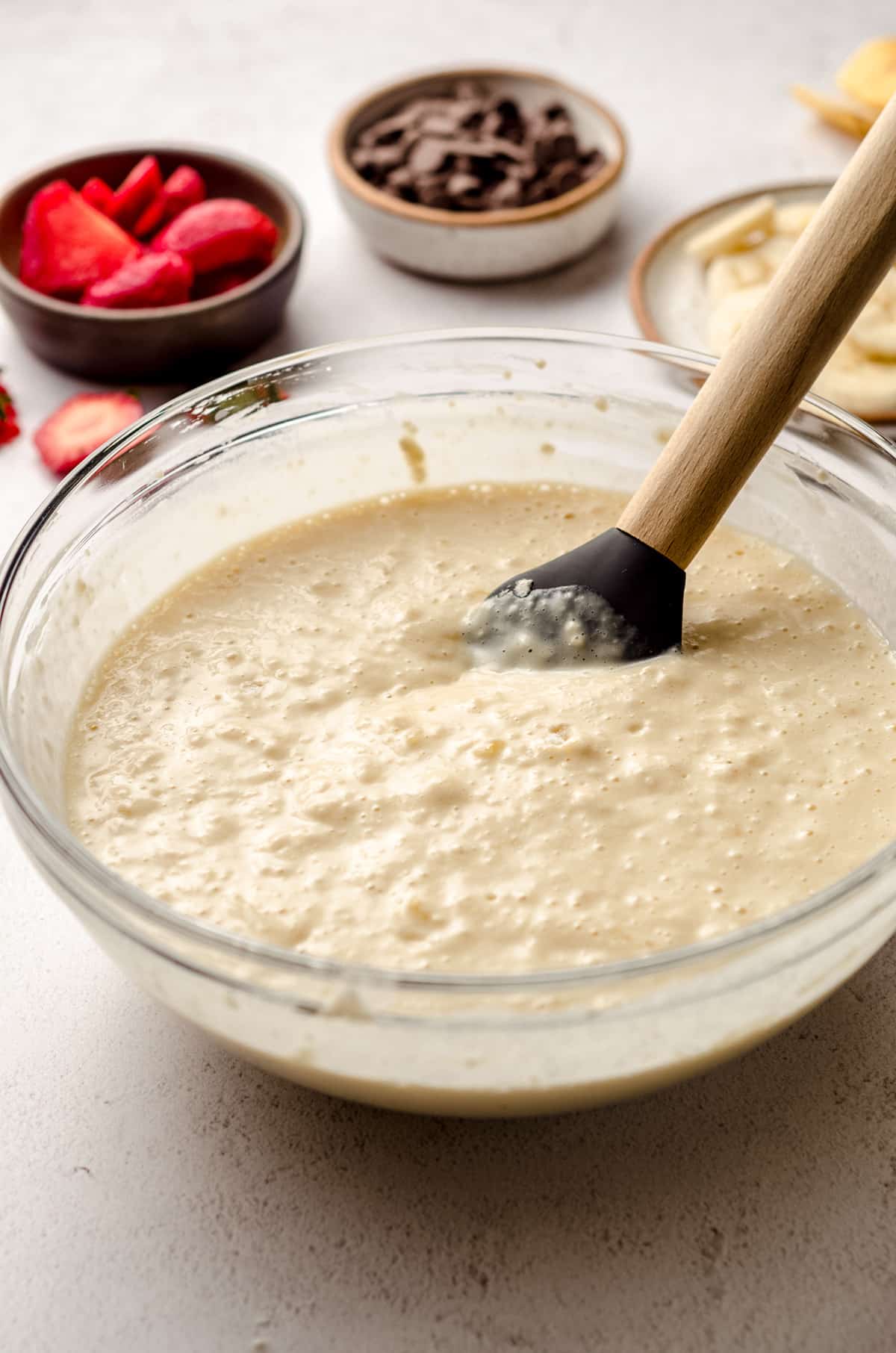 Pour your bowl of wet ingredients into the bowl of dry ingredients, and stir everything gently with a large spatula until everything is mostly combined. A few small lumps of flour is totally okay, since we will be giving this another mix when we add the egg whites.
ADD WHIPPED EGG WHITES FOR LIFT
The secret to these airy sheet pan pancakes is the added step of whipping the egg whites, and then folding them into the batter. This is a common technique used in baking cakes, and so what a better application than a batch of pancakes.
Add your egg whites to a small bowl (or the bowl of a stand mixer fitted with the whisk attachment), and beat them with an electric hand mixer until soft peaks form.
Transfer your whipped egg whites to the bowl of pancake batter, and gently fold them in using a silicone spatula.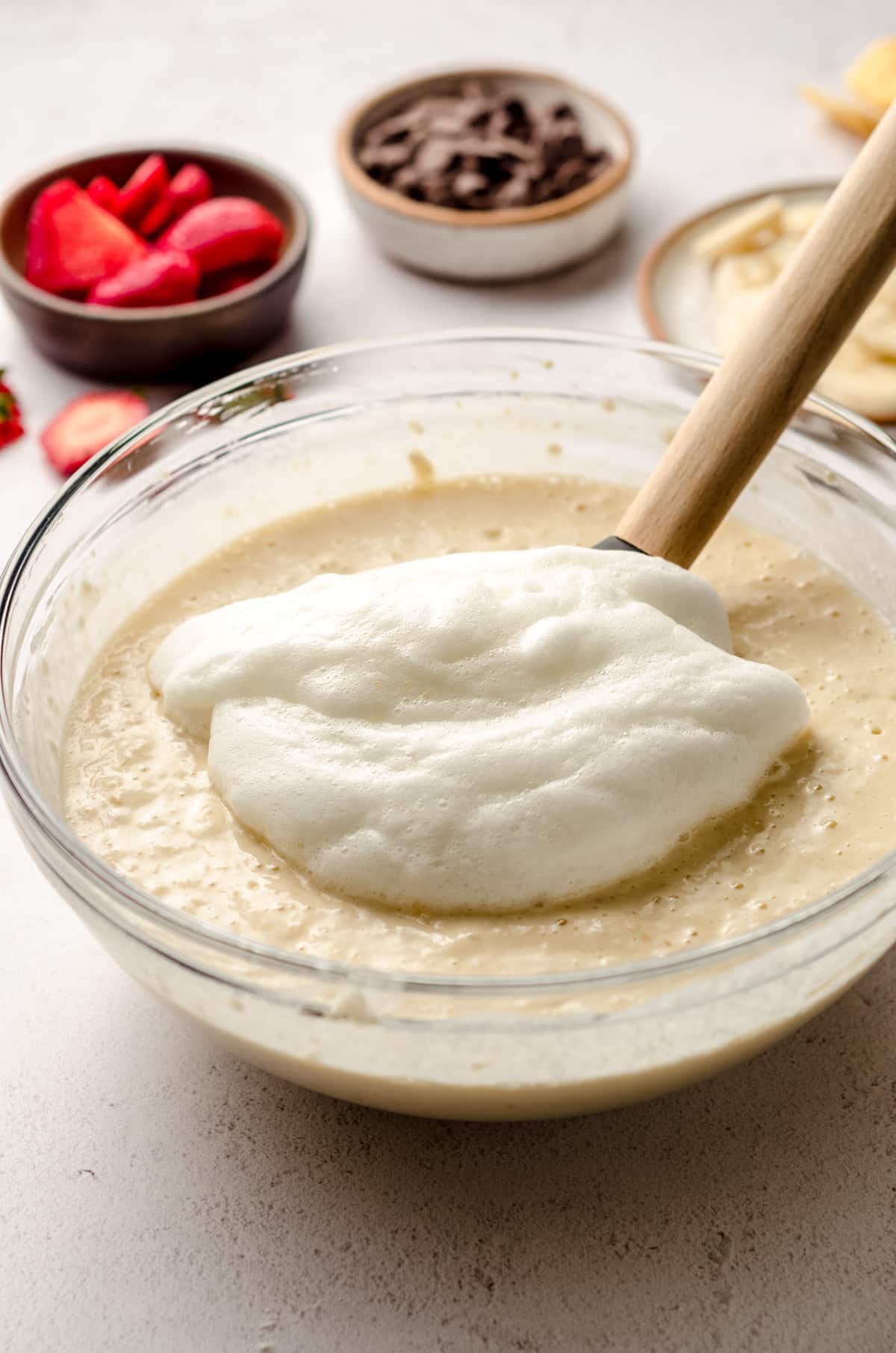 It's important to be careful with this step, since too vigorous of a mixing can deflate the eggs and you wouldn't achieve the desired result. Just go slowly, gently, and keep going until the egg whites are fully incorporated.
Once the batter is well combined, pour it into the prepared rimmed baking sheet. Spread it out evenly, and gather your toppings.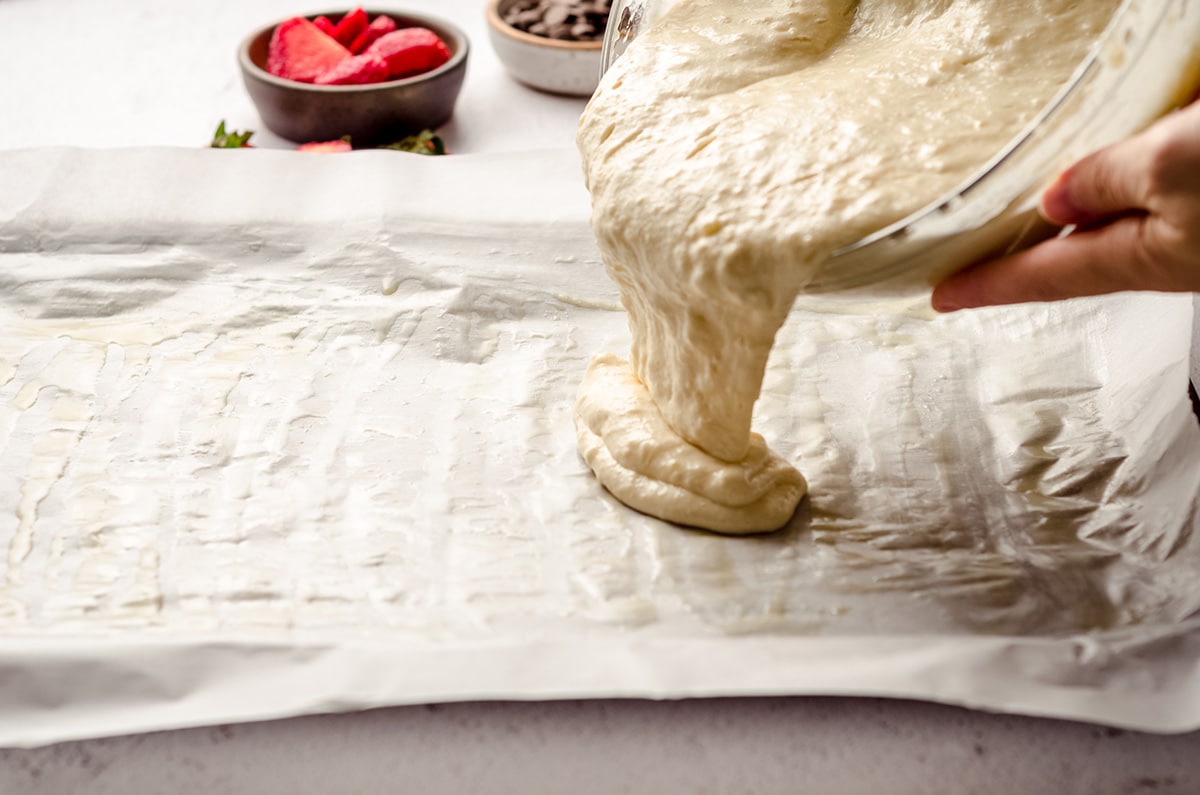 Add your desired add-ins to the batter, and bake for 10-12 minutes, ensuring to rotate the sheet halfway through baking so everything browns up evenly.
STORING LEFTOVERS
If you have any leftovers, they will store well tightly covered in the fridge for up to 5 days. If you want a longer storage time, see the section below to learn how to freeze your pancakes for up to 3 months.
CAN I ADD TOPPINGS TO THE BATTER?
Yes! One of my favorite parts of this easy sheet pan pancake recipe is switching it up with different toppings and add-ons.
Sprinkles, chocolate chips, sliced strawberries, nuts, fruit, and even candy coated chocolate (hellooooo, m&m's) can be added to your pancakes! Get creative and add whatever you like.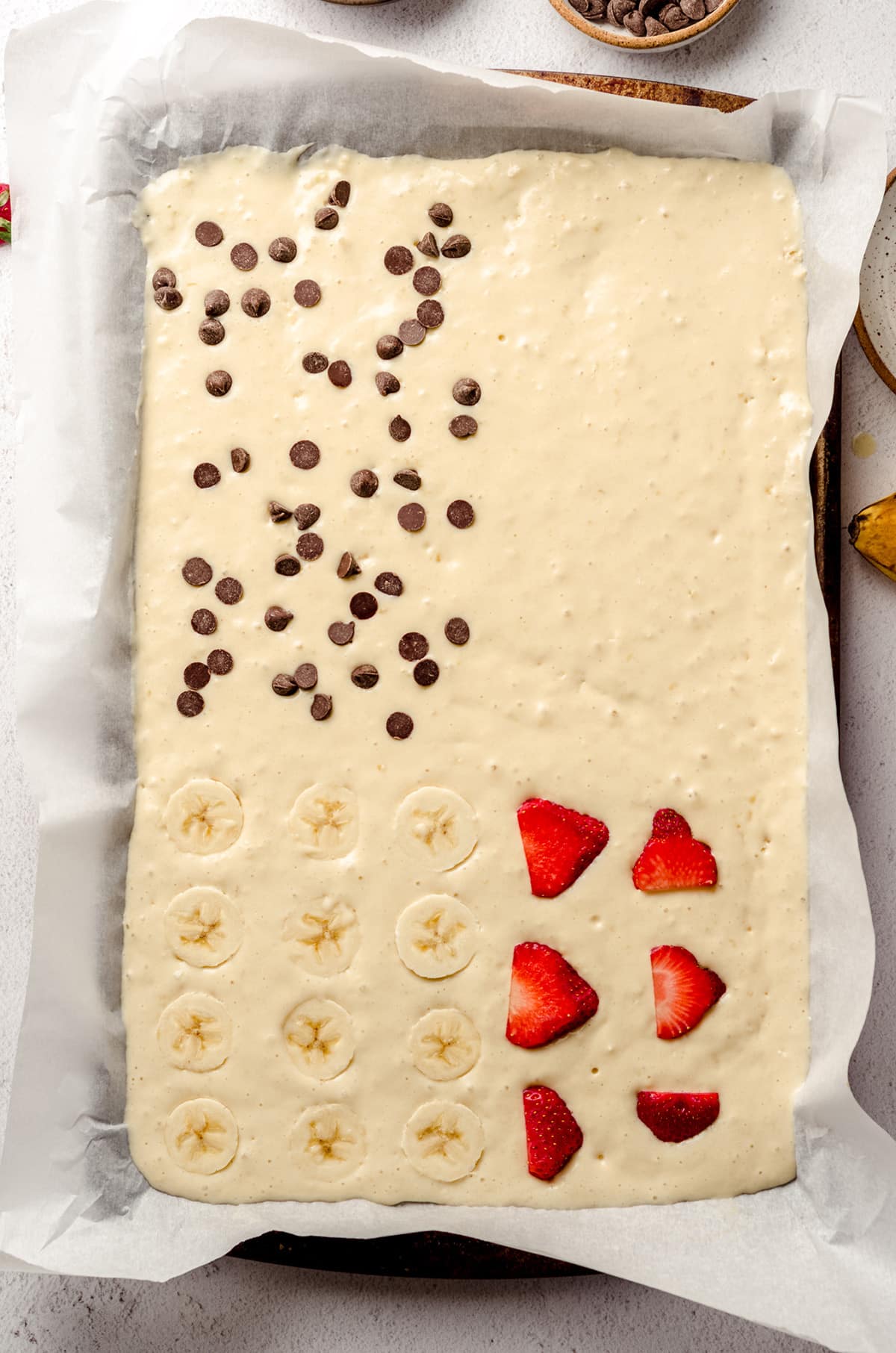 If you're like me and want ALL the options, go ahead and split your sheet pan up into quadrants. Feature a different topping in each quadrant, and bake for the required time.
Then, pull that baby out of the oven and top it with maple syrup, whipped cream, softened butter, or whatever your heart desires!
This is fun to do with kids, too. Just give each kid (and adult) their own section and let them pick some fun toppings for their sheet pancakes. This makes a fun birthday breakfast, or just a special Saturday morning treat.
HOW TO FREEZE SHEET PAN PANCAKES
One of the best things about this sheet pan pancakes recipe is how easy they are to freeze. On top of already being incredibly simple to make (did I mention NO flipping???), they can be frozen for a quick breakfast on a later day.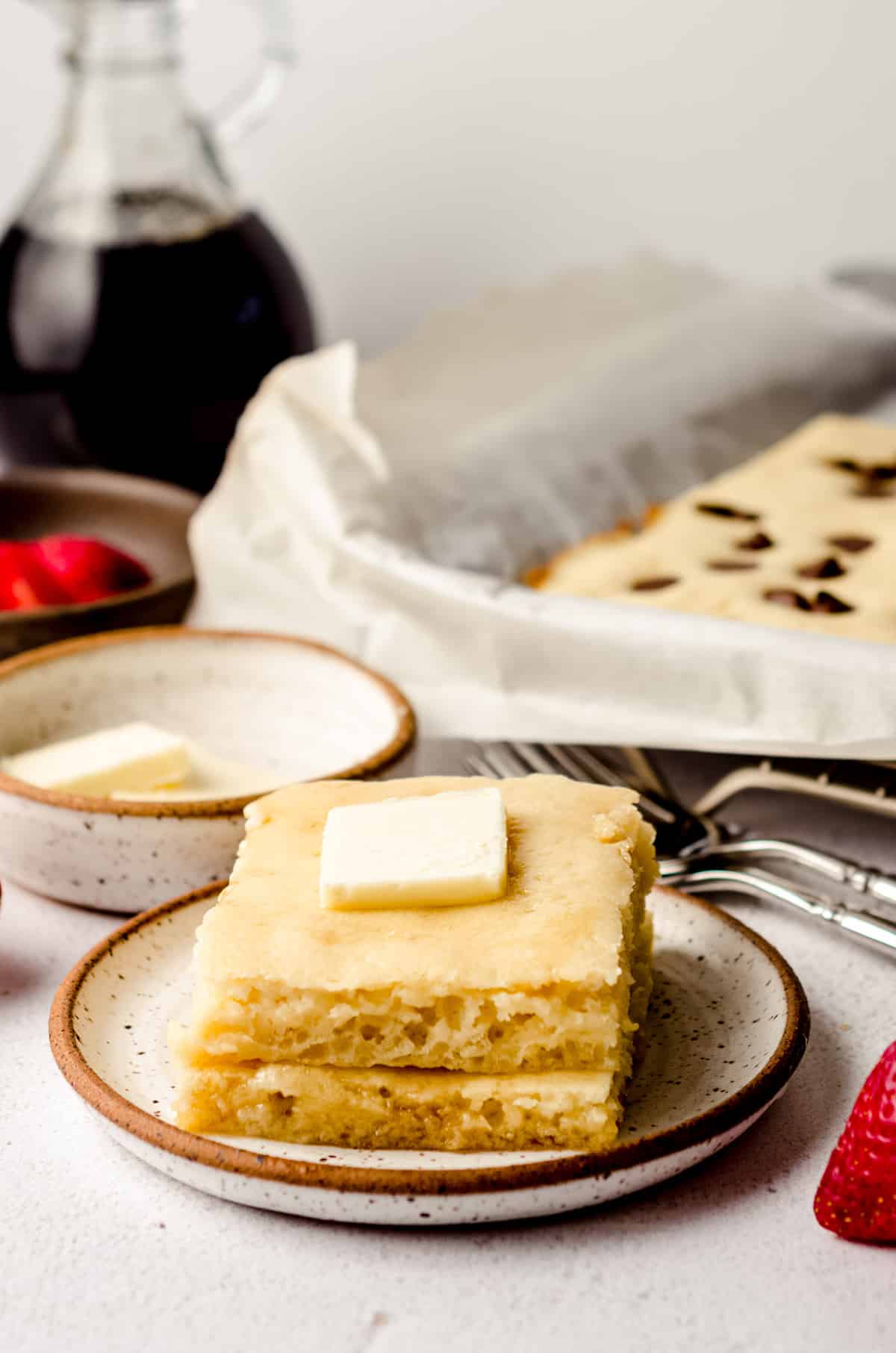 All you have to do is slice them into squares, stack 'em up, wrap in plastic, and place inside of a freezer bag. Use within 3 months for the best taste and texture.
When you're ready to enjoy them, thaw your pancakes briefly OR just reheat them directly in the oven or a microwave.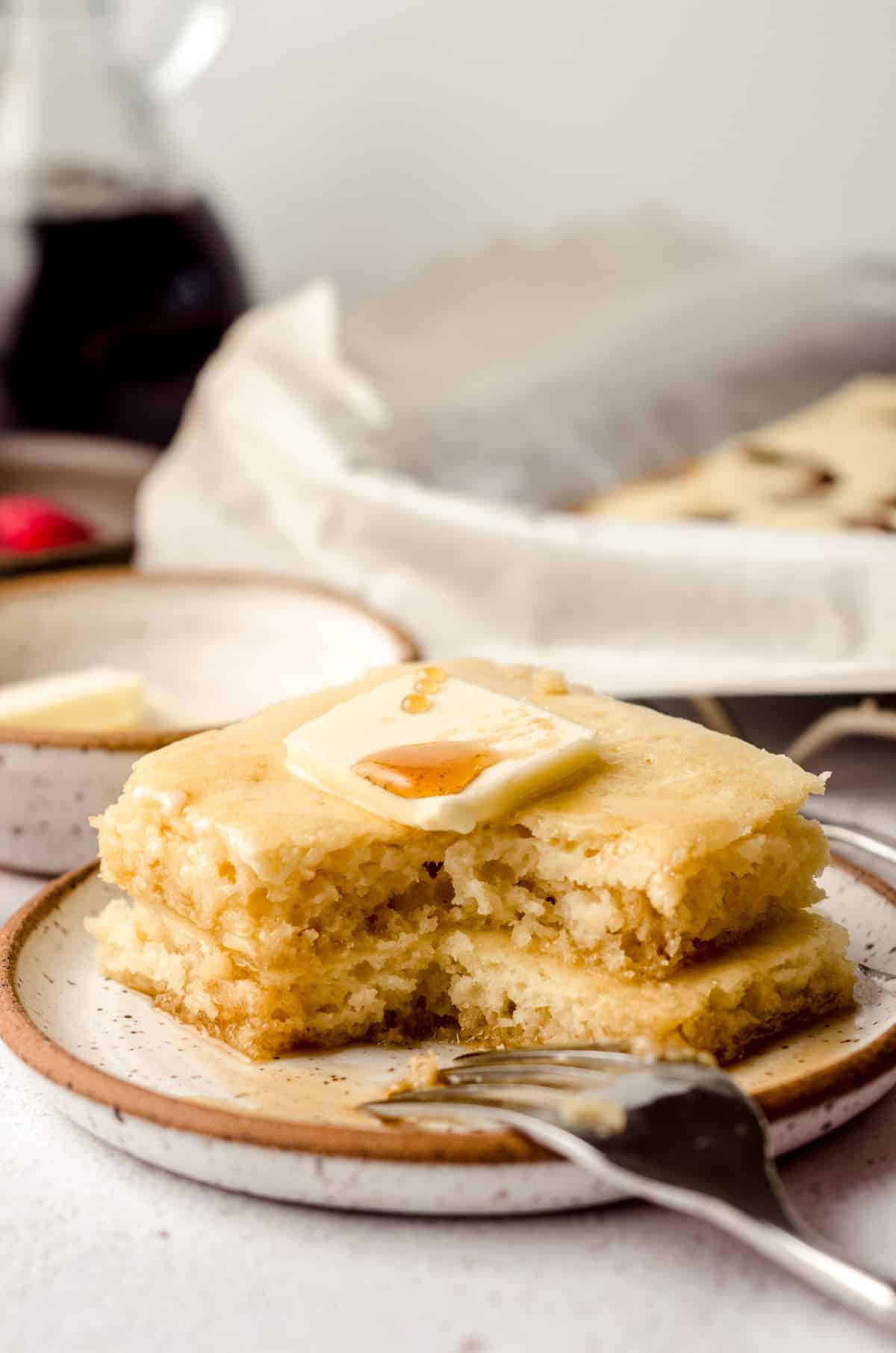 Serve with your choice of maple syrup or any of your favorite pancake toppings (looking at you, strawberry compote or homemade whipped cream).
Now that you've tried these buttermilk sheet pan pancakes, you have to try a few of my other breakfast/brunch favorites! This make ahead breakfast casserole is a total lifesaver. I also highly recommend you try my overnight French toast, morning glory muffins, or my baked apple oatmeal. As a bonus, they can all be made ahead of time just like these easy pancakes!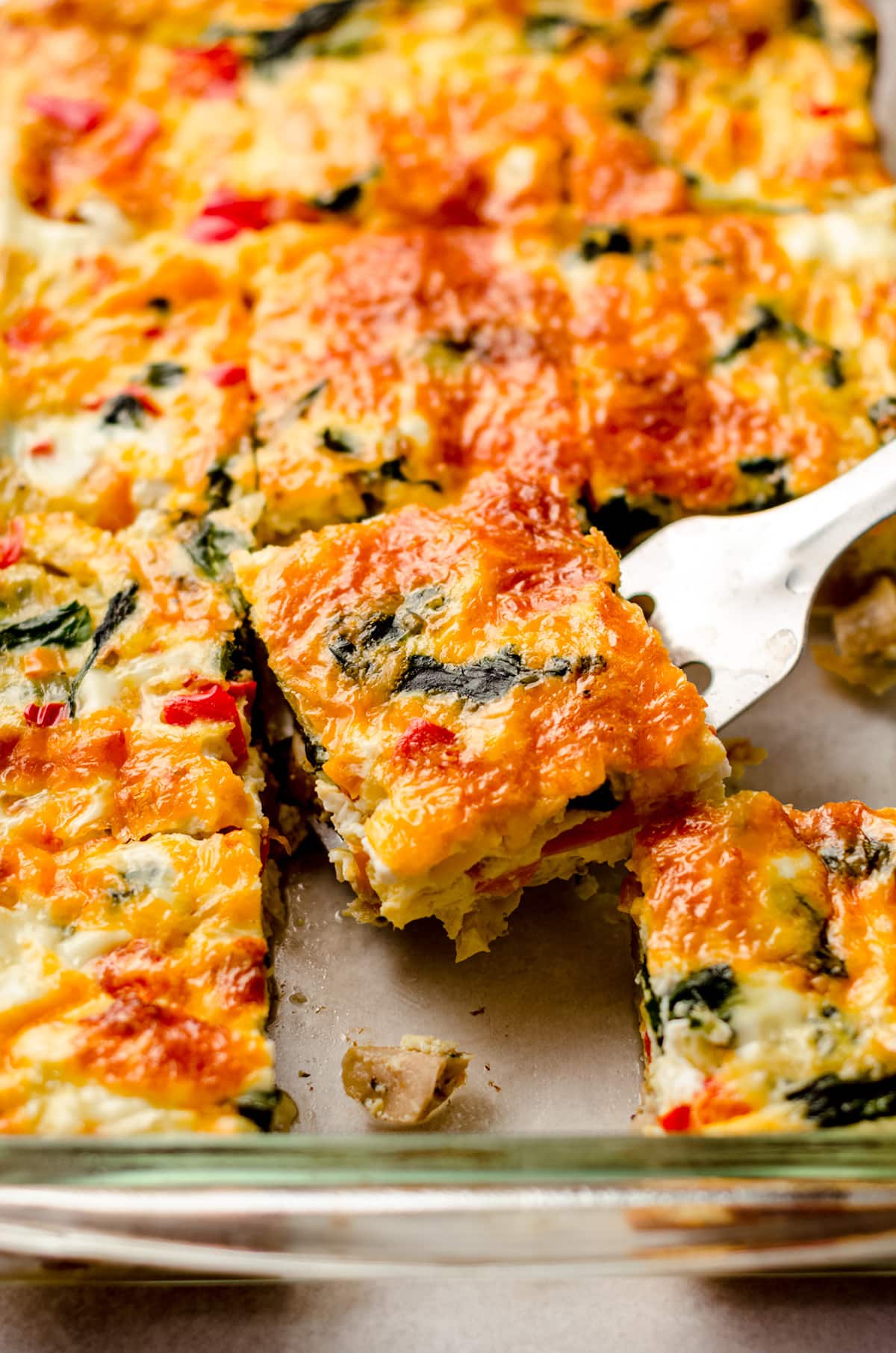 Sheet Pan Pancakes
Whip up some light and fluffy pancakes without standing over a skillet! Make your next batch of pancakes in the oven with these simple and easy sheet pan pancakes.
Ingredients
6

Tablespoons

(84g) unsalted butter

melted and divided

2 and ⅔

cup

(320g) all-purpose flour

¼

cup

(50g) granulated sugar

4

teaspoons

baking powder

½

teaspoon

salt

2

large eggs separated1

2

cups (480mL)

buttermilk

2

teaspoons

vanilla extract
ADD-INS: nuts, fruit, sprinkles, chocolate chips2
Instructions
Preheat the oven to 425ºF (218ºC). Line a large baking sheet (13" x 18") with parchment paper and brush with 2 Tablespoons of the melted butter. Set aside. sheet pan with parchment pap, spray or brush with butter, preheat to 425, bake 10-12 minutes, rotating halfway through

In a large bowl, whisk together the flour, sugar, baking powder, and salt. Set aside.

In a medium size bowl, combine the remaining 4 Tablespoons of melted butter, beaten egg yolks, buttermilk, and vanilla, and whisk together until completely combined.

Pour the wet ingredients into the dry ingredients and stir gently with a large spatula until mostly combined and only small chunks of flour remain. Set aside.

Using a handheld mixer with the small bowl containing the egg whites or the bowl of a stand mixer fitted with the whisk attachment, beat the egg whites until soft peaks form.

Gently fold the whipped egg whites into the pancake batter until fully incorporated. It is imperative to do this gently so as not to deflate the egg whites.

Pour the batter evenly onto the prepared baking sheet, add any add-ins, then bake for 10-12 minutes, rotating the baking sheet halfway through. Remove from the oven, allow to cool for about 5 minutes, then slice and serve with additional toppings and/or syrup. Store leftovers covered tightly in the refrigerator up to 5 days. Sheet pan pancakes freeze well, up to 3 months. Slice, stack, wrap, freeze, and thaw as needed in the microwave.
Notes
Separated eggs: crack two eggs, keeping the yolks together in one small bowl and the egg whites together in another small bowl. Beat the egg yolks together before adding to the pancake batter.
Add ins: put any add-ins on top of the batter once it's in the baking sheet. You can use quadrants like I did, or choose to make the whole batch the same flavor. Have fun with it!
Nutrition Disclosure
All nutritional values are approximate and provided to the reader as a courtesy. Changing ingredients and/or quantities will alter the estimated nutritional calculations.
Serving:
1
pancake
|
Calories:
205
kcal
|
Carbohydrates:
28
g
|
Protein:
5
g
|
Fat:
8
g
|
Saturated Fat:
5
g
|
Polyunsaturated Fat:
1
g
|
Monounsaturated Fat:
2
g
|
Trans Fat:
0.2
g
|
Cholesterol:
47
mg
|
Sodium:
291
mg
|
Potassium:
96
mg
|
Fiber:
1
g
|
Sugar:
6
g
|
Vitamin A:
280
IU
|
Calcium:
134
mg
|
Iron:
2
mg