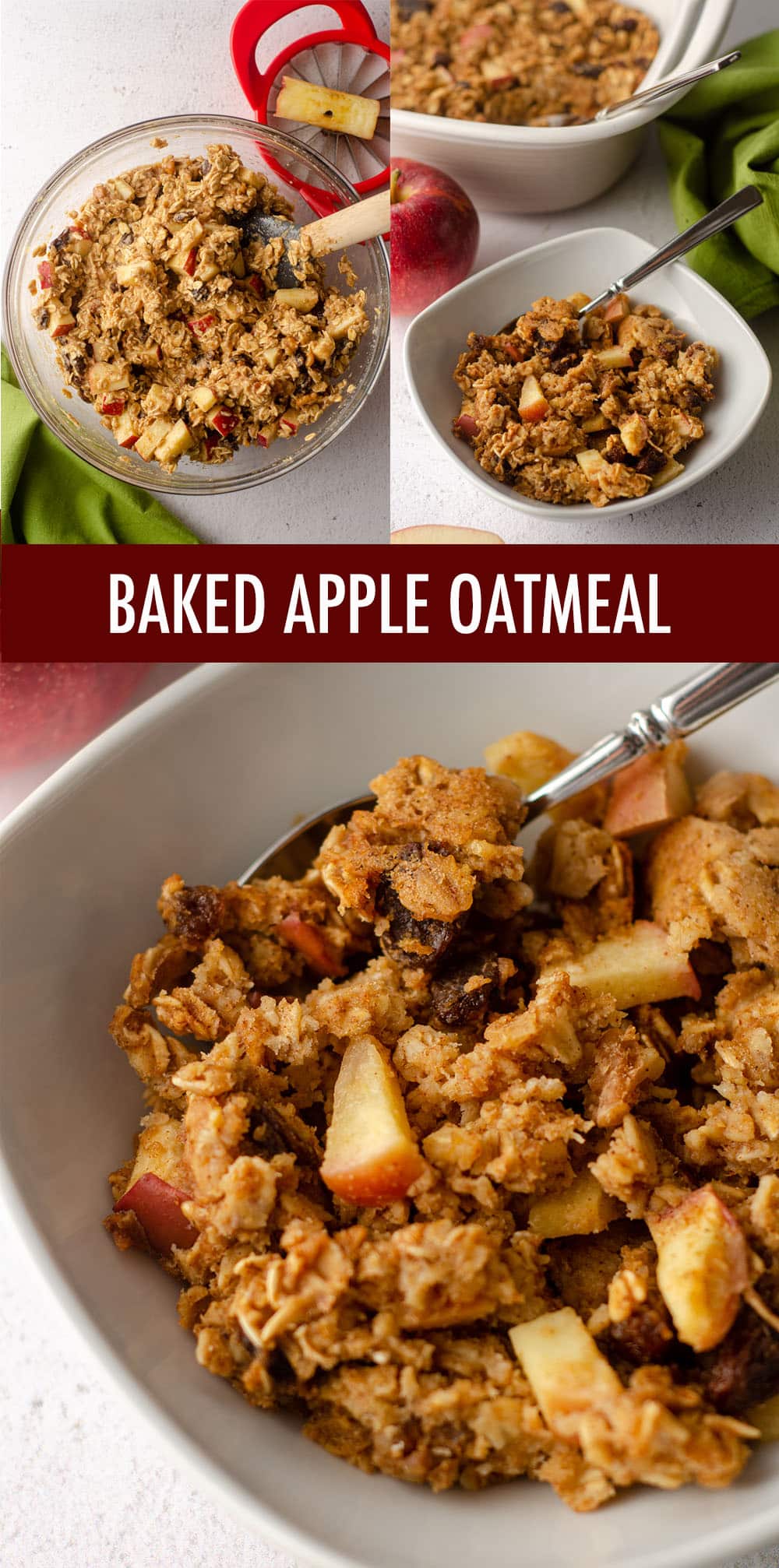 As an Amazon Associate, I earn from qualifying purchases. Read the full disclosure here.
This baked apple oatmeal is quick, easy, customizable, and a total crowd pleaser. Serve it in a bowl with milk or cut it into squares for a grab-and-go breakfast. Instructions included for individual baked apple oatmeal cups.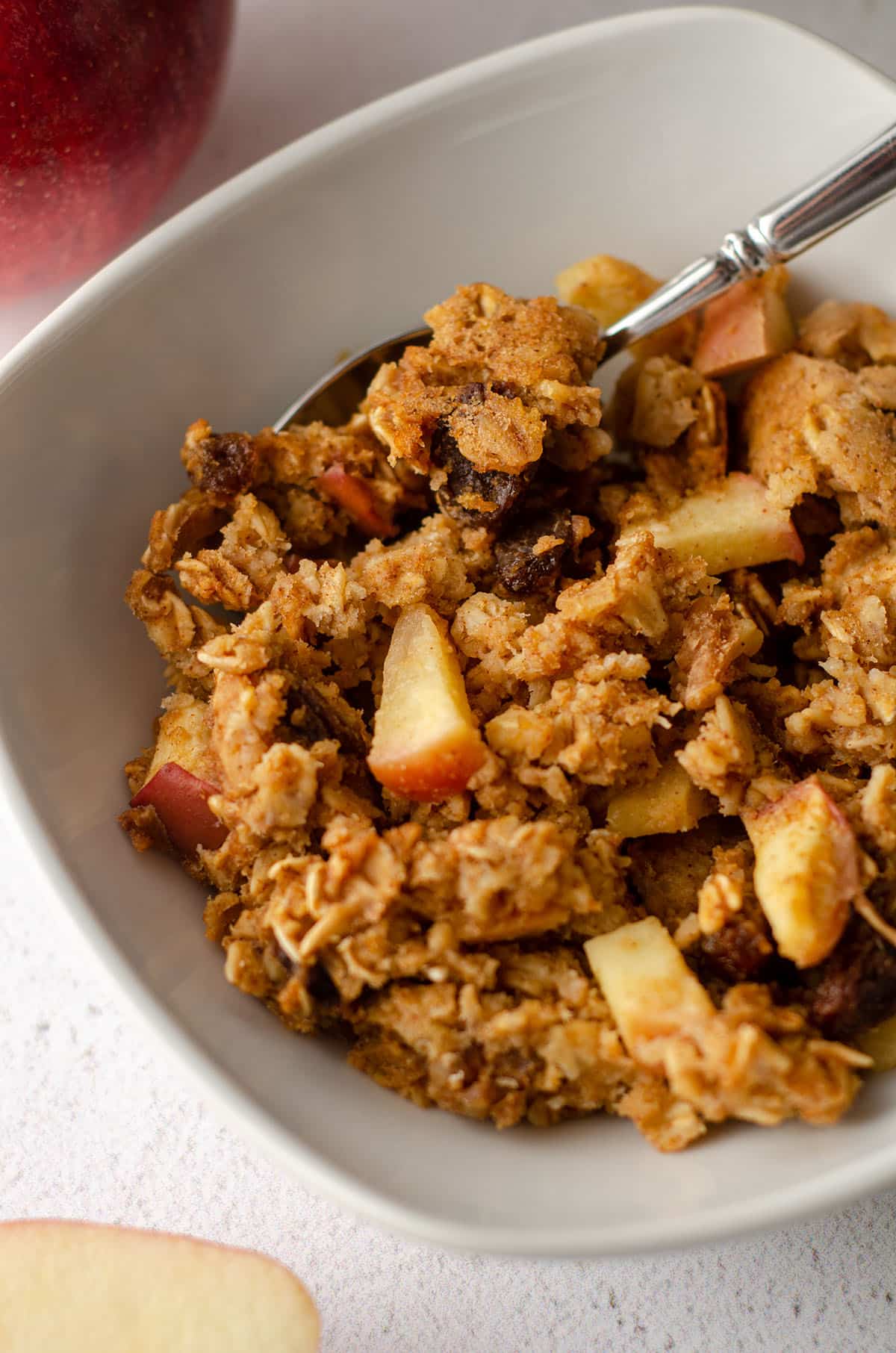 Where do you stand on oatmeal for breakfast? Are you a never, sometimes, or always fan?
In our house, we are in the "always" camp, and we have often been found eating oatmeal for other meals– though this is mostly the kids, it's still a frequent meal in our house.
My go-to is cut up banana and almond butter when I'm making one bowl for myself or the boys, but every few weeks, I bust out this apple cinnamon baked oatmeal and we have oatmeal for a few days.
I originally published this recipe back in 2014, and since I make it so often, I thought it would be a nice time to revisit it, give it some fresh photos, and share all my tips and tricks for add-ins.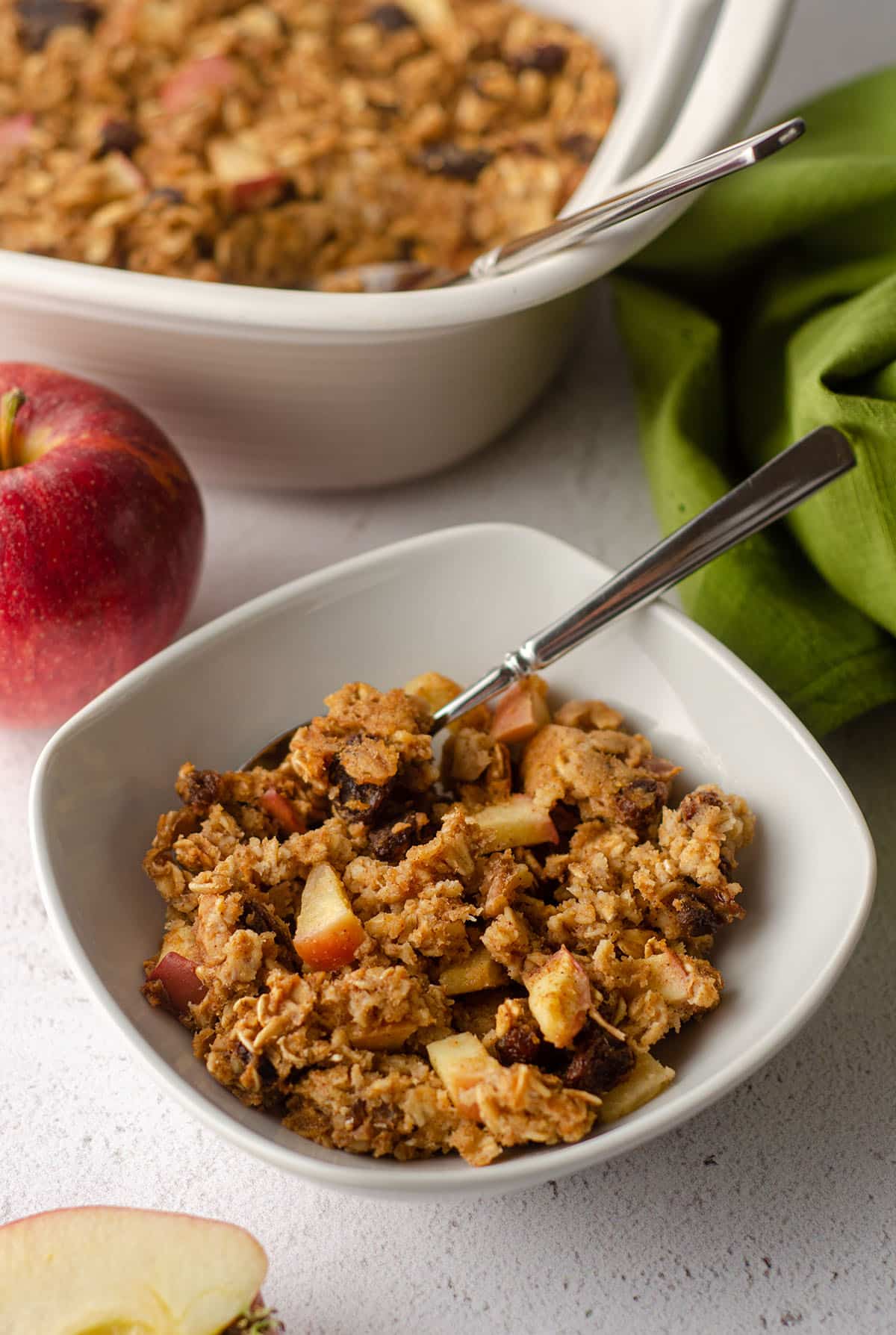 To give you a little history of this recipe, it goes way back with me to college. Once I lived in an apartment and no longer in the dorms, my roommates and I would make one of these every week so that we always had the option for oatmeal for breakfast.
The only "problem" was that we always used instant oatmeal packets and a ton of butter. YIKES.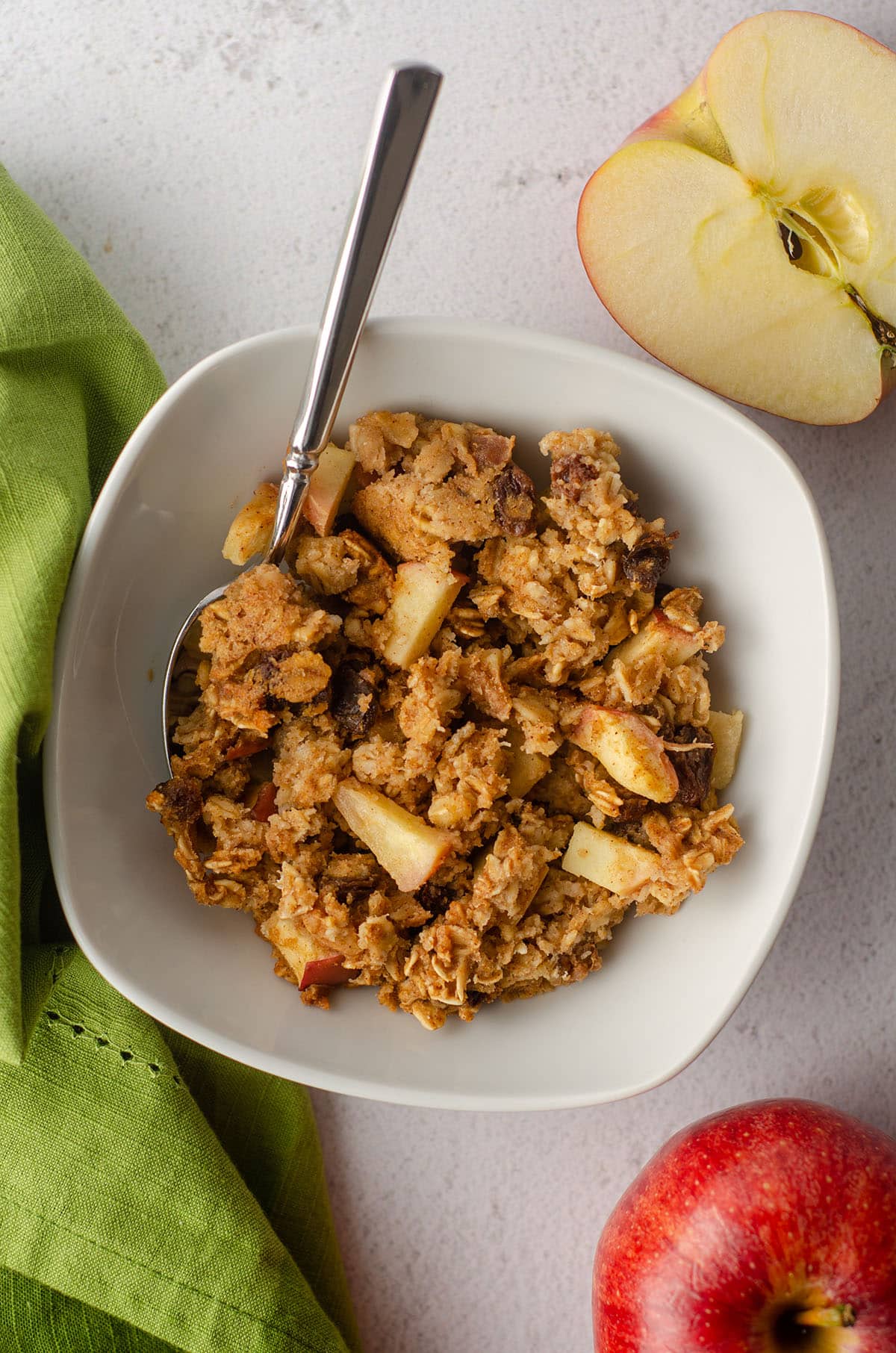 Once I was living on my own and was no longer equipped with that college metabolism, I adapted the recipe to what it is now, and we're going on over 15 years of this recipe being a solid staple in my kitchen.
See? Totally in the "always" camp.
And then there's my love affair with chewy oatmeal raisin cookies, but that's a whole set of recipes for another day.
HOW TO MAKE BAKED APPLE OATMEAL
This healthy baked oatmeal is really simple: old fashioned oats (not quick– you'll have oatmeal mush!), some unsweetened applesauce for the glue (make yours in an InstantPot, if you'd like!), a little brown sugar, some salt, cinnamon, and baking powder (for fluff!), a bit of milk, and an egg.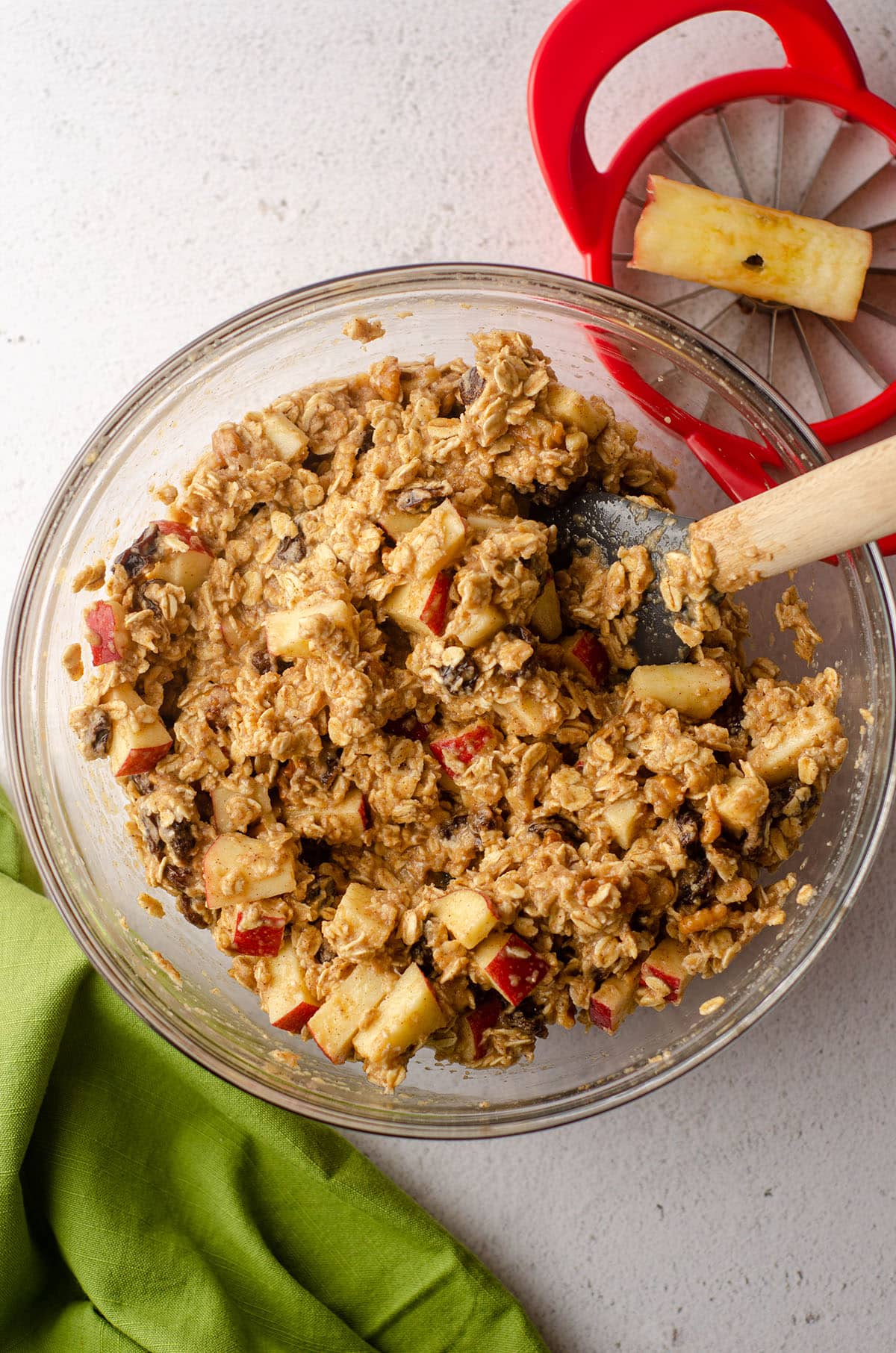 If you want to keep this baked apple oatmeal vegan, swap out the milk for a non-dairy option and mix yourself a flaxseed egg. Easy peasy swaps!
My add-ins are usually apple, raisins, and nuts. I've even swapped the apple for banana or blueberries, the raisins for dried cranberries, and added chocolate chips. Notes in the recipe for how to change up the goodies.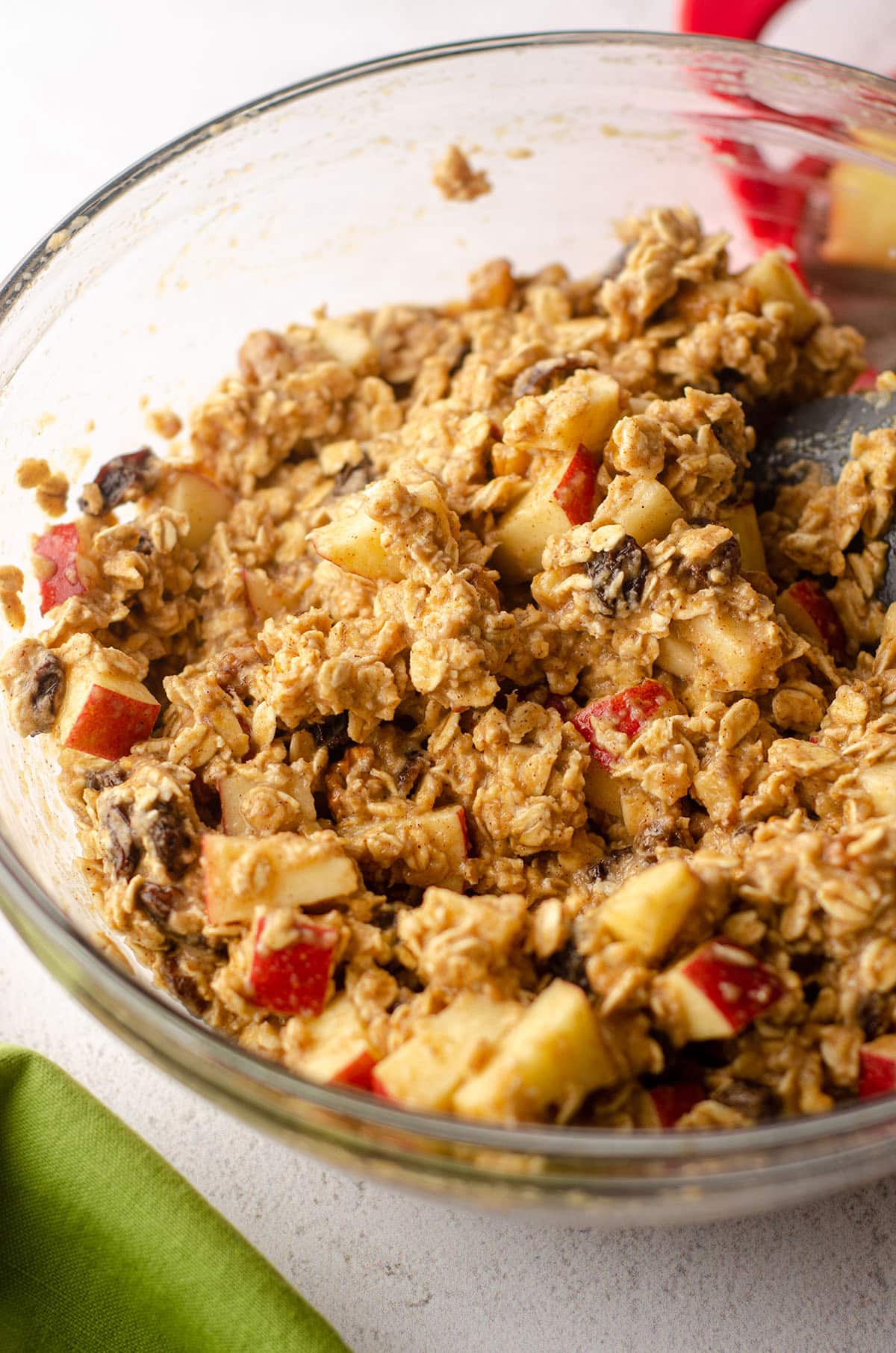 It's pretty simple to change up the add-ins, but I don't recommend straying from the applesauce as the binder. I promise, if you don't want apple flavor, it won't be there. Unsweetened applesauce becomes a very neutral flavor once mixed with all those other ingredients.
DOUBLE THE RECIPE OR TURN IT INTO INDIVIDUAL BAKED APPLE OATMEAL CUPS
I typically bake my apple oatmeal bake in a 2.5 quart casserole, but this fits nicely in an 8″ or 9″ square baking dish. If you would like to double it, bump up to a 9″ x 13″ baking dish and increase the baking time by 4-5 minutes.
Though the end result of this apple baked oatmeal cuts nicely into squares for grab-and-go breakfasts, you can also fill the wells of a cupcake pan for "muffin" style baked oatmeal.
You'll know your baked oatmeal is done when it's a nice golden brown on the top and the oats no longer feel moist when you touch them. They will not be dry though– promise!
GREAT FOR ENTERTAINING
This recipe is great for feeding a crowd. It comes together in less than 10 minutes, is baked immediately, and is ready to eat in half an hour.
We have used it for a holiday breakfast or brunch, and since it reheats well and you can even eat it cold, leftovers are top notch!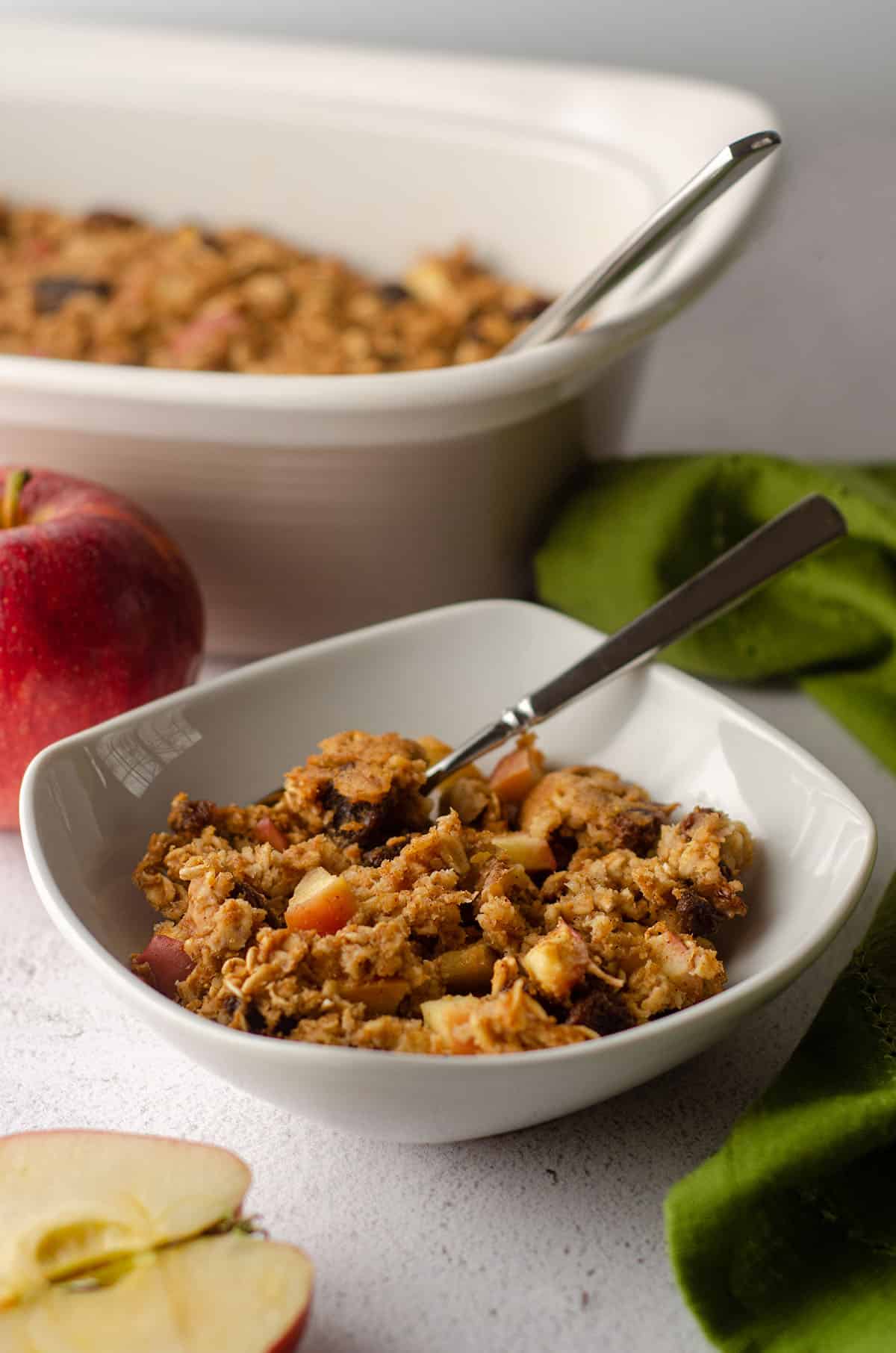 MAKE AN OATMEAL BAR
If your crowd can't agree on nuts/no nuts or raisins/no raisins, feel free to offer these items as toppings to add right before eating. Leave out the add-ins (apple/raisins/nuts) from the recipe, and fill bowls with them instead.
Other options for toppings: chocolate chips, sprinkles (YES), other dried fruit– get creative! This oatmeal bake recipe is pretty versatile.
What I love most about this recipe is that it is at the perfect level of sweetness. I don't love super sweet oatmeal (unless it's in the form of a cookie, duh), and if you find it's not sweet enough for you, you can just sprinkle some on top before you eat it.
Another great option? Using certified gluten-free oats makes this entire dish gluten-free. Boom. Everyone can eat it.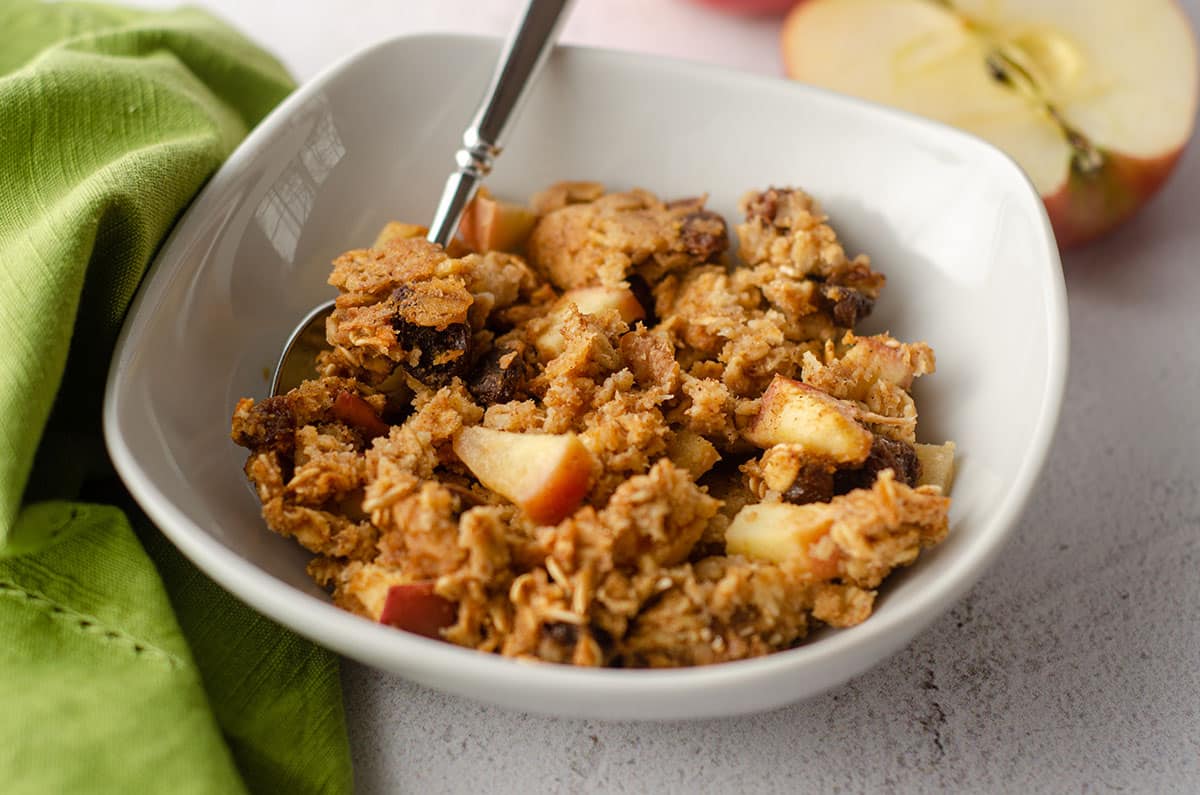 I hope you love this cozy recipe for baked oatmeal as much as the April fam does. I have a feeling if you give it a try, you'll be seeing it come out of your oven often.
Baked Apple Oatmeal
This baked apple oatmeal is quick, easy, customizable, and a total crowd pleaser. Serve it in a bowl with milk or cut it into squares for a grab-and-go breakfast. Instructions included for individual baked apple oatmeal cups.
Ingredients
2 and ½

cups

(200g) old fashioned oats1

2

teaspoons

ground cinnamon

1 and ½

teaspoons

baking powder

½

teaspoon

salt

1

cup (244g)

unsweetened applesauce2

⅓

cup

(67g) firmly packed light brown sugar

¼

cup

(60mL) milk

any

1

teaspoon

vanilla extract

1

large egg

1

medium apple3

cored and chopped (approximately 1 heaping cup)

½

cup

(75g) raisins

½

cup

(40g) chopped nuts

I like walnuts
Instructions
Preheat oven to 350ºF (177ºC). Spray a 2.5 quart casserole dish (or 8" or 9" square baking dish) with non-stick spray. Set aside.

In a medium bowl, combine oats, ground cinnamon, baking powder, and salt. Set aside.

In another medium bowl, whisk together the unsweetened applesauce, brown sugar, milk, vanilla, and egg until smooth. Add to dry ingredients and stir until all of the oats are coated.

Carefully stir in apples, raisins, and nuts. Pour batter into prepared baking dish, dispersing mixture evenly, and bake uncovered for 30-35 minutes or until golden brown and oats no longer feel moist when you touch them. Serve immediately. I like mine in a bowl with milk. Baked oatmeal will keep well in refrigerator, covered, up to 5 days. Unbaked oatmeal freezes well, up to 3 months. Thaw in refrigerator or at room temperature, then bake as usual.
Notes
Old fashioned oats: do not use quick oats. The recipe will not turn out the proper texture. Be sure to use certified gluten free oats if you want to keep this recipe truly gluten free.
Unsweetened applesauce: if you prefer sweetened applesauce, reduce brown sugar to

¼

cup.
Apple: I like to leave the skin on and prefer Gala apples. Use any apple you like and feel free to remove the skin.
To double recipe: bake in 9″ x 13″ baking dish. Increase baking time by 4-5 minutes.
Make an oatmeal bar: feel free to leave out the add-ins and make a "baked oatmeal bar" when serving large crowds (extra brown sugar, chopped nuts, dried fruit, jam, chocolate chips, etc.)
Want to completely change up the add-ins? Feel free to use a different fruit than apples (or in addition to). I suggest two sliced bananas, or a cup of blueberries (frozen or thawed). Even if you don't use apples, do not omit the applesauce.
To make baked apple oatmeal cups: this recipe makes 10-12 oatmeal cups. Spray the wells of a cupcake pan generously with non-stick spray, and bake for 20-25 minutes.
Nutrition Disclosure
All nutritional values are approximate and provided to the reader as a courtesy. Changing ingredients and/or quantities will alter the estimated nutritional calculations.