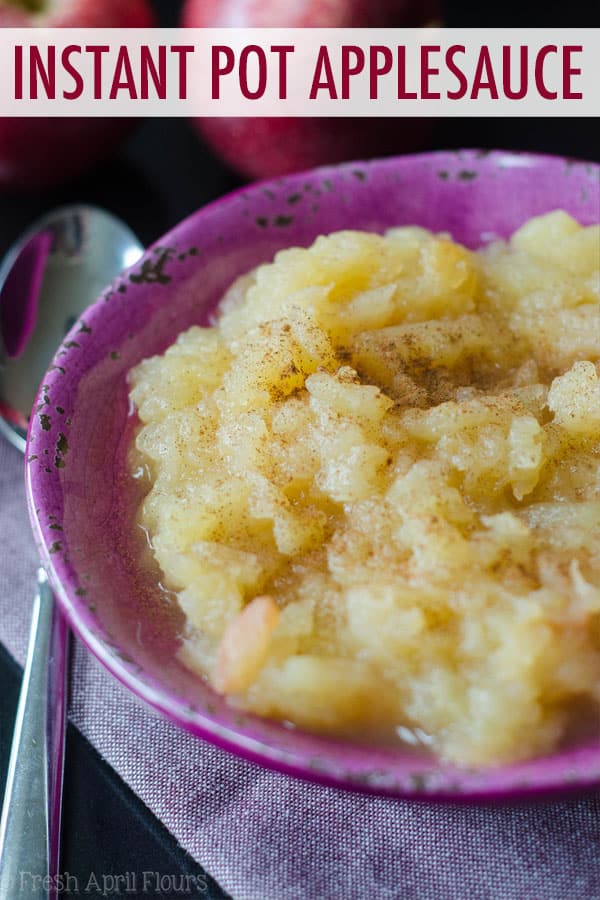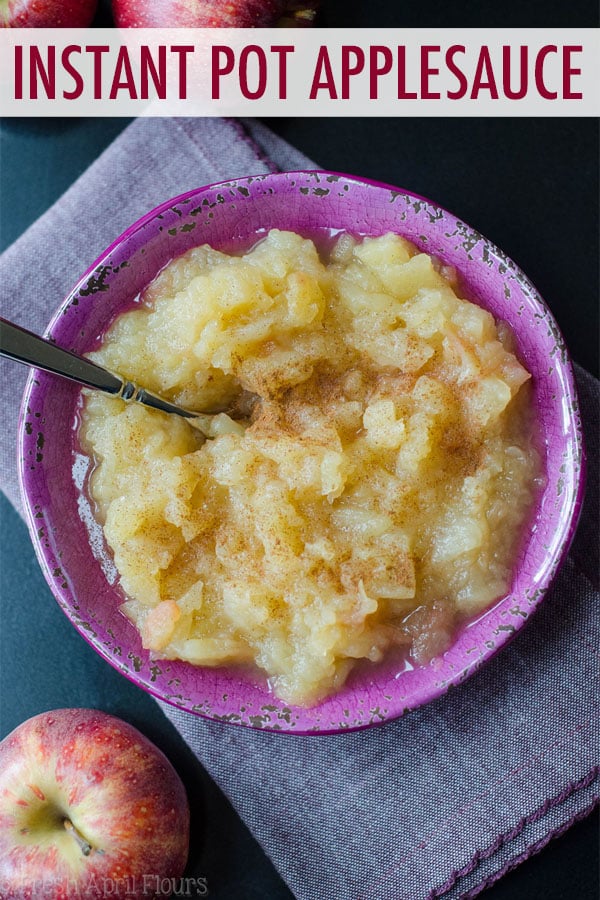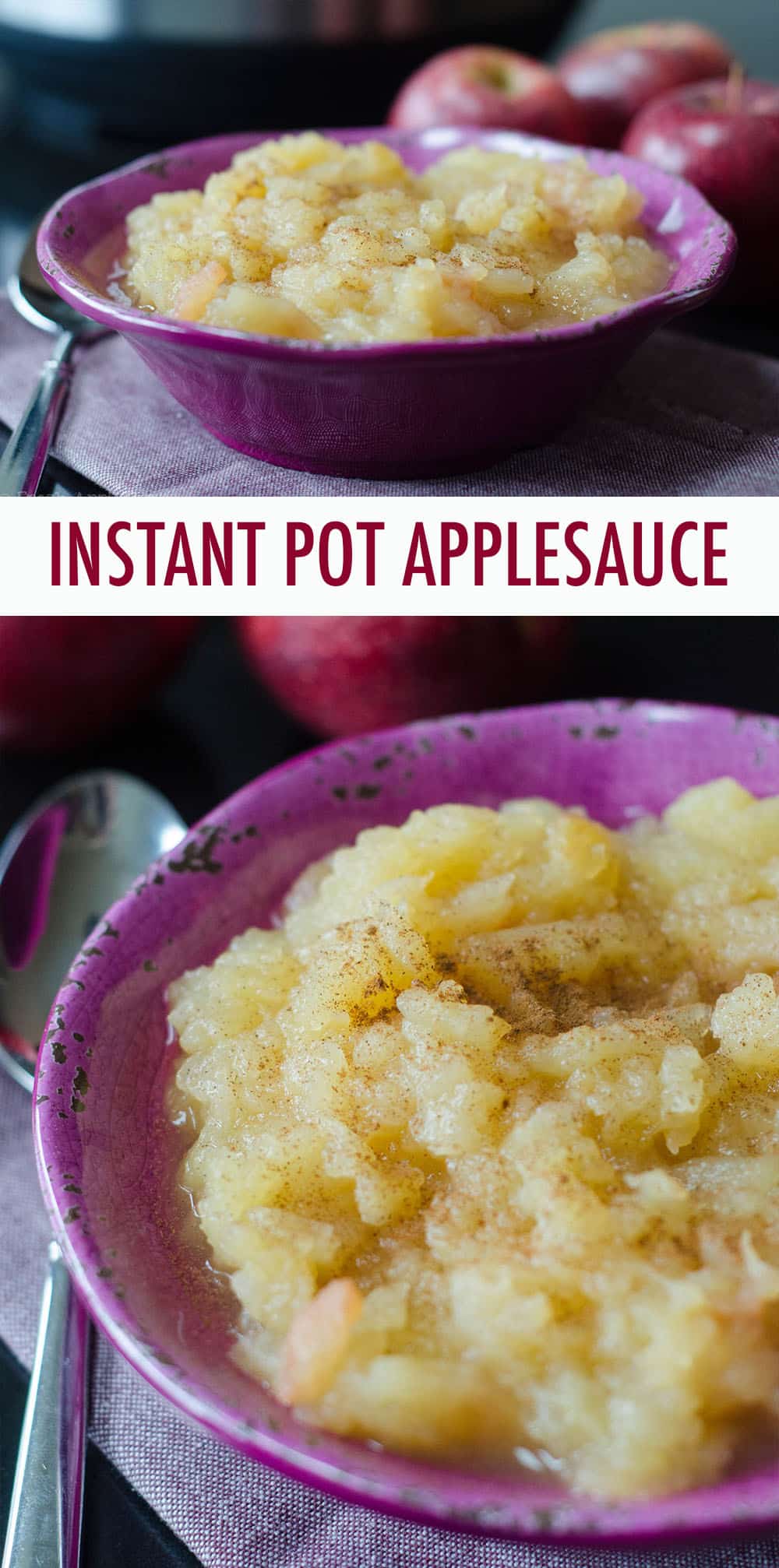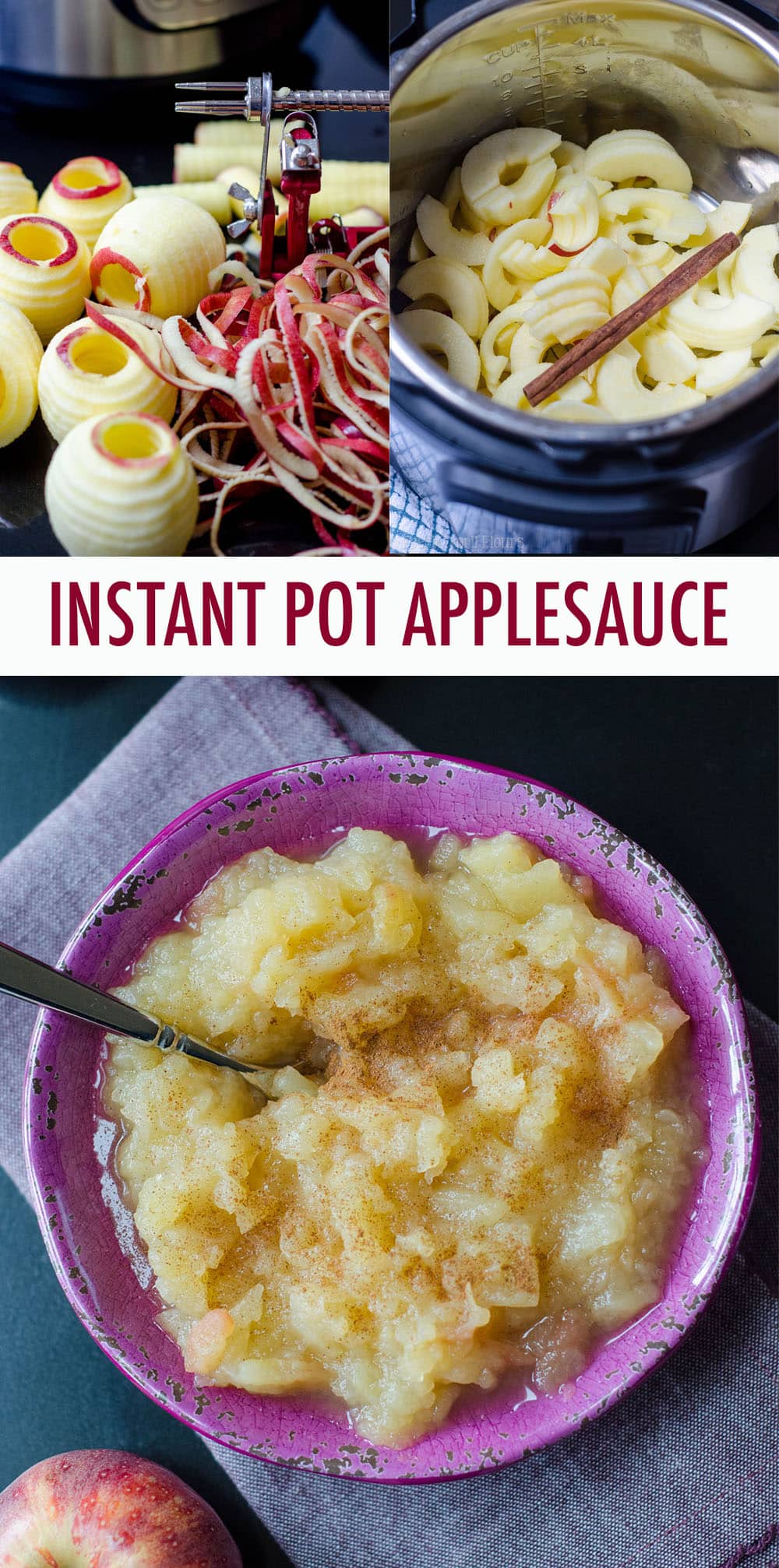 As an Amazon Associate, I earn from qualifying purchases. Read the full disclosure here.
All-natural, no sugar added, homemade applesauce, ready in 4 minutes!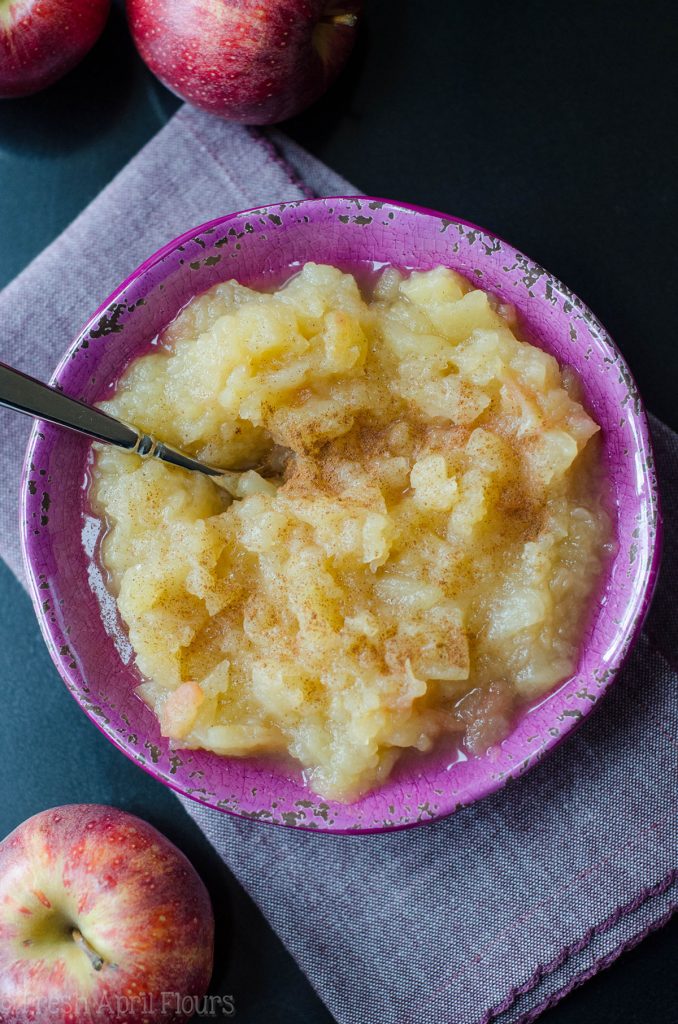 I have a big huge complaint to file with the applesauce makers of the world.
"No sugar added" applesauce that is CHUNKY is seriously hard to find, and it really shouldn't be! There are plenty of options for smooth applesauce with JUST apples and some sort of citrusy stabilizer out there, but I am a certified chunky girl, and that goes for my peanut butter and applesauce alike.
Thankfully, our beloved Wegman's carries a chunky applesauce that has no additional sugar in it, but its shelf is often low in stock or empty, which means that PEOPLE WANT THIS STUFF.
So I took to my fav new appliance (hi, InstantPot ♥) to see what I could do about turning apples into applesauce with just apples and spices.
Umm, Wegman's, I love you dearly, but I'm never going back to store bought applesauce again, even if you do carry the only one I will eat. Don't worry, I'll still come get my apples from you, so we can call it even!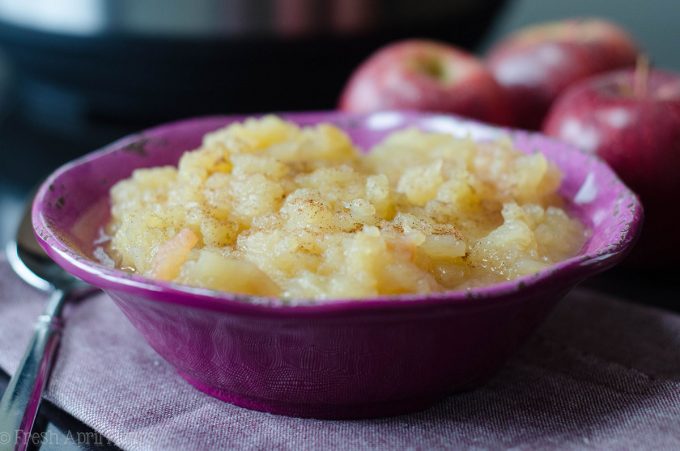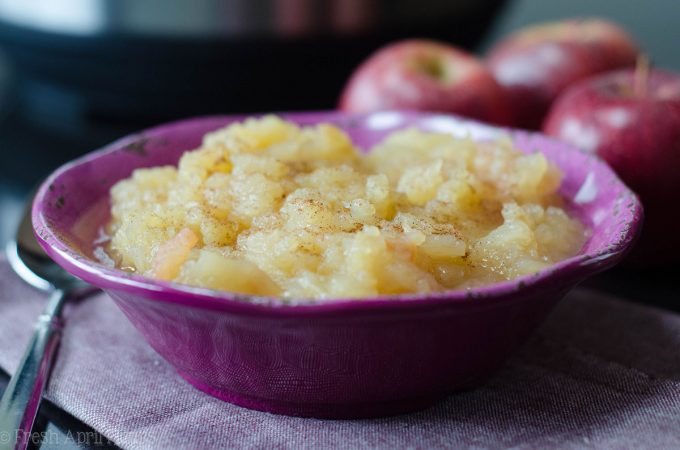 I've raved about my IP a few times this year, and it is so living up to all the hype in the April household as it does all over the internets. I'm making hard boiled eggs and steel cut oatmeal on the regular, and this stir fry has been a popular recipe among my readers and getting rave reviews.
I'm sure I'll be discovering some more ways to InstantPot some meals in the coming weeks/months (we're in the final countdown at only THREE weeks left until this baby boy arrives).
SO EASY AND ONLY 4 INGREDIENTS!
I can't emphasize enough how easy this recipe is. You need 4 ingredients.
One of them is apples.
Another is water.
Another is some lemon or lime juice.
And then cinnamon.
And if you don't like cinnamon, that's one less ingredient. So… Three to four.
And 4 minutes in the IP.
COME ON, PEOPLE! This applesauce is just begging to be made!!
I actually did a lot of research on this recipe before I attempted it, and I made a few batches myself before I settled on what I absolutely loved.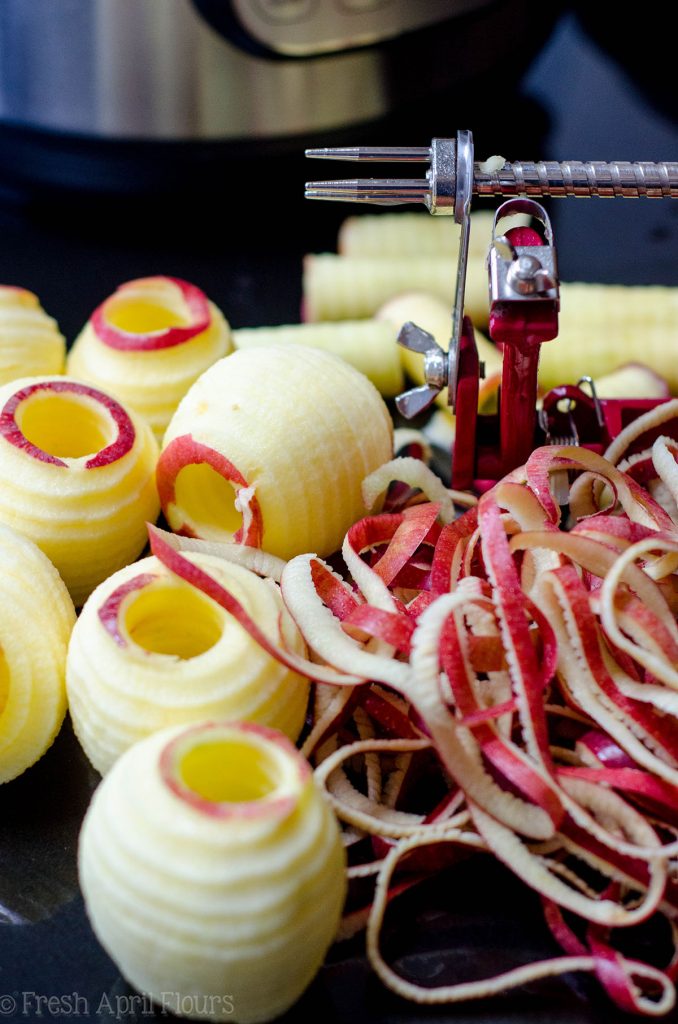 HOW MANY AND WHAT KIND OF APPLES TO USE
First try, I used mealy apples. I figured that just like bananas, the ones that were "going" would be perfect for something that would make them all mashed up.
Umm, no. It was just as unappealing as it sounds.
FRESH APPLES, friends. Or at least non-mealy ones. And 2 pounds!
You'll want them cored and sliced (this is my favorite appliance for that), but peeled is completely up to you. The type of apple is also your preference. I used gala, I would just suggest steering away from a Granny Smith situation. One on the sweeter side is perfect, and using a mixture is totally acceptable too!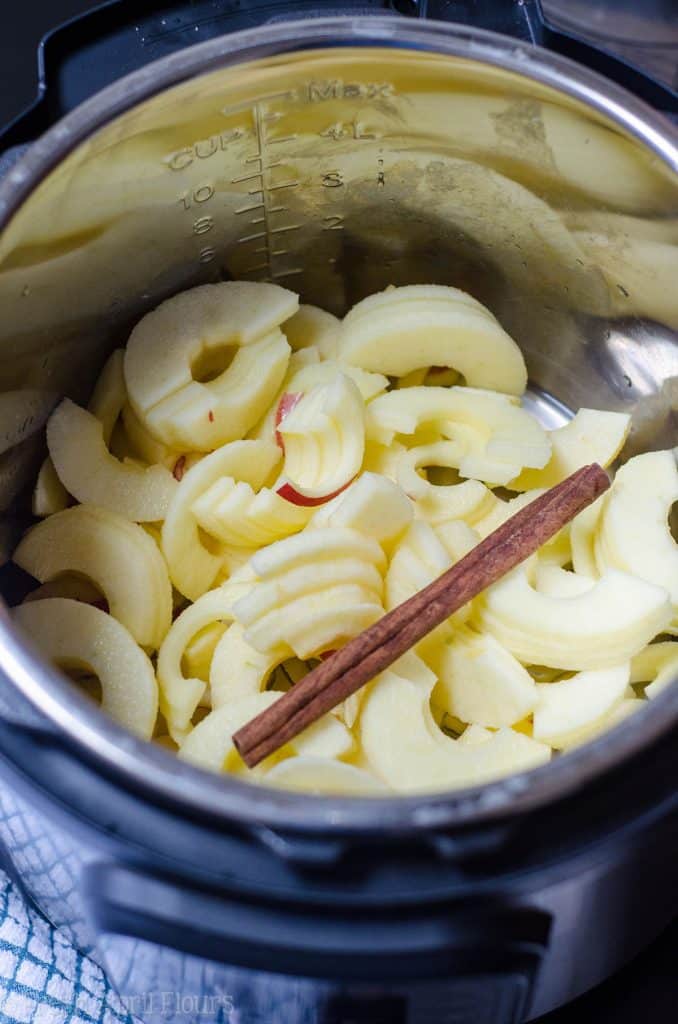 Lemon or lime juice might seem out of place, but I liked the batches I made with it much better than without. Something about the addition of citrus really changes up the flavor, and it also helps keep things "preserved," without being a preservative.
ADD CINNAMON FOR EXTRA FLAVOR
And then cinnamon, because, DUH. You can throw some ground cinnamon right into the apples OR do what I did and lay a stick in the pot that you'll remove later. I, of course, added some cinnamon to my individual servings, but that's my applesauce style.
You do you, applesauce lover. Whatever floats your apple boat.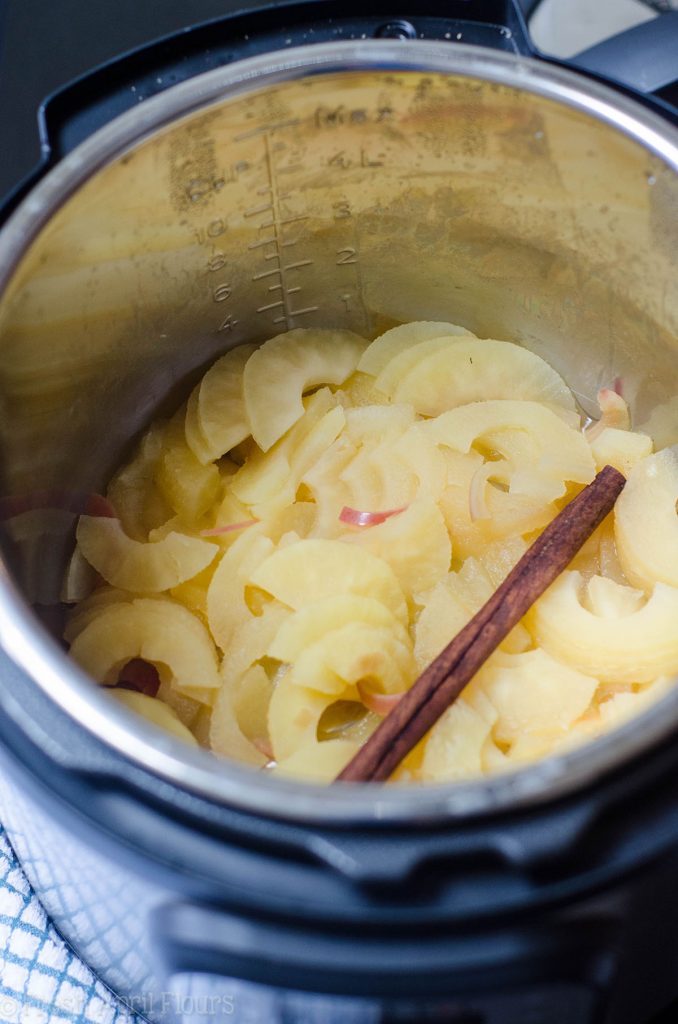 MAKE YOUR APPLESAUCE THE DESIRED CONSISTENCY
Another great thing about making your own homemade applesauce is that you have complete control over the consistency! Like I said, I love me a super chunky applesauce, but my toddler doesn't love chunks in his just yet.
I threw his into a blender with some yogurt, and he liked that much better. Since I like mine on the chunkier side, I just mashed with a whisk. If you're feeling the super smooth stuff, something like an immersion blender might work best, or a standard blender or smoothie-making type machine.
FOLKS, I am never buying our applesauce ever again. This is such a killer method, and I can control everything that goes into my applesauce PLUS feel good about the amount of chunks I have going on in my snack.
I actually think it tastes better than anything I have ever bought, and just as good as the homemade applesauce my college roomie's grandmother used to send her back to school with.
So basically, this is grandma level good. You know what I'm talking about!!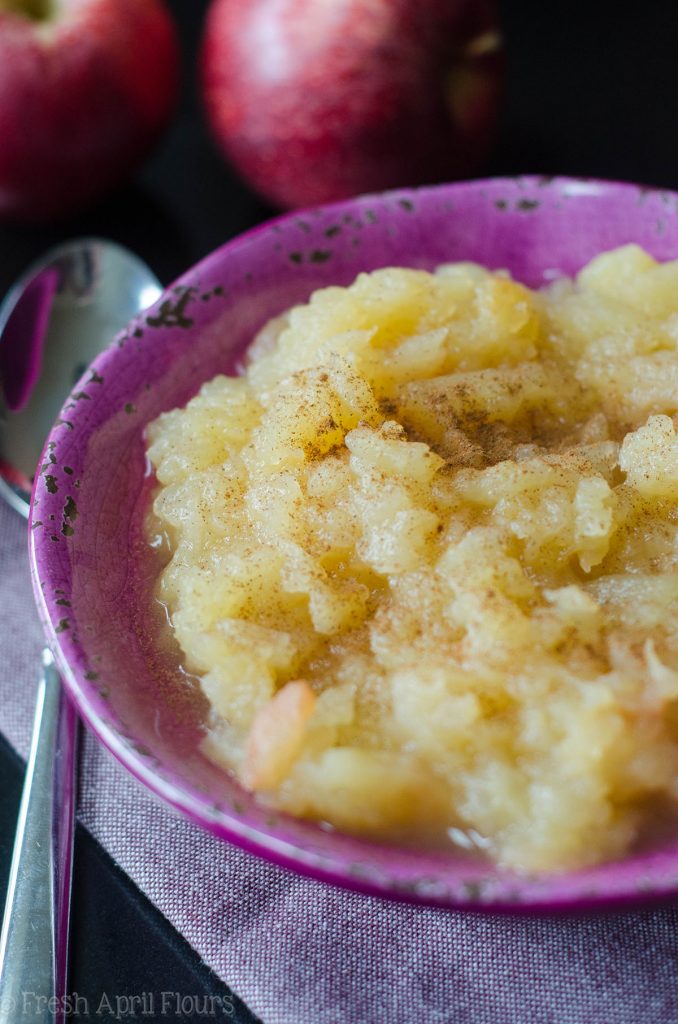 Oh, and also, I have a muffin recipe coming next week that includes applesauce, so having some of your own homemade stuff would come in quite handy for that one… Stay tuned!
Instant Pot Applesauce
All-natural, no sugar added, homemade applesauce, ready in 4 minutes!
Ingredients
2

pounds

apples

peeled (or unpeeled, if desired), cored, and sliced

3

Tablespoons

water

1

Tablespoon

lemon or lime juice

1

cinnamon stick OR 1/4 teaspoon ground cinnamon
Instructions
Place the apple slices, water, lemon/lime juice, and cinnamon into the pot of an Instant Pot.

Put the lid on your Instant Pot and make sure the lever is pointed to "sealing." Press "manual," and use the "+" or "-" button to set the timer to 4 minutes. It will take about 10 minutes for your Instant Pot to come to pressure.

When the timer beeps, immediately and carefully release the steam. When it stops hissing, carefully remove the lid.

Allow apples to cool a bit before removing the cinnamon stick (if you used it) and mashing apples to desired consistency. I used a whisk for chunkier applesauce, but you can use an immersion blender or regular blender to make a smoother consistency.

Allow applesauce to cool completely before serving. Applesauce stays fresh in the refrigerator up to 2 weeks, and it freezes well, up to 3 months. Thaw in refrigerator overnight.
Nutrition Disclosure
All nutritional values are approximate and provided to the reader as a courtesy. Changing ingredients and/or quantities will alter the estimated nutritional calculations.