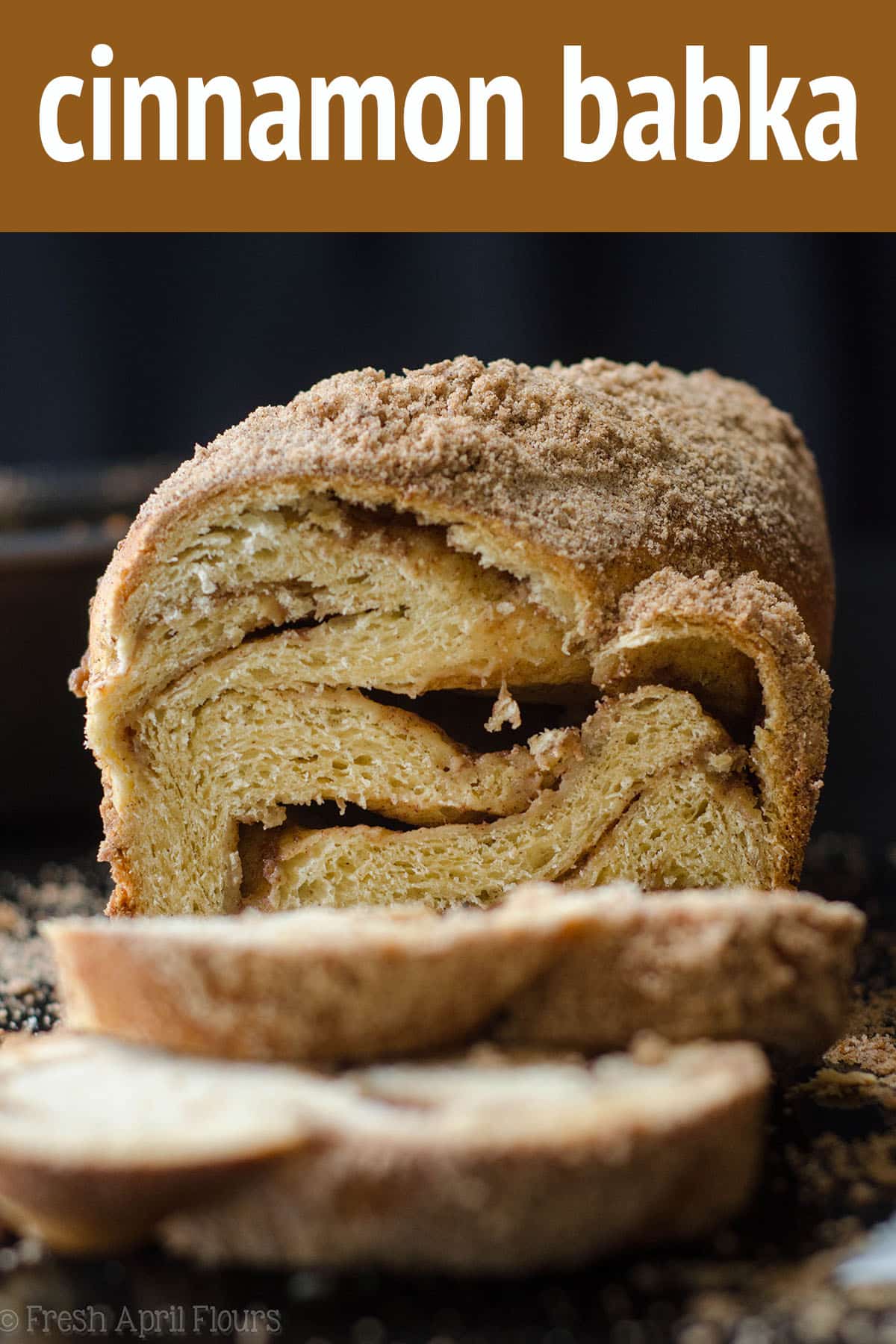 As an Amazon Associate, I earn from qualifying purchases. Read the full disclosure here.
A simple twisted yeast bread with a cinnamon sugar filling and topped with cinnamon streusel. This loaf of bread tastes like a big cinnamon bun!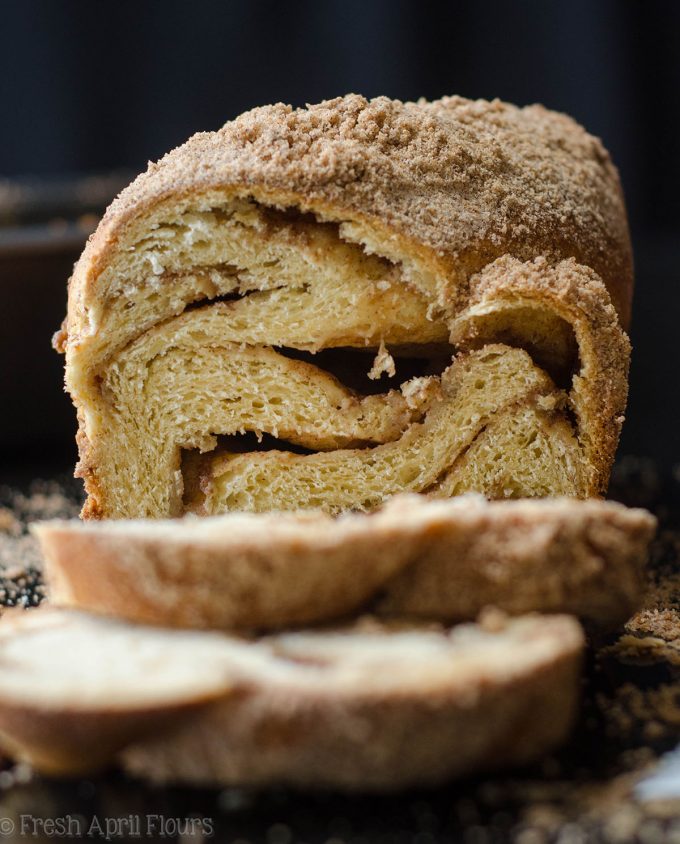 Every once in awhile, I get super excited to share a recipe on my blog.
Now don't get me wrong, I'm excited every time I get a new recipe up, because I love sharing my recipes and creations, but every few posts, I get a little extra excited because what I'm bringing to the table is either challenging, different, trendy (and you're going to really want it ASAP), or just so good that it would be a travesty for me not to share it with you.
Today, it's a combination of sort of all of those things.
So I have a sort of a "baking bucket list," which is really more or less just a collection of recipes that I either wanted to perfect, learn, experiment with, or make my own version of while I was blogging.
I made that list long before I ever hit publish for the first time on my blog, so this cinnamon babka has been sitting pretty on my to-do list for over 4 years.
Folks, it's time.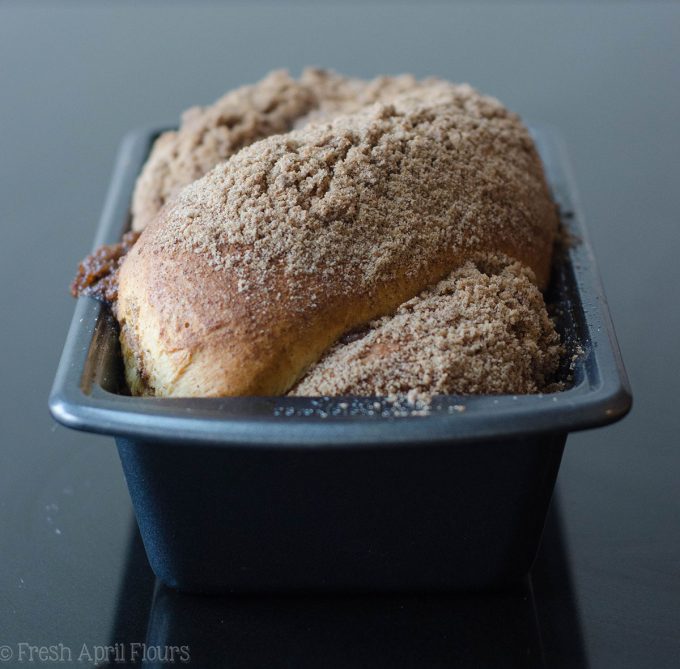 Obviously, it's taken me awhile to hit the ground running on this one, but there's a reason! First, I was never truly comfortable with yeast bread until this year.
Sure, I brought you that anise bread long ago in my first post ever, and then I shared some cardamom rolls a few months later, followed by a Parmesan yeast bread that really didn't act like a yeast bread at all…
But this year, I was determined to get yeast bread down pat and seriously turn my baking up a notch. Plus, we have a whole new huge and open kitchen with ALL THE ROOM IN THE WORLD for making yeast bread, so in March, it was yeast bread city at our house.
On Easter, we had 3 loaves of yeast bread to eat. And still have some in the freezer.
Seriously.
That's how much yeast bread I made in March prepping for this post. You might wind up with a crazy amount of bread in your kitchen after working through this recipe too, because you'll want to keep making it again and again.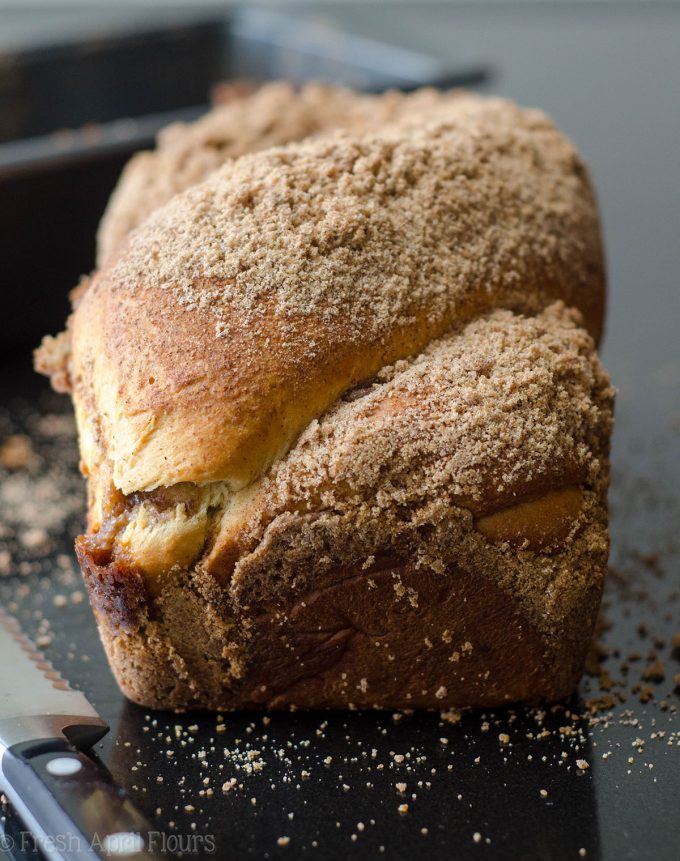 Ok, so what the heck is babka? Babka is typically a twisted Jewish yeast bread, filled with cinnamon (and apparently made "famous" by Seinfeld, though I've always been more a FRIENDS fan, I can get down with this reference).
It can be filled with fruit, Nutella (look at my girl Sally with all that drippy chocolate jazz!), or really anything you'd like to put in it.
Since it's a twisted yeast bread, no two loaves will ever look the same. Remember, that's one thing I absolutely adore about yeast bread? The uniqueness of each loaf is enough to make you want to try something a little different another time and see what shapes you can come up with.
Since I got so comfortable with my Italian anise bread this year, we're actually going to be working with the exact same dough, but with a little cinnamon added in and the egg whites separated out for other purposes (more on that in a bit).
The dough is essentially identical, so refer to that post if you're looking for the basics on the yeast bread base.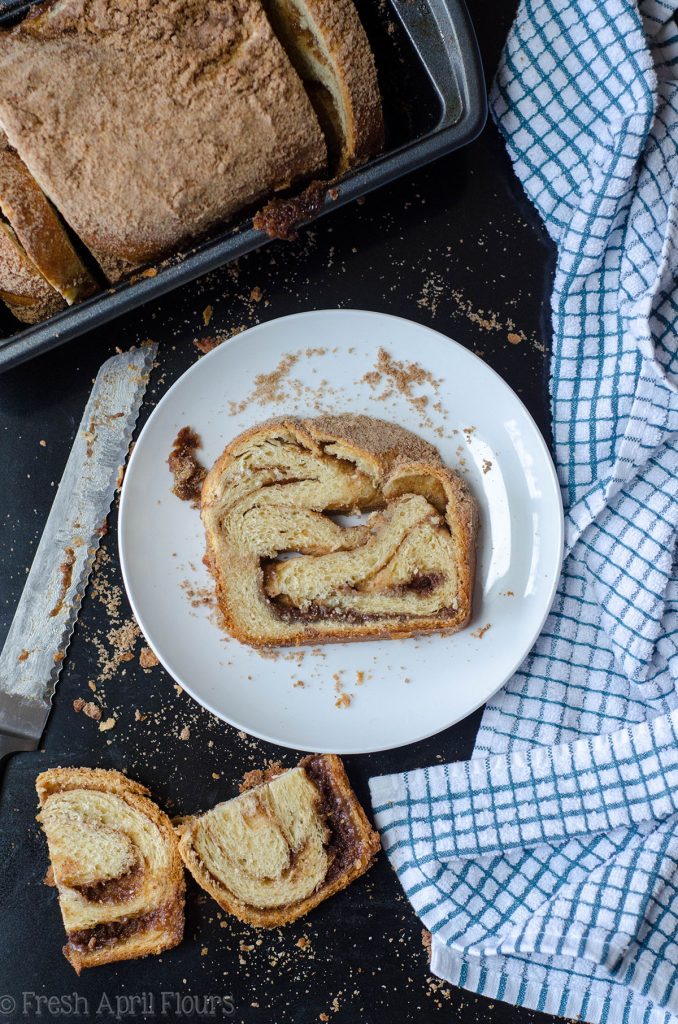 In the case of that bread, we let the dough rise twice, doing nothing fancy to it between rises. For this cinnamon babka, we're letting the second rise happen in the twisted form, all filled up with a cinnamon sugar concoction.
In order to get this filling into the bread, we'll roll out our dough into a large rectangle after the first rise. You're looking for a rectangle about 14″ by 18″. I always keep a clean tape measure in my kitchen for reasons like this.
If you're good at eyeballing, go for it. It doesn't need to be exact, but pretty darn close is a good idea.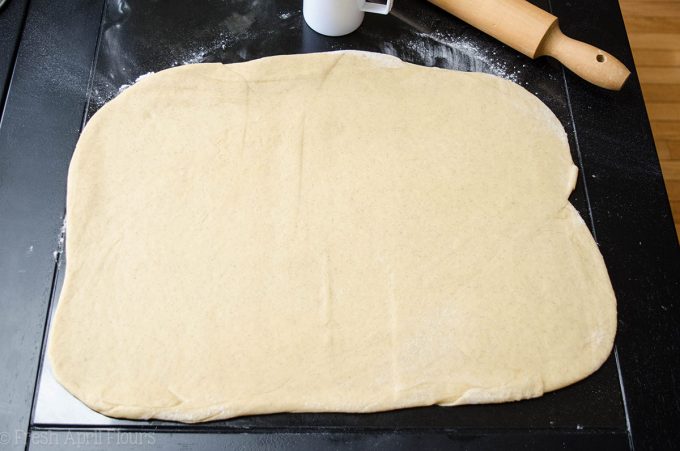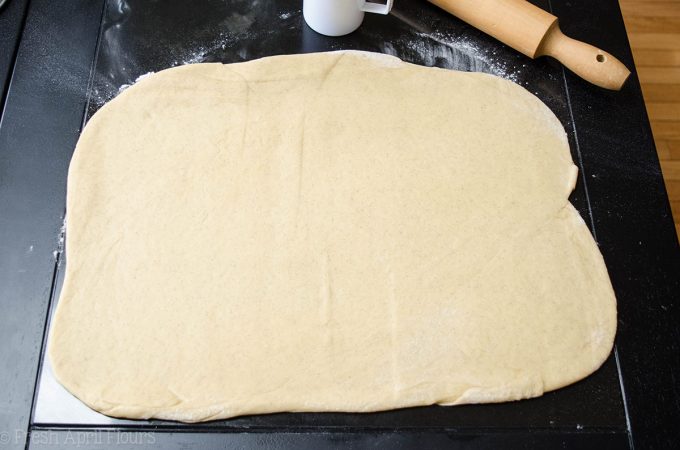 You'll spread your cinnamon sugar filling (made from brown sugar, flour, cinnamon, salt, one reserved egg white, and some melted butter) evenly over the whole rectangle, making sure you have a 1″ border around the sides.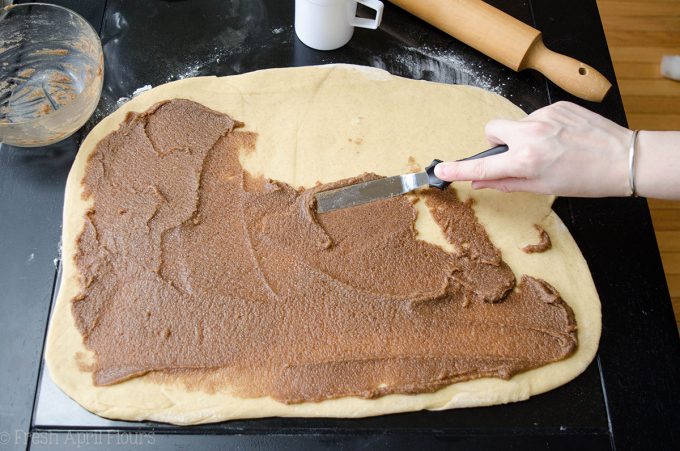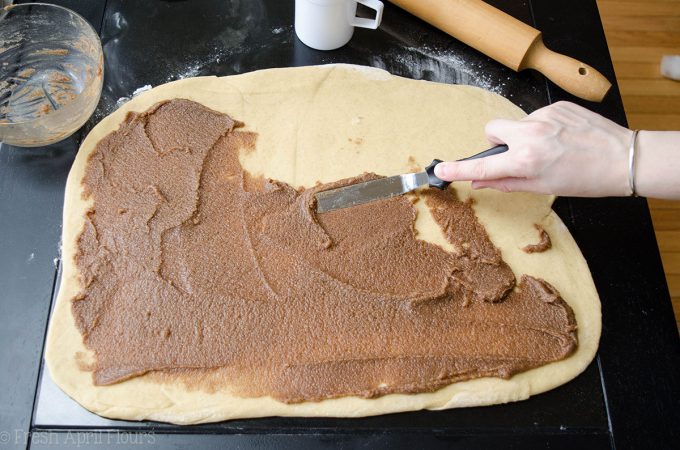 Once that's all spread out, you'll roll the dough into a log, starting from the long end. It should be a fairly tight roll, but you don't need to go to great lengths to get it super tight. Just roll with some force.
Once it's in a log, roll it out a bit more to add about 2″ to the whole length. This will close up some spaces in the roll and help "seal" your dough log.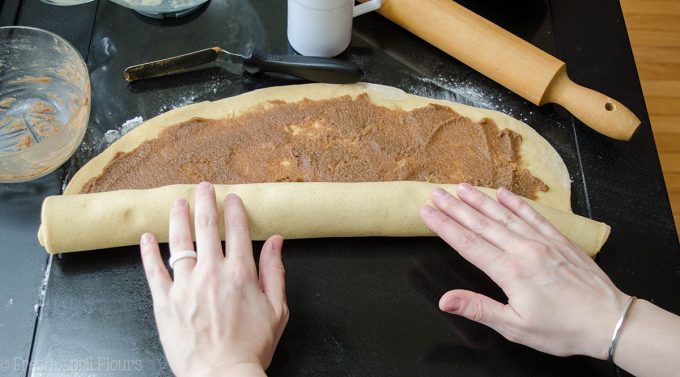 After that, grab the two ends and overlap them, bringing them together at the bottom and pinching the dough together. You're now left with a figure 8 dough ball, ready for its second rise.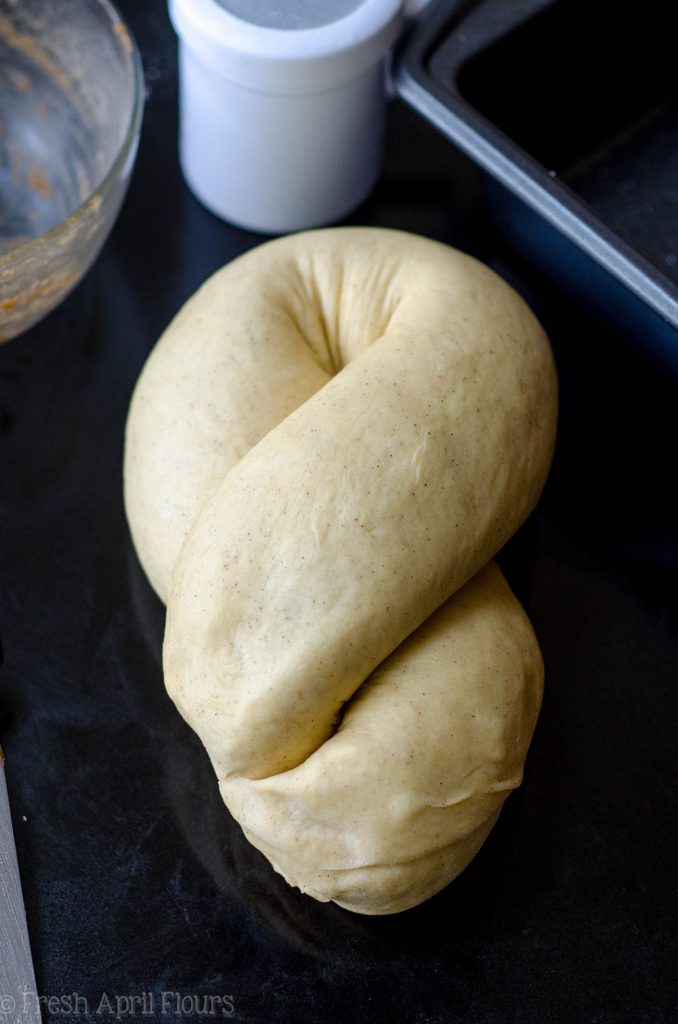 Plop it in a prepared loaf pan, cover it, and allow it to rest for 1 more hour.
You'll be met with a nice and plump figure 8 loaf, just begging for its egg wash (there's the second egg white!) + streusel topping. And there is no shortage of streusel topping around here, friends. None.
You'll think you have too much streusel, but really, is there such a thing? No, there's not. This bread will bake up pretty tall, so having some extra streusel to drop down into every crevice is exactly what your tall babka needs.
TRUST ME.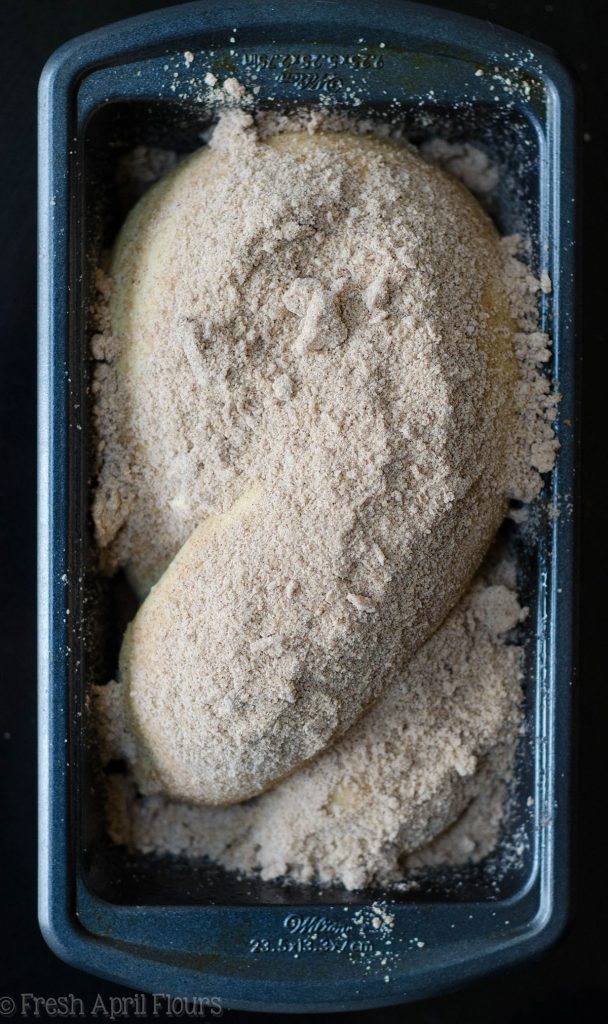 I wish I could pick my very favorite part of this bread. It's a toss up between the way it looks (I mean SERIOUSLY ALL THE GOOGLY HEART EYES), how soft the interior bread part is, the cinnamon streusel on top, or the drippy, sticky parts of the filling that just melt in your mouth when certain bites come along.
Like for real, this bread is unreal. Some bites are just graced with cinnamon. Some of them are BURSTING with it. And I am telling you that those pockets of cinnamon filling that seem they got all bubbly during baking are ridiculous.
I had a few bites that were almost firm to the touch and chewy once my teeth bit into them. It was like bread with chewy cinnamony caramely candy in it! It's pretty much like a big ole cinnamon roll but in loaf of bread form.
I mean… Who wouldn't want to try that bread?!
If you're looking for a slight challenge in your kitchen, go for this cinnamon babka. I promise it's not as hard as it might look on the surface, and you can totally nail this figure 8 thing which is really the most "complicated" part of the whole shabang.
I put a little Boomerang of me holding a bite of bread on my Insta after I made this loaf and a friend of mine said "I wish anyone looked at me the way you're looking at that bread."
That look was PRIDE, friends! I was so proud, and you will be too.
And your fingers will be covered in cinnamon streusel and sticky bread, so… There's that lovely gem.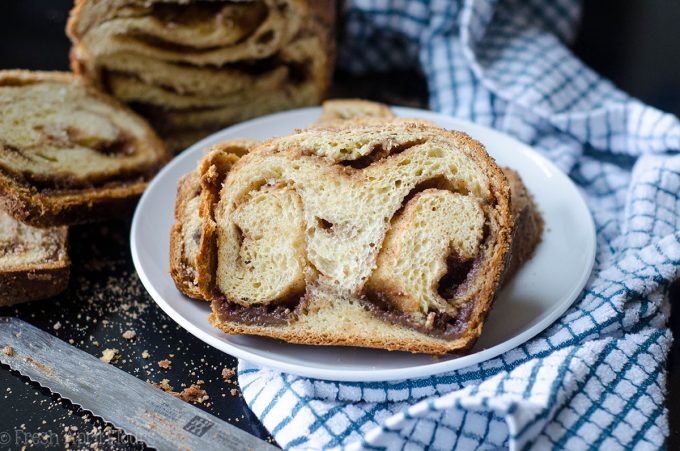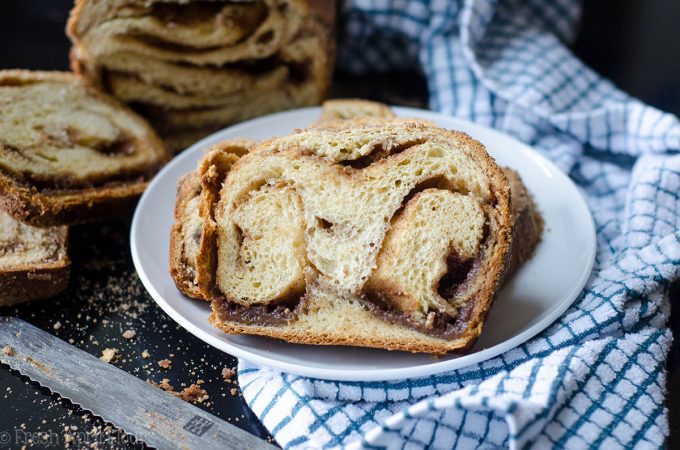 Go for it, bakers! Let me know how you make out! I would love to see your cinnamon swirls!
Cinnamon Streusel Babka
A simple twisted yeast bread with a cinnamon sugar filling and topped with cinnamon streusel. This loaf of bread tastes like a big cinnamon bun!
Ingredients
BREAD
2 and 1/4

teaspoons

dry active yeast

or 1 packet

1/4

cup

warm water

1/2

cup

warm milk

I prefer whole milk

1/3

cup

granulated sugar

3/4

teaspoon

salt

1/2

cup

unsalted butter

melted

1/2

teaspoon

vanilla extract

1/2

teaspoon

ground cinnamon

2

large egg yolks

room temperature (reserve both whites, each in a separate bowl)

4

cups

bread flour*

be sure to measure properly
CINNAMON FILLING
1

cup

firmly packed brown sugar

¼

cup

all purpose flour

2

teaspoons

ground cinnamon

⅛

teaspoon

salt

1

reserved egg white

2

Tablespoons

unsalted butter

melted and allowed to cool
STREUSEL TOPPING
1/4

cup

all purpose flour

2

Tablespoons

brown sugar

1

teaspoon

ground cinnamon

1/8

teaspoon

salt

2

Tablespoons

cold unsalted butter

cut into small pieces
EGG WASH
1

reserved egg white

1

Tablespoon

water
Instructions
BREAD
Sprinkle yeast over warm water. The best way to test the temperature of your water is to take it from the tap and run your wrist in the stream. If you can't feel the temperature of the water, it's perfect. Stir yeast in with a fork until it is dissolved and set aside.

In a large mixing bowl (or the bowl of a stand mixer) with a wooden spoon, blend the milk, sugar, salt, vanilla extract, and cinnamon. Stir in the butter, 2 egg yolks, and yeast mixture.

Gradually stir in flour. If using a stand mixer, use your dough hook. If mixing by hand, continue to use a wooden spoon. Add bread flour until your dough is soft enough to handle, usually when it can easily pull away from the sides of your bowl.

Turn out dough on a lightly floured surface and knead until smooth and elastic. You may need to add the last cup or so of bread flour by hand. Your dough should feel like PlayDoh to the touch and "snap" when you pull it apart.

Place in a warm, greased bowl, turning the dough to coat the top. Cover with a towel and allow to double in size, about 2 hours.

After dough has doubled, punch down dough and turn out onto a floured surface, then make the cinnamon filling.
CINNAMON FILLING
In a medium size bowl, whisk together brown sugar, flour, cinnamon, and salt.

Add one reserved egg white and the butter and stir until everything is combined.
ASSEMBLE THE DOUGH
Spray a loaf pan generously with non-stick spray. Set aside.

Roll out the dough to a 14" by 18" rectangle. Using a spatula, spread the filling evenly over the dough, leaving about a 1" border around the edges.

Working from the long side, roll the dough into a tight log. Gently roll the log back and forth until it is about 20" long. Twist the dough into a figure 8 and pinch the ends together to seal the loaf.

Transfer the loaf to prepared pan. Cover with a towel and allow to rest and rise again for 1 hour.

When you are ready to bake the bread, preheat the oven to 350ºF and make the streusel topping.
STREUSEL TOPPING
Place flour, brown sugar, cinnamon, salt, and butter into a small bowl.

Using a fork, press ingredients together until butter is in small chunks. Use your fingers to pinch pieces together until streusel is mostly small crumbles. Some large crumbles are ok.

Brush the loaf with the egg wash. Sprinkle the streusel topping over the loaf, being sure to get it into all of the crevices. There will be a lot of streusel, but use it all.

Bake the bread for 38-42 minutes. The loaf is done when it produces a hollow sound when you tap on it. Allow to cool completely in the pan. Loaf stays fresh covered at room temperature up to 4 days or in the refrigerator up to 1 week. Bread freezes well, up to 2 months. Thaw at room temperature before serving.
Notes
*Though I prefer bread flour in this recipe, it is ok to use all-purpose. The measurement is the same.
Nutrition Disclosure
All nutritional values are approximate and provided to the reader as a courtesy. Changing ingredients and/or quantities will alter the estimated nutritional calculations.