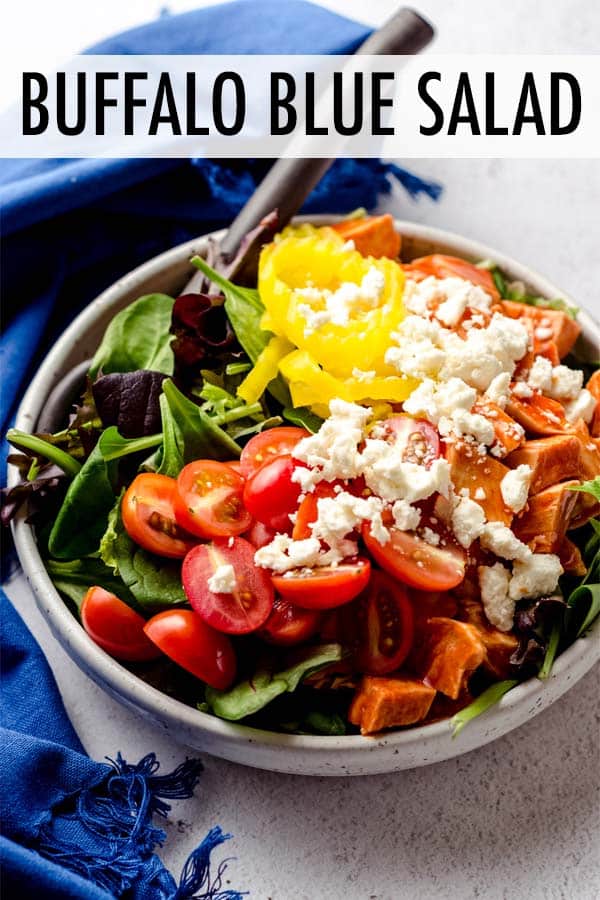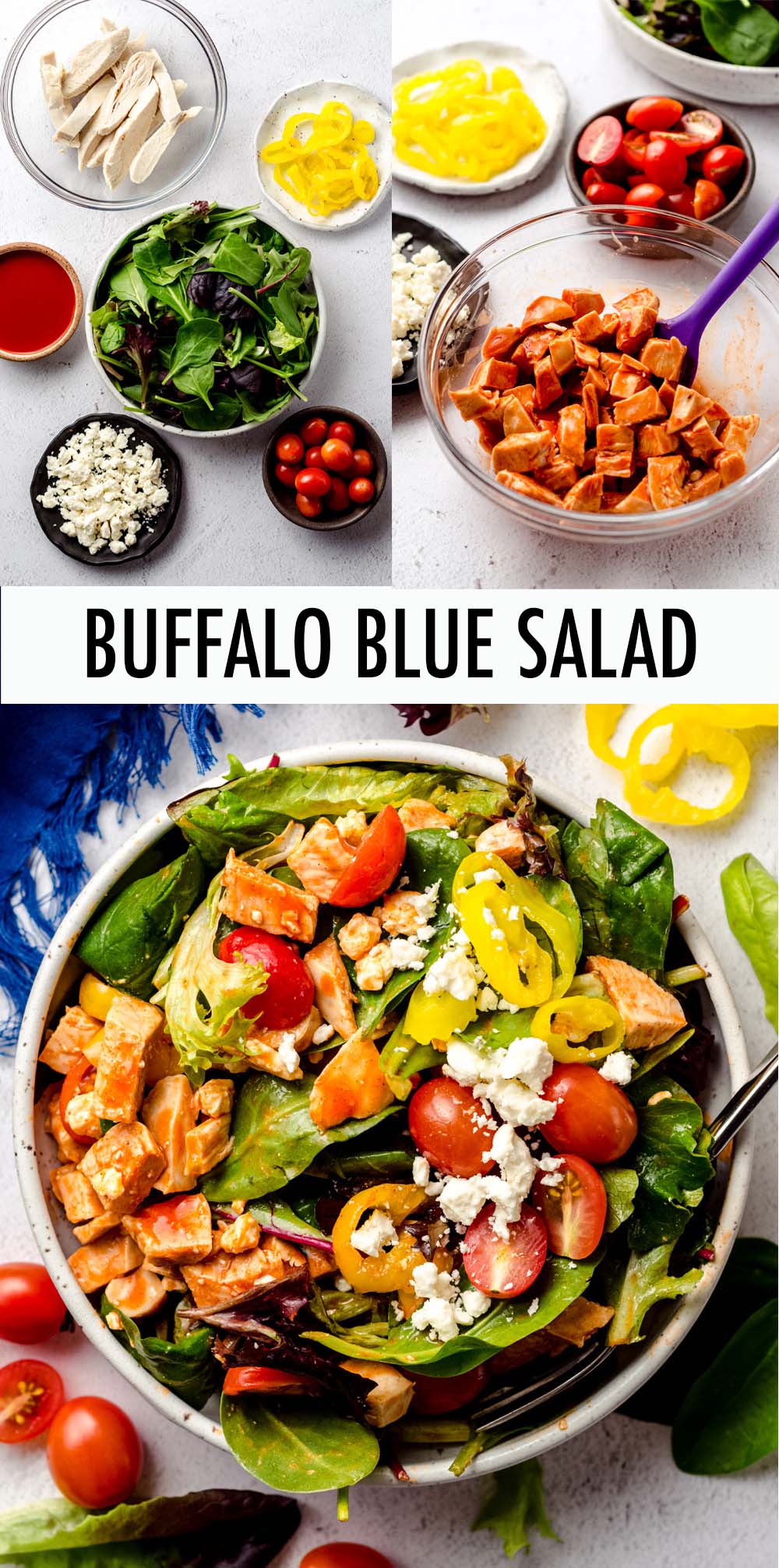 As an Amazon Associate, I earn from qualifying purchases. Read the full disclosure here.
This protein-packed salad features spicy buffalo chicken, crisp banana peppers, juicy grape tomatoes, and tangy feta or blue cheese crumbles.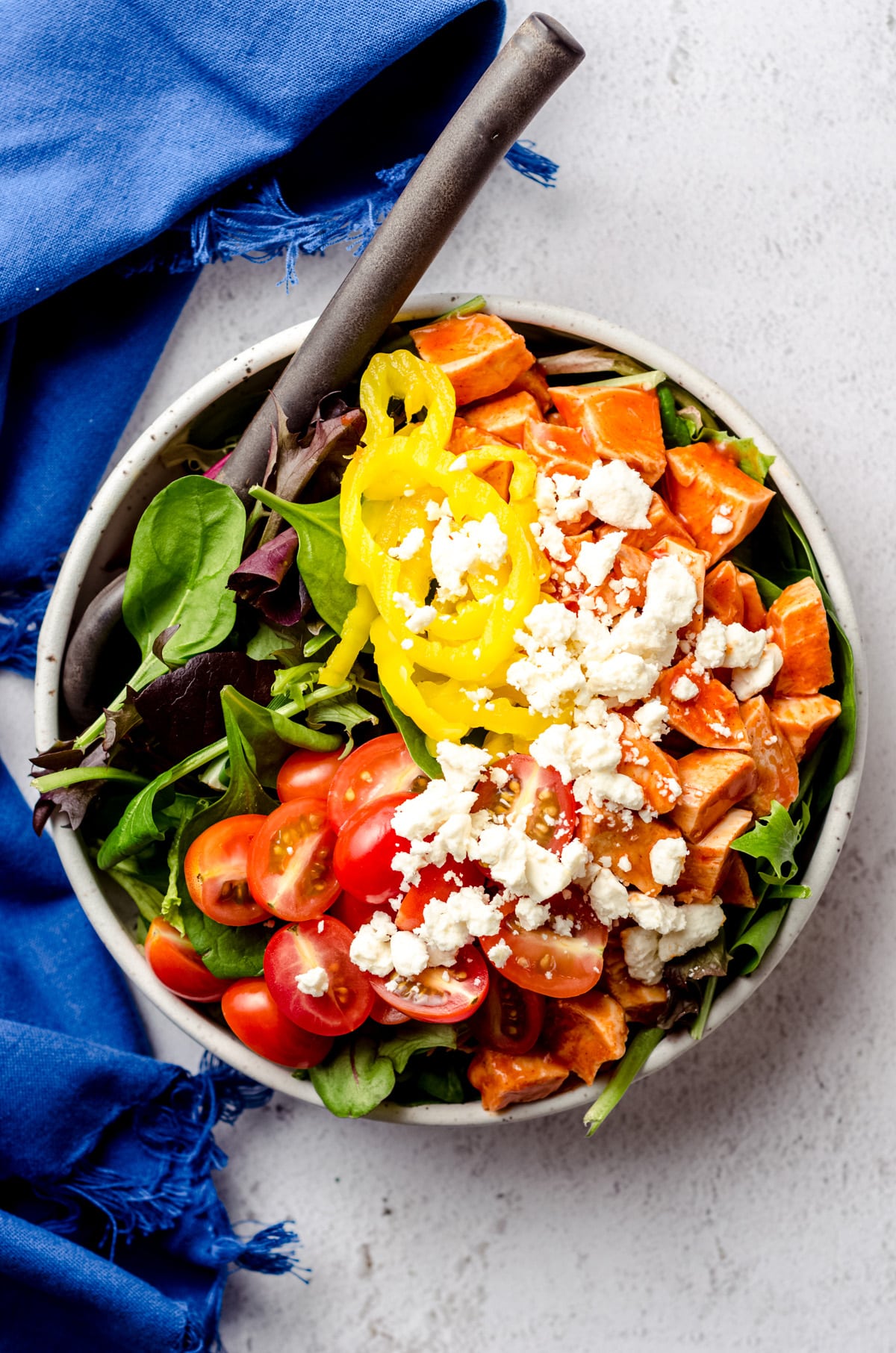 The internet makes me laugh pretty regularly, and this salad is a prime example of that.
First of all, this buffalo chicken salad recipe is not an original of mine. It's a straight up copycat from Saladworks, and it's lived on my site since April 2015.
The reason it wound up on my site? Because I was truly obsessed with ordering that salad weekly while I was still working my full time job outside of the home, and I realized that I could save myself $8 every time and just make it at home myself.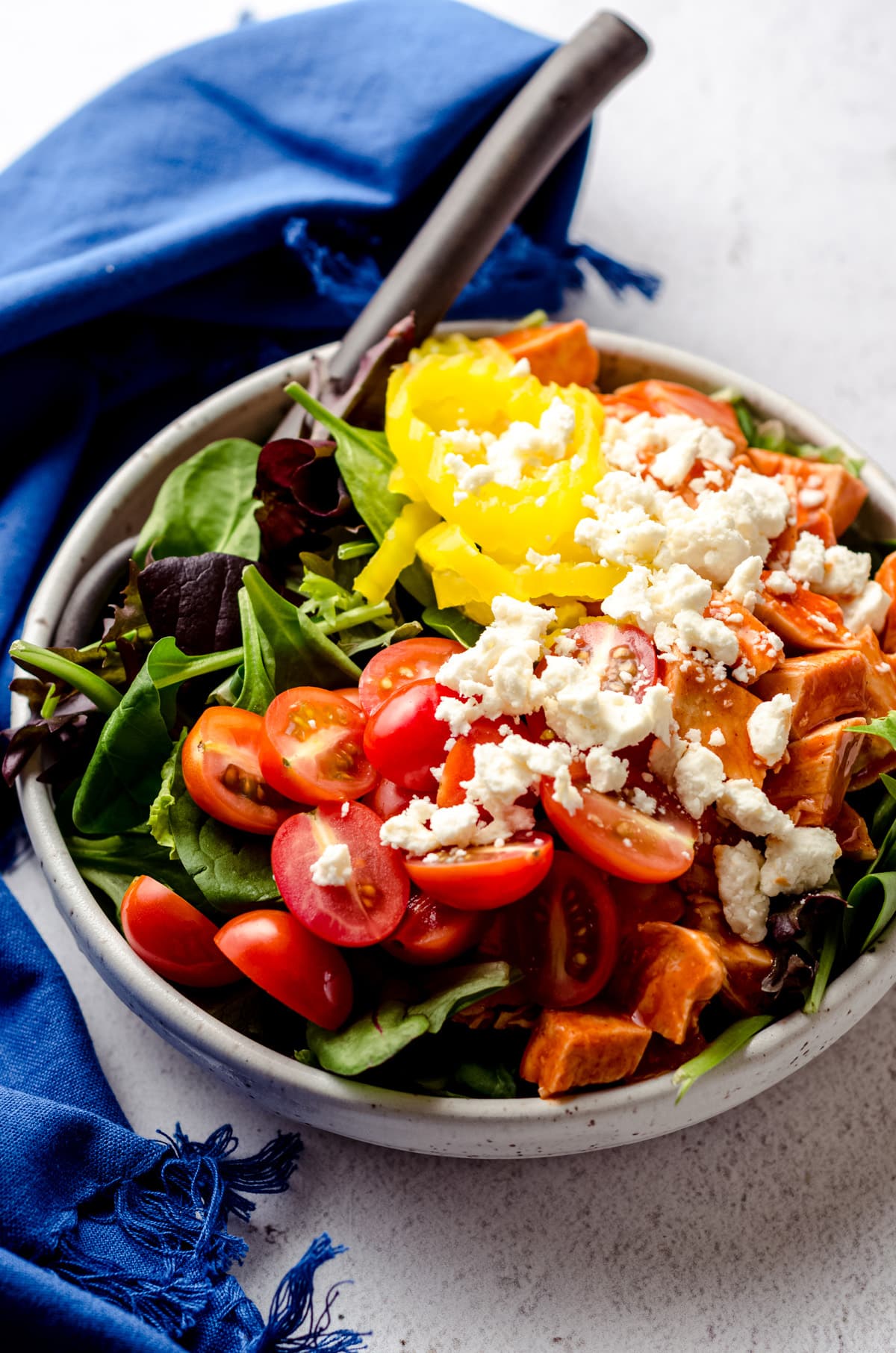 And then I just couldn't stop. I remember eating it nightly for about a month straight, just never tiring of it, and asking Matt week after week during meal prep time (back when we still meal prepped– that's a long gone tradition!) to just make me plain chicken so I could do the rest myself for lunch at work.
It also came on the heels of being featured on Buzzfeed for this beautiful buffalo chicken chili.
And here's where it's funny– a website that gets so much traffic for cookies and cakes and general desserts gets some serious buffalo chicken attention.
This buffalo blue salad is no stranger to Fresh April Flours visitors. Consider this 5-star review from reader Liz:
"I have been eating the Saladworks version and decided to try it on my own. Your version is perfect! Thank you for posting this great recipe. I like being able to control my own portions."
---
BUFFALO BLUE SALAD INGREDIENTS
The ingredient list for this salad is very short.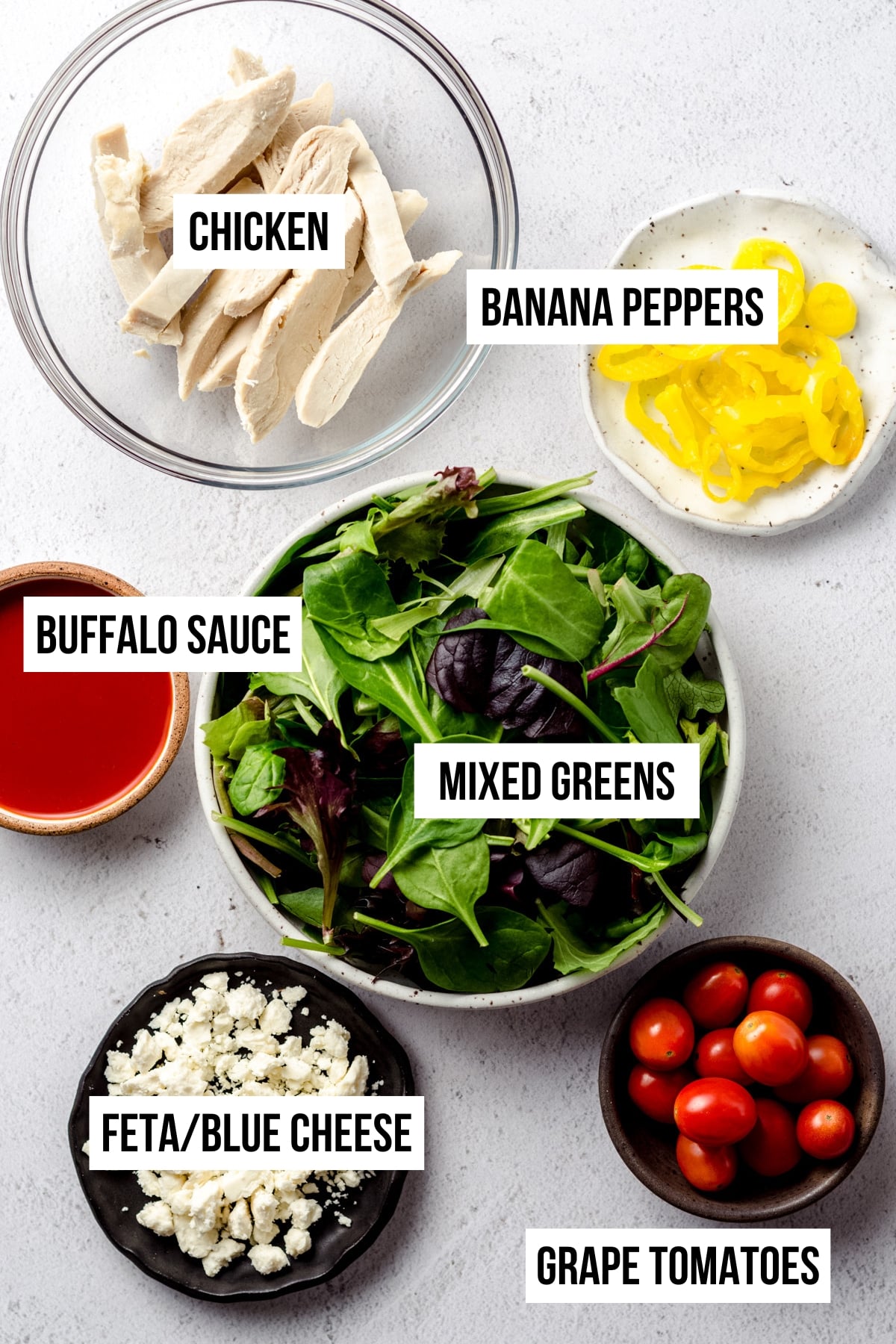 For this buffalo blue salad, you will need:
• cooked chicken
• your favorite buffalo sauce (I prefer a buffalo wing sauce to traditional hot sauce, but this is your preference)
• mixed greens of your choice
• banana peppers
• grape tomatoes
• feta or blue cheese
I know I said this was a copycat from Saladworks, but I actually leave out the tortilla strips, which keeps this recipe entirely gluten free. If you want to add the tortilla strips, go for it. I think it totally works without them, though!
And I know, I know… It's a buffalo blue salad, but here's the thing… Ever since I had our first son, I haven't been able to stomach blue cheese, so in recent years, I've swapped it out for feta. I've actually used shredded cheddar, too, which is delicious. But the truth is, you can't go wrong with any cheese.
We are equal opportunity cheese people here, my friends.
WHAT KIND OF CHICKEN SHOULD I USE?
While I typically use skinless chicken breasts, this is also a great spot for chicken thighs, rotisserie chicken, or leftover chicken of any kind. The recipe is written as a single serving, so that leftover chicken is a great spot to use as a one-off.
If you're really feeling fun, you could even replace the chicken completely with some boneless buffalo wings. Now you need one fewer ingredient. Score!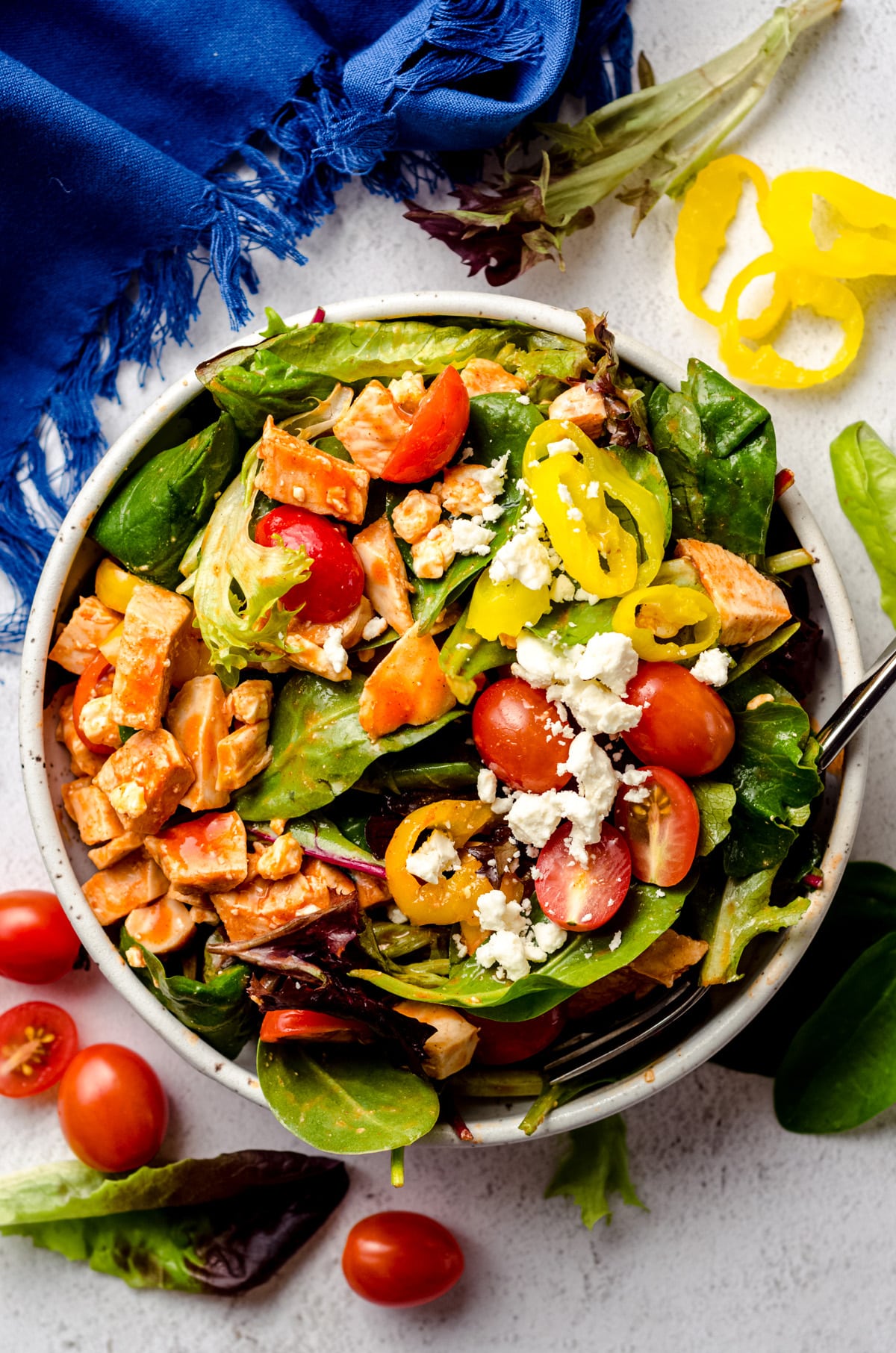 You're aiming for about 5 ounces total of chicken, but of course, your tastes/needs may differ, so this is not a set-in-stone kind of measurement. Adjust as needed.
You may also choose to prepare your chicken as buffalo chicken ahead of time, whether that means you cooked it as such or it's been marinating in buffalo sauce, just waiting to be used on this salad.
Your salad, your chicken.
HOW TO MAKE THIS BUFFALO BLUE SALAD
As salads should be, the assembly of this particular buffalo chicken salad is straight forward. Depending on how you've prepared your chicken, you may just be throwing things together.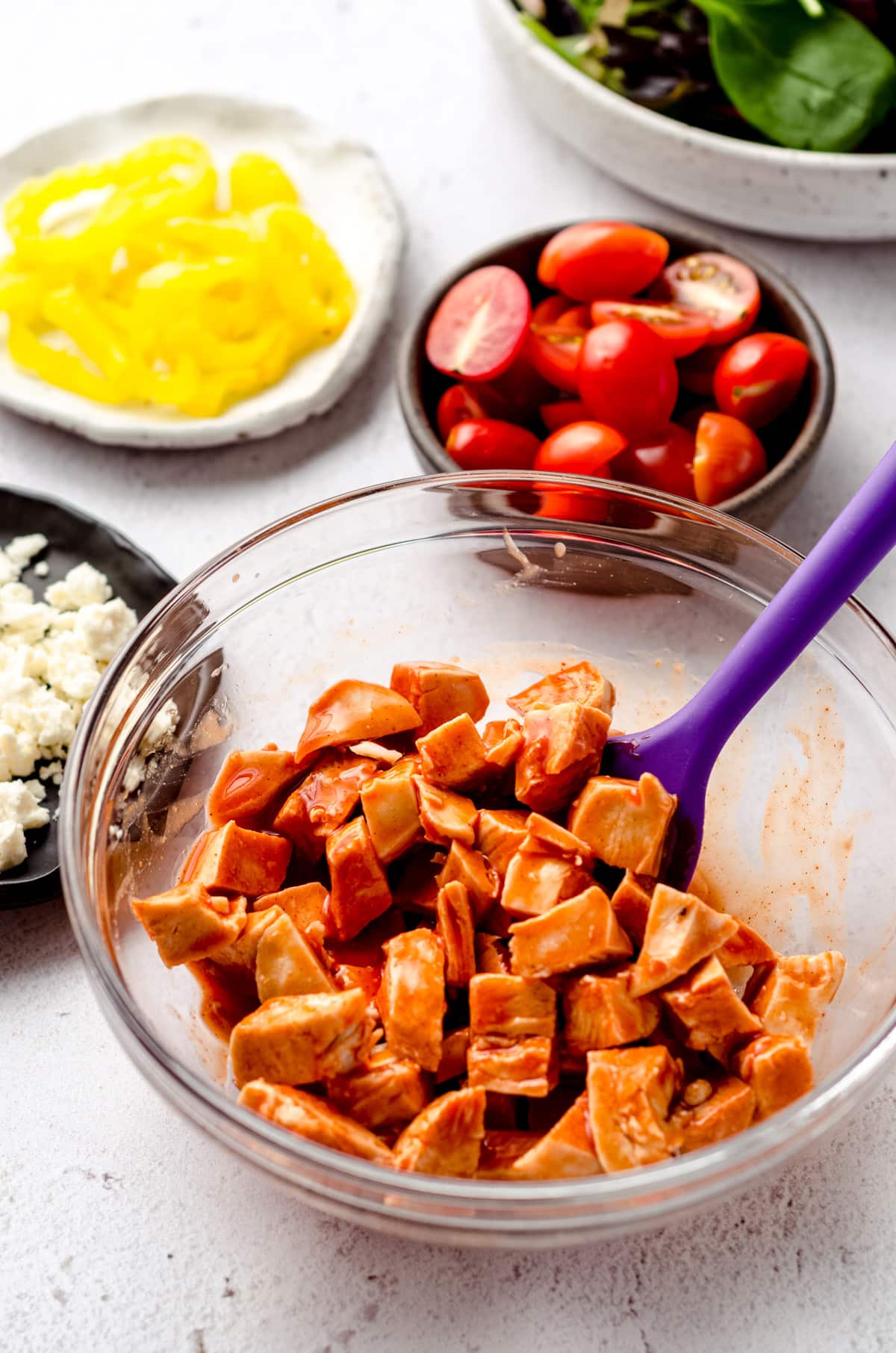 But if your chicken needs some fancifying, all you need to do is toss it in a bowl with the buffalo sauce and get it all buffalo-y. You might think I just made up some words in this sentence, but technically only one of them is made up.
After the chicken is ready, it's just a matter of throwing it all together and eating it.
DOES THIS SALADWORKS COPYCAT SALAD NEED DRESSING?
I don't put any dressing on my salad because I don't think it needs it. You may certainly drizzle some ranch dressing or blue cheese dressing on yours.
But my professional buffalo blue salad eating opinion is… The salad speaks for itself.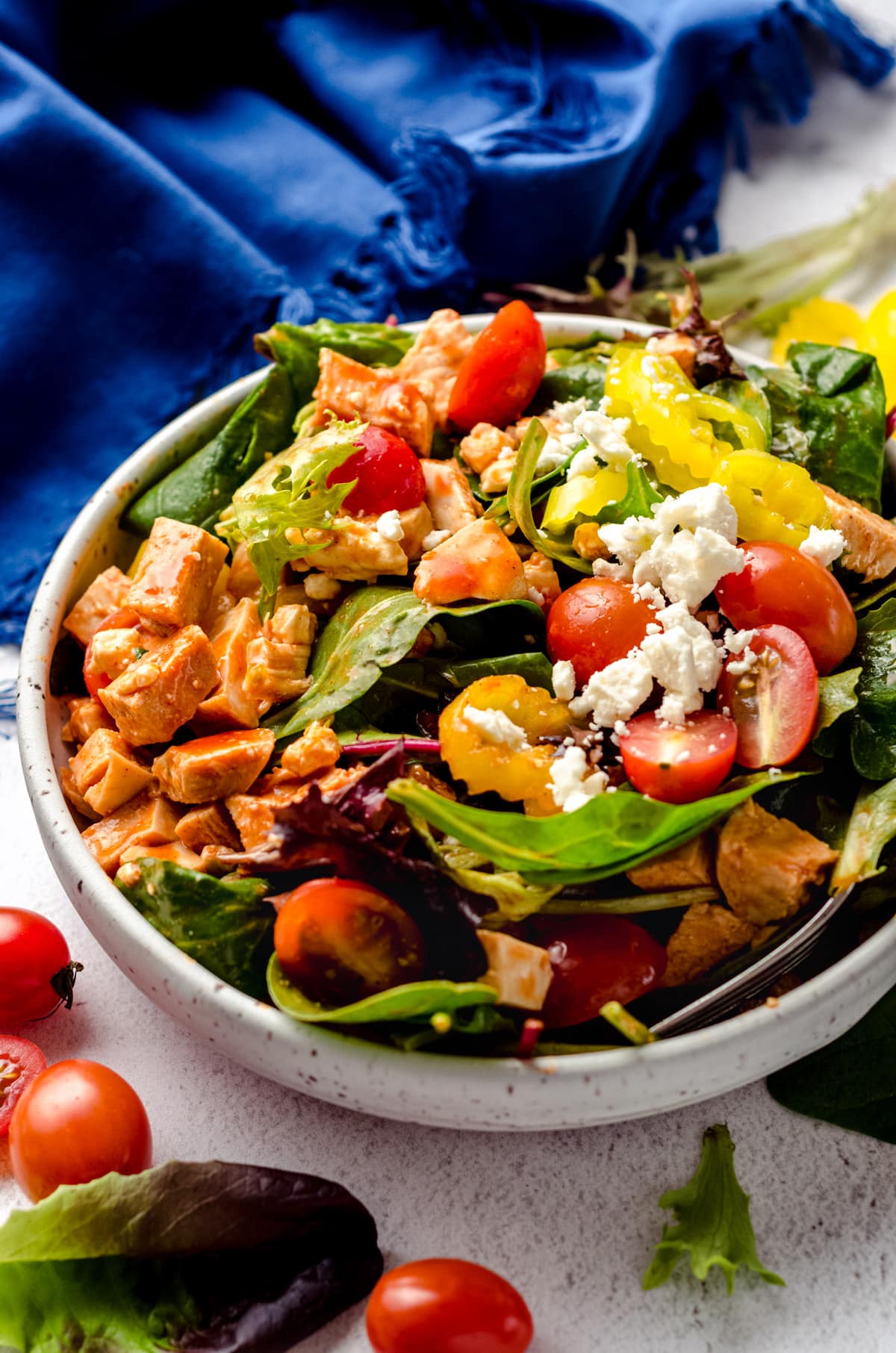 The combination of flavors in this salad is unbeatable. I was hesitant to try it for the first time, but when I did, I was pleasantly surprised how much I loved the tangy banana peppers mixing with the bite of the tangy blue cheese crumbles and sweetness of the tomatoes.
I wish I had thought of the ingredients on my own, but alas, I did not.
Thank you, SaladWorks, for your great idea.
CAN I MAKE THIS BUFFALO CHICKEN SALAD AHEAD OF TIME?
This makes a great dinner salad recipe, and if you're looking to prepare it ahead of time, I would simply prepare all of the ingredients and store them in separate airtight containers until it's time to serve.
This is a great way to make salad interesting again and it's the perfect way to showcase buffalo chicken in a way it doesn't usually get featured.
I love you, buffalo chicken pizza and buffalo chicken stuffed peppers, but let's combine you with some fresh ingredients and throw sad salad recipes to the curb.
Love buffalo chicken as much as I do? You have to try these favorite buffalo-inspired recipes from my collection: buffalo chicken meatballs, buffalo chicken chili, buffalo cauliflower tacos, and creamy buffalo hummus.
Buffalo Blue Salad Recipe
This protein-packed salad features spicy buffalo chicken, crisp banana peppers, juicy grape tomatoes, and tangy feta or blue cheese crumbles.
Ingredients
5

ounces

(142g) cooked chicken1

2

ounces

(57mL) buffalo sauce2

2

cups

(85g) mixed greens3

1

ounce

(28g) banana peppers

3

ounces

(86g) grape tomatoes

halved

1

ounce

(28g) crumbled cheese

feta, blue, or Gorgonzola
Instructions
Prepare your cooked chicken to your preference (sliced, chopped, or shredded). Place in a small bowl, add the buffalo sauce, and toss until everything is completely coated. Allow to "flash marinate" while you prepare the rest of your salad.

In a large bowl, combine greens, banana peppers, tomatoes, and cheese crumbles. Add dressed chicken and toss together until combined. Add dressing4 (if desired) and serve immediately. This salad does not make great leftovers as the greens will get soggy.

To make ahead: combine everything except the greens, then top greens when you are ready to eat.
Notes
Chicken: use whatever kind of chicken you prefer (breast, thigh, cutlets, etc).
Buffalo sauce: alternatively, you can cook your chicken in buffalo sauce/seasonings from the start. Add additional buffalo sauce as needed.
Mixed greens: I like a mix of spinach and field greens. Use whatever you prefer.
Dressing: personally, I don't think this salad needs additional dressing, but you can add ranch or blue cheese dressing if you prefer. If you want additional dressing, I recommend adding about 1 cup more mixed greens, otherwise the salad will be a bit soggy.
Nutrition Disclosure
All nutritional values are approximate and provided to the reader as a courtesy. Changing ingredients and/or quantities will alter the estimated nutritional calculations.
Serving:
1
salad
|
Calories:
337
kcal
|
Carbohydrates:
21
g
|
Protein:
42
g
|
Fat:
11
g
|
Saturated Fat:
5
g
|
Polyunsaturated Fat:
1
g
|
Monounsaturated Fat:
2
g
|
Trans Fat:
0.02
g
|
Cholesterol:
116
mg
|
Sodium:
2127
mg
|
Potassium:
1816
mg
|
Fiber:
8
g
|
Sugar:
7
g
|
Vitamin A:
36098
IU
|
Vitamin C:
123
mg
|
Calcium:
334
mg
|
Iron:
5
mg