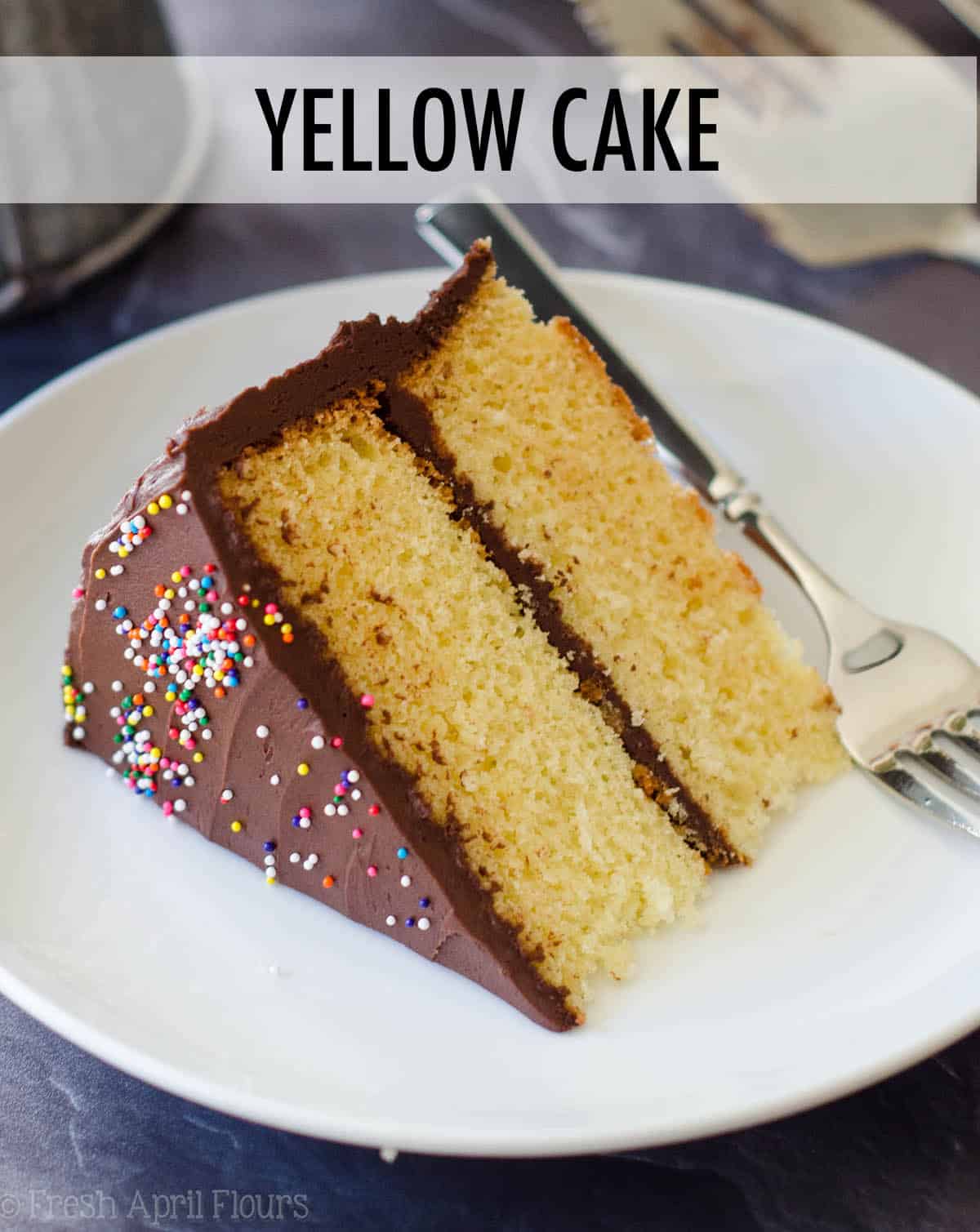 As an Amazon Associate, I earn from qualifying purchases. Read the full disclosure here.
Rich and buttery yellow cake smothered in a decadent chocolate buttercream.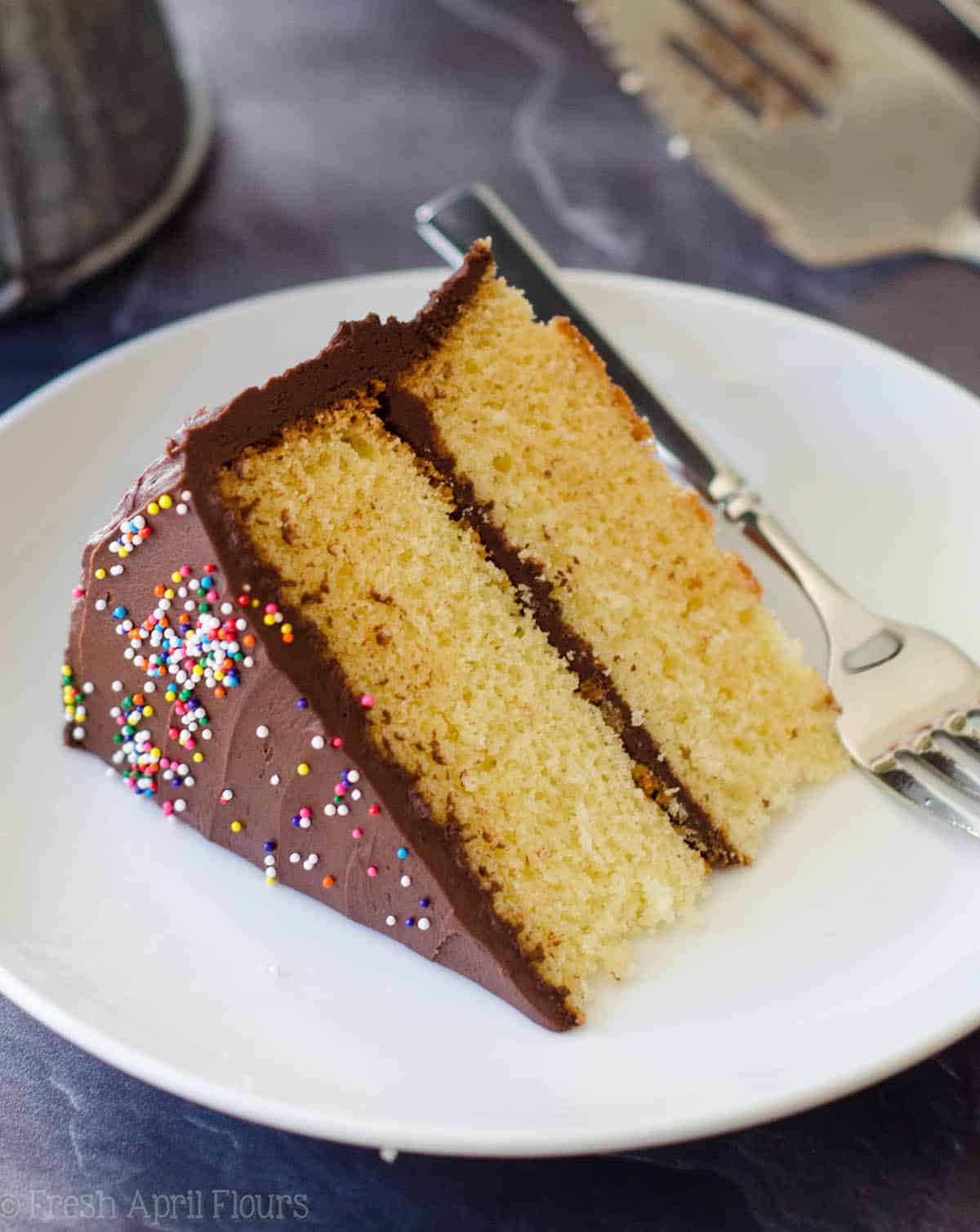 I spoke briefly about my resolve to start getting some cake recipes up on the blog, and here's your first installment. I'm going to try my very very hardest to bring you one cake per month (#fafcakeofthemonth) for the rest of 2017. This means 12 different cakes, and (I'm hoping) 12 different frostings.
The idea is that you'll have an endless selection of cake and frosting recipes to mix and match, over and over, until you just can't cake any longer. How does that sound?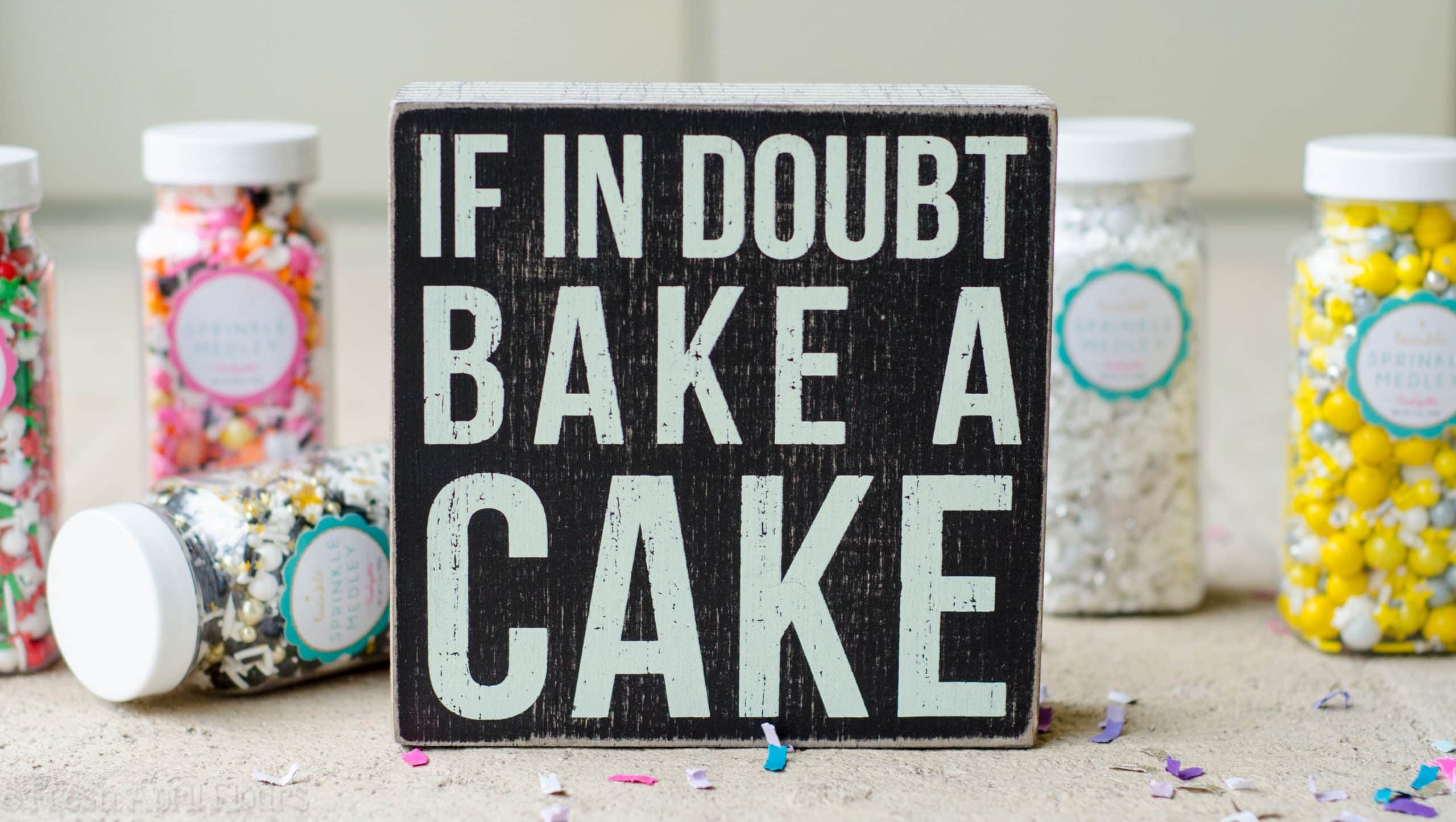 I have a whole slew of ideas for what I'd like to bring to the cake table, and I want to include a few classics as well as some oddball/creative ones. So I'm kicking things off with a few classics, starting with one of my absolute favorites– this perfect yellow cake with equally perfect chocolate buttercream.
I've mentioned that my 3 favorite desserts are chewy oatmeal raisin cookies, carrot walnut cake, and yellow cake with chocolate buttercream. I felt it was high time to get the ball rolling on that last one, so here it is in all its glory, getting the cake ball rolling like a boss.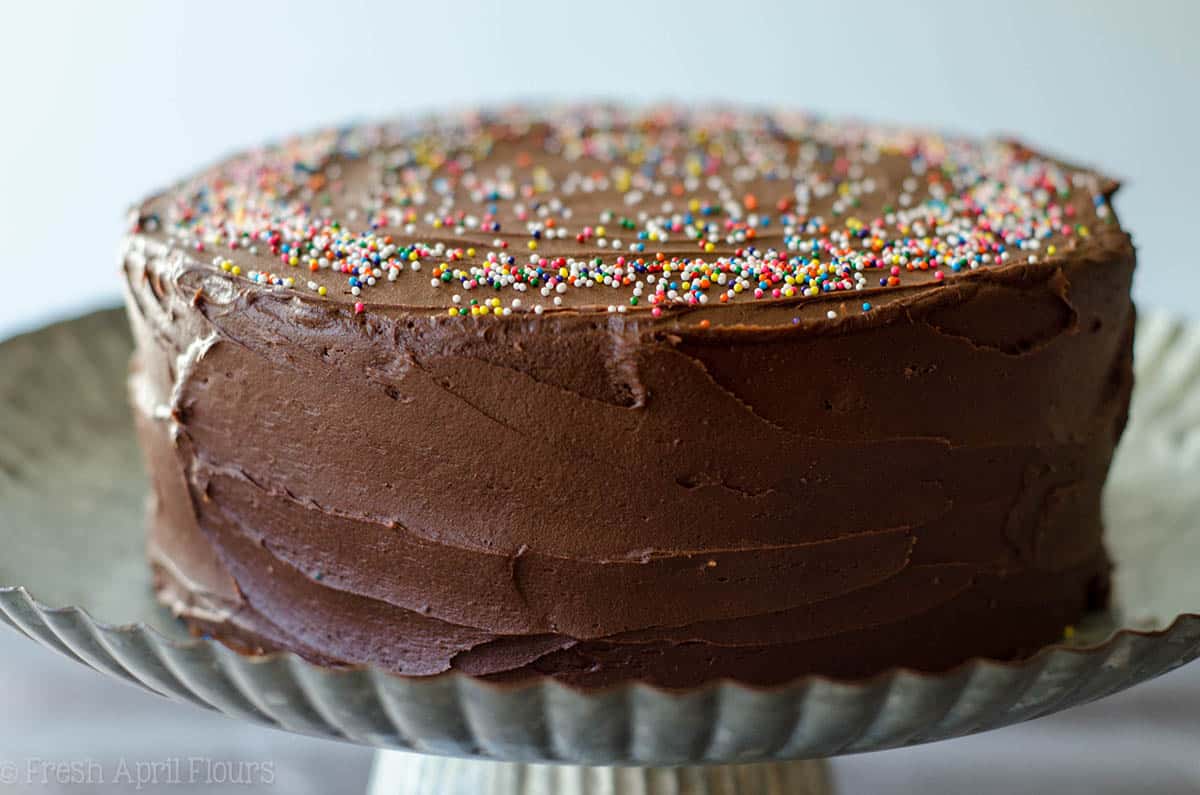 So first, let's chat about exactly what yellow cake is and how it's different from its confusing cousins white cake and vanilla cake.
YELLOW CAKE VS WHITE CAKE VS VANILLA CAKE
When it comes to yellow/white/vanilla cake, there are really just a few basics. You've got flour, sugar, butter, flavoring, some liquid, and eggs.
As far as yellow cake is concerned, this is the butteriest and densest of the 3 cakes, thanks to the 3 large (full) eggs in the batter. The yellow yolks bring the yellow color to the cake while also giving it moisture, body, and "oomph."
On the other hand, white cake is just that– it's white (although not quite angel food cake white).
Can you guess why? No yolks.
And yes, a white cake is in your Cake of The Month future (edit: find white cake here!). White cake tends to be a bit fluffier and lighter in taste and texture, while also still giving you that buttery crumb.
That's a specially around here. Lots and lots of real vanilla beans up in those cupcakes.
The batter for this cake is easy. You will have to use room temperature ingredients, but as far as technique and special equipment go, you are totally capable of making this layer cake. I've been making this yellow cake for years, and I highly highly suggest sticking to buttermilk.
I've used regular milk and it's just not quite the same. See my recipe if you need to make your own buttermilk.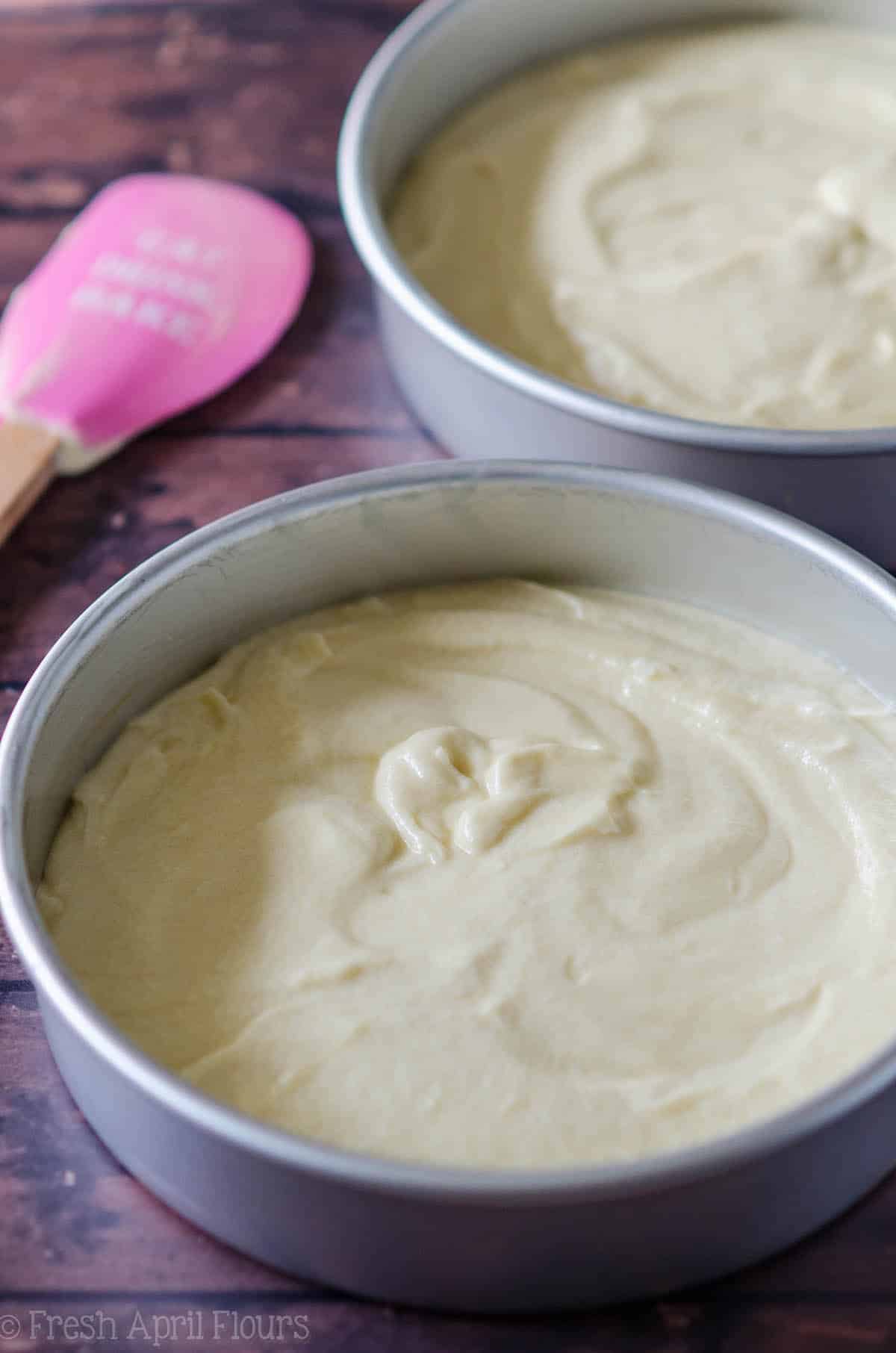 While the cake alone is quite tasty, this chocolate buttercream is what dreams are made of (second only to this marshmallow dream stuff) and I urge you to refrain from taste testing too much, otherwise you will wind up with zero chocolate buttercream left and one very naked cake.
I use Dutch processed cocoa powder in this frosting because it's less bitter than unsweetened cocoa. Plus, it's softer, so I think it clumps less.
When you're ready to assemble, just level that cake, spread on the good stuff, and get to work.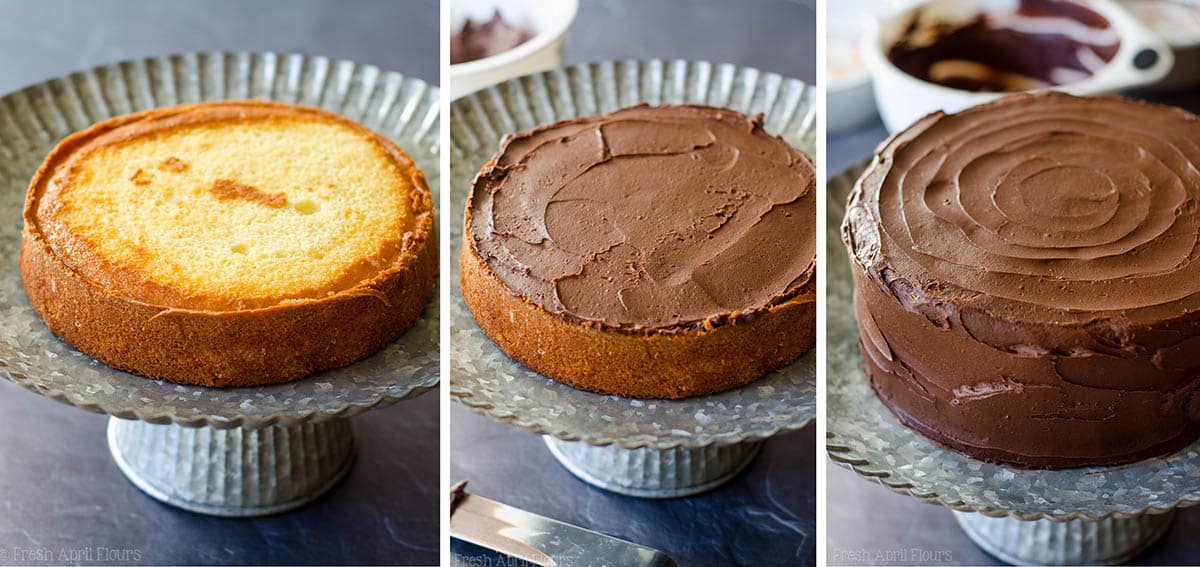 A sprinkle of sprinkles (?) around the top for good measure, and you're ready to serve up this perfect little number to anyone who wants to celebrate with you.
You'll find this cake to be dense but moist, flavorful, buttery, and the perfect classic cake recipe to tuck in your back pocket for safe keeping.
I find that yellow cake with chocolate buttercream appeals to the masses pretty well, and it's a fairly safe flavor to whip up if you're taking something to a party or hosting a get together yourself.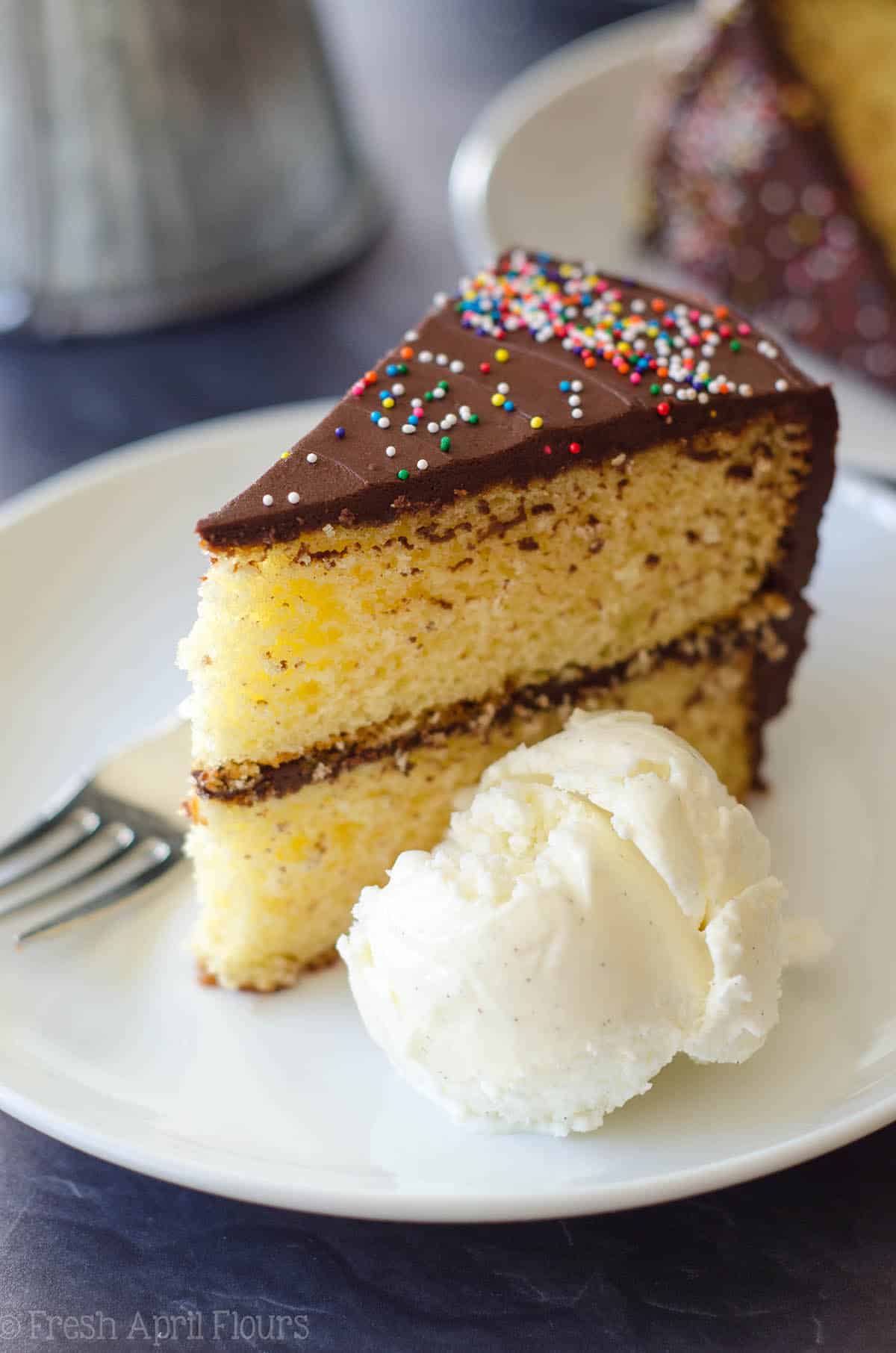 Remember, it's not white and it's not vanilla. It's in its own class of flavor. But if you smother it in that beautiful chocolate buttercream, you're one step closer to achieving major cake goals and you'll always be welcome in my house for professional cake taste testing!

Yellow Layer Cake
Rich and buttery yellow cake smothered in a decadent chocolate buttercream.
Ingredients
YELLOW CAKE
2 and 1/4

cups

all purpose flour

be sure to measure properly

2 and 1/2

teaspoons

baking powder

1/2

teaspoon

baking soda

1

teaspoon

salt

½

cup

(1 stick) unsalted butter

softened to room temperature

1 and 1/2

cups

granulated sugar

3

large eggs

room temperature1

2

teaspoons

vanilla extract

1

cup

buttermilk2
CHOCOLATE BUTTERCREAM
1

cup

(2 sticks) unsalted butter

softened to room temperature

4

cups

powdered sugar

3/4

cup

Dutch processed cocoa powder

pinch

of salt

2 and 1/2

teaspoons

vanilla extract

1/3 to 1/2

cup

milk or cream
Instructions
YELLOW CAKE
Preheat the oven to 350ºF. Grease and flour (or use homemade cake release) two 8-inch round cake pans. Set aside.

In a medium bowl, whisk together the flour, baking powder, baking soda, and salt. Set aside.

In a large bowl with a handheld mixer or the bowl of a stand mixer fitted with the paddle attachment, cream the butter and sugar on medium-high speed until light and fluffy, about 2-3 minutes. Stop the mixer and scrape down the sides and bottom of the bowl. Beat in the eggs, one at a time, until fully incorporated. Beat in vanilla extract.

Reduce the mixer speed to low and slowly add the dry ingredients. Beat until just combined. Add the buttermilk and continue to beat on low until fully incorporated. Stop the mixer, scrape down the sides and bottom of the bowl, then increase the speed to medium and beat for an additional 2-3 minutes.

Divide the batter evenly between the prepared pans. Bake for 23-27 minutes, or until a toothpick inserted into the center of the cake comes out mostly clean. Remove from oven and allow cakes to cool in the pans completely on a wire rack before removing and assembling.
CHOCOLATE BUTTERCREAM
In a medium size bowl with a handheld mixer or in the bowl of stand mixer fitted with the paddle attachment, beat butter on medium speed until smooth (about 3 minutes).

Decrease mixer speed to low. Add powdered sugar, cocoa, vanilla extract, and milk/cream. Increase mixer speed to to high and beat until completely combined (approximately 2-3 minutes).
ASSEMBLE THE CAKE
Trim cooled cake layers to create a flat surface. You can do this with a large serrated knife or a

cake leveler

. Place one layer on a plate or cake stand and cover the top with chocolate buttercream frosting. Spread evenly with an

offset spatula

.

Place second layer on top, cut surface down. For a sturdier cake, refrigerate at this point for about 10 minutes. When cake is slightly chilled, remove from refrigerator and spread more frosting on the top and around the sides. Serve. Leftovers stay fresh, covered tightly, at room temperature up to 5 days and in the refrigerator up to 1 week.

Make ahead: prepare cakes and frosting up to 1 day in advance. Cover cakes tightly and keep at room temperature or in the refrigerator until ready to assemble. Refrigerate prepared frosting in an airtight container until ready to use. Unfrosted cake layers may be frozen, wrapped tightly, up to 2 months. Thaw overnight in the refrigerator before assembling. Frosted cake can be frozen, wrapped tightly, up to 2 months. Thaw overnight in the refrigerator and bring to room temperature before serving.
Notes
It is important to use room temperature eggs when working with room temperature butter as it incorporates into batter much more evenly.
If you don't have buttermilk, you can make your own: see my post about homemade buttermilk.
Nutrition Disclosure
All nutritional values are approximate and provided to the reader as a courtesy. Changing ingredients and/or quantities will alter the estimated nutritional calculations.