As an Amazon Associate I earn from qualifying purchases.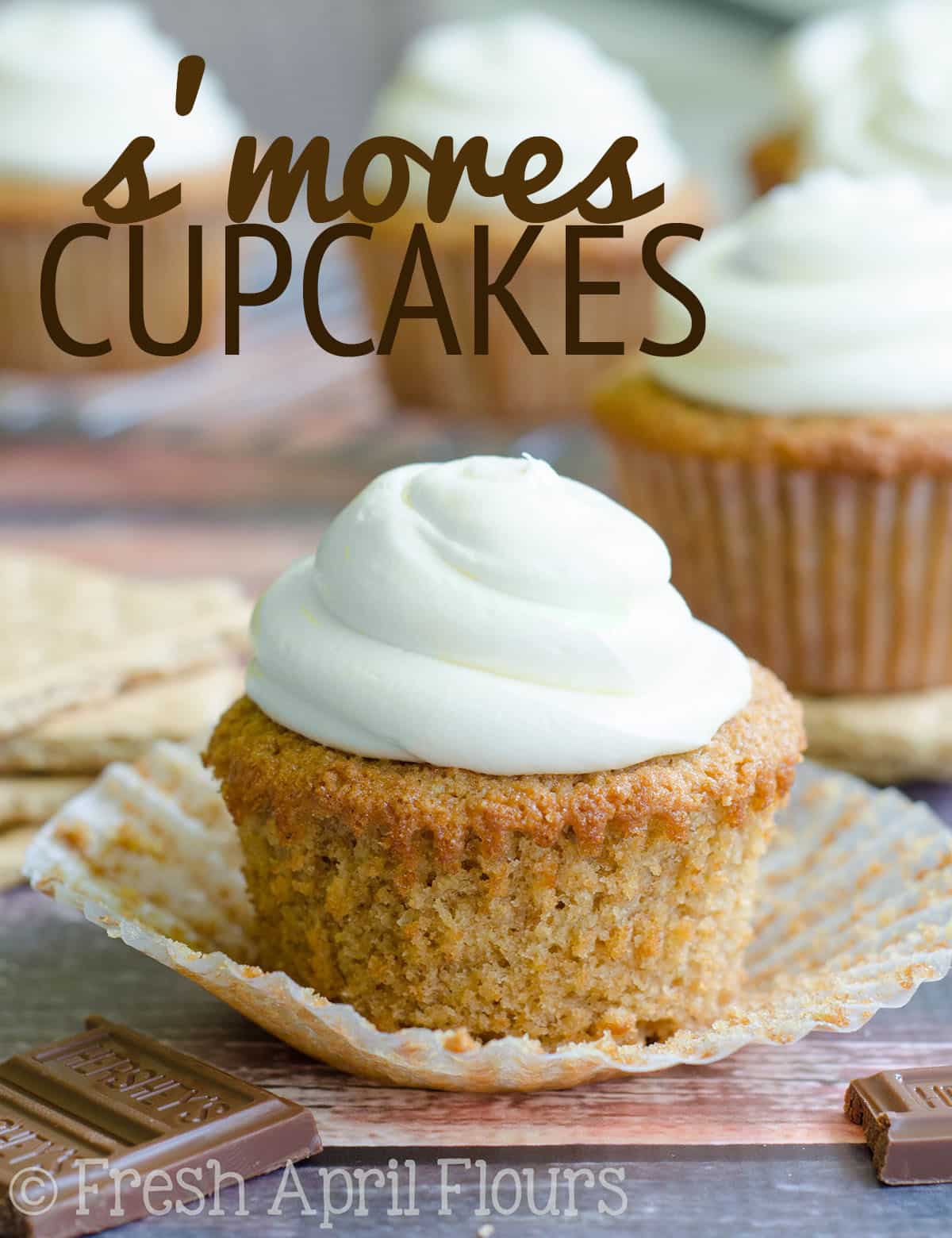 Graham cracker cupcakes filled with melted chocolate and topped with creamy, fluffy marshmallow buttercream frosting.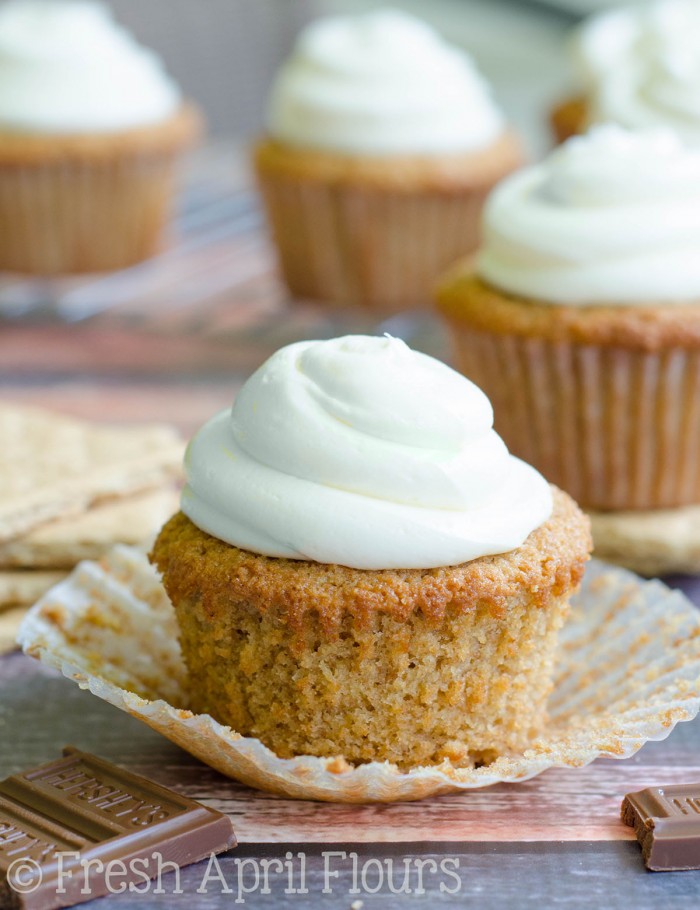 So I mentioned a couple weeks ago, when I brought you this irresistible s'mores fudge, that I had a couple more s'more (a couple s'more?!) recipes up my sleeve– one that fell apart and another I had run out of time for.
Well… The second batch of the one that fell apart fell apart AGAIN, so I'm bringing you the one that I vowed to myself I would make time for because I knew it was going to be epic.
And OHHH BOY, was I ever right.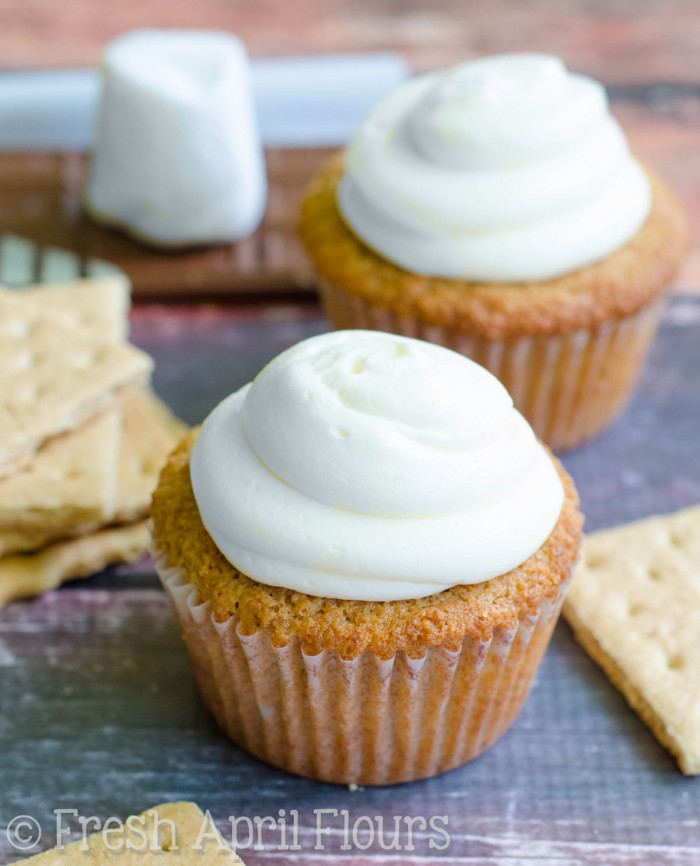 Summer is all about the s'more. Ooey, gooey, melty, crunchy, sweet, chocolatey, grahamy, LOVELY. Aside from super fresh fruits and vegetables, not much yells "summer" more than the most delightful campfire combination that ever did live.
I had been thinking about these cupcakes for awhile, and I played through many different options as far as where to place each flavor in my cupcakes.
Did I want a chocolate base with hints of graham cracker and loads of marshmallow?
Did I want MORE marshmallow than anything else and a side of chocolate and graham?
I could not decide (#foodbloggerproblems) until a friend/reader/fan of mine had the most wonderful suggestion on the planet: make it all about the graham.
Allison, you are my dessert hero.
When it comes to a s'more, I am ALL IN on the graham cracker. It is the foundation for all of the other ingredients that get jammed into that toasty little treat– anywhere from peanut butter to Reese's to big marshmallows, little ones, jumbo ones, dark chocolate, white chocolate– the combinations are endless.
But one thing stays constant… The tried and true graham cracker.
It was decided. I needed to make a graham cracker cupcake, and I'll tell you what: BEST DECISION EVER.
These graham cracker cupcakes start with crushed graham crackers that get tossed together with a little whole wheat flour. I spoke in this homemade graham crackers post about how whole wheat flour helps give homemade graham crackers their signature taste.
Same deal with these cupcakes, although if all you have is all-purpose, that will work just as well.
The cupcake batter is pretty standard, and once it's in cupcake liners, you of course need to equip each one with a melty chocolate center. A Hershey's bar broken into pieces gets the job done, but you're welcome to use chocolate chips, a Hershey's Kiss, or any other small chocolate piece you might enjoy with your s'more.
Two rectangles get pushed right into the center of each cupcake. They will stick out a bit, but this is totally fine. The cupcake batter will bake around it, kind of like a graham cracker hug.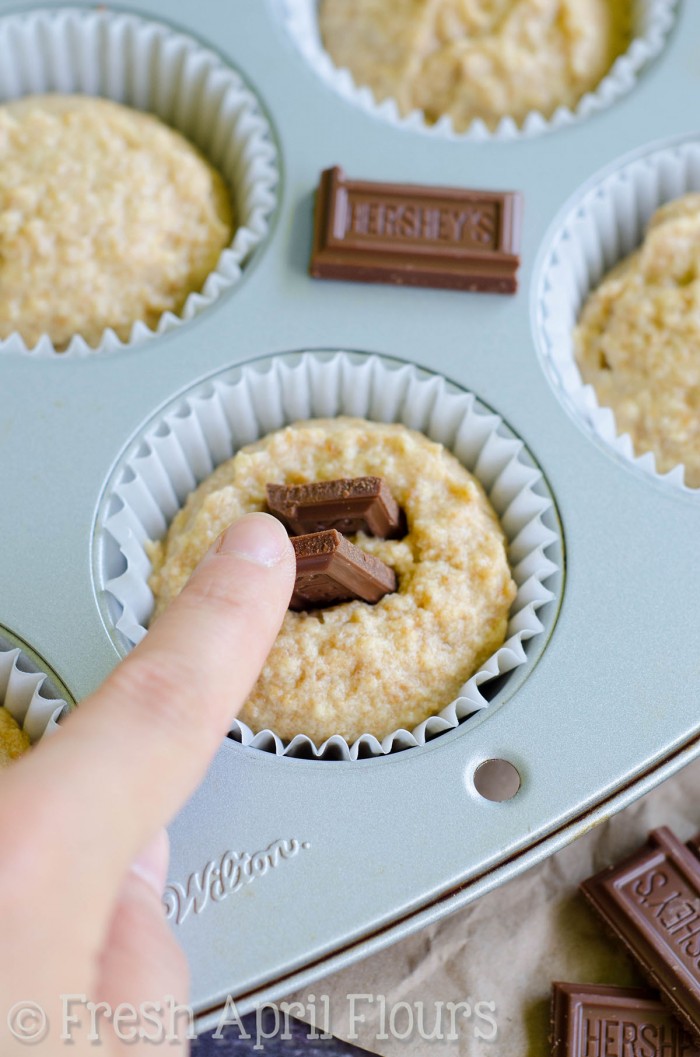 I will say this… Once your cupcakes are in the oven, it will look like they are going to overflow, but FEAR NOT! There is just enough flour + leavener in these cupcakes to make them rise a whole lot in the beginning and then stop. Plus, the batter is thick, so the cupcake domes almost form a shell as they rise.
Since you can't exactly stick a toothpick in the center to check for doneness, go mostly by sight. The edges of the top of the cupcakes should start to brown. Toasty, toasty graham crackers! Oh, and the smell? AAAAMAZING.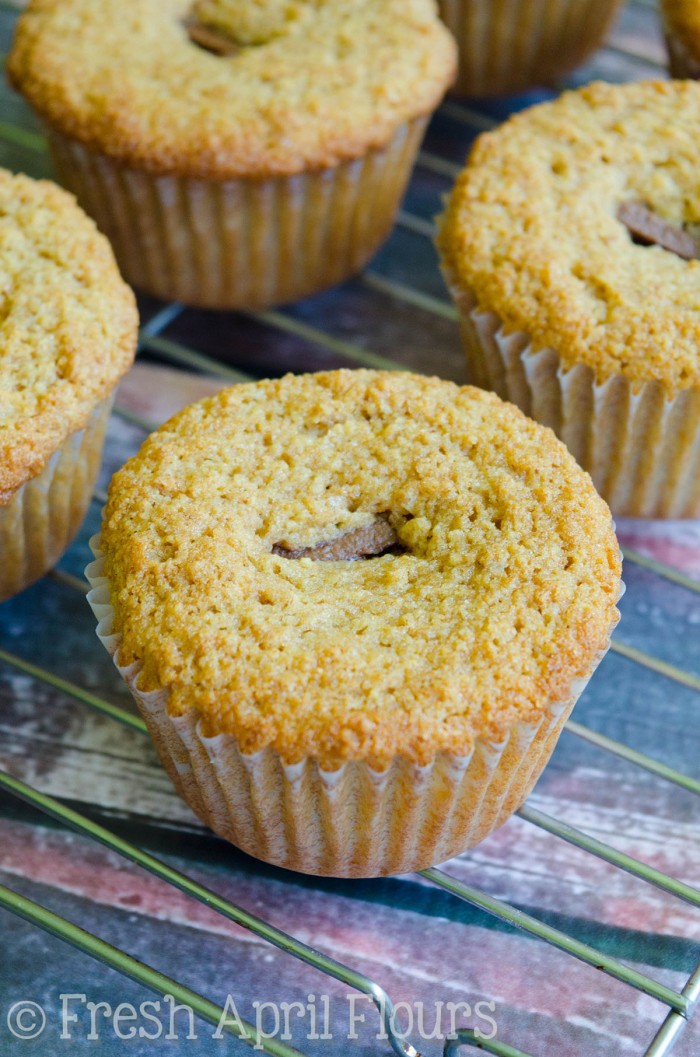 While the cupcakes cool, it's time to tackle this marshmallow butterdream, I mean buttercream. It's made of butter, marshmallow creme/fluff, powdered sugar, unicorns, rainbows, butterflies, err… What I'm trying to say is… This stuff is dangerously good.
It's fluffy and it's dreamy and you will think about it long after it's gone, I assure you. A nice puffy cloud of the good stuff goes right on top of each cupcake.
My taste testers loved these cupcakes, and they made a great suggestion: tossing some more crushed graham cracker on top of the marshmallow frosting for the added crunch factor. UMMM, why didn't I think of that? With or without the extra grahams, I think you'll find these cupcakes to be a winner.
The texture of the graham cracker cupcake itself is right up my alley as a texture lover– it's crumbly without being dry and gives you all the graham cracker flavor some s'mores desserts tend to lack.
The chocolate in the center, of course, graces each bite that is topped off with luscious marshmallow butterdreamcream which completely melts in your mouth. A triple threat dessert– my total fave.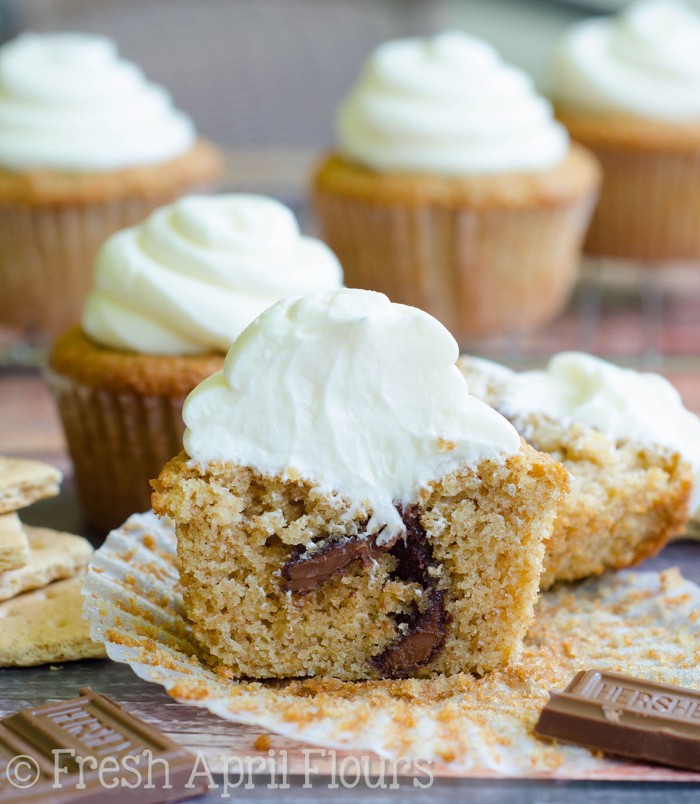 If you're looking for a summer time cupcake and maybe you're heading to a cookout or BBQ where there won't be a fire to have authentic s'mores, whip up a batch of these and you and your fellow party-goers will have s'mores at your fingertips.
That is… If you don't eat them all before you even get there!
S'mores Cupcakes
Graham cracker cupcakes filled with melted chocolate and topped with creamy, fluffy marshmallow buttercream frosting.
Ingredients
CUPCAKES
5

full sheets of graham crackers

crushed into a fine powder (approximately 3/4 cup)

1/4

cup

whole wheat flour

1

teaspoon

baking powder

1/8

teaspoon

salt

1/4

cup

brown sugar

packed

2

Tablespoons

granulated sugar

4

Tablespoons

unsalted butter

softened to room temperature

1

large egg

1/4

cup

milk

any

1/4

teaspoon

vanilla extract

1

1.55oz Hershey's chocolate bars

broken into 12 pieces
MARSHMALLOW BUTTERCREAM
1/2

cup

(1 stick) unsalted butter

softened to room temperature

3 and 1/2

ounces

marshmallow creme

3/4

cup

powdered sugar
Instructions
CUPCAKES
Preheat oven to 350ºF. Line a cupcake pan with cupcake liners and set aside.

In a medium size bowl, toss together the graham cracker crumbs, flour, baking powder, and salt. Set aside.

In a large bowl with a handheld mixer or the bowl of a stand mixer fitted with the paddle attachment, cream both sugars and butter until light and fluffy (approximately 3 minutes). Add the egg and beat on medium speed until smooth. Scrape down the sides and bottom of the bowl with a spatula, add the milk and vanilla, and beat again until combined. Mixture will be runny. This is ok. Decrease mixer speed to low and slowly add the graham cracker mixture. Beat until completely combined.

Fill cupcake liners 3/4 of the way full (I like to use an ice cream scoop with a thumb trigger). Push 2 pieces of chocolate into the center of each cupcake. They will poke out of the top a bit. Bake 18-20 minutes or until edges just start to brown or a toothpick inserted off to the side of the middle comes out clean. Remove from oven and allow to cool completely on a wire rack before decorating.
MARSHMALLOW BUTTERCREAM
In a large bowl with a handheld mixer or the bowl of a stand mixer fitted with the paddle attachment, cream the butter until it is light and fluffy. Add the marshmallow creme and beat on high until smooth (approximately 2 minutes).

With the mixer on low, add the powdered sugar. Increase mixer speed to medium and beat until completely combined (approximately 1 minute).

Frost the cupcakes using a piping bag or a large zip top bag with the corner snipped off. Cupcakes will stay fresh covered at room temperature up to 3 days.