As an Amazon Associate I earn from qualifying purchases.

Soft, moist, and smooth chocolate cake with the richest chocolate flavor you'll ever taste. Super easy and only one bowl needed!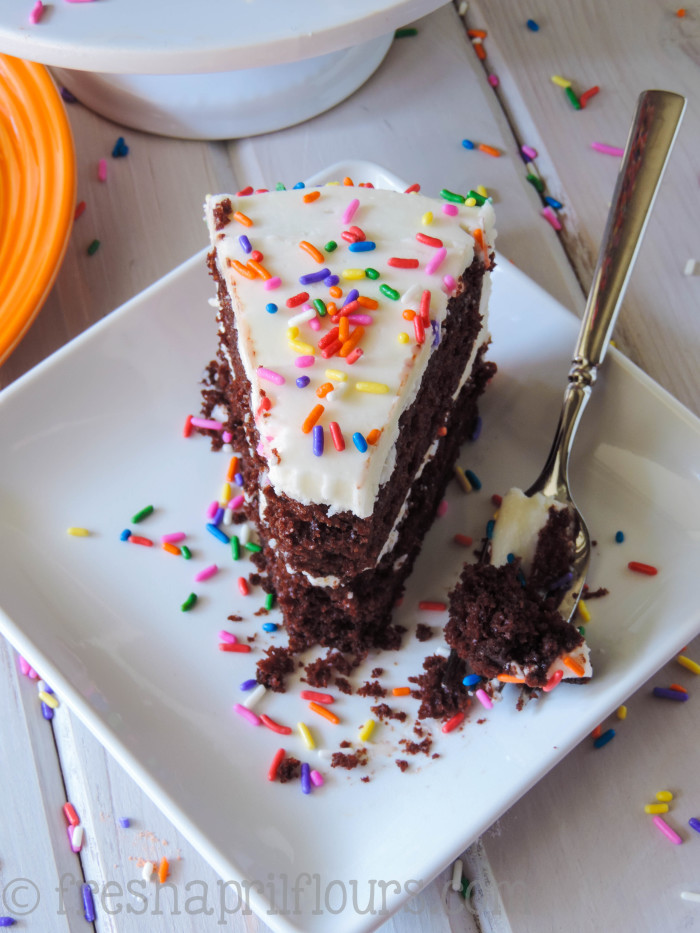 You need a go-to chocolate cake in your life.
That no fail, one bowl, throw it together, doesn't-need-to-have-room-temperature-ingredients recipe that you can rely on when you're feeling down about your cake baking skills and need a reminder that not all cakes are created equal and out to make your cake baking life miserable.
Oh, just me?
Well then.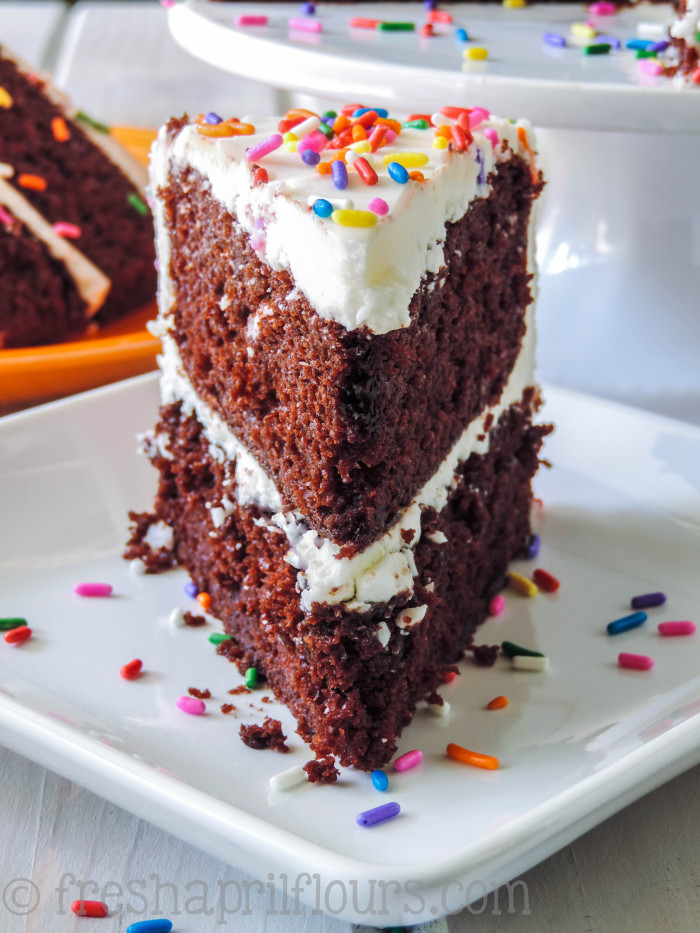 I've had a lot of cake fails in my life. Owning my own cake baking/decorating business for three years taught me a ton about cake baking.
My biggest lesson? Cakes are crazy finicky.
Work your batter too hard? Tough and dry crumb.
Not the exactly right amount of leavener? Your cake will crash into a flat mess. Too much leavener? Your cake will spill out over the top of your cake pan and get all over the inside of your oven and smell horrible and be terribly difficult to clean up and you will probably cry.
Not that that's ever happened to me… I heard that from a friend once…
Tonight is one of those nights I'm feeling like a cake failure, as I spent the afternoon experimenting with some cakes I haven't made in a long time that I would love to share with my readers. My wonderful tried-and-true recipes that I should just NOT mess with. I'll never learn…
There is a happy ending to this evening, and it's in the form of chocolate cake.
Rich, decadent, ridiculously moist, velvety chocolate cake.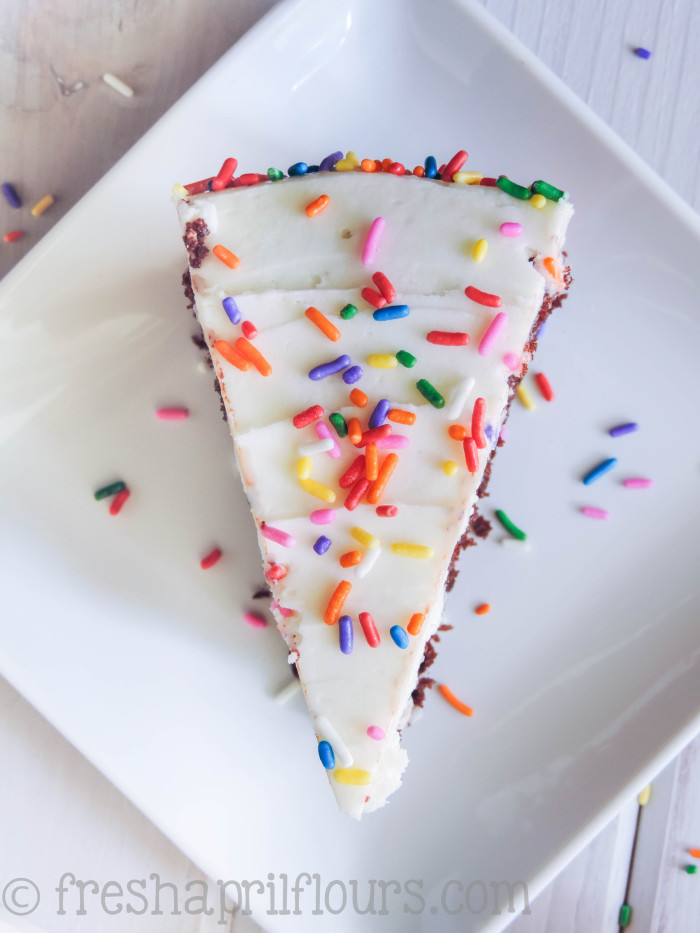 With plenty of rainbow sprinkles. That's the best kind of chocolate cake, amiright?
Before I get any further with this recipe, I must plug a recipe of mine. And that is homemade cake release. I just haven't had luck with greasing and flouring, and this stuff makes the cake slide right out of the pan.
Ok, back to cake.
I got really lucky one day, almost four years ago… I stumbled upon the Hershey's chocolate cake recipe and it was love at first bite. It was the only chocolate cake I needed to try. And since then, it's only gotten better and better.
This cake is so easy. You don't even need a mixer, and you really can throw everything into one bowl together. The only thing I will say is strongly suggested is sift the cocoa powder into your flour. Cocoa powder gets quite cakey and crumbly in the canister, and leaving those big chunks in there can sometimes mean big chunks of cocoa in your cake. No bueno. Sift it in just to be safe.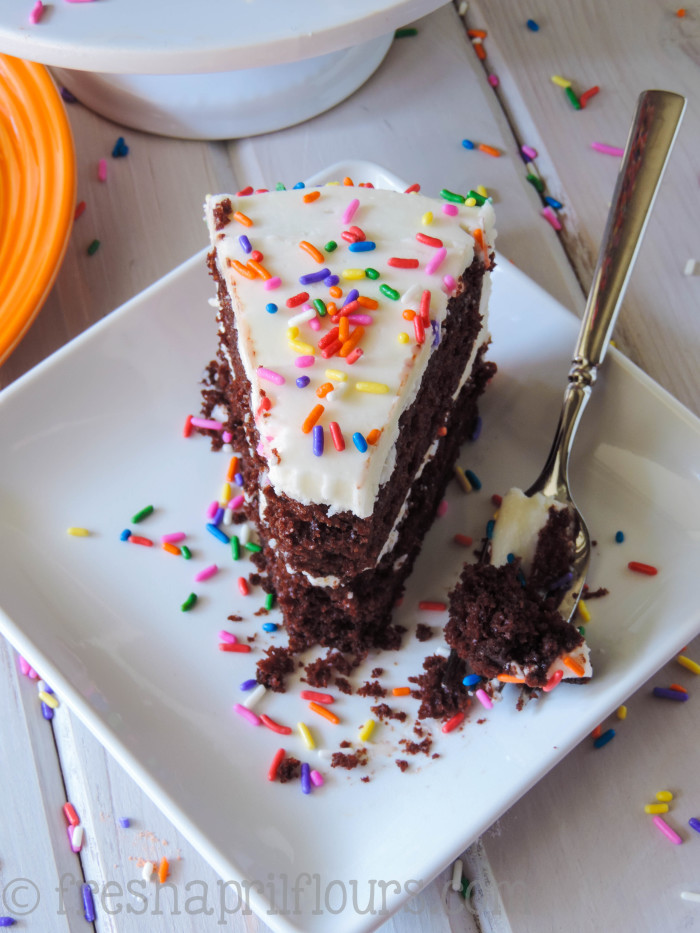 You'll see this recipe has absolutely no butter in it. Vegetable oil is the fat you'll use, because the moistness it brings to this cake is out of this world. The oil and the buttermilk.
Always the buttermilk.
I have used anywhere from skim to whole milk instead of buttermilk for this recipe, and the buttermilk reigns supreme. Trust me… I've made this more times than you would believe. The milk is at your discretion, but you've been warned!
If you don't have buttermilk, make your own: put 1 Tablespoon of white vinegar or lemon juice in a measuring cup, add enough milk to bring the level up to 1 cup, stir it up, and let it sit for 5 minutes.
You're also going to be using coffee for this recipe. Whatever brew you prefer, but the stronger the better. I promise your cake will not taste like coffee.
The bitterness just brings out the cocoa taste and takes the flavor of this cake to a whole new level. The only thing you must make sure you do is bring the coffee to a boil in the microwave before you add it to the rest of the batter.
The boiling liquid helps the cocoa "bloom" into the rest of the batter and helps to activate the leavening agents. I've tried this recipe with simply hot coffee and even cold water… Just… Don't do it. Warning #2.
The frosting is also super easy. Two sticks of softened butter, 1 pound of powdered sugar, a little vanilla, some milk or cream (cream will make the creamiest!), and a pinch of salt. This is my go-to buttercream recipe.
It is very sweet, but it's also very buttery, and the combination of the two is offset by the tiniest hint of salt. It's a perfect buttercream. I don't always sift my powdered sugar when I'm making vanilla buttercream, but if you want the absolute smoothest consistency, get to siftin'.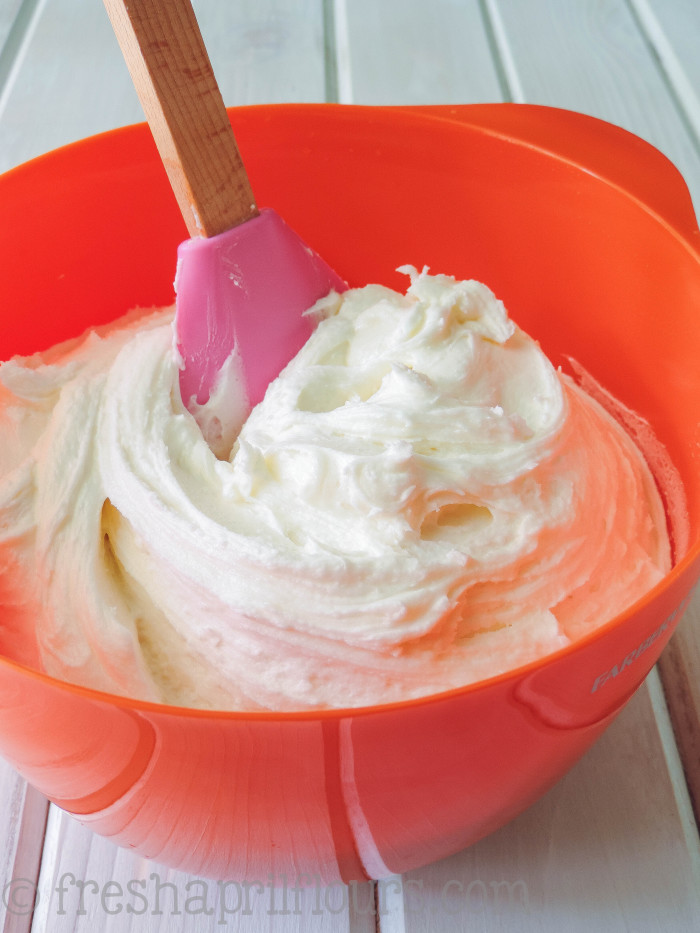 My buttercream recipe is very forgiving, in that if it's too thin for you, add more powdered sugar. If you feel it's too stiff, add more liquid. And if it's too sweet, add another tiny pinch of salt. Feel free to add more vanilla at any point if you think it's not vanilla-y enough for you.
Like I said… Forgiving. Make it how you like it, I won't be mad 🙂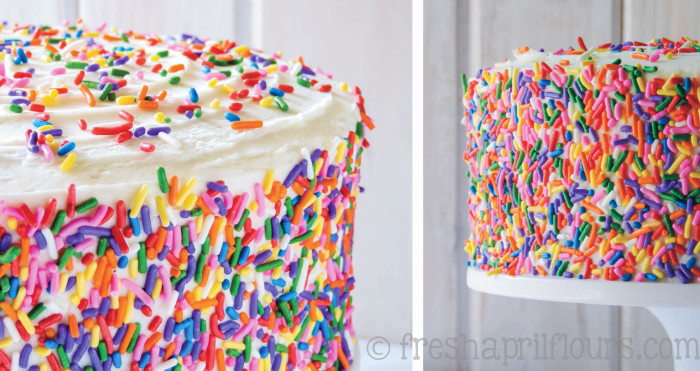 This is by far the best chocolate cake I have ever had. It's moist, soft, not the slightest bit crumbly, and almost melts in your mouth. And there is so(ooooooo) much flavor. No shortage of chocolate in this recipe, that's for sure!
As far as decorating this cake goes… Have fun with it. One of my favorite things to decorate is a white cake. It's a completely blank canvas, and I can do whatever I want with it. Of course, I went a little nuts with the sprinkles, but can you blame me?
Besides, it's Sprinkle September, remember?! Consider using your favorite candy all chopped up. Or putting chocolate chips all over the outside!
You can also add anything to the inside layer of frosting to jazz up the middle. Ohh, the possibilities! You could make so many combinations with toppings and add-ins. Go ahead… I won't judge you if you make 10 cakes this weekend. I really won't…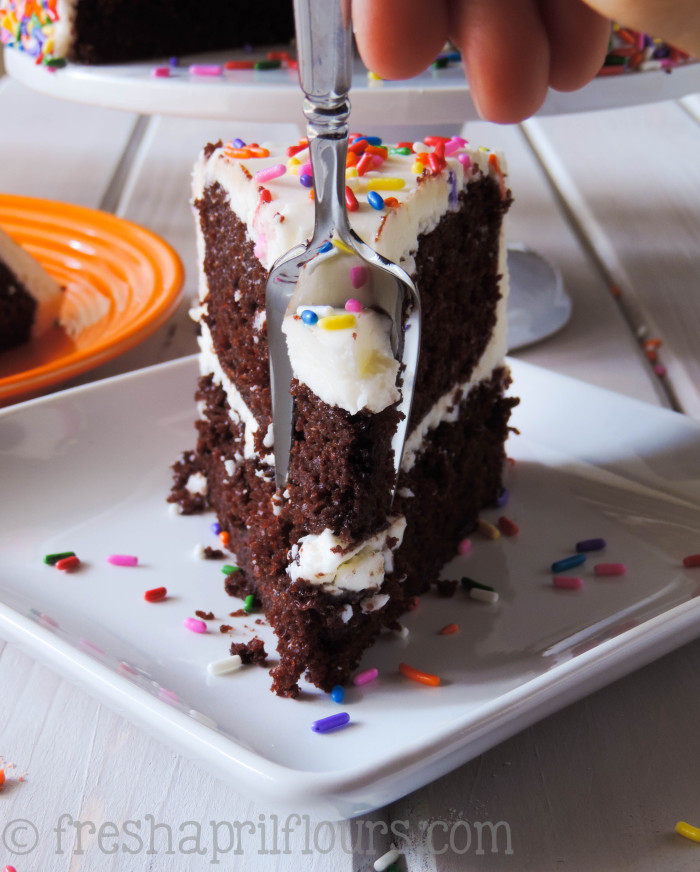 …just invite me over to help you eat them. I'll bring the wine milk.
🙂
PSSSST… This recipe can also be made into cupcakes! You'll get about 30, so cut the recipe in half if you're only looking for about a dozen. Bake time is about 14 minutes.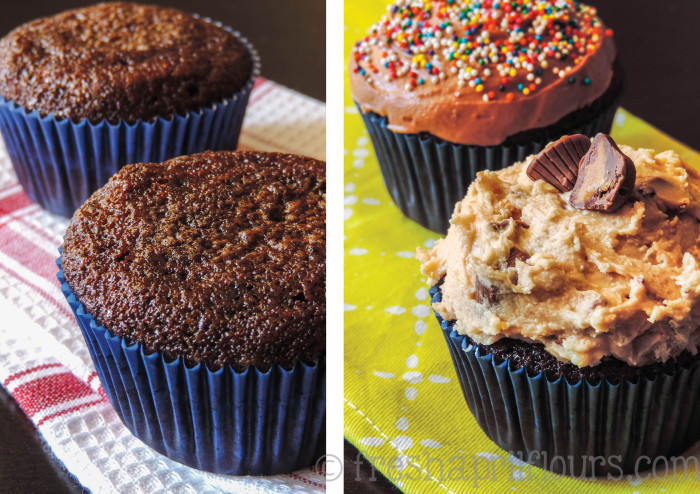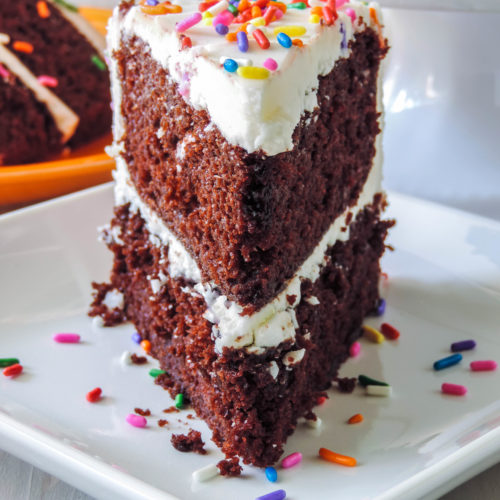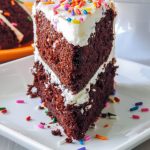 Print Recipe
Chocolate Layer Cake
Soft, moist, and smooth chocolate cake with the richest chocolate flavor you'll ever taste. Super easy and only one bowl needed!
Ingredients
CAKE
2

cups

granulated sugar

1 and 3/4

cups

all purpose flour

1 and 1/2

teaspoons

baking soda

1 and 1/2

teaspoons

baking powder

1

teaspoon

salt

3/4

cup

unsweetened cocoa

sifted

2

large eggs

1

cup

buttermilk*

1/2

cup

vegetable oil

2

teaspoons

vanilla extract

1

cup

coffee

boiling
FROSTING
1

cup

unsalted butter

softened to room temperature

4

cups

powdered sugar

1

teaspoon

vanilla extract

1/3

cup

milk or cream

salt

to taste
Instructions
CAKE
In a large bowl, stir together granulated sugar, flour, baking soda, baking powder, and salt. Sift in cocoa and combine. Add eggs, buttermilk, oil, and vanilla and stir well until completely combined.

Brew a cup of coffee and microwave until boiling. Slowly add coffee to batter and stir until blended well. Be sure to scrape the bottom of the bowl to make sure everything gets mixed together. Batter will be very thin.

Pour into prepared pans and bake for 28-30 minutes or until toothpick inserted in center comes out clean. Cool on wire racks completely before assembling and frosting.
FROSTING
In a large bowl with a handheld mixer, or a stand mixer fitted with the paddle attachment, beat the butter on medium speed until creamy, about 2 minutes.

With the mixer on low, add in the powdered sugar, vanilla, and milk or cream. Increase mixer speed to medium and beat until completely smooth, about 3 minutes. If frosting is too stiff, add more milk. If it is too thin, add more powdered sugar. Add salt to taste.
TO ASSEMBLE CAKE
Place one layer, bottom side up, on a plate or cake stand. Using a spatula or knife, spread an even layer of frosting over the entire surface.

Place the second layer on top, bottom side down, and press down on the top lightly. Spread the rest of the frosting on the cake, beginning with the top and working your way down the sides. Decorate as desired. Cake stays fresh covered at room temperature for up to 4 days. Cake may be covered and refrigerated for up to 7 days.

QUESTION: What's your favorite cake?
See all chocolate recipes.
See all sprinkles recipes.