Brown Butter Pumpkin Cake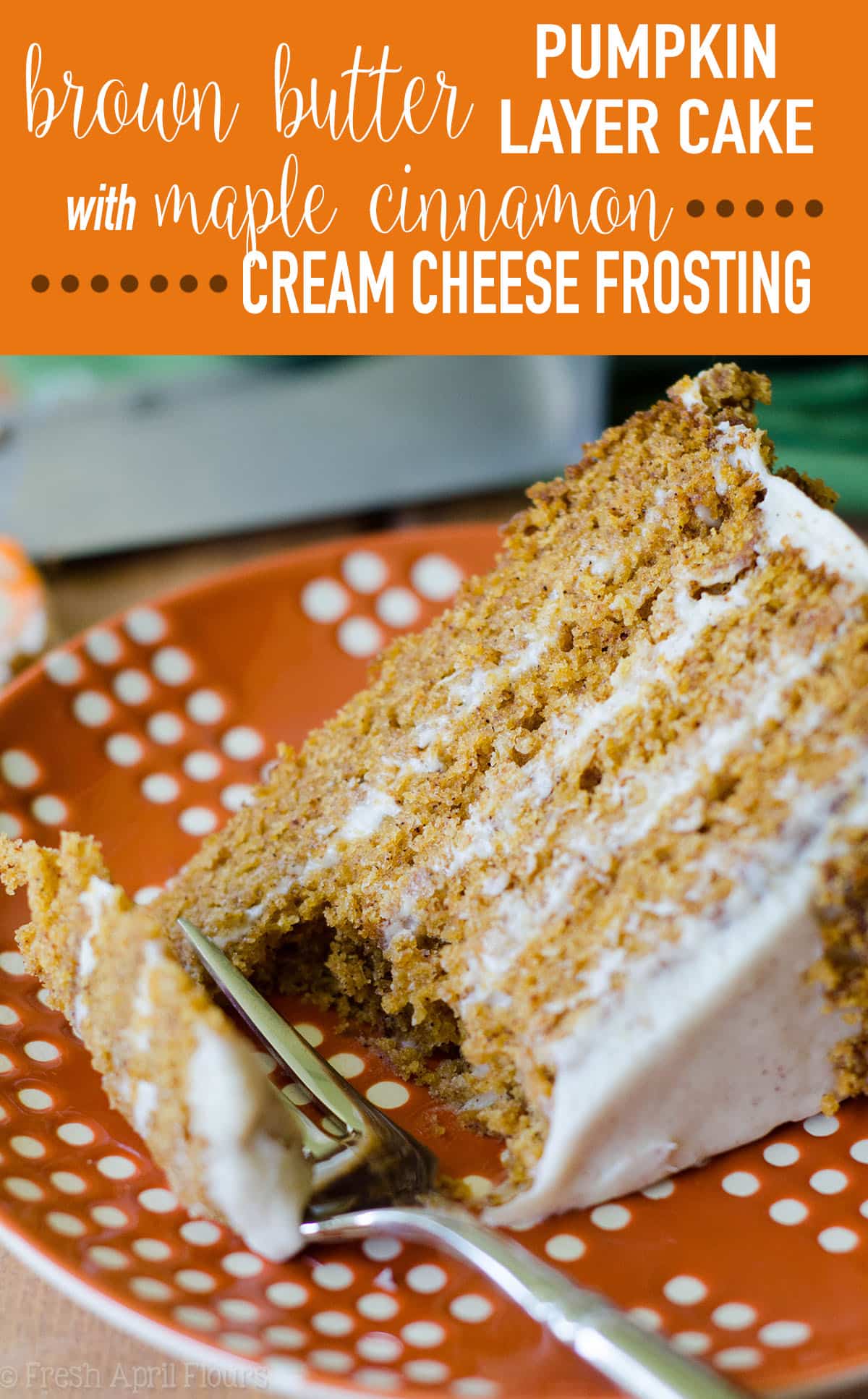 As an Amazon Associate, I earn from qualifying purchases. Read the full disclosure here.
A moist, spiced cake made with real pumpkin and smothered in a creamy, fall flavor-infused cream cheese frosting.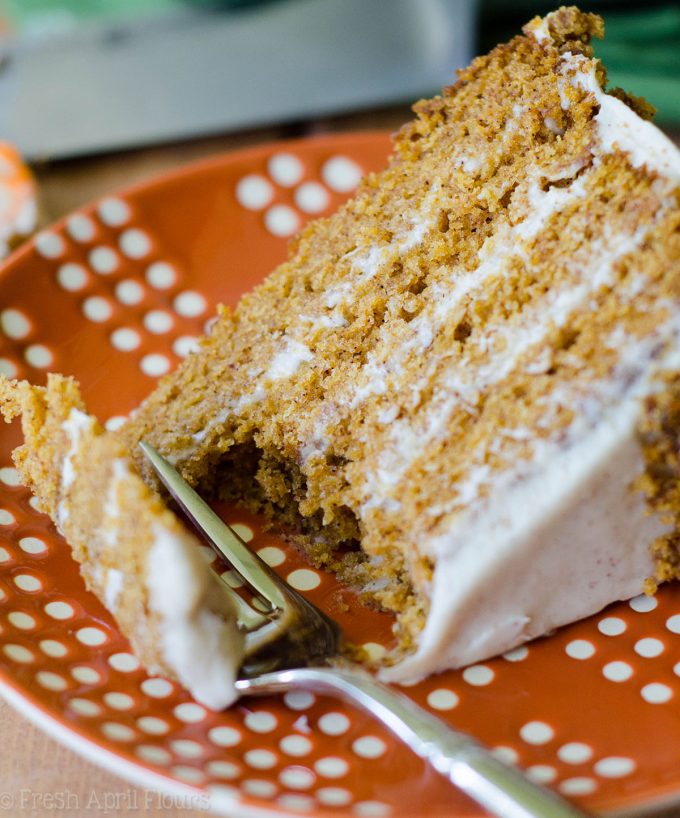 This should be some sort of record, y'all. It is September 14th, and I have yet to share a pumpkin recipe with you. Why is this a record? Because I have been drinking pumpkin in my coffee since the day after Labor Day, and I've been baking with pumpkin in my kitchen since mid-August (#foodbloggerlife).
But, alas, here we are, and what a glorious day it is, don't you agree?!
So this month is pretty cool. Why, you ask? Because instead of getting just one Cake of The Month, you're getting 2. TWO!
Are you as pumped as I am? More #foodbloggerlife.
You see, this month is my birthday month, and in keeping with tradition of the last couple years, I'll be bringing you a cookie cake on my actual birthday in a couple weeks (here's the OG cookie cake— make this).
Since a cookie cake isn't exactly a cake, I wanted to make sure I slipped a seasonal layer cake into the fall lineup, so today we are getting nice and friendly with pumpkin purée, cinnamon, maple syrup, and brown butter (!!!!).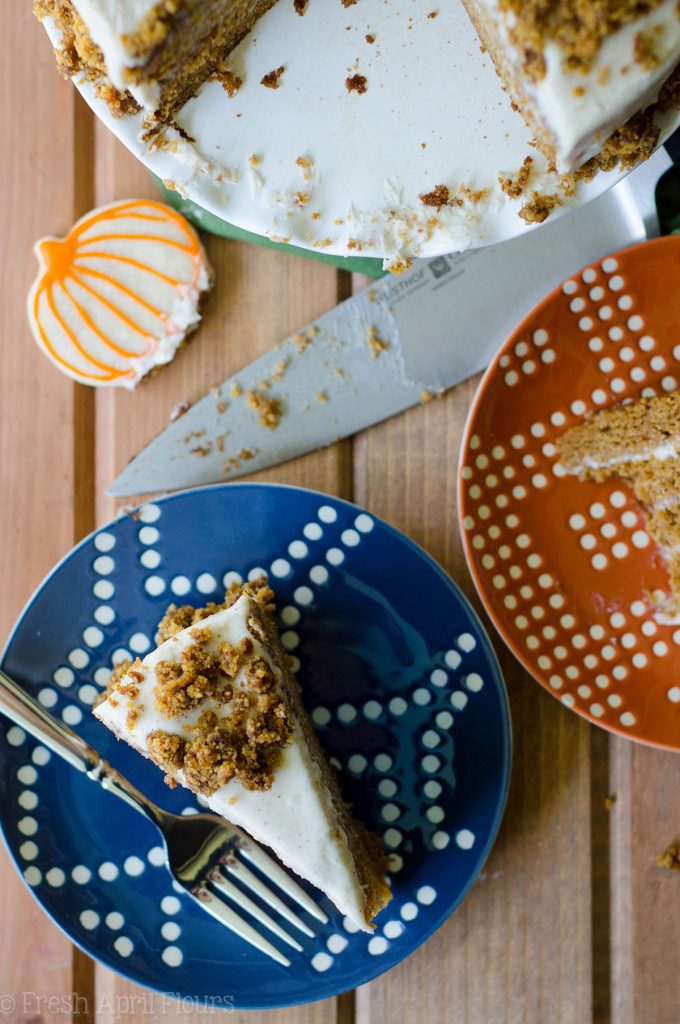 Now, let me tell you a thing or two about brown butter. Up until when I made this cake, brown butter and I did not get along. At all.
I've burned butter trying to brown it so many times in the last few years, but I finally nailed it, and I'm here to tell you, it's really not as hard as I was making it. And I have a few tips to help you make the best brown butter for your brown butter pumpkin cake.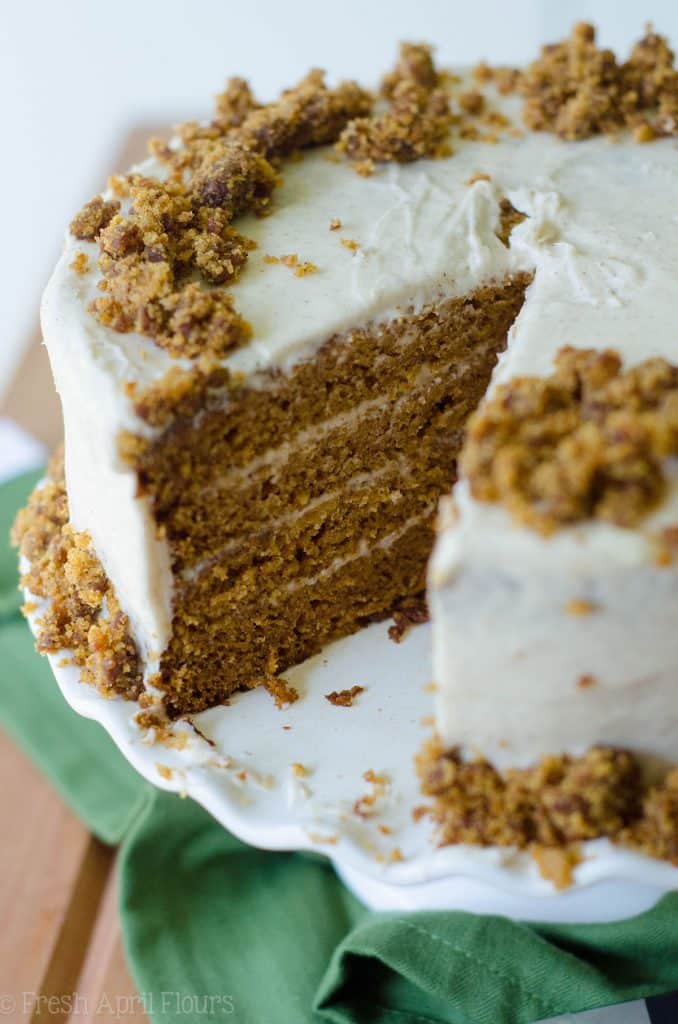 My first tip is to work with a light colored saucepan. We recently got 2 ceramic coated Calphalon saucepans, and they are wonderful. The white bottom allowed me to see, for the first time ever, the butter actually browning.
Prior to this, black pans were not getting the job done for me. I couldn't see what was happening, and I burned it every time. Another option? A stainless steel pan, which is also lighter in color than a black pan.
You'll swirl the butter around and it will go from light yellow as it melts, to lemon yellow, golden brown, and then be at its peak/finest moment when it becomes a beautiful amber color and emits a nutty aroma.
All this while, the milk proteins in the butter will separate out and start to cook in the bottom of the pan. These bits will brown faster than the butter, and that's totally ok. As the milk proteins cook, the butter will quickly transition and you'll need to remove it from the heat as soon as you see it starting to turn amber.
It sounds tricky, but if you pay attention, you'll nail it. I have faith in you!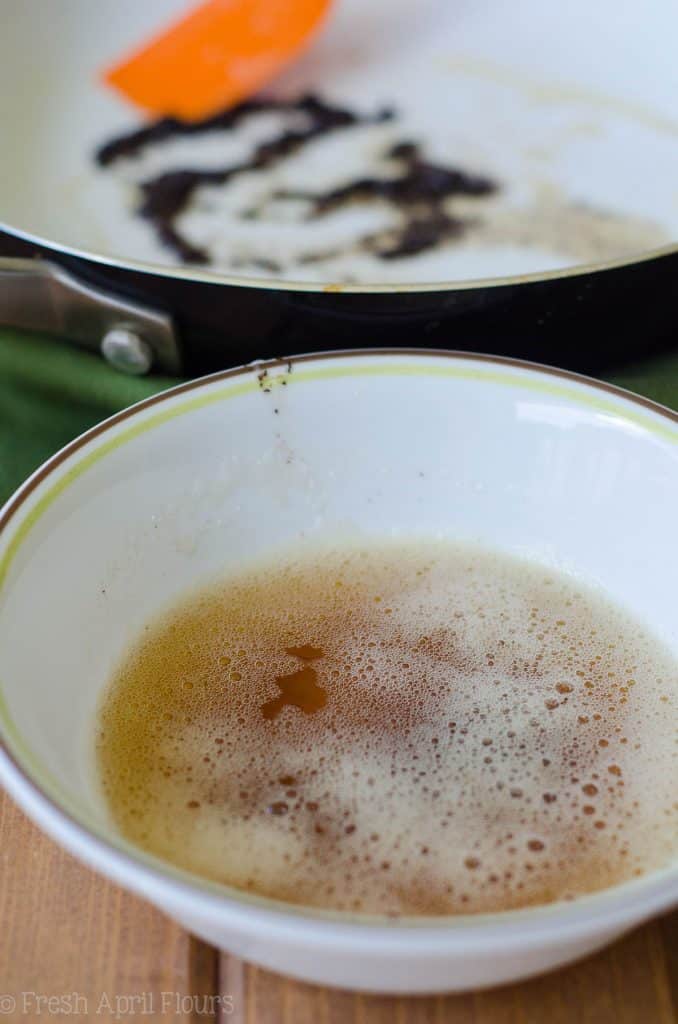 You'll let your butter cool a bit before using it, but when it's ready, the rest of this cake is easy as pie. No mixer required, just 2 bowls (one for the dry team, another for the dry team), and your batter is ready in no time.
In addition to using pumpkin purée, you'll be using a blend of cinnamon, ginger, nutmeg, and, my favorite spice to add to pumpkin/gingerbread foods: black pepper. Trust me on this one!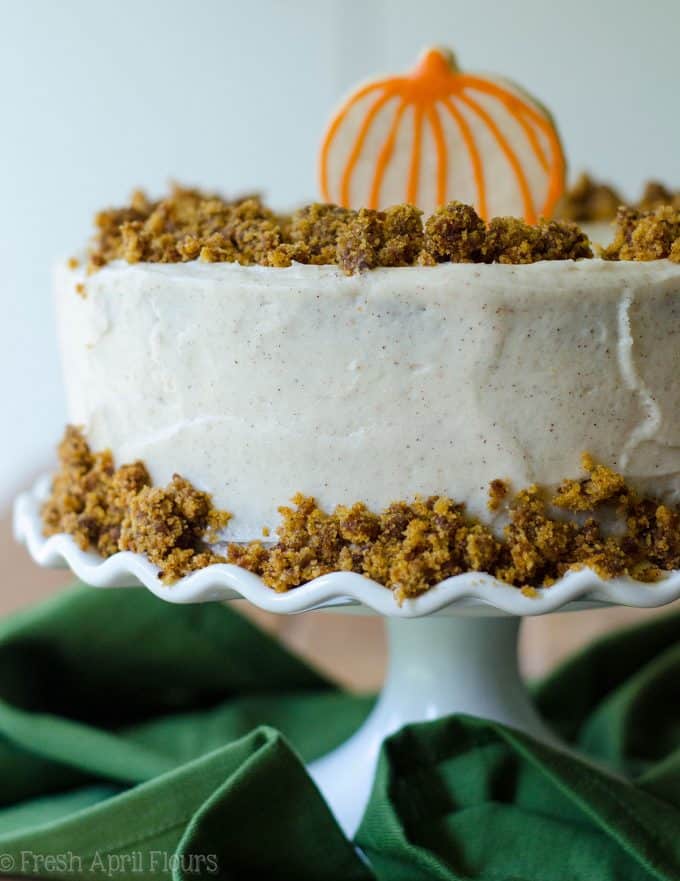 Just be forewarned: your kitchen/house will smell absolutely amazing while this cake bakes. Not only do we have a brilliant combo of pumpkin and spices going on, we've got that brown butter just baking away and adding nutty, caramely notes to the aromas floating around the atmosphere.
It is a truly fall experience, guys. You're going to love it.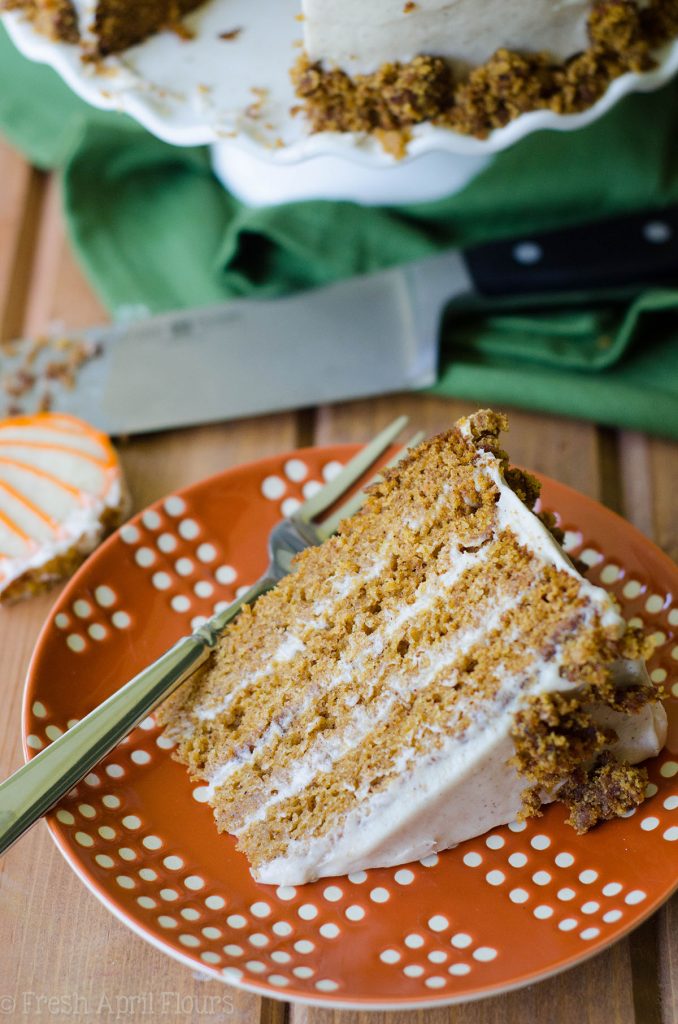 Now, remember last week when we made red velvet cupcakes with cream cheese frosting? And I said we needed to lay a foundation for basics to get September's and October's Cakes of The Month?
Here we are for September– a slightly upgraded cream cheese frosting adorns this brown butter pumpkin cake to take it to the next fall level.
A little pure maple syrup and cinnamon turn classic cream cheese frosting into little jazzy number and the most ideal complement to the pumpkin cake under it. The way these two things marry together will blow your pumpkin loving mind.
I took this cake to work this week and it was the talk of the town. I even had someone tell me it was the best pumpkin cake she had ever had. Say whaaaaaat? I mean, I can agree with that, but I think I'm a bit biased, yeah?
Sounds like you'll just have to try it yourself and be your own judge.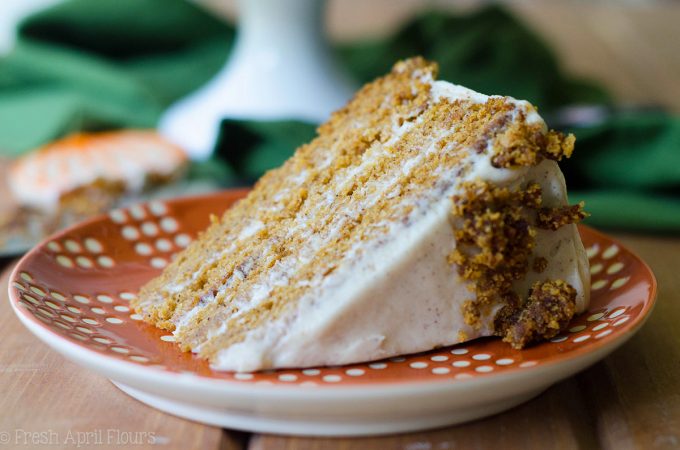 Moist, flavorful pumpkin cake graced with the unique essence of brown butter, only made better by a creamy, dreamy, fall flavor-infused cream cheese frosting is just what your September needs.
Bring on the pumpkin, folks. We are nowhere near done with this trend!
Brown Butter Pumpkin Cake
A moist, spiced cake made with real pumpkin and smothered in a creamy, fall flavor-infused cream cheese frosting.
Ingredients
BROWN BUTTER PUMPKIN CAKE
1/2

cup

(1 stick) unsalted butter

cut into 8 slices

2 and 1/4

cups

all-purpose flour

be sure to measure properly

2

teaspoons

baking soda

2

teaspoons

ground cinnamon

1

teaspoon

ground ginger

1/2

teaspoon

ground nutmeg

1

teaspoon

salt

1/8

teaspoon

black pepper

1 and 1/2

cups

pumpkin purée

1 and 1/2

cups

granulated sugar

2/3

cup

firmly packed light brown sugar

2

large eggs

room temperature1

1/3

cup

buttermilk2
MAPLE CINNAMON CREAM CHEESE FROSTING
8

ounces

full fat block cream cheese

softened to room temperature

1/2

cup

(1 stick) unsalted butter

softened to room temperature

3 and 1/2

cups

powdered sugar

1 scant

Tablespoon

pure maple syrup

3/4

teaspoon

ground cinnamon

pinch

of salt
Instructions
BROWN BUTTER PUMPKIN CAKE
Preheat the oven to 350ºF. Grease and flour (or use homemade cake release) two 8-inch round cake pans. Set aside.

In a heavy-bottomed large saucepan, melt the butter over medium heat. Stir frequently with a spatula or swirl the pan to cook the butter evenly. It will turn lemon yellow, then golden brown, then deep amber. The milk proteins will separate out and start to brown faster than the butter. This is ok. When the butter is deep amber and smells nutty, remove from heat and pour into a small bowl, trying your best to leave the cooked milk proteins in the pan. Allow the butter to cool about 15 minutes.

In a medium bowl, whisk together the flour, baking soda, cinnamon, ginger, nutmeg, salt, and black pepper. Set aside.

In a large bowl, whisk together the browned butter, pumpkin purée, granulated sugar, brown sugar, eggs, and buttermilk until smooth. Gently stir in the flour mixture until everything is just combined. Pour the batter evenly into the prepared pans.

Bake the cakes 35-27 minutes or until a toothpick inserted in the center comes out clean. Allow the cakes to cool completely in the pans on a wire rack before removing and assembling.
MAPLE CINNAMON CREAM CHEESE FROSTING
In a large bowl with a handheld or the bowl of a stand mixer fitted with a paddle attachment, beat the cream cheese and butter together on high speed until smooth and creamy. With the mixer on low, add the powdered sugar, maple syrup, cinnamon, and salt.

Increase mixer speed to medium-high and beat for 2 minutes.
ASSEMBLE THE CAKE
Trim cooled cake layers to create a flat surface. You can do this with a large serrated knife or a

cake leveler

. Place one layer on a plate or cake stand and cover the top with the cream cheese frosting. Spread evenly with an

offset spatula

.

Place second layer on top, cut surface down. For a sturdier cake, refrigerate at this point for about 10 minutes. When cake is slightly chilled, remove from refrigerator and spread more frosting on the top and around the sides. Serve. Leftovers stay fresh, covered tightly, at room temperature up to 5 days and in the refrigerator up to 1 week.

Make ahead: prepare cakes and frosting up to 1 day in advance. Cover cakes tightly and keep at room temperature or in the refrigerator until ready to assemble. Refrigerate prepared frosting in an airtight container until ready to use. Unfrosted cake layers may be frozen, wrapped tightly, up to 2 months. Thaw overnight in the refrigerator before assembling. Frosted cake can be frozen, wrapped tightly, up to 2 months. Thaw overnight in the refrigerator and bring to room temperature before serving.
Notes
It is important to use room temperature eggs when working with room temperature butter as it incorporates into batter much more evenly.
If you don't have buttermilk, you can make your own: see my post about homemade buttermilk.
Adapted from Fine Cooking
Nutrition Disclosure
All nutritional values are approximate and provided to the reader as a courtesy. Changing ingredients and/or quantities will alter the estimated nutritional calculations.
Grab my pumpkin bundt cake for your next pumpkin cake adventure!