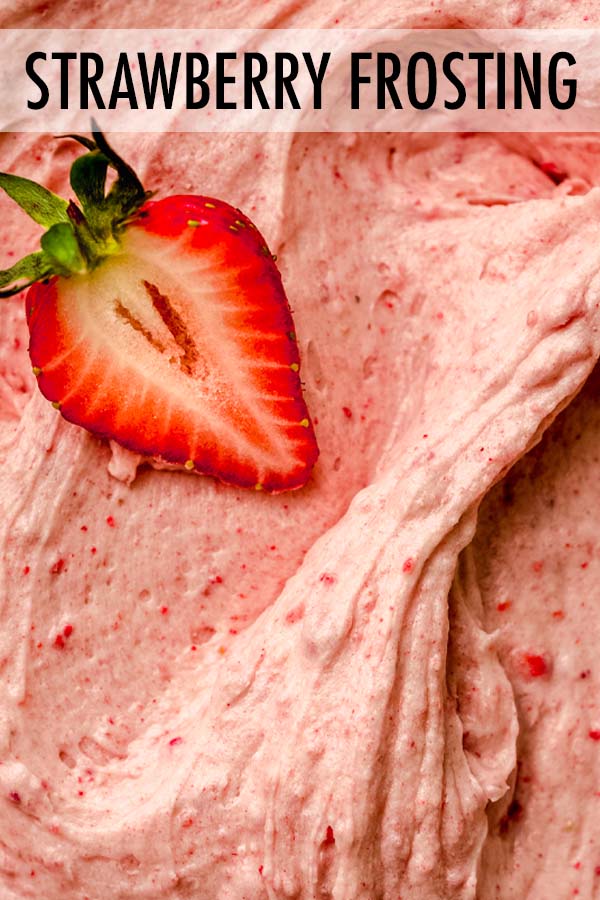 As an Amazon Associate, I earn from qualifying purchases. Read the full disclosure here.
Say goodbye to artificially flavored strawberry frosting forever with my perfect strawberry buttercream frosting recipe. The secret to naturally flavored and naturally colored strawberry buttercream frosting is in freeze-dried strawberries. This strawberry buttercream is creamy, smooth, and loaded with real strawberry flavor without the added moisture from fresh strawberries or strawberry purée.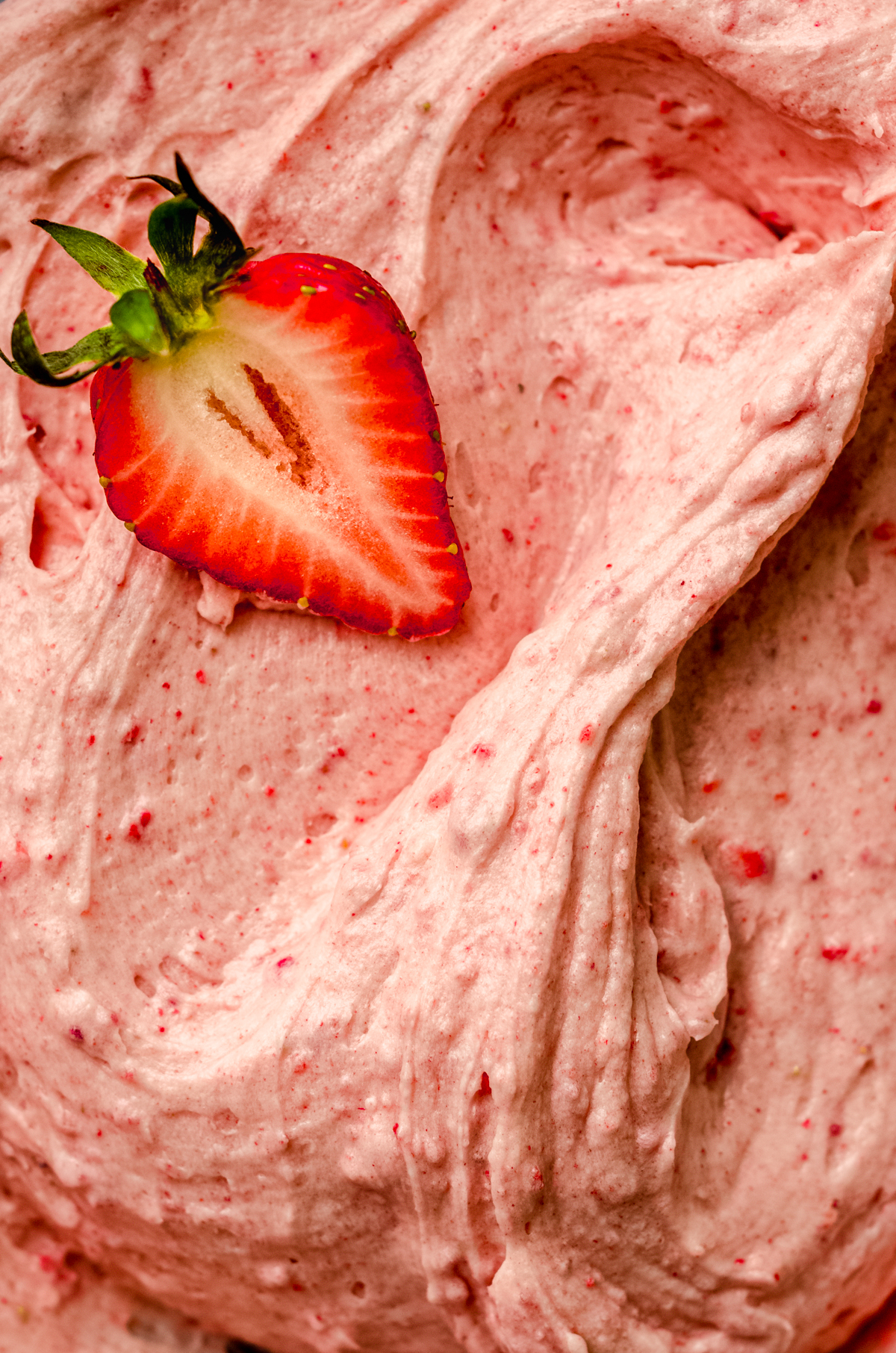 THE PROBLEM WITH MOST HOMEMADE STRAWBERRY FROSTING RECIPES
I love strawberries. When perfectly ripe, they are absolutely bursting with flavor. Their color is downright gorgeous. And the way they can also find a way to get into some savory foods is pretty impressive.
But here's the issue: real strawberries are full of moisture, which can be a problem when you're adding them to desserts, which typically aren't successful if there's excess water.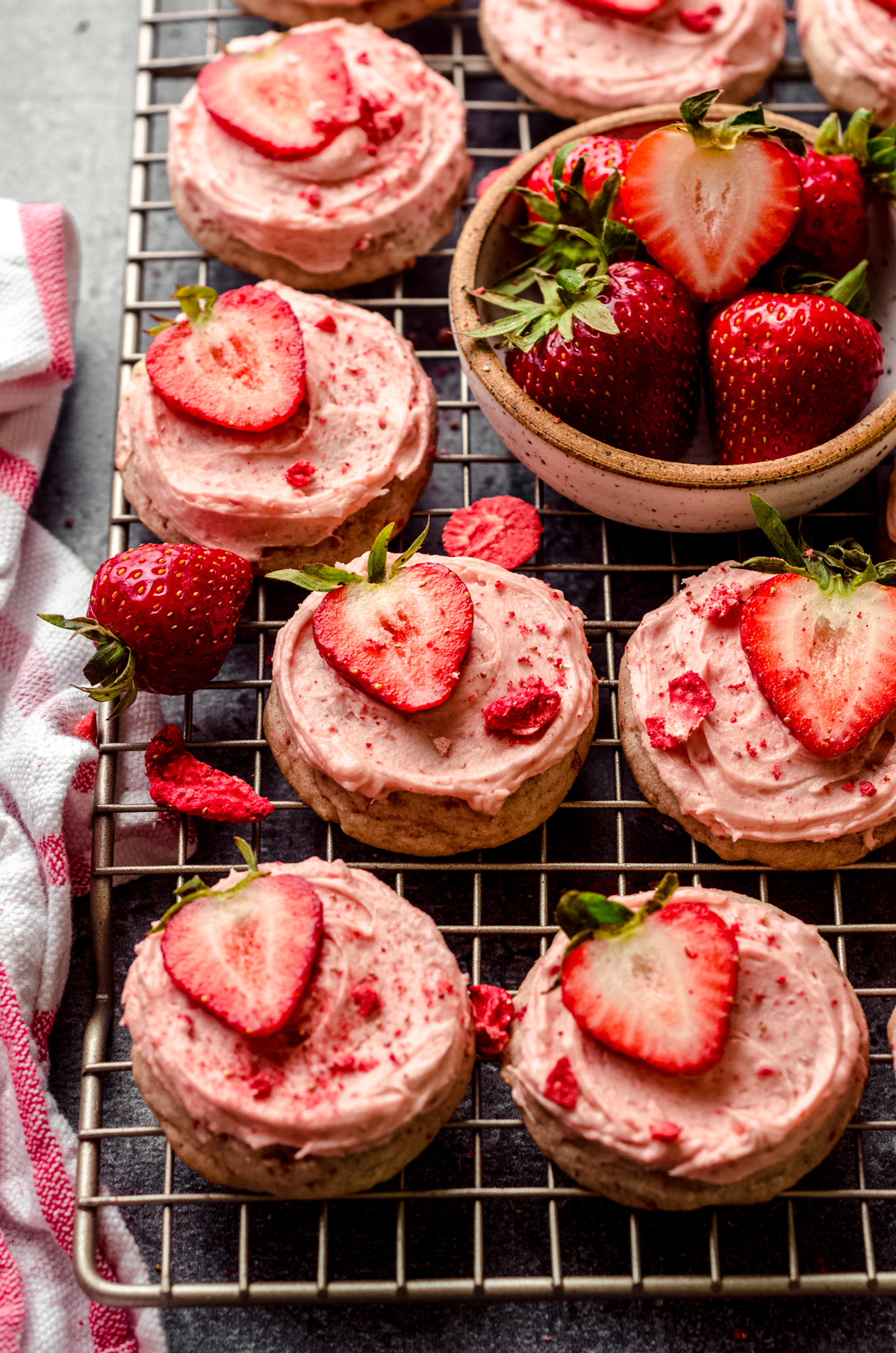 So many strawberry frosting recipes turn to the crutch of strawberry gelatin, strawberry extract, reduced strawberry purée, strawberry jam, or strawberry jelly to bring the fresh strawberry flavor.
The issues that arise with these methods are either a completely artificial strawberry flavor or a frosting that is a goopy mess because in order to have vibrant, detectable strawberry flavor, you need too much of a wet ingredient to get the job done.
THE SOLUTION TO A WET STRAWBERRY MESS
The best way to pack real honest-to-goodness intense strawberry flavor in the intensity needed to truly call a frosting a strawberry frosting lies in freeze-dried strawberries.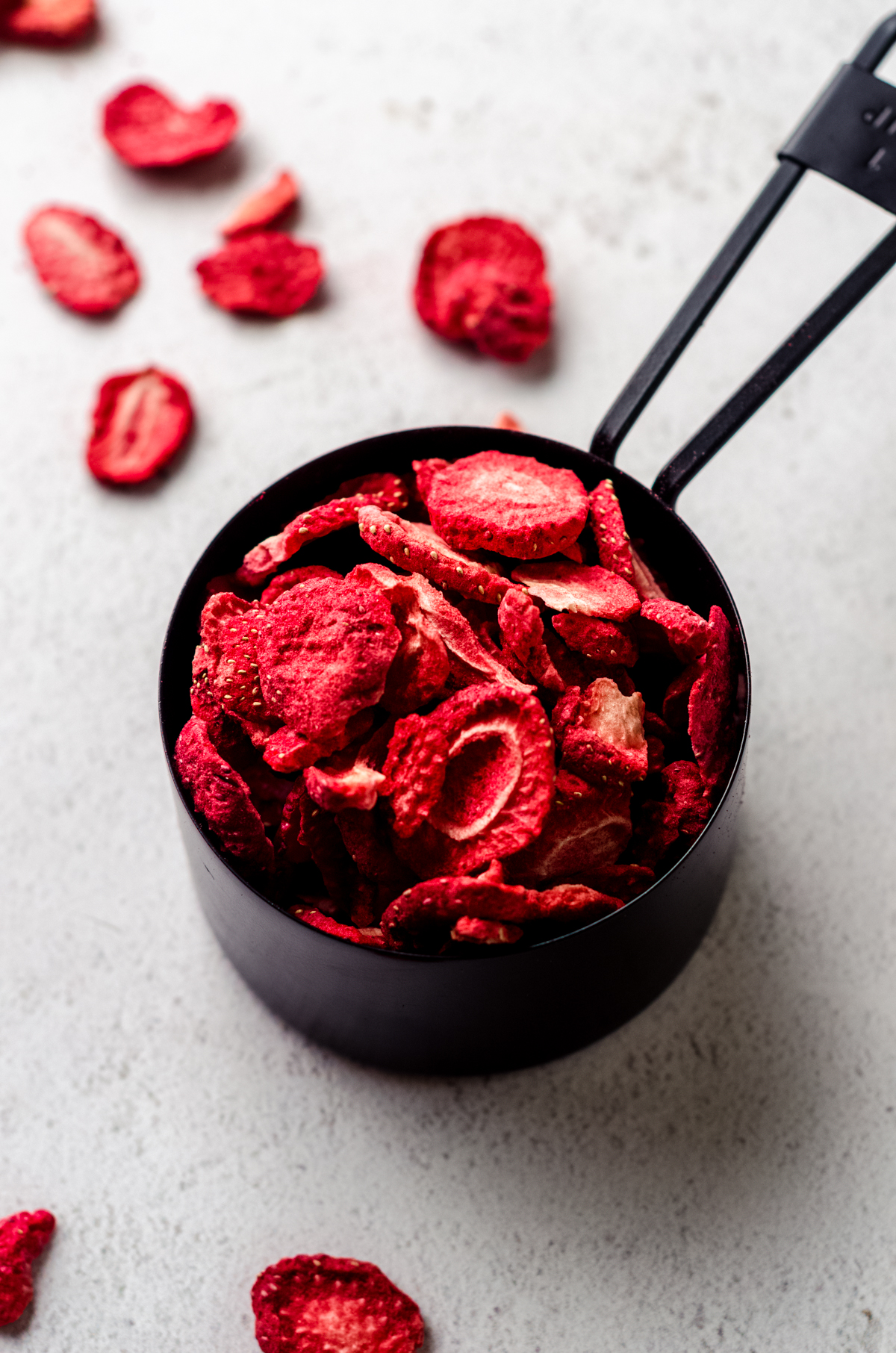 This was the solution in my strawberry cookies and it's the solution for the best strawberry buttercream recipe, and I know that you're going to love the end result.
THIS IS MY FAVORITE TRADITIONAL BUTTERCREAM BASE RECIPE
As a recipe creator whose recipe collection is primarily made up of desserts, I have spent a lot of time perfecting my buttercream recipes.
In fact, I love my traditional vanilla buttercream base recipe so much that I actually dedicated an entire cookbook to American buttercream recipes, and it is one of my favorite resources for all of my very best tricks for making perfect buttercream frosting for any occasion.
WHY YOU'LL LOVE THIS EASY STRAWBERRY BUTTERCREAM RECIPE
And here's the thing… That vanilla buttercream base is a truly fabulous recipe all on its own, and it also lends itself so nicely to accommodate other flavors.
Which is where my tried and true strawberry buttercream recipe comes into play.
This recipe has lived on my site since 2017 when it made its debut on my homemade strawberry cake. The cake itself is downright delicious, but the smooth and creamy strawberry frosting that's slathered over every crumb is truly the cherry (strawberry?) on top.
Since its debut on that strawberry cake, it has also made an appearance on my frosted strawberry cookies, and it is, without a doubt, the only way I will make strawberry buttercream.
If you've relied on other ways of getting strawberry flavor into buttercream that have worked for you, that's perfectly fine. But I urge you to whip up a batch of this strawberry frosting and see if you don't like it better (I think you will).
It's the closest thing to fresh strawberry frosting that you can get with almost fresh strawberries.
---
STRAWBERRY BUTTERCREAM FROSTING INGREDIENTS
Basic buttercream ingredients rarely differ when you compare different recipes. When you might notice, however, is that the ratios differ. For this strawberry frosting recipe, we're using the tried-and-true base for my vanilla frosting and simply adding in freeze-dried strawberry powder.
Since we're adding a tiny bit more dry ingredients to the recipe, we'll offset that by making sure the liquid we add gets us to the consistency we desire.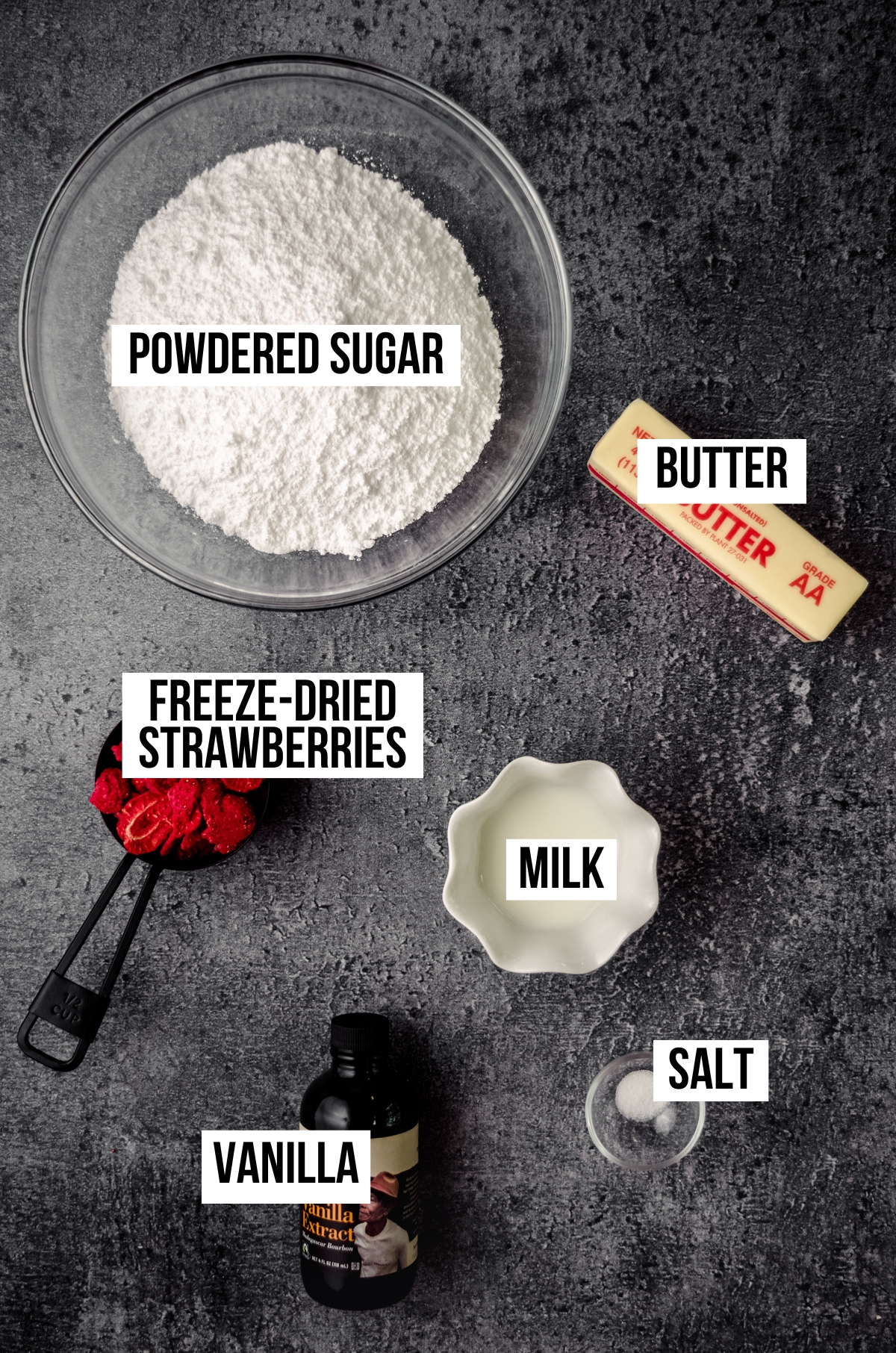 For this strawberry buttercream recipe, you will need:
• freeze-dried strawberries
• unsalted butter
• powdered sugar
• milk or cream
• vanilla extract
• salt
HOW TO MAKE STRAWBERRY BUTTERCREAM FROSTING
The process for making American buttercream is very simple. It can be ready to use in about 10-15 minutes if your butter is at room temperature and ready to go.
STEP #1
Start by making your strawberry powder. Using a blender or food processor, process the freeze-dried strawberries into a chunky powder (you'll have some fine powder and some smaller chunks).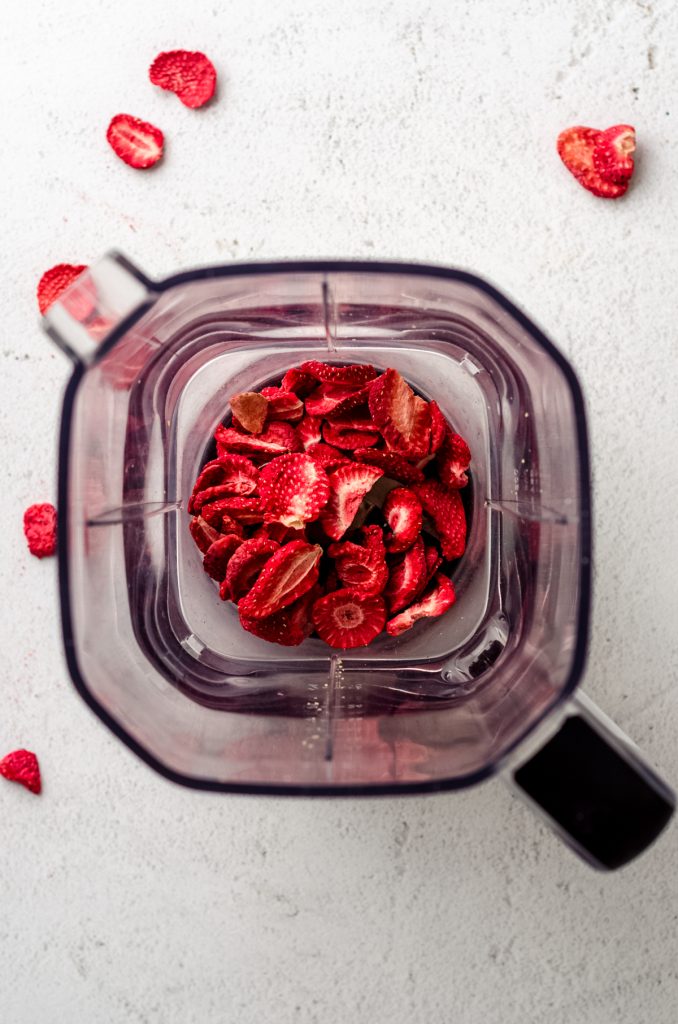 STEP #2
Next, beat the the softened butter on medium-high until smooth, about 2 minutes. You can use a handheld mixer or a stand mixer to make this buttercream.
STEP #3
With the mixer on low, add in the powdered sugar, vanilla, milk or cream, and salt. Blend until smooth.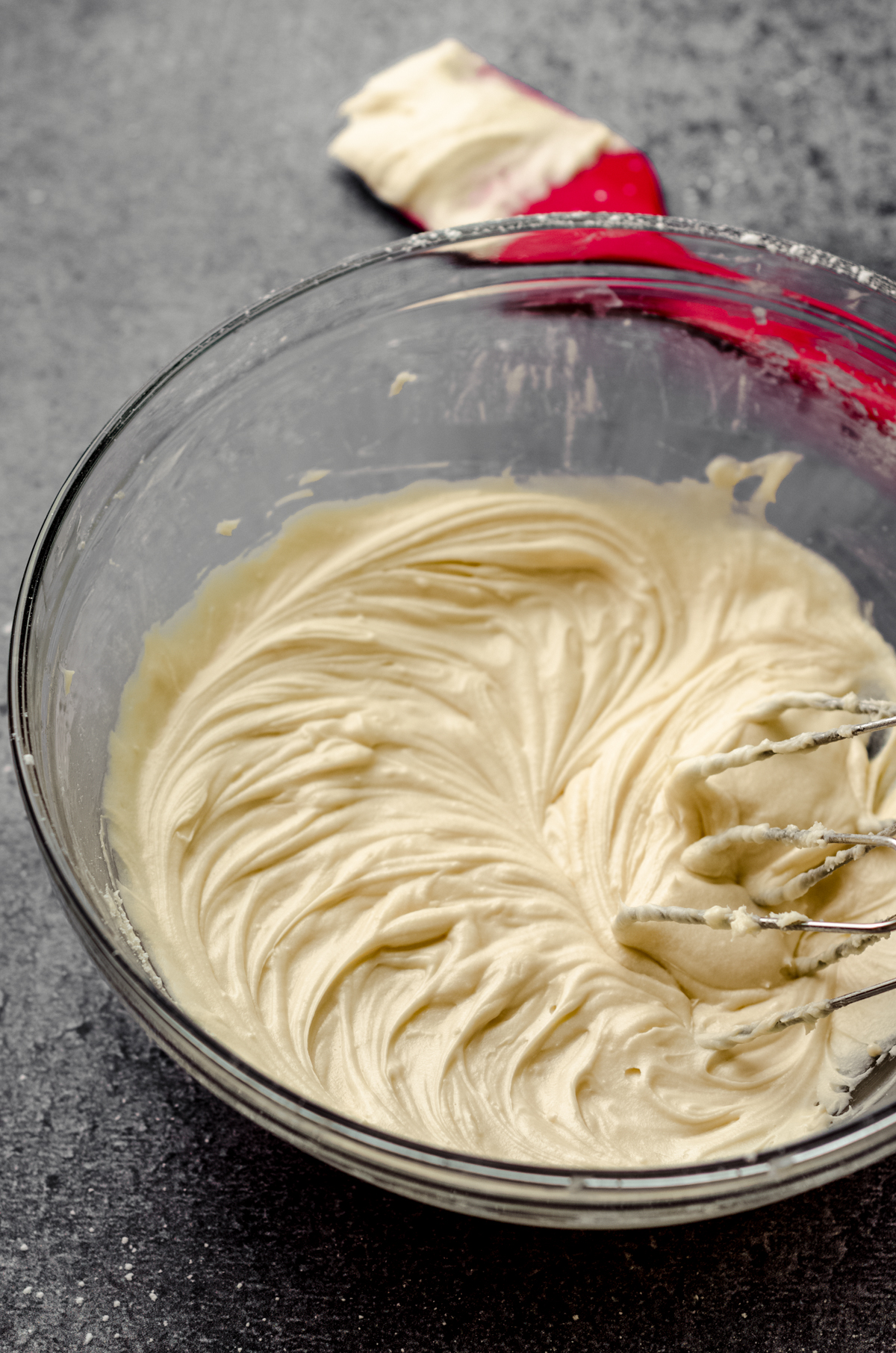 STEP #4
Lastly, add the strawberry powder, increase mixer speed to medium and beat until completely smooth, about 3 minutes.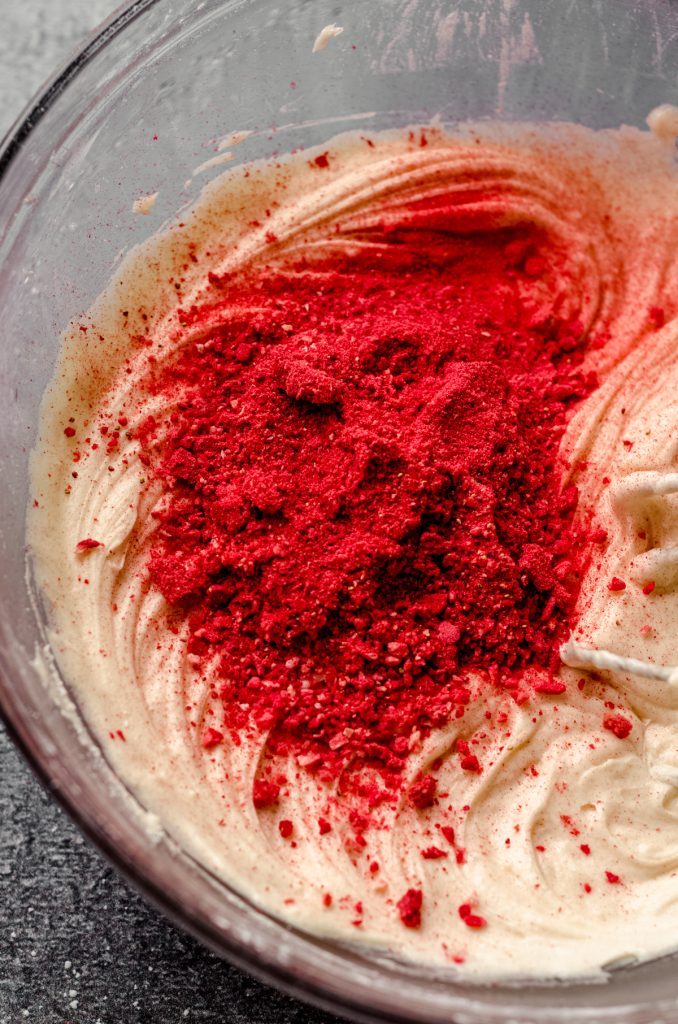 STEP #6
Adjust for the consistency that you desire. For a smoother buttercream, add more liquid. For a stiffer buttercream, add more powdered sugar.
HOW TO REMOVE AIR BUBBLES IN STRAWBERRY BUTTERCREAM
​Air bubbles can really ruin the look of your buttercream. In fact, it's something I notice in so many beautiful photos of desserts– those pesky little air bubbles create pockets of air that create holes in your final product. But guess what? It doesn't have to be that way!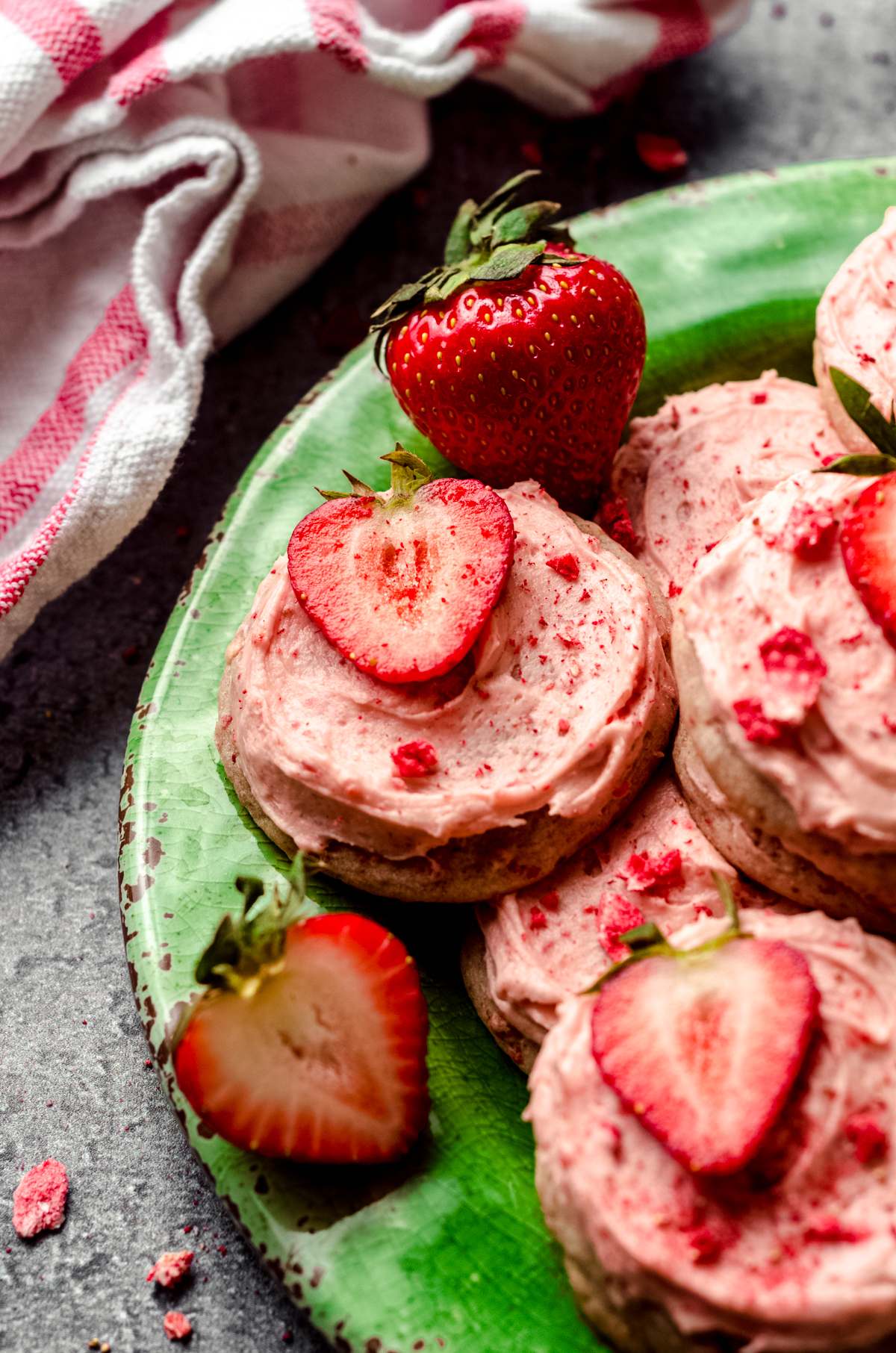 Pressing out the air bubbles will make your buttercream nice and smooth. In order to do this, you'll want to remove the bowl from your stand mixer or put your hand mixer away. All you need is a spatula!
Simply stir the buttercream gently while pressing it up against the sides of the bowl. I find that my strawberry buttercream doesn't typically gather as many holes as my other American buttercream recipes do, possibly because of the strawberry seeds that help break up the air pockets naturally.
But this is a good tip to keep in your back pocket in case you do see lots of bubbles or you're ever making a different frosting that's full of air pockets.
HOW TO USE STRAWBERRY BUTTERCREAM FROSTING
This buttercream recipe is perfect with so many cake, cupcake, cookie, or brownie recipes out there. As written, this recipe will top 24 cupcakes or frost a 2-layer cake (I always suggest scaling it up a bit if you want more for piping!).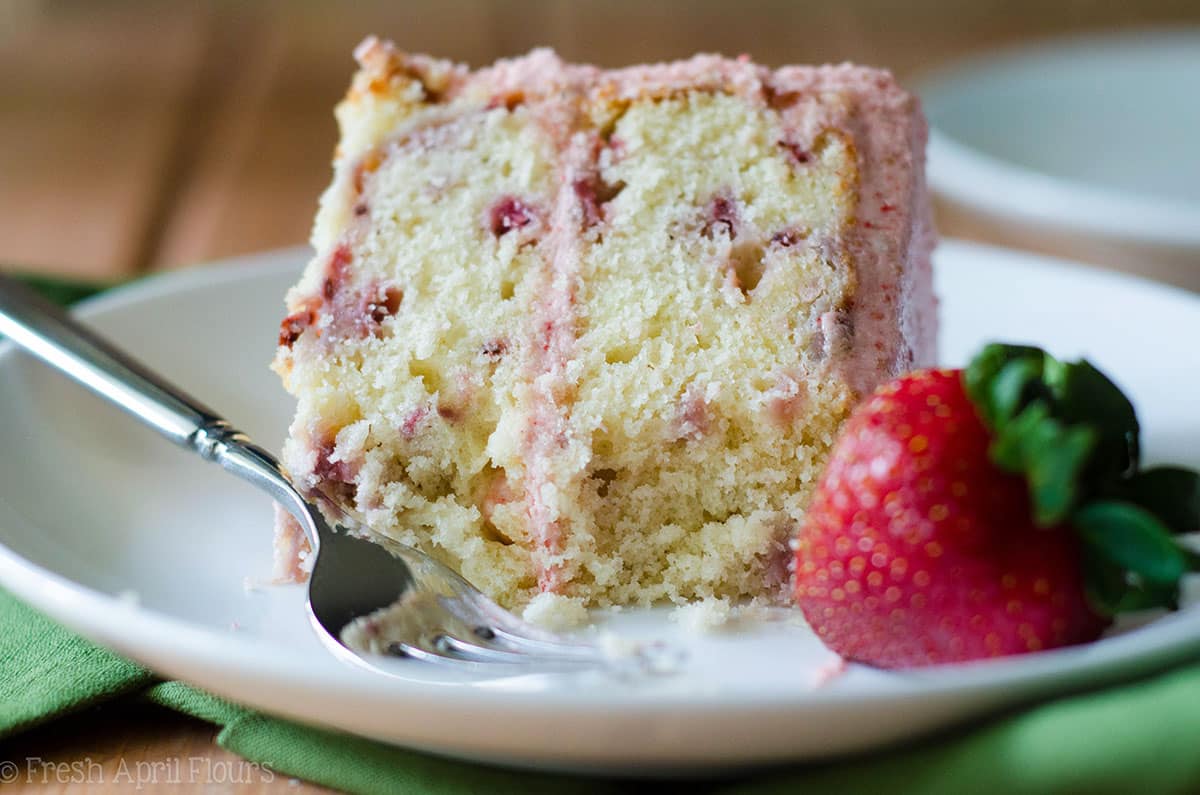 If you would like to frost a pan of 8″ brownies, a 9″ x 13″ sheet cake, or 24 sugar cookies, halve the recipe.
HOW TO DECORATE WITH STRAWBERRY BUTTERCREAM FROSTING
What you will love about this perfect strawberry buttercream frosting is that it holds its shape so nicely. You can use it to pipe small, intricate lines or make more elaborate borders on cakes like I do with my basic chocolate cake recipe.
SUCCESS TIPS FOR THIS STRAWBERRY BUTTERCREAM RECIPE
TIP #1
Make sure you are using room temperature ingredients. If your butter is too warm, your strawberry icing will be too loose and fall apart. It will also turn out greasy and unappealing. Absolutely do not use melted butter.
TIP #2
Do not leave out the salt. It may deter you, but I promise, even a pinch of salt will make a huge difference in the sweetness of your buttercream. I prefer ¼ teaspoon for every 1 cup of butter and 4 cups of powdered sugar. Adjust your final result to your preferences.
TIP #3
Do not use the whisk attachment to make buttercream. You will incorporate too much air and your buttercream will be craggy and hard to work with.
TIP #4
Use good quality pure vanilla extract, not imitation. In fact, if you're feeling really fun, you can use vanilla bean paste to really amp up the vanilla flavor and throw some vanilla flecks into your frosting.
STRAWBERRY BUTTERCREAM FROSTING FAQs
MORE FAVORITES FROM FRESH APRIL FLOURS TO PAIR WITH STRAWBERRY BUTTERCREAM
Strawberry Buttercream Frosting Recipe
This strawberry buttercream is creamy, smooth, and loaded with real strawberry flavor and color thanks to freeze-dried strawberries.
Ingredients
1

cup

(20g) freeze-dried strawberries1

1

cup

(227g) unsalted butter softened to room temperature2

4 to 5

cups

(480-600g) powdered sugar

¼ to ⅓

cup

(60-80mL) milk or cream

2

teaspoons

vanilla extract

¼

teaspoon

salt
Instructions
Using a blender or food processor, process the freeze-dried strawberries into a fine powder. Set aside.

In a large bowl with a handheld mixer, or a stand mixer fitted with the paddle attachment, beat the butter on medium speed until creamy, about 2 minutes.

With the mixer on low, add in the powdered sugar, vanilla, milk or cream, and salt. Blend on medium speed until smooth.

Add the strawberry powder, mix again on medium speed, and beat until completely smooth, about 3 minutes. If frosting is too stiff, add more milk. If it is too thin, add more powdered sugar.
Notes
Freeze-dried strawberries: freeze-dried strawberries are typically found in the dried fruit section of your grocery store. If you can't find them there, check the aisle with bulk candy, if your grocery store has one.
Room temperature butter: it's important your butter be at room temperature and no warmer. See my post about room temperature ingredients for further explanation.
Nutrition Disclosure
All nutritional values are approximate and provided to the reader as a courtesy. Changing ingredients and/or quantities will alter the estimated nutritional calculations.
Serving:
1
cup
|
Calories:
1492
kcal
|
Carbohydrates:
231
g
|
Protein:
1
g
|
Fat:
62
g
|
Saturated Fat:
39
g
|
Polyunsaturated Fat:
2
g
|
Monounsaturated Fat:
16
g
|
Trans Fat:
2
g
|
Cholesterol:
165
mg
|
Sodium:
19
mg
|
Potassium:
1107
mg
|
Fiber:
9
g
|
Sugar:
211
g
|
Vitamin A:
1924
IU
|
Vitamin C:
964
mg
|
Calcium:
62
mg
|
Iron:
17
mg