As an Amazon Associate, I earn from qualifying purchases. Read the full disclosure here.
Whole wheat muffins made with shredded zucchini and pureéd pumpkin, sweetened with mashed bananas, applesauce, and minimal sugar. Suitable for toddlers, children, kids, big kids, and adults!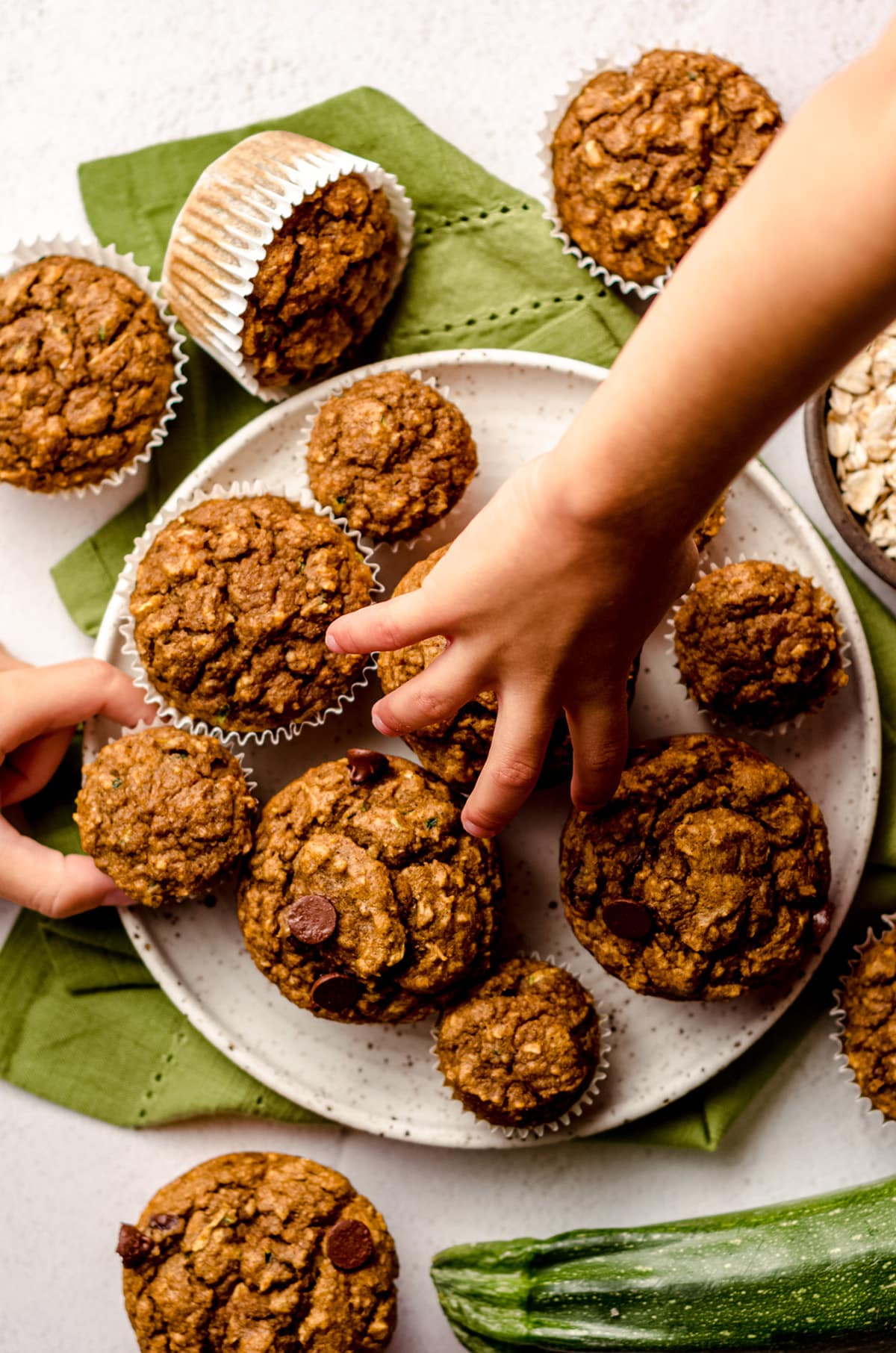 When I was pregnant for the first time, I worried about a lot. I worried about labor and pushing, and while it hurt like a mother, it all worked out well and everyone was healthy at the end. I worried about breastfeeding, and although we struggled at the beginning, we nursed for a long time (11 months and 4 days, thankyouverymuch!).
I worried about sleeping, and then, after 6 weeks, we had a unicorn sleeper and he never looked back. I also worried a lot about teething, and what do you know, that first kiddo is now working on his first two loose teeth and teething was kind of NBD for us, for both kids.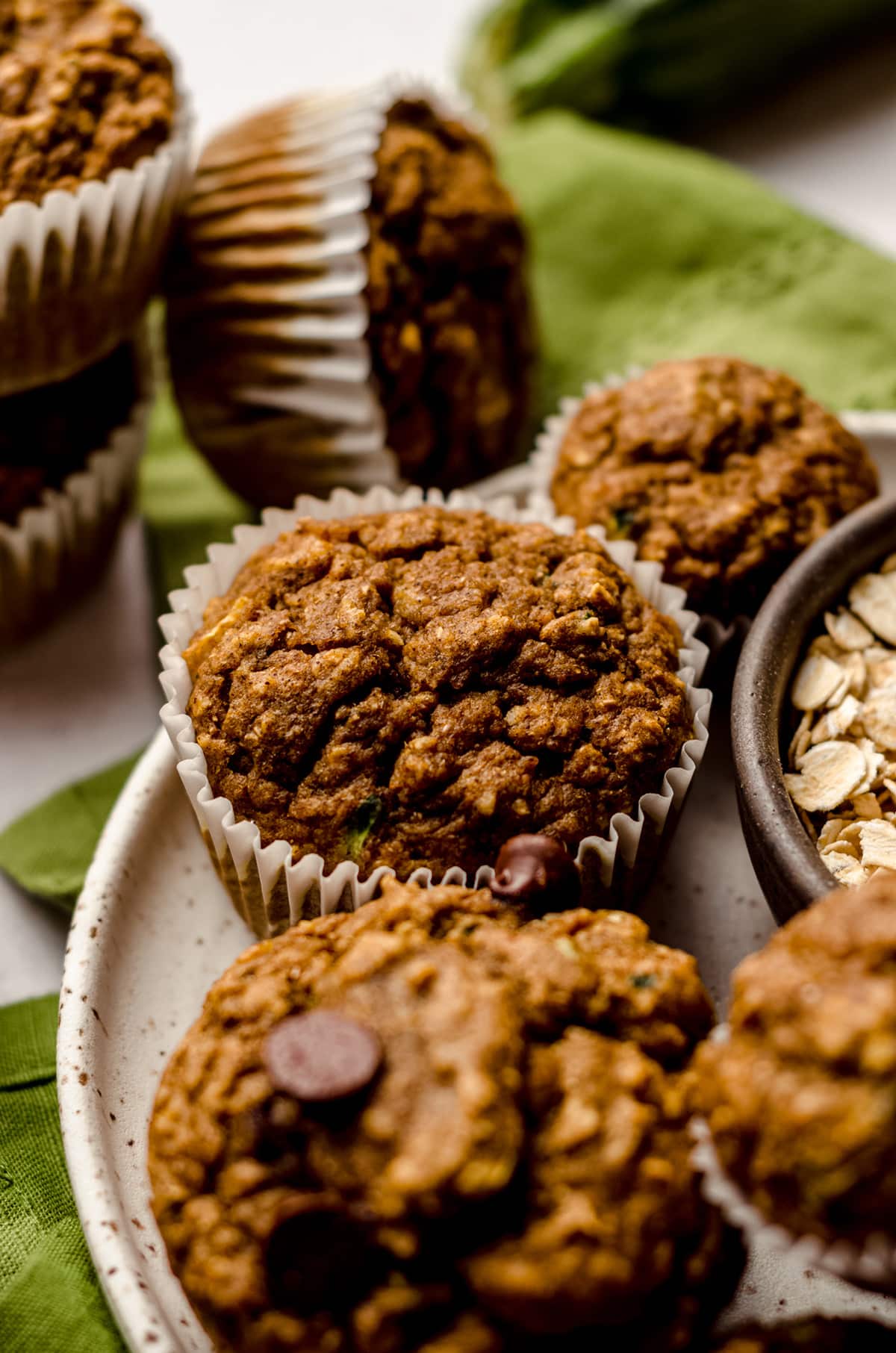 One thing I didn't worry about at all was eating. I thought "this kid is a human, humans eat, and so yes, he will eat."
And then, once that human got a taste of real food, he also, surprise surprise, formed tastes and opinions and eventually, a way to express those opinions. Ahh, yes. Even just on the cusp of toddlerhood, we started to see glimmers of tantrums and reactions that clearly said "I don't want to eat this."
I mean, I knew toddlers were opinionated and I knew that they could sometimes be picky eaters, but holy wow. Holy. Wow.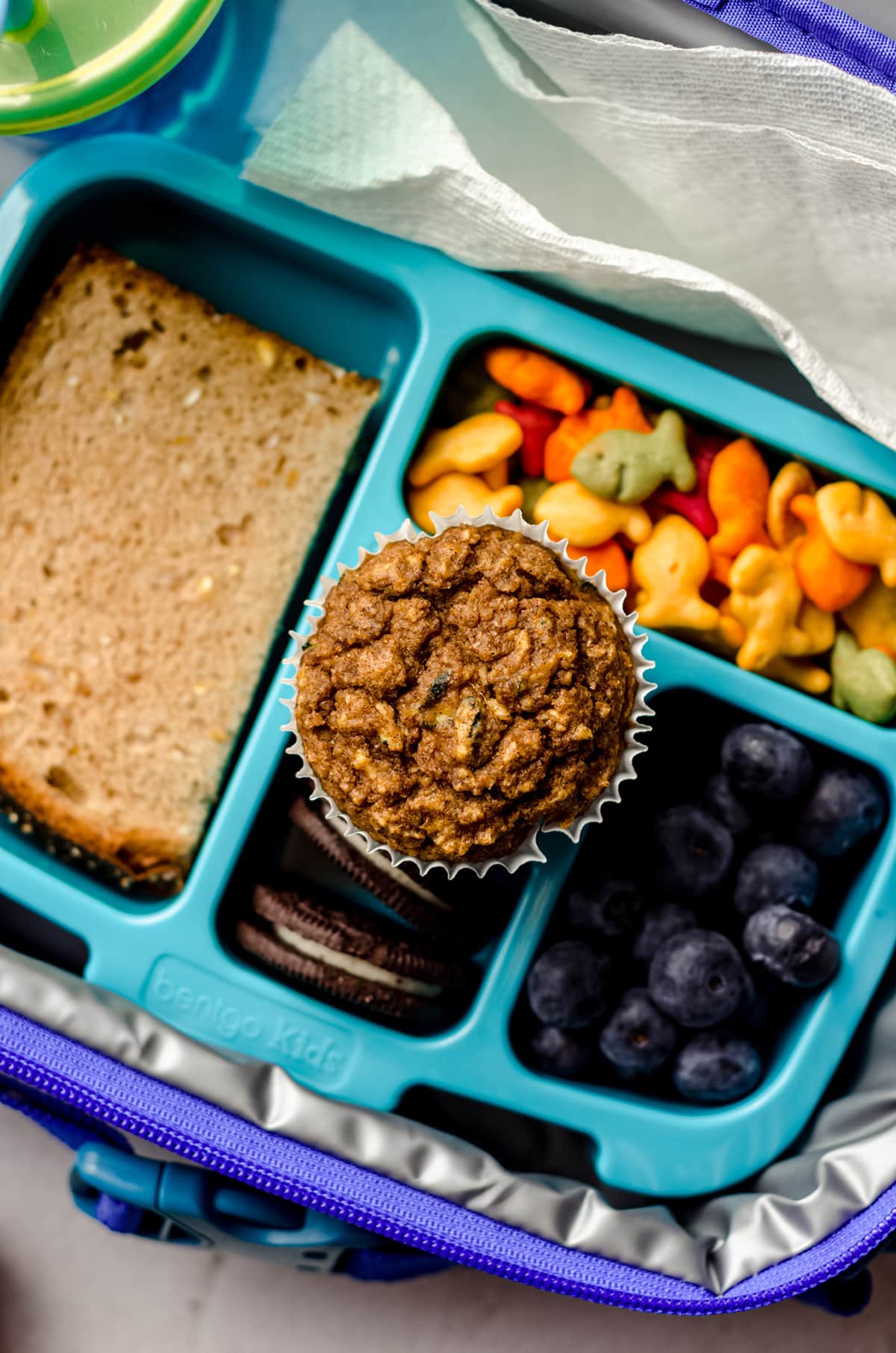 In all honesty, I don't think I would call either of our kids "picky eaters." But if I have learned anything in the last 5+ years of parenting, it's that mixtures/combinations/kill-as-many-birds-with-one-stone-as-you-can is the way to go for a kid with a smallish stomach, a short attention span, and major opinions.
And if it has peanut butter or almond butter on it? Whatever it is, our kids will probably eat it.
Enter: yummy toddler food aka toddler muffins.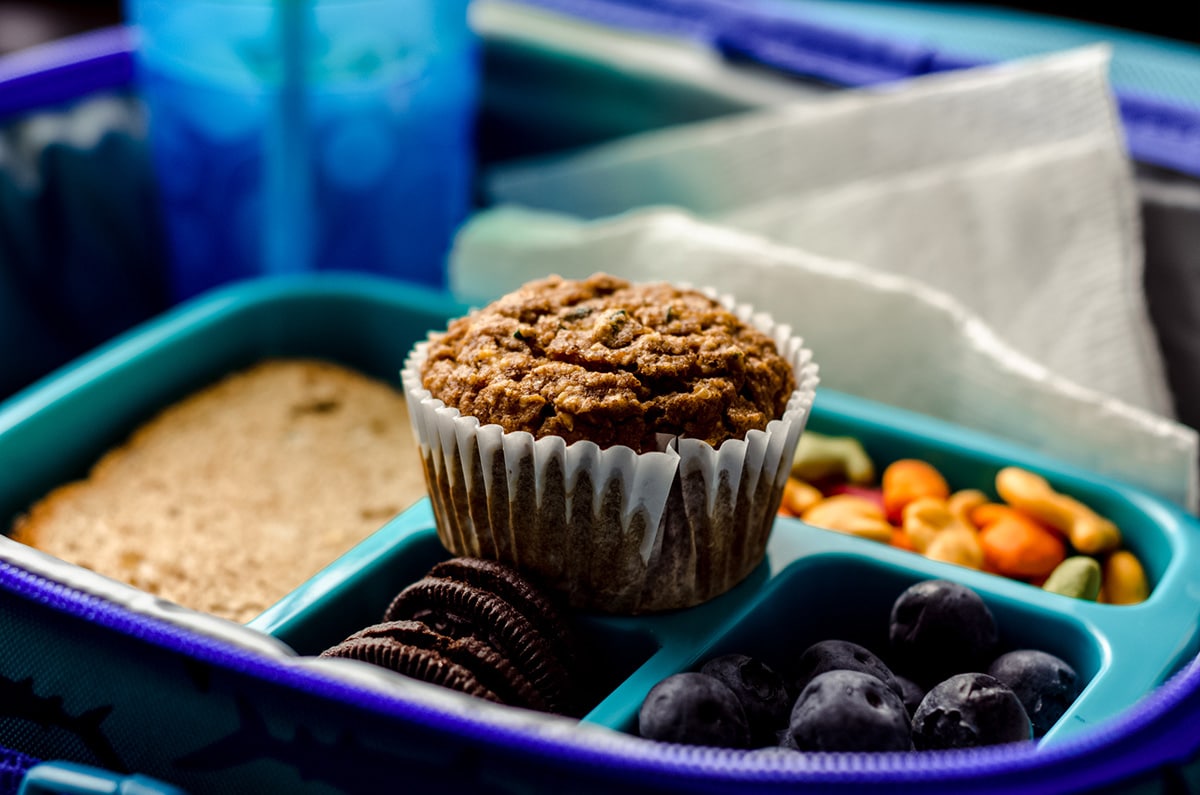 When I asked my fellow mom friends for recipe ideas that were kid (and parent) friendly, I was met with this phrase that I had never heard before. Toddler muffins? WTF are those?
WHAT ARE TODDLER MUFFINS?
Contrary to what their name suggests, these are not just for toddlers. In fact, whenever we make them, they are loved by all humans in our house, in both the adult and child categories.
Toddler muffins pretty much consist of fruit, veggies, low sugar, and fiber. They're simply referred to as "toddler muffins" because they hit that multi-fecta in that they are jam packed with nutrients, are low in sugar, and typically have some nutrient dense ingredients.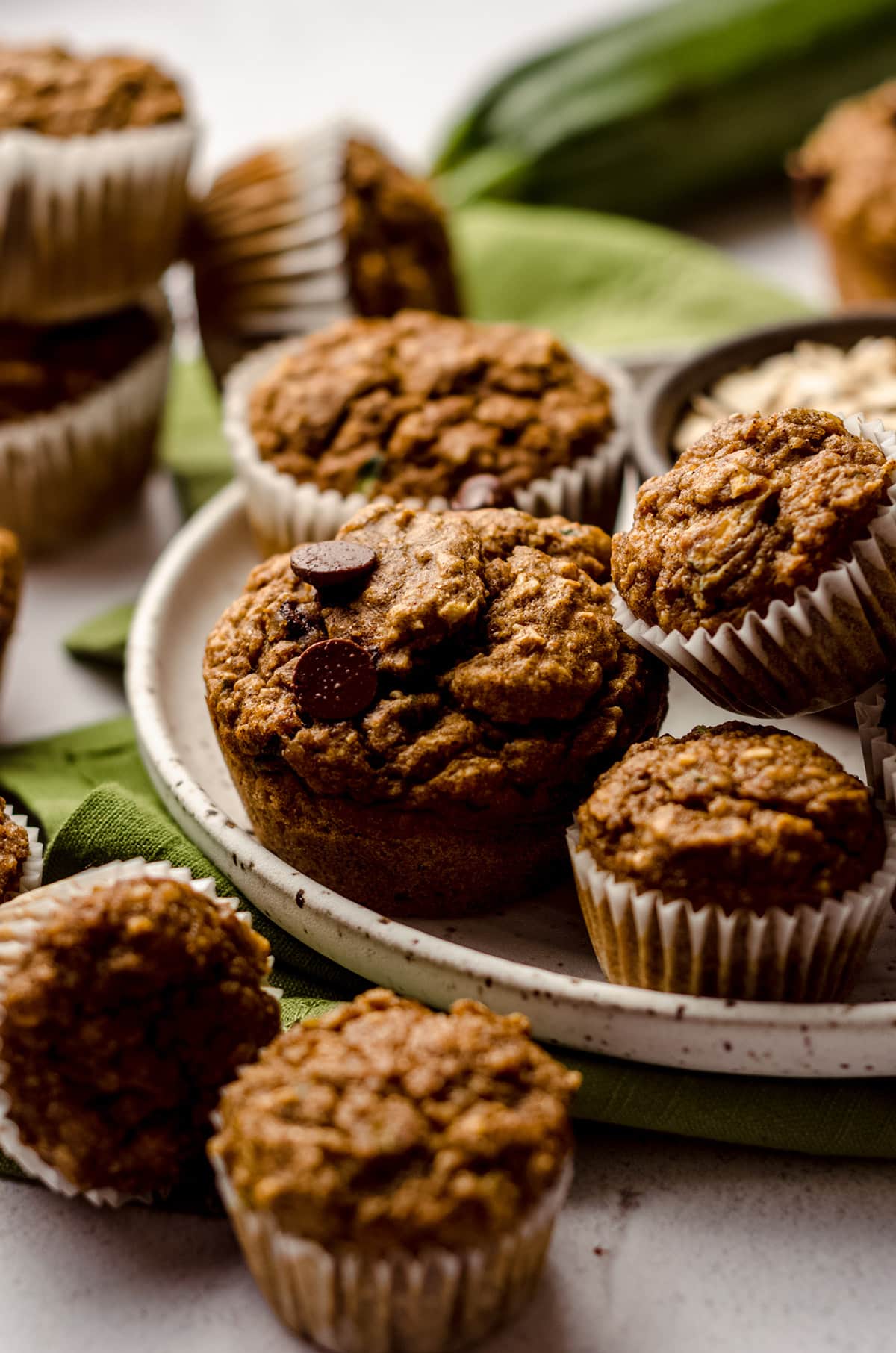 Can everyone benefit from these things? Absolutely. But toddlers, in their often opinionated tastebuds, will usually eat something like a muffin without question, especially if it doesn't scream "I have veggies in me!"
HOW TO MAKE TODDLER MUFFINS
When I first wrote this toddler muffin recipe, I wanted them to have veggies, but I didn't want them to taste like carrots (which I saw was a common purée among toddler muffins). I went with pumpkin purée since I was quite familiar with using it in muffins, and it has a fairly subdued taste.
Since I had my orange veggie taken care of (yes, I know it's technically a fruit, but in the case of feeding a child, it's a vegetable!), I chose zucchini as the green veggie (and I grabbed some tips from my chocolate chip zucchini bread recipe).
I took some other cues from my skinny strawberry chocolate chip muffins in how to use applesauce, and mashed bananas from my banana crumb snack cake and classic banana bread to round out all of the fruit and veggie components.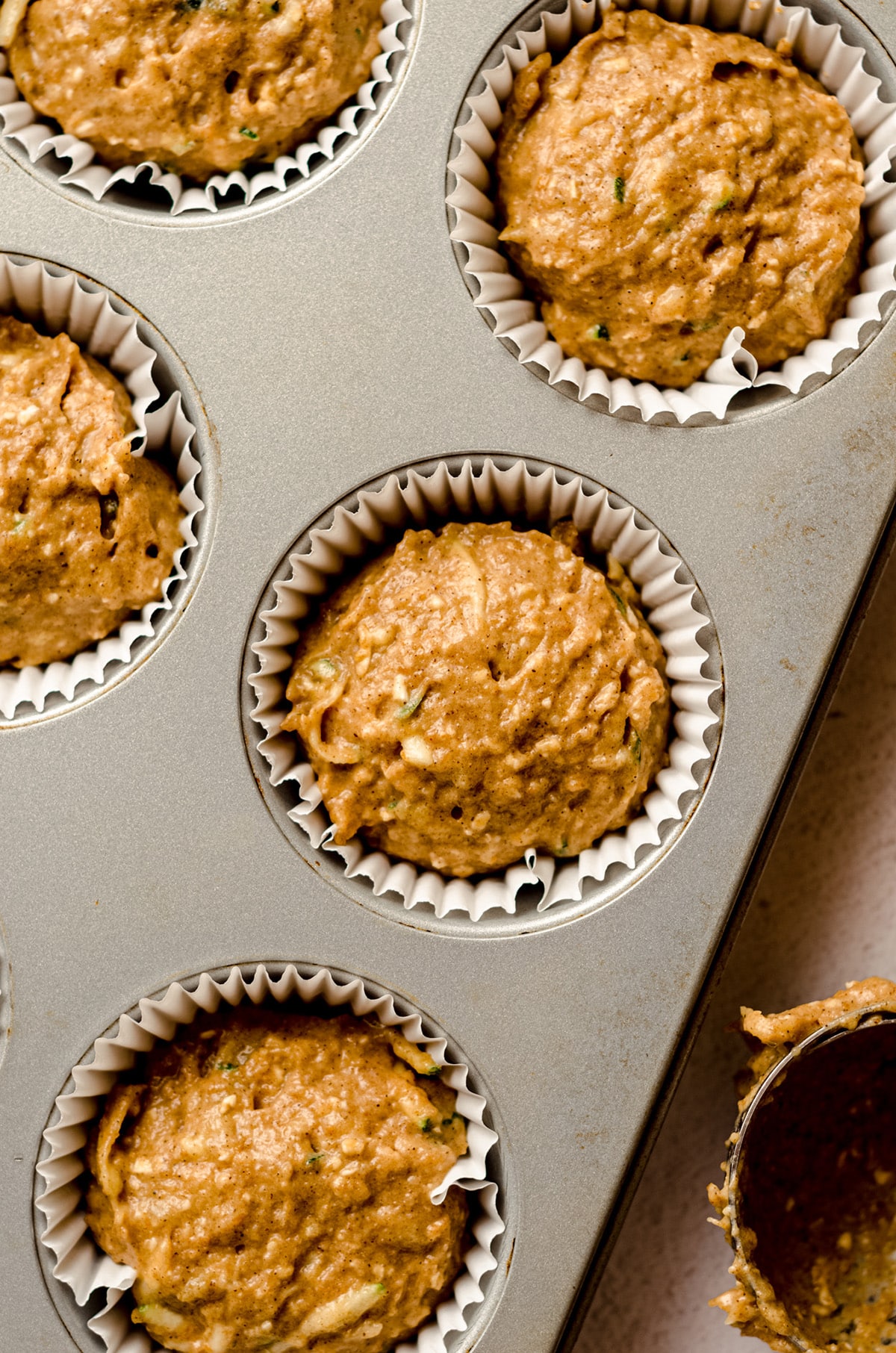 As far as the dry base for these toddler muffins, I chose whole wheat flour to add some nutritional value to them. I also went with some oats to give the muffins some extra oomph, calories, and texture.
I used butter as the fat, but you're welcome to use coconut oil if you prefer.
But, keep in mind, there is only ¼ cup of butter in 24 muffins, so if you're worried about too much fat, please know that overall, that's not that much butter per muffin.
AND, only ¼ cup of brown sugar in the whole batch. That's it. The bananas take care of most of the natural sweetness. Thanks, 'naners!
Ok, ok, so I have chocolate chips in the recipe list. But they're totally optional. I typically make 12 muffins without them and then add ½ cup of chips to the other half of the batter so we have both floating around our kitchen. Honestly, we love both. All four of us!
While some might worry that these muffins are too dense, they are absolutely not. They are surprisingly fluffy while also packing a hearty texture, flavor, and nutritional punch. Our boys typically eat 1 or 2 per sitting, and the typical verdict? "Yum"s all around (I told you it was yummy toddler food).
And when they're done with them, this is usually what they bring me.
Oh, and remember that "they will eat anything with peanut/almond butter on it" thing? They devour them even faster slathered in the good stuff. Which is a great tip!
Does your kid love cream cheese? Almond butter? Sunflower butter? Jam/jelly? Goat cheese? Slather it on there and make it even better.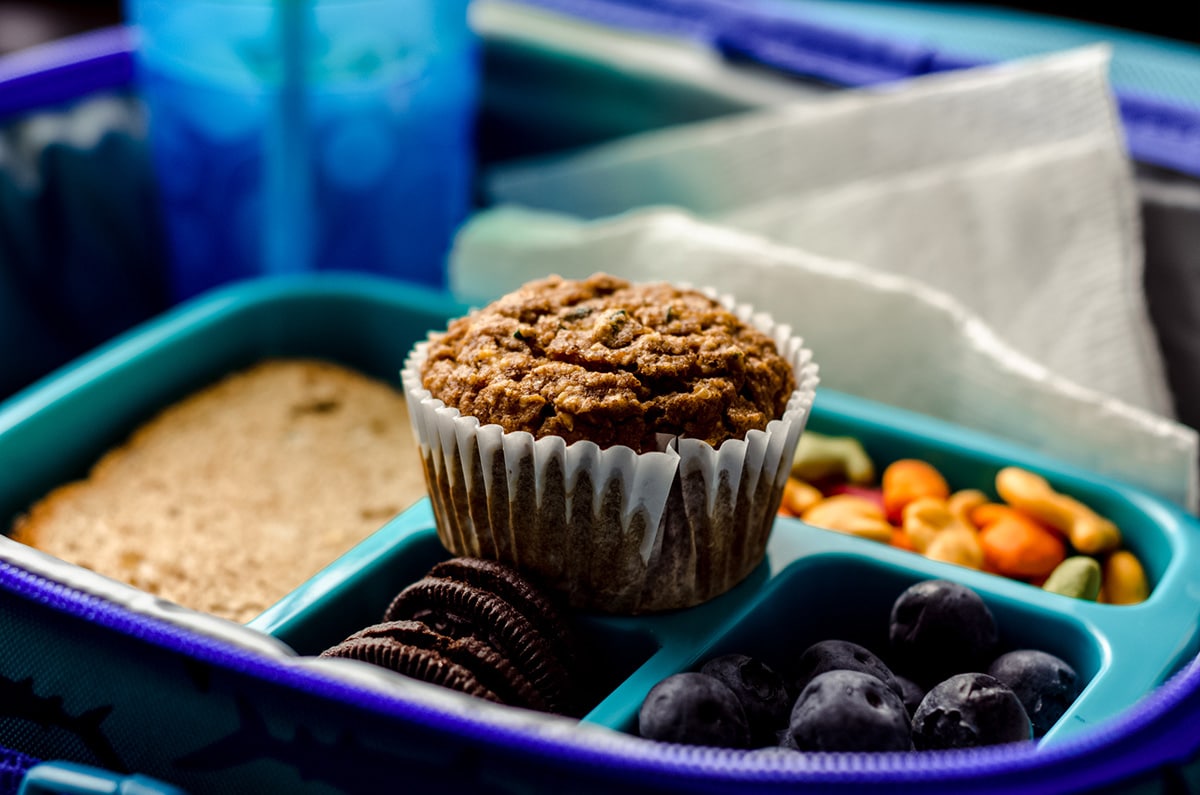 Honestly, we love these just as much as the kids do. I like to eat one for breakfast with my coffee, and since these muffins freeze/thaw well, so they're great for making ahead and having on hand when you need one last minute.
Fruits, veggies, protein, and fiber. All of the things your on-the-move kid or big kid needs to fill their belly in a healthy way. I can't promise they're magic, but they sure do put a lot into a toddler even if they just get a few nibbles between laps around the play room!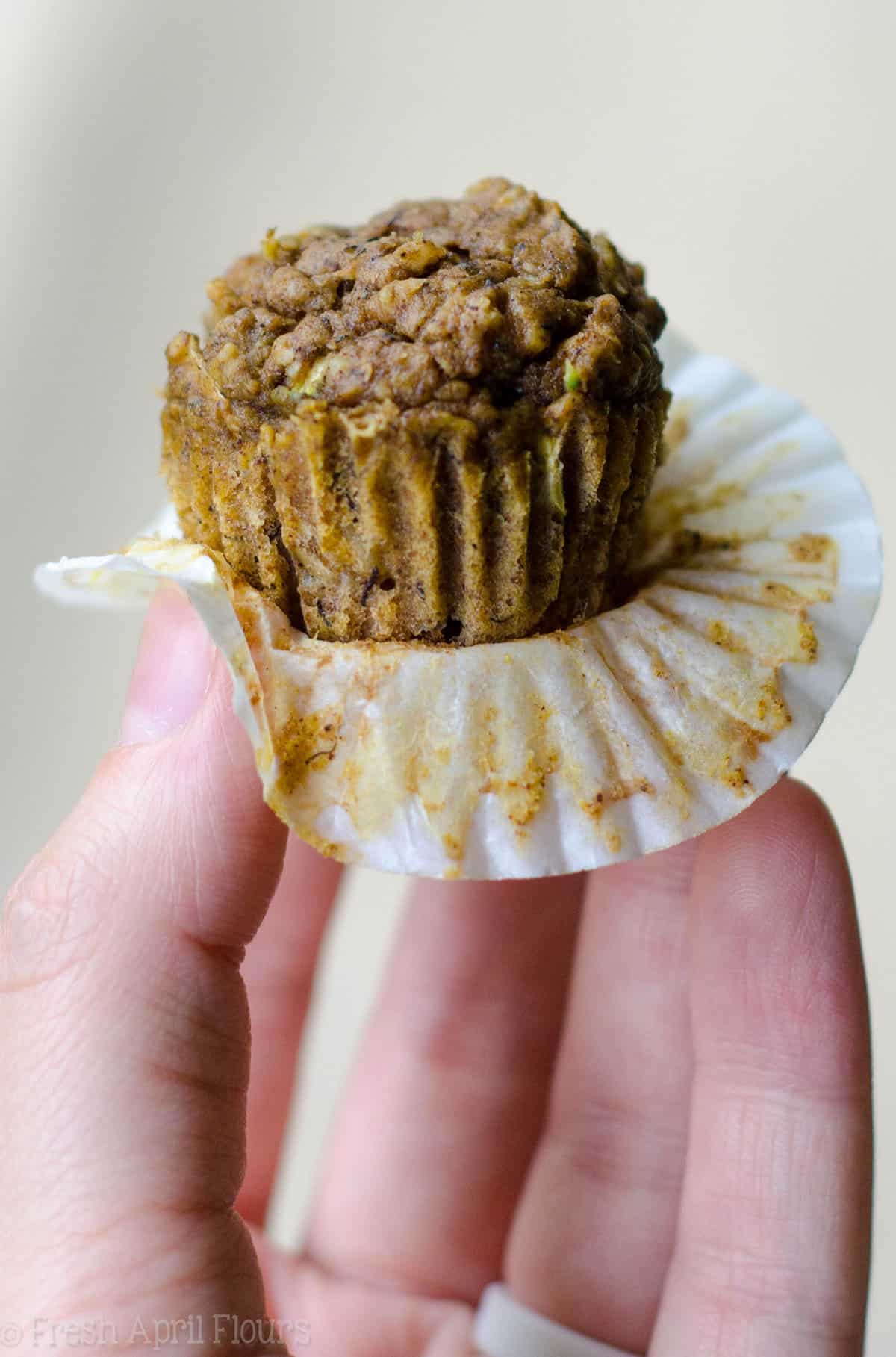 Pssst… There are also directions for mini muffins, if you or your kiddo prefer bite size treats!
More lunch box snacks from some of my friends!
Toddler Muffins
Whole wheat muffins made with shredded zucchini and pureéd pumpkin, sweetened with mashed bananas, applesauce, and minimal sugar. Suitable for toddlers, children, kids, big kids, and adults!
Servings:
2
dozen muffins
Ingredients
2

cups

(240g) whole wheat flour1 be sure to measure properly

1

cup

(80g) quick oats2

3

teaspoons

ground cinnamon

2

teaspoons

baking soda

1

teaspoon

salt

¼

cup

(57g) unsalted butter

melted and allowed to cool

¼

cup

(50g) firmly packed light brown sugar

3

large eggs

1

cup

(244g) pumpkin purée

⅓

cup

(82g) plain yogurt

any fat content is fine

⅓

cup (82g)

unsweetened applesauce

3

large ripe bananas

mashed

1 and ½

cups

shredded zucchini

approximately 1 medium zucchini

1

cup

(170g) semi-sweet chocolate chips optional3
Instructions
Preheat the oven to 375ºF (191ºC). Line the wells of two 12-count muffin pans with cupcake liners4, or spray with nonstick spray. Set aside.

In a large bowl, whisk together the flour, oats, cinnamon, baking soda, and salt. Set aside.

In a medium size bowl, whisk together the butter, brown sugar, eggs, pumpkin, yogurt, applesauce, and bananas. Pour the wet ingredients into the dry ingredients and stir gently until just combined. Fold in the shredded zucchini and chocolate chips (if using) until everything is incorporated.

Spoon the batter into the wells, filling them about ⅔ of the way full. Bake muffins for 14-16 minutes or until a toothpick inserted into the middle comes out clean. Store muffins in an airtight container at room temperature up to 2 or 3 days. Since the muffins are so moist, we like to keep them in the refrigerator, where they will last about a week. Muffins can be frozen, up to 3 months. Thaw in refrigerator or in the microwave as needed.
Notes
Whole wheat flour: you can use all-purpose flour or a mixture of all-purpose and whole wheat.
Quick oats: do not use old-fashioned oats in this recipe. If you don't have quick oats, pulse 1 cup of old-fashioned oats in a food processor a few times until it is a fine texture.
Chocolate chips: I like to fill 12 muffin wells and then add

½

cup of chocolate chips to the other half of the batter.
Liners: these work better not in liners (as in just in the naked wells), so if you want to use liners, spray the liners with non-stick spray.
To make mini muffins: this recipe will also make about 3 and

½

dozen mini muffins. If you'd like to use chocolate chips, I suggest using mini chocolate chips and reducing the amount to

¾

cup. Bake mini muffins about 9-10 minutes.
Nutrition Disclosure
All nutritional values are approximate and provided to the reader as a courtesy. Changing ingredients and/or quantities will alter the estimated nutritional calculations.