Chocolate Chip Zucchini Bread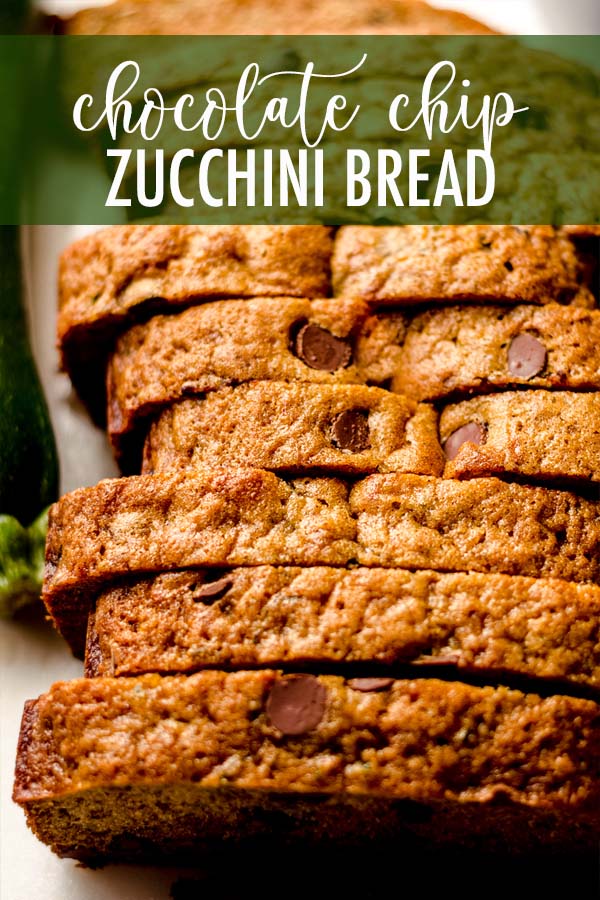 As an Amazon Associate, I earn from qualifying purchases. Read the full disclosure here.
Perfectly spiced, perfectly sweetened, and a great way to use up your summer zucchini (or frozen zucchini any time of the year)! Recipe makes one loaf or 12 muffins.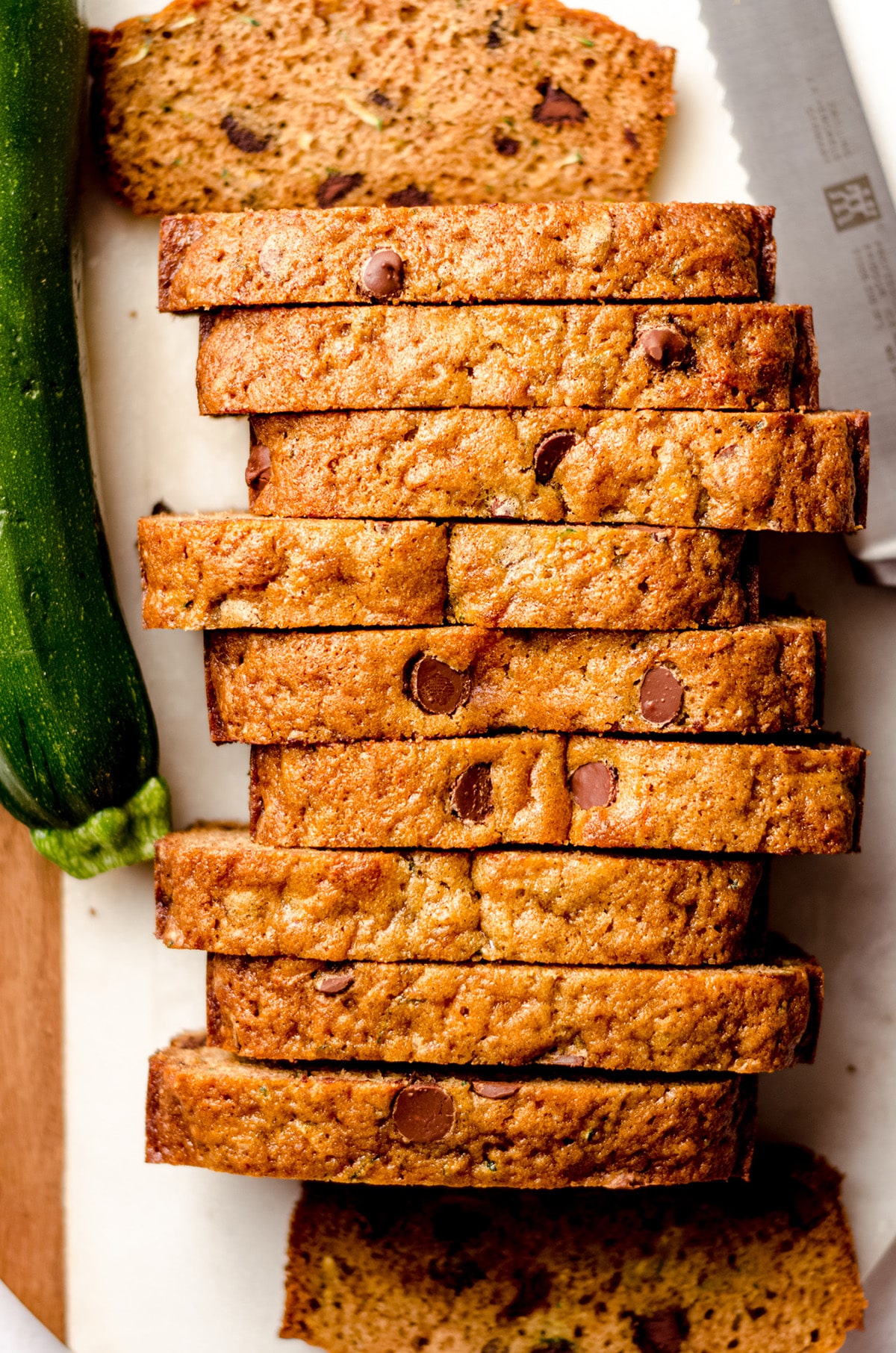 Are you home gardeners absolutely swimming in zucchini right now? It's that time of year that I remember there always being at least a half a dozen zucchini (and other various vegetables) sitting on the counter in the lunch room at work just begging for someone to take them home because the grower can't possibly find any more uses for his or her abundance of homegrown produce.
What a wonderful problem to have!!
This has never been a problem we have because we don't actually have a garden. Not yet, anyway!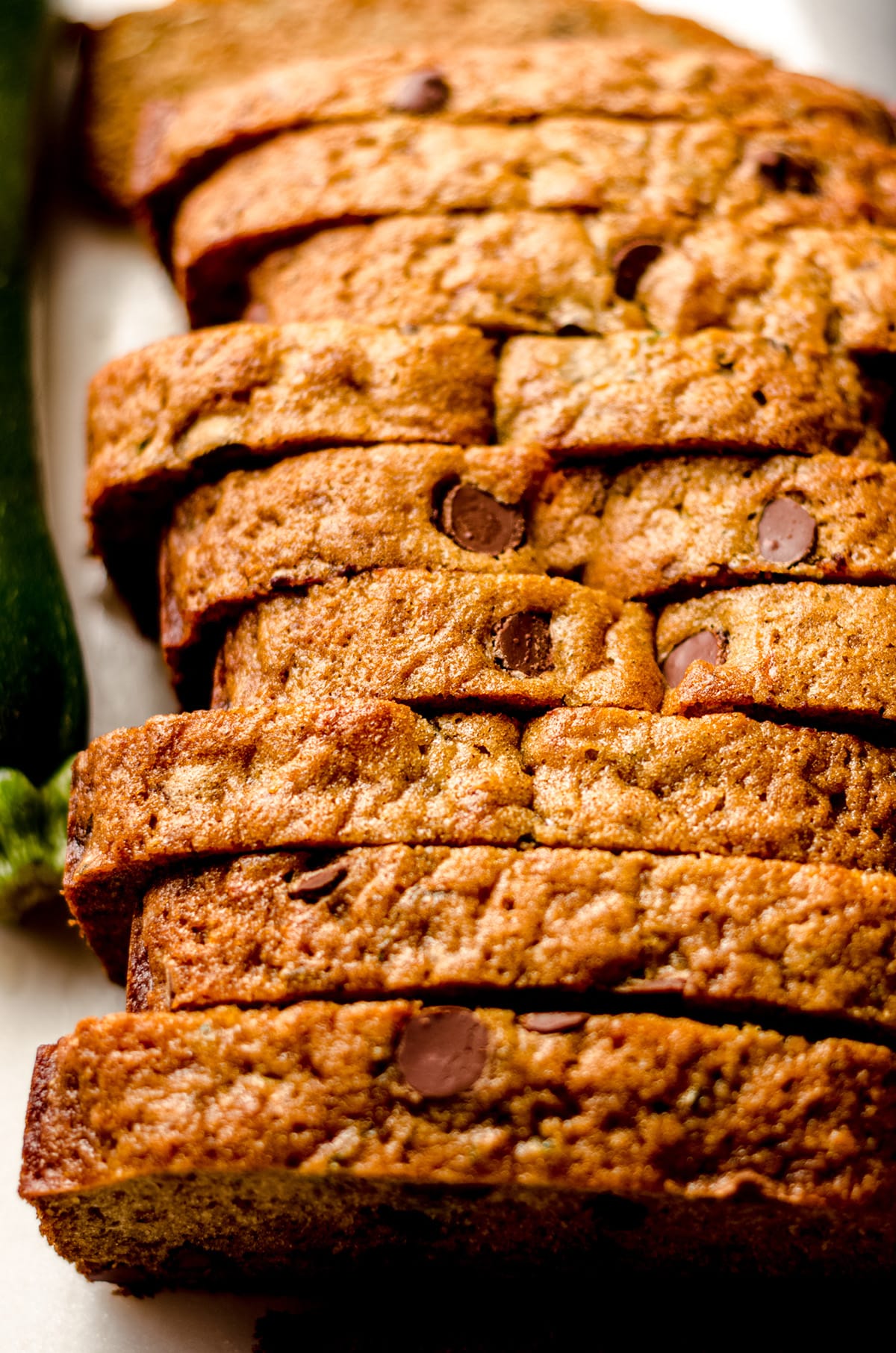 I really and truly wish we did, but we don't quite have the space for it and we're waiting for our forever home to take on that task. One day when we are even bigger grown ups, we WILL have a huge garden, and we will bask in the joy of too many zucchini and cucumbers and tomatoes and asparagus and peppers and l can't even wait.
Until then, I will gladly take some neighbors' and gym members' vegetables to go along with the locally grown vegetables we get at the produce market down the road from us.
Since we don't have a garden, I'm not as aware as someone who does about just how much zucchini one person can accumulate at this point in the summer. This is where really great readers like YOU come in handy.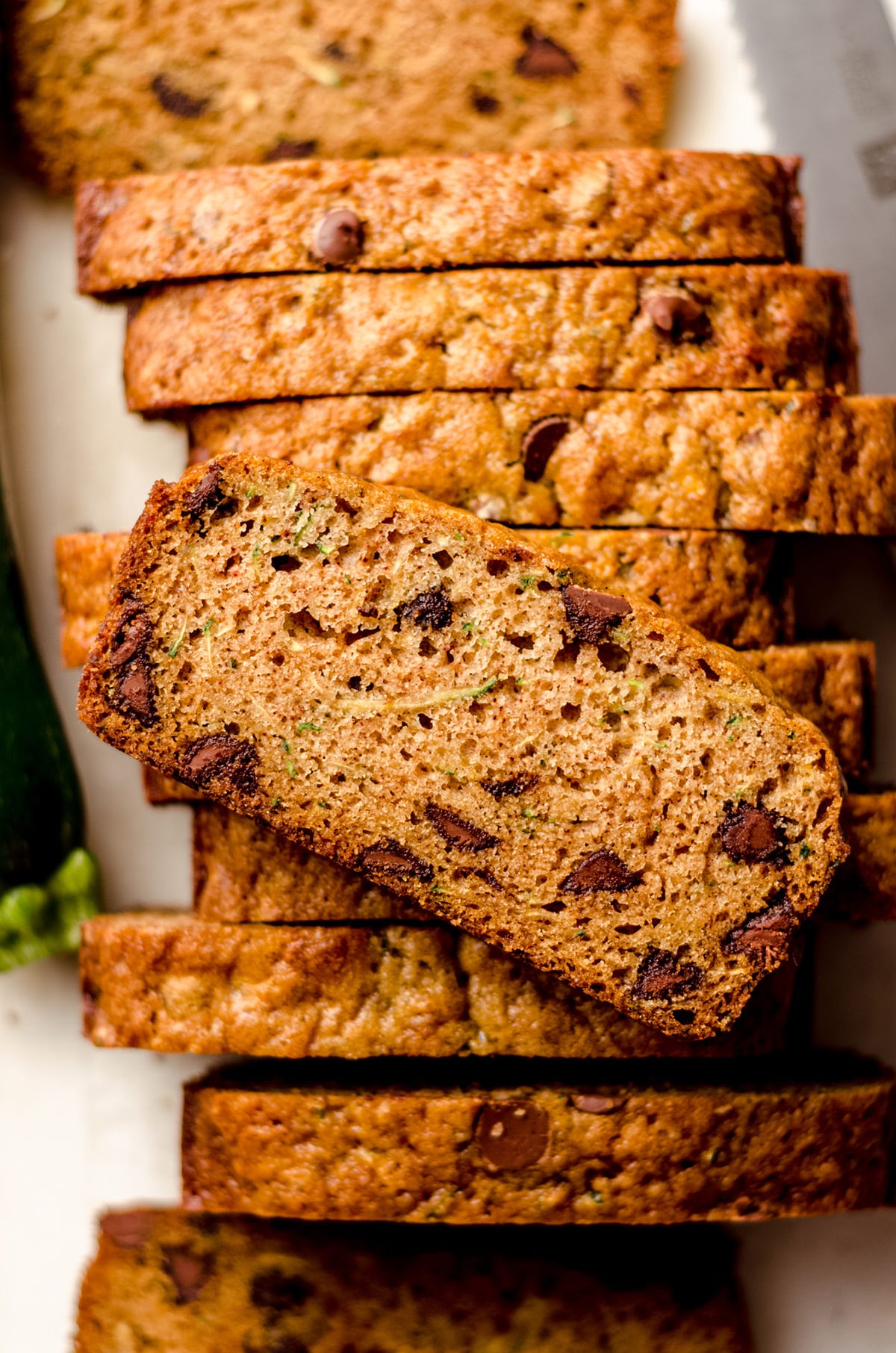 I got a message from a reader (hi, Kelly!) one summer practically begging for a zucchini bread recipe.
Since that summer, this chocolate chip zucchini bread recipe has lived on my blog and served many readers many good tasting zucchini bread experiences, and it was high time it got a facelift and some updates.
It's funny, I had actually been eating this zucchini bread for years before putting on my blog, but I had never actually made it myself. Ever. I'd only ever "helped" my mother-in-law bake it– I was pretty much just in charge of melting butter and then licking the bowl.
Basically since Matt brought me home to meet his family in winter 2007, I have been eating my MIL's zucchini and banana breads, so I never had a reason to make either of them myself!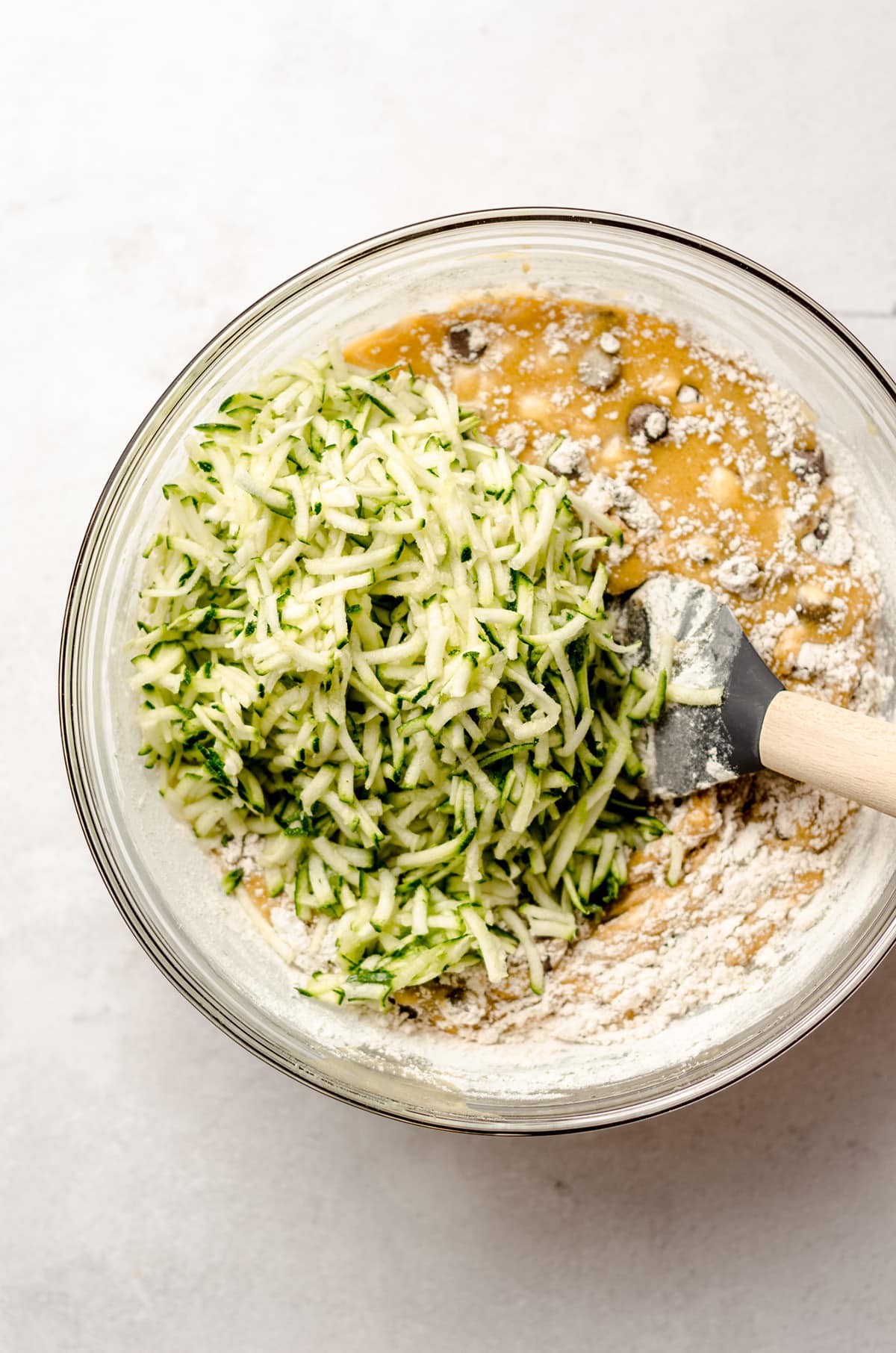 And then I turned into a food blogger and learned to love to bake from scratch and then one thing led to another and now this chocolate chip zucchini bread and my MIL's fabulous classic banana bread both live here for you to bake yourselves. Oh, and her Russian tea cakes (<– try those).
I've professed my love for quick breads before. If you're a regular reader, you are familiar with this love. Quick breads are so great for their ease of assembly, the fact that they don't require yeast or rising or proofing, and they freeze really well.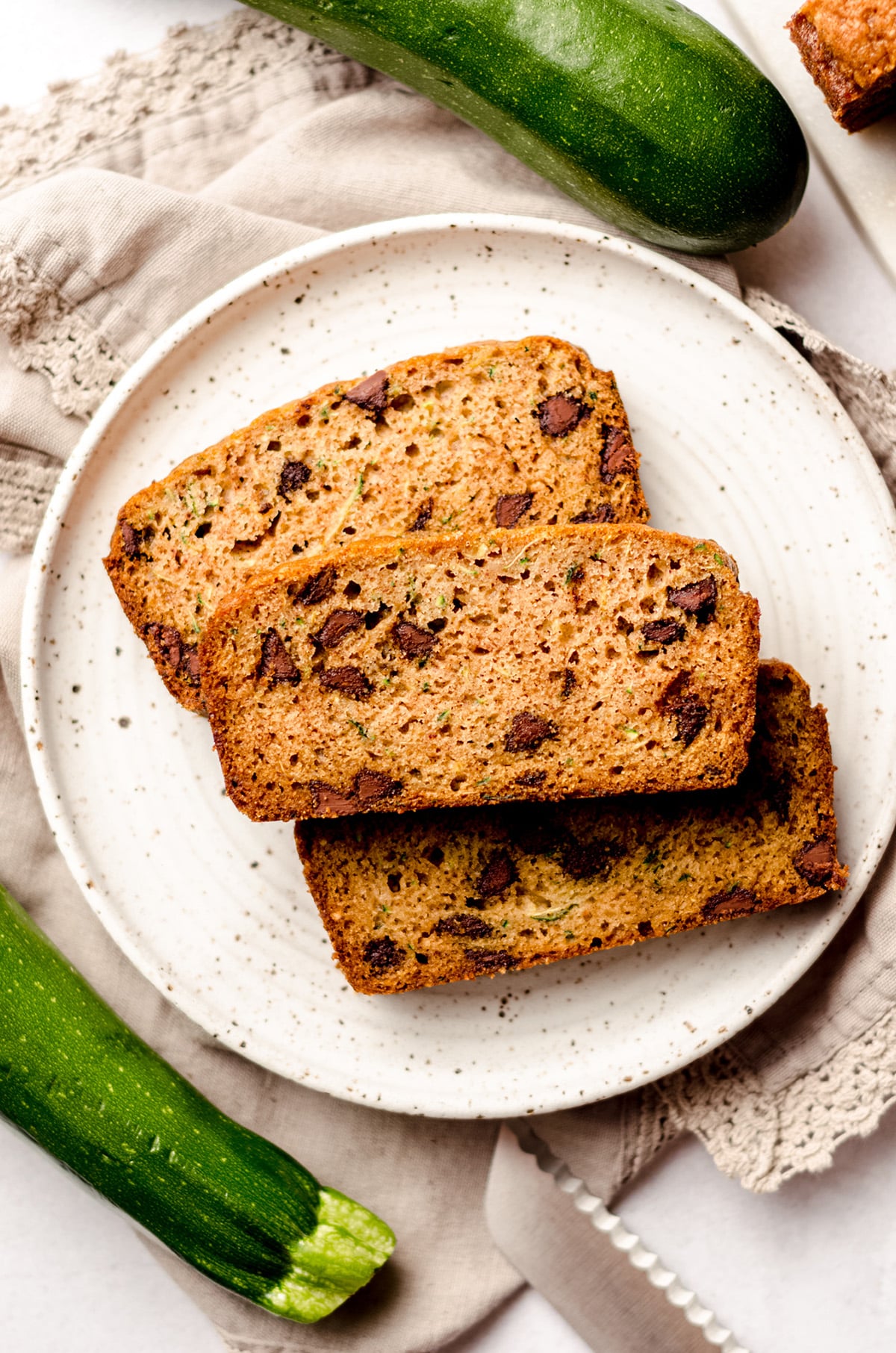 Also, they're totally a way to basically eat cake without frosting any time you want. Score!
HOW TO MAKE CHOCOLATE CHIP ZUCCHINI BREAD
My MIL uses the classic recipe from Betty Crocker, and over the years, she has adapted it a bit. I have, of course, adapted it even further and included some chocolate chips. My MIL adds raisins and/or walnuts (like the original recipe), which I make note about in the recipe.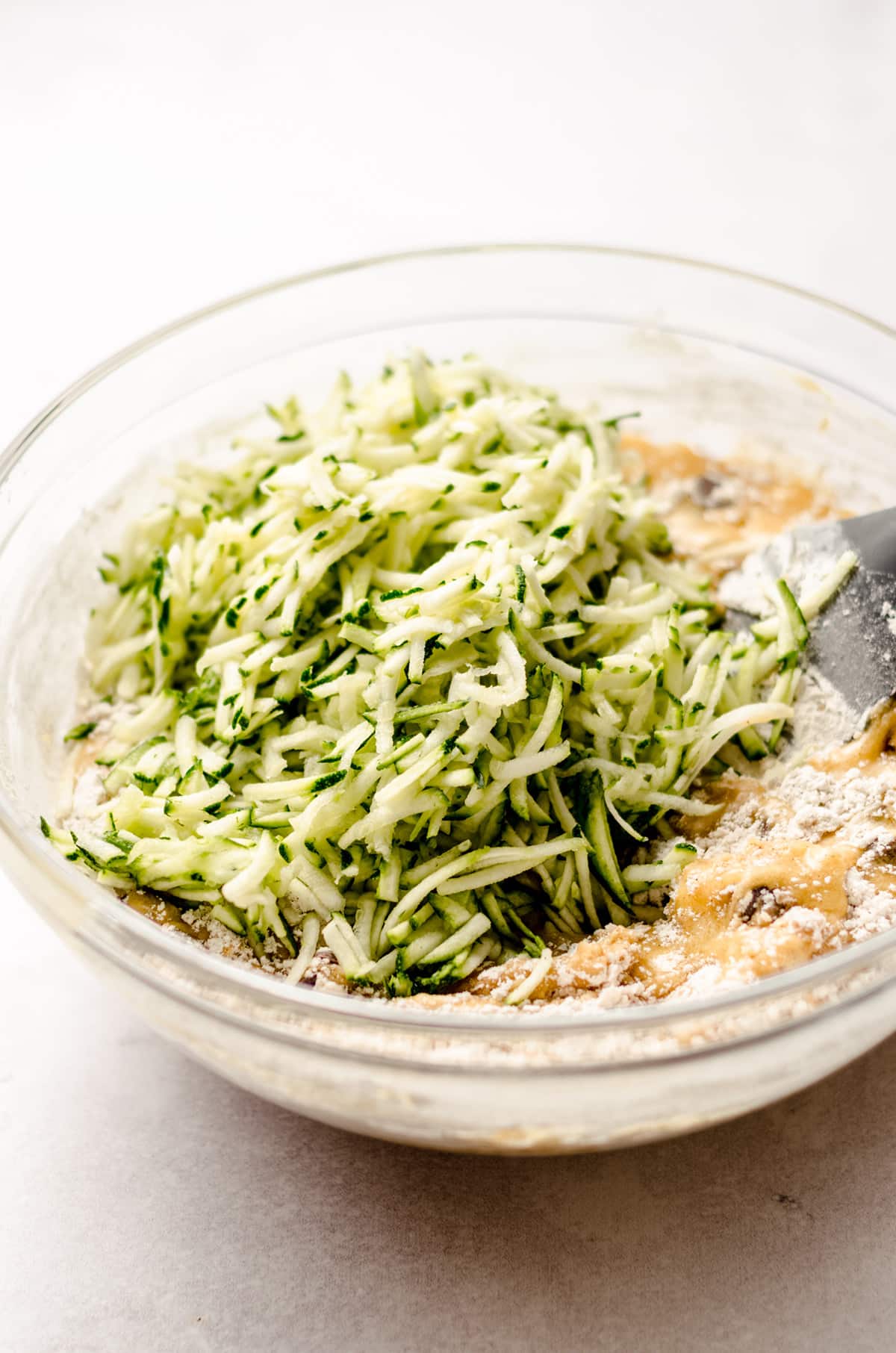 This recipe is pretty straight forward and doesn't need a whole lot of explaining, but I will say, I've made a bit of a swap with sugars from the original recipe to include some brown sugar for added moisture.
This bread uses butter as its fat source, which can sometimes dry out quick breads. This is why I typically prefer quick breads with oil, but then you miss out on the buttery flavor that complements each and every spicy zucchini bite!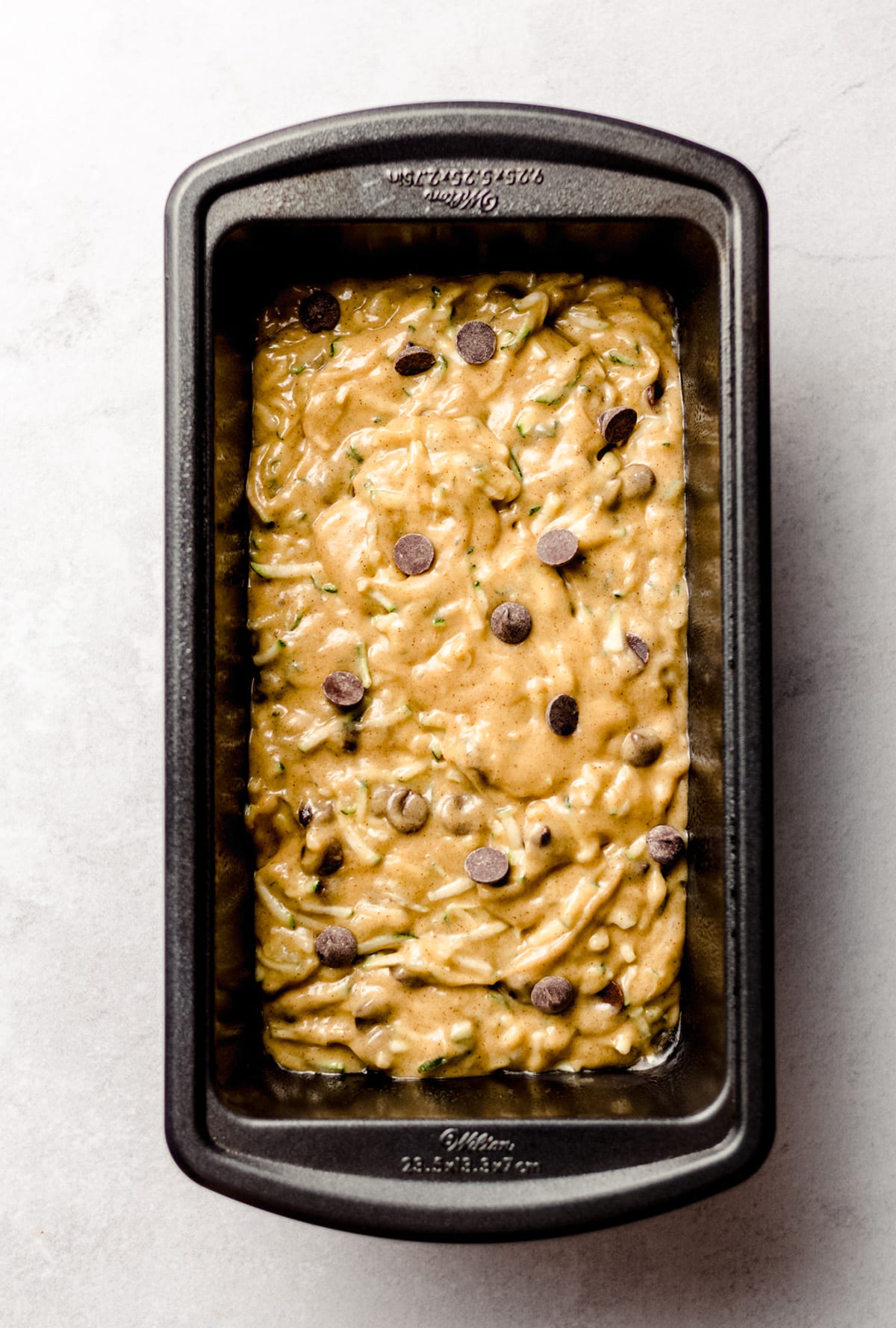 You may use fresh or frozen zucchini for this bread, just make sure if you go the frozen route that you thaw your zucchini completely and blot or wring it dry as much as you can.
Whenever I use frozen zucchini for my zucchini bread with chocolate chips, I just throw it into a kitchen towel and squeeeeeeze the life out of it. Make sure you squeeze pretty hard. The added water will just make your bread soggy. Soggy is not the same as moist. Soggy is just downright gross.
We like to keep our frozen zucchini in batches of 1 and ½ cups so we can just pull out as much as we need for one recipe!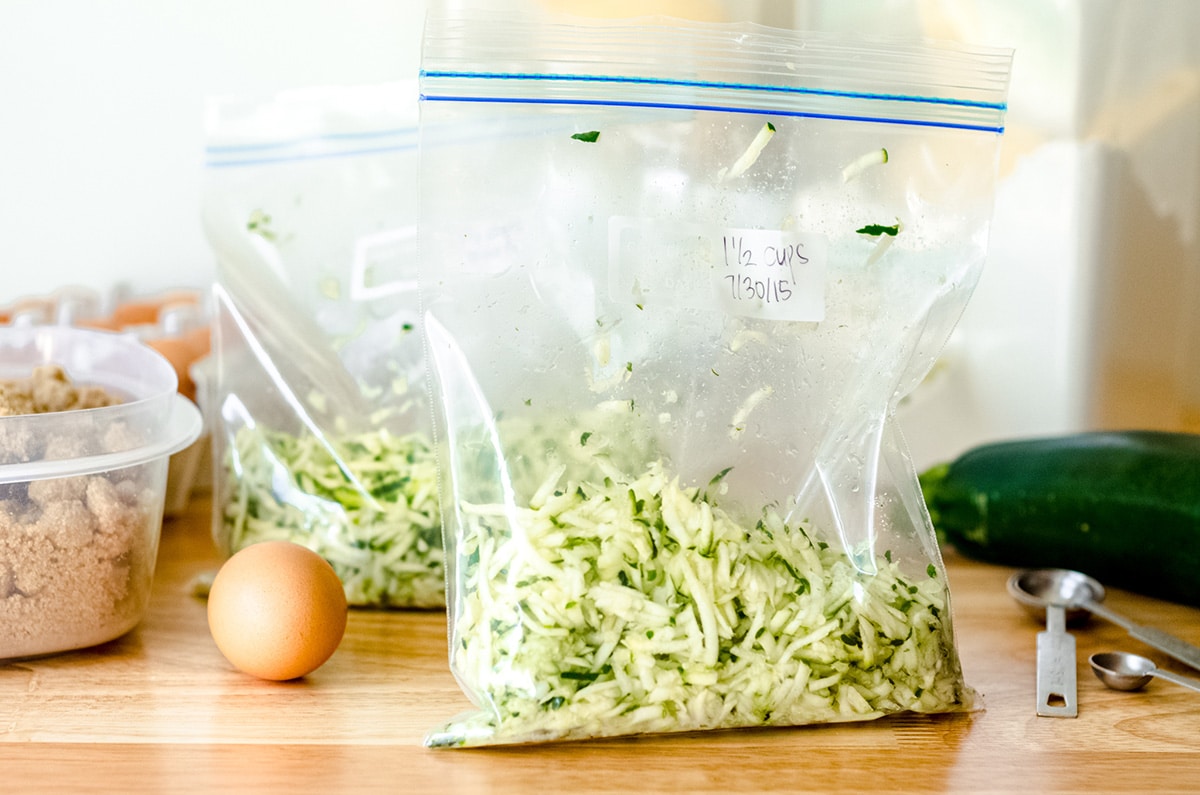 My favorite thing about this zucchini chocolate chip bread is that each and every corner and edge of every slice has this wonderful crunch to it. The sugar in the bread caramelizes on the edges that touch the loaf pan as it bakes, creating this delightful little exterior that leads to the most flavorful and tender crumb inside.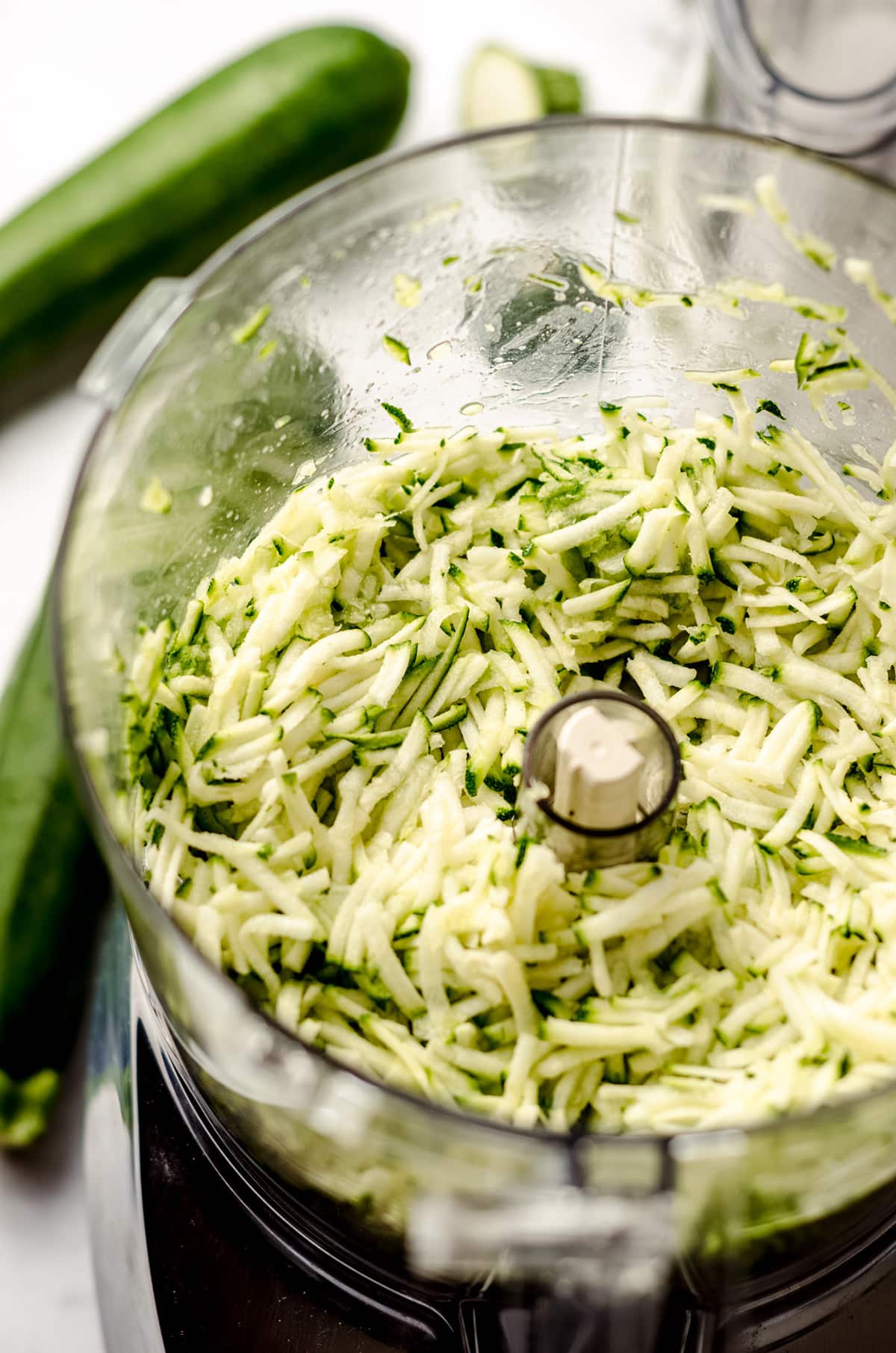 Not too sweet, not to vegetable-y, and graced with the perfect amount of chocolate chips. Oy. This zucchini bread is just lovely.
TURN THIS ZUCCHINI BREAD INTO ZUCCHINI MUFFINS
Also… See my notes about making chocolate chip zucchini muffins instead. Or in addition to. There's no shame in loading up on zucchini baked goods. Plus– muffin form makes it totally acceptable to eat zucchini bread for breakfast, right?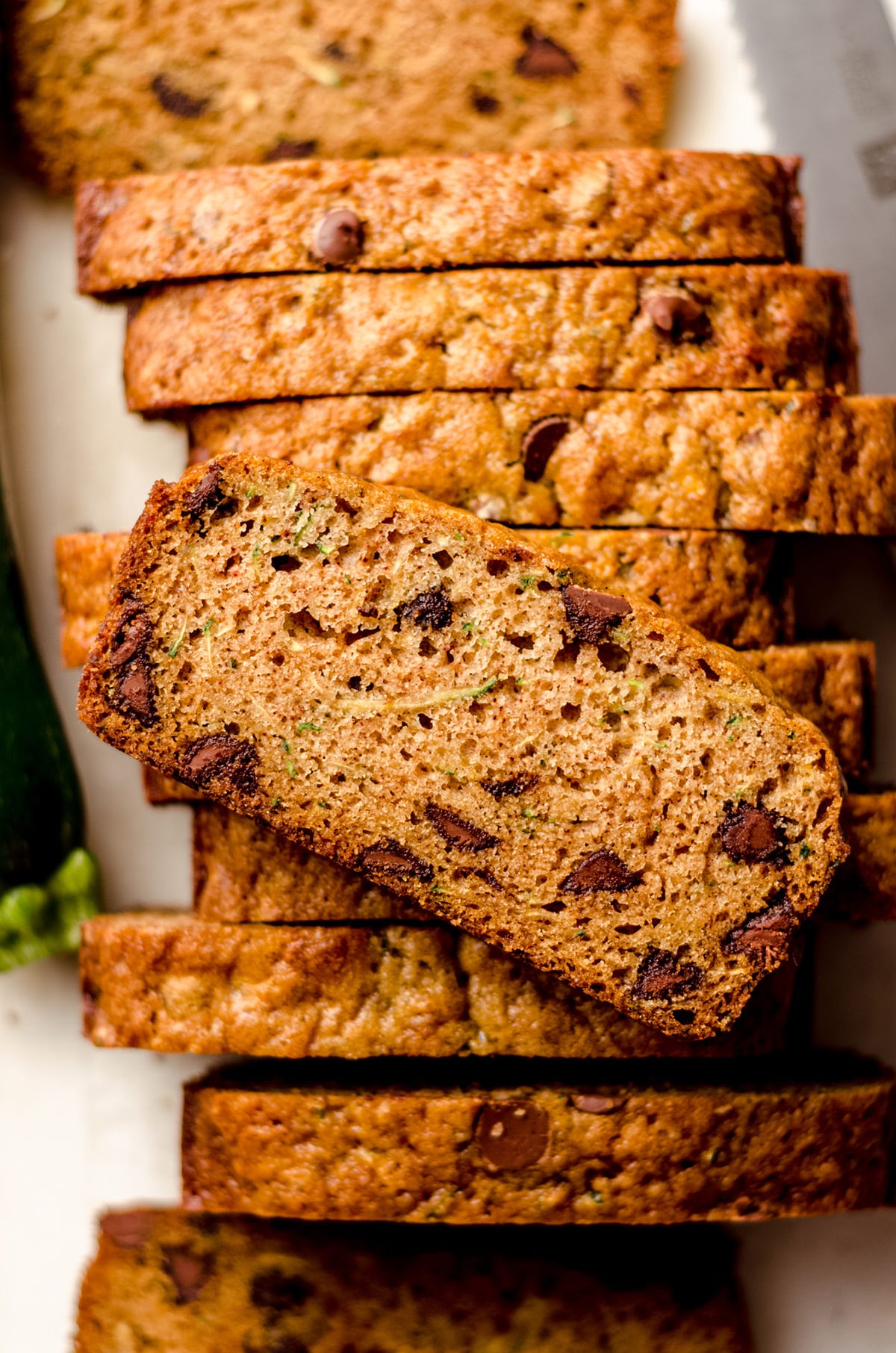 Get to shredding and freezing your zucchini (because I know your garden is growing you a monster-size one while you sleep) so you can break out this recipe for chocolate chip zucchini bread any time of the year!
It might also make you feel less overwhelmed with all those beautiful green squash stashed away in your freezer instead of evil laughing at you from your back yard.
Yeah, they do that.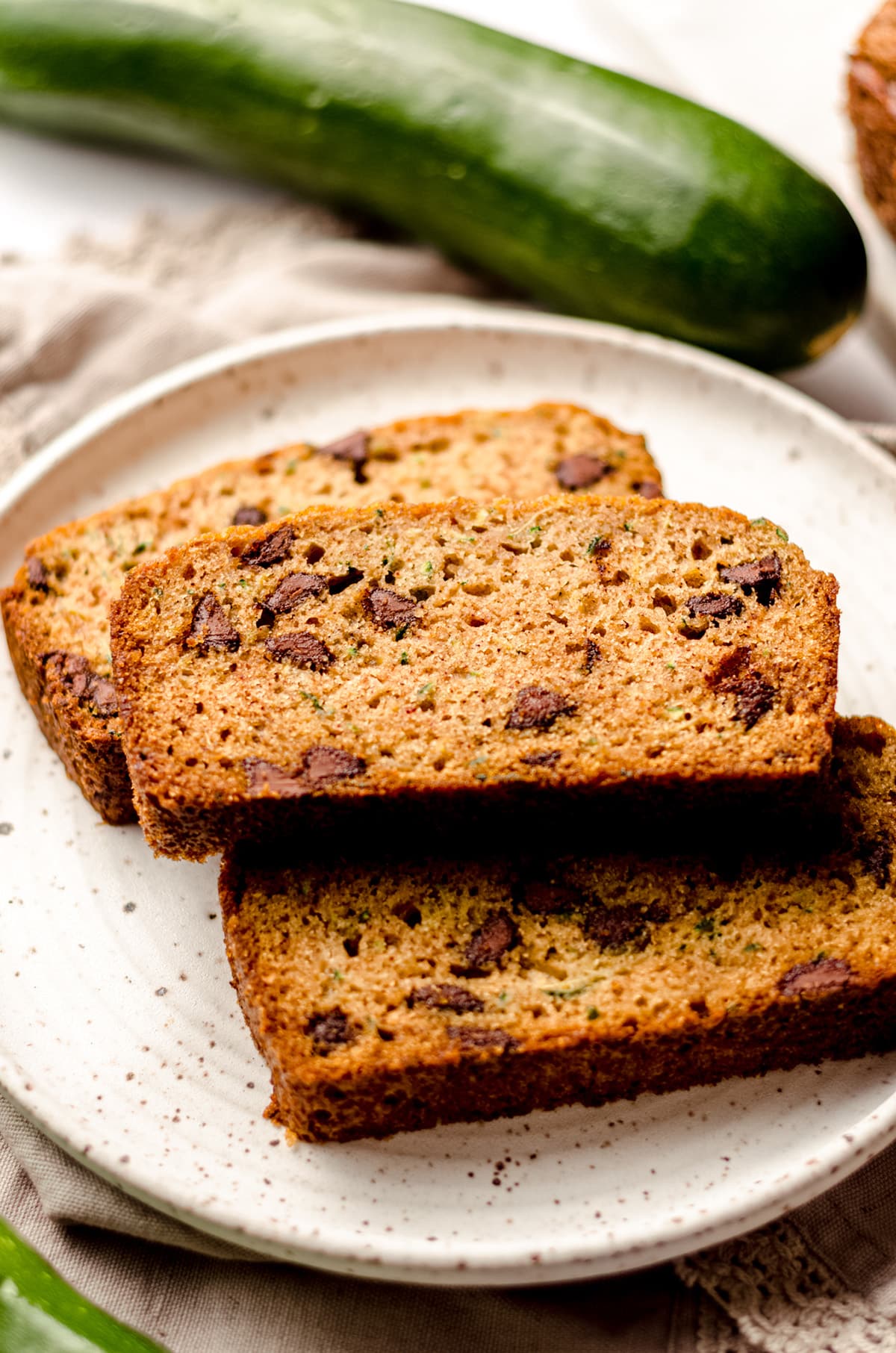 And to that I say… Zucchini baked goods for everyone!
Chocolate Chip Zucchini Bread
Perfectly spiced, perfectly sweetened, and a great way to use up your summer zucchini (or frozen zucchini any time of the year)! Recipe makes one loaf or 12 muffins.
Ingredients
1 and ½

cups

(180g) all-purpose flour be sure to measure properly

1

teaspoon

ground cinnamon

1

teaspoon

baking soda

¼

teaspoon

baking powder

¾

teaspoon

salt

¼ to ½

teaspoon

ground cloves1

⅔

cup

(112g) semi-sweet chocolate chips

½

cup

(100g) granulated sugar

½

cup

(100g) firmly packed brown sugar

2

large eggs

6

Tablespoons

(85g) unsalted butter

melted and allowed to cool

1

teaspoon

vanilla extract

1 and ½

cups

shredded zucchini2

about 1 medium zucchini
Instructions
Preheat the oven to 350ºF (177ºC). Spray a loaf pan (9" x 5") with non-stick spray. Set aside.

In a large bowl, whisk together the flour, ground cinnamon, baking soda, baking powder, salt, and ground cloves. Toss in the chocolate chips and whisk until evenly distributed. Set aside.

In a medium size bowl, whisk the sugars and the eggs together until smooth. Add the vanilla extract and the butter and whisk again until completely combined.

Add the wet ingredients to the dry ingredients and stir gently just until combined. Fold in the zucchini with a spatula, and continue mixing gently until no flour pockets remain. Do not over mix.

Pour batter into prepared loaf pan. Sprinkle additional chocolate chips on top, if desired. Bake for 45-50 minutes, covering the pan with foil after about 20 minutes to prevent the loaf from browning too much, if desired. Loaf is done when a toothpick inserted in the center comes out mostly clean. Remove from oven and allow to cool completely in the pan on a cooling rack. You may remove the loaf from the pan while it is still slightly warm. Slices stay fresh stored in an airtight container at room temperature up to 1 week or in the refrigerator up to 10 days. Loaf or slices freeze well, up to 2 months. Thaw in the refrigerator overnight.
Notes
Ground cloves: clove is a very strong spice. I prefer

½

teaspoon cloves. If you're unsure of your preference, start with

¼

teaspoon or omit it completely.
Zucchini: If using frozen zucchini, thaw completely and wring out as much water as possible.
To make muffins: this recipe makes 12 standard size muffins. Bake time is 15-20 minutes.
If you'd like to omit chocolate chips and replace them with nuts or raisins, use

⅔

cup of add-ins (such as

⅓

cup of each or

⅔

cup of just nuts or just raisins). If you'd like to add in nuts or raisins in addition to chocolate chips, reduce chocolate chips to

⅓

cup and use

⅓

cup of nuts or raisins.
Recipe adapted from Betty Crocker
Nutrition Disclosure
All nutritional values are approximate and provided to the reader as a courtesy. Changing ingredients and/or quantities will alter the estimated nutritional calculations.