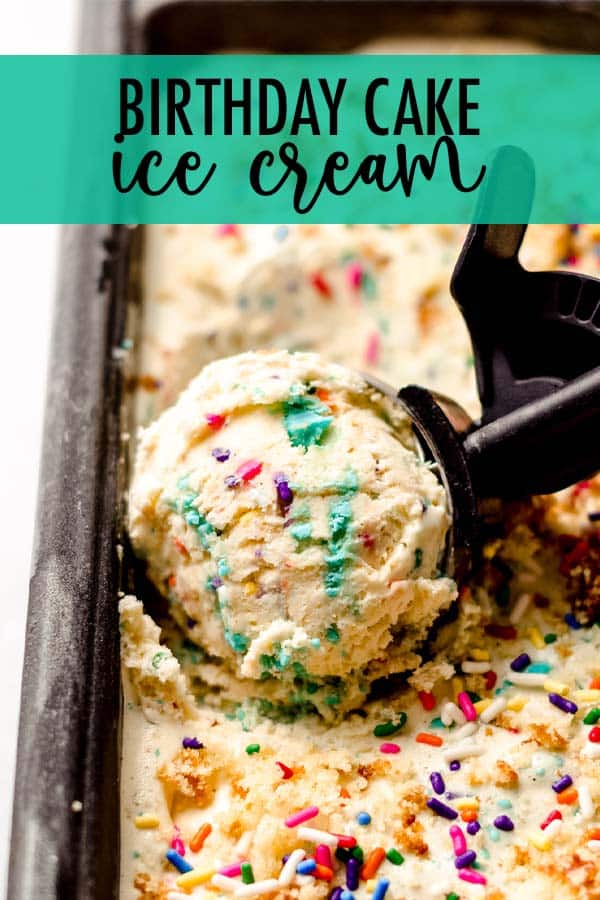 As an Amazon Associate, I earn from qualifying purchases. Read the full disclosure here.
Use up cake trimmings and leftover frosting (or leftover cupcakes) to jazz up store-bought ice cream, or go for gold and make your own ice cream base!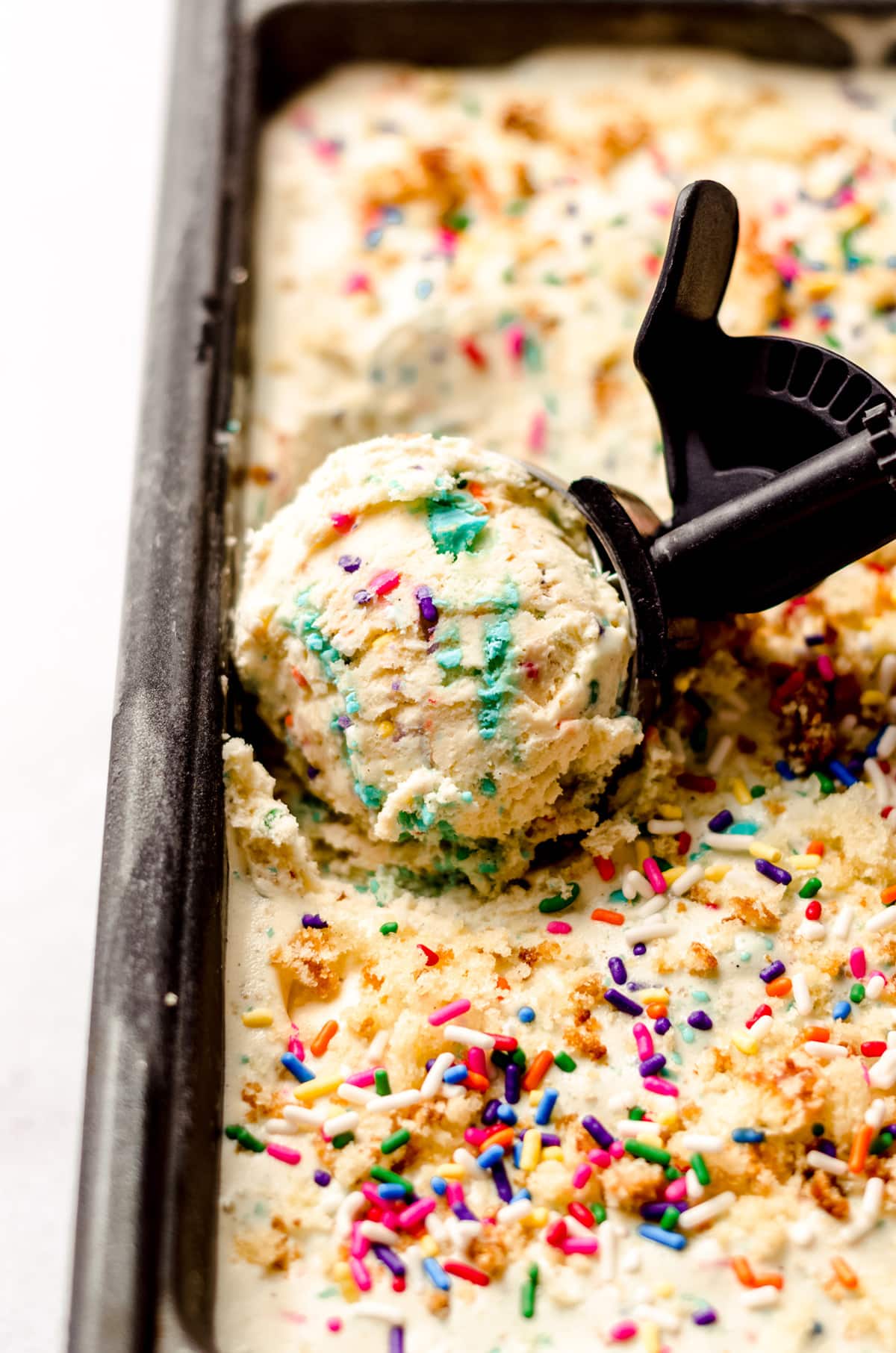 Friends, I am so jazzed about this birthday cake ice cream recipe, I can barely contain my sprinkle-covered excitement.
I have been so very into homemade ice cream for the last year or so, ever since I made my first ice cream maker ice cream recipe, praline ice cream.
I had never actually used my ice cream maker prior to that flavor, and I was pleasantly surprised that the end result was a fabulous batch of perfectly iced cream filled with exactly what I wanted it to be filled with. No more inability to find a seasonal or limited edition ice cream recipe. We can make it all happen with one simple mixer attachment.
But today's birthday cake flavored ice cream is not actually made in an ice cream maker. It's actually made from a store bought ice cream base, and stems from the question "what can I do with leftover cake scraps and frosting?"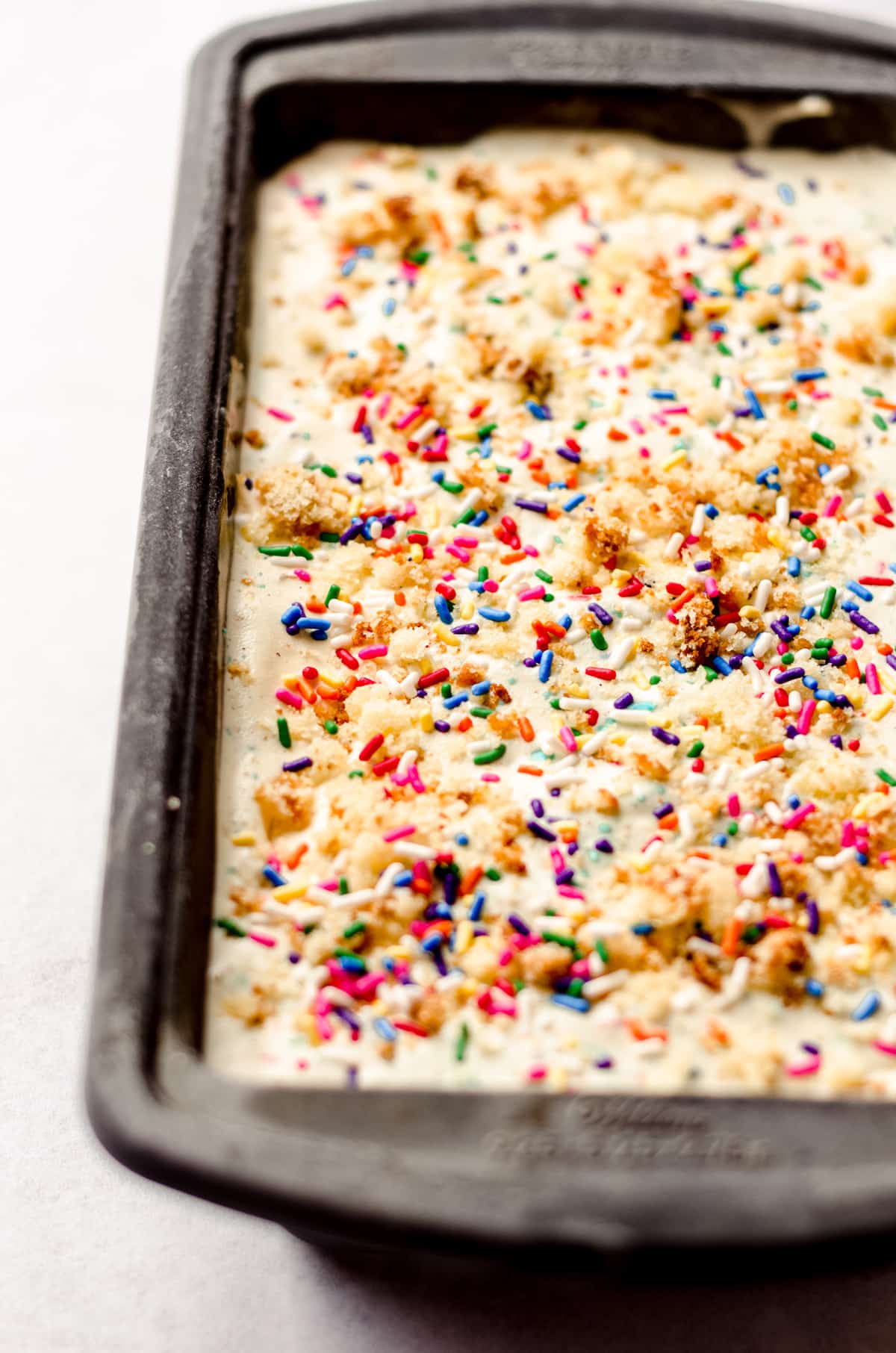 Now, before I get too far down the ice cream hole, I have always recommended making homemade cake pops when you have leftover cake scraps and frosting from making a layer cake. It's a fabulous way to use them up, and my Cake Pops 101 post is a serious favorite among readers and is actually how many of my loyal readers found me in the first place.
But since you may not always be into making cake pops, I'd love to offer you this option– turn those cake scraps and leftover icing into the best birthday cake ice cream on the block without ever freezing your ice cream maker.
Hellooooo, store bought ice cream. How I often adore thee for serious ease in a recipe!
And thank you for making July's No Bake of The Month truly not even anything that has a speck to do with heat.
(Because while we're at it using store bought ice cream, may I recommend using this birthday cake ice cream to make birthday cake ice cream cake from my ice cream sheet cake recipe??)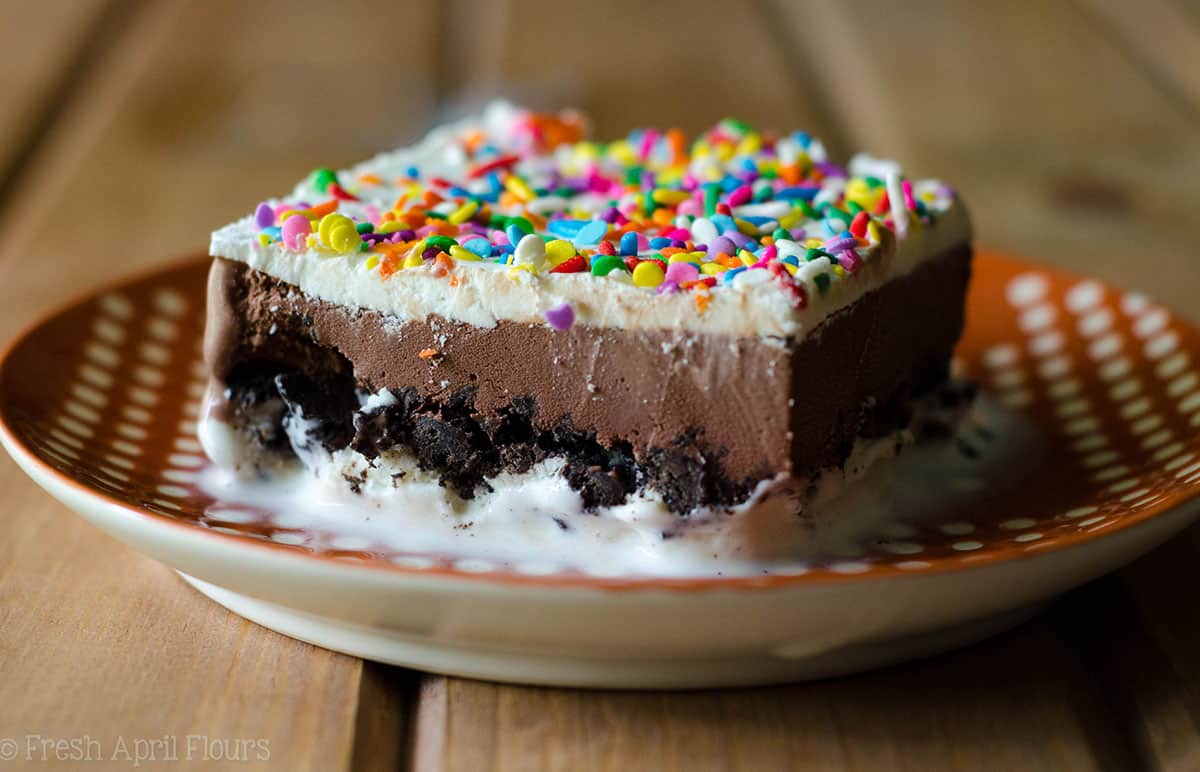 HOW TO MAKE BIRTHDAY CAKE ICE CREAM
To make this birthday ice cream, choose your base flavor. I suggest vanilla or chocolate, even chocolate chip or marble would be fine, but I don't suggest a "fancy" flavor that already has a lot of add-ins.
You might also want to choose an ice cream flavor base that matches your cake scraps and frosting. Did you make my fresh strawberry cake with strawberry buttercream? That would make some pretty epic strawberry birthday cake ice cream!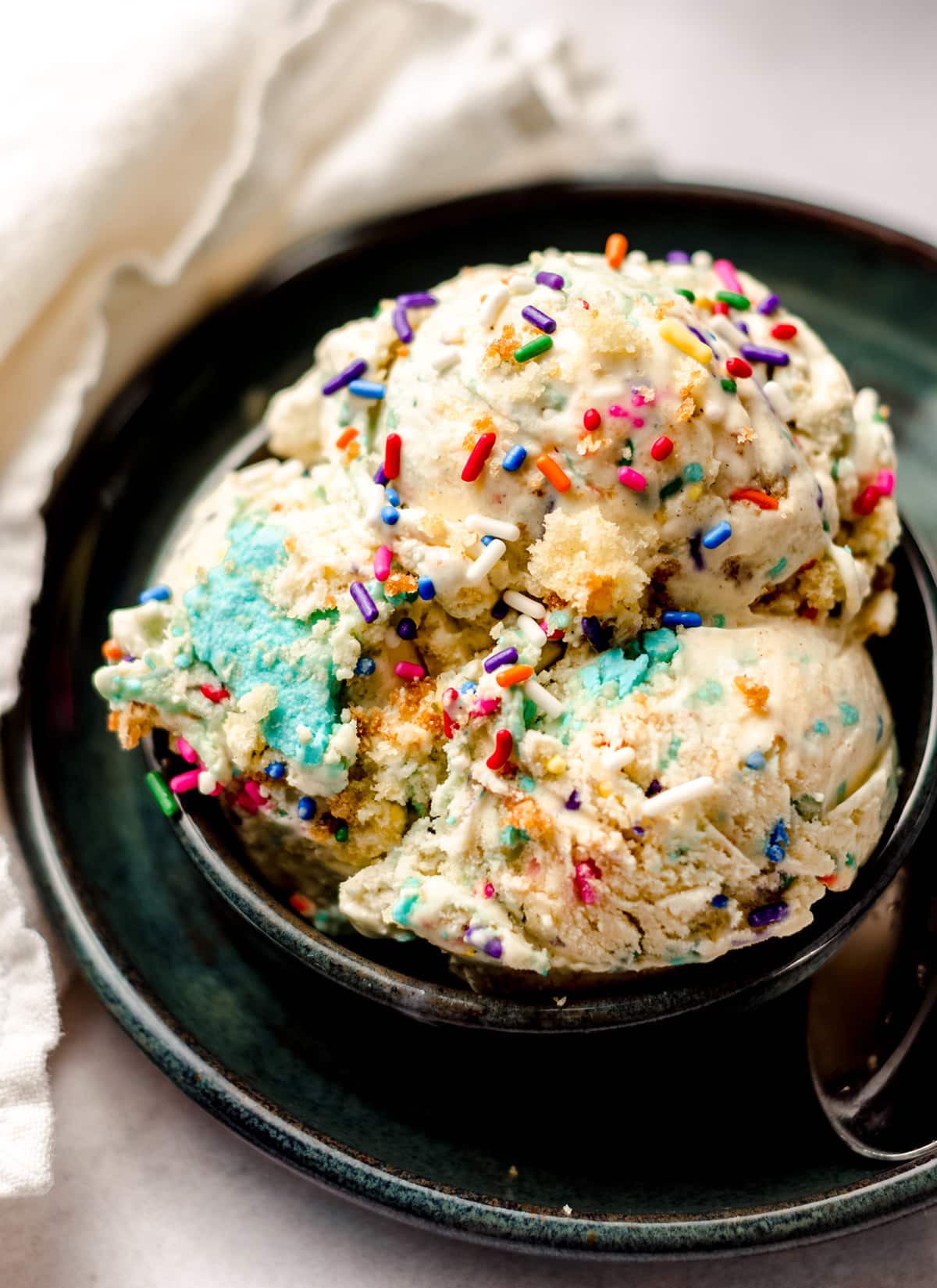 Or maybe you made my mint chocolate chip cupcakes so a chocolate or a mint base would work great there.
You choose. It's up to you. I'm just here to guide you on this delicious ice cream adventure.
PREPARE THE CAKE SCRAPS
If you have cake scraps from leveling a cake (mine was leftover from making my yellow layer cake!), there's a good chance you have strips of cake left. Crumble them up into small to medium size pieces. You'll want about 1 cup of cake scraps, and I do not recommend using more than that.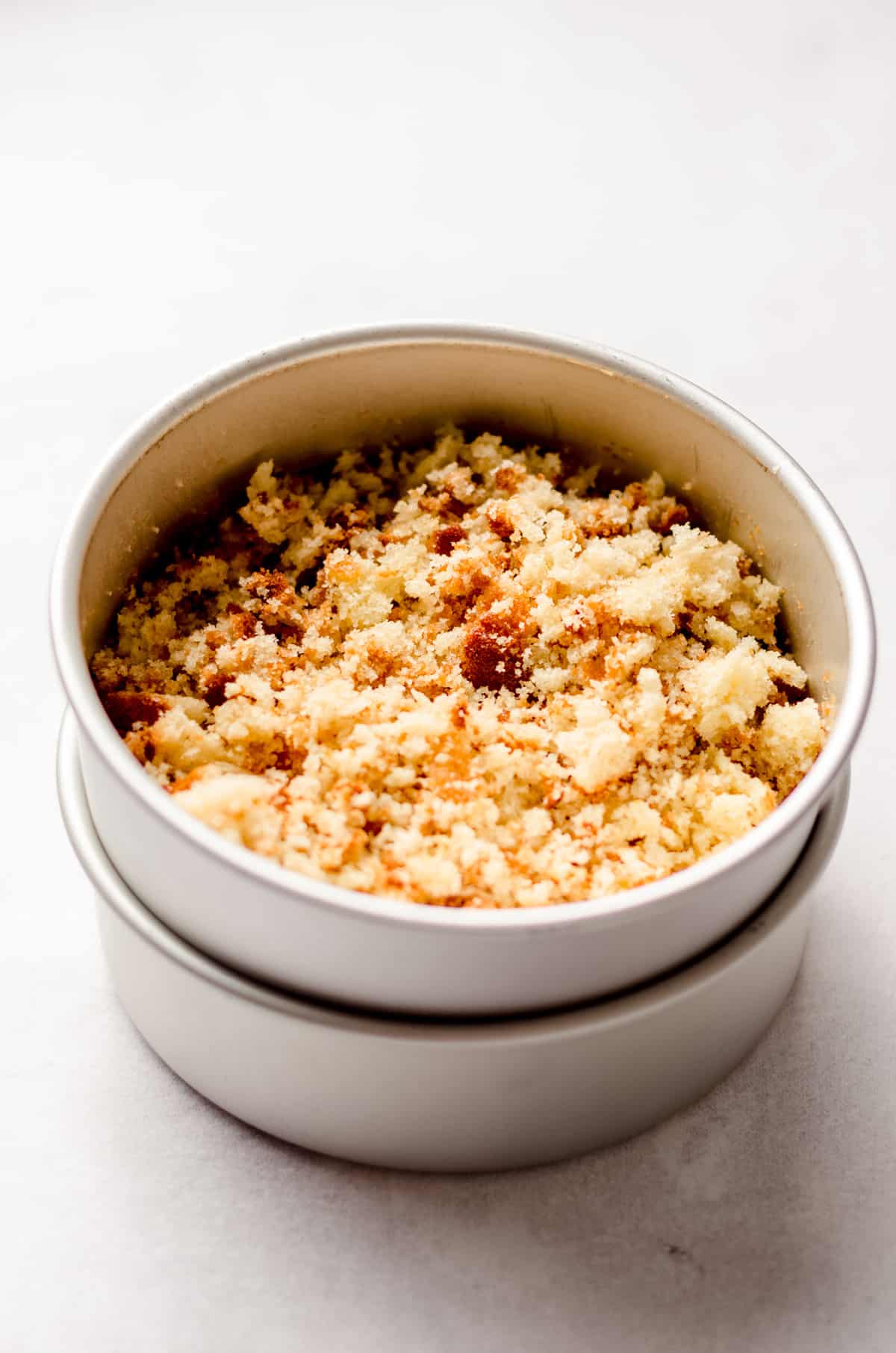 THE FROSTING
As far as the frosting goes, there's no special prep. You just want to make sure the frosting isn't separated or cold. If it's pretty fresh, it's probably fine. But if it's been sitting on your countertop for a day or hiding in the back of your fridge for weeks, it's best to give it a good whip to bring it all together.
USE FROSTED CUPCAKES
If you have a stray couple of cupcakes, maybe ones that didn't quite make the cut or just won't be eaten, those can be broken down into crumbs just like the cake. The frosting will just come along for the ride there.
(Pictured here, my homemade funfetti cupcakes)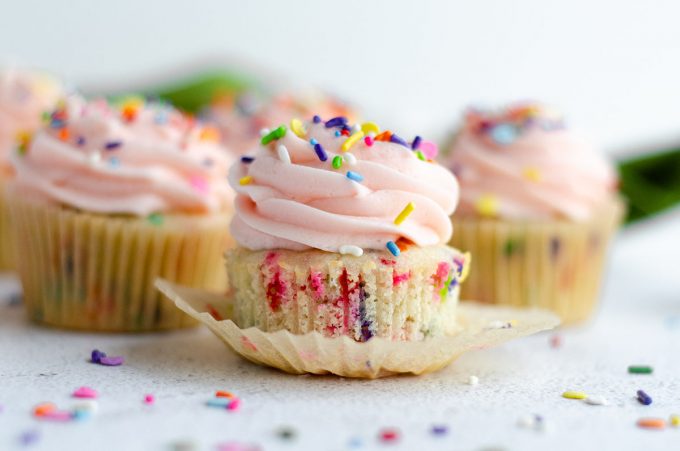 SOFTEN THE ICE CREAM
Once you've got your cake crumbs and frosting (oh, and sprinkles!) ready, it's time to get your ice cream to a manageable consistency.
You'll want to sit the carton of ice cream out for about 15 minutes, just until you can easily stir it by hand or mix it in your stand mixer.
Just dump the carton right into a large bowl and then mix it to smooth.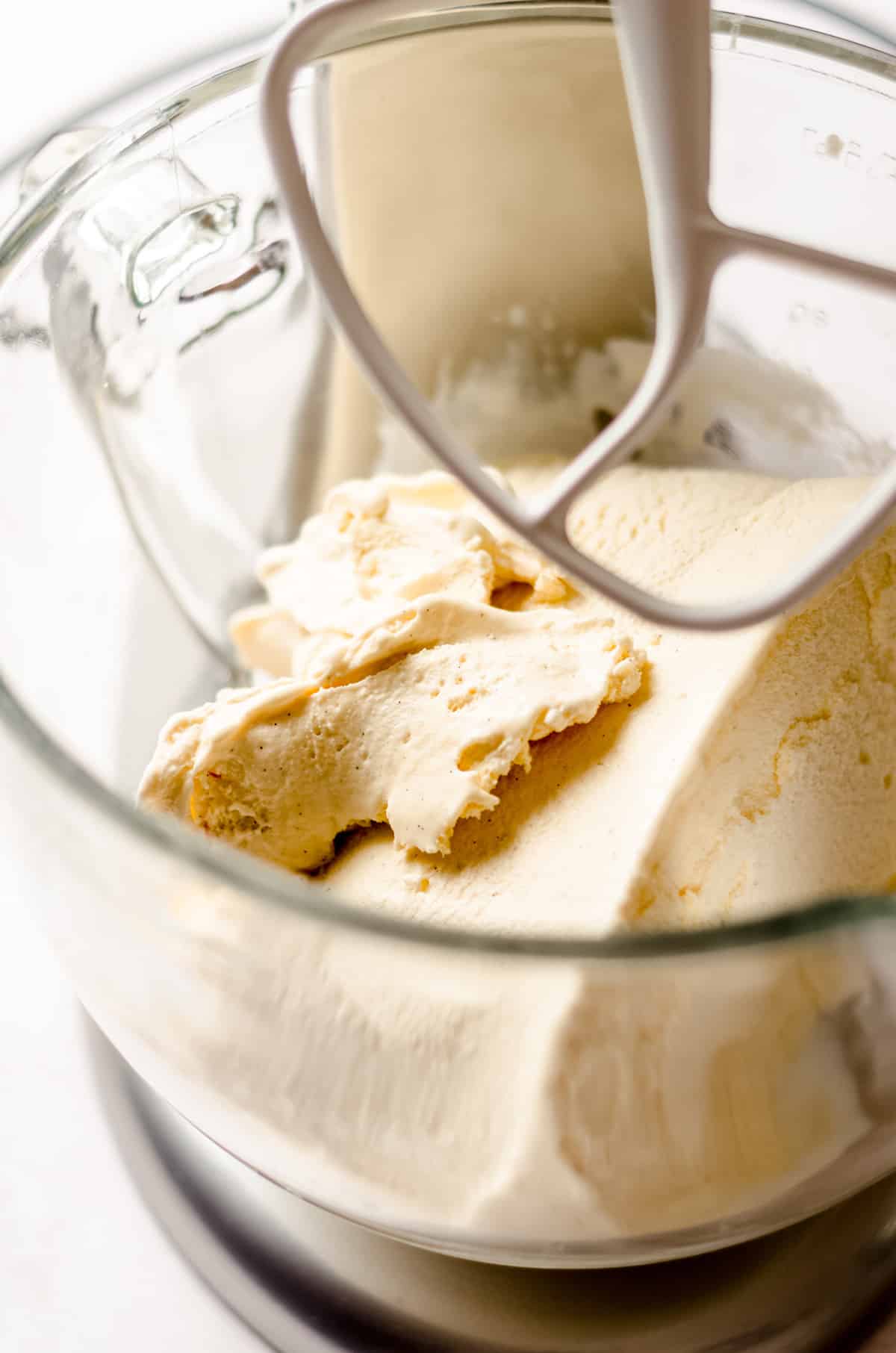 Add in the cake scraps and mix it all up.
Next up are the sprinkles, of which you'll need a ½ cup.
The last thing to go in is the frosting, which you'll want to stir in by hand.
Just a few stirs to swirl it in works best. We don't want the frosting to disappear completely, so blending the cake scraps and sprinkles until evenly dispersed makes space for chunks of frosting.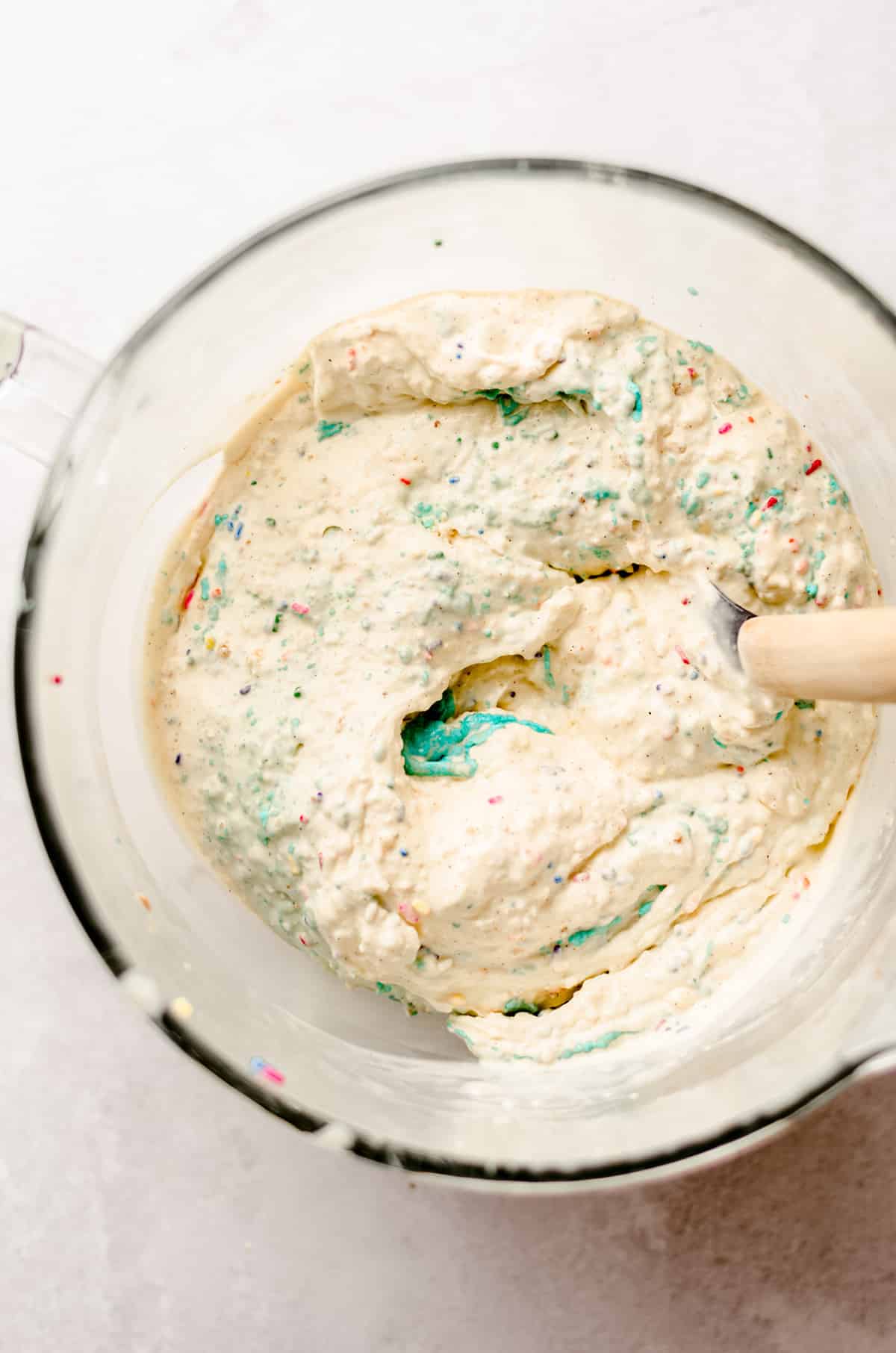 Oh. My. Yum.
If you're using a standard 1 and ½ quart carton of ice cream, this is the perfect amount for a standard loaf pan for freezing. Look at that perfect fit!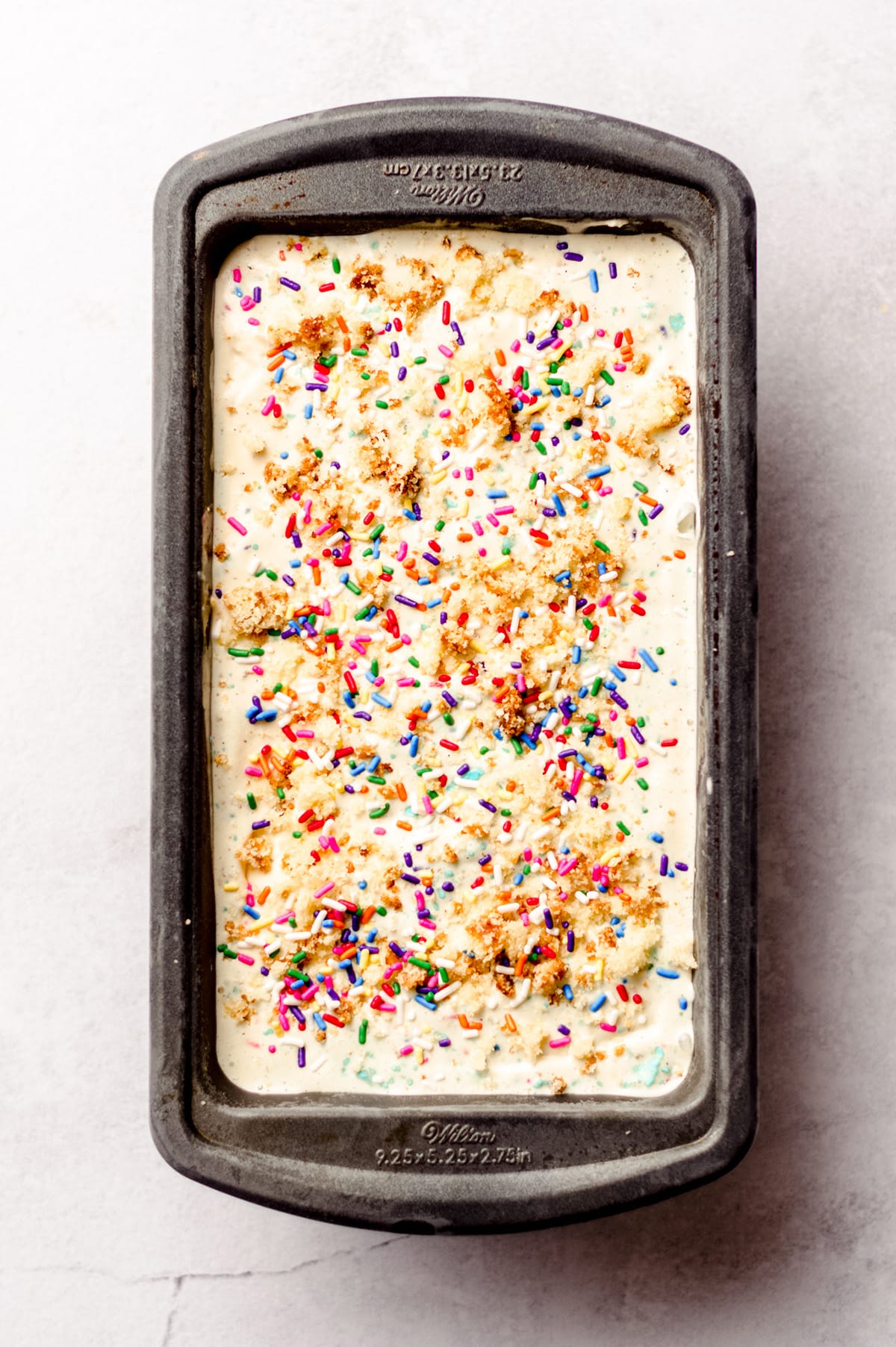 It will need to re-freeze for about 2 hours, but after that, it's ready to go and you can dig right in.
I originally wanted to make this birthday cake ice cream flavor with a from scratch base, but then I thought… If folks are making a cake and frosting and putting that all together, can I just make life easier for them and start with store bought ice cream? I think I can and I should.
Of course, please feel free to make your own scratch ice cream base. I've included a simple vanilla ice cream base in the recipe if that's the route you'd like to go.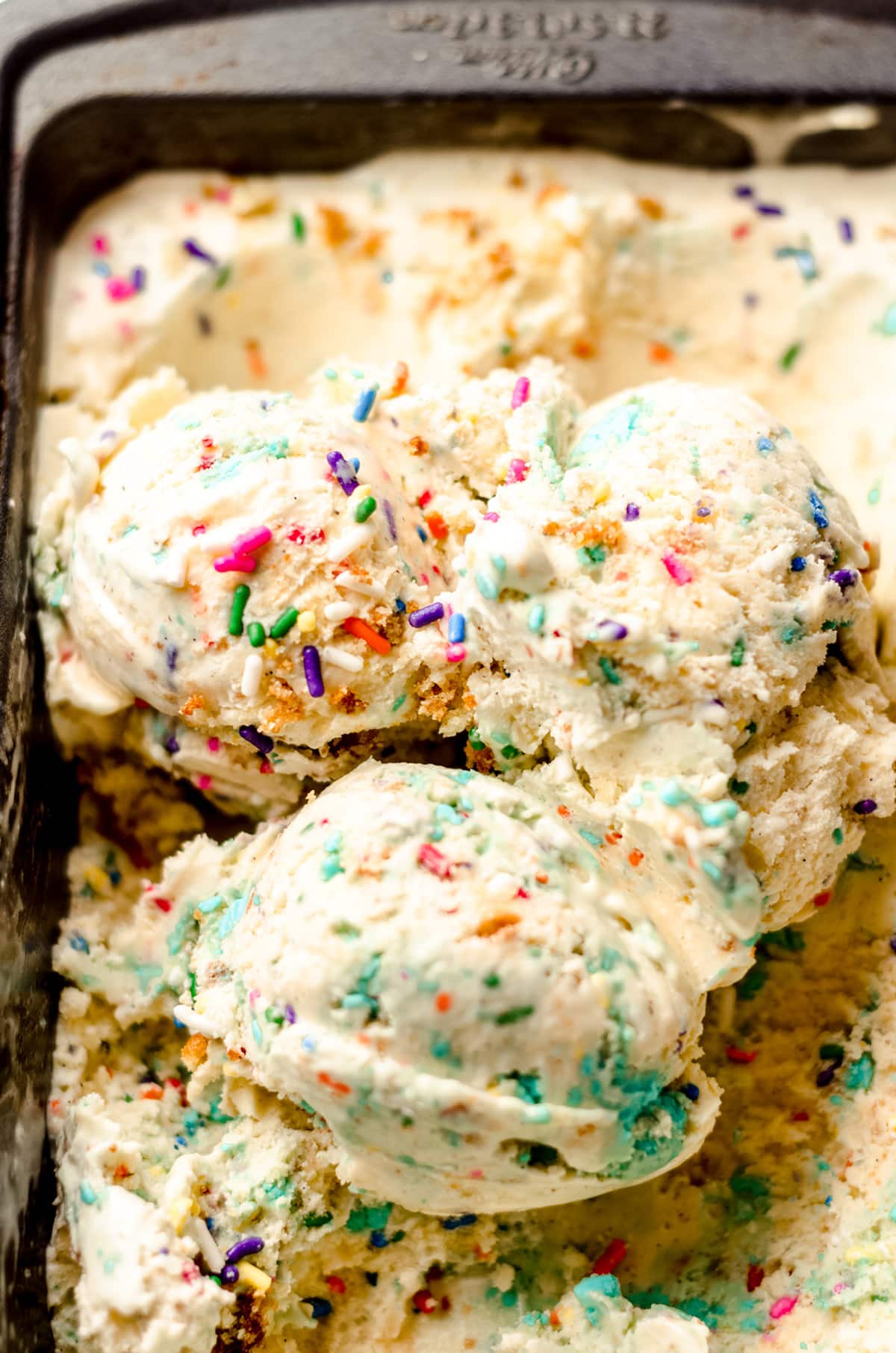 I'm telling you what, this birthday cake ice cream well surpassed my expectations. I was worried about it being too sweet, but I think we hit the nail on the head with the amount of cake and frosting additions that we just add that little something something to jazz up plain ol' ice cream.
The bites with all 3 things happening at once– the cake chunks, the crunchy sprinkles, and the smooth frosting– were my very favorite. And the occasional super-chunked-with-frosting bites weren't awful either.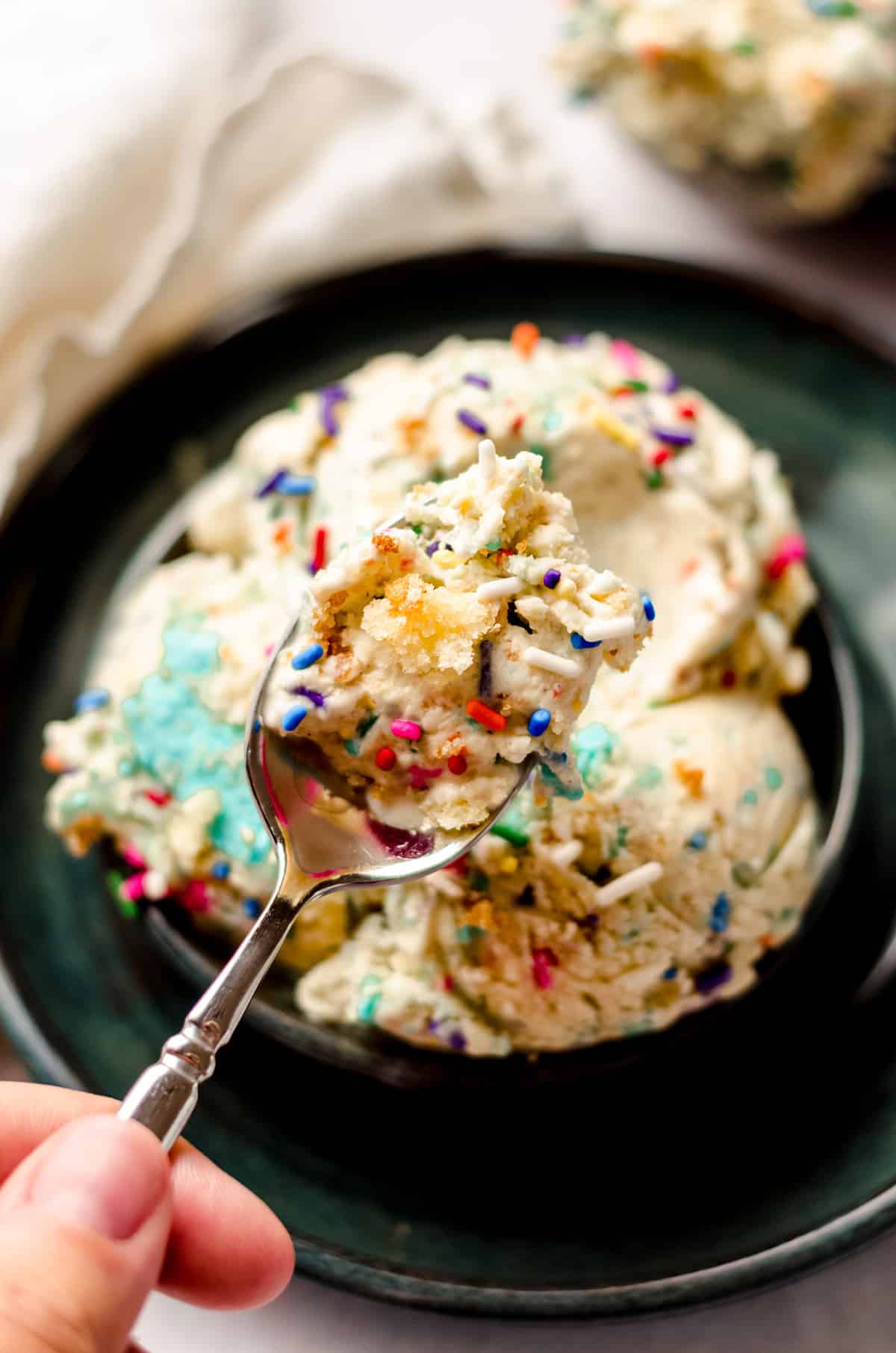 I hope you enjoy making this birthday cake ice cream with leftover cake and frosting as much as I did! It's always nice to repurpose scraps and waste a little less where we can, and if I can do that and also eat ice cream, I call that the win of all (dessert) wins.
Birthday Cake Ice Cream
Use up cake trimmings and leftover frosting (or leftover cupcakes) to jazz up store-bought ice cream, or go for gold and make your own ice cream base!
Ingredients
1 and ½

quarts

(1360g) store bought ice cream1

any flavor, but I suggest vanilla or chocolate

1

cup

cake crumbs2

⅓

cup

(93g) frosting2

½

cup (100g)

sprinkles

not nonpareils
Instructions
Set out the ice cream to soften for about 15 minutes.

When it is soft enough to stir, pour all of the ice cream into the bowl of a stand mixer fitted with the paddle attachment. Turn the mixer to medium-high and beat the ice cream until smooth. You can also stir with a spatula or wooden spoon, but allow the ice cream to soften a bit more if you'll be stirring by hand.

Add the cake crumbs and continue beating on medium-high speed until all of the cake crumbs are incorporated.

Turn off the mixer then stir in the sprinkles with a large spatula until evenly dispersed.

Dollop the frosting into the bowl, then stir a few times to blend the frosting into the ice cream while keeping it in small chunks to create frosting swirls.

Transfer the ice cream to a freezer-safe container (like a metal loaf pan), top with additional cake crumbs and sprinkles, if desired, and allow to freeze for at least 2 hours.
Notes
Ice cream base: feel free to make your own ice cream base! Combine 2 cups (480mL) heavy cream, 1 cup (240mL) whole milk, ¾ cup (150g) granulated sugar, 2 teaspoons vanilla extract, and ⅛ teaspoon salt in a large bowl, then pour into a moving, frozen ice cream maker with the dasher in place. Churn for 20-30 minutes then proceed with step 3.
Cake and frosting: these are suggested amounts. I do not recommend using more than these amounts. You can also use 2-3 homemade cupcakes with frosting.
Nutrition Disclosure
All nutritional values are approximate and provided to the reader as a courtesy. Changing ingredients and/or quantities will alter the estimated nutritional calculations.
Serving:
2
quarts
|
Calories:
2220
kcal
|
Carbohydrates:
321
g
|
Protein:
31
g
|
Fat:
90
g
|
Saturated Fat:
53
g
|
Polyunsaturated Fat:
7
g
|
Monounsaturated Fat:
24
g
|
Cholesterol:
433
mg
|
Sodium:
1374
mg
|
Potassium:
1542
mg
|
Fiber:
6
g
|
Sugar:
271
g
|
Vitamin A:
3170
IU
|
Vitamin C:
4
mg
|
Calcium:
992
mg
|
Iron:
4
mg