Easy Homemade Funfetti Cupcakes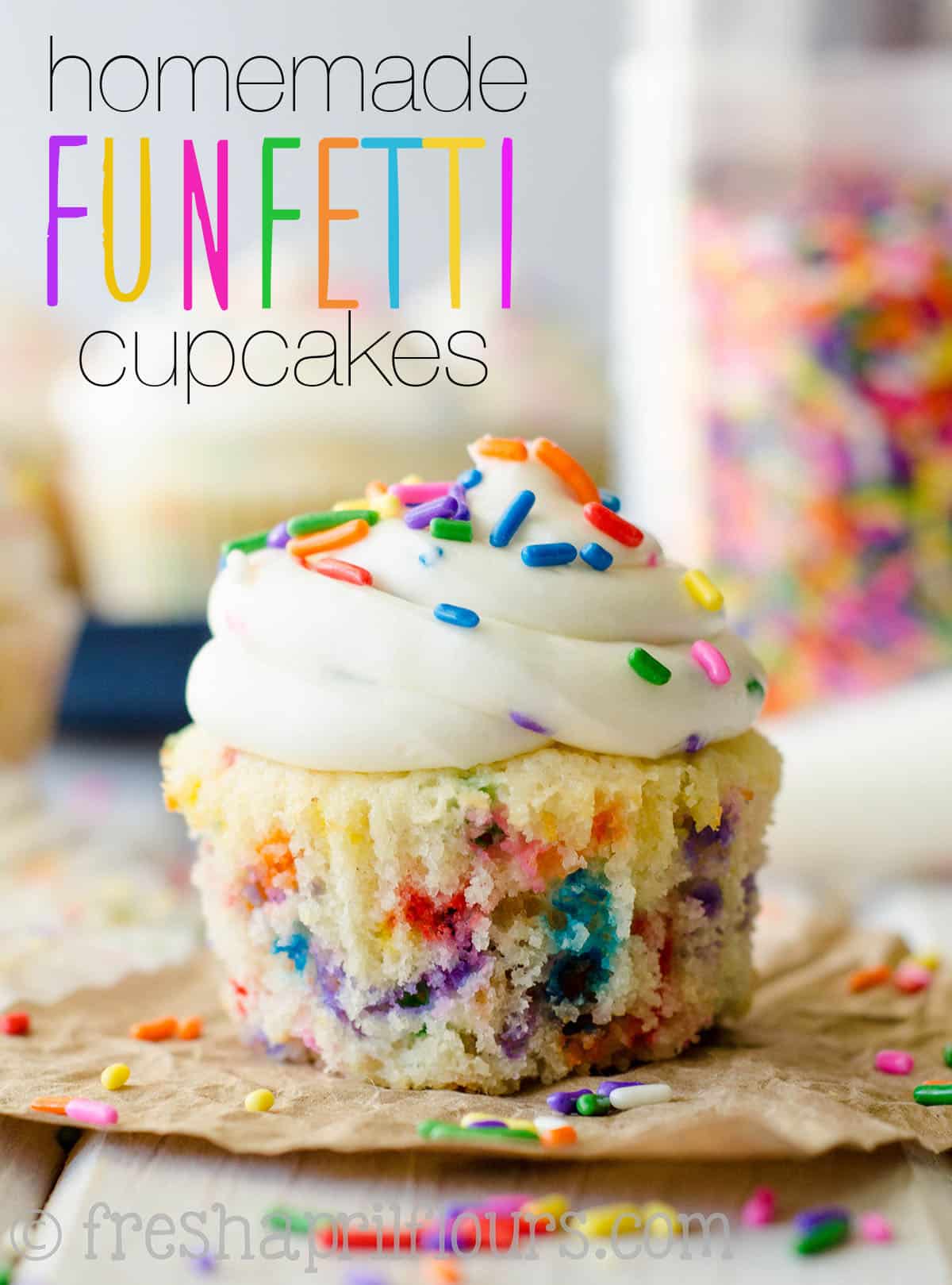 As an Amazon Associate, I earn from qualifying purchases. Read the full disclosure here.
Sprinkle-speckled cupcakes that taste BETTER than the ones from the box, topped with creamy, sprinkle-filled vanilla buttercream. Ditch the mix and make your own funfetti cupcakes from scratch!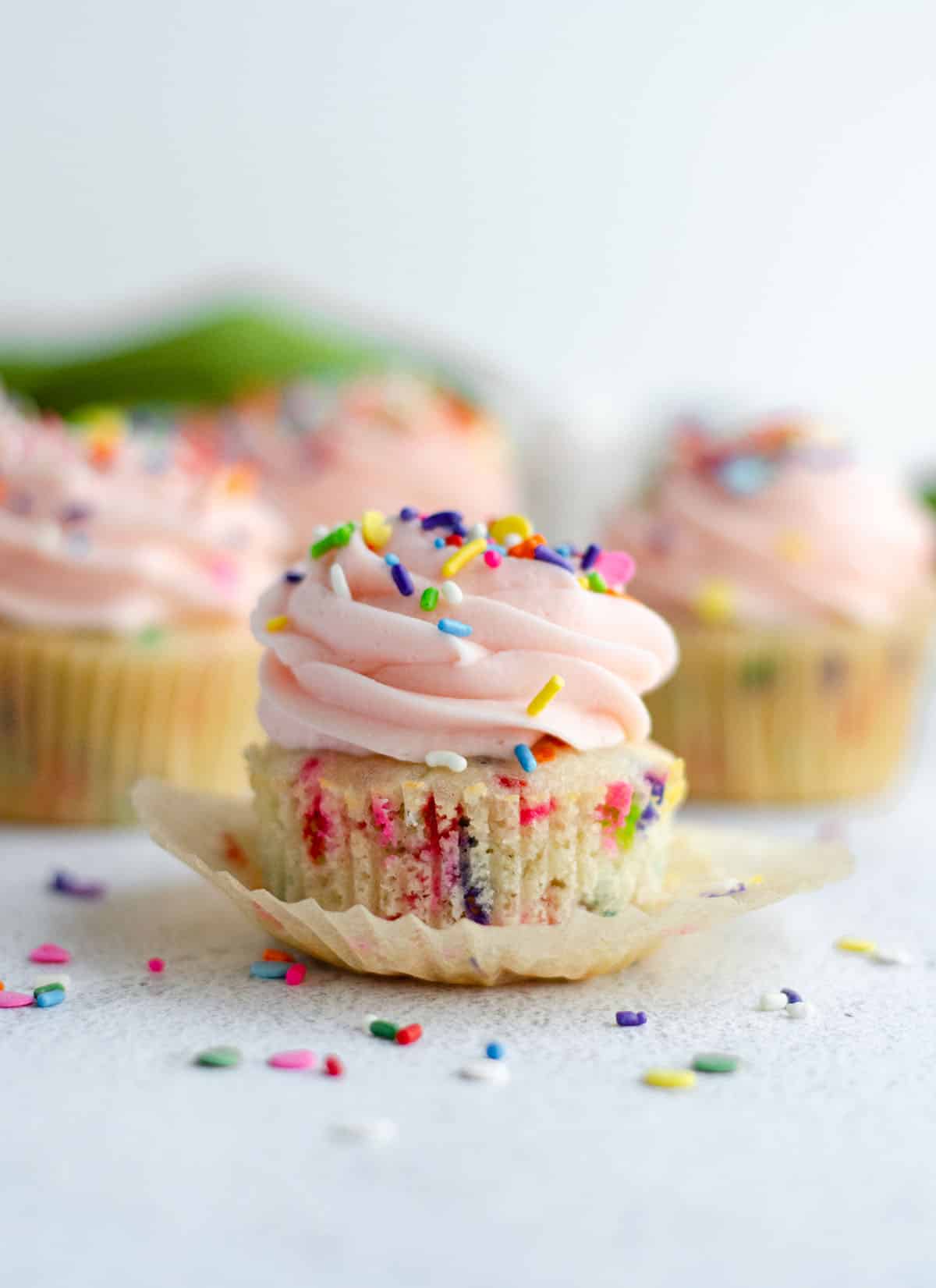 WooooWEE! It's been a wild ride, my friends. Six whole years of blogging under my belt, and this batch of homemade funfetti cupcakes has come a long way from when I first posted it in 2015 to celebrate my first year of blogging.
Since posting this recipe 5 years ago, I've tweaked it, tested it, and perfected it, so what once was is no longer. This is a new and improved funfetti cupcake recipe, and I'm here to tell you all about the whats and whys of the new recipe. I can't wait for you to try this old but new cupcake!
Like I said, six years ago, I posted this yeast bread family recipe (and then updated it in 2018). It was the first of what would become hundreds of recipes that I would share with friends and family, and eventually perfect strangers.
Throughout my blogging journey, I have learned approximately one billion things.
First of all, I learned (well, re-learned) how much I love writing. I was always very good at it in school, and if I had majored in writing in college, I would have had a 4.0, but I wouldn't have been as happy as I was with my hands in animal blood serum and dyes made from phytoplankton all day long.
While I miss my former wet chem lab terribly, moving to blogging full time has been so incredibly rewarding on so many levels, both personally and professionally.
Might I wind up in the science field again someday? Maybe. Who knows? But for right now, this is what I've been called to do and it is a downright amazing job to have.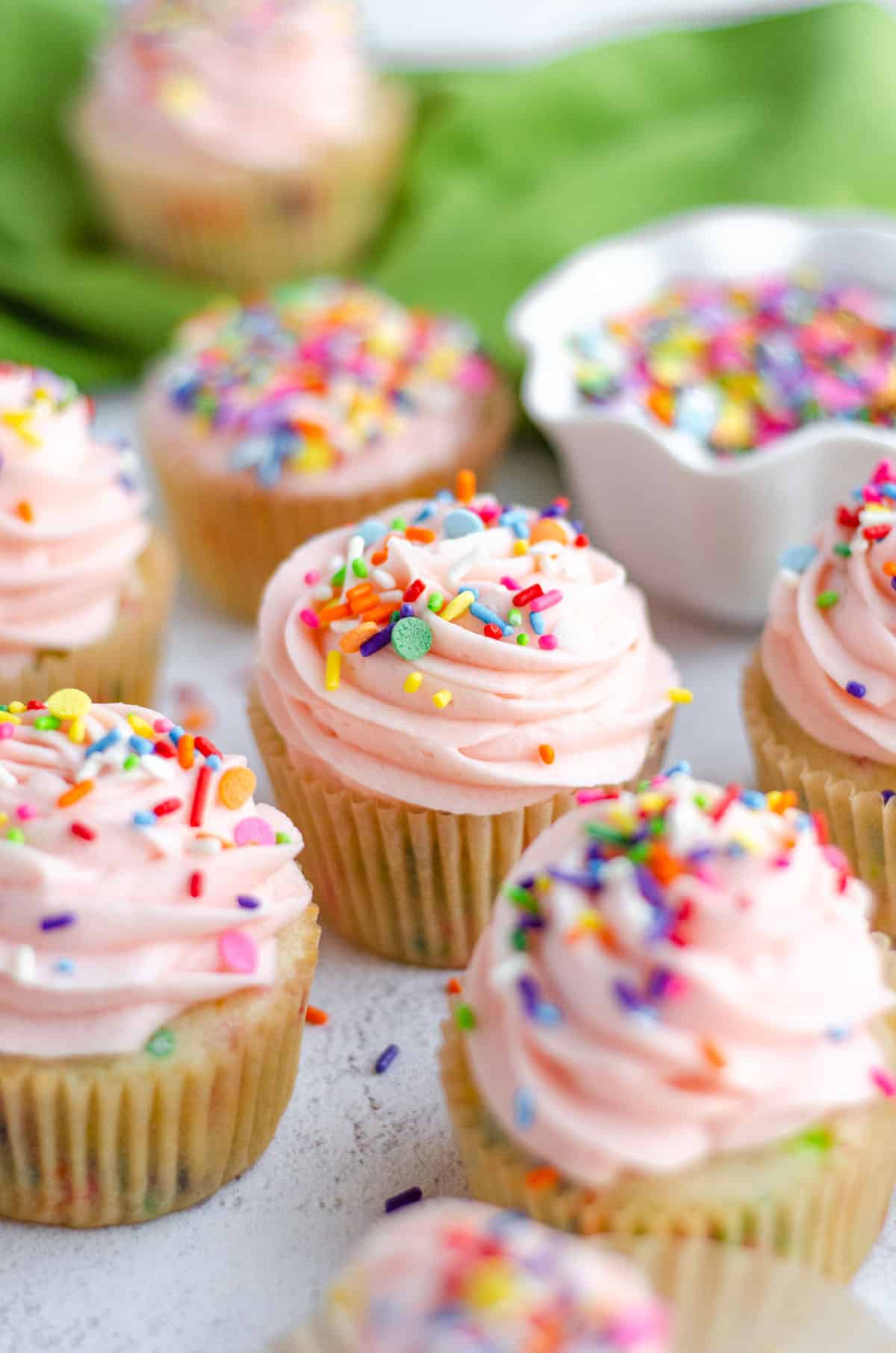 Since I will always be a scientist by trade and at heart, I am so grateful that starting this blog allowed me to rediscover my love for baking. I've mentioned before that I owned a cake baking/decorating business, and it just sucked the fun of cake/cupcake baking right out of me.
Once I started baking for me, I remembered why I started baking cakes in the first place. My kitchen became my science away from my science. And it works a whole different side of my brain.
Also, I have learned SO much about photography. It physically hurts my eyes to look at some of my first recipes, but I am so glad I have them to reflect on where I started.
Although I never claim to be a pro at photography, and knowing full well I have tons more to learn, I am pretty pleased with how my hard work (read: taking pictures of errythanggg) has paid off thus far.
Even rephotographing this cupcake recipe was a gigantic example of how my skills have evolved. I truly can't wait to learn more and see what another six years of photographing food will bring!
Perhaps the most important thing I've learned through my blogging journey is that I have an amazing audience to share my recipes with. You all "like" and share and Pin and Tweet all over the place. Everywhere.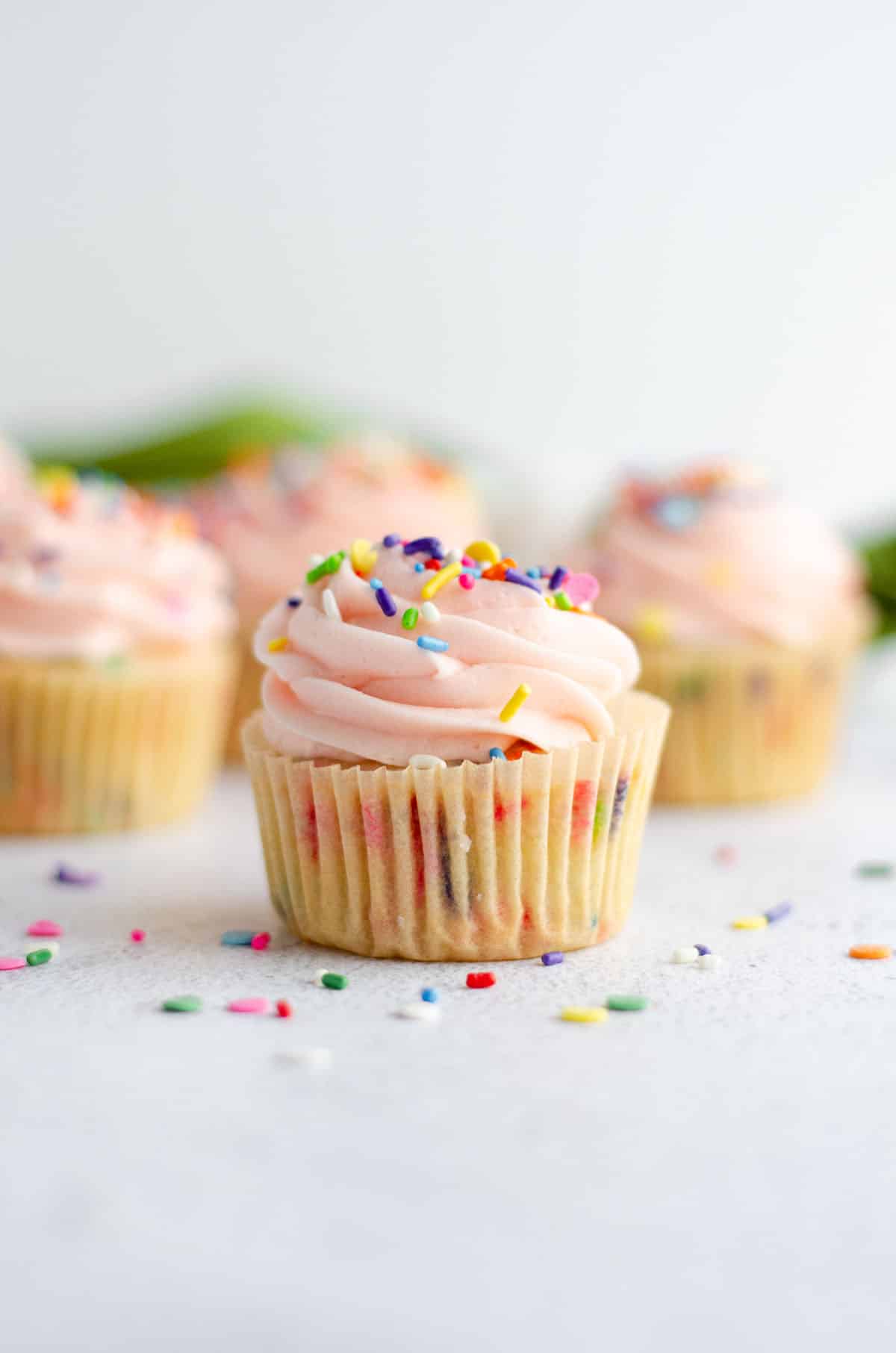 I'm genuinely floored some days at the places I've been featured, and just how many of you send me messages and leave comments about how much you love my recipes. Not only that, but I have made some wonderful friends through this blog (fellow bloggers, perfect strangers, rekindled friendships from past life…).
I do this all for you, so seriously… Thank you for the past several years.
For reading.
For following.
For baking.
For sharing.
For all of your support, right down to your word of mouth advertising.

I ♥ you all and hope that the next several years bring just as much growth personally, professionally, and within my relationships with all of you!
So now, let's talk about these funfetti cupcakes. They're… Amazing, yes? Something about that box from Pillsbury (that I happened to use in this cake batter dip) is just so good. SO. GOOD. You must agree, right?
Well, the great news is that now you'll be able to recreate this iconic flavor right in your own kitchen! Exciting!
And I've got all the best tips and tricks for how to make funfetti cupcakes better than the ones from the box (yeah, I said it).
CAREFULLY CHOSEN INGREDIENTS YIELD THE BEST CUPCAKES
My original homemade funfetti cupcake recipe was good, but it needed some work. And thankfully, after many many more years of learning about baking, I was able to turn really good homemade funfetti cupcakes into the BEST homemade funfetti cupcakes.
You'll just need to follow the ingredient list and instructions carefully, otherwise, your results will definitely differ (believe me– I've made so many of these cupcakes over the years before settling on this perfect combo).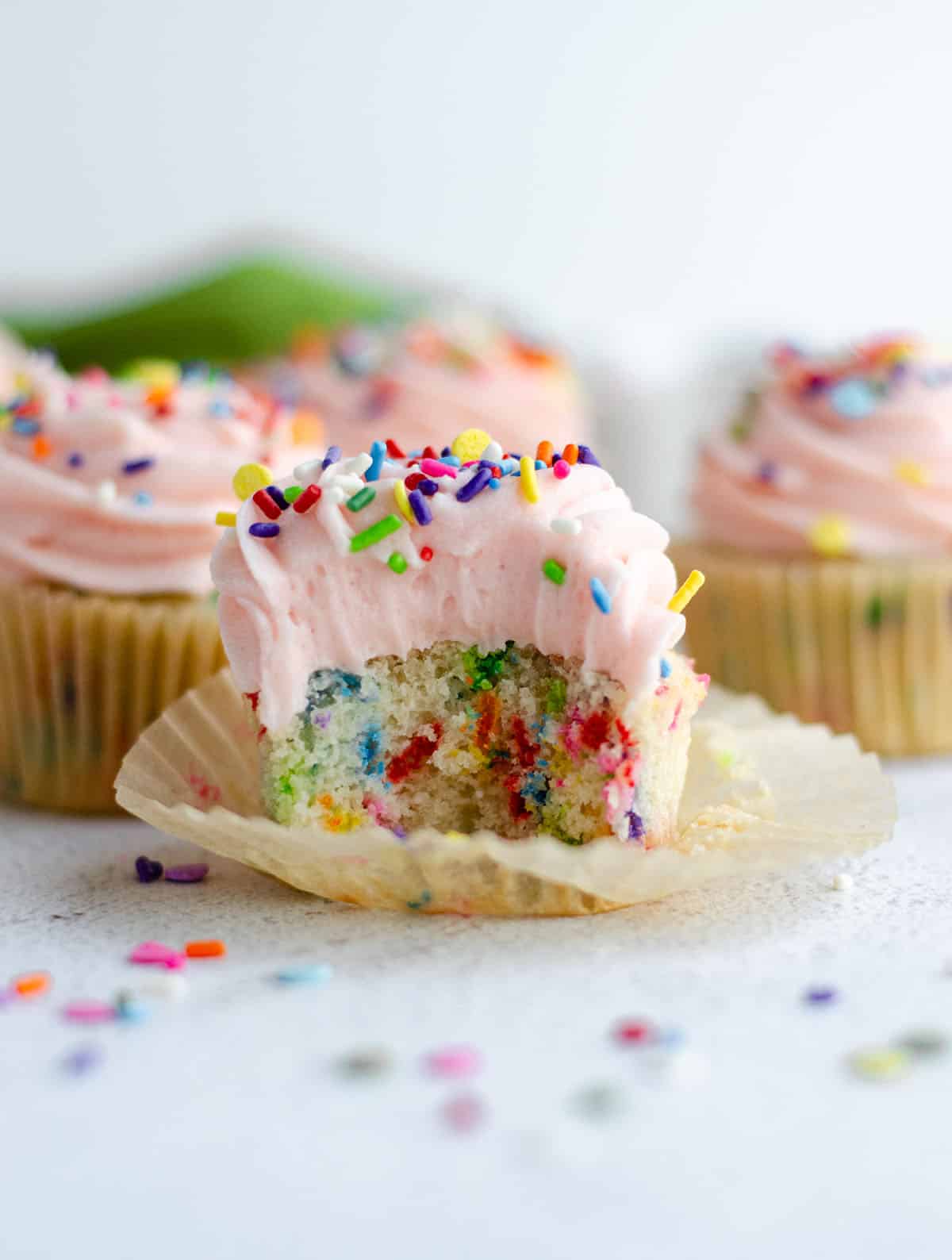 EGG WHITES KEEP THE BATTER LIGHT
First of all, we're taking the original two whole eggs down to just two egg whites. We're removing the yolks to keep things light and fluffy, but since we're removing the fat component of the eggs, we need to be strategic about putting fat back in to prevent a dry crumb.
FULL FAT DAIRY BRINGS THE MOISTURE
That's where sour cream or full fat yogurt come into play, as well as full fat milk. We need that fat, and it's imperative to the texture of the cupcake.
If you opt for lower fat dairy, I can guarantee you a dry cupcake. Fat yields flavor and moisture, so don't make any subs here, unless you're prepared for the results.
Aside from those specifics, we've got very simple regular additional ingredients, offset by a tiny touch of almond extract to give these cupcakes a flavor profile unlike any other cupcake. Plus… Tons of sprinkles. That should seal the deal.
I topped off these vanilla funfetti cupcakes with my classic and favorite vanilla buttercream (+ a touch of almond extract!), swirled into the perfect medium for a birthday candle + more sprinkles…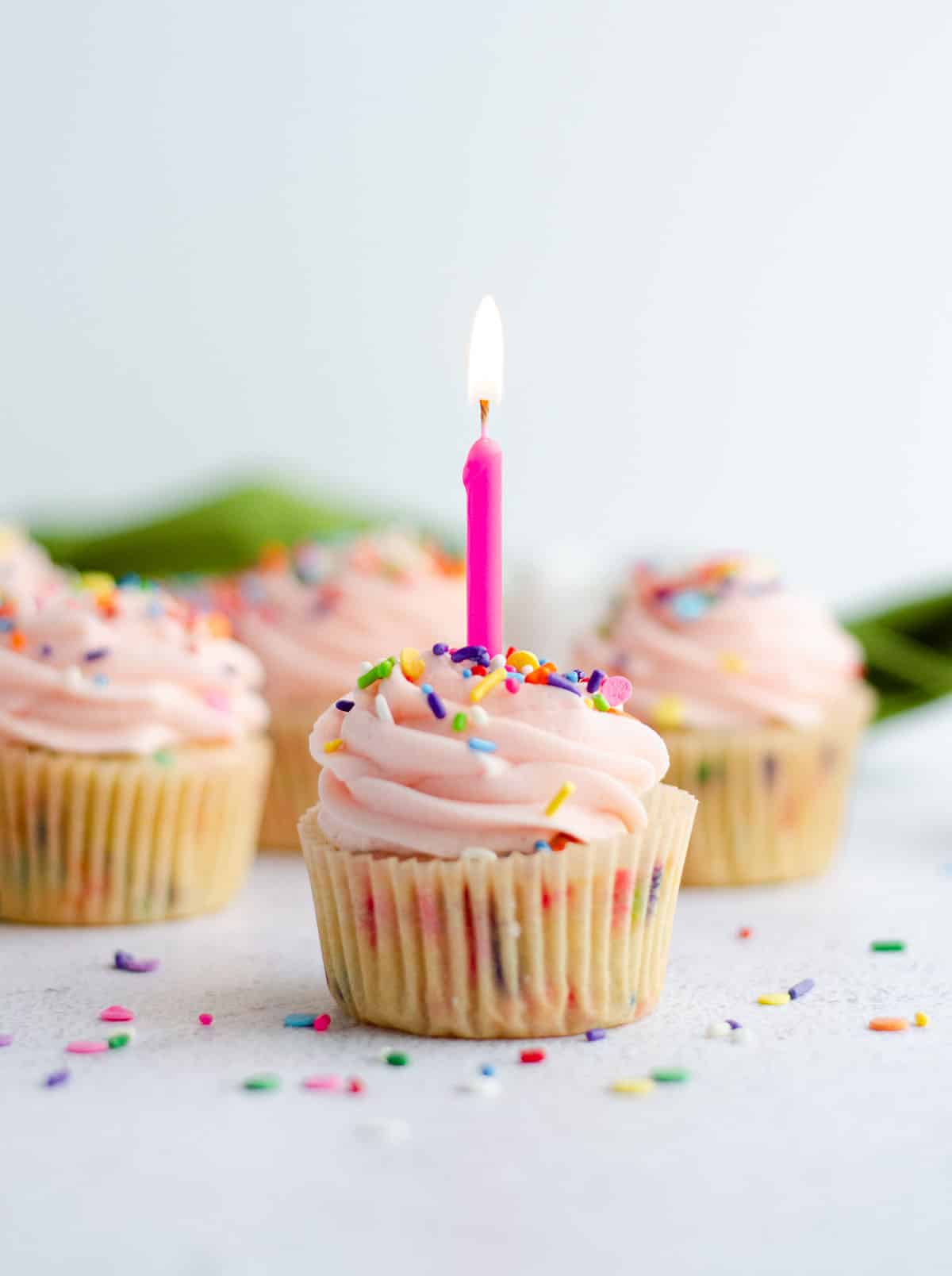 …now we're talkin'.
I am confident this new and improved funfetti cupcake recipe from scratch rivals the older one that's been wishy-washy with reviews from readers for years. If you've tried them before, I urge you to try them again with these substitutions!
So please, let's revel in reflection and celebration of SIX YEARS of Fresh April Flours recipes by just enjoying some colorful and tasty cupcakes.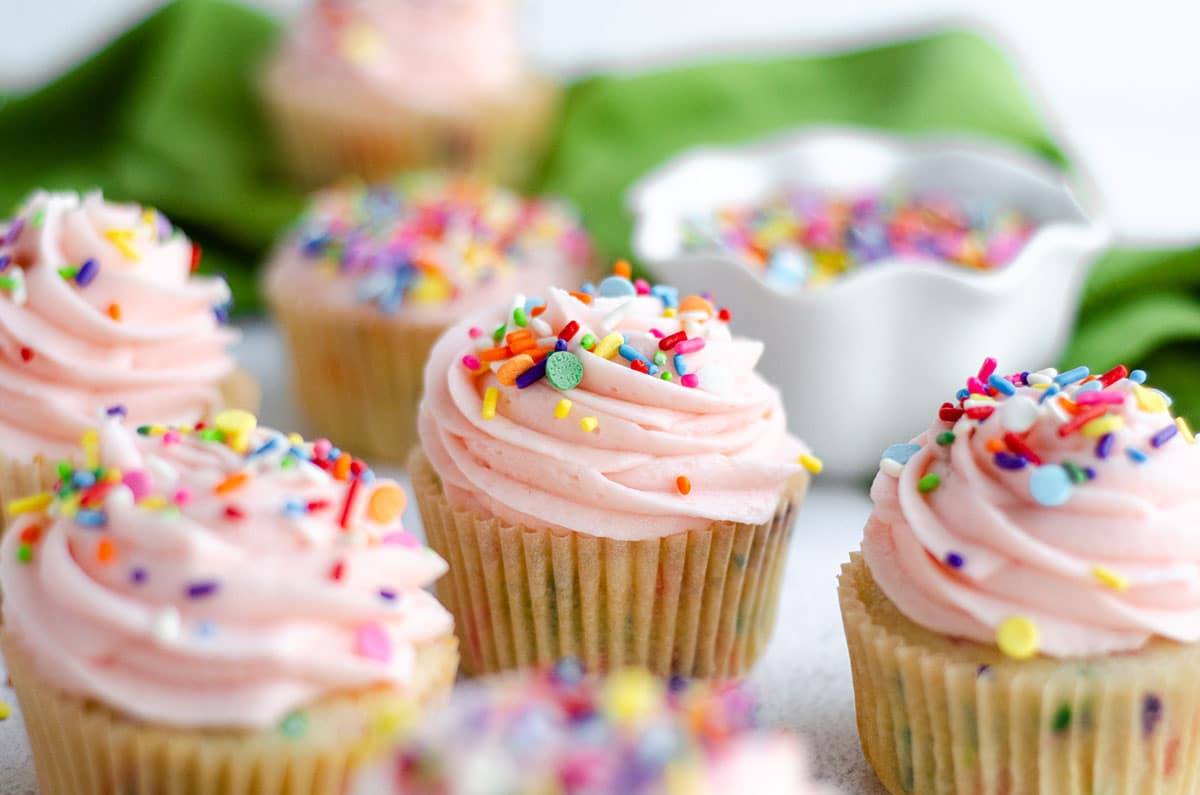 And please, pat yourselves on the back for helping me get here. Seriously. I insist. Because I definitely couldn't have gotten here without ya!
Homemade Funfetti Cupcakes Recipe
Sprinkle-speckled cupcakes that taste BETTER than the ones from the box, topped with creamy, sprinkle-filled vanilla buttercream. Ditch the mix and make your own funfetti cupcakes from scratch!
Ingredients
FUNFETTI CUPCAKES
1 and ⅓

cup

(150g) all-purpose flour be sure to measure properly

⅓

cup

(40g) cornstarch

1 and ½

teaspoons

baking powder

½

teaspoon

salt

½

cup

(113g) unsalted butter

softened to room temperature

1

cup

(200g) granulated sugar

2

large egg whites room temperature1

¼

cup

(61g) sour cream or full fat yogurt room temperature1,2

2

teaspoons

vanilla extract

½

teaspoon

almond extract

¾

cup

(180g) milk room temperature1,2

½

cup (100g)

sprinkles not nonpareils
FUNFETTI BUTTERCREAM
1

cup

(226g) unsalted butter

softened to room temperature

4 to 5

cups

(480-600g) powdered sugar

1

teaspoon

vanilla extract

½

teaspoon

almond extract

¼ to ⅓

cup

(60-80g) milk or cream

⅛ to ¼

teaspoon

salt

to taste

¾

cup (50g)

sprinkles not nonpareils
gel coloring if desired3
Instructions
FUNFETTI CUPCAKES
Preheat oven to 350ºF (177ºC). Line a standard cupcake pan with cupcake liners and set aside.

In a medium size bowl, whisk together flour, cornstarch, baking powder, and salt. Set aside.

In a large bowl with a handheld mixer, or the bowl of a stand mixer fitted with the paddle attachment, cream the butter and sugar together on medium speed until light and fluffy, about 3 minutes. Add the egg whites, vanilla extract, and almond extract, and beat again until everything is incorporated.

Stop the mixer, scrape down the sides and bottom of the bowl, then beat in the yogurt on medium speed until completely combined.

Add the dry ingredients in 2 additions, alternating with the milk, beating on high for about 10 seconds once everything is combined. Remove bowl from mixer and stir in the sprinkles carefully with a spatula.

Fill cupcake liners ¾ of the way full (I like to use an ice cream scoop with a thumb trigger) and bake for 15-18 minutes or until a toothpick inserted in the center comes out clean. Remove from oven and allow to cool completely on a wire rack before decorating.
FUNFETTI BUTTERCREAM
In a large bowl with a handheld mixer, or a stand mixer fitted with the paddle attachment, beat the butter on medium speed until creamy, about 2 minutes.

With the mixer on low, add in the powdered sugar, vanilla extract, almond extract, and milk or cream. Increase mixer speed to medium and beat until completely smooth, about 3 minutes. Add salt to taste. Stir in sprinkles carefully with a spatula. If frosting is too stiff, add more milk. If it is too thin, add more powdered sugar.

Fill a piping bag (or a large zip top bag with the corner snipped off) with frosting and decorate your cupcakes. If you want a fancier pipe, use a Wilton 1M tip. More sprinkles on top are optional. Cupcakes stay fresh in an airtight container at room temperature up to 3 days.
Notes
Room temperature eggs: these are always a good idea when using room temperature butter as it makes for easier incorporation into the batter. To bring eggs to room temperature quickly, place eggs in a bowl of warm water for 5-10 minutes.
Full fat dairy: it is imperative to use full fat dairy in this recipe for moisture, since we're eliminating the yolks from the eggs to keep the batter light.
Coloring icing: I like to color my funfetti buttercream, and my favorite coloring are AmeriColor. The color I used in the photos is "dusty rose."
Make mini cupcakes: this recipe can make about 2 and

½

dozen mini cupcakes (baking time is 11-13 minutes).
Nutrition Disclosure
All nutritional values are approximate and provided to the reader as a courtesy. Changing ingredients and/or quantities will alter the estimated nutritional calculations.
Serving:
1
cupcake
|
Calories:
423
kcal
|
Carbohydrates:
63
g
|
Protein:
2
g
|
Fat:
18
g
|
Saturated Fat:
12
g
|
Polyunsaturated Fat:
1
g
|
Monounsaturated Fat:
5
g
|
Trans Fat:
1
g
|
Cholesterol:
48
mg
|
Sodium:
131
mg
|
Potassium:
44
mg
|
Fiber:
0.3
g
|
Sugar:
53
g
|
Vitamin A:
558
IU
|
Vitamin C:
0.05
mg
|
Calcium:
44
mg
|
Iron:
1
mg