As an Amazon Associate I earn from qualifying purchases.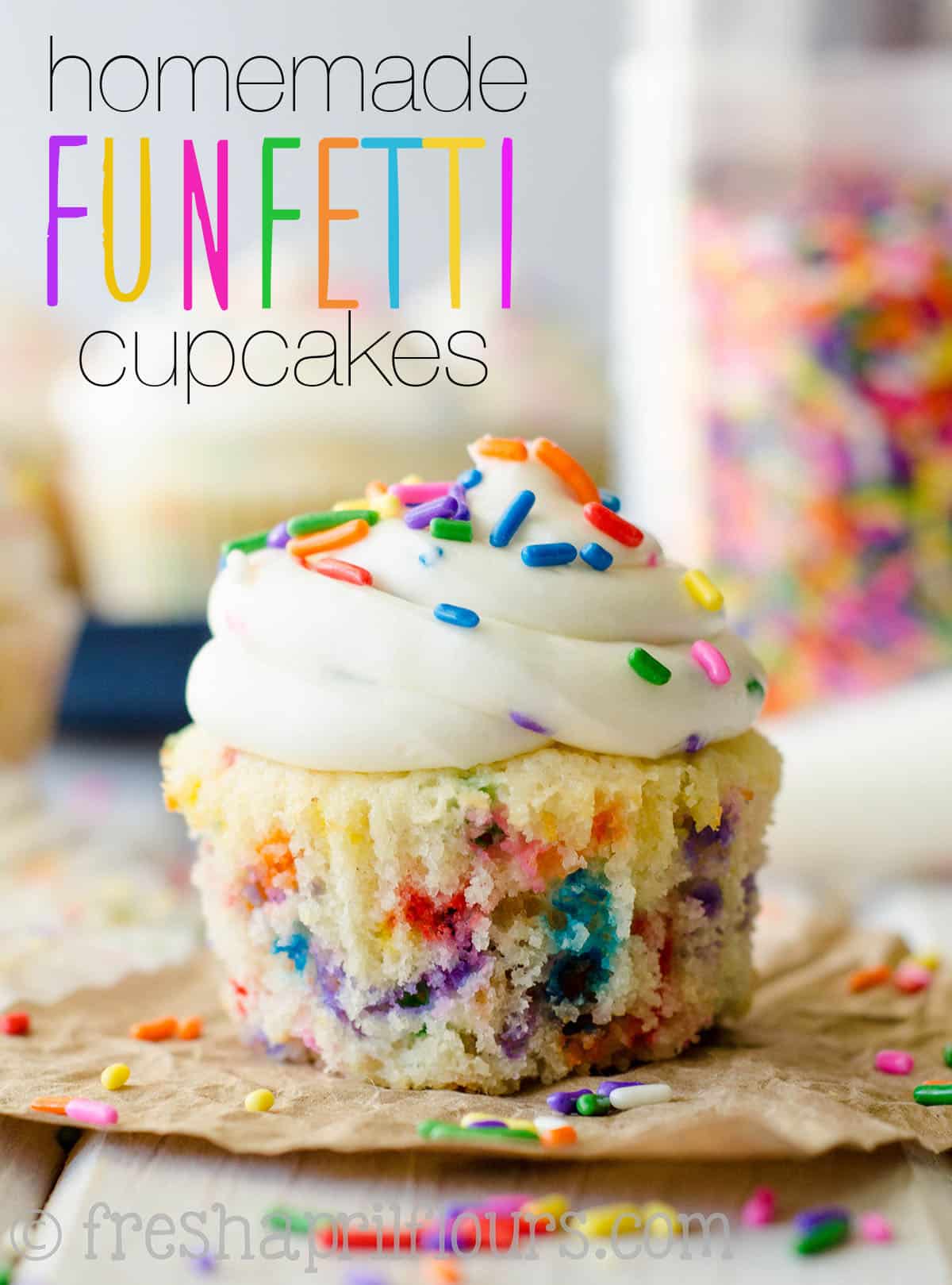 Sprinkle-speckled cupcakes that taste BETTER than the ones from the box, topped with creamy, sprinkle-filled vanilla buttercream. Ditch the mix and make your own funfetti cupcakes from scratch!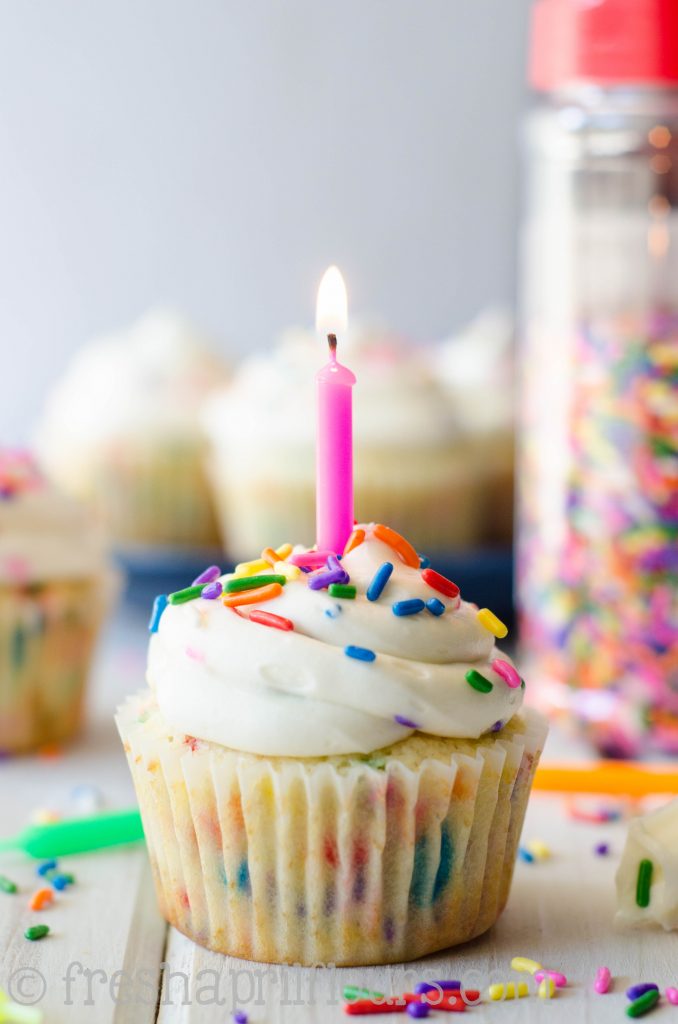 Although FAF's actual birthday isn't until April 13th (the day I posted this yeast bread family recipe), I'm bringing this post and recipe to you a bit early because I have some really big news coming that day. It's pretty exciting, and I thought that a formal announcement on FAF's 1st birthday would be the perfect place for it.
That being said, I want to talk a little about what I've learned over the past year of blogging. And oh, boyyyy have I learned a lot.
First of all, I learned (well, re-learned) how much I love writing. I was always very good at it in school, and if I had majored in writing in college, I would have had a 4.0, but I wouldn't be as happy as I am with my hands in animal blood serum and dyes made from phytoplankton all day long.
It's so therapeutic for me to share my words with all of you, describing something I really love doing…
…which is baking. I rediscovered my love for baking after starting this blog. I've mentioned before that I owned a cake baking/decorating business, and it just sucked the fun of cake/cupcake baking right out of me (I talked a little bit here about how this has affected my recipe index).
Once I started baking for me, I remembered why I started baking cakes in the first place. My kitchen is my science away from my science. And it works a whole different side of my brain.
I have learned SO much about photography. It physically hurts my eyes to look at some of my first recipes (namely this quinoa, kale, and flaxseed patties one, but I am so glad I have them to reflect on where I started.
Although I never claim to be a pro at photography, and knowing full well I have tons more to learn, I am pretty pleased with how my hard work (read: taking pictures of errythanggg) has paid off thus far. Check out a couple examples I have of how my photography has improved…
In this first picture (DeAngelis Family Easter Pizza), my slice of bread looks like it was made for a giant. The angle is all wrong, and there isn't a whole lot of "interesting" going on in the photo as a whole. Yikes.

In this much prettier photo of bread slices (Chocolate Chip Peanut Butter Bread), the slices look proportional to the photo. I've invested in some funky plates that add texture and contrast to the food I've placed on it, and I'm working with a bit more *flow* in the photo (the peanut butter on the spoon that draws your eyes to the little chocolate chips scattered on the cutting board).
Next up, my ever-popular Cake Batter Puppy Chow was a very early recipe for me last year. In this first photo, are the pieces of cereal as big as your head? As small as the eraser on a pencil? No idea. We are waaaay to close to the subject here…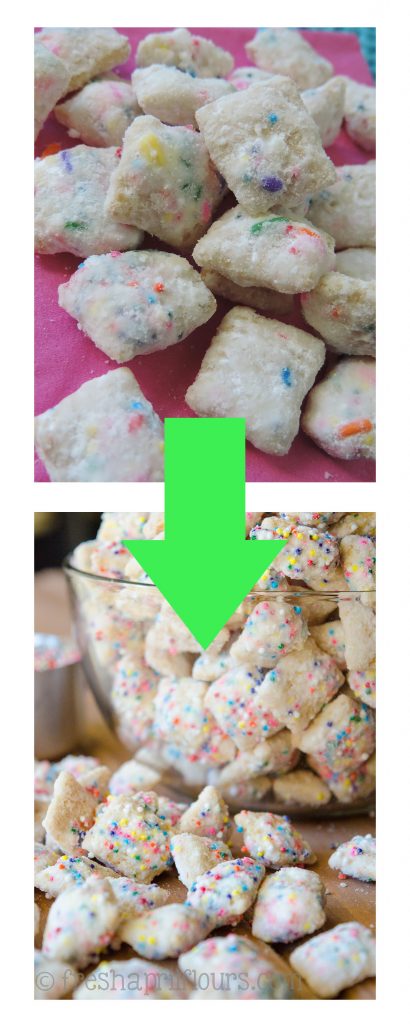 Fast forward to just a couple months ago when I decided to reshoot this recipe and take some new photos. Much better! Here, we have *flow* again, and you can see the size of the pieces with the bowl as a reference point. More color, more details, more things to grab your attention.
As I said, I still have a ton to learn in this area of blogging, but I'm happy with the progress I've made in just one year!
And lastly, the most important thing I've learned is that I have an amazing audience to share my recipes with. You all "like" and share and Pin and Tweet all over the place. Everywhere.
I'm genuinely floored some days at the places I've been featured, and just how many of you send me messages and leave comments about how much you love my recipes. Not only that, but I have made some wonderful friends through this blog (fellow bloggers, perfect strangers, rekindled friendships from past life).
I do this all for you, so seriously… Thank you for the past year.
For reading.
For following.
For baking.
For sharing.
For all of your support, right down to your word of mouth advertising.
I ♥ you all and hope that the next year brings just as much growth personally, professionally, and within my relationships with all of you!
And now, after the most long-winded happy almost birthday dedication one can make to a blog… I bring you cupcakes.
Funfetti cupcakes. They're… Amazing, yes? Something about that box from Pillsbury (that I happened to use in this cake batter dip) is just so good. SO. GOOD. You must agree, right?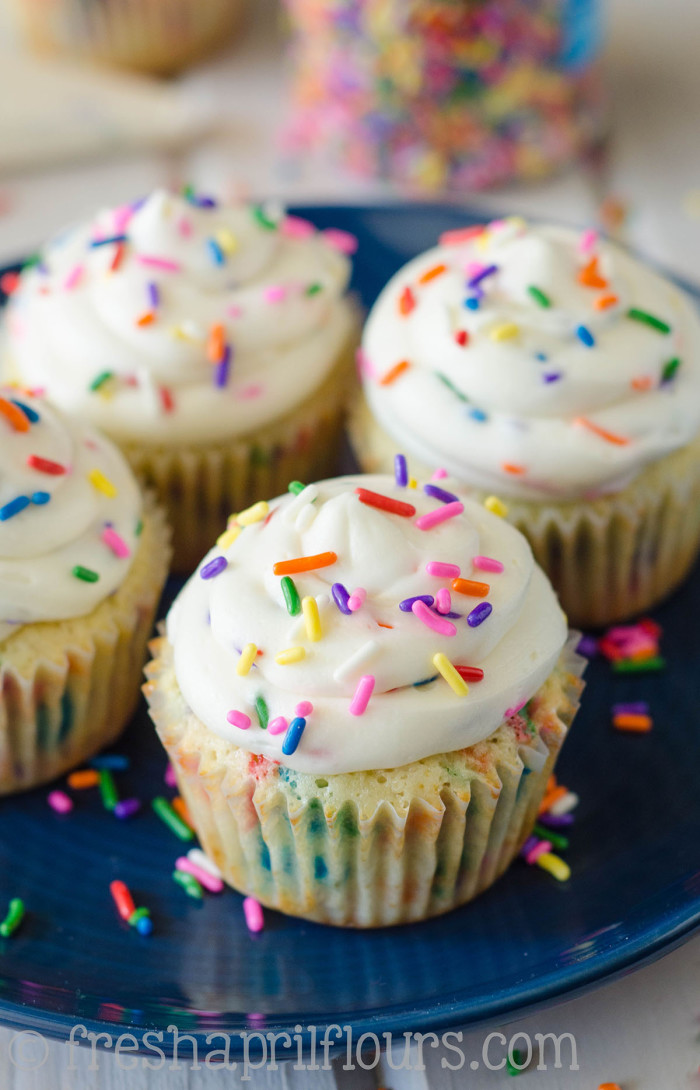 Well, the great news is that now you'll be able to recreate this iconic flavor right in your own kitchen! Exciting!
And of course, what better occasion to bring some funfetti into our lives than FAF's first birthday? None. The answer is none.
Because I've already written a lot in this post, I'm going to keep the rest short and sweet. This recipe is straightforward, and there is nothing too crazy about it. Simple, regular ingredients, offset by a tiny touch of almond extract to give these cupcakes a flavor profile unlike any other cupcake. Plus… Tons of sprinkles. That should seal the deal.
Topped off with my classic and favorite vanilla buttercream, swirled into the perfect medium for a birthday candle + more sprinkles…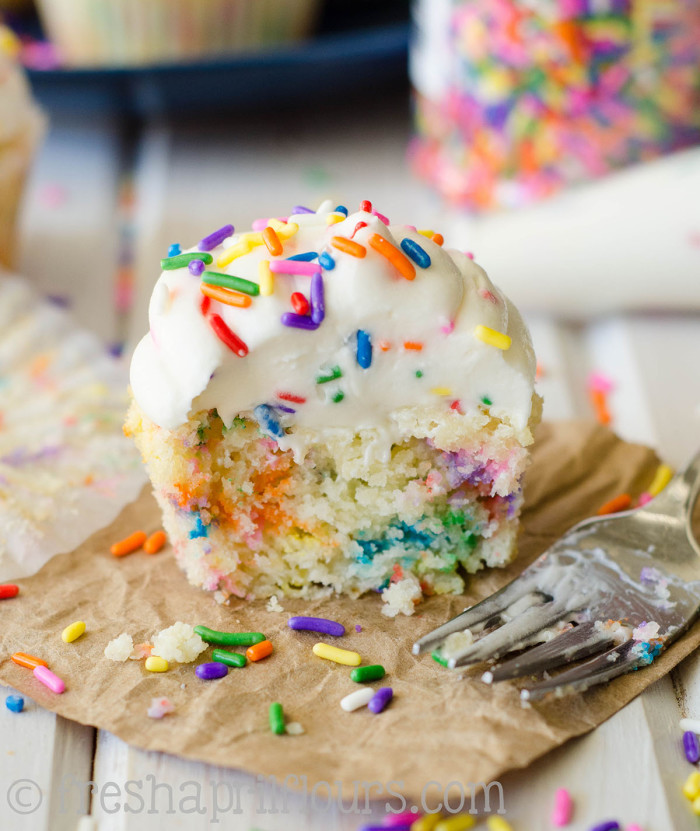 …now we're talkin'.
So please, let's revel in reflection and celebration of a year of Fresh April Flours recipes by just enjoying a homemade funfetti cupcake. Seriously. I insist.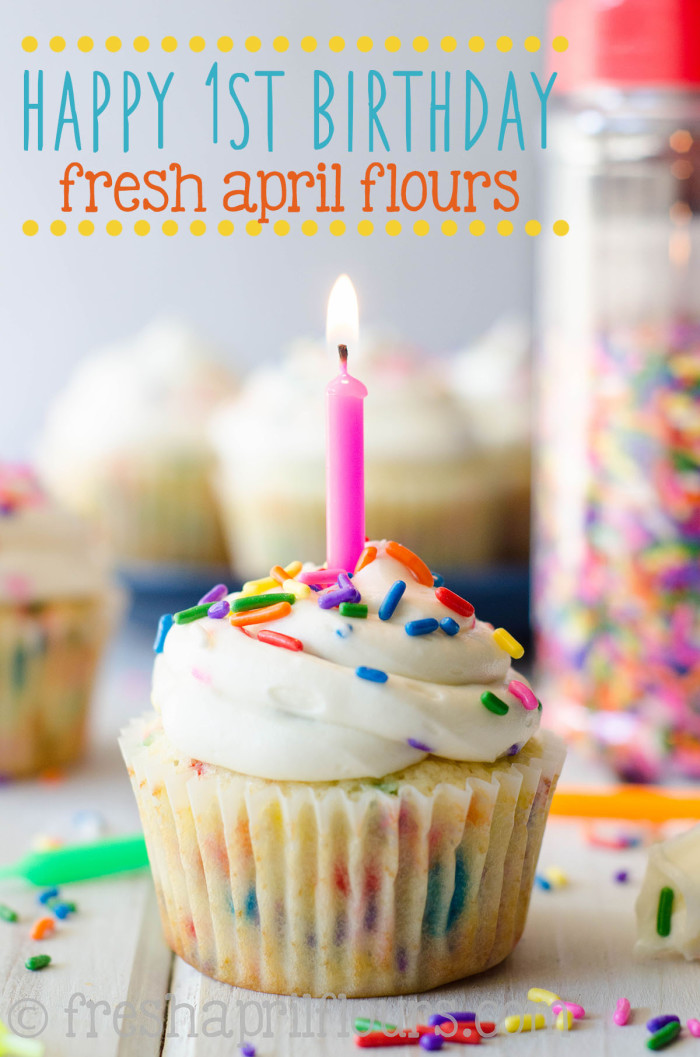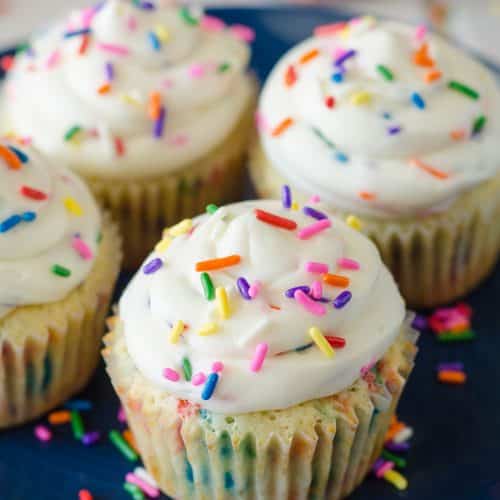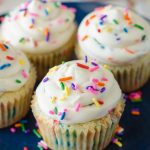 Print Recipe
Homemade Funfetti Cupcakes with Funfetti Buttercream
Sprinkle-speckled cupcakes that taste BETTER than the ones from the box, topped with creamy, sprinkle-filled vanilla buttercream. Ditch the mix and make your own funfetti cupcakes from scratch!
Ingredients
FUNFETTI CUPCAKES
1 and 1/3

cup

all-purpose flour

1/3

cup

cornstarch

1 and 1/2

teaspoons

baking powder

1/2

teaspoon

salt

1/2

cup

unsalted butter

melted

1

cup

granulated sugar

2

large eggs

room temperature*

1/4

cup

yogurt

Greek or regular, plain or vanilla, any fat content

3/4

cup

milk

any

2

teaspoons

vanilla extract

1/2

teaspoon

almond extract

1/2

cup

sprinkles not nonpareils
FUNFETTI BUTTERCREAM
1

cup

(2 sticks) unsalted butter

softened to room temperature

4

cups

powdered sugar

1

teaspoon

vanilla extract

1/2

teaspoon

almond extract

⅓

cup

milk or cream

salt

to taste

1/4

cup

sprinkles not nonpareils
Instructions
FUNFETTI CUPCAKES
Preheat oven to 350ºF. Line a standard cupcake pan with cupcake liners and set aside.

In a medium size bowl, whisk together flour, cornstarch, baking powder, and salt. Set aside.

In a large microwave safe bowl, melt the butter in the microwave. Whisk in sugar, eggs, yogurt, milk, vanilla extract, and almond extract until smooth.

Pour dry ingredients into wet ingredients and mix gently with a spatula until combined and no lumps remain. Stir in sprinkles slowly.

Fill cupcake liners 3/4 of the way full (I like to use an ice cream scoop with a thumb trigger) and bake for 16-18 minutes or until a toothpick inserted in the center comes out clean. Remove from oven and allow to cool completely on a wire rack before decorating.
FUNFETTI BUTTERCREAM
In a large bowl with a handheld mixer, or a stand mixer fitted with the paddle attachment, beat the butter on medium speed until creamy, about 2 minutes.

With the mixer on low, add in the powdered sugar, vanilla extract, almond extract and milk or cream. Increase mixer speed to medium and beat until completely smooth, about 3 minutes. Add salt to taste. Stir in sprinkles carefully with a spatula. If frosting is too stiff, add more milk. If it is too thin, add more powdered sugar.

Fill a piping bag (or a large zip top bag with the corner snipped off) with frosting and decorate your cupcakes. If you want a fancier pipe, use a Wilton 1M tip. More sprinkles on top are optional. Cupcakes stay fresh in an airtight container at room temperature up to 3 days.
Notes
*Room temperature eggs are always a good idea when using room temperature butter as it makes for easier incorporation into the batter. To bring eggs to room temperature quickly, place eggs in a bowl of warm water for 5-10 minutes.
This recipe can make about 2 and 1/2 dozen mini cupcakes (baking time is 11-13 minutes).

Love funfetti? Try my baked funfetti donuts next!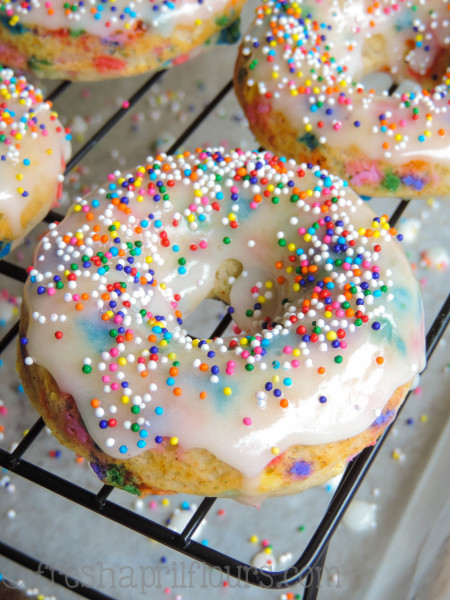 Or just see all sprinkles recipes.