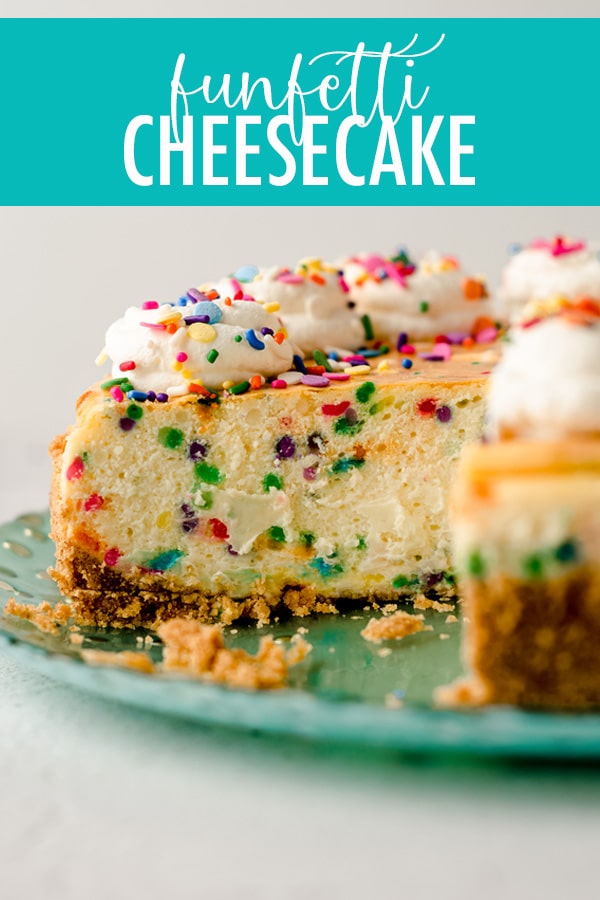 As an Amazon Associate, I earn from qualifying purchases. Read the full disclosure here.
This deliciously creamy funfetti cheesecake has plenty of sprinkles inside and out! Perfect for birthdays, parties, or any celebration. This post has plenty of tips, tricks, and photos to insure you have a perfect and beautiful rainbow-filled cheesecake every time.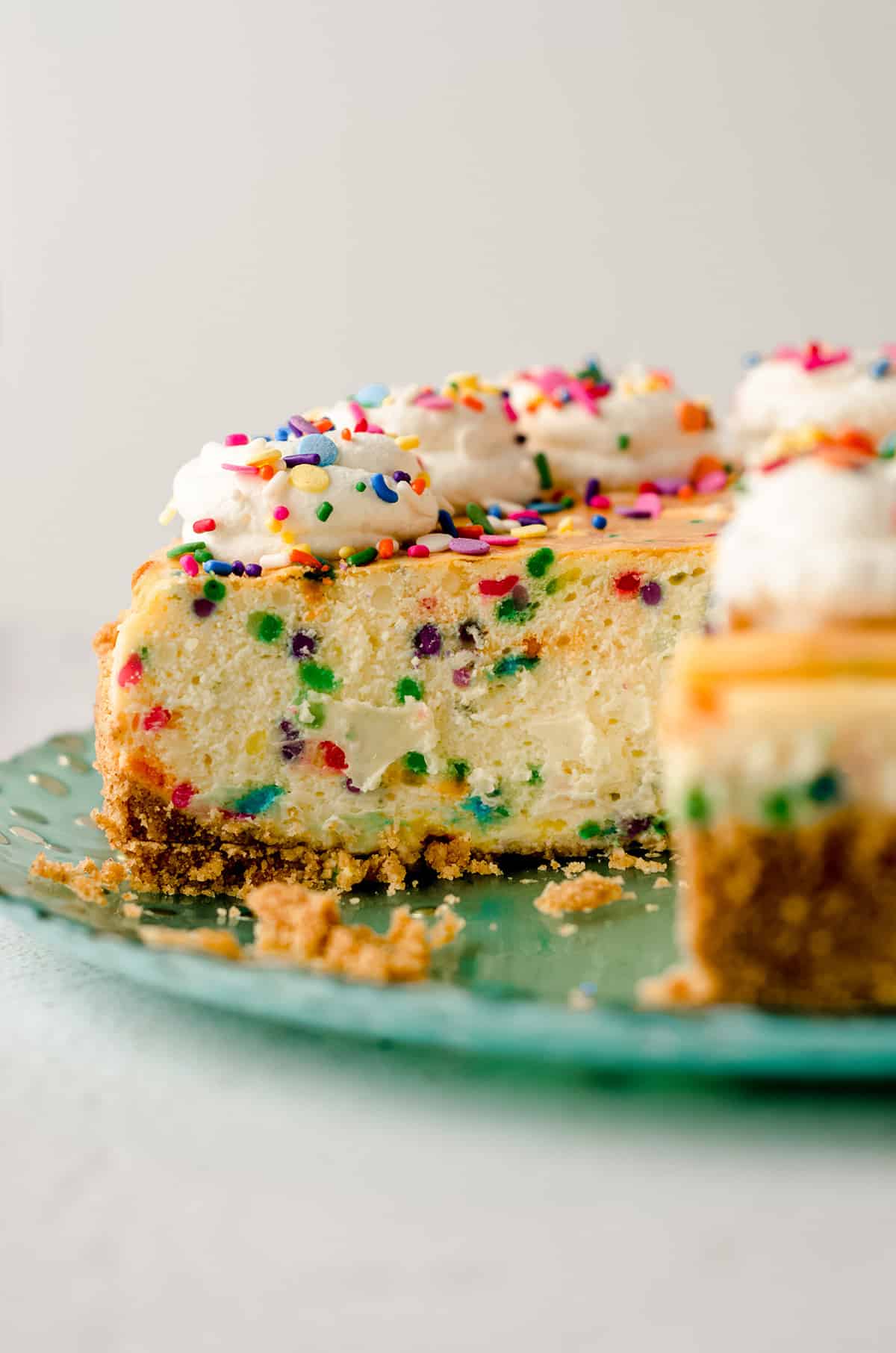 It's kind of my M.O. to "funfetti-fy" my first of a kind of recipe I've never made before, and this funfetti cheesecake is no different.
Back track to my first biscotti (funfetti biscotti), first baked donuts (funfetti donuts), and first cinnamon rolls (funfetti cinnamon rolls), it just seems that if you're going to try something for the first time and it doesn't work out, the sprinkles make it all better.
This is a good theory, right?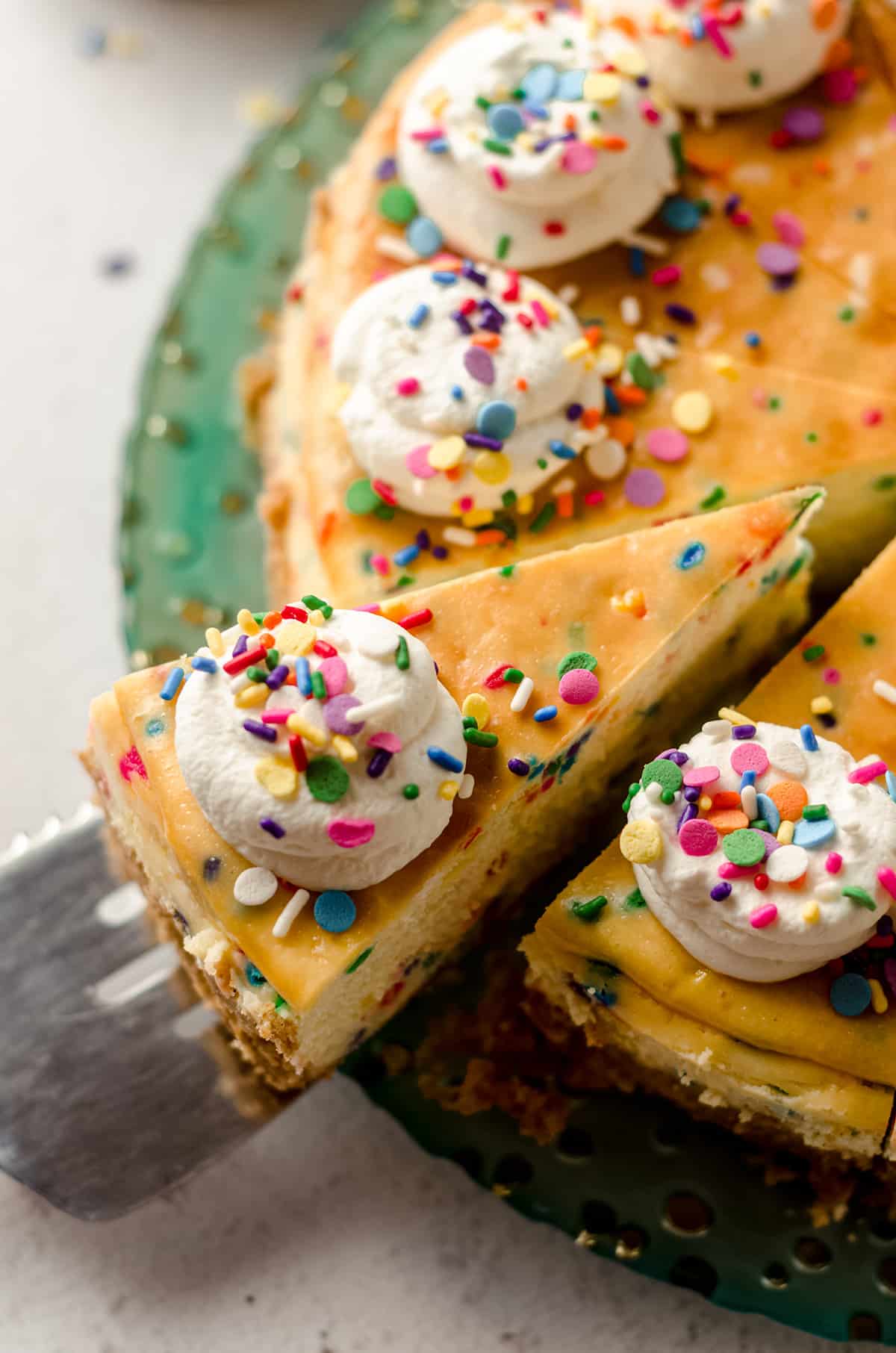 So here we are, at my first ever cheesecake recipe, which I am so thrilled about and have one special blogging friend to thank for her pep talks and advice when tackling my first ever cheesecake recipe.
A giant "thank you" goes to my friend Elizabeth over at Confessions of a Baking Queen, who I tease should change that name of her blog to Confessions of a Cheesecake Queen, because WHOOOOOOOWEEEE she is a pro and just check out her collection of gorgeous cheesecakes.
Seriously, she is cheesecake goals, and I am so grateful that the blogging world has connected me with many folks who have taught me a thing or two about a thing or two.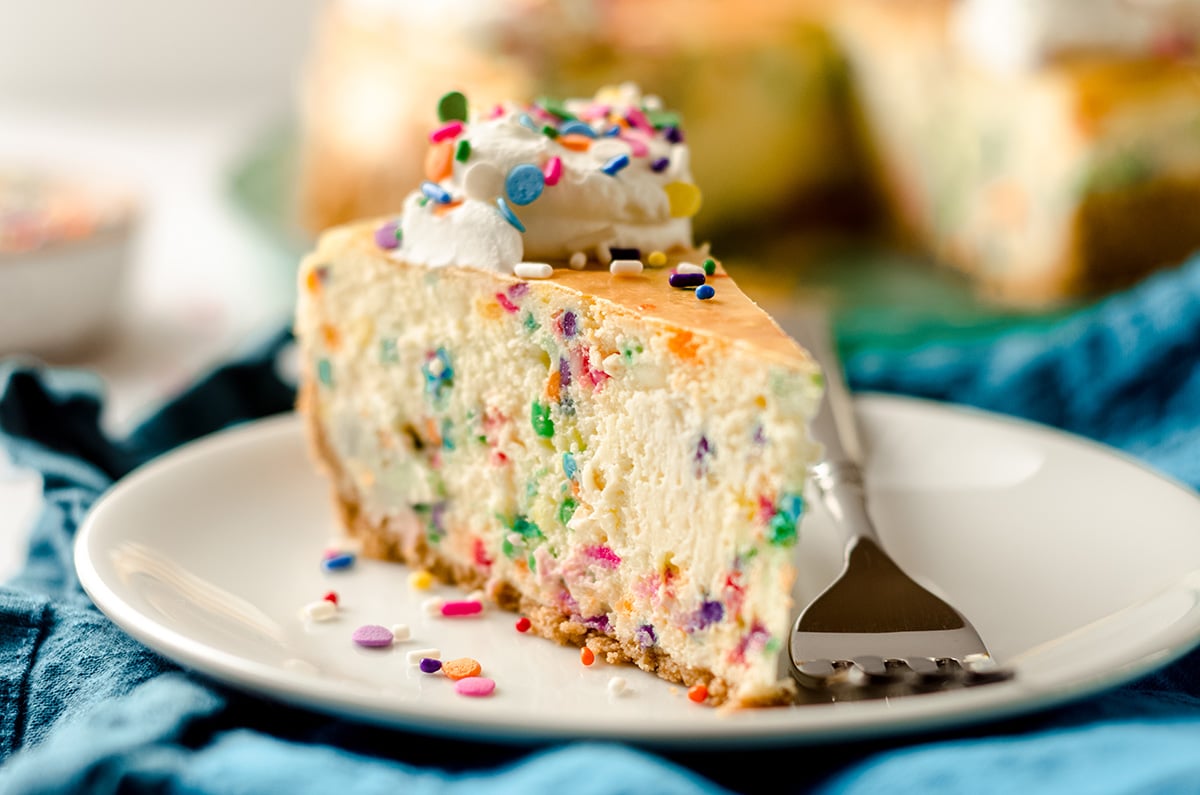 That said, I am totally going to be breaking out many more cheesecake recipes in the future now that I know I can do it and the intimidation factor is totally gone.
Let me talk you out of your own head re: cheesecake, too, if that's the kind of baker you are. If you're a pro, you're welcome to read along here, too, but this is, for lack of a better term, Lynn's Cheesecake 101 (thankstoElizabeth).
WHAT IS IN CHEESECAKE?
Cheesecake, while not exactly a cake of cheese in the traditional sense, is a rich dessert cake typically baked on a graham cracker or cookie crust. It is made mostly of cream cheese, thickened with other dairy ingredients like sour cream/yogurt and heavy whipping cream, sweetened with granulated sugar, and made stable with eggs and egg yolks.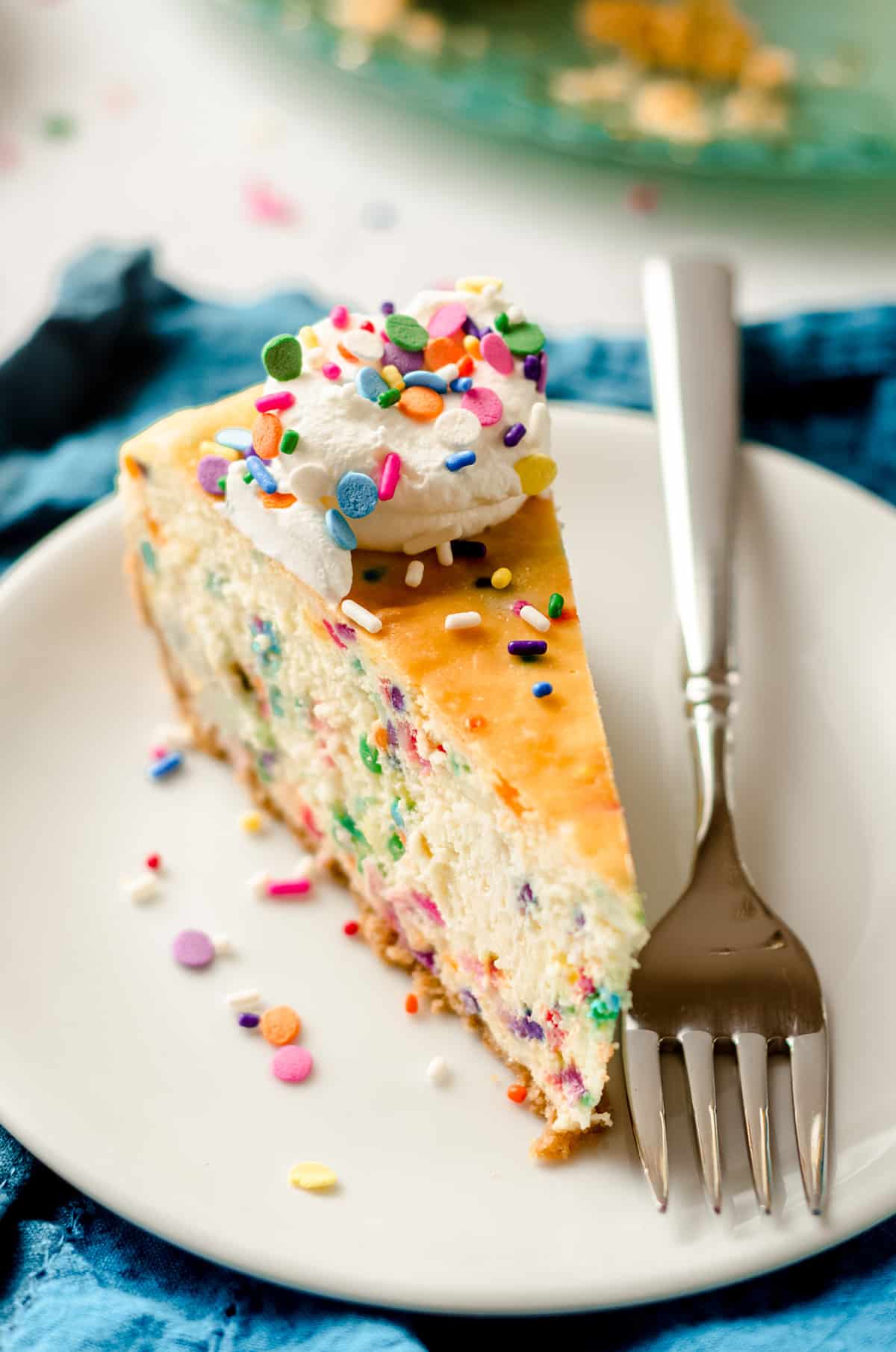 Classic cheesecake is typically topped with a basic fruit sauce or curd (like lemon curd) or eaten plain, but of course, it's always fun to jazz up the inside of classic desserts, especially when that jazziness is brought to you by sprinkles.
In reality, if you wanted to, you could leave out the sprinkles in this funfetti cheesecake recipe and be left with a gorgeous classic cheesecake.
It's kind of like my white layer cake that gets turned into all sorts of delicious remixes like berry cake, champagne layer cake, red, white, and blue swirl bundt cake, and funfetti bundt cake.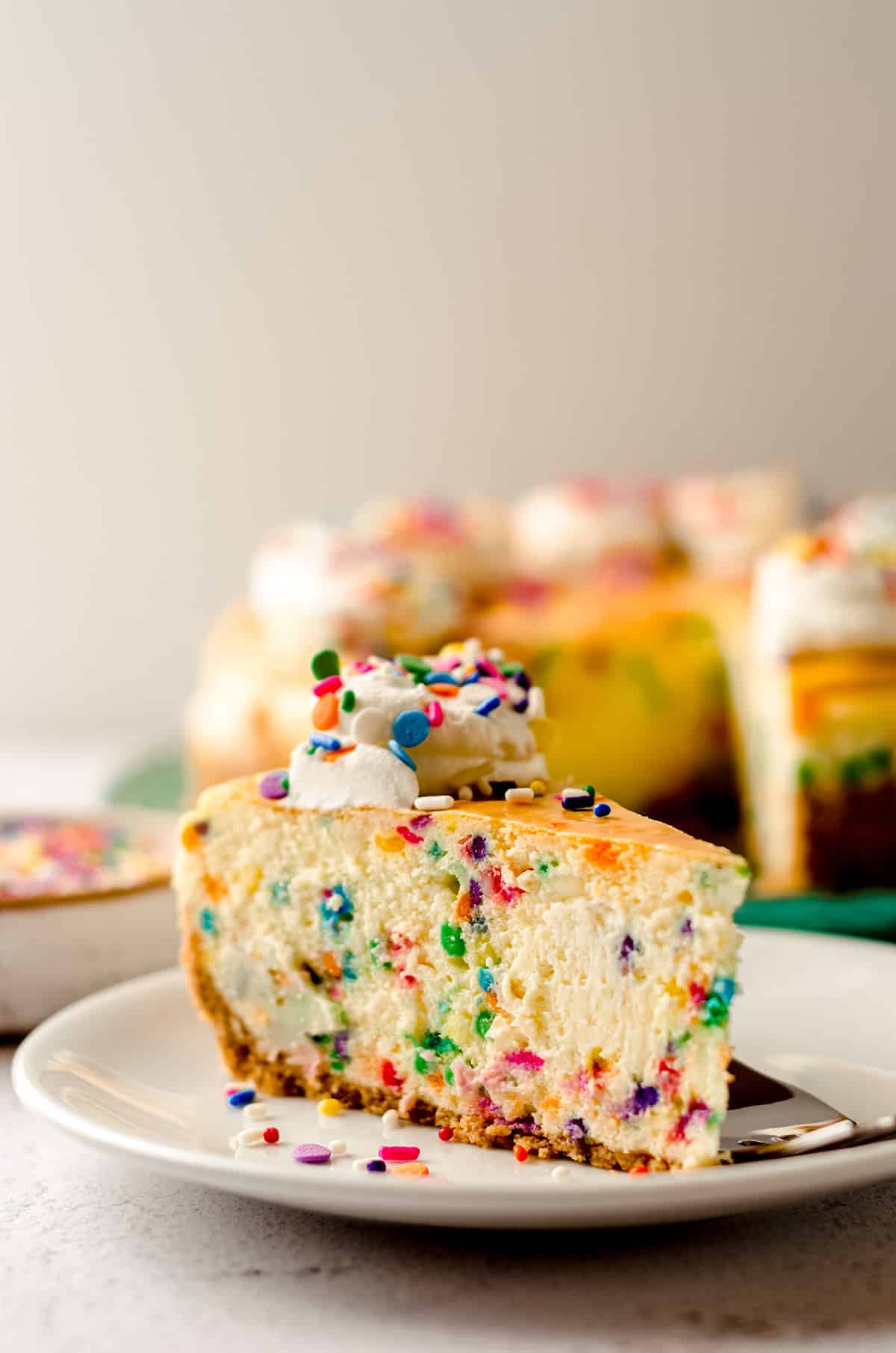 Simple cheesecake batter, prettied up with sprinkles. That's all that's different about this funfetti cheesecake and a regular cheesecake.
USE ROOM TEMPERATURE INGREDIENTS
In almost all of my cake and cookie recipes, I ask you to prepare your ingredients at room temperature, but with cheesecake, it's even more imperative that you follow this instruction to insure your cheesecake batter is as smooth as can be.
For this funfetti cheesecake, I sliced all 4 of my blocks of cream cheese into 16 squares, put them in a large bowl, and let it sit at room temperature for 2 hours.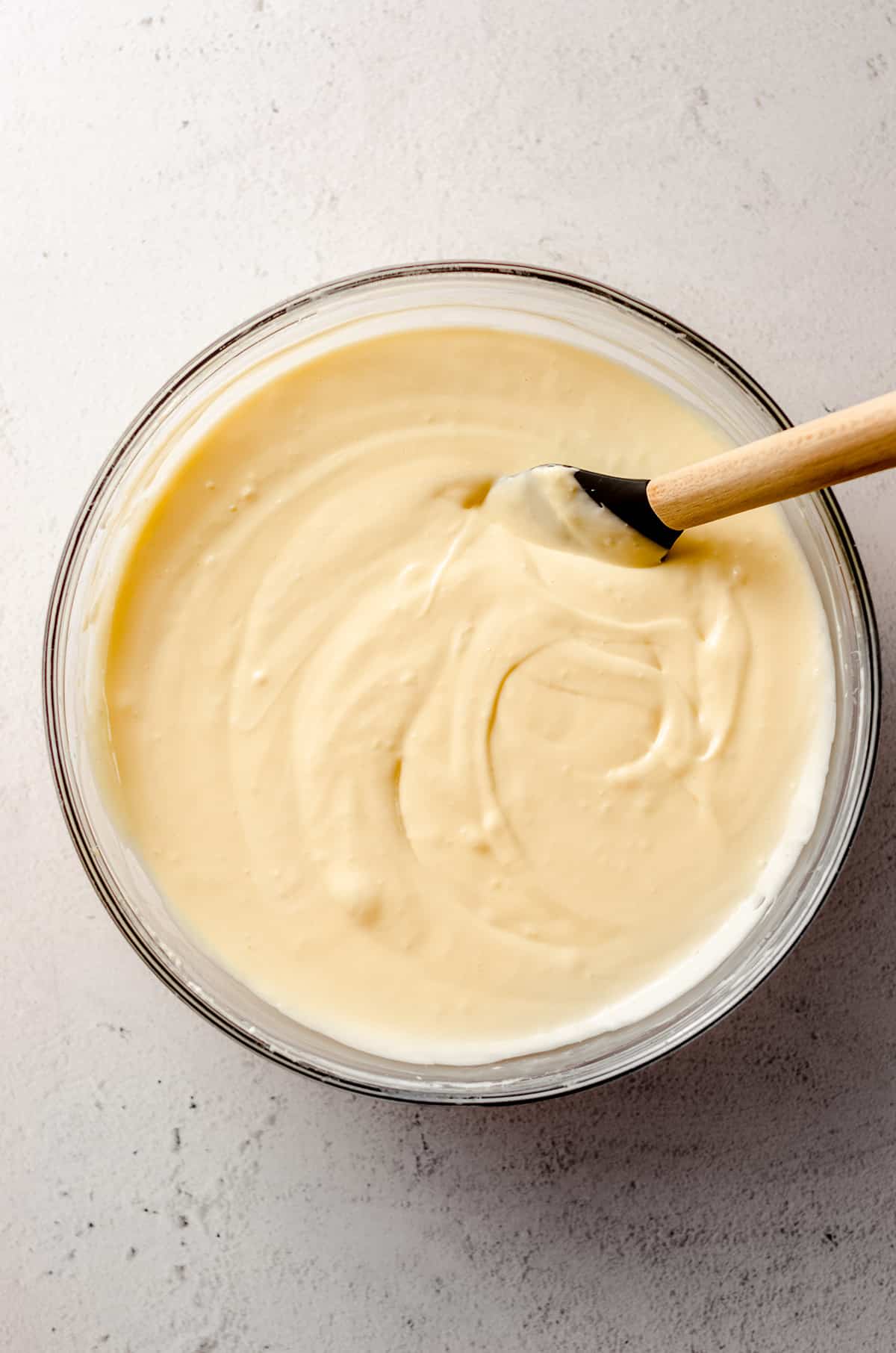 If you're pressed for time, you can let the cubed cream cheese sit in a warm oven or microwave, just be sure not to melt the cream cheese, because that's too soft.
Other ingredients will be at room temperature in more like 45 to 60 minutes. But definitely don't skip this step, or you'll wind up with a lumpy cheesecake.
So let's talk about how all of those ingredients get to their final presentation.
USE JIMMIES OR CONFETTI QUINS
Do not use nonpareils for this funfetti cheesecake. The colors will run and make a mess of the color of your batter.
Instead, use regular sprinkles (also known as jimmies or rods) and/or confetti quins, as these tend to bleed a whole lot less than nonpareils. I used my Fresh April Sprinkles Birthday Party blend, which is a mix of jimmies and quins.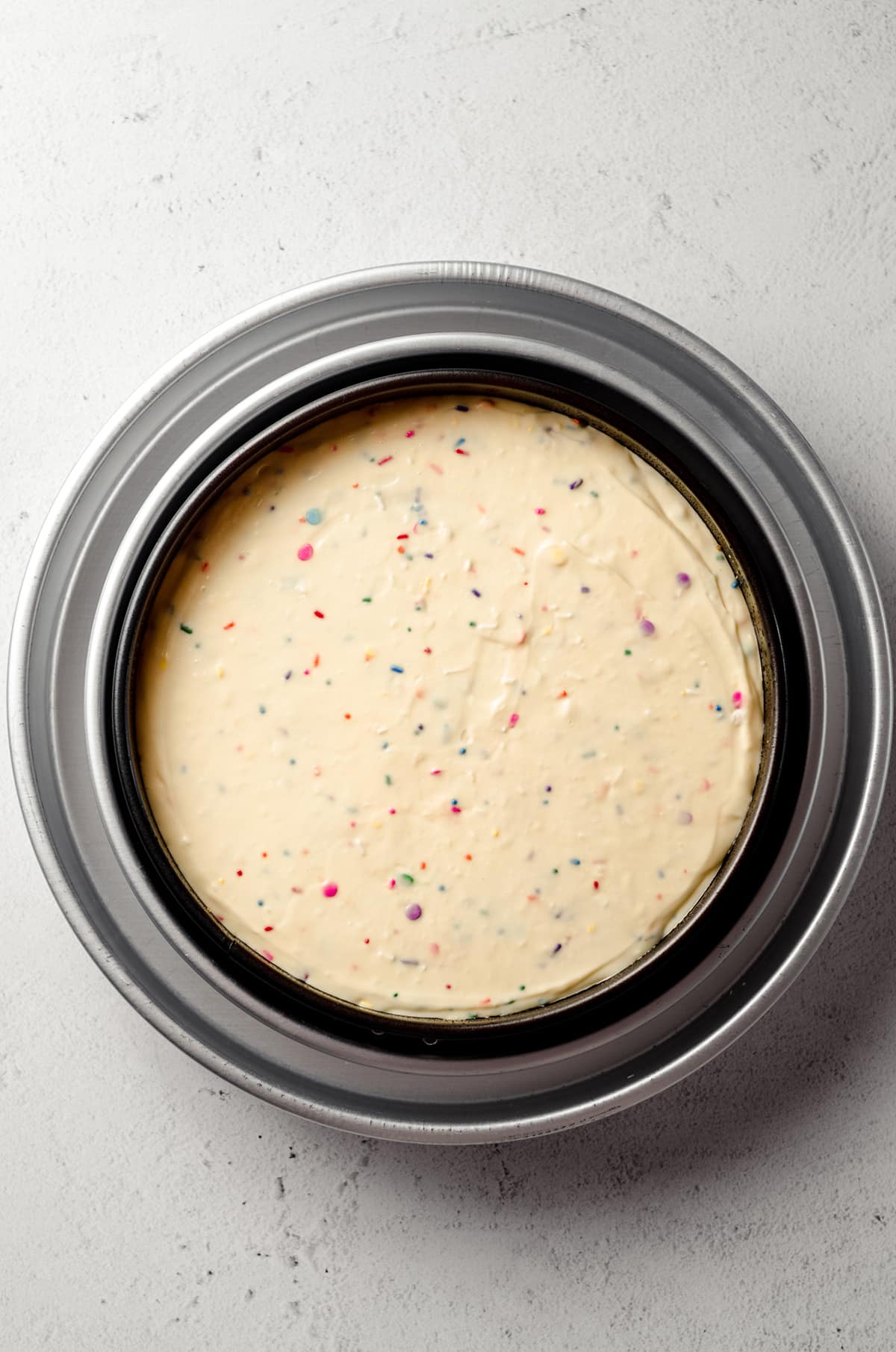 There will be a little bit of bleeding as the sprinkles sit in the batter, so make sure your whole cheesecake batter is ready before you add the sprinkles. You should only need to stir it a few times to disperse the sprinkles evenly.
Pour the batter into the springform pan, and then quickly but gently smooth out the top.
USE A SPRINGFORM PAN
You'll be using a 9″ springform pan to bake your cheesecake, which is what I like to use when I make any of my cookie cakes. What a springform pan does is allows you to bake something and then remove the outer ring, leaving the cake/cookie cake/cheesecake/whatever it is on a platform.
The springform pan makes for easier removal of delicate cakes and tortes and other cakes with loose toppings. Though you can bake a cheesecake without a springform pan, know that you'll be digging into your cake pan to remove slices and they will absolutely lose their shape (but of course, still taste perfect!).
MAKE AN EASY GRAHAM CRACKER CRUST
This is nothing fancy. Just crushed graham crackers, a little sugar, and some melted butter.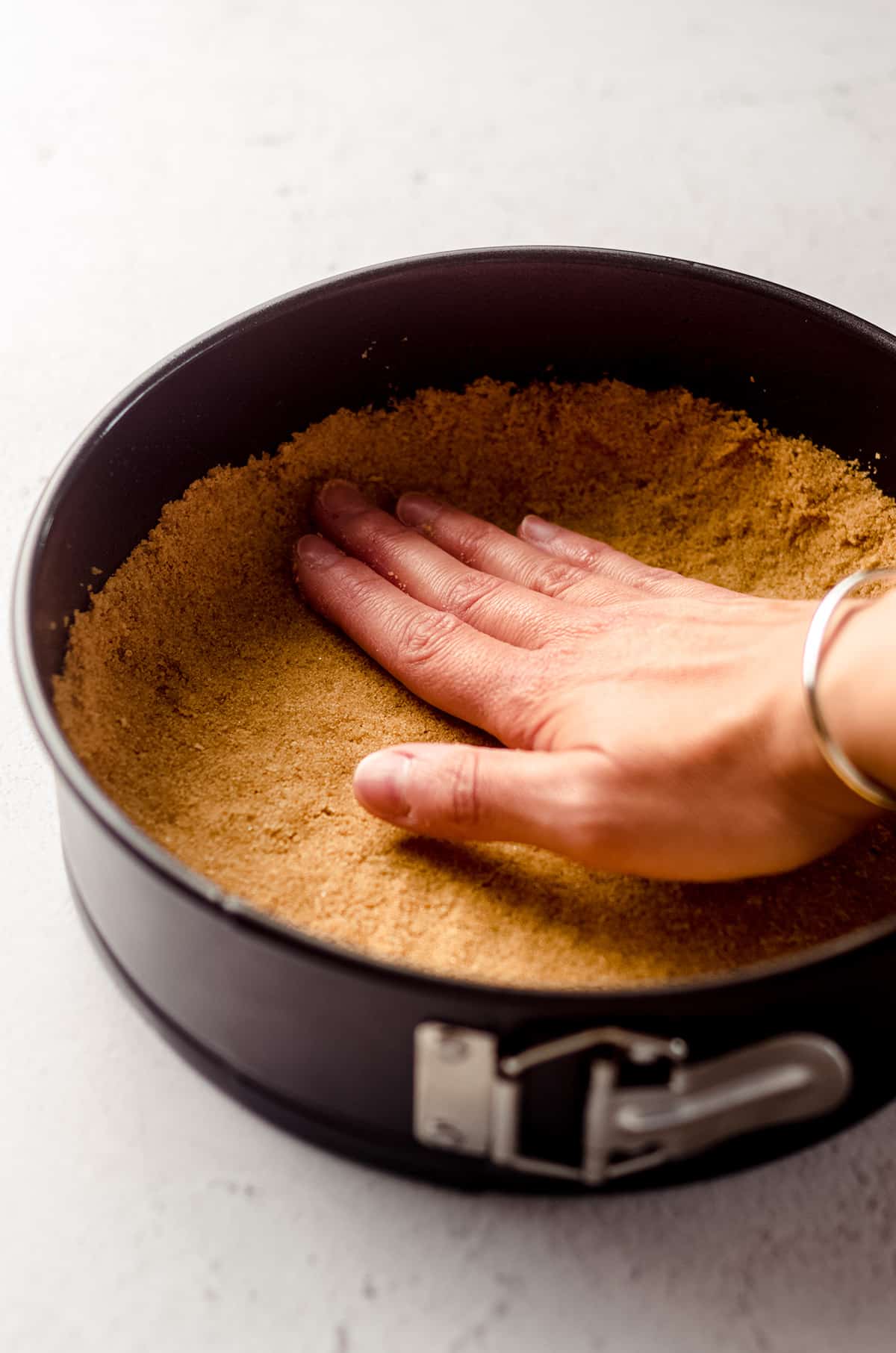 Press this mixture into the springform pan and a little bit up the sides. This does not have to be perfect. Just make sure the whole bottom of the springform pan is covered in graham cracker crust before moving up the sides. The bottom is the most important part!
MAKE AN EASY WATER BATH WITHOUT FOIL
I got this tip straight from Elizabeth herself: the water bath seems to be the most intimidating part of baking a cheesecake, but it's actually crucial in creating that beautiful smooth top, even the whole way across, and without cracks.
And I promise a proper water bath is nothing complicated.
What you'll do is place the springform pan (this recipe calls for a 9″ springform pan) inside a slightly larger round pan (I used a 10″ cake pan), and then put both of those into a larger cake pan (I used a 12″ cake pan) or roasting pan that you'll fill with water (here is a bundle that includes all the pans!).
Sound confusing? It's not. Here's a visual.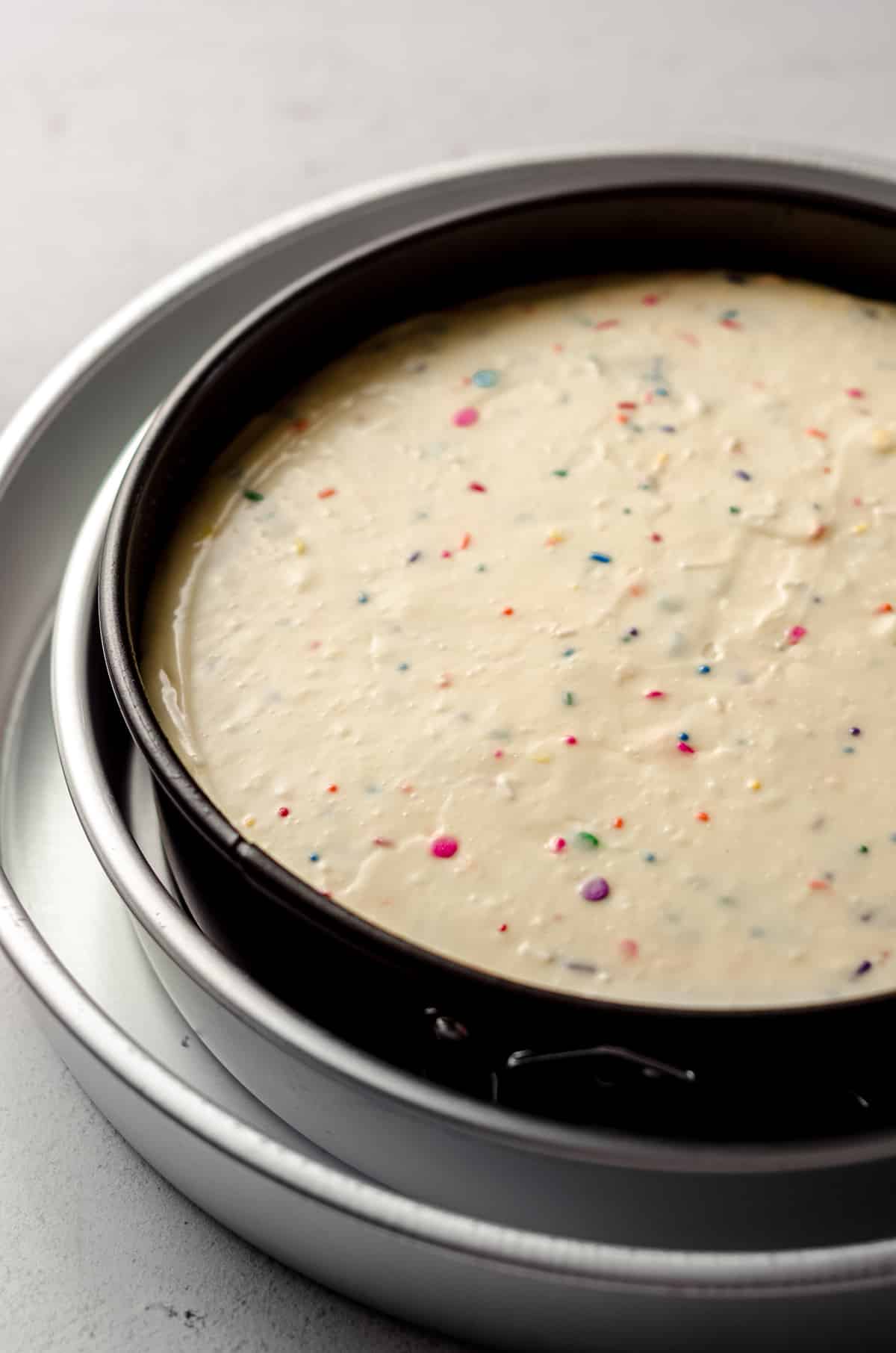 If you don't use that second slightly larger pan, you'll need to wrap the entire springform pan in foil really well to insure no water gets into the cheesecake. The foil wrapped springform pan would then go directly into that pan of water.
WHAT IS THE PURPOSE OF A WATER BATH?
Cheesecake uses a humid environment to rise evenly. The steam from the hot water lifts the cheesecake up slowly and evenly, which not only reduces the risk of cracks on the surface, but also allows it to continue standing tall after it cools, rather than sinking back down and creating a welled center.
Don't skip that water bath!!
You'll bake this funfetti cheesecake for quite awhile– about an hour and a half. Though I did start checking mine around 1 hour and 10 minutes.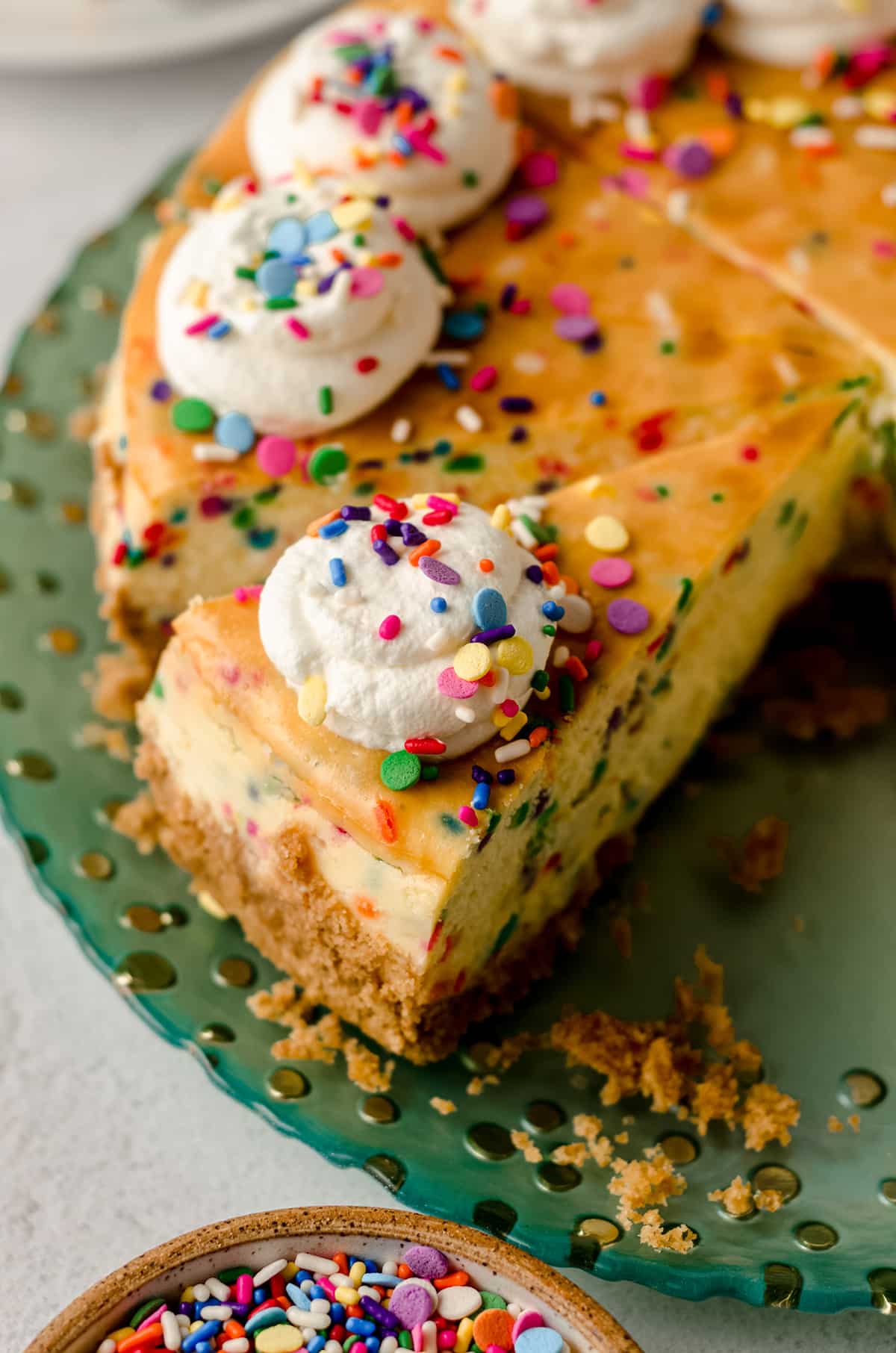 HOW DO I KNOW MY CHEESECAKE IS DONE?
You'll want to look for two things to check for doneness of your cheesecake.
First: visual– gently wiggle the outer/roasting pan. A finished cheesecake will jiggle just a little bit (you're looking for a couple inch radius in just the center of the cheesecake to jiggle, not the entire top).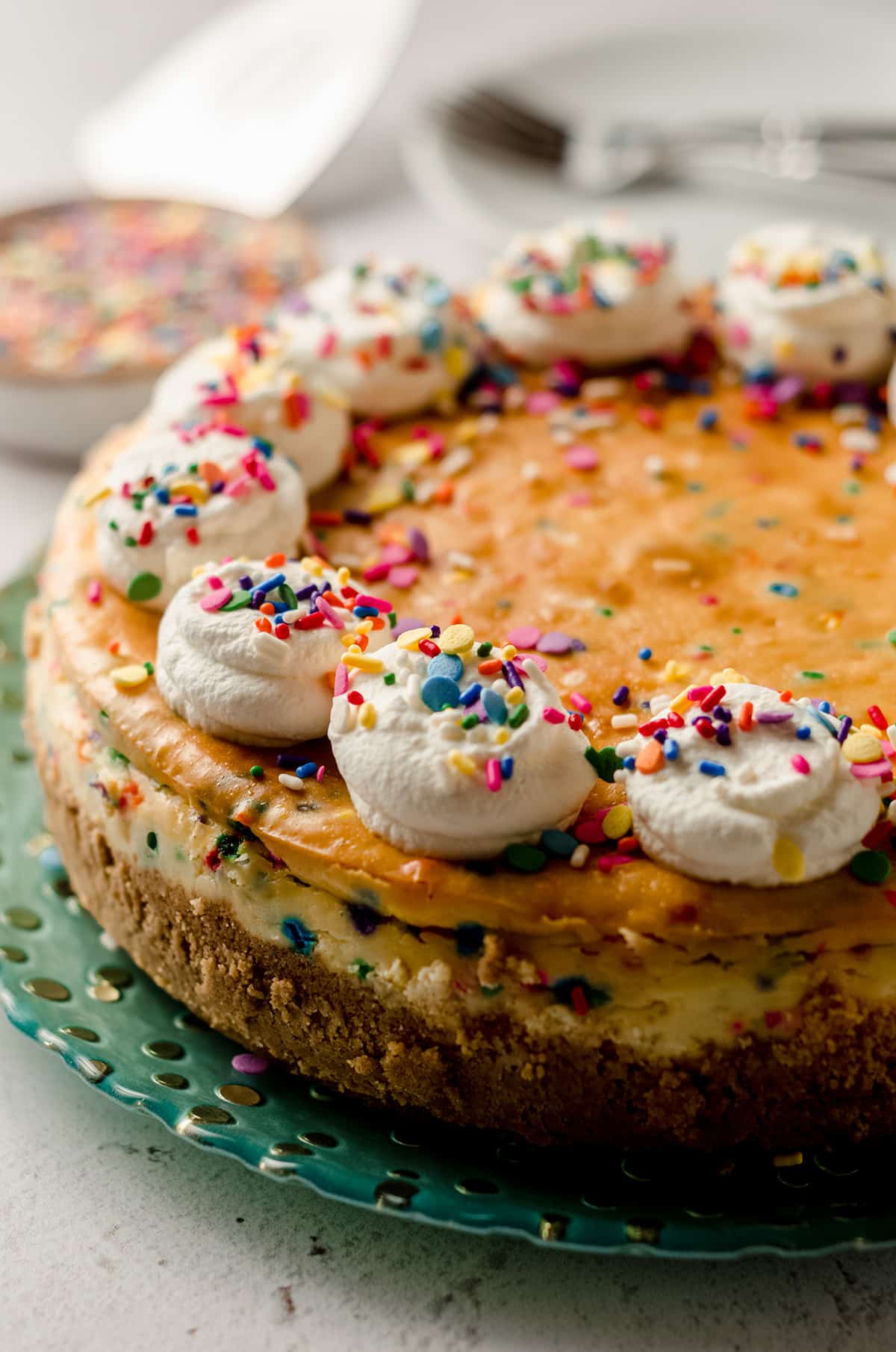 Second: internal temperature– you'll want an internal temperature of 145ºF (63ºC), which you can test with a digital instant read thermometer. Just know that if you're inserting it in the center, there will be a hole. You can, of course, cover this with something if you prefer.
ALLOW THE CHEESECAKE TO COOL IN THE OVEN
After you're sure the cheesecake is done, it needs to slowly cool down for 1 hour. I like to prop the oven door open with a wooden spoon or spatula for this step.
Once the cheesecake has cooled for 1 hour, remove the springform pan from the inner pan and allow the cheesecake to continue cooling on a cooling rack on the counter for about 2 hours. Then, chill it in the refrigerator at minimum 6 hours, or at best, overnight.
SLOWLY COOLING CHEESECAKE PREVENTS CRACKS
If we just let the cheesecake cool quickly, it is likely to crack and/or sink down into itself. While a cracked or sunken cheesecake tastes perfectly fine, it's not as visually appealing. And if we can prevent cracks and sinking by just being patient, let's do it.
HOW TO REMOVE THE CHEESECAKE FROM THE SPRINGFORM PAN
Run a small spatula or butter knife around the edge of the rim of the springform pan to release the cheesecake from the pan. The outer ring should easily pop off and leave you with a beautiful cheesecake on the bottom platform of the springform pan.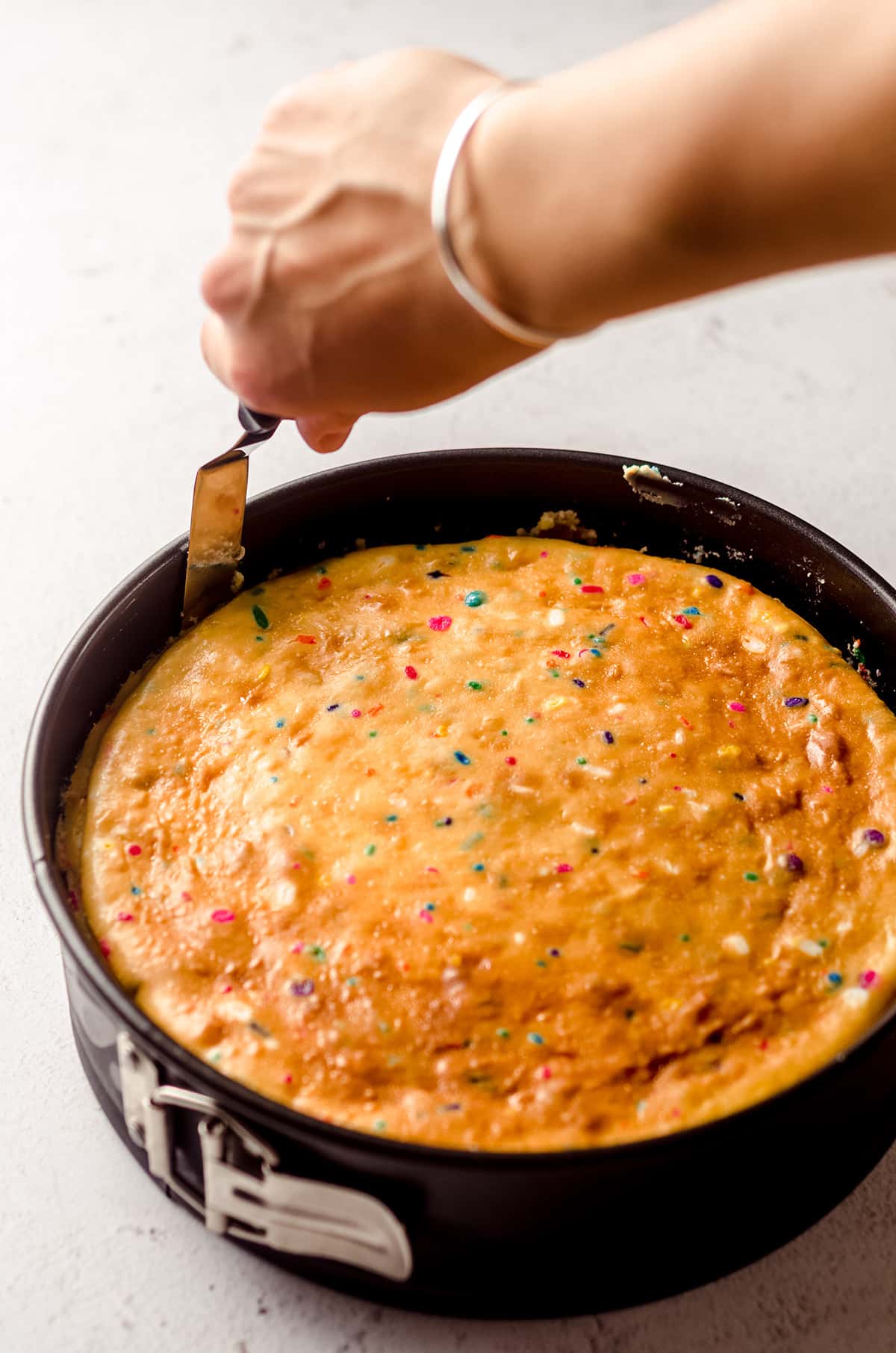 You can leave the cheesecake on the platform or remove it.
To remove the cheesecake from the platform: run that same spatula or knife under the cheesecake to separate it from the platform, then use two large spatulas to carefully lift it up and onto a serving plate.
TOP CHEESECAKE WITH HOMEMADE WHIPPED CREAM
I chose to top my funfetti cheesecake with my homemade whipped cream and more sprinkles, but you're welcome to use whatever you want or leave it plain.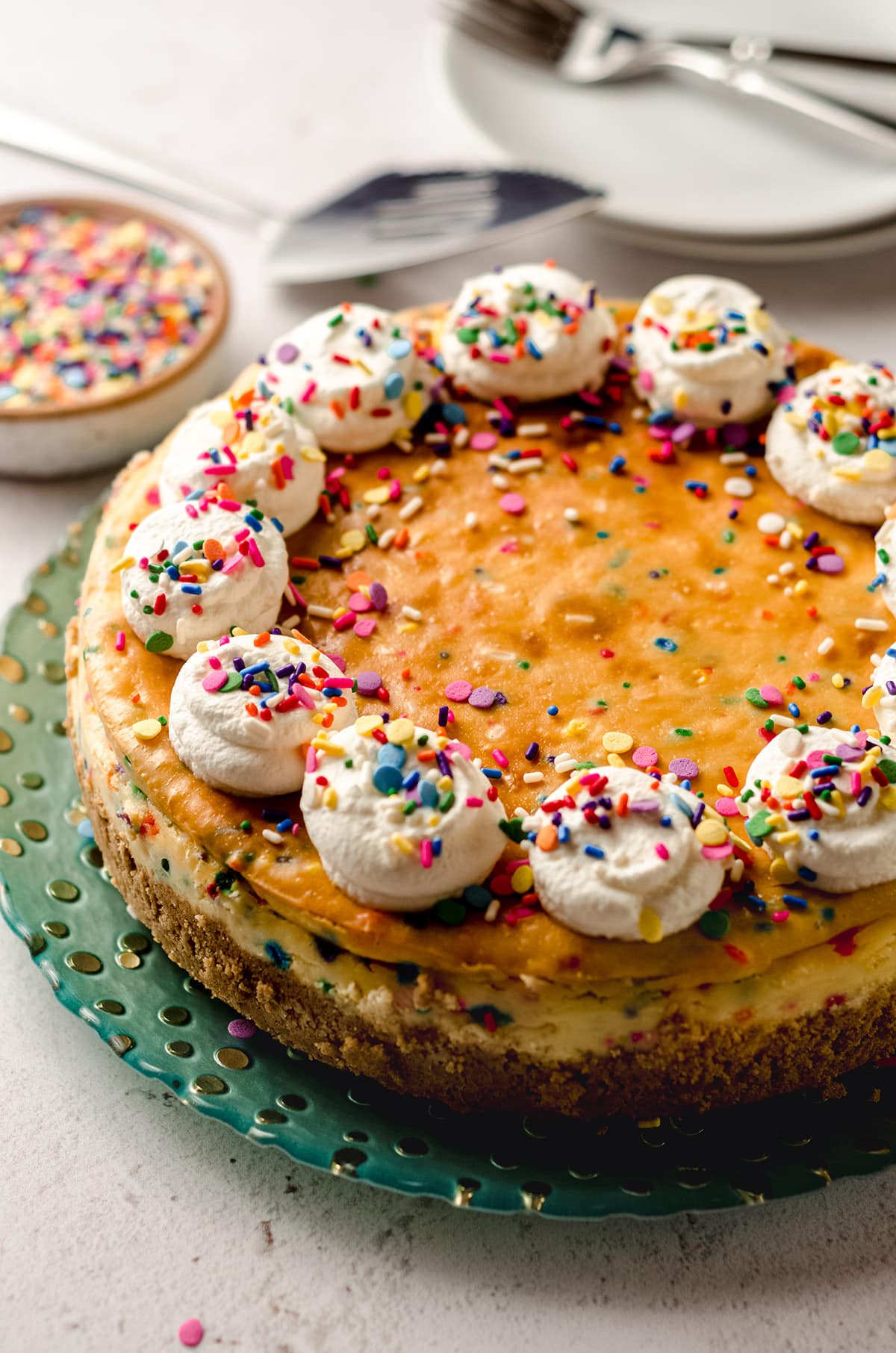 THE BEST WAY TO SLICE A CHEESECAKE
Use a very sharp knife to slice your cheesecake. It will be nice and soft, but the more cuts you make, the more cheesecake will be stuck to the knife, so wipe it off between each slice for the cleanest cuts.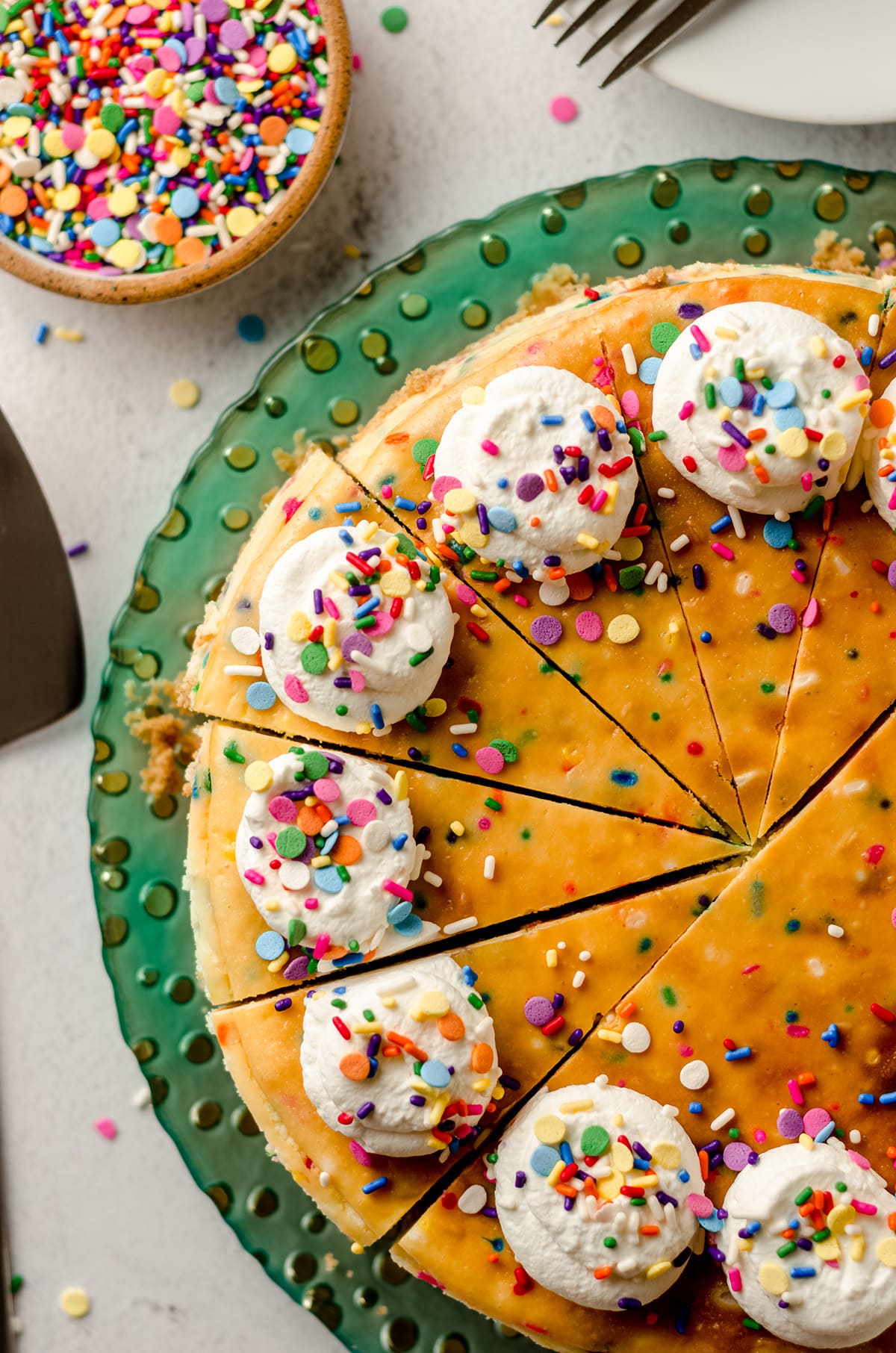 I hope that I've helped take out some of the intimidation of making a cheesecake for you. I know I had a lot of reservations before I made my first one, but once you realize it's all about patience and not really all that difficult, I'm sure you'll have great success, too!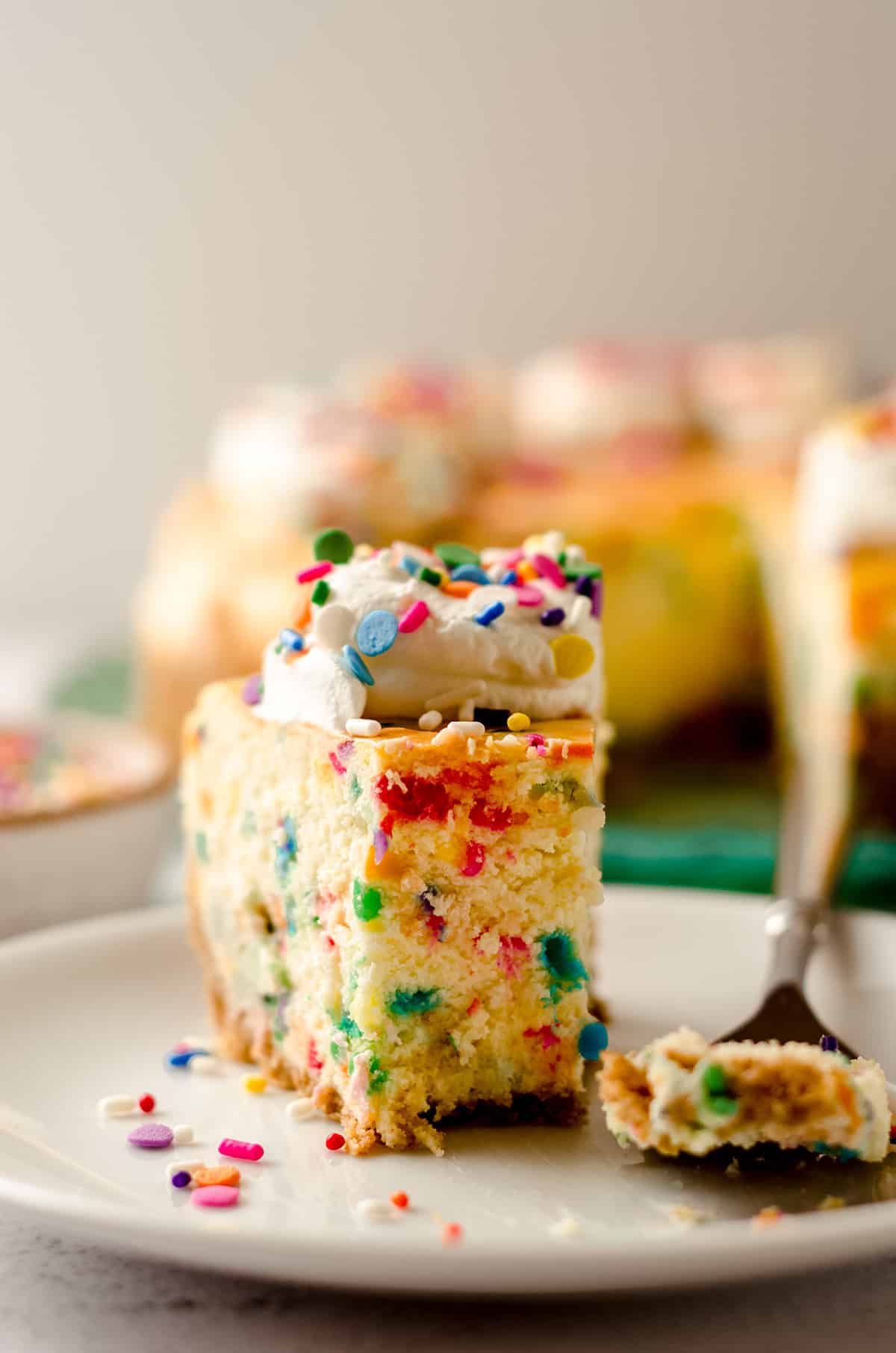 I can't wait to see your beautiful funfetti cheesecake slices!
Funfetti Cheesecake Recipe
This deliciously creamy funfetti cheesecake has plenty of sprinkles inside and out! Perfect for birthdays, parties, or any celebration.
Ingredients
GRAHAM CRACKER CRUST
1 and ½

cups

(155g) graham cracker crumbs

approximately 10 full rectangles

2 and ½

Tablespoons

(31g) granulated sugar

¼

cup

(57g) unsalted butter

melted
FUNFETTI CHEESECAKE
32

ounces

(900g) full fat block cream cheese completely softened to room temperature

1

cup

(200g) granulated sugar

¼

cup

(60mL) heavy whipping cream

at room temperature

5

ounces

(153g) Greek yogurt or sour cream

about ⅔ cup; at room temperature

1

Tablespoon

vanilla extract

1

teaspoon

almond extract

4

large eggs

at room temperature

2

large egg yolks

at room temperature

⅔

cup (67g)

sprinkles
Instructions
GRAHAM CRACKER CRUST
Preheat the oven to 325ºF (162ºC). Spray a 9" springform pan with nonstick spray. Set aside.

In a food processor, crush the graham crackers until they become a fine crumb. Pour the crushed graham crackers into a large bowl, add the sugar and melted butter, and stir to combine.

Press the graham cracker crumb mixture into the bottom of the prepared springform pan, then bake the graham cracker crust for 6-8 minutes, or until slightly golden brown. Remove from the oven and allow to cool while you prepare the filling.
FUNFETTI CHEESECAKE
In a large bowl with a handheld mixer or the bowl of a stand mixer fitted with the paddle attachment, beat the cream cheese on medium high speed until smooth, about 2 minutes. Add the granulated sugar then beat again until combined, about another 2 minutes.

Reduce the mixer speed to low1, then add the heavy cream, yogurt or sour cream, and vanilla and almond extracts and mix until completely combined. Add the eggs one at a time and continue mixing on low until eggs are just combined. Your batter should be smooth and creamy without lumps. Gently fold in the sprinkles until just combined (do not overmix).

Pour the batter into the prepared pan. Create a water bath2 by placing the 9" springform pan in a slightly larger round pan (I like to use a 10" cake pan) and then place that pan into an even larger round pan (I like to use a 12" cake pan) or roasting pan.

Fill the outer pan with hot water halfway up the sides of the middle pan, then carefully transfer the whole thing to the oven.

Bake the cheesecake for 75-95 minutes. The middle of the cheesecake (a center approximately 2" wide) should jiggle just a little bit. I use my digital instant-read thermometer to check the internal temperature has reached 145ºF (63ºC). Turn the oven off3 and allow the cheesecake to cool in the oven for 1 hour. After 1 hour, remove the springform pan from all of the other pans and allow to cool on a cooling rack for another 2 hours. When the cheesecake is completely cool, cover or wrap tightly and allow to chill in the refrigerator for at least 6 hours, ideally overnight.
TOPPING
Remove the cheesecake from the fridge and use a spatula or butter knife to gently loosen the crust from the side of the pan, then release the outer ring of the springform pan.

Top the cheesecake with fresh whipped cream (I use my homemade whipped cream recipe). Store leftovers in the refrigerator up to 5 days. Cheesecake freezes well, up to 3 months. Thaw in the refrigerator overnight.
Notes
Mixer speed: it's important not to go above low (or low-medium) speed after you've beaten the cream cheese. Incorporating too much air will create bubbles and potential cracks in your finished cheesecake.
Water bath pans: here is

a bundle

that includes all the pans I use. Using this method eliminates the need to wrap anything in foil.

Cool the cheesecake: I like to prop the oven door open with a wooden spoon or spatula.
Adapted from Confessions of A Baking Queen
Nutrition Disclosure
All nutritional values are approximate and provided to the reader as a courtesy. Changing ingredients and/or quantities will alter the estimated nutritional calculations.
Serving:
1
slice
|
Calories:
522
kcal
|
Carbohydrates:
77
g
|
Protein:
18
g
|
Fat:
15
g
|
Saturated Fat:
8
g
|
Polyunsaturated Fat:
1
g
|
Monounsaturated Fat:
4
g
|
Trans Fat:
0.2
g
|
Cholesterol:
143
mg
|
Sodium:
898
mg
|
Potassium:
330
mg
|
Fiber:
0.4
g
|
Sugar:
59
g
|
Vitamin A:
513
IU
|
Vitamin C:
0.2
mg
|
Calcium:
363
mg
|
Iron:
1
mg