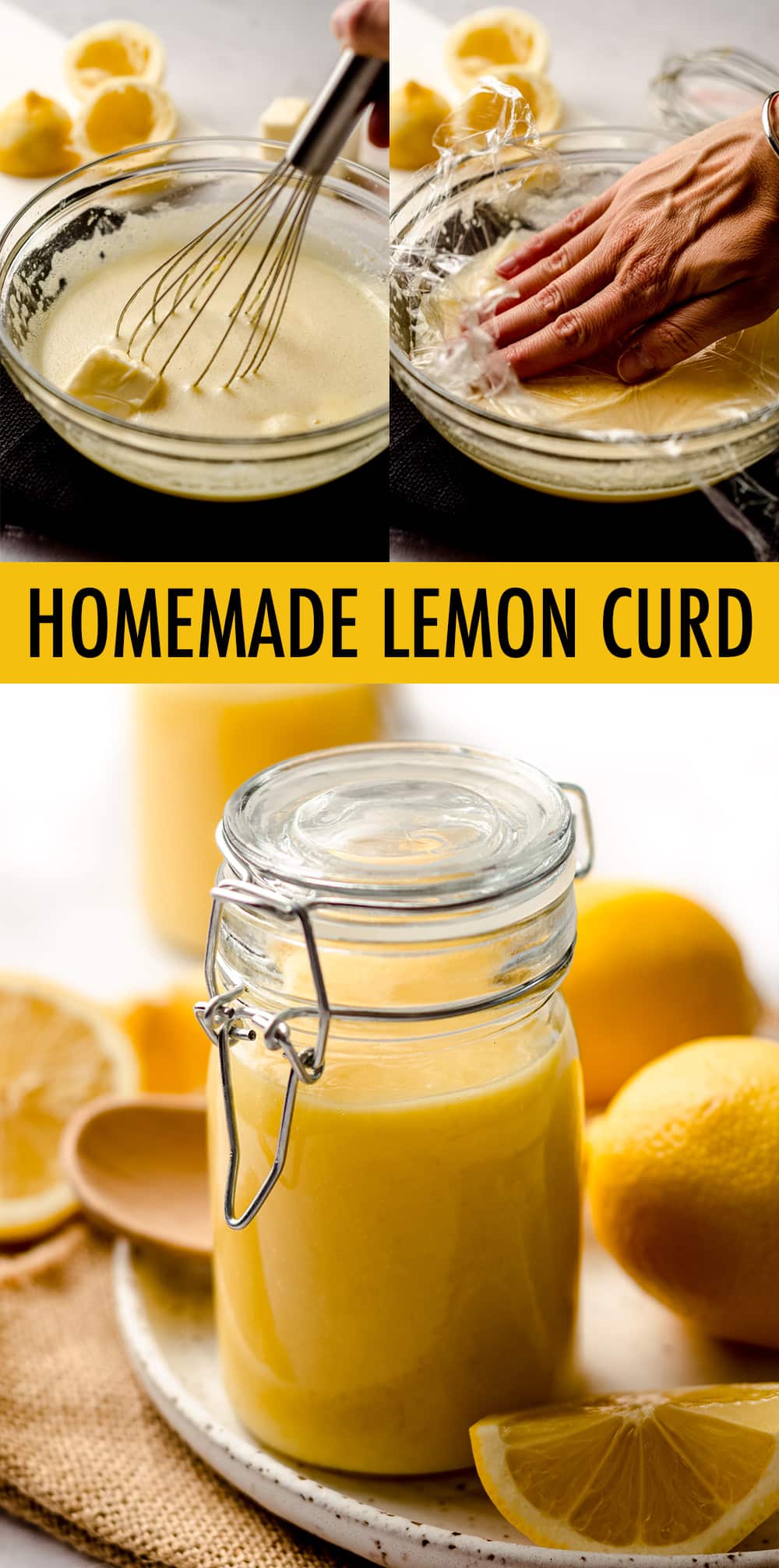 As an Amazon Associate, I earn from qualifying purchases. Read the full disclosure here.
Tart and sweet lemon curd, ready in just 10 minutes. Great for filling cakes, pies, and cupcakes, or using as a spread.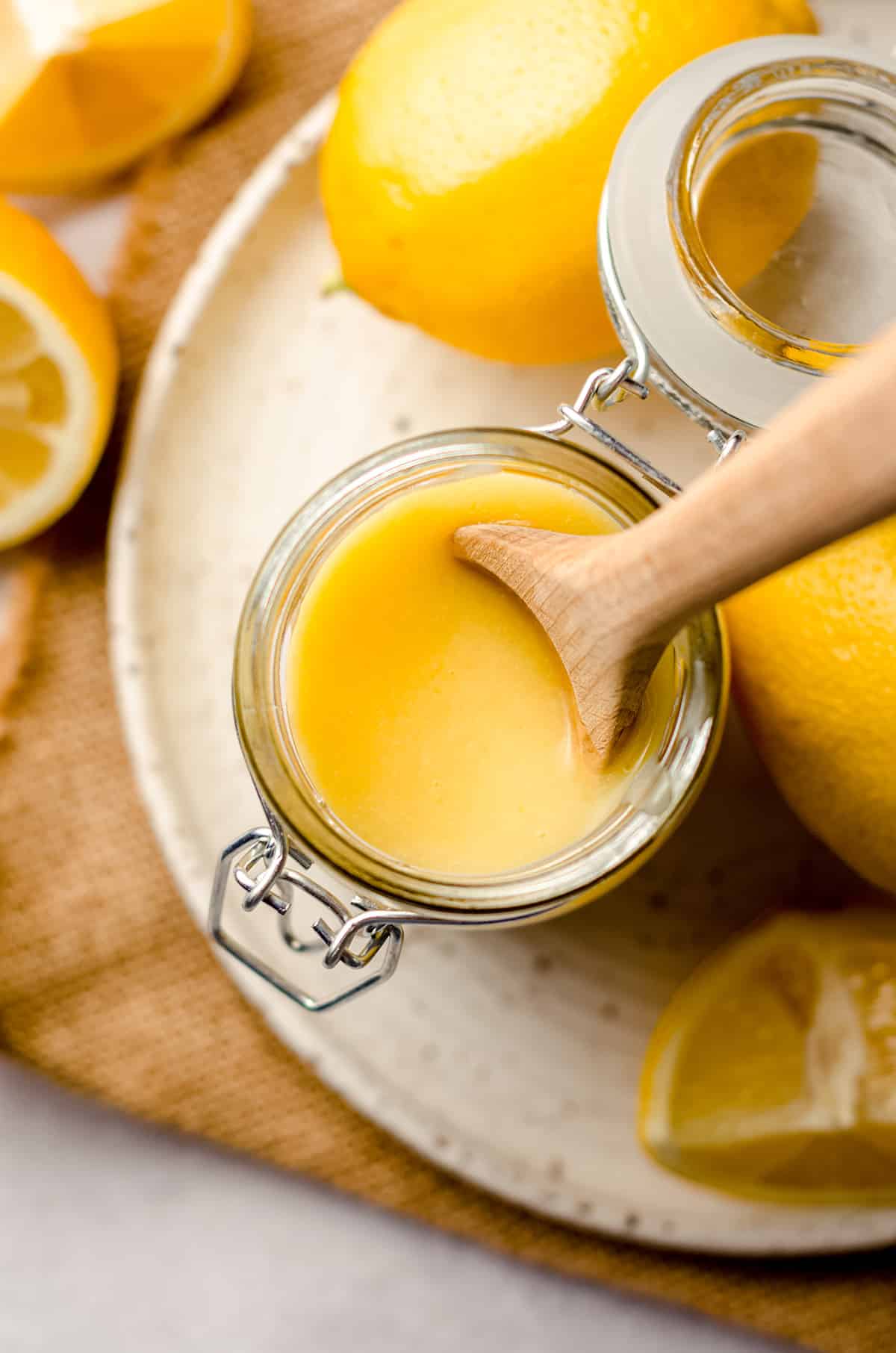 Welcome to #LemonWeek 2021 hosted by me! What better way to welcome summer than with over 50 recipes featuring bright and sunny lemons? Come join me and my fellow Lemon Week bloggers as we bring you recipes from appetizers to drinks to entrées and desserts!
It's rare that I'm not excited to bring you a recipe, because let's be honest, I just love sharing my recipes with all of you.
But today, I'm really excited to bring you my tried and true lemon curd recipe, because it has graced my kitchen dozens of times over my baking years, and not sharing it would be so selfish. So… You're welcome!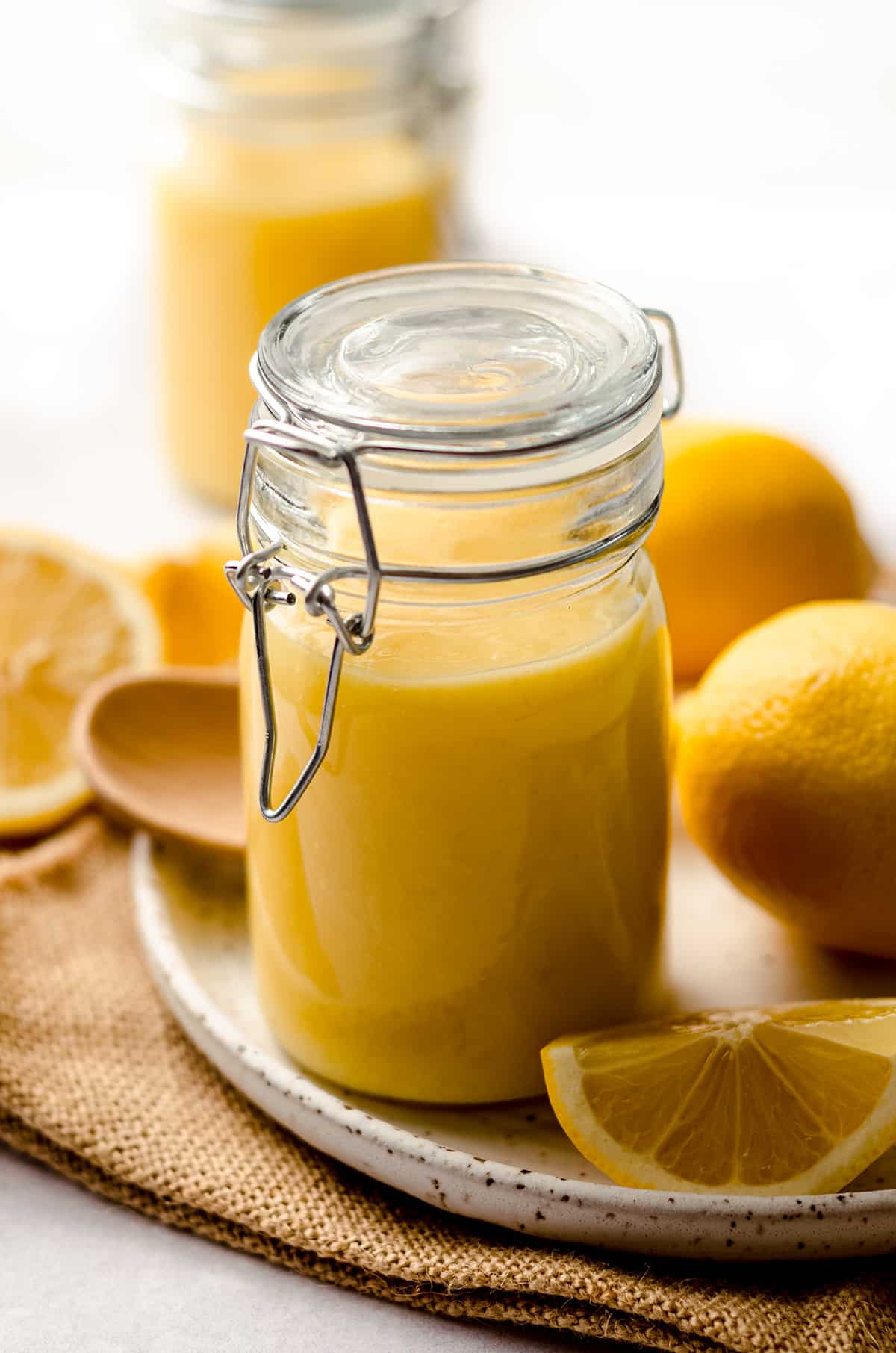 Lemon curd is one of those things that can sound unappealing, but in reality, it's one of the tastiest condiments/fillings/spreads/dips to ever exist in the baking world. I think perhaps Little Miss Muffet ruined the word "curd" for all of us when she ate it with her whey atop her tuffet because also: what exactly is a tuffet?
So many confusing concepts in that story. And then all the talk about spiders?!
No wonder "curd" sounds so weird to us now.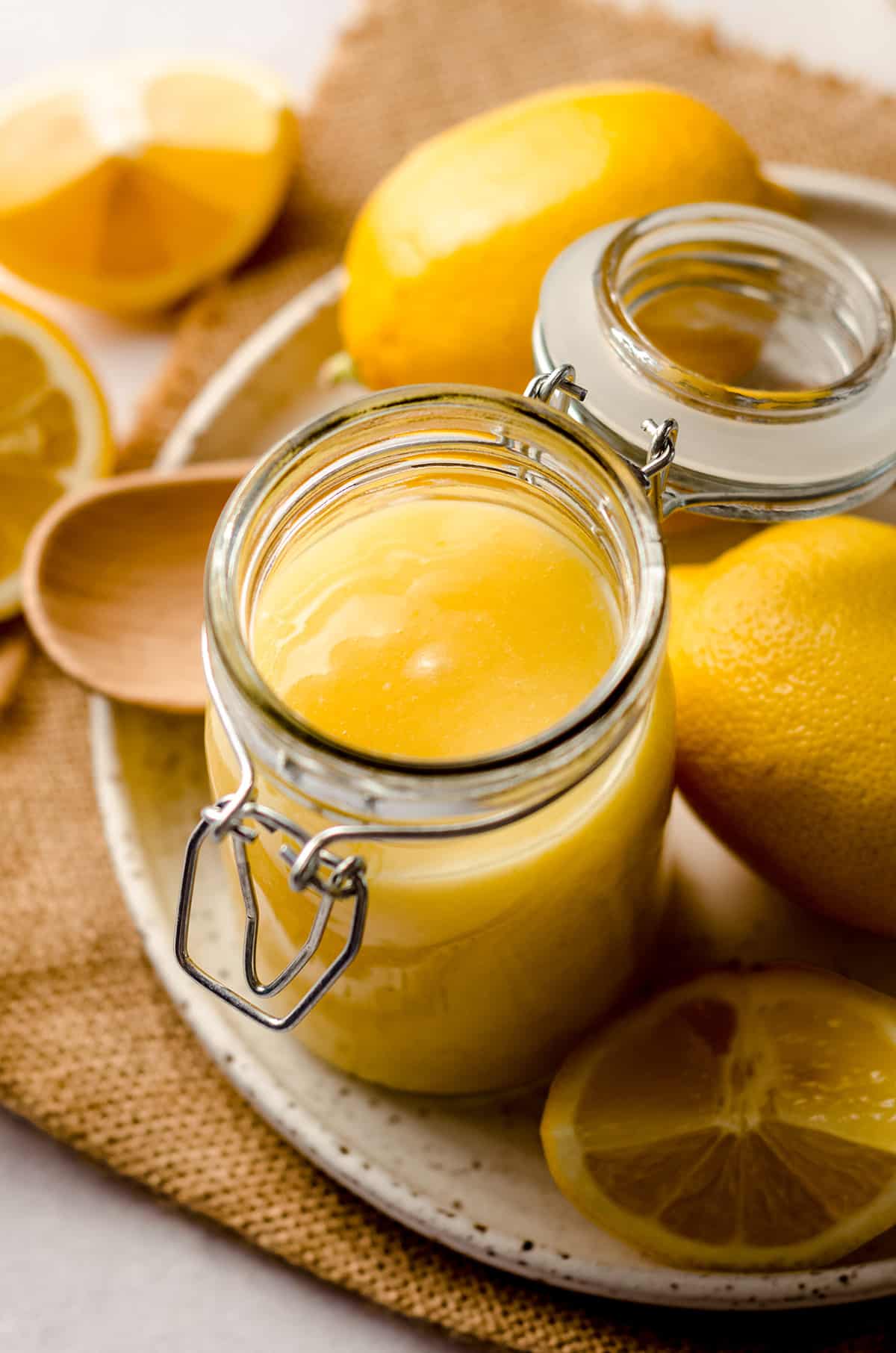 WHAT IS LEMON CURD?
The truth is, curd is anything but weird and certainly very far from unappealing. It is a type of fruit custard that is typically made with fruit juice, egg yolks, sugar, and butter.
Lemon curd is typically the most popular curd flavor you'll stumble upon, but lots of different varieties exist (say hello to my friend Julie's blueberry cardamom curd— OH EM GEE CARDAMOM— and my own personal peach curd).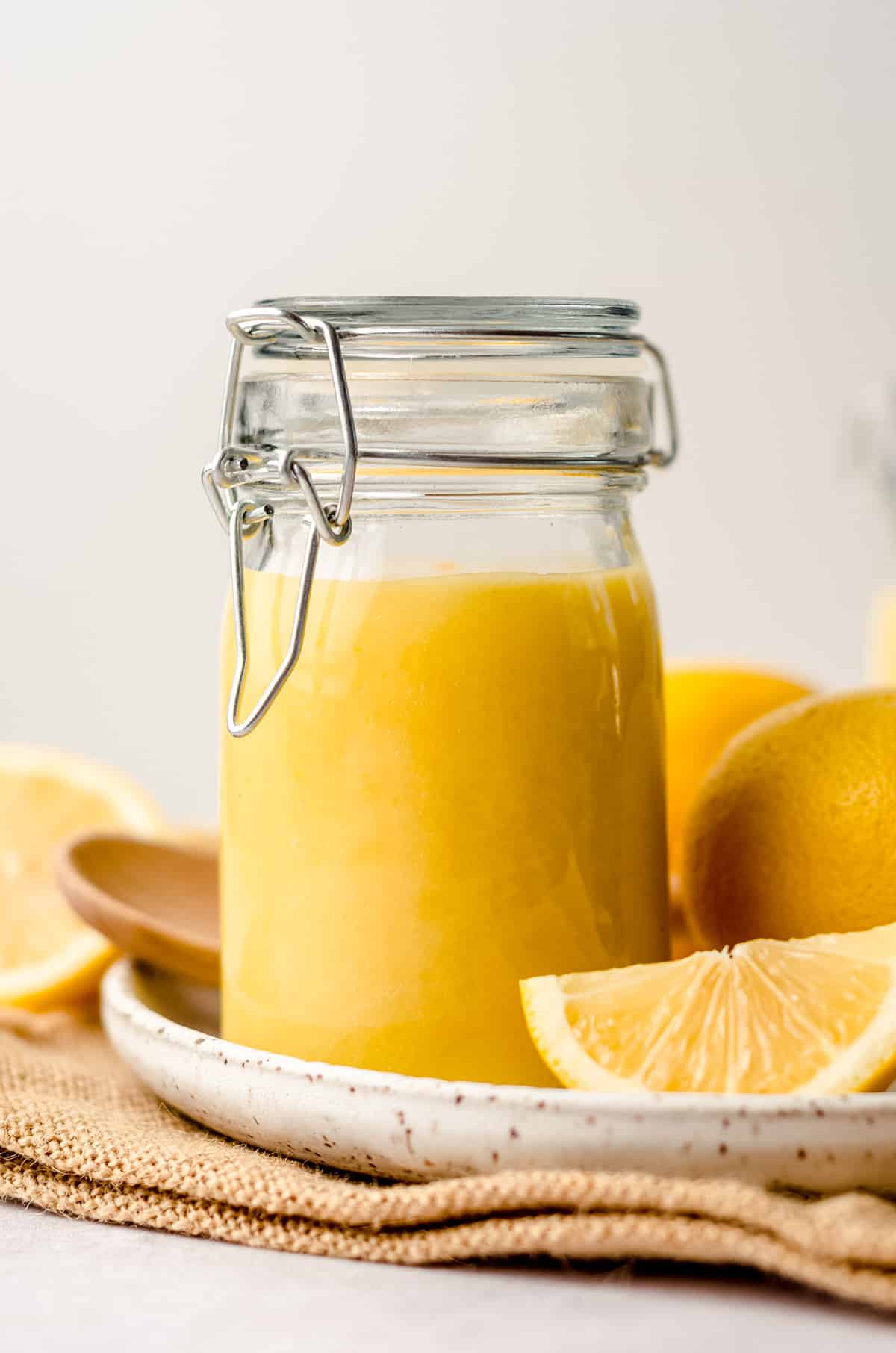 It sounds difficult to turn these simple ingredients into a thick and creamy fruit spread, but I can assure you that making lemon curd is really quite easy.
HOW TO MAKE HOMEMADE LEMON CURD
First, you'll be working with a double boiler. If you don't have a double boiler, fear not: a heatproof bowl sitting over a pot of simmering water will make a fine substitute. Just be sure not to use a metal bowl, as you run the risk of your lemon curd tasting a bit metallic.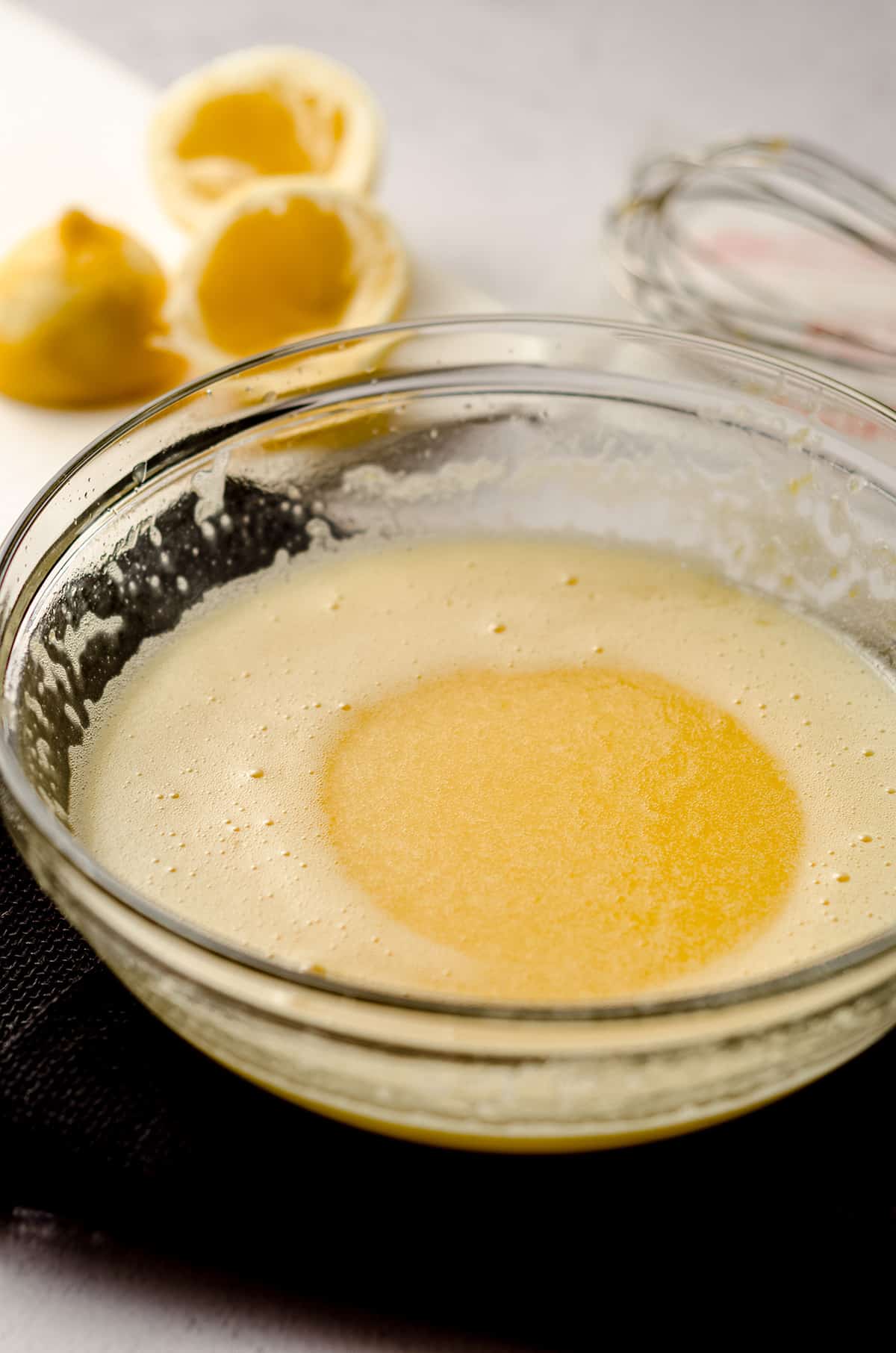 In the top bowl, you'll combine the egg yolks, sugar, lemon zest, fresh lemon juice, and just a touch of salt (to balance the tart and sweet) and cook it while whisking the mixture constantly (again, with a non-metal whisk). It's crucial to keep the mixture moving so the eggs don't cook.
IS LEMON CURD SAFE TO EAT?
You may be wondering… Since homemade lemon curd contains eggs, is it safe to consume? And the answer is: of course! The heating of the eggs cooks them, killing any bacteria, but since you're constantly moving the mixture around, the eggs won't actually cook.
HOW DO YOU KNOW WHEN LEMON CURD IS DONE?
After about 10-15 minutes, the mixture will be thick and foamy, and you can remove it from the double boiler/pot of water. If you want to test the temperature of your lemon curd, check for at least 160ºF (71ºC) with an instant read thermometer.
After removing from heat, you'll whisk in one stick of butter, cut into 8 pieces, 2 pieces at a time, adding the next 2 pieces when the previous 2 pieces are mostly melted.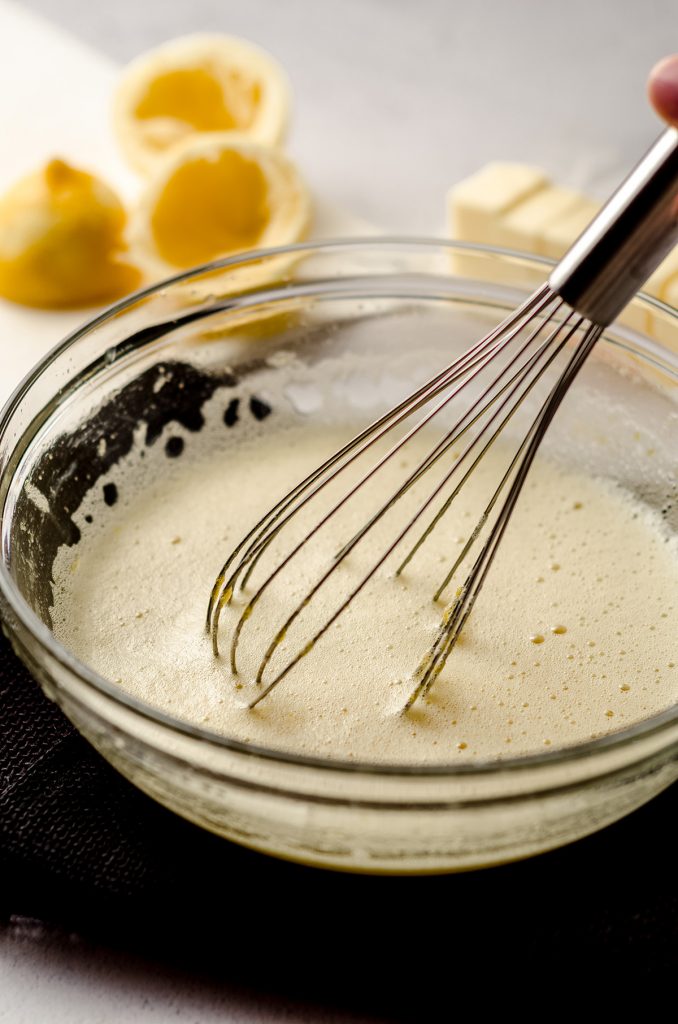 Did I lose you? It's simple, I promise. And if you follow my instructions carefully, you will absolutely be met with perfect lemon curd at the end of this kitchen adventure!
Side note: you can also make this homemade lemon curd with salted butter. Simply omit the added salt.
After you've whisked in all of the butter, cover the mixture with plastic wrap, pressing the plastic wrap onto the surface of the lemon curd to ensure a film doesn't form on the curd itself (like we do with lemon truffles).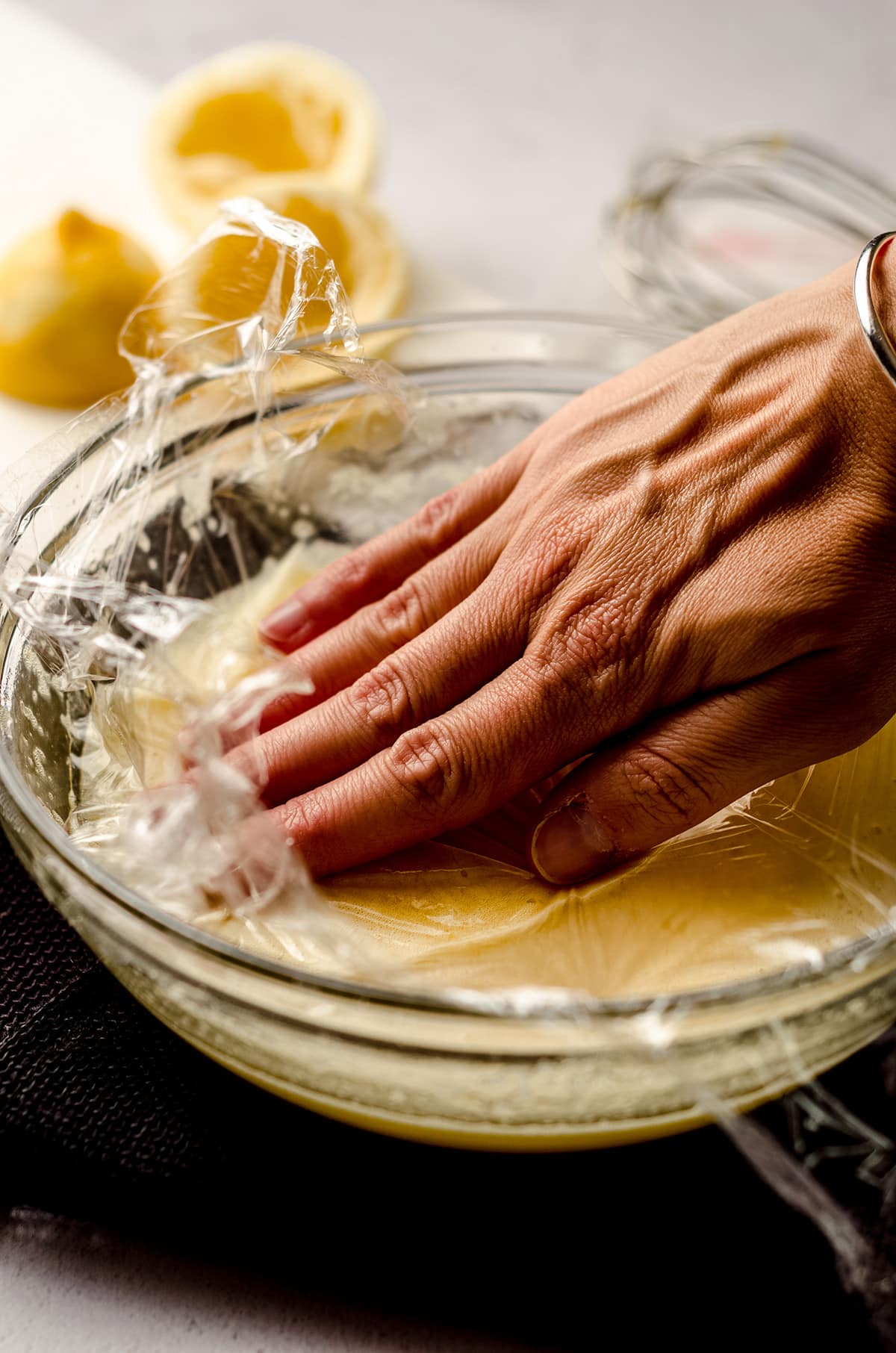 Make sure all of the air is pushed out of the seal between plastic and lemon curd, because the film that develops is weird. Certainly nothing that isn't safe to eat, it's just not so appealing and can create chunks in your curd. Let's keep things nice and smooth!
Allow the curd to chill completely in the refrigerator, remove the plastic wrap, then eat it with a spoon pour it into a jar for safe keeping!
The end result is an ultra creamy, buttery, super lemony, tart yet sweet, and incredibly versatile condiment that you'll love putting in and on everything you can think of!
Wondering what to do with your lemon curd?
•spread it on bread, rice cakes, pancakes, muffins, scones, pound cake, angel food cake, or biscuits
•use as a filling for white layer cake
•stir some into yogurt or ice cream
•make some fancy homemade whipped cream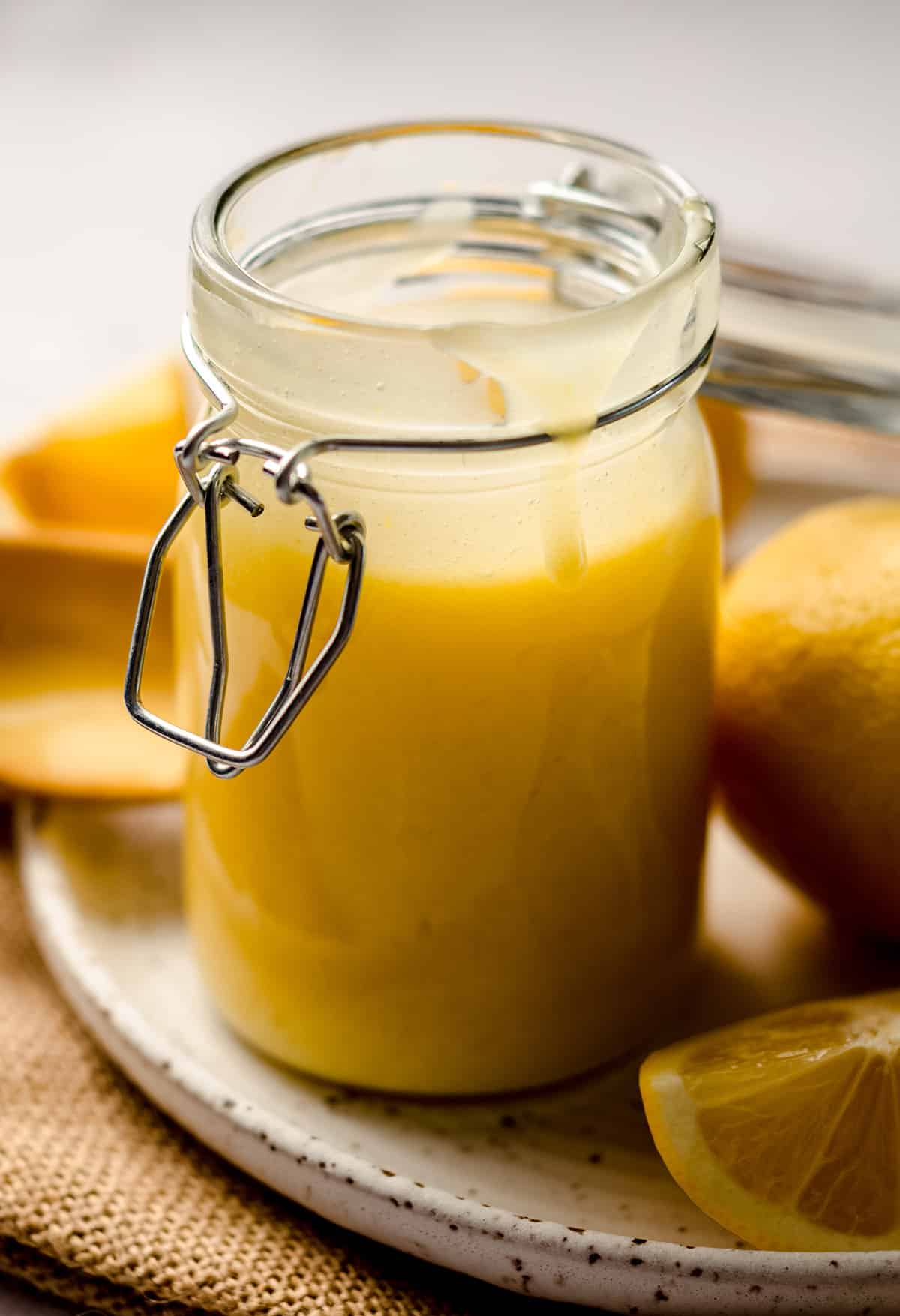 And duh, of course I have recipes for you so that you can use all this beautiful homemade lemon curd. I wouldn't just give you a super tasty condiment and no way to use it up, would I?
Check out my triple lemon cupcakes (filled with lemon curd!), or consider slathering some on top of my easy yeast rolls or sourdough English muffins!
Although if I were you, I would just go ahead and make a double batch of this homemade lemon curd right now… One to use today and another to keep in the freezer, because if you're anything like me (self-proclaimed lemon goodie freak), having some lemon curd on hand can only serve you well.
Check out some of my other popular lemon recipes:
lemon crinkle cookies
lemon truffles
Meyer lemon bars
lemon macarons
lemon poppy seed biscotti
Monday #LemonWeek Recipes
Homemade Lemon Curd
Tart and sweet lemon curd, ready in just 10 minutes. Great for filling cakes, pies, and cupcakes, or using as a spread.
Ingredients
4

large egg yolks

¾

cup

(150g) granulated sugar

zest of 3 lemons

½

cup

(120mL) fresh lemon juice1

⅛

teaspoon

salt

½

cup

(113g) unsalted butter softened to room temperature and cut into 8 pieces2
Instructions
Fill the bottom pot of a double boiler with 3-4" of water and turn heat to high. Bring the water to a boil, then reduce to a simmer. You may also use a pot with a heatproof bowl3 on top instead of a double boiler. Prepare the water the same.

Combine the egg yolks, sugar, lemon zest, lemon juice, and salt in the top pot of the double boiler. Use a silicone whisk3 to continuously whisk the mixture as it cooks. It is important to keep the mixture moving so the eggs don't cook or curdle.

Continue whisking the mixture until it becomes thick and foamy, approximately 10-15 minutes. If you want to check the temperature of the curd with an instant read thermometer to be safe, it should reach 160ºF (71ºC).

Remove double boiler or top bowl from heat and whisk in butter pieces 2 at a time, adding the next pieces after previous pieces have mostly melted.

When all of the butter has melted, place a piece of plastic wrap directly on top of lemon curd, making sure the plastic wrap is touching the surface of the curd. Allow lemon curd to cool in the refrigerator (it will thicken as it cools), about 2 hours. Remove plastic wrap when you are ready to use it. Leftover lemon curd stays fresh in the refrigerator, covered tightly, up to 1 month, or in the freezer, up to 1 year. Thaw in the refrigerator overnight.
Notes
Fresh lemon juice: do not use bottled lemon juice. Use freshly squeezed lemon juice from the lemons that you zest (3 lemons will give you a little more than

½ cup of juice).

Unsalted butter: you may use salted butter. Do not add additional salt.
Bowl and whisk: do not use a metal bowl or a metal whisk, or you run the risk of your lemon curd tasting metallic.
Recipe adapted from Ina Garten
Nutrition Disclosure
All nutritional values are approximate and provided to the reader as a courtesy. Changing ingredients and/or quantities will alter the estimated nutritional calculations.
More of my favorite homemade condiments…