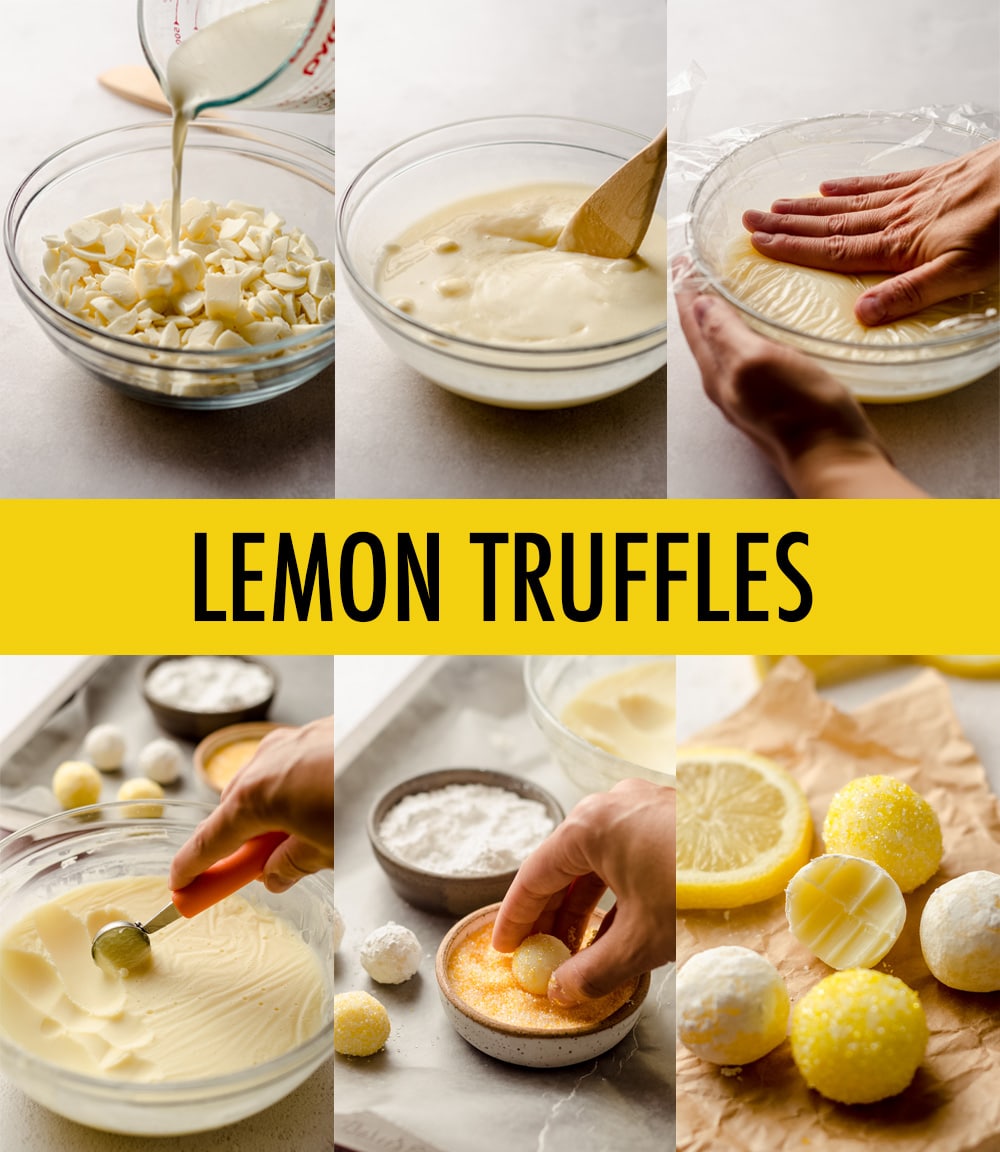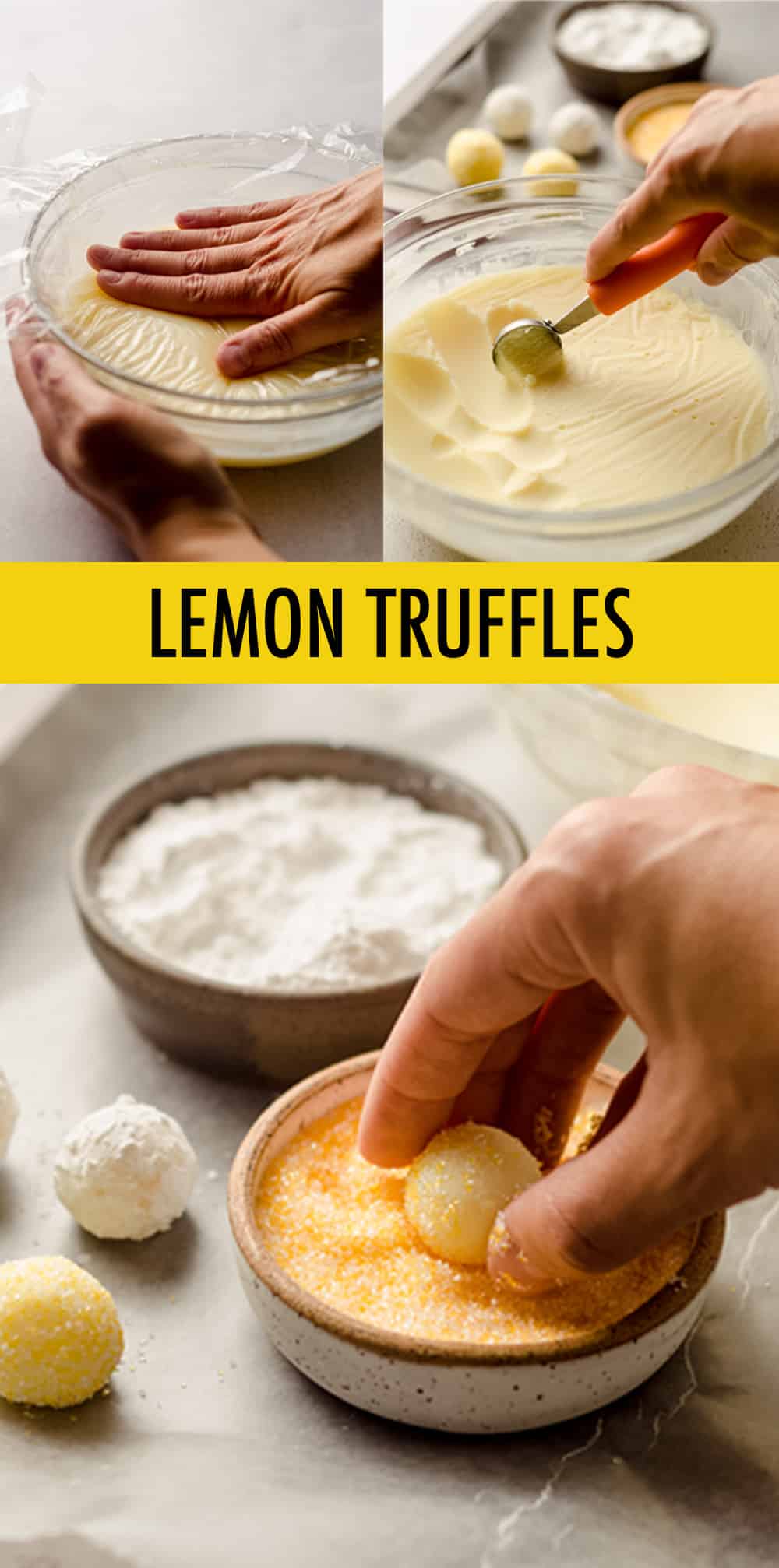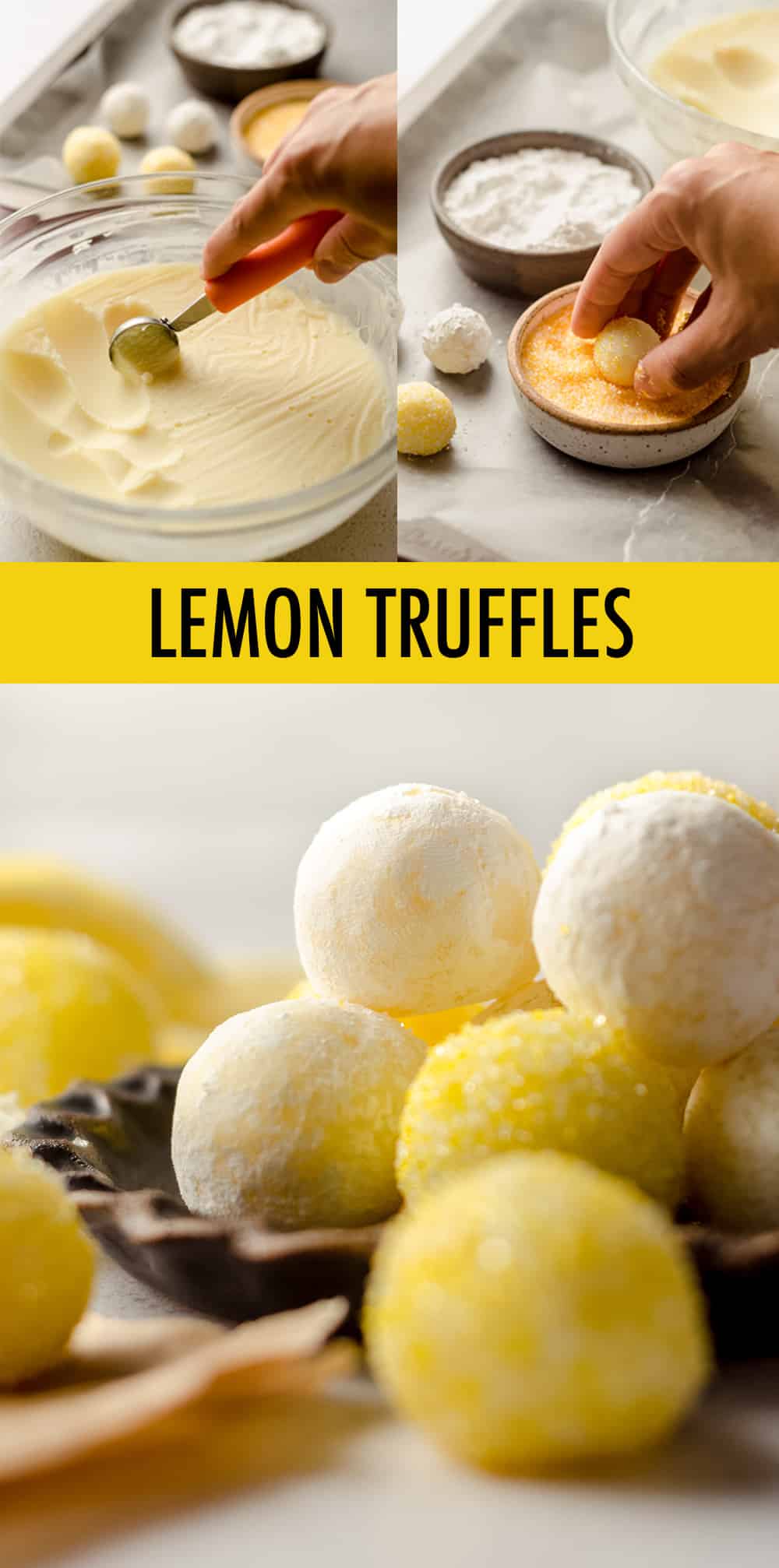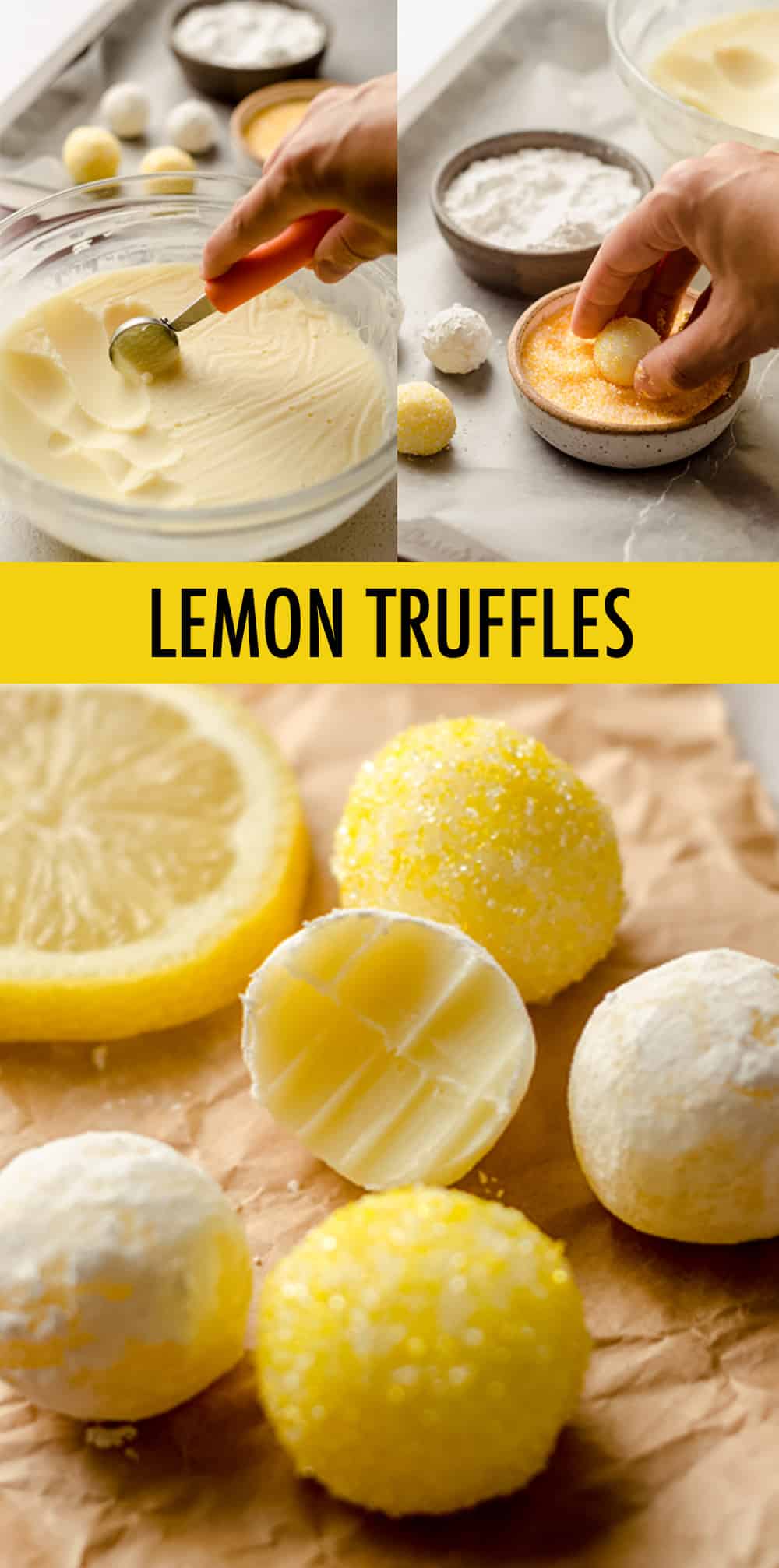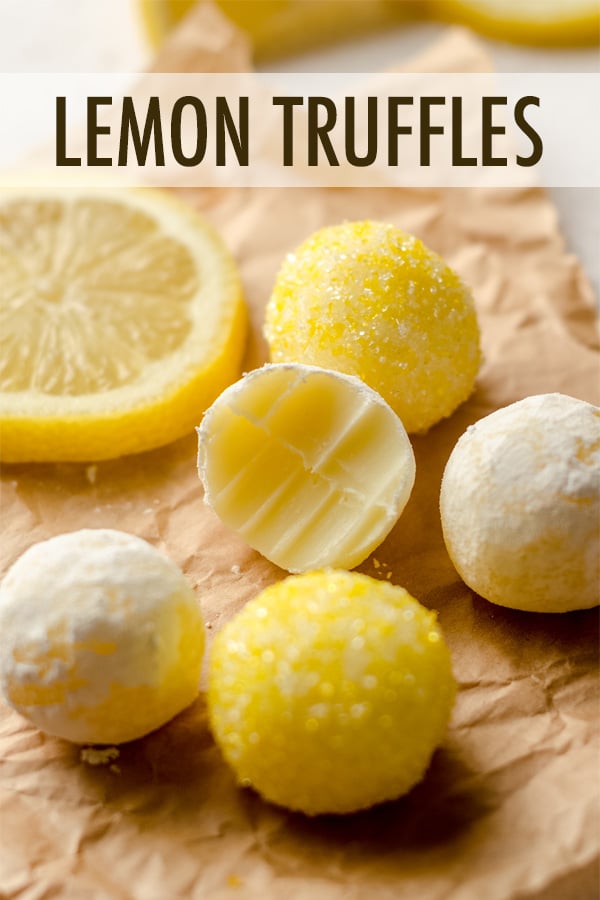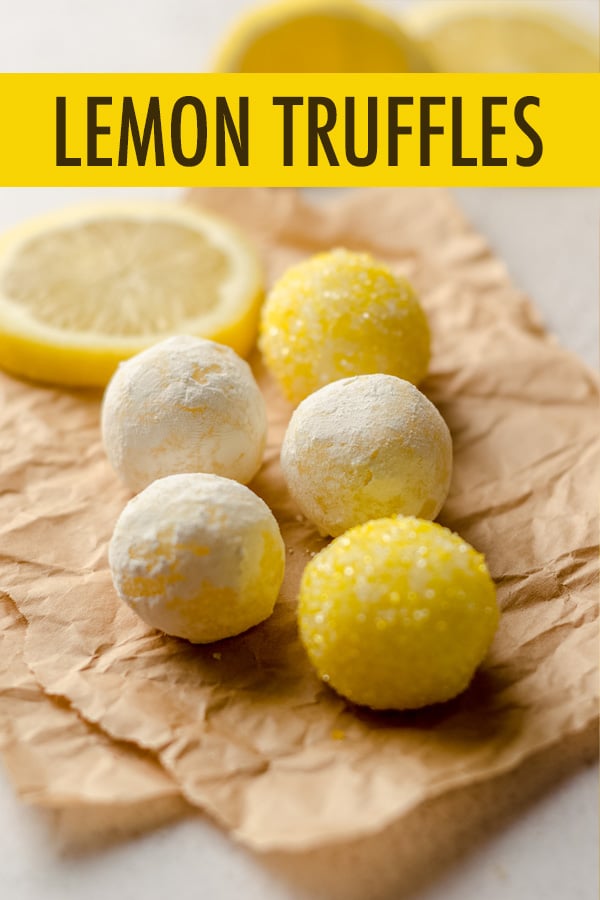 As an Amazon Associate, I earn from qualifying purchases. Read the full disclosure here.
Smooth and creamy truffles full of lemon flavor and rolled in bright and sunny sprinkles. Easy to follow instructions will make you feel like a candy-making expert!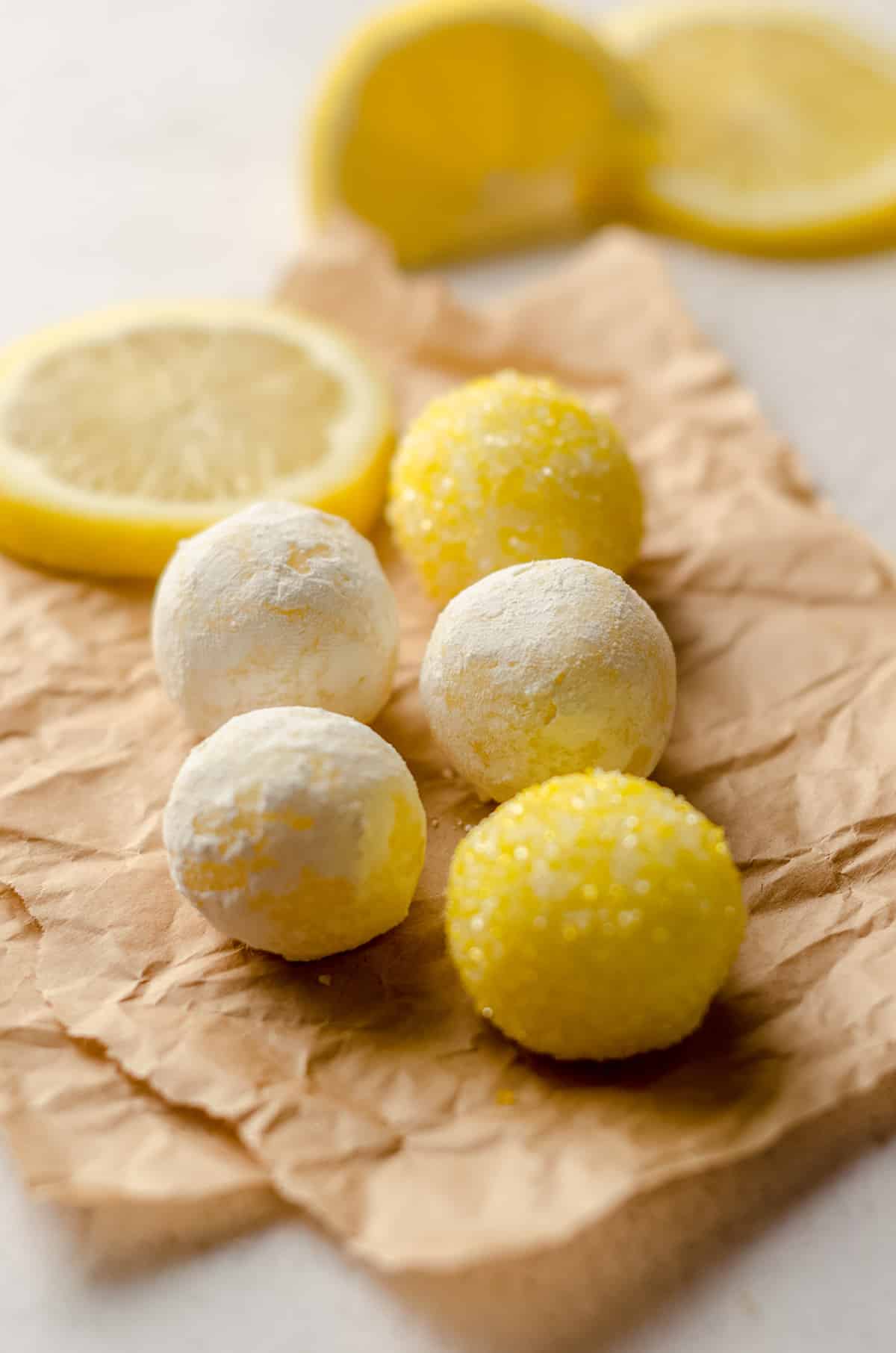 Welcome to #LemonWeek 2021 hosted by me! What better way to welcome summer than with over 50 recipes featuring bright and sunny lemons? Come join me and my fellow Lemon Week bloggers as we bring you recipes from appetizers to drinks to entrées and desserts!
A long long time ago, I was honored to be asked to feature a recipe from my dear friend Sally's cookbook, Sally's Candy Addiction. I was told I could choose literally any recipe to publish on my own site, and this lemon truffle recipe totally stuck out to me like a sore (beautiful lemon) thumb.
Since 2015, this recipe has lived on my blog and is frequented by regular readers and Pinterest-finders alike. I have made these white chocolate lemon truffles several times over the years, and I figured it was time to give the whole post and the photos a major update.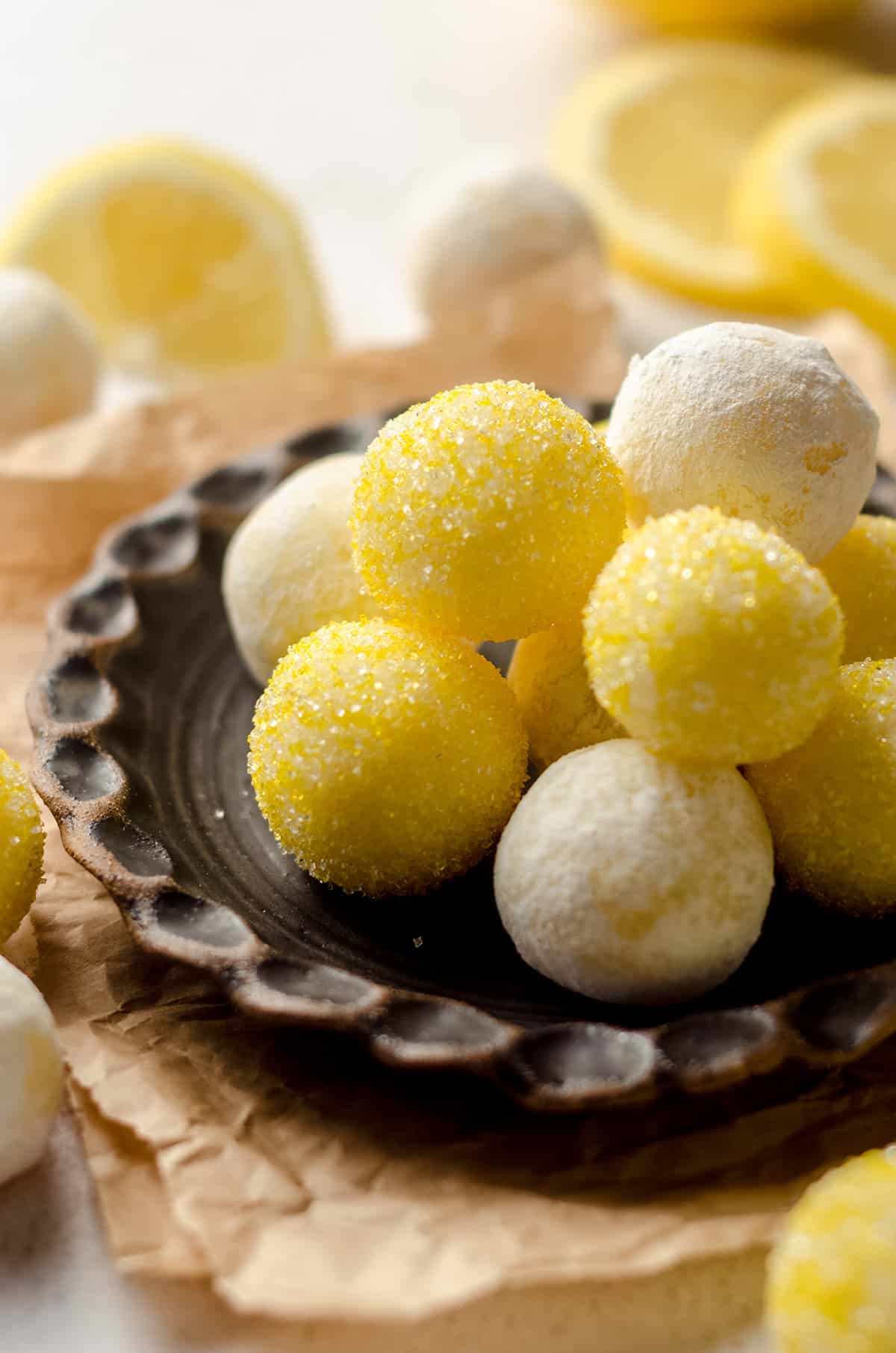 Are you familiar with Sally? She's fabulous. And she has taught me so much about baking and blogging and quality TV and biscotti and WordPress scheduling plugins (wait, what? #bloggerfriendlife).
Sally's book is filled with all kinds of candies: truffles, toffees, brittles, TAFFY, marshmallows, fudge. I mean, I think I you can get a cavity just thumbing through the pages (<– does this make me famous?).
Every picture makes my mouth water and every recipe makes me believe that I, too, can be a candy expert.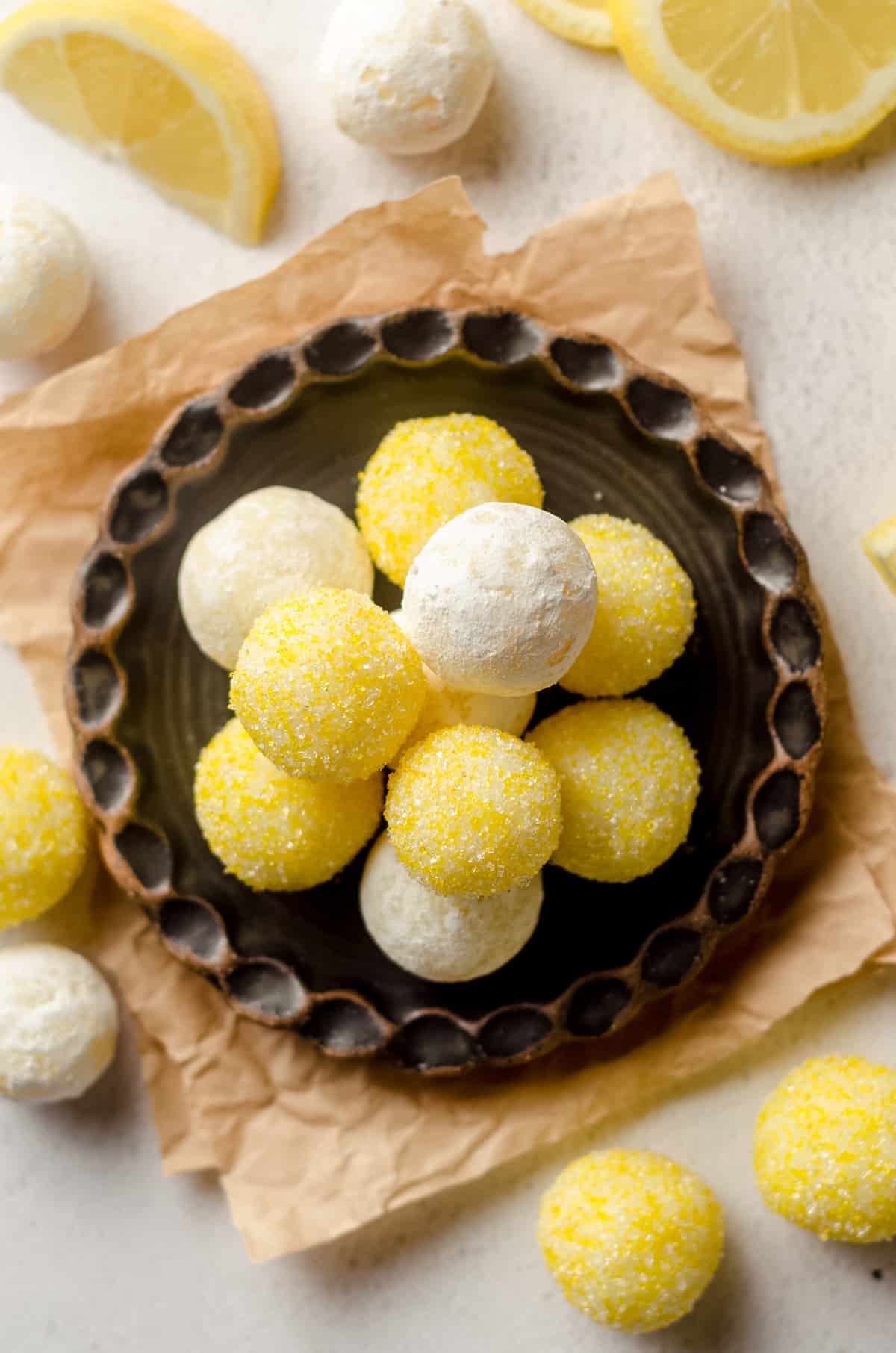 But… I decided to start small and easy and work my way up to the harder recipes. The lemon cream pie truffles on page 89 practically screamed "MAKE MEEEEE!" with their cute little lemon slices and colorful sprinkle coatings.
Umm, sprinkle coating. Did you read that? A COATING of SPRINKLES. Yeah. How could I resist?
When I say these adorable lemon truffles are easy, I'm being totally serious. This is not some ploy to get you to make them or my way of pretending that "oh my gosh, this recipe with 8 thousand steps and 43 ingredients is a piece of cake."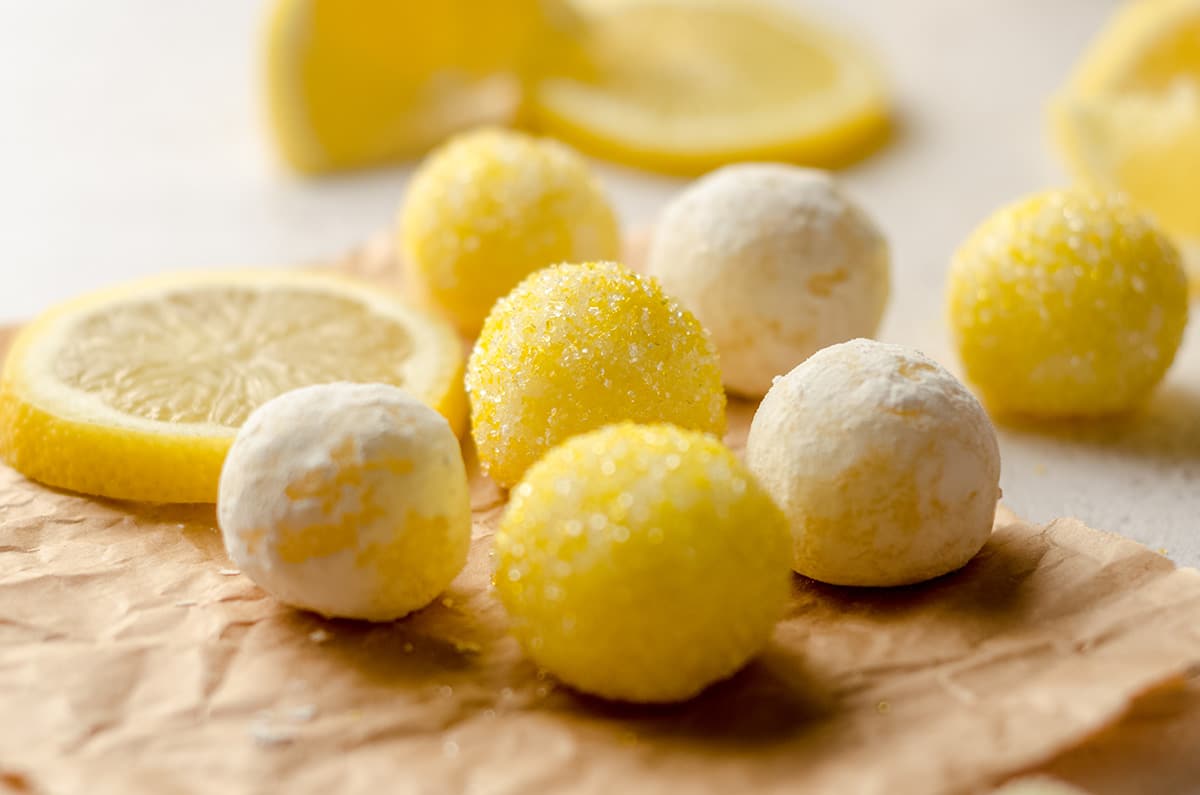 Only 5 ingredients (one of which is sprinkles, which, let's be honest, is a food group), a few simple steps, and wham, bam, thank you, ma'am, you've just made TRUFFLES.
WHAT IS A LEMON TRUFFLE?
A truffle is simply a ball of chocolate ganache, sometimes flavored with extract, and coated in chocolate, cocoa powder, powdered sugar, nuts, sprinkles, or other garnishes to lock in that soft, creamy ganache interior.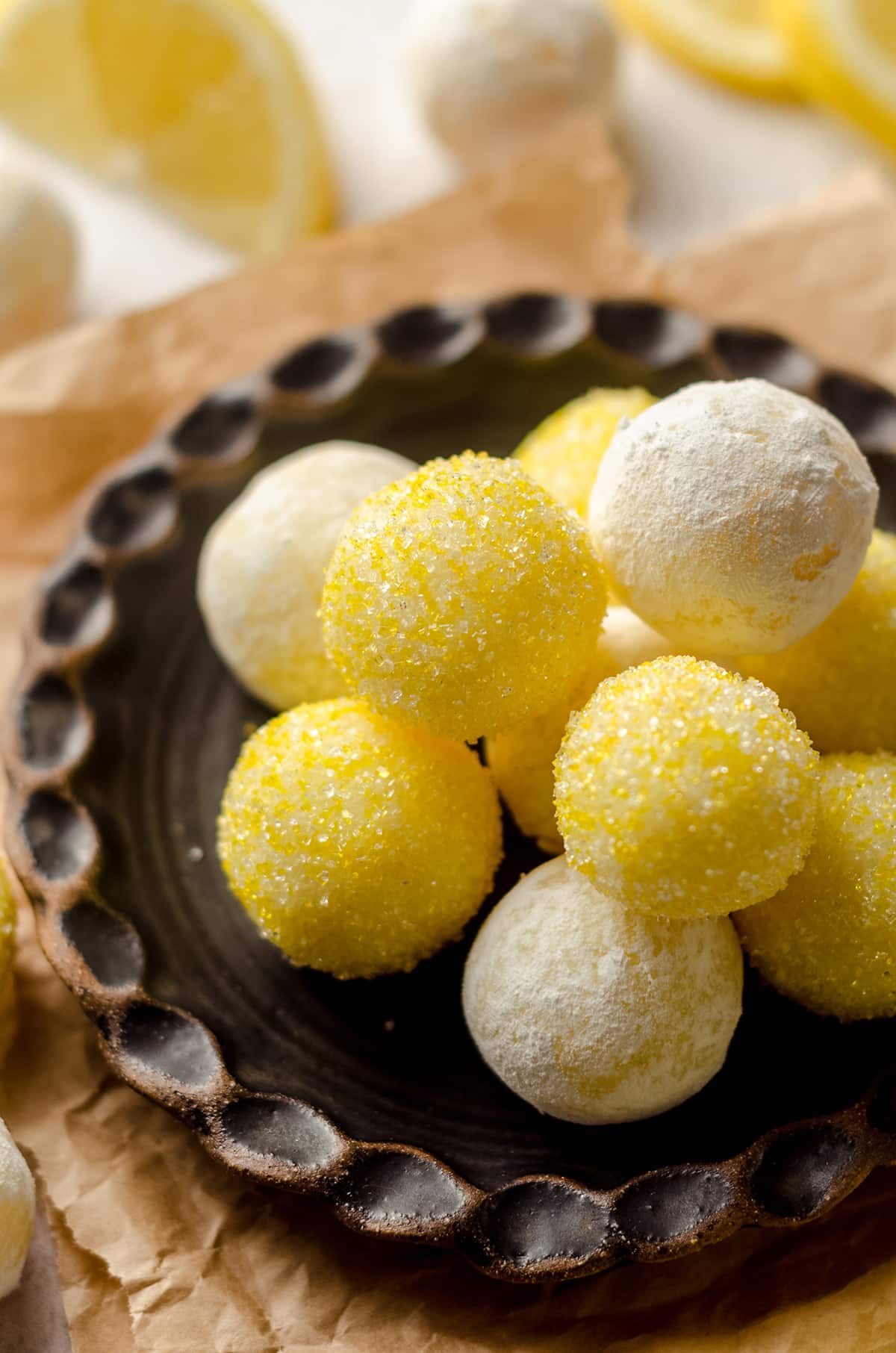 They are considered a candy, and as far as candy making goes, I think they're one of the simpler things to make that look, sound, and seem fancy to the consumer.
If you're looking to get started with candy making, truffles are a great place to start! And they're May's No Bake of The Month feature!
HOW TO MAKE LEMON TRUFFLES
You'll start by putting quality chopped white chocolate (or my personal fav– Ghirardelli melting wafers) and softened butter into a bowl.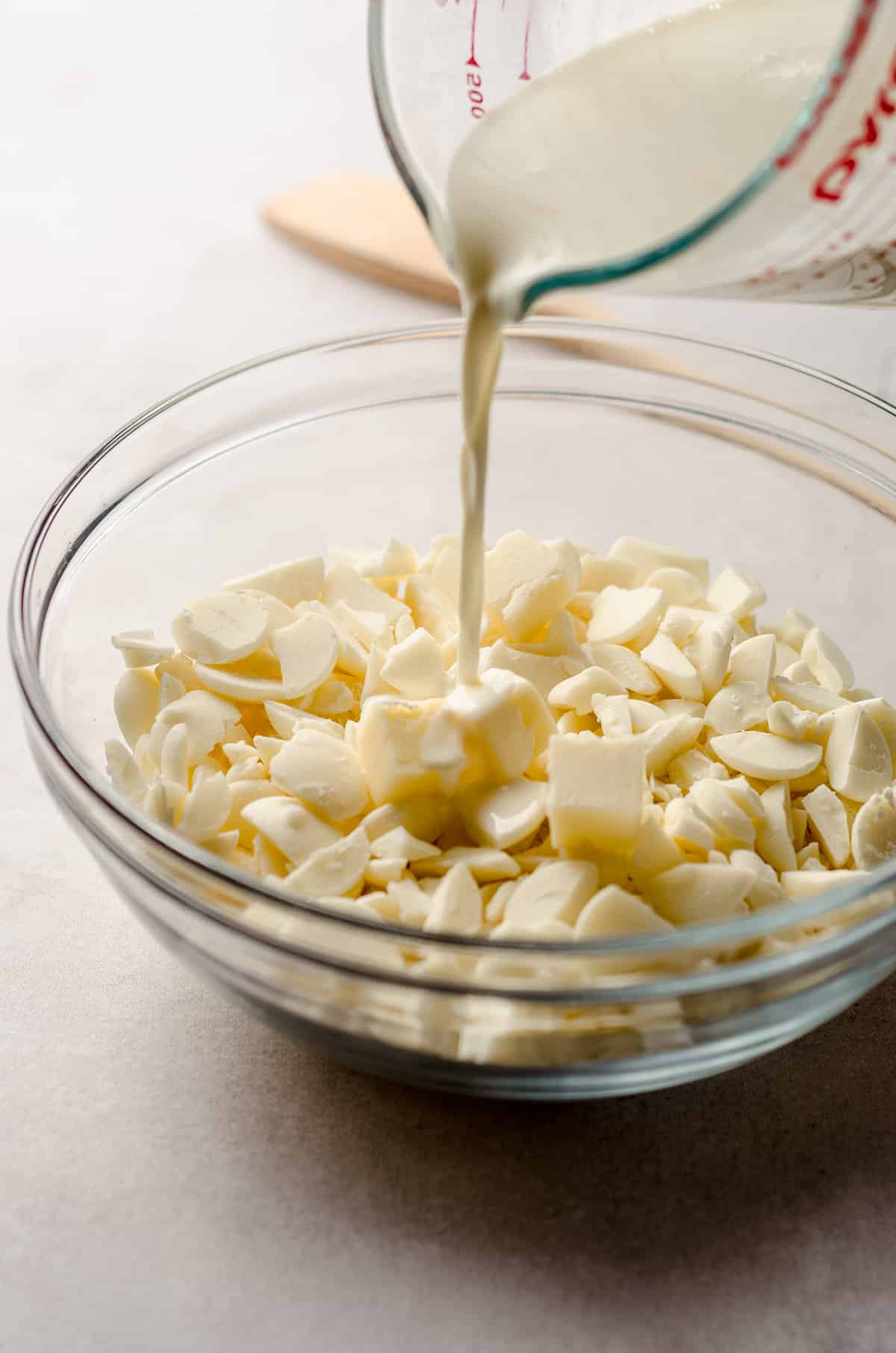 You'll heat some heavy cream until it just starts to boil, whisk in some lemon extract (carefully– it will bubble up!), and pour that mixture over your chocolate/butter. Then, you'll stir this mixture gently in one direction until completely smooth.
THESE TRUFFLES ARE MADE WITH GANACHE
What you're actually making is ganache, which is an emulsion (the combination of 2 things that don't normally mix). Heating the cream and allowing it to melt the chocolate/butter suspends the fats and oils in the liquid of the cream.
If you tried to mix cream directly into melted chocolate, you'd have one big mess and a bunch of seized chocolate. This method of melting the chocolate and butter creates the velvety smooth ganache center that sets truffles apart from other candies like buttercreams and other filled chocolates.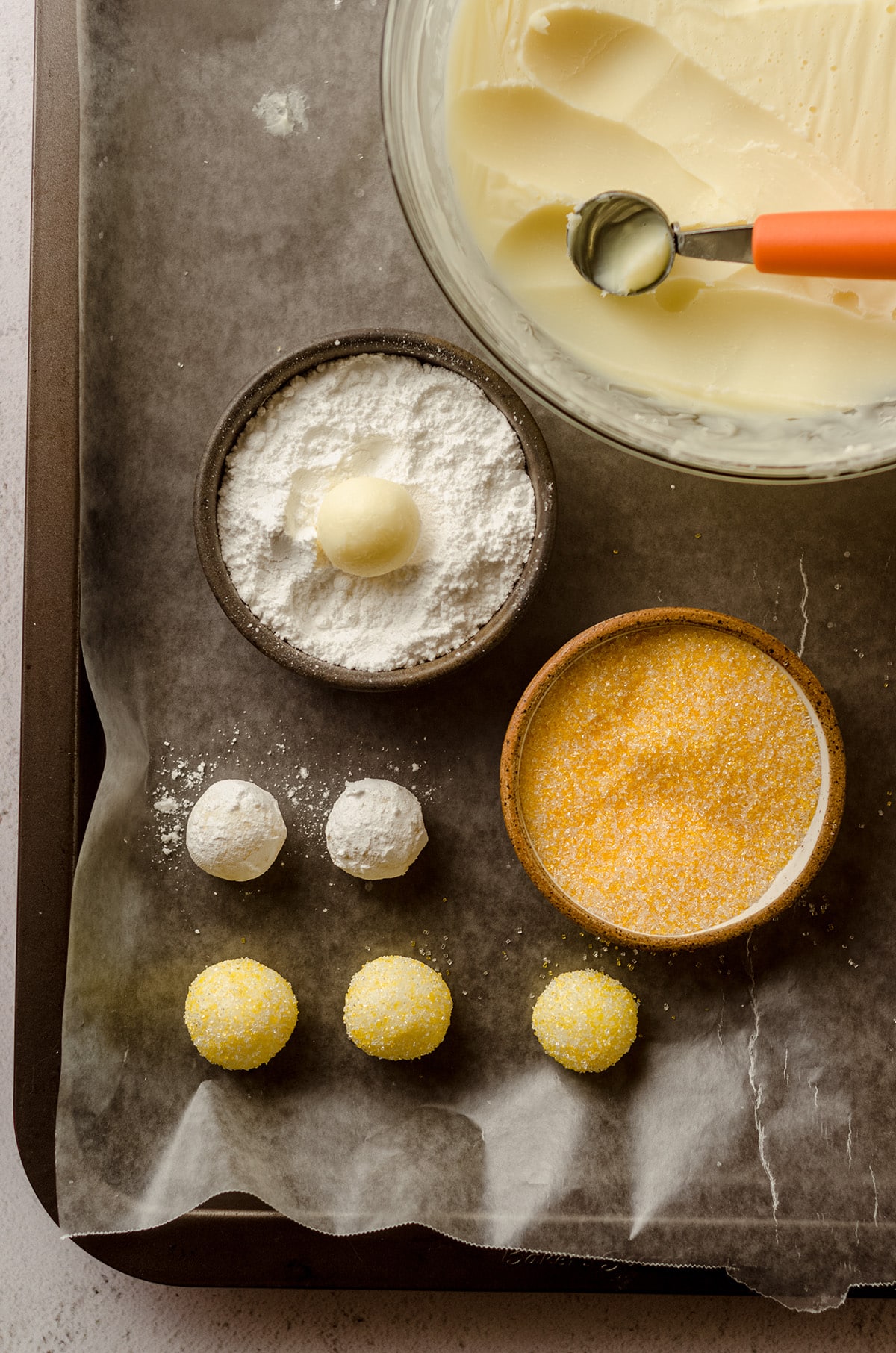 Stirring gently and slowly creates the smoothest, most decadent truffle center possible.
After you have a smooth white chocolate lemon ganache, you'll cover the bowl with plastic wrap, pressing the plastic directly onto the surface of the chocolate.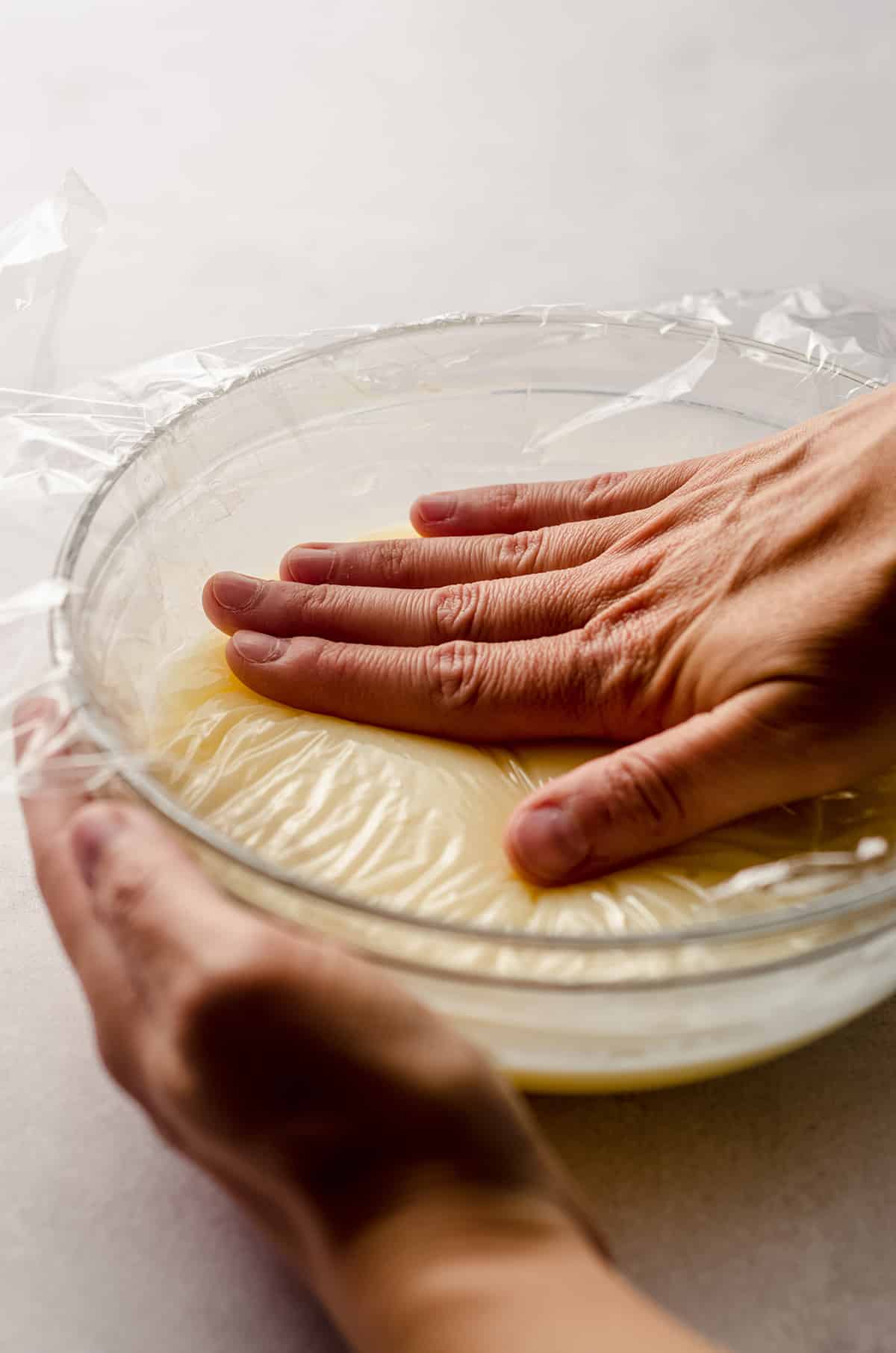 COVERING GANACHE WITH PLASTIC WRAP KEEPS IT SMOOTH
Covering the warm ganache with plastic wrap insures no film develops on the surface of the cooling mixture. You'll allow this ganache to come to room temperature before chilling it for at least 6 hours. I always chill my ganache overnight to be sure it is good and chilled and ready to roll.
HOW TO FORM THE TRUFFLES
Once you're ready to get trufflin', simply roll into balls, give them a nice little dunk in some powdered sugar or sprinkles, and then place them on a baking sheet. That's it!
See? Easy. You just need a little time and patience. But the method? Pshhh… Piece of cake lemon pie!
I always keep mine chilled, but you can certainly enjoy them immediately or save them for later. We also usually stick some in the freezer, and our future selves are always grateful for that hidden treat!
These lemon truffles (which, like I mentioned, are actually called lemon cream pie truffles in Sally's book) are always a major hit with taste testers.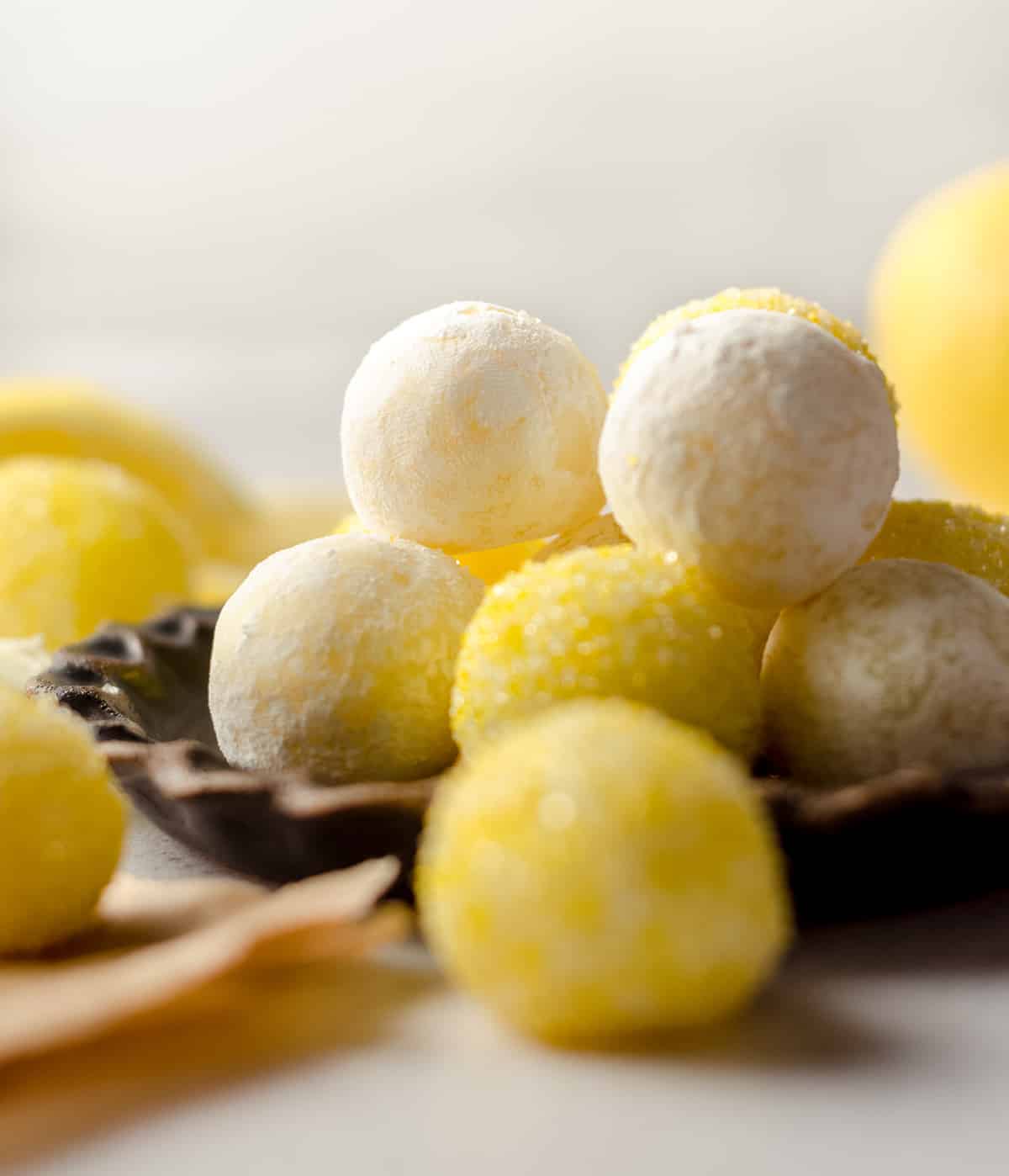 They are unbelievably smooth, tart and sweet, and just the right size for the perfect little treat. They are a great complement to a cookie tray or dessert spread, and you can change up the coating for varying aesthetic or texture purposes.
I don't know about you, but I am a giant lemon fan and these lemon and white chocolate truffles always come to my mind when I think about my favorite special lemon treat.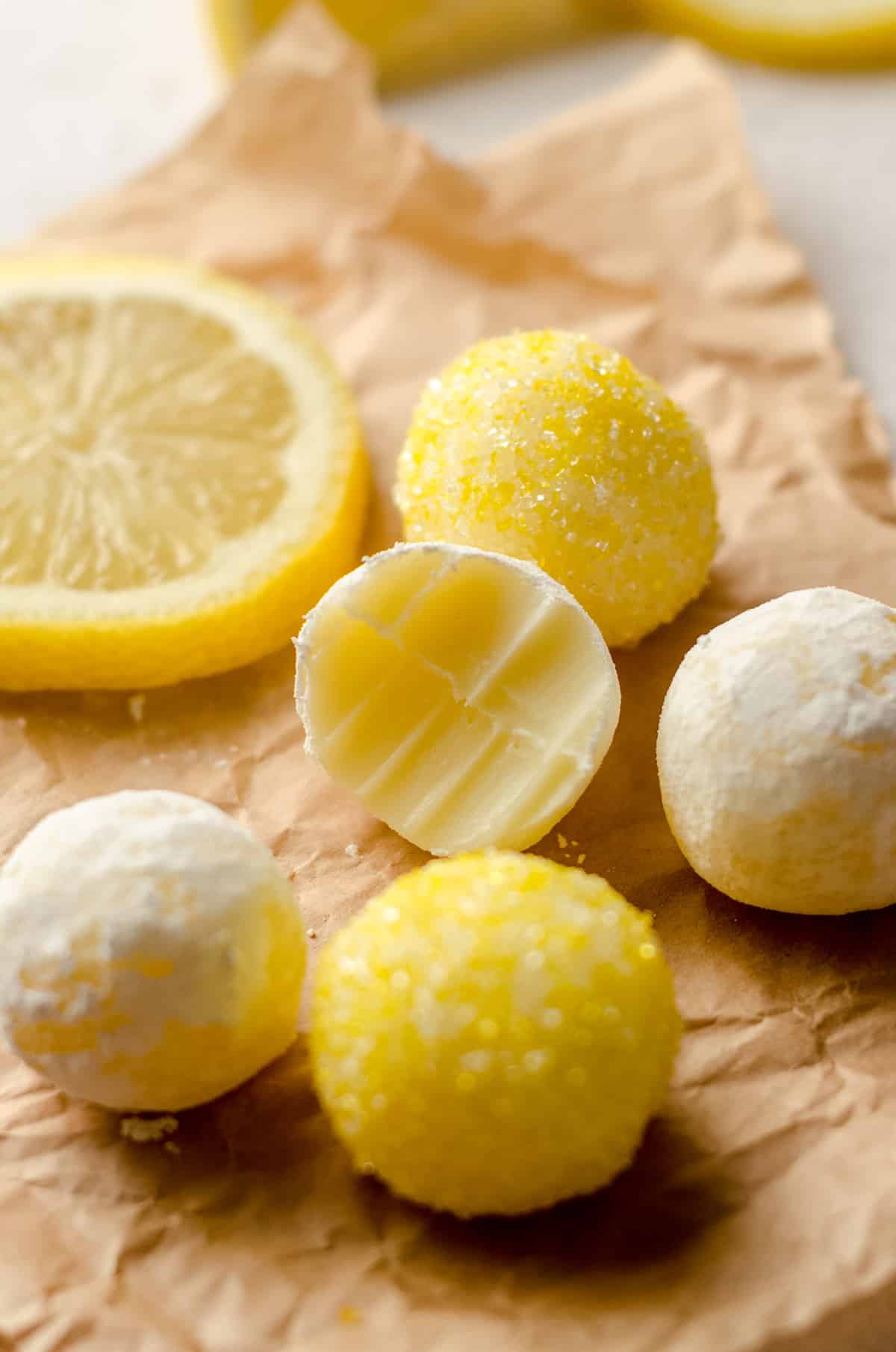 I hope you'll give them a try and find that you really can make candy without a bunch of fuss… And impress your friends!
Tuesday #LemonWeek Recipes
Lemon Truffles

Smooth and creamy truffles full of lemon flavor and rolled in bright and sunny sprinkles. Easy to follow instructions will make you feel like a candy-making expert!

Ingredients

14

ounces

(398g) quality white chocolate

coarsely chopped

1

Tablespoon

(14g) unsalted butter

softened to room temperature

¾

cup

(180mL) heavy cream

1

teaspoon

lemon extract
powdered sugar or sprinkles for coating1

Instructions

Place white chocolate in a large heatproof bowl. Place the butter on top. Do not mix. Set aside.

Pour heavy cream into a small saucepan and heat over medium heat, whisking occasionally, until it just begins to boil. Remove from heat and whisk in the lemon extract (carefully– it will bubble up).

Pour the hot mixture over the white chocolate and gently stir with a wooden spoon2 in one direction. Do not stir forcefully.

Once the mixture is completely smooth, cover it with plastic wrap pressed to the surface of the mixture. Allow to sit at room temperature for 1 hour, then transfer to the refrigerator for at least 6 hours (I always chill mine overnight). After chilling, the ganache mixture will be smooth and soft, but still manageable by hand.

When you are ready to roll your truffles, line 2 large baking sheets with parchment paper or silicone baking mats. Pour powdered sugar or sprinkles into a bowl and set aside.

Measure desired amount of ganache based on how big you want the truffles to be (I use a melon baller, but you can also use a teaspoon measure), roll between your hands into a ball3, then roll in the sprinkles. Place on the baking sheet. Continue this process until you have used all of the ganache. Serve immediately or cover tightly and chill in the refrigerator until ready to serve.

Notes

Sprinkles: I like tiny non-pareils or sanding sugar for coating.
Wooden spoon: it is crucial to use a wooden spoon as metal or plastic will retain heat and distribute it unevenly.
Rolling truffles: I found it easiest to wipe my hands clean after making each truffle. This may sound tedious, but it helps keep things smooth and clean.

Recipe republished with permission from Sally's Candy Addiction