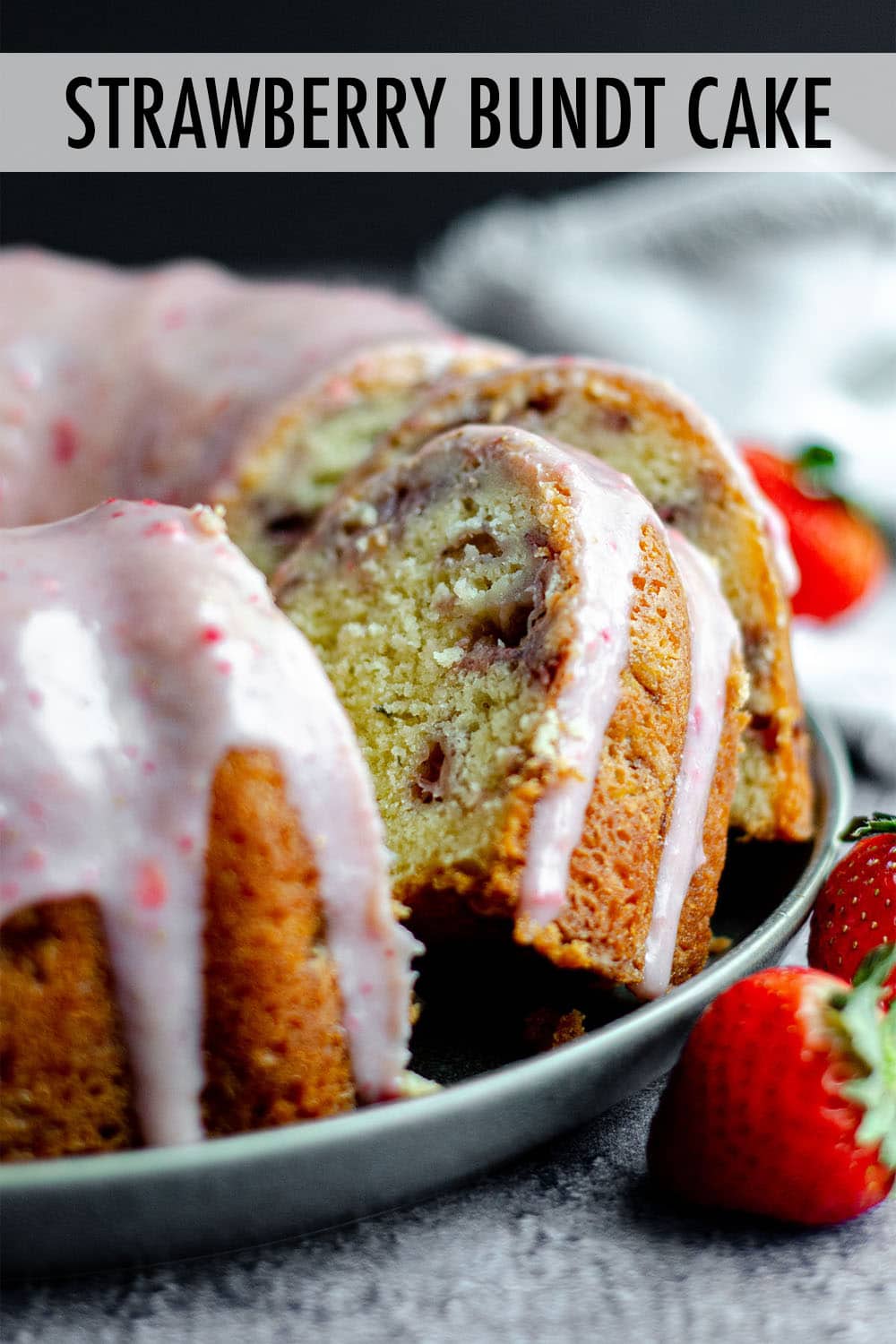 As an Amazon Associate, I earn from qualifying purchases. Read the full disclosure here.
Homemade strawberry bundt cake made from scratch with fresh strawberries and topped with strawberry white chocolate ganache.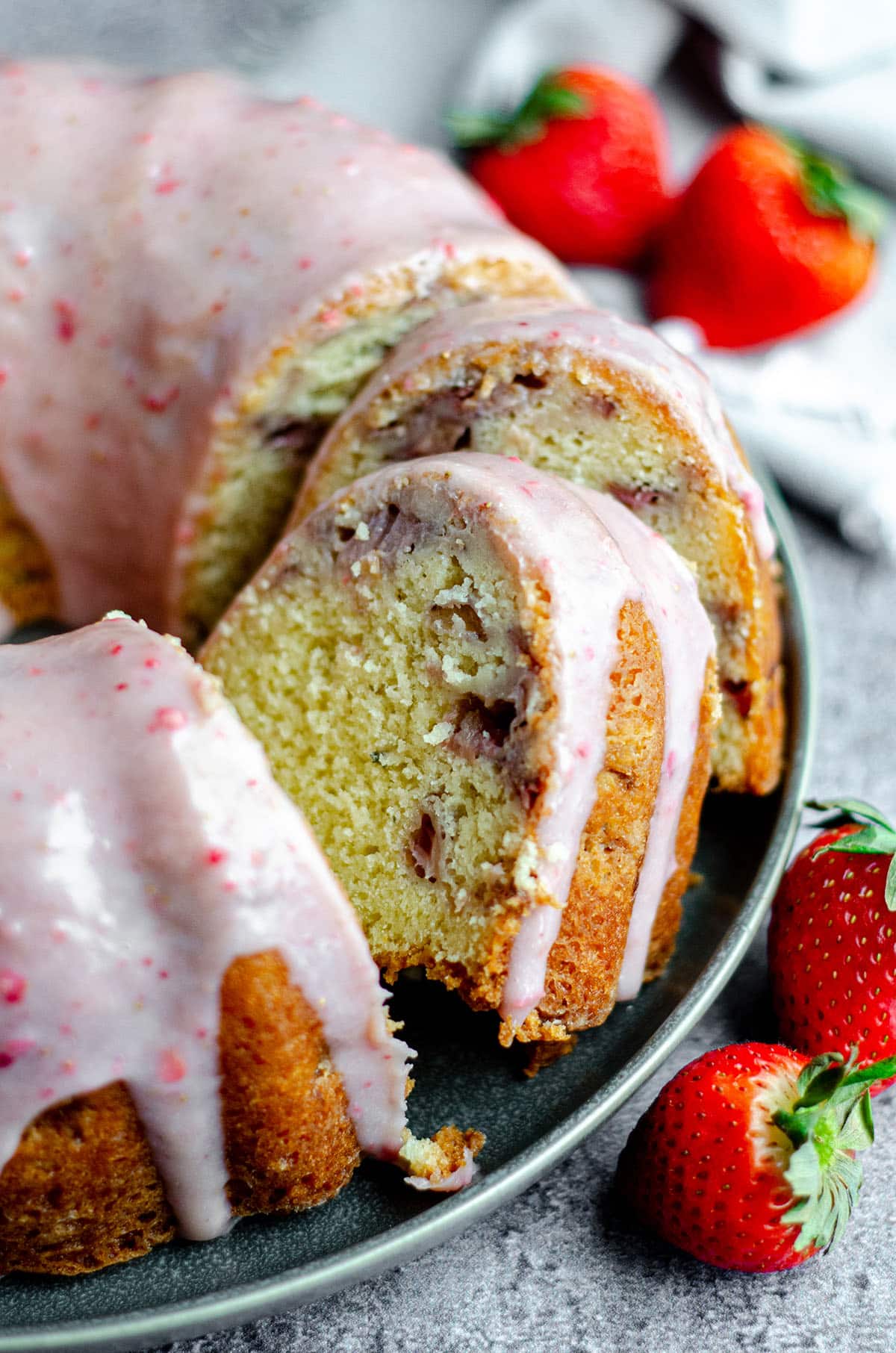 If there's one thing I've learned over the years of baking/blogging, it's don't mess with a good thing.
Many years ago while I was still baking cakes as a side business, I learned how to make strawberry cake from scratch. In 2017, I did a Cake of The Month series (this year's monthly series is brownies— don't miss out on that one!), and I chose to share that fresh strawberry layer cake for July.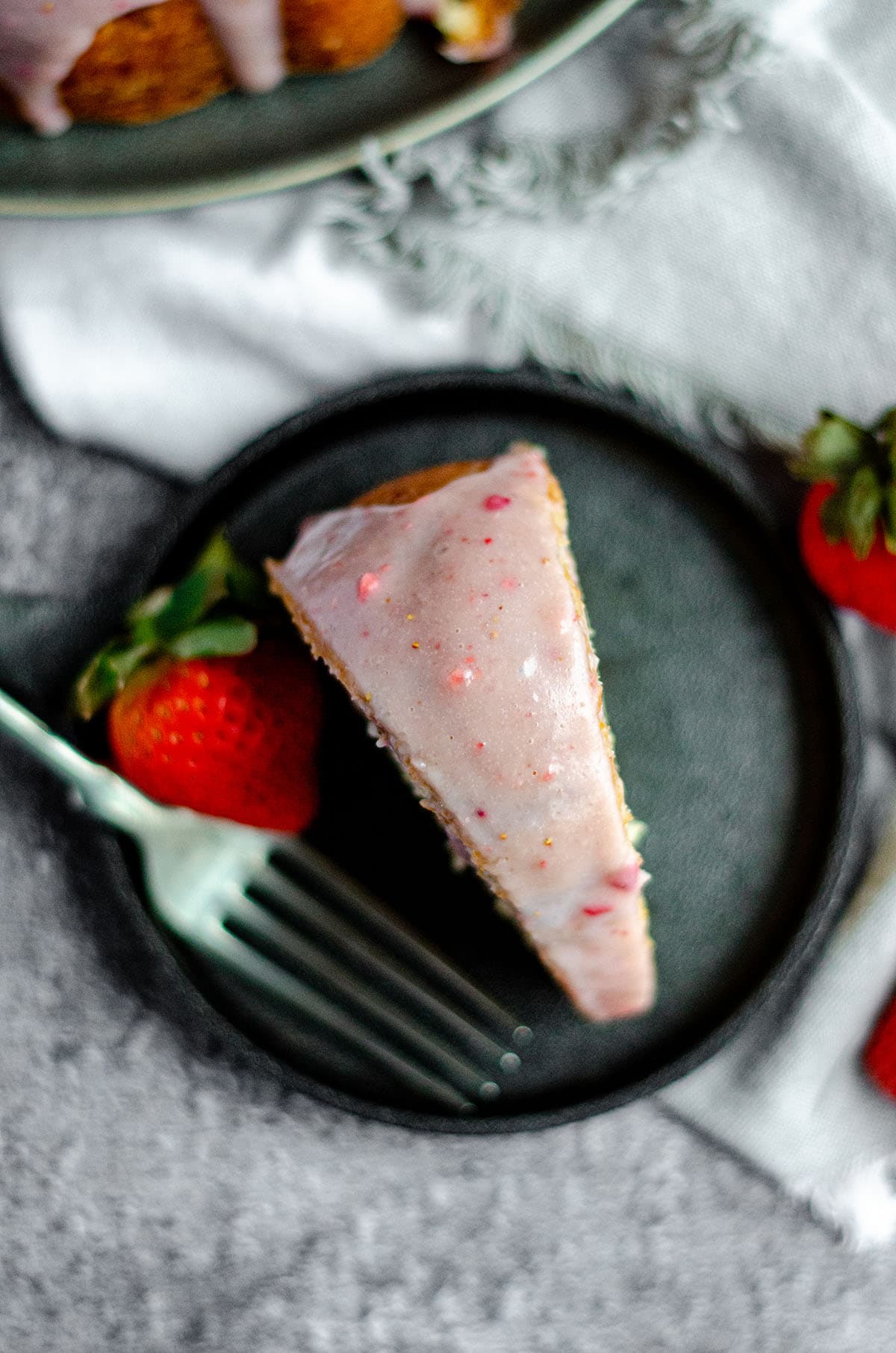 Little did I know that post would gain so much traction over the years and become one of the most popular recipes I have.
I also had a video made for it last year! I love that video for showing you just how to make a strawberry layer cake. Lucky for you, this strawberry bundt cake with fresh strawberries is even easier, because HELLO, no layering.
Though I do have to say, I love me a layered cake. Make no mistake about it. But sometimes, I just want the simplicity of a bundt cake.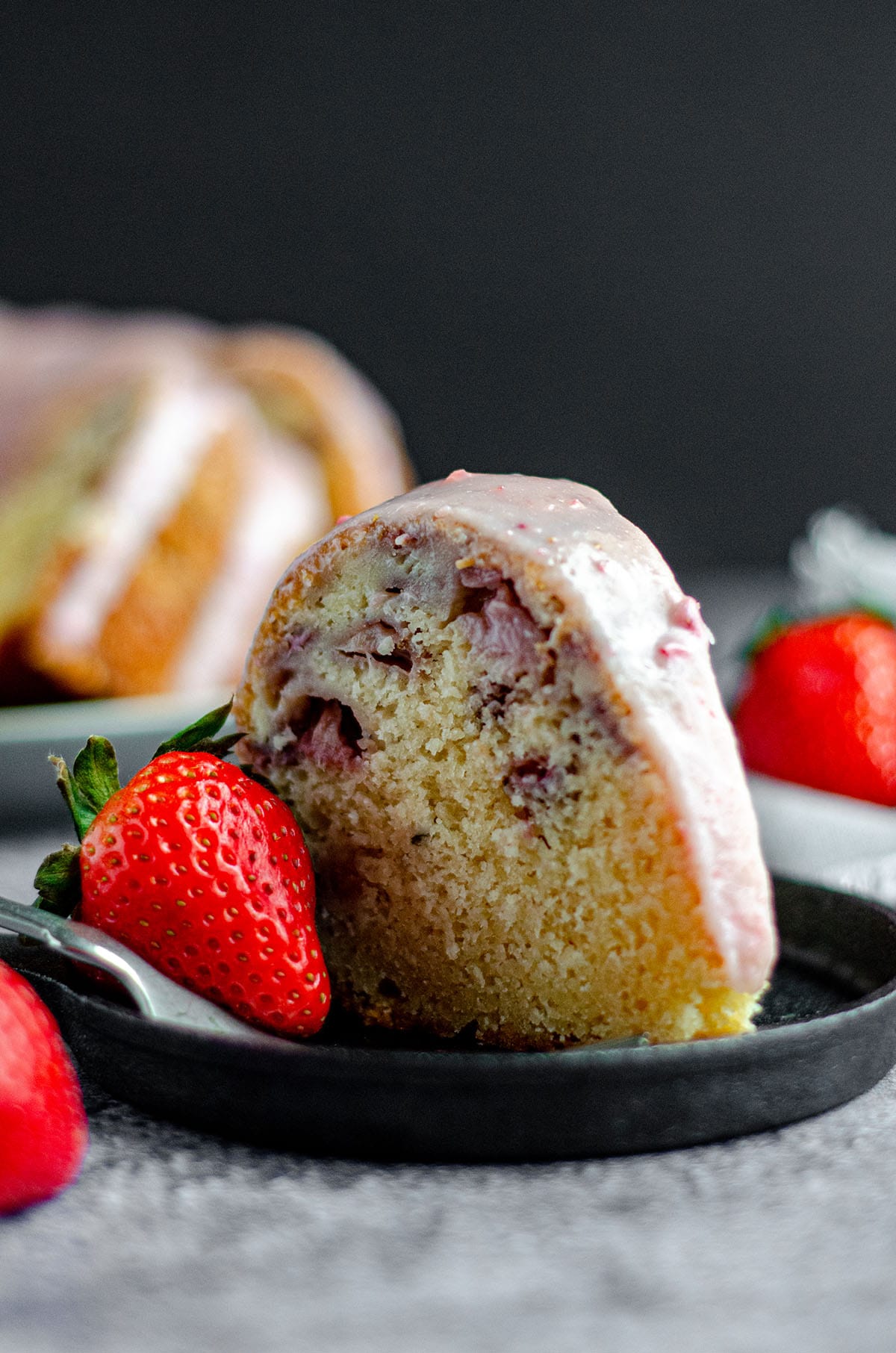 I also wanted to experiment with another kind of glaze/icing for this version, and I'll get to that gorgeously pink strawberry white chocolate ganache in a minute!
ONLY FRESH STRAWBERRIES AND NO GELATIN
So about this cake– just as my original fresh strawberry cake recipe goes, this is my fresh strawberry bundt cake recipe, so we're getting all of the strawberry flavor from pure strawberries.
I've seen a lot of strawberry cakes out there that use strawberry puree to bring the strawberry flavor, and while I bet that's a great way to do it, I always wanted to keep this cake simple.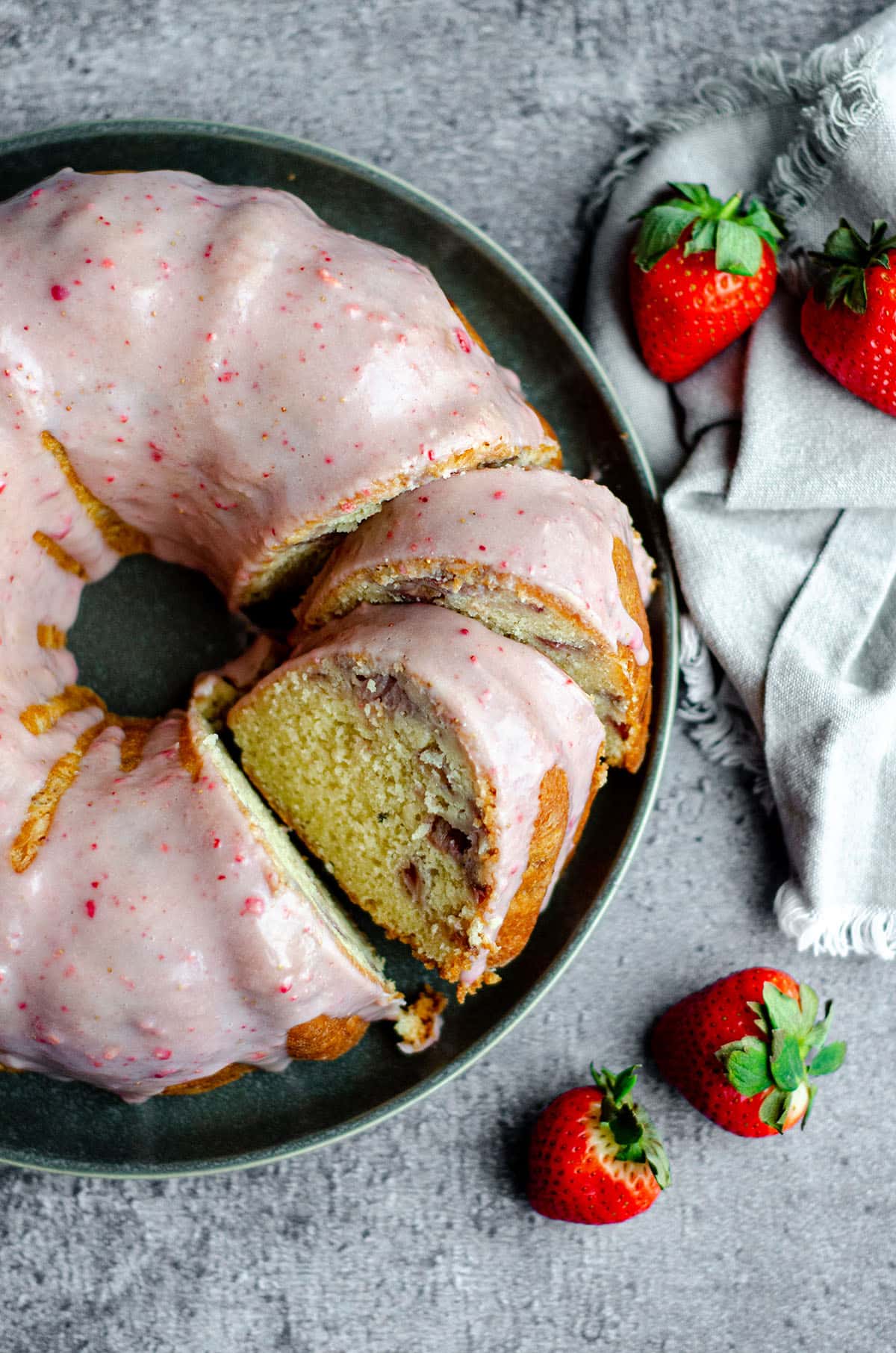 Don't get me wrong, I love giving deep flavor to cakes by cooking down an ingredient before adding it, like a champagne reduction in my champagne layer cake, but the addition of the strawberry ganache on top of this bundt cake sealed the flavor deal for me and I didn't want to mess with a good thing.
ADD EXTRA BAKING POWDER TO INSURE BIGGER LIFT
The one thing I adjusted from my strawberry cake recipe for this strawberry bundt cake recipe is the addition of one more teaspoon of baking powder to give the batter extra lift while crawling up the sides of the bundt pan.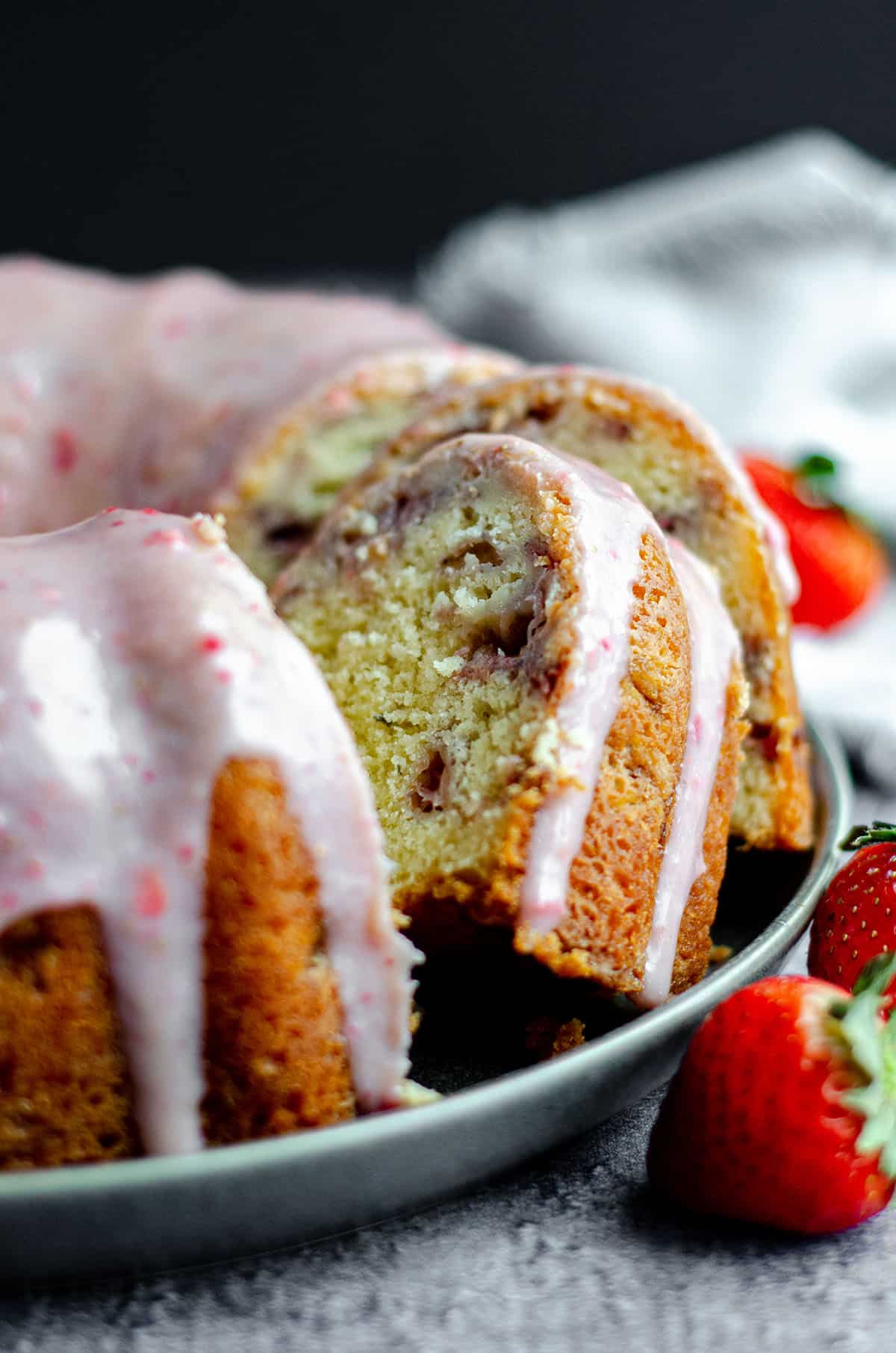 Speaking of climbing the sides of the pan, I have been using my own homemade cake release for several months. It works great for preventing any of my cake from sticking to the pan, and if you brush your bundt pan liberally with it, you'll have this bundt cake sliding out of the pan with no issue.
If you have a tried and true method for prepping pans, by all means, continue using it. I've never had the best luck with the grease and flour method. Proceed as you do!
While my original strawberry cake is light and fluffy, once the batter goes into a bundt pan, the texture turns into a bit more of a strawberry pound cake. This is totally fine!
The bake time is longer, which makes a denser cake, and the distribution of batter is drastically different.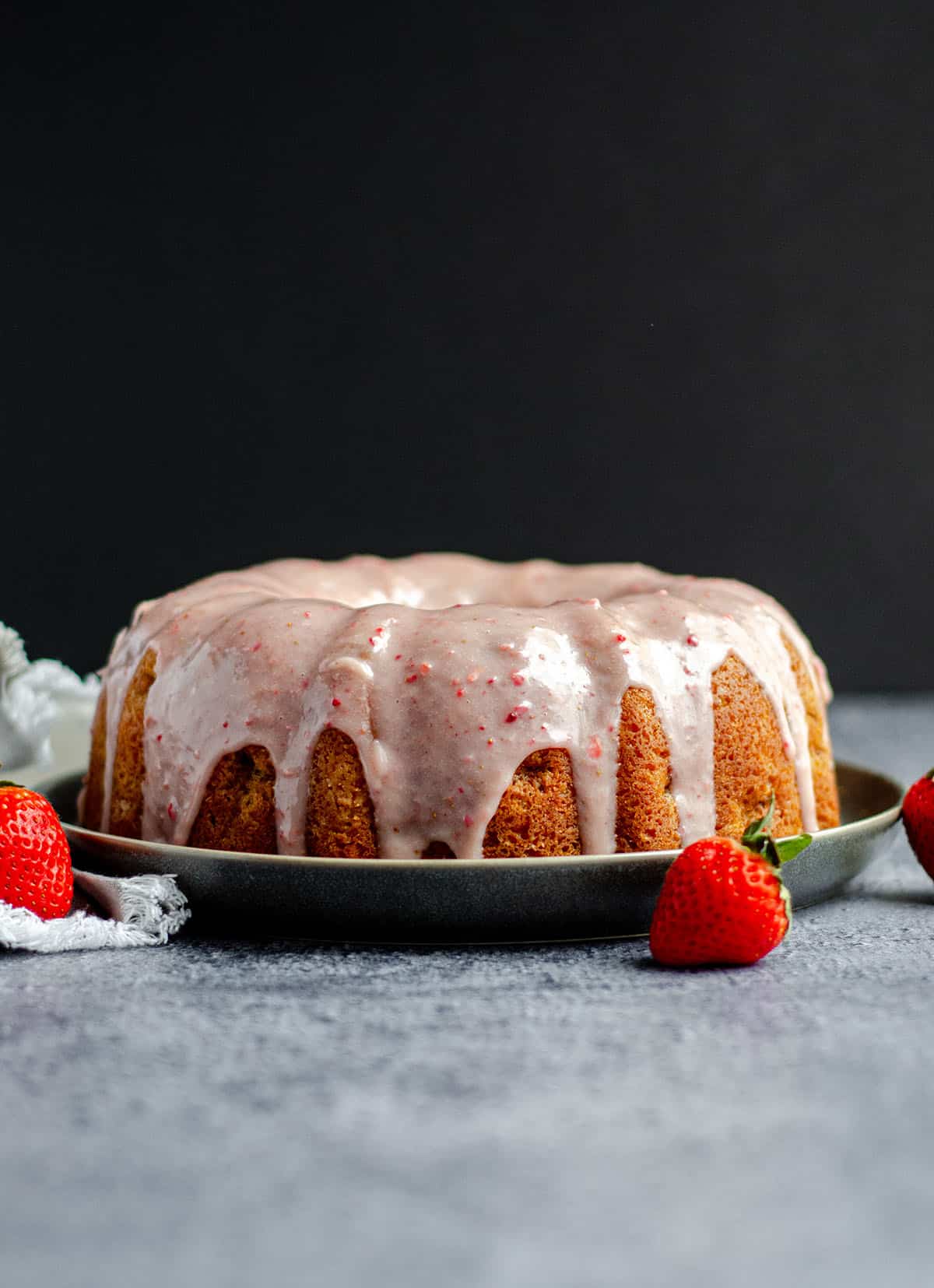 Bundt cakes aren't usually where we go for light and fluffy. If you want light and fluffy, go for the layer cake.
USE FINELY CHOPPED STRAWBERRIES FOR THE BEST DISTRIBUTION
Another note about this bundt cake:
Make sure your strawberries are finely chopped. The depth and bake time of bundt cakes means more time for strawberry pieces to sink to the bottom. Keep them small to keep them in place!
I thought that the best glaze for strawberry bundt cake was something that was quick and easy and wasn't too heavy. I turned to the method I used when I made my chocolate bundt cake: a simple mixture of chocolate chips and heavy cream, otherwise known as ganache.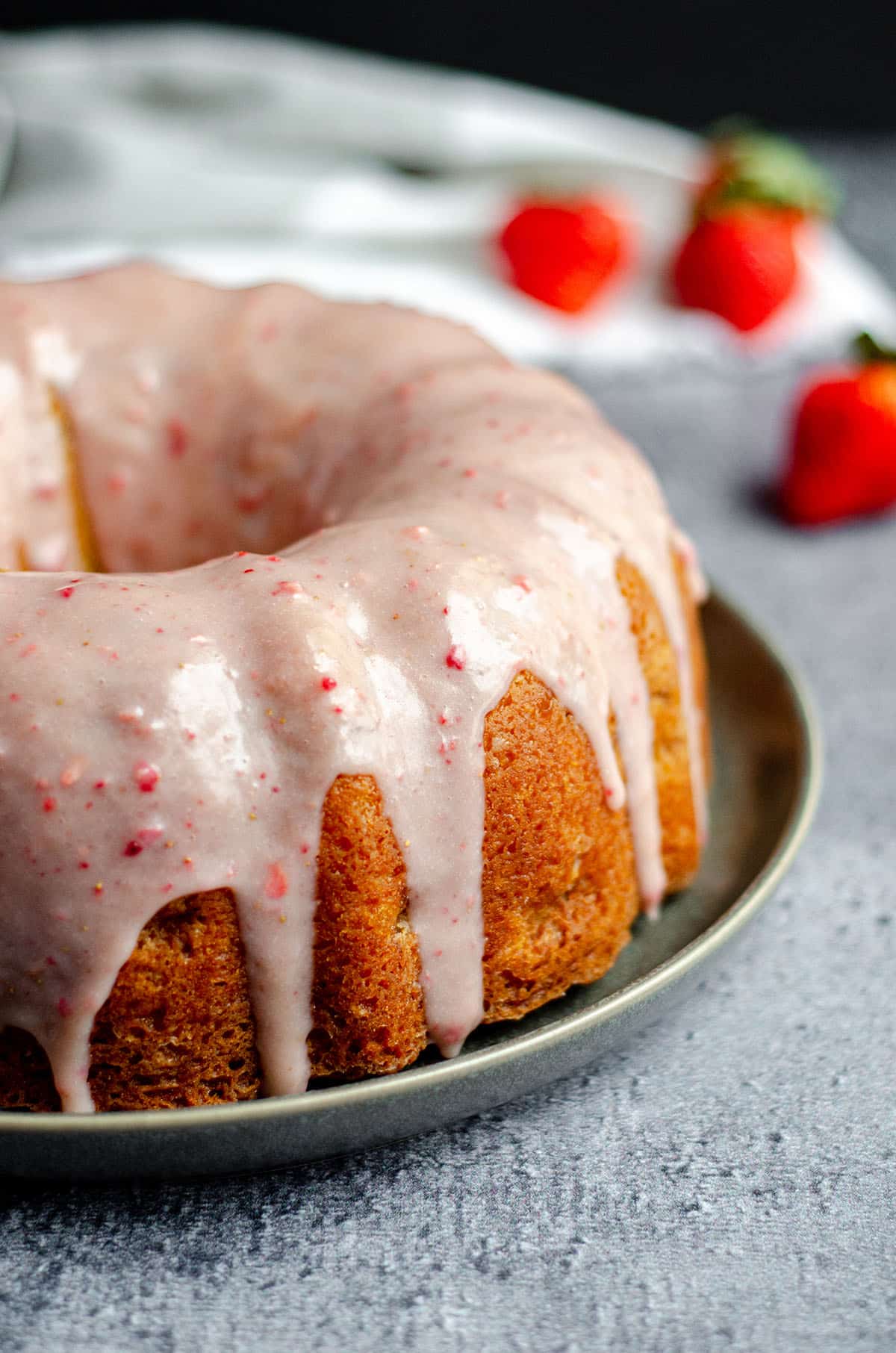 In this particular white chocolate ganache recipe, we're using white chocolate chips (you can, of course, use chopped white chocolate) and I added strawberry flavor with freeze dried strawberries.
I learned this method when I was trying desperately to find a strawberry buttercream frosting that wasn't a goopy mess. It works great for adding real, bright strawberry flavor to the ganache without weighing it down or thinning it out.
USE FREEZE-DRIED STRAWBERRIES TO FLAVOR THE WHITE CHOCOLATE GANACHE
Just 2 Tablespoons of crushed freeze dried strawberries and you've got yourself a gorgeously pink and velvety smooth strawberry white chocolate ganache (tip: if your grocery store carries them, you can find freeze dried strawberries in the same aisle as other dried fruit).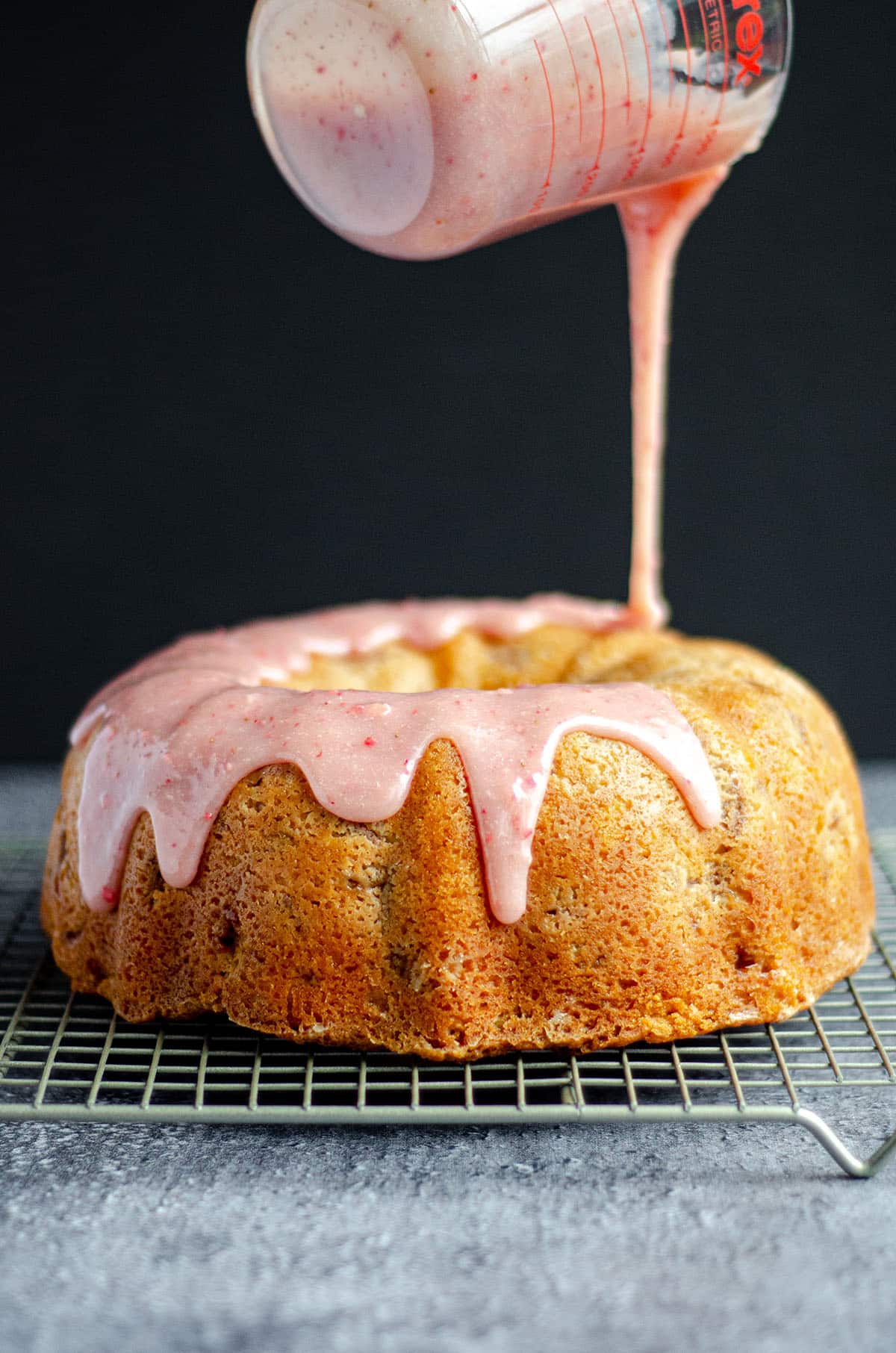 Of course, you can leave the strawberry powder out, use semi-sweet or milk chocolate, or leave your bundt cake plain. No rules when it comes to your cake!
I hope you'll give my strawberry bundt cake recipe a try and keep it as your own for whenever you find yourself with a surplus of strawberries or a craving for an easy strawberry dessert.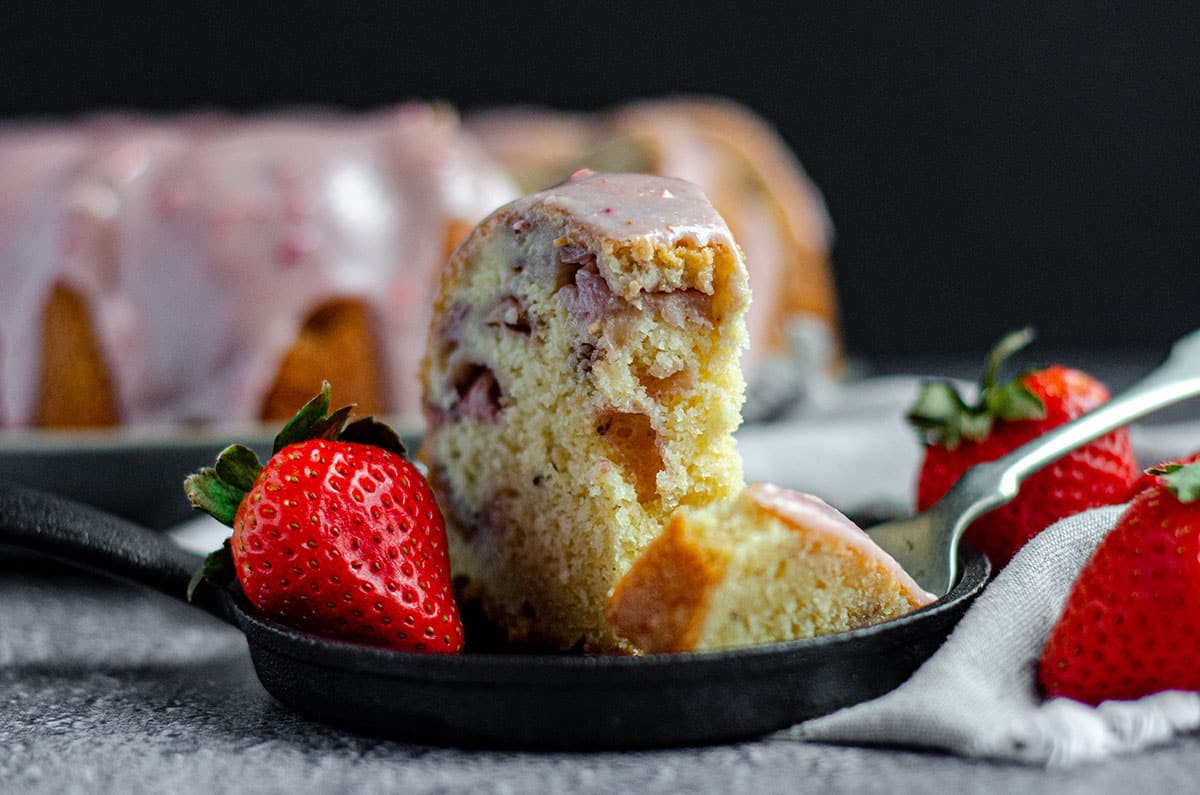 It's quick, it's simple, and it's a total crowd-pleaser. I had several taste testers for this cake and the overall consensus was lots of thumbs up. Join the thumbs up crew and see for yourself!
Love fresh strawberry recipes? Try my strawberry compote or strawberry lemonade quick bread next!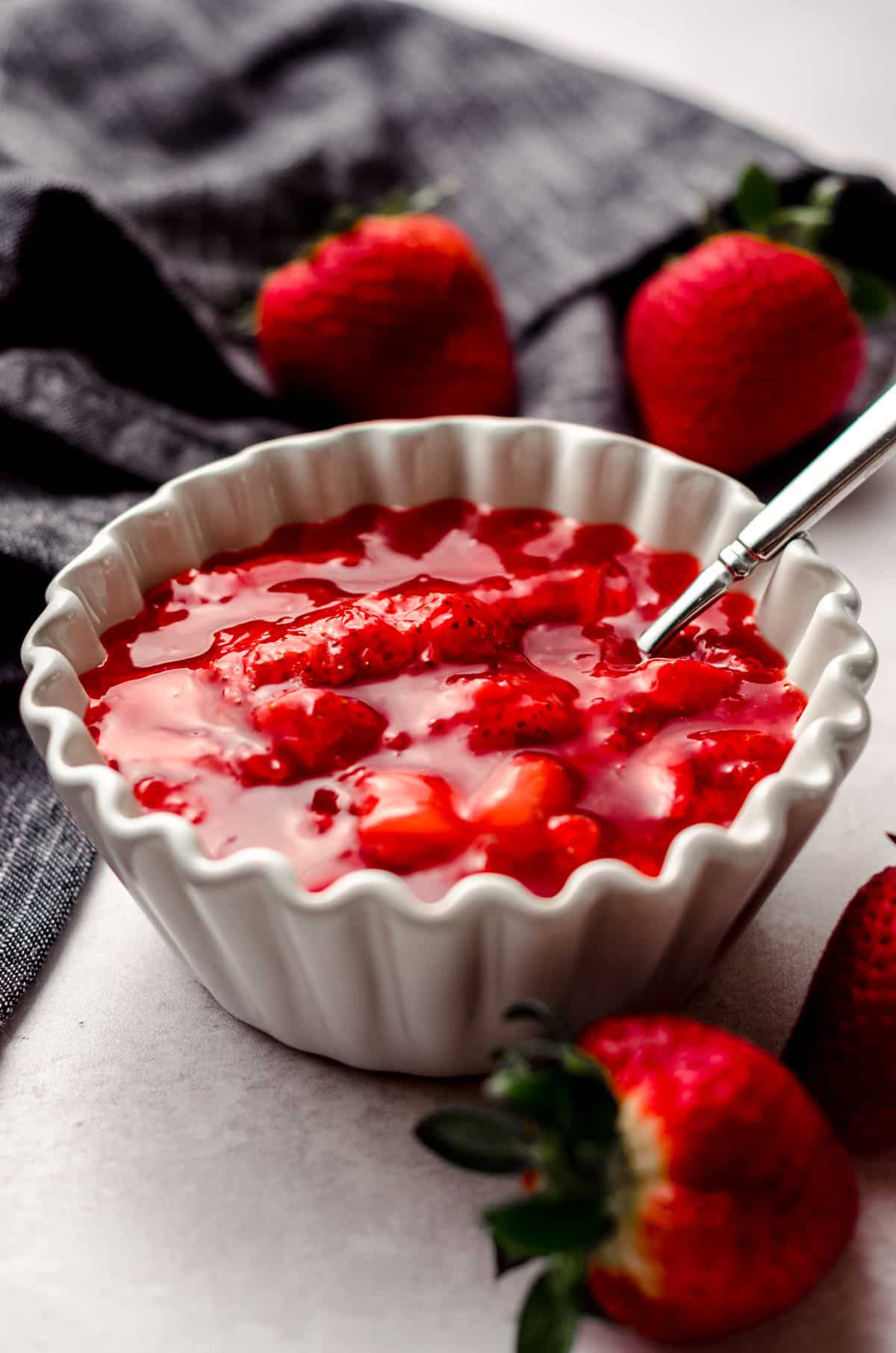 Strawberry Bundt Cake
Homemade strawberry bundt cake made from scratch with fresh strawberries and topped with strawberry white chocolate ganache.
Ingredients
STRAWBERRY CAKE
3 and ¼

cups

(390g) all purpose flour be sure to measure properly

5

teaspoons

baking powder

1

teaspoon

salt

1

cup

(227) unsalted butter

softened to room temperature

2

cups

(400g) granulated sugar

1 and ½

teaspoons

vanilla extract

3

large eggs

1

large egg white

1

cup

(240mL) milk

any

2

cups

finely chopped strawberries1

approximately 16 large strawberries
STRAWBERRY GANACHE
⅓

cup

freeze-dried strawberries

approximately 2 Tablespoons once processed to powder form

1

cup

(227g) white chocolate chips

⅔

cup

(158mL) heavy cream
Instructions
STRAWBERRY CAKE
Place oven rack on the middle setting and preheat the oven to 350ºF (177ºC). Grease and flour (or use homemade cake release) a bundt pan. Set aside.

In a medium size bowl, whisk together the flour, baking powder, and salt. Set aside.

In a large bowl with a handheld mixer, or the bowl of a stand mixer fitted with the paddle attachment, cream the butter, sugar, and vanilla until pale (approximately 3 minutes). Add the eggs and egg white one at a time, allowing each to incorporate before adding the next one and scraping the. Scrape down the sides of the bowl when necessary.

Reduce the mixer speed to low and add the flour mixture in 2 parts, alternating with the milk. Gently fold in strawberries by hand.

Pour batter into the prepared bundt pan. Bake cake for 55-60 minutes or until a toothpick inserted comes out clean and the tops is lightly browned. Remove from oven and allow to cool for 15 minutes on a wire cooling rack. Using oven mitts, carefully flip the bundt cake onto your serving dish/platter. To do this: flip the serving dish/platter over and place on top of the cooling bundt pan. Flip everything over and allow cake to cool completely in the pan, sitting on the serving dish. When cake is completely cool, lift pan off of the cake.
STRAWBERRY GANACHE
Using a blender or food processor, process the freeze-dried strawberries into a fine powder. Set aside.

When you are ready to frost the cake, pour the chocolate chips into a small bowl. Set aside.

In a small saucepan over medium heat, heat the heavy cream and strawberry powder (approximately 2 Tablespoons at the powdered stage) while whisking occasionally until steaming. Remove from heat and pour over the chocolate chips. Whisk the chocolate and the liquid together until it it smooth. Allow to cool for 15 minutes.

Pour the cooled ganache evenly over the bundt cake and allow ganache to set before serving (about 1 hour). You can speed up this process by putting cake in the fridge. Store leftovers at room temperature, up to 5 days. Cake freezes well, up to 3 months. Thaw in refrigerator overnight.
Notes
Finely chopped strawberries: make sure you finely chop the strawberries to prevent them from sinking in the batter.
Recipe adapted from Fresh Strawberry Cake
Nutrition Disclosure
All nutritional values are approximate and provided to the reader as a courtesy. Changing ingredients and/or quantities will alter the estimated nutritional calculations.
Serving:
1
serving
|
Calories:
495
kcal
|
Carbohydrates:
66
g
|
Protein:
6
g
|
Fat:
23
g
|
Saturated Fat:
14
g
|
Polyunsaturated Fat:
1
g
|
Monounsaturated Fat:
6
g
|
Trans Fat:
1
g
|
Cholesterol:
88
mg
|
Sodium:
359
mg
|
Potassium:
233
mg
|
Fiber:
2
g
|
Sugar:
42
g
|
Vitamin A:
658
IU
|
Vitamin C:
81
mg
|
Calcium:
157
mg
|
Iron:
3
mg